Mui Ne at a glance
Mui Ne not only impresses visitors by its vast sand dunes under the sun, windy and blue beaches and luxurious resorts, but it also brings out charming culture.
Mui Ne is the name of a seafront, a famous tourist center in Phan Thiet that is included in the list of Vietnam national tourist resorts. Today, Mui Ne is a ward of Phan Thiet city with a total area of ​​35.41 km².
From a desolate coastline with desert-like red sand dunes far from roads, having only a few poor fishing villages, hundreds of resorts have been built in Mui Ne. 22 km northeast of Phan Thiet city, Mui Ne is connected to this coastal city by two roads, Nguyen Dinh Chieu (road 706) and Vo Nguyen Giap (road 706B) – which is considered as an essential route for the tourism industry of Binh Thuan, and since, Mui Ne tourism has developed and quickly turned this place into the top 10 best places to visit in Vietnam.
The name Mui Ne, which means shelter bay in English, comes from fishing fishermen who often come here to take shelter in the storm. "Mui" is the cape heading to the sea; "Ne" means to avoid.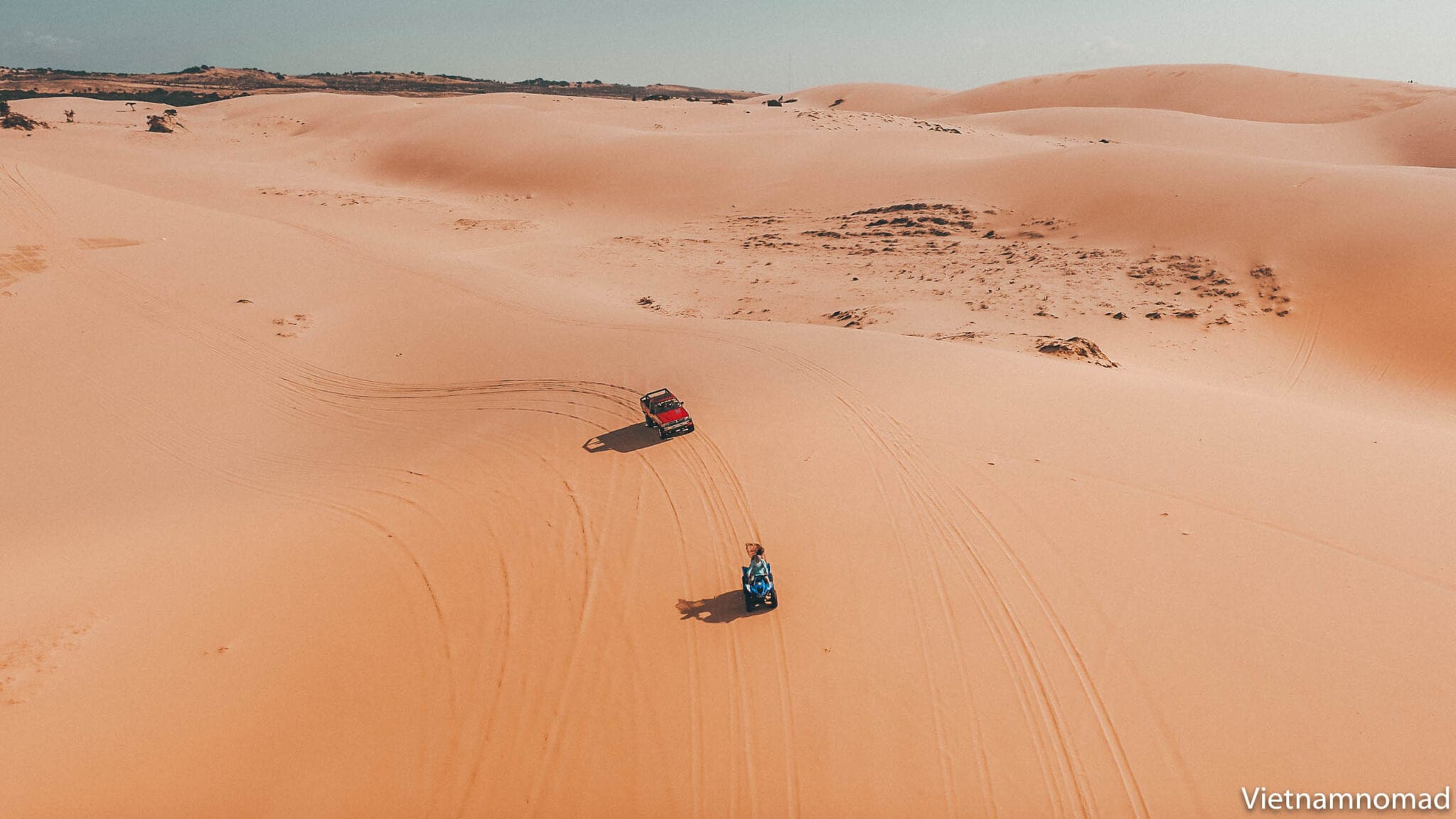 Mui Ne Weather
Phan Thiet city has a typical tropical climate. The weather here is usually hot and dried, with an average annual temperature of 26 ° C to 27 ° C.
Tourists are free to travel at any time of the year, but the best time is around August – December, January, and February when the weather is very lovely and the sea is also clean blue. December, January, and February (average temperature 25.5 °C) are cooler than other months of the year. This time is extremely suitable for a vacation in Mui Ne, especially for families with young children because it is still sunny but the air is cool, the sea is very windy.
April and May are the hottest months in Phan Thiet, sometimes reaching up to 40 °C. Bathing at this time is very popular. However, tourists should also consider as it might be tiring to go out for a long time in the hot weather.
From June to August, due to the phenomenon of red algae, the sea is slightly turbid, frothy, and fishy. As a result, it would be inconvenient to go swimming at this time.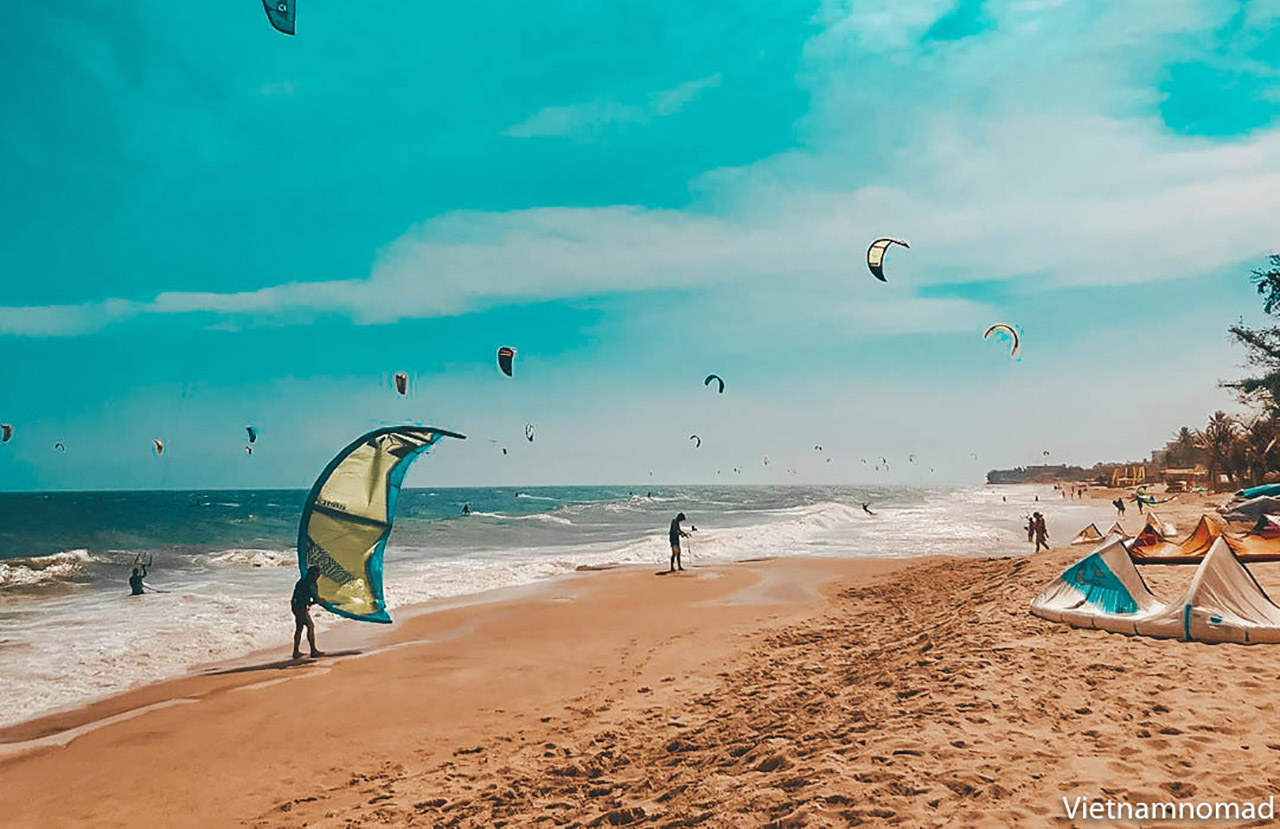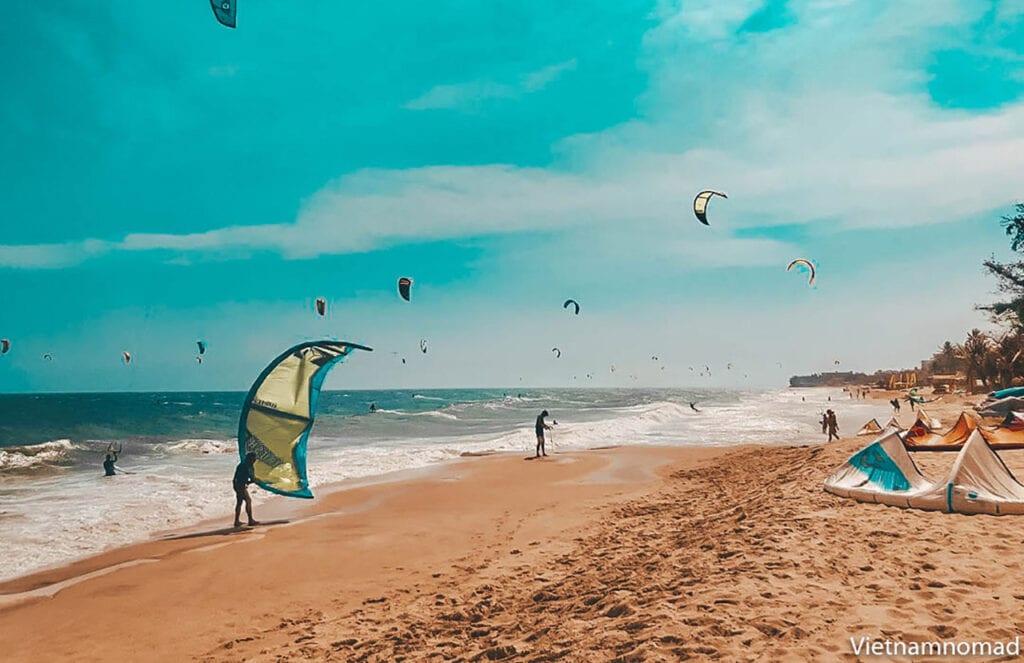 How to go to Mui Ne?
To go to Mui Ne, you need to move to Phan Thiet city. Then it will take tourists about 30 minutes to go directly from Phan Thiet City to Mui Ne. 
How to travel from Hanoi / Ho Chi Minh CIty to Mui Ne
1. From Hanoi to Mui Ne
From Hanoi, there is no direct route to Mui Ne currently. Thus, if you want to travel to Mui Ne, you should fly to Saigon and then drive by car to Mui Ne. Or take a plane to Cam Ranh airport (Nha Trang) and then to Phan Thiet by Open Tour coach company from Nha Trang to Mui Ne.
2. From Ho Chi Minh City (Saigon) to Mui Ne
To travel to Mui Ne from Ho Chi Minh City, you can go by coach, bus or train. You can refer to the detailed guide on how to move below. 
By bus
High-quality bus companies to Phan Thiet: Depart from the Eastern bus or De Tham street, District 1. Ticket price ranges from 90.000 – 130.000 VND depending on the company, travel time about 5 hours. 
The buses you can refer to:
Kumho (Address: Mien Dong bus station): Tourists will drop off at Phan Thiet city bus station, then they need to take a taxi to go to Mui Ne.

Phuong Trang (Address: 274-276 De Tham, District 1): Tourists will drop off at Mui Ne, which is convenient for tourists who want to go straight to Mui Ne.
Sinh Cafe (ĐC: 246-248 De Tham, District 1): Tourists will drop off at Mui Ne, which is convenient for tourists who want to go straight to Mui Ne.
By train
If traveling by train, you can only move to Phan Thiet City, then from Phan Thiet take a taxi or rent a motorbike to Mui Ne. 
Standard trains
Price: about 110.000 VND/ ticket 

Two types: SPT (depart in the morning) or PT4 (depart in weekend evening) 

 Where to buy tickets: Saigon Station – 01 Nguyen Thong, District 3
High-quality Golden Train
Price: 160.000 VND / ticket 

Departure time: in the morning.
Getting around in Mui Ne
Traveling in Mui Ne, you can rent a motorbike for convenient transportation. You can choose to do this at either your hotel or a motorbike rental address.
Address of the best motorbike rental shops in Phan Thiet:
Hieu's motorbike rental shop: No. 1 Tu Van Tu, Phu Trinh, Phan Thiet (0933715692)
Anh Chau motorbike rental shop: 472/3 Tran Hung Dao, Phan Thiet (099 313 7790)
Ms. Tam's motorbike rental shop: 280 Thu Khoa Huan – Phan Thiet City (0964 955407)
Mr. Lam's motorbike rental shop: Kenh Bao – Phan Thiet City (034 231 1448)
Tam Chung Motorbike rental shop: 280 Thu Khoa Huan – Phan Thiet City (0623 823742)
Rent a motorbike at the hotel in Mui Ne Phan Thiet
Anyway, you can immediately contact the reception of your hotel in Mui Ne for assistance. If the hotel has motorbikes available, they will take you down to choose one and if not, you can also ask the front desk to help you rent a motorbike from a shop nearby.
Some hotels providing renting motorbikes in Mui Ne you can refer to:
Blue Sea Waves Resort: Long Son, Mui Ne, Phan Thiet
An Can Delight Hotel: 109B Nguyen Dinh Chieu, Quarter 1, Ham Tien Ward, Phan Thiet
Hai Yen Resort: 132, Nguyen Dinh Chieu – Ham Tien Ward, Phan Thiet
In recent years, Mui Ne has always been the hottest tourist destination in the country, especially in the summer time. Let's take a look at beautiful and famous tourist destinations in Mui Ne that you should not miss. 
1. Mui Ne Beach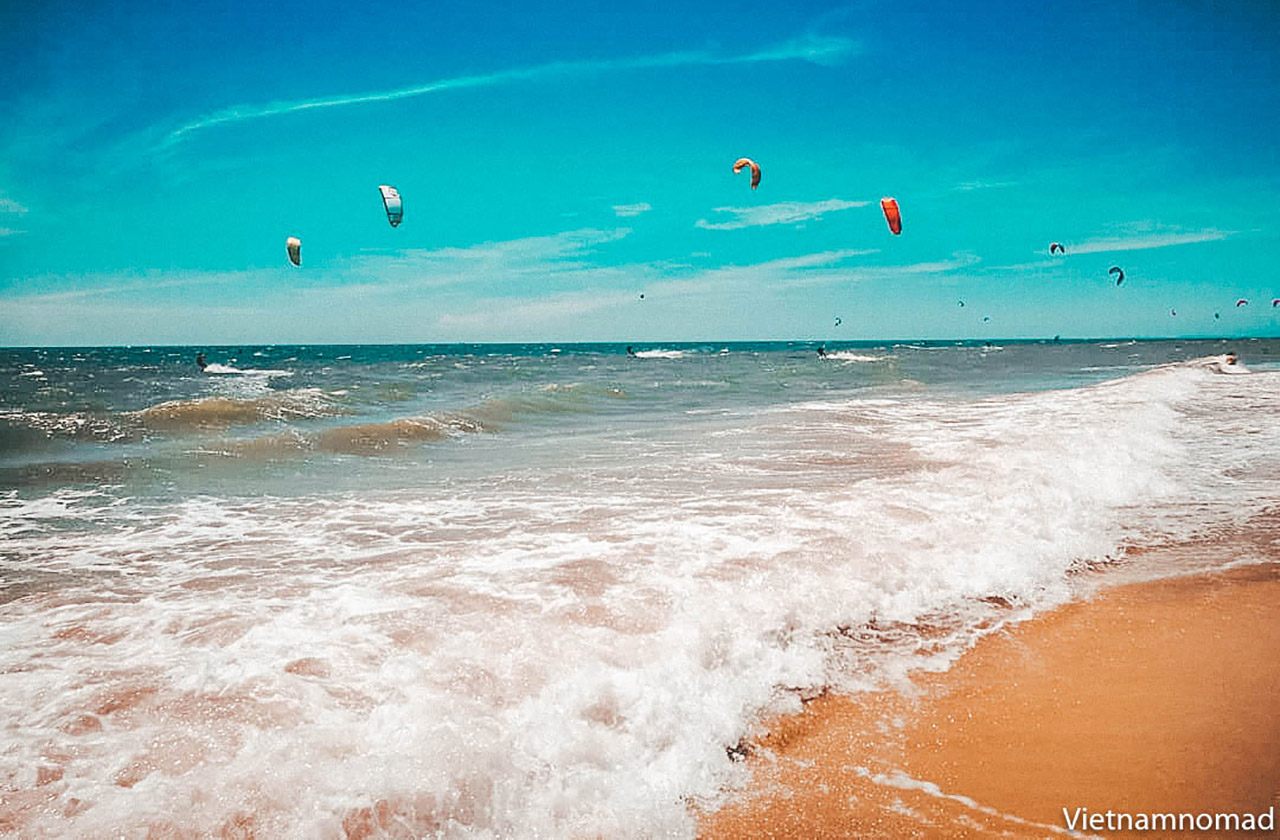 Mui Ne is located in Binh Thuan province, this is one of the most beautiful beaches in Vietnam. You can admire the coconut tree-lined streets, white sands, cliffs where the waves are flapping day and night endlessly. Besides, Mui Ne is also known as the paradise of high-class resorts. It's not exaggerating to say that Mui Ne is a paradise of rest and relaxation. This is also the most famous place when it comes to Mui Ne tourism.
2. Mui Ne Sand Dunes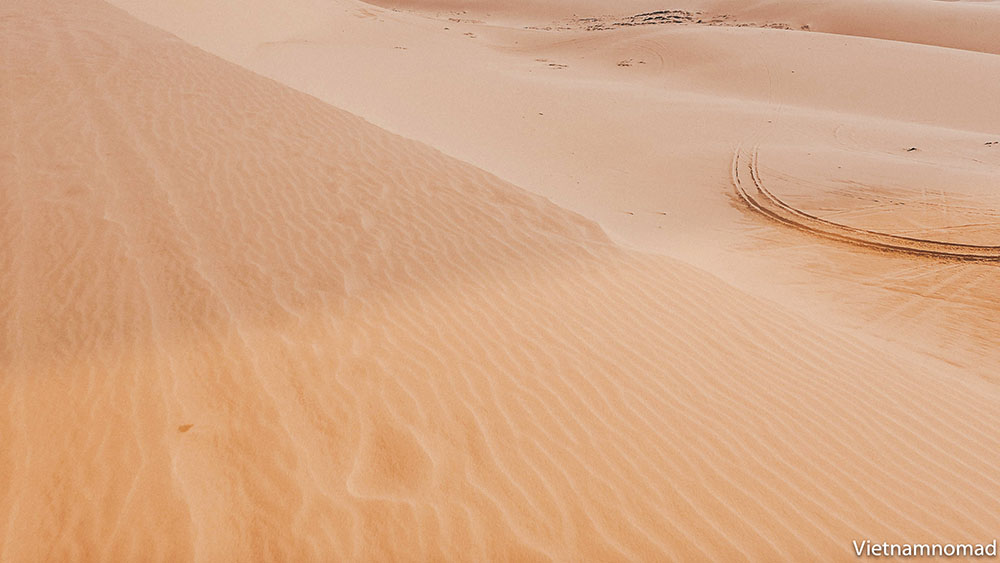 Charming tourist destinations in Mui Ne, sand dunes should definitely be on top. As visiting here, you will feel like you are lost in the desert with route 706.
There are two sand dunes in Mui Ne: Golden sandhill and White sandhill. The latter is bigger and is known by locals as Bau Trang, White Lake or Bau Sen. It is such a pleasant experience to go barefoot on a sandhill, you can also surfboard, or drive four wheels car around to enjoy the feeling of getting close to nature which certainly will create an unforgettable memory for you. In the area of ​​the White Sandhill, there are three big lakes: Bau Xoai (Mango Lake), Bau Ong (Gentleman Lake), Bau Ba (Lady Lake) with a depth from 5 to 19 m depending on the time.
Activities in Mui Ne sand dunes:
Take pictures
Driving Jeep: 300.000 VND / hour
Ostrich Riding: 30.000 VND / round
Boat trip to see lotus pond: 50.000 VND / time
Sand-skating: This activity attracts the most tourists in Mui Ne, which costs 10.000 VND/ trip.
You should go in the early morning or late afternoon to avoid the hot hours.
3. Ke Ga Lighthouse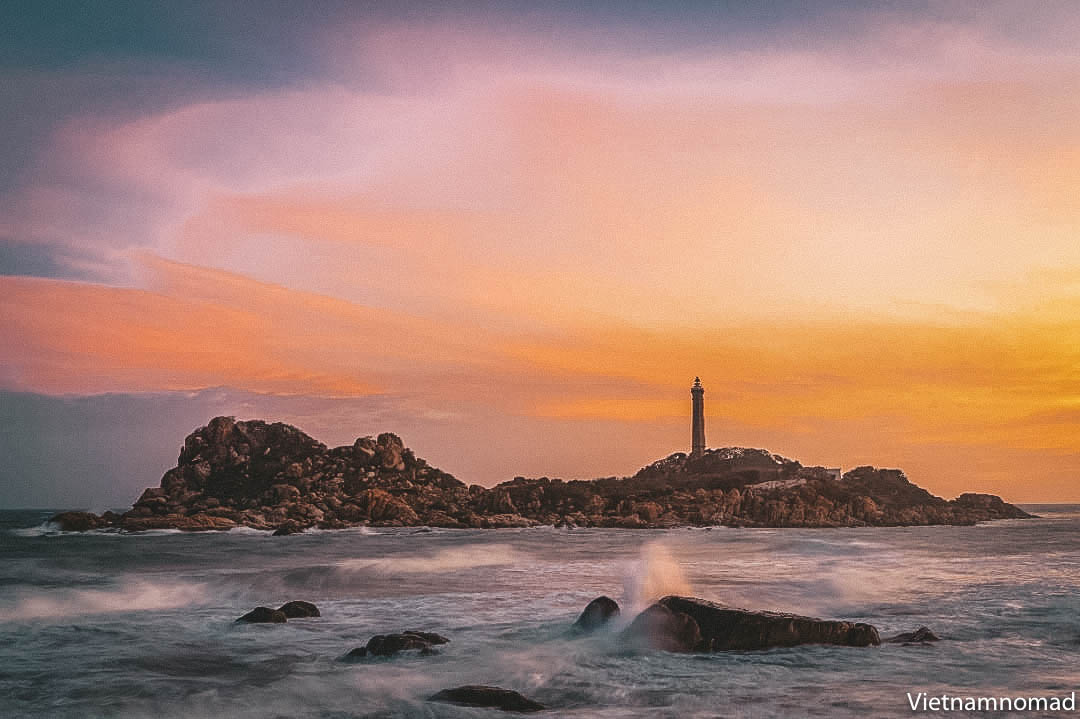 Attractive tourist destinations in Mui Ne include Ke Ga lighthouse, which was constructed in 1897 by a famous French architect named Chnavat. This is considered the most beautiful lighthouse in Southeast Asia with a height of 41m and a lighting radius of 22 knots. Having a unique and distinctive architecture, Ke Ga lighthouse has been a tourist attraction to Mui Ne in recent years. At Ke Ga you can participate in activities such as:
Snorkeling, exploring natural and unspoiled rocks

Visiting the lighthouse with a boat rental from 50,000 VND to 200,000 VND/ trip depending on the number of people going. 

Go fishing at night 
4. Ta Cu Mountain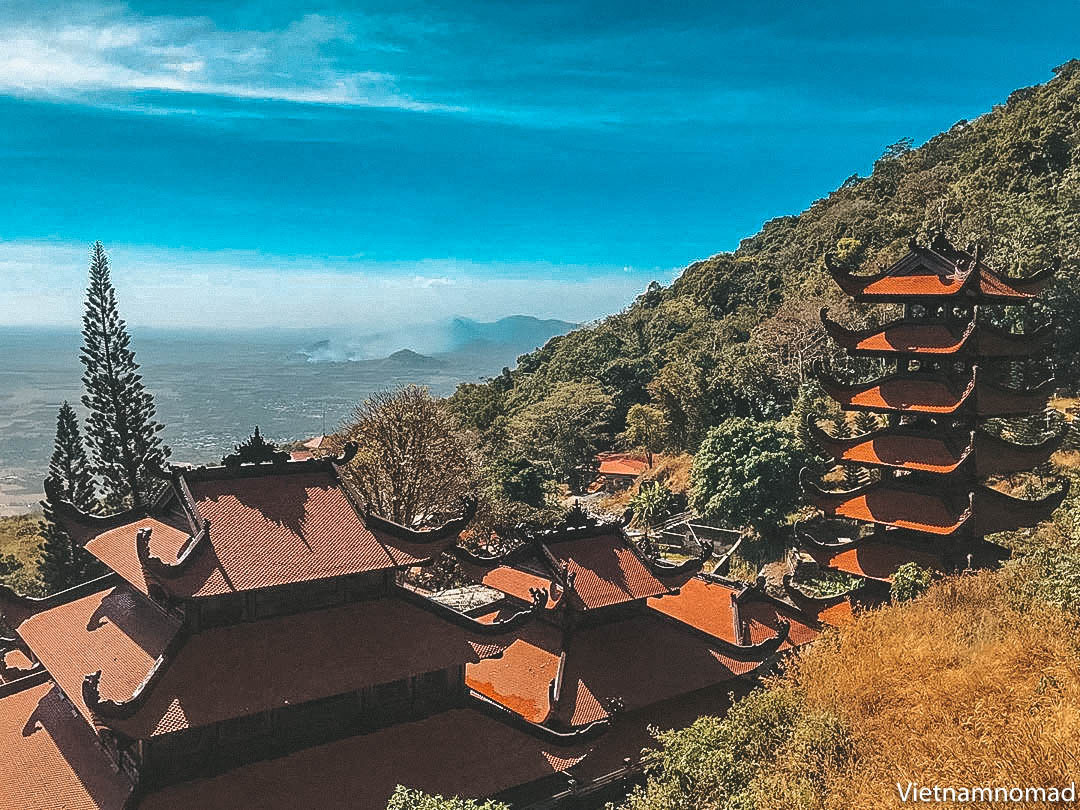 Ta Cu Mountain is a very famous tourist attraction in Mui Ne. This is a tropical forest with rich flora and fauna ecosystem. On the mountain at an altitude of 457m, there is an ancient pagoda built in 1897 with two beings Linh Son Long Doan and Linh Son Truong Tho. Ta Cu Mountain has the biggest Buddha statue in Vietnam with a nirvana length of 49m and a height of 11m. Next to the statue is the Buddha statue of Amitabha (7m), Quan The Am (6.5m) and Dai The Chi (6.5m).
Coming to Ta Cu, you can participate in various entertainment and discovery activities such as:
Climbing by road to see the beautiful nature

Enjoy the whole view of Ta Cu with a cable car
Ta Cu cable car
In Ta Cu, the tourist cable car includes a 1,600m long route with 35 cabins with a service scale of 1,000 passengers / hour.
Ticket prices:
Round-trip ticket: 120.000 VND / person/ turn
One-way ticket: 60.000 VND / person / turn
Round-trip ticket: 60.000 VND / person / turn
One-way ticket: 40.000 VND / person / turn
5. Hon Rom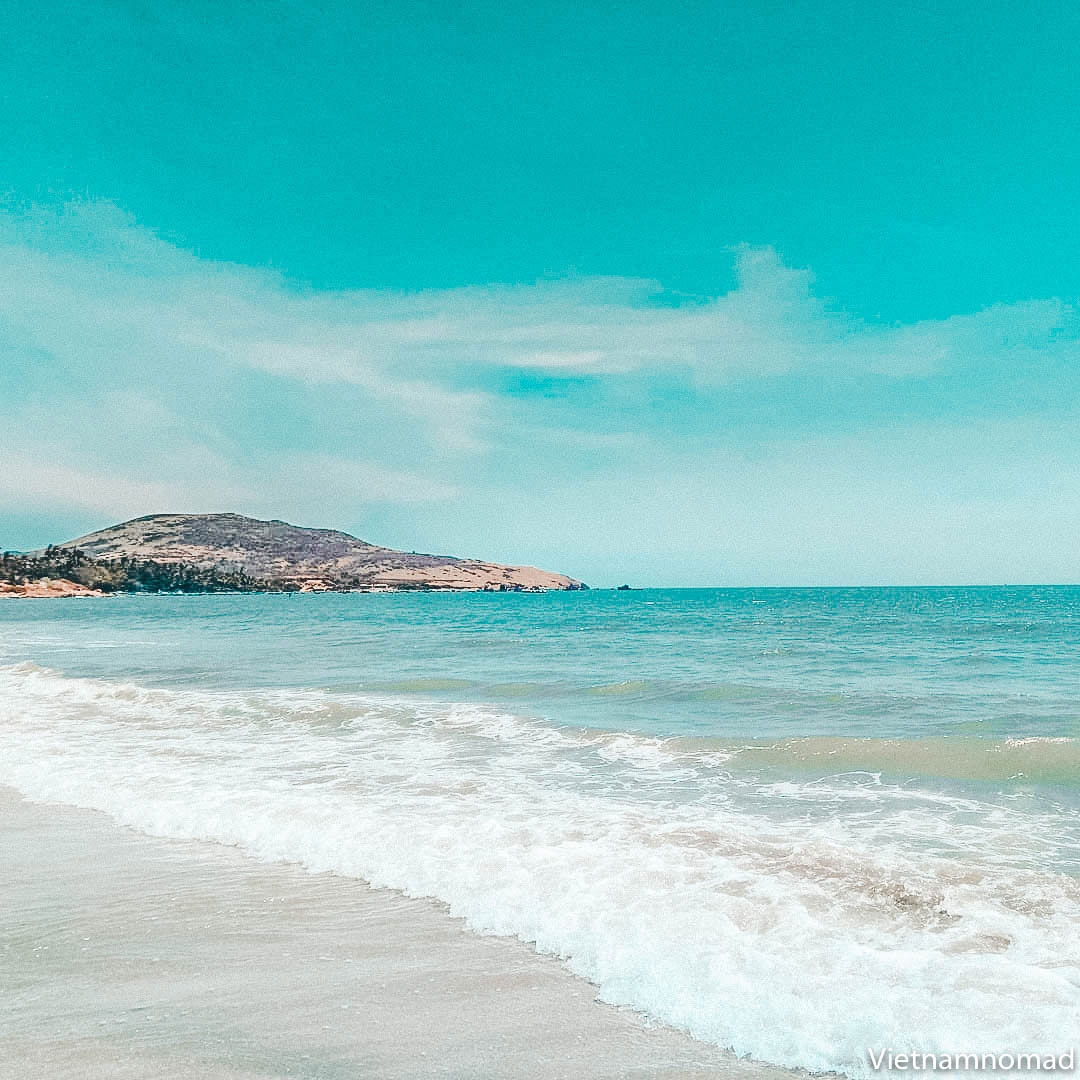 Considered as a beautiful and clean tourist destination in Mui Ne, Hon Rom always attracts a large number of tourists not only on holidays but also on weekends. There are many beautiful beaches such as Hon Rom 1, and Hon Rom 2, which are always crowded to swim as well as take part in entertainment activities. Also bearing the typical characteristics of Phan Thiet beach, Hon Rom beach is very clean with white sand stretches, gentle waves. At Hon Rom, there are various fascinating water games such as canoeing, paragliding on the sea, etc. After long playing time, you can take a rest, sit on the sand and enjoy specialties in Mui Ne while watching the sunset. This experience will undoubtedly be memorable and unforgettable for your Mui Ne travel journey.
6. Mui Ne Fishing Village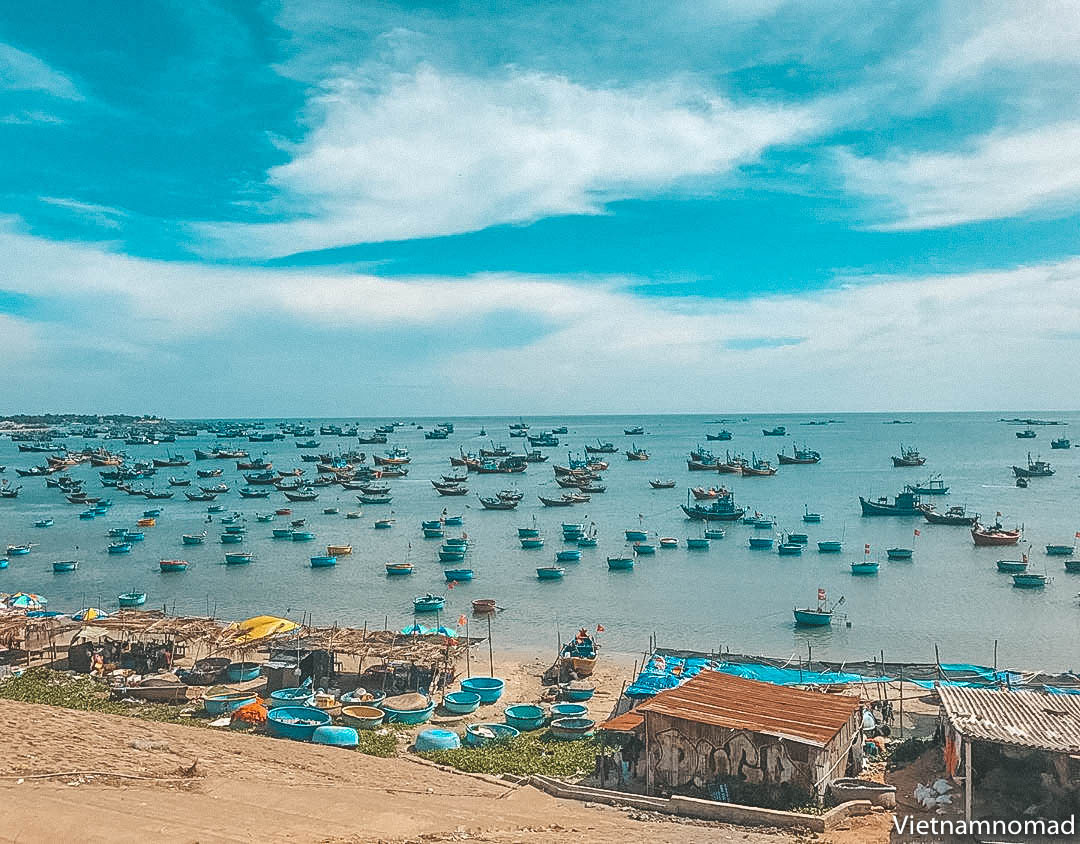 Mui Ne Fishing Village is the next famous tourist destination in Mui Ne that you should not miss. This is a gathering place for many fishing boats of local fishermen, so it is always crowded with people coming and leaving. Tourists come here not only to know more about the daily life of the coastal people but also to buy fresh seafood at a reasonable price. There is nothing better than holding a seaside party with freshly caught seafood. 
The great time to visit Mui Ne fishing village is in the early morning when fishermen return from the sea. You can admire many different self-made boats, see beautiful moments of family union, take photos of hard-working fishermen and their catch. Furthermore, the fishing village is a beautiful spot to watch sunrise or sunset. 
7. Cu Lao Cau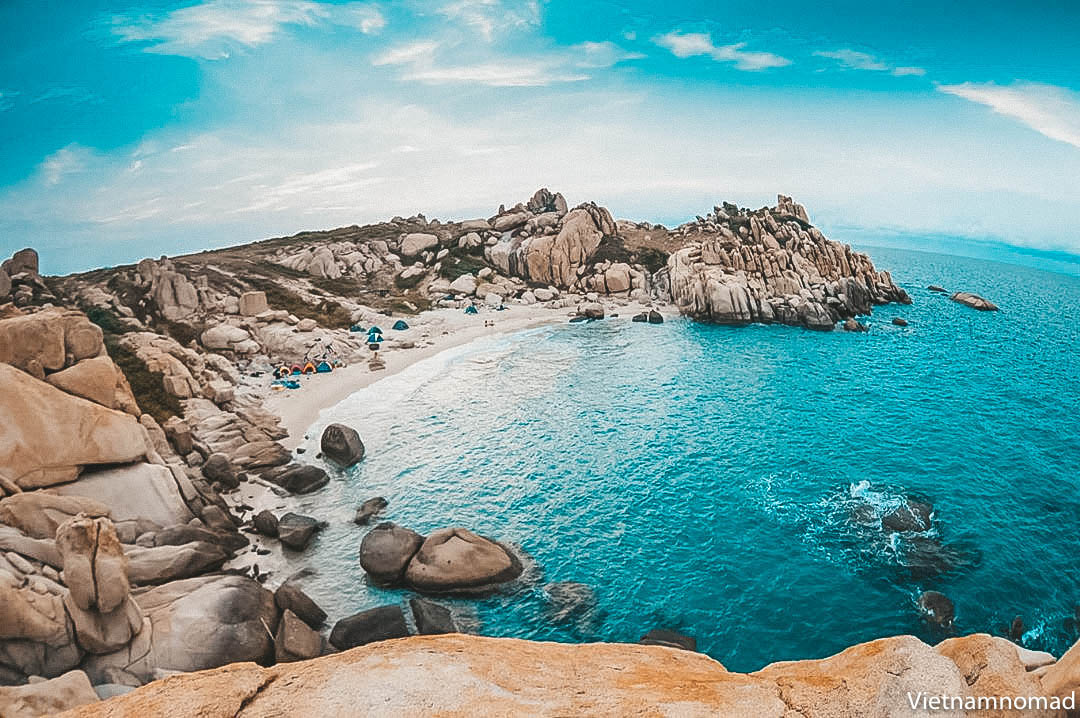 Cu Lao Cau is a pristine island near Mui Ne, Tuy Phong district, Binh Thuan province. It is highlighted that the island is extremely primitive. Thus it will not be suitable for those who like the bustle or enjoy eating on land. On Cu Lao Cau, there are only one or two small shops selling snacks and water at a high price. Therefore, it is better to prepare your food and drink when coming to the island. If you do not know where to go when traveling to Mui Ne, you can choose Cu Lao Cau.
In addition to the typical dish of the fishing village of Mui Ne which is seafood, this town also owns very delicious and strange dishes.
1. The food from Dong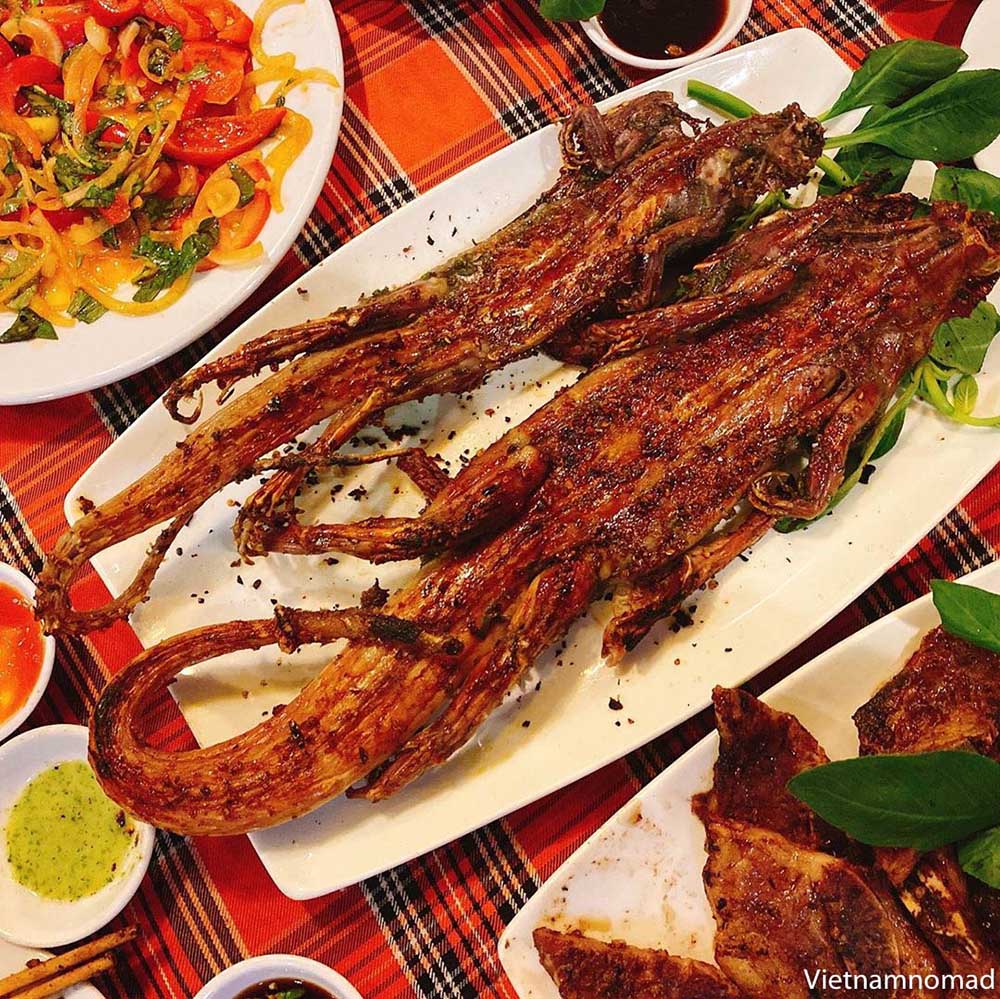 Dong is a type of reptile living in the sand and a delicious specialty in Mui Ne. The dishes made from the Dong are very tasty, attractive and processed into a variety of different ways such as spring rolls, salad, congee, etc. Among them, grilled Dong is still the most favorite dish of many people, both children and adults. Tourists will certainly love the creamy, sweet taste of Dong.
Where to eat: 
Vietnam Home Restaurant at 125AB Nguyen Dinh Chieu, Phan Thiet
2. Lau Tha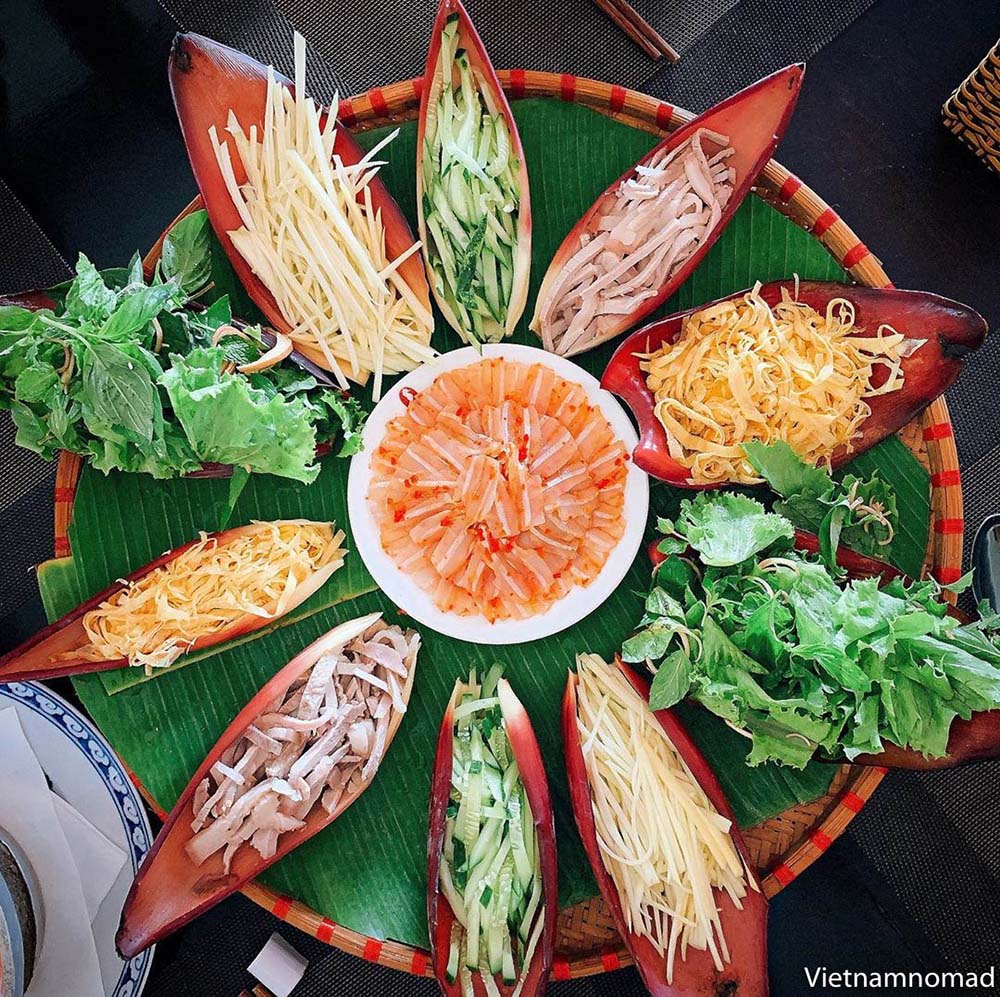 For those who have come to Phan Thiet-Mui Ne, you will surely not forget the unique flavor of Lau Tha, also known as special fish hotpot. It is not exaggerating to say that Lau Tha is a perfect combination of all five elements: "Metal, Wood, Water, Fire, Earth". This dish includes five flavors: spicy, sour, bitter, salty, Sweet, stimulating all five senses, and it also has five colors (white, green, yellow, red and black). Lau Tha is decorated with a high-class luxury, but it is still an idyllic delicacy. The ingredients for this hotpot dish are not too picky, but freshness is always a prioritized requirement. It is sometimes cooked with Duc fish or Suot fish, but the best is still Mai fish, one of the fish specialty in Phan Thiet-Binh Thuan sea.
Where to eat: 
Seahorse Bistro Restaurant

: 16 Nguyen Dinh Chieu street, Ham Tien, Mui Ne
3. Banh Quai Vac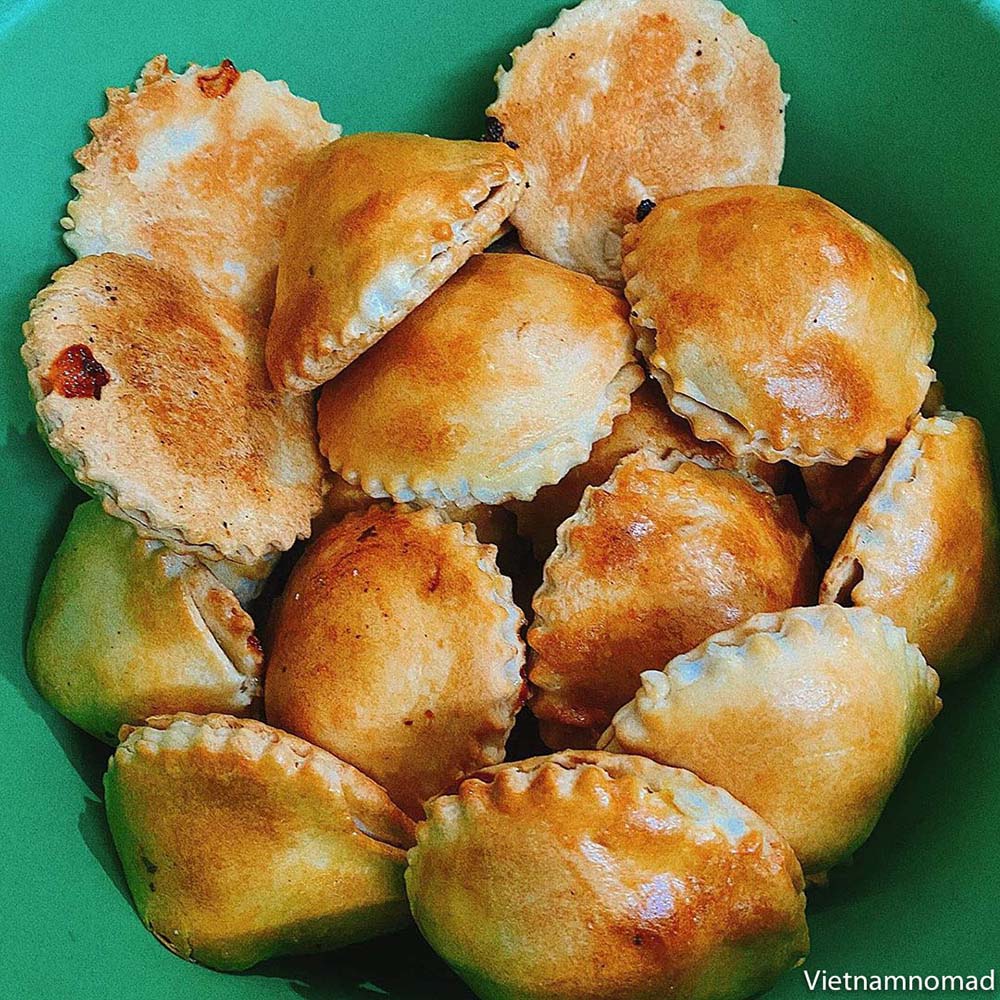 Banh Quai Vac has the taste of the Central Sea, especially in Mui Ne, Binh Thuan, which is a kind of fast food and street food. The crust is made of wheat flour and the fillings include shrimp and pork which are stir-fried genuinely, adding pepper, sugar. The cakes are boiled and coated with some oil so that they won't stick to each other. Sprinkle spring onions and fried pork fat (Top mo) are put on top, you must dip the cake into the sweet and sour sauce to enjoy the dish. 
Banh Quai Vac is served in both street vendors and luxurious restaurants. However, it is still a great experience to savor the food when sitting on a plastic chair around the vendor on the side street. 
Where to eat: 
Xiu Shop

: 1 HA, Kim Dong street, Phan Thiet (valley between Tran Quoc Toan bookstore and Biti shop)
An Minh food Kiosh in Phan Thiet market:

 1 Nguyen Du street, Phan Thiet
4. Goi Ca Mai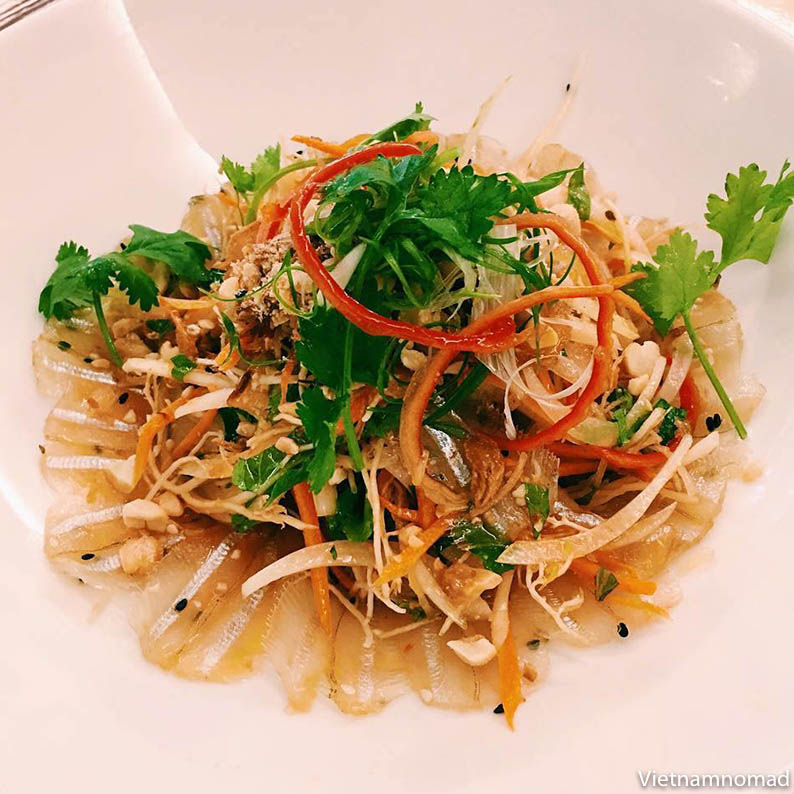 Goi Ca Mai (Mai fish salad) is a distinctively wonderful dish that could not be missed on your trip to Mui Ne. The freshly caught Mai fish with sweet-tasty, chewy, crunchy, and smelling flesh is the main ingredient for the salad. The cook will separate the flesh from the bones, cut them into flat pieces and mix them with lemon juice, ginger, galingale, minced garlic. The dish is added some crushed peanuts and hot pepper on top. The dipping sauce is what makes Goi Ca Mai different from other food. It has a typical and unique flavor made from tamarind, ripe banana, garlic, chili, toasted sesame.
Where to eat: 
Restaurants along Nguyen Dinh Chieu Street.
5. Banh Xeo, Banh Can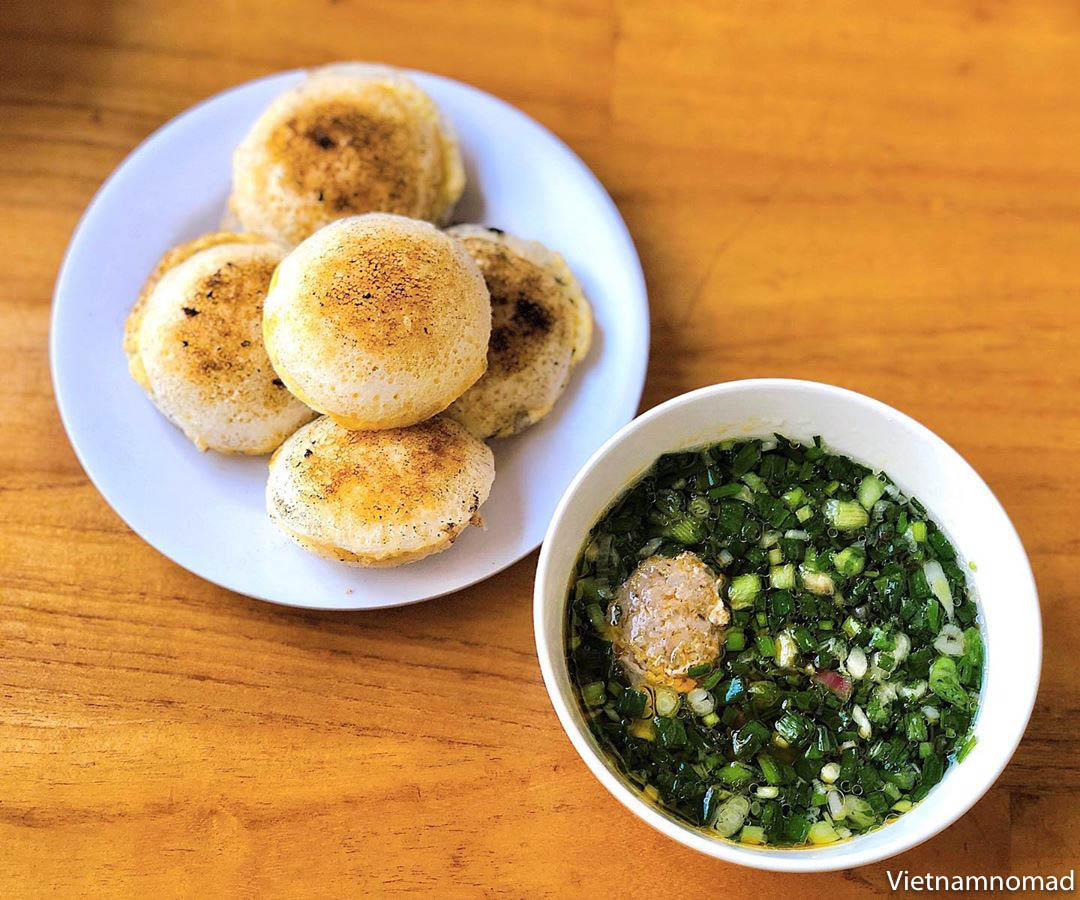 One of the delicious dishes in Phan Thiet in the afternoon that everyone loves is Banh Xeo (Vietnamese pancake) or Banh Can (mini-pancake). The best time to find that street food is in the afternoon and evening.
Banh Xeo here has the same size as the palm of your hand. It is eaten in the cup with fish sauce. The crust is fragrant crispy and the fillings are made by minced meat, shrimp, squid, eating with creamy peanut sauce. Just a bite would make you so happy.  
Banh Can is a simple but tasty dish. To bake Banh Can, people use a special mold made of earthenware, with multiple round holes. The filling contains shrimp, squid, which are the popular seafood in Mui Ne. Banh Can is usually eaten with sliced green mango, starfruit cucumber, and onion.
Where to eat:
• Mango Tree Pancake: Tuyen Quang and Phan Thiet streets.
• Cay Phuong pancakes: Tuyen Quang and Phan Thiet streets
• Banh Xeo cursing: Behind Hung Vuong secondary school, Phan Thiet.
• Banh Can: No. 168 Thu Khoa Huan, Phan Thiet.
• Banh Can: 8 Hai Thuong Lan Ong or Banh Cuong at the foot of Duc Thanh bridge, Phan Thiet.
6. Seafood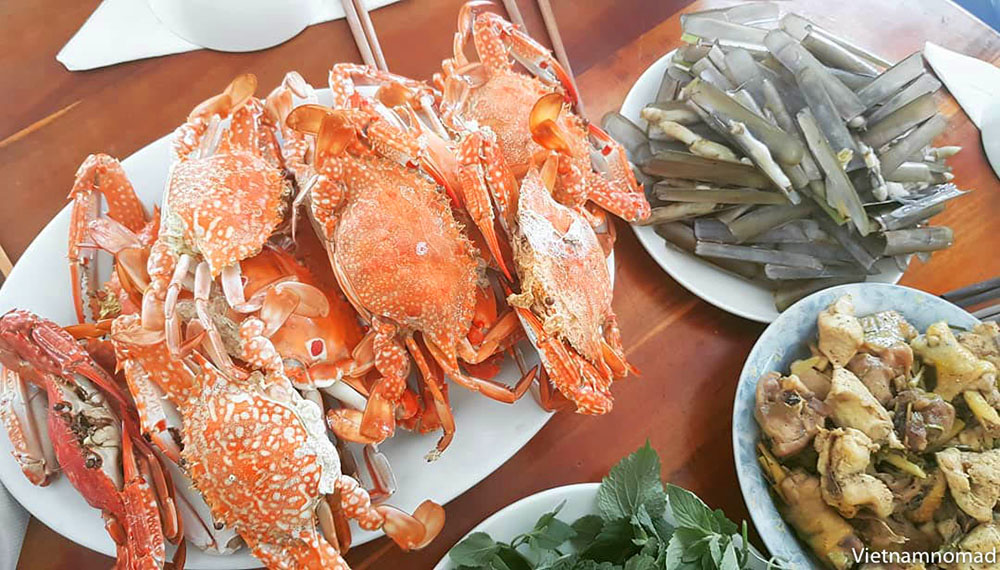 Referring to the delicious food in Phan Thiet, you surely cannot miss seafood. Several popular restaurants and seafood shops are easy to find on the embankments near Tran Hung Dao bridge heading towards Doi Duong beach, on Mui Ne beach along Thu Khoa Huan street.
You'll find shrimp, crabs, squid, fish and shellfish still alive and swimming. When a customer buys, the owner will weigh and pick it up to process immediately, making the seafood both chewy and sweet. The ways of cooking seafood in Mui Ne is very diverse: steamed, boiled dishes with ginger discharge, stir-fried tamarind with garlic and chili, baked with cheese, etc. 
Coming here, you will feel like standing under a culinary sky with countless delicious Phan Thiet foods. However, do not forget to ask the price before deciding to order your dish. 
Where to eat: 
• 06 bars: 6 Dang Van Ngu, Phan Thiet.
• Bars along the embankment: Along the banks of the Ca Ty River are many shops that are open from late afternoon to late evening.
7. Banh Canh Cha Ca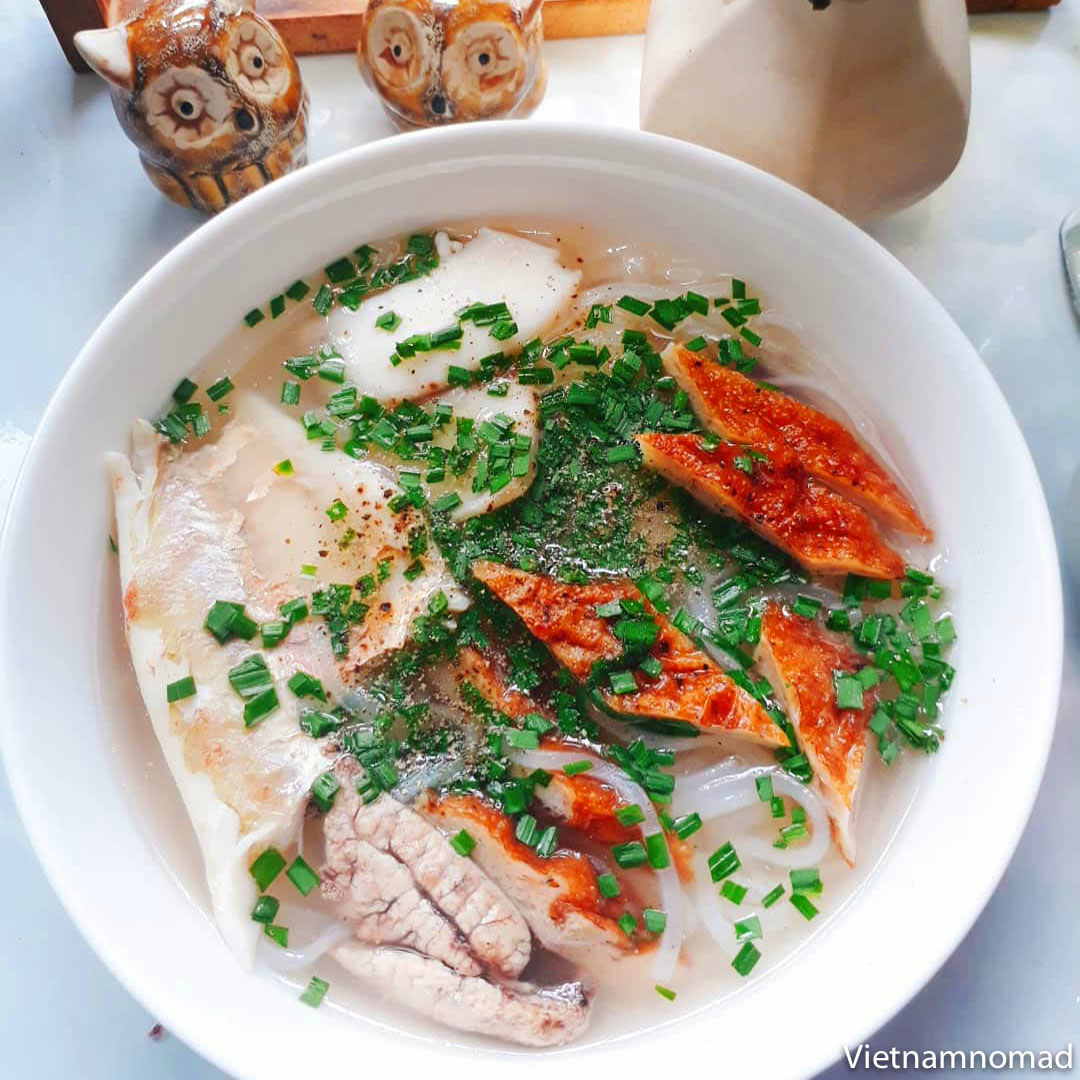 Banh Canh Cha Ca ( Thich noodles soup with grilled-fish) in Phan Thiet in general and Mui Ne in particular are different from Banh Canh in many other places. Instead of translucent noodles, here, Banh Canh here has opaque white noodles. The fish is the heart of the simple noodles bowl, usually consisting of steamed and fried grilled fish. Tourists can feel the sweetness, spicy from pungent pangolin minced with fresh chili. The broth is stocked from a variety of freshly caught fish in the sea of Mui Ne. 
The soup of fish cake in Phan Thiet, Mui Ne is a bit sweeter than in Saigon, but it is charming with its own way to cook. 
Where to eat: 
• Fish cake with soup: 66 Tran Quy Cap, Phan Thiet.
• Quan Xiu: Number 1 HA, Kim Dong Street, Phan Thiet.
• Bread of fish cake: Tuyen Quang and Phan Thiet streets.
• Co Xi fish cake: 309 Huynh Thuc Khang, Phan Thiet.
• Hai Thuong Lan Ong Street: Hai Thuong Lan Ong Street (near SKC Center).
Mui Ne is an amazing place that should be in your bucket list. We hope you will find the information and experience in this article helpful for your trip. May you have an enjoyable and memorable time with your beloved ones!
Meet in Mui Ne!