Vietnam has long been recognized as a go-to destination, showcasing a coastline spanning 3,260 km adorned with expansive stretches of sandy beaches, complemented by a diverse array of food options and activities. Below, explore the top 10 most stunning beaches in Vietnam, determined by the results of 1,228 votes.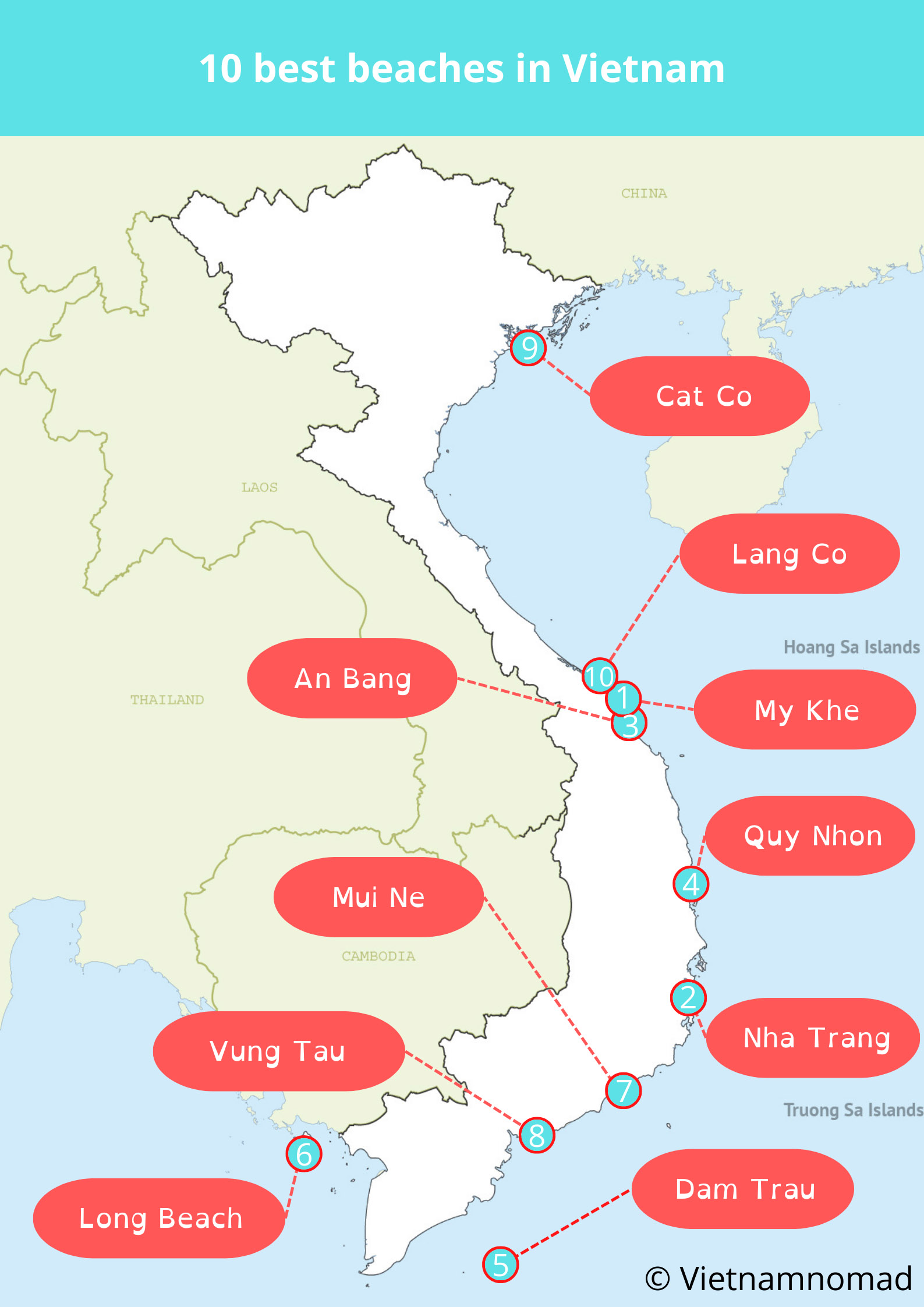 1. My Khe, Da Nang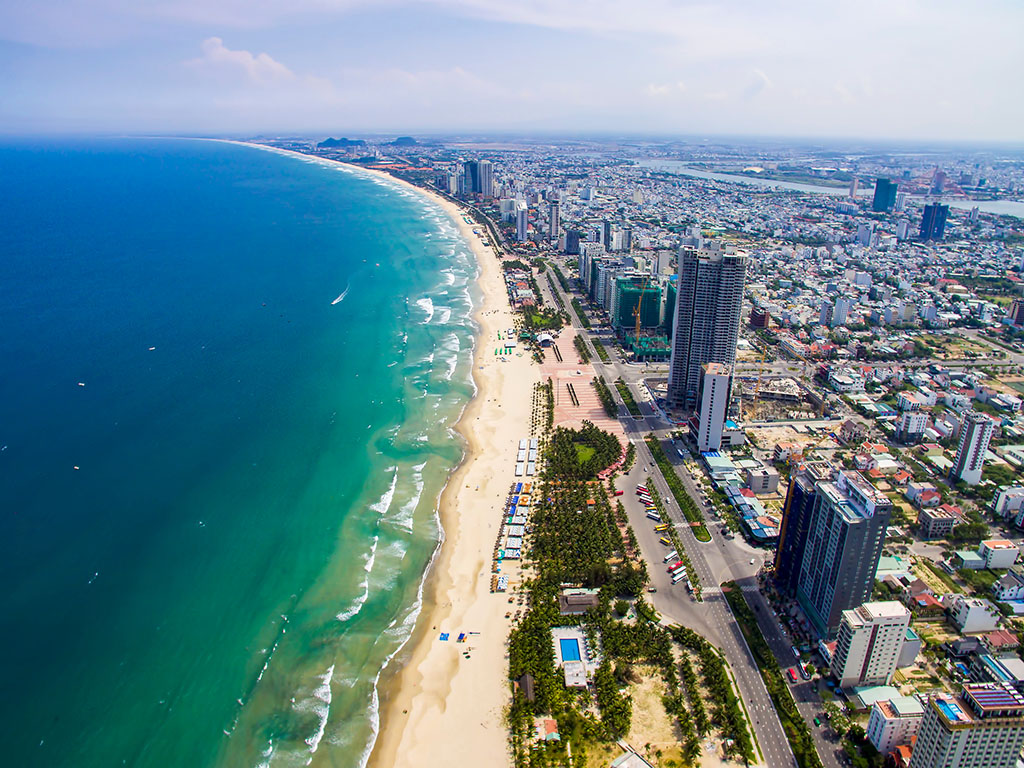 Nominated as one of the most beautiful beaches on the planet by Forbes, My Khe Beach is well-known for its white sand and warm water all year round. With a coastline extending over 20 miles, its shallow waters allow for enjoyable swimming while offering a magnificent view of the Marble Mountains.
Nestled in the heart of Da Nang, a bustling metropolis, this city beach presents contrasting landscapes: paved roads lined with restaurants and bars. Yet, My Khe retains its serene and peaceful ambiance, providing a tranquil escape after a day of exploration.
My Khe stands as a testament to the harmonious blend of natural beauty and modern infrastructure, earning its well-deserved place among Vietnam's top 10 most stunning beaches!
2. Nha Trang, Khanh Hoa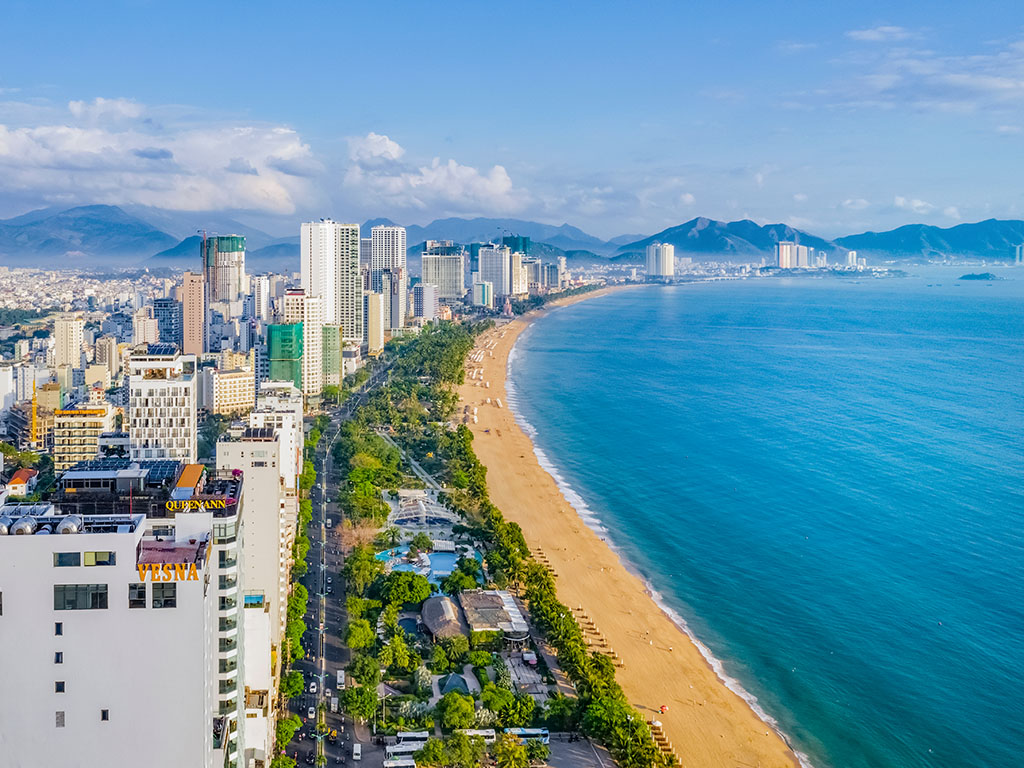 Nha Trang is a major tourist destination, drawing both Vietnamese locals and foreigners. Positioned along the main route of the North-South highway, it's easily accessible via various modes of transportation. Despite the beach being consistently crowded with tourists, it offers more than just sun and sand: strolling along the coastline to savor the ocean breeze, sampling unique local delicacies sold by "mobile vendor ladies" under the coconut trees, and exploring the bars and lounges with breathtaking views of Nha Trang Bay help balance the bustling and noisy impressions it may initially convey.
A must-do activity in Nha Trang is enrolling in a diving course, given its reputation as the best and most affordable location for such training. Embark on an island-hopping adventure by boat and explore the majestic coral gardens. Regardless of your diving experience, Nha Trang's abundant underwater world will surely captivate you. For those less inclined toward extreme water sports, equipped snorkeling promises an equally fulfilling experience.
An alternative perspective of the sea can be gained by taking a ride on the world's longest cable car that spans over the sea, providing a breathtaking 360-degree view.
3. An Bang, Hoi An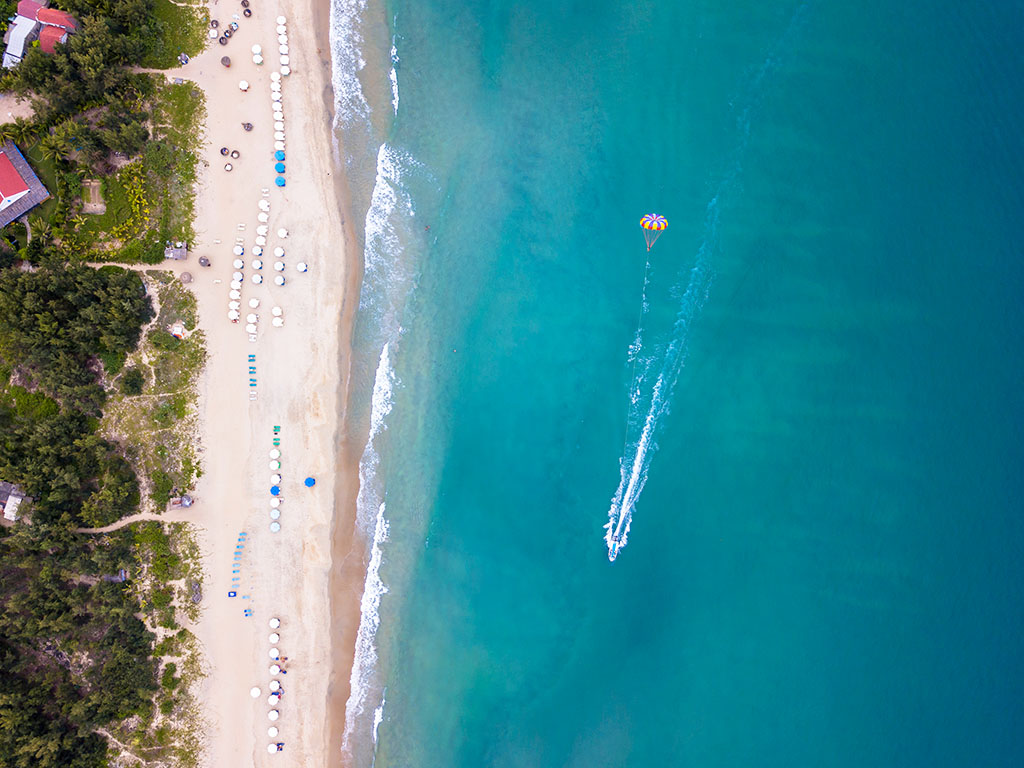 Speaking of Hoi An, the ancient town's popularity often overshadows the beauty of An Bang Beach. Previously less recognized as tourists favored Cua Dai Beach, An Bang has gained prominence in recent years due to the strong erosion experienced by Cua Dai. However, An Bang thrives not merely as a replacement but for its own distinct offerings. The optimal time to experience An Bang is just before sunset, when it gradually returns to its secluded state. If you're patient and inclined to explore off the beaten path, you'll discover wonderfully quiet spots to revel in the true essence of this stunning beach.
An Bang Beach fulfills all the criteria for an exceptional beach in Vietnam: an expansive shoreline, limited crowds, and its close to the most beautiful ancient town in Vietnam.
4. Quy Nhon, Binh Dinh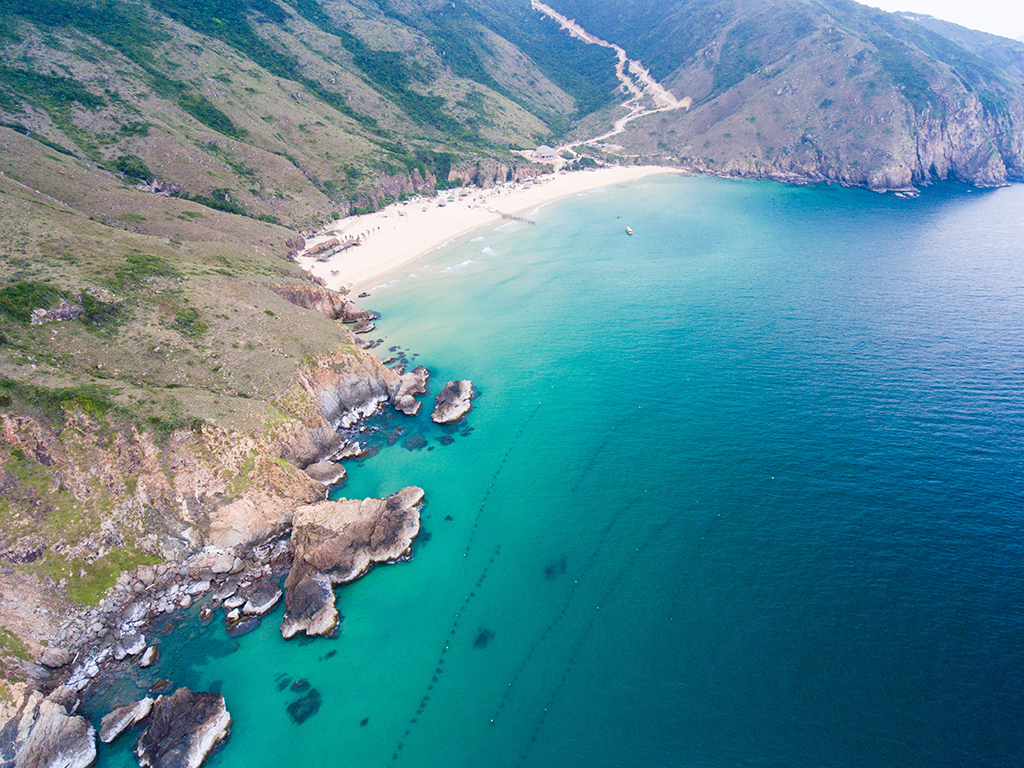 Quy Nhon is emerging as a notable coastal city in Central Vietnam. Situated between Da Nang and Nha Trang, it was once the capital of the mighty Kingdom of Champa.
Among Quy Nhon's prominent features are its two main beaches: Ky Co and Eo Gio. The latter translates to "windy hollow" in English. The striking cliffs and coves, resembling a dinosaur's backbone stretching toward the vast sea, are truly awe-inspiring. Adjacent to this picturesque beach is a beautiful Buddhist temple worth exploring en route or seeking refuge from the sun. However, Ky Co does have a minor drawback – it's managed by a private company, requires a nominal entrance fee of 25,000 VND (approximately 1 USD), and is open for visits only from 6 am to 6 pm daily.
5. Dam Trau, Con Dao Islands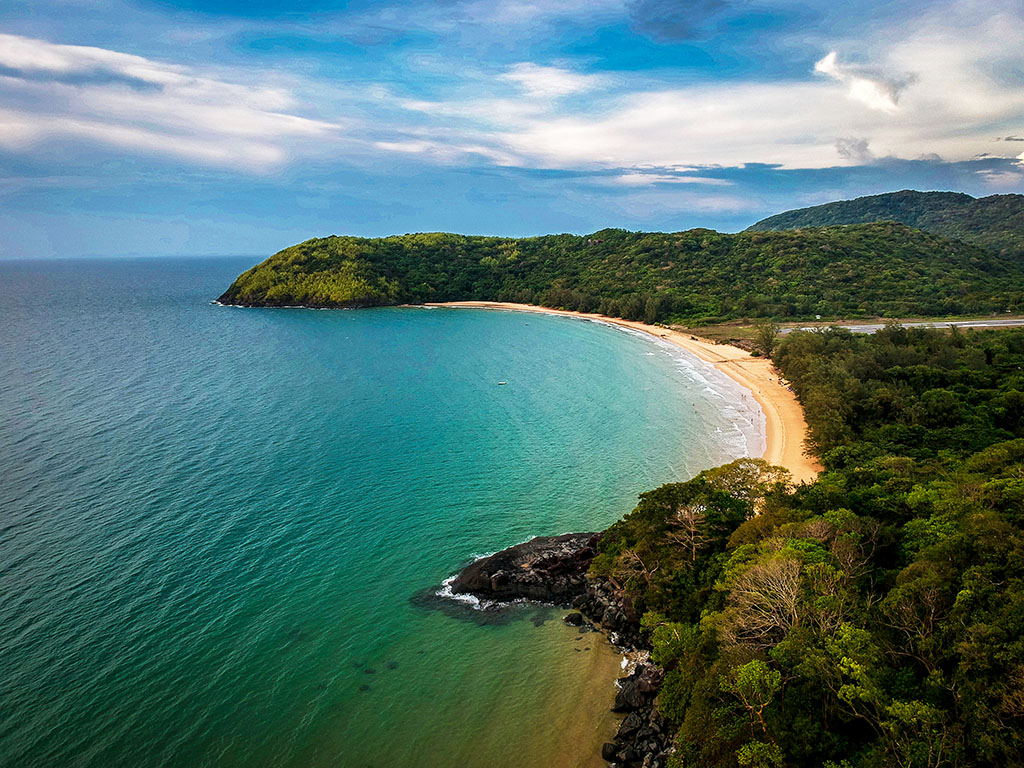 Con Dao itself is backed by natural resources and a rich historical background. The island is currently undergoing development and remains relatively undiscovered by travelers, making it a true hidden gem.
Dam Trau, not far from the airport, is renowned for its fine-grained orange sand beach and gentle waves. What sets Dam Trau apart is a verdant wall of centuries-old trees providing ample shade, perfect for relaxation while enjoying your favorite book and the sound of the sea. Highlighted activities include exploring colorful coral reefs, immersing in the fishermen's way of life, and joining them on a fishing trip. You can also rent a tent and camp overnight by the sea, waking up to the most spectacular sunrise imaginable.
6. Long Beach, Phu Quoc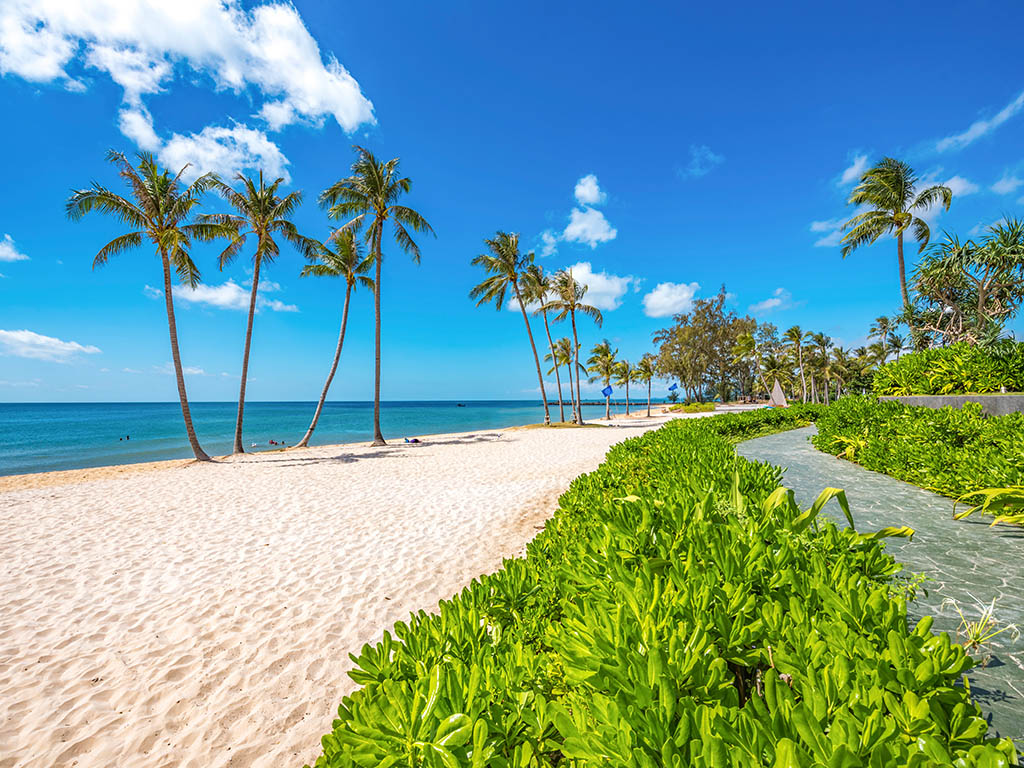 Phu Quoc, the largest island in Vietnam, is just a short plane ride away from Ho Chi Minh City, making it an ideal getaway. While the island boasts many beautiful beaches like Star Beach, Khem Beach, and Ong Lam Beach, Long Beach consistently remains the top choice. This beach earned its distinction as the number one spot on ABC News' list of the most pristine beaches worldwide in 2008.
Long Beach stands out as the most worthwhile destination due to its warm, pristine waters and lush, forested surroundings. Parts of it are privately owned by resorts. However, other sections offer relative tranquility, providing an excellent opportunity to have a quiet spot to yourself and savor the breathtaking sunset.
7. Mui Ne, Binh Thuan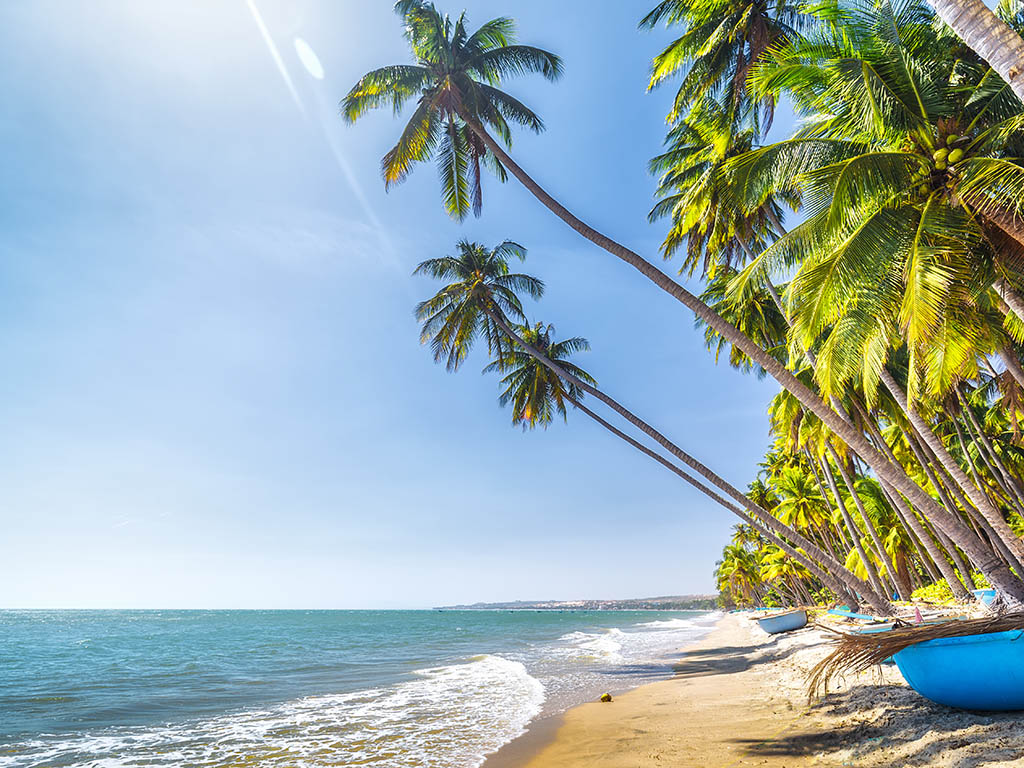 Mui Ne, a part of Binh Thuan, lies 180 km away from Ho Chi Minh City and stands out as an unmissable destination in the South. Blessed with a unique microclimate, even during the rainy season in the South, Mui Ne experiences minimal rainfall, making it a summer holiday paradise. Unlike any other beach in Vietnam or Southeast Asia, Mui Ne stretches alongside a newly constructed highway, flanked by both white and red sand dunes on the opposite side. This route stands as one of the most recommended road trips, offering surreal vistas of deserted sandscapes while feeling the ocean breeze tousling your hair as you speed along on a rustic motorbike, with the serene sight of fishing boats dotting the distance.
Mui Ne isn't just ideal for motorbike journeys; it's also renowned as the country's prime spot for water sports. From November to April, the windy season prevails, providing perfect conditions for kitesurfing and windsurfing. Additionally, you'll find opportunities for parasailing, kayaking, and motorboating. Don't miss the chance to dine at one of the food stalls set up along the beach for an unforgettable culinary experience.
8. Vung Tau, Ba Ria Vung Tau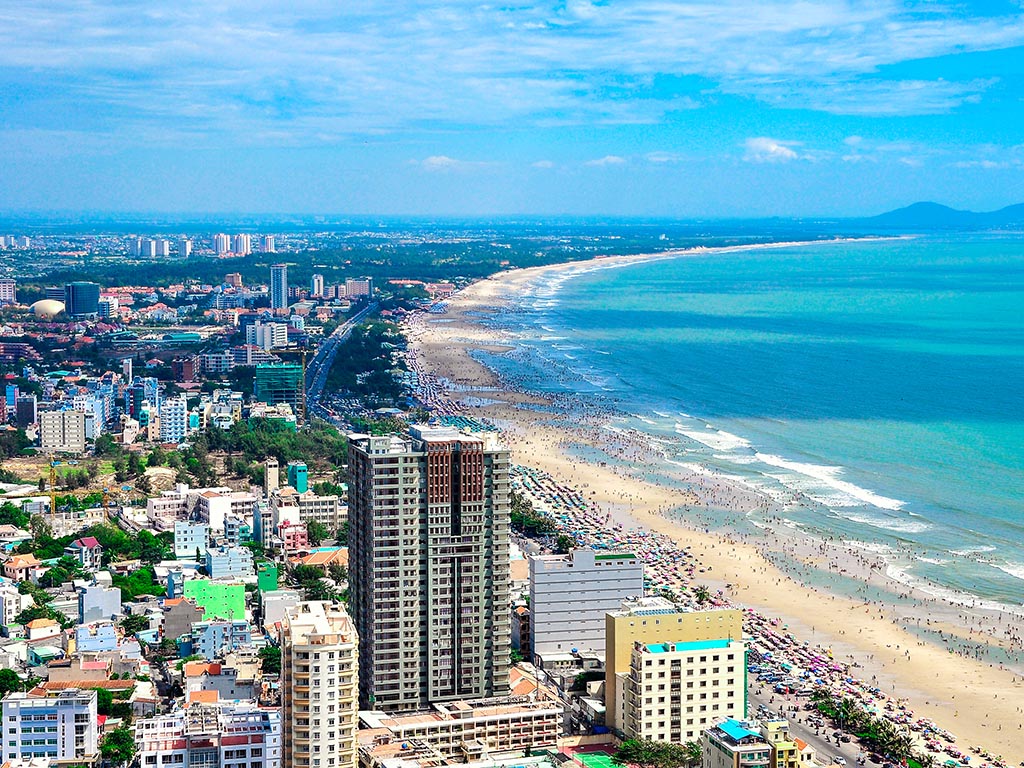 Vung Tau stands out as one of the go-to destinations for locals seeking a quick getaway. Situated just under 100 km south of Ho Chi Minh City, it offers various transportation options, including shuttle buses (ranging from middle-class to luxurious limousines), express boats, and motorbikes.
In contrast to the typical ambient turquoise sea often associated with beaches, Vung Tau's seawater has a distinct dark silt color. There was a time when the seashore was marred by rubbish discarded by tourists, tarnishing the beauty of this coastal city. However, recent years have witnessed a significant transformation, largely due to local authorities implementing laws to maintain beach cleanliness.
9. Cat Co, Hai Phong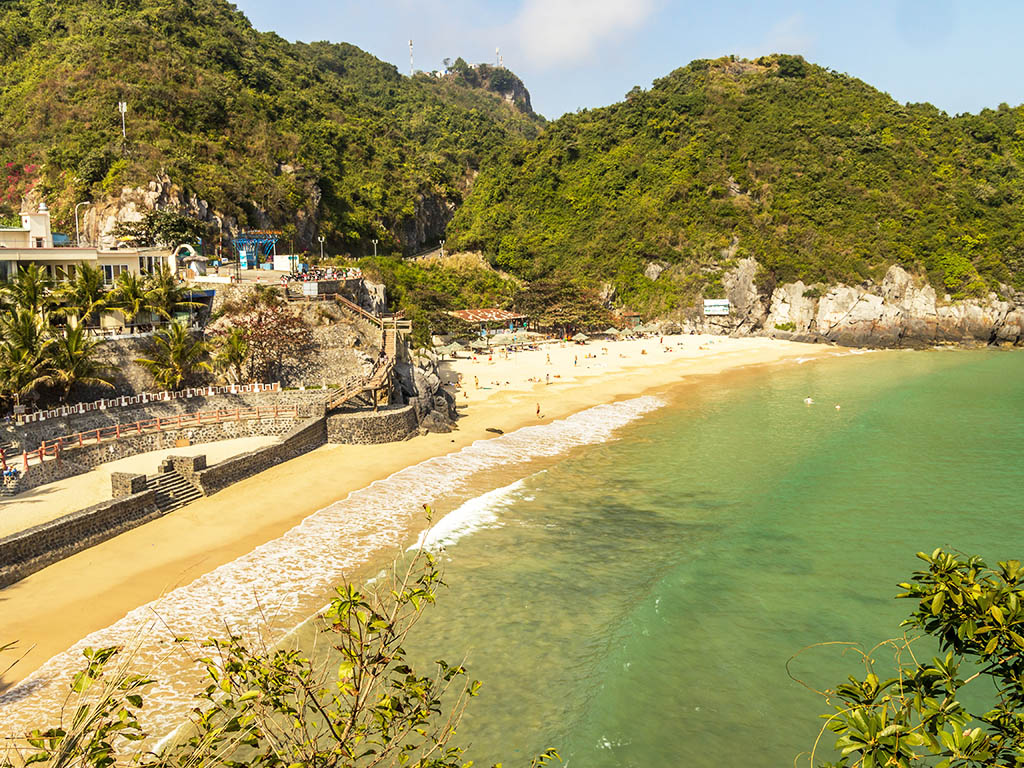 Cat Co Beach in Hai Phong stands out as one of the most stunning beaches in Northern Vietnam. Divided into three distinct beaches: Cat Co 1, Cat Co 2, and Cat Co 3, connected by a sturdy wooden bridge nestled against the mountainside. Cat Co 1 is the widest beach among the three, perfect for those who thrive in lively, bustling settings. On the flip side, Cat Co 2 radiates a tranquil beauty. As for Cat Co 3, with deeper waters and larger waves compared to the other two sections, it's a haven for thrill-seeking adventurers.
The sunrise and sunset moments at Cat Co Beach are highly anticipated by Cat Ba Island tourists, a time when nature paints a seamless union between earth and sky.
10. Lang Co, Thua Thien Hue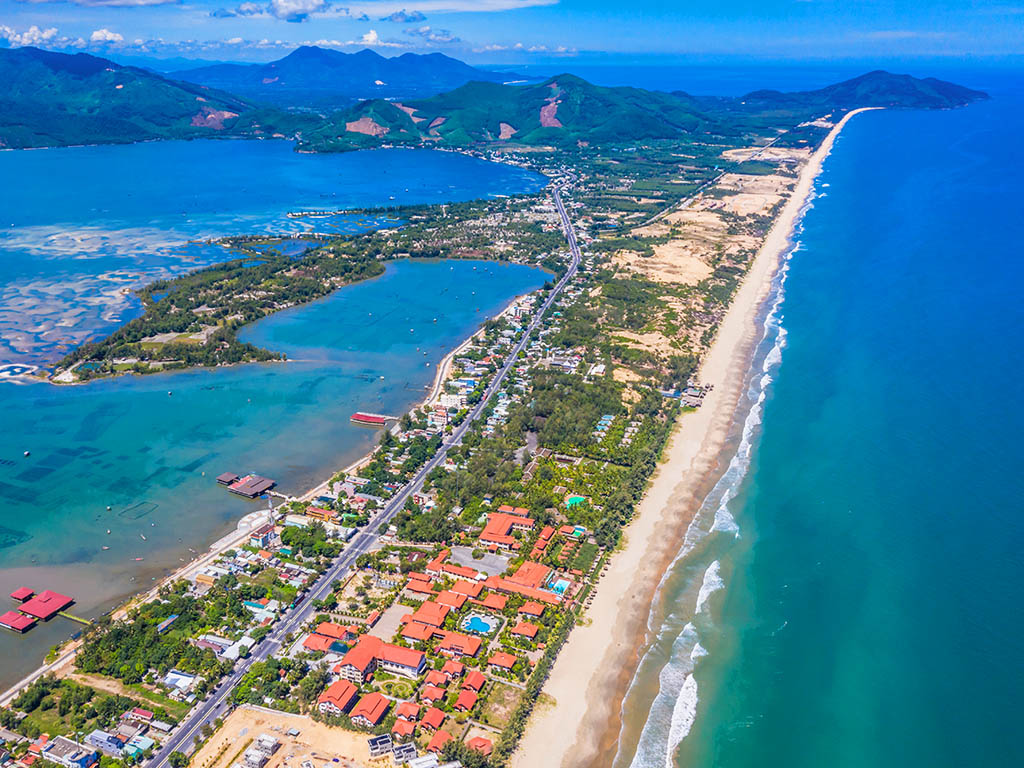 Lang Co Beach was designated as one of the most beautiful beach bays in the world by Worldbays. It is part of a large natural landscape, comprising mountains, a lagoon, and an extensive beach that creates picturesque scenery. Surrounded by vast tropical forest greenery, Lang Co harmoniously lies at the base of the breathtaking Hai Van Pass and amid three famous World Heritage Sites: the Complex of Hue Monuments, My Son Sanctuary, and Hoi An Ancient Town. The water is so pristine that you can see baby fish and small marine creatures swimming by. Surprisingly, it remains fairly undeveloped, maintaining its tranquility with very few developments.
Lang Co is renowned as the favored retreat of former royal families, which may explain the abundance of luxurious hotels and resorts situated further away from the beach itself.
It's your time now! Which beach in Vietnam is your favorite? Your vote could impact the ranking of the beaches listed above.