Ba Na Hills at a glance
Ba Na Hills is located in Hoa Ninh Commune, Hoa Vang District, about 25km from the center of Da Nang. It was built on the top of Nui Chua (Lord Mountain) with an altitude of 1.489 m above sea level. Ba Na Hills is known as one of the most attractive tourist destinations in Da Nang, a must-visit destination in Vietnam.
The origin of the name Ba Na
In February 1900, the Governor-General of Indochina, Paul Doumer, sent a captain named Victor Adrien Debay to see the surrounding mountains between Da Nang – Hue to find a resort later. After many explorations, Captain Victor Adrien Debay's army discovered Lord Mountain, which is Ba Na nowadays. The flat terrain here is very suitable for building villas. In addition to that, the climate in Ba Na mountain is very cool, airy, which is very convenient for vacation and convalescence.
However, it was not until 1912 that the Governor-General of Indochina issued a decree for Ba Na to become a forest conservation area. The first person to build a motel on Ba Na mountain was lawyer Beisson in May 1919.
Ba Na is rumoured to have a lot of people named. Some of them said that the name Ba Na comes from the French. When they arrived here, many bananas were planted, so they were called the mountain Banane Mountains.
According to another viewpoint, the name of Banane mountain is read as Ba Na by Vietnamese people. Besides, writer Nguyen Ngoc said that Ba Na is the Katu people's language, meaning "my mountain."
The best time to travel to Ba Na Hills
With beautiful natural scenery and a cool climate, visitors can visit Ba Na Hills in any season of the year. However, there are times best suits for traveling in Ba Na Hills:
From April to October: This is the summertime of the year. Coming to Ba Na at this time, you will enjoy the 4-season climate in a single day, watching the complete view of Ba Na Hills without fear of fog covering your eyes.
Festival time (December – February): Ba Na Hills has been dubbed the "premier destination for regional events and festivals." The festivals often coincide with the holidays and New Year celebrations with many unique and new experiences. At these times, Bana is splendidly decorated, the atmosphere also becomes more bustling and cheerful.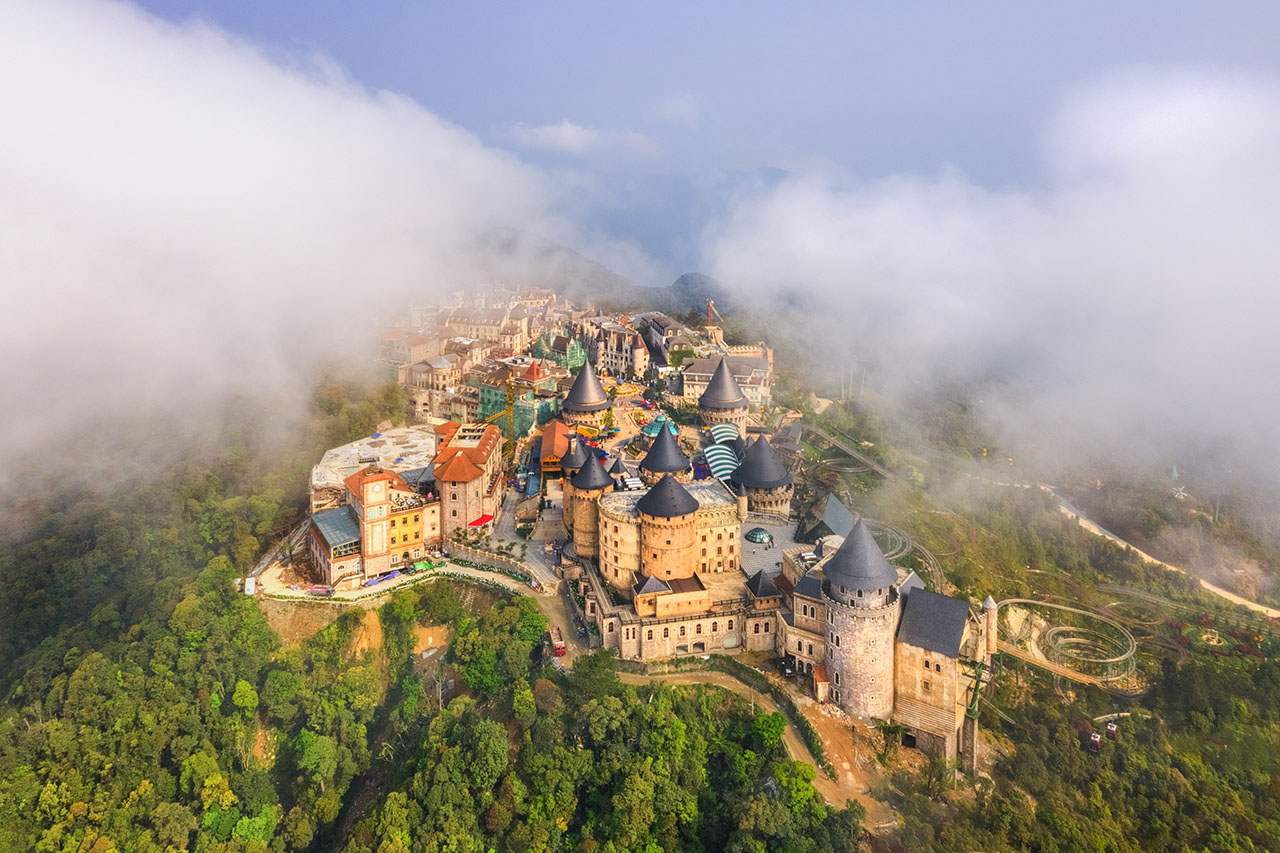 How to get to Ba Na Hills?
From Da Nang, you can move to Ba Na Hills by many means of transportation such as motorbikes, taxis, or open buses:
Motorbike: You can rent a motorbike in the center of Da Nang for 100.000 – 200.000 VND/day.
Open Bus: An open Bus is an attractive option for you from Da Nang Green, with the ticket price: 130.000 VND (round trip), you can book here.
Taxi: is a fast and convenient option for you with a price of 350.000 VND – 450.000 VND (one way).
Ba Na Hills ticket price
Adults: 850.000 VND
Children: 700.000 VND
Children under 1m tall are free of charge
Ba Na Hills ticket includes:
Entrance fee to the tourist site, Ba Na cable car ticket, free of charge for most games at Fantasy Park, mountain climbing train
Visiting Le Jardin D'Amour flower garden, Debay Wine Cellar, Golden Bridge, French Village, Spiritual area.
10% VAT (value-added tax)
Ba Na Hills ticket does not include:
Catering in Ba Na Hills
Fees for visiting Wax Museum (100.000 VND/adult and children over 1.4m)
The prize-winning game at Fantasy Park
What to play in Ba Na Hills
As one of the largest entertainment centers in Vietnam, there are lots of fun games for all ages.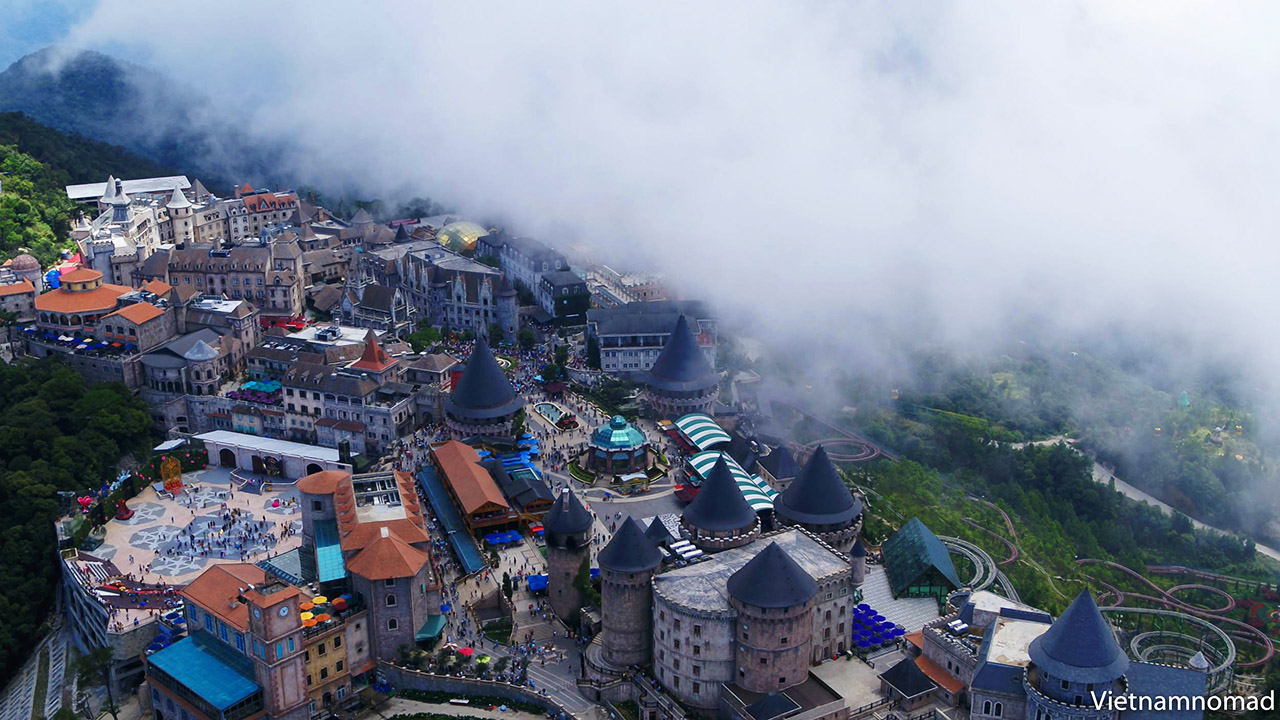 Mountain climbing train: This is the first Vietnam mountain climbing train, taking visitors to explore Linh Ung Pagoda, D'Amour flower garden, Debay ancient wine cellar.
Wax Museum: This museum is the first wax showroom in Vietnam with many statues of famous people. Each work is a sophisticated technique performed by Italian artisans.
Fleuriste Flower Shop: There are countless unique flower patterns from around the world and from Da Lat gathering here. The flower shop is like a clear picture in the sweet scenery of the French Village, a destination that tourists definitely should not miss, especially the ones who love flowers and beauty.
Fantasy Park: A fascinating game park with over 100 games inspired by two famous novels, "Journey to the center of the Earth" and "Twenty thousand miles below the sea floor".
Tube Sliding: This is a special game for those who love speed and like thrills. The tube slide is designed with two double swirls, and visitors will control the sledge weaving through the challenging spiral arc to reach the finish line.
Must-visit attractions in Ba Na Hills
With beautiful natural scenery and impressive construction, Ba Na Hills has countless beautiful places to visit.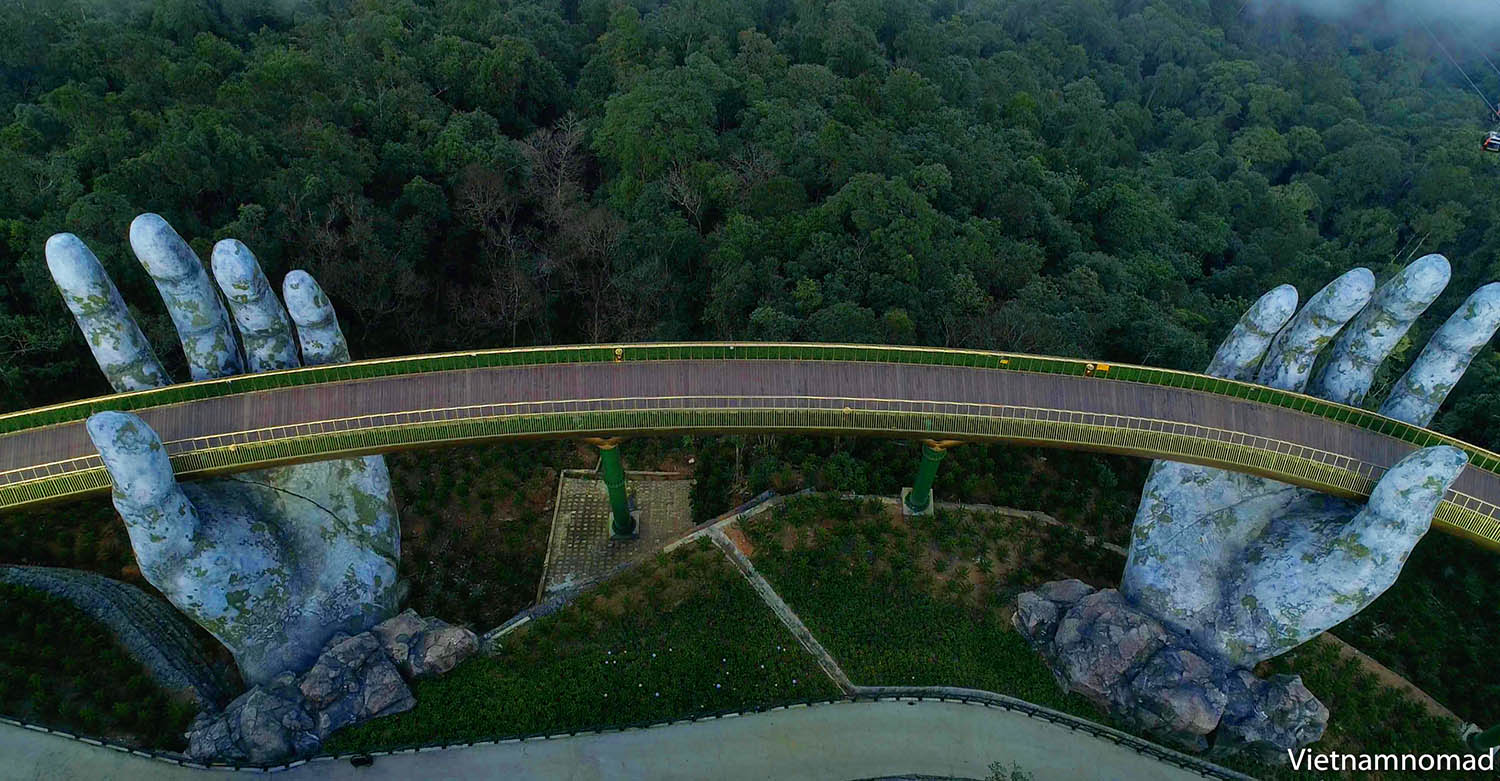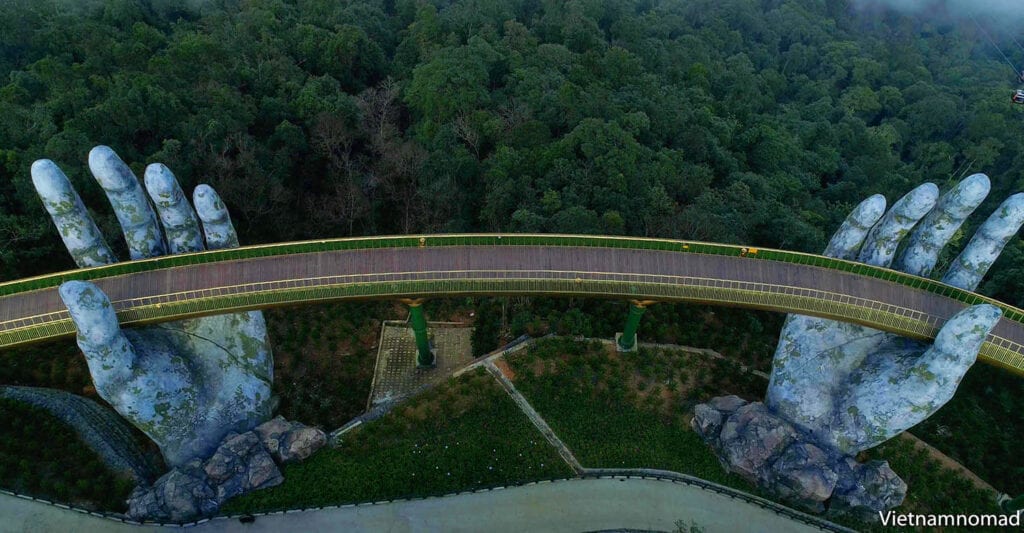 1. French Village
The French village consists of 7 areas corresponding to 7 musical notes in a colorful, dream music. Therefore, this place is always an ideal destination for travelers who are passionate about exploring ancient European architecture and enjoying the highest level of service.
2. The Golden Bridge
The bridge is located at an altitude of nearly 1500m above sea level. Golden Bridge is designed impressively with images of a hand supporting the bridge in the sky. The bridge is located in the Thien Thai garden and helps visitors to travel more conveniently from the foot of the mountain to the Le Jardin D'Amour flower garden.
3. Le Jardin Garden D'Amour
Le Jardin Garden D'Amour has 9 flower gardens in total. They are created in different themes, stories, and styles which brings out a romantic space for visitors to take impressive photos.
4. Linh Ung ancient pagoda
For those who want to find a place of pure spirituality, you can stop by the ancient Linh Ung pagoda on the top of God's mountain. There is a statue of Shakyamuni Buddha, which is one of the largest statues in Southeast Asia. Additionally, Linh Ung pagoda also has many beautiful and delicate worshipping structures that make the meditation atmosphere more pure and relaxed.
5. Debay ancient wine cellar
Debay wine cellar is a unique work built by the French in 1923 to store alcohol, especially wines. The French wine cellar is 100m long, always kept at 16-20 degrees Celsius, and built with monolithic rock deep inside the cave. This is a fascinating place, and do not forget to try the fine wine in the ancient Debay cellar!
6. Linh Chua Linh Tu Temple
Linh Chua Linh Tu Temple is a place of worship, remembering the merit of God Thuong Ngan, who protected Ba Na Hills. Tourists come to the temple – the meeting place of heaven and earth, where the Yin and Yang meet – to find peace among the chaos of life.
7. Mieu Ba 
Mieu Ba Temple was founded in 1931 and underwent war. Fortunately, it wasn't collapsed. At present, Mieu Ba is being restored and upgraded to become a place for pilgrims to stop and pray for good things.
8. Linh Phong Bao Tower
Linh Phong Bao Tower consists of nine floors; each floor has four sides mounted Sakyamuni Buddha image of white stone facing the four directions of East, South West, and North East. Each corner of the tower floor is hung a copper bell symbolizing the sacred echoes of the Tower.
What to eat in Ba Na Hills
Coming to Ba Na Hills, visitors have two options for dining. The first one is to eat buffet, and the second is to eat at the restaurant ordering different dishes available on the menu.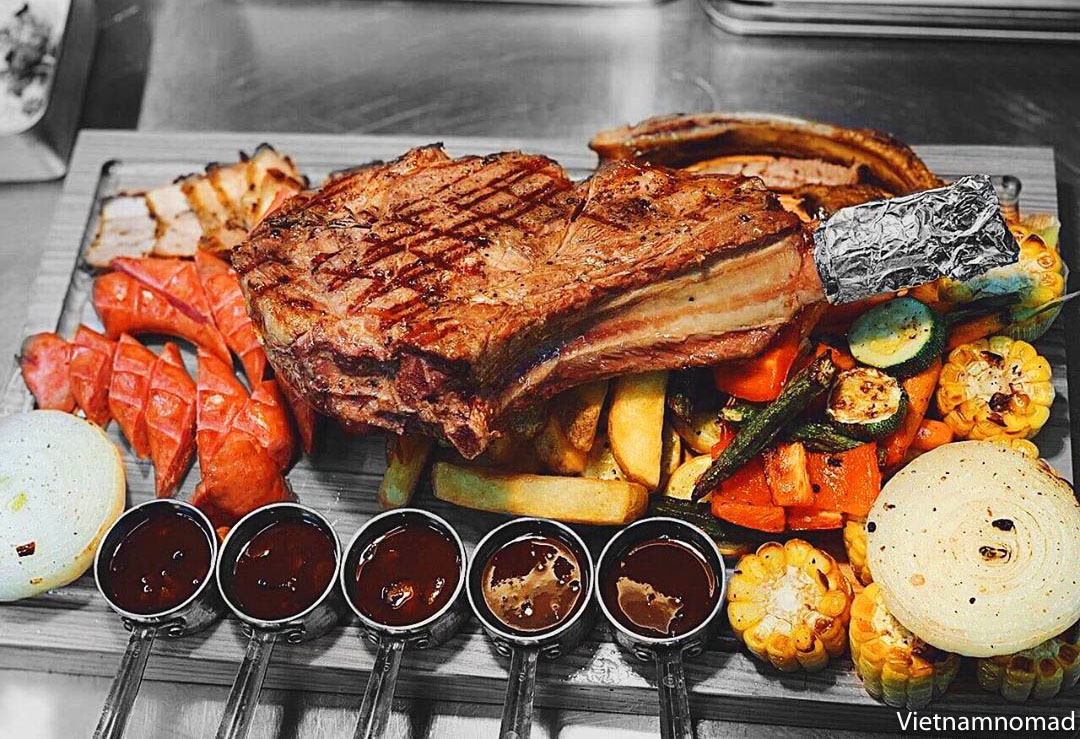 1. Buffet
Ba Na Hills buffet is highly appreciated by travelers for its diverse and delicious menu with over 70 attractive Asian and European dishes. The buffet price ranges from 180.000 VND to 300.000 VND/ adult. Children from 1 to 1.4 meters tall are charged 50%, children under one meter tall are free of charge.
The famous buffet restaurants in Ba Na include Lavande, Arapang, Morin, Beer Plaza, and Hoa Lan. The choice of buffet will help visitors discover several different attractive dishes without worrying about the price. This is also an ideal choice for large groups of guests with a variety of dining preferences.
2. À La Carte
This is the ideal dining option for couples, small families, and groups of friends if you have time. You will order based on the restaurant's menu available, depending on the number of people eating. Food costs will be calculated based on the price of the food you order.
With this dining option, you will not have to move, but the staff will bring food to the table. The dishes are processed at the time you order, so they are served with the best flavor. However, this option is also quite expensive; you should check the price of food before ordering.
Some famous restaurants are Kavkaz Baku Restaurant, Brasserie Restaurant, and Fast food in Fantasy Park.
The famous festival in Ba Na Hills
The unique attractions on Ba Na Hills are the festivals held all year round. Products and services related to festivals here are always innovating and developing continuously on a monumental scale. As a result, those festivals in Ba Na always make visitors go from surprise to surprise.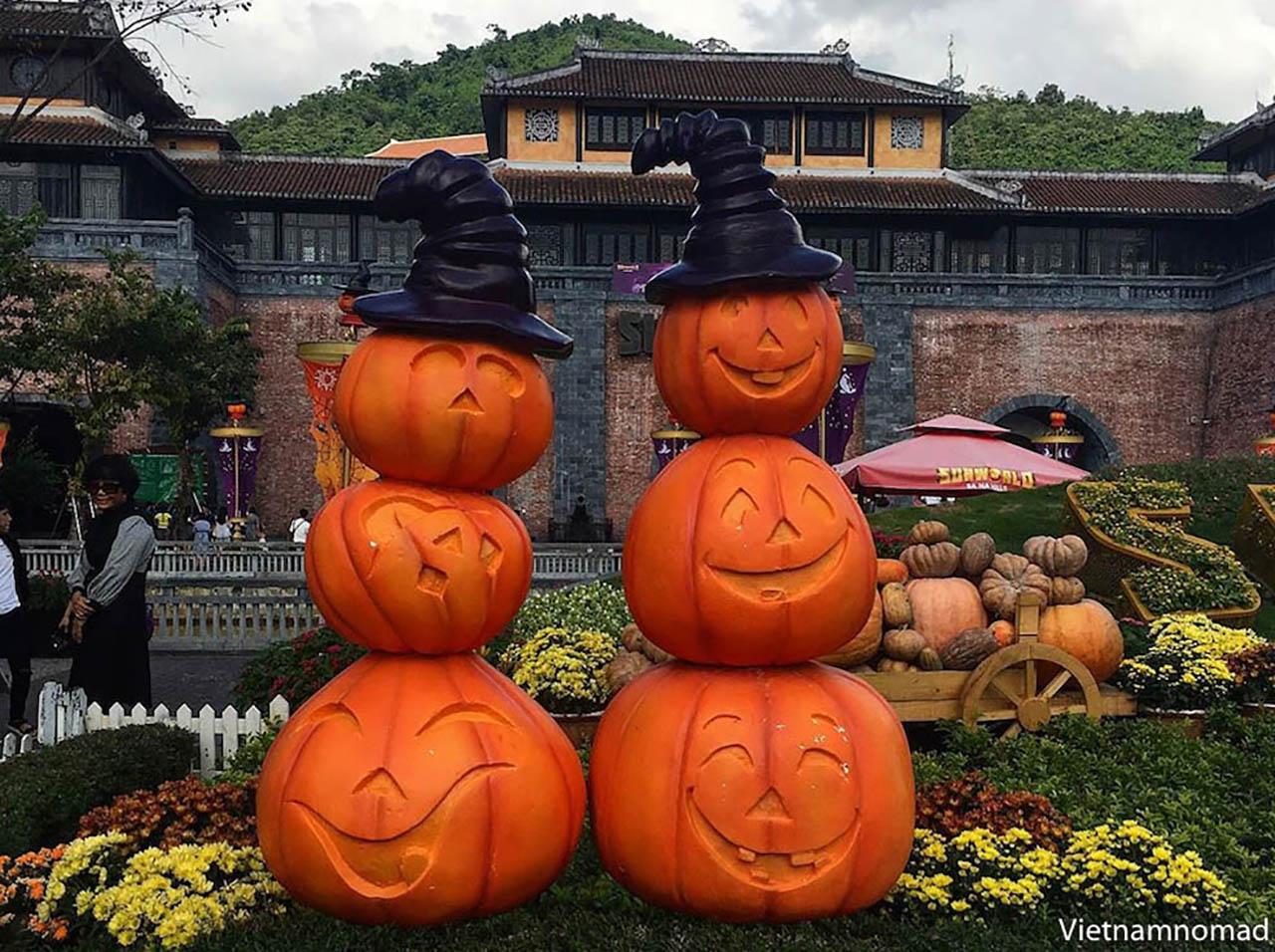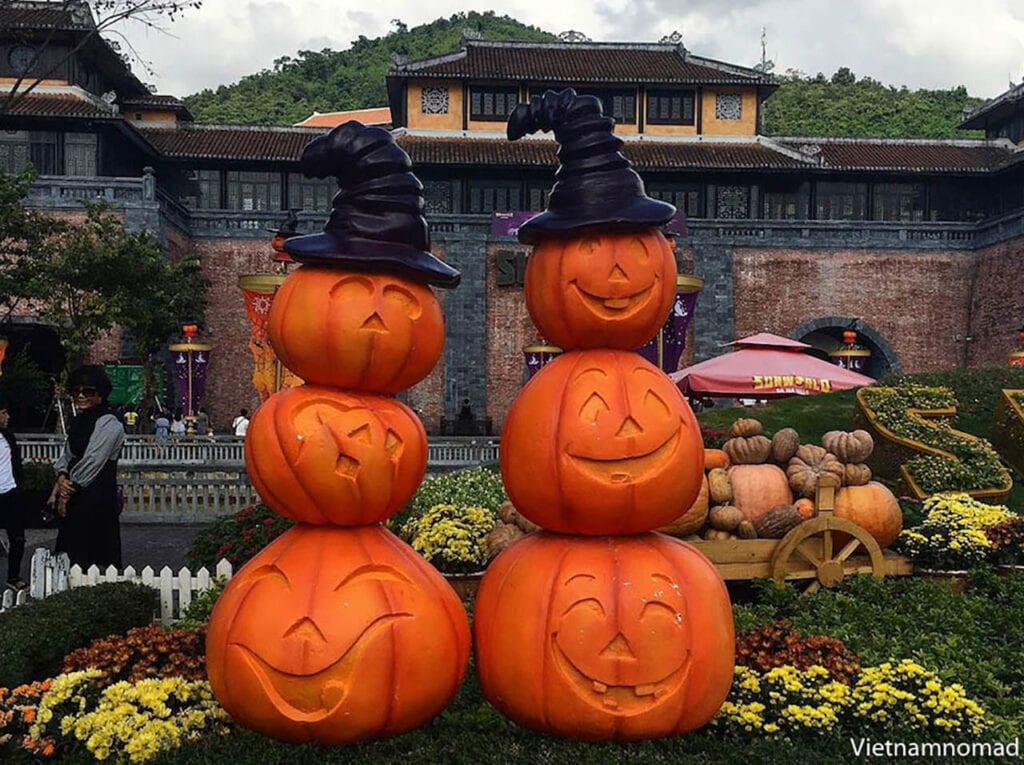 Flower Festival: Flower festival is held in the spring when hundreds of flowers bloom. The festival takes place in February and March every year. During this time, Ba Na is filled with colorful flowers.
Carnival: The festival is held in the square of the French village with dancers from all around the world. The festival takes place from April to September.
Wine Festival: Tourists will discover in detail how wine is made and enjoy a variety of fine wines. The festival takes place in May in the French village.
B'estival Beer Festival: This is considered the biggest beer festival in Vietnam with activities such as drinking free beer, watching fencing, etc. The festival takes place from June to September in Du Square Dome and Beer Plaza.
Halloween Festival: This festival is expected by many visitors when they are immersed in a unique haunted atmosphere. The festival takes place in October.
Winter Festival: This is the last festival of the year taking place at Christmas. Tourists will be deeply involved in a splendid space.
Some notes when visiting Ba Na Hills
For the perfect Ba Na Hills trip, please note the following:
Ba Na cable car tickets can only be used during the day.
Visitors should strictly follow the policy of not bringing food and beverage to Ba Na Hills, do not try to "break the law".
Being conscious of protecting the environment and natural landscape, not littering indiscriminately.
Visitors should bring a change of clothes if you want to bathe at Suoi Mo.
Don't forget sunscreen, hats, and allergy medicine.
We hope that the information of Ba Na Hills travel guide above will help visitors have a memorable time and wonderful experience in Ba Na Hills, Da Nang.
Information such as ticket prices as well as events and games in Ba Na Hills will be constantly updated by us to ensure objectivity and accuracy.
See you in Ba Na Hills!