Welcome To Ho Chi Minh City
Ho Chi Minh City (Saigon) is the biggest city across the country, once known as the Pearl of the Far East. Although this city is not rich in natural resources, it always has a reason to please visitors. Before starting our Ho Chi Minh travel guide, we invite you to take a look at the city view from above.
Saigon Travel Guide Free Ebook
Another assistant that will help you discover Ho Chi Minh absolutely is the Saigon Guide Book, you can download it for free. The book includes all the places, eateries, travel tips in Saigon. Hopefully this book will help you travel the city more easily!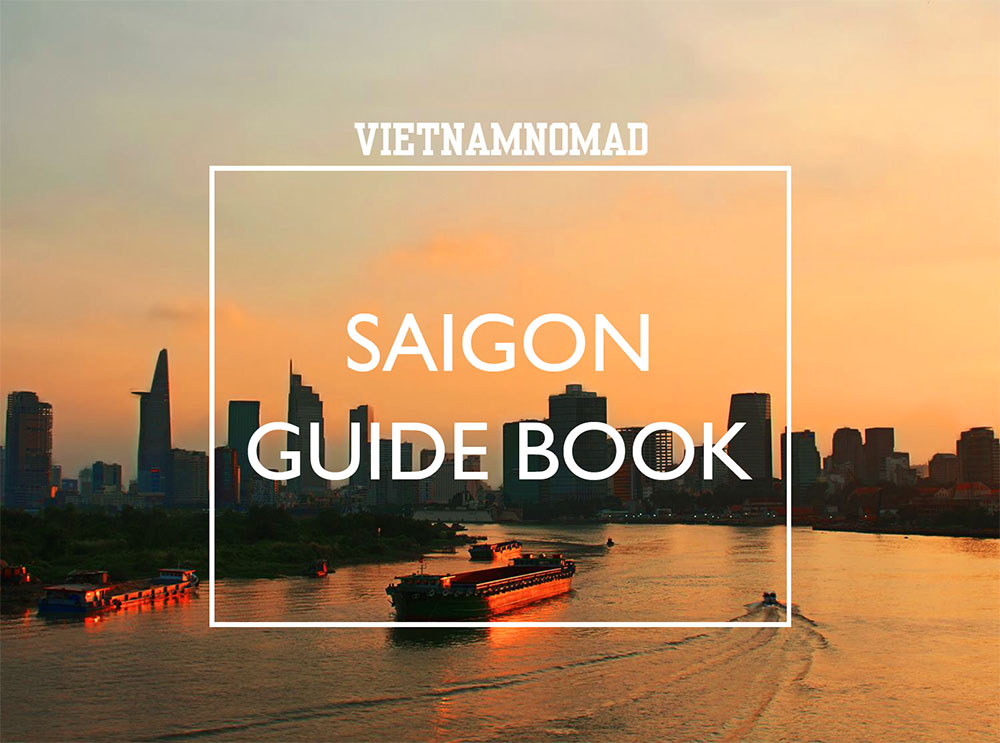 The best time to visit Ho Chi Minh City?
Ho Chi Minh City weather does not have four seasons like Hanoi but only two: rainy and dry. The rainy season is from May to November, the best time to visit Ho Chi Minh City is in the dry season (December – April). In general, you can come to Ho Chi Minh City at any time of the year, and the rainy season here has its beauty, rain in Saigon is usually very short, sometimes only a few minutes, so it does not affect your journey, even as well!
Top 8 must-visit attractions in Ho Chi Minh City
Talking about Saigon, there are countless places waiting for you to visit, maybe it is tiny alleys, or a flower market. However, we recommend you the places to visit when you come to this city, which are not the best places but they are most suitable for tourists.
War Remnants Museum
Cu Chi Tunnels
Bui Vien Street
Ben Thanh Market
ade Emperor Pagoda
China Town
Independence Palace
Nguyen Hue Warking Street
Located on Vo Van Tan Street, District 3, Ho Chi Minh City, the War Remnants Museum is an example of Vietnam during the war years against the US – Wei. These artifacts and images remain as evidence to denounce the crimes of the colonialists. The museum is one of the top 10 museums in the world (voted by TripAdvisor Readers), and is always the first choice of travelers to this city.
Opening: 7:30am – 6:00pm
Entrance ticket: 40.000 VND
Cu Chi Tunnels is a famous historical site located in Cu Chi District, Ho Chi Minh City, about 70 km from the city center. Built-in 1946, was the revolutionary base of Vietnam soldiers, which included many rooms, infirmaries, kitchen, storage, office, underground road system, supply weapons, food, ammunition, drink, and living quarters during the Indochina War and the Vietnam War.
Entrance ticket: 100.000 VND
Opening hours: 7 am – 5 pm
Bui Vien is a small street in Ho Chi Minh City, it is known as the top destination for travelers (especially European travelers). It is also considered a street food and entertainment paradise of this city.
In the evening, the street is full of people, the shops selling right on the road, selling typical dishes of many countries, including typical dishes of Saigon.
The markets in Vietnam always bring a unique identity of the local community. If Hanoi has Dong Xuan market, Hue has Dong Ba market, Saigon with Ben Thanh market is an unofficial symbol of this city. Built-in the 1900s, Ben Thanh market has spent many years of vicissitudes of the war and many times of restoration, today, this market is still a major trading area of Saigon and a top destination for tourists.
Address: Le Loi Street, Ben Thanh Ward, District 1
Ho Chi Minh City has been a place of cultural exchange of large countries in the past so the temples in Saigon possess a different identity and architecture. Located at 73 Mai Thi Luu, Da Kao Ward, District 1, Jade Emperor Pagoda is one of the most famous ancient temples in Saigon, the Pagoda was built in Chinese style and architecture in the early 20th century.
On May 24, 2016, US President Barack Obama paid a visit to the Jade Emperor during his official visit to Vietnam.
Opening hours: 7 am – 6 pm
Chinatown is an area with many Chinese people living in District 5, also known by a different name is Cholon. Previously, Saigon and Cholon were two separate cities, in the process of development, Saigon and Cholon were merged (Ho Chi Minh City). Come to Cholon, discover the typical culture of the people here and enjoy the delicious dishes of the Chinese-Vietnamese community.
There is a famous temple here, Ba Thien Hau Pagoda, this more than 200-year-old temple is sacred in Saigon. Address: 710 Nguyen Trai, District 5.
7. Independence Palace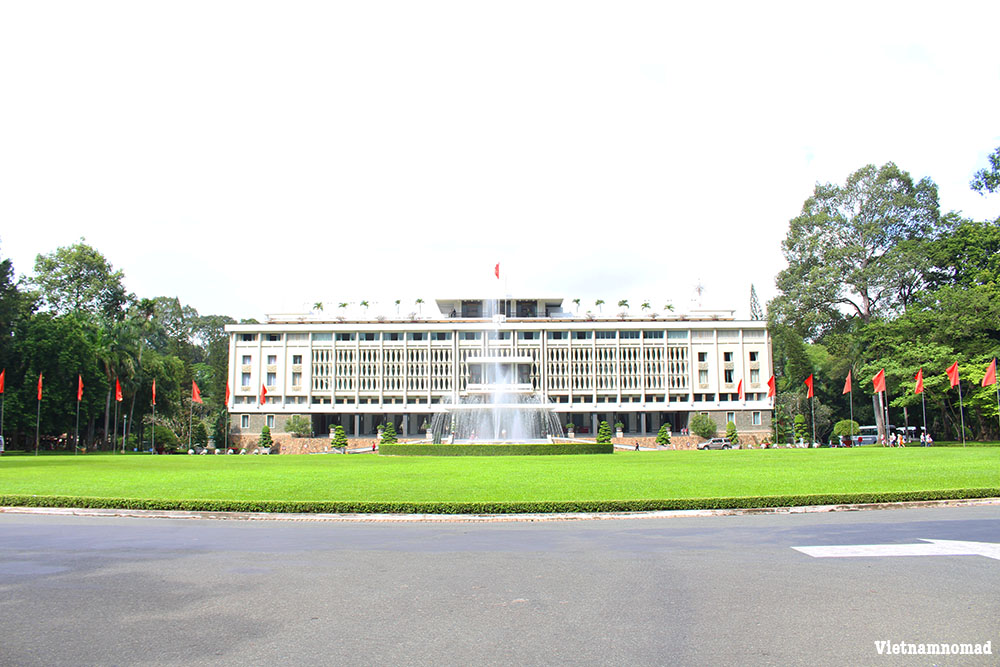 Independence Palace (or Reunification Palace) is an attractive sights of tourists coming to this city. Built-in 1966, on a 12-hectare campus in the center of Saigon, included 3 main floors, 1 terrace, 2 mezzanines, ground floor, 2 basements and a landing platform for helicopters, Independence Palace was the workplace of the President of the Republic of Vietnam during the Vietnam War. It is tied to the vicissitudes of history, events of the times and anecdotes about feng-shui.
Address: 135 Nam Ky Khoi Nghia Street, District 1
Opening hours: 7:30 am – 11:00 am; 13:00 pm – 16:00 pm
Price: 40.000 VND
Located in the heart of the city, Nguyen Hue is a 670m long walking street from Ho Chi Minh City Hall to Bach Dang Wharf, Saigon River. It is the most lavish street in the city, home to high-class hotels and business centers. Come to Nguyen Hue, do not forget to visit the building number 42, also known as the Cafe Apartment, go there, choose a window pane, enjoy a cup of coffee and admire the whole splendor of Saigon!
Top 5 must-try food
Saigon is called a street food paradise, no matter where you go in Saigon, you will encounter street vendors selling Banh Mi, Xoi or Sugarcane juice.
There are two famous streets for street food for tourists: Bui Vien Street and Pham Ngu Lao, don't forget to go there to enjoy a plate of seafood and a bottle of Saigon beer. Here are the top famous Saigon dishes that you can enjoy anywhere in this city.
1. Banh Mi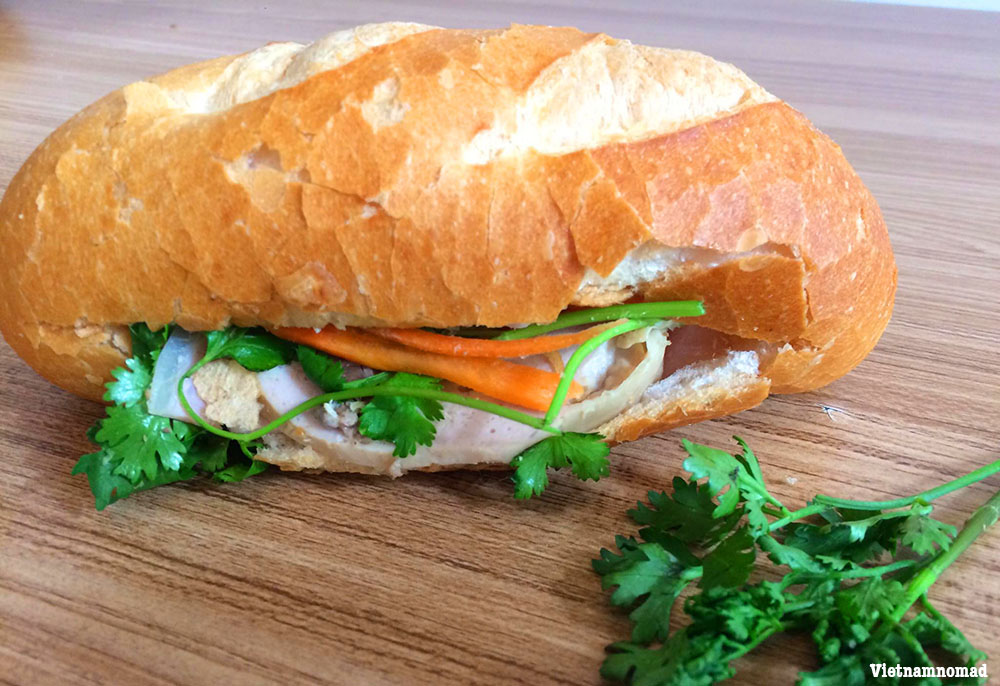 Is the Banh Mi the world's best sandwich? That's David Farley's (BBC) question after enjoying Banh Mi. Of course, perhaps, when it comes to Vietnamese cuisine, it is indispensable for Banh Mi, a very convenient dish for breakfast or snack.
Banh Mi makes of flour, like the Baguette but smaller, and fillings inside. Depending on the region and each restaurant that has different filling but often has: grilled pork, egg, sausage, soft pork meatballs, pork bologna, and vegetable.
In Saigon, you can find Banh Mi anywhere, the price of which is popular from 15.000 to 30.000 VND.
2. Hu Tieu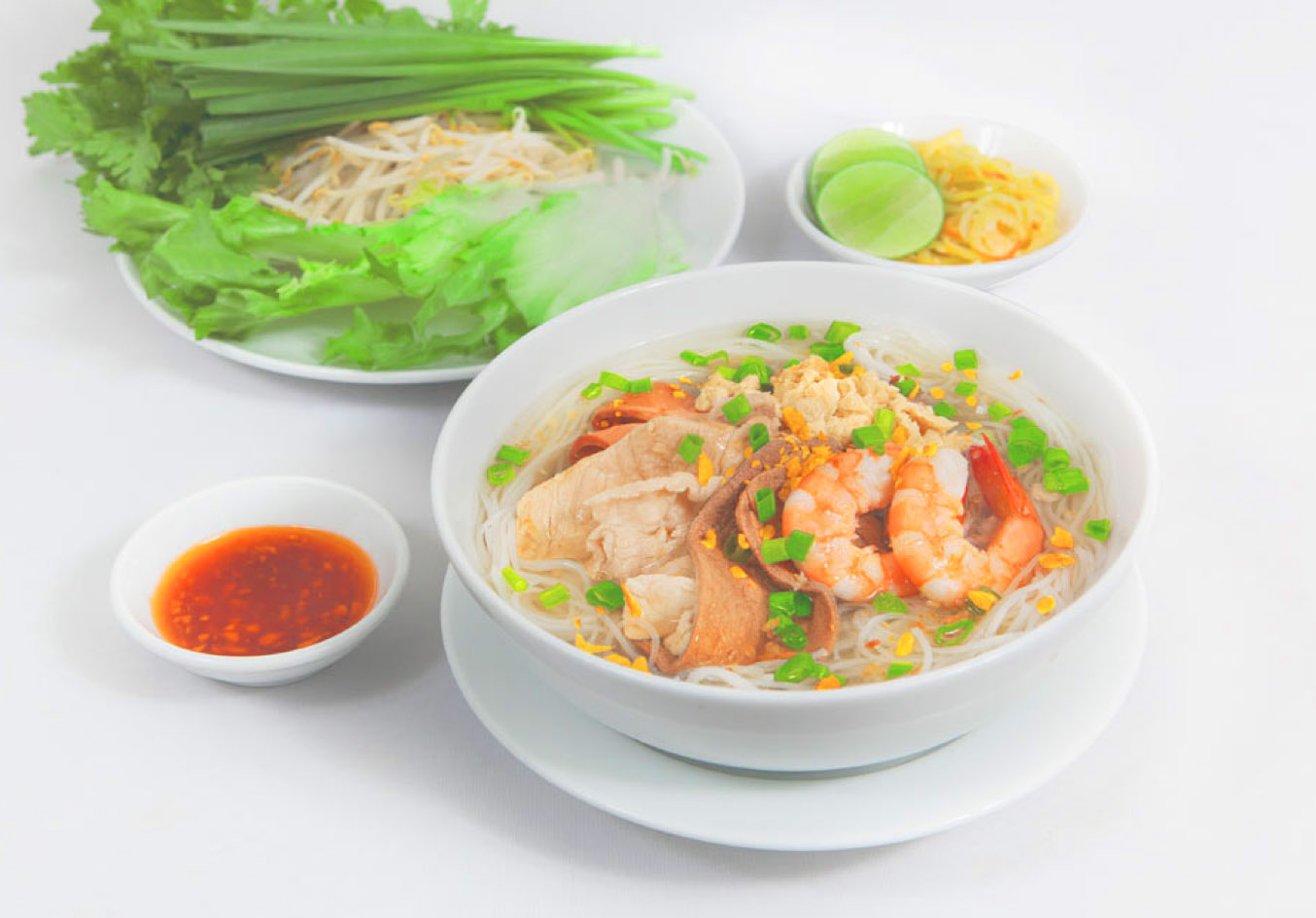 In general, Vietnamese cuisine focuses on soups, including famous dishes such as Pho, Bun, and Hu Tieu. Pho is a national dish of Vietnam and famous in the North (where it was born) and in the South, Hu Tieu is considered a typical dish of this land.
Hu Tieu is a noodle soup consisting of broth, hu tieu (rice noodle), pork meat, cuttle, and shrimp. It's typically served with lots of greens, vegetables, and bean sprouts.
Here are suggestions for you:
1. Hu Tieu Thanh Xuan (7 am – 7 pm)
Address: 62 Ton That Thiep, Ben Nghe ward, District 1
Price: 30.000 – 60.000 VND
2. Hu Tieu Chu Tu Gia (7:00 am – 10:00 pm)
Address: 217B Pham Viet Chanh, Nguyen Cu Trinh Ward, District 1
Price: 35.000 – 45.000 VND
3. Com Tam
If suggesting a lunch in Saigon, Com Tam is the most suitable dish. Its main material is cooked rice and other savory. The savory is usually grilled pork, fried eggs, Lap Xuong (Vietnamese sausage) and pork skin (pork skin). Com Tam's served with cucumber and tomato.
Some restaurants we recommend:
1. Restaurant Com Tam Cali (7:00 am – 11:00 pm)
Address: 236 Le Thanh Ton, Ben Thanh, District 1
Price: 50.000 – 85.000 VND
2. Com Tam Moc (7:00 am – 10:00 pm)
Address: 85 Ly Tu Trong, Ben Thanh, District 1
Price: 50.000 – 65.000 VND
4. Banh Xeo
Banh Xeo (pancake) is a popular dish in Ho Chi Minh City, there are two types of Banh Xeo: Banh Xeo Mien Tay (Banh Xeo of Mekong Delta) and Banh Xeo Mien Trung (Banh Xeo of Central Vietnam), Banh Xeo of Mekong people are bigger and more popular.
Banh Xeo makes from rice flour, pork, shrimp, and bean sprouts. It is typically served with lots of greens, herbs, vegetables. The sauce is made from fish sauce and added some spices.
To enjoy a delicious Banh Xeo, try our recommendations:
1. Restaurant An La Ghien
Address: 74 Suong Nguyet Anh, Ben Thanh, District 1
Opening Hours: 9:00 am – 9:00 pm
Price: 50.000 – 100.000 VND
2. Banh Xeo Muoi Xiem
Address: 204 Nguyen Trai Street, Pham Ngu Lao Ward, District 1
Opening Hours: 9:00 am – 9:00 pm
Price: 50.000 – 110.000 VND
5. Street food
Speaking of Saigon is talking about street food, just along the way, you will encounter countless street vendors with typical dishes of this place such as Xoi, Tofu, dumplings, seafood, and Che (sweet soup).
If you come to this city, spend 1 night in Bui Vien Street to enjoy the Saigon nightlife; pick a roadside restaurant, sip a bottle of Saigon beer and a plate of seafood, maybe you'll love this city from that moment.
Ho Chi Minh City Travel Guide Articles
Accommodation
Speaking of accommodation in Ho Chi Minh, there are countless choices for you. A luxurious 5-star hotel on the bank of the Saigon River is an option for luxurious trips, a budget hotel is an economical option, or simply a bed in a hostel in a small alley.
Ho Chi Minh is the tourism capital of Vietnam, accounting for more than half of the number of tourists visiting Vietnam, in recent years, hotels, motels, and especially Airbnb room have grown a lot, so wherever you go in this city, there's always a place just for you!
Transport in Ho Chi Minh City
OVERVIEW
In Saigon, there is an airport – Tan Son Nhat international (with 2 terminals: Domestic and International), which is about 7km from the city center.
Two big coach stations are the Eastern coach station (Ben Xe Mien Dong) to go to the eastern and northern provinces and the Western coach station (Ben Xe Mien Tay) to go to Mekong Delta.
The Public transport system consists of 110 bus routes spread to every district from main roads to alleys.
The Train Station Address: 1 Nguyen Thong, Ward 9, District 3, Ho Chi Minh, Vietnam.
In addition, there are some bus companies going to specific provinces as Thanh Buoi (go to Dalat) and Phuong Trang (go to most of the provinces in the Mekong Delta).
AIRPORT BUS: There are 2 bus routes from the airport to the city center: 109 and 152
+ The bus 109 (5:30 am – 1 am), fare: 12.000 VND (0,5 USD). Departure: Tan Son Nhat Airport, Stop: 23/9 Park.
+ The bus 152 (6 am – 6 pm), fare: 6.000 VND. Departure: Tan Son Nhat Airport; stop: Ben Thanh station.
You should install the Busmap application to look up the bus route details.
BOOK TICKETS:
+ Train: Via the website: www.dsvn.vn. (Vietnam railway company official).
+ Phuong Trang Bus (go to Mekong Delta): Via the website: futabus.vn
+ Thanh Buoi Bus (go to Dalat): Via the website: thanhbuoibus.com.vn
MOTORBIKE?
You can easily rent a motorbike at your hotel or shops (we recommend in Bui Vien Street area) for between VND 150.000 – 200.000 VND (7-10 USD) / day; however, you need an international driver's license and you must wear a helmet when driving.
Shopping
Referring to the types of shopping in Ho Chi Minh City, the traditional market is the preferred type, you can buy everything there, and in particular, every market in Saigon has its own unique character such as Ben Thanh Market has the identity of a genuine Saigon, Binh Tay Market has the identity of the Chinese community. There are also some markets that sell only one type of product such as Hoa Ho Thi Ky market, Nhat Tao market selling old electronic components.
Convenience store is one of the advantages of Ho Chi Minh City compared to other localities. In this city, you will find convenience stores wherever you go. These include big convenience stores such as Seven Eleven, Vinmart +, Circle K and Family Mart
Shopping malls are popular shopping options in Saigon. These include popular names such as Vincom, Diamond Plaza and Lotte Mart.
Entertainment
Ho Chi Minh City is Vietnam's entertainment capital, there are many entertainment venues such as cinemas, theme parks, and theaters.
Cinema: Cinestar, CGV, lotte, BHD Star are the top brands in Ho Chi Minh City
Theme park: Suoi Tien Theme Park and Dam Sen Park are two top choices.
Theater: The Opera House.
A large number of bars and pubs are concentrated in District 1 (downtown), especially the "Western Street" areas of Bui Vien and Pham Ngu Lao.
TIPS
Recommended length of stay: 3-4 days
Money Exchange in Ho Chi Minh City
For the best exchange rates, you are recommended to visit the money changers and gold dealers around Ben Thanh Market, Bui Vien Walking Street, and Banks.
Recommended Money Changers
Ha Tam Jewellery (7 am – 10 pm) Address: 2 Nguyen An Ninh, Ben Thanh, District 1, Ho Chi Minh City (near Ben Thanh Market)
Kim Mai Jewellery (7 am – 8 pm) Address: 84C Cong Quynh, Nguyen Cu Trinh Ward, District 1, Ho Chi Minh City (near Bui Vien Walking Street)
Banks: DongA Bank, BIDV, Vietcombank.
NOTE
The traffic in the city is crazy, so always be careful when crossing the road.
Don't forget to bargain when buying in places of international tourists such as Ben Thanh market and Bui Vien street.
Keep personal belongings carefully when visiting in crowded places as Bui Vien, Nguyen Hue, and Ben Thanh Market.
Ho Chi Minh City is a tourist center, one of the best places to visit in Vietnam. Whether you like quiet or bustle, this city has a place just for you!
Meet you in Ho Chi Minh City!