Ho Chi Minh City at a glance
Ho Chi Minh City, or as it is often called intimately by the locals as Saigon, is one of the sought-after destinations while travelling in Vietnam. Located in the southern part, this is the biggest as well as the most populous city in the country. Once biased and recognized as the "Pearl of the Far East" during the Indochina era, Saigon of the modern times attracts people not for the spectacular natural landscapes but for its dynamic lifestyle – where endless options of activities are going to tie your heart. This metropolis city stands out among so many other major ones because, besides the rapidly developing aspects, it still remains a touch of French spirit in the architecture and the way of living. Acting as a transportation point, a religious center, and an entertainment hub, Ho Chi Minh City is absolutely a must-visit city for your journey of exploring.
Ho Chi Minh City weather
It is divided into two seasons in Saigon: dry season and rainy season. Saigon possesses a humid subtropical climate which is characterized by the long, hot and humid summers; and a well-developed monsoon with seasonal rainfall and thunderstorms. The rainy season normally starts from May to November and is taken over by the dry season from December to April. The highest temperature during the dry season recorded in April at around 39°C, however, is often cooled down by the intermittent showers. So, even if you travel to Saigon in the hottest month of the year, it still can be bearable enough for you to set out and explore the city.
The most enjoyable time to visit Saigon though is around December to the end of February when the festive season is in the air and the cool breeze is everywhere.
Transport in Ho Chi Minh City
Discover transportation deals for Ho Chi Minh City from our partners >
For the newcomers to Saigon, the traffic here could leave you overwhelmed due to the massive quantity of motorbikes and the chaotic flow. However, that is one of Saigon's "specialties" and what you are going to miss it for. As the most modern city in the country, the system of transportation is very well-developed. This is the perfect transition point for your trip and a good base to explore other cities in the South of Vietnam.
Plane
Tan Son Nhat International Airport is the most important port in the country with a great capacity that enables it to serve domestic passengers and welcome international travellers. Vietnam Airlines is the official national airline accompanying other commercial airlines such as Vietjet Air, Jetstar Pacific Airlines, Bamboo Airways, and so on.
Only 7 km away from the city center, there are many ways to travel to and from the airport:
No.159 Bus: from the airport, you can take the bus No.159 at the airport bus station to get to Park 23/9 in downtown District 1; from here, it is easy for you to go to your hotel or other parts of the city.
Taxi: there are many taxi companies that offer trips to Saigon downtown at a fixed price so you will not be worried about getting ripped off. You should not pay over 250,000 VND ($11) to go to District 1.
Ride-hailing apps: one of the options is to book a ride from popular platforms like Grab or Gojek. This is more recommended for you to travel to the airport after having a sense of the city traffic. This is cheaper compared to the conventional taxi.
Train
The Vietnamese railway is one of the oldest industries in the country. The railway net has a total length of 4,161 km, including five mainstream routes connecting 34 cities across the country. It also links with two stations of the Chinese railway in Yunnan and Guangxi (China) via Lao Cai and Lang Son. This allows international on-land travel. The longest train route is the North-South Route, running back and forth between Saigon and the capital city Hanoi. It runs almost parallelly with National Highway 1A, so you will be able to see the landscapes changing all the way.
One downside of train travel in Vietnam is the railway infrastructure and facilities have been running down which makes it lost in favor compared to other means of transportation. To win its reputation back, there are some newly-built train cars which qualify the 5-star standard brought into use.
The train station in Ho Chi Minh City is located at 01 Nguyen Thong St, District 3.
To book tickets online, you can visit the website: dsvn.vn.
Bus
Short-route buses: in Vietnam, buses do not have their own lane, so it is quite slow to travel by bus during peak hours. That may explain for its lesser popularity. However, it is an interesting way to see the city if you are in no rush. The system of city buses is highly distributed with around 136 routes around the city. The ticket price is totally inexpensive ranging from 5,000 VND – 15,000 VND and applied to both locals and foreign visitors. In 2011, the government took the green buses which run on clean energy into use. This is an effort to encourage people to make use of public transportation. The three most useful stations for your travel while in Saigon are:
23/9 Park Bus station (Ben Xe Cong Vien 23/9): 107 Pham Ngu Lao St, District 1
Western Bus Station (Ben Xe Mien Tay): 395 Kinh Duong Vuong St, Binh Tan District
Eastern Bus Station (Ben Xe Mien Dong): 39,448 Hanoi Highway, Binh An Ward, Thu Duc City
You can visit this website to check out the bus route and schedule: busmap.vn, or download the app Busmap on your phone to help you.
And because these locations could be hectic, please be aware of your belongings while you are at the station and during your journey.
Long-route buses
This is the most used type of transport for travelling. They are seating and sleeping buses. A lot of travellers choose this way of travel because it is time-and-cost saving since the buses run overnight so you can jump on the bus at midnight and get to your destination early in the morning, fully recharged and ready to explore the city. Some big companies that offer this service are Futa Bus, Thanh Buoi Bus, Kumho Samco, etc. The price is affordable (200,000 VND – 500,000 VND). There are international routes that take you to different cities in Cambodia.
Waterbus
It is a pity that this type of travel has only been taken advantage of lately. Having a dense network of waterways could be a revolutionary solution to the crazy traffic situation in Saigon. At the moment, the Saigon water bus only has one route operating between Bach Dang Station (District 1) to Linh Dong Station (Thu Duc City). It is (personally) the ideal way of transporting in Saigon as you can avoid all the traffic while enjoying the cool breeze from the river. Actually, the water bus is not the main way of commuting by Saigon people (Saigoneers) but is rather a getaway and exploring experience.
The water buses leave daily from Bach Dang Station, 27 Ton Duc Thang St, Ben Nghe Ward, District 1.
The price is 15,000 VND for one-way tickets and 30,000 VND for two-way tickets.
You can check out the timetable here: saigonwaterbus.com.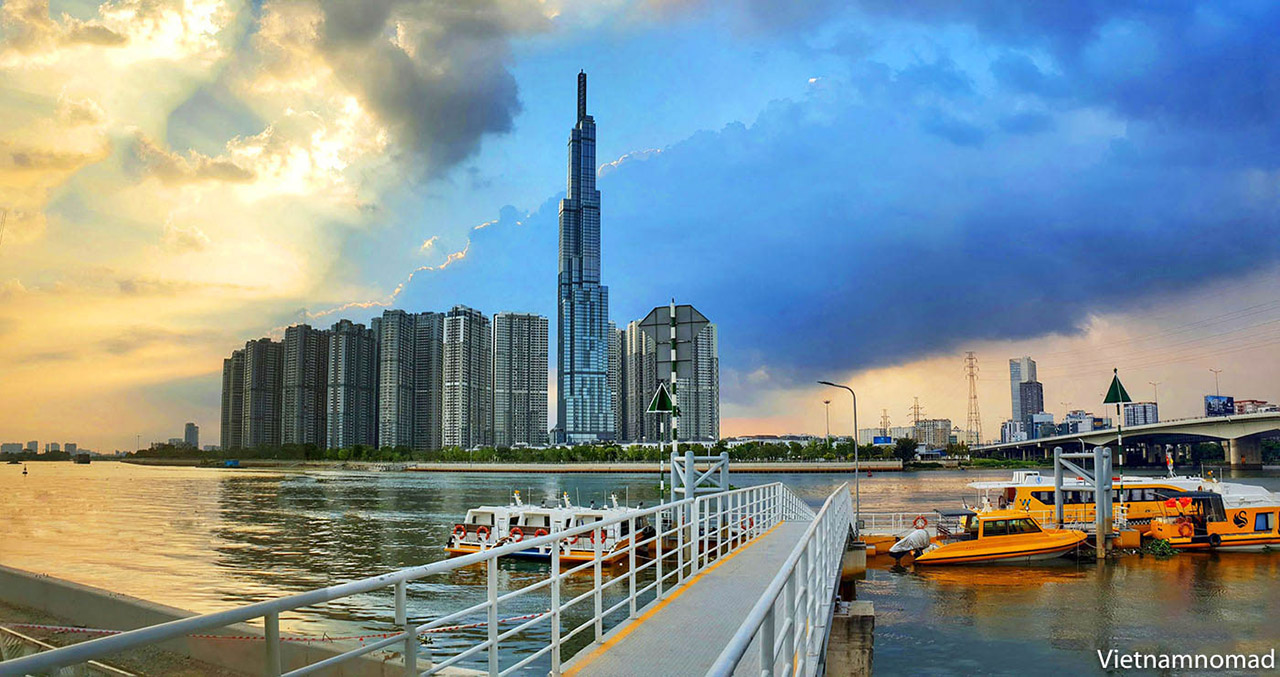 Motorbike
Motorbike – the iconic image of any city in Vietnam, is the most seen means of transport. In Saigon, most of the time, the streets surge with a vast number of scooters, honking for right of way (or sometimes just to express the drivers' attitude).
The flow of motorbikes during rush hours could be overwhelming for many people, but once you get a little bit used to it, you are going to embrace the way it works. Exploring the city on a motorbike is a must and it will surely amaze you how smoothly this system operates and how skillful the drivers are in blending in the block of traffic. Although the traffic looks insane, it is actually very safe as the bikes move very slowly and the drivers are used to making eye contact as a way to send out signals to other commuters.
You can experience sitting on the back of the bike by using the ride-hailing apps mentioned above or reaching out to motorbike tour agencies.
Once you feel comfortable on the bike, you can totally hire your own one and head out for your own adventures. It is possible to rent a bike daily (around 7 USD/day) or monthly depending on your time and purpose. You will need a driving license if you would like to ride the bike yourself.
It is compulsory to wear a helmet while joining traffic and it is recommended to wear a facial mask to reduce the effect of pollution.
Hotels in Ho Chi Minh City
Saigon, as mentioned above, has the busiest airport across the country, welcoming millions of visitors each year. Apart from Noi Bai International Airport in Hanoi, Saigon is the most favorable gateway among international travellers to enter the country. As a result, a wide range of accommodations has been popping up to meet the demand of the tourism industry of this city. No matter what your budget and travel purpose are, it will always please you.
Ho Chi Minh City has a big collection of 5-star hotels for luxurious holidays. They are located at the prime locations of the city, especially those that remained from the French colonial period,  overlooking the Saigon River and continuous flow of traffic.
In case Saigon is only a transition point for your travel and you are only looking for a place to crash at night, the city has countless sets of low-budget homestays, guesthouses, and airbnbs. The aesthetic feature is really taken into account when it comes to designing hotels as a result of general trends, so you can certainly find a place that is affordable and still rich in character.
Here are some recommendations for accommodation in Ho Chi Minh City.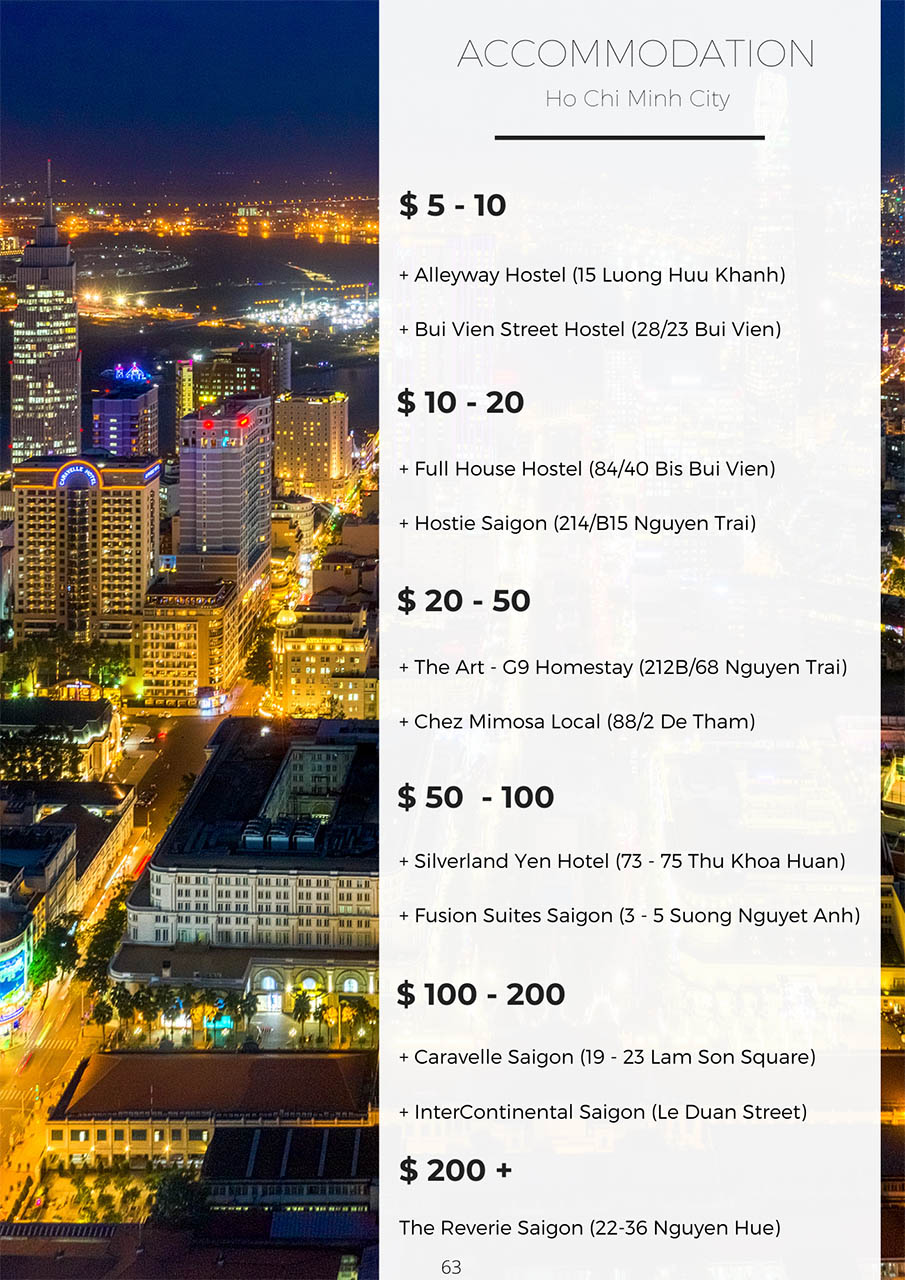 10 must-visit attractions in Ho Chi Minh City
Do not expect spectacular mountain views or a calm ocean breeze; Saigon is more of a multicultural hub. You will not be likely to fall in love at the first sight with this city, but if you give it some time and open up to people here, you will figure out why so many expats choose this city to settle down. If, however, you only have a couple of days in town, here are some top attractions to give you a clue into the history and lifestyle of Saigon.
1. War Remnants Museum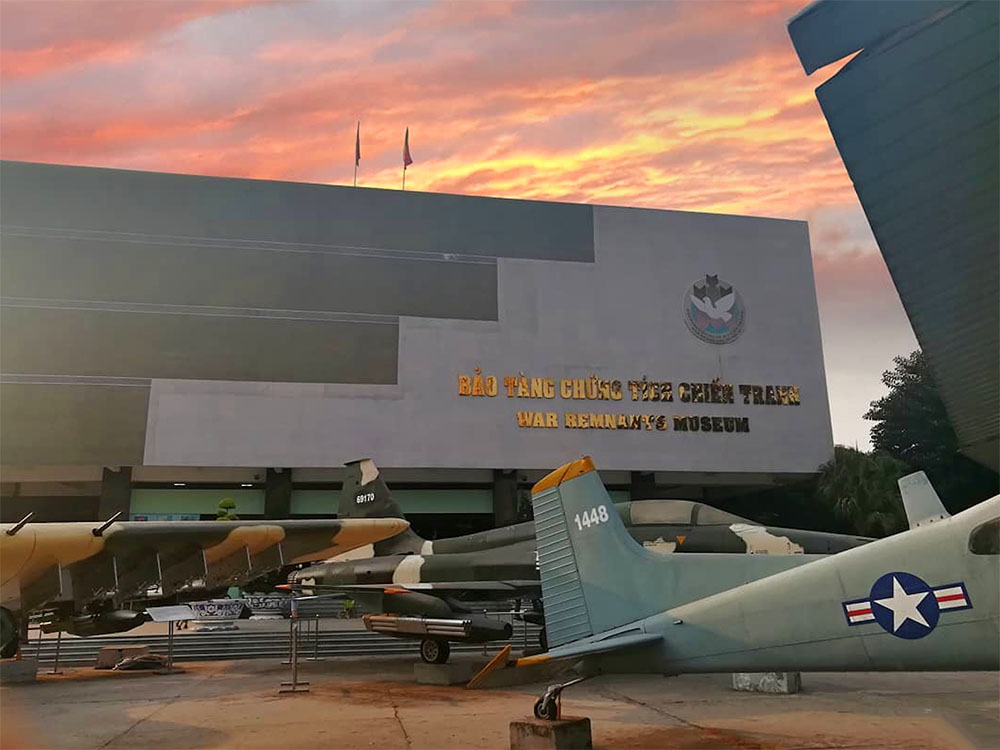 Saigon at the moment is home to a collection of 11 museums featuring all aspects of culture: from typical Fine Arts Museum to unique ones like the Geology Museum or Ao Dai Museum. However, if you would like to learn a bit about the dark yet glorious Vietnam wars, the War Remnants Museum is always at the top.
First of all, it is super approachable. It is stated that this is a lively record of the US-South Vietnam War with more than 20,000 artifacts including documents, photos, and weapons.
The War Remnants Museum comprises three floors. There is not much to see on the ground floor as the ticket box and donation room are placed here. The highlighted destinations are the "Tiger Cage" – a type of prison used to capture and torture prisoners during wartime, and its collection of combat airplanes and tanks.
The other two floors are where all the weapons and photos capture tragic moments that wars brought to both countries and whoever was involved. Please mind that the images could be disturbing and miserable.
Entrance ticket: 40,000 VND/person ($1.7)
Address: 28 Vo Van Tan St, District 3
2. Cu Chi Tunnels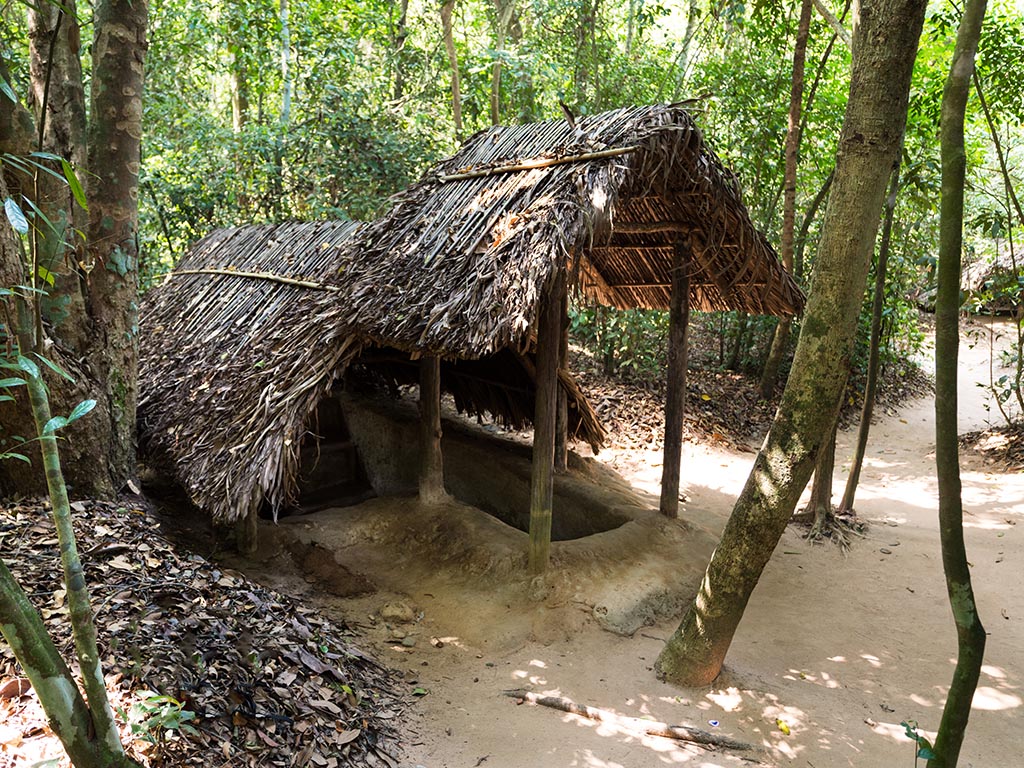 Located in the outskirts of Saigon, Cu Chi Tunnels is another historical witness of the Indochina War and Vietnam War. The whole tunnel is actually an underground city having all the needed facilities like hospitals, meeting rooms, kitchens, and hundreds of kilometers of road tunnels connected. The deepest layer is 10 meters under the ground and only about 0.8-meter high – enough for one crawling person at a time. Now, for visiting purposes, certain parts of the tunnel were expanded so you can go in the tunnel and imagine living in it for days or months.
There are local buses running between Saigon downtown and Cu Chi Tunnel. From District 1, it is easy to catch bus No.13 directly to Cu Chi Bus Station for only 7,000 VND (30 cents). From there, take the No.63 bus to get to the site.
Entrance ticket: 110,000 VND/person (included snacks)
Address: Tinh Lo 15 St, Phu Hiep Ward, Cu Chi District
3. Jade Emperor Pagoda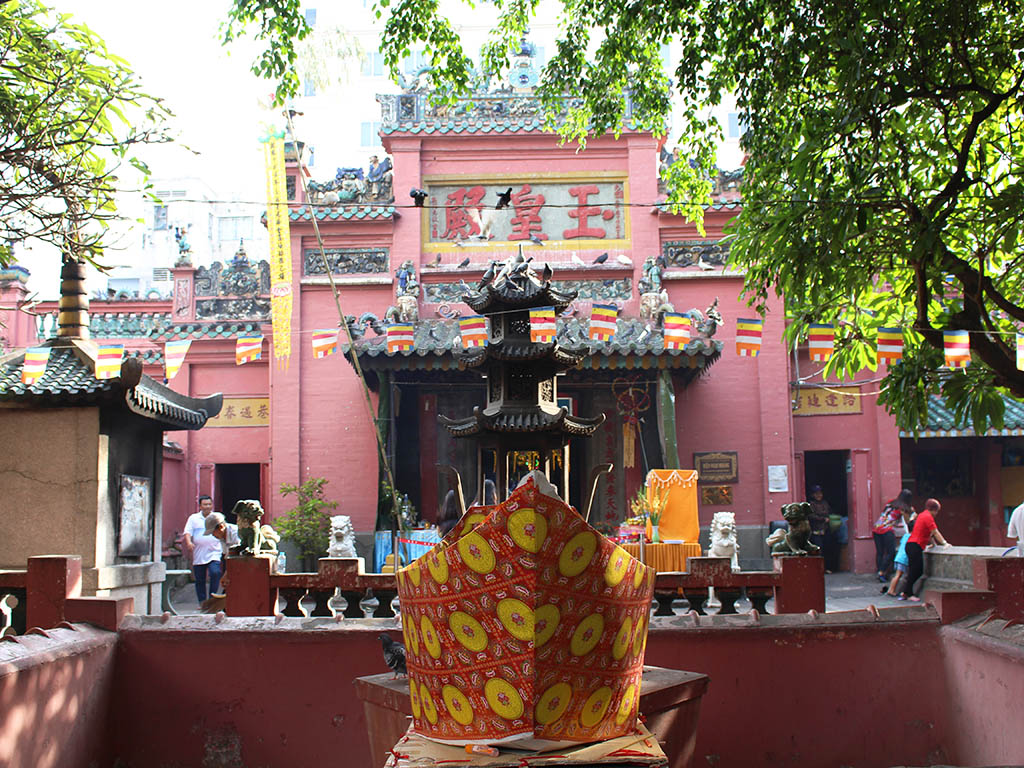 There are many religions practiced in this populous city, yet, Buddhism is still dominant of all. In the heart of Saigon is sited an ancient pagoda, well-known for its sacredness.
This little pagoda remains solemn and mysterious in the middle of a bustling and chaotic city. Having been built since 1892 on a site of over 2,000 square meters, it took 16 years to complete all the details of the construction. Visiting this pagoda of 300 statues coming in all shapes and sizes will give you some understanding of the influence of Taoism on the architecture and religion of the Vietnamese. It is not a random fact that many people worship this religious site: this pagoda is believed to fulfill the prayers of having love and children with many successful stories spread through word of mouth.
The Former President of the United States – Barack Obama used to pay a visit to this sacred pagoda in 2016.
Address: 73 Mai Thi Luu St, District 1
4. Chinatown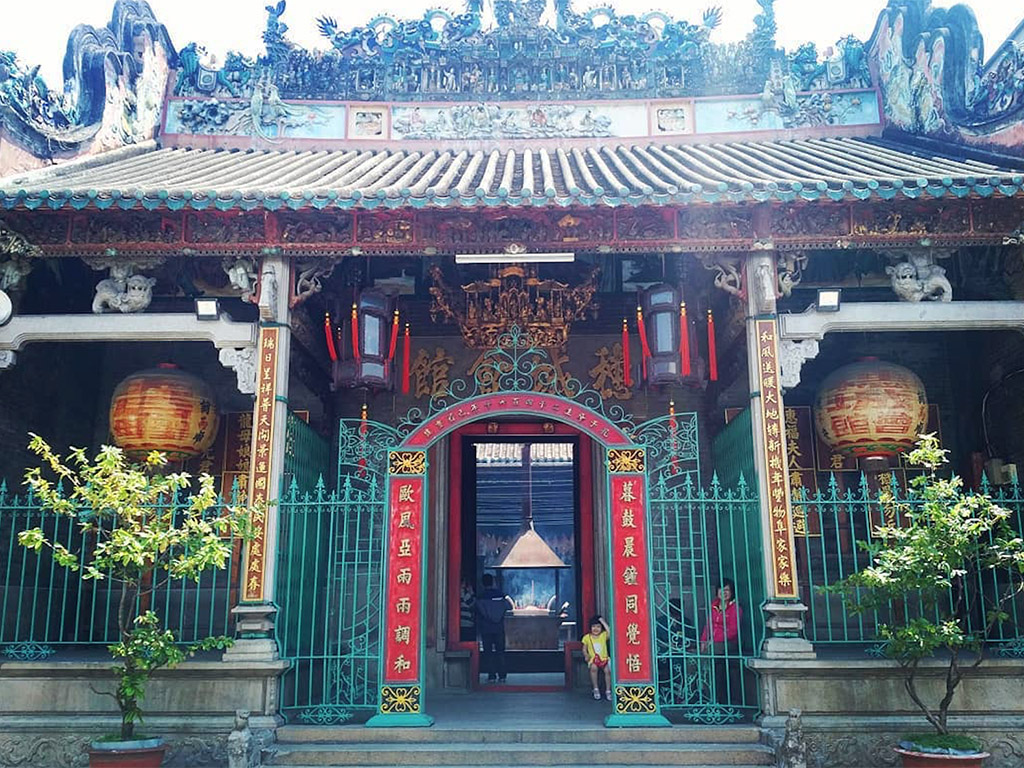 Due to the fact that the Chinese had invaded Vietnam for a thousand years and the two countries share the borderline, Vietnamese culture is strongly influenced by Chinese people and up to now, over generations, there is still a huge population of Chinese people in Saigon. They gather mainly in districts 5, 10, and 11 with active and lively business activities and vibrant energy. The center of Chinatown is called "Cho Lon" meaning the Big Market. You will be amazed at the interesting juxtaposition of all the shops: a chaotic arrangement in a generally orderly picture, which is hard to put into words. This is also the wholesale market of the city so it would be an unforgettable experience to watch the merchants constantly picking up their goods while chit-chatting joyfully.
We recommend you to do a Pagoda tour because this walkable area has many long-standing pagodas which are rich in religious details and stories and of course very instagrammable. After a long course of exploring, it is best to sit down for a cup of iced coffee and some food. Chinatown has some of the best food; most of them are obviously Chinese foods which are slightly adjusted to suit the climate and also the palate of the local customers.
5. Independence Palace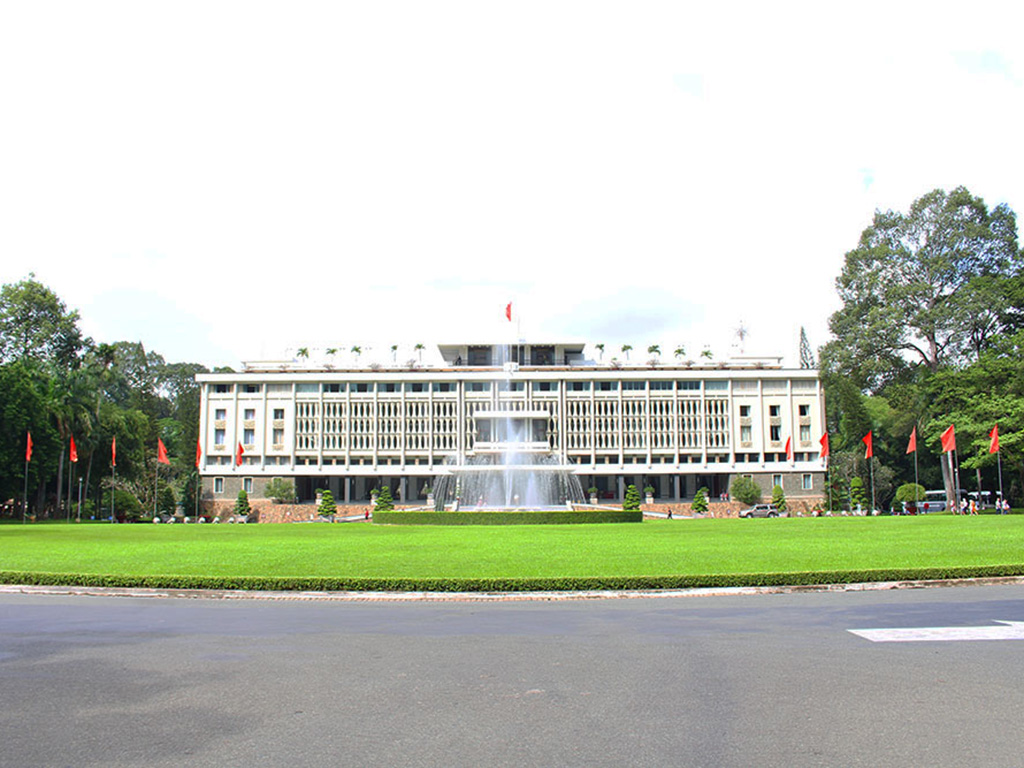 Another historical site in Saigon is the Independence Palace. This is where the former president of the Vietnam Republic – brothers Ngo Dinh Diem and Ngo Dinh Nhu stayed and worked – could be compared with the White House. Remained over 150 years despite the hand of time, the palace reveals a subtle combination between the Western and Indochina architect. There are over a hundred rooms on the campus with different settings; a rooftop where an airplane could land; and a system of strong tunnels which could bear heavy guns and bombs.
The Independence Palace plays an important role in the Vietnamese hearts and history because this exact site witnessed the revolutionary moment when the enemies declared unconditional surrender.
Entrance ticket: 40,000 VND/person
Address: 135 Nam Ky Khoi Nghia St, District 1
Opening hours: 8 AM – 4:30 PM
6. Nguyen Hue Walking Street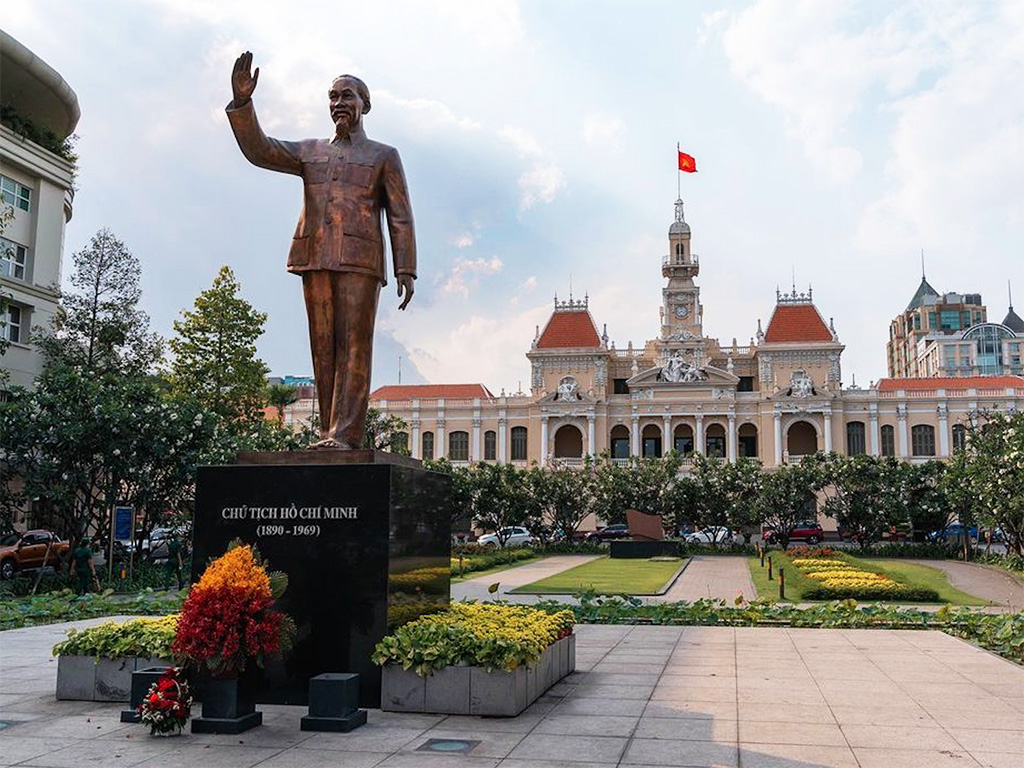 This is the go-to place for the Saigoneers especially when the sun is out and the weather becomes cooler. There is not much to "do" but a lot to "see" here. Walking along this street will give you a sense of how the locals spend their nighttime. There is a lot going on in just less than 1 kilometer: people taking photos, young people practicing skating, water music performance, and more.
The most amazing thing (personally) is the Cafe Apartment. Located along the walking street, these old apartments were transferred into cafes and shops; when nights come, all the lights from the sign panos are lit making a stunning view itself. This is where people bring their dates, take photographs or get their work done. If you are into photography, this place is gold with every corner full of life and photogenic of course. Exploring the cafe apartment is like a treasure hunt: you browse through each floor and check out each cafe to see its decor; menu and view before deciding to settle in one. Most of the cafes have a small balcony facing the walking street, so you can sit here to enjoy the breeze while watching the world passing by under your feet.
Also, there is a cuisine complex called Saigon Garden where you can find fusion eateries, and take a sip of wine before heading back on the street.
This location offers free entrance; however, if you drive a bike, you will need to pay for the parking ticket at 10,000 VND.
7. Notre Dame Cathedral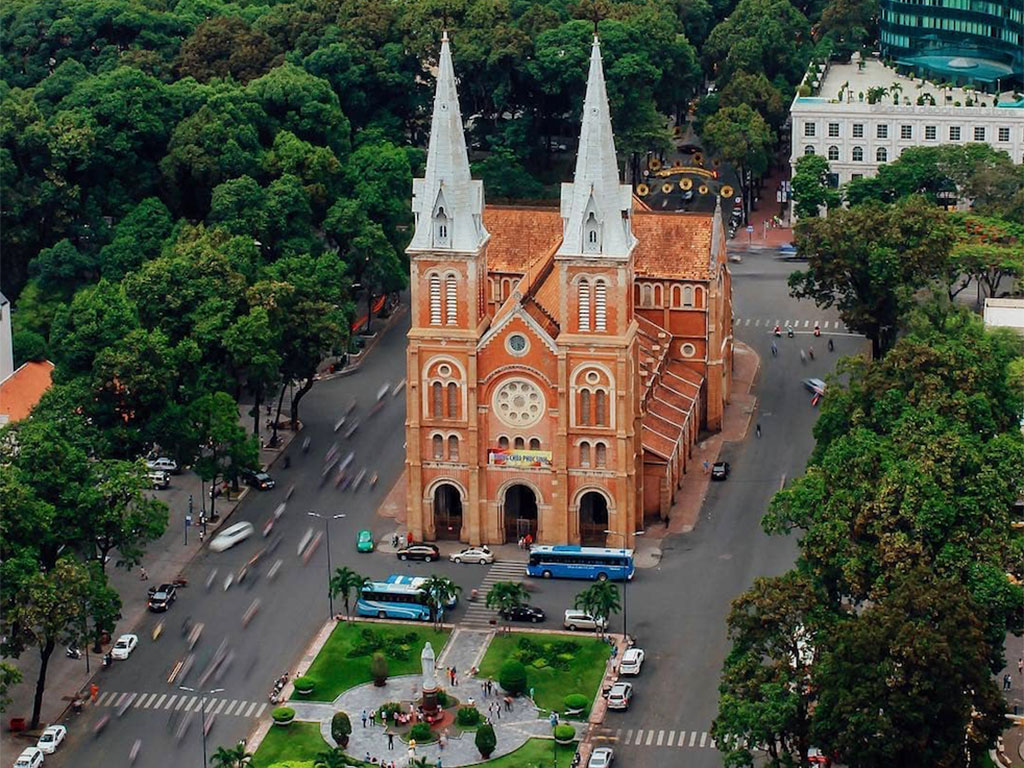 The Notre Dame Cathedral is one of the heritage sites remaining from the French colonial period. After 140 years since the day it was finished, this has become a cultural and religious symbol of not only Christians but also of the Saigoneers in general. The Cathedral was designed by a French architect named J. Bourad; therefore, the overall architecture was profoundly influenced by Western architecture with the breath of a combination of Roman and Gothic architectural styles.
Interestingly, all the materials used for building the cathedral were brought to the site from France; and apparently, only Christians were recruited to build the cathedral. And the Virgin Maria Statue standing in front of the cathedral was sent from Rome. There are many fascinating stories amid this statue such as she shed tears, which attracts flocks of people visiting in hope of witnessing the miracle moment. Everyday, this sacred location witnesses couples hand in hand, coming here for their wedding shooting with the hope that their marriage will be protected by Supreme Beings.
Notre Dame Cathedral however had suffered severe damage from time and weather and has been under overall maintenance. It is though still worth a visit for the surroundings and neighboring streets such as Han Thuyen St and Pasteur St, which still retain the French vibes.
Address: 01 Cong Xa Paris St, District 1
8. Saigon Central Post Office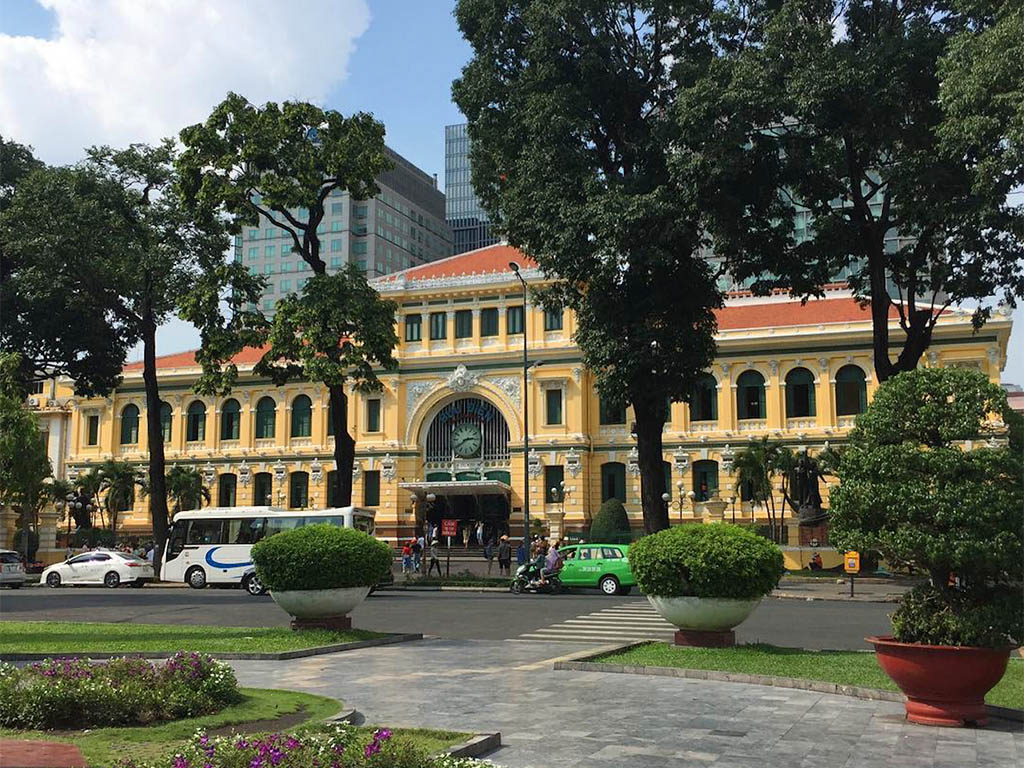 Right next to the cathedral situated the Central Post Office, which is also another French colonists' construction and the largest post office in Vietnam. This building was designed by the world-famous architect Gustave Eiffel – the Father of the Eiffel Tower. People go there not only to embrace the unique architectural design but also to take a moment to immerse themselves in the nostalgic atmosphere.
Why don't you come here, write a postcard and send it to your beloved ones?
Address: 02 Cong Xa Paris St, District 1
9. Ben Thanh Market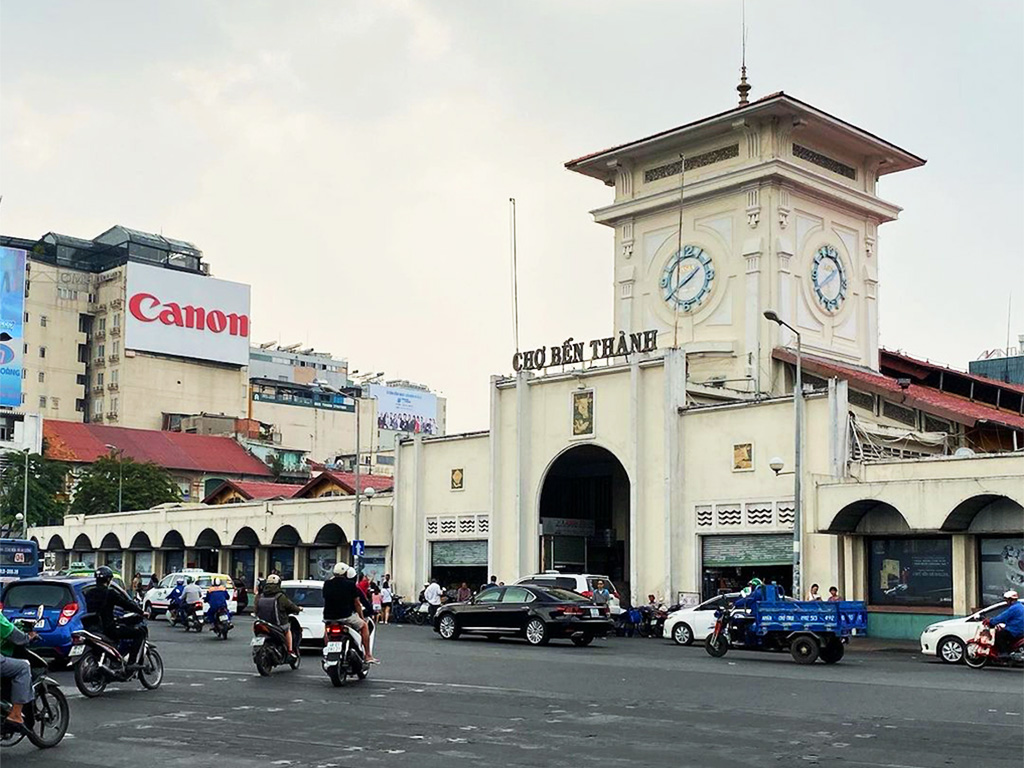 The market has everything you ever need. Ben Thanh Market is famous for its abundance of goods and local produce. This is an indoor market so it will keep you off the Saigon heat and still give you an authentic shopping experience. It will take you a long walk to fully explore the market and do not miss the food court as well as the meat and fish section to truly feel the lively and vibrant atmosphere going on.
At night, the surroundings turn into an open market with lines of shops selling fabric, clothes, leather products, and of course local street food. If you are looking for a place to buy souvenirs for your trip, this is it.
Address: Le Loi St, District 1
10. The Opera House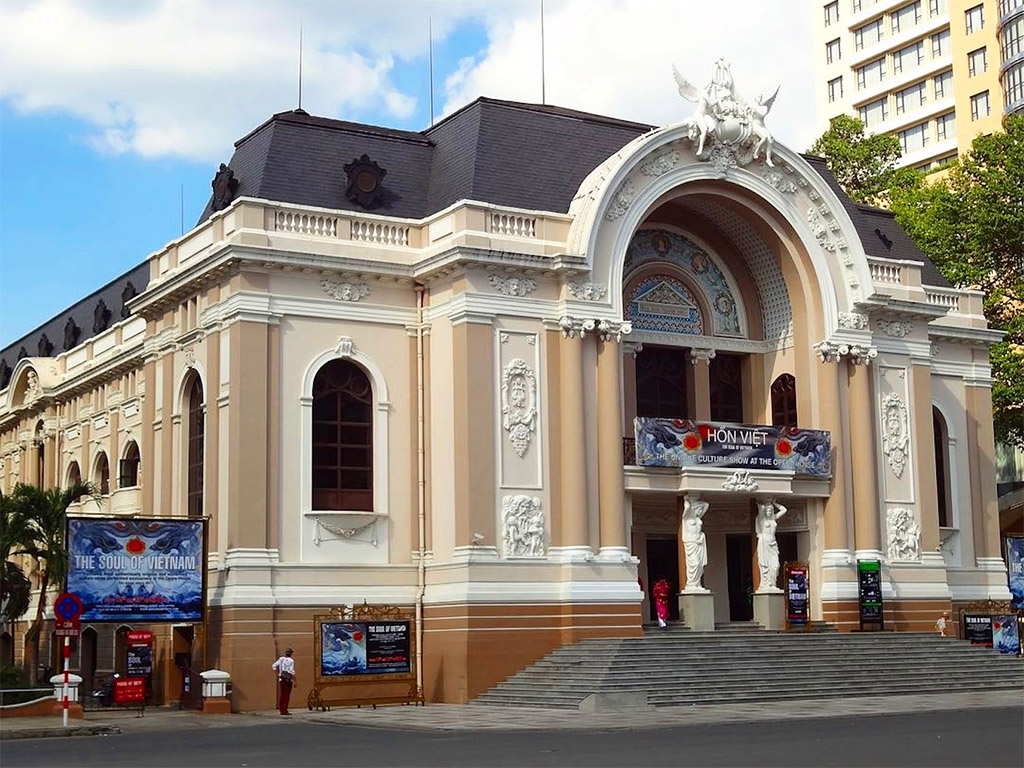 Lastly in the series of the French colonists' heritage sites is the Opera House. Only a walkable distance from the former two buildings mentioned above, this location is magnificent in its design. There is a small square in front of the House where people sit down to admire the grand design of the city.
The Opera House hosts many outstanding and high-quality cultural performances in which "A O Show" is the highlight. It brings in a lot of cultural elements of the Vietnamese as Non La and bamboo trees. The show is absolutely impressive and totally worth every penny.
You can check out the trailer and show schedule here.
Address: 07 Dong Khoi St, District 1
10 must-try foods in Ho Chi Minh City
Saigon is where the cuisine flourishes. The most dominant industry reported in Saigon is foods and beverages which means it will offer you endless choices of food experiences. Here are some typical dishes for your visit in Saigon.
1. Banh Mi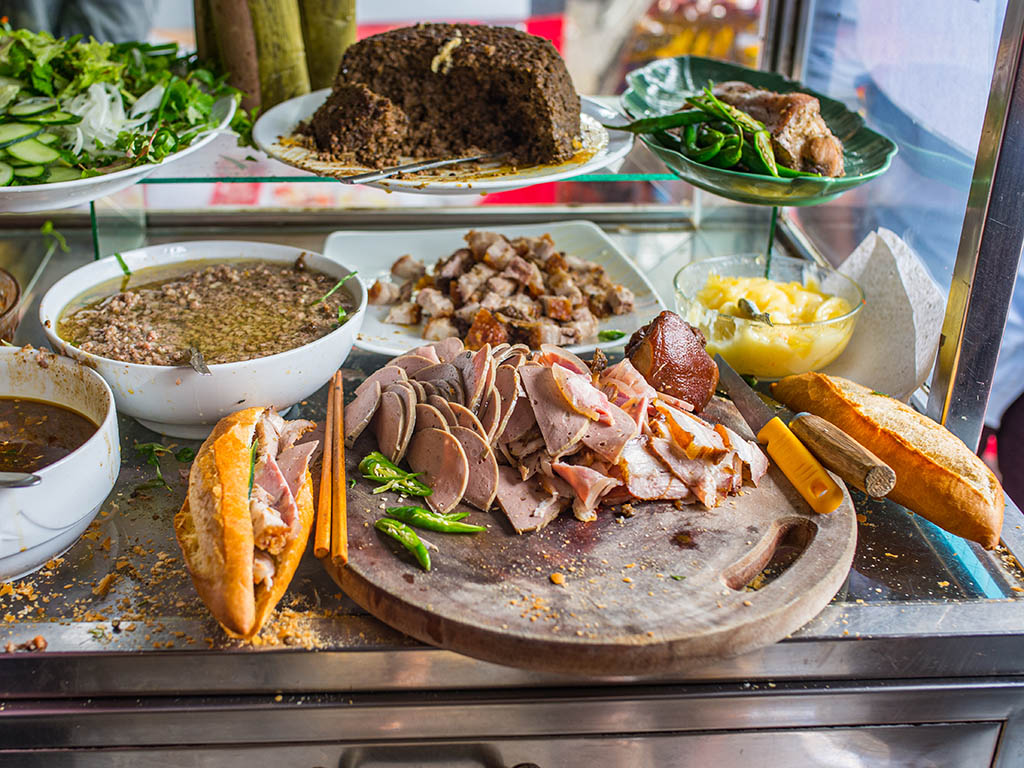 Of all the savory dishes in the city, Banh Mi is the most likely to be tried in Saigon as it is perfect for takeaway while you are busy exploring the city. Banh Mi is basically a baguette with various stuffings inside like Vietnamese pork sausage, char siu, fried egg, and pickled vegetables. It is convenient, cheap, and tasty.
You can find Banh Mi everywhere along the streets; however, here are some outstanding places we would recommend:
Banh Mi Huynh Hoa
Address: 26 Le Thi Rieng St, District 1
Price: 58,000 VND ($2.5)
Banh Mi Hong Hoa
Address: 54 Nguyen Van Trang, District 1
Price: 30,000 VND – 40,000 VND
Banh Mi 362
Address: 25 Tran Cao Van, District 1
Price: 20,000 VND – 40,000 VND
2. Hu Tieu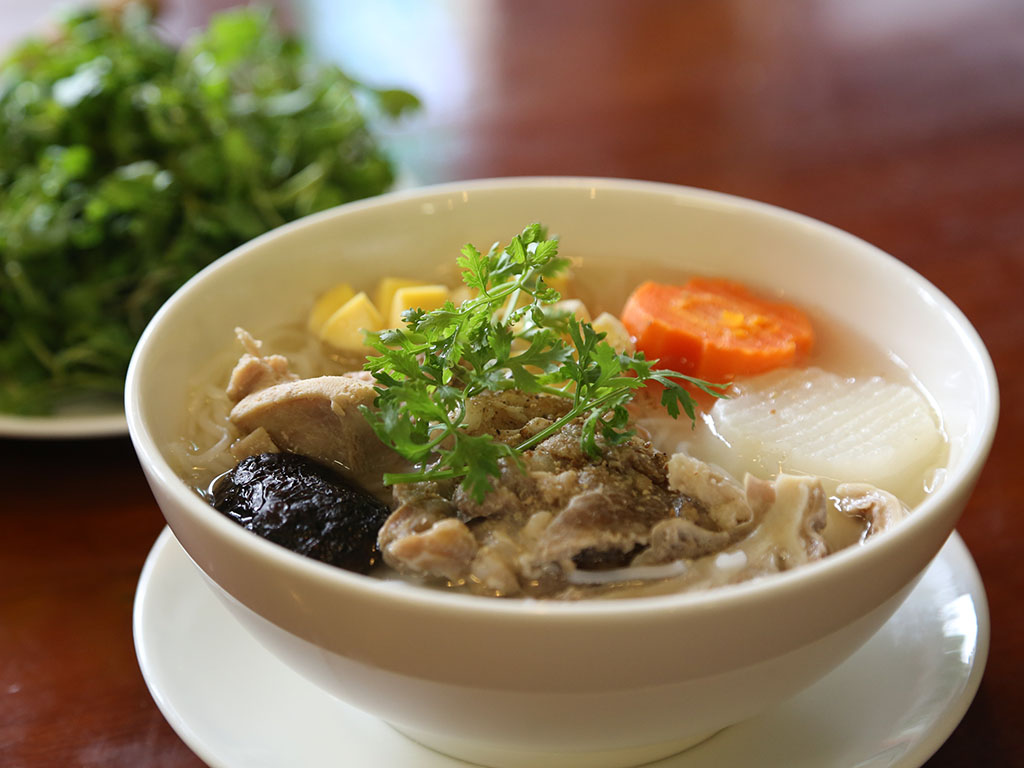 Hu Tieu is originally a Mekong Delta noodle soup. Unlike Pho, Hu Tieu noodles are smaller and a bit harder. Hu Tieu soup is extracted from pork bones and vegetables. An adapted version of Hu Tieu is "Hu Tieu Nam Vang" which has sliced pork, minced pork, shrimp, quail eggs, and delicious soup.
Some good Hu Tieu restaurants are listed here:
Hu Tieu Nam Vang Thanh Dat
Address: 34 Co Bac, District 1
Price: 59,000 VND – 69,000 VND
Hu Tieu Nhan Quan
Address: A68 Nguyen Trai, District 1
Price: 85,000 VND – 120,000 VND
3. Com Tam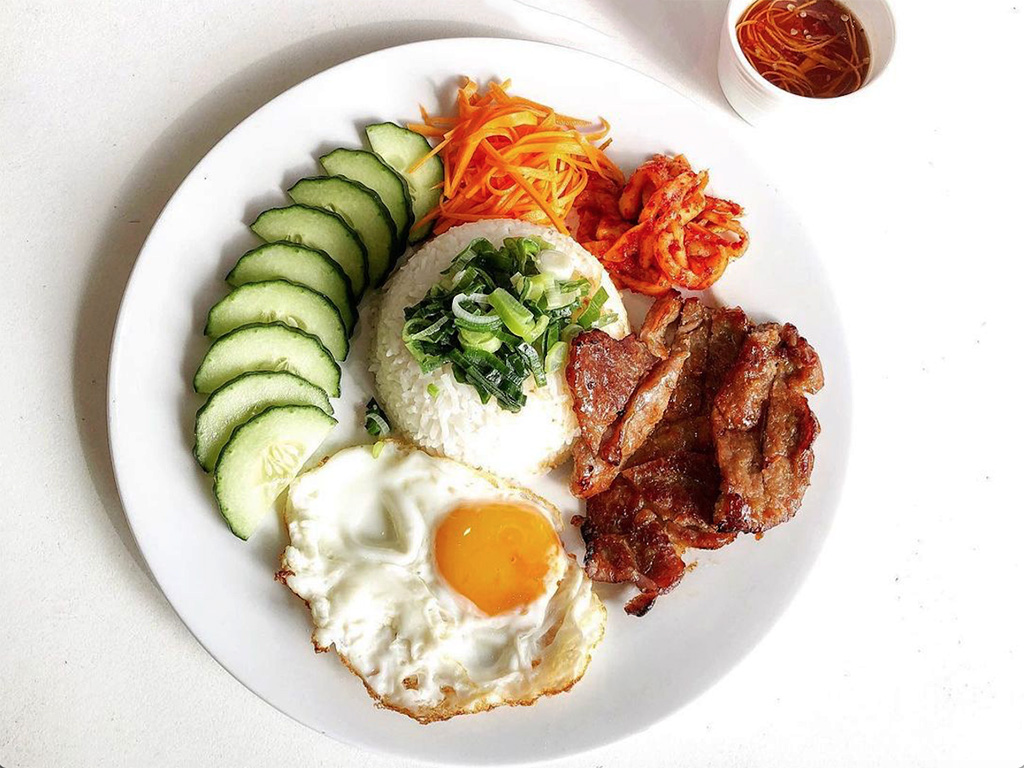 It is sometimes said that Saigon has no specialty. It is because Saigon is where people from all parts of the country come to seek jobs and a better living standard and over time, they also bring their local cuisine to this city. However, there is one dish that this city does better than anywhere else and it is Com Tam.
A typical Com Tam Saigon is a plate of steamed broken rice topped with grilled pork ribs, egg cake, sunny-side-up egg, and shredded pork skin with cucumber, tomato, and pickled carrots to balance the composition. To complete the taste, there is a small bowl of chili and garlic fish sauce served with the rice.
Here are some places you can get a good plate of Com Tam:
Com Tam Bui Saigon
Address: 100 Thach Thi Thanh, District 1
Price: 45,000 VND – 65,000 VND
Com Tam Moc
Address: 85 Ly Tu Trong, District 1
Price: 45,000 VND – 74,000 VND
4. Banh Xeo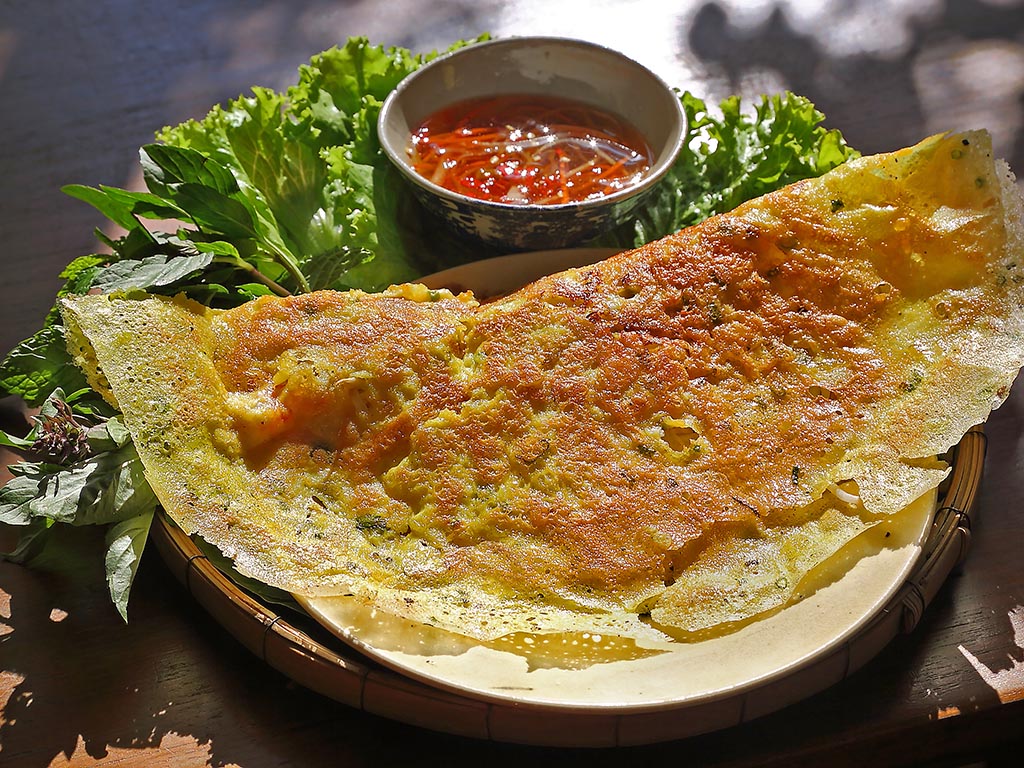 Banh Xeo is a kind of crispy pancake that is eaten by being wrapped in a sheet of rice paper with some green herbs and dipped in sweet and sour fish sauce. There are two versions of Banh Xeo: Banh Xeo in the South (Banh Xeo Nam Bo) is thinner, bigger, and less oily while Banh Xeo from the Central (Banh Xeo Mien Trung) is smaller, crispier and oilier.
Our recommendations for Banh Xeo:
Banh Xeo Nga
Address: 251 Nguyen Thien Thuat, District 1
Price: 50,000 VND
Co Ba Vung Tau
Address: 40B Tran Cao Van, District 3
Price: 115,000 VND
Amitabha Restaurant (vegetarian Banh Xeo)
Address: 40 Nguyen Thai Hoc, District 1
Price: 65,000 VND
5. Bun Mam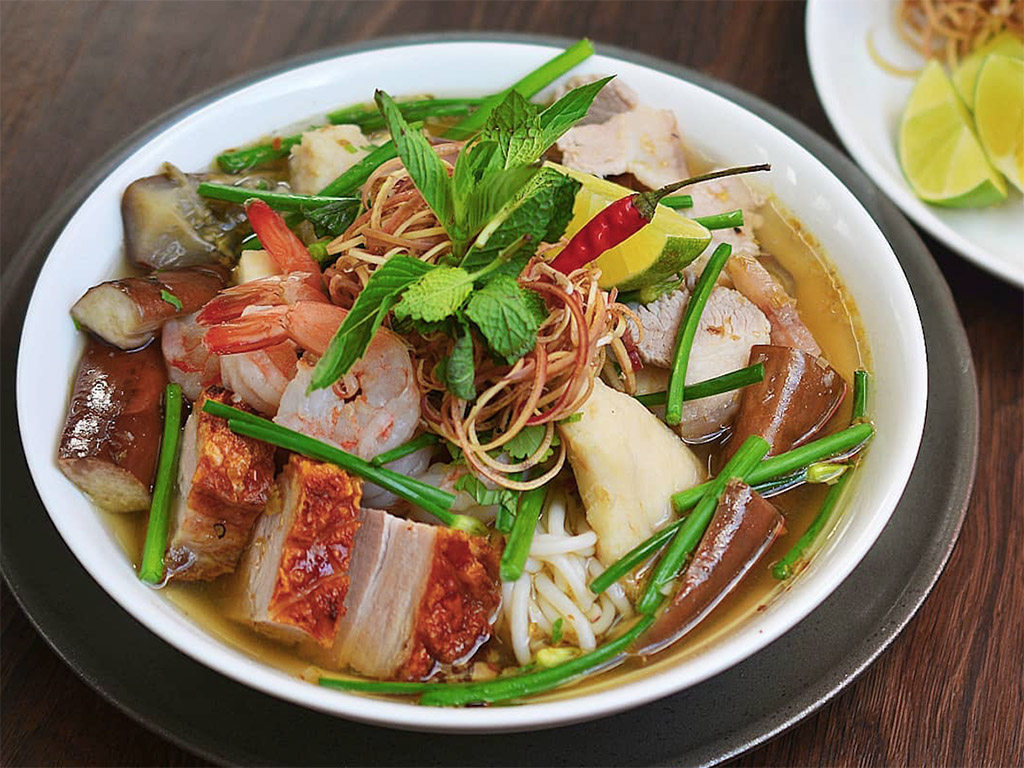 This dish emphasizes the Southern cooking style with the use of fermented fish. A bowl of Bun Mam comprises shrimp, squid, grilled pork, and eggplant. This is going to be a real authentic cuisine experience in Saigon.
The best Bun Mam in Saigon could be found here:
Bun Mam 144
Address: 144 Khanh Hoi, District 1
Price: 75,000 VND – 85,000 VND
Bun Mam Mien Tay
Address: 124 Tran Khat Chan, District 1
Price: 45,000 VND
6. Bun Dau Mam Tom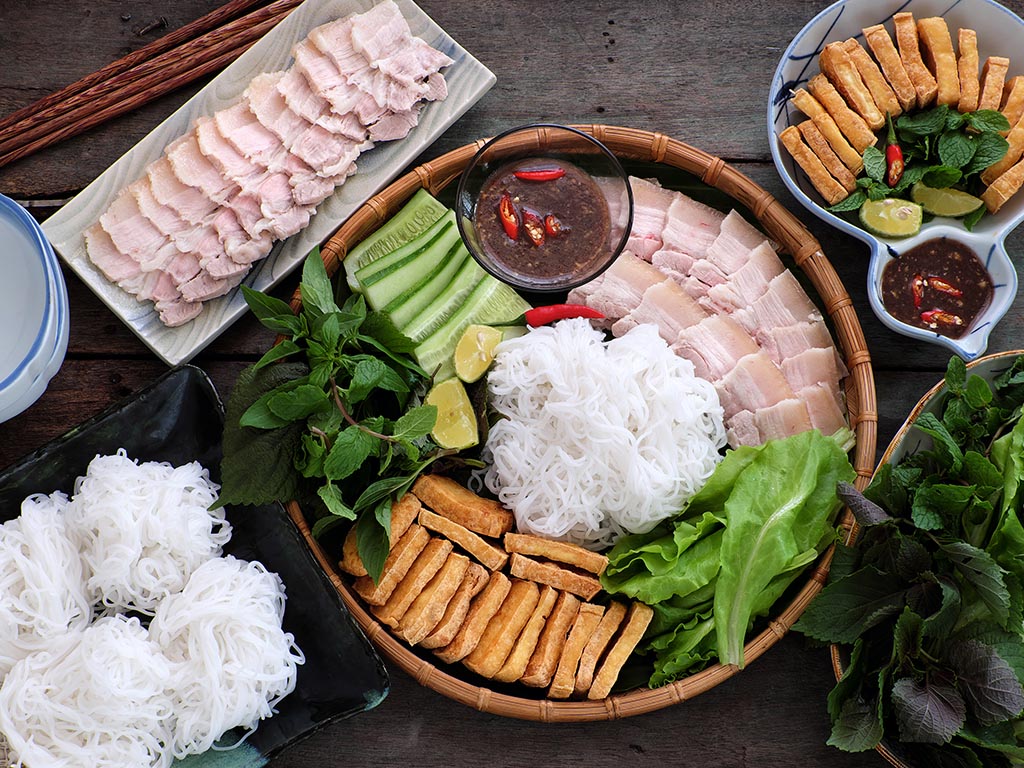 This is kind of an extreme food experience for a lot of people. Bun Dau Mam Tom comes in a small tray of boiled pork, deep-fried cubed tofu, fried "Nem" (Nem Ran or pork cake), and other toppings of your choice. The star of the dish is the dipping sauce Mam Tom – which is a fermented shrimp sauce. The smell of it is quite strong, but after you mix it with kumquat juice, a bit of sugar, and fresh chili, it will bring out the best taste of all the ingredients.
It is important to try this dish at highly hygienic restaurants, so here they are:
Bun Dau Homemade
Address: 01 Nguyen Van Trang, District 1
Price: 99,000 VND
Bun Dau A Chanh
Address: 200 Cong Quynh St, District 1
Price: 59,000 VND
7. Goi Cuon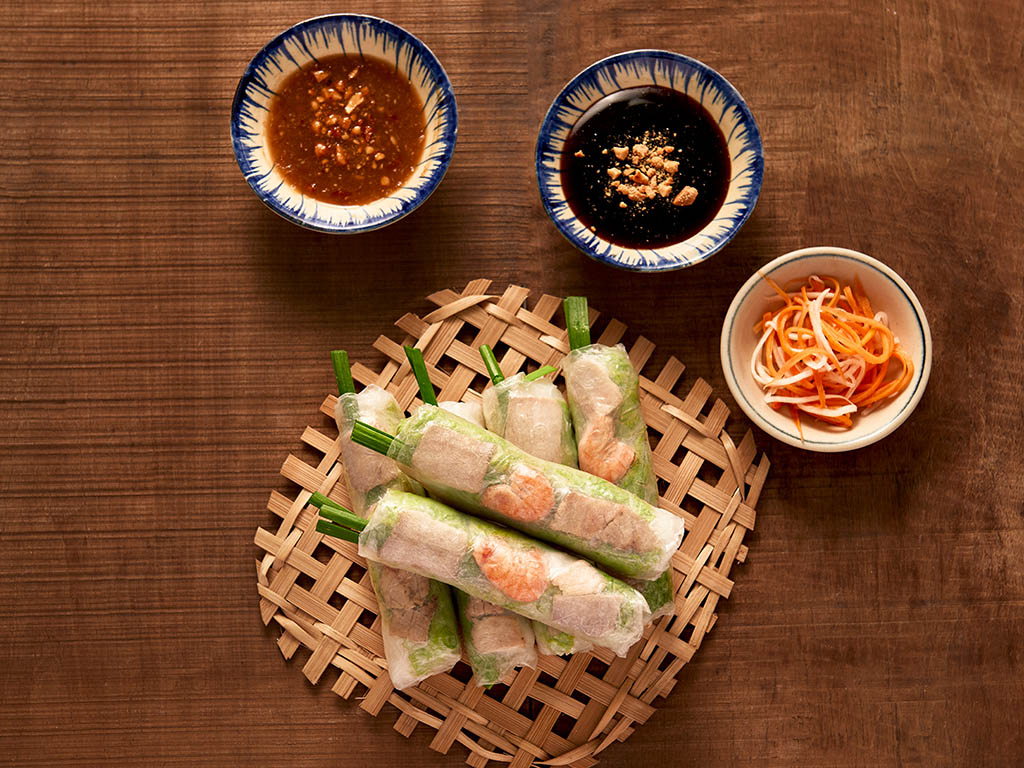 Goi Cuon (fresh spring rolls) is a tasty and healthy snack. Each roll features vegetables, a few rice noodles to guarantee the carb intake, and a slice of pork and shrimp. Just that simple but when you combine with the soybean paste and broken peanut sauce, it is going to make the most refreshing snacks.
Goi Cuon is often sold by the small vendor ladies. Some favorite Goi Cuon places favored by the locals here:
Banh Cuon Hong Hanh
Address: 17A Nguyen Thi Minh Khai, District 1
Price: 7,000 VND/roll
Quan Chay Chi Cu (vegetarian Goi Cuon)
Address: 07 Tran Dinh Xu, District 1
Price: 5,000 VND/roll
8. Oc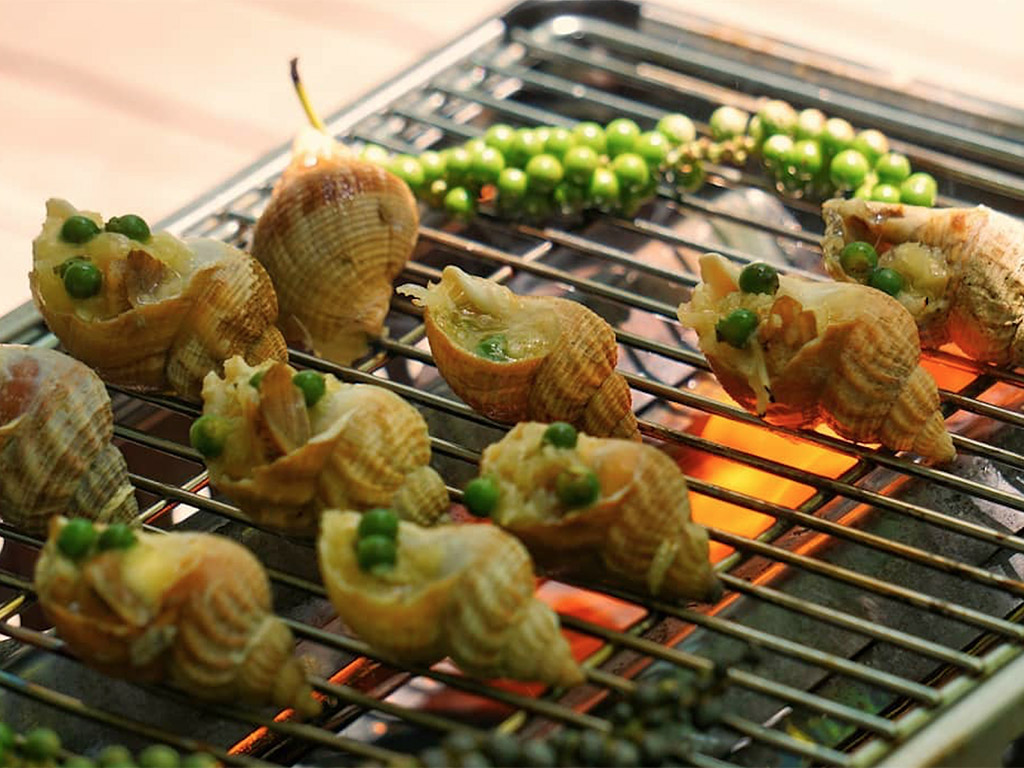 Oc which means snails and is the most loved dish/snack (whatever you call it) in the local's heart. And it is obvious that Saigon is Oc paradise. There is even a whole area in which every single house on every single street sells Oc. There are numerous types of Oc together with other kinds of seafood like shrimp, squid, and fish. Oc is a "hanging-out" food that people often opt for when they want to drink a couple of beers at night time. Order 1 – 2 dishes at a time as the food comes in big portions. And do not forget to grab some beers.
Some popular places to go for Oc are below:
Oc Dao
Address: C79 Nguyen Trai, District 1
Price: 35,000 VND – 65,000 VND
Oc Khanh
Address: 25 Nguyen Binh Kiem, District 1
Price: 35,000 VND – 65,000 VND
9. Bo Kho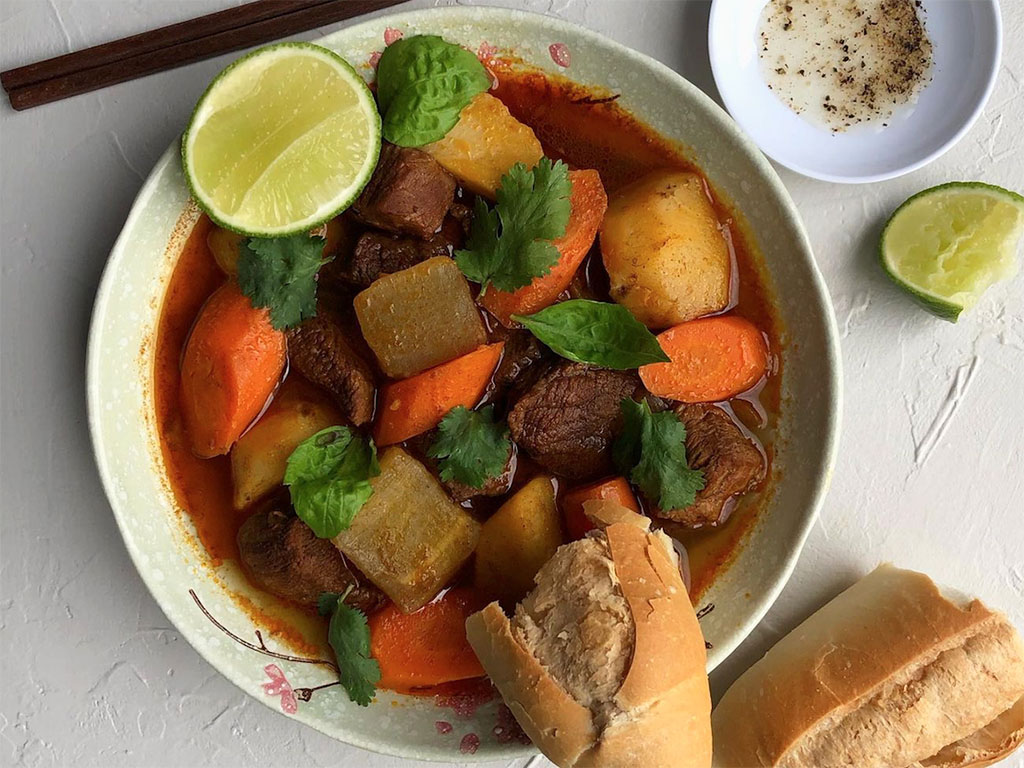 Bo Kho is a traditional party dish in Vietnam, but people will always have a way to bring it into their daily meals. This is a version of beef stew in the Vietnamese way: beef is stewed in a pasty soup seasoned with spices and coconut milk. Bo Kho is often eaten with Banh Mi (baguette), rice noodles, or egg noodles. The shiny and tasty soup together with tender beef cubes will definitely win your heart.
Follow these recommendations for you Bo Kho tries:
Bo Kho Co Mai
Address: 25 Nguyen Thi Minh Khai, District 1
Price: 59,000 VND – 69,000 VND
Bo Kho Di Ut An Do
Address: 194/5 Vo Van Tan, District 3
Price: 45,000 VND – 50,000 VND
10. Streetfood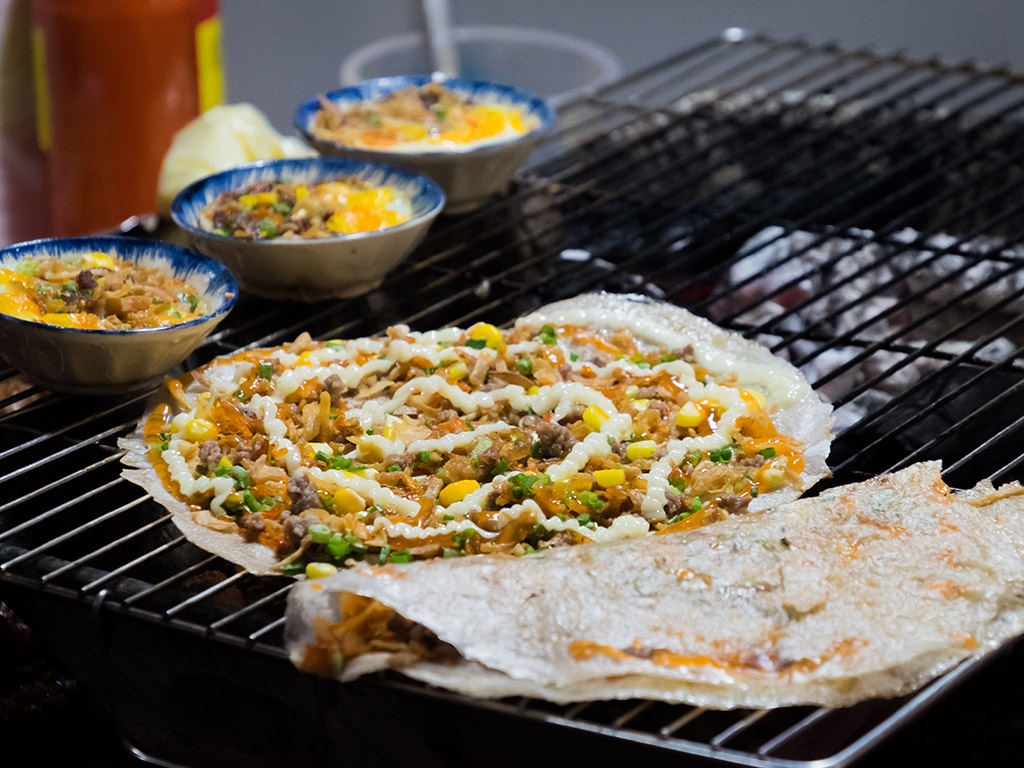 Last but not least, street foods in Saigon are varied; they are more like snacks that students and officials love to eat together during their break. That is Banh Trang Tron (a game-changing snack) which is a bag of rice paper strips, shredded green mango and herbs, dried beef and shrimp, and quail eggs. It may sound like a strange combination but trust us; it could be your next favorite street food ever.
Other examples of street food are "Do Chien" and "Coc Oi Mia Ghim". The former ones are basically deep-fried meat and fish balls, while the latter are mobile carts selling multiple types of fruits shaken with sweet and spicy salt.
To close this section, we would like to inform you about the street calls which you will hear a lot when you are here. We would call it the all-in-one cart as in these little mobile three-wheel bikes, and you can find grilled dried squids, grilled corn and sweet potatoes, stir-fried corn with butter, boiled baluts, and so on. You would find it annoying at first when the calls go through the night then become missing them when you leave.
Shopping in Ho Chi Minh City
As the most developed city in Vietnam, the living standard of people here is relatively higher than in other parts of the country. People work hard but also enjoy themselves as much as possible. People do not mind splurging on luxurious goods as a way to display their success. As a result, the shopping activities in this city are always busy and active, creating an incredible scene for shopaholics. This shopping paradise is for everyone, whether you want to obtain high-end branded items or just local clothing and goods. Now, we are going to take you through all the possible shopping options so you can choose the best for yourselves.
Shopping centers are where you head if you are looking for some high-end products. This is the type of shopping in which you aim for branded names all the way from LV and Chanel to Zara, Mango and you name it. These shopping centers are located in prime areas of the city like District 1. Here are some addresses you can check out:
Vincom Center Dong Khoi
Takashimaya
Diamond Plaza
Crescent Mall
Vincom Landmark 81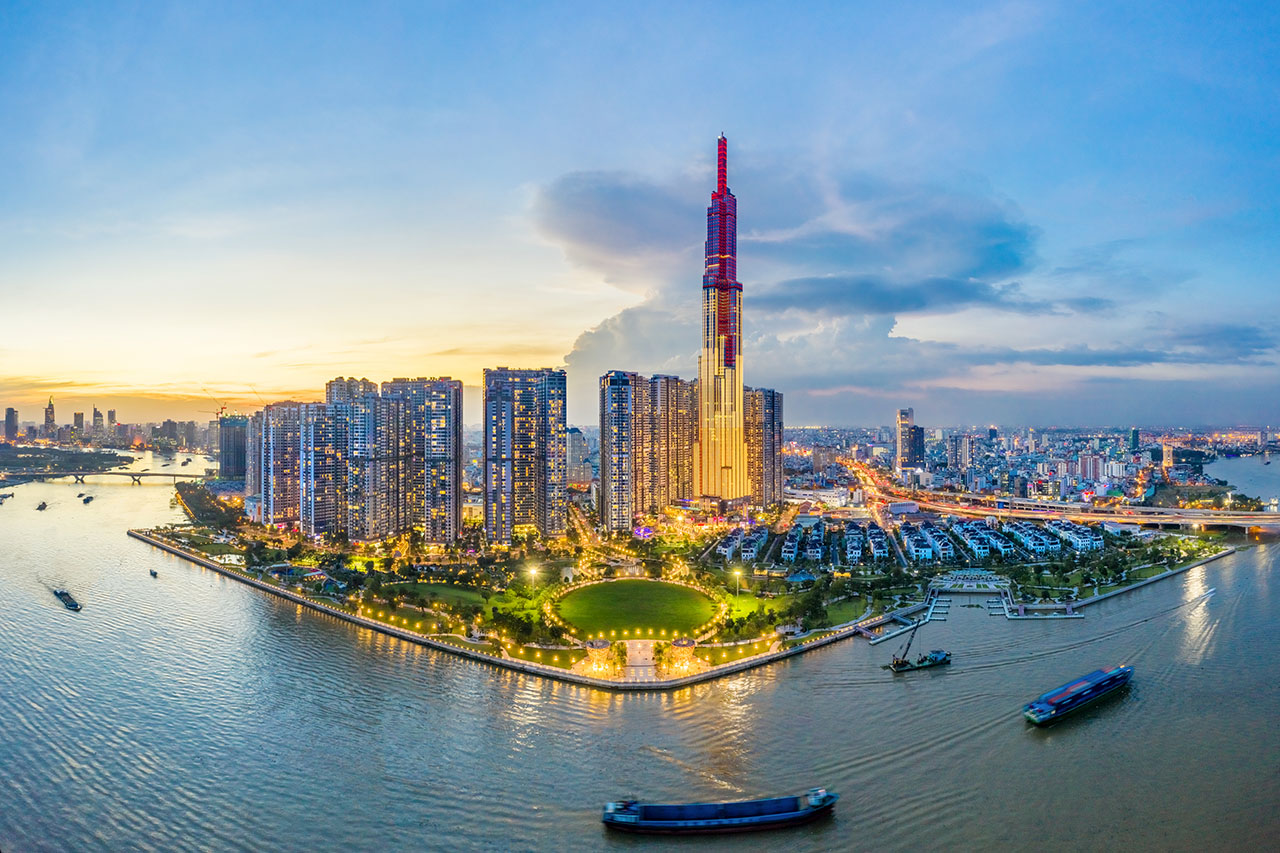 A friendlier shopping choice for both tourists and local people is the shopping square and shopping streets. The most favorable ones that could be named are Saigon Square and Nguyen Trai Street. For Saigon Square, they offer a more variety of goods that suit both Vietnamese and Western-style. Nguyen Trai St, on the other hand, is divided into two parts: half of the street is in District 1 which sells mostly local brands (designed clothes by domestic brands) with a higher price range in comparison with the other part. This part is more attractive to young Vietnamese people. The rest of the street stretches to District 5 and sells more affordable fashion items. It is a fun experience to stroll around the street to view the way locals batter and buy stuff.
Another shopping experience you should not miss is the open market or flea market which is not a new concept in the West but has newly adapted and blossomed in Saigon for the last couple of years. These often take place on weekends at big stadiums with the participation of local shops. They sell everything from clothing and accessories, perfumes, tarot reading, and food of course. You can search for Hello Weekend Market, The New District, or The New Playground to have a look at it.
Entertainment in Ho Chi Minh City
If you stay in Saigon long enough to explore all the top attractions we recommended, then it is time to dive into the world of local entertainment. The Saigon people have many ways to entertain despite the lack of natural landscapes and such. Listed below are what local people do in their pleasure time which may give you some ideas for your travel plan and a brief understanding of the local Saigon people's life.
Cafes
It may not be a new fact that Vietnam is among the leading coffee exporters in the world. And cafe shops in Saigon are brought to a new level because Saigon people love coffee, or in other words, they love coffee shops. One of the excitements of them is to explore new cafes, especially those that are instagrammable for their newsfeed. They will dress up, go there and take photos, and spend hours chatting with friends. People will never get bored as there are always some new cafes with unique themes and designs popping up around the city. This kind of entertainment is so popular that some bloggers could live on by reviewing cafes. So you can join this cafe hunt by first browsing the internet to find one or two eye-catching cafes and go there, take some photos for your Instagram.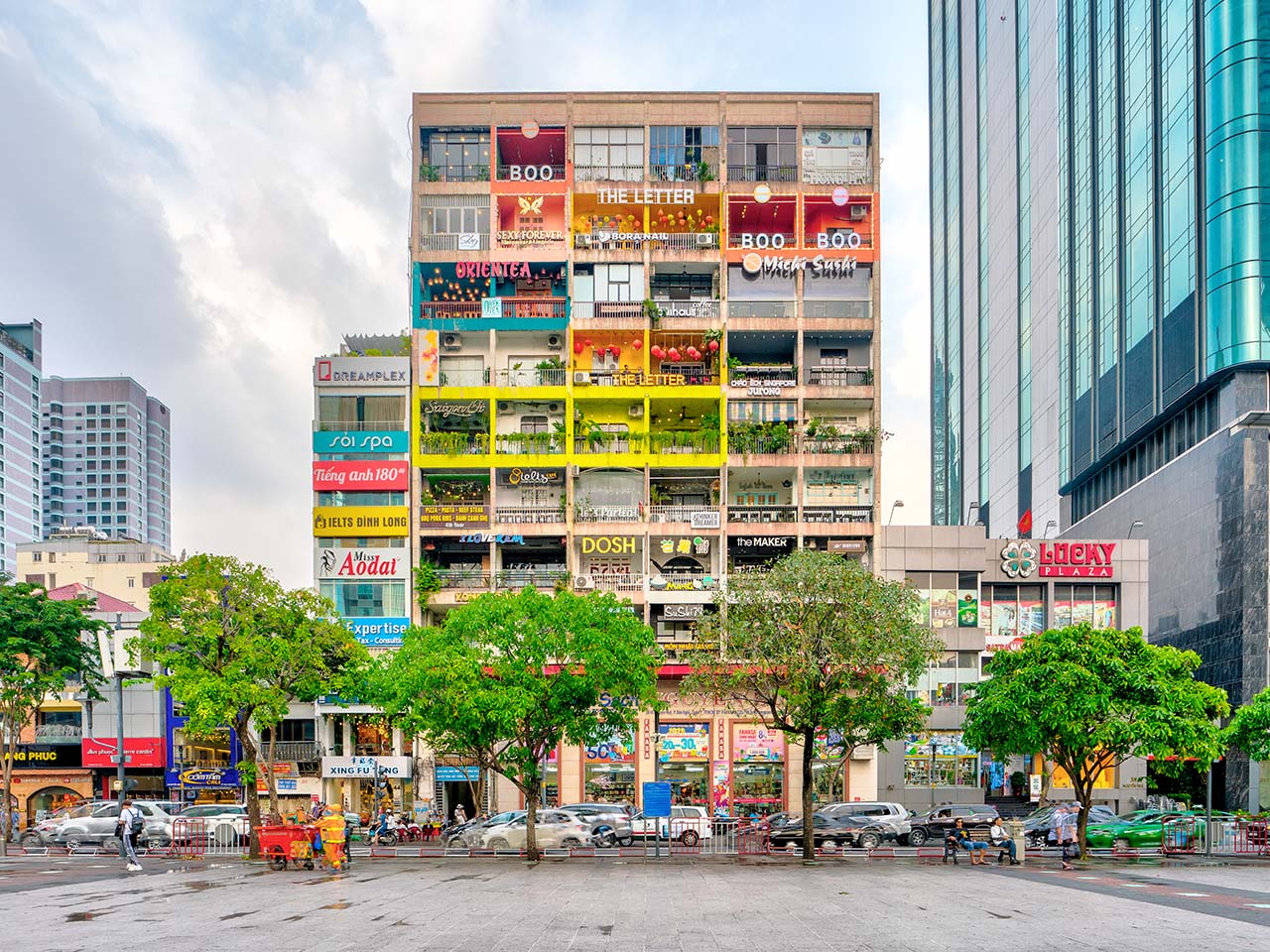 Cinemas
Saigon has a booming enthusiasm for movies. Scattering around the city is a well-developed cinema network. Movie tickets in Vietnam are cheap in general. If you go on membership days, the tickets only cost 45,000 VND ($2). Even on normal days, they do not exceed 110,000 VND ($5)  per ticket.
Amusement Parks
Of course, there is no better way of entertainment rather than going to the amusement parks. If in the State, there is Disneyland; in Singapore, they have Universal Studios, then in Saigon, we have Dam Sen Cultural Park and Suoi Tien Theme Park. These two theme parks are associated with childhood memories of so many generations that it would be a sin not to mention.
Zoo
If there is a place in Saigon where people can get close to nature, it would be Saigon Zoo and Botanical Garden (Thao Cam Vien Saigon). It is home to over a hundred species of mammals, reptiles, and birds, as well as many rare orchids and ornamental plants. The schools often organize tours for their children to visit this zoo as a way to promote their awareness of environmental protection. This is also where people go for a picnic.
Bars, pubs, and beer gardens
An important part of Vietnamese culture is the drinking culture. And obviously, we have so much good food appearing all around us, so it would be a shame not to celebrate it with some bottles of beer. The most crowded place to go for a drink is for sure Bui Vien Walking Street. The street is up all night with lots of bars and pubs hosting drinking games or sports watching nights. In another part of District 1, there is an assemblage of rooftop bars with a panoramic view over the city at night. Also, Saigon witnesses many innovative and successful stories of breweries, adding a positive note to the general picture of the local beer community.
Art
It is often said that life would be mundane without arts. Luckily, Saigon has a dynamic force of artists. There are a lot of art workshops to do as a hobby or simply a weekend activity. Some interesting workshops which are suitable for all levels are pottery making, mosaic making, or painting. There are also many independent art galleries with the mission of nourishing artistic talents and connecting the artist community by showcasing their works. The Factory Contemporary Arts Center is the most active one of all that you should pay a visit to when you are in town.
Exclusive experience in Ho Chi Minh City
View the city from above: only from above that you can take in the real pace of life in this dense and sleepless city. Saigon offers some of the best places that have an incredible night view of the city.

Saigon Skydeck Bitexco
Nest by AIA Landmark 81
Level 23 Wine Bar
Chill Skybar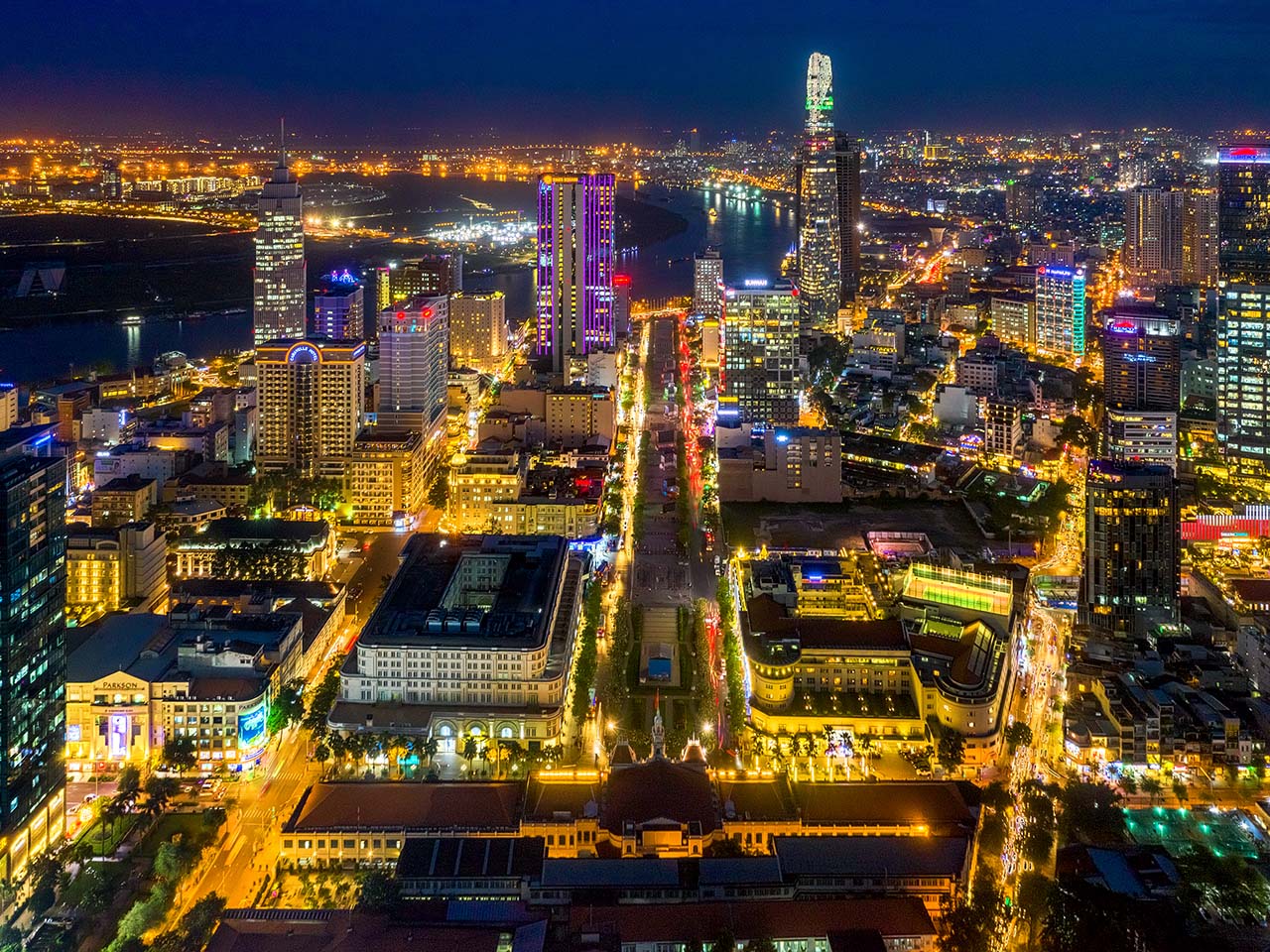 Watch a sunset by the Saigon River: enjoy a calm and slow moment when the sun sets, leave aside that noisy and busy life is somehow different when you experience it in Saigon. Besides, District 2 (Thu Duc City) is the best location for this activity as it is located right next to the river.
The Deck Saigon
Boathouse Restaurant
Waterbiz and Tea Express
Have dinner on the cruise: another unique experience is eating dinner while cruising along the Saigon River on magnificent cruise ships. For less than $25, you can go on the luxury ships and enjoy a buffet dinner with traditional and magic performances.
 Saigon Princess Cruise Ship
 Elisa Cruise Ship
Travel tips
Recommended length of stay in Ho Chi Minh City: 3-4 days
Money Exchange in Ho Chi Minh City: For the best exchange rates, you are recommended to visit the money changers and gold shops around Ben Thanh Market, Bui Vien Walking Street, or the banks.
Recommended Money Changers:
Ha Tam Jewellery (7 AM – 10 PM) Address: 2 Nguyen An Ninh, Ben Thanh, District 1, Ho Chi Minh City (near Ben Thanh Market)
Kim Mai Jewellery (7 AM – 8 PM) Address: 84C Cong Quynh, Nguyen Cu Trinh Ward, District 1, Ho Chi Minh City (near Bui Vien Walking Street)
Banks: DongA Bank, BIDV, Vietcombank.