Hanoi at a glance
Hanoi – the capital city of Vietnam – is located in the Red River Delta and home to a population of more than 8.5 million inhabitants. Hanoi has been pictured as a tranquil and ancient capital; however, it is not only about long-standing and historically cultural buildings but also active and lively activities. Follow this guide and you will understand why Hanoi is a perfect coming together of the timeless cultural value of the old and the dynamic and colorful vibes of the new.
Before starting the journey to explore Hanoi, we would like to introduce you to the Hanoi tourist map. The map includes Hanoi's most popular destinations as well as other useful information such as restaurants, bars, and shopping addresses. We hope this will save you time and maximize your experience when you are in Hanoi. Click download for easy access and offline use when you are on the move.
Transportation in Hanoi
Discover transportation deals for Hanoi from our partners >
There are many types of transportation that you can choose to go around Hanoi. It all depends on your itinerary, budget and purpose to pick the most suitable one. Below are all the possible options.
Buses
Buses are the most common and accessible public transportation in Hanoi with a spread-out network of more than 100 routes connecting all the districts in Hanoi and its neighboring provinces. You would probably like to spend time around the old quarter, so starting from Hoan Kiem Lake, Dong Xuan Market or O Quan Chuong Gate (Old East Gate) would be convenient.
To go to Hoan Kiem Lake: bus number 9, 14 or 36

To go to Dong Xuan Market: bus number 31

To O Quan Chuong Gate: bus number 03, 11, 14, 22, 18, 34, 40
Bus tickets are cheap (7,000 VND – 9,000 VND) and paid directly to the bus driver individually. Apart from the peak hours, buses are quite empty and operate regularly. Keep some small banknotes ready and hop on the bus to get around.
Metro
Another form of public transportation that has recently been brought into use is the Metro system. At the moment, there is only one operational route which is Route 2A.
This route takes you from Cat Linh (Dong Da District) – where you can find the Temple of Literature – to Yen Nghia (Ha Dong District) which is 12km from Hanoi city center. Here, you can visit different traditional craft villages.
Ticket options:
Tickets by turn: cost 8,000 VND – 15,000 VND (ranging from the 2 nearest stations to the whole route)

Daily tickets: cost 30,000 VND with an unlimited number of trips per day
Metro may not be the most convenient option, but it's still worth giving it a try as an experience watching Hanoi from above.
Ride-hailing apps
Rail-hailing market in Vietnam is generally very active with many apps for you to choose from. These services are highly trusted by locals as they save both costs and time compared to using a traditional taxi. In Hanoi, there are 3 different competitors operating: Grab, Gojek and Be.
Among the three apps, Grab is considered the most used which will shorten your waiting time as available drivers are possibly ready nearby. However, they often charge a bit higher than the other two competitors.
So, it is recommended that you install all three and compare the fares before you book to get the cheapest and fastest ride.
Note: Only in the case of going between Noi Bai Airport and the city center, it is more economical to go by traditional taxis as they are cheaper and ready at the airport.
Motorbikes
If you are comfortable riding a motorbike then it should be the best way to explore any city in Vietnam. This gives you total freedom to go on your own schedule and easy access to go through small alleys and narrow streets to fully embrace the local lifestyle.
Motorbikes can be rented easily from your accommodation (or the hotels will surely recommend you where is the nearest place to get one) and delivered to wherever you are. Depending on the type of bikes (manual bikes or automatic bikes), the prices range from 120,000 VND – 200,000 VND (/day).
You will need a driving license and, more ideally, travel insurance to go on the road. Most of the time, you do not have to pay a deposit; however, be mindful that it is still reasonable if you are asked to (1) pay a small amount of money for a deposit or (2) to pay upfront or (3) have your passport's photo taken (as it also works the same way for us locals).
Bicycles
If you are only bound around the old quarter, bicycles would be the best choice to go around and immerse in the local activities. Hanoian lifestyle is known for its chill and relaxing vibes; you will find yourself riding next to an old Vietnamese lady in her floral pyjama or parking on the sidewalk just to watch the flow of traffic and people passing by. The weather in Hanoi is convenient for riding a bike (except for the rainy summer season from May to September when the weather could be very uncomfortably hot and dry). The prices for a bicycle rent range from 50,000 VND – 100,000 VND (/day).
The narrow streets in Hanoi downtown are ideal for walking as well. If you are not in a hurry, taking a walk through the 36-street area to see the transition in the color and the goods sold would be a great experience. All in all, we recommend walking and biking to explore the old quarter; motorbikes, and ride-hailing apps for longer distances.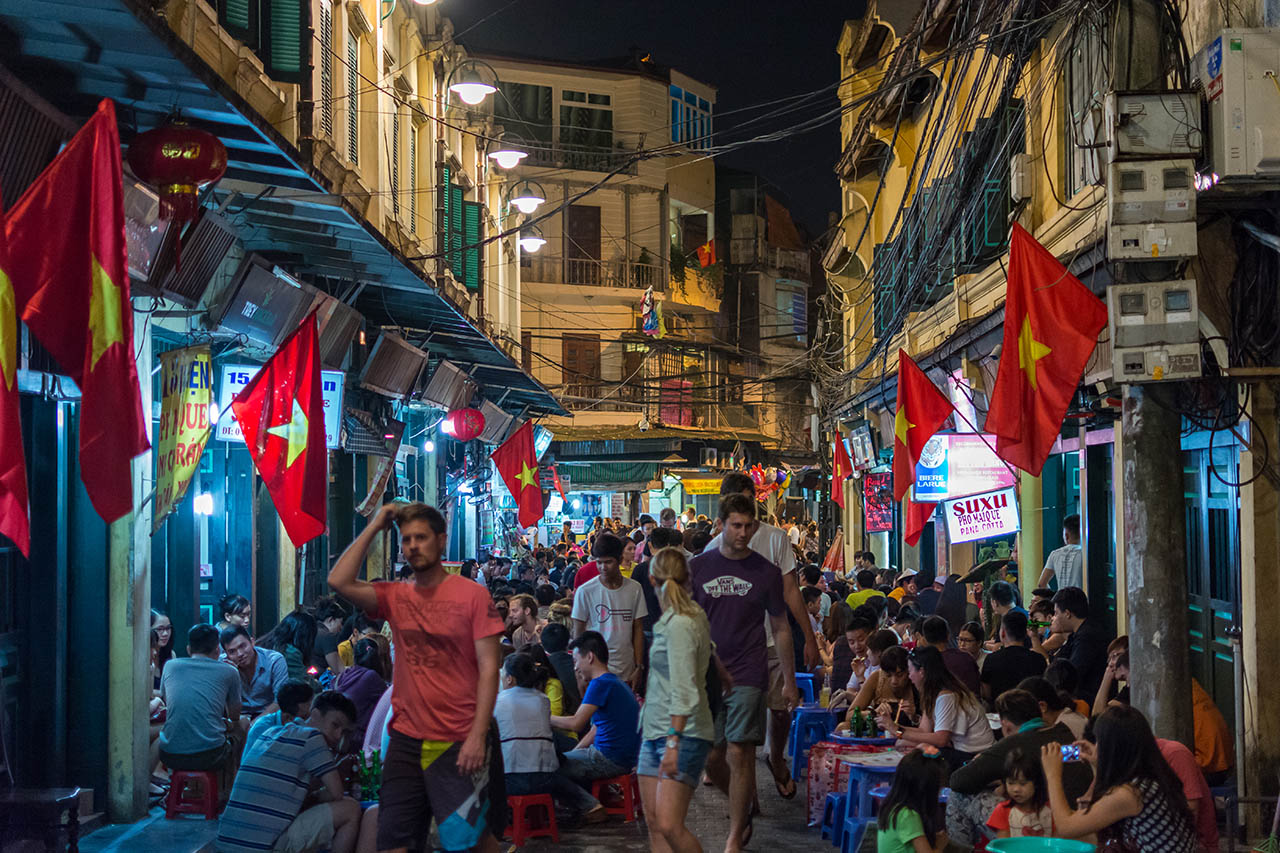 Hanoi weather
The weather in Hanoi is divided into four distinct seasons with each one characterizing very typical landscapes. However, being affected by the tropical monsoon, the weather patterns feature dry and rainy seasons.
The best time to visit Hanoi, though, is from January to the end of March and from October to December. During this time, the weather is pleasant and suitable for all types of activities. The temperature normally does not exceed 30 °C with a clear blue sky and a high level of cloud coverage.
May to the end of September is considered to be the harshest time of the year. The weather is extremely hot and humid with the dry wind and pouring rains making it worse.
The weather in the transitional time of April and May is hardly predicted. Anything is possible during these months so make sure you are well prepared for all the conditions.
Accommodation in Hanoi
In such major cities in Vietnam like Hanoi, there are many options of accommodation that cater for all preferences and budgets. The most convenient base to explore around is the 36-street area. Although located in the most bustling part of the city, it is possible to find very affordable and decent accommodations even on your arrival.
Here are some recommendations for accommodation in Hanoi, which are excerpted from the Vietnam travel guide book.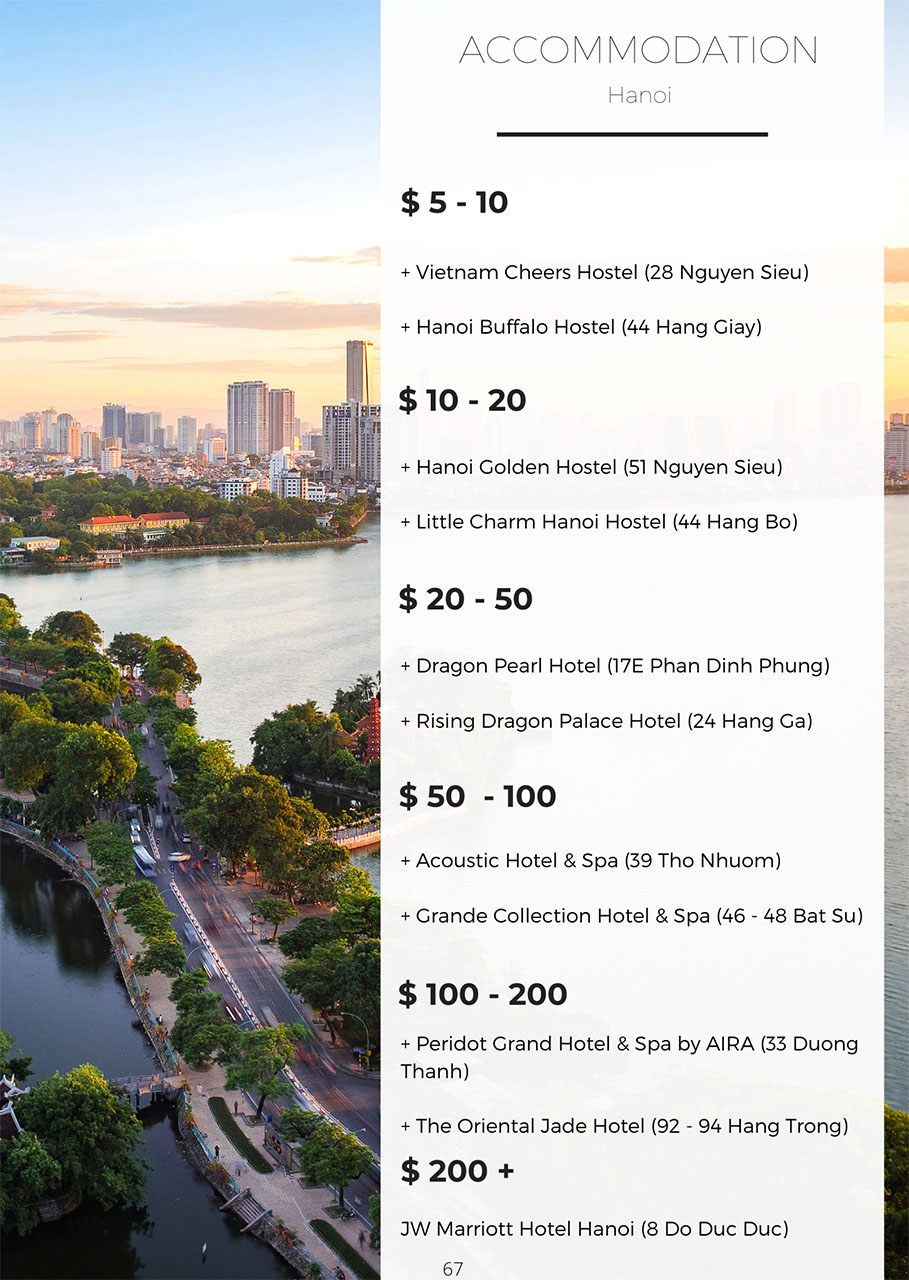 15 must-visit attractions in Hanoi
What is great about Hanoi is that most of the must-see attractions assemble in the city center and the rest does not stretch out too far away. The distances are totally walkable and accessible by bicycle or motorbike. Here are the top 15 must-visit attractions recommended to you.
1. The Three Lakes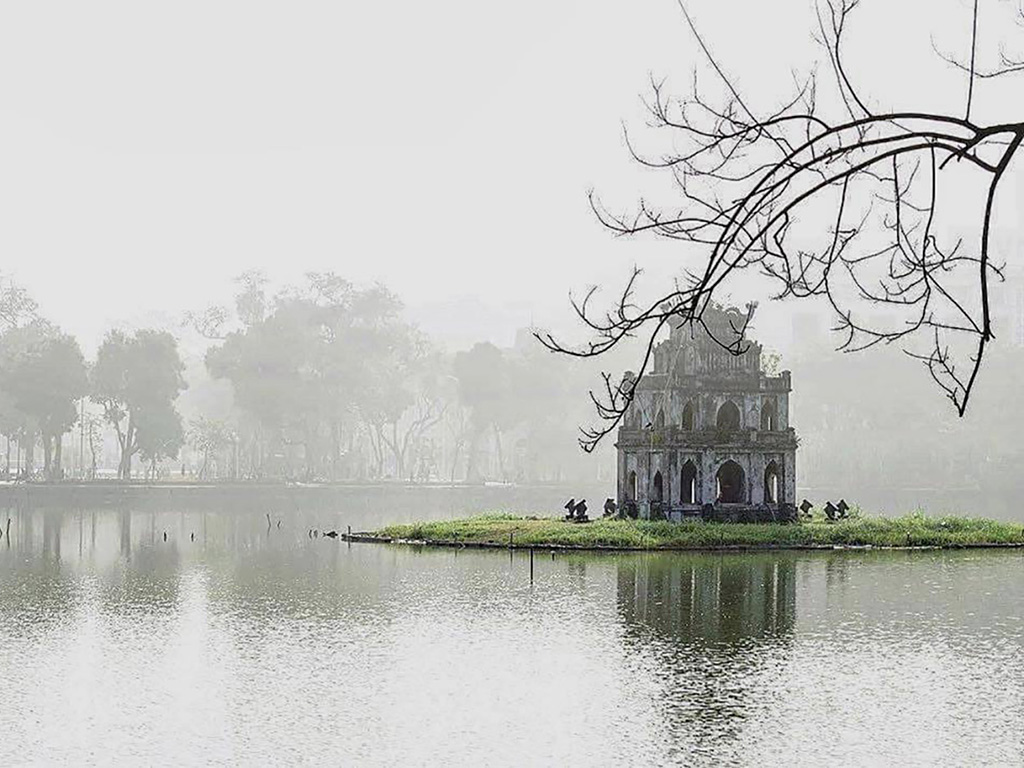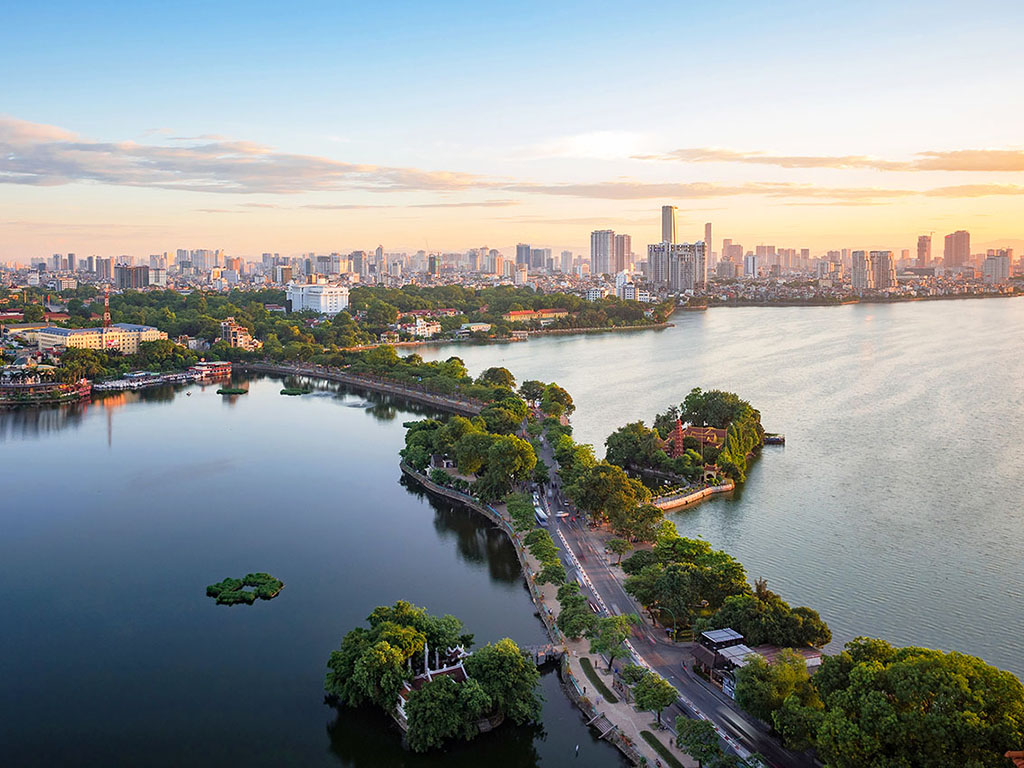 Truc Bach Lake (left) and West Lake (right)
If Saigon and other southern provinces are famous for a dense system of rivers, Hanoi itself is well-known for its poetic and scenic lakes scattered around the city. The three most iconic and accessible from the Hanoi center are Hoan Kiem Lake, West Lake and Truc Bach Lake.
Hoan Kiem Lake
Hoan Kiem Lake (also known as Guom Lake) is located in the heart of Hanoi and in the middle of the old quarter, which means it is super convenient for your visit.
The name which literally means Sword-returning Lake (or Sword Lake) has been linked to a historical myth dating back thousand years ago. Legend has it that a divine Golden Turtle had lent King Le Thai To a magical sword to fight and win against the invaders; and after the victory, the King returned the sword to the Golden Turtle on this very lake.
When visiting this lake, you will not only feel the breath of history but also be amazed by other attractions built within it. In the middle of the lake are Thap Rua (the Turtle Tower) and the beautiful The Huc Bridge leading to Ngoc Son Temple which has unique architecture and setting.
You will only be charged 30,000 VND ($1.5) if you go inside Ngoc Son Temple (crossing The Huc Bridge is still free).
Address: Dinh Tien Hoang Street, Hoan Kiem District
West Lake
West Lake is the largest natural freshwater lake in Hanoi. The lake view is so magnificent that it was chosen as a base for royal holiday palaces. It explains why you can still find a lot of historical remains around the lake. 
West Lake holds its own beauty regardless of the time you visit: tranquil and misty in the early morning while lively and activity-packed in the afternoon. Recently, there is a wide range of water activities added, making it not only a place to sit down and quietly enjoy the view but also a place to take part in outdoor activities.
Swan boats rental costs from 60,000 VND to 120,000 VND (varying according to the boat sizes).
SUP rental costs 150,000 VND (half weekdays) and 300,000 VND (full weekdays); 200,000 VND (half weekends) and 400,000 VND (full weekends).
If you have your bicycle with you, riding around the lake and catching the sunset is also a good choice.
Address: Thanh Nien Street, Tay Ho District
Truc Bach Lake
Truc Bach Lake (originally a part of West Lake) is relatively smaller compared to the other two mentioned lakes, and somehow more locally preferred; however, it carries a breadth of history no less than any other location.
To the west of the lake stands the sacred Quan Thanh Temple which was built in the 11th century. This temple worships Saint Tran Vu (Thánh Trấn Vũ) who was said to assist many kings to defend the country.
To the east of the lake is Chau Long Pagoda (Chùa Châu Long) where a princess of the Tran Dynasty is worshiped.
And to the north of the lake is located Than Quang Pagoda (Chùa Thần Quang) with the largest bronze statue carved in one piece.
Probably due to its decent size, Truc Bach Lake gives a sense of intimacy, when you can watch all the activities taking place around the lake. This is also a favorite spot for locals coming for exercise and the young people gathering at the cafes, on little stools overlooking the lake view.
2. Temple of Literature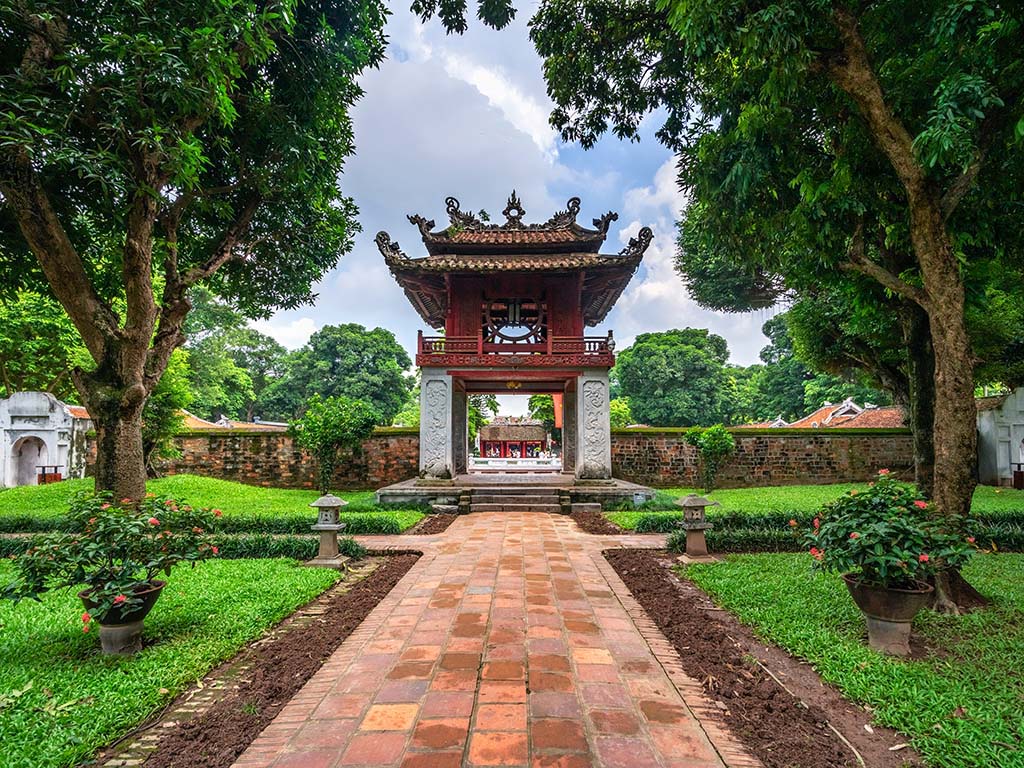 Temple of Literature is considered as one of the famous tourist destinations in Hanoi. Built-in 1070 under King Ly Thanh Tong, it is a place of worship of Confucius, Confucian scholars, scholars and sages. Temple of Literature is also considered as the first university in Vietnam, which trained talented people for the country. Up to now, the temple has become a symbol of the thousand-years civilization cradle of Vietnam. The students religiously believe that this temple is going to bring them luck for their exams. That's why during Tết (Lunar New Year) and examination time, the temple is packed with people praying and waiting for lucky calligraphy.
Address: 58 Quoc Tu Giam Street, Dong Da District
Ticket price: 30,000 VND, free for children under 15 years old
Opening hours: summer from 7:30 AM – 6:00 PM, winter from 8:00 AM – 6:00 PM
3. Ho Chi Minh Mausoleum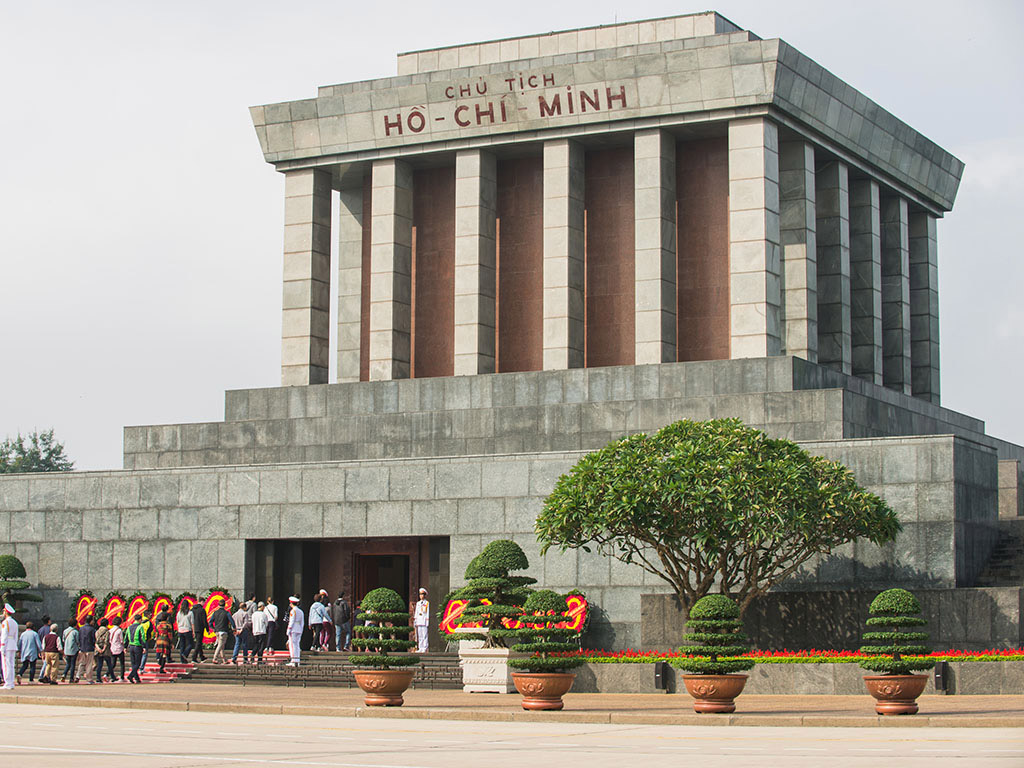 Ho Chi Minh Mausoleum plays a political and historical role in Hanoi Capital and also in the heart of every Vietnamese – where our great former President's corpse is preserved and remembered. The historical attraction was built on Ba Dinh Square covered with a vast green of grass and trees, giving you an instant feeling of peace and solemnity.
At this place, every morning at 6:00 AM and evening at 9:00 PM holds the flag-salute ceremony which is highly recommended to you. This experience will give a deeper understanding about how profound and sincere our gratitude is towards the Father of the country.
You are required to dress formally (no tank top and shorts are allowed) and remain silent during the ceremony. It is suggested that you arrive at the square at around 5:45 AM – 5:50 AM to find a good spot to watch the whole scene of the ceremony with soldiers marching, the flag being raised with the national anthem in the background.
To see inside the mausoleum, there are some specific regulations for opening and visiting times. The opening and visiting times vary each season as follows:
The hot season

(from 1st April to 31st October): from 7:30 AM – 10:30 AM on weekdays (excluding Mondays and Fridays) and from 7:30 AM – 11:00 AM on weekends and public holidays

The cold season

(from 1st November to 31st March): from 8:00 AM – 11:00 AM on weekdays (excluding Mondays and Fridays) and from 8:00 AM – 11:30 AM on weekends and public holidays
Note: If special occasions such as the first day of Lunar New Year, Uncle Ho's birthday (19th May) and Independence Day (2nd September) fall on Mondays and Fridays, the attraction will be open to the public.
Address:

19 Ngoc Ha Street, Ba Dinh District

Ticket price:

25,000 VND
4. Hanoi 36 Streets (Hanoi Old Quarter)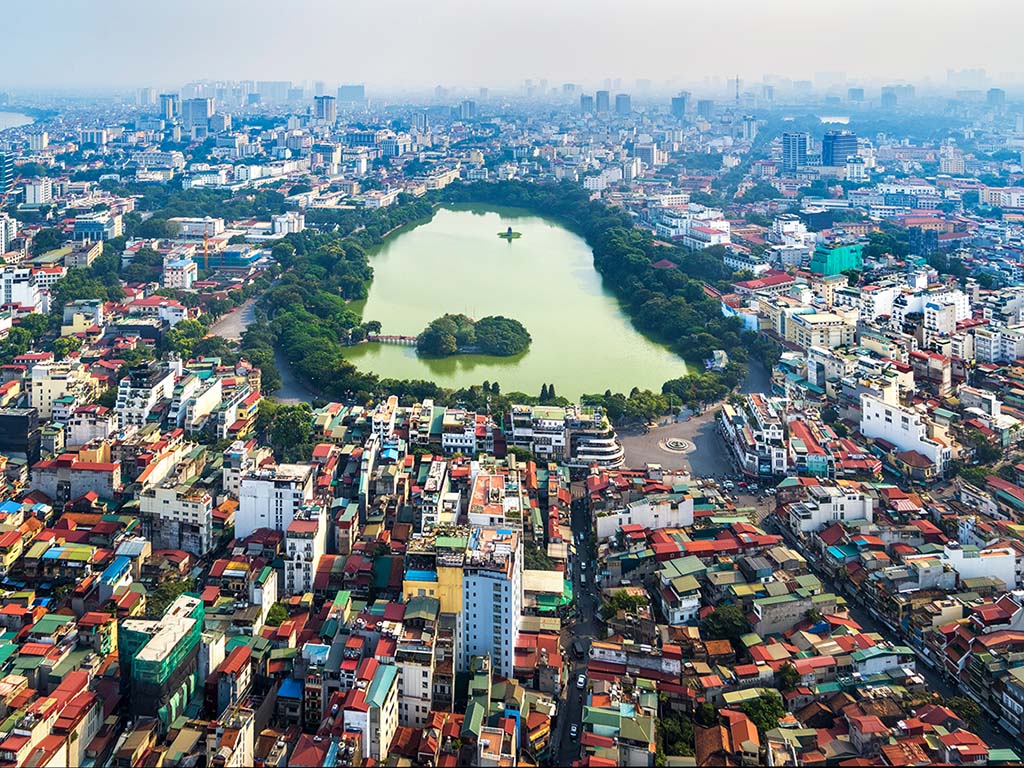 Why 36 streets but not another number? According to folk beliefs, 36 is a lucky number that attracts prosperity and abundance. That explains why it permanently goes with the name Hanoi 36 Streets although the number does not exactly reflect the real number of the streets.
The highlight of the area is that each street (or Hàng) specializes in one characteristic product and each street name indicates what products are sold. For example, Hàng Tre (Bamboo Street) is where you will find all the tall bamboo poles and all kinds of items made from bamboo; Hàng Bạc (Silver Street) sells gold and silver jewelry; etc.
The setting of streets not only shows you a traditional trading culture but also displays the unique and iconic style of architecture including a hundred of long-standing architectural and historical buildings such as temples, pagodas, assemblies and ordinary residential housing. This is also where you can sample a great variety of local foods. Cyclos, bicycles or walking are recommended to explore this area.
5. Hanoi Cathedral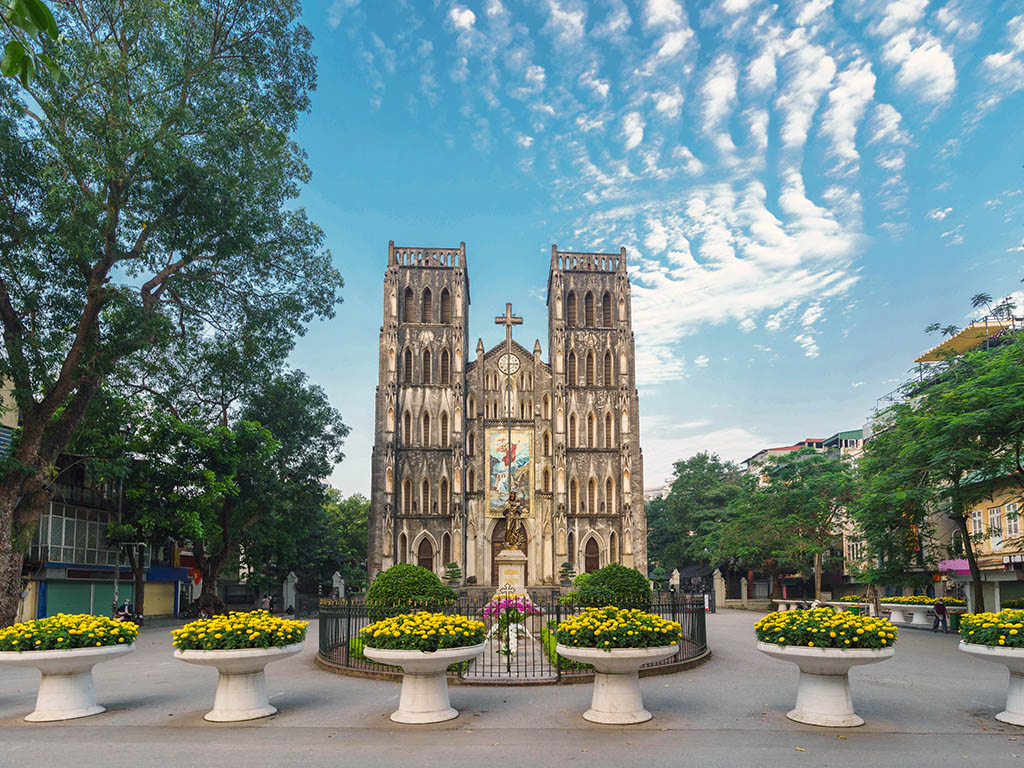 Located in the city center neighboring Hoan Kiem Lake, Hanoi Cathedral (or St.Joseph's Cathedral) is a beautiful and historic architecture with Gothic style. The cathedral was built on the original site of Bao Thien Pagoda by the French after they entered Hanoi in 1882.
Although it is claimed to lose its vintage and weather-beaten look after the renovation, it remains a favorite gathering spot with many goods and well-decorated cafes and restaurants around. During Christmas time, the whole area is lit up with glorious lights and ornaments. If time allows, you should pay a visit at day and night time to see the different vibes it offers.
Address: 40 Nha Chung Street, Hoan Kiem District
6. Hoa Lo Prison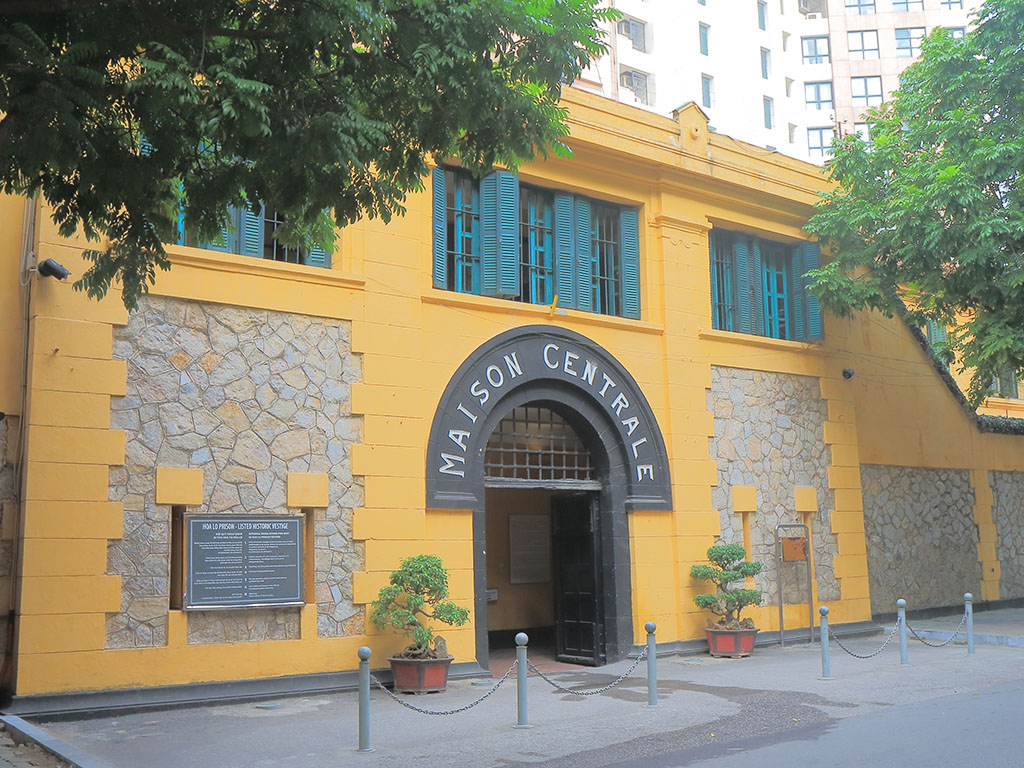 Hoa Lo Prison, also goes with the name "Maison Centrale", was built in 1896 by the French to capture revolutionary soldiers against the colonial regime. The total area of the former prison is more than 12,000 m2. However, only 2,434 m2 is used for tourist purposes. The campus is divided into 4 zones: A and B (for minor crimes and warning sentences), C (for French and foreign perpetrators), and D (for serious and death-sentenced perpetrators). You will have to see with your own eyes the extreme conditions that the soldiers had to go through and how cruel the punishments were so that you can understand why the Vietnamese so explicitly and passionately show appreciation and patriotism in any events possible.
With its significant historical role, Hoa Lo Prison has become an exciting place to visit in Hanoi, attracting many domestic and foreign tourists.
Opening hours:

8:00 AM – 5:00 PM

Tickets: 30,000 VND
Address: 1 Hoa Lo, Hoan Kiem District
7. Dong Xuan Market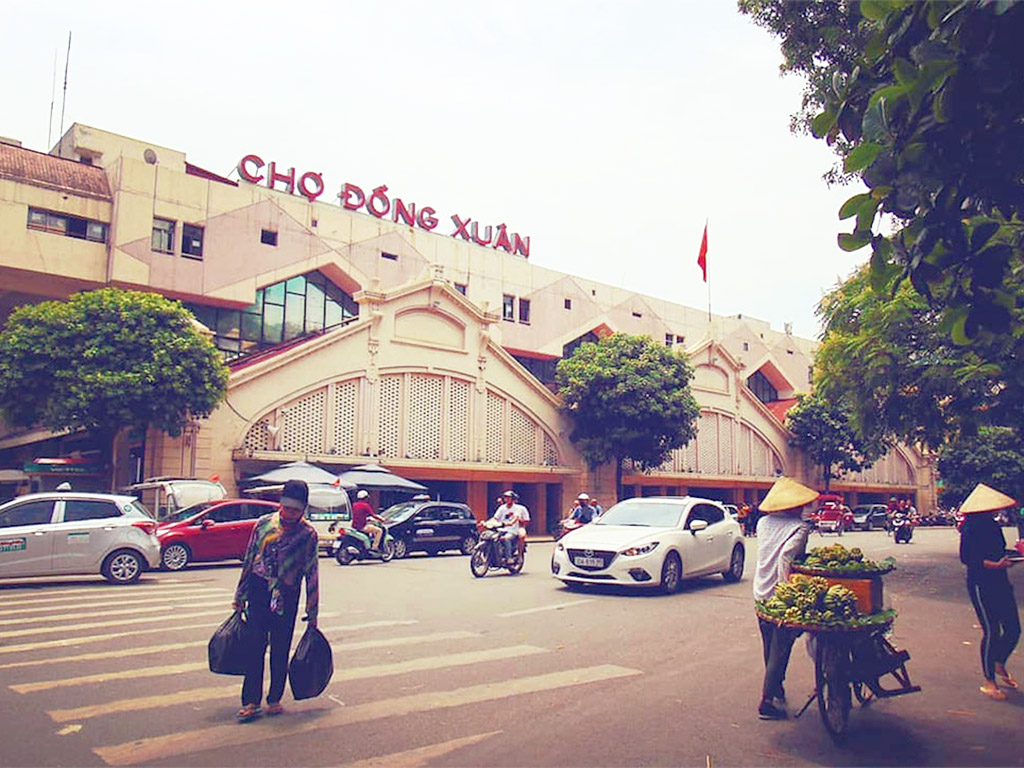 Dong Xuan Market is the busiest and oldest shopping area in Hanoi, which was built in 1889 under the Nguyen Dynasty. Dong Xuan Market is the leading wholesale market in the North. There is a wide variety of items on sale here, ranging from fabrics, clothes, silk brocade, dry food, jam, confectionery, food and souvenirs to electronic appliances. Although it is a good way to learn about the trading activities of the locals, it is not recommended for souvenir shopping since, as mentioned, it aims at wholesale, so you would probably not get the best prices. 
If you are still keen on having an experience shopping at Dong Xuan Market, here are some tips:
1. It is acceptable to bargain (and bargain hard but not exceed 50% off the initial price).
2. You should go in groups and the bigger the quantity is, the bigger discount you could possibly ask for.
3. Pickpockets could take advantage of the busy and crowded scene, so make sure you always keep an eye on your belongings.
Address:

Dong Xuan Street, Hoan Kiem District
8. Imperial Citadel of Thang Long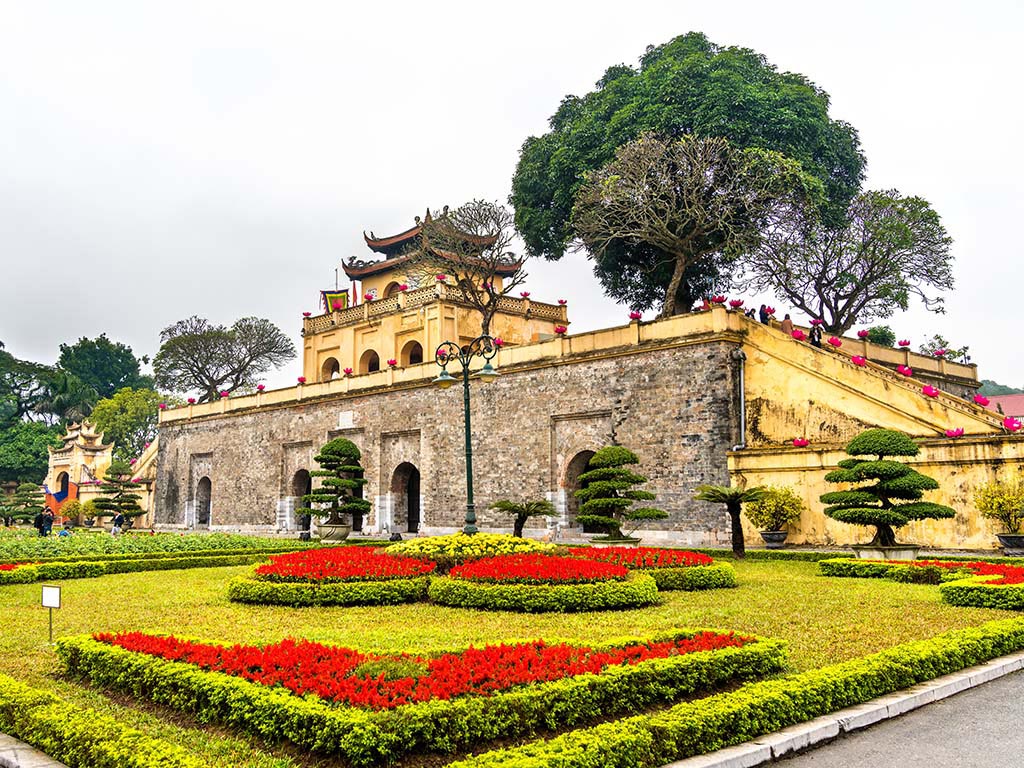 Hoang Thanh Thang Long (Imperial Citadel of Thang Long) is an important historical and cultural relic of Vietnam, which was recognized by UNESCO as a World Heritage Site in 2010 when it celebrated its 1,000th anniversary. This campus is home to various imperial palaces and other ancient royal constructions under thousands of years of feudal regime and continues to be the political center of the country up to now. Some of the highlighted attractions are listed below (just to name a few):
The Flagpole (or Hanoi Flagtower) was built in the 19th century with spiral stairs leading to the top where you can have a 360-degree view of the whole Imperial Citadel of Thang Long.

The gates were built to the four directions which reflect the magnificence and iconic architectural style at the time.

Dien Kinh Thien (Kinh Thien Palace) is a historic fort and former royal residence where all the significant ceremonies of the royalty took place.
Some tips and notes: 
1. In early 2022, a 90-minute night tour "Giải mã Hoàng Thành Thăng Long" (Decoding the Imperial Citadel of Thang Long) was launched – which takes you through all the significant landmarks with many worshiping and performing activities along the way. This is highly recommended not only because it is the best time to walk the citadel but also because the golden light and the tranquility yet mystique of the night will bring up a whole new experience.
Time:

Tour starts from 7:00 PM on Fridays and weekends

Tickets:

300,000 VND ($13) for adults and 150,000 VND ($6.5) for children

Check out their website for more information
2. The Imperial Citadel sits on a large campus, so if you visit it during the daytime, make sure you have your sun protection (hats or umbrellas) and water.
3. There are some lovely cafes on the campus where you can sit down under the shade of big trees to enjoy a drink while embracing the peaceful vibes in the air.
Address: 19 Hoang Dieu Street, Ba Dinh District
Tickets: 30,000 VND
Opening Hours:  8:00 AM – 5:00 PM
9. Hanoi Opera House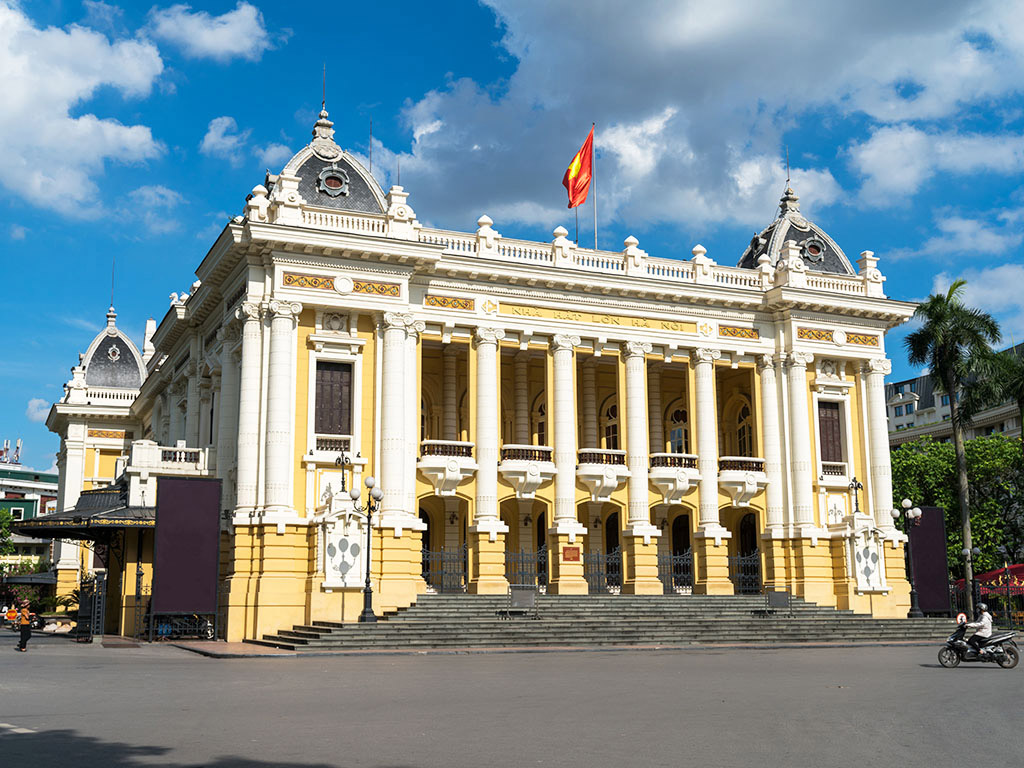 Hanoi Opera House is known as an artistic and cultural symbol of the city. It's also a tourist destination in Hanoi that is loved by many visitors. Hanoi Opera House is the place for many national-level performances, as well as international art performances. Coming here, you will enjoy many unique art forms, not only famous Vietnamese plays such as Tuong, Cheo and Cai Luong but also the French opera, classical Italian opera, Chinese opera and Ballet.
Unfortunately, it is not open for public visits. However, art show tickets are available from 400,000 VND, which allows you to fully enjoy the beauty of architecture and culture as well as the music and art space here. Please visit the website to update information about the performance schedule. Also, you can book early to get a good position.
10. Long Bien Bridge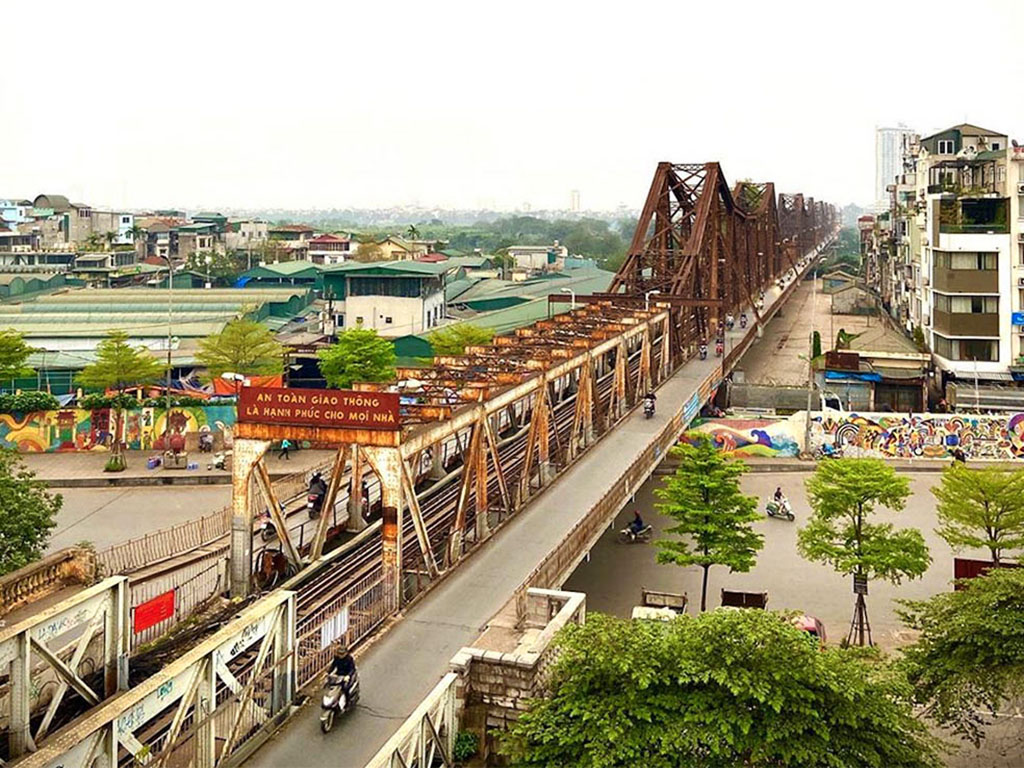 This is the first steel bridge built across the Red River initially to facilitate the process of colonial exploitation under the French invasion. Little did you know about this historical construction is that it used to be the second-longest bridge in the world (just ranked after Brooklyn Bridge in the U.S) and even called the horizontal version of the Eiffel in Hanoi.
Among countless bridge constructions, Long Bien Bridge remains the most iconic and is favorably nicknamed "the historical witness". This is because the bridge witnessed all the bittersweet the nation went through: it survived several bombing campaigns and it bridged thousands of people from all remote and inaccessible areas to Hanoi's Ba Dinh Square where President Ho Chi Minh read the Declaration of Independence.
Long Bien Bridge is divided into two traffic lanes mostly used for light vehicles and pedestrians and a railway in the middle. Being on the bridge when the trains go by is a fascinating experience and walking on the bridge will give you a panorama view of Hanoi from a distance. Under the bridge is a lush banana island with peaceful countryside landscapes which you can access by taking the secret stairs in the middle of the bridge (possible for bicycles also).
Address: Long Bien, Hoan Kiem District
11. Thang Long Water Puppet Theater
In 1969, Thang Long Water Puppet Theater was established, and it quickly became one of the most famous water puppet art venues in Vietnam. The fairy tales and Vietnam historical legends are vividly reproduced by wooden puppets and uniquely performed on water. It is an exciting experience not to be missed for visitors when visiting Hanoi. Watching a water puppet show will help you learn more about Vietnam's traditional culture and art forms. Tickets can be booked in advance and more information can be found on the website.
Note: small charges of 20,000 VND and 60,000 VND are applied for taking pictures and recording videos.
Address: 49 Dinh Tien Hoang, Hoan Kiem District
12. Quang Ba Flower Market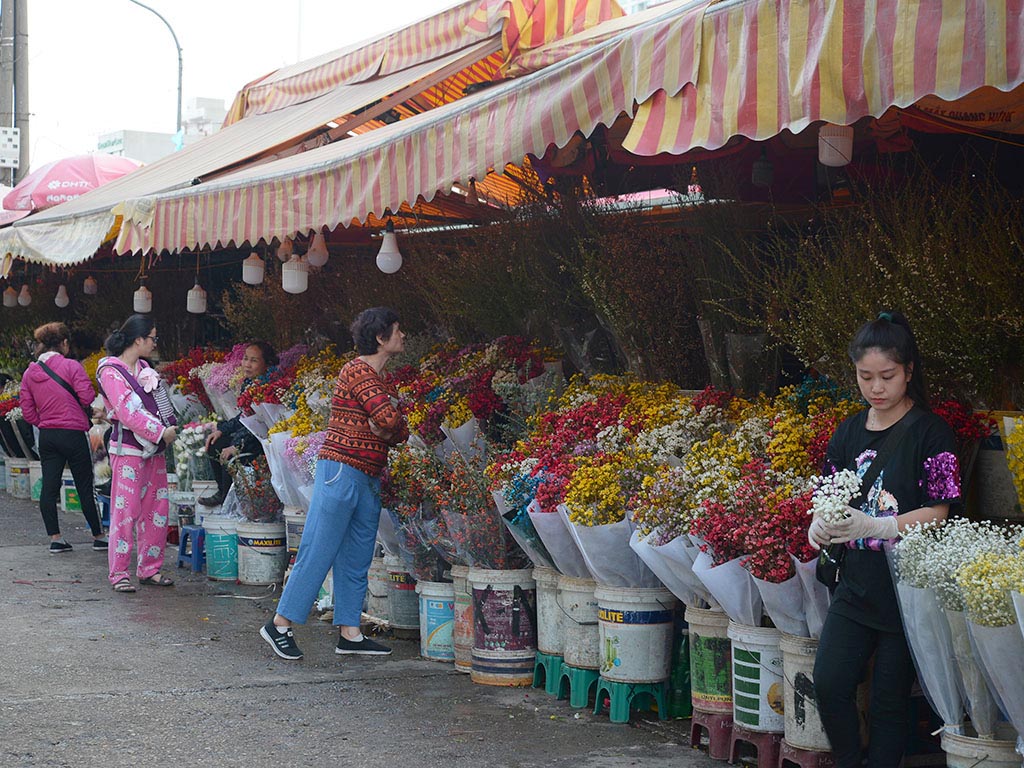 If you are a flower lover or simply looking for a night-life activity with a local breath, Quang Ba Flower Market will definitely blow your mind. Unlike other traditional markets which open throughout the day, Quang Ba Flower Market starts setting and stacking up flowers around 11:00 PM and closing at dawn at around 6:00 AM. The most bustling and lively time is from 1:00 AM – 2:00 AM. When the rest of the city is falling asleep, Quang Ba Market starts waking up, filled with laughter, bargains and fragrance, which will stimulate all your senses. Since this is a wholesale market, flowers are sold in bulk and very reasonably priced.
Depending on whether you are an early riser or a night owl, you can choose to visit the market around midnight or around 5:00 AM. This is worth getting up for and will surely bring you a unique experience.
Address: Nghi Tam, Au Co, Tay Ho District
13. One Pillar Pagoda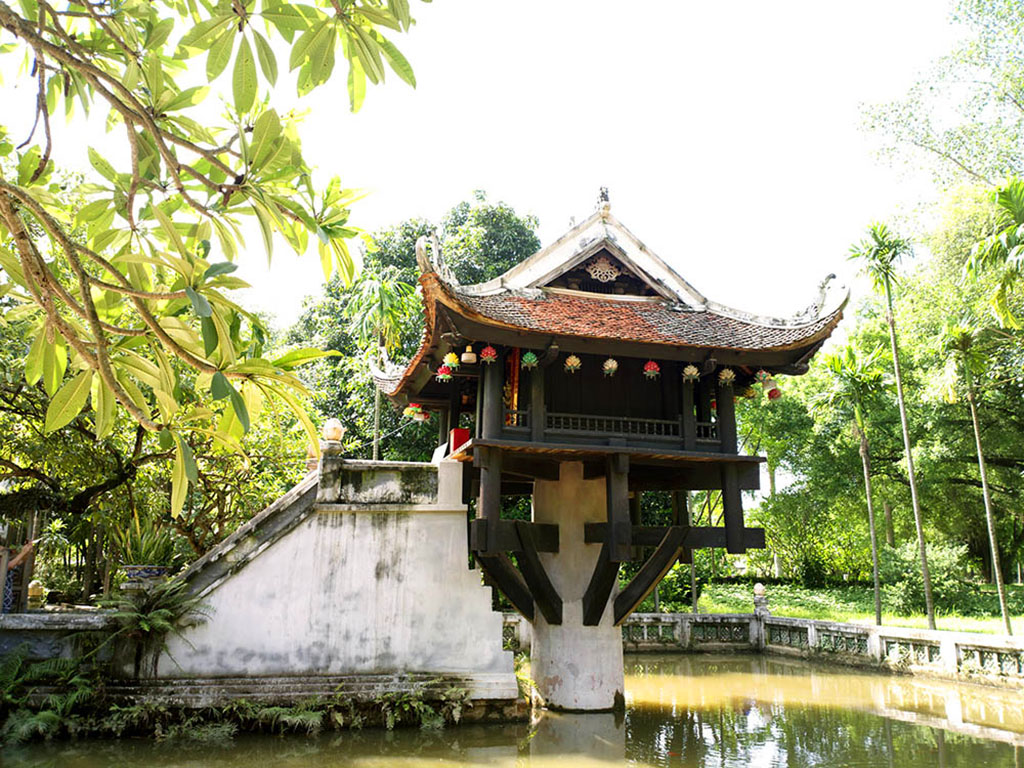 One-pillar Pagoda or Chua Mot Cot as it is locally known was built in 1049 by Emperor Ly Thai Tong and has undergone many restorations due to the destruction of wars. Legend has it that the Emperor dreamed of Deity Quan Am (or Lady Buddha) sitting on a blooming lotus and asking him to join her enlightenment journey; after the dream, he ordered to build this pagoda which resembles a lotus blossom – a Buddhist symbol for purity and enlightenment. This is where the Emperor practiced his religion and Buddhism also witnessed its flourishing and prosperity since then.
Although the pagoda is not a spectacular and large-scale construction, it has a particular historical and religious value that is totally worth a visit.
Note: on the 1st and 14th monthly (lunar calendar), there will be Buddhist ceremonies which will allow you to have a full picture of the place.
Address: Chua Mot Cot, Doi Can, Ba Dinh District
Price: 25,000 VND
Opening Hours:  7:00 AM – 6:00 PM
14. Bat Trang Ceramic Village
For thousands of years, ceramic has been synonymous with Bat Trang – which is a testimony to excellent quality as well as the outstanding level of handicraft. Located on the east side of the Red River and only 15km from Hanoi center, Bat Trang Ceramic Village is a complex of ceramic museums, workshops, ancient houses and markets. Every corner of the village sets up a colorful and vintage background for your photographs. You can sign up for ceramic-making workshops which allow you to have hands-on experience and create your own piece of ceramic. The ceramic market is where you can get lovely and one-and-only ceramic items since each of them takes hours to be painted by hand by the artisans.
The attraction allows free entrance and you are only charged if you want to take on ceramic-making activities (cost starting from 30,000 VND).
From Hanoi, you can check out bus number 47A or bus 52B to go to Bat Trang. It is also easily accessed by motorbikes and there are many tourist agencies that offer a full-package tour to Bat Trang Ceramic Village which will save you from all the hassle.
Address: Gia Lam District
15. Hanoi Train Street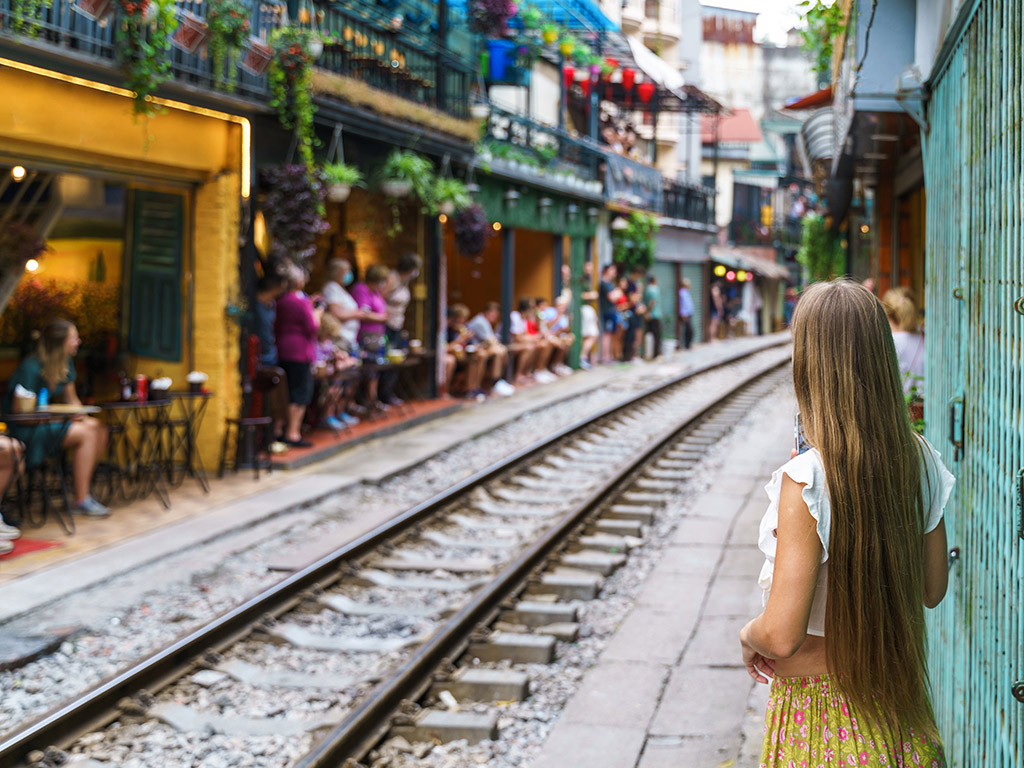 Hanoi Train Street (or Phung Hung Train Street) is most famous with the 2-kilometer section from Phung Hung Street to Le Duan Street, running across Tran Phu Street and Cua Dong Street. This has been recognized as a unique attraction for tourists to experience the coming together between French and Vietnamese architecture and also the local life of those residing along the railway. At the end of 2019, the street was closed down for safety purposes. In mid-2022, this route was restored to tourist activity, but visitors must ensure strict safety guidelines.
Address: Phung Hung Street
Train times:

Weekdays: 7:00 PM, 7:45 PM, 8:30 PM, 10:00 PM
Weekends: 9:15 AM, 11:20 AM, 3:20 PM, 5:30 PM, 6:00 PM, 7:00 PM, 7:45 PM, 8:30 PM, 9:00 PM, 11:00 PM
10 must-try dishes in Hanoi
Hanoi – the capital of a thousand years of civilization, is the cradle of Vietnamese cuisine. In addition to the dishes that have made Vietnam famous such as Pho or Bun Cha, Hanoi still has very typical dishes. Here are the top 10 dishes you should not miss on your culinary journey in Hanoi.
1. Pho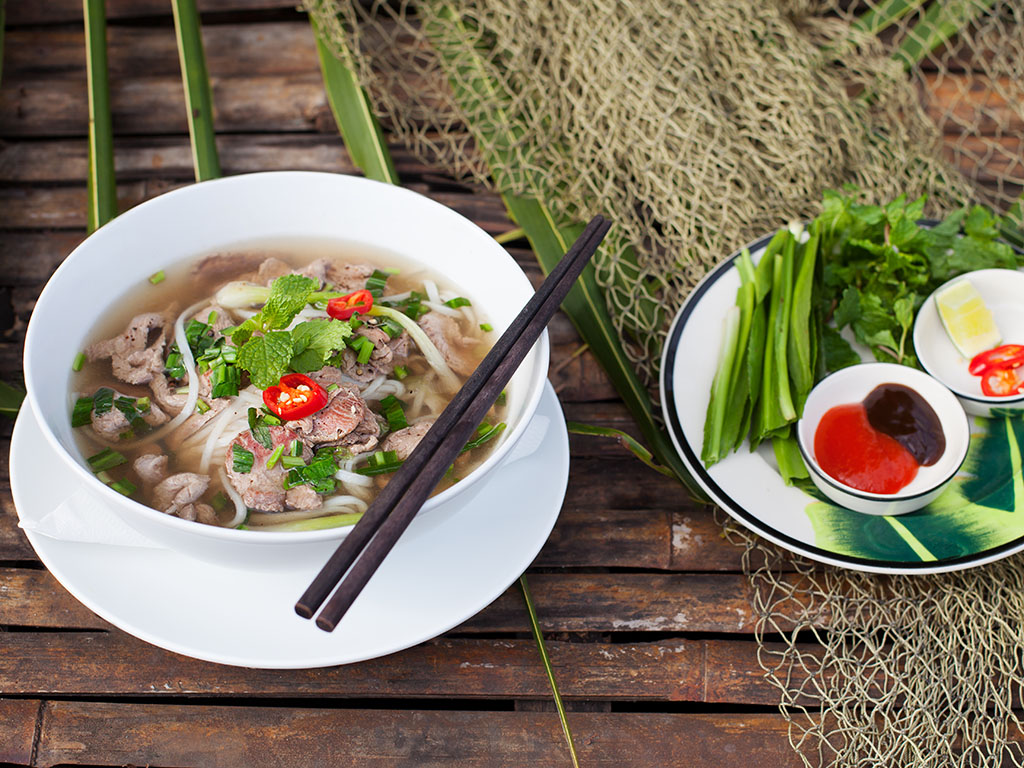 Needless to say, Pho has been recognized all around the world as the soul of Vietnamese cuisine and is one of the indispensable parts associated with Vietnamese people from generation to generation. Although Pho can be found anywhere you go, it cannot be denied that Pho Hanoi – where it was originally from – is at its best.
A decent bowl of Pho requires a meticulous preparation and cooking process. Pho is made from the main ingredients such as bone-beef broth, noodles, and thinly sliced beef. What makes Pho Hanoi different from Pho in the south is that you will find lots of green onion in your bowl and there are no side green herbs (instead, it is sided with "bánh quẩy" or hot finger-shaped soufflé).
Tips:
Oftentimes, there are many types of beef you can choose from the menu, which could be confusing for your first experience. A safe option to stick to is "Phở tái nạm" – Pho with rare lean & brisket beef  (with or without "bò viên" – meatballs depending on your preference).
When eating, you can add a bit of pickled garlic and homemade chili sauce to the bowl, mix it up, dip "bánh quẩy"  in the broth then have a big bite of everything and the explosion of flavors in your mouth.
Some famous delicious Pho restaurants in Hanoi:
49 Bat Dan Street, Hoan Kiem District (30,000 VND – 55,000 VND)

13 Lo Duc Street, Hoan Kiem District (40,000 VND – 60,000 VND)

10 Ly Quoc Su, Hoan Kiem District (50,000 VND – 80,000 VND)
2. Bun Cha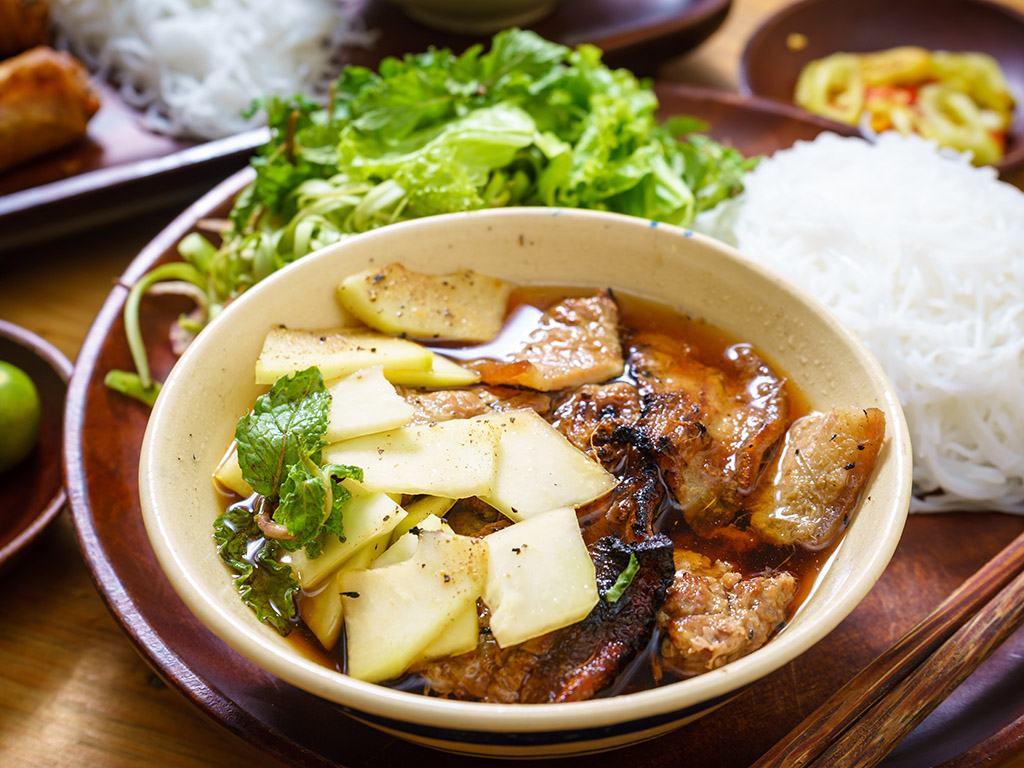 Bun Cha is actually even more synonymous with Hanoi cuisine than Pho, which is suggested in its name. One portion of Bun Cha consists of thin noodles, grilled pork in sweet and vinegary broth, and a small basket of green herbs to balance out the meaty protein.
The essence of Bun Cha Hanoi lies among the BBQ pork which has to meet the balanced proportion of lean meat and fat before being seasoned with the right amount of herbs and spices then grilled on an open coal-fire.
Tips:
When eating Bun Cha Hanoi, you will be given an extra small bowl. Take a bit of noodle, add grilled pork and some herbs, then pour in a bit of the broth. It tastes best when you have a bit of everything at the same time.
Bun Cha is available all day, however, it is ideal to eat Bun Cha for lunch, as it could be a bit too fatty for breakfast and its serving portion is huge and very filling – which will give you energy for the rest of the day. It is also recommended to order Nem Ran – a square version of spring rolls.
Some recommendations for you:
1 Hang Manh Street, Hoan Kiem District (50,000 VND – 60,000 VND)

74 Hang Quat Street, Hoan Kiem District (30,000 VND – 50,000 VND)

24 Le Van Huu Street, Hoan Kiem District (40,000 VND – 60,000 VND)
3. Bun Thang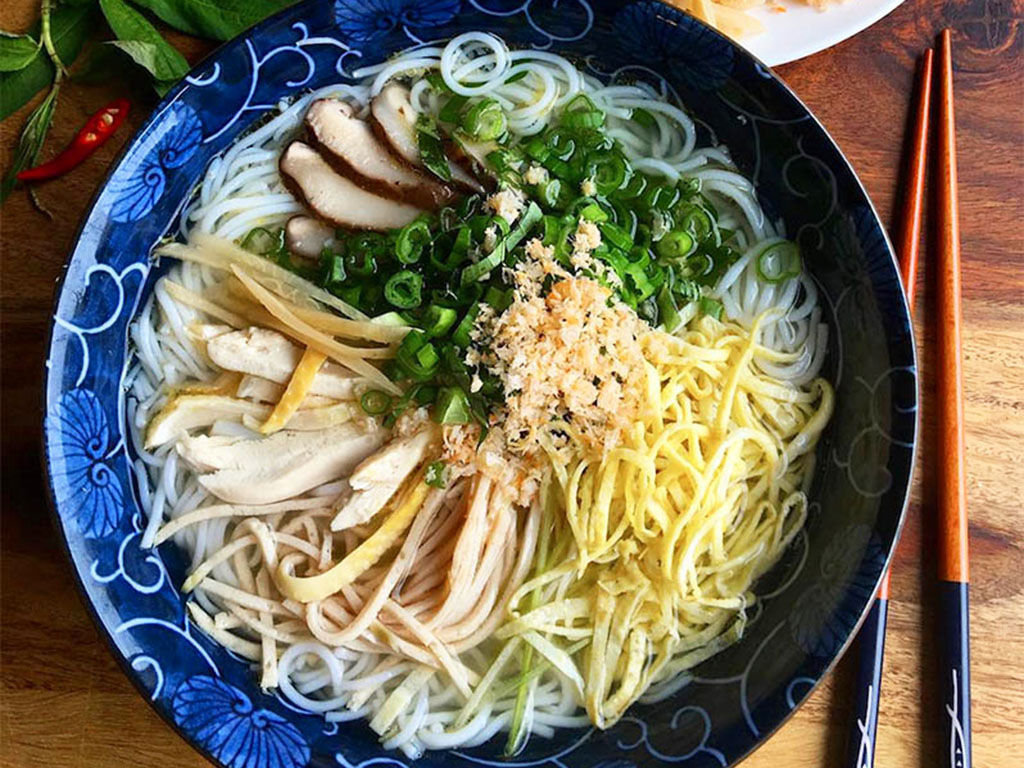 In contrast with the light sweetness and simple taste of the broth, you will be amazed that it requires more than 20 different ingredients to make up a bowl of Bun Thang.
When being served, Bun Thang will be presented with fried eggs, chicken, shiitake mushrooms, green onions, pork cake, dried shrimp and so on. Everything is sliced up and neatly placed on the bed of rice noodles. So, Bun Thang is not only tasty but also eye-catching with all the colorful ingredients.
Tips:
The taste of Bun Thang is, for some people, quite " light and plain"; so, it will be suitable for breakfast. If you like it a bit more savory, add a tiny bit of fish sauce.
You can try Bun Thang in some of the following locations:
48 Cau Go Street, Hoan Kiem District (35,000 VND – 50,000 VND)

29 Hang Hanh Street, Hoan Kiem District (35,000 VND)
4. Banh Mi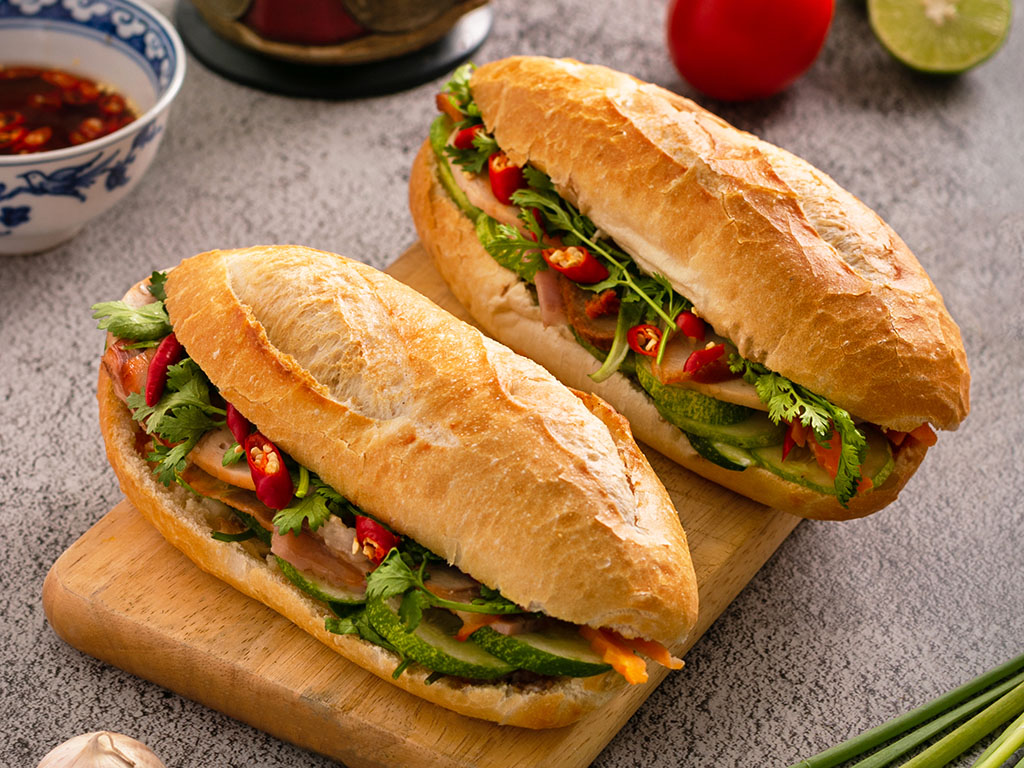 Banh Mi gradually asserts its position in Vietnamese culinary culture, as the BBC's David Farley once praised Banh Mi of Vietnam as the best sandwich in the world.
You may already be familiar with Banh Mi as it is quite globally widespread; but unlike Banh Mi in Saigon which emphasizes the sauce, Banh Mi in Hanoi is special and recognizable for its pâté. The rich and flavorful pâté is spread between a freshly-baked baguette that is soft inside and crispy outside.
Now, you can find Banh Mi in two versions: Banh Mi sandwiches and one-pan toppings served with Banh Mi on the side. Traditional Banh Mi sandwiches are definitely recommended as it is how Banh Mi is originally eaten and how you fully taste Banh Mi in one bite.
Tips:
A Banh Mi experience is not complete without being combined with Vietnamese black / milk coffee. This is the all-time go-to combo.
Some suggestions for you:
25 Hang Ca, Hoan Kiem District (15,000 VND – 25,000 VND)

38 Dinh Liet Street, Hoan Kiem District (15,000 VND – 35,000 VND)

34 Lo Su Street, Hoan Kiem District (15,000 VND – 25,000 VND)
5. La Vong Grilled Fish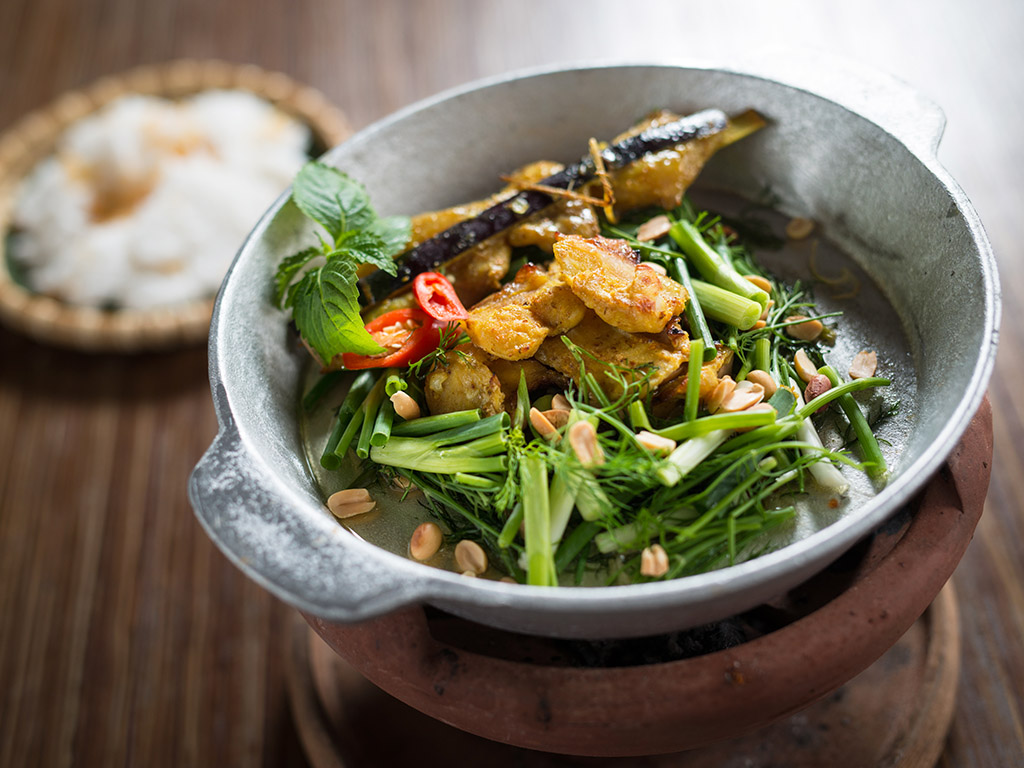 Cha Ca (grilled fish cakes) has long been a specialty of Hanoi. It is a complicated dish right from the stage of selecting ingredients. Made from the freshest Hemibagrus fish and Snakehead fish so the texture will be firm and chewy. When the fish is almost cooked, green onion and dill are added to the hot pan and well mixed with other ingredients.
Interestingly, the first Cha Ca La Vong restaurant has been surviving for 5 generations and the street on which it is located now was renamed after this iconic food (Cha Ca Street).
Tips:
Cha Ca La Vong is eaten with noodles, roasted peanuts and "mắm tôm" – shrimp paste which could be too strong for those who are not familiar with it. It is suggested that you add a bit of lime or kumquat juice to the paste and well mix it to reduce the strong smell and taste.
We recommend these restaurants for you to enjoy this dish in Hanoi:
14 Cha Ca Street and 107 Nguyen Truong To Street, Hoan Kiem District (170,000 VND)

120 K1 Giang Vo Street, Ba Dinh District (140,000 VND)

171 Thai Ha Street, Hoan Kiem District (139,000 VND)
6. Pho Cuon and Pho Chien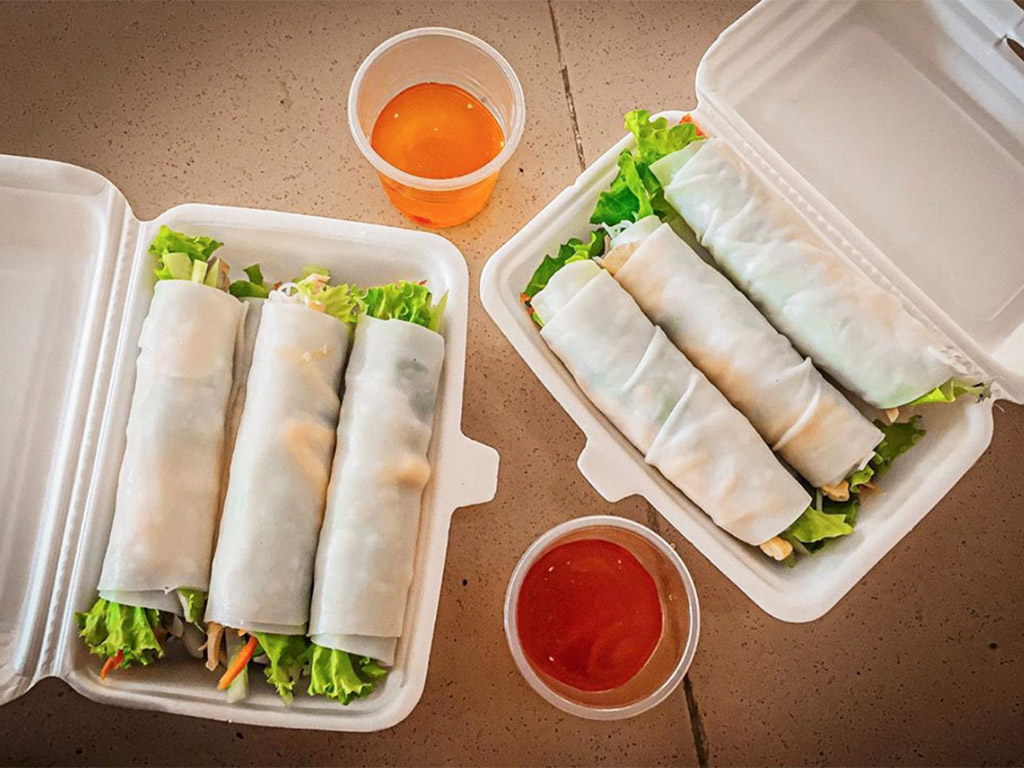 As we mentioned before, the summer in Hanoi is extremely unpleasantly hot. And so, although we love Pho, the idea of slurping a hot bowl of Pho under that weather condition does not sound very tempting. That's why Hanoians came up with the genius creation of Pho Cuon and Pho Chien (Pho rolls and pan-fried Pho) – which is somehow the dry version of traditional Pho.
You can still find the star ingredients of Pho which are noodles, beef and herbs. However, instead of being cut into stripes, they use Pho sheets to wrap seasoned and stir-fried together with green herbs inside. Pho Cuon is complemented by dipping in light, vinegary sauce, which is the best summery food you could ever have. Pho Chien also uses the same ingredients but beef and vegetables are stir-fried and top on a bed of deep-fried, crispy Pho noodles.
Another version of Pho Chien is Pho Chien Phong (Pho crackers in squared-shape). Pho sheets are cut into squares and deep-fried until they turn into Pho crackers – airy in the middle and crispy outside. These are again stir-fried with tender beef, onion and green vegetables.
Notes and tips: 
At Pho Cuon restaurants, there is often a snack called "Ngô chiên bơ" – which is basically popcorn but in Vietnamese style. You could not find it anywhere else and we have to admit that it is a very addictive snack. Make sure you will give it a try.
These dishes are served in big portions which are enough for 2-3 people. So, it is recommended that you order one by one to make sure you are not overloaded with foods and also can enjoy them while they are freshly cooked and served.
Some recommendations for you:
29B Ngu Xa, Ba Dinh District (25,000 VND – 75,000 VND)
31 Ngu Xa, Ba Dinh District (25,000 VND – 75,000 VND)
108B1 Tran Huy Lieu, Ba Dinh District (25,000 VND – 80,000 VND)
7. Ngan Chay Toi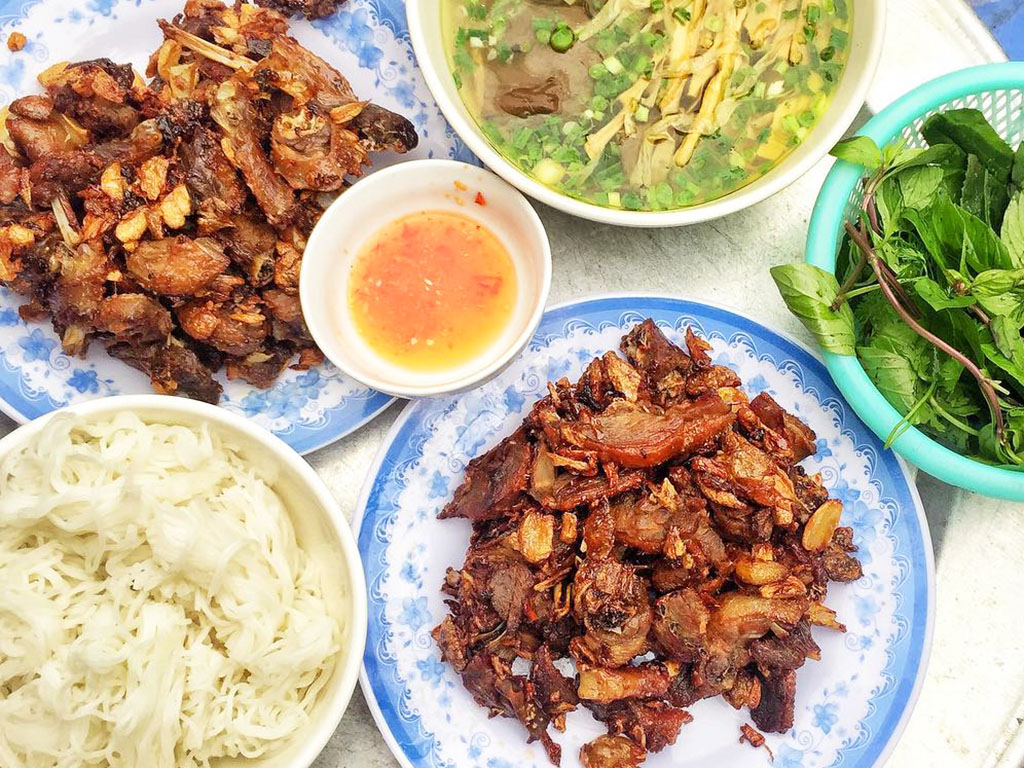 Ngan Chay Toi (duck fried with garlic) is a rising star on the Hanoian culinary map. Accidentally invented by a home cook chef – who was trying to cook up the leftovers for her family, this dish soon took off and became one of the most favorable dishes of the Hanoi people.
Duck meat is well seasoned and deep-fried with lots of garlic until they get that beautiful caramel color and crispy texture (for the garlic). A full combo of Ngan Chay Toi locally goes with a quarter to a half of a duck (you could ask for half "cháy tỏi" – deep-fried and half "luộc" – boiled); a bowl of noodles of your choice (could be "bún" – rice noodles or "miến" – glass vermicelli); a bowl of bamboo shoot soup; a small basket of fresh herbs; and of course a small bowl of ginger, garlic and chili fish sauce. All of these are served on a round serving platter which is set up on a plastic stool while you will be given even smaller plastic stools to sit around and enjoy your meal.
Notes and tips:
This is supposed to be a shared dish. A combo of ¼ a duck is sufficient for 2 people and ½  a duck should be enough for at least 3-4 people.
You will be sitting on little stools and quite close to each other; so consider if you feel like having your personal space and more comfortable dining space.
Here are some suggested addresses for you:
71 Hang Thiec, Hoan Kiem District (120,000 VND – 250,000 VND)

51 Hang Luoc, Hoan Kiem District (40,000 VND – 265,000 VND)

16 Hang Can, Hoan Kiem District (40,000 VND – 260,000 VND)
8. Chao Suon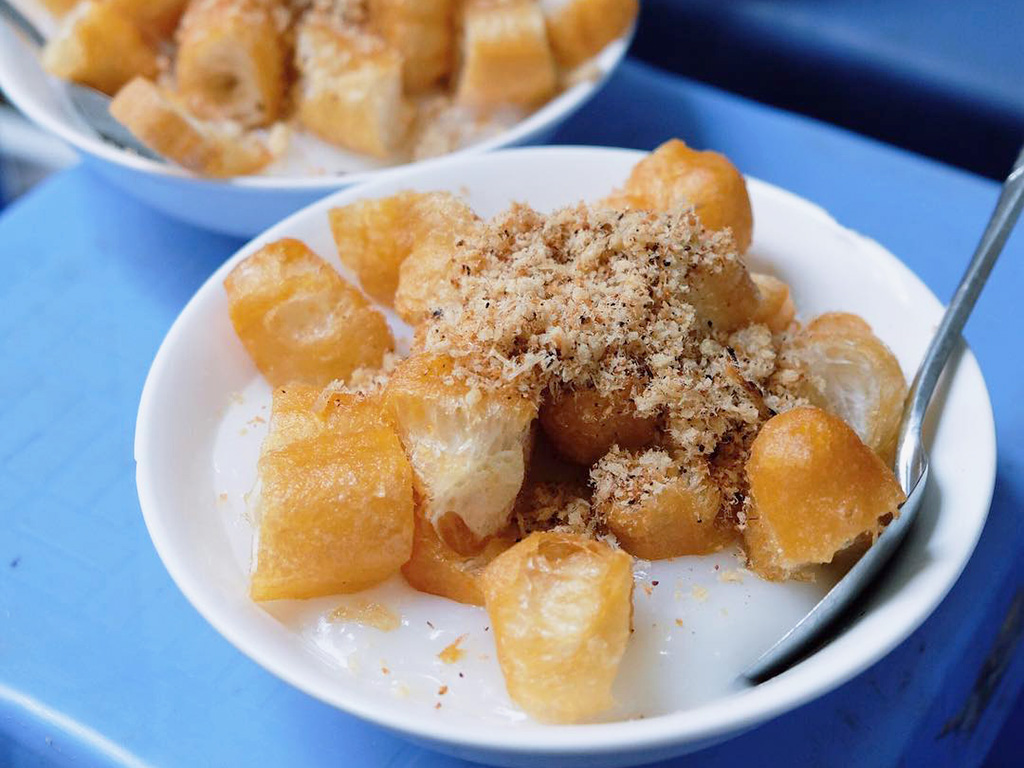 Chao Suon (pork rib porridge) is somehow less recognized by tourists but highly recommended by our local Hanoian friends. This could be the ultimate comfort food that you have been looking for as long as you give it a try.
Chao (or rice porridge) is the soul of this dish. A good one needs to be cooked in pork rib broth with the right proportion of rice and sticky rice which are already soaked in fresh water overnight. This porridge is then blended and slow-cooked until it gets a finely smooth and creamy texture. Pork ribs, meanwhile, are slow-cooked until they can be easily deboned and melts in your mouth. A perfect bowl of Chao Suon is a combination of rice porridge, shredded pork floss, minced pork and tender pork ribs of course.
Tips:
This dish is often eaten for breakfast or late-night meals. You can also order "bánh quẩy" (hot finger-shaped soufflé) and century eggs to add even more flavors to the dish.
Recommended addresses to eat Chao Suon:
14 Dong Xuan, Hoan Kiem District (25,000 VND – 55,000 VND)

61A Ngo Huyen, Hoan Kiem District (30,000 VND – 50,000 VND)

55 Hong Tien, Long Bien District (45,000 VND – 70,000 VND)
9. Banh Goi and Banh Ran Man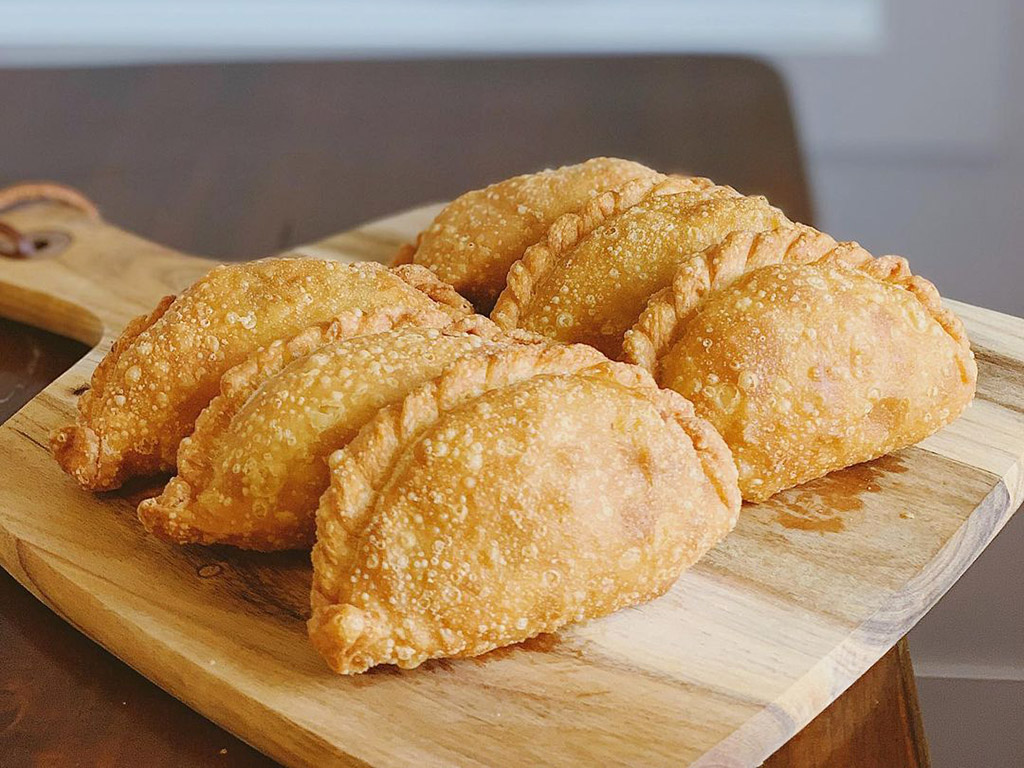 Although the names suggest "cakes" (deep-fried pillow cakes & savory cakes), these dishes are not your typical dessert cakes (but more like Vietnamese deep-fried dumplings) and the way to eat them is nothing as in your imagination. Pillow cakes and savory cakes' skins are made with wheat flour and sticky rice powder and the fillings are a mixture of minced pork, wood ear mushrooms, onions, carrots and glass vermicelli.
Typically, all the cakes will be displayed in a buffet style. You can simply point at whatever you feel like, go take a seat and they will serve you the exact ones but freshly cooked. At your table, the cakes are already cut up for you and they will be served with a small bowl of sweet and sour dipping sauce with green papaya sliced inside and some fresh leaves on the side. To eat this, you take a green leaf and add a piece of the cake together with some other herbs, wrap them up and dip in the sweet and sour sauce.
Tips:
This food is quite oily as it is deep fried several times so that the skins are crispy. You would probably find it more enjoyable to eat on a cold and rainy day; or when you particularly crave for some fried dishes.
Some recommendations for you:
52 Ly Quoc Su, Hoan Kiem District (13,000 VND)
112K Thai Thinh, Dong Da District (13,000 VND)
10. Ca Phe Trung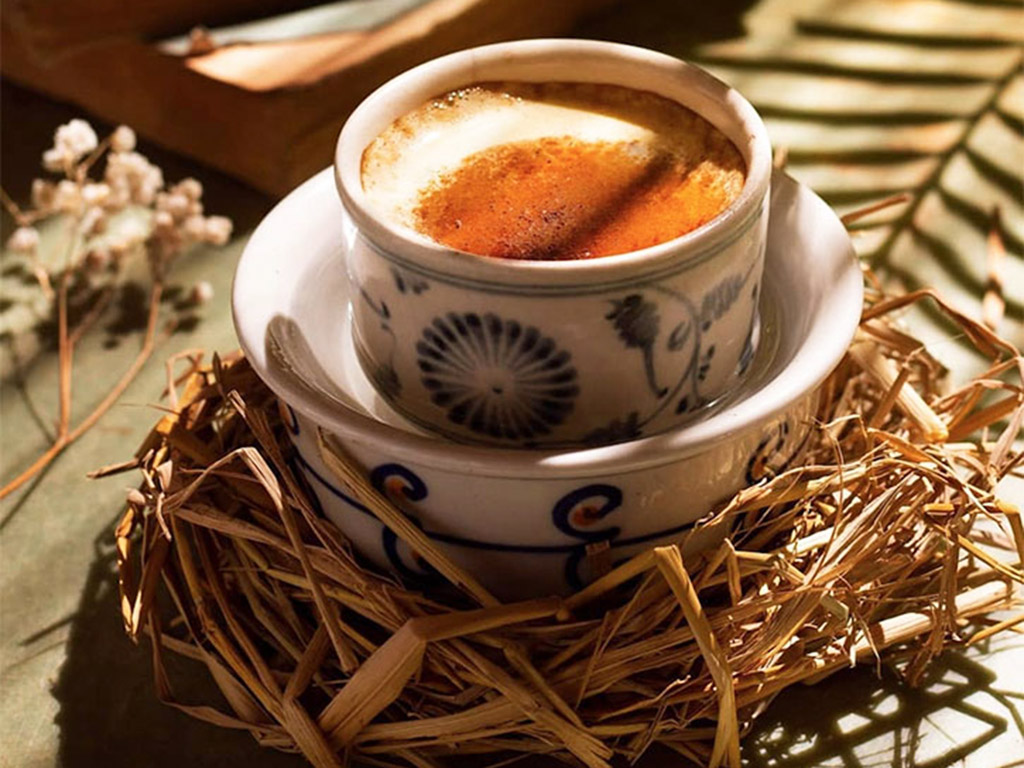 It may be a bit controversial to end the list with a drink; but, it is hard to decide whether Ca Phe Trung (egg coffee) should be categorized as a dessert or a drink. So here it is, better not miss it. Having been praised by many international travel pages, Ca Phe Trung is a creative drink of black coffee and egg yolk. This is a perfectly balanced combination of bitter black coffee and creamy, lightly-sweet whisked egg yolk. Ca Phe Trung must be enjoyed while it is still hot by (1) mixing it up and sipping in small sips or (2) letting the spoon go from the bottom of the cup so you can experience a full layer of flavors.
Tips:
You can also choose Ca Phe Trung Lanh (iced egg coffee) or Cacao Trung (egg cocoa drink).
This drink is super rich and creamy and probably the refreshing drink you are looking for on a hot summer day.
Enjoy a cup of Egg coffee at the following coffee shops:
39 Nguyen Huu Huan Street, Hoan Kiem District (39,000 VND)

13 Dinh Tien Hoang Street, Hoan Kiem District (25,000 VND)
A detailed travel guide for Hanoi in 2022 is for those who are planning to explore the historic capital city. We hope you will have a perfect trip with many exciting experiences in this city!