Hoi An at a glance
About 30 km south of Da Nang, the ancient town of Hoi An (Quang Nam) with the serene beauty and ancient millennium has become an attractive destination, fascinating many domestic and international tourists. 
Passing Tokyo (Japan), Chiang Mai (Thailand), Hoi An was voted the best city in the world by the famous travel magazine Travel and Leisure in July 2019.
Are you ready to explore the ancient town?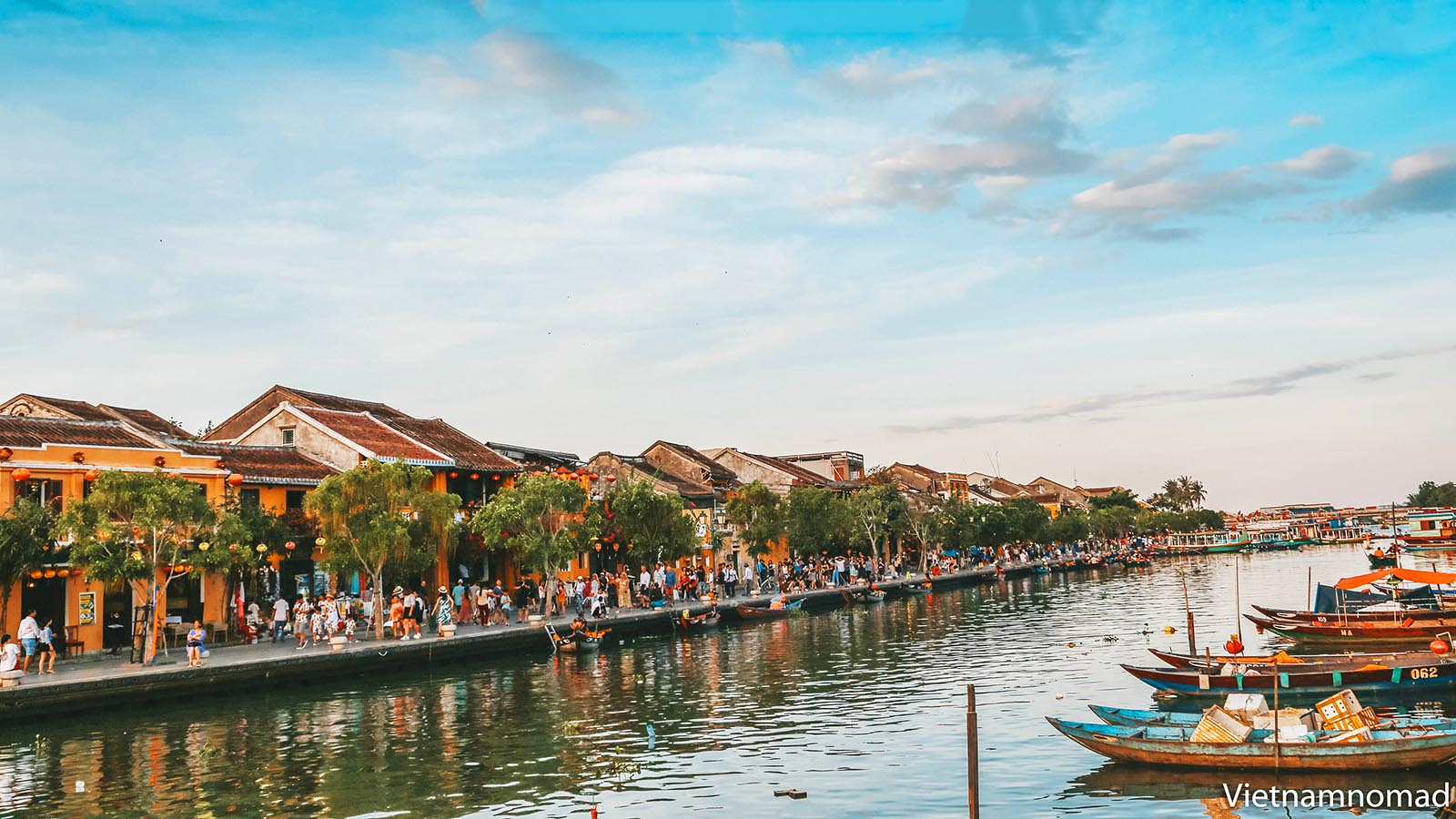 Where is Hoi An?
Hoi An is known as the heart of Quang Nam – a province in the central region of Vietnam, 860 km north of Hanoi and 865 km south of Ho Chi Minh City. Because of the location in the central area along the North-South axis, Hoi An is the intersection of cultural nuances between the two regions. It makes Hoi An become an ancient town rich in cultural identity. After two long wars against the French and the Americans of our nation, Hoi An was fortunate not to be devastated and to avoid massive urbanization in the late 20th century. From the 1980s, the architectural and cultural values ​​of the ancient town of Hoi An have gradually been paid attention to by scholars and tourists, making it possible to exploit tourism potential and become one of the attractive destinations of Vietnam.
In 1999, Hoi An was recognized by UNESCO as a world cultural heritage. And since then, Hoi An tourism has grown and become an indispensable destination for international tourists coming to Vietnam.
When you should travel to Hoi An?
Quang Nam, as well as Hoi An, is located in a tropical climate, so there are only two seasons, the dry season from February to August and the rainy season from September to January next year. Although located deep in the central region and near the South Central, Hoi An weather is still affected by the cold winter in the North. Because the rainy season often coincides with the storm season and Quang Nam is a province adjacent to the sea. So it is affected whenever a storm hits the central areas. If you want to visit Hoi An, you should go from February to April because the weather at this time is quite pleasant.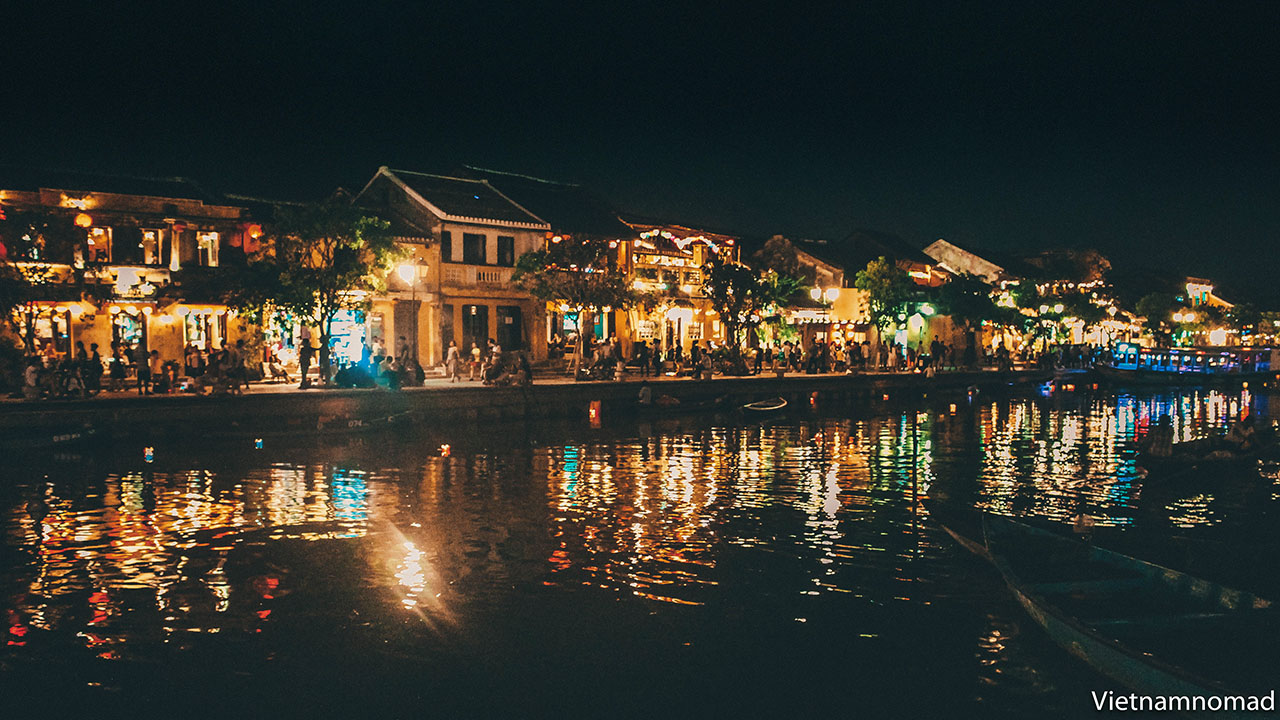 How to go to Hoi An?
As Hoi An is a popular tourist destination, it is very easy to go to the UNESCO Heritage Site no matter where you are.
1. From Hanoi or Ho Chi Minh City to Hoi An
Quang Nam has no airport, so if you travel by plane, you can land at Da Nang airport, just 30 km from Hoi An. To save time and travel cost, you should book in advance for over 2 weeks. Currently, airlines like Vietnam Airlines, Jetstar, Vietjetair all operate routes from Ho Chi Minh City and Hanoi to Da Nang with many super promotions.
Another option to go to Da Nang from Hanoi and Ho Chi Minh city is by train with ticket prices ranging from 400.000 VND to 1.200.000 VND. However, the travel time is quite long, taking up to 14 to 20 hours, so it causes a lot of fatigue. This is similar to travel by bus, the ticket price ranges from 400.000 VND to 500.000 VND.
2. From Da Nang to Hoi An
Hoi An is only 30 km from Da Nang to the South. So there are many options for you:
Travel by bus
The top advantage of travelling by bus (route 01) is saving cost, 30.000 VND/ ticker/ person for one way. And it takes about 70-80 minutes moving. The bus operates from 5:30 am to 6 pm, you can take the bus at the bus stations in the city very quickly. There is a bus every 20 minutes.
Travel by Taxi
Taxi is the most convenient, comfortable and fast way to travel from Da Nang, which only takes about 45-55 minutes (depending on traffic conditions). This method is suitable for the family with the elderly and children. You can easily take a taxi to Hoi An everywhere in Da Nang city. However, the cost of renting a taxi is quite expensive, from 350.000 – 450.000 VND / one way or 450.000 – 550.000 VND / 2 way.
Travel by Motorbike
Motorbike is the option which is chosen by most tourists going alone. If you travel by motorcycle, you can also explore other tourist destinations along the way.
The road from Da Nang to Hoi An is quite easy, clear and only takes about 45-50 minutes to drive. The cost of renting a motorbike ranges from 80.000 – 100.000 VND/ day. To ensure safety, you should only rent a motorbike at reputable shops and remember to hire a new one. Check the condition of the motorbike and gas stations on the road before starting!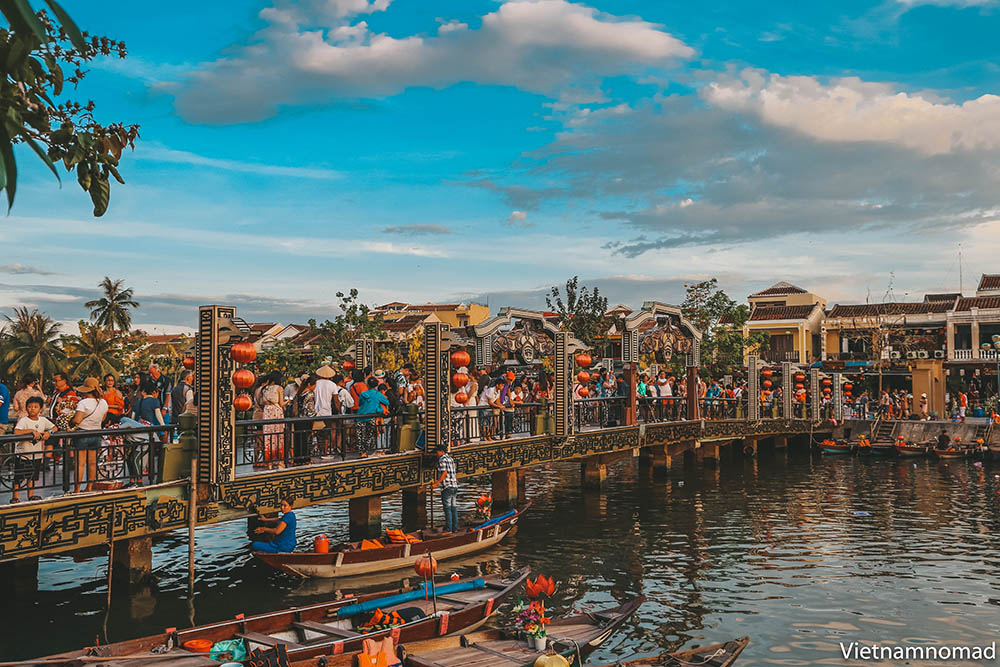 As one of the most prominent tourism cities in Vietnam, it is not difficult to find a place to stay in Hoi An. Depending on your budget and needs, you can choose from different relaxing spaces.
1. Hotels in Hoi An
There are two main areas that tourists often prefer when choosing a place to stay in Hoi An is the ancient town area and the beach hotels. However, the closer to the central area or the sea, the more expensive it will be.
2. Homestay in Hoi An
Hoi An is a perfect place for those who want to find a hostel or homestay to have local experience. The homestay here is often meticulously decorated. So It brings a nostalgic and peaceful atmosphere in the style of the ancient town.
3. Villa in Hoi An
What is more wonderful than just relaxing, and watching the peaceful space filled with the countryside. Whether in the old town centre or a quiet area away from the centre, you will still be served with the most professional services and the most luxurious facilities.
4. Resort in Hoi An
Hoi An also does not lack luxurious resorts but still retains a peaceful and relaxed atmosphere. As for guests who have a particular love for the blue sea, yellow sand, do not hesitate to choose a Hoi An resort in the famous beach areas such as An Bang or Cua Dai. What could be more wonderful than enjoying the sea breeze, but still immersing yourself in the nostalgic look of the UNESCO Heritage Site?
Whether it is day or night, the ancient town of Hoi An still carries with itself various fascinating charms. Here are the must-see places when visiting Hoi An. We divide the list of destinations into two parts: the ancient town area and outside the ancient town area.
The ancient town area
1. Japanese Covered Bridge
Hoi An Bridge Pagoda (Japanese Covered Bridge) is a national cultural and historical relics and was chosen as a symbol of the ancient town. The temple is located on a small bridge, across the poetic Hoai River. This is built by Japanese merchants since the 17th century, so it is also known as the Japanese Bridge. However, the bridge still bears a strong influence on Vietnam architecture. The pagoda and the bridge are made of lacquered wood, the roof is covered with yin and yang tile, the temple faces the river, two ends of the bridge have a wooden animal statue, one is a dog statue, and the other is a monkey statue.
Address: Nguyen Thi Minh Khai – Tran Phu crossroads, facing the main street to Hoai River
2. Lantern Street
Street light has become a familiar image for anyone who has visited Hoi An. On every occasion of the lantern festival, usually in the spring, the whole neighborhood will show off its brilliant colors. Every porch, shop or public place is decorated with lanterns of all colors and sizes. Coming to Hoi An these days, tourists seem to be lost in a fairy country, a kingdom of magical with many sparkling lanterns.
Address: Nguyen Hoang Street, near Hoai River
3. The old houses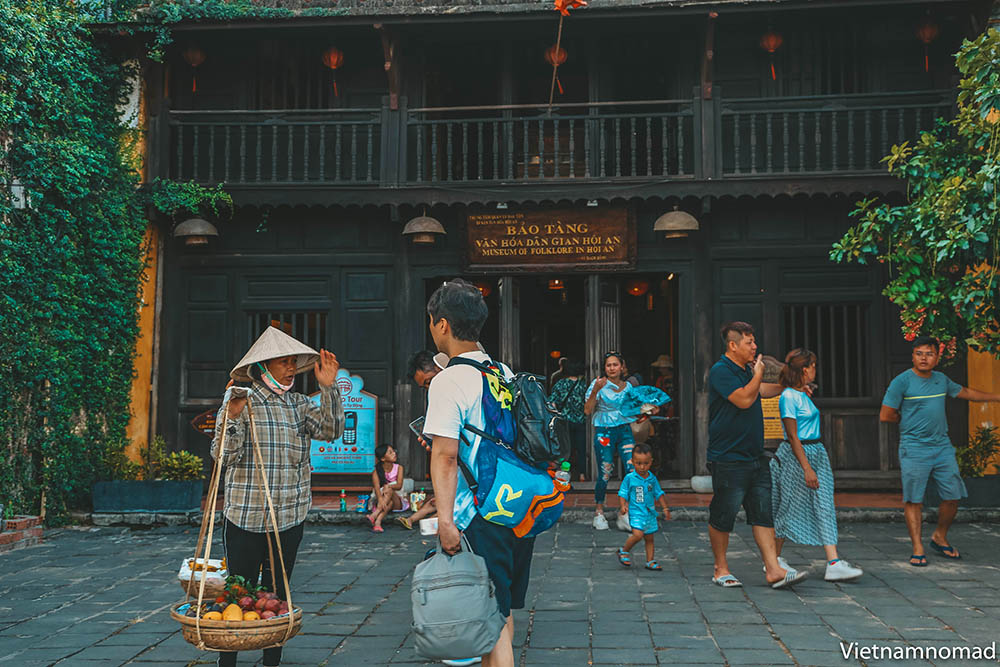 Phung Hung Old House
The old house of Phung Hung witnessed the birth of eight generations of the Phung Hung family. It has been built for over 200 years, and it is one of the most beautiful old houses in Hoi An.
This house was ranked first in Vietnam as a model of traditional architecture with high cultural value in 1985. It is considered a model because it retains intact architectural elements thanks to the excellent quality of materials and the care of the whole family.
Address: 04 Nguyen Thi Minh Khai Street
Tan Ky Old House
Tan Ky Old House was built over 200 years ago. Located in the heart of Hoi An city (Quang Nam), this old house has the typical tubular architecture of the ancient city that has been recognized by UNESCO as a world cultural heritage.
Until now, the landlord still keeps the interior layout and uses ancient items from ancient times. Many pieces of evidence of the prosperous trading period in the past and the cultural exchanges between the Chinese – Japanese – Vietnamese peoples which are very popular in the period after the 17th century are still preserved. This is also the first ancient house to be recognized by the Ministry of Culture with two other relics in Hoi An since 1985.
Address: 101 Nguyen Thai Hoc Street
Phuoc Kien Temple
Phuoc Kien is a place of worship of Gods and Sage of Fujian people. When visiting Phuoc Kien Temple, visitors will admire the magnificent architectural works which are exquisitely carved.
The temple has a "Tam" architecture in the order of gate – yard – lake – bonsai – two rows of east and west houses – front – backyard – and electricity. The main shrine is to worship Thien Thanh Mother, Quan The Am Bodhisattva, God of Fortune, 3 Gods who give birth and 12 midwives. In the temple, there are also many statues of worship, bronze drums, bronze bells, large incense burner, 14 galleries and many other valuable objects.
Address: 46 Tran Phu Street
Assembly Hall of the Chaozhou Chinese Congregation
Chaozhou Assembly Hall is one of the impressive attractions of Hoi An because of its extraordinary architecture and colour scheme. The Chinese community built it in the 19th century. The purpose of this meeting building was to worship the Three Shogun Generals. Phuc Ba means conquering the storm. The Chinese want peace, calm waves to this land.
Address: 157 Nguyen Duy Hieu Street
Cotic art exhibition space
Cotic Exhibition is a place to display Vietnamese art, especially Tuong and classical drama. It was born with the desire to spread the beauty of the country's culture. Every little corner of Cotic has bold Vietnamese cultural art.
Address: 56 Nguyen Thai Hoc Street
Precious Heritage Museum
French photographer Réhahn used this museum to show off his discoveries on Vietnam. Each image is a story of trips and people.
Address: 26 Phan Boi Chau Street
Outside ancient town area
Outside the Hoi An Ancient Town, there are also many other beautiful places for you to discover.
An Bang Beach is located in the area of Cam An ward, 3km from the ancient town has been voted as one of the 50 most beautiful beaches in the world by CNNGO. In contrast to the vibrant and bustling Cua Dai Beach, An Bang Beach brings a peaceful and tranquil beauty.
Leaving the town, looking for An Bang beach, you will be walking on the smooth white sand, dotted with light purple sea lilies, or unleash the struggle in the fresh blue water. Moreover, the waves are quite large and robust suitable for those who are passionate about fancy adventure games such as windsurfing, and jumping.You can also rent canoes or water motorbikes for cruises on the beach.
Address: Cam An ward (5 km from the ancient town to the east)
2. My Son Sanctuary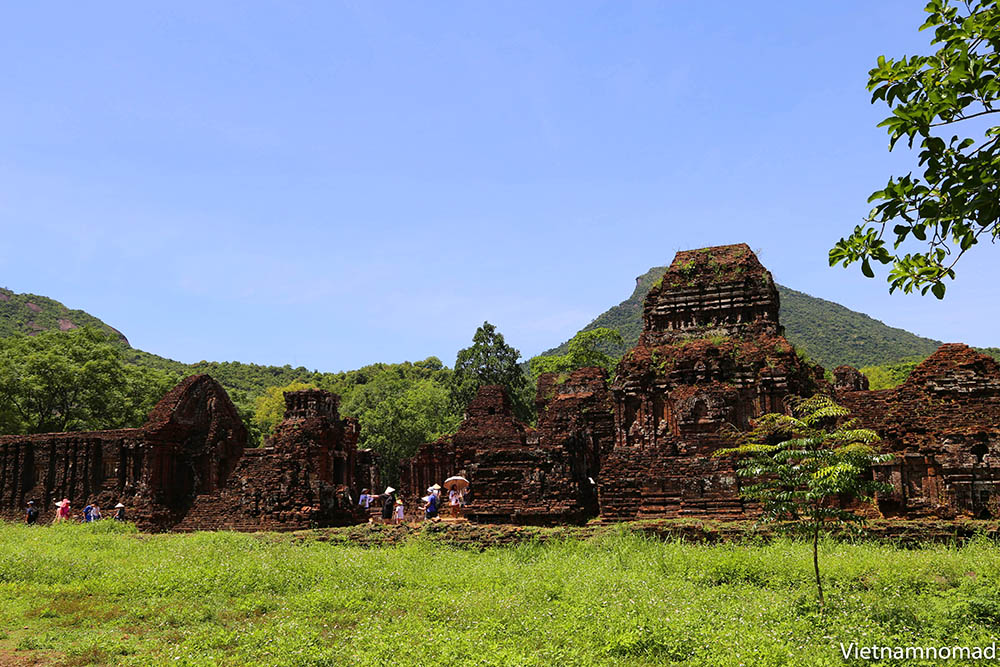 Along with the ancient town of Hoi An, My Son Sanctuary is one of two world cultural heritages recognized by Unesco in 1999. Owning many old temples with a unique architectural style that containing values of the cultural history of the ancient Kingdom of Champa helped My Son Sanctuary became famous and attracted tourists.
My Son Sanctuary is located in Duy Phu commune, Duy Xuyen district, Quang Nam province, about 70 km southwest of Da Nang city and about 45 km west of Hoi An. It includes many ancient temples of the Kingdom of Champa located in a valley with a diameter of 2km. My Son Sanctuary is the place to organize the sacrifices of the Champa dynasty as well as the tombs of the kings and princes.
You should visit My Son Sanctuary from February to April when the weather is still cool and less rain. From Hoi An you can ride a motorbike or hire a taxi to get to My Son Sanctuary.
To get to My Son Sanctuary, discovering the temples requires you to buy an entrance ticket. For foreign visitors, the ticket price is 150.000 VND/ticket/pax, while for Vietnamese visitors, the ticket price is 100.000 VND/ ticket/pax. The opening time of My Son Sanctuary is from 6:30 am to 5:00 pm and is open all day of the year.
Besides visiting the unique temples and structures in My Son Sanctuary, you can also enjoy traditional Siva dances performed by Cham artisans.
Cua Dai Beach is located just 5 km from the center of the ancient town of Hoi An. It's know as the most famous tourist attractions of Hoi An. This is the convergence of three rivers Thu Bon, Truong Giang, and De Vong, before pouring into the East Sea. The white sand stretches endlessly, the rows of soaring green coconut trees will make you love Cua Dai beach at first sight.
Cua Dai is famous for its abundance of various types of fish and shrimp, including strange fish such as snapper, rabbitfish, fish, sardines. Coming to Cua Dai Beach, you can not only enjoy the freshest seafood dishes but also you can experience becoming a real fisherman.
In recent years, Cua Dai beach has been strongly eroded, the coastline is not as beautiful as before, however, with the intervention of local authorities, it is gradually regaining its inherent beauty.
Address: Cam An ward
4. Thanh Ha Pottery Village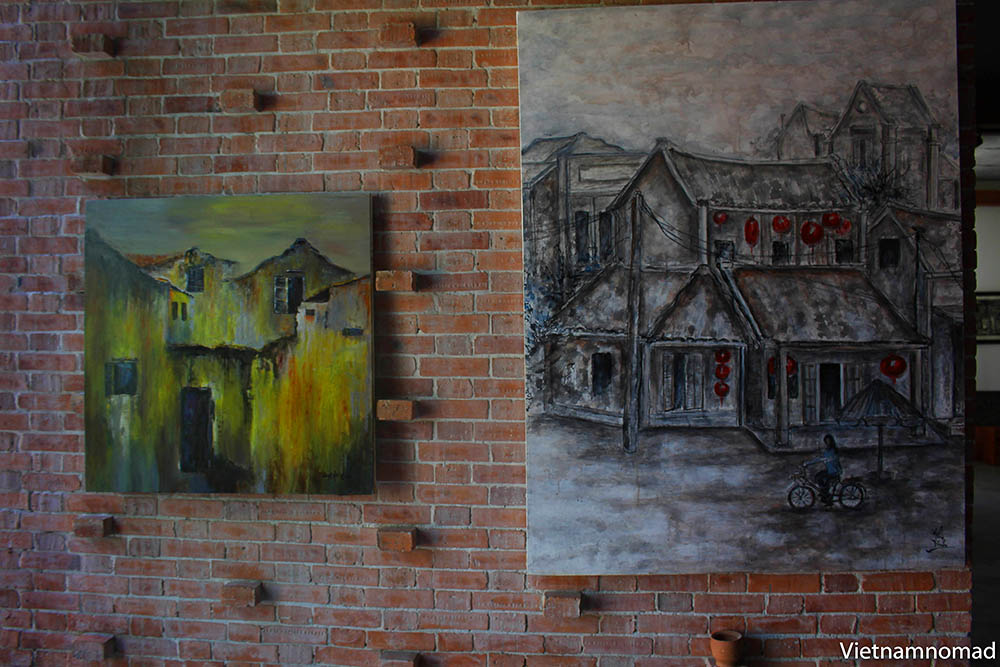 Thanh Ha Pottery Village is an old and famous craft village. Six hundred years of existence of this place is marked by the appearance of Thanh Ha Terracotta Park – the largest formidable park in Vietnam. This is where the miniature world wonder patterns of sophisticated ceramics are concentrated.
Address: Pham Phan, Thanh Ha ward
Opening: 8:30 am – 5:30 pm
Price: 35.000 VND
5. Bay Mau Coconut Forest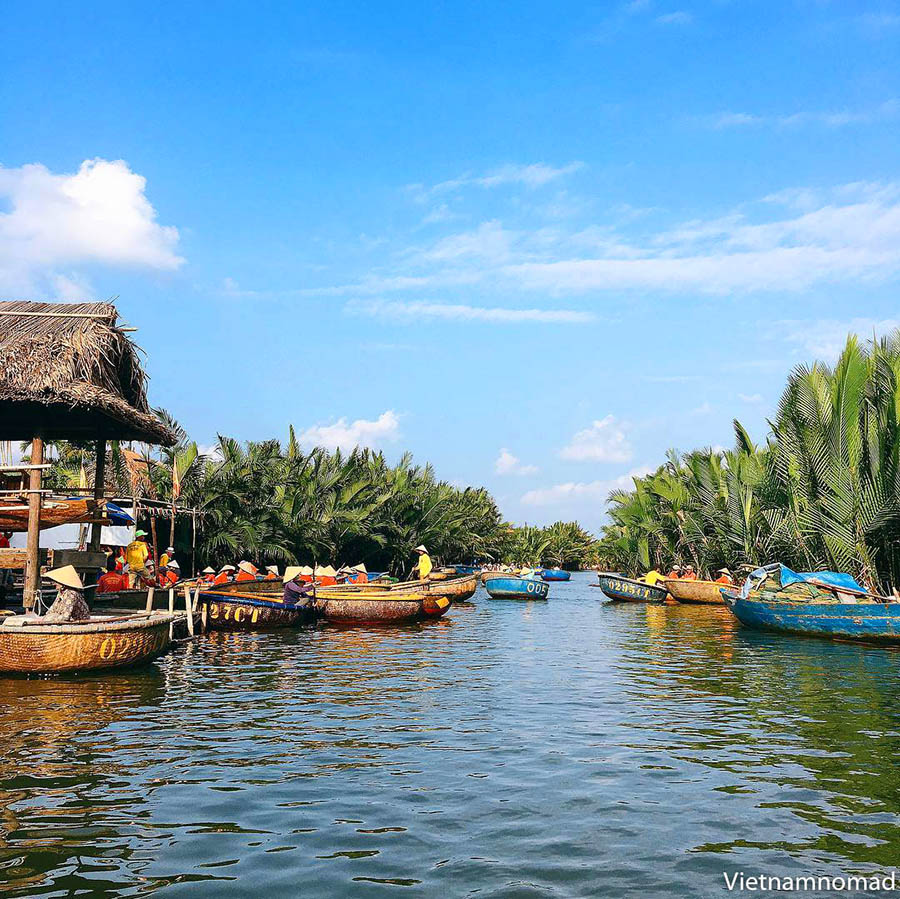 Not everyone knows that Hoi An has an extremely interesting nipa forest. The Coconut forest is seven acres wide. When visiting here, visitors will be experienced to sit on a basket boat, make a clock from Coconut leaf and wear a coconut leaf hat. Besides, you can also enjoy delicious seafood and cool water coconut.
Address: Cam Thanh ward (just 3 km from the city centre)
Entrance fee: 30.000 VND
Basket boat: 150.000 VND
6. Cham Island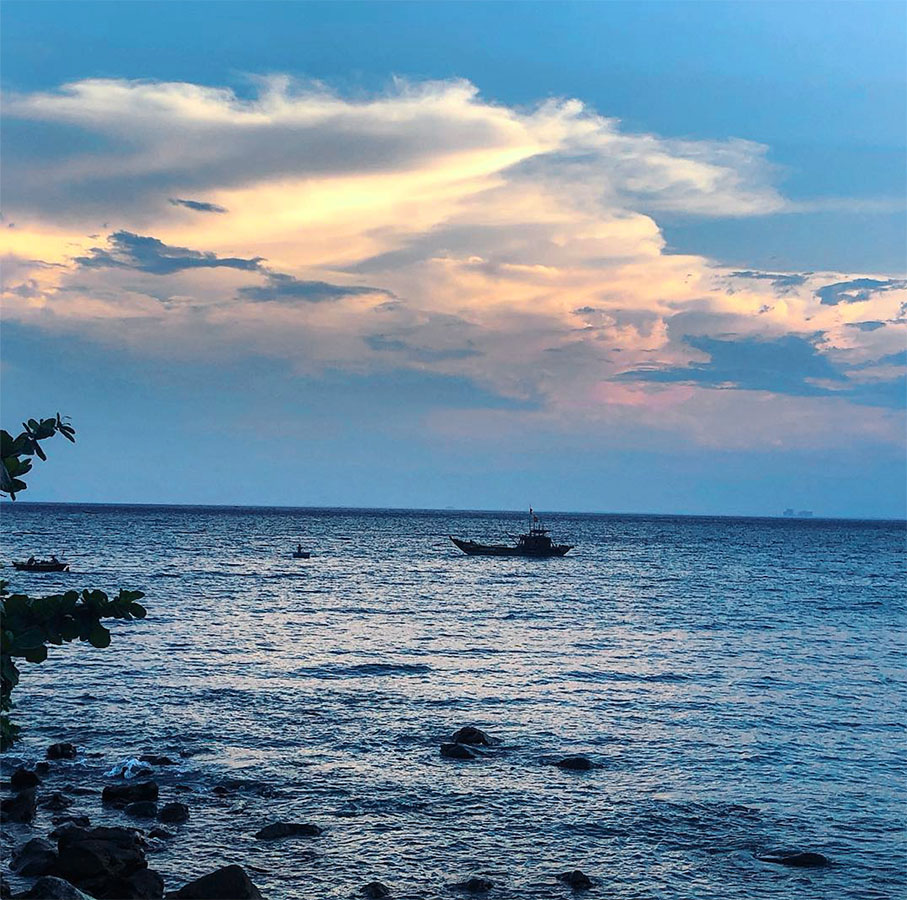 Cu Lao Cham (Cham Island) is one of the places where Champa relics such as ancient wells, Hai Tibet pagodas remain. With eight islands, large and small, Cu Lao Cham deserves to be an ideal destination for tourists who love the pristine seascape. Not only that, coming here, but you can also snorkel to see the coral and enjoy the freshest seafood recipe.
Address: Tan Hiep Commune
There are two options to get Cham Island from the ancient town:
By canoe: 350.000 VND (round trip), depart from Cua Dai port.
By wooden boat: 100.000 VND/trip, depart from Bach Dang wharf.
7. Tra Que vegetable village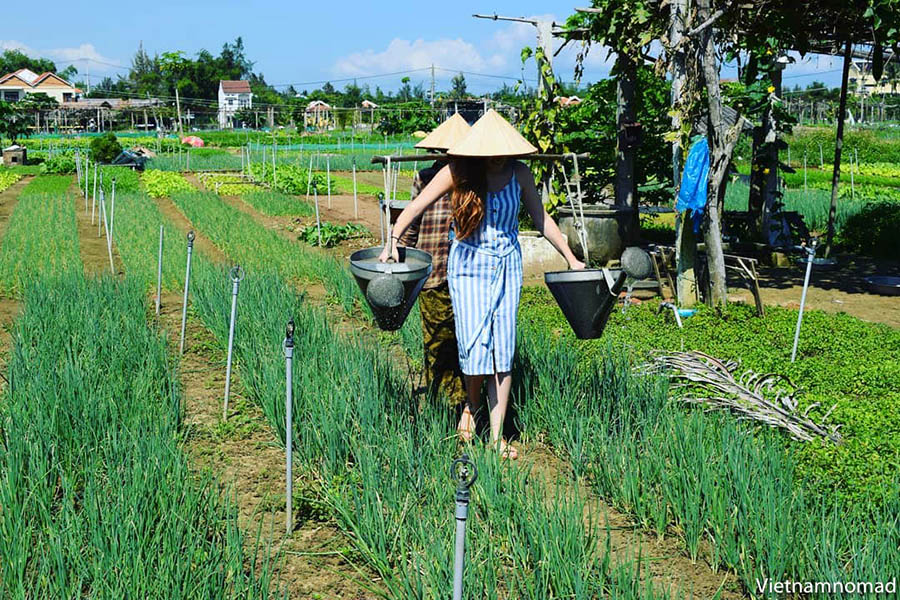 Tra Que Vegetable Village is a suitable place for those who are passionate about ecotourism. This place is only a few kilometers from the old town centre. There is a lush vegetable garden here, which is grown entirely by organic methods. Visiting Que Vegetable Village, visitors also have the opportunity to practice being a true farmer.
Address: Cam Ha ward 
Price: 10.000 VND
Not only famous by the ancient poetic beauty but also makes visitors admired by the rich cuisine. Here are some must-try dishes in Hoi An.
1. Mi Quang
Mi Quang (Quang noodle) has long been famous as a must-try cuisine when visiting Hoi An. Quang noodle has a unique flavour, this is a combination of popular ingredients such as rice noodle, shrimp, pork, chicken, and some vegetables. The aroma emanating from meat, shrimp, eggs, rice paper, peanuts stimulates the olfactory senses of the diners, making the dish even more perfect.
Recommended addresses to eat Mi Quang: 
Mr Hai's Noodles – 6A Truong Minh Luong Street

Quang Aunt's Noodles – 4 Phan Chau Trinh Street
2. Cao Lau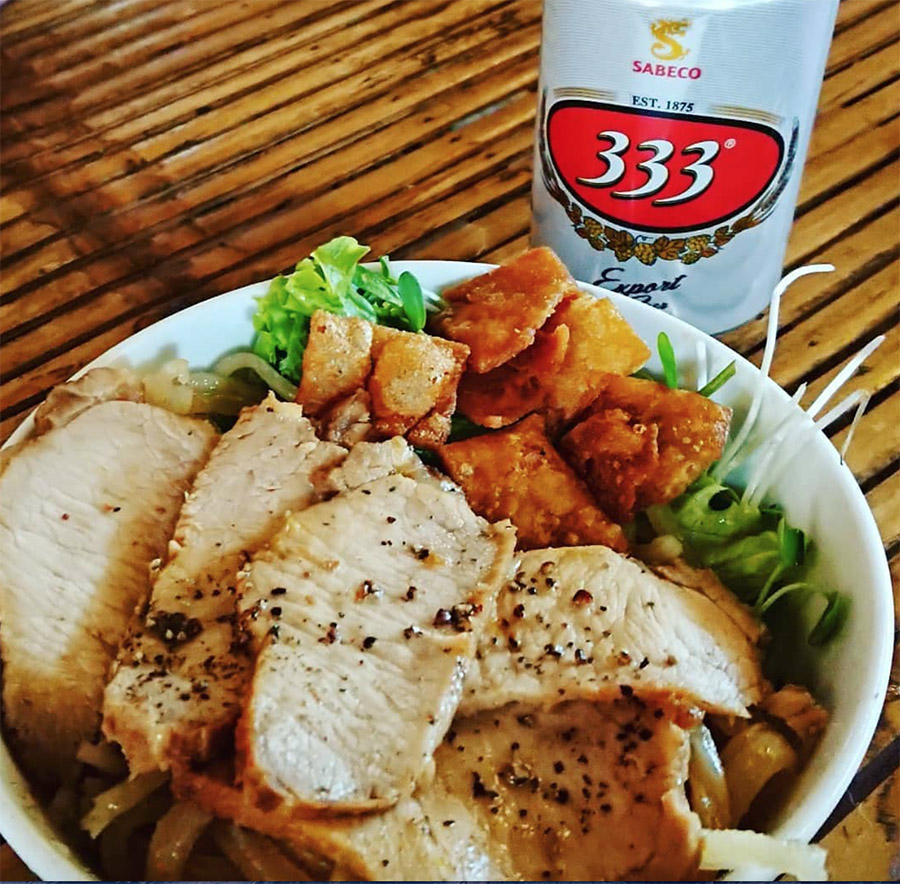 Cao Lau is the pride of the culinary culture of the Ancient Town. The dish will awaken all your senses, the sensation of the noodles, the fragrance of fish sauce, the greasy smell of pork rind. It all blends with the sweet fragrance of shrimp and char siu meat.
Recommended addresses to eat Cao Lau:
Mrs Be's Cao Lau – At the beginning of Hoi An market

Thanh Cao's Cao Lau – 26 Thai Phien Street

Hoi An's Cao Lau – 274 Cua Dai Street
3. Banh Mi Hoi An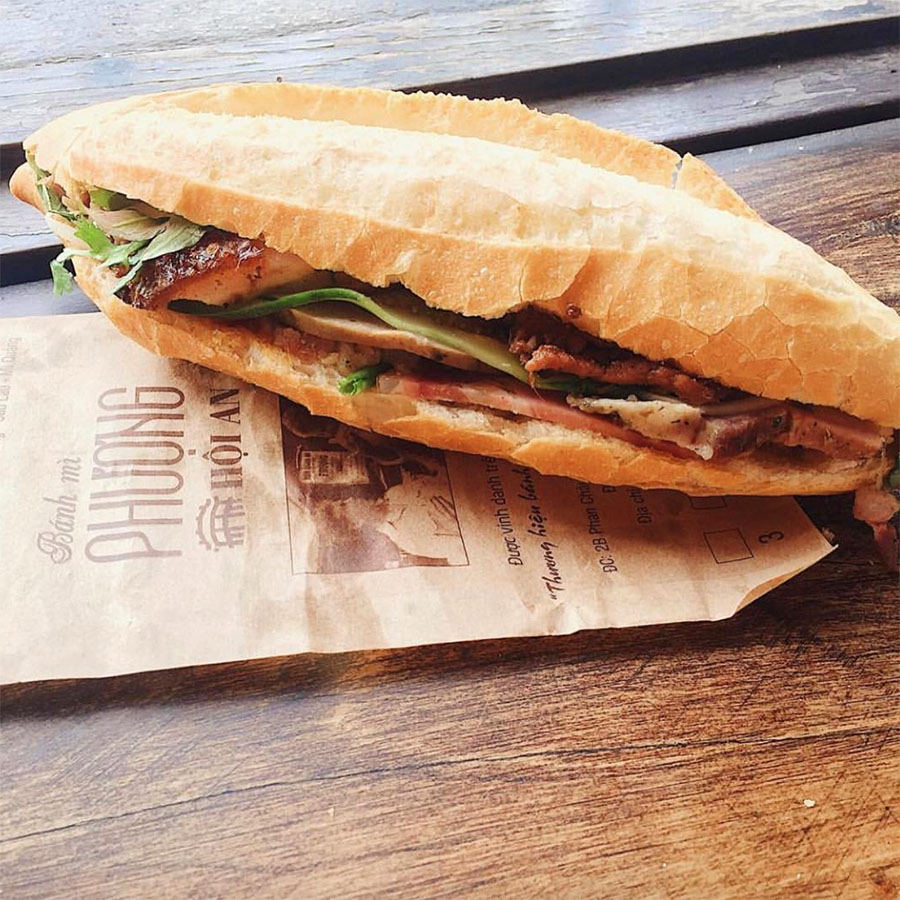 Banh Mi is called the best sandwich in the world by foreign tourists. It has a unique flavor thanks to the combination of many ingredients together: pork liver pate, handmade mayonnaise, pork floss, grilled pork, head cheese, pork patty, pickled papaya, long sliced cucumber, sliced tomato and cilantro, spring onion, and mints. All pre-processing bread is kept warm in a wooden cupboard compartment by the temperature of a charcoal stove to make sure everything is fresh and good enough.
Some suggestions for you to enjoy Banh Mi:
Banh Mi Phuong (6 am – 9 pm) address: 2B Phan Chu Trinh
Madam Khanh (7 am – 7 pm) address: 115 Tran Cao Van
4. Com Ga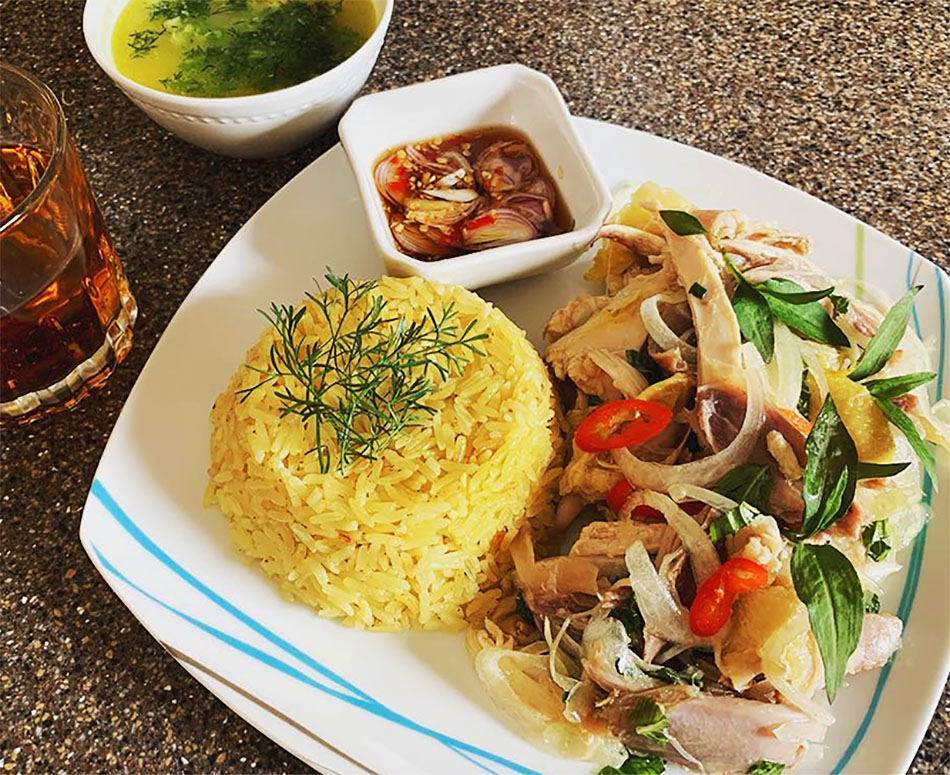 Com Ga is a dish found in many places in Vietnam, however, Com Ga in the ancient town is still better, with special processing methods: rice is cooked with chicken broth; chicken is shredded, mixed with onions, lemons, laksa leaves, and some spices.
There are many chicken rice restaurants in Hoi An, which is equally delicious. But overall, Com Ga Ba Buoi (Mrs. Buoi's chicken rice) restaurant is the most delicious.
The chicken here is raised and roamed, so the meat is firm and sweet, marinated through a fairly rich seasoning. Therefore, just one-time eating, Mrs. Buoi chicken rice will be captivated by a unique flavor.
Address to eat Com Ga Ba Buoi:
22 Phan Chu Trinh

18 Dao Duy Tu 
5. Sreet food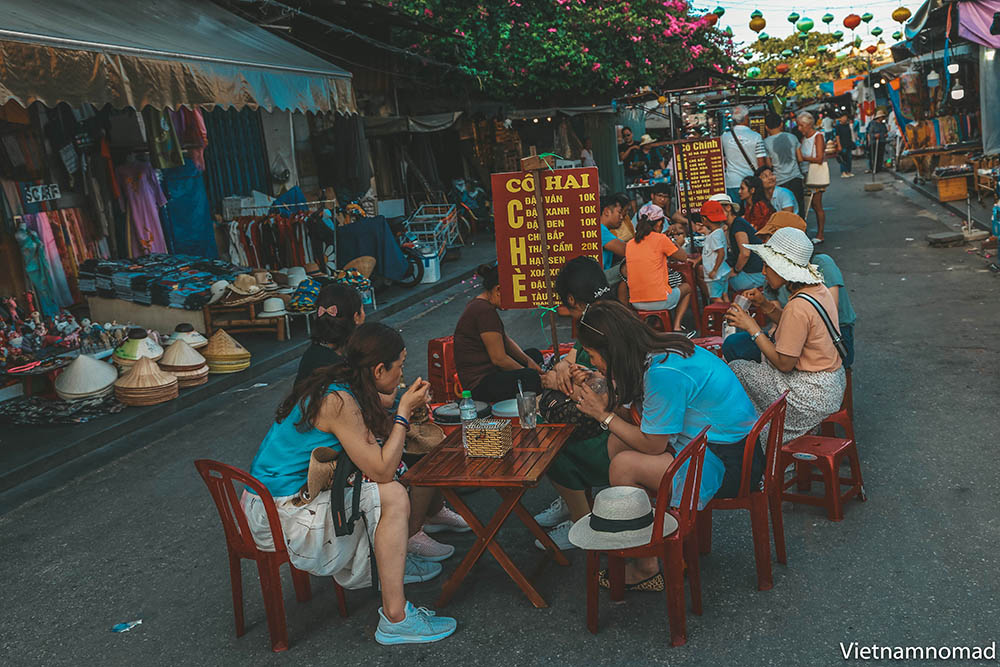 In addition to the typical dishes, Hoi An is also known as a street food paradise. Don't forget to try the following when you visit the ancient town:
Corn sweet soup
The most famous in Hoi An is Cam Na corn sweet soup. To make this dish, you need three ingredients: corn, diameter, and tapioca. Corn sweet soup in Hoi An is delicious because of its unique sweetness and freshness. 
Recommended address to eat Corn sweet soup:
On the corner of Hoang Van Thu and Tran Phu Street 
Duckweed Cake
According to the experience of Hoi An travellers, duckweed cake is considered as a breakfast dish that many locals like in the ancient town. Duckweed cake usually very cheap with only 2.000 VND for a cup, often eaten with crispy ram and cooked from tasty shrimp meat served with spicy fish sauce. You can come across the delicious burden of duckweed cake in the alleys of Dinh Tien Hoang and Hoang Van Thu. What a mistake if you miss this delicious Hoi An delicacy!
Stir-fried mussel cake
The mussel in Hoi An has long been considered as attractive fresh seafood. The people here have created it creatively with rice cracker and named it stir-fried mussel cake. With the crispy taste of rice cracker, combined perfectly with the sweetness of the wet cake and greasy taste of fried mussel has created a dish that brings the most interesting experiences for the visitors.
Recommended address to eat stir-fried mussel cake:
Dumplings and Cauldron Cakes
Dumplings and Cauldron Cakes are two types of dumplings, but they always go together because the ingredients or flavors are quite similar and are placed on the same plate. You can hardly find them anywhere else in Vietnam. If anyone who has had the opportunity to enjoy, it is not easy to forget the name as well as the meticulousness and elaboration of this Hoi An specialty dish.
Recommended address to eat dumplings and cauldron cakes:
Vietnamese crepe
This dish is one of the most popular of Hoi An cuisine and is loved by many travellers. It seems to be wearing a brand that is hard to be confused with any specialty dishes in other regions. The careful selection of ingredients has created a perfect Vietnamese crepe with the deliciously filling inside.
Recommended addresses to eat:
160 Ly Thai To Street 

147 Ly Thai To Street
Mot Hoi An
Mot is a must-try drink in Hoi An using main ingredients such as lemongrass, cinnamon, lemon, arhat fruit, honeysuckle flower. This is a delicious drink only available in the ancient town, helping you fully feel the most quintessential nature.
Note, It's only sold in the middle of the afternoon. So if you want to sip a cup of herbal tea with the price of only 10.000 VND in the ancient land, you should visit Hoi An in the afternoon.
Address to buy Mot Hoi An:
Top 5 exciting activities in Hoi An
There are many things to do in Hoi An. To feel Hoi An to the fullest, you definitely have to try all of the following experiences!
1. Watch Hoi An's Memories Show
The memory of Hoi An is a great outdoor art show that gathering more than 500 professional actors and takes place on a massive stage up to 25.000m2.
The whole show is a fascinating performance about the stories of Hoi An throughout history which is demonstrated through images, sound and light extremely vivid.
2. Release the Flower lanterns
Hoi An tourism still has a mysterious beauty, especially at night. Experience leaving the most profound impression in the hearts of visitors when coming here is probably the hand dropping the lanterns on the poetic Hoai River
3. Take a rowing boat on the Hoai River in the evening
Hoai River is a branch of Thu Bon River flowing through Hoi An. For Hoi An people, this river is an integral symbolism of the historic ancient town.
Rowing on a corner of the ancient town at night and releasing flower lanterns are favorite activities with young people, especially couples in love. The old houses along the two sides of the river with lots of light emitted from the lanterns add to the poetic beauty here.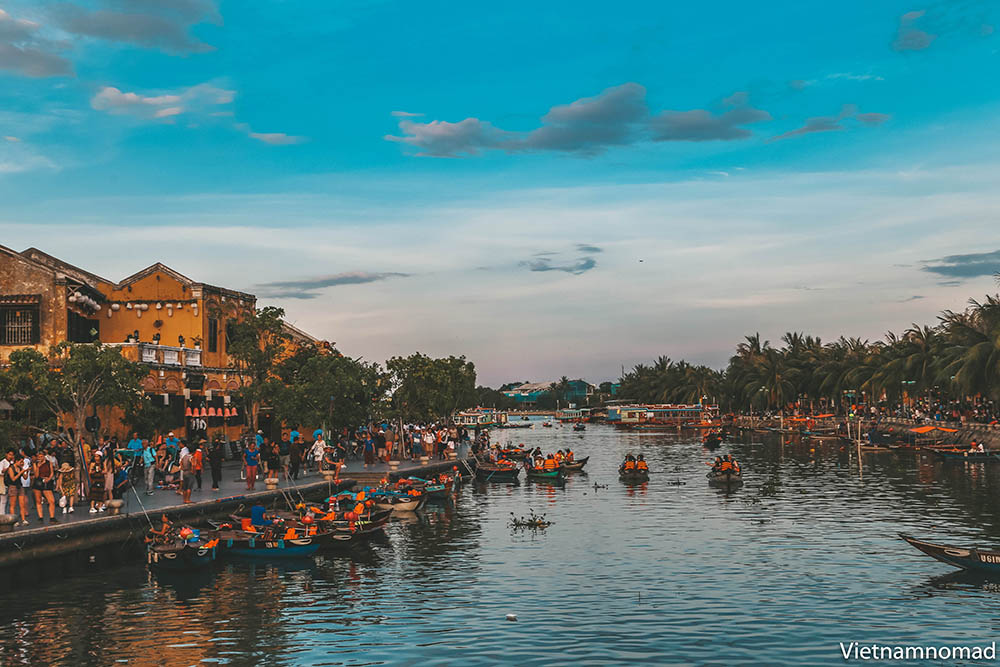 4. Join the traditional games
Every night, Hoi An welcomes thousands of tourists for a walk in the heart of the old town. Besides sightseeing, enjoying Hoi An specialties, visitors can also participate in traditional folk games of Vietnamese people.
5. Enjoy the coffee
Sipping a cup of coffee, admiring the peaceful space of the old town is one of the experiences not to be missed when coming to Hoi An. Some coffee shops have beautiful view recommended by many travellers
Reaching Out Tea House: 131 Tran Phu Street

Hoi An Roastery: 135 Tran Phu Street

Cocobana: 16 Nguyen Thai Hoc Street

Chu Chu: 74 Tran Phu Street

Cocobox: 94 Le Loi Street

Mot Hoi An: 150 Tran Phu Street

The Chef: 166 Tran Phu Street
A detailed travel guide for Hoi An tourism in 2020 is for those who are planning to explore the historic ancient town. We hope you will have a perfect trip with many exciting experiences in this city!
Meet in Vietnam!