Whether it is day or night, the ancient town of Hoi An still carries various fascinating charms. To help visitors make the most of their trip, we've compiled a list of must-see places in Hoi An, conveniently divided into two parts: the ancient town area and the areas outside of the ancient town.
The ancient town area
The entrance ticket for Hoi An Ancient Town costs 120,000 VND (around $5) per person and provides access to all the listed attractions. This ticket is required for entry to the ancient town, and the fees collected are used for the maintenance and preservation of the area.
1. Japanese Covered Bridge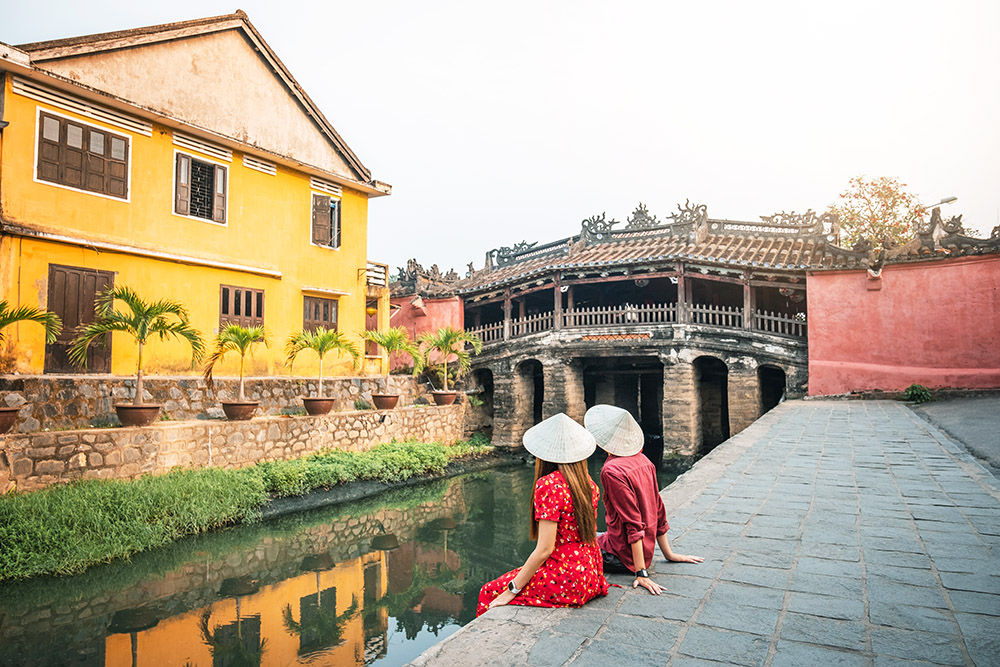 Chua Cau, also known as the Japanese Covered Bridge, is a national cultural and historical relic that symbolizes the ancient town and Hoi An itself. The wooden temple is located on a small bridge crossing the poetic Hoai River and was built by Japanese merchants in the 17th century to serve their trading activities. Its walls are made of lacquered wood and its roof is covered with yin and yang tiles, which reflect the strong Japanese influences. That's why it's also known as the Japanese Covered Bridge.
Address: Nguyen Thi Minh Khai – Tran Phu.
2. Lantern Streets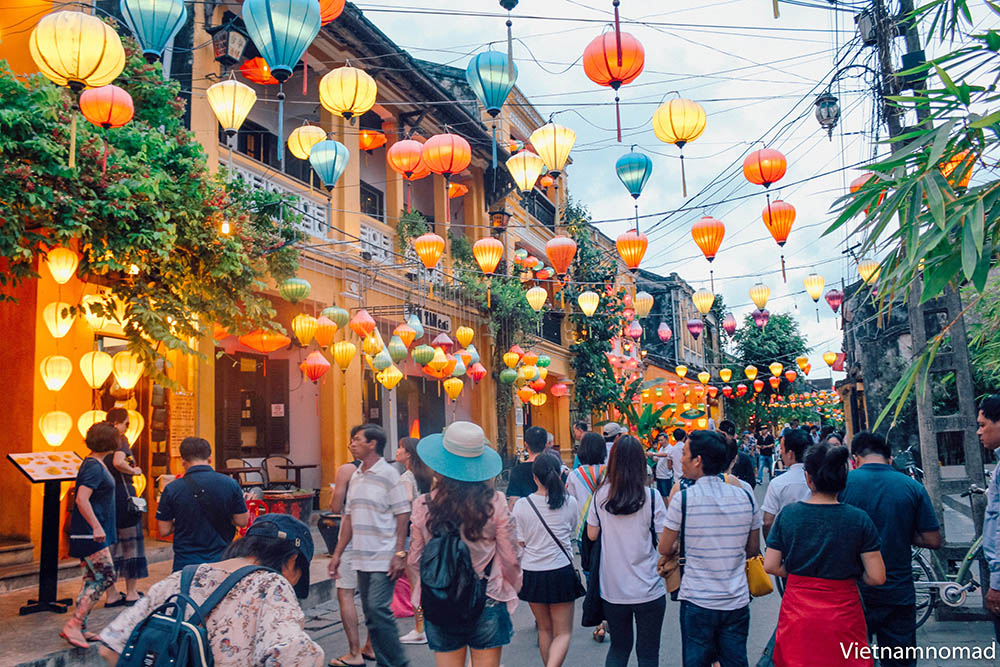 Every night, the streets of Hoi An are lit with thousands of colorful lanterns, which embody the essence of this quaint ancient town. When you visit Hoi An, you'll find yourself enveloped in a magical world of light, where time seems to stand still. It is believed that the lanterns were brought to Hoi An by Japanese and Chinese merchants, who arrived in the town via their trading boats. As a result, the lanterns are not just decorations, but also embody the cultural and historical significance of this former trading port.
On full moon days (the 14th to 15th of every month on the lunar calendar), the lantern festival is celebrated by turning off all electricity and allowing only the ethereal light of the lanterns to illuminate the town. During the festival, you can also purchase flower lanterns and release them into the river, as a symbol of your hopes and prayers.
3. The old houses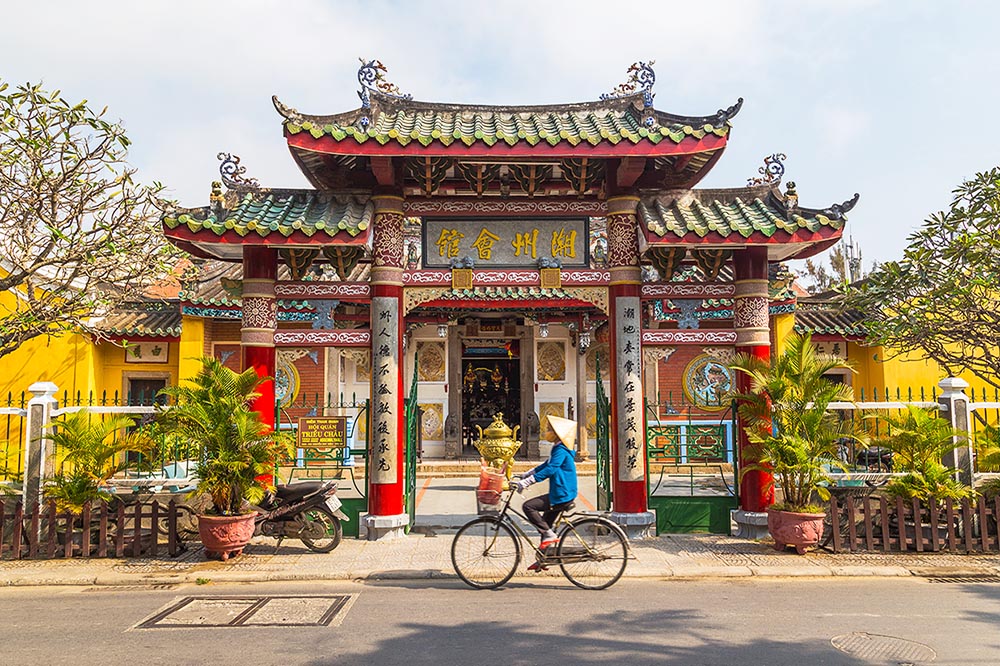 Phung Hung Old House
The Phung Hung Old House has been the residence of eight generations of the Phung Hung family for over 200 years and is a classic example of the fusion of Japanese, Chinese, and Vietnamese architectural styles. Located near the Japanese Covered Bridge, it is easily accessible to visitors. In 1985, the house was ranked first in Vietnam as a model of traditional architecture with high cultural value. Despite the passing of time, it has maintained its architectural integrity and exceptional quality due to the efforts of the Phung Hung family.
Address: 04 Nguyen Thi Minh Khai Street
Tan Ky Old House
The Tan Ky Old House, located in the heart of Hoi An, was constructed over 200 years ago and features the typical cylindrical architecture typical of the ancient town. The house serves as a showcase for many antique artifacts and historical architectural elements. Despite the severe flood in 1964, which saw the water rise to the roof of the building, the Tan Ky Old House endured and has remained standing for centuries. In 1985, it was the first ancient house to be recognized by the Ministry of Culture along with two other revered sites in Hoi An.
Address: 101 Nguyen Thai Hoc Street
Hoi Quan Phuc Kien (Assembly Hall of the Fujian)
Hoi Quan Phuc Kien is a place of worship for the Fujian people's Gods and Sages. Visitors will be in awe of the intricate and beautifully carved architectural works when visiting the temple. Its layout follows the traditional "tam" architecture, with a sequence of a gate, yard, lake, bonsai, two rows of east and west houses, front, and backyard. The main shrine is dedicated to the worship of Thien Thanh Mother, Quan The Am Bodhisattva, God of Fortune, three birth-giving Gods, and twelve midwives. The temple houses numerous statues of worship, bronze drums, bells, a massive incense burner, fourteen galleries, and other valuable artifacts.
Address: 46 Tran Phu Street
Hoi Quan Trieu Chau (Assembly Hall of the Chaozhou Chinese Congregation)
Hoi Quan Trieu Chau is a notable attraction in Hoi An due to its impressive architecture and vibrant colors. Constructed in the 19th century, the hall served as a place of worship for the God of Sea and Storm and a gathering spot for the local Chinese community, many of whom were fishermen. It is the site of many major local festivals, including the chance to witness a flower, tea, and food offering ceremony on the 16th of January in the lunar calendar.
Address: 157 Nguyen Duy Hieu Street
Cotic art exhibition space
The Cotic art exhibition space is located on the grounds of a century-old house and offers a unique blend of traditional performance stage, exhibition area, and café. Here, you will find a delicate collection of miniatures showcasing Vietnamese folk culture, as well as a place to enjoy a delicious cup of coffee. Visitors can also experience tuồng, a traditional and distinctive form of dramatic performance that combines acting, dancing, and singing. Originally originating from religious worship ceremonies, tuồng has evolved into a more accessible form for the general public. Watching a tuồng performance is an excellent way to gain insight into Vietnamese daily activities, religious rituals, and festivals. Overall, the Cotic art exhibition space offers a perfect blend of the city's artistic and cultural side with its entertainment offerings.
Address: 56 Nguyen Thai Hoc Street
Precious Heritage Museum
The permanent collection of renowned French photographer, Réhahn, can be found here, including the famous "Madam Xong" photograph. Réhahn's work showcases the beauty of ethnic tribes, portraits, and landscapes in a deeply emotional manner. This space serves as a testament to the artist's unwavering dedication, as he journeyed across the country to capture the hidden beauty of remote minority groups. This is not just a place to admire the art but also to appreciate the level of commitment and passion that the artist has put into his work.
Address: 26 Phan Boi Chau Street
Outside the ancient town area
Escape the crowds and delve into the peaceful charm of the villages surrounding Hoi An Ancient Town. Discover some of the region's hidden gems with the top 7 must-visit attractions outside of the ancient town area.
1. An Bang Beach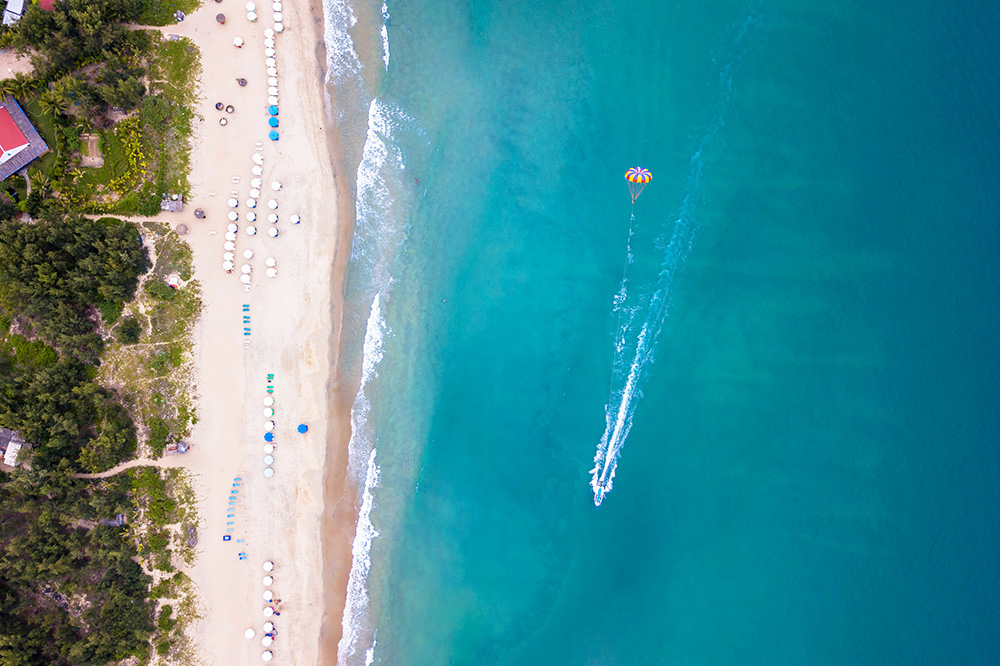 An Bang Beach, located in the Cam An Ward area, just 3 kilometers from the ancient town, has been named one of the 50 most beautiful beaches in the world by CNNgo. Unlike the lively and bustling Cua Dai Beach, An Bang offers a serene and peaceful ambiance. By departing from the town and visiting An Bang Beach, you will be able to stroll along the smooth white sand and swim in the refreshing blue waters. Additionally, you can engage in various water sports, such as canoeing or water motorbiking.
Address: Cam An Ward
2. My Son Sanctuary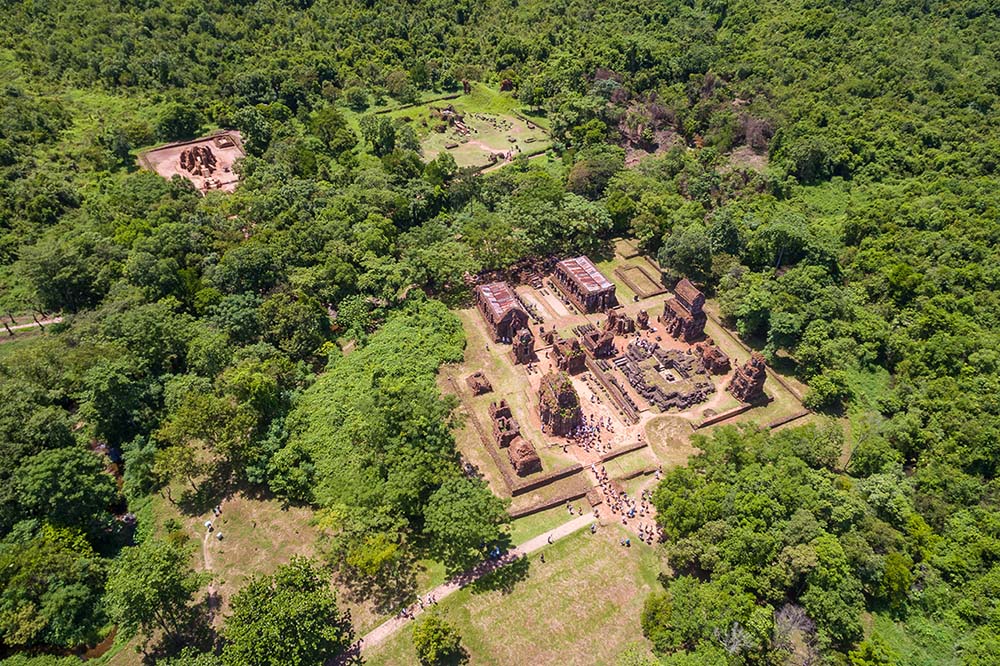 Along with the ancient town of Hoi An, the My Son Sanctuary is one of two World Heritage Sites recognized by UNESCO in Quang Nam Province. Its collection of old temples with a unique architectural style, which contains significant cultural and historical values of the ancient Kingdom of Champa, has made the My Son Sanctuary famous and a popular tourist destination.
Located approximately 70 km southwest of Da Nang city and 45 km west of Hoi An, the My Son Sanctuary encompasses many ancient temples of the Kingdom of Champa, scattered across a 2 km diameter valley. The site served as the location for religious sacrifices and the tombs of the Champa dynasty's kings and princes.
Visiting the My Son Sanctuary is best from February to April, when the weather is cooler and rain is less frequent. You can reach the site from Hoi An by riding a motorbike or hiring a taxi.
In addition to exploring the unique temples and structures within the My Son Sanctuary, you can also witness traditional Siva dances performed by Cham artisans.
Tickets: 150,000 VND/pax for foreign visitors
Opening hours: 6:30 AM – 5 PM
3. Cua Dai Beach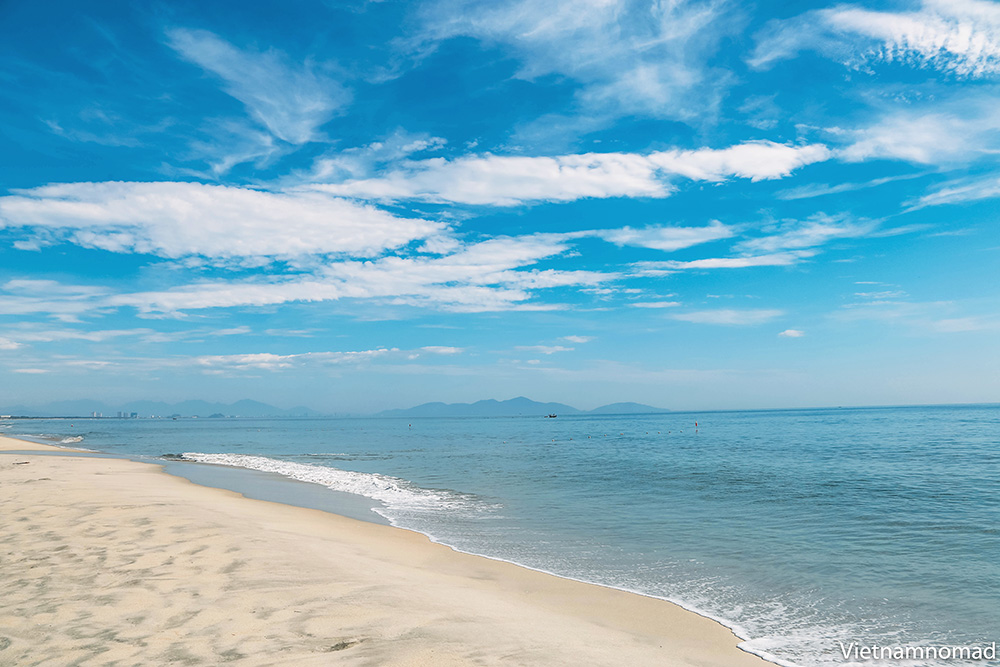 Cua Dai Beach is located about 5 km from the center of the ancient town of Hoi An and is known as the most popular beach in the area. The convergence of three rivers – Thu Bon, Truong Giang, and De Vong – before flowing into the South China Sea creates this iconic location. With its endless stretches of white sand and rows of towering green coconut trees, it's easy to see why Cua Dai Beach is so beloved.
Address: Cam An Ward
4. Thanh Ha Pottery Village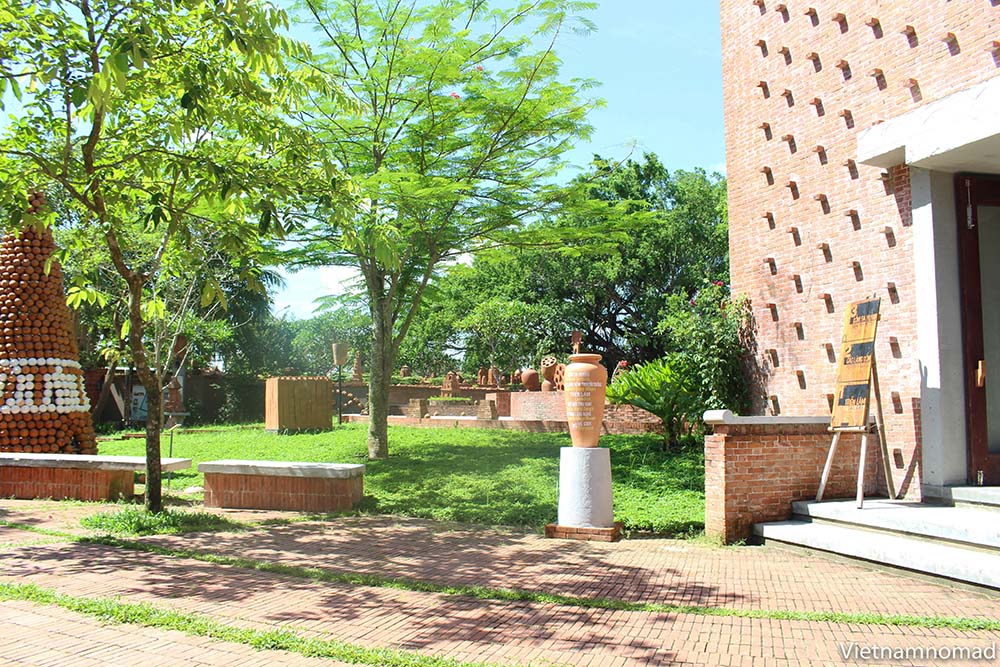 Thanh Ha Pottery Village is a time-honored craft village with over five hundred years of history. It proudly embodies the cultural essence of Vietnamese rural areas and the traditional craft village culture. Today, the village has evolved into a complex with a diverse range of activities that can keep you entertained for an entire day.
When you visit Thanh Ha Pottery Village, you can not only observe the skilled artisans creating pottery from start to finish, but also have the opportunity to try your hand at the craft. The village is beautifully decorated with pottery and a brick-red color scheme, creating a serene and tranquil atmosphere.
Additionally, within the village complex, you can also appreciate a vast collection of pottery and purchase lovely souvenirs for your loved ones.
Address: Pham Phan, Thanh Ha Ward
Opening hours: 8:30 AM – 5:30 PM
Entrance fee: 35,000 VND
5. Bay Mau Coconut Forest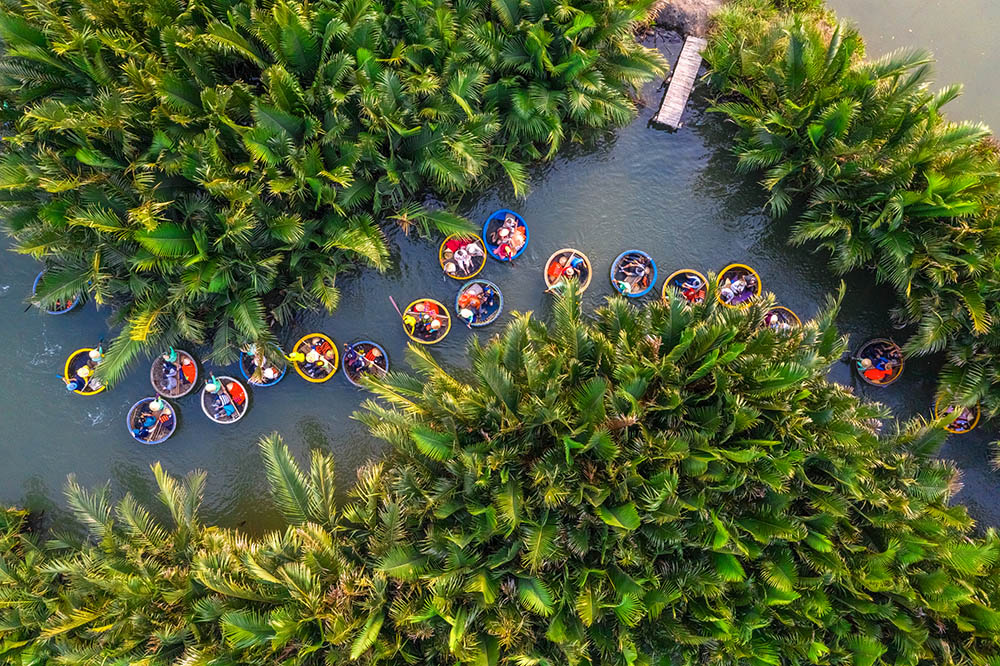 This eco-tourist attraction offers a wealth of unique experiences. Take a leisurely cruise along the shaded canals in a bamboo basket boat, watch a boat dancing performance or boat race showcasing the rowers' skills, and perhaps even witness local fishermen catching fish with a large fishing net. If you have some extra time, rent a bicycle and explore the peaceful and scenic town surrounded by coconut trees.
Bay Mau Coconut Forest is open for visitors all year round, although the best time to visit is from January to September. During the remainder of the year, especially October and November, there may be seasonal storms, so be sure to check the weather forecast before making your trip.
Address: Cam Thanh Ward (3 km from the city center)
Entrance fee: 30,000 VND
Basket boat: 150,000 VND – 200,000 VND
6. Cham Island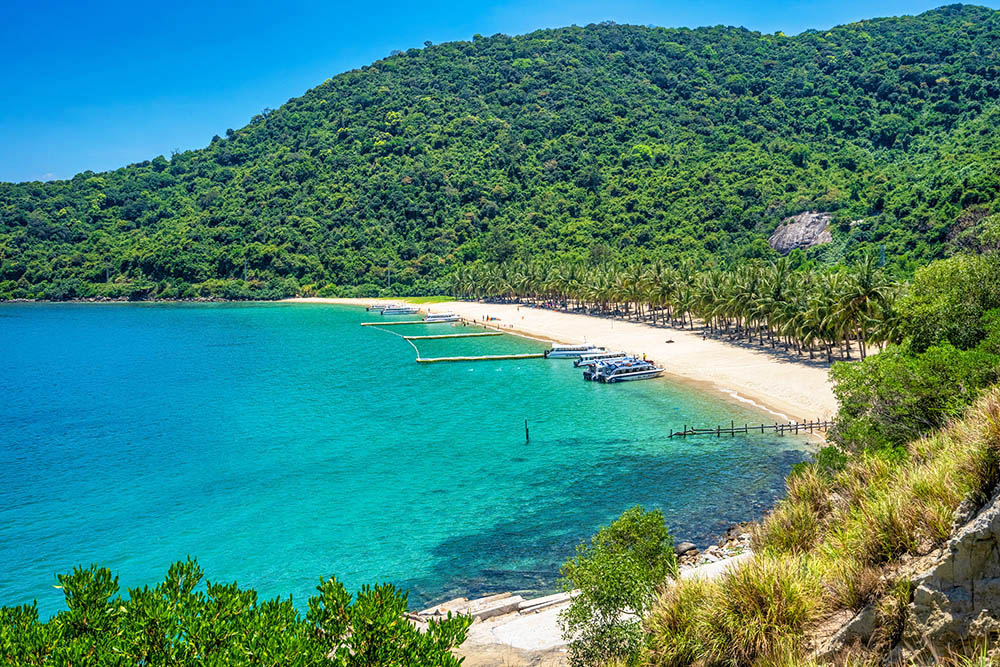 Cu Lao Cham, also known as Cham Island, is a major island located 15 km off the coast of Hoi An. With a population of around 3,000 people, the island boasts an abundance of natural beauty, including a diverse range of flora and fauna and a network of eight smaller islands. This is why UNESCO designated it as a biosphere reserve in 2009.
With a range of activities to enjoy on the island, be sure to pack for a full day (or two) of adventure. Take a tour of the smaller islands, go snorkeling, visit the ancient Champa village, and sample the freshest seafood caught straight from the ocean.
Reaching Cham Island can be done in two ways – by canoe or by wooden boat.
For the canoe option:
A round-trip ticket (valid for one day) costs 400,000 VND per person, including access and biological conservation fees to the island.
A round-trip ticket (valid for a different day) is priced at 500,000 VND per person.
For the wooden boat option:
Only one morning trip is available, departing from Bach Dang Wharf at 7:30 AM and returning to Hoi An at 11:30 AM.
A one-way ticket is priced at 100,000 VND per person.
Note: Wooden boats are primarily used for transporting vehicles and goods and typically take 90 minutes each way (compared to 20 minutes by canoe). Traveling by wooden boat may not be possible in bad weather conditions, making the canoe a safer and more reliable option.
7. Tra Que vegetable village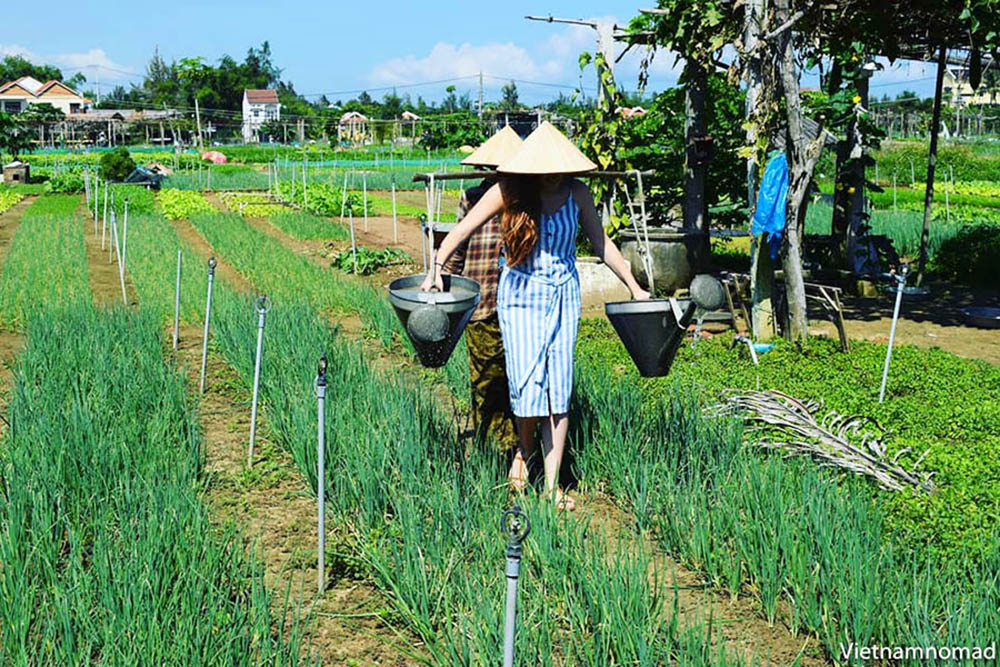 Tra Que Vegetable Village is an ideal destination for those who are passionate about ecotourism and would love to experience life as a farmer for a day. The village is located just a few kilometers from the old town center and is easily accessible. Not only can you observe the cultivation of over 40 different types of vegetables, but you can also participate in planting and harvesting the crops. Afterward, you can go on a bike ride around the village to soak up the lush green scenery and breathe in the fresh air of the Vietnamese countryside.
Address: Cam Ha Ward
Entrance fee: 10,000 VND