Dalat is affectionately referred to as the City of Thousands of Flowers, the City of Love, or the City of Romance. Da refers to the water bodies that the community was built around and Lat (or Lach) is the name of a tribe settled on Lam Vien Highlands. Dalat means the stream of the Lat people. Located on Lam Vien Highlands (Lam Dong Province) at an altitude of 1,500 meters above sea level, Dalat boasts poetic landscapes and pleasant weather, making it a top holiday destination in the South.
The establishment of Dalat is largely attributed to French exploration. Under the order of Governor-General Paul Doumer in the nineteenth century, an exploring group led by Doctor Alexandre Yersin set out and journeyed against the river courses to conquer the uninhabited land in Western Vietnam. They were immediately impressed by the vast green pine trees and a climate that was much like their homeland France, and they decided to choose this place to set up a camp base for their military leaders and soldiers to rest and recover. However, the group returned a few years later and found a plateau on top of the Lam Vien Highlands that was more suitable for a residential settlement and founded Dalat. The significant contribution of the French people, especially Doctor Alexandre Yersin, who is still revered by the Vietnamese today, explains the beautiful French vibes in the lifestyle, architecture, and nearly everything in Dalat.
Dalat weather
Sited at an altitude of 1,500 meters, with Langbiang peak at 2,167 meters above sea level as the highest point, Dalat is surrounded by magnificent mountain ranges and high plains, contributing to its cool and pleasant weather year-round. The temperature difference between days and nights in Dalat is relatively large, with an average of 11 °C. The highest temperature reported is around 30 °C, and the lowest is under 5 °C.
The four seasons in Dalat are not evenly divided. Mid-year is often affected by tropical depressions and seasonal winds from the Southwest and Central, resulting in prolonged periods of rain. However, every month, every season in Dalat has its own appeal. Below is a descriptive timeline of Dalat weather to help you choose the best time to visit based on your preference.
Spring (January – March)
The average temperature during this season is about 19 °C, with temperatures ranging from 14 to 28 °C. This is also the dry season in Dalat, with long hours of sunshine and low humidity, making it the ideal time to visit. The pleasant weather allows for more daylight for outdoor activities, resulting in many local festivals taking place to celebrate the beauty of floral blossoms and traditional holidays.
Due to the favorable weather and diverse festive activities, this is also the peak season for local Vietnamese people to travel to Dalat. Traffic may be more crowded than usual, and accommodation options may be limited due to high demand.
Summer (April – September)
Summer in Dalat lasts longer and is characterized by long rainy days and high humidity. During the day, the temperature is nice and warm, but it drops quickly at night, creating a large temperature difference. The temperature revolves around 27 °C in April and May, and then typically drops to around 23 °C from June to September. It rains almost every day during this season in Dalat, with the heaviest rain usually falling in the afternoons. You can still fit many activities into your itinerary by planning ahead and doing more outdoor activities in the morning, followed by spending the afternoons and evenings in cozy, vintage cafes or restaurants, watching the mountainous town covered in a curtain of rain.
Autumn (October – November)
Although October and November are considered autumn in Dalat, the weather does not greatly vary from summer, except for lower humidity during daytime. The number of rainy days per month also decreases, giving more hours of sunlight for exploration.
Winter (December)
The average temperature in December is 18 °C with an average daylight of 11 hours. This is also when some of the most iconic flowers of Dalat bloom, creating a picturesque and colorful background. So, if you enjoy natural landscape photography, this is a great time for it. Additionally, Dalat, with its orange light illuminating the white barns at night, the chalets nestled on the hillsides, and the winter breeze, makes for a lovely Christmas holiday.
Overall, there is always a reason to visit Dalat regardless of the season. While Dalat is a festival destination during the dry season, such as spring and winter, it is a perfect getaway even during the rainy seasons of summer and autumn when other Northern and Southern cities are unbearably hot. Due to its natural attractions, it is not surprising that Dalat can be overcrowded during weekends, which is the high season for this foggy city. Therefore, if you are looking for favorable weather to visit Dalat, December to March are recommended months. However, if you want to experience local and less touristy experiences, weekdays in any season would work.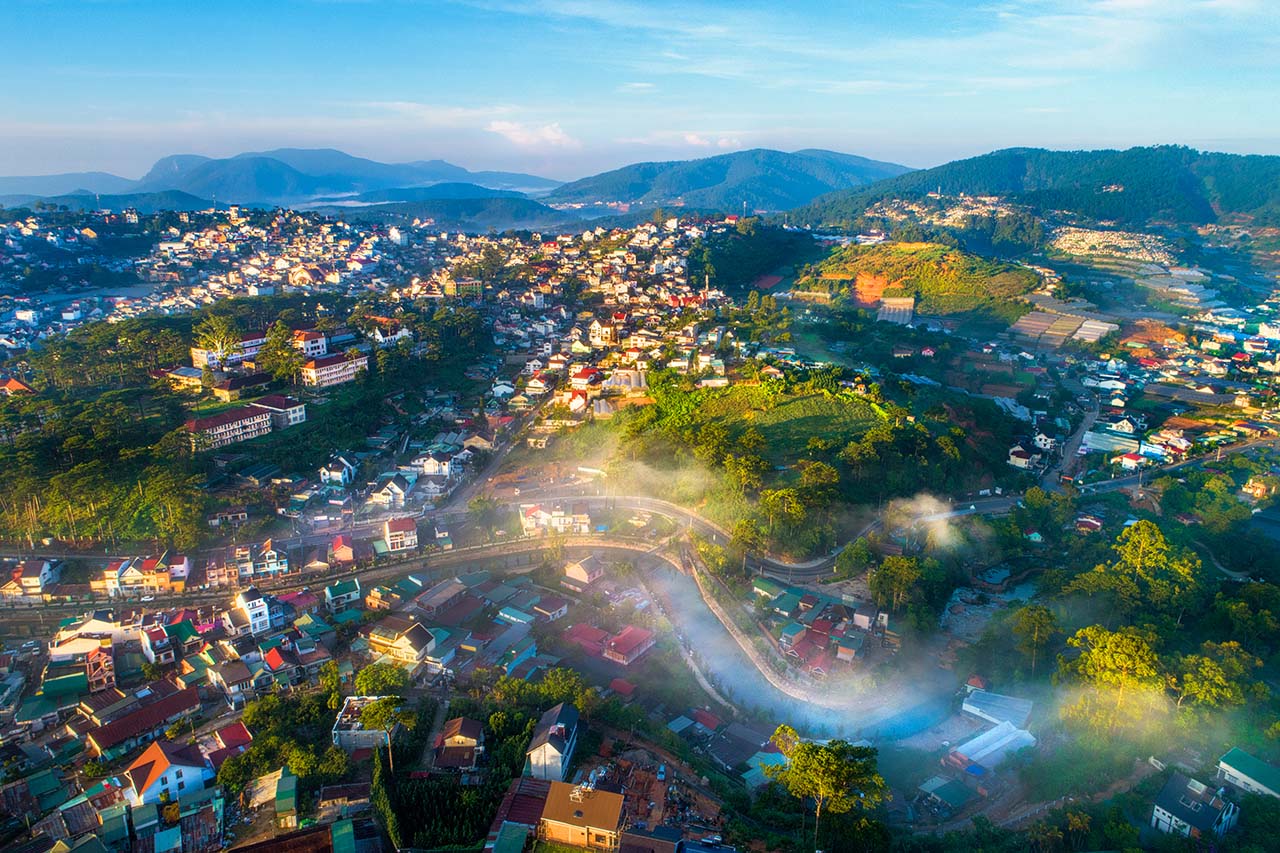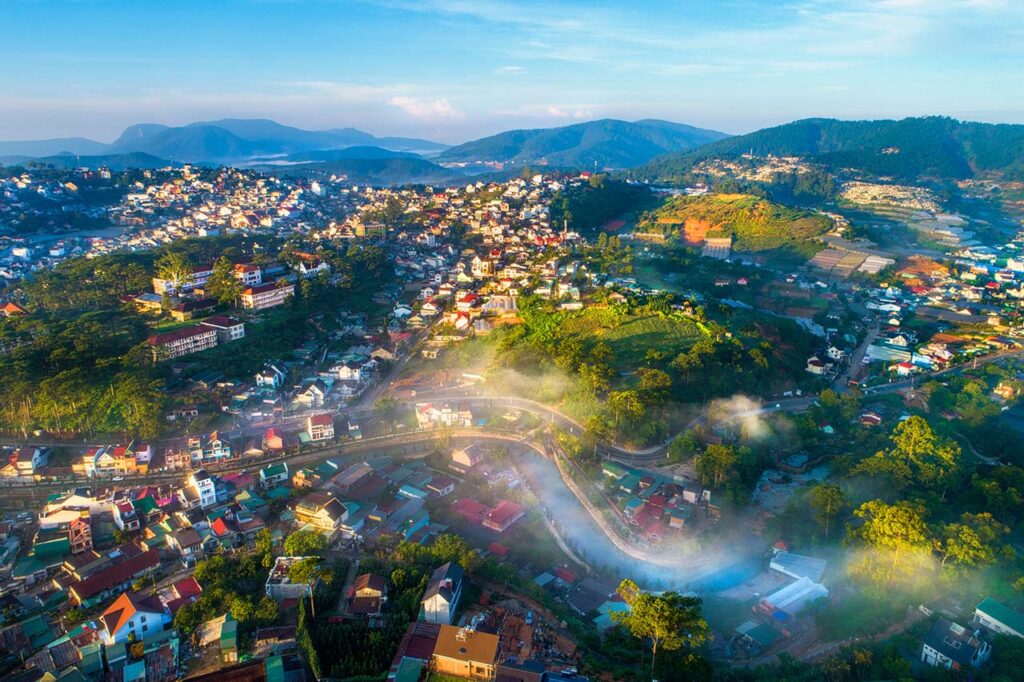 Transportation in Dalat
Discover transportation deals for Dalat from our partners >
How to get to Dalat?
Being a strategic holiday destination, Dalat has witnessed impressive development in transportation and infrastructure, making it super accessible for travelers. There are two common and convenient ways to travel to Dalat from major cities in the North, the Central, and the South.
Flights
Lien Khuong International Airport operates both domestically and internationally direct flights to Dalat. Inbound flights to Dalat depart from cities such as Hanoi, Ho Chi Minh City, Da Nang, Hai Phong, Vinh, Thanh Hoa, Quy Nhon, Can Tho, and Phu Quoc. Meanwhile, at the moment, some outbound flights depart to Dalat from Malaysia (Kuala Lumpur), Korea (Seoul, Muan, and Daegu), Thailand (Bangkok), and China (Lanzhou).
Flights are operated by various aviation companies ranging from economic airlines to national and more premium ones. The cost of a one-way trip from Ho Chi Minh City ranges from around 500,000 VND to 2,000,000 VND ($21 to $85), with higher prices from other northern cities. However, you can get good deals if you book in advance.
Lien Khuong International Airport is 30 kilometers from the city center. As soon as you arrive at the airport, there are two options to get you to Dalat center:
Airport taxis: Bookable at the airport, with fares ranging from 250,000 VND to 300,000 VND ($11 to $13) and a travel time of 30 to 40 minutes without traffic. This fare includes tolls and airport fees and will take you directly to your desired location.
Airport buses: Station is located outside the arrival terminal and staffed with personnel to assist with bus booking. Tickets cost 40,000 VND ($1.7), and each ride takes at least 45 minutes to reach the city center without traffic. Buses operate from 6 AM to 6 PM and depart from the airport every 15 to 30 minutes. However, keep in mind two disadvantages: (1) The schedule is often based on the arrival of flights, so you may need to wait for the next flight if you don't go directly to the bus station upon arrival. (2) Buses only run between the airport and Dalat Central Market (at 01 Le Thi Hong Gam St), so you'll need to arrange additional transportation to your final destination."
Buses
If you are based in Ho Chi Minh City or other Southern cities, taking a night bus will be another reasonable option due to more flexible schedules and economical prices. There are many local buses operating the Dalat route; however, Thanh Buoi Bus and Phuong Trang (Futa) Bus are preferred for their quality and professionalism.
In general, the prices for different bus companies and seat types are comparable. However, for a more comfortable and restful journey, it is recommended to opt for a premium or VIP bus option. This will ensure that you are well-rested and ready to explore upon arrival in Dalat in the morning.
1. Thanh Buoi Bus
Thanh Buoi Bus Company operates two routes to Dalat, including Can Tho – Dalat and Ho Chi Minh City (Saigon) – Dalat. An advantage of choosing Thanh Buoi is its variety of seat options.
Standard sleeper buses: a bed/seat in a 44-seat bus. Price: 270,000 VND ($11) from Ho Chi Minh City and 400.000 VND ($17) from Can Tho. These buses are relatively old with narrow beds (which you can hardly straighten your legs on) and no curtain to give you a sense of privacy. Most of the time, the standard buses would depart late because they had to wait for the passengers to fill the seats. In short, this should only be an option for its low price and when there is no other option of transport.
VIP sleeper buses: a bed/seat in a 22-seat bus. Price: 420,000 VND ($18) from Ho Chi Minh City. These are the most premium, operated with new and clean buses. What you have is pretty much a capsule room with comfortable beds, curtains to separate your space from others, wifi, and a TV screen for entertainment.
Limousine buses: a seat in a 26-seat bus. Price: 310.000 VND ($13). This bus leaves only once a day at 11 PM from Ho Chi Minh City. These are newly introduced by the bus company, targeting those who are uncomfortable with no upstairs seats. They are featured by one-level spacious beds, which you will feel more stable sitting and sleeping on.
2. Phuong Trang (Futa) Bus
Phuong Trang (Futa) Bus Company only operates standard sleeper buses, which can be quite narrow and lack privacy curtains. As one of the first bus companies to offer long-distance trips, the buses used are relatively older. The cost for a standard sleeper bus is 300,000 VND ($12.5).
A benefit of choosing Phuong Trang Bus is its multiple destinations, including Da Nang, Hue, Nha Trang, Ho Chi Minh City, and Can Tho. Additionally, the company offers a user-friendly website and mobile app, making it easy to check for seat availability and book a trip online.
Getting around Dalat
The transportation infrastructure in Dalat is well-developed, featuring newly-constructed wide and flat roads. This offers various options for transportation, depending on your purpose and budget. Below are some common modes of transportation for getting around the city.
Motorbikes
Motorbikes are always the best choice for exploring a city, not just in Dalat, but anywhere else in Vietnam, as motorbikes are a big part of Vietnamese culture. The cost of renting a bike ranges from 100,000 VND to 200,000 VND, depending on the type of bike and the time you visit, with prices usually lower on weekdays. A manual bike costs 100,000 VND to 120,000 VND ($4 to $5) per day, while an automatic bike costs 150,000 VND to 180,000 VND ($6 to $7) per day. However, this price does not include petrol, so the bike will likely come with an empty gas tank. Make sure to check the tank and find the nearest petrol station to fill it up, as 50,000 VND ($2.1) should be enough for a full day of exploring. Delivery and pickup of the bike are included in the service and will be made to and from wherever you are. A driving license and a helmet are required to ride a motorbike, and in Vietnam, we drive on the right.
Taxis
Unlike other major cities where ride-hailing apps are dominant, traditional taxis are still preferred in Dalat. If you plan to stay around the city center, using a taxi service is recommended as the locations are not too spread out and the fares are reasonable. If you are traveling with a large family and want to visit the major tourist attractions, taxis can be booked as a half-day or full-day private car for around 700,000 to 1,000,000 VND ($29 to $42).
In addition to well-known names such as Mai Linh taxis, the new generation of taxis in Dalat is registered and operated through an application. They may not look like traditional taxis (without a company sign), but they are reliable. Just make sure you get into the correct car by checking the number plate before getting in. Some popular and reliable taxi brands in Dalat are Dalat Taxi, Mai Linh, and Hoa Binh.
Electric buses
There are five common routes currently operated. These serve as usual hop-on and hop-off buses, so you can get in and get off anytime.
Operation time: 7:30 AM – 10:00 PM daily
Ticket price: 30,000 – 45,000 VND ($1.2 – $1.9)
Route 1: Yersin Park – Tran Quoc Toan St – City Flower Garden – Yersin Park. This route will take you around Xuan Huong Lake, a symbol of the natural beauty of Dalat. You will drive through the main roads in the city center, passing many colorful flower gardens and city parks, giving you an overview of the town. This is a great option for first-time visitors to Dalat.
Route 2: Yersin Park – Tran Quoc Toan St – Ho Tung Mau St – Tran Phu St – Le Hong Phong St – Trieu Viet Vuong St – Tuyen Lam Lake Tourist Complex. This route will take you out of the city to the South, offering a panoramic view of vast pine forests, magnificent mountains, and a tranquil lake.
Route 3: Yersin Park – Tran Quoc Toan St – Ho Tung Mau St – Tran Hung Dao St – Hung Vuong St – Highway 20 – Trai Mat. The highlight of this route is a breathtaking view of Linh Phuoc Pagoda, a unique religious structure in Dalat. Its final stop is at Trai Mat, often called the town of clouds because in the early morning, the entire village appears to be floating in a sea of white fog and fluffy clouds.
Route 4: Xuan Huong Lake Boat Station – Tran Quoc Toan St – Dinh Tien Hoang St – Phu Dong Thien Vuong St – Mai Anh Dao St – Valley or Love. This route is perfect if you plan to explore the Valley of Love afterward.
Route 5: Yersin Park – Tran Quoc Toan St – Nguyen Trai St – Quang Trung St – Phan Chu Trinh St – Ho Xuan Huong St – Than Tho Lake – Ngo Gia Tu St – Thai Phien Flower Village. This route will show you why Dalat is known as "The city of a thousand flowers." The route follows winding hill roads with views of flower barns on one side, leading to the destination of Thai Phien Flower Village, where hundreds of types of flowers are grown, harvested, and delivered nationwide.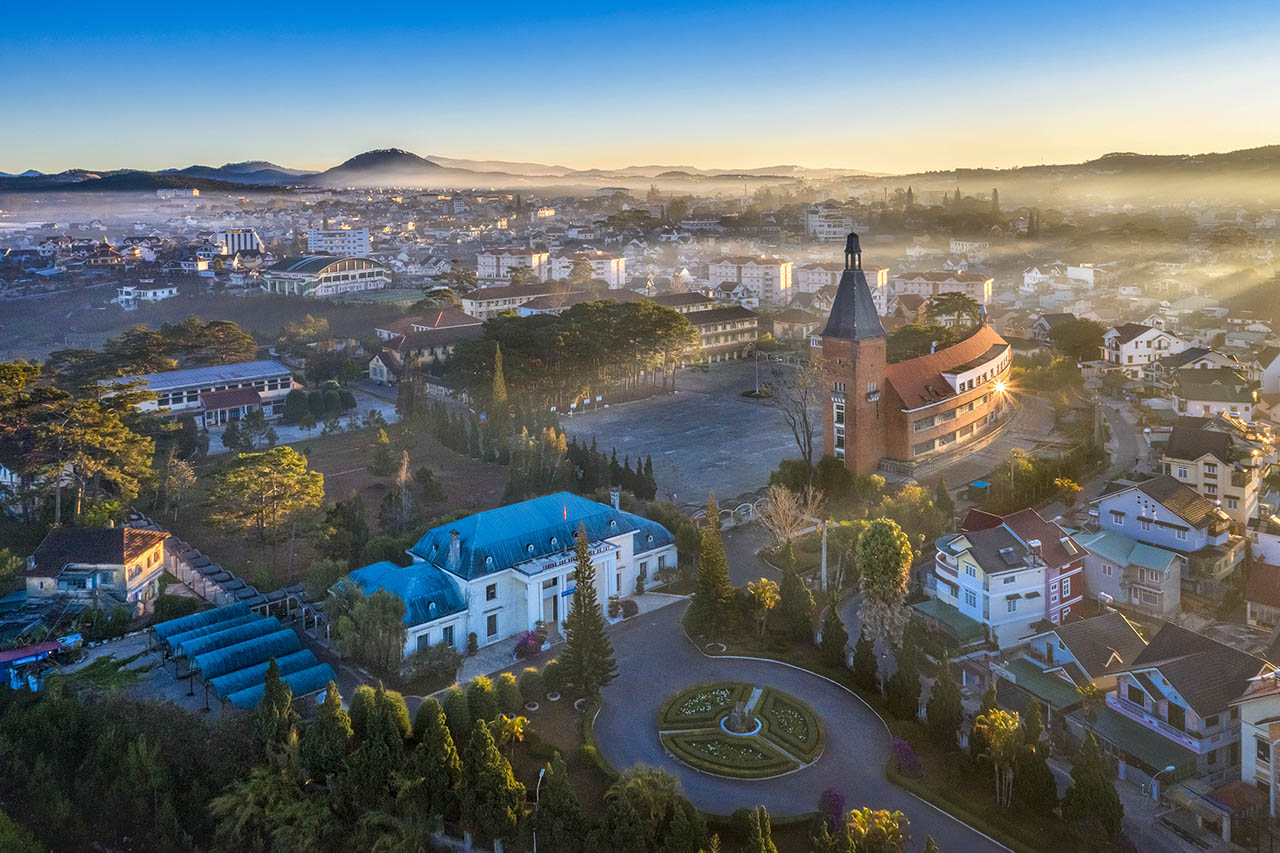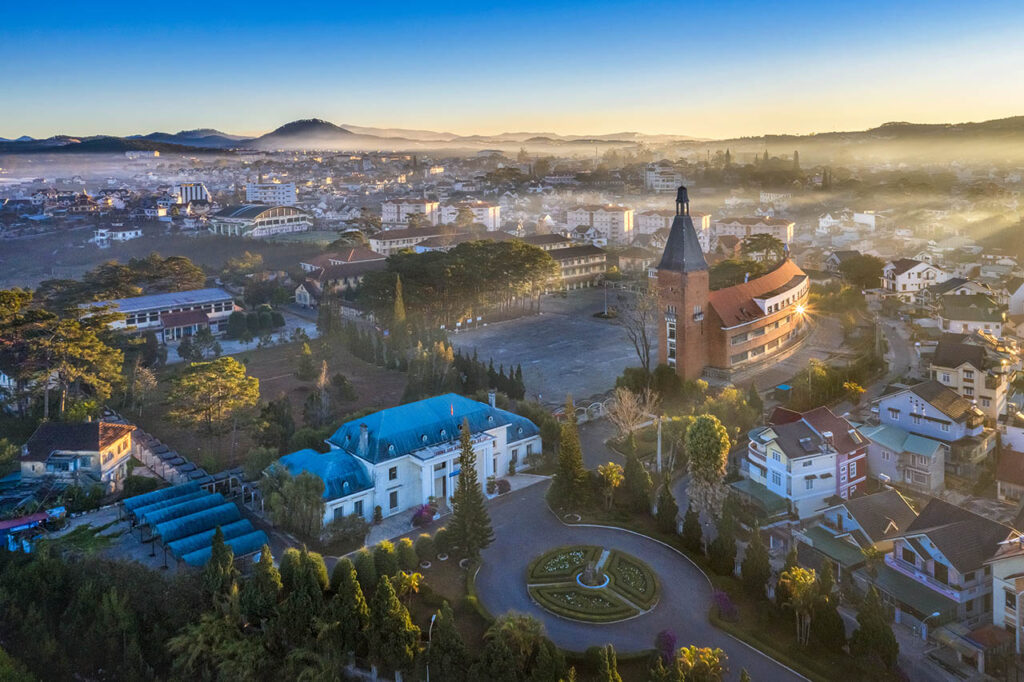 Read less ▴