What is banh cuon?
Light, tasty, and filling are the best words to describe banh cuon (bánh cuốn – Vietnamese steamed rice rolls). It is a preferable breakfast dish and a must-try to truly comprehend the diversity of Vietnamese cuisine. Each region leaves a different impression on those who try it, but they all share a rich history and cuisine worth sharing. That's why we are here, sharing the story of Vietnamese steamed rice rolls with you.
The origin of banh cuon
Banh cuon is believed to originate from a small village in Hanoi named Thanh Tri, stretching along the Red River. Legend has it that, under the reign of Hung King, people came to this virgin land and started cultivating wet rice – the "spirit and soul" crops of the Vietnamese. Hung King himself was chosen to be the king thanks to the creation of the rice square and round cakes (also known as banh chung – banh day); therefore, his children were taught to appreciate the rice grains as the "Pearls of Heaven." One of Hung King's princes, An Quoc, taught his people to make thin and transparent sheets of steamed rice to celebrate the versatility of the rice grains and also the cleverness of his people. In the past, banh cuon was a privileged dish, only served on special occasions and celebrations. However, over time, with the growth of rice cultivation, it was made accessible to every corner of Hanoi.
Thanh Tri village is now recognized as an ancient artisan village for making banh cuon, with more than two-thirds of the population living off this occupation. The techniques of making steamed rice rolls were passed down from generation to generation and the descendants spread out and adapted their traditional dish to their new homes, which consequently created a wide range of banh cuon varieties across the country nowadays.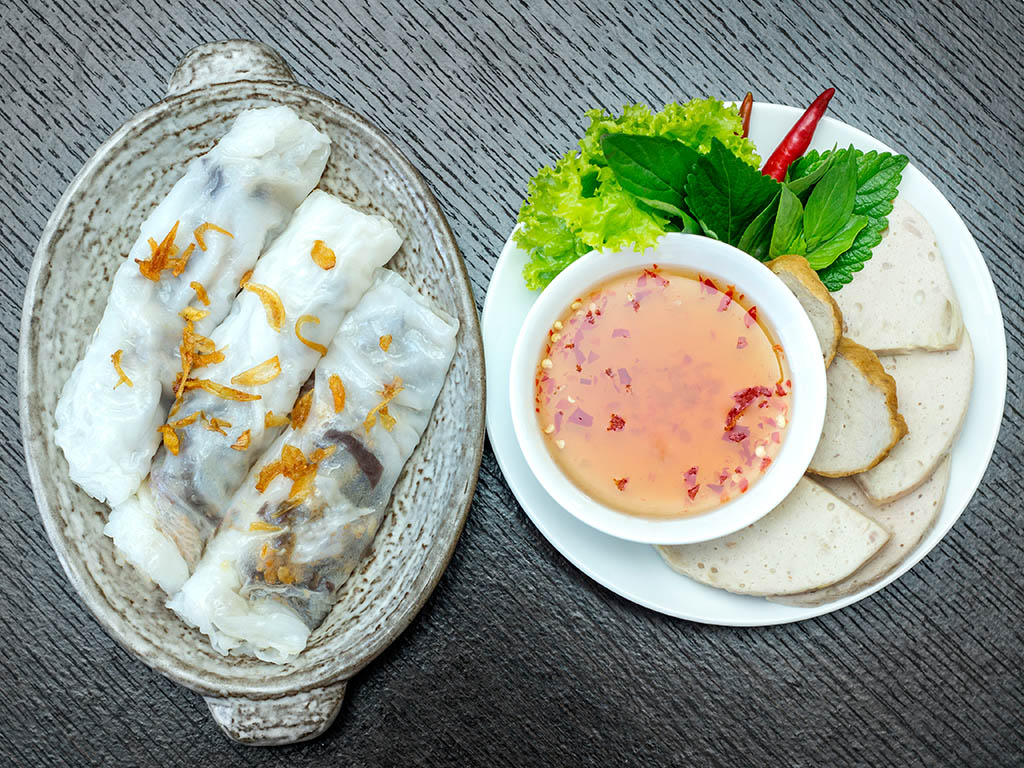 Types of banh cuon
First of all, it is necessary to distinguish between banh cuon and banh uot, which is literally translated into "wet cakes." It confuses us sometimes with the name since they are not wet as they are named but moist and super soft. Banh cuon and banh uot are basically relatives in which banh uot is banh cuon without fillings. These two are always available together on the menu because they have exactly the same ingredients and cooking methods, so it is convenient to have them both for more options.
Given its large territory and various climates, it's not surprising that a dish like banh cuon has many different versions. Usually, just a small variation in the fillings, dipping sauce, or toppings can create a completely new banh cuon eating experience.
Banh cuon in Northern cities
Banh cuon Thanh Tri (Hanoi)
Thanh Tri is known as the home and artisan village of steamed rice rolls. It has its own secrets for making its banh cuon stand out. Firstly, good-quality rice grains are selected, soaked for around three hours, and rinsed before being used in the following stages. Despite the presence of technology, in Thanh Tri, rice is still ground using a traditional stone grinder. Rice powder made in this way retains its natural rice aroma and creates a shiny surface after steaming. Another unique feature of banh cuon Thanh Tri is that it is made into super thin sheets before being rolled up. It is believed that the thinner the steamed rice sheets, the more experienced and skillful the chefs are.
The most profound highlight of banh cuon Thanh Tri, however, is the dipping sauce made from ca cuong (Lethocerus indicus) – a type of water bug widely eaten in Southeast Asia. The male ones possess two bags of essential oil which are used as a defensive weapon and are also considered nutritious parts. The essential oil from ca cuong is extracted, has a decent cinnamon scent, and a slightly sour taste, and is stored for making dipping sauce. Due to the declining population of these native insects, artificial ca cuong oil is used as an alternative, while the natural one is rarely used, or only used for privileged customers.
Scattering around the northern part of Vietnam, there are countless interesting varieties of banh cuon. Here to name a few:
In Ha Nam – the southern gateway of Hanoi, banh cuon is eaten cold with chargrilled pork and warm dipping sauce.
In Quang Ninh – one of the biggest provinces along the coastline of Vietnam and home to the World Heritage Site Ha Long Bay, banh cuon is eaten with fried squid cakes which are also the food specialty of the city.
In Thanh Hoa – the northern tip of Central Vietnam, banh cuon is sometimes made without meat fillings and eaten with eel congee.
In Nghe An – the hometown of President Ho Chi Minh, banh cuon is eaten with boiled pork organs or with eel soup.
In Ha Tinh – neighboring Nghe An, steamed rice rolls are eaten with corn egg rolls, which is a tasty combination of soft steamed rice rolls and crispy egg rolls.
Banh cuon in Central cities
In the central part, banh cuon Quy Nhon is probably the most notable. Quy Nhon, a coastal city located in the southeast of Binh Dinh Province, has diverse landscapes and is still quite underexploited. The difference in banh cuon Quy Nhon lies in the way it is presented, with the rice rolls, toppings, and vegetables placed on separate plates. Additionally, it is common to eat steamed rice sheets as a side dish with pork organ congee.
Banh cuon in Southern cities
Traveling to the South, banh cuon deeply reflects the cuisine through the combination of a wide range of local produce in the filling and rice wrappers' ingredients. Also, the dipping sauce is sweeter and the batter is creamier.
Banh cuon Saigon
Banh cuon in Ho Chi Minh City (Saigon) does not have a fixed recipe. The strong competition in this populous city requires every restaurant to have its unique blend to stand out. One of the creative recipes worth mentioning is banh cuon trung (egg rice-rolled cakes). There are two versions of banh cuon trung: eggs can either be mixed with the rice batter or wrapped inside the batter so they remain runny when cut into the rice wrappers.
Another variation is banh cuon la dua (pandan steamed rice-rolled cakes). Pandan is an indigenous plant that is a common natural coloring in Vietnamese cuisine. The rice batter is mixed with pandan extract to create a pleasant fragrance and eye-catching color.
Banh cuon nguoi Hoa (Chinese-Vietnamese steamed rice rolls)
The Chinese-Vietnamese community has greatly contributed to the culinary diversity in Vietnam. In terms of steamed rice rolls, their batter is often enhanced with large quantities of green onions and the fillings show a strong Chinese influence with char siu or fresh shrimp (which are quite similar to the fillings in their dim sum). Another distinct characteristic of this type of banh cuon is that it is dipped in soy sauce instead of fish sauce.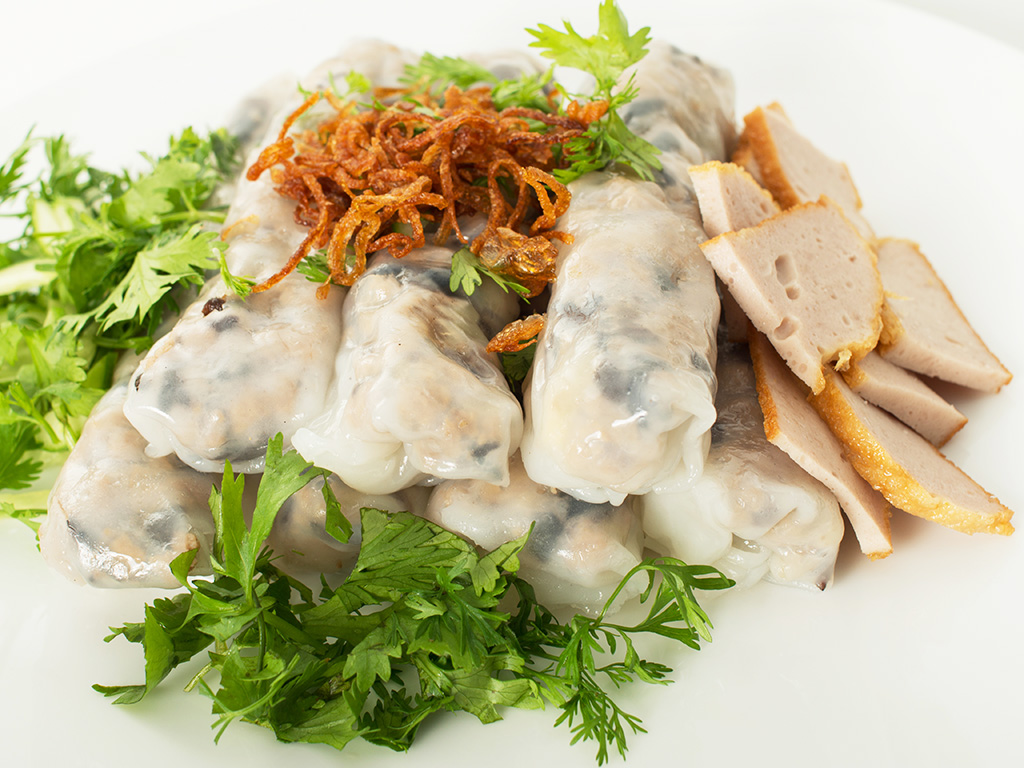 Banh cuon ingredients
Rice wrappers
Youtube and other social media probably show you some tips to get around for convenient making of the rice wrappers (such as using ready-made rice paper sheets, using packaged pre-mixed banh cuon flour, using a non-stick pan for making the wrappers, and so on). However, traditionally, it is believed that banh cuon should be made by grounding your own rice and steaming it on a conventional steamer. This process surely requires more time and effort, but it also guarantees the uniqueness of each final product.
To make banh cuon, the rice grains are finely milled using a stone mill or blender. The rice flour is then soaked in cool water for at least 4 hours, which removes unwanted materials, eliminates any mossy odor, and makes the wrappers softer and shinier after steaming. The longer the rice flour is soaked, the more flexible and elastic it becomes. If soaking overnight is not possible, adding tapioca starch will help make the wrappers softer and more elastic. The mixture can be flavored with pandan leaf extract, coconut milk, or eggs, depending on personal preference.
A traditional steamer is set up with a thin fabric sheet on top. When the water boils, the fabric is covered with vegetable oil and a ladle of batter is poured and spread evenly. The rice wrapper is cooked for about a minute and then removed from the fabric using a bamboo stick and placed on a tray to be filled with the desired ingredients.
Fillings
Typically, the filling for banh cuon is a mixture of minced pork and wood-ear mushrooms, combined with diced onions and jicama. These vegetables keep the filling moist and flavorful. The mixture is stir-fried and ready to be wrapped in steamed rice sheets.
Toppings
Banh cuon is commonly served with a variety of Vietnamese cold cuts called cha and nem. These toppings are very common in Vietnamese dishes. A plate of banh cuon typically includes at least three types of cha, such as cha lua (steamed pork sausage), cha chien (fried pork sausage), and cha que (fried cinnamon pork sausage). These Vietnamese sausages have a chewy texture and a slightly fatty taste. Nem, on the other hand, is a type of fermented pork wrapped inside banana leaves. They are little pink cubes seasoned with chilies, garlic, and whole pepper grains.
Another essential topping is banh tom (deep-fried shrimp cakes). Banh tom is a small round cake made from a mixture of rice flour, cassava flour, and turmeric powder, with a whole shrimp placed on top. Sometimes, the shrimp is minced and mixed directly with the batter before frying, and adding green beans can make it nuttier and tastier. The crispy banh tom combined with the chewy cha and soft rice wrappers makes for a well-balanced combination.
Finally, the dish is completed with blanched bean sprouts, sliced cucumber, and herbs. These vegetables have a light, fresh taste, adding crunchiness to the dish and also serving as a source of fiber.
Dipping sauce
The dipping sauce is easily made by boiling fish sauce with water and sugar. The sauce is simply balanced between saltiness and sweetness. Minced chilies can be added separately when eating according to personal preference.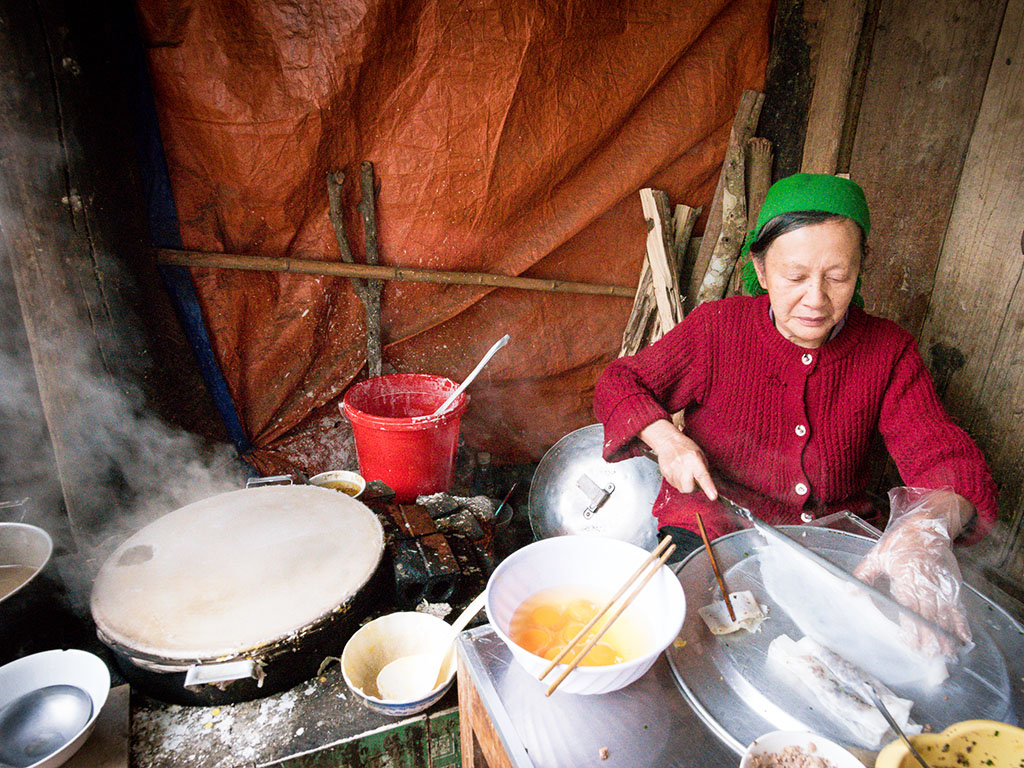 The eating culture of banh cuon
Interestingly, banh cuon is eaten differently between the North and South of Vietnam. In the North, it is common to dip each piece of banh cuon into a small bowl of fish sauce, while in the South, it is more common to pour the fish sauce directly onto the plate. This may be because the dipping sauce in the South is lighter and sweeter.
There is also a vegetarian version of banh cuon, in which the fillings are made from jicama and wood-ear mushrooms (and possibly other types of mushrooms). The cold cuts are replaced with bean curd sausage and banh tom is substituted with green bean cakes. Of course, the dipping sauce is made with vegan fish sauce.
Banh cuon is commonly eaten for breakfast because it is light (not oily) and filling. You can customize the toppings to your liking, and most restaurants are happy to remove or add more of your preferred cold cuts.
Before pouring the dipping sauce onto your banh cuon, make sure to taste it first. The saltiness can vary greatly among restaurants. Consider eating banh tom first while it is still crispy, before it is soaked with the fish sauce.
When ordering egg steamed rice rolls, be mindful that banh cuon trung means the egg is already mixed with the rice batter, while banh cuon trung long dao (runny egg steamed rice cakes) means the egg yolk is added inside the steaming rice flour sheet and it is then wrapped into a square pillow shape.
If you are not familiar with raw or fermented meat, it may be a good idea to avoid nem when trying banh cuon for the first time.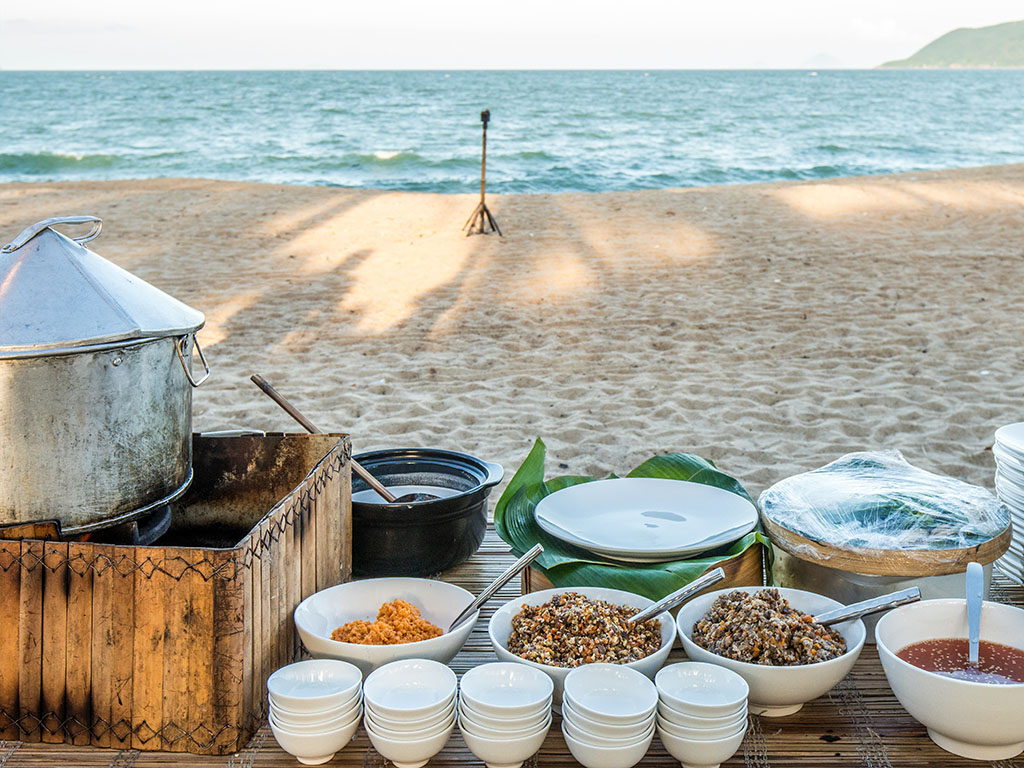 Where to eat banh cuon?
Steamed rice rolls are always freshly made by order. A plate of banh cuon is still steaming when it is served, which guarantees a delicious and nutritious meal. We hope the information and tips will come in handy for you to experience this favorable local dish. Check out our recommendations below and add the nearby to your to-do list.
Hanoi
Banh cuon Ba Hoanh
Address: 66 To Hien Thanh, Hoan Kiem District
Price: 25,000 VND – 35,000 VND ($1 – $1.4)
Banh cuon Ba Xuan
Address: 16 Doc Hoe Nhai, Ba Dinh District
Price: 30,000 VND
Ho Chi Minh City
Banh cuon Hong Hanh
Address: 17A Nguyen Thi Minh Khai, District 1
Price: 41,000 VND – 61,000 VND
Banh cuon Hai Nam
Address: 11A Cao Thang, District 3
Price: 38,000 VND – 42,000 VND
Da Nang
Banh cuon Tien Hung
Address: 190 Tran Phu, Hai Chau District
Price: 30,000 VND – 35,000 VND
Banh cuon Hai Hue
Address: 47 Ngo Gia Tu, Hai Chau District
Price: 25,000 VND – 35,000 VND