Ha Long Bay at a glance
Ha Long Bay is a famous tourist destination in Vietnam, located in the west of the Gulf of Tonkin, in the northeast of Vietnam. The total area of Ha Long Bay is about 1,500 km2, including two bays: Bai Tu Long Bay in the east and Lan Ha Bay in the south. With thousands of magnificent islands, a masterpiece of the creation, Ha Long Bay has been recognized by UNESCO as a natural heritage of the world, the best destination of Vietnam.
Let's check the panoramic video of Ha Long Bay!
When you should travel to Ha Long Bay?
Ha Long City is a coastal region with two distinct seasons each year, winter from November to April next year, summer from May to October.
Due to the topographical features and geographical location, in Ha Long City, there are two distinct types of monsoon operating fairly northeast wind in winter and southwest wind in summer. Ha Long Bay is a closed area, so it is less affected by typhoons, the strongest wind in the storms is usually level 9 and level 10.
The best time to visit Ha Long Bay is in the summer (May – October) when the Ha Long Bay weather is warm, less rainy.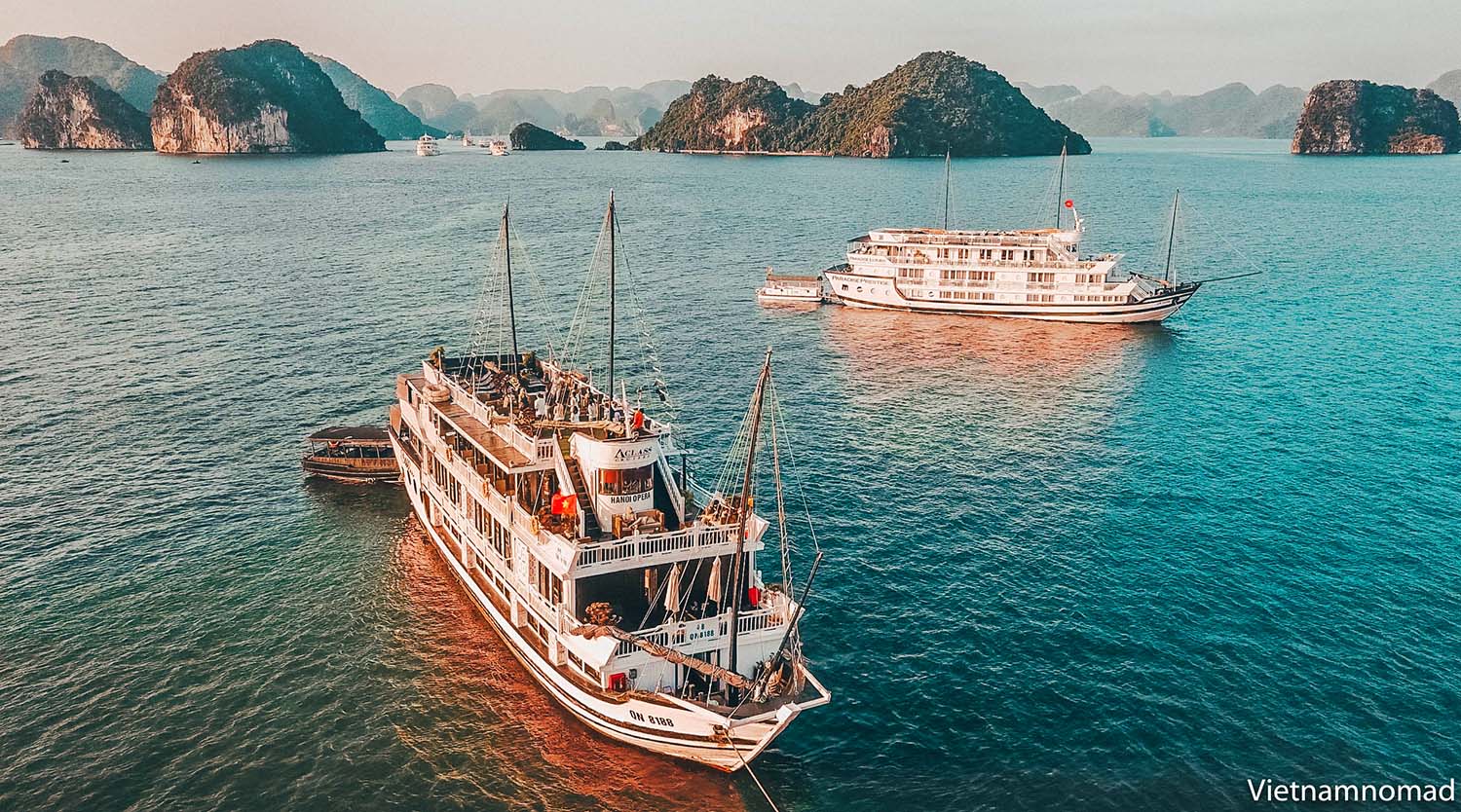 How to move from Hanoi to Ha Long Bay?
In general, the best way to get to Ha Long Bay is from Hanoi. From Hanoi, you have many options to go to this bay:
Bus from Hanoi to Ha Long Bay
Tourists can go to the big bus companies gathering at My Dinh bus station (5 am – 5 pm,travel time 3-4 hours). The buses are separated from 5 – 15 minutes to Bai Chay bus station in Ha Long, Quang Ninh. Ticket price ranges from 100,000 VND/seat to VND 200,000 VND/bed.
Train to Ha Long Bay
Currently, to serve the needs of visitors, the Ha Long Express tourist train departing from Gia Lam station has been opened. With a ticket price of about 5 USD per way for local tourists and 15 USD per way for international visitors, this train will take you to Ha Long within 5 hours.
Seaplane
At present, apart from common means of transport, tourists of Ha Long Bay coming from Hanoi also have another option to move which is modern and luxurious seaplanes of Hai Au Airlines.
The seaplane with two seats for pilots, 12 seats for passengers and spacious windows not only helps you save your time but also helps you to enjoy the great view from the plane, as well as capture memorable moments of Ha Long Bay from an altitude of 150 to 3,000 m above sea level.
The price of a seaplane is: 7,750,000 VND (330 USD)/one way.
Motorbike
If you choose a motorbike to travel, the shortest driving route from Hanoi to Ha Long is 155km with a travel time of about 3 hours. You can easily rent a motorbike in Hanoi from 150,000 to 200,000 VND / day. However, you need an international driver's license and always wear a helmet when driving.
Ha Long Bay is a beautiful natural wonder having more than 1,600 limestone islands and islets, with diverse biodiversity and fairy scenery. Among a lot of attractive places in Ha Long, We have sorted out the most outstanding and magnificent destinations that tourists should come at least once in their trip.
1. Ha Long Bay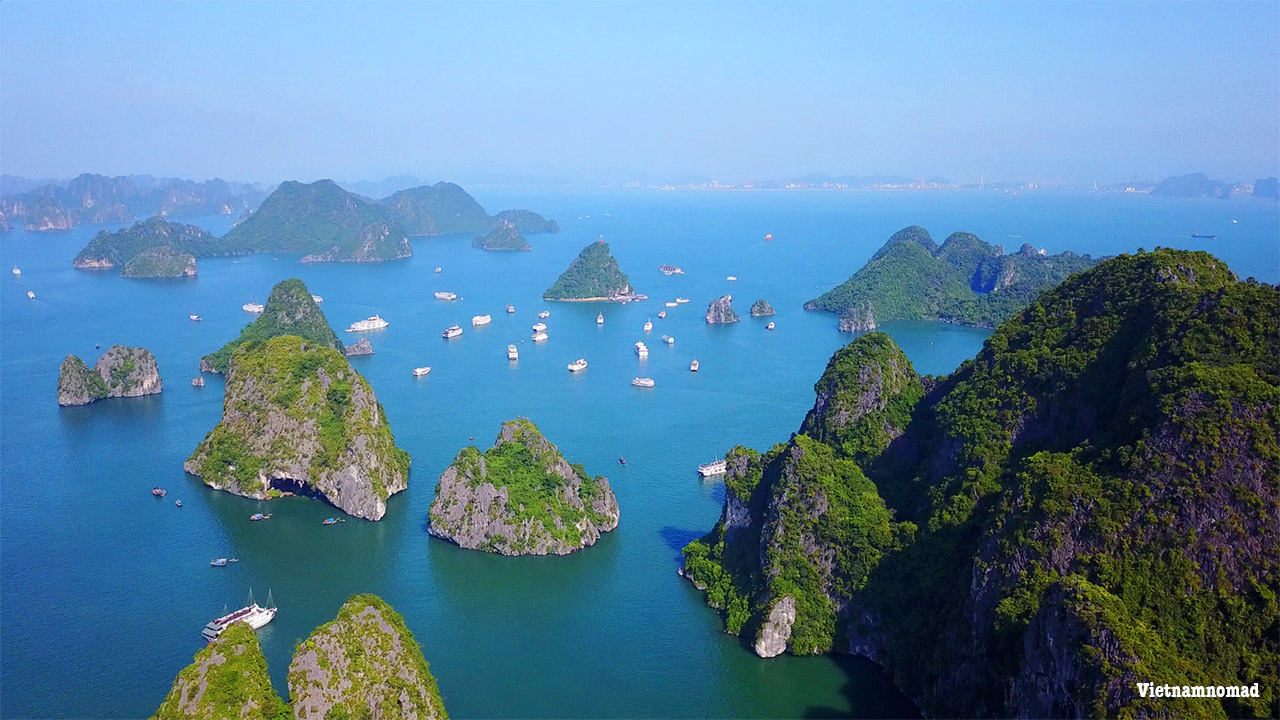 Ha Long Bay is recognized by UNESCO as a world natural heritage. This world-recognized natural heritage site has an area of ​​434 km2 including 775 islands. It looks like a triangle with three peaks, namely Dau Go Island in the west, Ba Ham Lake in the south, Cong Tay Island in the east next to the buffer zone and national monument.
To visit the Bay, you need to buy a ship ticket. You can single tickets for each person to join on a ship or you can hire an entire ship to visit. Tickets are sold individually, with three main routes to visit the Bay.
– Route 1 (4-hour sightseeing time): Hon Cho Da, Hon Dinh Huong, Ba Hang Fishing Village, Hon Trong Mai, Thien Cung Cave, Dau Go Cave.
– Route 2 (6-hour sightseeing time): Hon Cho Da, Hon Dinh Huong, Ba Hang Fishing Village, Hon Trong Mai, Sung Sot Cave, Ti Top Island, Me Cung Cave, Luon Cave.
– Route 3 (8-hour sightseeing time): Tourists will visit all tourist destinations of Route 1 and Route 2, the ticket price is 540,000 VND per guest.
Note:
– Ticket price is 290,000 VND per guest per route (including 250,000 VND for a ship ticket and 40,000 VND for entrance ticket at Tuan Chau port).
– Ticket price to visit Ha Long Bay is only valid for one time for one person in one day.
– Children under six years old are free of charge
– Venue to buy ticket: tourists can buy the ticket at Hon Gai Passenger Terminal, Tuan Chau Port. Another way is to buy at other destinations of Ha Long Bay or book a tour from the Travel Company to have a full-package tour (already including ticket price).
The tourist attractions you can visit in Ha Long Bay
When visiting Ha Long Bay by ship or boat, tourists will have the opportunity to enjoy the natural and unique beauty of many islands, islets and caves.
Trong Mai Islet
This is the iconic symbol of Ha Long Bay. With the shape looks like a pair of cuddling chickens, Kissing Cocks or Trong Mai islet is an indispensable destination when coming to Ha Long Bay. This islet is located in the Southeast of Ha Long Bay near Dinh Huong Islet with a height of about 10 meters above the sea level. Having stood on the verge of the immense waves of the Bay for millions of years, the islet is the ultimate poetic inspiration for many artists.
Sung Sot Cave
This is one of the largest and most beautiful caves of Ha Long Bay. The road to Sung Sot cave runs under the forest canopy and the craggy stone steps. When moving inside, tourists will see many things that are "staggering", such as stalactites, old banyan trees, luxuriant foliage, walls and roads which were carved as time went by.
Thien Cung Cave
Thanks to the hands of the Creator, Thien Cung Cave owns the magnificent natural beauty. It is also one of the most beautiful caves in Ha Long Bay. This cave is located in the north of Dau Go Cave, 25m high above the sea level. There are several stalagmites, sparkling stalactites with unique and diverse shapes. The cave's name means Heaven Cave because when visiting Thien Cung Cave, tourists may feel like they are entering a heaven palace filled with the beauty of magic.
Dau Go Cave
Dau Go Cave or "Wooden Head" Cave is the biggest cave in Ha Long Bay. It is about 5000m2 wide, located at an altitude of 27m above sea level. It was created two million years ago, having the same age as Thien Cung Cave. Looking from a far distance, the cave's door is blue with the shape of a jellyfish. Tourists will reach the door after going through 90 stone steps. Its dome is 25m high with hundreds of giant stalactites hanging down like a strange waterfall. This is a distinct feature of Dau Go Cave compared to other caves in Ha Long Bay. Moreover, as having the widely opened entrance, the atmosphere here is highly humid, making flora and fauna quite diverse.
Me Cung Cave
As appealing as its name implies, Me Cung Cave, also known as Maze Cave, is one of many famous attractions in Ha Long Bay. Me Cung Cave is located 25m above the sea level in Lom Bo Island, about 2km southwest from Titop Island. Archaeologists identified the cave as one of the oldest Ha Long cultural relics belonging to the preliminary Ha Long culture, from 7,000 to 10,000 years ago. Me Cung has a complex structure with several compartments and a corridor of around 100m. The space inside is divided into various small chambers. Squeeze through the narrow doorway, a gaping hole etched into the cliffside, and tourists may find themselves in an underground wonderland, with small rocky chambers and tumbling stalagmites and stalactites, lit-up by trickles of daylight and sprinkled with fossilized shells.
Ti Top Island
On Ti Top Island, visitors can both experience the relaxing time on the calm beach and explore the way to the top of the mountain to see the whole Bay with white sand, blue sea, boats weaving through unsteady rocky ranges of mountains in 4 seasons.
Stone Dog Islet
Stone Dog Islet is about 8 meters high and looks like a giant dog guarding the gate. Stone Dogs is a very familiar image for Vietnamese people. You could see them on both sides of the gate of every village, folk temple, pagoda, house… as people consider them as a guardian who protects residents' lives and fight against the bad and miasma which can be harmful to people. Besides, you can also see the Dog statue in some temples since it is considered as one god.
Dinh Huong Islet
Dinh Huong Islet, also known as Lu Huong Islet, is a gorgeous site of Ha Long Bay that draws the attraction of many tourists coming to Ha Long. It comprises only one huge stone. The islet has the shape which looks like an incense burner in the middle of the vast sea. When the tide goes down, Dinh Huong Islet exposes four pins underneath. Dinh Huong Islet seems to be a holy symbol dedicated to national heroes who sacrificed their lives to protect the country.
Ba Hang Fishing Village
Ba Hang is a simple fishing village located next to Thien Cung cave. Coming here, you can have a special experience that cannot be found anywhere else. The people here are very hospitable; thus, the place soon becomes one of the most favorite sites that visitors often come. In Ba Hang fishing village, there are only about 50 households, mainly engaging in catching fish to earn a living. Recently, they have gradually shifted to tourist services. The tourists can not only see the simple life of traveling on the boat throughout the year but also enjoy the scenery of wonderful waters.
Luon Grotto
Luon Grotto is a popular place to come during your Ha Long trip. The grotto leads you into a gorgeous and peaceful lake where you see a different place full of serenity inside. Taking a kayak tour through the grotto to explore the in-lake is such a great experience that you should not miss. The water is pure blue and smooth, opening to four sides with straight cliffs. From the beautiful bow-shaped gate, stalactites hang down. In the isolated lake, you will not only see the wild nature with diverse floras and faunas but also listen to the sound of wildlife.
2. Tuan Chau International Tourism Zone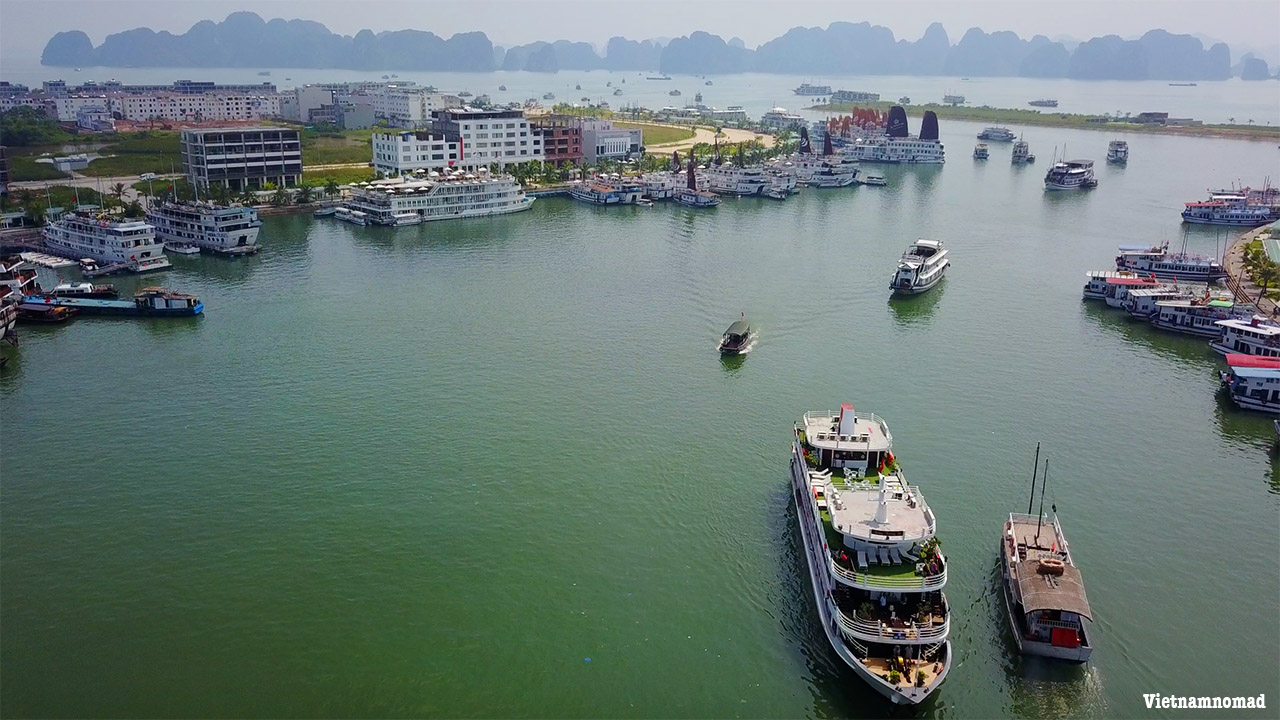 The tourism zone is built on Tuan Chau Island, which is one of the most beautiful islands in Ha Long Bay. This island is invested to construct a cruise ship port, restaurants, hotels, resorts, beach and attractive entertainment areas.
3. Bai Chay Tourism Zone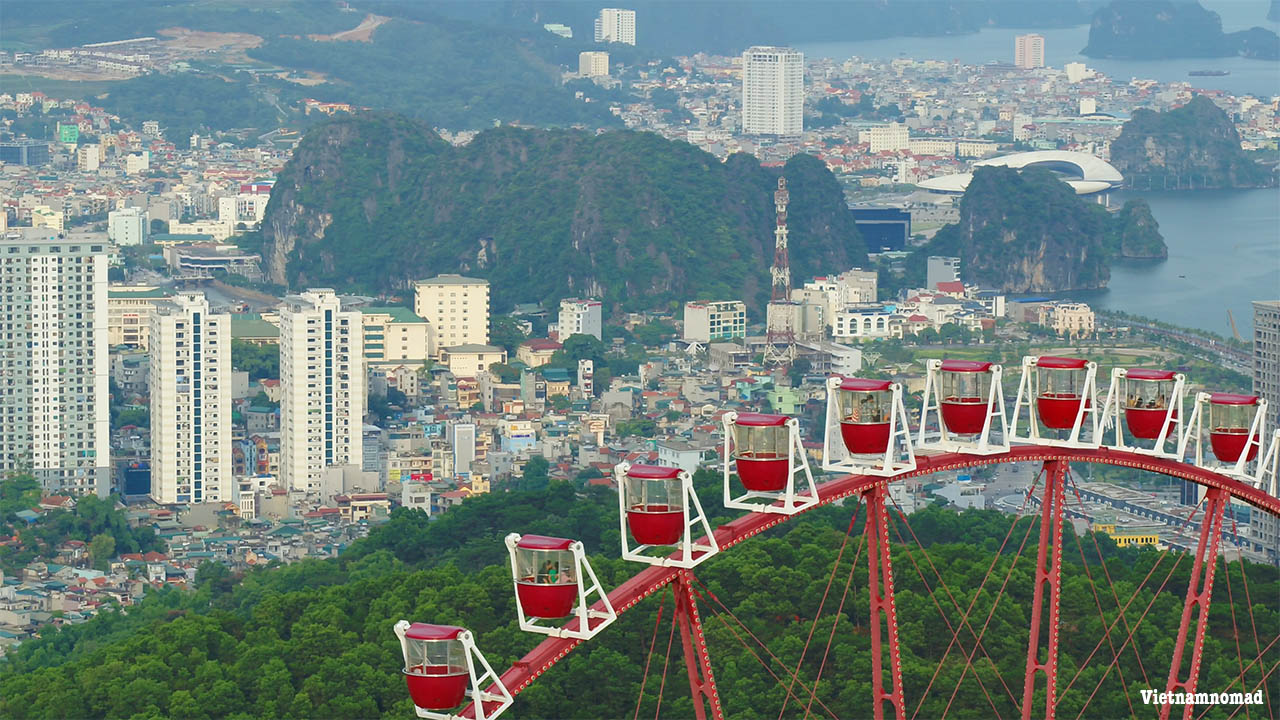 Bai Chay Beach is a beach of Quang Ninh land. It is an attractive tourist spot in the summer. As coming here, you can not only swim but also participate in many enjoyable, fun activities in Bai Chay.
Some exciting attractions in Bai Chay:
Bai Chay Beach: a long and beautiful beach in Vietnam, attracting many tourists to come here to swim in the summer.
Ha Long Night Market: a place to sell souvenirs such as handicrafts, wind chimes, key chains… made from seashells for tourists to buy as gifts. Seafood is also a favorite good of many tourists. The price at the night market is quite reasonable, but visitors should bargain before purchasing to avoid overpaying.
Bai Chay Bridge: tourists will feel the fresh wind and enjoy the sea beauty when going on the bridge. It is even more beautiful at night with sparkling electric light. Bai Chay Bridge not only plays a vital role in traffic but also creates the fanciful, shimmering and iconic symbol of Bai Chay.
4. Sun World Ha Long Complex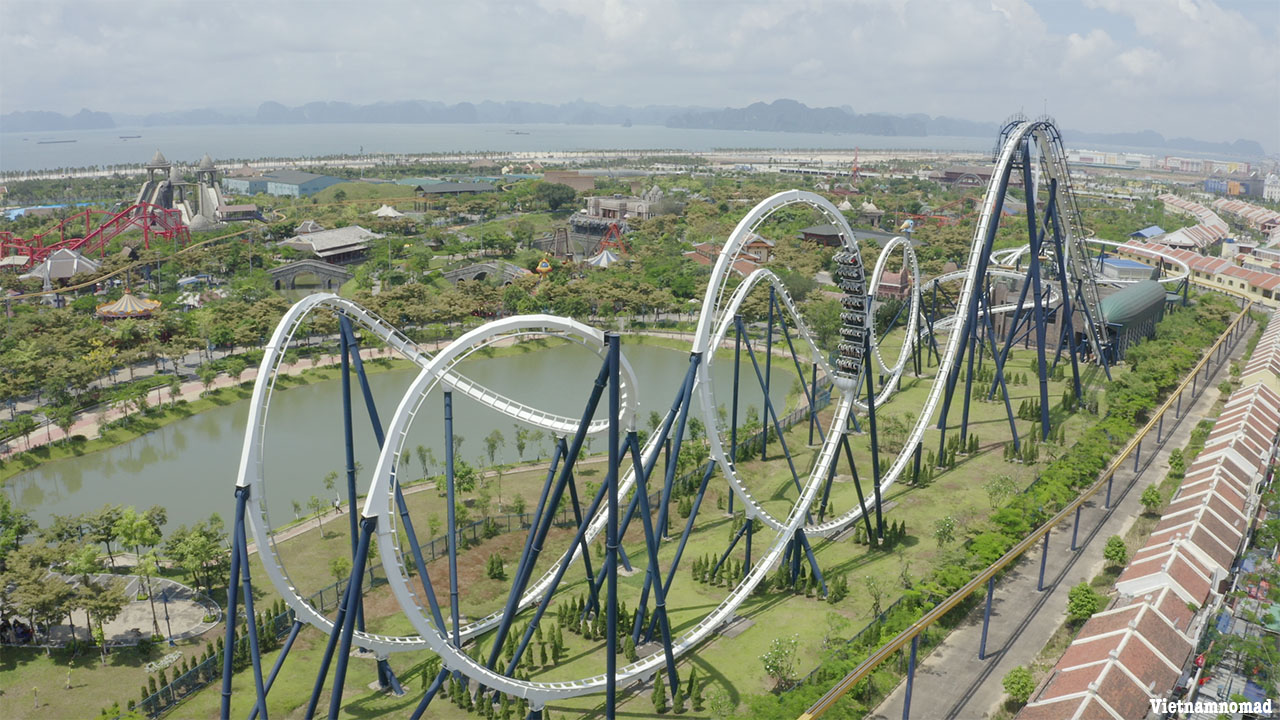 Spread over an area of 214 ha, Sun World Ha Long Complex is a world-class amusement park complex consisting of two main areas: the Coastal Amusement Park on Ba Deo Hill and Amusement Park on Ba Deo Hill, which is connected with a unique cable car system.
The coastal entertainment complex is located on the beautiful Bai Chay beach, with an area of up to 169 ha. There are numerous attractive entertainment facilities such as Dragon Park – an extreme game zone and the most amazing roller coaster of Viet Nam; a fascinating Typhoon Water Park named the Tornado Bay; and the unwinding coast of Ha Long with clear blue water and silky white sand beach.
The 2km-long cable car will take visitors to the Ba Deo Amusement Park – a complex of exciting attractions and enjoyable recreational activities. Some must-visits destinations on Ba Deo Hill are Zen Garden, also known as Japanese Garden, the indoor game zone of the Mysterious Castle and especially the Sun Wheel – one of the highest Ferris wheels of the world.
Apart from visiting Ha Long Bay and destinations in Ha Long and Bai Chay, tourists may also find it great to explore other attractions near Ha Long such as islands, pagoda complex which takes 1 to 3 hours to reach the place.
1. Quan Lan Island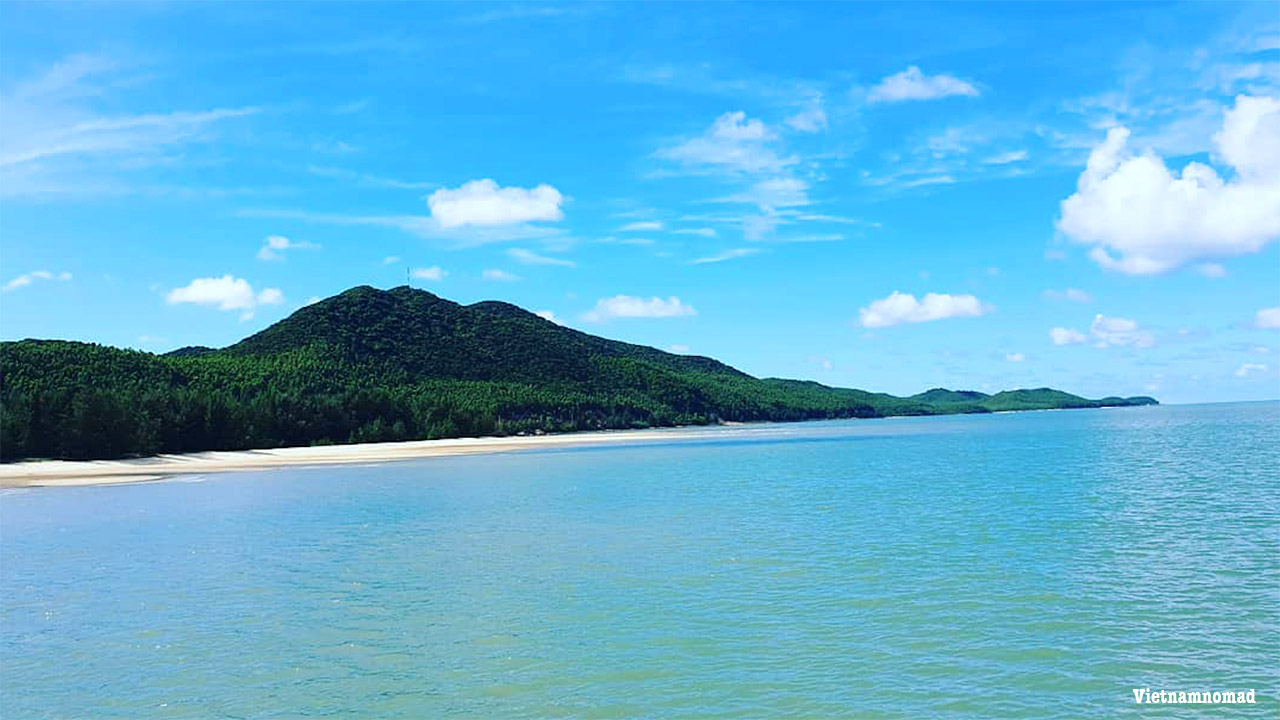 This is a pristine island located in Bai Tu Long Bay in Van Don Island District. To come here, tourists need to spend 2 hours sitting on a high-speed train at Cai Rong Port.
The first impression of tourists, also what makes Quan Lan Island different from many other islands in Northern sea is its blue water with beautiful white sand which is no less stunning than any beaches in the Central area of Vietnam.
2. Co To Island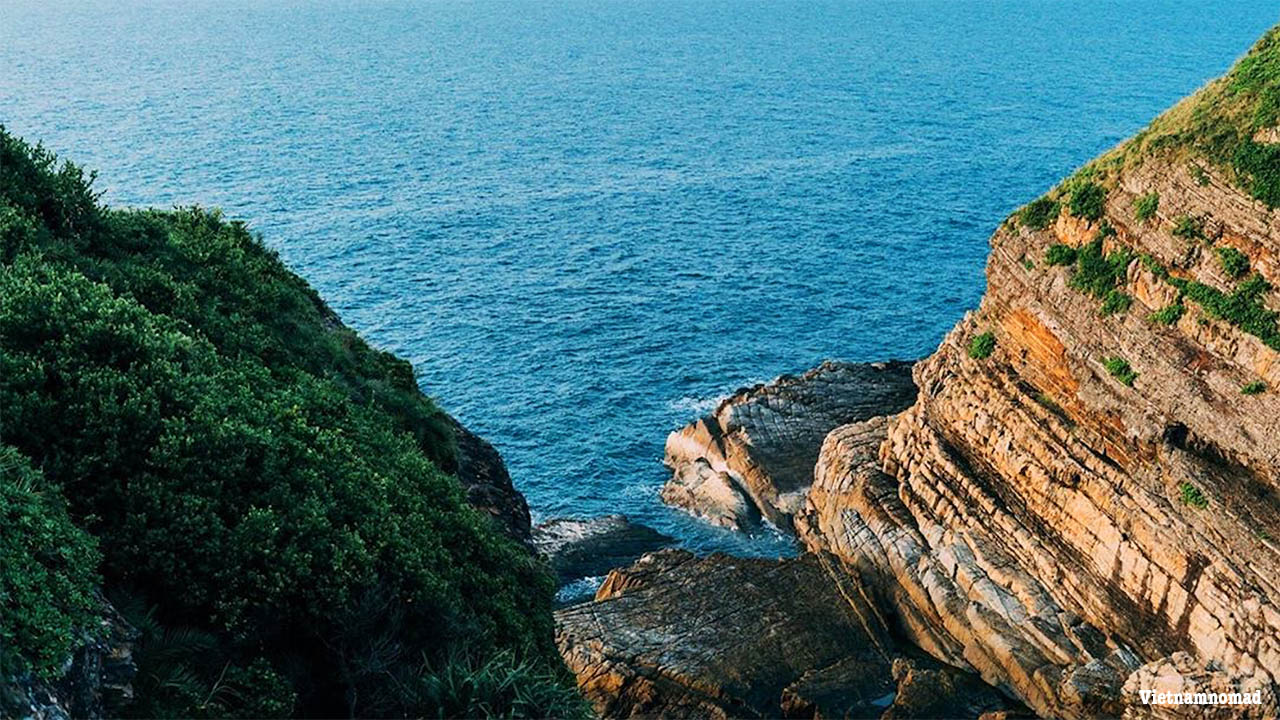 Co To Island will take tourists 3 hours going from Cai Rong port by boat. This is a favorite destination for many young people in the summer with several activities on the sea and also night camping. Co To Island still has many pristine features, clear water beaches, silky sand and developing tourist services.
3. Cat Ba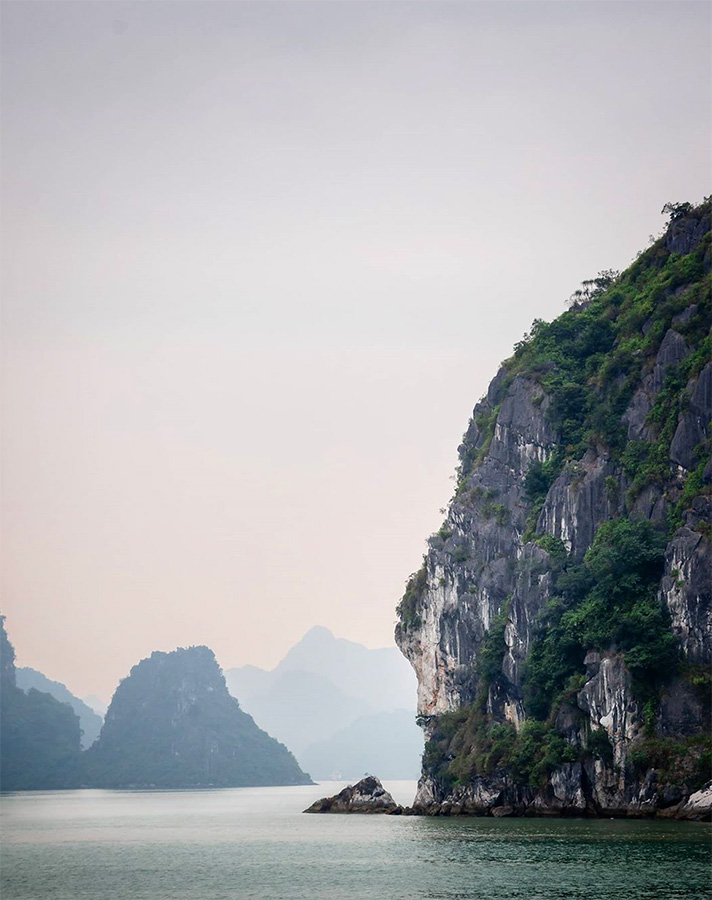 Cat Ba archipelago is a complex of 367 islands including Cat Ba Island in the south of Ha Long Bay, off Hai Phong city and Quang Ninh province. It is about 30 km from Hai Phong city center, 25 km from Ha Long. Cat Ba is a good place for less touristy (except during summer holidays) experience of the Bay's beautiful limestone islet. Tourists can explore the island, National Park. Rock climbing and other adventurous activities are also available.
4. Yen Tu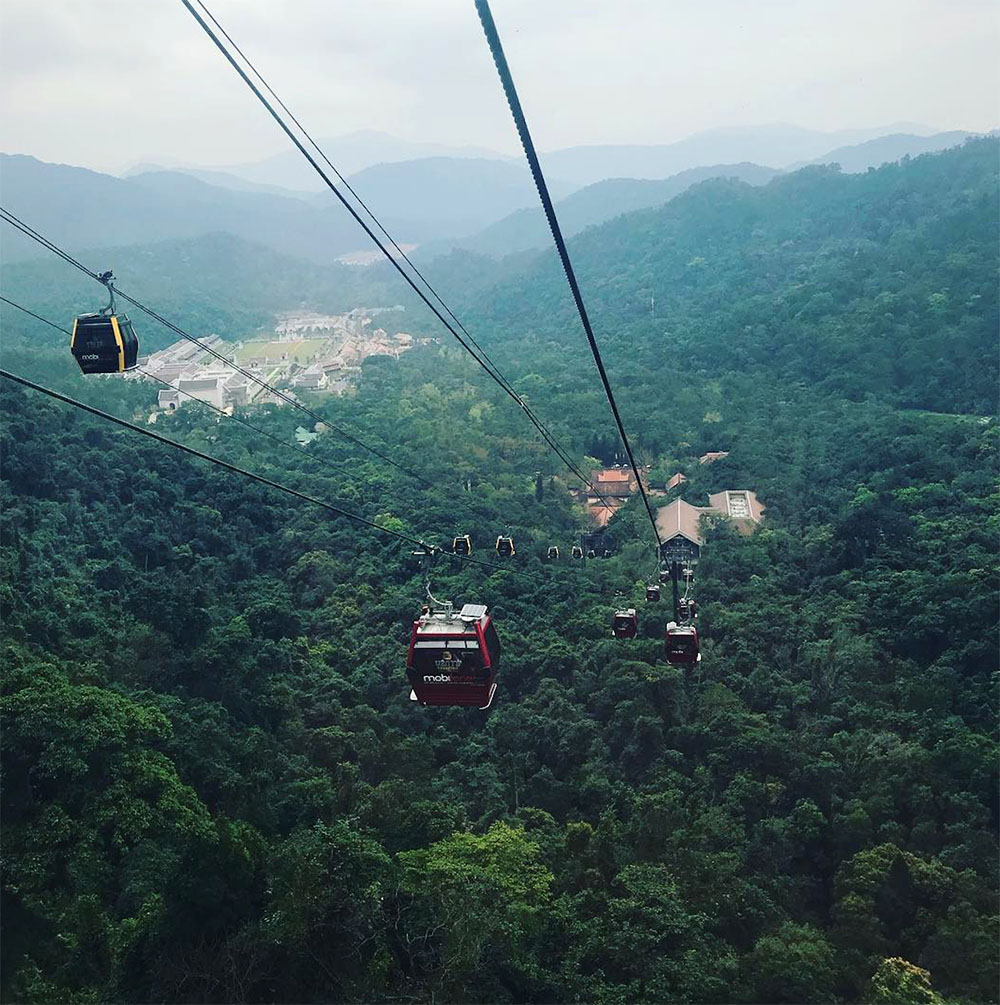 Yen Tu is a famous monument and famous scenic spot in Quang Ninh, which attracts millions of visitors every year. Yen Tu is 40km from Ha Long. This place still preserves many historical monuments with the name of Vietnam Buddhism ancestral land. It's originally a natural beauty destination, covered with clouds. There are two ways to reach Yen Tu Mountain's peak: trekking or taking the cable car. Coming to the pagoda complex of Yen Tu, tourists can enjoy the landscape here, offer incense and pray for peace, health, happiness and prosperity for them and their beloved ones.
Ha Long tourism in particular and Quang Ninh tourism in general have not only vast sea and sky but also many unique culinary specialties with the salty taste of the sea. Here are some specialties that visitors cannot ignore when traveling here.
1. Xoi Trang Cha Muc
Also known as squid sausage, Cha Muc is the most famous and popular food of Quang Ninh province and also listed in the top 50 Vietnamese specialty dishes. The mystery behind the unique juicy flavor of Cha Muc is the way squid meat is ground up patiently by hand. It is then fried in medium heat until the meat turns golden yellow. The crunchy and delicate texture of this food goes well with Banh Cuon (steamed rice) or Xoi (boiled, sticky rice). White sticky rice, made from sticky, fresh and glutinous rice, is served with golden grilled chopped squid, dipping in sauce with delicious pepper.
Price: Grilled chopped squid can also be purchased at a price of about 350,000 VND/kg. Each serving of Xoi Trang Cha Muc in popular shops costs from 30,000 to 50,000 VND.
2. Banh Cuon Cha Muc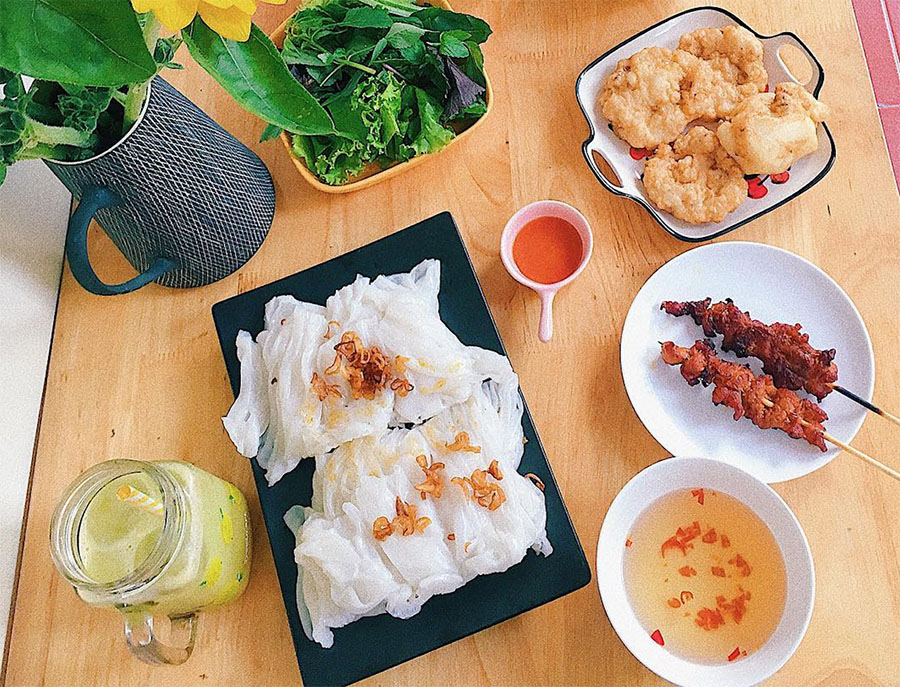 Banh Cuon Cha Muc (Vietnamese steamed rice rolls with grilled chopped squid) is made from steamed fermented rice batter filled with ground pork, minced mushroom, jicama, and shallots. The dish has fried onion on top. Banh Cuon is best served with Cha Muc, Cha Lua (Vietnamese pork sausage), some sliced cucumbers. The rolls are dipped in a sweet, salty sauce adding some chili slices and garlic which creates an unforgettable taste. Tourists can easily find Banh Cuon Cha Muc in Ha Long, and especially there is a row of streets specializing in making this dish at the edge of Bach Dang cinema.
3. Sa Sung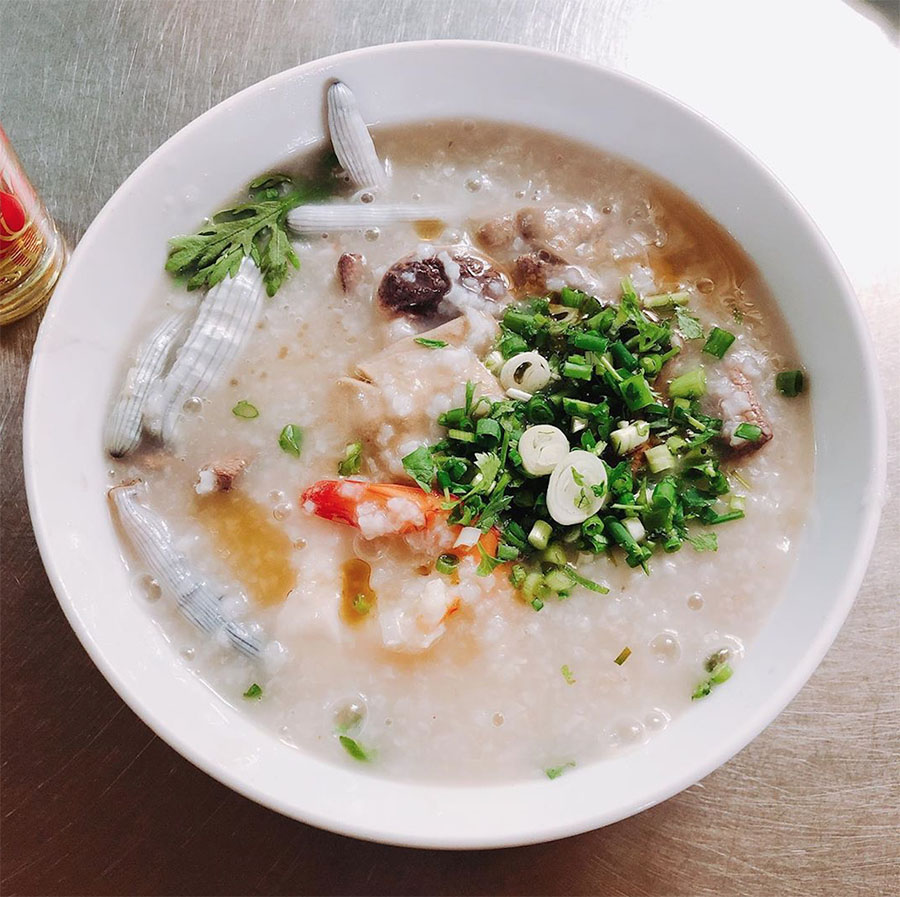 Sa Sung is one of the most expensive seafood and can be found only in Ha Long. Sa Sung is a kind of sea worm which lives under the sand under the sea. There are a lot of ways to cook Sa Sung such as frying it with garlic or pineapple, grilling with chili salt, baking with chili, lettuce or just eating raw with mustard. Some shops cook noodle soup with Sa Sung to increase the sweetness of the soup. Sa Sung is a men's favorite dish when drinking with beer. The price of Sa Sung is very high, 4,000,000 VND per kilogram.
4. Sam Bien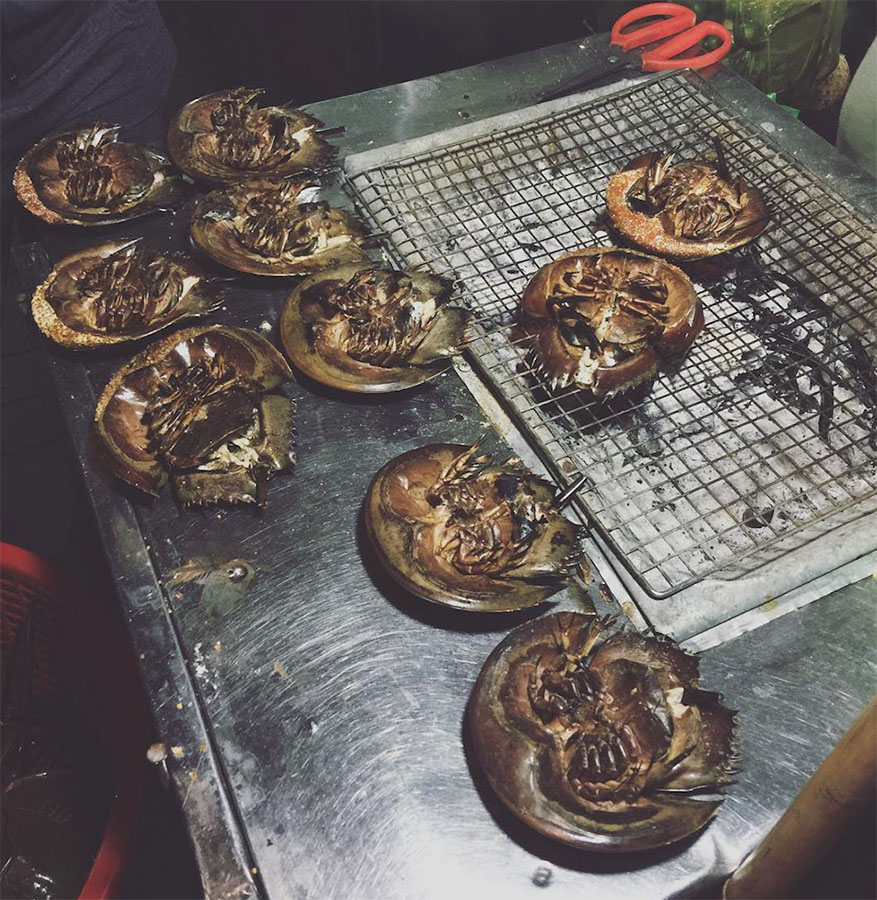 Sam Bien (Sam) is a famous species of seafood in this bay, it is a crustacean, both a Sam taking only the abdomen and the egg. After being prepared, Sam can become an ingredient of many attractive and nutritious dishes such as stir-fried sam, Sam salad, fried Sam lemongrass chili, crispy Sam eggs, and grilled Sam.
Sam is a popular dish in Ha Long, present at many restaurants here with prices from 100,000 – 200,000 VND/dish.
5. Others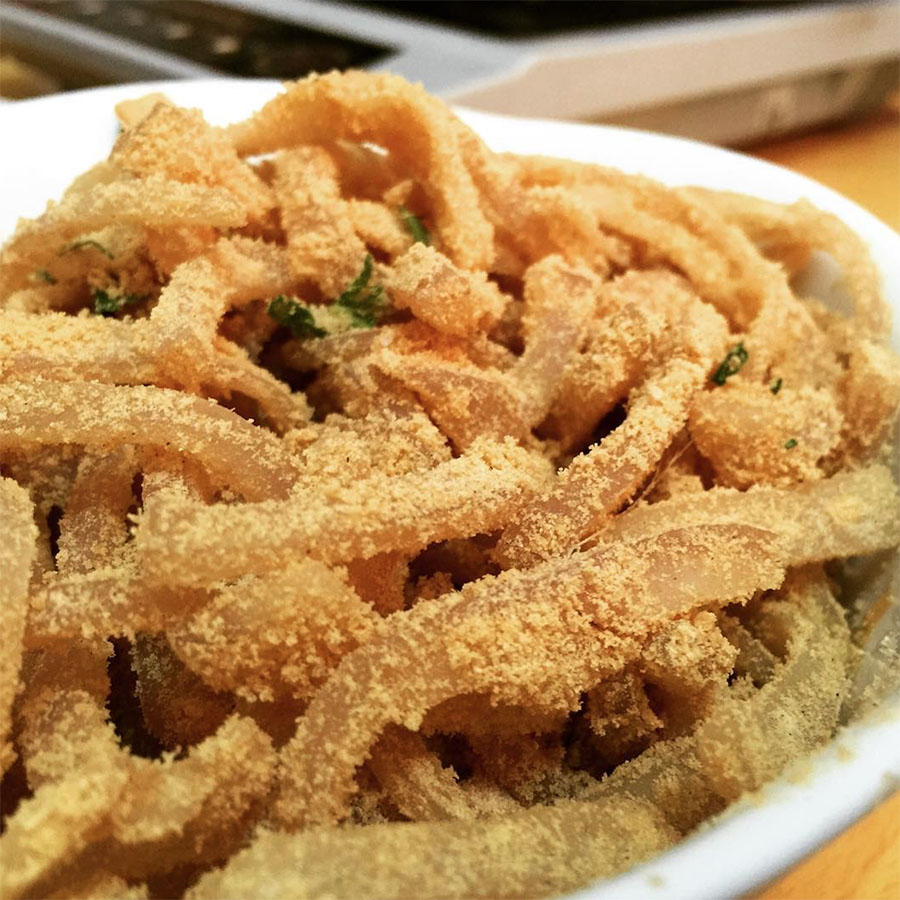 1. Banh Gat Gu
Banh Gat Gu or Nodding cake is made from the same rice flour as Banh Cuon. Rice is soaked and then ground into flour. The unique thing is that when grinding flour, people often add cold rice to coat the cake, making a fluffy but smooth texture that comparable kinds of cakes don't have. Then, it is steamed, poured into a thick layer of bread, rolled without filling and sliced into pieces. To eat Banh Gat Gu, people dip it in a special sauce made from chicken fat, dried onion, and ground pork.
2. Nem Chua, Nem Chao 
The ingredient making Nem Chua and Nem Chao are all common things. Pork skin is finely grated, Thinh flour is made of beans or roasted rice and pounded roasted peanuts, all are mixed well together. The making process is really simple, but with the secret of processing, mixing and making the sauce, the countryside disk becomes new and attractive.
3. Ruou Nep Ngam Hoanh Bo (Hoanh Bo soaked wine rice) 
The wine is made from local specialty sticky rice. No pounding sticky rice is cooked and incubated. Once it is fermented and got to the point, people soak it with leaf ferment taken from Hoanh Bo forest. After a while, it turned into wine, the wine was extracted into jars to drink gradually, few small cups per meal. When guests come, people often bring the jar to invite them. Ruou Nep Ngam Hoanh Bo has a sour, sweet taste which has the advantage of stimulating digestion and refreshing very well, especially in the summer.
Tips: 
You can buy a tour to explore Ha Long from Hanoi, the price is about 100 USD for 2 days 1-night tour in Ha Long Bay.
From Ha Long Bay, you can tạke a bus to Ninh Binh, explore the tourist triangle Hanoi, Ha Long Bay, and Ninh Binh is a great thing when coming to Northern Vietnam.
Remember to download the tourist map of Ha Long and Vietnam Map, it will be a great help for you
We wish you a happy journey and memorable experience with the detailed Ha Long Bay travel guide above!
Meet in Ha Long Bay!