Ha Long Bay is undoubtedly the most sought-after destination in Ha Long City. It is best known for its magnificent natural limestone formations. However, the true beauty of Ha Long Bay is hidden within and beneath these giant rocks. Ha Long Bay is home to an extensive collection of caves, islets, and villages. With a vast area of 434 square kilometers and thousands of towering karsts, it might take a lifetime to explore every corner of this natural wonder. The likelihood is that you would have an average of 2-3 days, so here are some recommended routes (in case you do not book a tour from Hanoi) and natural highlights you should not miss while staying in the bay.
Ha Long Bay routes and tickets
Tickets are available at two international ports in Ha Long City: Tuan Chau International Port and Ha Long International Port.
Tuan Chau International Port is situated on Tuan Chau Island, which is 12 kilometers from the center of Ha Long City.
Ha Long International Port has been operational since 2019 and is located in the heart of Ha Long City. While it is more accessible, it has fewer active boats and ships compared to the other port.
To avoid confusion, it's worth noting that cruise tickets consist of three parts. The left side of the ticket covers the daily entry fee to the port itself, which costs 40,000 VND (approximately 1.7 USD) for all tickets. The right section of the ticket displays the price of the chosen tour route, ranging from 290,000 to 790,000 VND (12.3 to 33.6 USD). Lastly, the top of the ticket lists the names of the attractions you will visit during your tour.
Five daily tours are available to explore Ha Long Bay. Each tour is designed around a specific theme with designated stops and activities on the bay. Here's a summary of the five routes, including their prices, attraction names, and themes, to help you select the most suitable option based on your needs and interests.
Route 1: Van Canh Reserve Park (4 hours)
This is the shortest route and is suitable for a half-day visit. Highlights of the route include cave sightseeing and kayaking. Tickets include visits to Thien Cung Cave, Dau Go Cave, Cho Da Island, Ba Hang Cave, Dinh Huong Island, and Trong Mai Island. Ticket price: 290,000 VND (12.3 USD)/4 hours.
Route 2: Caves Reserve Center (6 hours or 3D2N)
This route is available as both half-day tours or 3-day 2-night tours. It's the only route that offers a comprehensive experience, including cave visits, kayaking, swimming, sightseeing, and overnight stays on the bay. The route includes visits to Soi Sim Island, Ti Top Island, Sung Sot Cave, Bo Nau Cave, Luon Grotto, Ho Dong Tien Cave, Trong Cave, Trinh Nu Cave, and Me Cung Cave. Ticket price: 290,000 VND (12.3 USD)/6 hours or 790,000 VND (33.6 USD)/3D2N.
Route 3: Sea Culture Reserve Center (6 – 8 hours, 2D1N, or 3D2N)
This route emphasizes cultural experiences and cave exploration. Like Route 2, you can choose between half-day tours or 3-day 2-night tours for an overnight experience on the Bay. The route includes visits to Cua Van Floating Cultural Center, Rung Truc Zone (Bamboo Forest Zone), Tien Ong Cave, Ang Du Oasis, Ba Ham Lake, and Ba Men Temple. Ticket price: 240,000 VND (10.2 USD)/6-8 hours or 540,000 VND (23 USD)/2D1N or 690,000 VND (29.4 USD)/3D2N.
Route 4: Sea Entertainment Reservation and Development Center (8 hours, 2D1N, or 3D2N)
This is the longest route and focuses on relaxation experiences. It offers a wide range of enjoyable activities to enhance visitors' vacation experiences, including cave exploration, visits to floating fishing villages, and kayaking. Specifically, this route includes visits to Co Cave, Thay Cave, Cong Do Island, Cap La Cave, Tung – Ang Cong Do Bioreserve, Hon Xep Park, and Vung Vien Floating Fishing Village. Ticket price: 240,000 VND (10.2 USD)/8 hours or 540,000 VND (23 USD)/2D1N or 690,000 VND (29.4 USD)/3D2N.
Route 5: This package offers a similar route to Route 1, with an additional stop on Cat Ba Island. However, this route is not frequently operated due to low demand.
In summary, Route 1 is best suited for a half-day tour. Routes 2, 3, and 4 offer overnight stays on the bay, with Route 2 providing the most comprehensive experience, Route 3 focusing more on cultural experiences while limiting water sports activities, and Route 4 catering to more luxurious and leisurely vacations.
Important notes
The ticket prices mentioned above do not include boat rental fees. The prices listed will be supplemented by a boat rental fee, which varies based on the duration of the chosen route.
Route 1 (4 hours): 150,000 VND (6.4 USD)/pax
Route 2 (6 hours): 200,000 VND (8.5 USD)/pax
Routes 3 and 4 (8 hours): 350,000 VND (15 USD)/pax
Routes 1 and 2 are the most popular choices for day cruising trips, while routes 2 and 3 are frequently selected for overnight tours.
Children under 1.2 meters tall or under 7 years old enjoy free entry (a boat rental fee is applicable).
Children aged 7 to under 16 years old receive a 50% discount (a boat rental fee is applicable).
Tickets are valid only for the day of purchase.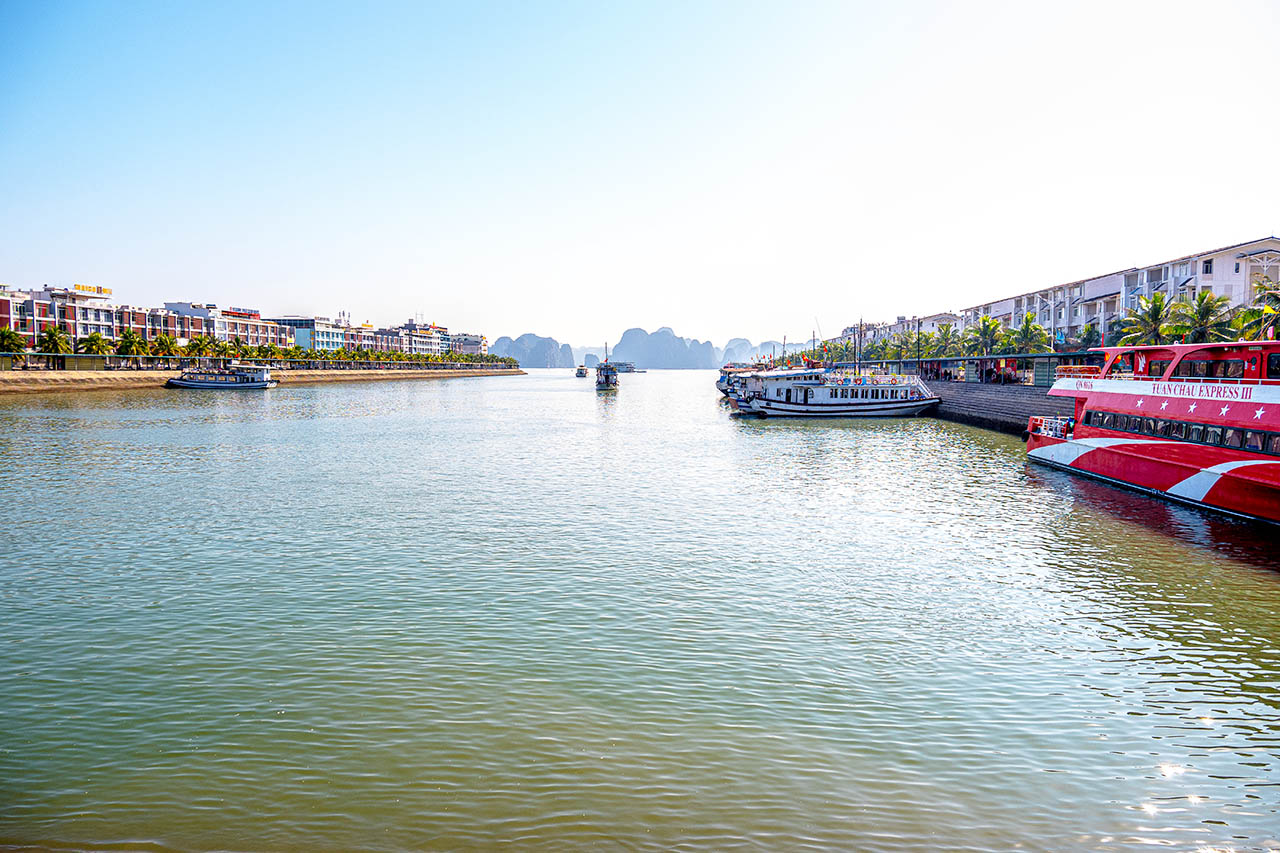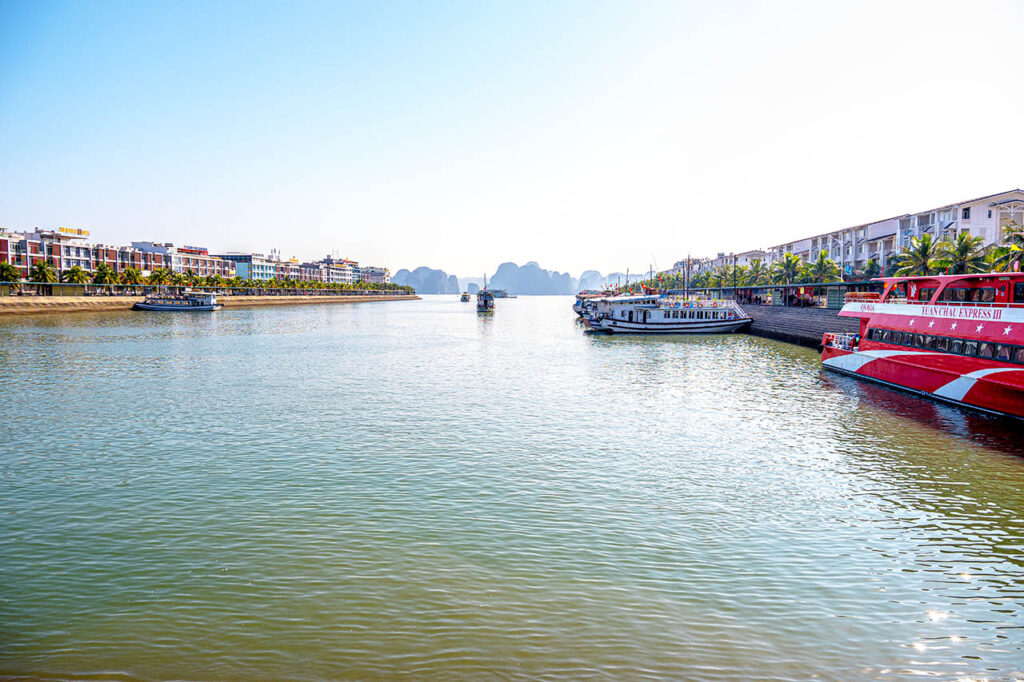 The highlighted attractions on Ha Long Bay
Trong Mai Islet: Two giant rocks resembling cuddling or kissing chickens have become the enduring symbol of Ha Long Bay. This islet, set amid the expansive waters of the bay, has inspired countless artists with its romantic essence against the backdrop of the natural landscape. Keep an eye out for this iconic sight as you travel past it.
Cua Van Fishing Village: Selected as one of the top 10 most beautiful villages on Earth by the Road Affair Blog, Cua Van Fishing Village is a quaint settlement nestled amidst serene waters and shielded by towering limestone formations. To preserve the tranquility, the best way to approach the village is by rowing boats or kayaks. This fishing village offers insight into the locals' lives in humble floating houses, practicing aquaculture harmoniously with nature. Visitors can also participate in fishing trips and try their hand at catching fish and squids using traditional tools and techniques. A visit to this serene and surreal village is a must for a complete bay experience.
Luon Grotto: Carved into a massive rock wall facing Turtle Island, Luon Grotto resembles a gateway to a hidden realm. Once you row through the entrance, you're greeted by a peaceful emerald lagoon. This location offers a perfect opportunity to immerse yourself in nature – the lush vegetation adorning ancient limestone formations rising majestically from the emerald sea.
Sung Sot Cave: Translating to "Cave of Surprises," Sung Sot Cave lives up to its name, leaving a remarkable impression on visitors as they step inside for the first time. Situated at the heart of the bay, it stands as one of the grandest caves in Ha Long Bay's extensive collection. The cave is divided into two parts: the Opera House and the Botanical Garden, with names that become clear once you enter these chambers and witness the awe-inspiring wonders of nature.
Thien Cung Cave: Known as the "Cave of Heaven," Thien Cung Cave is often hailed as the most spectacular among all the bay's caves. This is owing to its expansive chamber and the multitude of unique stalagmites and sparkling stalactites. Due to its complex structure, a staircase system was introduced in 1998 to ensure convenient and safe exploration, making it the first cave in Ha Long to receive proper maintenance and development.
Ho Dong Tien Cave: Nestled within limestone formations and adorned with lush vegetation, Ho Dong Tien (Dong Tien Tarn) is a hidden mountain lake connected to the nearby Ho Dong Tien Cave. Legend has it that even fairies couldn't resist the heavenly landscapes of this place, descending to bathe in its crystal-clear waters. This story lends the lake its name, which means "Fairy's Cave." The stalactite formations within this lake and cave system are young and constantly evolving. It's also home to endangered species, and if luck is on your side, you might spot the Goniurosaurus catbaensis, a reptile native to the island. The indescribable beauty and biodiversity of this place must be witnessed firsthand to be truly appreciated.
Titop Island: This small island is renowned for its crescent-shaped beach with fine white sand, hence its original name – Cat Nang or "Sand Lady." In the late 19th century, President Ho Chi Minh, along with Soviet cosmonaut Gherman Titov (the second human to orbit Earth and the fourth to venture into space), visited this breathtaking island. In honor of this historical occasion, Uncle Ho renamed the island after the distinguished cosmonaut. Over time, the name "Titov" transformed into "Titop," as pronounced in Vietnamese. A short trail leads to the mountaintop, offering a panoramic 360-degree view of the bay.
Dau Go Cave: Accessible via 90 stone steps, the cave entrance resembles a giant blue jellyfish mirroring the sky – a captivating fusion of the ocean and the heavens. The cave's roof reaches a height of 25 meters, providing a wide-angle lens into the extraordinary formations of rocks and stalactites within. It was once referred to as the "Grotte des Merveilles," or "Cave of Wonders," by the French travel guidebook Merveille de Monde. The cave's grand scale offers a tour of the world's wonders and satisfies your innate curiosity for exploration.
Soi Sim Island: Named after native plants on the island that bloom with vibrant purple flowers, Soi Sim Island is a destination that warrants ample time. It's not only a natural marvel to admire but also a recreational haven featuring thrilling activities. These include ascending the staircase to the mountaintop to witness the enchanting sunset and venturing onto the open waters with a jet ski.
Me Cung Cave: Situated 25 meters above sea level, this modest cave holds more mysteries and legends than one would anticipate. The "Cave of Maze," as it translates, dates back to the New Stone Age, spanning from 7,000 to 10,000 years ago. Today, it provides shelter and sustenance for a diverse array of flora and fauna.