Ha Long City was established in 1993 with the aim of serving as the center of political, economic, and tourist life in its main province, Quang Ninh. Despite being named after the well-known UNESCO World Heritage Site it possesses – Ha Long Bay – Ha Long City has much more to offer. The region is blessed with abundant natural resources and features complex geographical formations that create diverse landscapes, with Ha Long Bay being its most recognized creation.
Ha Long Bay, a World Heritage Site located off the northeastern coast of Vietnam, is renowned for its stunning natural beauty. It is home to approximately 1,600 islands and islets covered in lush greenery, creating a breathtaking seascape of deep blue channels and limestone pillars. Most of these islands remain untouched by human habitation, making them havens for diverse wildlife both in the sea and on land. Encompassing a vast area of over 1,500 square kilometers, the bay provides an ideal setting for various outdoor activities and nature exploration.
Ha Long Bay captivates avid travelers not only with its remarkable biological features but also with its rich history and mythology. According to legend, when the Viet people faced invasion, a thunder of dragons descended from heaven to defend them. These majestic dragons unleashed gems and jades, which transformed into giant rock pillars and formed a protective wall around the land. They also breathed divine water, creating the ethereal azure blue waterways that grace the bay. Instead of returning to heaven after vanquishing the enemies, the dragons chose to make Ha Long Bay their home, dedicated to safeguarding their people. This origin story gives rise to the sacred name of Ha Long Bay – the bay of descending dragons. Now, let's delve into the captivating details that Ha Long Bay has to offer.
Where is Ha Long City?
The city of Ha Long is located in the Quang Ninh Province, situated in the northwest of the Gulf of Tonkin and approximately 155 kilometers southeast of the capital city, Hanoi. Ha Long Bay itself is bordered by the enchanting Bai Tu Long Bay to the northeast, the stunning Cat Ba Island to the southwest, a long-stretching coastline to the west and northwest, and it faces the Gulf of Tonkin to the south and southeast. The bay's strategic geographic location ensures excellent accessibility for transportation and offers breathtaking landscapes.
When should you travel to Ha Long City?
Ha Long City is wholly influenced by a tropical monsoon climate with two seasons: a hot and rainy season from May to October and a cool and dry season from November to April.
During the hot and rainy season, temperatures can rise up to 35 degrees Celsius, and the humidity can reach a maximum of 90%, making it one of the most humid cities in Vietnam. The rainy season brings downpours, which are essential for the thriving of the diverse fauna and flora of the bay. However, the bay also faces annual tropical storms with strong winds and heavy rain.
The temperature in the cool and dry season revolves around 20 degrees Celsius and can drop to 10 degrees Celsius. Ha Long City and Ha Long Bay itself are likely to experience foggy conditions during these months, adding to the sublime natural beauty of the bay.
The best time to visit Ha Long is from November to April when the weather is mild and pleasant and the visibility is ideal for sightseeing the mesmerizing seascape. The rest of the year, despite the summer heat, can offer visitors exceptionally beautiful sunsets created by the warmer weather.
Overall, it can be said that the ideal time to visit the city depends on personal preference and convenience. It is recommended to frequently check weather forecasts to avoid severe weather conditions. However, regardless of the season, Ha Long City with its marvelous bay will leave travelers in awe of its beauty year-round.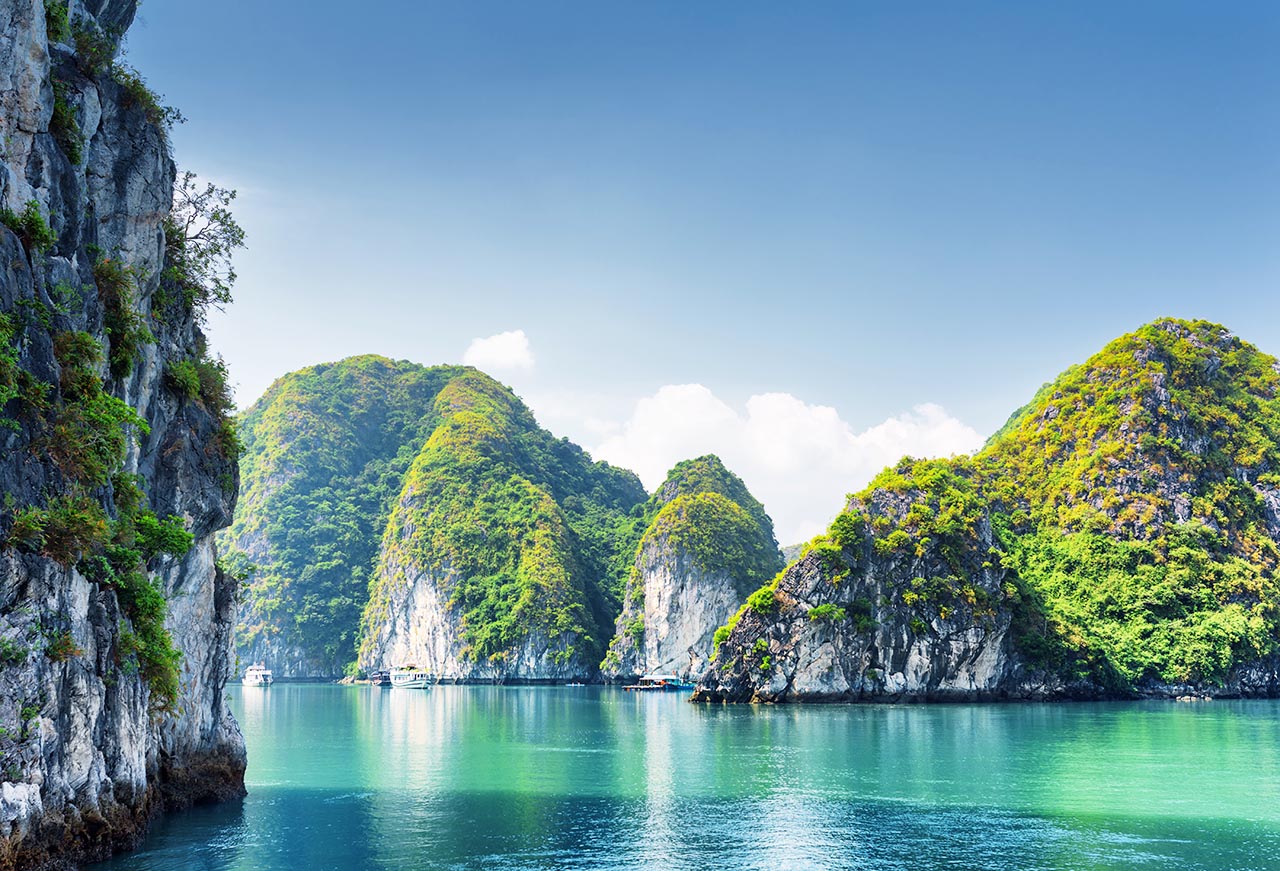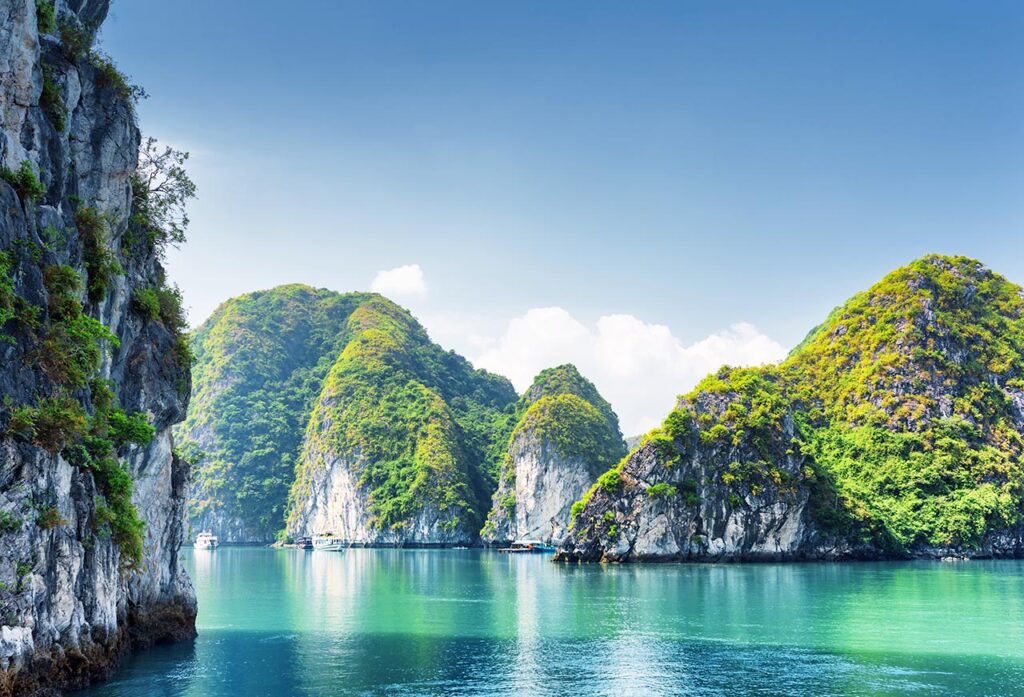 How to go to Ha Long City?
Discover transportation deals for Ha Long from our partners >
There are three international airports within driving distance of Ha Long Bay: Noi Bai International Airport (Hanoi), Van Don International Airport (Quang Ninh), and Cat Bi International Airport (Haiphong). In addition, Highway 5B and National Road 18 provide convenient overland transportation options from Hanoi to Ha Long City. However, it is highly recommended to depart from the capital, Hanoi, as it offers a wider range of transportation options, including buses, private cars, and motorbikes.
Shuttle buses
Most shuttle buses offer free pick-up and drop-off in the Old Quarter (Hanoi), but it requires booking in advance. If you haven't decided on the departure time, you can go directly to the bus station and purchase the earliest tickets from the ticket booth. Many bus companies operate on this route, with buses departing every 30 minutes. The three major bus stations that offer rides to Ha Long City are:
My Dinh Station: 20 Pham Hung Street, My Dinh, Tu Liem District, Hanoi
Gia Lam Station: 09 Ngo Gia Kham Street, Long Bien District, Hanoi
Giap Bat Station: 06 Giai Phong Street, Hoang Liet, Hoang Mai District, Hanoi
The buses typically have 16-18-21-45 seats and basic amenities such as curtains and air-conditioning. Be prepared for a bit of a crowd and seats that are somewhat uncomfortable but bearable for a 2.5-hour drive. They usually have a short stop halfway for restrooms and stretching. This is the best option for those on a tight budget and with a more flexible schedule.
Duration: 2.5 hours
Ticket price: 80,000 VND – 120,000 VND ($3.4 – $5.1)
Limousine buses
Limousine buses, often referred to as luxury buses, are well-equipped minivans with 9 spacious seats. The buses are clean and super comfortable for long drives. They offer free pick-up and drop-off in the city center and the Old Quarter. However, on weekends, some streets in the Old Quarter are closed to pedestrians, so you may need to take a short walk to the assigned pick-up point.
Limousine buses operated by many companies run from 5:00 AM to 8:00 PM daily and depart every 60 minutes. A significant advantage of this transport option is that they also provide the Noi Bai International Airport – Ha Long City route, making it ideal for direct travel between Hanoi and the bay in either direction. Bus tickets can be booked online, or if you are in town, it will be easier to book them from a travel agency, which can be found anywhere in the Old Quarter.
Duration: 2.5 hours
Ticket price: 280,000 VND – 300,000 VND ($12 – $12.8)
Private cars
This type of transport gives you total privacy and flexibility. They pick you up wherever you are and stop on the way for sightseeing as you wish. This is ideal if you travel in groups and would like to go at your own pace.
Duration: 2 – 2.5 hours
Cost: depending on the car type and the trip length. Details are listed in the table below.
| | | | | |
| --- | --- | --- | --- | --- |
| Type of car | One-way | 1-day round trip | 2-day round trip | 3-day round trip |
| 4 seats (3 pax) | $55 | $70 | $105 | $130 |
| 7 seats (5 pax) | $65 | $75 | $110 | $150 |
Notes:
The cost is subject to currency exchange rates and may vary slightly among service providers.
The cost includes petrol and parking fees.
The cost does NOT include tax and toll fees.
Motorbikes
Going on a motorbike trip is the most thrilling and exciting way to travel from Hanoi to Ha Long City. The route is around 150 kilometers following Highway 18. All you need to do is to rent a motorbike from the travel agencies around the Old Quarter, have your driver's license registered, put on a big helmet, grab your bag, and get your adventurous spirit rolling. Motorbike rent is about 150,000 VND – 200,000 VND per day ($6.4 – $8.5). The roads are well-paved all the way; however, it requires a certain level of confidence to drive along the flow of traffic.