Ha Long City covers a vast territory with many attractions both on land and on the sea. If you only have 1-2 days to spend in this city, the top priority is, of course, Ha Long Bay. However, Ha Long City is truly an underrated and authentic destination that is often overshadowed by the prestigious bay. We hope this guide will give you a more thorough view of the city of Ha Long and more options of activities to choose from.
1. Ha Long Bay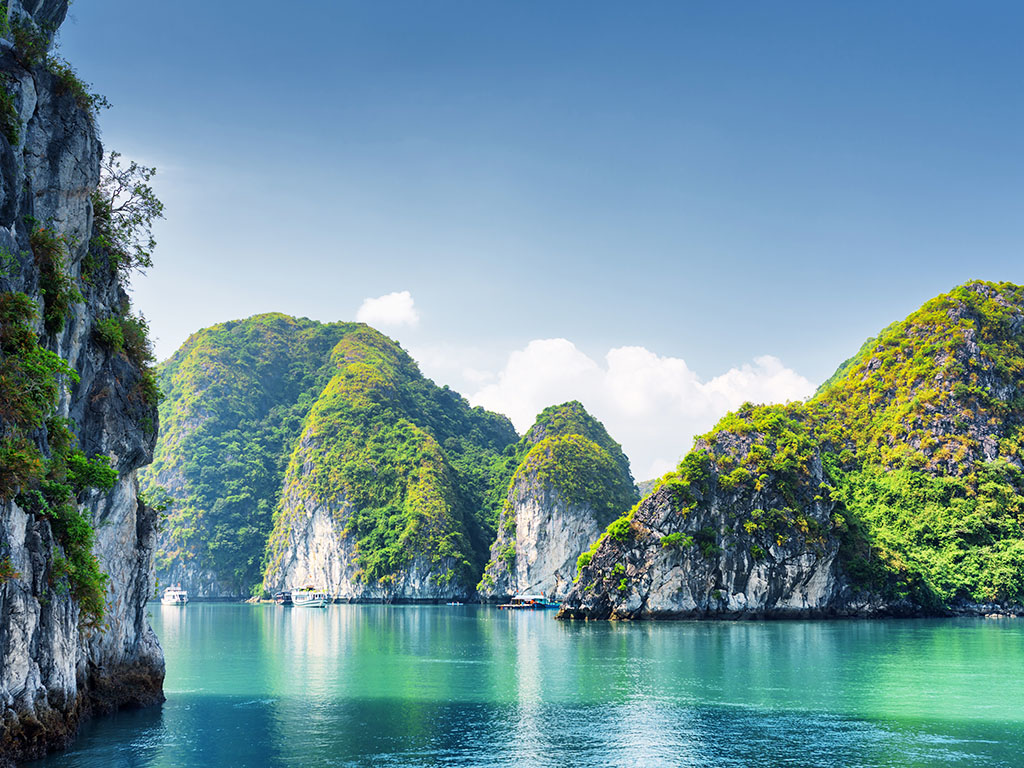 Ha Long Bay is surely the most sought-after destination in Ha Long City. It is best known for its magnificent natural limestone towerings; however, the true beauty of Ha Long Bay is hidden in and under these giant rocks. Ha Long Bay is home to a huge collection of caves, islets, and villages. With a vast area of 434 square kilometers and thousands of rising karsts, it might take one's lifetime to explore every corner of this nature's creation.
To fully immerse yourself in the grandeur of the bay, we highly recommend spending at least one night aboard a cruise ship. As you sail through the winding waterways, you'll have the opportunity to intimately encounter the towering limestone formations, delving deeper into the captivating beauty that Ha Long Bay beholds.
2. Quang Ninh Museum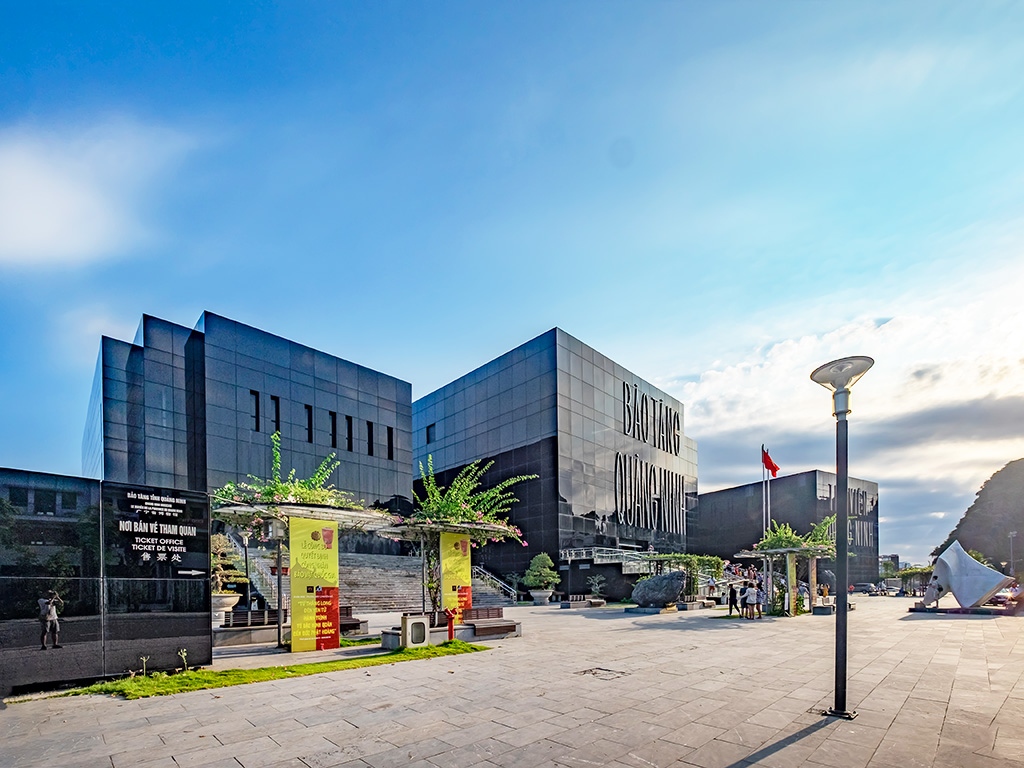 Quang Ninh Museum is a contemporary architectural monument inspired by the images of coals – the mainstream natural resource of the city. The building was titled the "Black Pearl of Ha Long City" for its unique black and reflective exterior and currently houses more than thirty thousand exhibits. Before entering the museum, visitors are possibly impressed by the giant block of anthracite coal that set a record for the largest block of anthracite coal in one piece in the Vietnamese Guinness Book. Apart from that, a missile launcher and other defensive weapons are also displayed.
The interior space is divided into three themes, with each one occupying one floor of the building: the first floor is for the biodiversity and natural resources; the second floor is about the history of Ha Long City dating back to prehistoric times; and the third floor is for the history of the coal industry.
Address: Tran Quoc Nghien Street, Ha Long City
Opening time: 8 AM – 12 PM and 1 PM – 5 PM daily
Ticket: 10,000 VND ($0.4) for children and 40,000 VND ($1.7) for adults
3. Sun World Halong Complex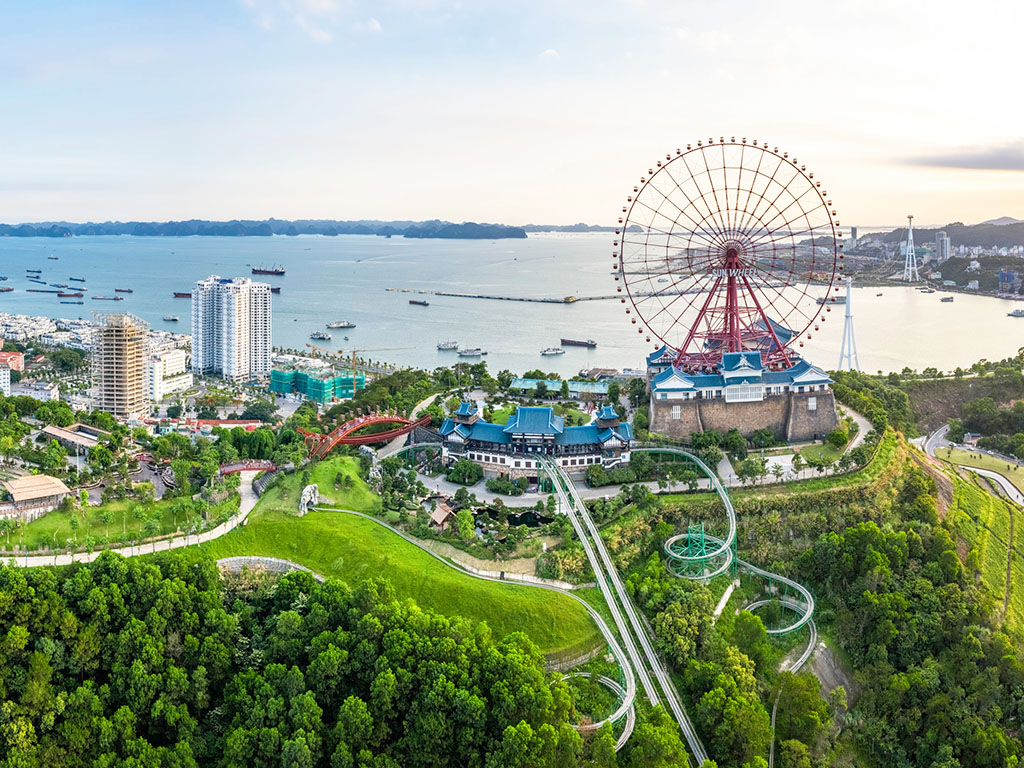 Sun World Halong Complex is a well-developed recreational complex with two zones stretching 214 hectares in total and connected by a world-class cable car system. On one side of the property, the Coastal Amusement Park was built overlooking picturesque Bai Chay Beach and consists of various adventurous entertainment amenities, such as a spectacular roller coaster in the Dragon Park and the extreme Tornado Bay in the Typhoon Water Park. On the other side of the complex, Ba Deo Amusement Park brings you an experience of inspiring cuisine and pleasant accommodation. One must-visit attraction in the park is the delightful Sun Wheel – one of the tallest Ferris wheels in the world.
Address: 09 Ha Long Street, Bai Chay Ward, Ha Long City
Opening time: varied according to each facility (Check out its website for more information)
4. Long Tien Pagoda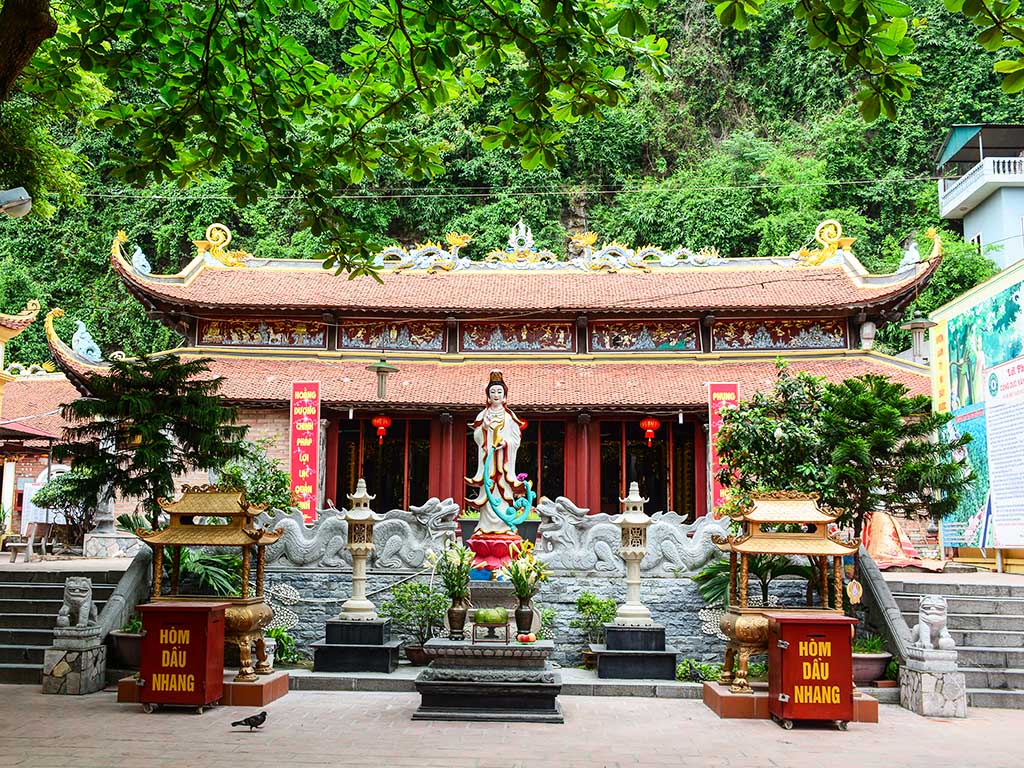 Long Tien Pagoda is an extremely sacred religious place among local people. The temple itself is located on a scenic location at the foot of Bai Tho Mountain (Poem Mountain) – which implies the poetic landscapes. Apart from being the largest pagoda in Ha Long City, Long Tien Pagoda is one of the few remains that preserve the distinctive architectural features from the Nguyen Dynasty that both worship the late kings and generals and the Buddhas.
Address: Le Quy Don Street, Bach Dang Ward, Ha Long City
Opening time: always
Ticket: free
5. Bai Chay Tourism Zone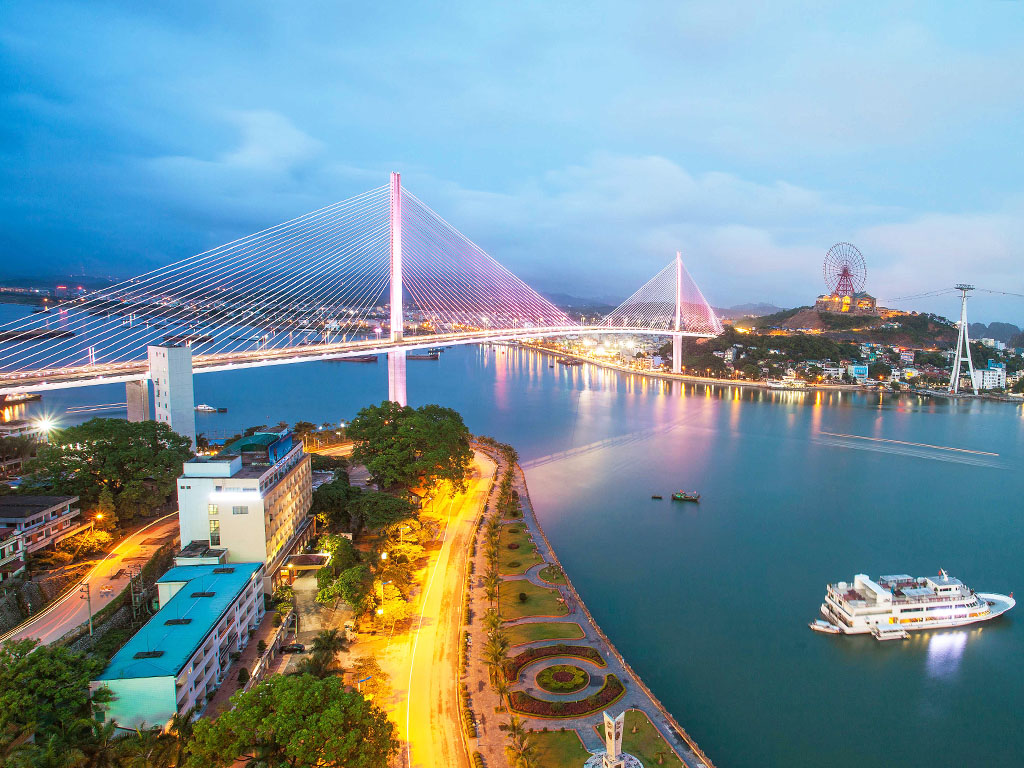 Bai Chay has been developed into a multifunctional area with places of interest, food and drinks stalls, and an open night market residing next to the stunning landscape of Bai Chay Beach and thousands of limestone ranges in the distance.
Bai Chay Beach: The beach, with its 1-kilometer coastline overlooking the limestone natural towers rising on the emerald waters and with clean and calm water, is truly a pleasant beach to spend your holiday.
Bai Chay Night Market: This is a bustling and vibrant open market selling not only street foods but also sophisticated handicrafts, which are ideal for souvenirs. The night market is where the locals come to gather so you can enjoy being a part of the local community.
Bai Chay Ancient Town: This neighborhood tries to replicate the ancient and nostalgic vibes of the 36 streets in Hanoi. A peaceful, clean, and well-designed area for taking a stroll and sipping a cup of coffee.
Bai Chay Bridge: The bridge is an impressive construction connecting the two strategic areas which are Bai Chay and Hon Gai. Walking in the park under the bridge will give you a good view of the bridge and how such a concrete and steel subject decently blends in with the natural background.
6. Tuan Chau Island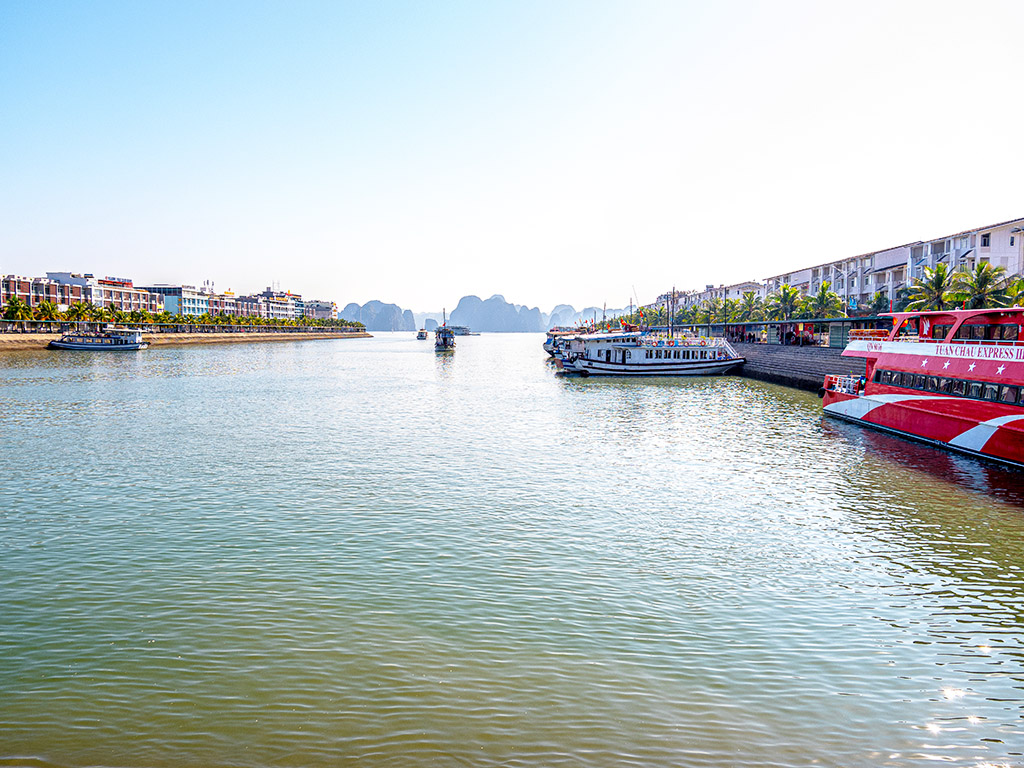 Tuan Chau Island covers a large area of 400 hectares and is only 2 kilometers from Ha Long city center. The island is an amusement complex with resorts and luxury hotels, and where the largest cruise ship port in Southeast Asia is located. Tuan Chau offers stunning landscapes and exciting activities.
Tuan Chau Beach: This 5-kilometer beach is well-organized. The beach is famous for its clear and calm emerald water, overlooking the magnificent limestone formations. You will love to dive into the cool water or walk on the fine white sand under the shade of coconut trees.
Water Music Show: The show is performed on an intricate outdoor stage. It is a combination of light, music, and water performance and lasts for 40 minutes.
Opening time:
8:15 PM – 8:55 PM and 9:15 PM – 10:15 PM from Mondays to Thursdays and Sundays
9:15 AM – 10:00 AM and 7:00 PM – 7:40 PM on Fridays and Saturdays
Tuan Chau Theme Park: This amusement park offers a wide range of activities catering to all ages. There are dolphin and seal performances, along with other adventurous games such as roller coasters, swing carousels, 360-degree head swings, and more.
Ticket: 350,000 VND ($15) / person; free for children under 1 meter.