Two years of the pandemic, on the one hand, put Vietnamese tourism on hold. On the other hand, this period gave our nature time to heal and thrive once again. We all miss the lively and vibrant tourist activities that radiate the whole country. Vietnam, in 2023, with its best preparation, is ready to welcome you back. Get set to explore these top ten must-visit places in Vietnam, determined by the input of 3,081 votes below.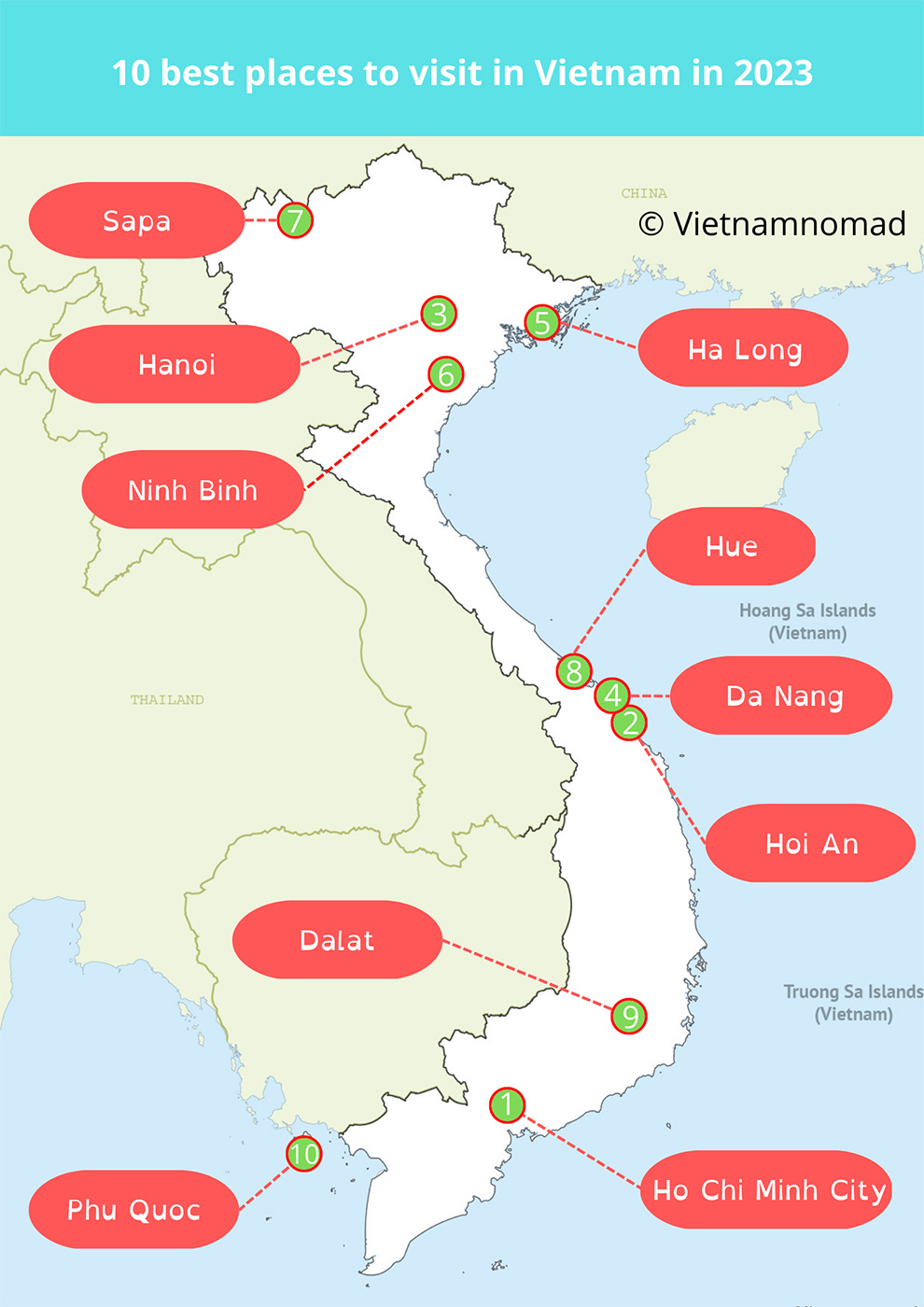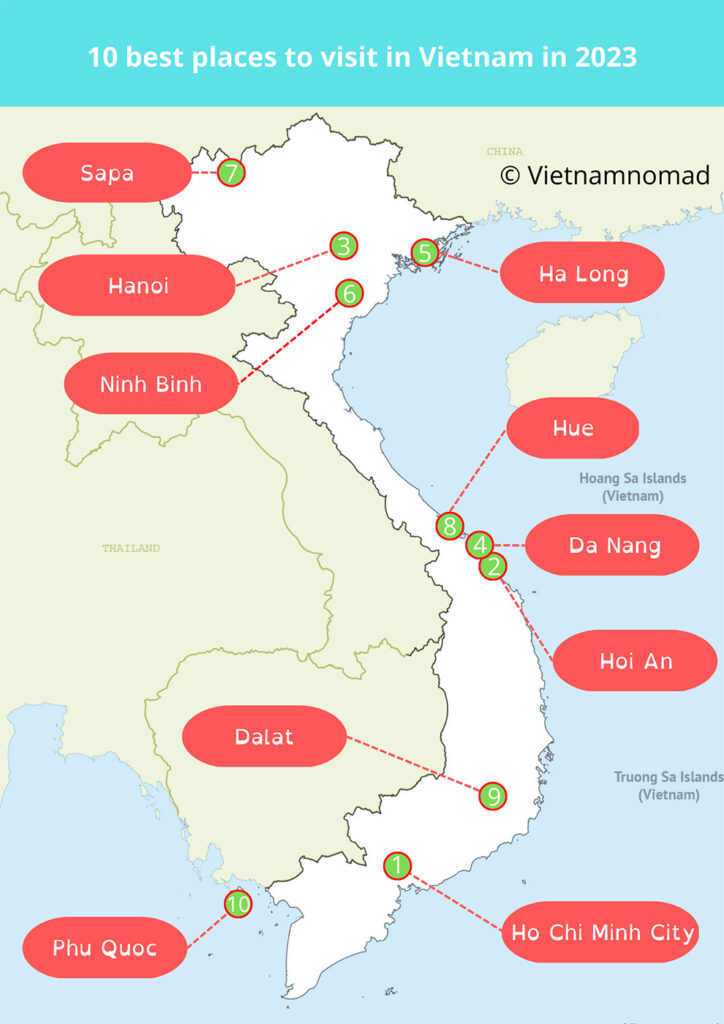 1. Ho Chi Minh City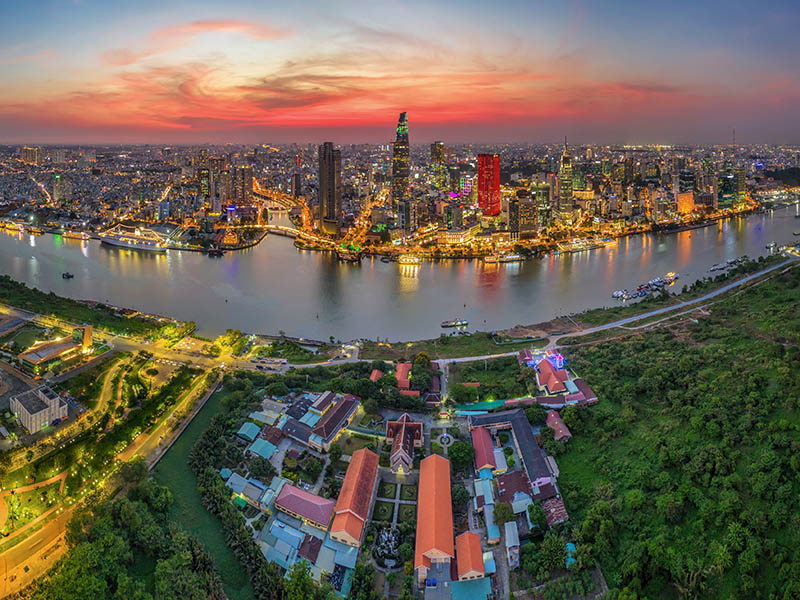 Big cities are often said to hold no interest for keen travelers due to a lack of uniqueness and depth, but Ho Chi Minh City – or Saigon as we often call it – will possibly do justice to the metropolitan cities out there.
Strategically located in the South of Vietnam, the city plays a key role in the economic and cultural development of the country. In terms of tourism, Ho Chi Minh City is a perfect example of the amicable combination of the dynamic of a modern city and the timeless cultural values of an old town. On one side of the city, you will be easily overwhelmed by the chaotic order flow of traffic, the lively trading activities on every corner, and the dynamic nightlife. On the other side, you can find yourself lost in the scenes of mossy temples, old open markets, and museums where history is stored and retold to the world. Ho Chi Minh City is also a good base to travel around Southern cities thanks to a developed transportation link. Finally, make sure to go to Ho Chi Minh City with a hungry stomach since this is where you will sample some of the best and most unique street foods.
2. Hoi An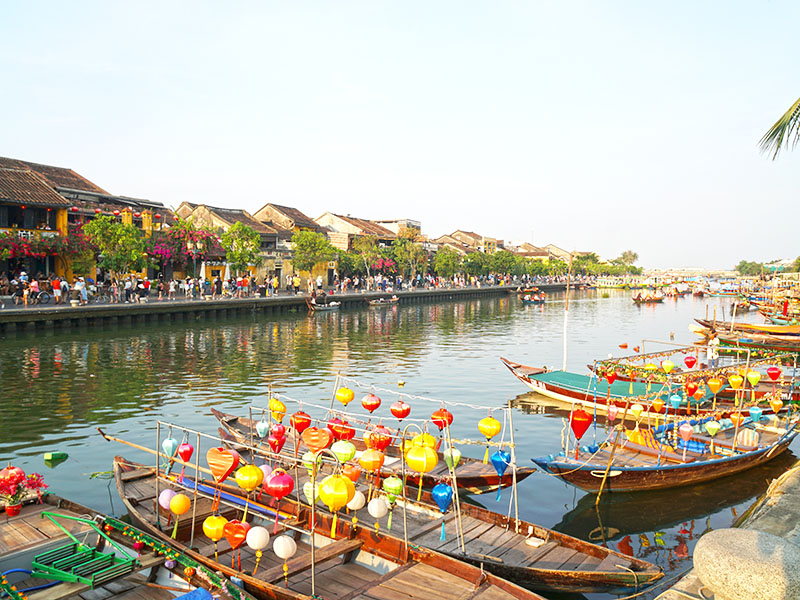 Hoi An may no longer be an unfamiliar name among world travelers. Voted twice as top Asia's leading cultural destination in 2019 and 2021, this lovable city has gradually affirmed its charm.
Hoi An is not only a poetic heritage town but also a prime location where the cultural essence from centuries of history of the East and the West comes together. The ancient heritage town is highlighted by its distinctive archetype – red tile roofs contrasted against the background of the iconic yellow walls and antique wooden doors – denoting a sense of tranquility and quaintness. We fall in love with Hoi An for the colorful lanterns lit up every night, the little cafes overlooking the poetic Hoai River, and the peaceful bicycle rides along the paddy fields.
Hoi An is able to please adventure seekers with a wide range of outdoor activities, such as exotic basket boat rides and surfing classes, and culture vultures with many art galleries, countless ancient assembly halls, temples, and centuries-old private houses. This is also where you could have the best custom dress tailored by extraordinarily skilled tailors in town within one day or two, guaranteeing to blow your mind.
Despite its huge popularity, Hoi An has shown great efforts to preserve its heritage status and vintage vibes, and you will surely feel it as soon as you arrive in this little but magical town.
3. Hanoi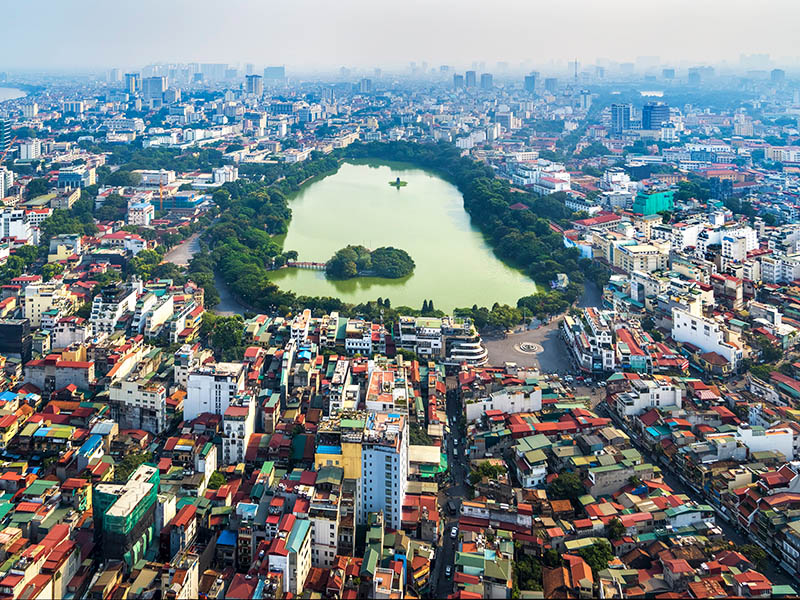 How could you claim you have been to a country without visiting its capital city? Hanoi – the solemn and tranquil charm of the country, houses more than 6,000 historical and cultural heritage sites, many of which were recognized by UNESCO.
Characterized by four seasons, every visit to Hanoi, regardless of the time of the year, is a unique and worthwhile experience. In spring, the capital city is dotted with pink cherry blossoms and colorful festivals. Summer brings curtains of rain, and Hanoi is coated with an air of melancholy, a nostalgic vibe that many people long for. Autumn comes with the most romantic and beautiful surroundings: mild breezes of wind, a clear blue sky, and yellow leaves scattered along the peaceful streets. And at the end of the year, when the winter winds blow and the temperature drops, Hanoi is pictured with the puffs of smoke steamed from the food vendors, from the pots of hot tea, and from little traditional stoves on the sidewalks to warm people up.
Hanoi is where you walk the soulful 36 streets of the Old Quarter, where you get to try the original taste of pho and the richness of egg coffee at its best. Hanoi Capital is surely a cultural hub that you cannot miss on your travel.
4. Da Nang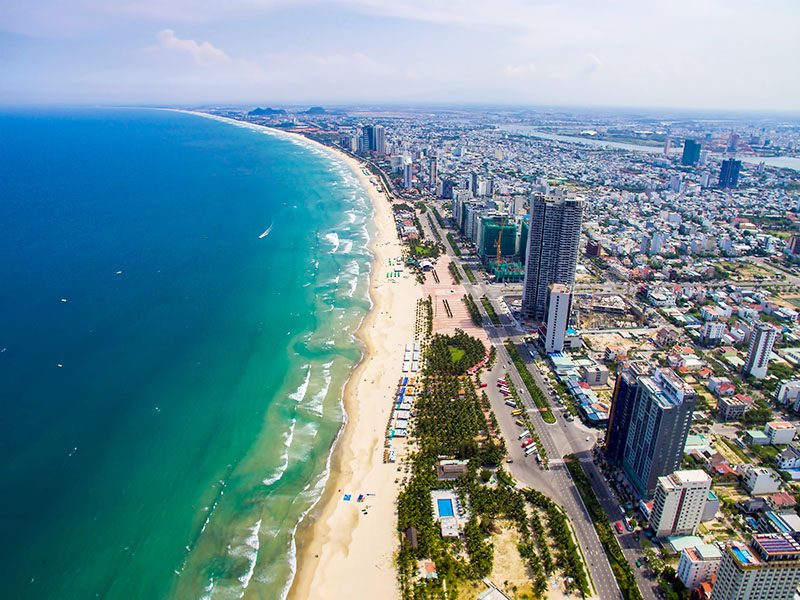 Besides the city of Hoi An, Da Nang is another destination in Central Vietnam that was voted on the list. Da Nang, for many years, is known as not only the cleanest city but also the safest one. Having the fastest rate of development across the country, Da Nang has successfully built and operated an effective system of transportation, including an international airport, various bus and train stations situated in the city center, and reliable taxis throughout the city.
You would easily find that Da Nang is a well-organized city with a neat urban landscape and spectacular surroundings of mythical mountains, natural caves, and one of the best beaches in the world – My Khe Beach. Apart from natural gifts, Da Nang also offers a wide range of architectural places of interest, namely the world-renowned Golden Bridge of Ba Na Hills, the Dragon Bridge, Linh Ung Pagoda, and so on. In short, Da Nang is the "whatever your expectations are for a destination, it will possibly fulfill them" kind of place.
5. Ha Long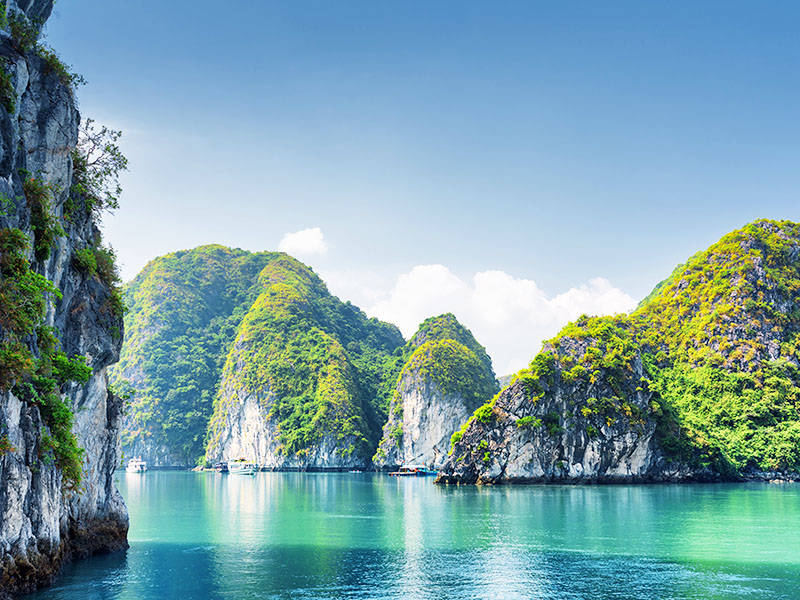 Ha Long is a dependent city sited in the center of Quang Ninh Province, which is 165 km eastwards from Hanoi. Ha Long City is oftentimes synonymous with Ha Long Bay – one of the most majestic natural wonders with its gorgeous limestone pillars and isles rising from the turquoise waters. This natural heritage is a truly breathtaking sight to behold, worth its title as a UNESCO World Heritage Site.
Ha Long Bay, apart from its stunning scenery, offers a multitude of activities for visitors to enjoy, from taking a boat tour through the bay to exploring the marvelous caves and grottos that dot the landscapes to going kayaking and swimming in the bay's calm waters. Ha Long houses some stunning rock climbing sites and hiking trails catering to adventure seekers. For those interested in local experiences, there are also opportunities to visit fishing villages and try out squid fishing in the evening or to take up a cooking class to learn how to make some delicious authentic Vietnamese dishes. In addition to these, joining a cruise that offers overnight stays on the bay to fully immerse yourselves in the peacefulness of Ha Long is a unique experience you cannot miss. Ha Long Bay, or Ha Long City itself, is a must-visit for every type of traveler traveling to Vietnam for what it has to offer.
6. Ninh Binh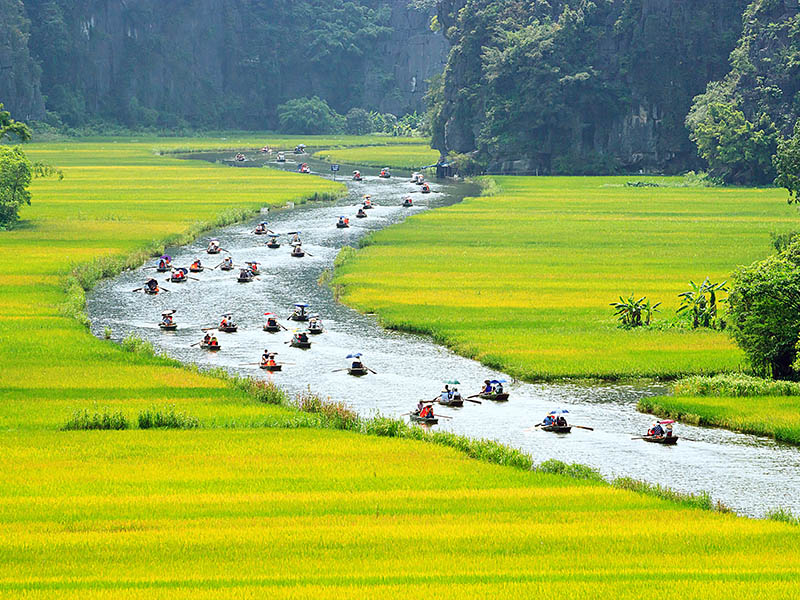 Less than 100km South of Hanoi is the first capital city of the feudal government of Vietnam – Ninh Binh. Ninh Binh houses another UNESCO World Heritage – Trang An Landscape Complex – a natural gem with majestic limestone mountain ranges guarding the placid emerald-colored lakes that used to be the walls and the access of an emperor's kingdom.
Being endowed with stunning landscapes and heartfelt sceneries all year round, Ninh Binh is blanketed with a unique natural color each season, depicting a wonderful landscape transition following climatic changes. In spring, the whole area is rejuvenated by the beautifully lush green of plants and flowers. Summer comes with the breathtaking golden color of the ripe rice fields, reflecting on the calm water surface. Autumn is the purple lily water season, when they bloom gorgeously, contrasting with the color of the earthy forest and the mountains on the far side. Even in winter, the wintry vibe in the place is emphasized by the cottony reed grass. Taking a boat ride along the peaceful yet spectacular water valley, worshiping at the magical spiritual icon of Bai Dinh Pagoda, and immersing yourselves in the grand creation of nature are some of the reasons to put Ninh Binh on the list.
7. Sapa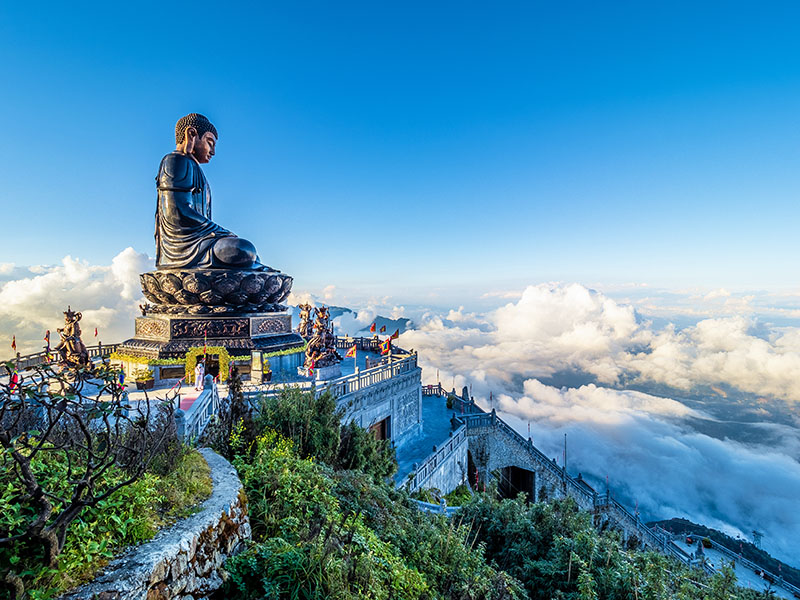 On the grand mountains in Northwestern Vietnam is the little magical town of Sapa. Sapa has been increasingly recognized for its magnificent scenery with vast terraced rice fields that turn golden in the harvest season, with breathtaking mountain peaks in which Fansipan is the highest and crowned the Roof of Indochina, with vibrant traditional costumes of the Vietnamese minority tribes to name a few.
This mountainous town's temperature is around 15-18°C almost year-round; however, in winter, it can drop to below 0°C, and you are likely to witness a light fall of snow. The many different ethnic groups living in Sapa not only tell beautiful cultural stories but also bring you some one-of-a-kind authentic experiences, such as taking tribal herbal baths and trying the traditional weaving machines of the Vietnamese minority people.
You will also have a chance to sample a totally different kind of cuisine like no other place across Vietnam that highlights its simplicity and originality – the two qualities that could also be found among the Sapa people.
Sapa is an excellent example of what Northern mountainous people could look and feel like – a truly hidden gem that will fill you with its own story and unique colors.
8. Hue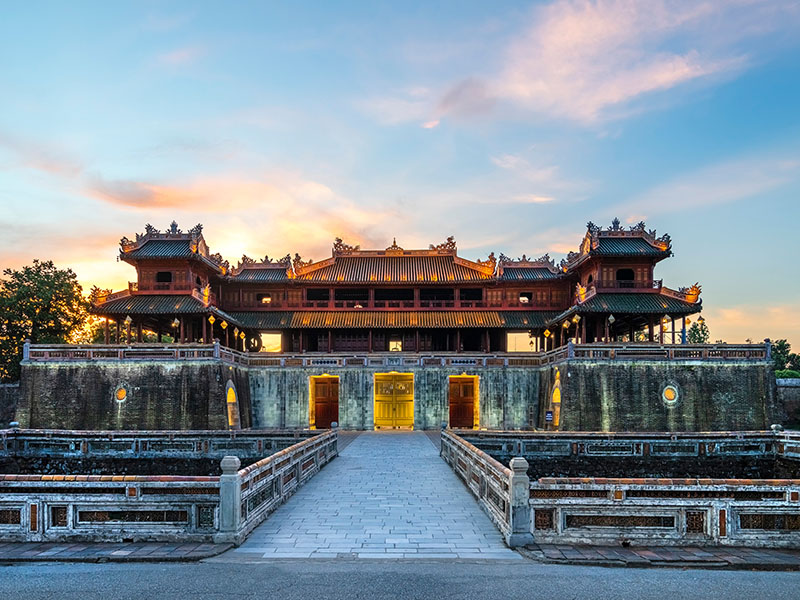 Hue is the former imperial capital of Vietnam throughout the Nguyen Dynasty – the last feudal dynasty in Vietnam. To be chosen as the capital, one can imagine the city itself needs to be situated in a strategic location, and Hue surely does have it in terms of geography, economy, and natural landscapes. Historical records described Hue, in terms of geography, as the middle point of the country, making it easy to rule and contact both Northern and Southern authorities. Hue also has big ports which facilitate trading activities. And in the feudal belief, feng shui, especially its geographical dimension, plays an essential role in the prosperity of a nation, which is also the major reason to make this place worth visiting. The city of Hue stretches on a vast plain facing Ngu Binh Mountain, guarded on two sides by the isle of Hen (Con Hen) and the isle of Da (Con Da), and with Perfume River running through, depicting a protective outward bowing shape.
There is also a great collection of tombs and temples marking a glorious period in Vietnamese history. Everything falls perfectly into a picturesque landscape painting, which will win your heart at first sight. Hue is also famous for its royal standard cuisine, with every dish being taken care of to the slightest detail, and some secluded beaches that have not been exploited. This city is super easy to travel to and truly is a natural gem that would be absolutely worth your visit.
9. Dalat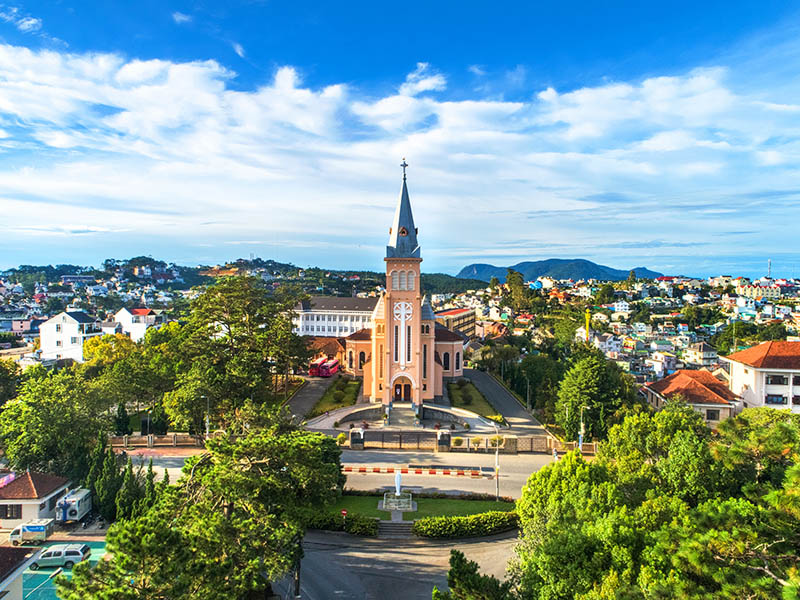 Nestled amidst Lam Vien Highlands, Dalat is often referred to with beautiful names, such as the "City of Thousands of Flowers," the "City of Fog," or the "City of Love." Dalat reminds one of the wondrous city of Paris not only for its nickname but also for its charming colonial architecture and its lifestyle. Strolling down the streets of this beautiful city, you would catch sight of local people slowly enjoying their morning coffee and sharing a good laugh.
Dalat's cool climate, lush green landscapes, and magnificent waterfalls create a picturesque and romantic scenery like no other. Just a short drive from the city center, you can be entirely immersed in nature with pine trees, tea plantations, gorgeous seasonal flowers, and greenery as far as the eye can see. It also offers many trekking trails under the shade of pine forest, leading to villages and hidden waterfalls with breathtaking views. Apart from it, Dalat cuisine is vibrant and full of flavors from the fresh produce of the highlands. Dining in the picturesque setting of French and Vietnamese blends would surely be another highlight of your trip.
Dalat with its natural beauty and charm would bring you unforgettable experiences and leave you with cherished memories of a magical highland city of Vietnam.
10. Phu Quoc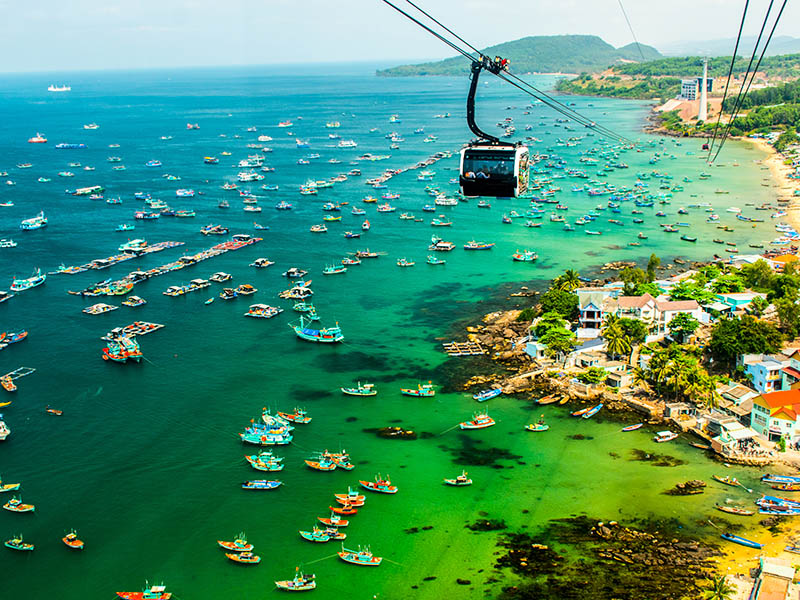 Phu Quoc has been a rising star on the travel map for ocean lovers. Being part of the Gulf of Thailand and the biggest island in Vietnam, Phu Quoc City was officially founded and recognized as the very first island city in the country, paving the way for many exceptional traveler-friendly policies. Phu Quoc Island has its own international airport and offers visa-free entry for up to 30 days, making it a friendly and accessible beach destination.
Phu Quoc is gifted with a pleasant climate, clearly divided into two seasons in which April and May are recorded with the highest temperature at around 34-35°C. The best time to visit Phu Quoc is from October to early April when the weather is warm, and rainfall is low, perfect for a wide range of water sports and other outdoor activities the island has to offer.
The island of Phu Quoc is surely a paradise for a nature adventure with long-stretched white-sand beaches, lined-up coconut trees, crystal-clear water, and a secluded national park – home to a rich collection of flora and fauna and stunning trail tracks. You will be mesmerized by one of the most spectacular sunsets you've ever seen in your life and be satisfied with delicious local seafood highlights. There is too much about this island that cannot be described; you have to come and see it with your own eyes. Phu Quoc is awaiting you!
Despite the diversity in the geographical features, there are three things that the ten destinations have in common, which are a profound breadth of culture and history, distinctive and stunning natural landscapes, and a good selection of authentic experiences, including local cuisine and various fun travel activities. Add these to your bucket list. Start planning your visit to Vietnam.
What is your favorite place in Vietnam in 2023?