Ninh Binh at a glance
Owning charming landscapes with many natural and cultural heritages recognized by UNESCO, Ninh Binh is one of the destinations not to be missed in Vietnam.
Ninh Binh is a province located at the southern end of the Red River Delta, more than 90 km south of Hanoi. Ninh Binh is located in the area adjacent to the Red River Delta region with sedimentary rocks in the West. It's also located at the end of the Red River Delta, adjacent to the East Sea, so the terrain consists of three distinct areas: mountainous areas, plains, and coastal areas.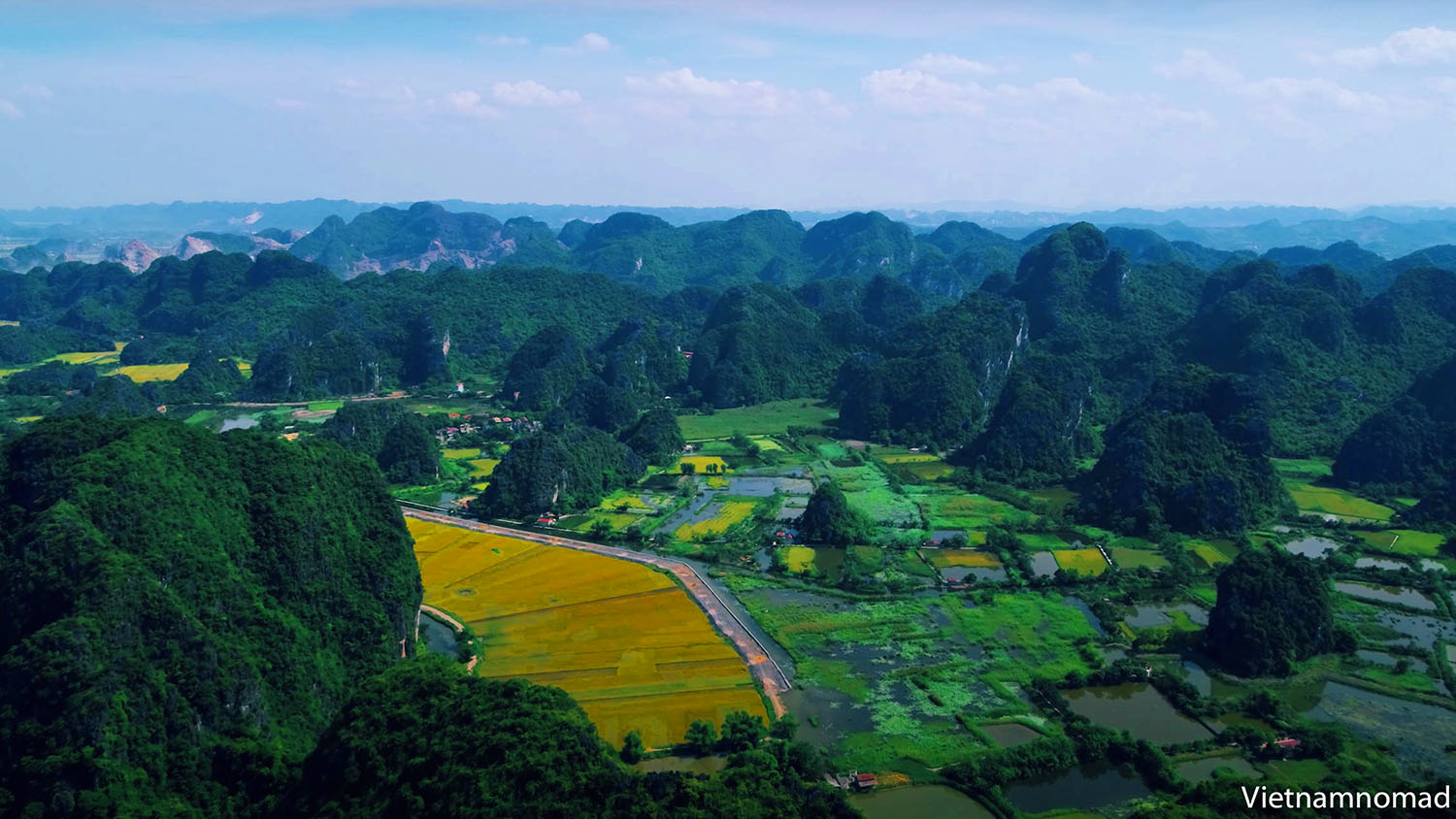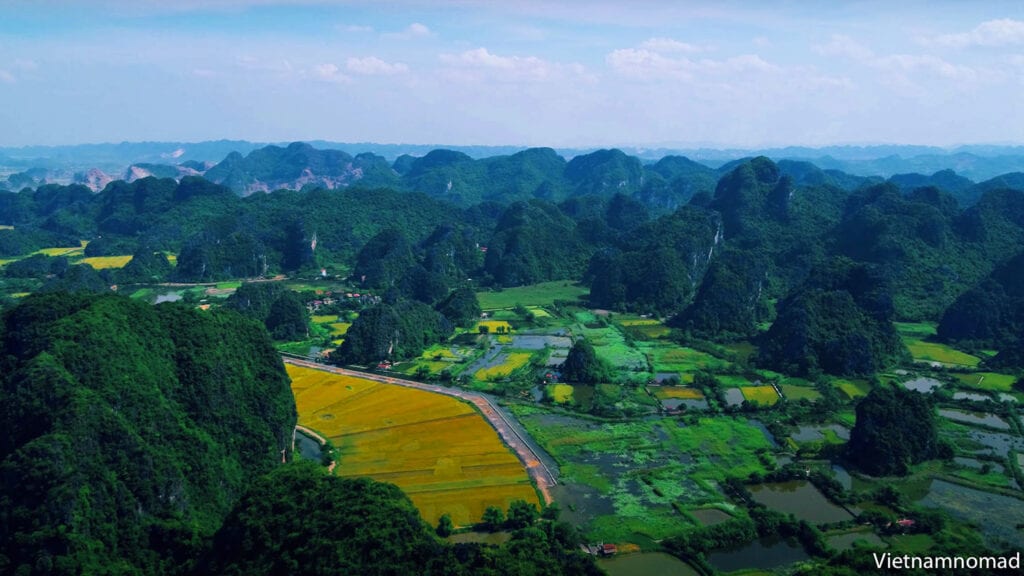 Ninh Binh weather
Ninh Binh has a tropical climate and monsoon. The seasonal weather is divided into four distinct seasons: spring, summer, autumn, and winter. So you can go to Ninh Binh in any season, and each season has its unique beauty.
Travelling Ninh Binh in the Spring
Spring in Ninh Binh lasts from January to March of the lunar calendar. Ninh Binh's weather in spring is enjoyable with chilly winds, suitable for sightseeing and immersing in the bustling festive atmosphere. It is the time before the Lunar New Year, so Ninh Binh organizes many festivals to celebrate the spring, such as Bai Dinh Pagoda Festival, Hoa Lu ancient capital Festival, Thai Vi temple festival.
Visiting Ninh Binh on the occasion of Tet to spring, you can visit the temple, wish good luck to the family. However, this time Ninh Binh is very crowded; if you are afraid of the overcrowded scenes, you can come to Ninh Binh at other times of the year.
Travelling Ninh Binh in the summer
Discovering Ninh Binh in the summer (from April to June) is an exciting experience for many visitors. Ninh Binh weather in April is not too hot, even a little chilly in the early morning. At this time, Ninh Binh is no longer crowded, so visitors can freely explore the attractions without having to hustle and wait.
The end of May and June is the time of lotus blossom season and ripe rice season in Tam Coc. Ninh Binh is adorned with the golden color of ripe rice at this time. The scene is extraordinarily poetic and vibrant.
Travelling Ninh Binh in autumn
Ninh Binh autumn lasts from July to October. When autumn comes, Ninh Binh puts on a very gentle, poetic look. Ninh Binh weather was no longer hot. The sky was clear and bright. The early autumn breezes, the yellow rays which are weaving through the cliffs and the thin mist that spread in the early morning create a romantic, poetic beauty for this land.
Coming to Ninh Binh in the fall, visitors have the opportunity to admire a forest of water lily blooming on the water.
Travelling Ninh Binh in winter
Going to Ninh Binh in the last days of the year, you should prepare warm clothes because now Ninh Binh has entered the cold winter. If you want to enjoy the cold of the North, travelling to Ninh Binh in December will be an exciting experience.
In the winter, the reed flower fields in Ninh Binh simultaneously bloom, covered with pure white soft on this land. Visiting Trang An scenic landscape complex, the area near Bai Dinh pagoda or Hoa Lu cave, visitors will admire the endless field of white reed flower.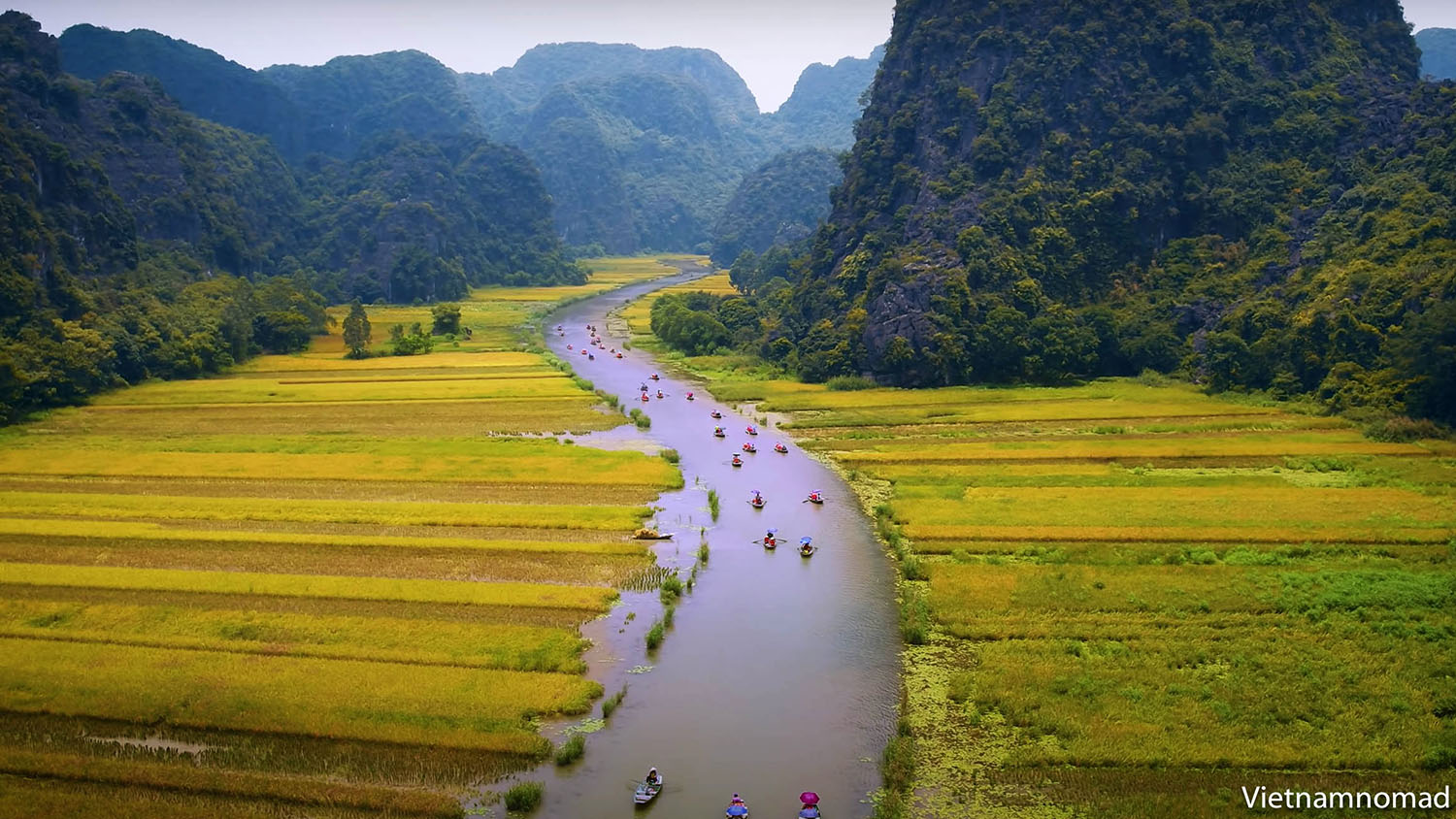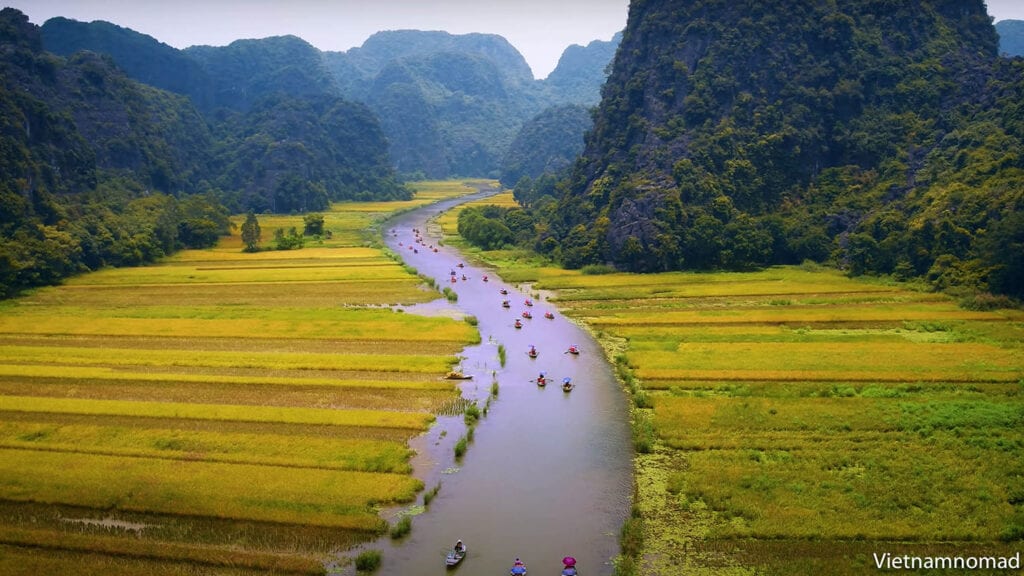 How to go to Ninh Binh?
Ninh Binh is about 93 km from Hanoi to the South. The way is extremely convenient thanks to National Road 1A and North-South Railway. Therefore, you can Ninh Binh by both road and rail with the following vehicles.
From Hanoi to Ninh Binh
1. By bus
From Hanoi, you need to move to Giap Bat bus station or My Dinh bus station, then you can take a bus to Ninh Binh. There are many car companies for you to choose from, with fares ranging from VND 100.000 to VND 150.000 / person/way, travel time is 1,5 hours.
2. By train
Because Ninh Binh is located on the North-South axis so that it has a railway line running through, if you want to be safe, travelling by train will be a perfect choice. Train fares range from VND 90.000 – 200.000 VND depending on the train and seat type. The train takes more than 1 hour to reach Ninh Binh station. From there you take a motorbike taxi or taxi to go into the city. 
3. By motorcycle
Depending on your speed, it takes from 1 to 2 hours to get to Ninh Binh.
If you are in other cities like Saigon or Da Nang then you can go to Hanoi by plane and go from Hanoi to Ninh Binh as directed.
GETTING around Ninh Binh
Grab, or bus services are still not widespread in places far away from Ninh Binh city, so the most convenient way of transportation is motorbikes. Usually, hostels and homestays are available for motorbike rental. If there is no motorbike rental service at where you stay, you can rent one elsewhere for around 100.000 VND – 120.000 VND/ day. Before deciding to rent a motorbike, check the accessories carefully, such as rearview mirror, and turn signals. When renting a motorcycle, you may have to return your identity card and a deposit of 200.000 VND to 500.000 VND
Some reputable motorbike rental addresses in Ninh Binh:
Motogo Ninh Binh: No.42 22/7 Street, Nam Binh Ward
Ninh Binh Motorbike Rental: 49/16 Ngo Gia Tu Street, Nam Binh Ward
Where to stay in Ninh Binh?
Like other famous tourist destinations in Vietnam, accommodation service is very developed in Ninh Binh. You can easily find a suitable place to rest, depending on the needs and the money you spend.
1. Hotel in Ninh Binh
Hotels in Ninh Binh are diverse, from suburban to central, from budget hotels to luxury. The price ranges from 200.000 VND to millions of VND. You should rent a hotel in the city centre to go to other tourist destinations conveniently.
2. Homestay in Ninh Binh
Homestay is a great choice when you come to Ninh Binh. Most homestays in Ninh Binh are built in places with beautiful mountain lake views, often close to tourist sites. In addition to enjoying the natural beauty of Ninh Binh mountains, you also have the opportunity to talk with the landlord to understand the people here better. Homestay is also very affordable; only from 300.000 VND, you have a nice room to stay. Top famous homestays that must be mentioned in Ninh Binh are Nan House, Chezbeo Homestay, Tam Coc Homestay, and Ninh Binh Panorama Homestay.
3. Resort in Ninh Binh
If the budget is a bit more prosperous, you can choose to stay at resorts in Ninh Binh with top-class services. Ninh Binh Emeralda Resort and Ninh Binh Hidden Charm Hotel And Resort are rated as the top 2 resorts in Hoa Lu ancient capital.
Ninh Binh is a famous tourist city in the North, so there are many beautiful landscapes here. Here are the most famous places to visit in Ninh Binh.
1. Bai Dinh Pagoda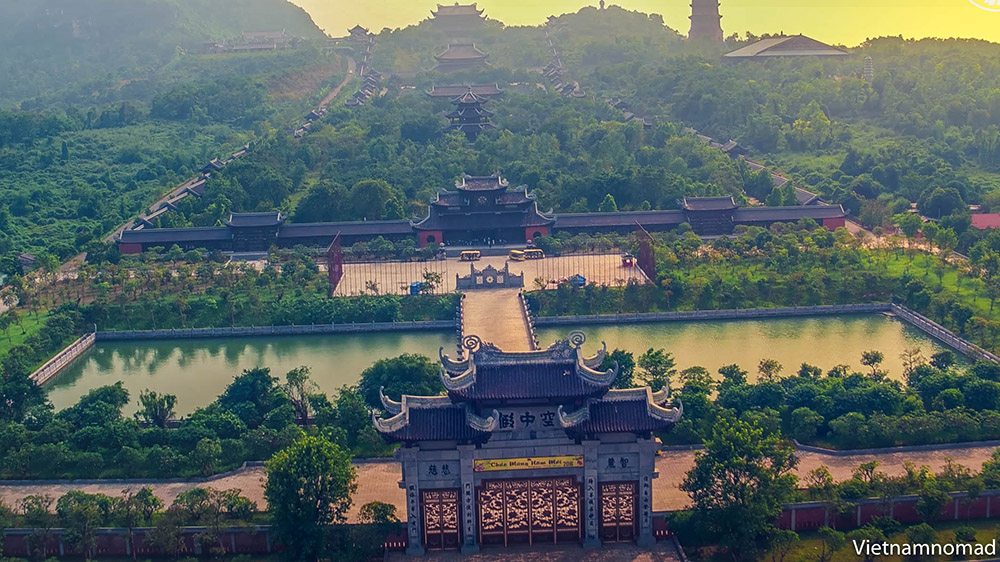 Bai Dinh Pagoda is the most famous tourist destination in Ninh Binh and is in the first list of places Vietnamnomad wants to share with you. Bai Dinh Pagoda is a spiritual landscape located in the population of Bai Dinh – Trang An eco-tourism area. Bai Dinh Pagoda has a history of more than 1000 years of age associated with the land of many feudal dynasties such as the Dinh dynasties, the Tien Le dynasties, and the Ly dynasties. One of the largest temples in Southeast Asia, Bai Dinh Temple holds the record for the giant bronze Buddha statue in Asia.
Bai Dinh Pagoda is located on Bai Dinh mountain in Gia Sinh commune, Gia Vien district, about 5km from the ancient capital Hoa Lu to the Northwest and 12 km from Ninh Binh city. With unique architecture and a long history, Bai Dinh Pagoda has become a famous eco-tourism destination in the North in general and Ninh Binh in particular. There have been 8 Vietnamese and Asian records recorded in Bai Dinh pagoda such as the largest bronze bell in Vietnam, the tallest Buddha statue in Asia, the most giant Buddha in the world, The largest bronze Maitreya statue in Southeast Asia, the pagoda has the most significant arhat corridor in Vietnam, the pagoda has the most Bodhi trees in Vietnam.
2. Trang An landscape complex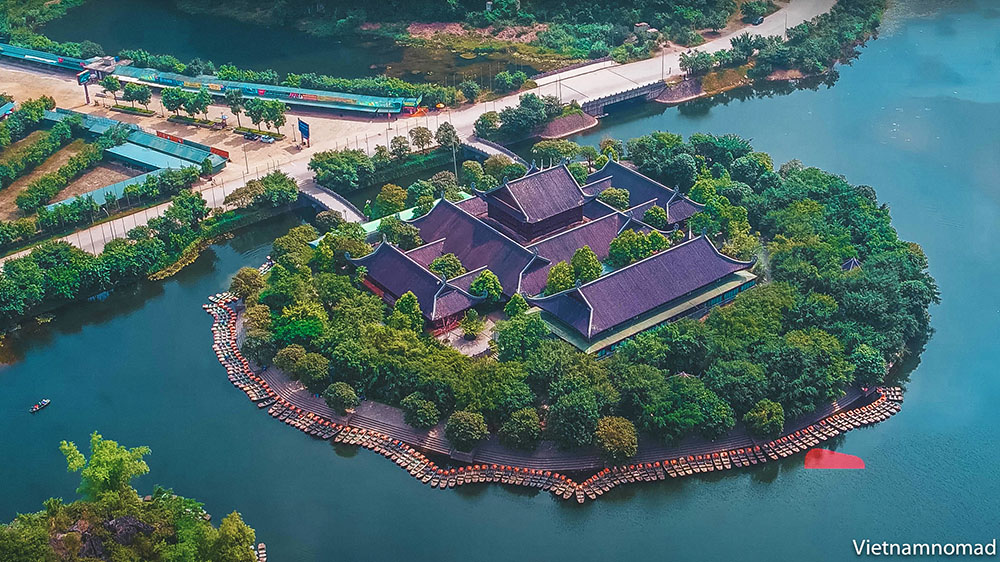 Having appeared in many famous blockbusters such as Thien Menh Hung, Tam Cam of untold stories or Kong Skull Island, Trang An landscape complex is a destination that attracts a lot of domestic and foreign tourists visiting Ninh Binh. 
The Trang An complex covers an area of ​​over 6000 hectares, including Trang An – Tam Coc – Bich Dong and the ancient capital Hoa Lu. In particular, the centre of Hoa Lu ancient capital is in the north, Tam Coc – Bich Dong tourist area, is in the south and Trang An eco-tourism site is in the centre. These three areas are linked together by Hoa Lu special-use forest on limestone mountains and systems of rivers, lakes, and swamps. This is the first and only dual world heritage site in Southeast Asia recognized by UNESCO with outstanding values ​​of the natural landscape, cultural history, and geological tectonics.
Tickets to visit Trang An is 200.000 VND for adults and 100.000 VND for children under 1.4 m. This ticket price includes a boat trip to visit Trang An across Sao Khe River. Each boat can accommodate about 4-5 people, and the journey takes about 3-4 hours. Some places to visit in Trang An include Trinh Temple, Tran Temple, Phu Khong, Dia Linh Cave, Liquor Cave, Ba Giot Cave.
3. Tam Coc – Bich Dong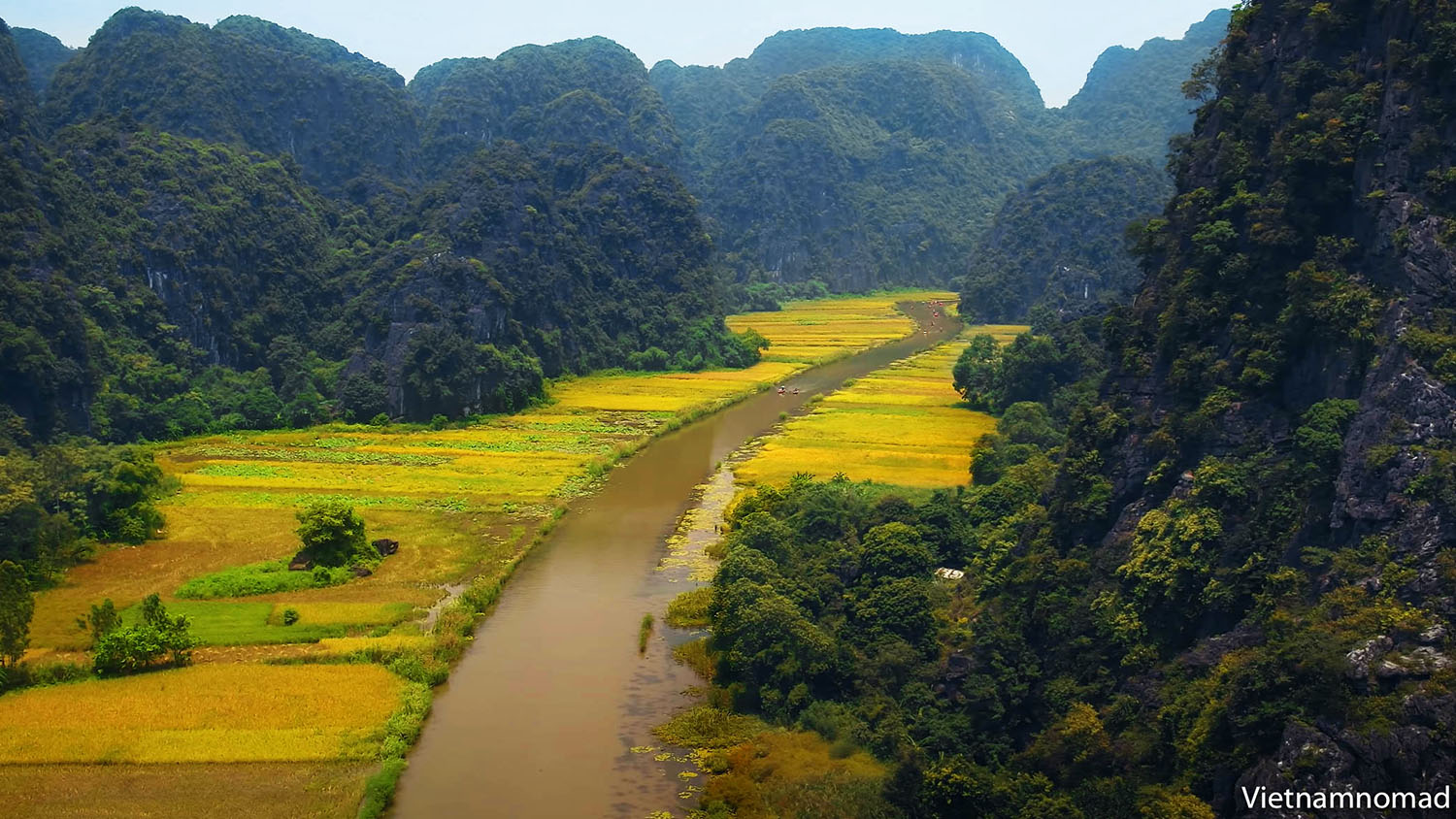 Tam Coc – Bich Dong complex is still a destination that most tourists can not ignore when coming to Ninh Binh. Like Trang An, coming to Tam Coc, you will also be sitting on a boat watching the mountains close to each other along the Ngo Dong river.
With its poetic beauty and charming scenery, Tam Coc will surely captivate any visitor. Tam Coc has a system of 3 caves consisting of Ca cave, Hai cave, Ba cave. These three caves are all connected to the Ngo Dong river that people still liken to Ha Long Bay. The ticket price for the boat is about 150.000 VND for four guests.
Next to Tam Coc, Bich Dong is the most attractive tourist attraction of Ninh Binh. Bich Dong is an ancient temple built in a long Asian style. Around the pagoda is surrounded by beautiful and majestic mountains. If you like nature and love to conquer, Bich Dong is the ideal destination. If you want to see the beautiful panorama of Ninh Binh, you have to follow the path leading to the middle of the mountain, and climb to the highest peak of Bich Dong.
4. Hoa Lu ancient capital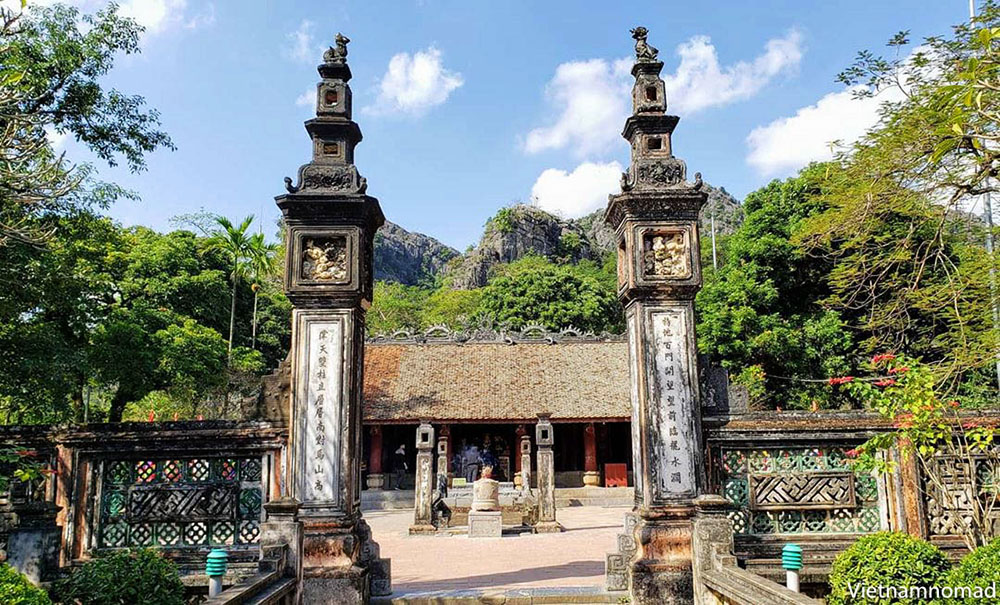 Located in Truong Yen commune, Hoa Lu district, Hoa Lu ancient capital is the most famous and essential national monument complex in Vietnam. UNESCO also recognizes it as one of four core regions of Trang An World Heritage site. Hoa Lu ancient capital is the place to preserve Vietnam's thousand-year-old historical relics through the ages.
Hoa Lu was the first capital of Dai Co Viet, the central feudal state, as well as the capital of the kings of Dinh, Tien Le and Ly dynasties. After Thang Long (Hanoi) is chosen as the capital of Vietnam, Hoa Lu became the ancient capital. Although the kings were no longer in Ninh Binh, they still renovated and built many more constructions here such as temples, palaces, communal houses, and tombs.
Hoa Lu ancient capital is an architectural complex, and each architecture has its characteristics, all making the majestic beauty of ancient historical sites. Historical vestiges remain in the diverse and vibrant complex, including the walls, citadel, caves, temples, tombs, and many other valuable architectural works that have high historical and cultural values. Visiting Ninh Binh, you cannot forget to visit Hoa Lu ancient capital better to understand the heroic history of the Vietnamese nation.
5. Mua Cave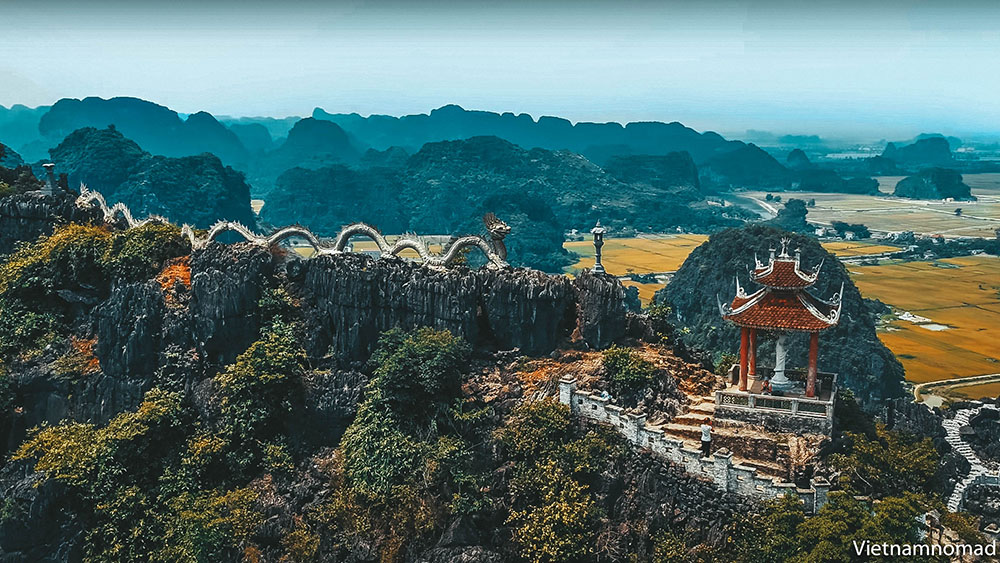 Mua Cave is located in Khe Dau Ha village, Ninh Xuan commune. Situated at the foot of the Dance Mountain, this is a place many people visit in Ninh Binh. The road to Mua Cave is very similar to the ancient structure of the Great Wall of China. You can climb 500 stone steps stretching from the foot of the mountain to the top of the cave to see the whole picture of majestic mountains. On the two sides of the stairs are beautiful stone sculptures with many unique art shapes such as the image of dragon and phoenix.
Mua Cave is located in the east of the mountain, so visitors should climb to the cave in the early morning to enjoy the crisp, fresh air here. As soon as you reach the top of the mountain, you will be immersed in the vast natural space. The scenery below is so beautiful that you will not want to leave this fairyland.
6. Am Tien Cave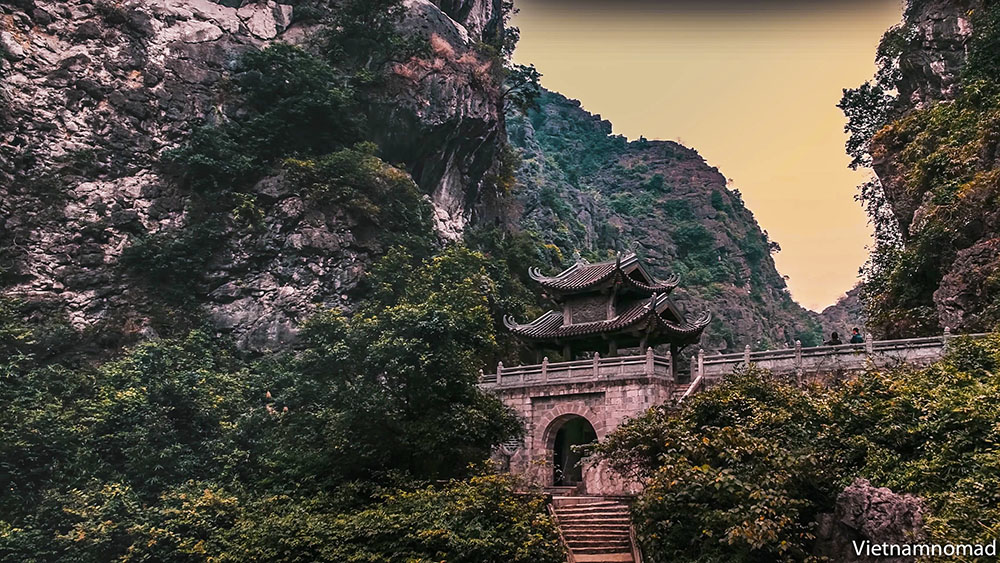 Am Tien Cave is a national monument of Hoa Lu ancient capital complex, about 10km from the centre of Ninh Binh city. This place is known as the "Tuyet Tinh Coc" of Vietnam. Most parts of Am Tien Cave area is a flooded valley surrounded by rocky cliffs. To enter the cave, after going through the gate, you have to go down a path on the left-hand side, next to the large lake with lotus and water lily. From the foot of Nua Mountain to the top of Am Tien, you will still have to travel about 4 km of poor dirt roads. Because it is above 500 m above sea level, the climate in Am Tien is cool all year round. The two sides of the way to the relic are covered with the deep green of old nacre trees. Am Tien Cave is halfway up the mountain. And you must climb over 205 stone steps through the cliff to get there. The cave is shaped like a dragon's mouth. So people usually call it with the name of a dragon cave.
7. Cuc Phuong National Park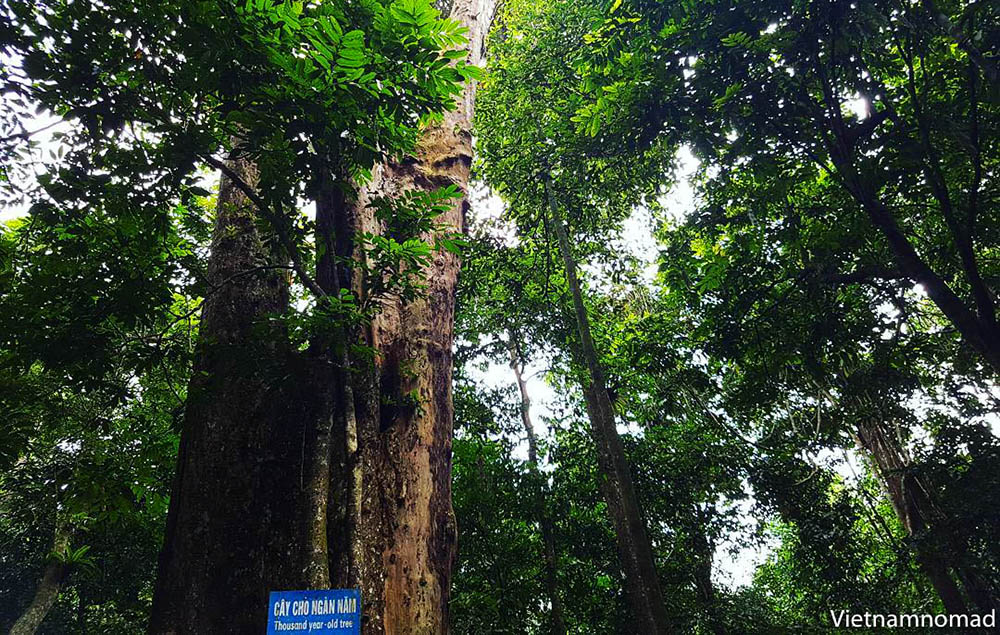 Cuc Phuong National Park is located 45 km northwest of Ninh Binh city centre. Cuc Phuong has an area of ​​25,000 ha, adjacent to 3 provinces of Ninh Binh, Hoa Binh, and Thanh Hoa. The forest is like a vast natural museum, home to the most abundant fauna and flora of limestone mountains in Vietnam. Coming to Cuc Phuong, visitors will admire the thousand-years ancient trees, the species of plants that exist from the third century, and the beautiful precious birds.
The dry season from December to May is the best time to explore Cuc Phuong National Park. The weather is cool, dry, and comfortable to go around. Especially in May, millions of colorful butterflies flock here, creating a magical scenery for this place. The entrance fee to Cuc Phuong National Park is now 40.000 VND/ person/ time.
8. Phat Diem Stone Church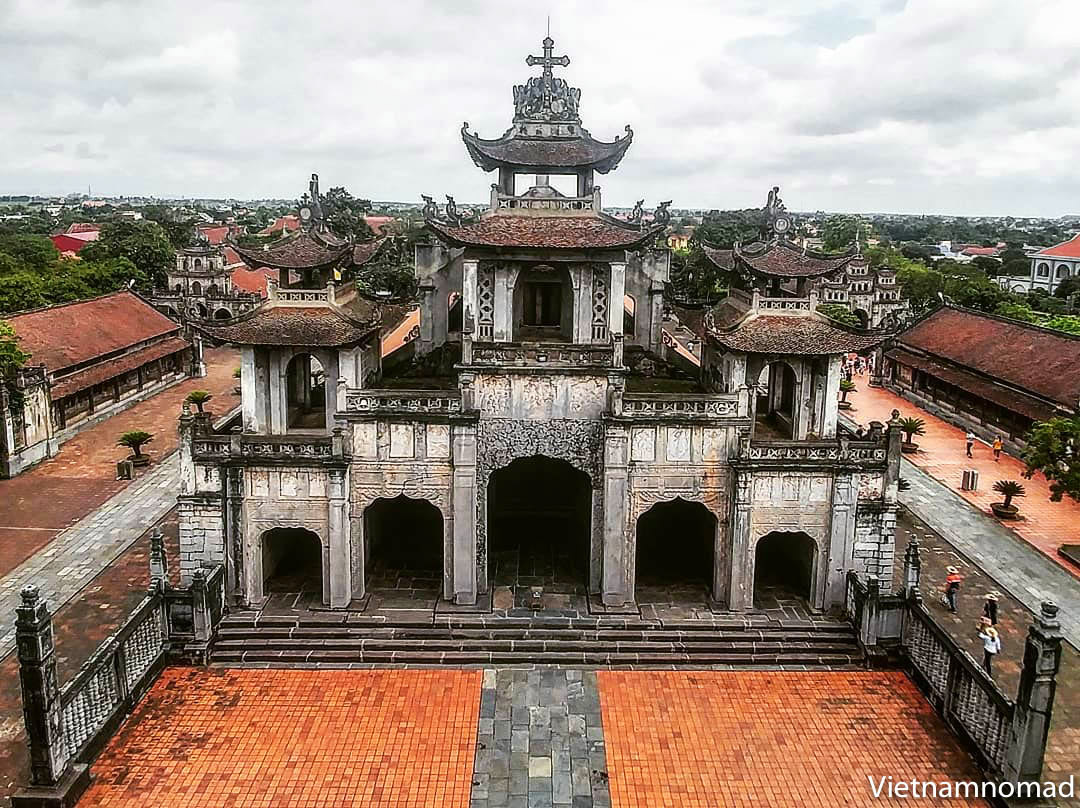 Phat Diem Stone Church is one of the most beautiful Catholic church complexes in Vietnam. The project is located on an area of 22 hectares in Phat Diem town, Kim Son district, Ninh Binh province. This ancient church, more than 100 years old, was built for 30 years. The work made entirely of stone and ironwood has been dubbed the "Vietnamese Catholic capital." Phat Diem church complex consists of a large church and five small churches (including one built entirely of natural stone, called a stone church); Phuong Dinh (bell tower); ponds and three artificial stone caves. Phat Diem church architecture was classified as a National Historical and Cultural Monument in 1988.
9. Thung Nham Birds Ecological Tourism Area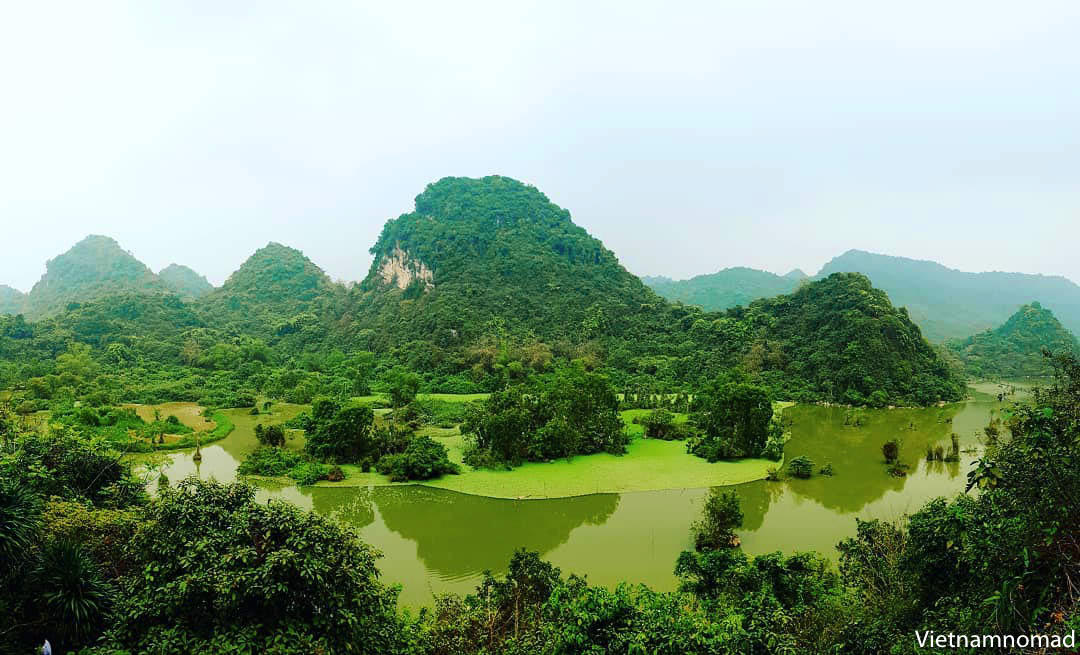 Thung Nham ecotourism area is located in Ninh Hai commune, Hoa Lu district, Ninh Binh, about 12 km to the west of Ninh Binh city. It is one of the famous tourist destinations in Ninh Binh.
Thung Nham ecotourism area has a total area of ​​334.2 hectares, renovated in the form of integrated ecological architecture, including fishing, garden tourism, visiting submerged forests and ancient forests, rock climbing, etc. Thung Nham is home to about 46 species of birds, including some of which are recorded in Vietnam Red Book, 109 species of plants, 150 animals including 58 species of fish, seven species of amphibians, ten species of animals and other animals.
Travelling to Thung Nham on a small boat, you will have the opportunity to weave through the flooded forests, immersed in the beautiful natural scenery. Besides, you can also discover the wild beauty of caves such as Voi Gioi cave, Tien Ca cave, Aquarium cave, But cave, Ba Co cave, and immerse yourself in the romantic scenery.
10. Van Long lagoon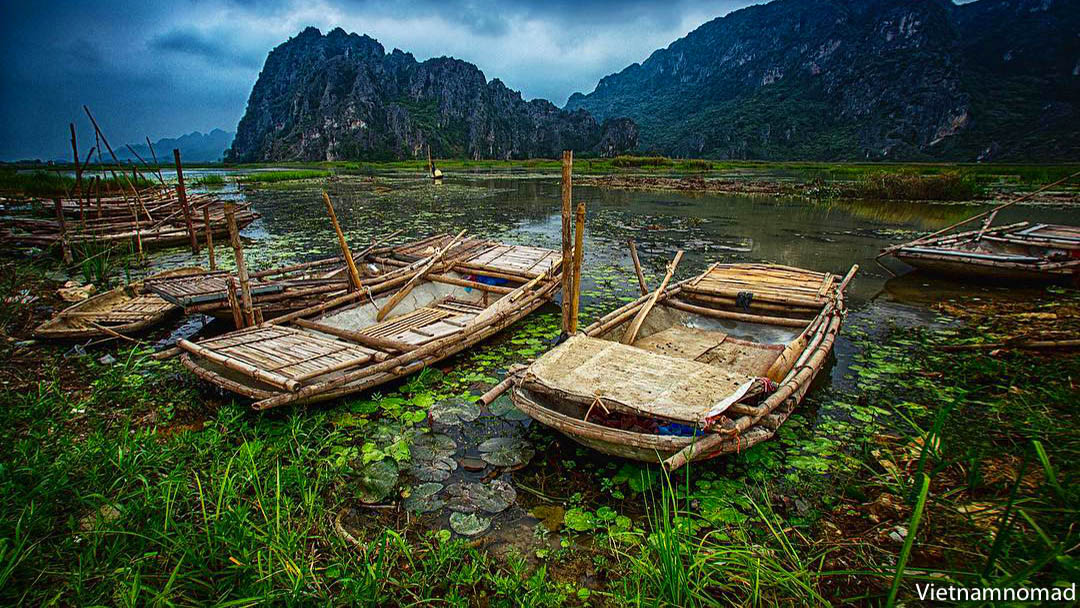 Another famous ecotourism area in Ninh Binh is Van Long lagoon. Van Long Lagoon possesses wild beauty, attracting tourists to admire the diverse natural ecosystems of Van Long lagoon. Coming here, you will be sitting on a boat watching the immense swamp, birds, and limestone mountains, the romantic natural scenery that makes everyone fall in love.
Located about 80 km from Hanoi, Van Long is the largest wetland nature reserve in the Northern Delta. This reserve is located in the northeast of Gia Vien district, Ninh Binh. Van Long Lagoon has a vibrant and unique ecosystem. It is not only a habitat for many flora and fauna, but also a habitat for fish, birds, and storks, including more than 40 species of white-buttocks. They live in caves and day out for food on high rocky mountains, out of sight of humans.
Coming to Ninh Binh, you not only admire the beautiful scenery here but also enjoy the delicious specialties. Here are five specialties that you cannot miss in Ninh Binh.
1. Ninh Binh Burned rice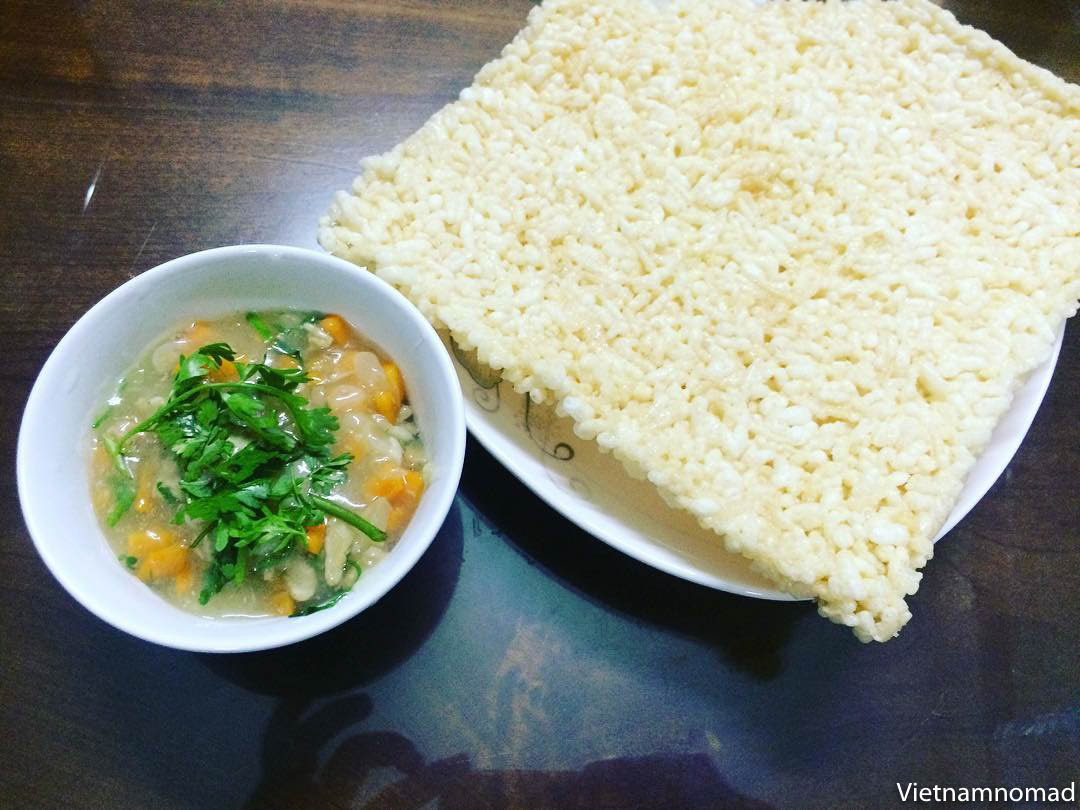 Burned rice is a dish that attracts tourists every time visiting Ninh Binh. Burned rice is the most famous dish of Ninh Binh land because of its delicious taste. Ninh Binh Burned rice is fried and processed in many different ways, but the rice grain still keeps it greasy, crispy, and crunchy without drying. Specialties of burned rice you can find anywhere in Ninh Binh to enjoy. You can also buy it as a gift for friends and relatives after a trip to Ninh Binh. Steamed rice is served with soy sauce.
Recommended addresses to eat or buy burned rice:
Thang Long – Trang An, Truong Yen, Hoa Lu

Hoang Giang Restaurant – Hang Ca, Truong Yen, Hoa Lu 

Duc De Restaurant – 446 Nguyen Hue, Hoa Lu
2. Hoa Lu goat meat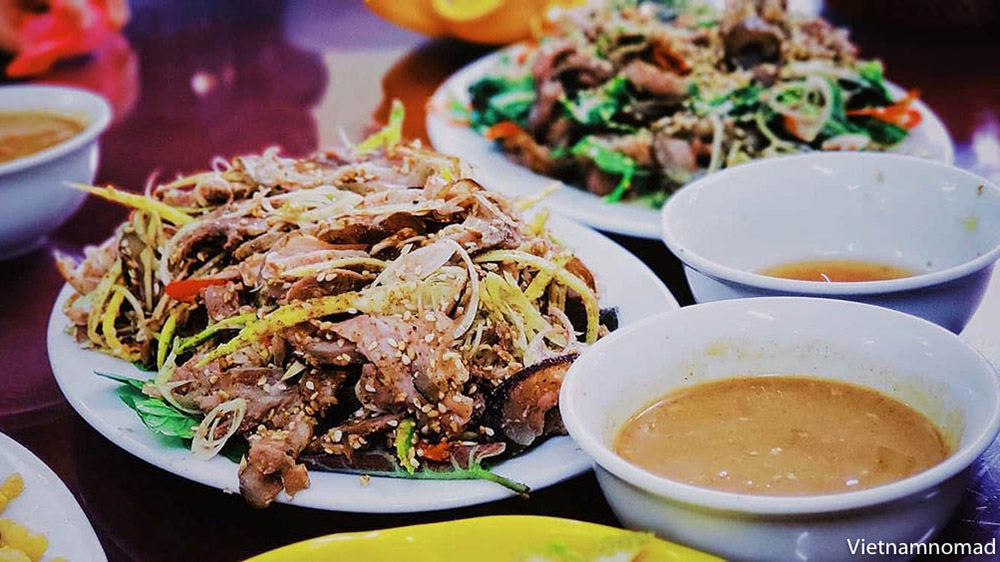 Goat meat has become one of 5 delicacies in Ninh Binh. Goat meat can be processed in 20 different dishes, each bringing its flavour to customers. Probably the most popular dish is the pale lime goat, grilled goat, fried goat roll, goat wine cellar. Of which, goat meat with lime is still the most delicious and nutritious. Goats in Ninh Binh are raised naturally on the grasslands of the limestone mountains. So the goat meat is delicious, firm, and more nutritious than the domestic goat. Goat meat dipping spicy, sweet and sour ginger sauce served with fig leaves, herbs.
Recommended addresses to eat goat meat:
Hoang Giang Restaurant – Hang Ca, Truong Yen, Hoa Lu

Thang Long – Trang An, Truong Yen, Hoa Lu
3. Yen Mac fermented pork roll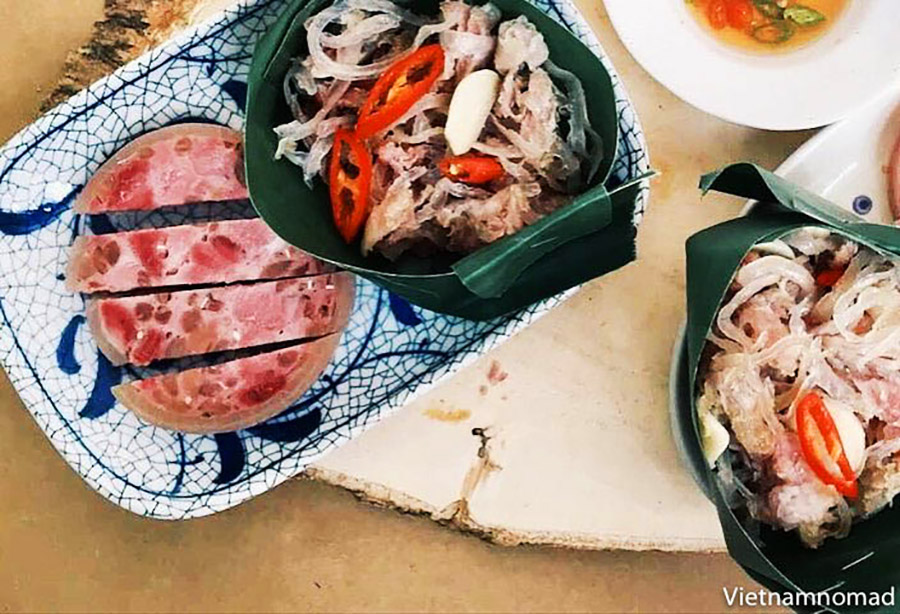 Yen Mac fermented pork roll (Nem Yen Mac) is a dish not to be missed when travelling in Ninh Binh. This is a long-standing specialty dish in Ninh Binh that is sought by many people. Nem Yen Mac is made from thinly sliced shredded pigskin mixed with ground meat, ground buttocks, marinated, and left to ferment for a long time. Yen Mac fermented pork roll served with garlic and chilli lemon sauce with a little more raw vegetables; herbs are irresistible. The delicious sour taste of this dish originates from the famous one of Hue city. Up to now, it has become a recognized specialty in Ninh Binh.
Recommended addresses to buy Yen Mac fermented pork roll
No. 70, Street 11, Ward Van Giang, Yen Mo
4. Eel vermicelli Ninh Binh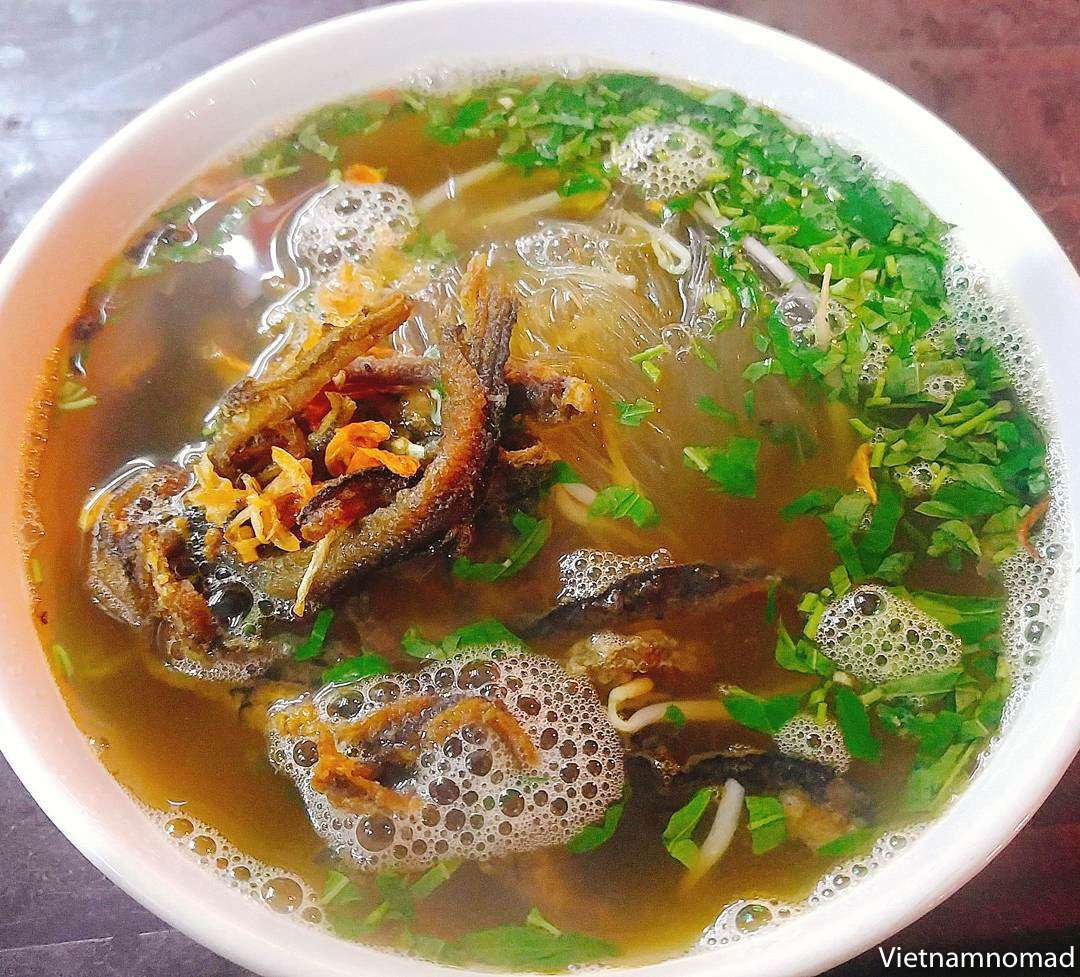 Also made from vermicelli and eel, but traditional eel vermicelli in Ninh Binh is outstandingly delicious, different from other regions. Eel meat is rimmed according to a unique recipe. So the eel meat is sweet, fat without any fishy smell. Eel vermicelli here is always served with a plate of raw vegetables, such as herbs marjoram, basil, sliced banana flowers. It is an indispensable accompaniment and also contributes to the uniquely delicious flavor for Ninh Binh eel vermicelli. Besides, do not forget to squeeze a little more lemon, add a little chilli sauce to taste the eel vermicelli bowl more delicious.
Recommended addresses to eat Ninh Binh eel vermicelli:
Mrs Phan eel Vermicelli, 999 Tran Hung Dao Street, Van Giang, Ninh Binh.

Hoang Long Restaurant, Pho 10, Trang An Street, Ninh Binh.
5. Sticky Rice with Ants Eggs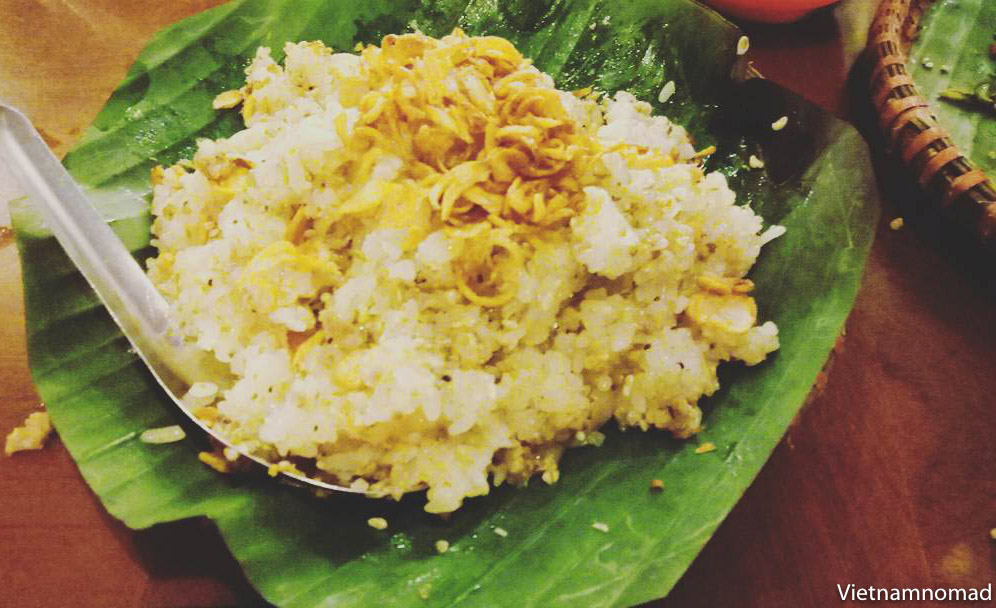 Nho Quan ant egg sticky rice dish is known to many people as an attractive dish in Ninh Binh. After being fragrant, the ant eggs are carefully wrapped into dried banana leaves to marinate with spices. Sticky rice is also cooked meticulously from round glutinous rice grains. When the sticky rice is cooked, sprinkle on the ant eggs. Then, stir well for sticky rice and eggs are mixed. When eating, diners can feel a taste of ant eggs with the fragrance of sticky rice.
Recommended address to eat Nho Quan ant egg sticky rice:
Coming to Ninh Binh land, tourists not only can visit the beautiful natural scenery but also participate in special festivals. Here are the five most unique festivals not to be missed in Ninh Binh.
1. Trang An Festival
Trang An Festival usually takes place on March 18 of the lunar calendar. This is a traditional festival to promote and expand Trang An tourism to a world-class. Trang An traditional festival opens to commemorate the merits of Saint Quy Minh Dai Vuong, who had the benefit of building and defending the nation.
During the days of Trang An festival, people here gather to offer incense and pick up the palanquin to pray for a peaceful and happy new year.
Visitors coming to Trang An at this festival will take a boat to admire the scenery, enjoy the folk songs performed by artists of many different ethnic groups and regions. Besides, you can also admire the charming mountain scenery as well as enjoy the fairy scene.
2. Christmas Festival at Phat Diem stone church
Phat Diem stone church is considered the Catholic capital of Vietnam. Every year, parishes come here to celebrate Christmas at the birth of Jesus. A few days before Christmas, everyone was excited to prepare to redecorate the cathedral. Around the holy are rows of lanterns stretching along the stone walkways along with paintings depicting God's life. The parishes also reset the cave model to symbolize where God descended. The stage is built right inside the church. People enlist the practice of music performances, singing hymns to serve tourists.
During Christmas, there are many exciting activities, such as the procession of the Baby Jesus around the lake, Christmas carols, prayer ceremonies, and a welcome dance. The annual Christmas Festival at Phat Diem attracts many visitors here, especially the parishes. Visitors can both visit the church and learn more about God and religion.
3. Bai Dinh Temple Festival
Bai Dinh Temple Festival is a spring festival, held on the occasion of Lunar New Year. The festival starts on the afternoon of the first day of the New Year. It is a festival to commemorate the merits of the national heroes of the country and to pray for peace and prosperity. 
The festival is officially opened on the 6th of New Year and lasts until March. It is the starting time for the pilgrimage to return to Hoa Lu ancient capital, back to Buddha-land, and offer him pleas. Besides, participants of the festival also have the opportunity to blend in with the majestic nature by the legendary Hoang Long river.
Bai Dinh Temple Festival consists of two parts. The ceremony includes rituals of incense burning for worshipping Buddha, such as praying tradition to pay tribute to the saint of Nguyen Minh Khong, or the sacrifice to Cao Son mountain god. 
The festival parts of Bai Dinh pagoda are cultural performance, temple scenery, and folk games. One of the unique things when coming to Bai Dinh Pagoda festival is to enjoy the performing arts and music of the artists from the Ninh Binh Art Cheo Theater. Surely you will be impressed with the performances that recreate the ceremonial posting ceremony of King Dinh Tien Hoang and the sacrificial ritual of King Quang Trung before the battle.
4. Thai Vi temple festival
Thai Vi Temple Festival is a big festival in Van Lam commune, usually held from 14 to 16 March of the Lunar calendar to worship King Tran Thai Tong, Tran Thanh Tong, Tran Nhan Tong, Tran Anh Tong, and Queen Dowager Hien Tu. 
In particular, King Tran Thai Tong is the essential person who reclaimed, set up hamlets, and build a Van Lam base for the second time against Nguyen-Mong army. The ceremony consisted of a grand palanquin procession with flag-bearers and a drum set followed by many palanquins. Next is the palanquin carrying fragrant flowers and sticky rice. The last is the sacrifice. Rituals are held right on the front yard of Thai Vi temple with many solemn procedures to pay respect. Part of the festival is entertainment activities, folk games such as dragon dance, lion dance, chess play, boat racing and wrestling.
5. Hoa Lu Ancient Capital Festival
Hoa Lu Ancient Capital Festival as knows as the Truong Yen Festival, which is a traditional festival held in Hoa Lu Ancient Capital. This festival takes place annually from the 6th to the 8th of the 3rd lunar month.
Communion procession of King Le and King Dinh takes place magnificently with a procession of echelons and a trumpets group. The ceremony includes a parade of water, incense offering, a commemoration ceremony, and a flower-lanterns release. The festival always includes exciting folk games, attracting many locals as well as tourists to participate.
The most favourite part of the ceremony is releasing flower-lanterns on the Sao Khe River. It is the most intriguing ritual held in the evening. The lights glistening of flower-lanterns in the water floated along the water carrying the wishes of people for a better future.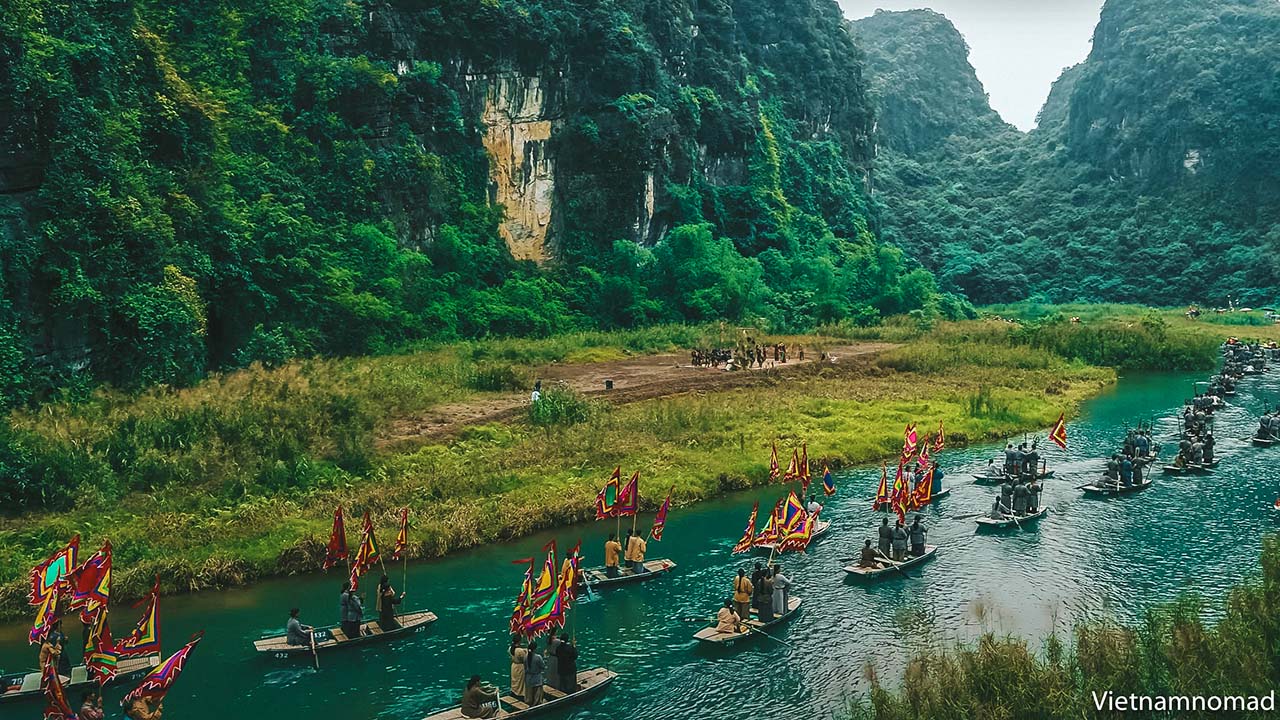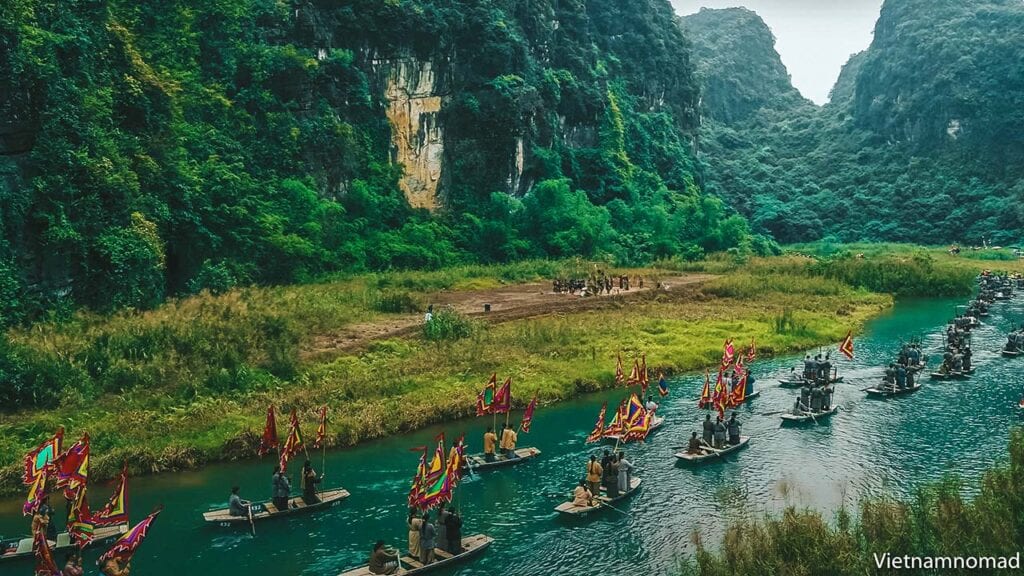 With the above Ninh Binh detailed travel guide, we hopes you will have a wonderful trip to this beautiful land! 
Meet in Ninh Binh!
Tip
A favorite travel combo for many travelers is "Hanoi – Ha Long Bay – Ninh Binh", these are also the three most attractive places in Northern Vietnam.
From Hanoi, you can come to Ha Long Bay by bus, with the price of 200.000 VND and the travel time is 3 hours. Some major bus companies such as: Hoang Long Bus, Kumho Viet Thanh and Phuc Xuyen Bus.
From Ha Long Bay, you can come to Ninh Binh by bus for 350.000 VND and the travel time is 4 hours. We suggest some brands: Ninh Binh Limousine, and The Long Travel.
With the above Ninh Binh detailed travel guide, we hopes you will have a wonderful trip to this beautiful land! 
Meet in Ninh Binh!