Hue at a glance
The romantic and quaint Hue city is truly a great tourist destination that visitors should not miss. Discovering Hue is a historical journey with countless valuable heritage, charming natural experiences, and alluring cuisine. Firstly, let's learn a bit about this beautiful land with us.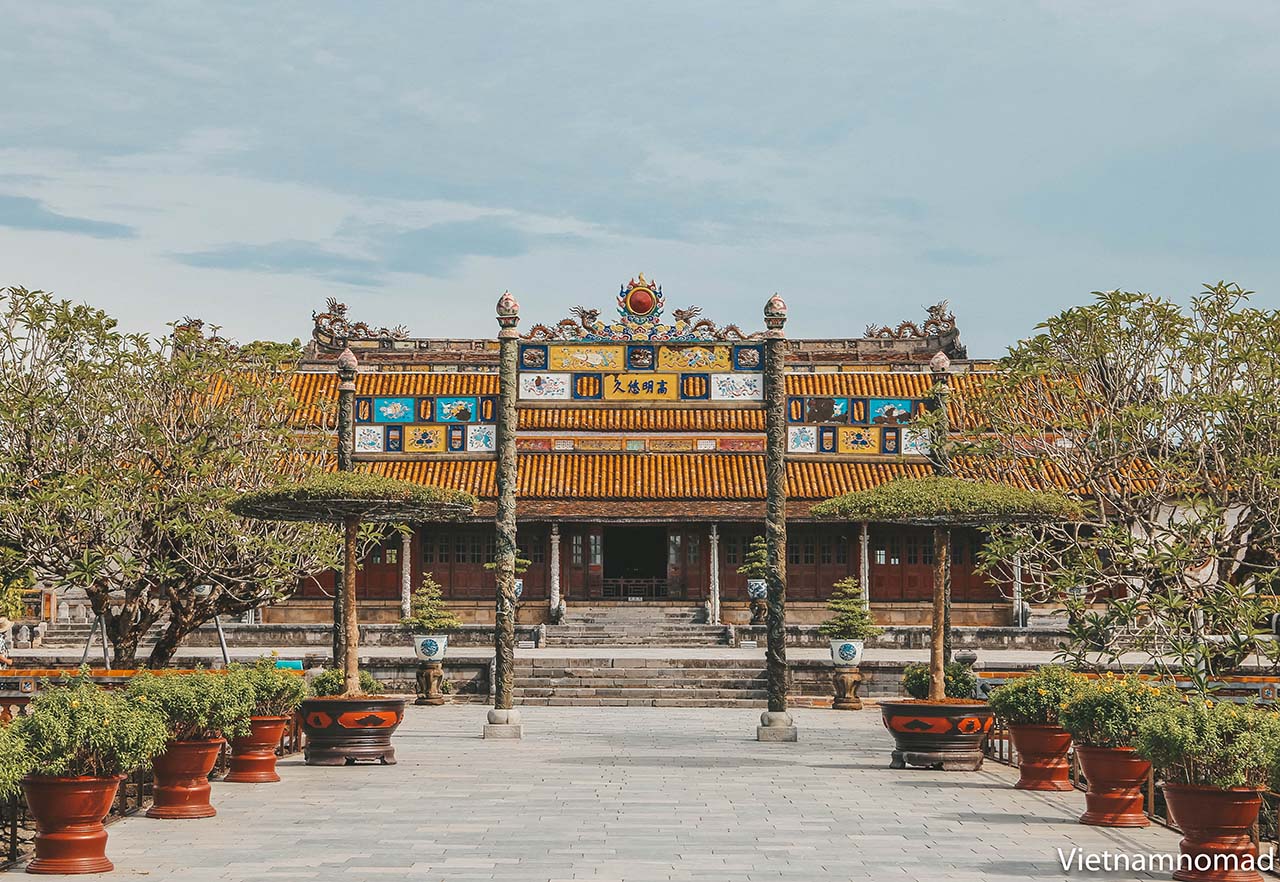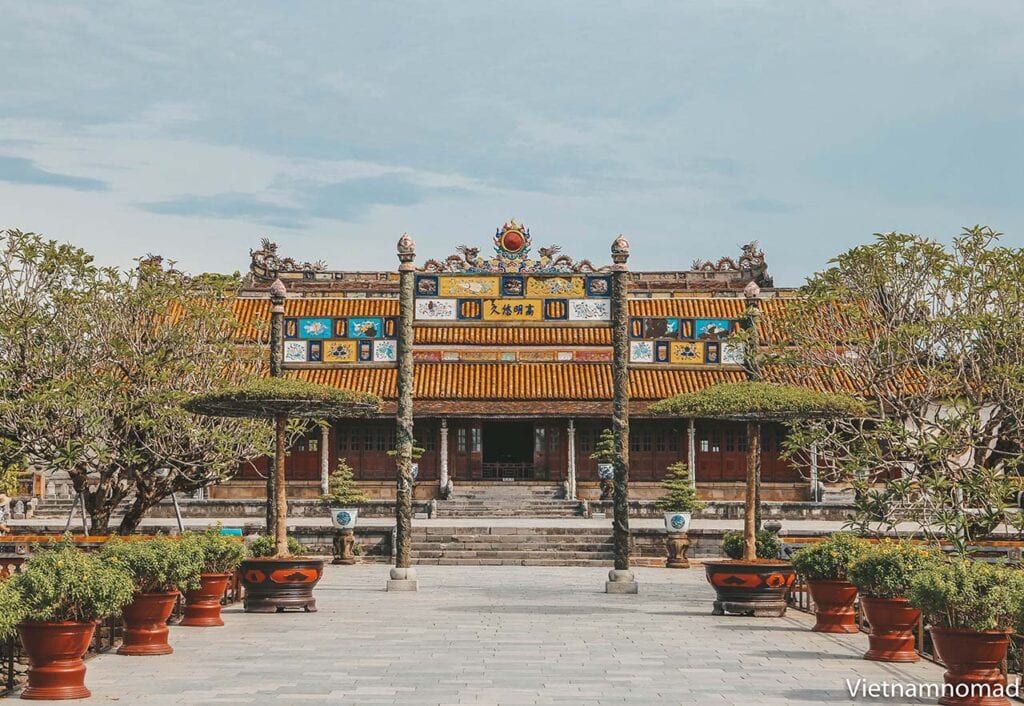 The history
Hue has been the capital of unified Vietnam since 1802 after Nguyen Anh ascended the throne to open the Nguyen Dynasty, which is the last feudal dynasty in Vietnamese history. Hue ended its mission to be the Vietnamese capital in 1945 when the last emperor of the Nguyen Dynasty, Bao Dai abdicated. Since then, the capital of Vietnam was once again chosen as Hanoi; Hue became the ancient capital.
Location
Hue City – the capital of Thua Thien Hue province, is a city in the middle of Vietnam, located adjacent to the beautiful city of Da Nang, separated by the majestic Hai Van Pass. This is one of the cities with the oldest cultural history and is a place to preserve many famous places and historical sites in the world.
Discovering Hue, Da Nang and Hoi An is an indispensable "combo" of tourists coming to central Vietnam.
When should you visit Hue?
Located between the South and the North, Hue weather is characteristic of both regions. Hue has all four seasons, but the most obvious is sunny and rainy seasons. The dry season lasts from March to August, it is quite bright and hot. From August to November is the rainy season. Especially from October onwards, there are prolonged rains and storms. The weather at this time is quite cold. Spring lasts from January to the end of February, at this time the temperature is still not very high, but thanks to the rays of the spring, Hue becomes warmer and brighter.
According to the Hue tourism experiences, you should come to this beautiful city at the time of the season: summer-autumn and autumn-winter (January – July). This is the time when Hue is the most beautiful and attractive.
In addition to the above two times, you should also visit Hue in late April, the time for the Hue Festival. On this occasion, you will have the opportunity to explore the unique cultural features of Hue city by experiencing various exciting activities.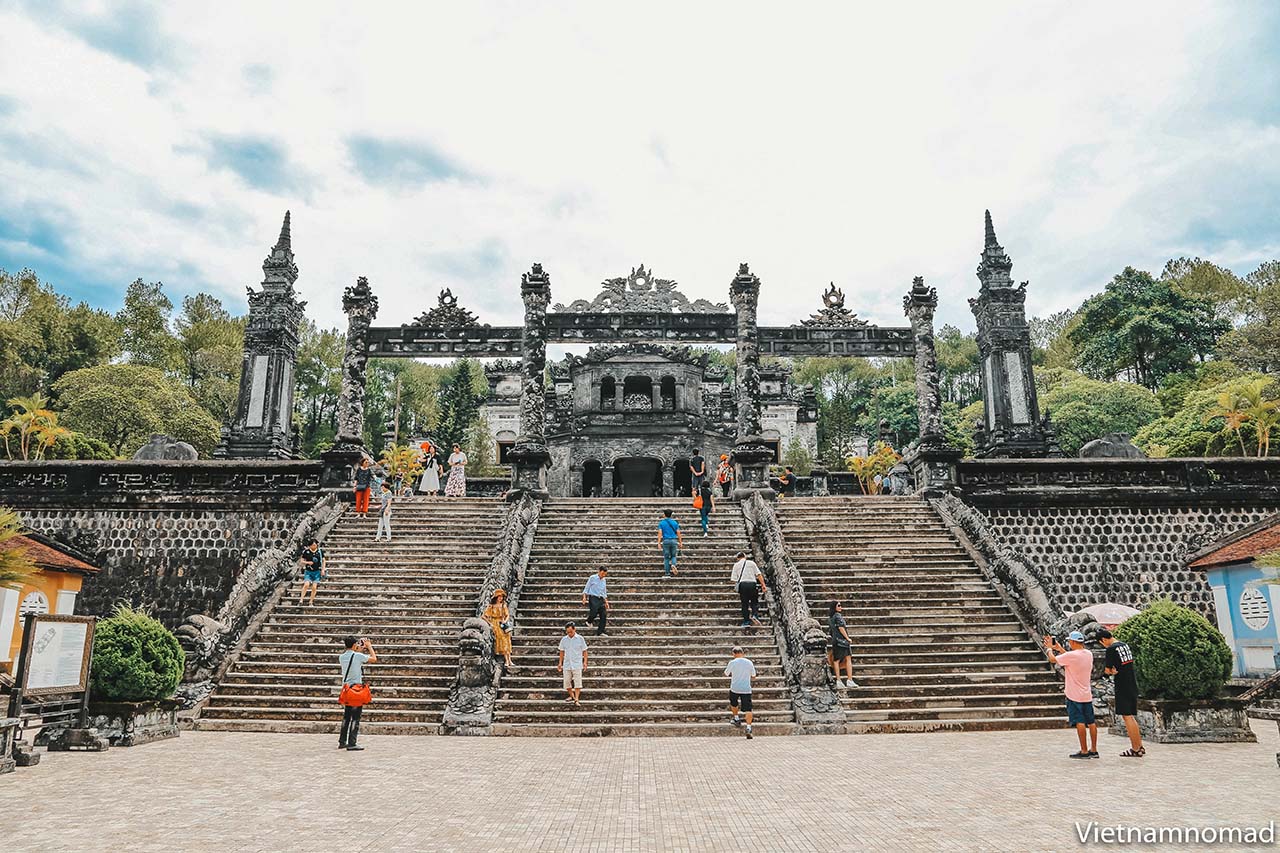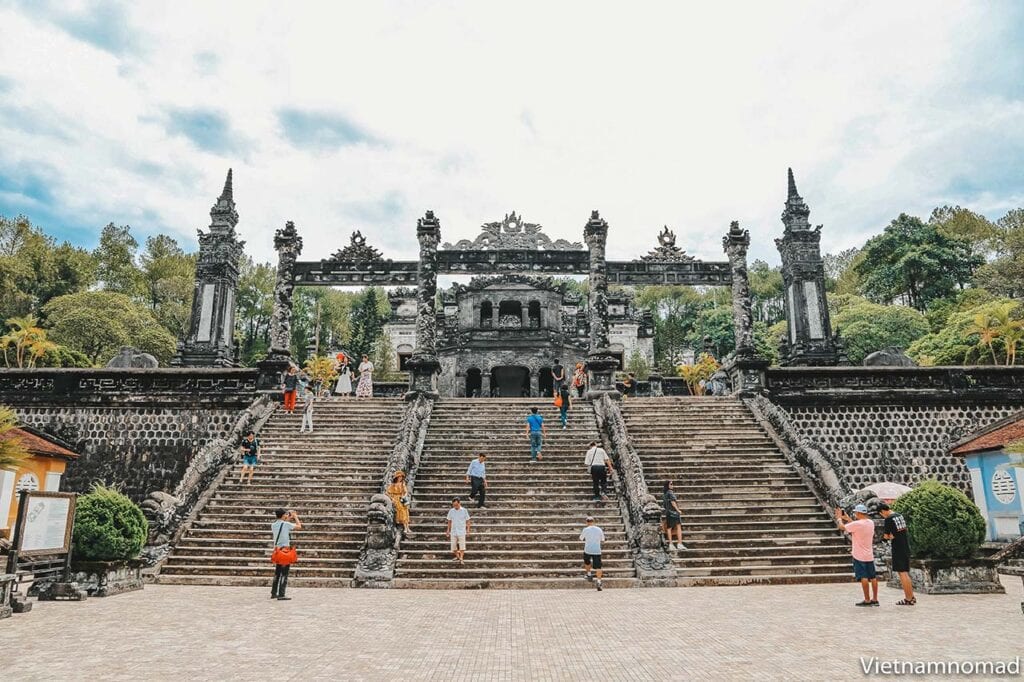 How to get to Hue?
From Hanoi or Ho Chi Minh City to Hue
From Ho Chi Minh City or Hanoi, you can easily go to Hue in the following ways:
1. By plane
Hue has Phu Bai airport. Currently, there are many airlines serving flights from Ho Chi Minh City and Hanoi to Hue, such as Vietnam Airlines, VietjetAir and Jetstar. Ticket prices range from 400.000 VND to 900.000 VND (on the tourism season may be higher). And it only takes more than 1 hour, and you are here in this lovely land.
2. By bus
If you want to save money, you can choose a bus to Hue. Today there are many reputable, high-quality sleeper bed buses running from all over the provinces to Hue, such as Hoang Long, Phuong Trang, TheSinhTourist. But you should consider it because the distance will be long and take more time to go.
In Hanoi, you can catch a bus to Hue at Giap Bat station, Nuoc Ngam bus station, Luong Yen bus station, with fares from 300.000 VND/ one way.
In Ho Chi Minh City (Saigon), you buy tickets at Eastern bus station, with fares from 450.000 VND/ one way.
3. By train
Traveling by train to Hue is also an exciting experience you should try. Although not more convenient than the above ways, in return, you will admire the beautiful natural scenery of Vietnam on both sides of the road. SE2, SE4, SE6, SE8, TN2 are trains that usually transport passengers to Hue and many other provinces. You can buy train tickets to Hue for about 400.000 VND/ one way. If you want to experience better services such as beds, soft chairs, the cost will be higher.
From Da Nang To Hue
This is the way most often used by tourists, you can easily get to Hue from Da Nang by bus, we recommend HAV Limousine (add 445 Hai Phong, Da Nang), the fare is 140.000 VND, travel time is 2,5 hours.
How to go around Hue city?
Transportation in the inner city is probably one of the things you must pay attention to when coming to Hue. You can take a taxi, rent a motorbike or travel by cyclo.
1. Take a taxi
If you do not want to drive yourself, you can choose a taxi. Some reputable taxi companies recommended by many tourists are Mai Linh, Dong B, Thanh Cong, and Phu Xuan. However, the price of a taxi is quite high.
2. Take a cyclo
Like Hanoi and Hoi An, Hue still has many cyclo drivers in operation. Cyclo prices are relatively low, from 15.000 VND – 20.000 VND for a sightseeing trip. Note, most of Hue's cyclo drivers are individual drivers, so you should negotiate the price before boarding.
3. Rent a motorbike
Motorbike is probably the best option for exploring around Hue city. As a famous tourist destination, the motorbike rental service in Hue is also very diverse. The rental price is from 100.000 VND to 120.000 VND for one.
Some famous motorbike rental areas in Hue:
Le Loi Street, Western Quarter opposite Huong Giang Hotel
Hung Vuong street, the intersection of Hung Vuong and Nguyen Tri Phuong
Pham Ngu Lao Street, Chu Van An
Small and medium hotels in Hue also offer motorbike rental
Another very unique vehicle that not all tourist destinations have is traveling by boat. Boats move mainly to watch the Huong River and listen to Hue folk songs. Besides, some routes take you to other famous tourist destinations such as Thien Mu Pagoda, Hon Chen Palace, Minh Mang Tomb.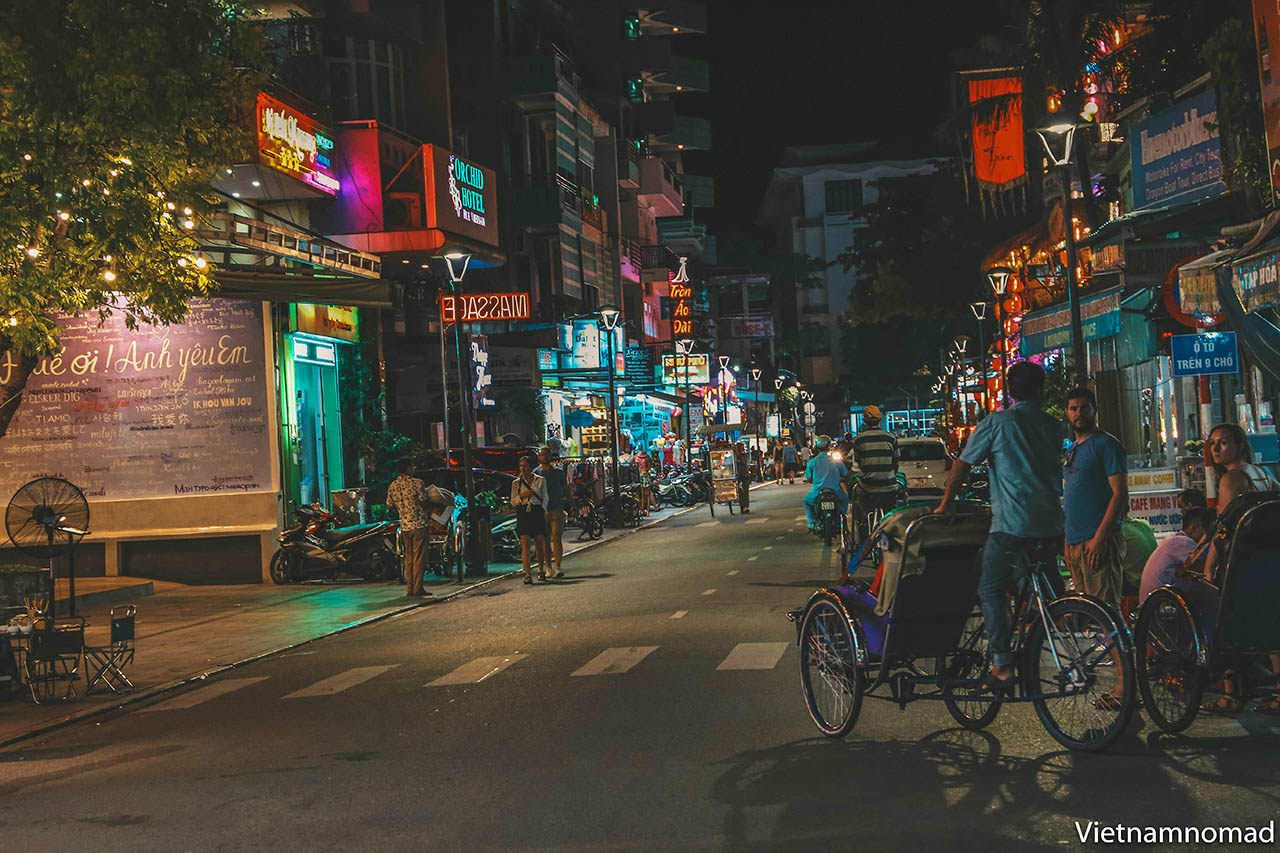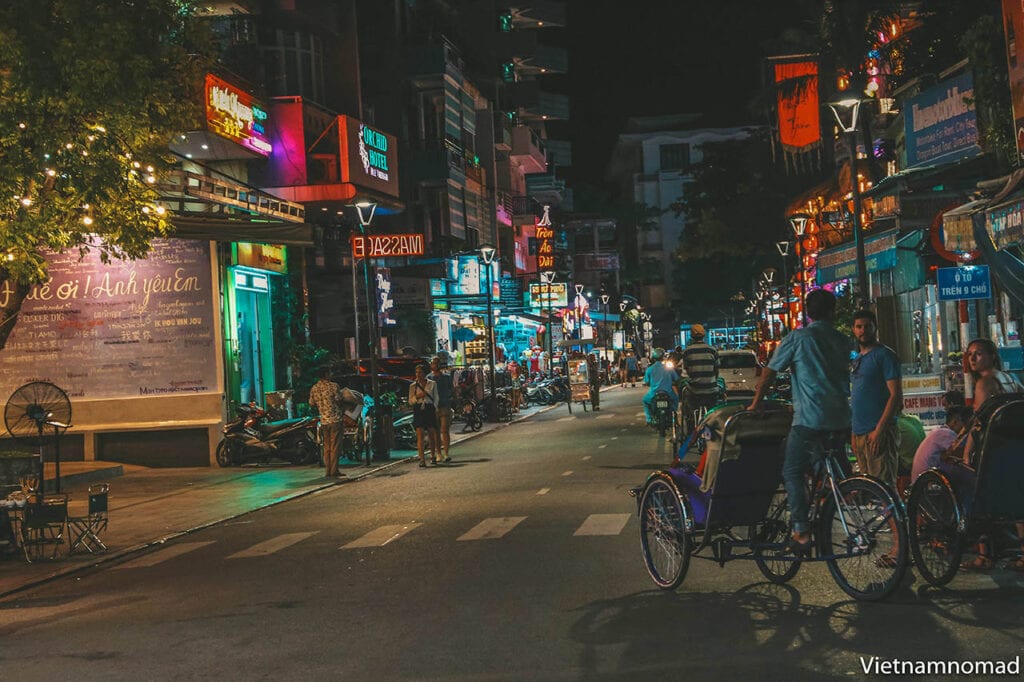 After coming to Hue, the next thing is to choose a place to stay. As a prominent tourist city in Vietnam, the accommodation service is also extremely developed. Depending on the budget as well as individual needs, you can choose for yourself the appropriate type of rest. Prices at different times are not much change.
Hotel in Hue
The most considered choice is the hotel because of its affordable price, from 250.000 VND/ room/ night. Most of the hotels in Hue have a convenient location near many famous tourist destinations.
Homestay in Hue
If you want to save money, homestay is the ideal choice. With a room rate of 150.000 VND/ night, you can still stay in a beautiful and lovely space right in the heart of Hue city.
Resort in Hue
If the purpose of your trip is to relax in the beautiful nature, to enjoy the peaceful atmosphere, then the resorts in Hue are a perfect suggestion. However, the room rates at these resorts are relatively high. And most of the resorts are far from the center of the city.
Whether you are a lover of nature, mountains, or great architecture, the ancient capital always meets your expectations. We divide the list of destinations into two parts: Imperial Citadel of Hue and attractive destinations in Hue.
Imperial Citadel of Hue
The Imperial City of Hue (Hoang Thanh Hue) is the place that you must explore first. This was the capital of the Nguyen Dynasty for 143 years, recognized by UNESCO as a World Cultural Heritage. With a total area of 520 hectares, the Imperial City of Hue is divided into two parts: one is mandarin and commoners, the other is the living and working place of the emperor. Here are some important monuments inside Hue Imperial City.
Entrance fee: 150.000 VND
1. The Flag Tower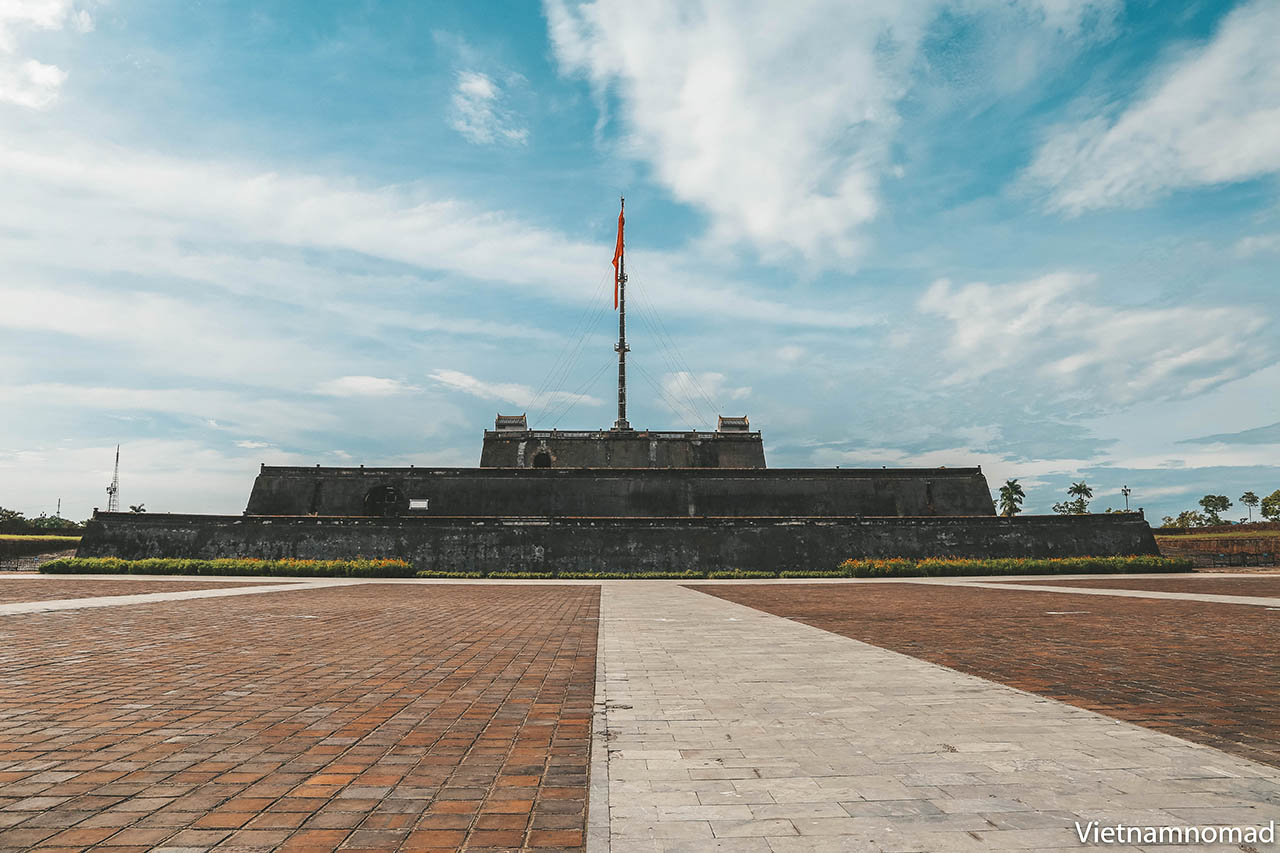 The Flag Tower is located in front of the Ngo Mon Gate, consisting of 3 floors stacked in order from big to small, built entirely of bricks. Along with the ups and downs of Hue Citadel, the Flag Tower also witnessed many important milestones of the country. In the Nguyen Dynasty, it was used to signal in all occasions. Today, the Flag Tower is considered a symbol of the ancient capital of Hue.
2. Ngo Mon Gate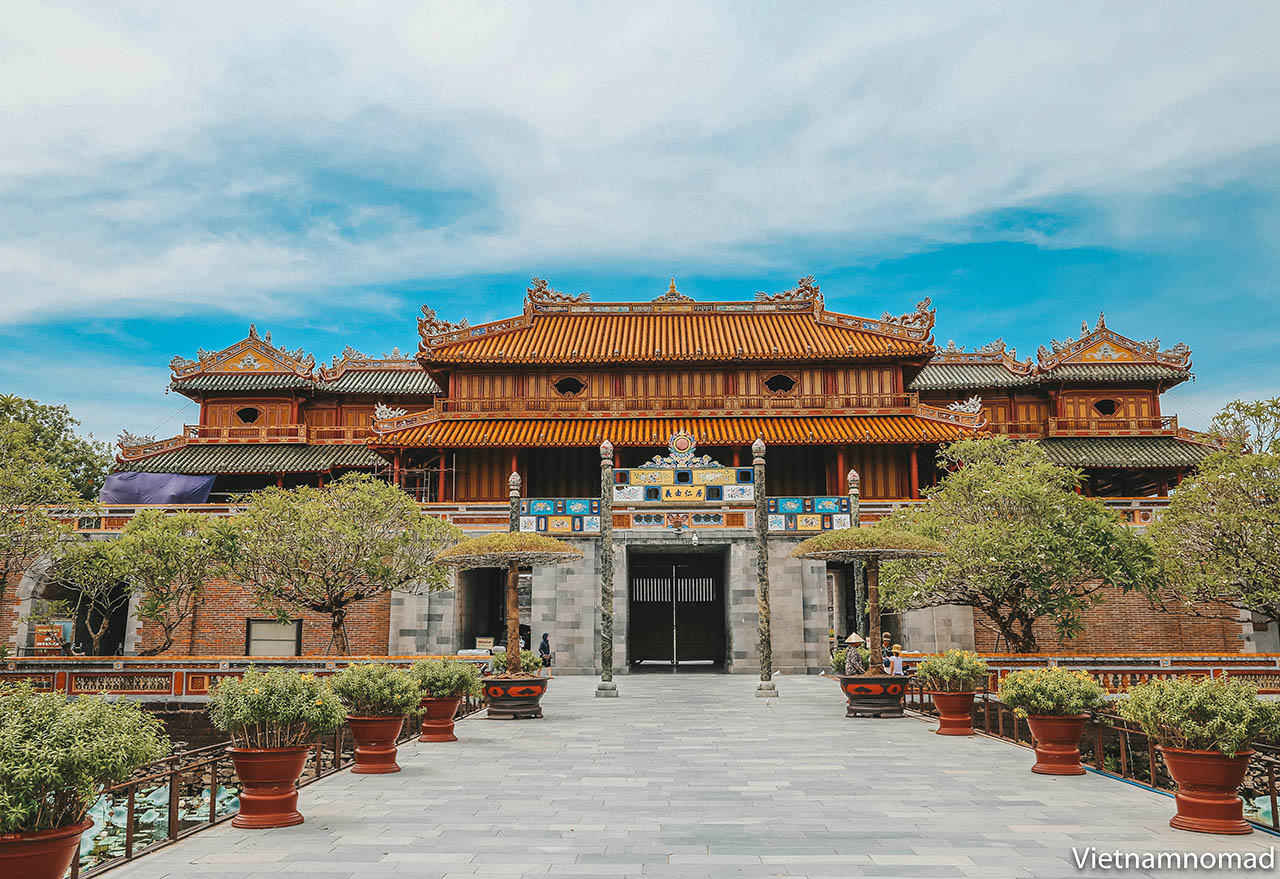 Ngo Mon is the main gate of the Imperial City built during the reign of King Minh Mang, only reserved for the king or welcoming the ambassadors from other countries. Ngo Mon was not only the place where King Bao Dai proclaimed his abdication (in 1945) but also was the place for many other important ceremonies. Coming to Ngo Mon, you will once again recall the residence of the feudal court, living in a space imbued with the majestic history of Vietnam.
3. Thai Hoa Palace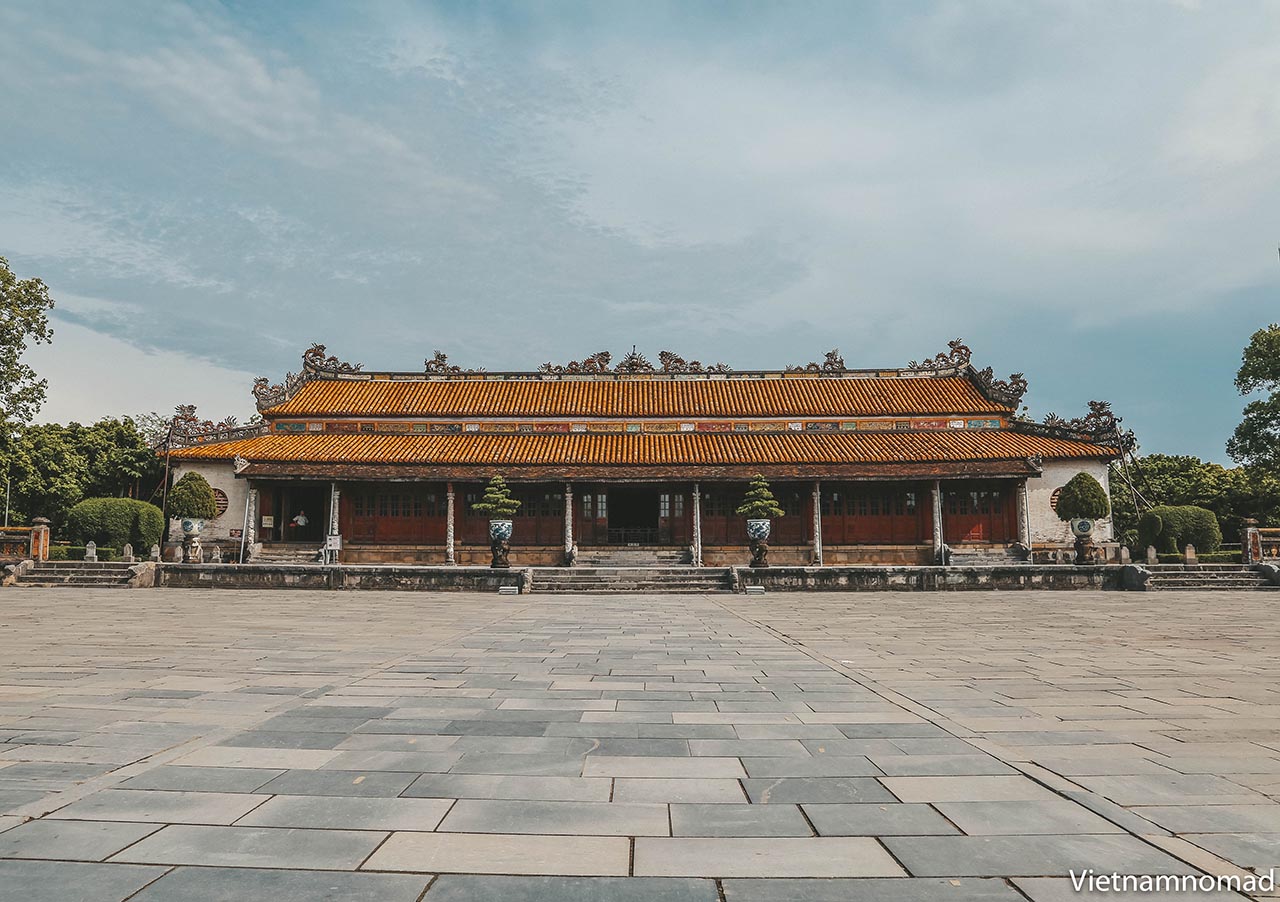 Thai Hoa Palace is considered as the heart of the capital because it is where the seat of the throne – a symbol of the power of the Nguyen Dynasty put in. It is also the venue for important ceremonies such as coronation, the king's birthday, and envoys.
4. The Mieu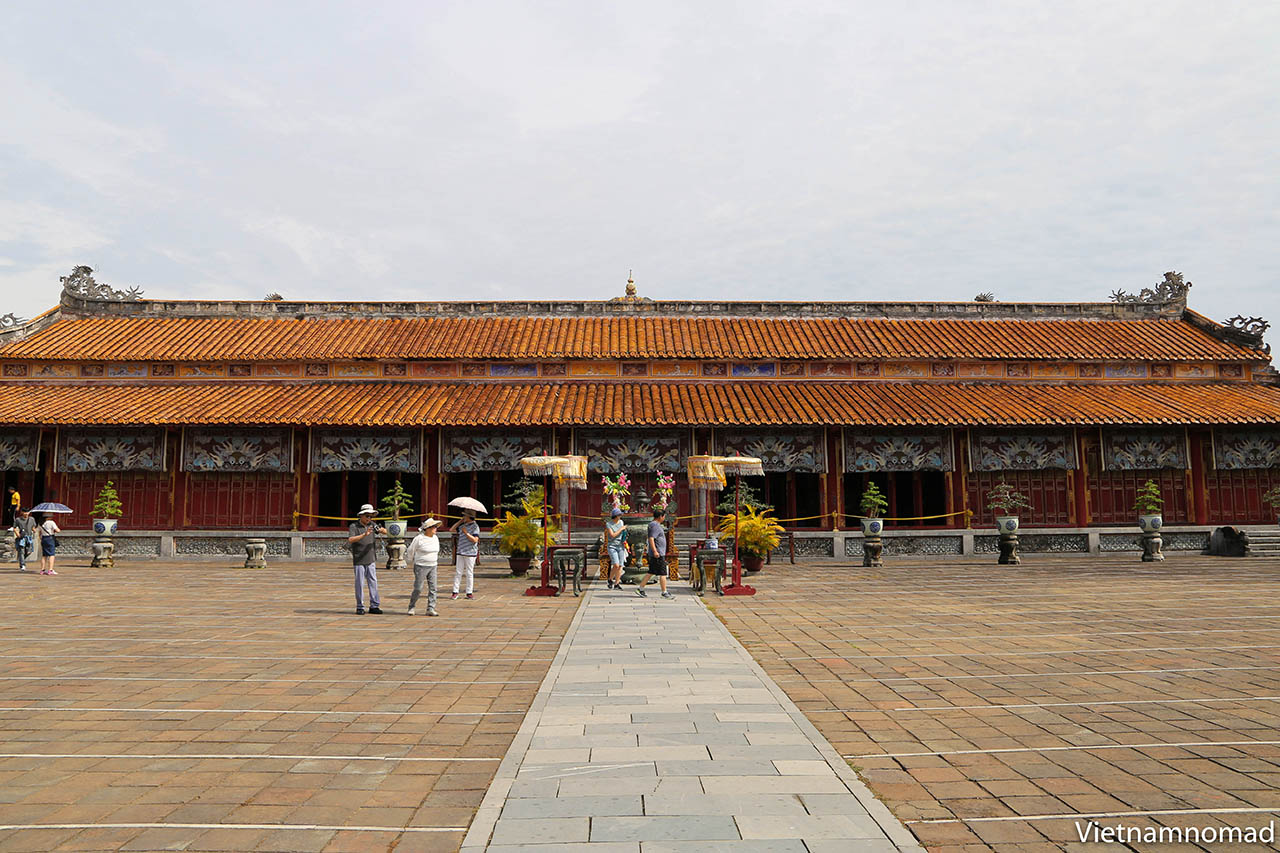 The To Mieu is often called The Mieu, located in the southwest of the Imperial Citadel, which is the place to worship the Nguyen kings, women in the court (including the queen) were not allowed to attend these ceremonies.
5. Hung Mieu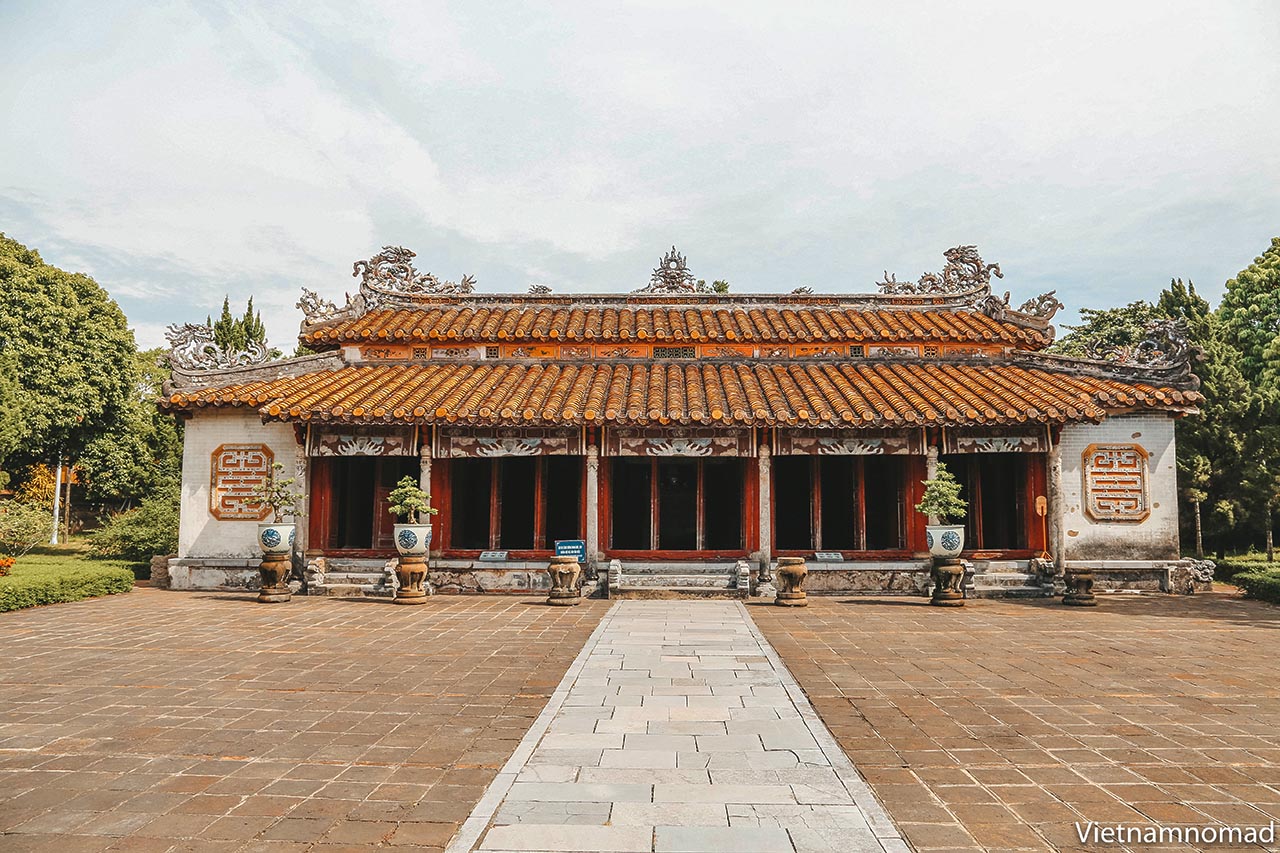 Hung To Mieu, also known as Hung Mieu, is a temple to worship the parents of King Gia Long (the king who established the Nguyen Dynasty) – Mr. Nguyen Phuc Luan (or Nguyen Phuc Con) and Ms. Nguyen Thi Hoan, located in the southwest of Hoang Thanh (about 50 meters from The Mieu to the North).
6. Others relics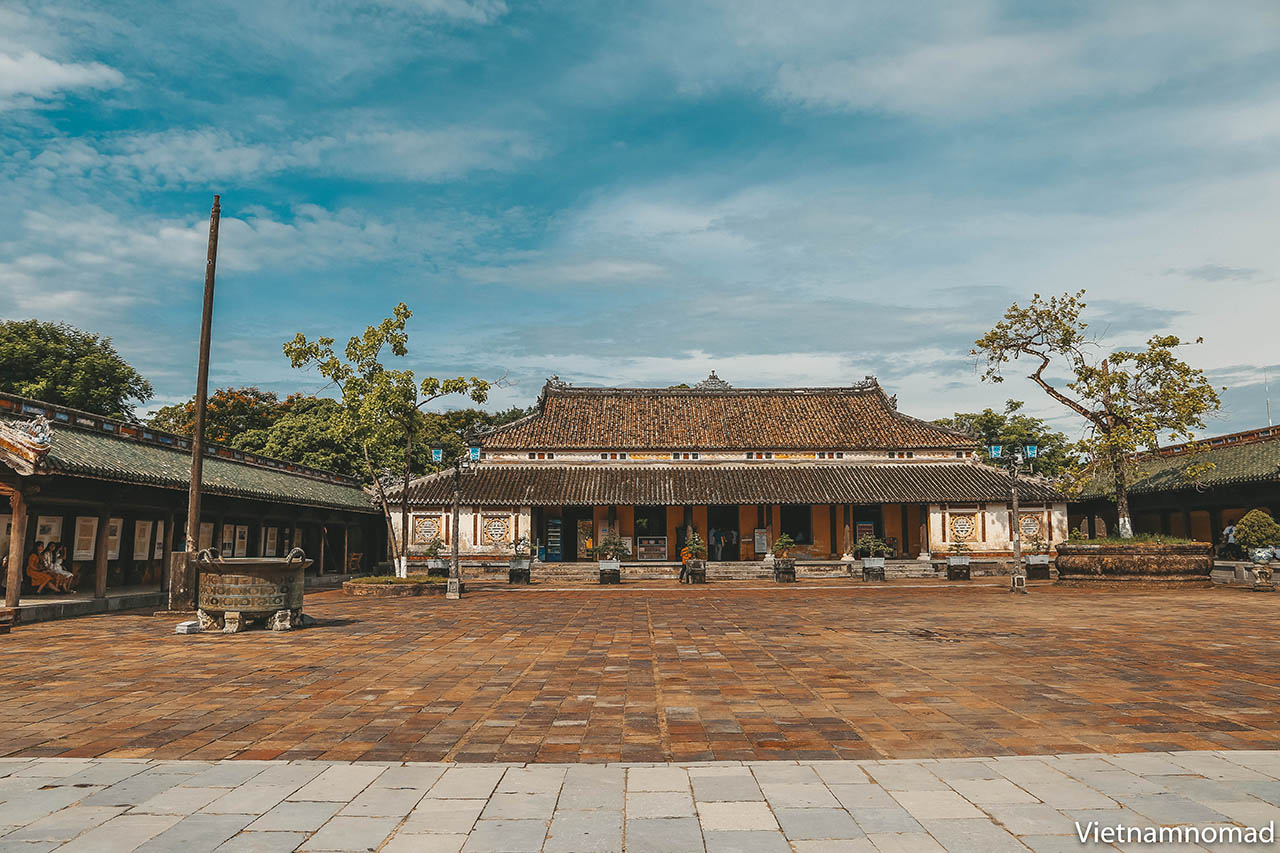 Long An Palace
Long An Palace was built in 1845, used as a resting place for the Emperor. It's also the place holding the Diem Canh ceremony. This is an architectural work of art that combines architecture and elegant art decoration. Long An Palace is now Hue Imperial Antiques, preserving royal artifacts. When you come here, you will have a closer look at the golden life in the past.
Phung Tien Palace
Phung Tien Palace is a temple located near Chuong Duc Gate, in front of Cung Dien Tho, built by King Gia Long and King Minh Mang to worship Nguyen kings. Unlike The Mieu, this palace also worshipped Nguyen kings and queens, but women in the court were allowed to come here.
Hien Lam Cac
Hien Lam Cac was built in 1821 and completed in 1822 during the reign of King Minh Mang, It is the tallest building in the Imperial Citadel. This is considered a memorial to remember the merits of the Nguyen kings and the great ministers of the Nguyen Dynasty.
Attractive destinations in Hue
In the downtown area, besides the Imperial City, there are still many famous tourist destinations. Let's explore each in turn.
1. Thien Mu Pagoda
Besides the Imperial City, Hue is also known as a land with many sacred temples. Thien Mu Pagoda is one of them. Thien Mu Pagoda is located on Ha Khe hill, right on Kinh Long street, about 5 km from the center of Hue city. The temple with ancient beauty, reflecting on the poetic Huong River, creates a very lyrical picture. Visiting Thien Mu, besides enjoying the scenery, you also have the opportunity to hear people retell the legendary stories about the history of temple building, and stories of love.
2. Seven royal tombs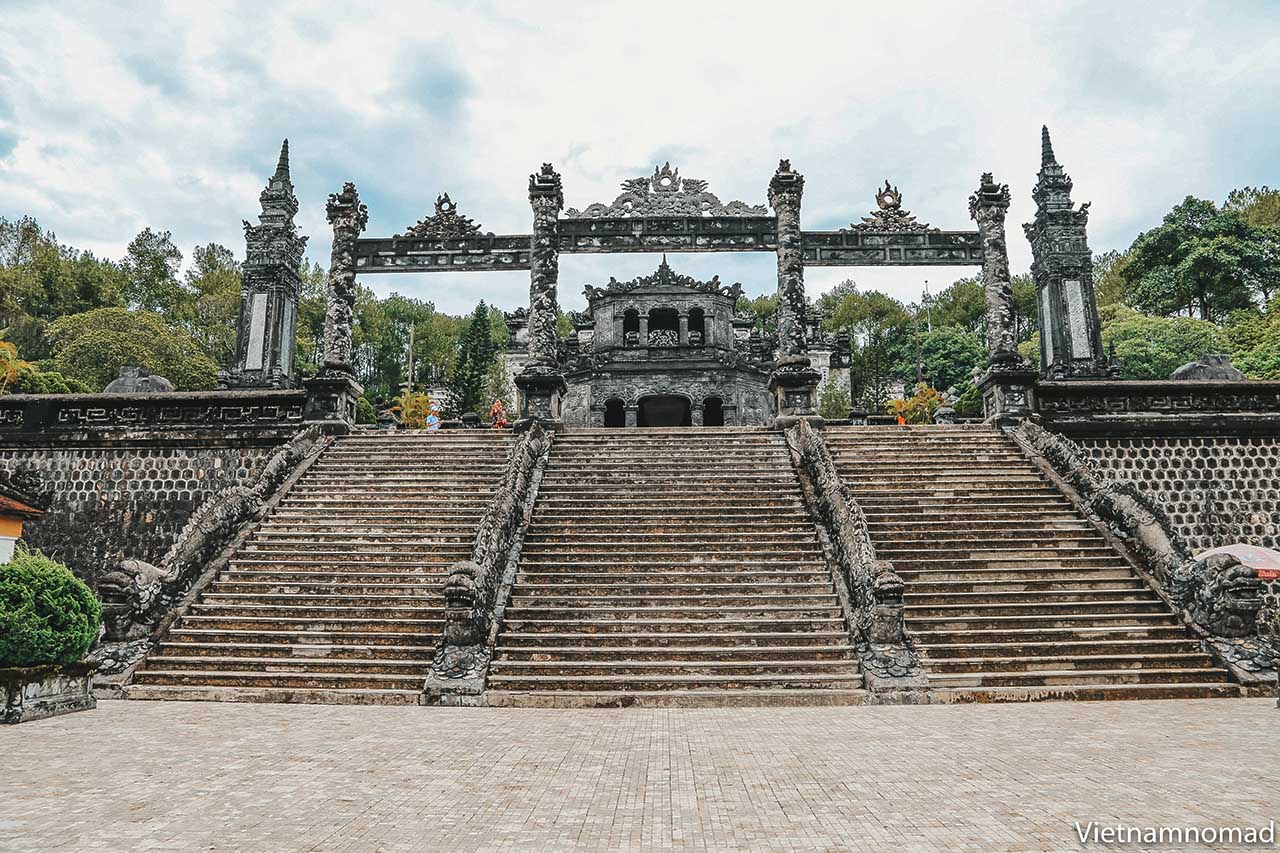 After the Imperial City of Hue, the tombs of the Nguyen kings are places you should not miss. Currently, Hue has a total of 7 tombs, including Tu Duc Tomb, Minh Mang Tomb, Khai Dinh Tomb, Gia Long Tomb, Giuc Duc Tomb, Thieu Tri Tomb and Dong Khanh Tomb. Each building has its own architecture with intricate carvings. But of which Khai Dinh tomb (image) and Tu Duc tomb are the most prominent.
Khai Dinh Tomb
Khai Dinh Tomb of Hue is also known by the people of Hue as Ung Lang. This is the resting place of the 12th king of the Nguyen Dynasty. Ung Lang is located in the Hue Monuments complex and was recognized by UNESCO as a World Cultural Heritage site in 1993.
Khai Dinh Tomb was started on September 4, 1920, by Le Van Ba, the pre-Admiral of the Army, who spent 11 years to complete it. Khai Dinh tomb was built extremely featurely with the total length of such construction from 1920 to 1923. This is the most unique tomb in the ancient tombs in Vietnam.
The entire tomb architecture is influenced by many schools such as Hinduism (tower-shaped pillar gate), Buddhism (stupa-shaped pillar), Roman Gothic architecture (octagonal columns, wide high arches).
The main works are harmoniously combined but still unique and separate. King Khai Dinh has traveled to many places to learn about new architectures and brought them in to build his tomb.
This famous tomb area was built with modern materials such as iron, steel, cement, and especially Ardoise tile. All of them were imported by the king from France. All interior details in the three-nave in the palace, most of which are decorated with reliefs made of beautiful porcelain and glass pieces imported from Asian countries such as China, Korea, Japan.
Visiting the tomb of Khai Dinh, besides admiring the unique features of architecture and art of the Nguyen Dynasty, you also hear more historical stories, and immerse yourself in the cultural and historical space.
Address: Khai Dinh, Huong Thuy District.
Entrance fee: 100.000 VND
Tu Duc Tomb
If you only have time to visit a tomb in Hue, come to Tu Duc Tomb. Only 7 km from the center of Hue city, but coming here, you will feel like you have just traveled back in time to the 19th century because this architectural complex of nearly 475 hectares is preserved intact.
Among 13 Kings of the Nguyen Dynasty, King Tu Duc was the most profound man in the Dong Phuong educational background, good at both history and philosophy, and especially enjoyed poetry. When he died in 1883, the king left 600 essays, 4.000 Chinese poems, and about 100 Nom poems.
Tomb of Tu Duc, also known as Khiem Lang, was built when the king was still alive. This is where King Tu Duc rested, recited poetry, and enjoyed tea when he was tired, so the whole scene of Tu Duc Tomb is like a large park with nearly 50 buildings both in the impregnated area and the tomb. The architecture intertwines harmoniously with the lake, the mountains, and nature.
Tomb of Tu Duc was completed in 1867. With charming scenery, Tu Duc Tomb is considered one of the most beautiful architectural works of Nguyen Dynasty.
Every day, Hue Traditional Art Theater still organizes Ca Hue performance at Xung Nghiem Ta, part of Tu Duc mausoleum. So come here, you not only admire this amazing work, but you also experience listening to Ca Hue.
Address: Thuong Ba village, Hue
Entrance fee: 100.000 VND
3. Perfume River – Trang Tien Bridge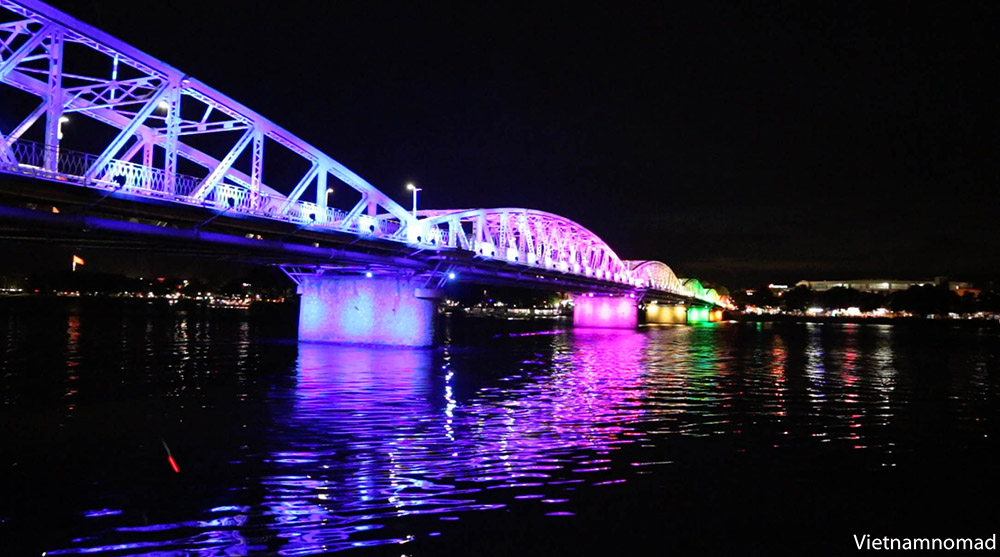 Perfume River (Huong River) is one of the five most attractive destinations in Vietnam voted by the Vietnam Record Organization. The poetic Huong River is considered as the symbol of Hue. Coming here, you can enjoy the peaceful scenery by boat. Especially at night, you can listen to the folk songs of Hue and watch the shimmering city light.
When you come to the Perfume River, do not forget to take photos at Trang Tien Bridge – also a symbol of the city and pride of the people. The bridge was built over 200 years ago and has become a panoramic view of the romantic city. The most wonderful time of Trang Tien Bridge is in the summer when the brilliant phoenix flowers bloom next to the bridge.
4. Dong Ba Market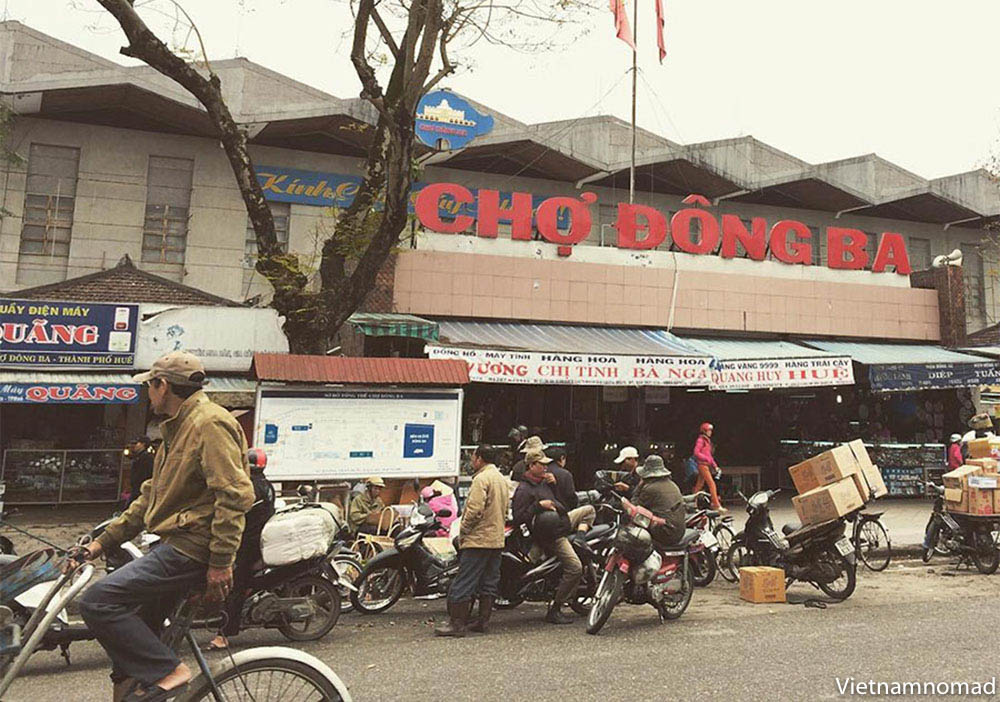 From Trang Tien Bridge, you walk 100 meters to the busiest market in Hue. The market sells a full range of goods, from food to everyday appliances, to clothing, etc. You can walk around the market, choose to buy some souvenirs such as conical hats, jewelry of Ke Mon village, and enjoy the specialties of this land.
5. The Beaches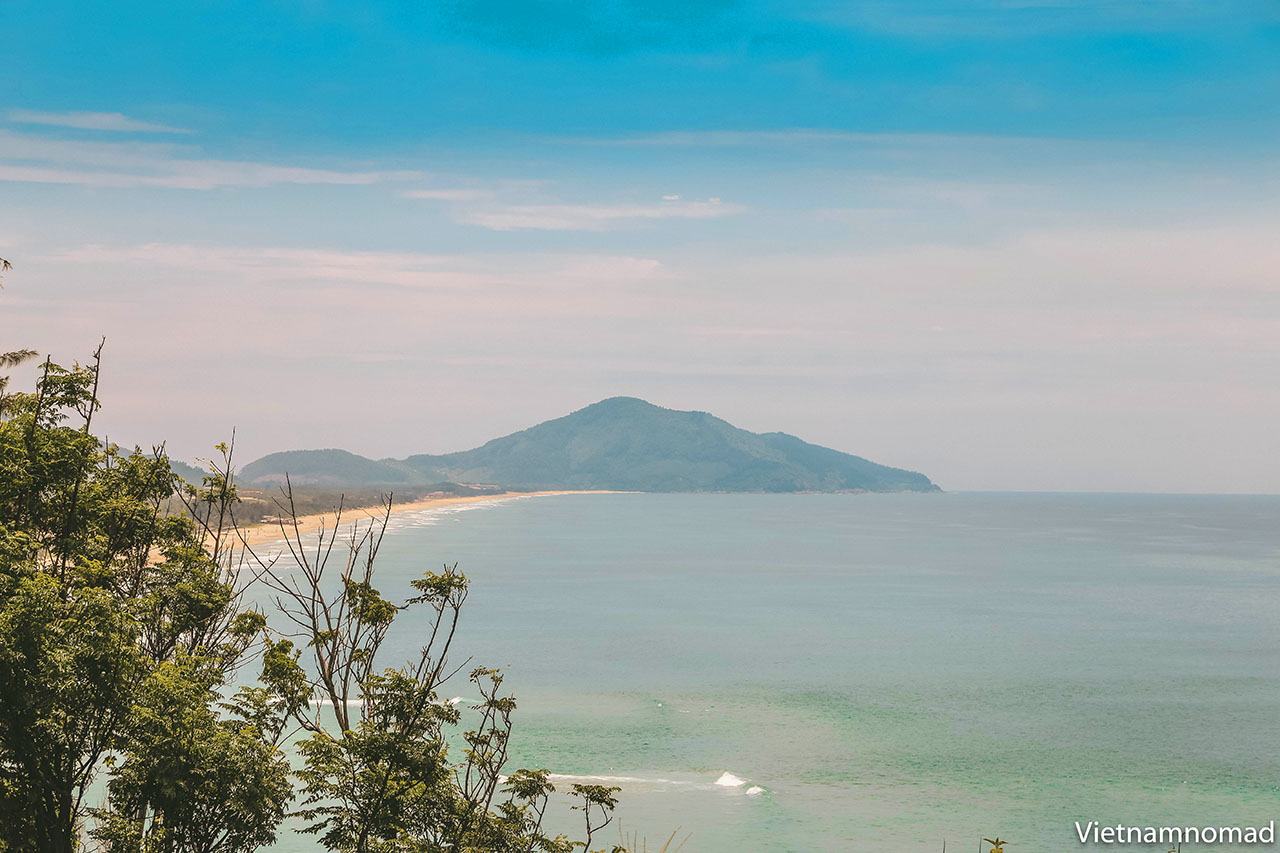 Hue has long been famous for its beautiful beaches, especially Lang Co beach is one of the 10 most beautiful beaches in Vietnam.
Lang Co Bay
Traveling Hue does not forget to visit Lang Co Bay – one of the most beautiful bays of the world. Situated between the ancient capital of Hue and the prosperous city of Da Nang, embraced by the stunning Hai Van Pass, Lang Co is truly a tourist paradise with pristine natural beauty. Lang Co Bay is also one of the rare places with mountains, rivers, seas, islands, and lagoons. Many luxurious resorts here will give you a dream vacation, away from busy city streets.
Thuan An beach
Although it is a small beach, Thuan An is an ideal place for those who want to escape the heat of summer. The beach is about 12 km in length, famous for its gentle waves and fresh air. Coming to Thuan An beach, you can immerse yourself in the pure blue water or admire the surrounding scenery on the white sand. Catching the sunrise and watching the sunset in Thuan An beach are experiences you should not miss in Hue.
Canh Duong Beach
Canh Duong Beach is located in Canh Duong village, Loc Vinh commune, Phu Loc district, about 50km from Hue city center. Unlike Thuan An, this beach is so vast, suitable for camping overnight and holding barbecue parties with the freshest seafood here. If you intend to travel to Hue for a long time, you should try once to visit Canh Duong Beach.
6. Lagoons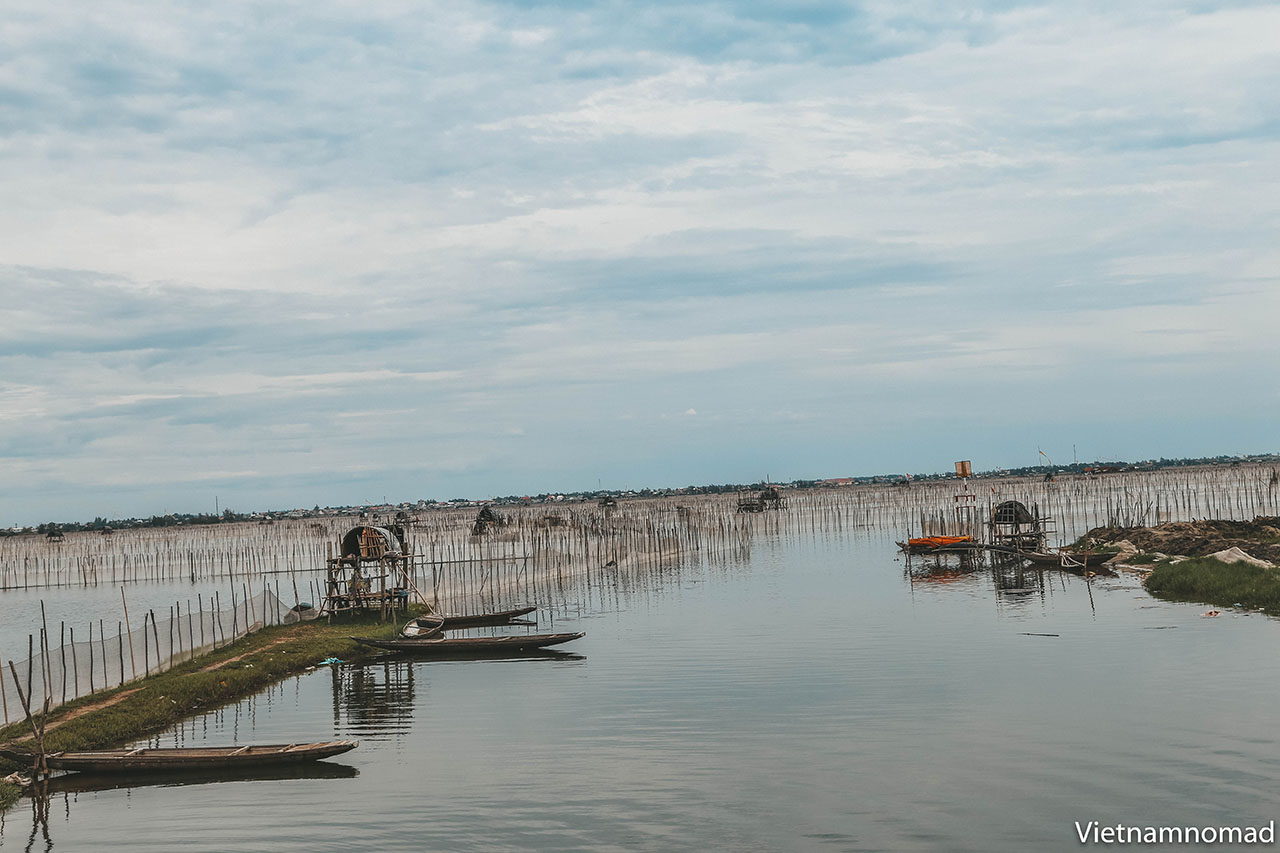 Hue is a land with many beautiful lagoons such as Tam Giang lagoon, Chuon lagoon and Lap An lagoon, each lagoon here has its own characteristics.
Tam Giang Lagoon
Tam Giang is the confluence of O Lau river, Bo river, and Huong river before flowing into the East Sea. Therefore, Tam Giang Lagoon is a symbol of the ecological environment in Hue. Not a single visitor to Hue miss this famous place.
Tam Giang Lagoon is the largest mangrove area in Southeast Asia, the water surface is 248.7 km2 wide, starting from O Lau estuary to Huong river mouth. Tam Giang lagoon has many aquatic animals, most of which are in Thuan An and O Lau, Bo, and Thuy Tu estuaries. Currently, 163 species of fish have been identified, many rare species such as sea bass, eel.
Chuon Lagoon
Chuon Lagoon in Phu Vang district has an area of over 100ha, located nearly 15 km to the East of Hue city center. It is a part of Tam Giang lagoon system with a fresh and peaceful atmosphere. The nature of Chuon lagoon is more beautiful in the early mornings and afternoons with colorful arrays.
Lap An Lagoon
Right next to Lang Co Bay is Lap An lagoon. Lap An lagoon, also known as An Cu lagoon, is surrounded by the great Bach Ma mountain range and the blue Lang Co beach. Coming here, you will not only be fascinated by the tranquility of mountains and rivers, but you will also enjoy the beautiful water diversion as in Diep Son. This is definitely the right place to have these mesmerizing beautiful photos.
7. Others attractions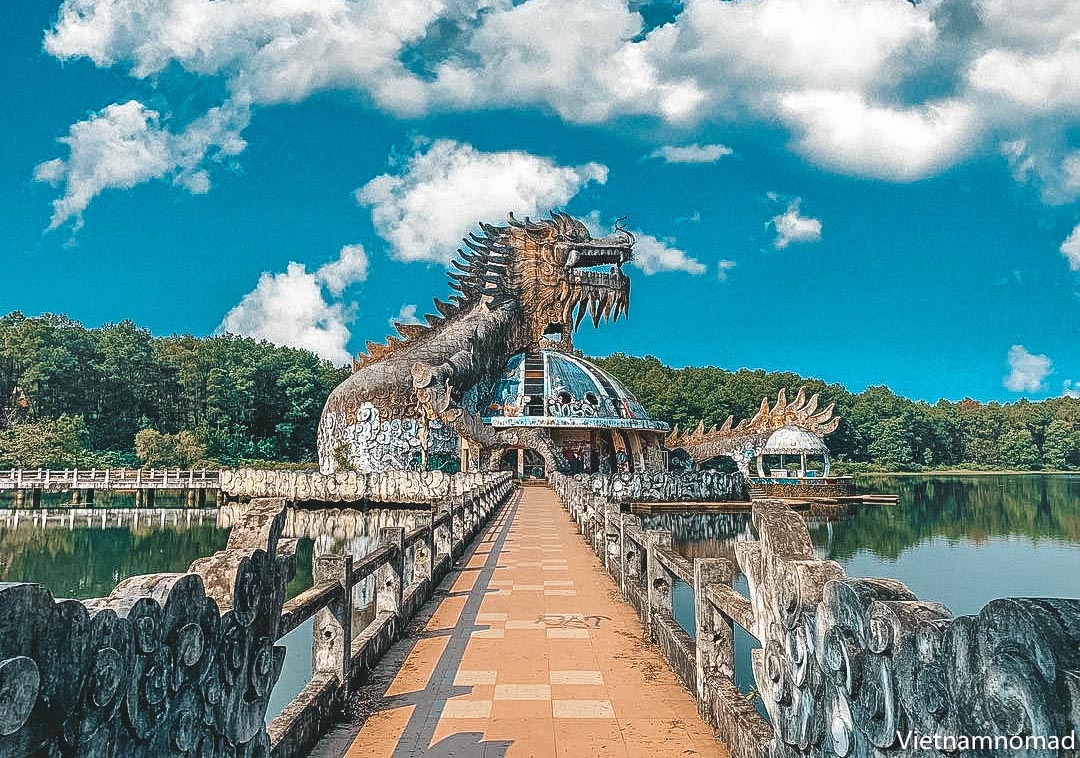 In addition to palaces, tombs, and lagoons, Hue is full of other interesting things waiting for you, maybe an abandoned water park, a majestic mountain and a famous poet's village.
Thien An Hill – Thuy Tien Lake
Thuy Tien Lake is a place visited by many tourists, especially young recently. It is located near Thien An hill which is covered with a pine forest. Thuy Tien Lake is essentially an abandoned park. The entire campus is engulfed in desolation, covered with moss.
But the abandoned mystery of Ho Thuy Tien attracts many young people to visit and take photos.
Thuy Xuan Incense Village
Thuy Xuan Incense Village has located about 7 km from the city center. It is the largest incense village of Hue. People here live by making incense, providing incense to the whole city. Currently, this place has become one of the tourist attractions.
Visiting this village, you will have the opportunity to admire the colorful incense sticks. The craftsmen neatly arrange the incenses into bunches, radiating like beautiful flowers. Besides, you are also facilitated by people to learn and directly participate in making incense.
Phuoc Tich pottery village
Like Hoi An with Thanh Ha pottery village, Hue also has Phuoc Tich ceramic village. Phuoc Tich pottery village is located about 45 km north of the Hue center. It is famous for its many beautiful traditional ceramic products. Today, Phuoc Tich ceramic products have been present in the lives of the people of the homeland and the regions of the land of Thuan Hoa. The special thing that makes this village attractive and famous is thanks to its unique architectural art from sculpting and carving on wooden frames.
Bach Ma National Park
If you like conquering nature, Bach Ma National Park is the place for you. On the way to Bach Ma National Park, you will see Hai Vong Dai – the highest point, where you can capture the whole surrounding bay. When exploring deep inside Bach Ma National Park, you can also witness the spectacular Ngu Ho stream pouring from above or Do Quyen waterfall filled with flowers.
Truoi Lake
Located at the foot of the Bach Ma mountain range, Truoi lake also brings the dreamy beauty typical of Hue. Truoi Lake is primarily an irrigation project, but thanks to the mountains, Truoi Lake has become a place to avoid the sun in the summer.
Near Truoi lake is Truc Lam Bach Ma Zen Monastery, of Truc Lam Yen Tu sect. Visitors who want to visit the monastery must take a ferry to go there, then taking 172 steps to reach the three-door gate. It is like a small challenge, but in return, waiting for you will be the scene of a peaceful lake surrounded by enchanting mountains.
Sinh Village
Located about 8 km from Hue downstream to the Huong River, Sinh village is in Phu Mau commune, Phu Vang district. The majority of Sinh villagers live on agriculture. Besides, the handicrafts here is also very developed with the printing of paper paintings.
Often the paper used to print pictures is similar to newsprint. Colors purchased at the market include a variety of colors such as blue, red, credit, and yellow. The frame is made from jackfruit wood, carved by artisans in the area. They have the function of framing and printing primary colors for paintings. With other colors, artisans will draw by themselves. So there is almost no picture like any other, that is the unique feature of the traditional trade village – Sinh village.
Not only famous by the ancient poetic beauty but also makes visitors admired by the rich cuisine. Here are some must-try dishes in Hue.
1. Com Hen
As a famous specialty of Hue, but the Com Hen (mussels rice) and Bun Hen (mussels noodle) are incredibly inexpensive. Sweet and fresh mussels meat is fried and flavoured served with a cup of mussel soup, raw vegetables, pork rind, and shrimp sauce. It is not hard to find these dishes in Hue because they are sold in many restaurants or food vendors.
But for the right taste, you should try it on Nho Restaurant at 28 Pham Hong Thai, or the second address in Con Hen, Vi Da Ward.
2. Bun Bo Hue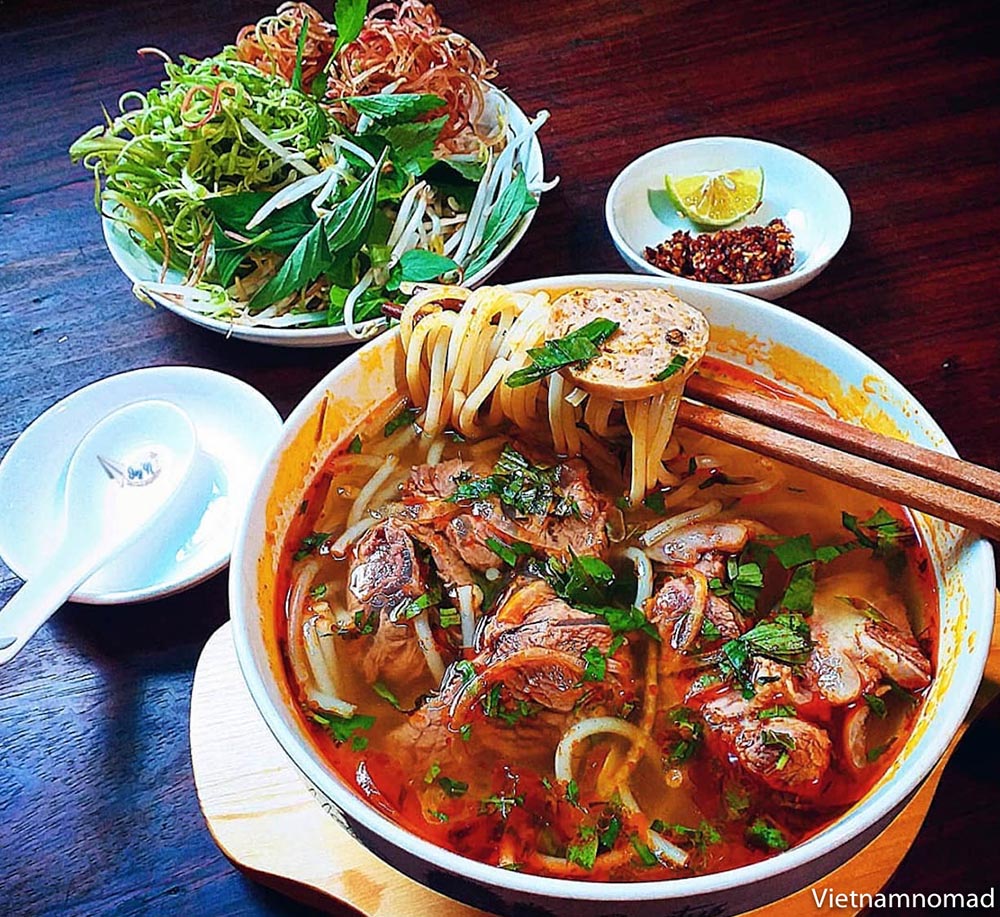 Although Bun Bo Hue (Hue beef noodle) is not too strange in other provinces, Hue beef noodle has an entirely different taste. Hue beef noodle is listed in the 50 most delicious dishes in the world. A bowl of beef noodle soup must have a piece of soft pork leg, a few slices of fresh beef served with spicy soup. Don't forget to eat with a plate of delicious fresh vegetables.
Some suggestions for you to enjoy Bun Bo Hue:
O Phuong, address: 24 Nguyen Khuyen, Phu Nhuan Ward
Bun Bo Cam, address 38 Tran Cao Van, Phu Hoi Ward
O Hoa, address: 162 Mai Thuc Loan, Thuan Thanh Ward
3. Hue Cakes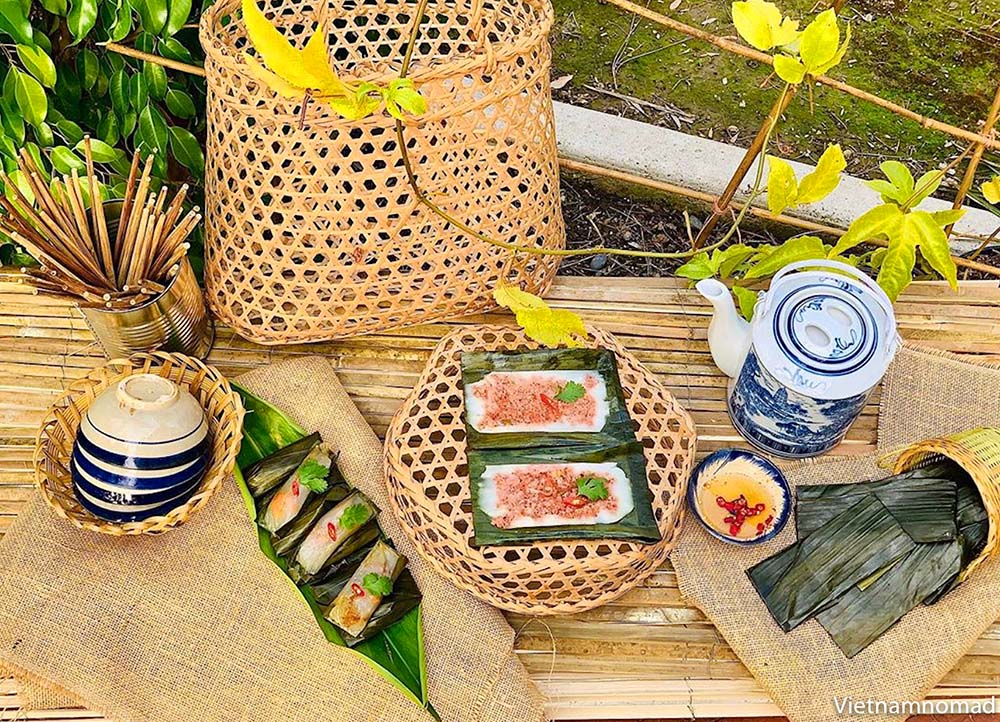 Some types of cakes such as Banh Beo, Banh Nam, Banh Loc, Banh Khoai are simple, but they look so attractive. You can eat these cakes at any time like a snack or a main course and mixing them as you like. These cakes are sold on many food stalls, but you should try it at Nguyen Binh Khiem Street, Le Huan Street, the food court in Dong Ba Market, Tay Loc Market. These cakes are very cheap. You could fill your stomach with just one dollar.
4. Banh Canh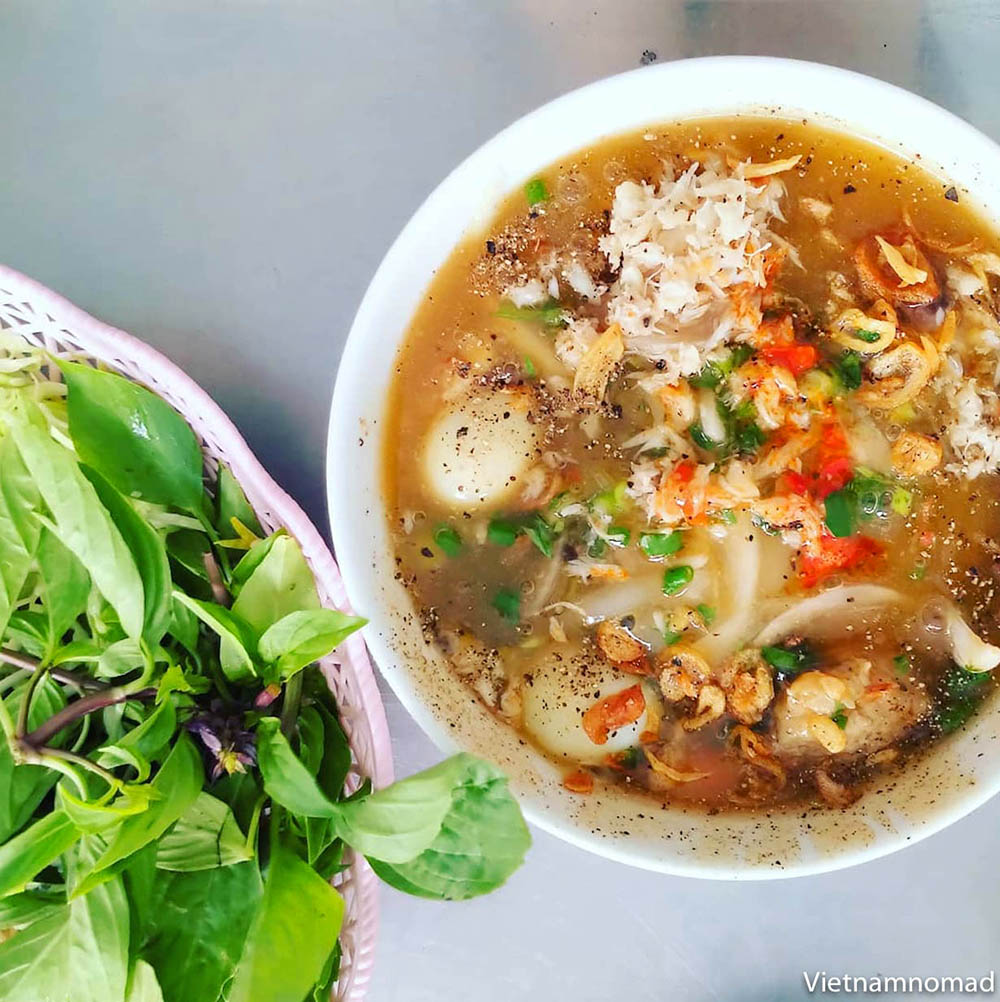 In the list of certain dishes to try when coming to Hue, it is impossible not to mention Banh Canh Nam Pho (Nam Pho spicy noodle soup). You will be impressed with the special bowl of red-orange soup with crab pies. Despite being popular, this soup dish is made meticulously and very carefully. To enjoy the perfect taste, eat while it is still hot, add some pepper and chilli. Each strand of soft soup noodles combined with the sweetness of the crab rolls creates a great delicacy.
Some suggestions for you:
Thuy, address: 16 Pham Hong Thai, Vinh Ninh Ward
Banh Canh Nam Pho, address: 54 Nguyen Cong Tru, Phu Hoi Ward
5. Che Hue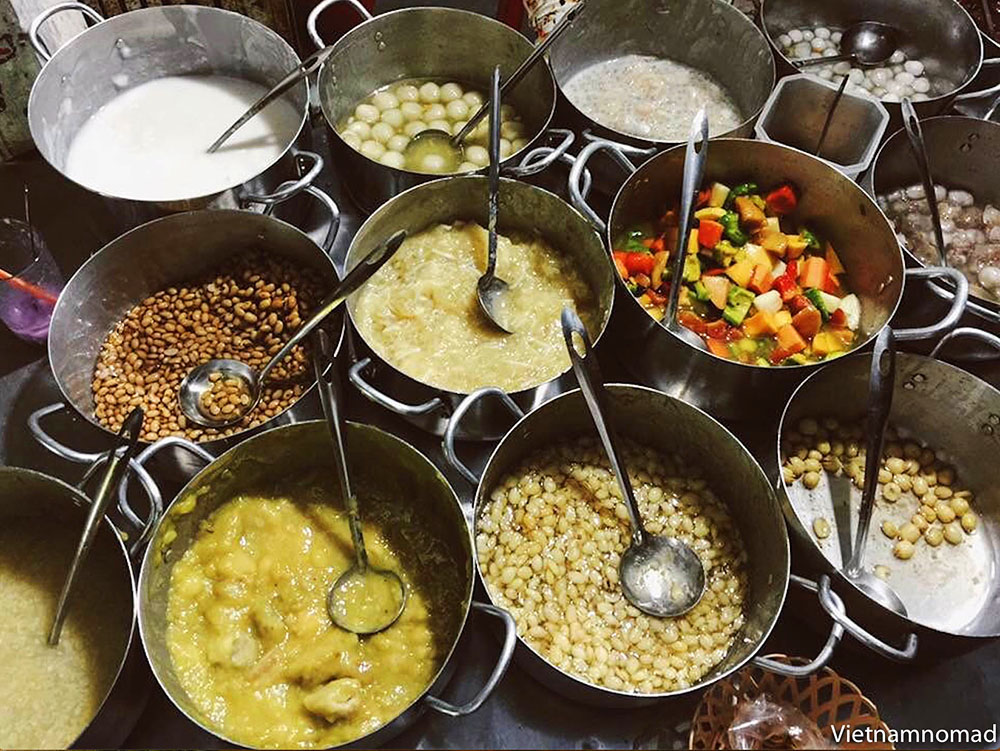 You would think that Che (sweet soup) is everywhere in Vietnam, but Che Hue (Hue sweet soup), is entirely different! Hue has up to 36 types of sweet soup; each has its own delicious and attractive flavour. All are delicately processed. Some of the most famous Hue sweet soups you must try are sweet corn soup, and rice ball sweet soup.
Hue sweet soup is not famous for its sophisticated, delicious but also very cheap. It's cost only from 7.000 – 15.000 VND / cup and sold in every corner of Hue, especially in Dong Ba market.
Annual festivals and cultural experiences in Hue
The unique feature of Hue culture is a harmonious combination between folklore and royal culture. This culture today is cherished, preserved, and developed. Several typical festivals have contributed to creating a distinctive and unique feature of Thua Thien Hue tourism.
Some annual festivals in Hue
1. Hon Chen Temple Festival
The festival takes place twice a year in February and July. Hon Chen Palace Festival is held on Ngoc Tran Mountain and Hai Cat village in Huong Tra district. The festival of worshiping Thien Y A Na, the Holy Mother, who created the land and taught people how to cultivate.
It is a folk festival in Hue with many unique rituals creating a sacred religious atmosphere amid romantic and charming natural scenery, so it attracts thousands of visitors to attend.
2. Wrestling festival of Sinh village
Sinh Village is located on the south bank of Huong River in Huong Phu District. Every year, on 10 January of the lunar calendar, the furnaces in the region sobbing to the wrestling festival of Sinh village to compete for a prize.
This festival takes place in a very crowded hustle and bustle. Thousands of young men and women from different districts in Hue flock here to watch the competition.
The wrestling festival of Sinh village has been a good tradition of Hue people for many centuries.
3. Hue Festival
Hue Festival is a major national cultural tourism festival to strengthen cultural relations with other countries participating in the festival through the introduction of Vietnamese cultural identity.
As one of the major festivals, the Hue Festival has many unique cultural programs that were held in large spaces both inside and outside the city in order to revive the cultural values of Hue.
Many special programs must be mentioned such as Royal Night, Ao Dai Festival, Sea Festival, and Kite Flying. Hue Festival is also one of the reasons making Hue become a favorite destination for many domestic and foreign tourists.
Some unique cultural experiences you must try in Hue
1. Listen to Hue folk songs on Huong River
If you have not heard of Hue folk songs on Huong River, likely, you have never been to Hue. Hue folk songs is a unique art form of Hue people, preserved and developed over hundreds of years. Therefore, visitors to Hue, besides visiting the temples and tombs of Hue, everyone wants to once rest on the side of a dragon boat to listen to the deep and sweet Hue folks songs sung on the Huong River.
2. Enjoy Hue royal refined music
Hue royal refined music- Intangible Cultural Heritage is a scientific form of music that UNESCO named in the List of intangible masterpieces and oral traditions of humanity on November 7, 2003.
Hue royal refined music has a history dating back to the 13th century, the monarchs of Vietnam attach great importance to and develop it as a symbol of the kingship of the reign and prosperity of the dynasty. Hue royal refined music's way of performing is very tight, highly aesthetic, which can reflect the ideas and philosophical conceptions of the contemporary monarchy.
Hue is developing Hue royal refined music to attract domestic and international visitors. So if you have the opportunity to visit Hue, please visit the ancient theater Duyet Thi Duong. This is the venue for Hue Royal Music performance for visitors to enjoy.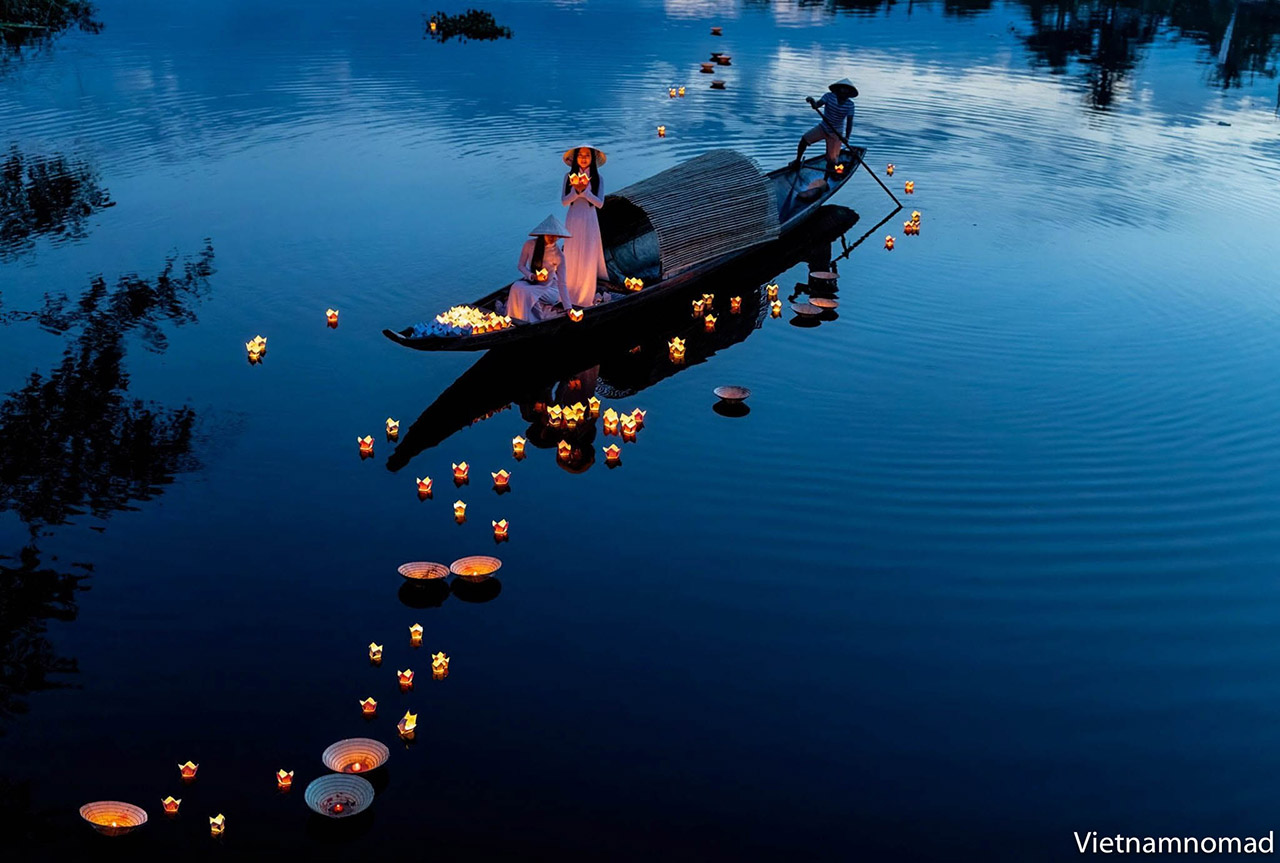 Above is the detailed travel guide for Hue city, hopefully, you will have the most memorable experience in this beautiful city.
Meet in Hue!