Dalat is a beautiful city in the Central Highlands of Vietnam, about 300 km from Ho Chi Minh City. The city is famous for its year-round cool climate, breathtaking scenery and gentle lifestyle. Check out these top 15 destinations in Dalat in 2023.
1. Xuan Huong Lake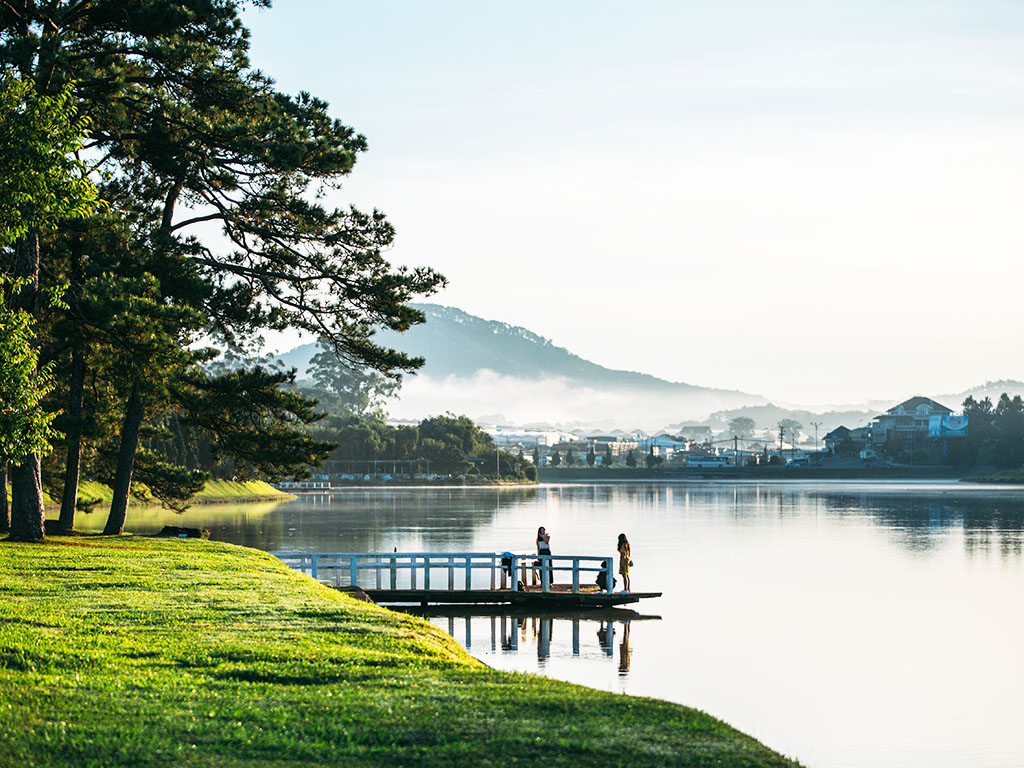 You know you are in Dalat city when a view of Xuan Huong Lake is in your sight. This is a man-made crescent lake, built by order of the French Ambassador in Dalat at that time by directing water from the nearby Cam Ly Waterfall. Back then, the lake was named Grand Lac, and not until 1953 was it renamed with a pure Vietnamese name – Xuan Huong. There are a few interpretations of this poetic name. However, our favorite is its direct translation which means "The Spring Fragrance." Xuan Huong Lake is not only an ideal spot for sightseeing but also a complex with many iconic cafes and restaurants. We recommend you sit at one of the cafes to appreciate how the still lake reflects its natural surroundings on its glass surface and how the peaceful life of Dalat people revolves around this poetic waterbody. You will also find a boat station at one point of the lake, where you can rent a swan boat and paddle around the lake to enjoy the nice breeze and see the city from a different point of view. The cost of renting a boat ranges from 25,000 VND to 50,000 VND ($1.05 to $2.1) per hour, depending on the size of the boat.
2. Domaine De Marie Church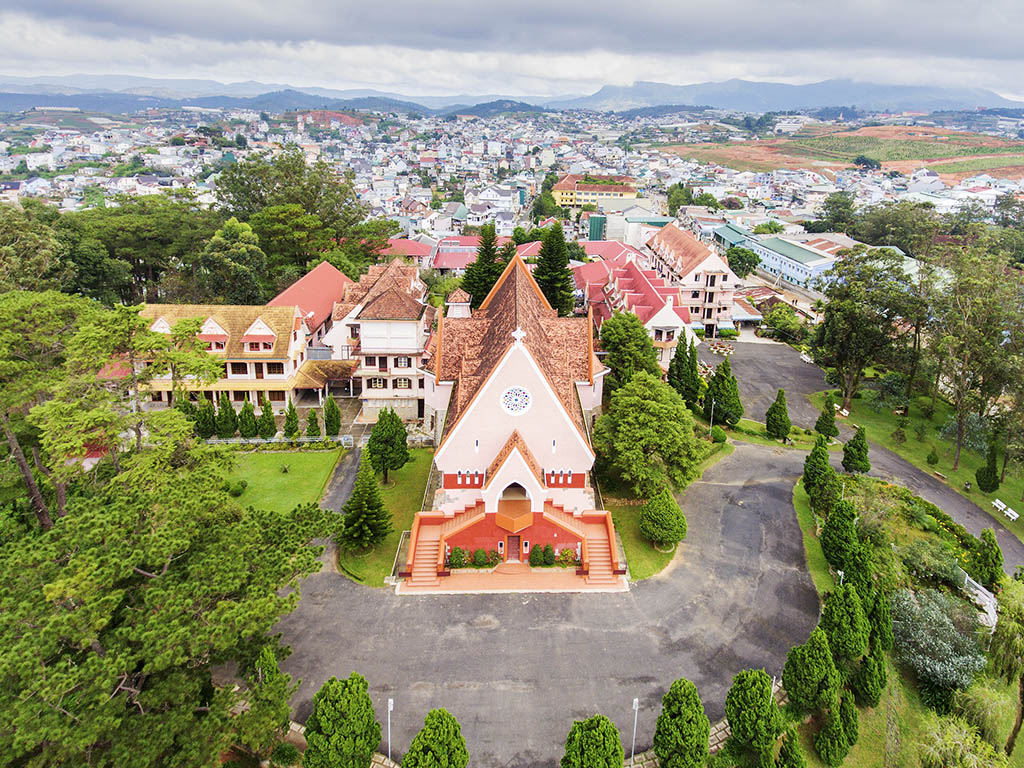 The first impression this church will make on you is its vibrant pink color and its unique architecture. Interestingly, the church was built in the 1940s using natural adhesives such as plaster and molasses. Despite its humble campus, Domaine De Marie church boasts a beautiful surrounding with blooming flowers all year round, against the backdrop of the blue sky and green pine trees, which are a delight to the eyes. Visiting this church and enjoying some serene time should be on your to-do list.
Address: 01 Ngo Quyen St, Ward 6
Note: Please note that the ceremony time is 7:15 AM on weekdays and 6:00 AM on weekends, so you can plan your visit accordingly.
3. Dalat Railway Station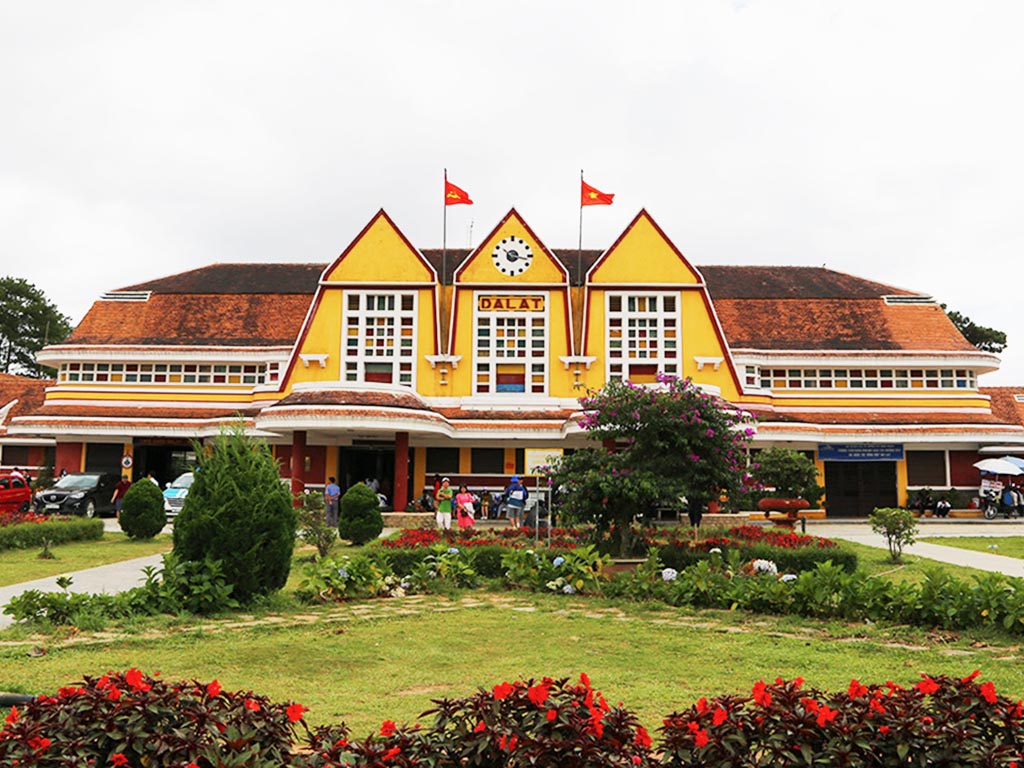 Little did you know that Dalat Railway is the oldest Indochinese station left and also is the highest station in terms of altitude (1,500 meters above sea level) in Vietnam. The station was built in 1932 following the design of two recognizable French architects at the time, Moncet and Reveron. Due to the high and winding hills of Dalat, engineers had to use a toothed rack rail and locomotive-hauled system at some points along the route, which was one-of-a-kind in Indochina. While the internal design of Dalat Railway Station is believed to be deeply influenced by French archetypes, its appearance is characterized by its three-pointed roofs, which replicate the spectacular Lang Biang Mountain peaks.
The station is now operated for tourism. A 7-km train ride will take you through beautiful pine forests, serene monasteries, temples, and colorful flower blossoms, making it one of your best train experiences, we promise.
The station offers more than just architecture; it also provides a range of services including cafes in train carriages, exhibitions of the ancient railway industry, and souvenir shops.
Address: 01 Quang Trung St, Ward 10
Opening time: 7:00 AM – 5:00 PM
Entrance tickets: 5,000 VND ($0.2)
4. Dalat Flower Garden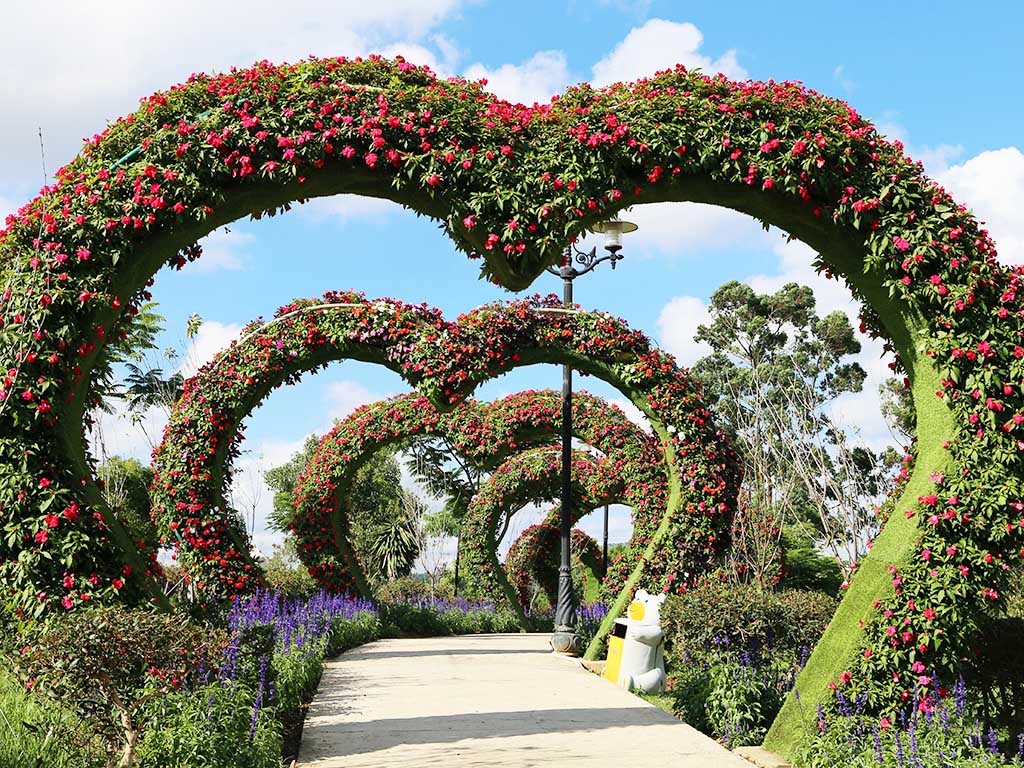 The Flower Garden is an iconic attraction of Dalat and is considered as the national "flower sanctuary" where it exhibits and preserves more than 200 species of flowers. After a period of abandonment soon after its establishment in 1996, the garden was refurbished and transformed into a lively flower collection as it is seen nowadays.
Situated on a vast area of 7,000 square meters right in the city center, the Flower Garden is a good start to your trip. You will find stunning figures shaped from countless types of flowers, lovely water fountains, and decorative staircases, which will set a beautiful background for your photos. You can also buy the seeds of your favorite flowers to take home with you. The best time to visit the garden is in the early mornings or around sunset time.
Address: 14B Dong Da St, Ward 3
Opening hours: 7:00 AM – 6:00 PM on weekdays (7:00 AM – 10 PM on Fridays and Saturdays)
Tickets: 60,000 VND ($2.5) for adults and 25,000 VND ($1.05) for children
Note: there are some replicas and models set up by private companies which will charge you for taking photos, so make sure to look around for a price list or ask the staff so that you won't be charged unwantedly.
5. The three palaces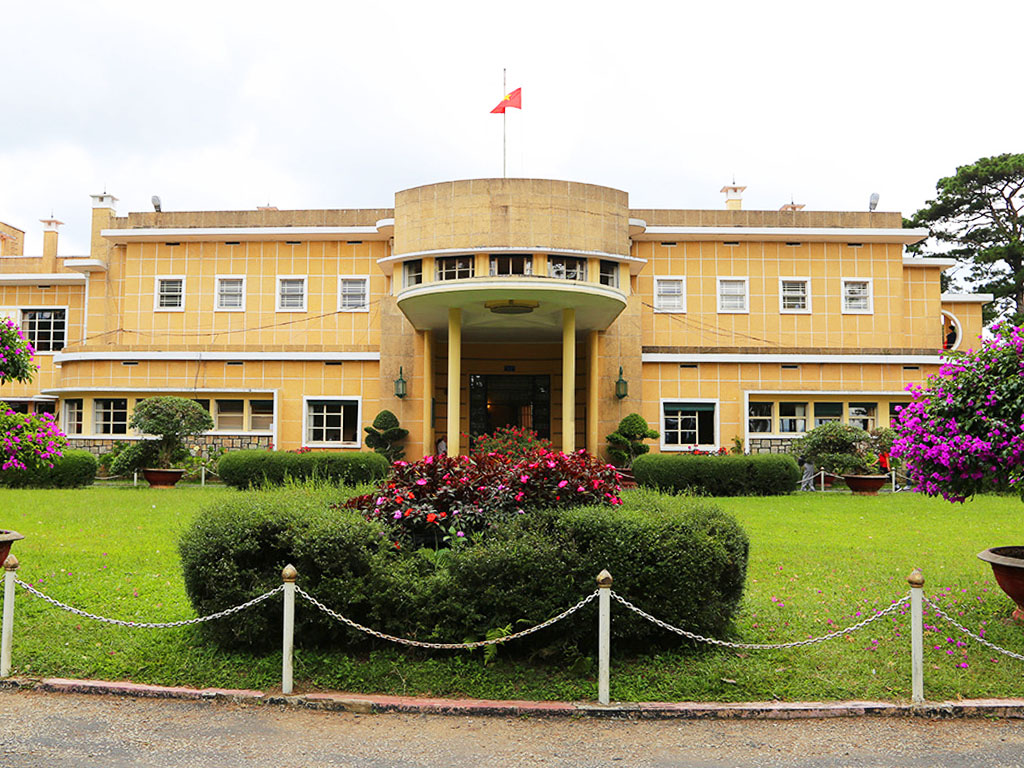 Bao Dai was the final emperor of the Nguyen Dynasty and is commonly known as the last reigning emperor of Vietnam. His palaces were built in prime locations throughout the country, but with a special affection for these beautiful highlands and a specific historical context at the time, there are three palaces named after Bao Dai that were used for different purposes. They are now known as Palace I, Palace II, and Palace III.
Palace I was the former home of a French officer before being bought and transformed into the headquarters and workplace of Bao Dai's government. It is said that during the refurbishing process, a secret 4 km underground tunnel was discovered connecting to Palace II, but it was kept secret during Bao Dai's reign and was not publicly known until the city council decided to exploit the place for tourism.
Address: 01 Tran Quang Dieu St, Ward 10
Opening hours: 7:00 AM – 7:00 PM
Tickets: 50,000 VND ($2.1) for adults, 25,000 VND ($1.05) for children
Palace II was used as the office for Jean Decoux, the Governor-General of French Indochina in Vietnam at the time, during the summer, which is why it is also known as the Summer Palace. This grand and magnificent construction was built in 1933 with 25 rooms on a scenic pine hill overlooking Xuan Huong Lake.
Address: 12 Tran Hung Dao St, Ward 10
Opening hours: 7:30 AM – 5:00 PM
Tickets: 30,000 VND ($1.25) per person
Palace III was the main residential and workplace of Bao Dai, where he spent most of his time, and is therefore also known as the Bao Dai Palace. Among the three palaces, Palace III most clearly reflects the integration of Vietnamese and French architecture and is the most popular palace among local tourists.
Address: 01 Trieu Viet Vuong St, Ward 4
Opening hours: 7:00 AM – 5:30 PM
Tickets: 30,000 VND ($1.25) for adults and children over 1.2 meters tall, free for children under 1.2 meters tall
Note: the three palaces are located at three separate sites, stretching over several kilometers, so it is recommended to have personal transportation or to choose one palace and spend a good amount of time exploring it.
6. Dalat Night Market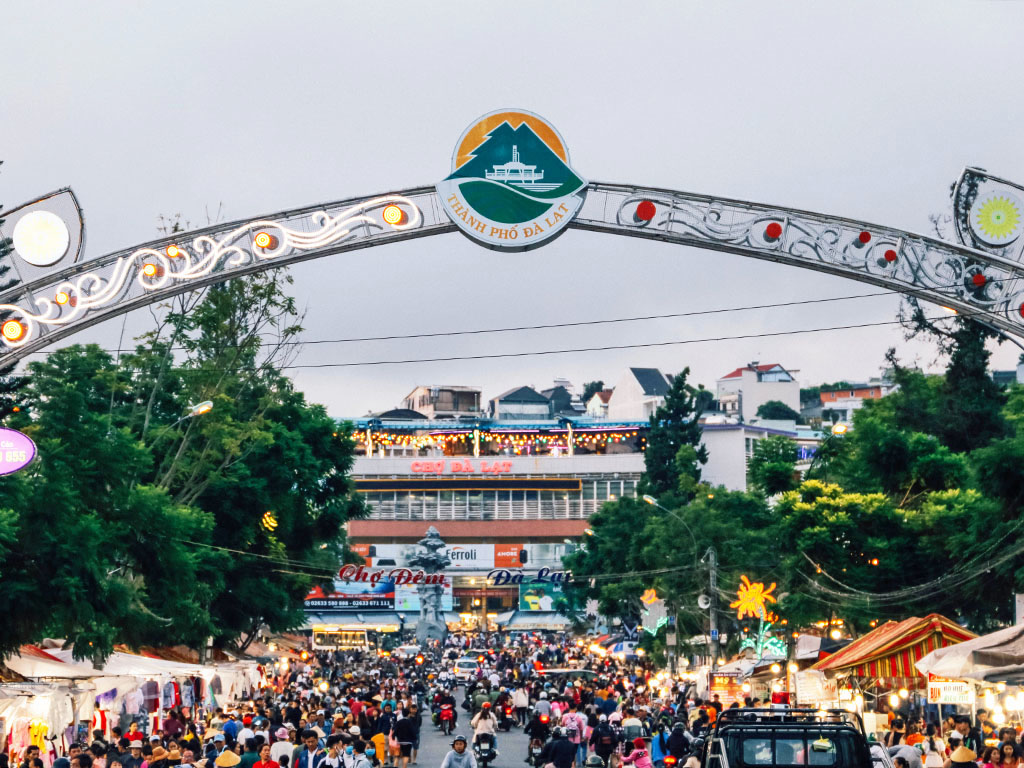 An open market where you can find almost everything you can ever imagine: crochet clothes, all Dalat street foods and specialties, souvenirs, and street performances. This is the best place to experience Dalat's nightlife, feel the excitement of the city's vibes, and have fun.
Address: Nguyen Thi Minh Khai St, Ward 1
Opening hours: 5:00 PM – late
Note: the place could get very crowded, always keep an eye on your belongings and ask the price before paying for anything to avoid overpayment.
7. Linh Phuoc Pagoda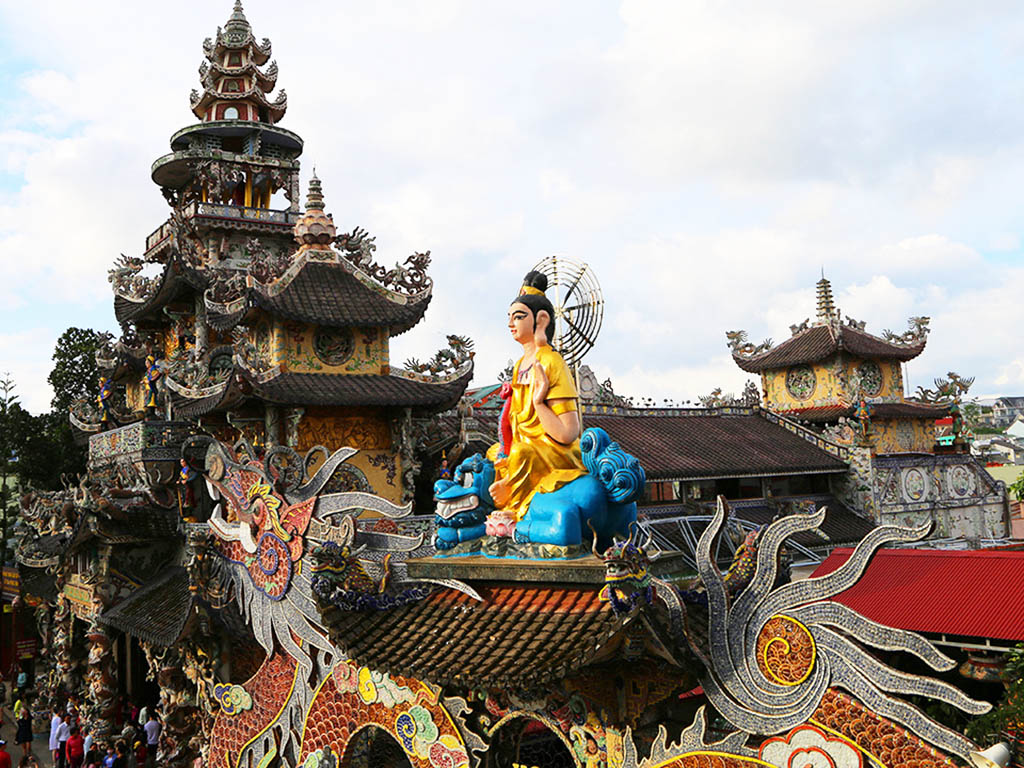 Linh Phuoc Pagoda, also known locally as Chua Ve Chai (Junk Pagoda), is a unique religious structure that holds numerous national records. The pagoda was constructed and adorned with countless pieces of broken ceramics and pottery. The highlights of Linh Phuoc Pagoda are not only about the grand statues and impressive religious objects but also about a thrilling replica depicting the 18 levels of hell in Buddhism, which reminds us of the cause-and-effect principles in life.
Since it is a spiritual attraction, Linh Phuoc Pagoda opens its doors to visitors all day without any fee; however, we traditionally donate some small notes to help support the religious community.
Address: 120 Tu Phuoc St, Ward 11
8. Valley of Love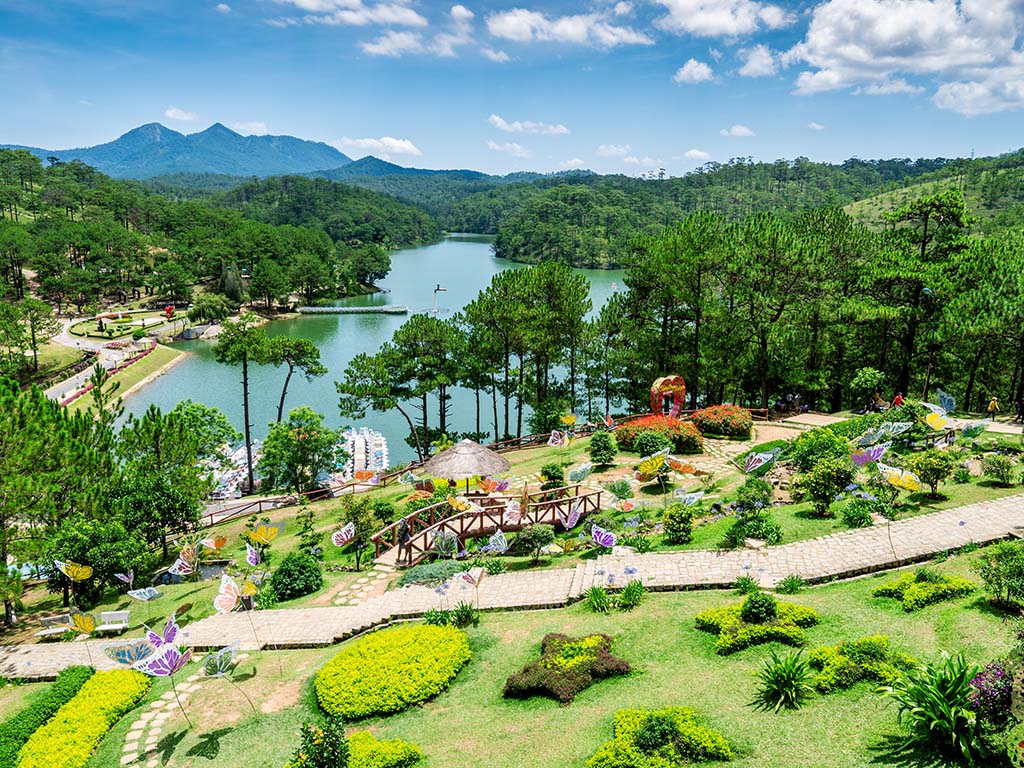 Under the rule of French colonialism, this location was set up as a dating spot for the rulers and noble class under the name Vallée d'Amour. At the moment, the Valley of Love, as it is called, is expanded and modernized with various facilities and activities. Sited on a large acreage of green hills and beautiful lakes, Valley of Love is a perfect destination for a full day of picnicking and having fun. The entrance tickets offer visitors free access to transit cars within its huge campus, pedalo on the lake, Gongs show, VR Game Studio, and highwire & free-hanging zipline games.
Address: 03-05-07 Mai Anh Dao St, Ward 8
Opening hours: 7:00 AM – 5:00 PM
Tickets: 250,000 VND ($10.5) for adults and 125,000 VND ($5.25) for children
9. Tuyen Lam Lake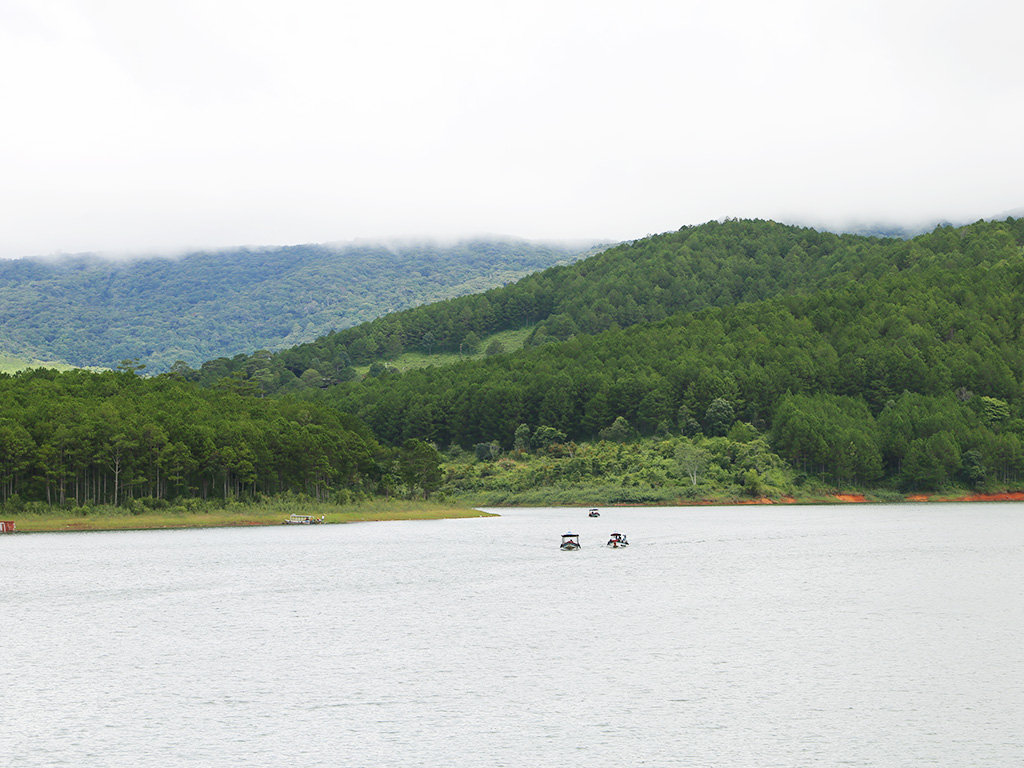 It is said that Tuyen Lam Lake rose from a natural spring called Suoi Tia, discovered by a French farmer in the 1930s. The farmer turned part of the lake into his personal retreat until 1987 when the construction of a hydroelectric dam across the spring marked the establishment of Tuyen Lam Lake as it is today.
Surrounded by poetic pine forests and towering mountains, Tuyen Lam Lake offers a wide range of leisure activities such as kayaking, stand-up paddling, boating, and camping.
Even if you're not interested in physical activities, Tuyen Lam Lake is still a perfect place to watch the sunset, where the beautiful golden light reflects on the still surface, creating an incredible moment to celebrate the beauty of nature. This is also a well-known spot for photography, as every corner and inch of the location is photogenic.
Note:
Tuyen Lam Lake is located on the same route as Truc Lam Buddhist Monastery, so it makes sense to visit both destinations in one trip.
There is no admission fee for Tuyen Lam Lake. Visitors only need to pay for the services they use around the lake.
10. Truc Lam Zen Monastery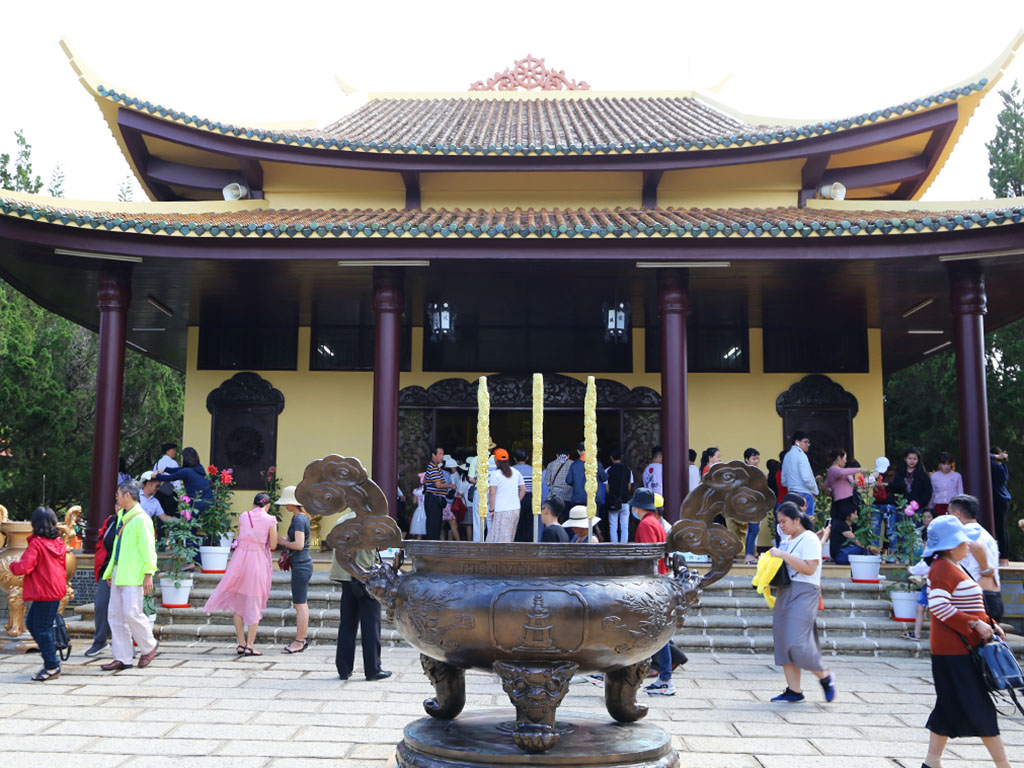 Many people visit Dalat just for the Truc Lam Zen Monastery. This Zen monastery is believed to be situated in a prime location according to feng shui principles, surrounded by Phuong Hoang Mountain (Phoenix Mountain) and overlooking Tuyen Lam Lake. Legend has it that the superior Buddhist monk Thich Thanh Tu dreamed of himself being carried to the sky by a phoenix one night in 1983. Upon waking, he began searching for a place like the one in his dream and eventually found Phoenix Mountain, where he placed the first bricks of the admirable monastery.
Visitors can immerse themselves in the peaceful atmosphere and tranquil natural landscapes of pine forests, spectacular mountain ranges, and placid lakes at Truc Lam Zen Monastery. The monastery also offers the opportunity for guests to stay over for meditation and mindfulness sessions or simply to escape the hustle and bustle of daily life.
To reach Truc Lam Zen Monastery, one can either ride a bike directly to the location or first go to Robin Hill and take a cable car. The 2-kilometer cable car ride offers a breathtaking view of Dalat from above, making it an unforgettable experience during your trip.
Address: Truc Lam Yen Tu St, Ward 3
Opening hours: 5:00 AM – 9:00 PM
Cable car station: Robin Hill, Ward 3
Opening time: 7:30 AM – 11:30 AM & 1:00 PM – 5:00 PM daily
Return tickets: 100,000 VND ($4.2)/adult and 70,000 VND ($2.9)/kid under 120 cm
One-way tickets: 80,000 VND ($3.4)/adult and 60,000 VND ($2.5)/kid under 120 cm
Note:
Although the monastery opens until late, it is recommended that you visit it in the early mornings or afternoons and avoid driving back on the zigzag roads in the dark.
For those who are interested in the meditation courses, you can contact the monastery at (+84) 263 3827 565.
11. Crazy House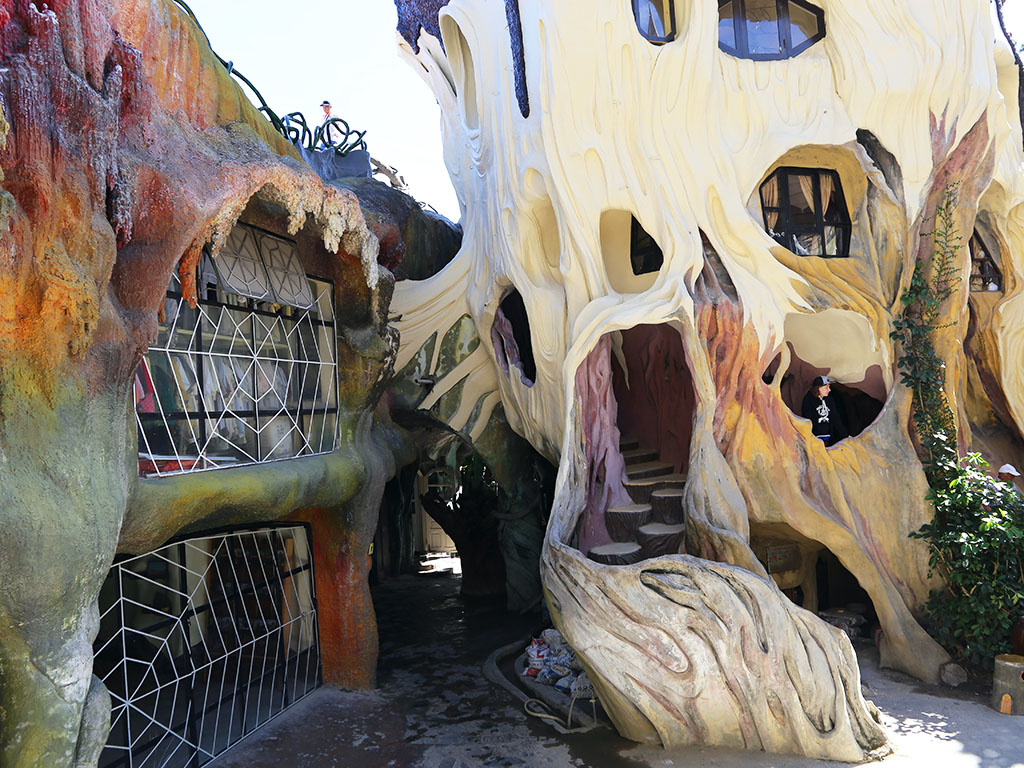 The Crazy House is actually a tourist accommodation designed by a Vietnamese architect who is the daughter of a former high-ranking official in Vietnam. Having spent a long time pursuing her higher education in Russia, her style is much influenced by the surrealist movement, which explains the extremely bizarre and eerie design of this building.
Entering the Crazy House, you will feel like you are being transferred into a wonderland. The complex is divided into different themes, such as spider nets, heaven, aquarium, and so on, linked to one another by a system of outdoor staircases. The uniqueness of this attraction is surely worth your visit.
Address: 03 Huynh Thuc Khang St, Ward 4
Opening hours: 8:30 AM – 6:00 PM
Ticket price: 60,000 VND ($2.5)/adult, 20,000 VND ($0.85)/kid under 140 cm, free for children below 120 cm
12. Datanla Waterfall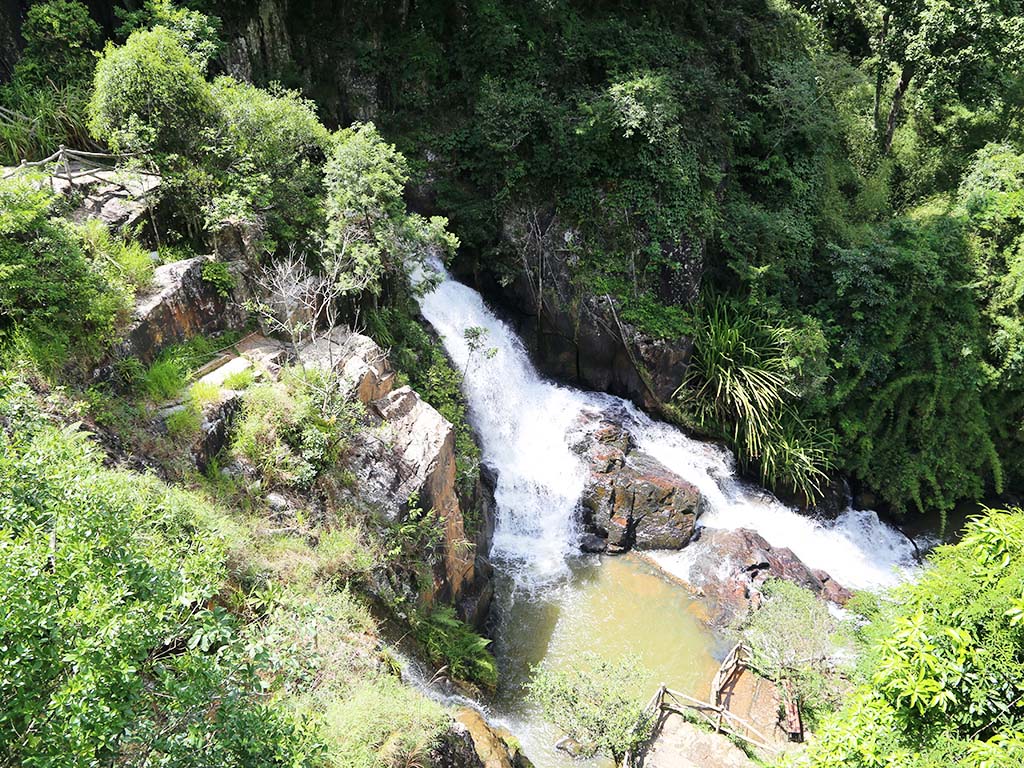 Datanla is one of the five most spectacular waterfalls in Dalat, and it's also the one that is most actively and professionally exploited for adventurous tourism due to its favorable landscapes. In addition to admiring the grand waterfall's magnificence, visitors can also participate in a wide range of outdoor activities that are suitable for all levels, such as ziplining, canyoning, and the highly recommended high rope course. This place will ensure that every minute of your visit is a fun, challenging, and exciting experience.
Address: Highway 20, Prenn Pass
Opening hours: 7:00 AM – 5:00 PM
Tickets: 50,000 VND ($2.1)
Note: The entrance tickets do not include the pass for games in the complex. You will pay separately for each game you'd like to participate in.
13. Langbiang Mountain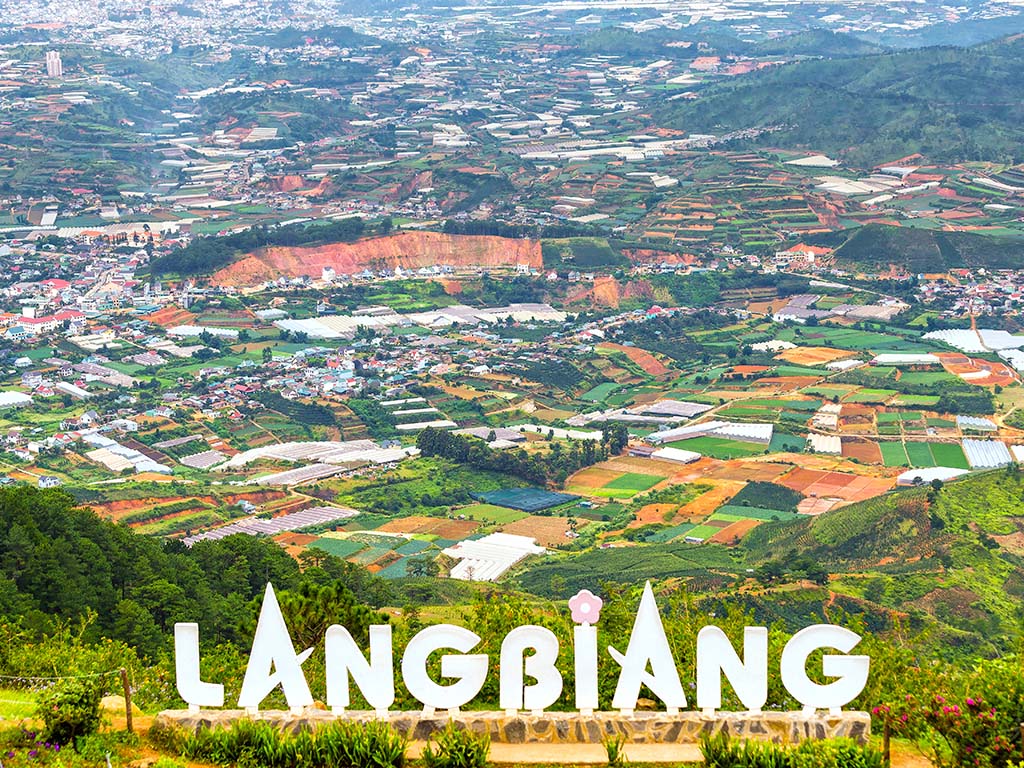 With a peak of 2,167 meters, Langbiang is titled the "Roof of Lam Vien Highlands." Standing atop the mountain, you can enjoy a 360-degree view of the city, breathe in fresh air, and listen to the rustling of pine trees against the wind. One activity at Langbiang is trekking and camping. There is no better way to connect with nature than a 3-4 hour trek under the shade of thousands of trees and green knee-high grass in a cool climate. If you don't have much time, but still want to reach the top, you can drive your bike or rent a jeep at the ticket booth. Recently, Langbiang Tourist Complex added paragliding to its offerings, starting from Mount Radar and ending at Dankia Lake. In addition to outdoor activities, you can sit at a restaurant or cafe atop the mountain and enjoy good food and a cup of hot chocolate while surrounded by stunning mountain views.
Address: 305 Langbiang St, Lac Duong Town
Opening hours: 7:00 AM – 5:00 PM
Tickets: 50,000 VND ($2.1) for adults, 25,000 VND ($1.05) for children
14. Elephant Waterfall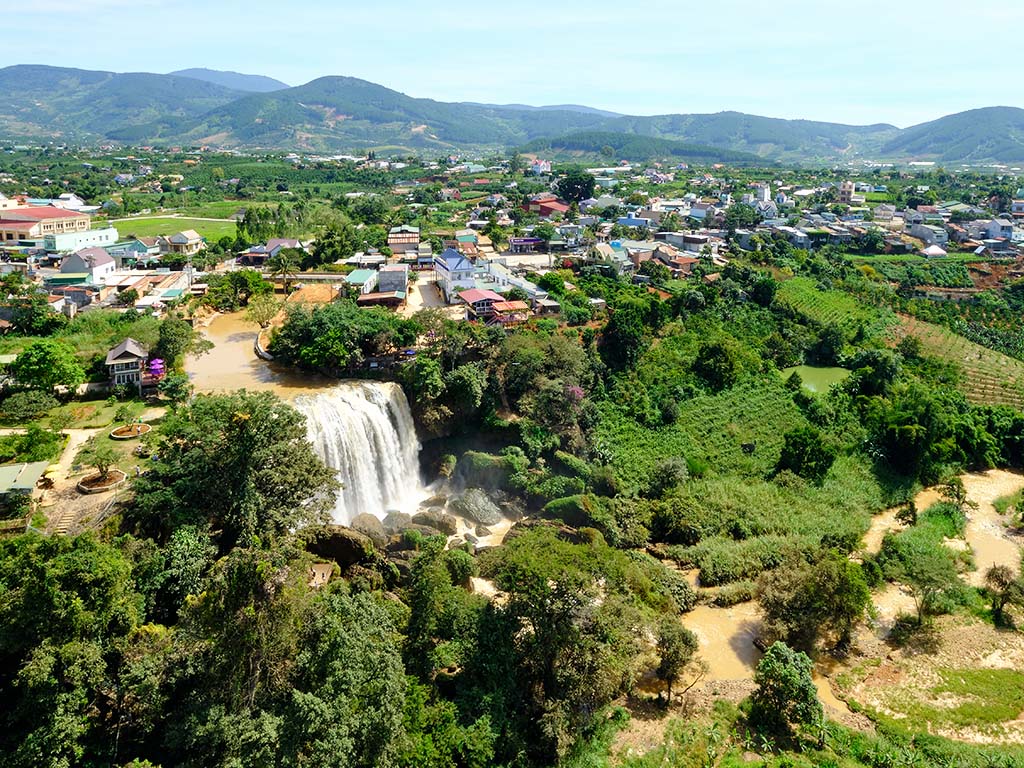 Elephant Waterfall is one of three fierce waterfalls in Dalat, named for the giant gray rocks that resemble elephants from a distance. Unlike the crowded Datanla waterfall, Elephant Waterfall retains its original beauty with a touch of wilderness. To reach the top of the waterfall with a full view, visitors must climb 145 stone steps. Behind the waterfall's curtain lies a secret cave, known as Hang Doi (Bats Cave).
The handrails are rusty, the breeze from the water source cool, and the atmosphere quiet, a stark contrast to the bustling city just 20 kilometers away. This contrast will provide a sense of mystery and excitement that is sure to exceed your expectations.
Address: Nam Ban Town, Lam Ha District
Tickets: 20,000 VND ($0.85)
Note: The path to the waterfall is poorly maintained and slippery, so proper footwear is recommended.
15. Clay Tunnel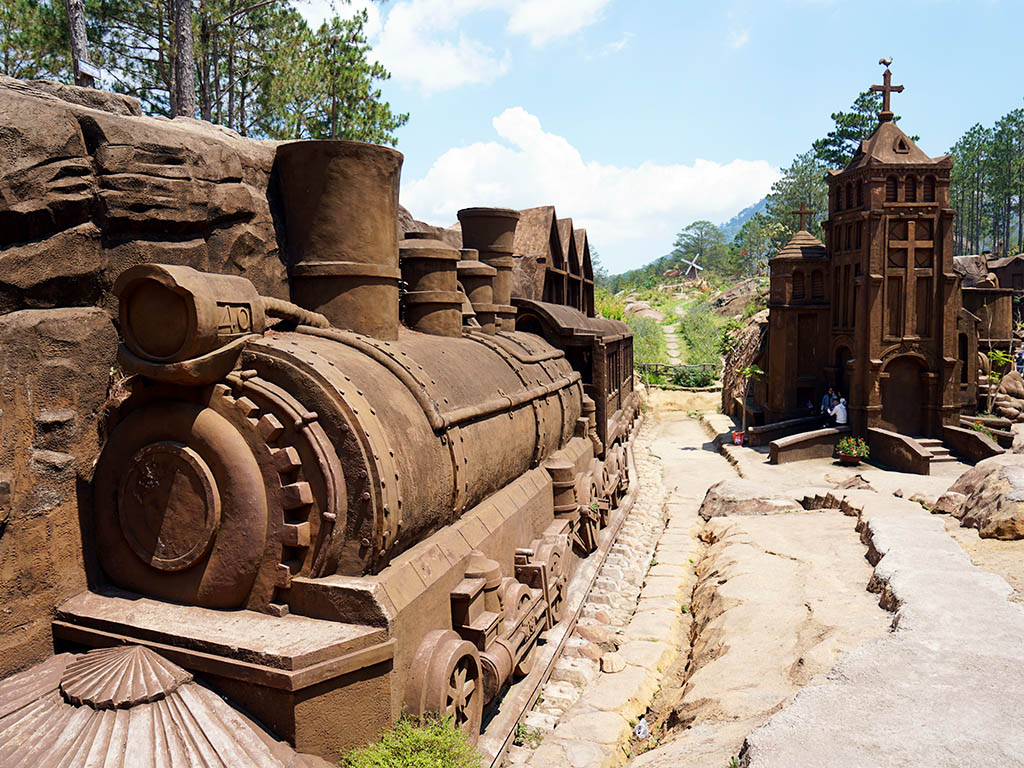 Clay Tunnel, also known as the Sculpture Tunnel, is a 2-km privately-owned tourist attraction filled with unique, real-sized clay objects and models. It is divided into two main themes: one depicts the founding history of Dalat city and the other showcases the city's famous architectural attractions. You will have fun taking interesting photos here. The roads from Dalat city to the attraction are also scenic.
Address: Dalat Star, Ward 4
Opening hours: 7:30 AM – 5:00 PM
Tickets: 60,000 VND ($2.5) for adults and 30,000 VND ($1.25) for kids
Note: It can be very sunny during midday, so it's best to visit in the morning or bring a hat and sunscreen.