Da Nang city is in the central part of Vietnam, which is 776 km from Hanoi to the north and 961 km from Ho Chi Minh City to the south. Da Nang borders Thua Thien Hue province in the north, Quang Nam province in the west and south, and the South China Sea in the east. The city is the central location connecting three famous UNESCO world heritage sites, including Hue Imperial Citadel, My Son Sanctuary, and Hoi An Ancient Town. The Hoang Sa island district is also a part of this city.
As a result, Da Nang is a city with a prime location playing a crucial role in developing as well as maintaining tourism, economy, trading and military defense; for tourists, this city is always the top destination in Vietnam. Let's check out the video of Da Nang!
Da Nang tourist map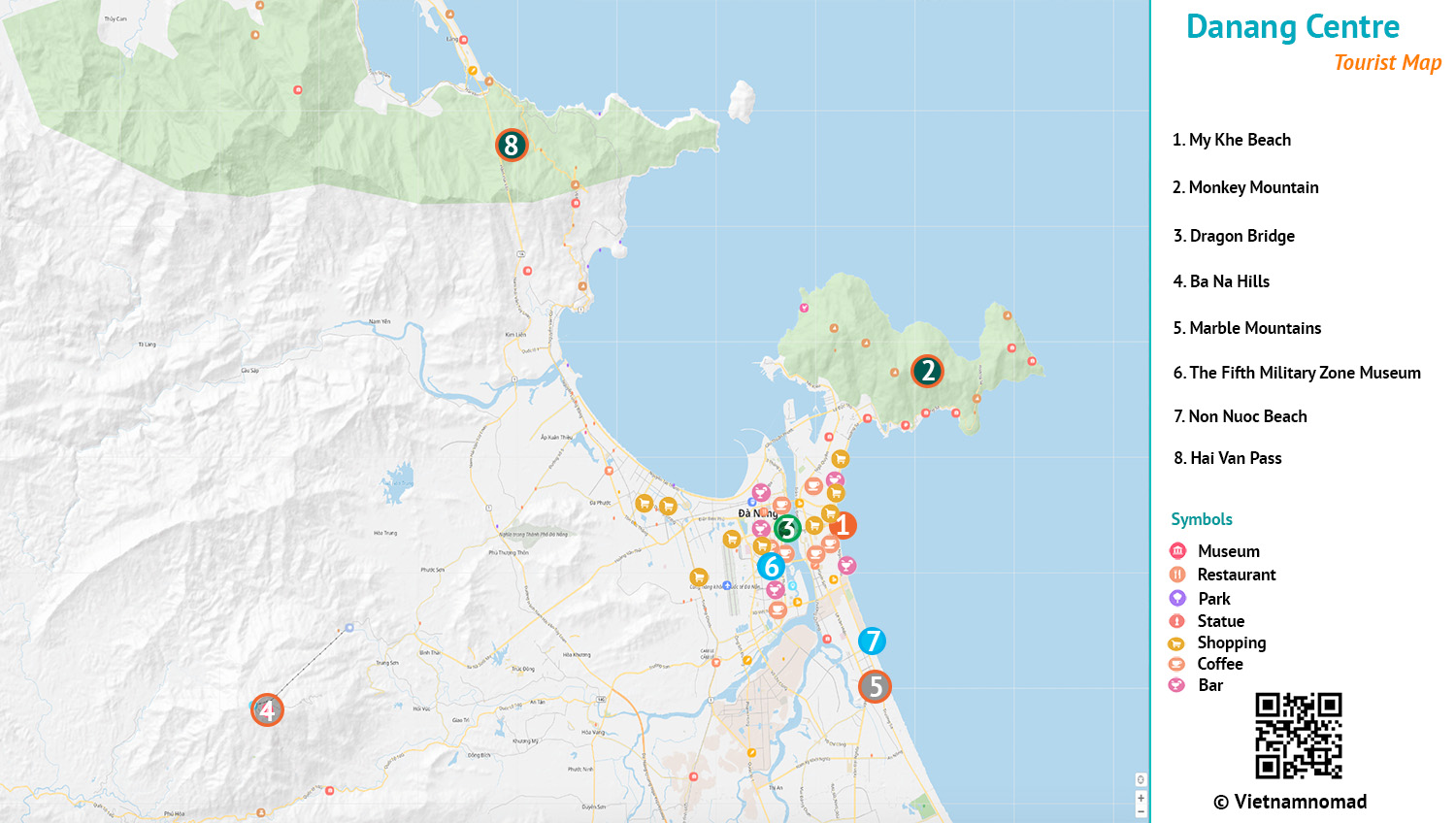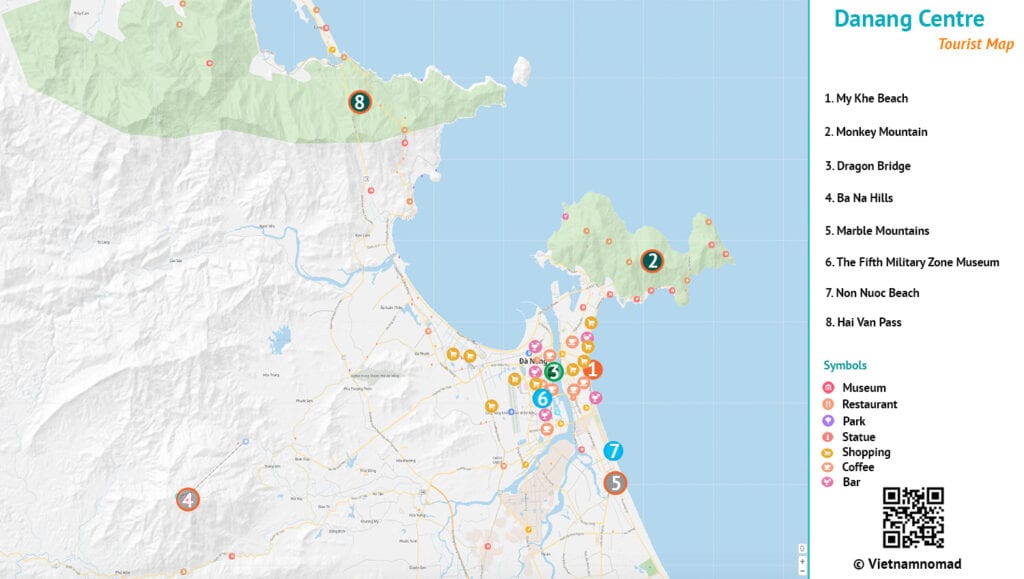 To familiarize you with the way of getting around the city, we would like to introduce you to the Da Nang tourist map, which includes its most popular destinations as well as other useful information such as restaurants, bars, and shopping. Download it for offline use and quick access.
Da Nang weather
Positioned in the central part of the country, Da Nang experiences a tropical monsoon climate that has two distinct seasons: a rainy season (from August to December) and a dry season (from January to July). Particularly, the rainy season in Da Nang is synonymous with days of uninterrupted rain. October is the wettest month of the year with high precipitation. So, traveling in Da Nang in the rainy season may limit the range of outdoor activities. The dry season, in contrast, is often humidly hot and cloudy. The hottest month is reported in June with the temperature reaching 34 °C on average.
According to the types of activities, we suggest two ideal time frames to visit this phenomenal beach city. Late December to late March is perfect for sightseeing and exploring activities because the weather is super advantageous with a transparent blue sky, the absence of lasting rains, and the average temperature fluctuating between 18 °C to 27 °C.
February is the most recommended month with very pleasant weather, the least rainy month, and the celebration of many local festivals. For by-water and beach activities, late February to late April is the best time. This is when the temperature rises to around 32 °C, just hot enough for diving in the cool and clear water in Da Nang. Also, you get enough waves and wind for water sports such as surfing and kitesurfing.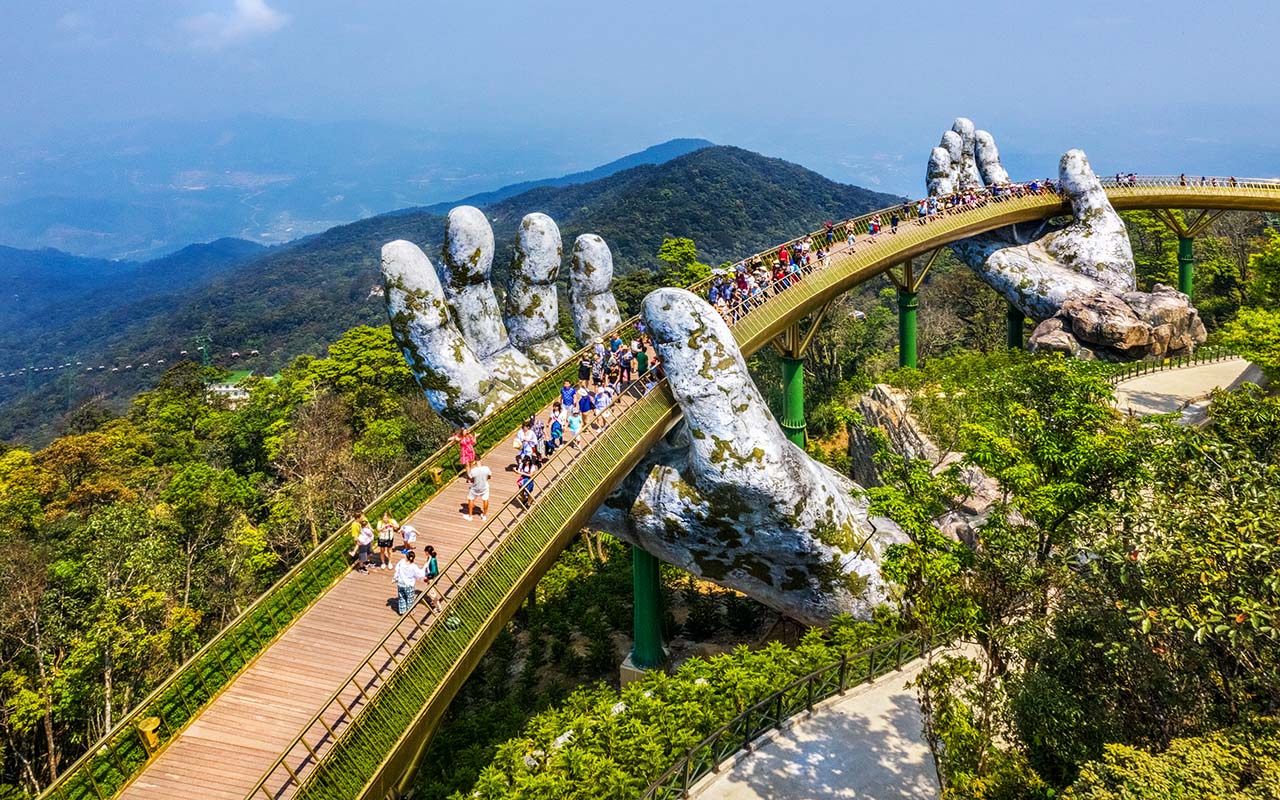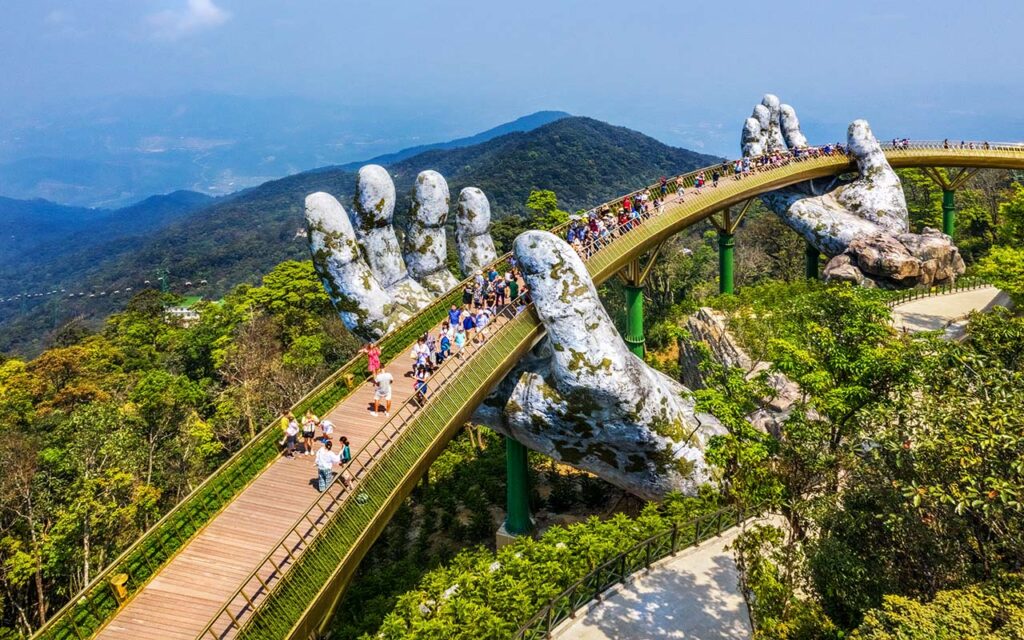 Transportation in Da Nang
Discover transportation deals for Da Nang from our partners >
Travel to Da Nang
Da Nang is one of the most developed cities in Vietnam, which means a modern transport system. One of the highlights of Da Nang transportation, making it extremely accessible, is that its airport, train station, and central bus stations are located a short distance from the city center.
By planes
Da Nang international airport is only 3 km away from the city center and is operated by many local and international airlines, making it the most preferable way to approach Da Nang from overseas. As soon as arriving at the airport, it is (again) super easy to travel to town due to its convenient location.
By trains
The national North-South Railway contributes 30 km of its train line crossing Da Nang city, and all the train routes stop in for dropping off and picking up passengers at this station. You can travel to Da Nang by train from over 35 provinces and cities and can travel almost anywhere across the country from here.
From Hanoi and Ho Chi Minh City, it often takes from 16 to 19 hours to reach Da Nang. To make the long trip more comfortable, there are many seat options it has to offer, ranging from 370,000 VND ($19) to 1,100,000 VND ($47).
This means of transportation is more environmentally friendly compared to taking airplanes and also more economical; more importantly, you can view the landscapes changing through the windows, which we believe is a very worthy experience.
You are able to check the train schedule and book tickets online at dsvn.vn.
By buses
From neighboring cities such as Hoi An and Hue, there are public buses from and to Da Nang Central bus station. In addition, private bus companies (The Sinh Tourist and Phuong Trang) and many local coach services operate trips to Da Nang. The long traveling time is compensated by a very affordable price.
Travel in Da Nang
To sightsee and explore Da Nang, we suggest the following means of transport.
Buses
We prioritize public transport not only for your easy access but also for the sake of our environment. Officially, Da Nang provides 14 bus routes in town. You can check for specific trips and fares on danangbus.vn.
Taxis
Safe, reliable, and more proactive is taking a taxi to see around Da Nang. With the key attractions not too stretched out, it is quite reasonable to go from place to place by taxi. When you get in touch with a driver, it is possible to ask them for a quick tour around the city (normally lasting for around 4 hours) at a cost of 650,000 VND ($28). It is also possible to suggest that they be your private driver, which means he will follow your schedule and accompany you to wherever in the city (standardly from 9 AM – 5 PM) at a price of around 1,800,000 VND ($77).
Note: The price is subject to change according to the price of fuel, and the mentioned price could be shared among four passengers. So, it is worth considering if you are traveling in a group.
Motorbikes
Last but not least, renting a motorbike is an obvious option to travel like a local once you are familiar with the traffic flow. The cost of renting a bike ranges from 100,000 VND – 200,000 VND/day. You are likely to be asked for a small amount of money or your personal document for a deposit.
Note: For car and motorbike options, you can easily book a ride on ride-hailing apps like Grab, Gojek, and Be.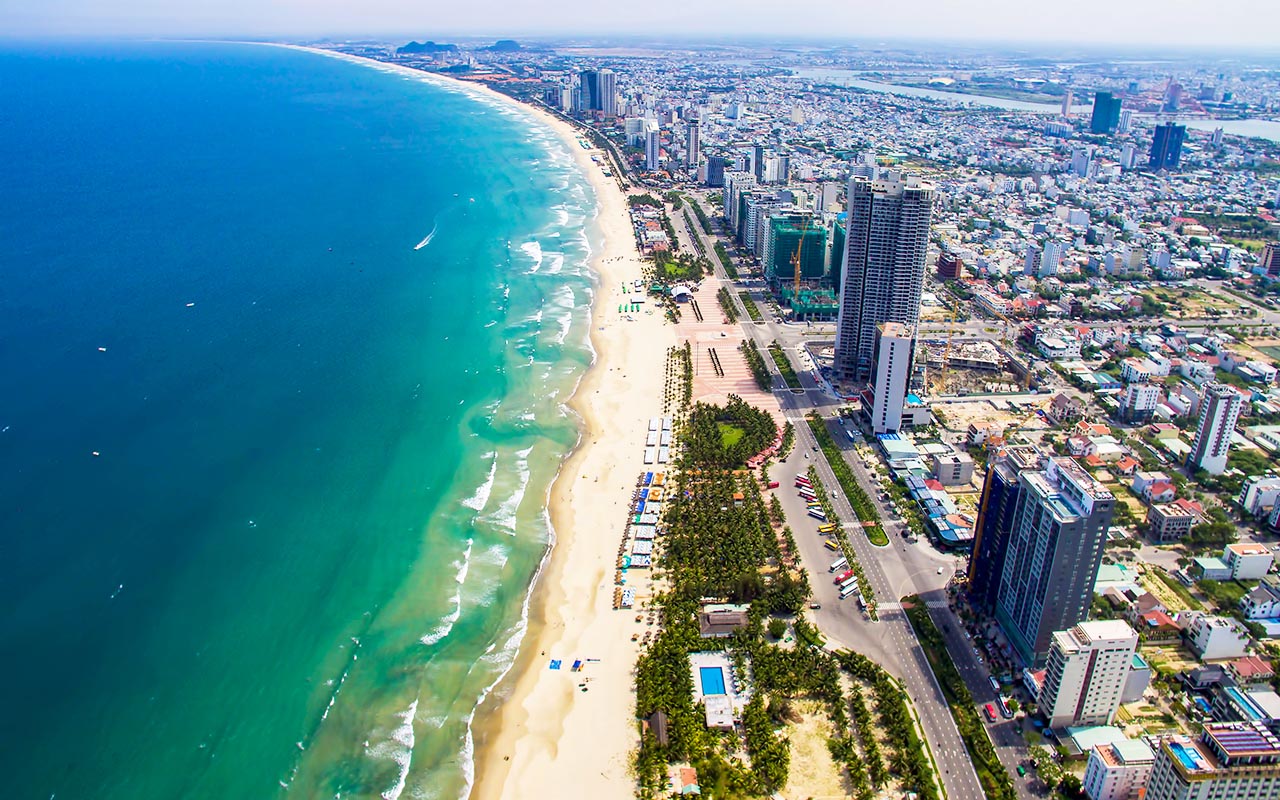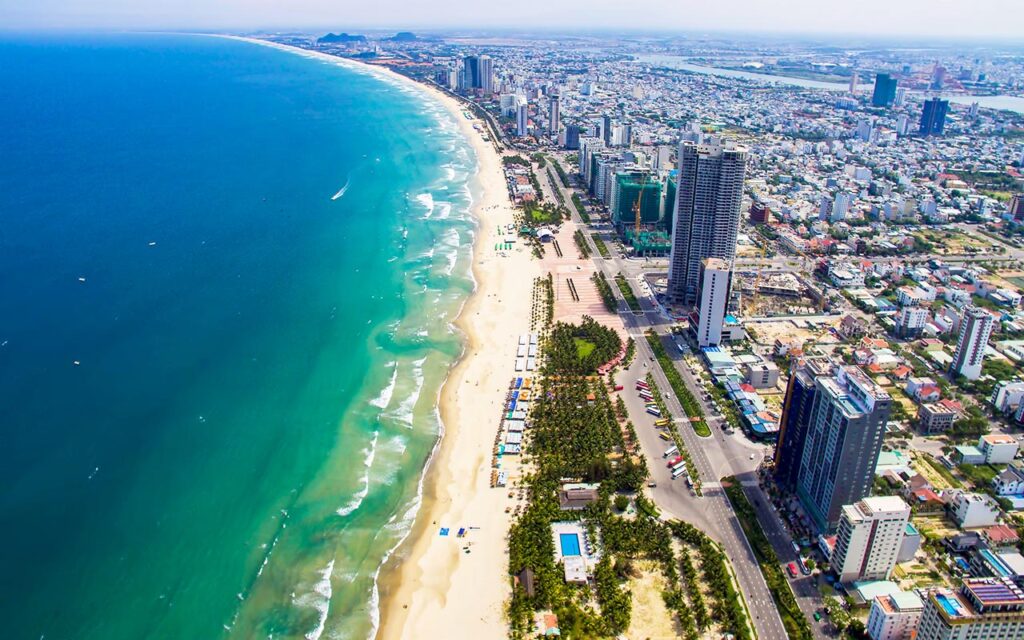 Festivals in Da Nang
Festival of Avalokiteshvara
Avalokitesvara Festival is a spiritual celebration wishing for harmonic weather and sending prayers for health, peace, and harmony. It is held in 3 days, including two parts: ceremony and festival. The ceremony emphasized sacred Buddhist rituals with many religious activities such as welcoming the light, preaching the teachings of Lady Buddha, and so on. The festival takes place vibrantly with various traditional and modern performances: singing folk songs, cosplaying, dancing, and calligraphy exhibition activities.
This festival takes place on February 19 of the lunar calendar every year. The location of the festival is the Marble Mountains tourist site. The festival attracts numerous tourists as well as Buddhist pilgrims coming to Da Nang.
Fireworks Festival
The Fireworks Festival is an international-scale cultural and tourist event that has been taking place annually since 2008. The festival lasts for two days in a row commemorating the liberation of Vietnam on April 30 and International Workers' Day on May 1. Every year, the fireworks competition features a different theme. This festival attracts many developed fireworks industries, such as Japan, the United States, Italy, Russia, and so on, creating spectacular and artistic fireworks performances along the Han River. The festival is a mesmerizing performance with not only light but also music.
Throughout the festival, there are different activities such as boat racing, exhibition, and releasing of candles held in paper flowers, making it the most awaited festival in the city.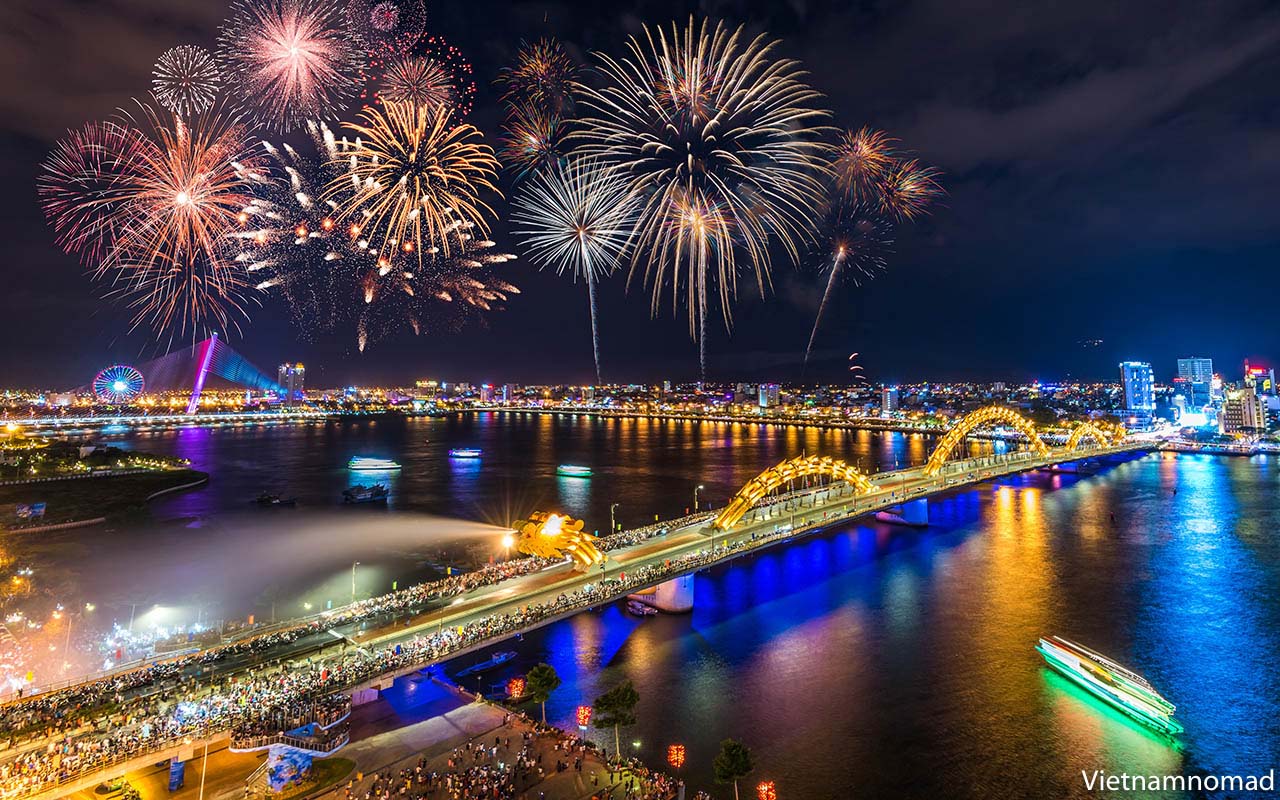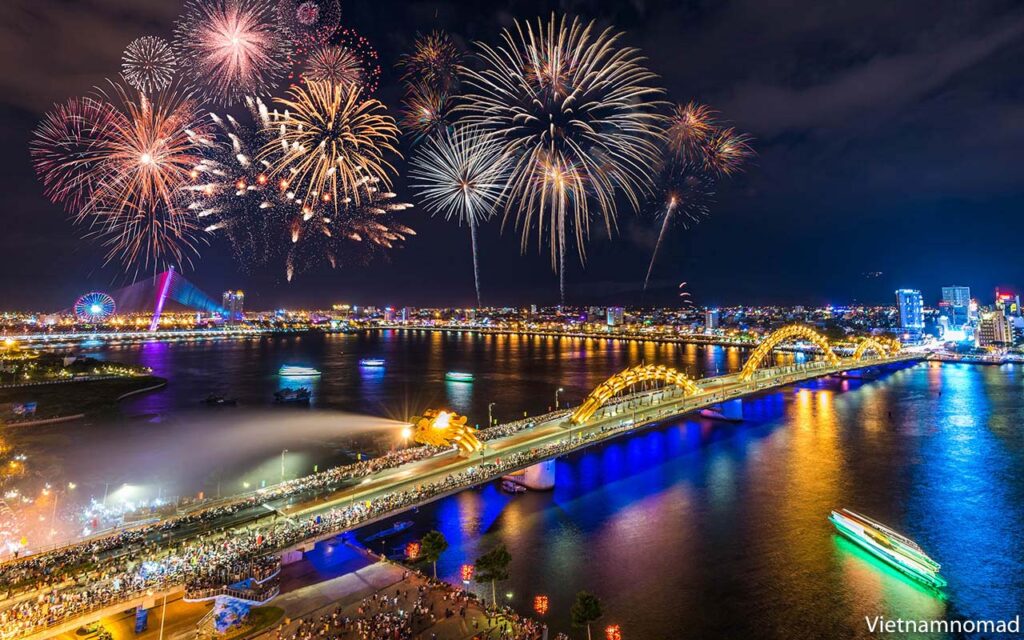 Cau Ngu Festival
This is a long-established traditional festival of the coastal villages to show gratitude and respect towards whales. According to folk beliefs, whales are regarded as the guardians of the sea. Many times, it is said that it was the whales that saved fishermen and their boats when they were out at sea and facing extreme storms and waves.
The festival takes place after the Lunar New Year festival from 14 to 16 January (lunar calendar). It is a tradition that in the 2-3 day festival, people will not cook at home but will cook and eat together. All the boats will be decorated with colorful flags and flowers, and models of boats will be worshiped and released to the ocean as offerings.
This is a unique festival that will give you an authentic insight into the traditional celebration of the coastal villages and the folk and local ceremonies.