TRANSPORT
In Da Nang, there is an airport – Da Nang International (with 2 terminals: Domestic and International), is about 3 km from the city center.
The biggest bus station is Da Nang Central Bus Station, here you can take a bus to Hoi An and many other provinces.
The Public transport system consists of 12 bus routes and 2 routes for tourist.
The Train Station Address: 791 Hai Phong, Tam Thuan, Thanh Khe, Da Nang.
In addition, there are some bus companies going to specific provinces as The Sinh Tourist (go to Saigon/Hanoi) and Phuong Trang (go to Saigon/Hanoi).
TOURIST MAP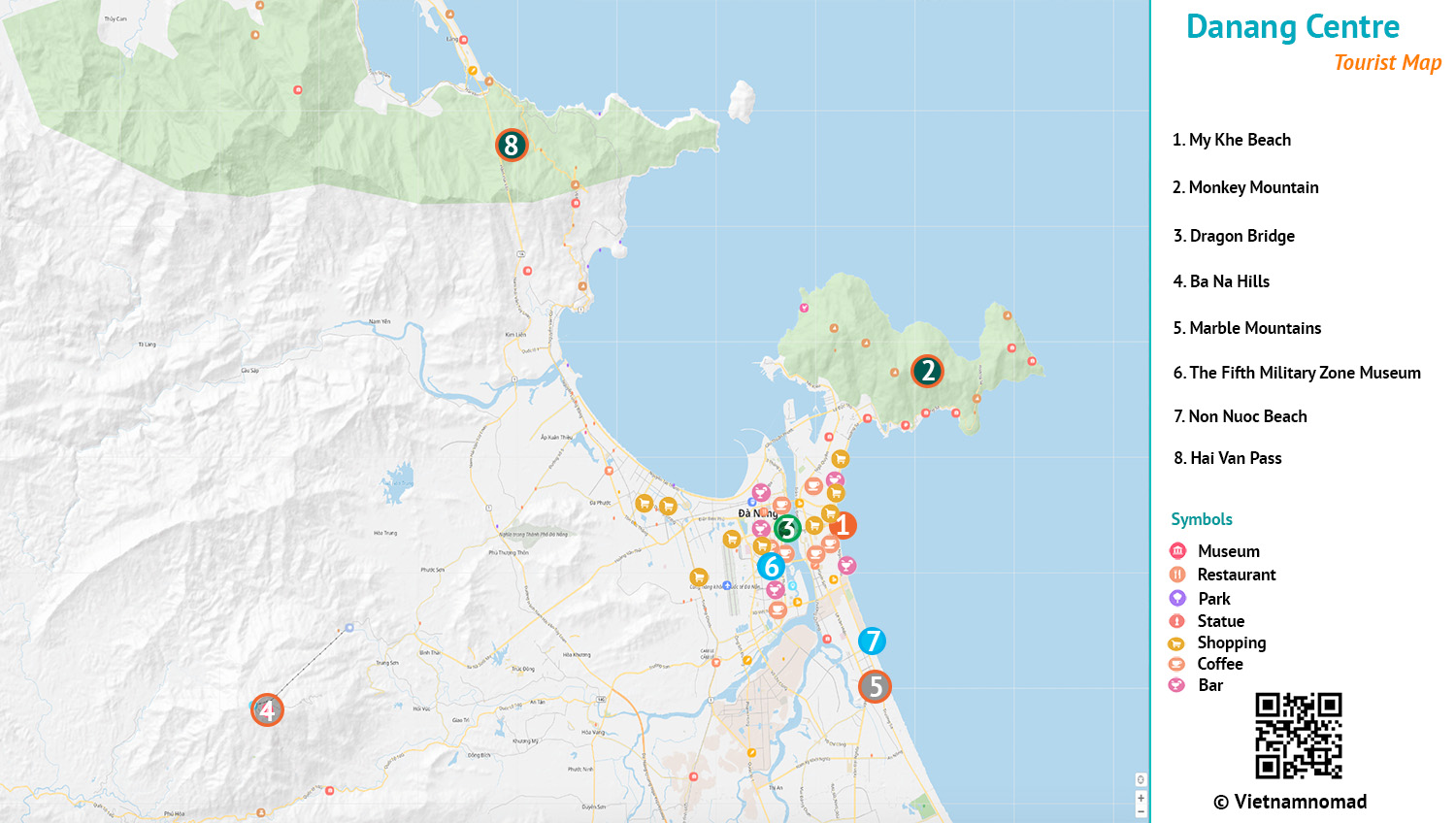 1. My Khe Beach
2. Ba Na Hills
3. Marble Mountains
4. Son Tra Peninsular
5. Museum of Cham Sculpture
6. Hai Van Pass
7. Con Market
8. The Bridges
9. Man Thai Fishing Village
10. Asia Park
1. Mi Quang
2. Banh Trang Cuon
3. Bun Mam Nem
4. Com Ga
5. Bun Cha Ca
6. Seafood
7. Banh Kep
8. Banh Beo, Banh Nam, Banh Loc
TIPS
Recommended length of stay: 3 days
Transport from Da Nang to Hoi An 
By Bus (recommend): you take the bus 01 from Da Nang Central Bus Station to Hoi An, Fare: 30 000 VND (1.2 USD). Opening hours: 5:30 am – 5:50 pm.
By Taxi: Prices around 350 000 – 450 000 VND (15 – 19 USD).
By Grab: Prices about 350 000 VND.