Da Nang at a glance
Da Nang city is in the central part of Vietnam, which is 776 km from Hanoi to the north and 961 km from Ho Chi Minh City to the south. Da Nang borders Thua Thien Hue province in the north, Quang Nam province in the west and south, and the East Sea (South China Sea) in the east. The city is the central location connecting three famous UNESCO world heritage sites, including Hue Imperial Citadel, My Son Sanctuary, and Hoi An Ancient Town. Besides, the Hoang Sa island district is also a part of this city.
As a result, Da Nang is a city with a prime location playing a crucial role in developing as well as maintaining tourism, economy, trading and military defense; for tourists, this city is always the top destination in Vietnam. Let's check out the video of Da Nang!
Da Nang weather
Positioned in the central part of the country, Da Nang experiences a tropical monsoon climate that has two distinct seasons: a rainy season (from August to December) and a dry season (from January to July). Particularly, the rainy season in Da Nang is synonymous with days of uninterrupted rains. October is the wettest month of the year with high precipitation. So, traveling in Da Nang in the rainy season may limit the range of outdoor activities. The dry season, in contrast, is often humidly hot and cloudy. The hottest month is reported in June with the temperature reaching 34 °C on average.
According to the types of activities, we suggest two ideal time frames to visit this phenomenal beach city. Late December to late March is perfect for sightseeing and exploring activities because the weather is super advantageous with a transparent blue sky, the absence of lasting rains and the average temperature fluctuating between 18 °C to 27 °C.
February is the most recommended month with very pleasant weather, the least rainy month and the celebration of many local festivals. For by-water and beach activities, late February to late April is the best time. This is when the temperature rises to around 32 °C, just hot enough for diving in the cool and clear water in Da Nang. Also, you get enough waves and wind for water sports such as surfing and kitesurfing.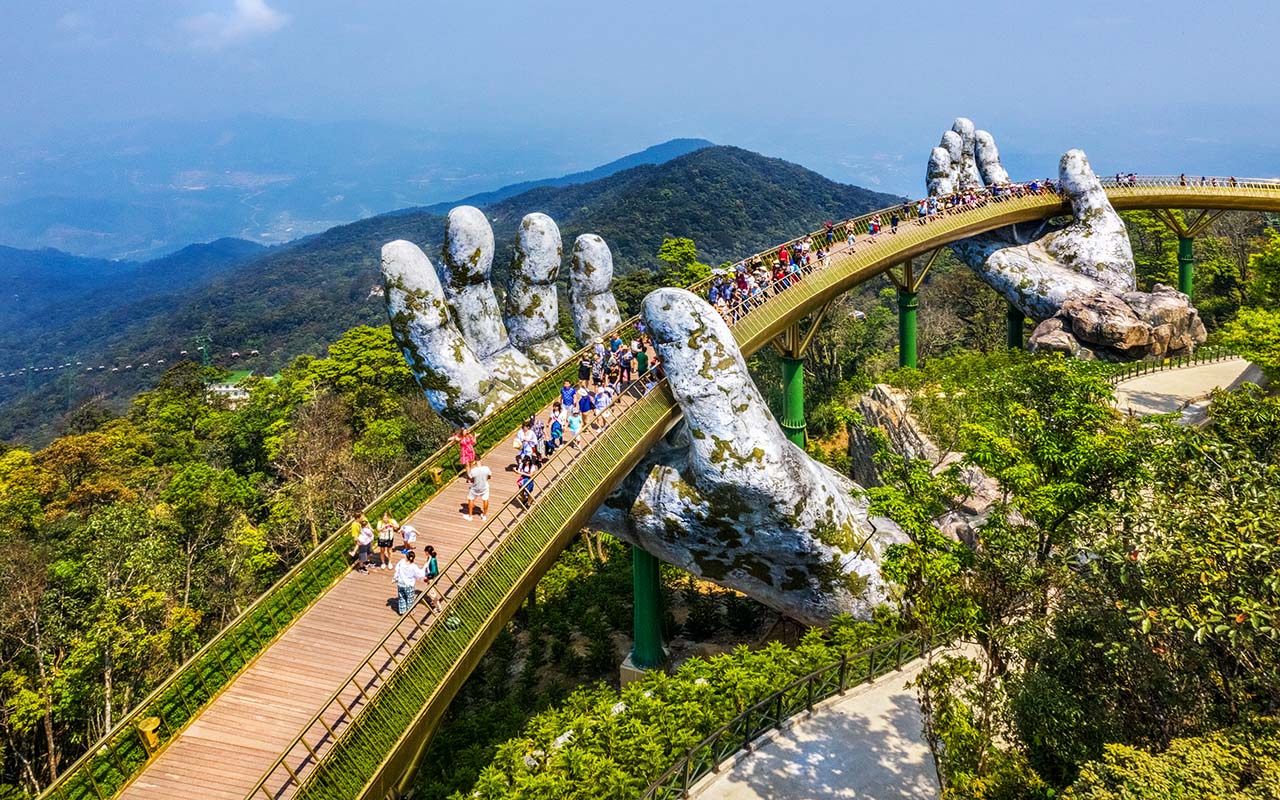 Transportation in Da Nang
Travel to Da Nang
Da Nang is one of the three most developed cities in Vietnam, which means a modern transport system. One of the highlights of Da Nang transportation making it extremely accessible is that its airport, train station and central bus stations are located a short distance from the city center.
By planes
Da Nang international airport is only 3 km away from the city center and operated by many local and international airlines, making it the most preferable way to approach Da Nang from overseas. As soon as arriving at the airport, it is (again) super easy to travel to town due to its convenient location.
By trains
The national North-South Railway contributes 30 km of its train line crossing Da Nang city and all the train routes stop in for dropping off and picking up passengers at this station. You can travel to Da Nang by trains from over 35 provinces and cities and can travel almost anywhere across the country from here.
From Hanoi and Ho Chi Minh City, it often takes from 16 to 19 hours to reach Da Nang. To make the long trip more comfortable, there are many seat options it has to offer ranging from 370,000 VND ($19) to 1,100,000 VND ($47).
This means of transportation is more environmentally-friendly compared to taking airplanes and also more economical; more importantly, you can view the landscapes changing through the windows, which we believe is a very worthy experience.
You are able to check the train schedule and book tickets online at dsvn.vn.
By buses
From neighboring cities such as Hoi An and Hue, there are public buses from and to Da Nang Central bus station. In addition, private bus companies (The Sinh Tourist and Phuong Trang) and many local coach services operate trips to Da Nang. The long traveling time is compensated by a very affordable price.
Travel in Da Nang
To sightsee and explore Da Nang, we suggest the following means of transport.
Buses
We prioritize public transport not only for your easy access but also for the sake of our environment. Officially, Da Nang provides 14 bus routes in town. You can check for specific trips and fares on danangbus.vn.
Taxis
Safe, reliable and more proactive is taking a taxi to see around Da Nang. With the key attractions not too stretching out, it is quite reasonable to go from place to place by taxi. When you get in touch with a driver, it is possible to ask them for a quick tour around the city (normally lasting for around 4 hours) at a cost of 650,000 VND ($28). It is also possible to suggest that they be your private driver, which means he will follow your schedule and accompany you to wherever in the city (standardly from 9 AM – 5 PM) at a price of around 1,800,000 VND ($77).
Note: The price is subject to change according to the price of fuel and the mentioned price could be shared among 4 passengers. So, it is worth considering if you are traveling in a group.
Motorbikes
Last but not least, renting a motorbike is an obvious option to travel like a local once you are familiar with the traffic flow. The cost of renting a bike ranges from 100,000 VND – 200,000 VND/day. You are likely to be asked for a small amount of money or your personal document for a deposit.
Note: For car and motorbike options, you can easily book a ride on ride-hailing apps like Grab, Gojek and Be.
Accommodation in Da Nang
As one of the largest tourist cities in Vietnam, it is no exaggeration to say that there is always a bed somewhere made just for you! From a beautiful homestay in the city's heart to a luxury hotel by the beach. We recommend that you choose a place to stay near My Khe or Pham Van Dong beach, where it is affordable and convenient for swimming.
Learn more or check out some of our suggestions below: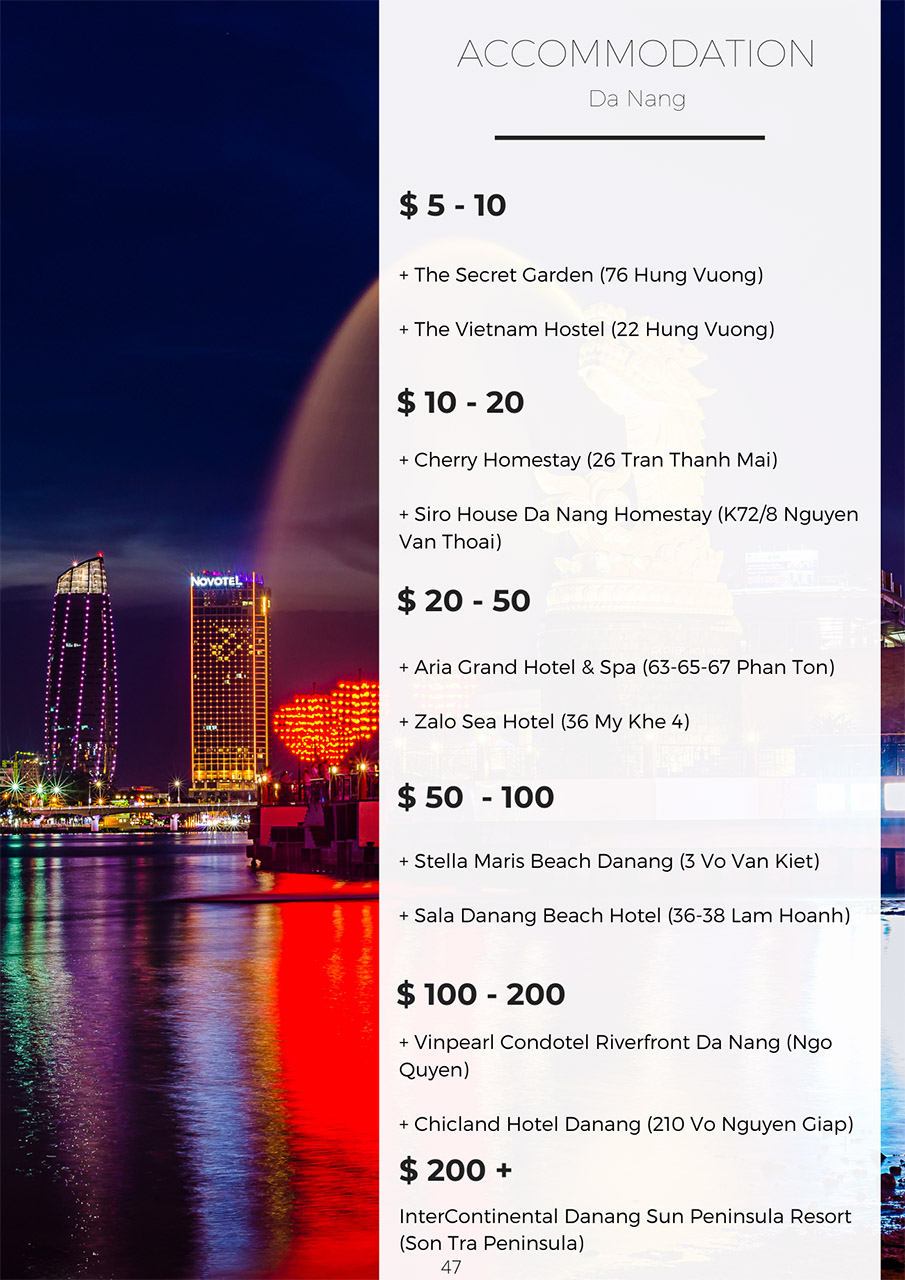 10 must-visit attractions in Da Nang
Da Nang is the most famous coastal city in Vietnam as it is endowed with stunning natural assets and invested with modern infrastructures.
Recognized as one of the most attractive beaches on the planet by Forbes and voted one of the best beaches in Vietnam by travelers, My Khe Beach should definitely be your first stop when visiting Da Nang. Only 3 kilometers away from the city center and a beach stretching over 900 meters with 3 main swimming spots, My Khe beach is gifted with pristine and calm water, making it pleasant to swim in. The beach has powder white sand lined with coconut trees, creating the perfect image of a tropical vocational beach. In certain parts of the beach, the waves are a bit more choppy, especially when there is a strong wind flow, which allows water sports such as board surfing and sailing.
Address: Vo Nguyen Giap Street, T20, Phuoc My Ward, Son Tra District
Notes and tips: A wide range of facilities is available at the beach such as swimsuit and towel rental; foods and drinks; lounge beach chair rental, etc. The price for renting a beach chair ranges from 40,000 VND – 60,000 VND.
Ba Na Hills is known as the most luxurious resort and entertainment complex in Vietnam. Situated at 1,487 meters above sea level, Ba Na Hills offers a pleasant climate and spectacular landscapes. You can experience the interesting transition of the climate within a day, eccentric attractions, endless festival activities and culinary feasts.
Among all the exciting and unique constructions, the Golden Bridge comes as the most symbolic and recognizable icon of the complex. The Golden Bridge was listed in the "top 10 best destinations in the world in 2018" by TIME and "the most spectacular pedestrian bridge" by many other prestigious magazines and travel websites. With its eye-popping architecture and a great testimony to the coming together of nature and humans, a beautiful metaphor to celebrate the power of Mother Nature in supporting humankind.
Another unskippable location in Ba Na Hills is the French Village with the dedication put towards recreating the poetic and romantic French countryside. The highlight is not only the architecture but also the fun-packed activities going on all day here.
Opening hours: 8 AM – 5 PM
Address: Hoa Vang District, about 20 km from the city center
Tickets:
850,000 VND ($36.35) for adults
700,000 VND ($30) for children (1 m – 1.4 m in height)
Free entrance for children under 1 m
For more information, please visit the official website of Ba Na Hills here.
Notes and tips:
Exploring Ba Na Hills will take you a whole day with many outdoor activities so bring extra clothes for change.
There is a swimming pool in the complex, so you can bring your swimsuit to chill by the pool to cool down the heat at midday.
The Golden Bridge is packed with people most of the time, so if you want to have it more for yourself, try to come as early as possible in the morning (be aware that the misty fog could obscure the views though). Or, you can go for the Ba Na By Night Combo – which allows entrance from 3 PM – 10 PM. It means that you can fully embrace the sunset over the bridge and explore the complex under much nicer weather. Also, the tickets are cheaper: 700,000 VND ($30) for adults and 520,000 VND ($22.25) for children. Ba Na By Night Combo is only applied on Saturday.
3. Son Tra Peninsula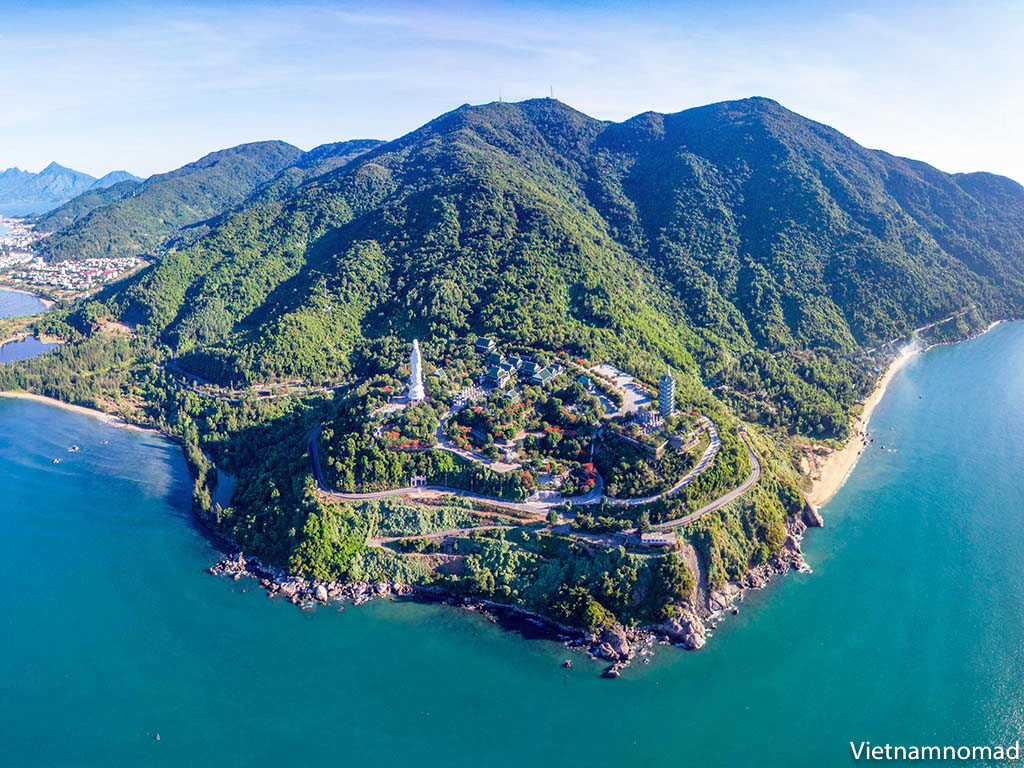 Not only rich in historical values and strategic economic roles, but Son Tra Peninsula is also a precious natural forest ecosystem of Da Nang. Being granted such an advantageous location surrounded by stunning beaches on one side and facing the magnificent mountains on the other side, Son Tra Peninsula is a must-visit destination in Da Nang with many activities to offer.
There are many unprecedented gorgeous beaches lying along the peninsula such as Bai But, Bai Tien Sa, Bai Bac and Bai Nam, etc. These beaches are quieter and less touristy.
Don't miss Linh Ung Pagoda, located 693 m above sea level, where the tallest Lady Buddha Statue in Vietnam recognized by UNESCO, is placed. Linh Ung Pagoda has a unique with a fascinating view and a nice breeze from the ocean. This is for sure a must-see attraction that gives you a sense of peace and tranquility.
Address: Hoang Sa Street, Tho Quang Ward, Son Tra District
Notes and tips: 
There are three different pagodas with the name Linh Ung Pagoda, so make sure you look for the right one on Son Tra Peninsula.
If you are driving a motorbike, try to make it to Ban Co Peak. We guarantee you a mesmerizing drive and an unforgettable panoramic view on top of the mountain.
4. Marble Mountains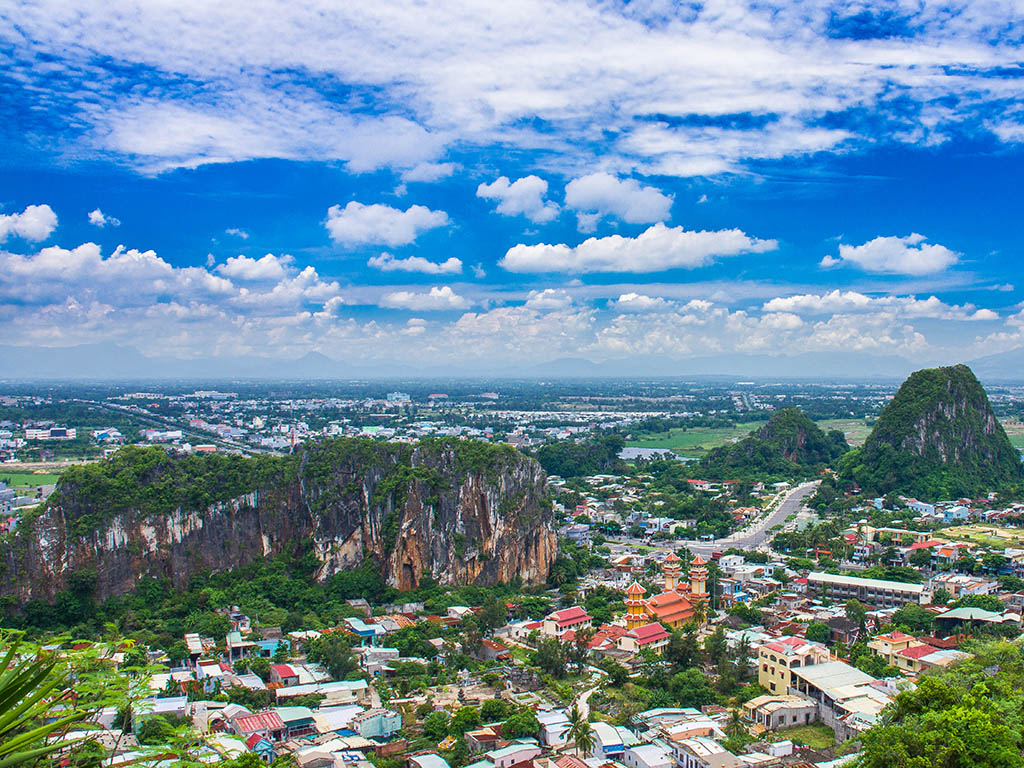 Marble Mountains (Ngu Hanh Son), also known as Non Nuoc mountain, is a landscape including five limestone mountains representing five elements of life in the Eastern belief: Metal, Wood, Water, Fire and Earth. According to the remaining historical records, this was where the Cham people worshiped their gods and held their religious celebrations. Later, an influx of Vietnamese arrived and brought with them Buddhist culture and beliefs, which explains for the diversity and variety of temples and shrines scattered around the mountain complex.
You will be left in awe by the magnificence of the caves and the sacredness of the temples. The cool climate together with dim light and spreading smoke from incense sticks will give you good chills.
Tickets: 40,000 VND, free for children under 6 years old
Opening hours: 7 AM – 5:30 PM
Address: 61 Huyen Tran Cong Chua, Ngu Hanh Son District
Notes and tips: 
Dress appropriately as most of the locations within the mountain complex are religious constructions.
Try to make it to the caves around midday so you can get the beautiful rays of sunlight.
This is a good place to get souvenirs with fine ornaments made from marble stones which are nice, affordable and easy to carry.
5. Asia Park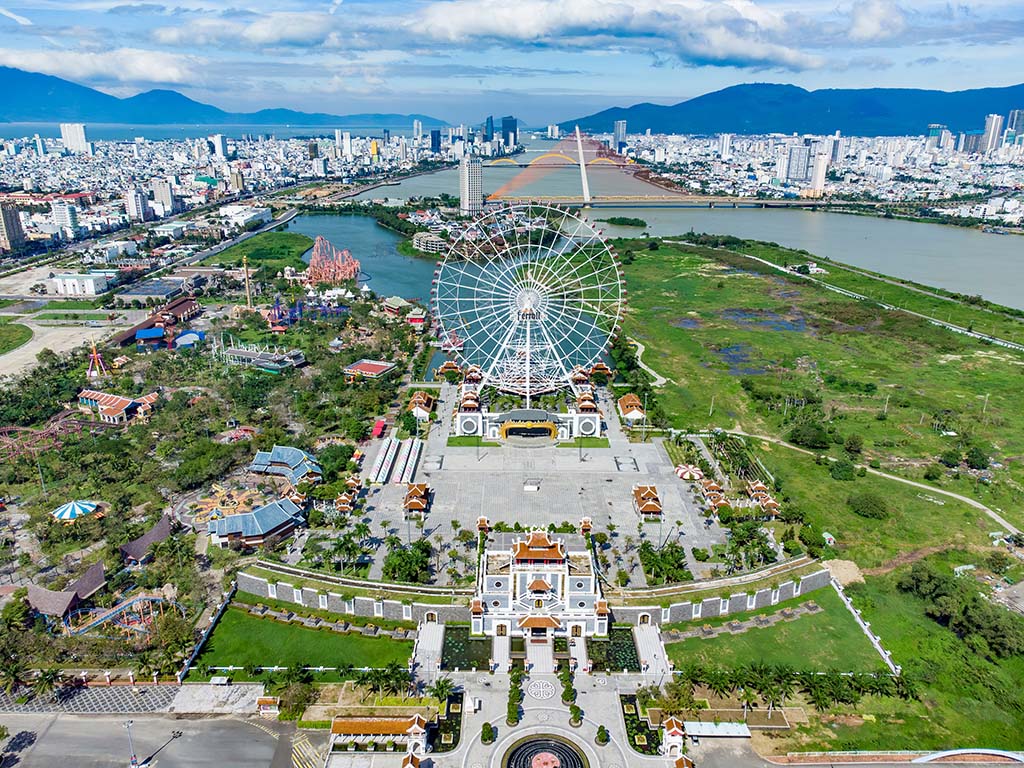 If you would like to have a break from exploring the natural surroundings and have some fun, Asia Park would be a suggestion. This amusement park houses some interesting records such as the largest roller-coaster in Vietnam and one of the highest Ferris wheels in the world – the Sun Wheel. Asia Park is particularly suitable for families with kids with more than 20 games, a collection of international cuisines and diverse performing activities.
Tickets:
200,000 VND ($8.6) for adults
100,000 VND ($4.3) for children (1 m – 1.4 m in height)
Free for children under 1 m
Opening hours:
Weekdays: 3 PM – 10 PM
Weekends: 9 AM – 10 PM
Address: 01 Phan Dang Luu, Hai Chau District
Notes and tips:
Asia Park often holds interesting seasonal festivals and performances; you can check out their official website here to update the upcoming performances.
You will need to pay extra to go on the Sun Wheel, which costs 100,000 VND ($4.3) for adults and 50,000 VND ($2.15) for children (free for children under 1 m).
Dragon Bridge is a unique bridge in Da Nang, which is seen as a symbol of the prosperity of this city. Indeed, Dragon Bridge has the heaviest weight compared to other bridges in Vietnam with a solid dome structure and a specially designed body using a combination of 5 steel pipes and 15,000 LED bulbs to decorate the dragon model.
What attracts most tourists to the Dragon Bridge is the performance of the dragon breathing water and fire. Watching the performance and sharing the cheering with the locals will be a great experience.
The performance takes place at 9 PM on weekends and public holidays.
Address: Nguyen Van Linh Street, Phuoc Ninh Ward, Hai Chau District
Notes and tips:
Watching the performance from the bridge could give you a close-up view but you will possibly get wet, so you can wear a light wind/rain jacket.
Some spots with a good view of the performances are along Bach Dang Street and Tran Hung Dao Street.
7. Con Market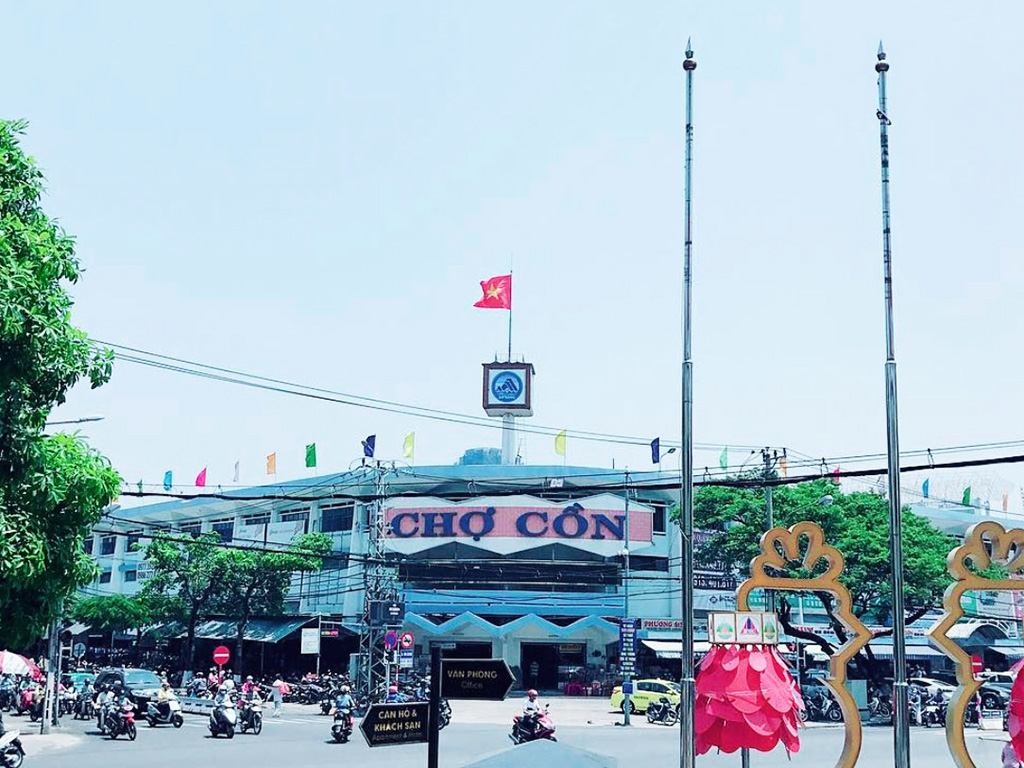 Like Ben Thanh Market in Ho Chi Minh City and Dong Xuan Market in Hanoi, Con Market is iconic of Da Nang and a must-visit attraction in this city. Con Market is known as the culinary paradise where you can sample most of the Vietnamese dishes and of course all the local specialties. The market is divided into 3 sections: indoor food section, outdoor food section and dried product section. The quality of foods at Con Market is guaranteed and the prices are totally reasonable, making it the best place for your culinary exploring journey.
Address: 269 ​​Ong Ich Khiem, Hai Chau District
Opening hours: 6 AM –  7:30 PM
Notes and tips:
You should come with a hungry stomach and don't order too much at one vendor because you will have a lot of tasty dishes to experience.
It is acceptable to bargain for 20% – 30% of the price for souvenirs at the market.
8. Hai Van Pass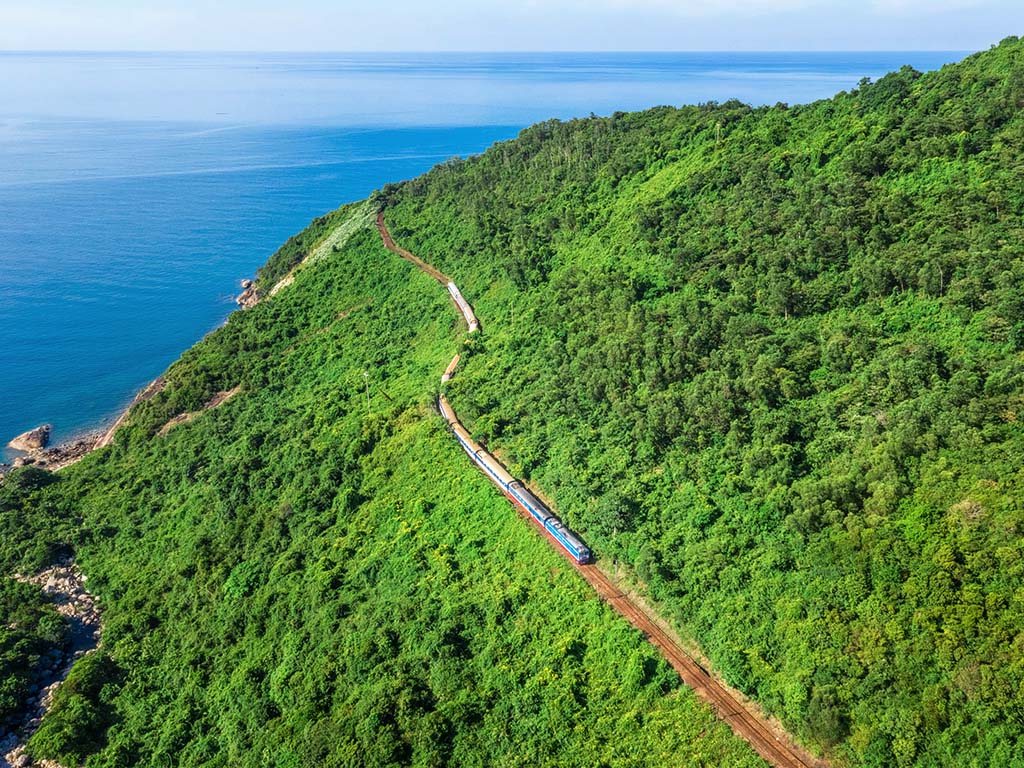 Hai Van Pass (the Sea Clouds Pass ), is one of the most beautiful and also most dangerous passes in Vietnam, connecting Da Nang and Hue. The pass is famous for its spectacular panoramic view as the highest part is 500 m above sea level. Due to the blind corners and sharp curves, it is only recommended for those who are confident on motorbikes. With a total length of 20 km, the pass is 20 km from Da Nang and 80 km from Hue city, which is a decent distance for a road trip.
Some of the favorite locations on the pass are Hai Van Quan (Gate Hai Van), Don Ca arch bridge, Lang Co viewpoint, and so on.
Notes and tips: 
Manual motorbikes are recommended for the pass due to its high slopes and sudden bends.
You should combine exploring the pass while you are traveling from Da Nang to Hue (or vice versa) and the best time to go is early mornings as you will have more time to stop along the way for the historical remains and viewpoints. Do not cross the pass if you cannot make it before sunset or it will be extremely dangerous.
9. Phong Nam Ancient Village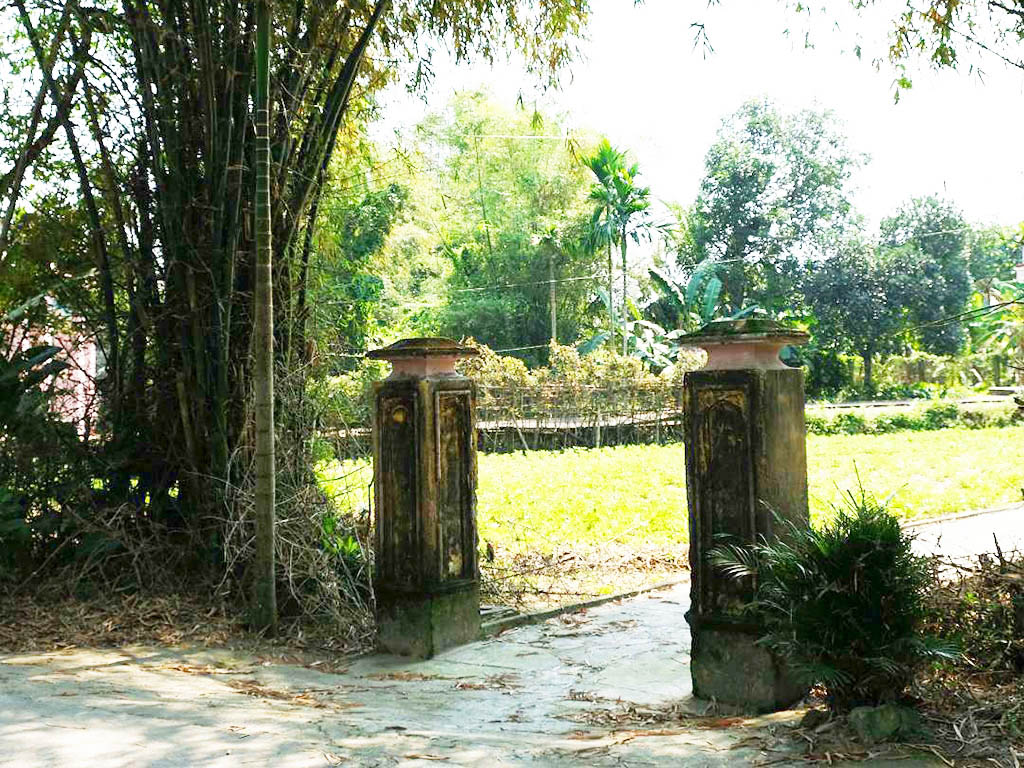 Not popularly known among tourists, however, Phong Nam Ancient Village is one of the must-visit destinations which is only 10 km from Da Nang center.
Established during the Champa Empire, the village carries with it a breadth of hundreds of years of history. Visiting the village, you will have a chance to explore the traditional architecture through the well-remained houses and temples across the area. Phong Nam Ancient Village is a perfect place to enjoy the peaceful countryside landscapes and experience authentic local lifestyles.
Address: Hoa Vang Province, Da Nang
Notes and tips: After arriving at the village, it is best to take a walk to closely observe the rustic look and the ancient vibes of the town.
10. Han River Bridge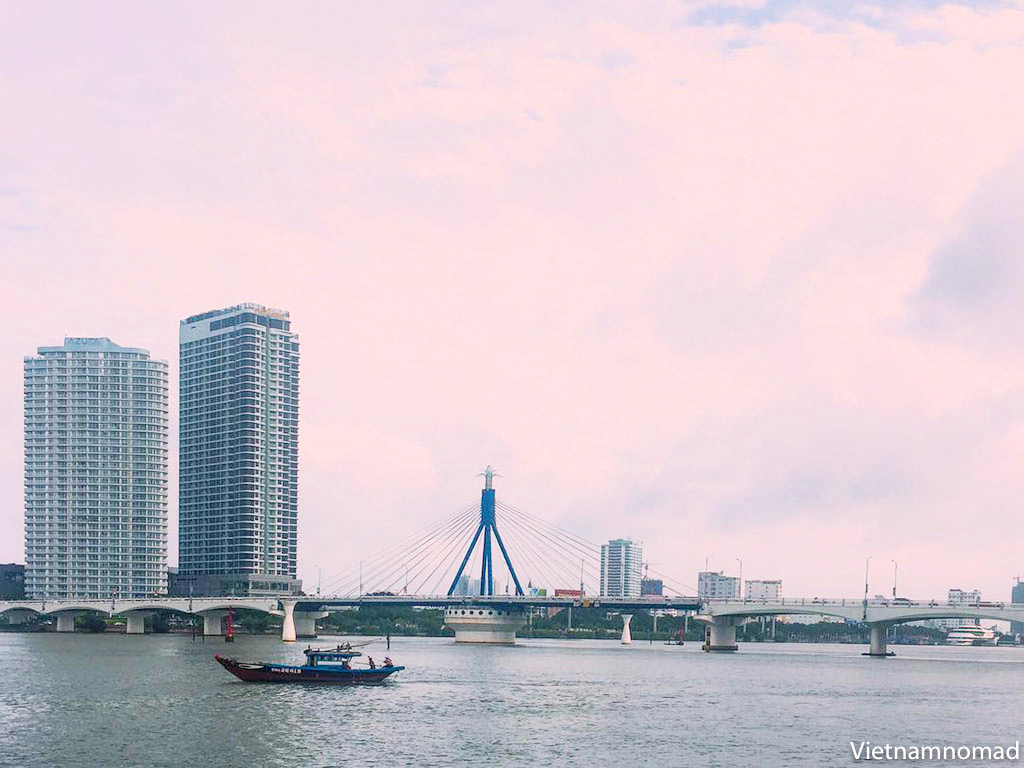 Cau Song Han (or Han River Bridge) is another eccentric bridge that not only serves as a key transportation facility but is also an interesting tourist attraction. This construction was designed and constructed entirely by the Vietnamese people, which embodies the dedication and devotion of the population of a rising and developing city.
What is special about this bridge is that it will rotate for 90 degrees every day, revealing two waterways for the transport of big boats.
Address: Intersection of Le Duan Street and Tran Phu Street
Time:
Monday – Friday: 1 AM – 2 AM (in case of high traffic, the bridge will close at 4 AM)
Saturday – Sunday: 11 PM – midnight
Notes and tips:
The bridge will close to public traffic 15 minutes before the scheduled rotating time, so you should regard it when planning your travel.
The good spots to watch the rotation of the bridge are along Bach Dang Street.
7 must-try dishes in Da Nang
In addition to beautiful beaches, Da Nang has been known for its diverse and unique cuisine featuring Central Vietnam. The savory and flavorful dishes are among the best foods you could find in Vietnam and really add satisfaction to your experience in Da Nang.
1. Mi Quang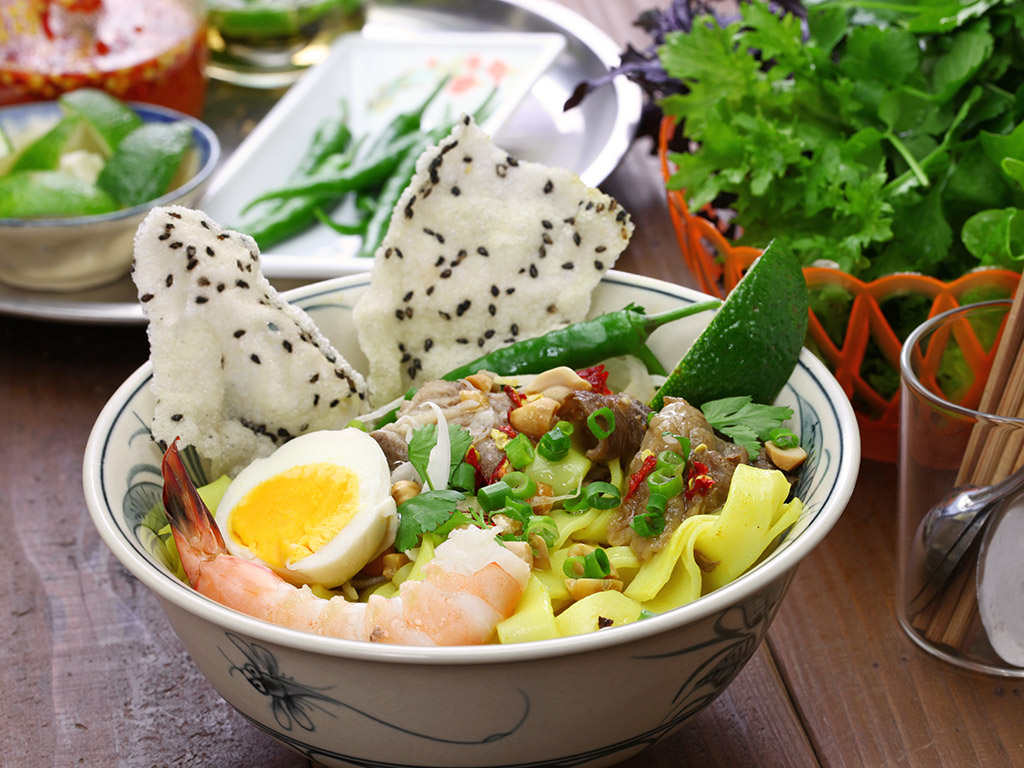 Mi Quang is for sure top of the list, as the name suggests, this noodle dish originated from Quang Nam, which Da Nang used to be a part of. In Da Nang (or in Central Vietnam generally), it is too hot in the dry season to enjoy a traditional bowl of hot noodle soup, so Mi Quang was made partly soup and partly salad as such an innovative culinary creation. Unlike other noodle soups, Mi Quang is only served in a small amount of savory pork and chicken broth. The main ingredients are the yellow rice noodles dyed from turmeric powder, a variety of proteins of your choice (however, the typical ones would be slices of pork belly and a whole shrimp), and other toppings including sesame rice cracker and roasted peanuts. It is often served with fresh herbs and vegetables as side dishes.
The famous Mi Quang restaurants must mention are:
Mi Quang Thi, address: 251 Hoang Dieu, Hai Chau District (25,000 VND – 55,000 VND)
Mi Quang Ba Mua, address: 19 Tran Binh Trong, Hai Chau District (35,000 VND – 55,000 VND)
Mi Quang Ba Vi, address: 166 Le Dinh Duong, Hai Chau District (30,000 VND – 40,000 VND)
2. Com Ga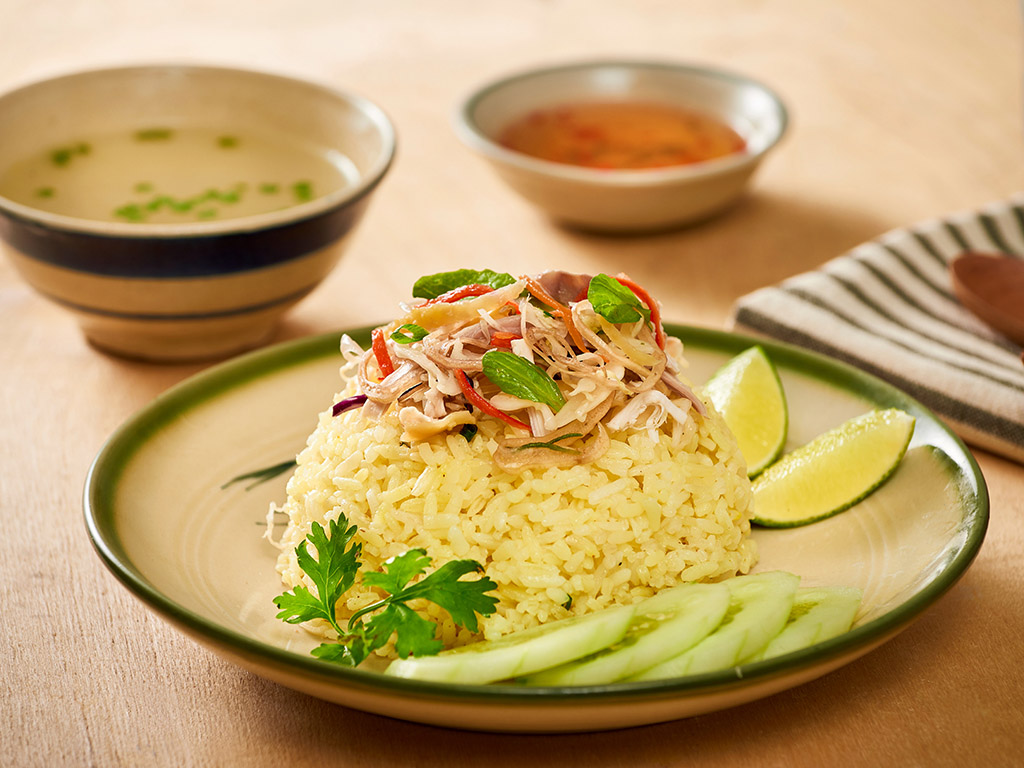 Com Ga (chicken rice) is a typical dish with an elaborate cooking process: rice is cooked in chicken broth and seasoned with turmeric powder to get a shiny yellow color. Rice is served with a small bowl of chicken broth seasoned with black pepper and chopped green onion together with chicken salad which is made from shredded chicken, lemons leaves, onions, laksa leaves, and onions. This dish is so popular in Da Nang that you can find it anywhere. We recommend the following restaurants:
Com Ga A Hai, address: 100 Thai Phien, Hai Chau District (40,000 VND – 65,000 VND)
Com Ga Ba Buoi Hoi An, address: 253 Ho Nghinh, Son Tra District (45,000 VND – 75,000 VND)
Com Ga Hong Ngoc, address: 193 Nguyen Chi Thanh, Hai Chau District (55,000 VND)
3. Banh Trang Cuon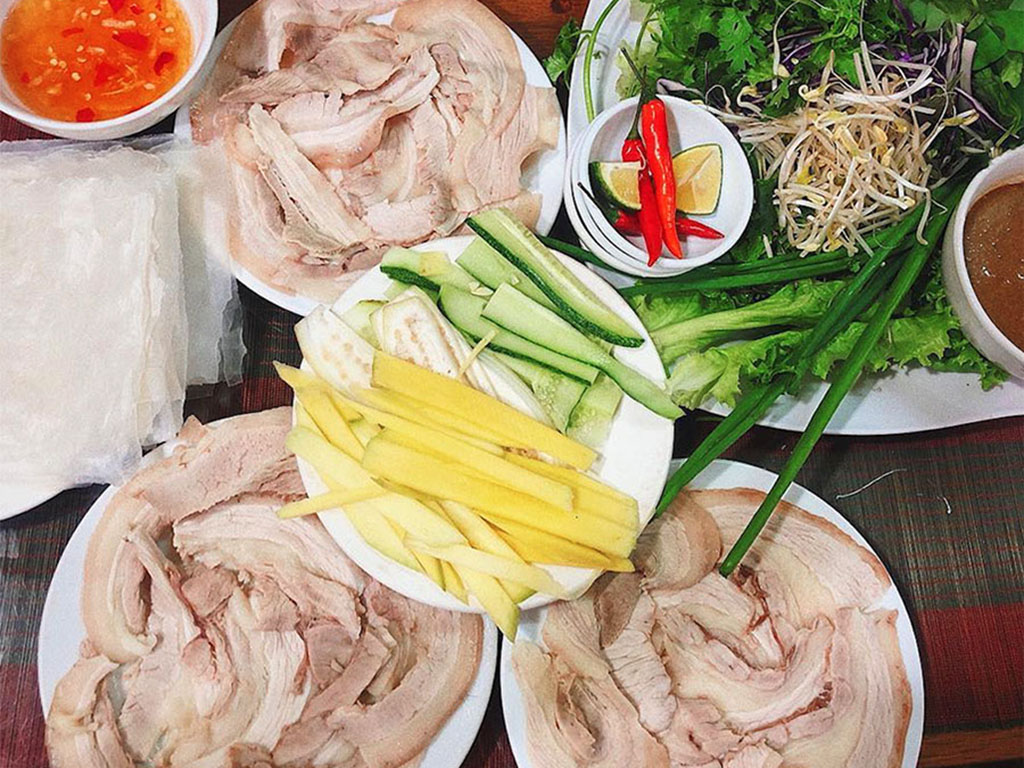 Banh Trang Cuon (self-served spring rolls) goes with simple ingredients but the way of eating sets it aside from the typical spring rolls you have tried. It is served with a plate of sliced pork belly, a set of thin rice paper, a basket of fresh vegetables, and of course the dipping sauce. When eating, you take a sheet of rice paper then place a slice of pork belly, then green herbs, shredded green mangoes and a slice of green banana; wrap them up and dip in the sweet and sour fish sauce or the iconic fermented sauce as you like. This is a great combination of flavors: fatty taste from the pork, fresh from green vegetables, a bit sour from green mangoes, bitter from green banana and sweet and spicy from the dipping sauce.
There are many Banh Trang Cuon restaurants in Da Nang, but we recommend the following locations:
Banh Trang Cuon Dai Loc, address: 75 Trung Nu Vuong, Hai Chau District (55,000 VND)
Banh Trang Cuon Tran, address: 04 Le Duan, Hai Chau District (189,000 VND)
Banh Trang Cuon Mau, address: 35 Do Phuc Tinh, Cam Le District (75,000 VND)
4. Bun Mam Nem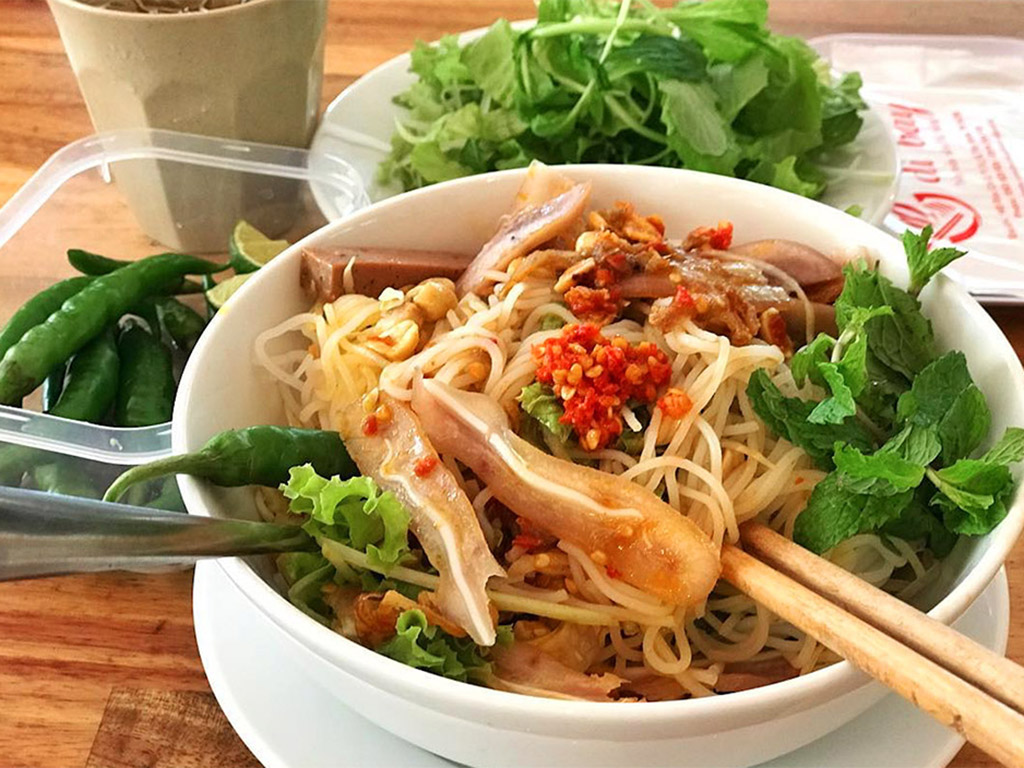 Bun Mam Nem is not a dish for everyone but it is the dish that features the highlight of Central Vietnam cuisine which is salty and spicy. Quite similar to Banh Trang Cuon mentioned above in terms of ingredients, Bun Mam Nem is a bowl of rice vermicelli, roasted pork belly, crunchy boiled pork ears, cured beef, green herbs and roasted peanuts. As the name suggests, this combination is dressed in fermented fish sauce which is mixed with lime juice and chilies. Fermented fish sauce has a strong smell which is not attractive for everyone. But once you get familiar with the smell and the taste, this will be a signature that you can hardly get anywhere else.
If you want to try it out, check out the restaurants that we recommend:
Bun Mam Ngoc, address: 20 Doan Thi Diem, Hai Chau District (30,000 VND – 40,000 VND)
Ba Dong, address: 141 Huynh Thuc Khang, Hai Chau District (35,000 VND – 45,000 VND)
Bun Mam Nem Ba Van, address: 23/14 Tran Ke Xuong, Hai Chau District (25,000 VND – 35,000 VND)
5. Banh Xeo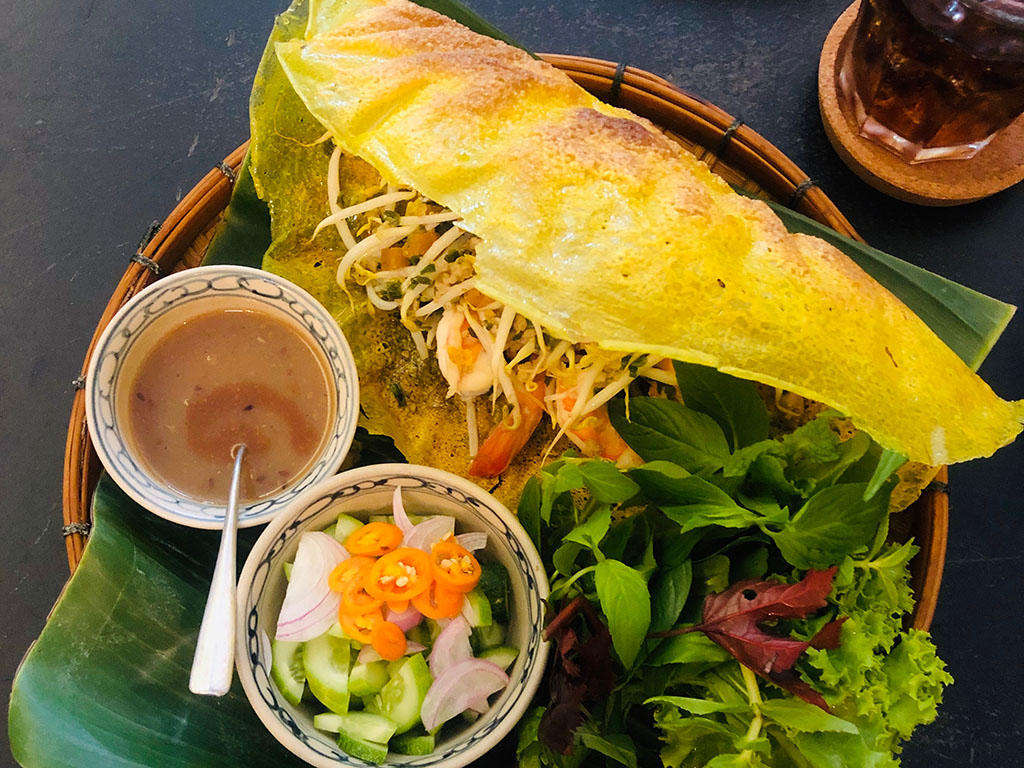 Banh Xeo is a popular Vietnamese dish among international visitors. But unlike the symbolic thin and big sizzling pancakes often seen in the South, Banh Xeo Da Nang has a smaller size with an attractive, crispy golden crust filled with pork and shrimp (sometimes baby squids), a sprinkling of green onion and bean sprouts. Only in Da Nang, Banh Xeo is served with Nem Lui – pork sticks grilled on a charcoal fire. When eaten, Banh Xeo and Nem Lui are wrapped in a sheet of rice paper, added with sliced cucumber, papaya pickles and other fresh vegetables. The peanut sauce is also the star of the dish, which brings out all the flavors. Make sure you add a bit of everything to get the perfect balance of the dish.
You can find delicious Banh Xeo in Da Nang at Banh Xeo Mien Trung (14 Hoang Dieu, Hai Chau District) or Ba Duong (23 Hoang Dieu, Hai Chau District) with a price of 75,000 VND/dish.
6. Bun Cha Ca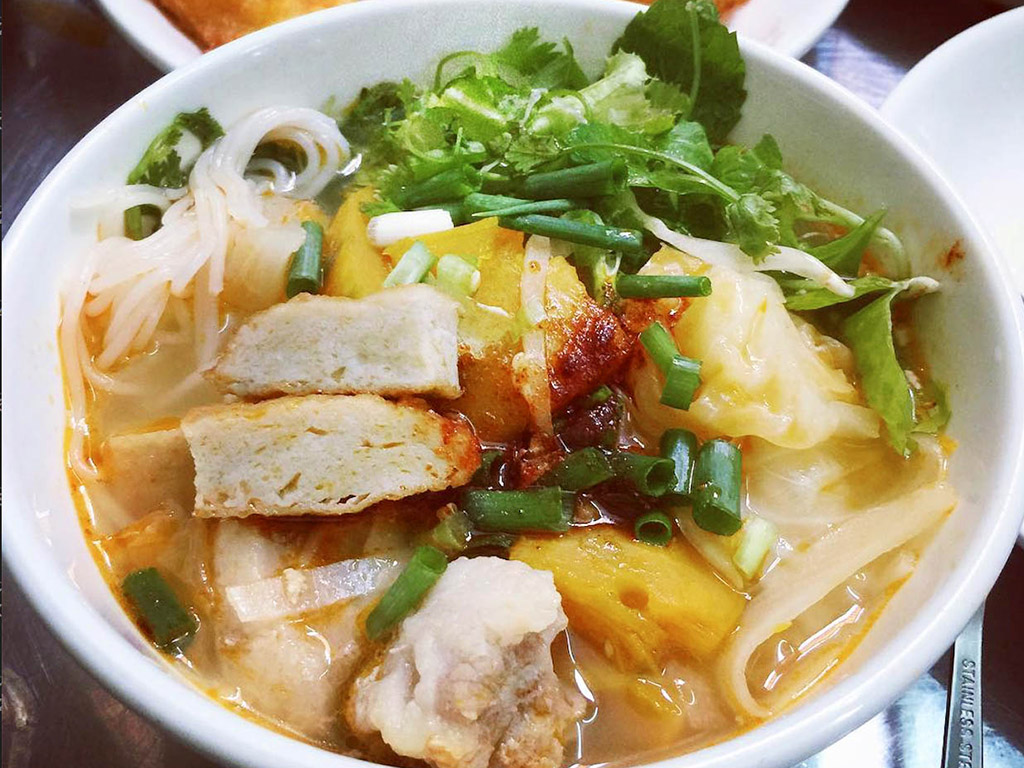 Bun Cha Ca (fish cake noodle soup) is a must-try dish that highlights the gift of the sea – seafood. The clear and flavorful broth features a hint of sweetness and sourness from tomatoes, pineapples and local tamarind. The aroma is complemented by the season of chopped green onion and cilantro on top. This soup is super delicious, fresh, and will definitely give you a burst of flavors in your mouth.
Don't miss this dish when coming to Da Nang, and here are suggestions for you:
Bun Cha Ca Ba Lu, address: 319 Hung Vuong, Thanh Khe District (25,000 VND – 40,000 VND)
Bun Cha Ca Ba Hoa, address: 27 Le Hong Phong, Hai Chau District (30,000 VND – 60,000 VND)
Ong Ta, address: 113A Nguyen Chi Thanh, Hai Chau District (30,000 VND – 70,000 VND)
7. Banh Trang Kep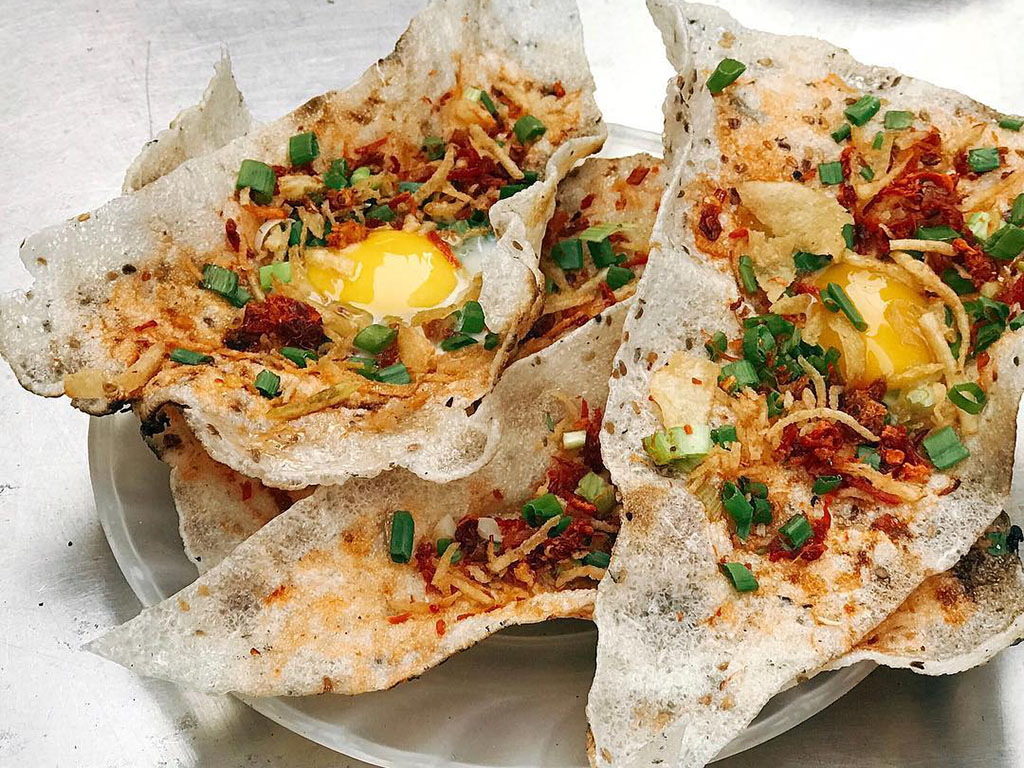 After having a list of filling foods, let's end the list with a snack that you could eat after your main meals, or basically anytime of the day. Banh Trang Kep (or rice paper sandwiches) is the most well-known street food among locals for its diverse toppings; hence, a must-try snack in Da Nang. Rice papers are cut in a triangle just like the shape of a pizza slice, then topped with minced pork, sausage, green onion, fried red onion and quail eggs. They are then grilled on an open fire until all the rice paper becomes crispy. If you like spicy, you can dip it in the sauteed sauce.
You can find it anywhere on the street vendors for about 10,000 VND.
Festivals in Da Nang 
Festival of Avalokiteshvara
Avalokitesvara Festival is a spiritual celebration wishing for harmonic weather and sending prayers for health, peace, and harmony. It is held in 3 days, including two parts: ceremony and festival. The ceremony emphasized sacred Buddhist rituals with many religious activities such as welcoming the light, preaching the teachings of Lady Buddha, and so on. The festival takes place vibrantly with various traditional and modern performances: singing folk songs, cosplaying, dancing, and calligraphy exhibition activities.
This festival takes place on February 19 of the lunar calendar every year. The location of the festival is at the Marble Mountains tourist site. The festival attracts numerous tourists as well as Buddhist pilgrims coming to Da Nang.
Fireworks Festival
Fireworks Festival is an international-scaled cultural and tourist event taking place annually since 2008. The festival lasts for two days in a row commemorating the liberation of Vietnam on April 30 and International Workers' Day on May 1. Every year, the fireworks competition features a different theme. This festival attracts many developed fireworks industries such as Japan, the United States, Italy, Russia and so on, creating spectacular and artistic firework performances along the Han River. The festival is a mesmerizing performance with not only light but also music.
Throughout the festival, there are different celebrative activities such as boat racing, art exhibition, and releasing candles held in paper flowers, making it the most awaited festival in the city.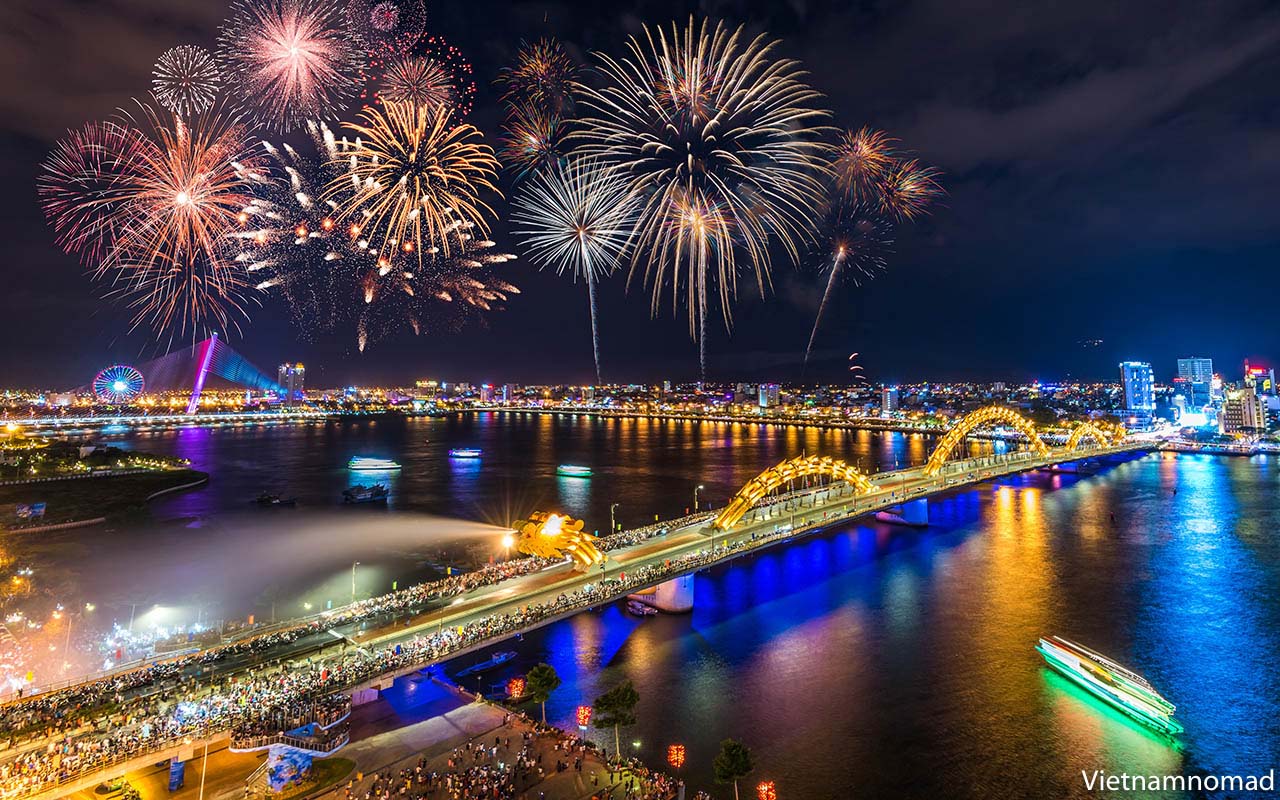 Cau Ngu Festival
This is a long-established traditional festival of the coastal villages to show gratitude and respect towards whales. According to folk beliefs, whales are regarded as the guardians of the sea. Many times, it is said that it was the whales that saved fishermen and their boats when they were out at sea and facing extreme storms and waves.
The festival takes place after the Lunar New Year festival from 14 to 16 January (lunar calendar). It is a tradition that in the 2-3 day festival, people will not cook at home but will cook and eat together. All the boats will be decorated with colorful flags and flowers, and models of boats will be worshiped and released to the ocean as offerings.
This is a unique festival that will give you an authentic insight into the traditional celebration of the coastal villages and the folk and local ceremonies.