In addition to beautiful beaches, Da Nang has been known for its diverse and unique cuisine featuring Central Vietnam. The savory and flavorful dishes are among the best foods you could find in Vietnam and really add satisfaction to your experience in Da Nang.
1. Mi Quang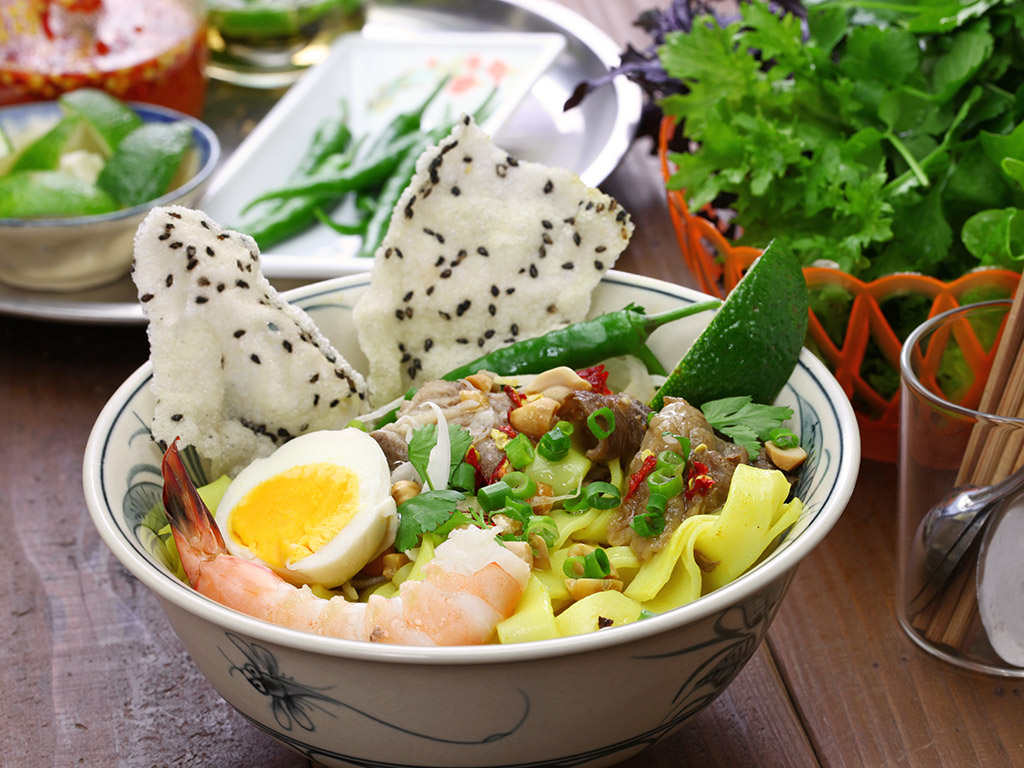 Mi Quang is definitely at the top of the list; as the name suggests, this noodle dish originated from Quang Nam, which Da Nang used to be a part of. In Da Nang (or in Central Vietnam generally), it is too hot in the dry season to enjoy a traditional bowl of hot noodle soup, so mi Quang was made partly soup and partly salad as such an innovative culinary creation. Unlike other noodle soups, mi Quang is only served in a small amount of savory pork and chicken broth. The main ingredients are the yellow rice noodles dyed from turmeric powder, a variety of proteins of your choice (however, the typical ones would be slices of pork belly and a whole shrimp), and other toppings, including sesame rice cracker and roasted peanuts. It is often served with fresh herbs and vegetables as side dishes.
The famous mi Quang restaurants must mention are:
Mi Quang Thi, address: 251 Hoang Dieu, Hai Chau District (25,000 VND – 55,000 VND | $1.05 – $2.35)
Mi Quang Ba Mua, address: 19 Tran Binh Trong, Hai Chau District (35,000 VND – 55,000 VND)
Mi Quang Ba Vi, address: 166 Le Dinh Duong, Hai Chau District (30,000 VND – 40,000 VND)
2. Com ga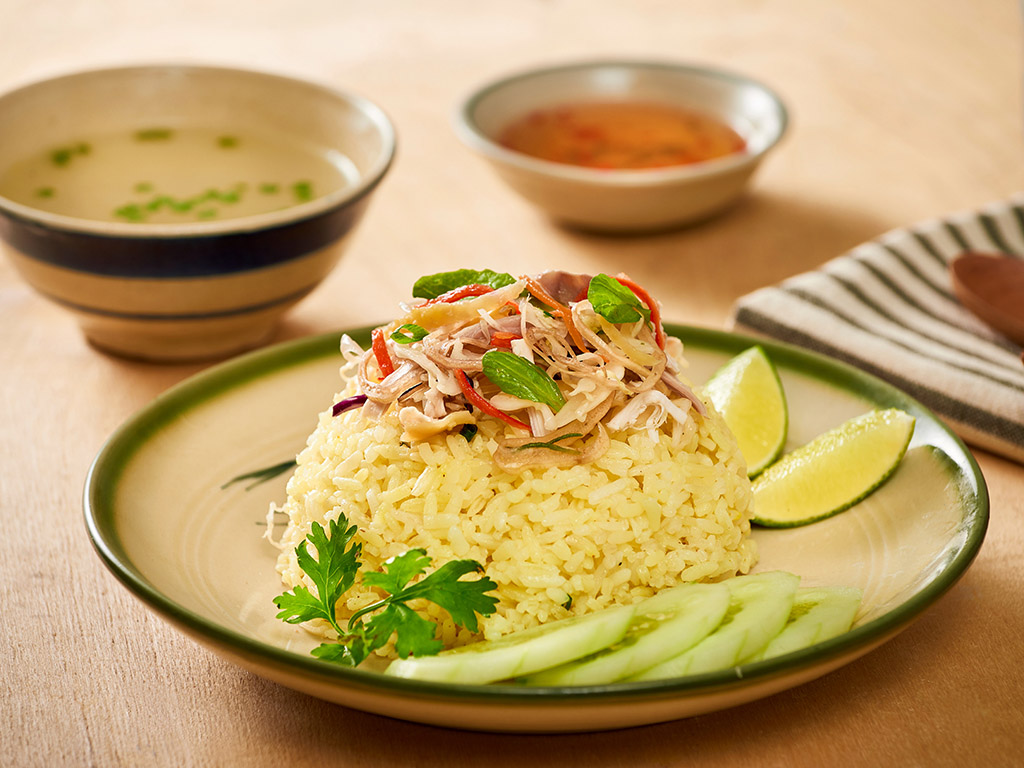 Com ga (chicken rice) is a typical dish with an elaborate cooking process: rice is cooked in chicken broth and seasoned with turmeric powder to get a shiny yellow color. Rice is served with a small bowl of chicken broth seasoned with black pepper and chopped green onion together with chicken salad which is made from shredded chicken, lemons leaves, onions, laksa leaves, and onions. This dish is so popular in Da Nang that you can find it anywhere. We recommend the following restaurants:
Com Ga A Hai, address: 100 Thai Phien, Hai Chau District (40,000 VND – 65,000 VND)
Com Ga Ba Buoi Hoi An, address: 253 Ho Nghinh, Son Tra District (45,000 VND – 75,000 VND)
Com Ga Hong Ngoc, address: 193 Nguyen Chi Thanh, Hai Chau District (55,000 VND)
3. Banh trang cuon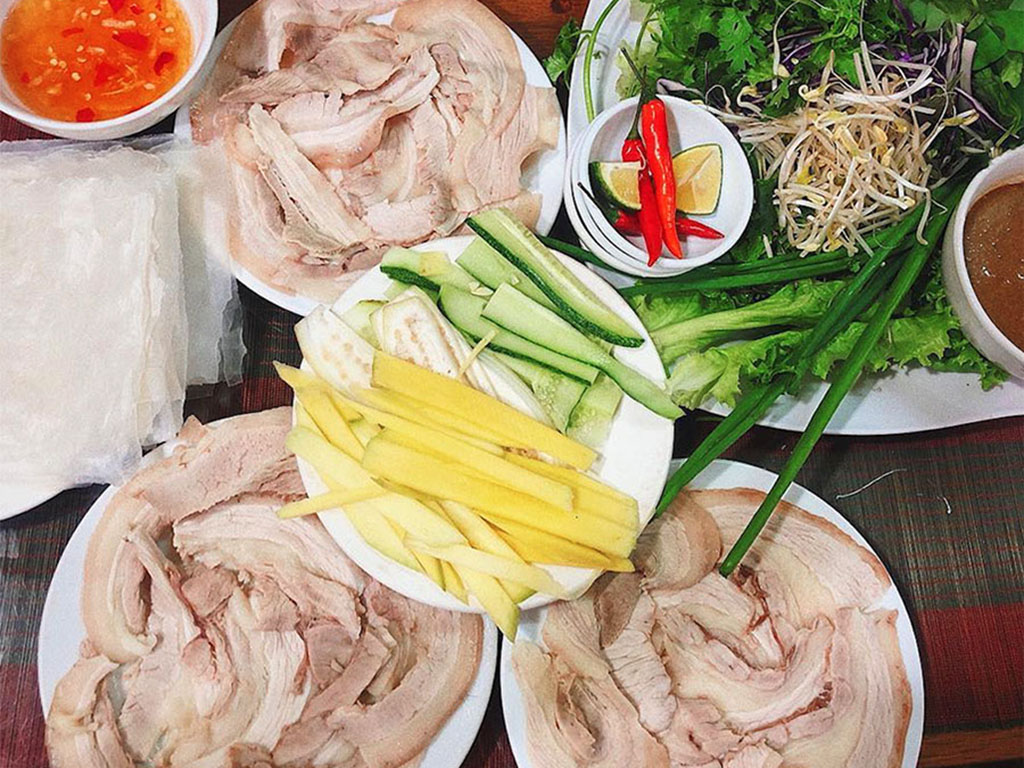 Banh trang cuon (self-served spring rolls) goes with simple ingredients, but the way of eating sets it aside from the typical spring rolls you have tried. It is served with a plate of sliced pork belly, a set of thin rice paper, a basket of fresh vegetables, and of course, the dipping sauce. When eating, you take a sheet of rice paper, then place a slice of pork belly, then green herbs, shredded green mangoes, and a slice of green banana; wrap them up and dip them in the sweet and sour fish sauce or the iconic fermented sauce as you like. This is a great combination of flavors: fatty taste from the pork, fresh from green vegetables, a bit sour from green mangoes, bitter from green banana, and sweet and spicy from the dipping sauce.
There are many banh trang cuon restaurants in Da Nang, but we recommend the following locations:
Banh Trang Cuon Dai Loc, address: 75 Trung Nu Vuong, Hai Chau District (55,000 VND)
Banh Trang Cuon Tran, address: 04 Le Duan, Hai Chau District (189,000 VND)
Banh Trang Cuon Mau, address: 35 Do Phuc Tinh, Cam Le District (75,000 VND)
4. Bun mam nem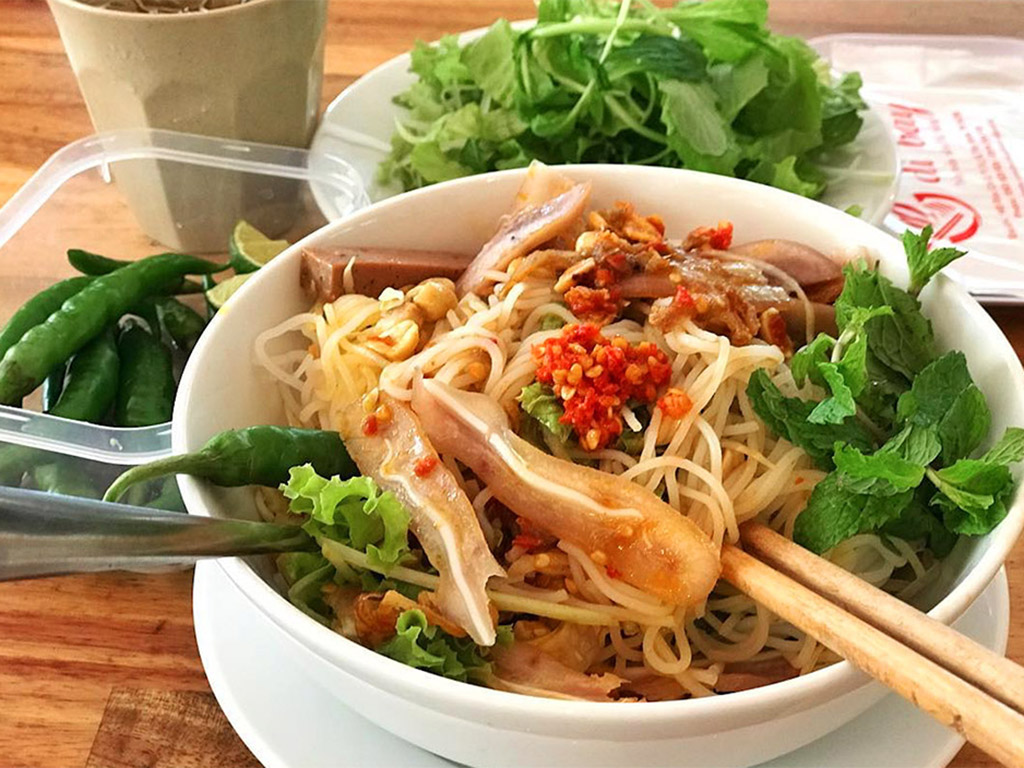 Bun mam nem is not a dish for everyone, but it is the dish that features the highlight of Central Vietnam cuisine, which is salty and spicy. Quite similar to banh trang cuon mentioned above in terms of ingredients, bun mam nem is a bowl of rice vermicelli, roasted pork belly, crunchy boiled pork ears, cured beef, green herbs, and roasted peanuts. As the name suggests, this combination is dressed in fermented fish sauce, which is mixed with lime juice and chilies. Fermented fish sauce has a strong smell which is not attractive to everyone. But once you get familiar with the smell and the taste, this will be a sign that you can hardly get anywhere else.
If you want to try it out, check out the restaurants that we recommend:
Bun Mam Ngoc, address: 20 Doan Thi Diem, Hai Chau District (30,000 VND – 40,000 VND)
Ba Dong, address: 141 Huynh Thuc Khang, Hai Chau District (35,000 VND – 45,000 VND)
Bun Mam Nem Ba Van, address: 23/14 Tran Ke Xuong, Hai Chau District (25,000 VND – 35,000 VND)
5. Banh xeo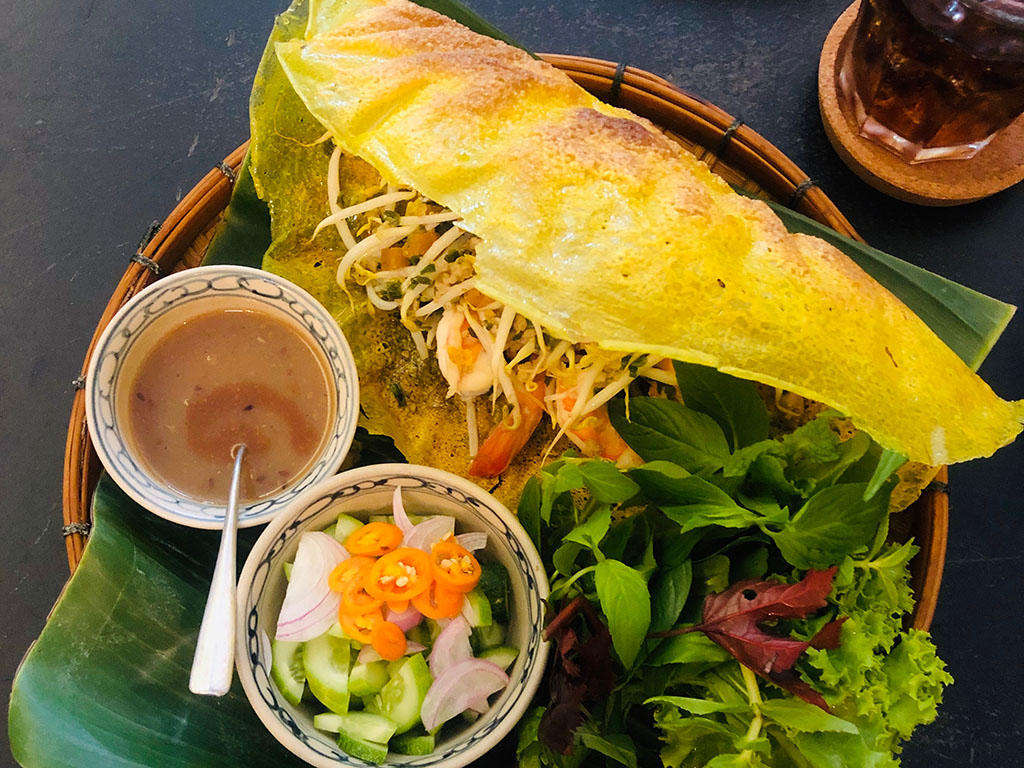 Banh xeo is a popular Vietnamese dish among international visitors. But unlike the symbolic thin and big sizzling pancakes often seen in the South, banh xeo Da Nang has a smaller size with an attractive, crispy golden crust filled with pork and shrimp (sometimes baby squids), a sprinkling of green onion and bean sprouts. Only in Da Nang, banh xeo is served with nem lui – pork sticks grilled on a charcoal fire. When eaten, banh xeo and nem lui are wrapped in a sheet of rice paper, added with sliced cucumber, papaya pickles, and other fresh vegetables. The peanut sauce is also the star of the dish, which brings out all the flavors. Make sure you add a bit of everything to get the perfect balance of the dish.
You can find delicious banh xeo in Da Nang at Banh Xeo Mien Trung (14 Hoang Dieu, Hai Chau District) or Ba Duong (23 Hoang Dieu, Hai Chau District) at a price of 75,000 VND/dish.
6. Bun cha ca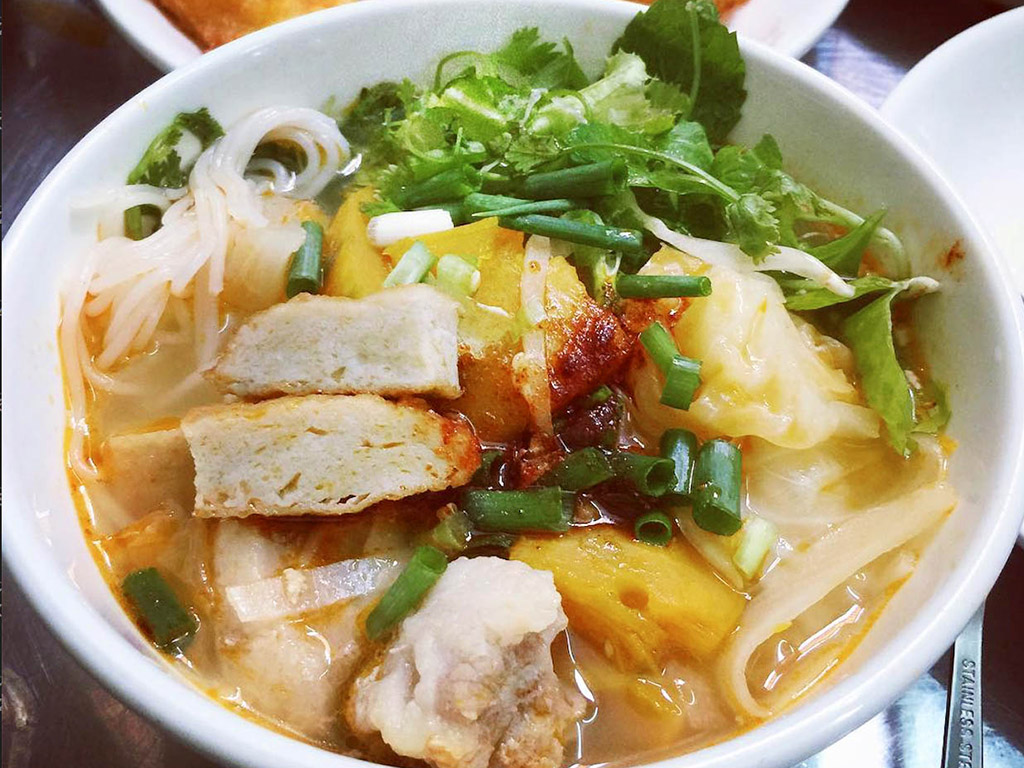 Bun cha ca (fish cake noodle soup) is a must-try dish that highlights the gift of the sea – seafood. The clear and flavorful broth features a hint of sweetness and sourness from tomatoes, pineapples, and local tamarind. The aroma is complemented by the season of chopped green onion and cilantro on top. This soup is super delicious, fresh, and will definitely give you a burst of flavor in your mouth.
Don't miss this dish when coming to Da Nang, and here are suggestions for you:
Bun Cha Ca Ba Lu, address: 319 Hung Vuong, Thanh Khe District (25,000 VND – 40,000 VND)
Bun Cha Ca Ba Hoa, address: 27 Le Hong Phong, Hai Chau District (30,000 VND – 60,000 VND)
Ong Ta, address: 113A Nguyen Chi Thanh, Hai Chau District (30,000 VND – 70,000 VND)
7. Banh trang kep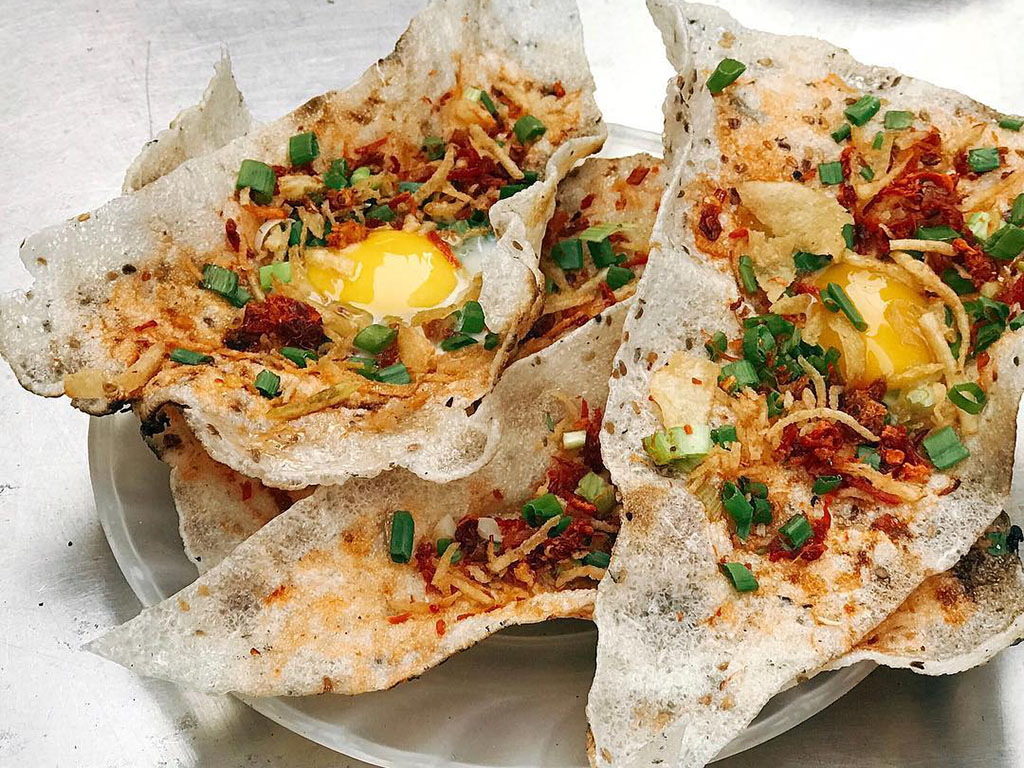 After having a list of filling foods, let's end the list with a snack that you could eat after your main meals or basically any time of the day. Banh trang kep (or rice paper sandwiches) is the most well-known street food among locals for its diverse toppings; hence, a must-try snack in Da Nang. Rice papers are cut in a triangle just like the shape of a pizza slice, then topped with minced pork, sausage, green onion, fried red onion, and quail eggs. They are then grilled on an open fire until all the rice paper becomes crispy. If you like spicy, you can dip it in the sauteed sauce.
You can find it anywhere on the street vendors for about 10,000 VND.