What is Mi Quang?
The name Mi Quang (Mì Quảng – Quang noodle) tells its own story about the origin of a symbolic dish from Central Vietnam. "Mi" (also spelled as "my") is the Vietnamese word for egg noodles or any noodles made from wheat flour, and "Quang" refers to Quang Nam Province – which Hoi An Ancient Town belongs to. The name literally explains the basics one needs to know about a local dish. But how exactly did this name and this noodle delicacy come to life?
The origin of Mi Quang
Quang Nam Province is a strategic port city which contributed to the birth of Mi Quang. It is reported that in the 16th century, Quang Nam, or Hoi An Ancient Town particularly, was the primary port where trading activities with Japan and China took place dynamically. The Chinese merchants gradually settled nearby the port to assist their trading activities. Together with their commodities, they brought with them their native dishes, which featured the use of egg noodles. The locals adapted and integrated Chinese noodle dishes into their local cuisine, creating a culinary delight that both reflects a Chinese influence and bears the mark of the local highlights.
The Chinese heritage is found in the word mi. Before this noodle dish, Vietnam did not record any other dish that was made from egg noodles. But this is also where the trouble arises. Although it is categorized as mi, after being adopted by Quang Nam people, the noodles used in Mi Quang are totally made from rice flour, which is the available local ingredient instead of wheat flour as the name suggests. By then, however, the name Mi Quang had already been ingrained in the Vietnamese consciousness. That's why the name Mi Quang remains over time despite the replacement of the key ingredient.
You may find in recent documents that Mi Quang is a local specialty of Da Nang while others claim that Mi Quang is native to Quang Nam. This confusion is caused by the division in 1997 when Da Nang was split from Quang Nam into an independent economic city. This geographical alteration did not change the fact that Mi Quang is an iconic delicacy and worth a try.
Mi Quang ingredients
Mi Quang recipe is quite simple and particular; hence, it is hardly replicated or adjusted according to regional preference. It means there are no significant variations of the dish across the country. The only noticeable difference is among the types of meat added to the dish. A traditional bowl of Mi Quang depicts the colour harmony of yellow noodles, white rice crackers, and green veggies. Unlike other kinds of Vietnamese noodle soups whose noodles typically submerge in the broth, Mi Quang has a small amount of broth – just enough to create a liquid base for the ingredients while still displaying them nicely. So, looking from above, Mi Quang's presentation is like a small island rising from the shallow water level.
Noodles
Mi Quang noodles are freshly made to guarantee a soft yet firm texture. Rice grains are soaked in cool water for 4 hours before being ground into rice flour. This flour is then mixed with water following a certain ratio so that the mixture remains moist after being steamed. Usually, turmeric powder is added to the mixture to create its iconic yellow colour; however, there are places that prefer the original ivory colour of the rice powder. Either way, the texture and taste of the noodles are not affected.
To make Mi Quang noodles, a piece of thin fabric is first stretched on a steamer. The chef slowly pours a ladle of the rice flour mixture onto it and spreads it into a thin round sheet then let it steam for about 5 – 7 minutes before removing it from the fabric with a flat bamboo stick – a simple and traditional tool for making rice papers and noodles. As soon as being removed from the steamer, the rice sheets are massaged with a few drops of peanut oil to keep them moist and fragrant. Finally, these steamed rice sheets are cut into 1-centimetre-wide stripes and ready to be served.
Broth
The sweetness of the broth is extracted from pork bones, daikon or Vietnamese white carrots and local spices such as shallots and a special element to create a herbal fragrance known as roots of fresh chives. These look like cloves of garlic but are separated and smaller in size while more intense in their taste. The ingredients are cooked for about 60 – 90 minutes, and that's it; the broth is ready. So, you could see Mi Quang broth is possibly among the simplest soup recipes in our cuisine. The decent broth highlights the deliciously savory taste of the meat toppings below.
Meat toppings
Traditionally, a bowl of Mi Quang has sliced pork, shrimp, and 1-2 quail eggs. Quail eggs are hard-boiled and the outer shells are removed. Meanwhile, pork and shrimp are first marinated with basic seasonings, chopped shallot and fresh chives' roots, turmeric powder, and annatto oil for at least 20 minutes. When the seasonings are well absorbed into the ingredients, we stir-fry the pork and shrimp in peanut oil. Then, the broth is added directly to this topping combination to create Mi Quang's signature soup. So, the soup is, unlike other noodle soups, both sweet and packed with flavors.
The use of peanut oil is also a characteristic feature of the Mi Quang in Quang Nam. It is because the harsh climate conditions in Central Vietnam only allow the cultivation of a limited range of crops and peanut is luckily one of them. So, it is understandable that the local ingredients are prioritized in cooking the dish. Over time, Mi Quang is not only topped with pork and shrimp, but with a variety of meat such as chicken, frog, fish, fish cake, and crab cake.
Garnishes
Mi Quang is served with various interesting garnishes, creating a balance not only in the taste but also in the five elements.
Rice crackers: This is the most iconic and also an element of surprise of the dish. The white color of the rice cracker represents the Metal element. In the bowl of soft and moist ingredients, the dryness and crunchiness of the rice crackers add a twist to the palate.
Green veggies and herbs: Mi Quang is traditionally eaten with banana flower shreds, bean sprouts, and baby mustard leaves. And of course, accompanying a noodle bowl in Vietnam is some lime cuts. The lime juice added to the bowl will stimulate your appetite and bring more flavor to the food. These vegetables are obviously the element of Wood.
Sauce: Although Mi Quang is already well seasoned when it is served, it is a part of the tradition to always serve a dressing or dipping sauce along with any dish, and Mi Quang is no exception. The side sauce for the dish is very simple. Normally, it is just a small bowl of plain fish sauce added with some chili slices. The liquid sauce is a symbol of the Water element in the five elements.
Chillies: the red color of fresh or cooked chillies is for sure the color of the Fire element. The restaurants can come up with their homemade sweet chili paste or satay, besides the fresh sliced chillies. These are available on the dining tables, and customers can add them directly onto the noodles or to their sauce regarding their preference.
Roasted peanuts: the last garnish topping is roasted broken peanuts. Not only does it bring a nutty hint to this fresh and light noodle dish but it is also the last element to add crunchiness to complete the taste and texture of the food. The brown color and solid of roasted peanuts are an indication of the Earth element.
When serving, the ingredients are put together in the bowl, layer by layer: a decent amount of noodles first, then meat toppings, and garnishes.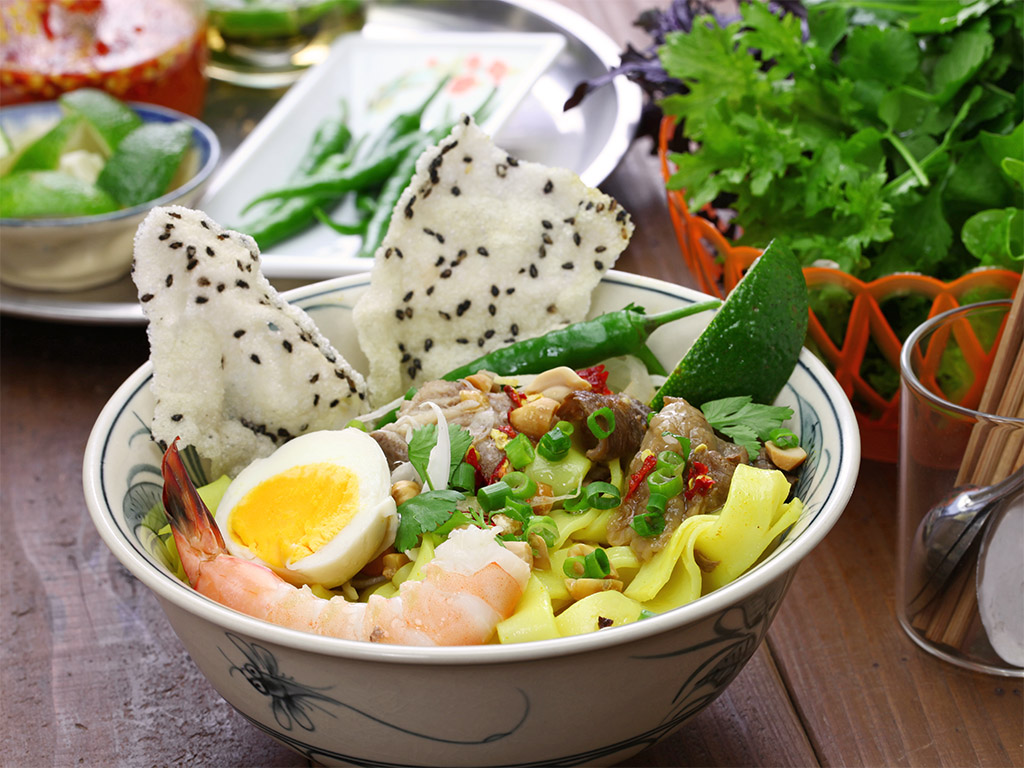 The eating culture of Mi Quang
The variety may make you overwhelmed, so we suggest the most easy-going way is to order a "thap cam" or "dac biet" bowl, which means a special bowl of everything. In the mixed bowl of Mi Quang, there are shrimp, pork ribs, quail eggs, and fish or crab cakes. It is possible yet not compulsory that some restaurants will even add chicken and snakehead fish filet in their special bowl serving, which allows you to sample all types of meat toppings and decide on your favorite for the next time.
It could be confusing at first to read the Mi Quang menu as they often have a standard bowl and a special bowl version. For example, something like "Chicken Quang noodles" vs "Special chicken Quang noodles''. The only difference is the number of toppings added. So if you are not super hungry, a standard bowl is enough to do you good.
In restaurants, you will probably see vegetables and rice crackers either placed together in the noodle bowl or served separately on small plastic plates. Feel free to crack the rice crackers into bite sizes and add them to the bowl. Trust us, most of the time you will find the rice crackers surprisingly tasty and would like some more. In this case, an extra serving of rice crackers will cost about 5,000 VND ( $0.2).
Unlike other types of noodle dishes which are more suitable for breakfast and dinner due to the hot weather and the unpleasant heat during lunchtime, Mi Quang can be eaten any time of the day thanks to its warm soup and fresh ingredients.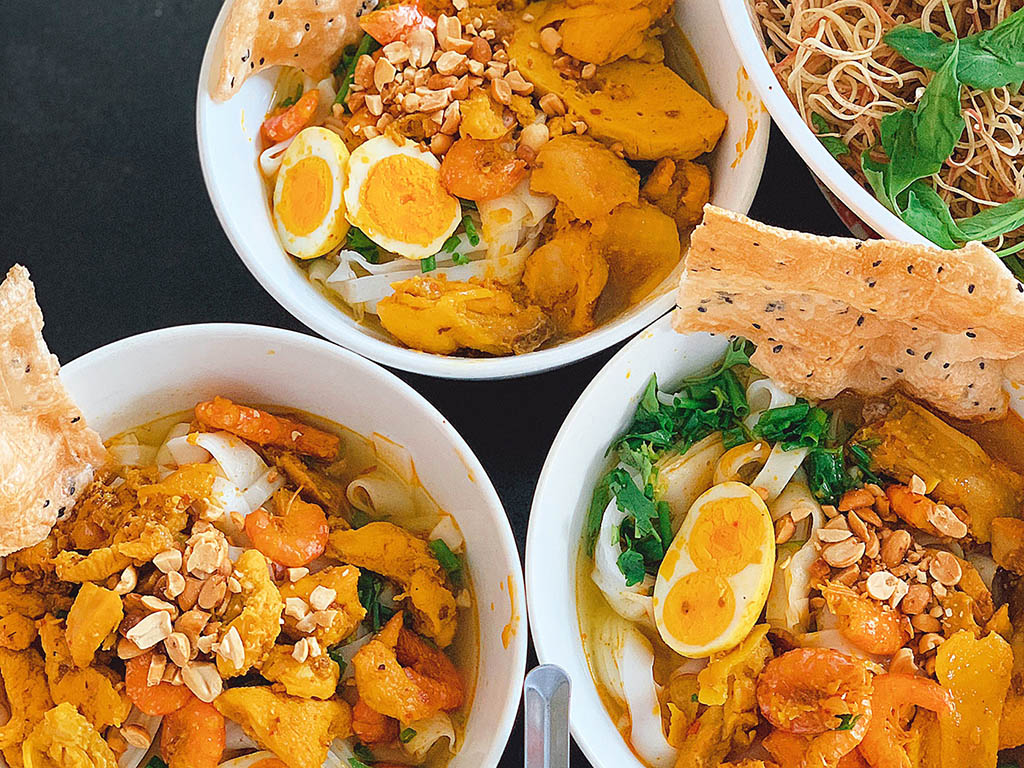 Fun facts about Mi Quang
Apart from Bun Bo Hue (Hue beef noodle soup), Mi Quang is the only dish named after the land it was created.
A standard bowl of Mi Quang contains around 540 calories on average with a diverse source of protein and fibre, guaranteeing a filling meal for your day out exploring.
Where to eat Mi Quang?
Nothing can beat a fresh, tasty, and cheap local dish and Mi Quang excellently meets all criteria. You can't say you have been to Hanoi without having tried Pho. Similarly, you can't say you have been to Central Vietnam without trying an authentic bowl of Mi Quang. We guarantee this culinary experience will not let you down in any way. We cannot wait to hear about your experiences eating this must-try dish. Here are some suggestions on where to try Mi Quang in Vietnam.
Mr. Hai Noodles
Address: 6A Truong Minh Luong, Cam Chau Ward
Price: 35,000 VND ($1.5)
My Quang Bich
Address: 272 Hung Vuong, Thanh Ha Ward
Price: 40,000 VND
Mi Quang Ba Mua
Address: 19 Tran Binh Trong, Hai Chau District
Price: 35,000 VND – 55,000 VND
Mi Quang Thi
Address: 251 Hoang Dieu, Hai Chau District
Price: 25,000 VND – 55,000 VND