What is bun bo Hue?
Hue, located at the heart of Vietnam, is a poetic and royal city. Hue is home to gentle people, picturesque surroundings, and a rich culinary heritage passed down from the royal court, including the signature dish of bun bo Hue (bún bò Huế – Hue beef noodle soup) which is widely recognized as one of the most popular dishes. Let us learn more about the history and stories behind this noodle soup and understand why it is a culinary experience not to be missed when visiting Vietnam.
The origin of bun bo Hue
The origin of bun bo Hue is said to date back to the 16th century during the reign of Lord Nguyen Hoang. Legend has it that the dish was first created in a village called Co Thap (meaning the ancient tower village), where there was a lady who was so skilled at making noodles that people called her "Ms. Noodles (Co Bun)." However, a severe crop failure occurred in the village for three consecutive years, causing disappointment and frustration among the villagers. They blamed the situation on Ms. Noodles, accusing her of crushing and grinding consecrated rice to make noodles that infuriated God and led to the crop failures. The villagers gave her the choice of quitting noodle-making or being expelled from the village. Passionate about her craft, she chose to leave with the support of five helpers, who carried the heavy stone mill and other belongings as they traveled. Exhausted, they eventually settled in Van Cu Village in Hue. To popularize her noodles in Van Cu, Ms. Noodles created a beef broth with chili, lemongrass sauté, and other local spices to accompany her signature noodles. This traditional noodle-making was passed down through generations and is believed to be the origin of bun bo Hue, a result of creativity, devotion, and even sacrifice.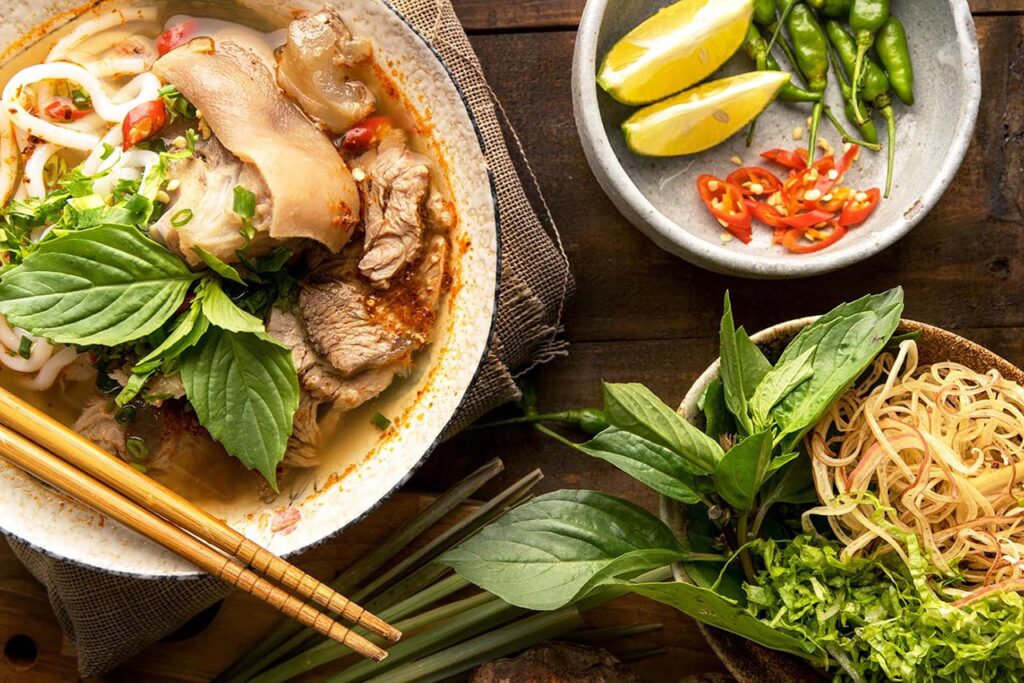 Types of bun bo Hue
The original bun bo in Hue is more salty and spicy, while other places across the country have adopted and adjusted the recipes to suit the regional palates.
1. Bun bo Hue in Hue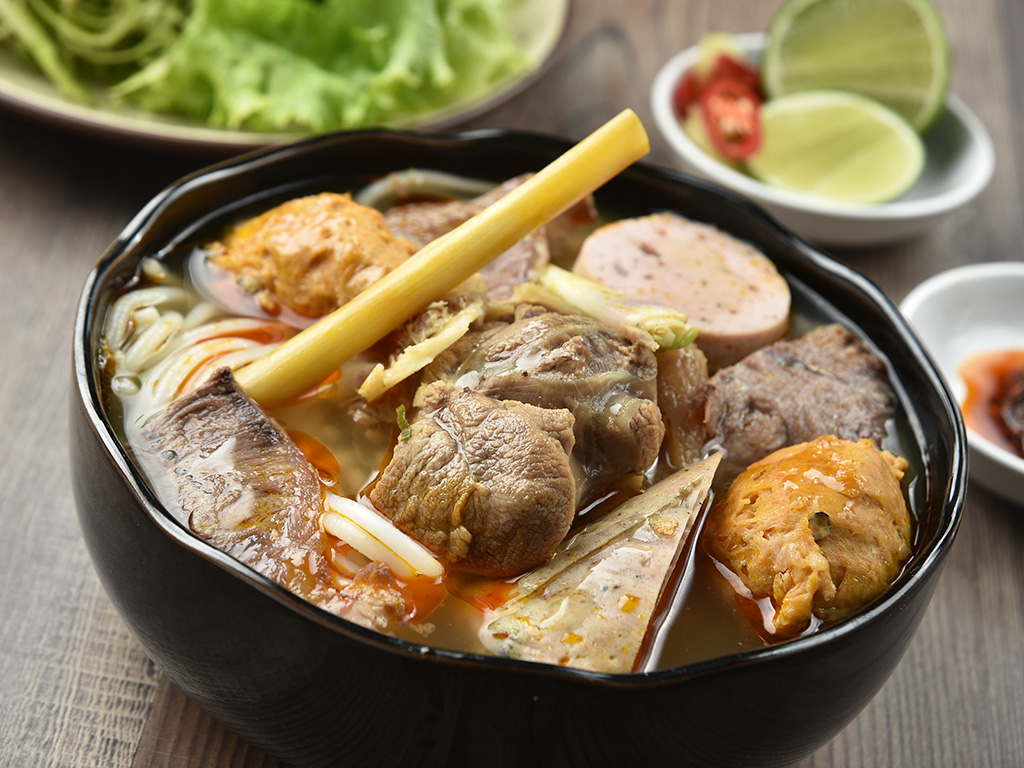 The origin of bun bo Hue is said to come from Hue, in Central Vietnam. This noodle dish is an important part of the local culture, and is often considered the quintessential example of Central Vietnamese cuisine. In Hue, bun bo is a popular breakfast food and is known for its clear broth, made from dried baby shrimp and pork legs, which gives it a subtle sweetness. A typical bowl of bun bo Hue includes crab cakes, pork blood cakes, rare-cooked sliced beef, and pork legs, along with fresh vegetables and herbs such as lettuce, Vietnamese basil, banana flowers, and fish mint. One of the unique features of bun bo Hue is its spicy and salty flavor, which is created through the use of homemade chili and lemongrass sauté, as well as a spicy dipping sauce made from fish sauce and sliced fresh chilies. The strong flavor profile of bun bo Hue is believed to be linked to the local climate and culinary traditions, as the people of Central Vietnam must deal with extreme weather conditions, including rain, flooding, and cold winds. To keep warm, they tend to prefer spicy and salty foods, and some even believe that these strong flavors help them conserve food. This rich history and cultural significance add to the unique flavor of bun bo Hue.
2. Bun bo Hue in the North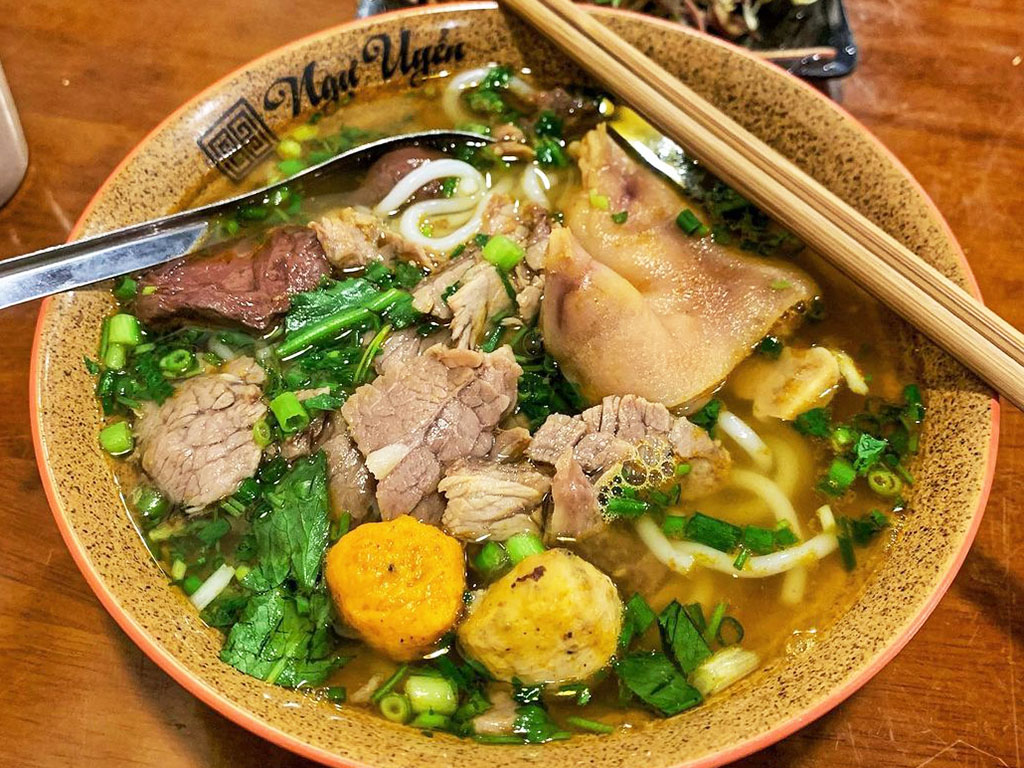 In contrast to the original bun bo Hue, the noodle soup in the North, particularly in Hanoi, the sweetness in the broth is usually derived from beef legs and tendons. The use of chili and lemongrass sauté limited, leading to a milder and less aromatic flavor. Additionally, the toppings are cut into smaller pieces, and the noodles used are smaller than those found in Hue. Crab cakes, which are a staple in the original recipe, are often replaced by meatballs, as they are not as popular with local eaters in the North.
3. Bun bo Hue in the South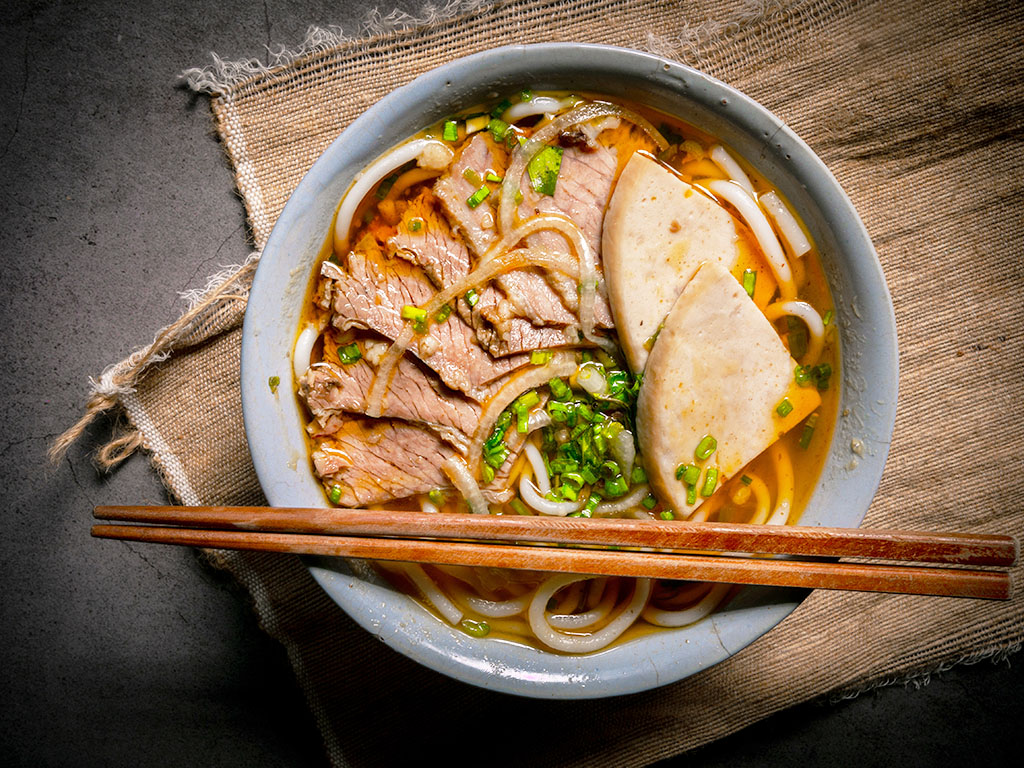 In Ho Chi Minh City (Saigon), bun bo Hue has adapted to the hot climate and is not just a breakfast dish but can be enjoyed at any time of the day. One noticeable difference is the sweetness of the broth, which comes from pineapple and is tinted an iconic orange color from annatto seed oil. A key ingredient in Saigon's version of bun bo Hue is pork cakes wrapped in banana leaves (cha lua) instead of crab cakes and blood cakes, and the noodles are typically larger. The dish is also served with morning glory and other green herbs.
Bun bo Hue ingredients
The preparation of bun bo Hue involves a combination of numerous ingredients and a meticulous cooking process. Across different variations, the main ingredients typically used in the noodle soup include:
Noodles
The noodles used in bun bo Hue are medium-sized and are made from a balanced ratio of rice flour and tapioca starch. In Hue, the best noodles come from Van Cu Village, where they were first created.
Toppings
The protein ingredients in bun bo Hue vary by region. Typically, neck beef, blade beef, and thick plank are used as toppings due to their balanced ratio of meat and fat. During preparation, the beef and pork legs are washed several times and boiled in water with vinegar or lime juice to eliminate any unwanted odor.
One essential ingredient is the crab cakes, which are iconic to the original bun bo Hue. The small black crabs caught in the rice fields are commonly used in Vietnamese cuisine. The carapaces are removed, and the remains are ground and filtered into a smooth mixture used for the crab cakes. The cakes can be cut into small cubes or balls, and are often a lovely brick orange color from the crab eggs.
Broth
The broth is the essence of the dish and is created by stewing beef, pork, lots of lemongrass, and local vegetables. As it boils, chili and lemongrass sauté and fermented shrimp paste are added. The chef constantly removes any bubbles in the pot to maintain a clear broth, resulting in a perfect balance of sweetness from the proteins and saltiness from the local seasonings.
The ingredients are arranged in a bowl in the following order: a bed of noodles, toppings of your choice, and then the broth. Fresh onion slices and coriander are added on top when served.
Side dishes
A basket of green vegetables and herbs is commonly served with bun bo Hue, including lettuce, bean sprouts, chopped banana flowers, Vietnamese basil, mint, and fish mint. Depending on the region, other varieties such as morning glory or chopped cabbage may also be included.
Other items typically found on the table include lime (cut into small pieces), sliced chilies, homemade chili and lemongrass sauté, and fish sauce.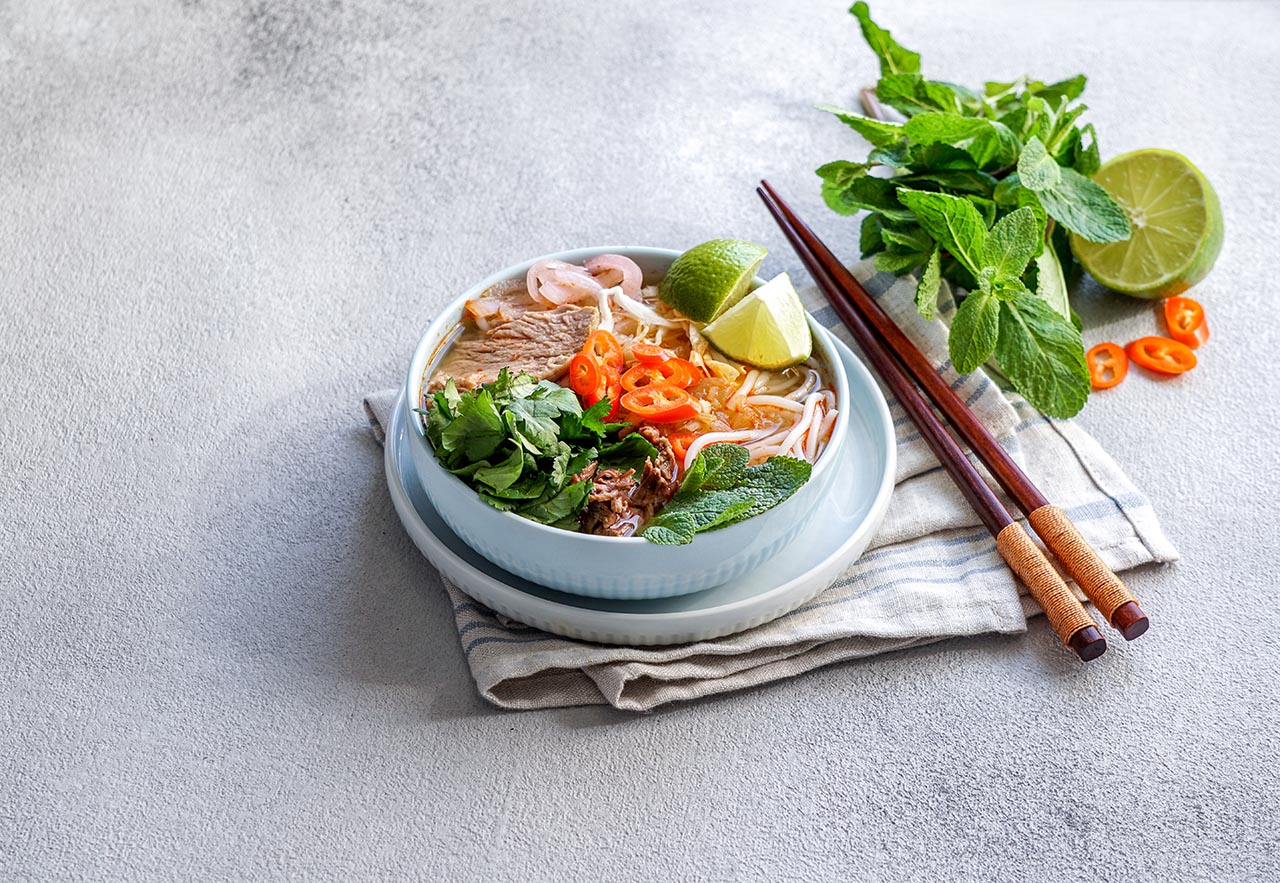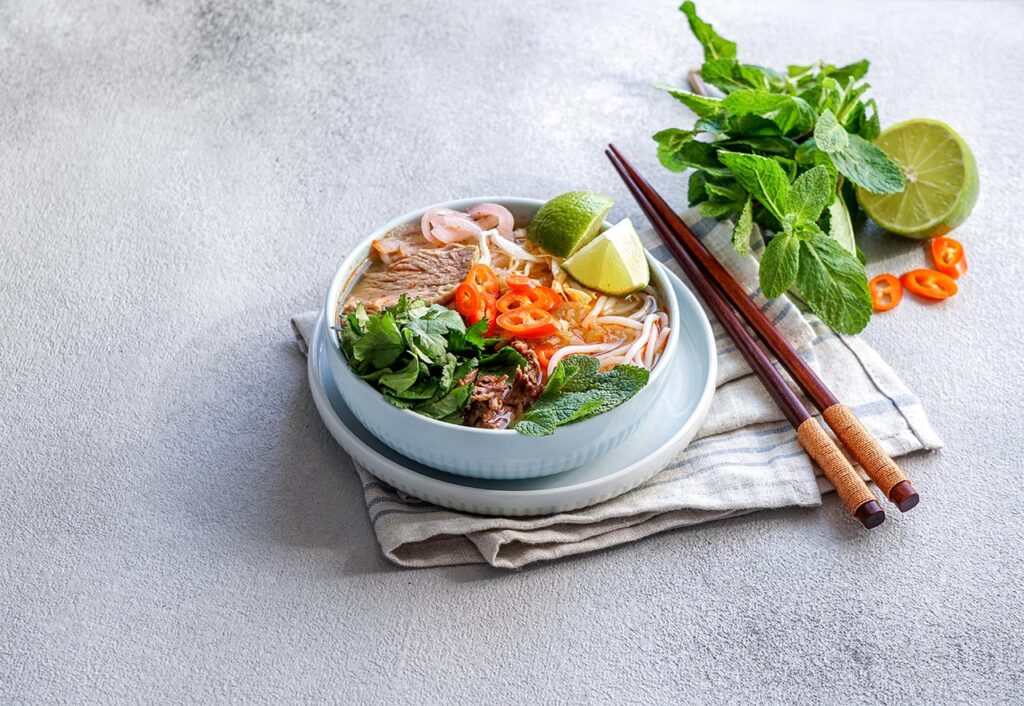 How to eat bun bo Hue?
Due to cultural integration, bun bo Hue is no longer limited to just breakfast. It can be enjoyed at any time and is guaranteed to leave you feeling full. When ordering, you can specify the toppings you prefer. Don't be afraid to go to the food counter and choose the ingredients you want, as it's not considered offensive. Before eating, it's recommended to taste the broth to see if it meets your flavor preferences. Locals often season the dish to their liking using the spices available on the table. Adding a little lime juice and lemongrass sauté can enhance the flavor of the broth, particularly in the North or South. Including green vegetables can help balance the dish's high protein and starch content.
To prepare the dipping sauce, mix 2-3 teaspoons of fish sauce in a small bowl and add some sliced chilies. Order an iced tea to help cool down both the heat from the dish and the weather, and enjoy.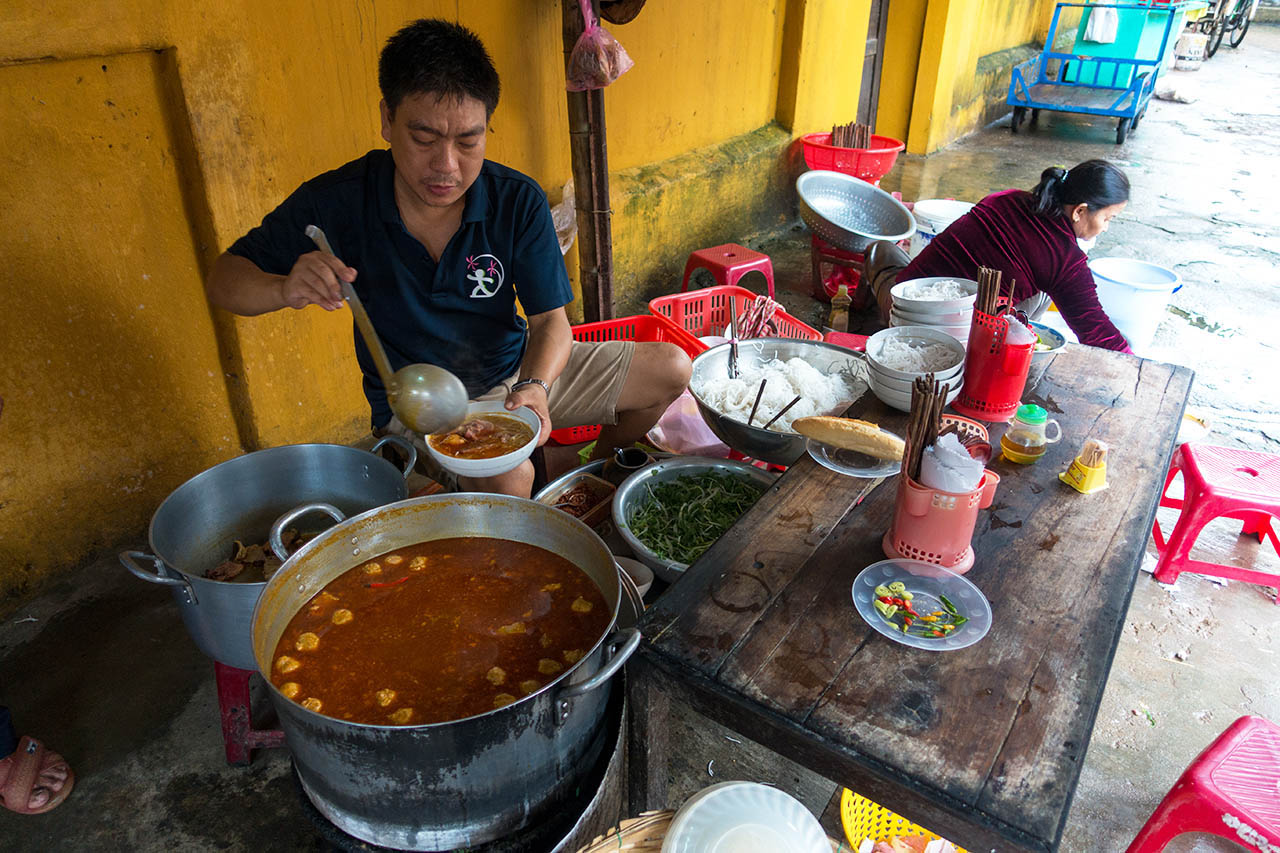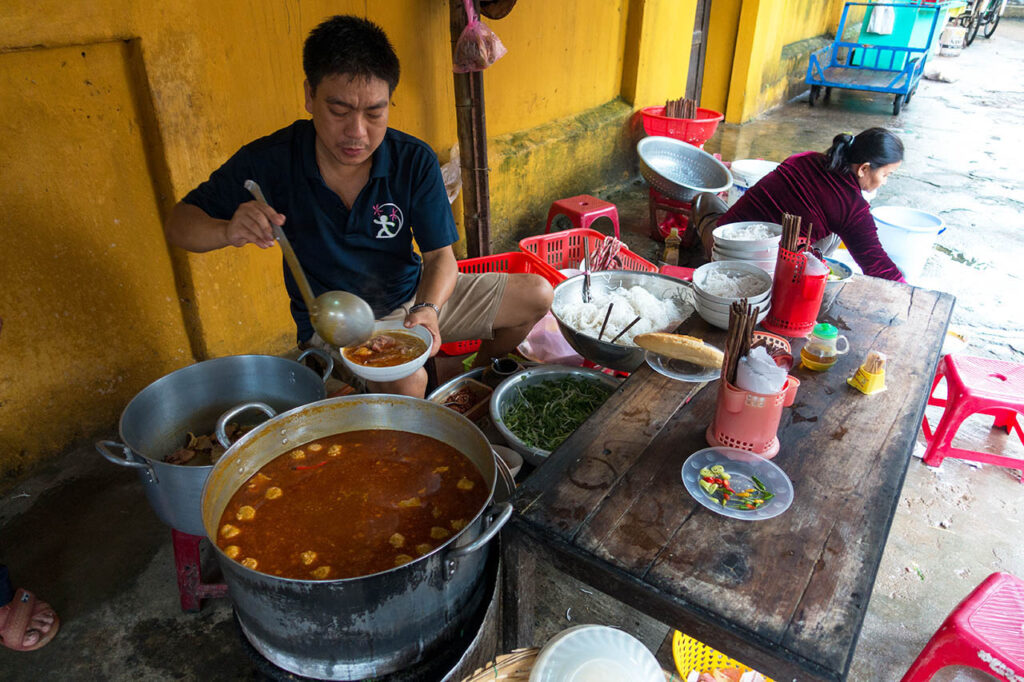 Where to eat bun bo Hue?
We hope you will appreciate bun bo Hue not only as an eating experience but also as an entry in your travel diary in Vietnam. Here are some suggestions on where to eat bun bo Hue in big cities in Vietnam:
Bun Bo Hue Ba Tuyet
Address: 47 Nguyen Cong Tru, Hue City
Price: 30,000 VND – 60,000 VND ($14 – $28)
Bun Bo Hue O Phung
Address: 14 Nguyen Du, Hue City
Price: 30,000 VND – 40,000 VND
Bun Bo Hue Dong Ba
Address: 207B Nguyen Van Thu, District 1
Price: 50,000 VND – 85,000 VND
Bun Bo Ganh
Address: 110 Ly Chinh Thang, District 3
Price: 55,000 VND – 65,000 VND
Bun Bo Hue 65
Address: 65 Lang Street, Dong Da District
Price: 40,000 VND – 50,000 VND
Bun Bo Hue O Xuan
Address: 5D Quang Trung, Hoan Kiem District
Price: 55,000 VND – 75,000 VND
Bun Bo Ba Thuy Dong Da
Address: 218 Dong Da, Hai Chau District
Price: 50,000 VND
Bun Bo Me Mui
Address: 63 Le Hong Phong, Hai Chau District
Price: 30,000 VND – 75,000 VND