What is Banh Xeo?
Banh Xeo, also known as Vietnamese sizzling pancakes, is a traditional dish and affordable food for all walks of life. Rising on the Vietnamese culinary map, Banh Xeo is recommended as a must-try dish for anyone visiting the country. Although Banh Xeo varies in shape and size regarding where it comes from, it generally captures a perfect yin-yang balance in how it is cooked and eaten. We will walk you through its history and everything you need to know about this flavorful street food.
The origin of Banh Xeo
The historical background of Banh Xeo is as exciting as everything else about it. Have you ever wondered where the name "Banh Xeo" came from? It is named after an onomatopoeia depicting the sound of sizzling batter poured into a hot pan. There is no agreement over when and where Banh Xeo originated. Some claim that it is from Central Vietnam – were used to be the capital and most prosperous land of the country. However, others believe Banh Xeo was adopted from Champa or South Indian cuisine. Despite its controversial origin, Banh Xeo still wins the hearts of so many food lovers. Banh Xeo was so popular that at some point in history it was eaten as a replacement for rice on the 2nd and 16th monthly as a custom.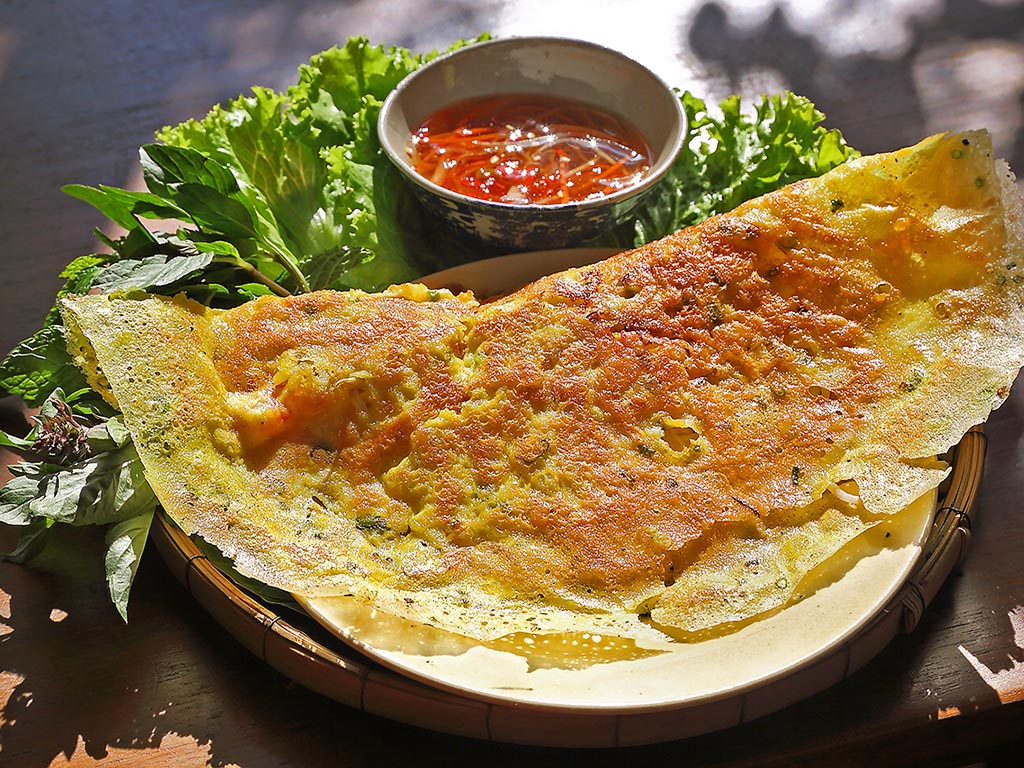 Types of Banh Xeo
Generally, there are two mainstream types of Banh Xeo in Vietnam known as Banh Xeo Mien Trung (Banh Xeo from Central Vietnam) and Banh Xeo Mien Tay (Banh Xeo from the South or Mekong Delta pancakes). Although Banh Xeo is a popular street food in the central and southern parts of Vietnam, it is not a local dish in Northern Vietnam as it does not have its own version here. One interesting fact is that the more you travel south, the bigger you see Banh Xeo gets in size. Not only the size but also the stuffings vary depending on the local produce, making Banh Xeo from every city a unique version.
1. Banh Xeo Mien Trung
Banh Xeo Mien Trung is simple as the people making it. In Central Vietnam, Banh Xeo is small, comparative to the average length of an adult's hand. Not being gifted with fertile soil and an advantageous climate, there are not many ingredients to the fillings. Basically, one Banh Xeo is stuffed with a prawn, a couple of thinly sliced pork, and lots of bean sprouts. In some coastal provinces such as Binh Dinh and Quang Nam, you can find some squids added to it. Banh Xeo is deep-fried, hence, it is very crispy and slightly fatty. Although Banh Xeo Mien Trung does not have an eye-catching yellow color, its iconic ivory color of rice powder is what tells it apart from other versions. Moreover, apart from sweet and sour fish sauce, Mam Nem (fermented shrimp paste) is another dipping option that distinguishes it from other varieties.
Typically, a serving of 2-4 pancakes is enough for one person. Traditionally, Banh Xeo Mien Trung is eaten in a small bowl. We take a piece of Banh Xeo and some herbs, add them all to the bowl, top with sweet and sour fish sauce, and enjoy. However, due to the culinary integration, now the central version could also be eaten as a wrap-and-roll dish. We can ask for rice paper, then place each of the ingredients in it, wrap it up and dip it in the sauce.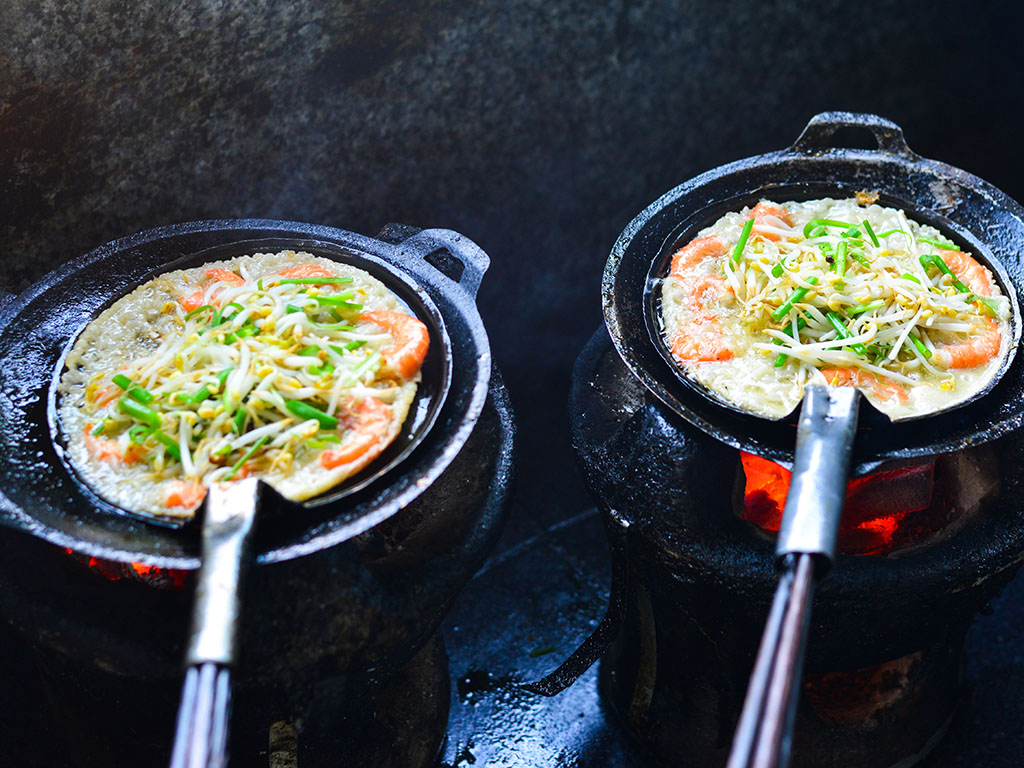 2. Banh Xeo Mien Tay
One significant feature of Banh Xeo Mien Tay is its large size and diverse stuffing. It somehow reflects the easy and generous lifestyle of the southern people. Compared to the version from the central, Banh Xeo Mien Tay is double or even triple in size and much thinner.
Having the privilege of a tropical monsoon climate and flourishing agricultural produce, Banh Xeo Mien Tay is more diverse and flexible in its recipes. The batter is mixed with turmeric powder and coconut milk, which create a shiny yellow color and a creamy fragrance and aftertaste. The crust is super thin and crispy on the edge and tender in the center. It is filled with pork belly, prawns, green beans, and jicama (which slightly looks like cassava but more juicy and watery). In some localities in the Mekong Delta such as Ben Tre and My Tho, Banh Xeo is cooked with different types of local ingredients. Notably, they can alter pork with duck meat as the primary protein and add củ hủ dừa (or coconut shoots is the inner part of the top of a coconut, only collected once in a coconut tree's lifetime when it is cut down).
When eaten, Banh Xeo is served with a small basket of green vegetables and herbs. Typically, we will have lettuces, Vietnamese basils, mint, fishy leaves, sliced cucumber, and some pickled carrots. In the south, we traditionally wrap up Banh Xeo crust with some fillings and vegetables, dip it in sweet and sour chili garlic fish sauce then take a big bite.
Of course, these are not all the Banh Xeo variants you could find. There are no restrictions to the creativity of food making generally and to the creation of Banh Xeo specifically. Therefore, we hope you embrace the destined Banh Xeo you bump into and have a memorable experience with it.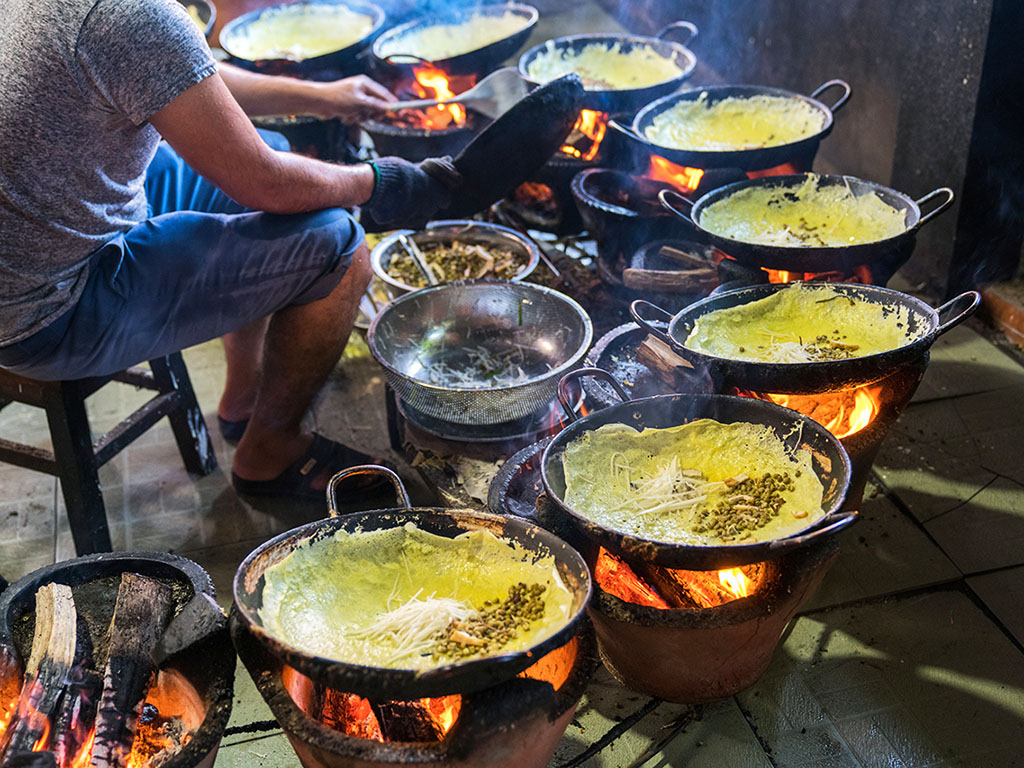 Banh Xeo ingredients
As mentioned, Banh Xeo is a simple and lowkey dish for everyone, so you can imagine the ingredients and cooking process are also accessible and affordable.
Many people mistake Banh Xeo for some omelet pancakes, but there is actually no egg in it. For the crust, all we need is fine rice flour, a teaspoon of turmeric powder, and a pinch of salt. Some people suggest adding a bit of wheat powder or all-purpose wheat to increase the crispiness and create a caramel-ish color for the crust. Depending on your preference, you can mix it with a small cup of coconut milk and some chopped fresh chives to add more taste and color to it.
For the fillings, there are basically some prawns and slices of pork belly as major protein, and of course, mung beans and bean sprouts complement the dish with freshness. However, it is totally possible to create your own version of Banh Xeo by adding different kinds of protein such as chicken, duck, or seafood – they all go well with Banh Xeo.
Traditionally, Banh Xeo must be fried in a cast iron pan and on a wood fire – that is where we get the most exciting sizzling sound. The cook will first add a cube of pork fat to the pan. Once it melts and boils, a ladle of batter is poured into the pan and the skillful chef will quickly move the pan around to have the batter nicely spread before pork, prawn, and other veggie toppings are placed nicely on it. To let it cook on both sides, the chef will cover the frying pan with a lid for 3-4 minutes. After that, Banh Xeo will be folded in half and placed on a plate layered with banana leaves, and ready to be served. A successful Banh Xeo is one with a perfectly round shape, a yellow crispy crust, and not too oily.
Making Banh Xeo creates an exciting and delightful scene with the authentic noise of the chatting and sizzling, the busy movements among the frying pans (as they typically make several Banh Xeo at once in different pans), and the irresistible aroma. So, it is not only a food sampling but also a cultural experience.
Note: For both types of Banh Xeo, it is possible to get their vegetarian versions. Any restaurant can remove meat from their recipes but there is a likelihood that the taste of pork fat still lingers. So, it is recommended that you check if they specifically make vegetarian Banh Xeo and you can opt for particular vegetarian Banh Xeo restaurants which will be suggested at the end of the guide. So keep scrolling down.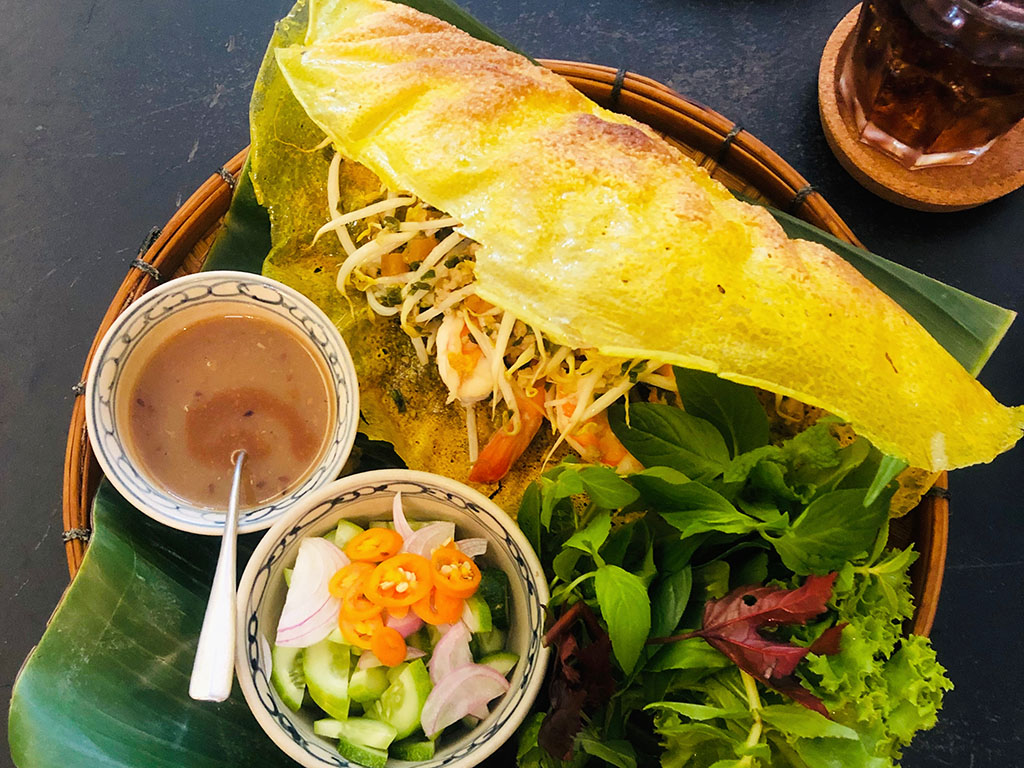 How to eat Banh Xeo?
Banh Xeo is meant to be a gathering dish since it does not make sense to assemble all these ingredients for making just one Banh Xeo and we all agree that shared foods are better foods.
Universally, Banh Xeo is eaten following the given steps.
Step 1: Tear Banh Xeo into bite-sized pieces.
Step 2: Place your preferable vegetables on top of a rice paper sheet.
Step 3: Use either your hands or chopsticks to place a piece of Banh Xeo on top of the vegetables. Make sure to get both crust and fillings.
Step 4: Roll up tightly.
Step 5: Dip in the chili garlic sweet and sour fish sauce.
Step 6: Take some pickled carrots from the sauce and place them on the roll.
Step 7: Take a big bite and enjoy the memorable explosion of flavor in your mouth.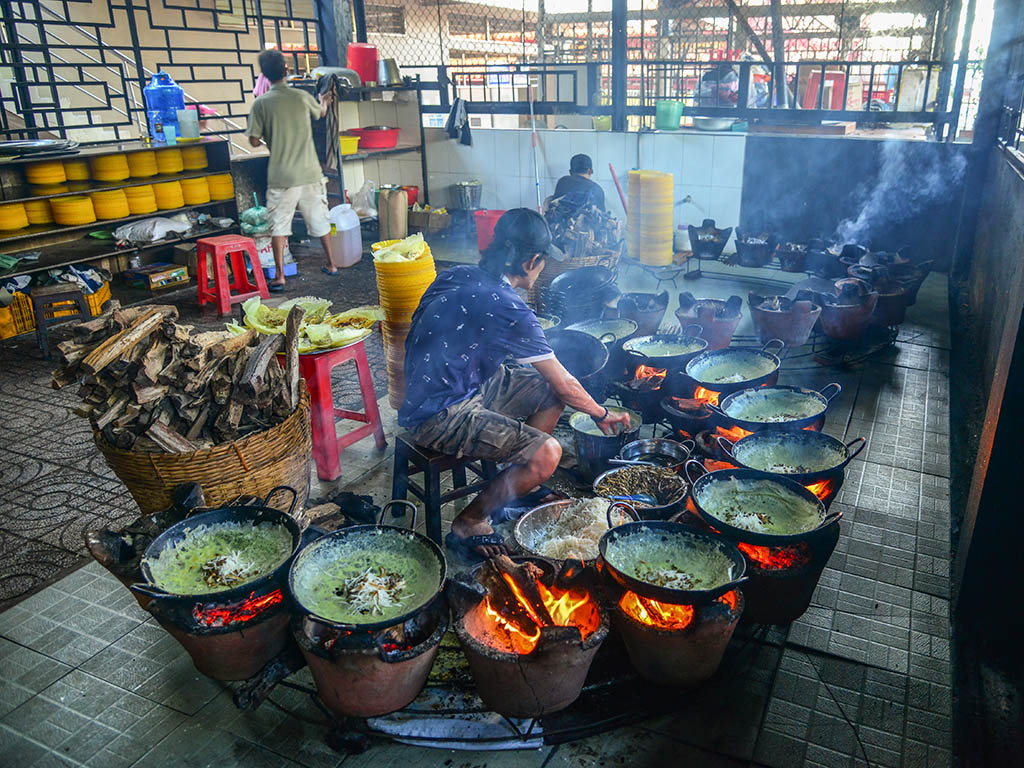 Where to eat Banh Xeo?
As it was introduced, Banh Xeo caters for all palates and budgets. It can be experienced either on the streetside for your causal meals or in a fancy restaurant on a special occasion. Here is a list of our top picks for Banh Xeo concerning all needs and purposes.
Banh Xeo Nga
Address: 251 Nguyen Thien Thuat, District 1
Price: 50,000 VND (about $2)
Co Ba Vung Tau
Address: 40B Tran Cao Van, District 3
Price: 115,000 VND
Amitabha Restaurant (vegetarian Banh Xeo)
Address: 40 Nguyen Thai Hoc, District 1
Price: 65,000 VND
Banh Xeo Sau Phuoc
Address: 74 Cau Dat, Hoan Kiem District
Price: 30,000 VND – 50,000 VND
Son Lan
Address: 167 Doi Can, Ba Dinh District
Price: 30,000 VND – 50,000 VND
Banh Xeo Mien Trung
Address: 14 Hoan Dieu, Hai Chau District
Price: 60,000 VND
Ba Duong
Address: 23 Hoan Dieu, Hai Chau District
Price: 70,000 VND
Quan Chay Thien Duyen (vegetarian Banh Xeo)
Address: 308/8 Hoang Dieu, Hai Chau District
Price: 35,000 VND
Gia Vi 2
Address: 14 Dien Hong, Le Hong Phong Ward
Price: 32,000 VND
Banh Xeo Tom Nhay
Address: 91 Dong Da, Thi Nai Ward
Price: 25,000 VND
Co Anh – Banh Xeo Song Hoai
Address: 32 18/8 Street, Minh An Ward
Price: 35,000 VND
Quan An Hai Dao
Address: 160 Ly Thai To Street, Cam Son Ward
Price: 40,000 VND
Minh Hien Vegetarian Restaurant (vegetarian Banh Xeo)
Address: 50 Tran Cao Van, Minh An Ward
Price: 35,000 VND
Hope you will enjoy Banh Xeo as much as we do!