The central part of Vietnam is endowed with beautiful natural landscapes, highlighted by a long-stretching coastline. This is home to various stunning beach cities which Quy Nhon is one of. Rising on the travel map lately and still remains a barely discovered destination for vacationers, Quy Nhon welcomes visitors with its peaceful setting and hospitable people. Not only a great place to enjoy nature, but this city also offers monumental architecture reflecting the Cham culture. This tropical city is super accessible and fun to explore. Let's dive in.
Quy Nhon at a glance
Quy Nhon was established early, dating back 400 years ago. Due to the advantageous geographical features, it was designated as one of the bustling trading ports with the Western countries at that time. In Vietnamese, "Quy" means "gathering" and "Nhon" means "scholars". The name Quy Nhon was given to the city with an implicitly special meaning with the hope to attract talented people to this prosperous land. Since the 20th century, Quy Nhon has developed with overwhelming speed. Public amenities were erected, making it not only a tropical paradise for tourism but also a great place to live.
Located in the Southern Central Coast of Vietnam, Quy Nhon is the economy, culture, and tourism hub and a part of Binh Dinh Province. This city's landscapes vary from lush mountains to turquoise beaches, vast lakes, peninsulas, and islands, which makes it an ideal destination for both getaways and long vacations. Apart from that, Quy Nhon is also home to beautiful ecotourism where holidaymakers can take part in diverse outdoor activities and immerse in an authentic local living environment by staying in homestays in the countryside or small islands around Quy Nhon City itself.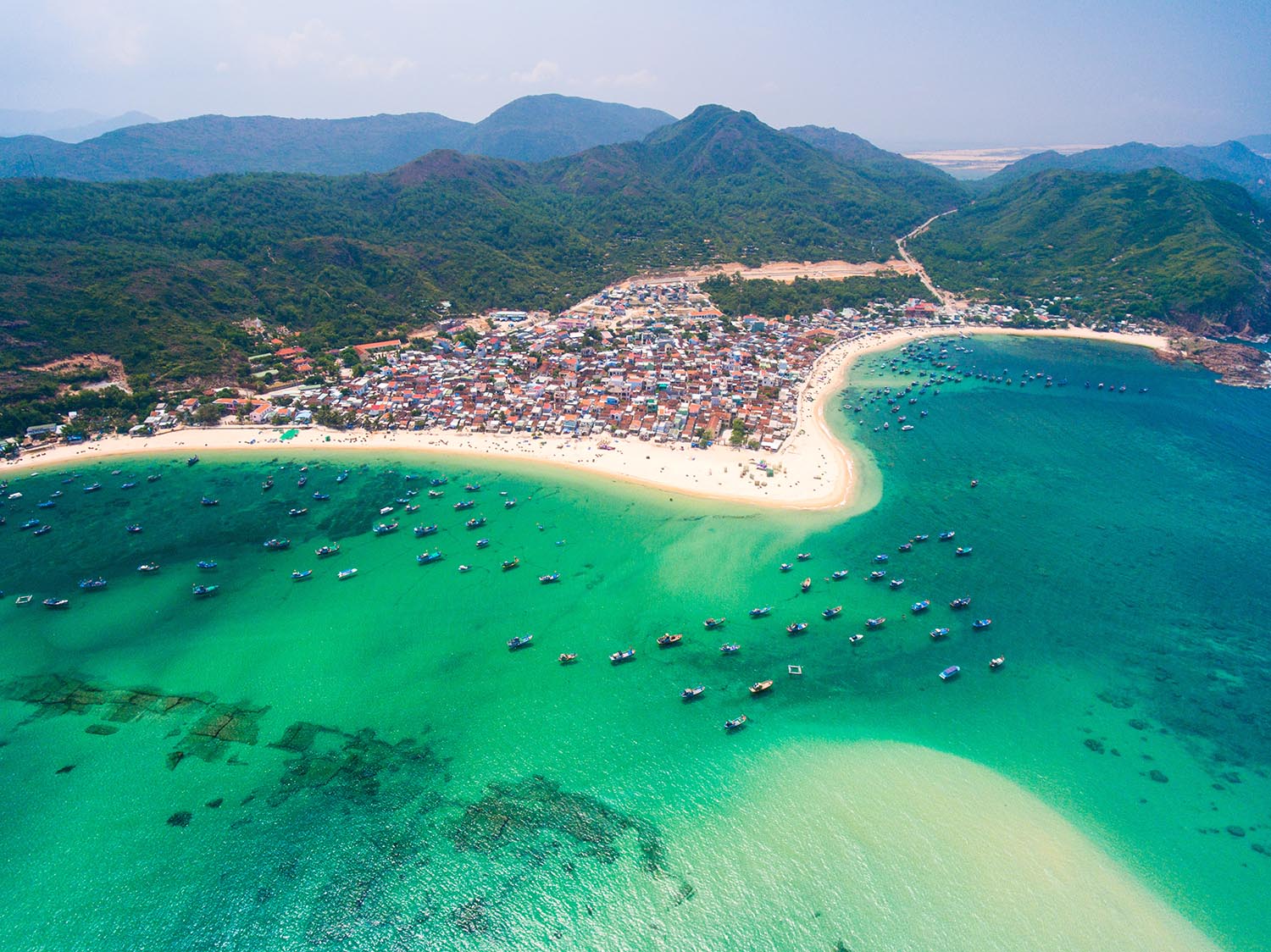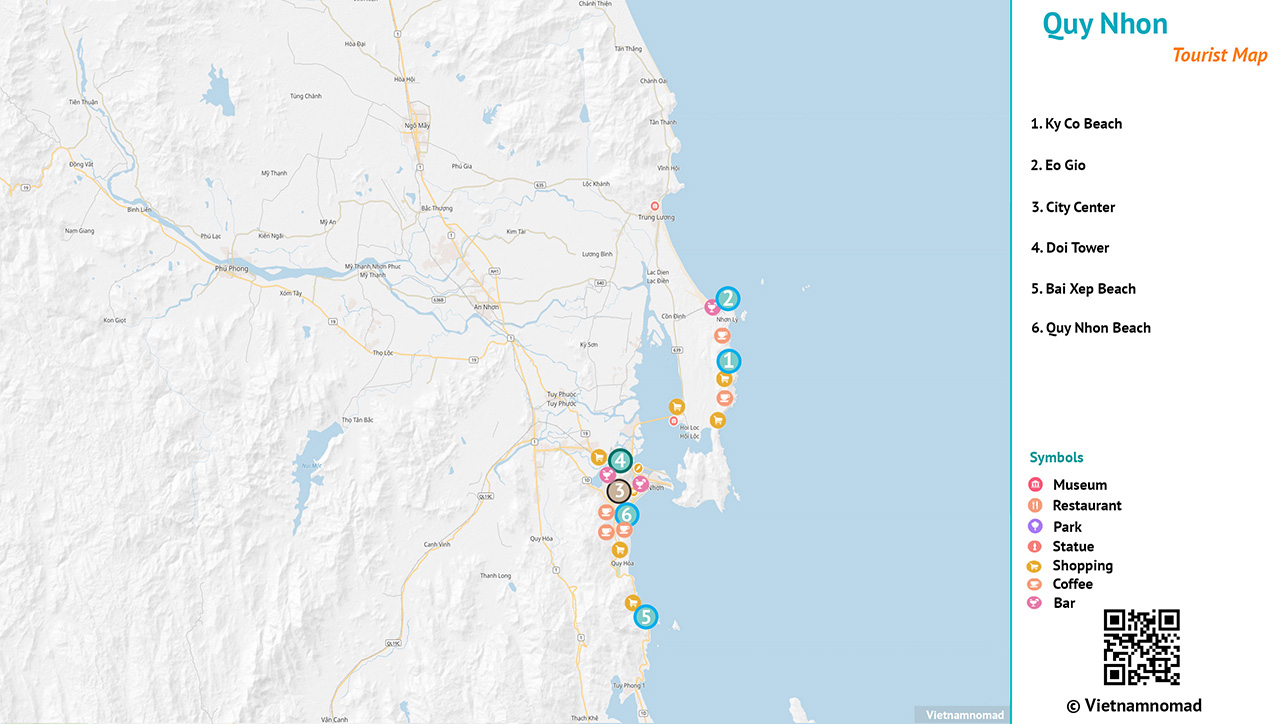 Anyway, a detailed map will help you explore a new land more easily, so we are happy to recommend the Quy Nhon map, which includes information about destinations, restaurants, cafes, and bars in this coastal city.
Quy Nhon weather
Geographical location and topographical features hugely affect Quy Nhon's climate. Situated in the tropical moist climate zone, Quy Nhon is quite hot all year round. The average temperature along the coast is about 27°C, and the humidity fluctuates around 79%.
Quy Nhon has two distinct seasons: the dry season from March to September and the rainy season from October to February. Actually, Quy Nhon can be visited at any time during the year. However, it is suggested that the best time to be here is from February to October. During this time, it is sunny, and rain rarely pours down. It is ideal to visit the islets and islands around Quy Nhon as the sea is calm and the weather is pleasant. You should note that July and August are the hottest time in Quy Nhon with temperatures could reach over 30°C. And if you plan to visit Quy Nhon from September to December, you should closely follow the weather forecast to avoid tropical storms, which could affect your travel experiences.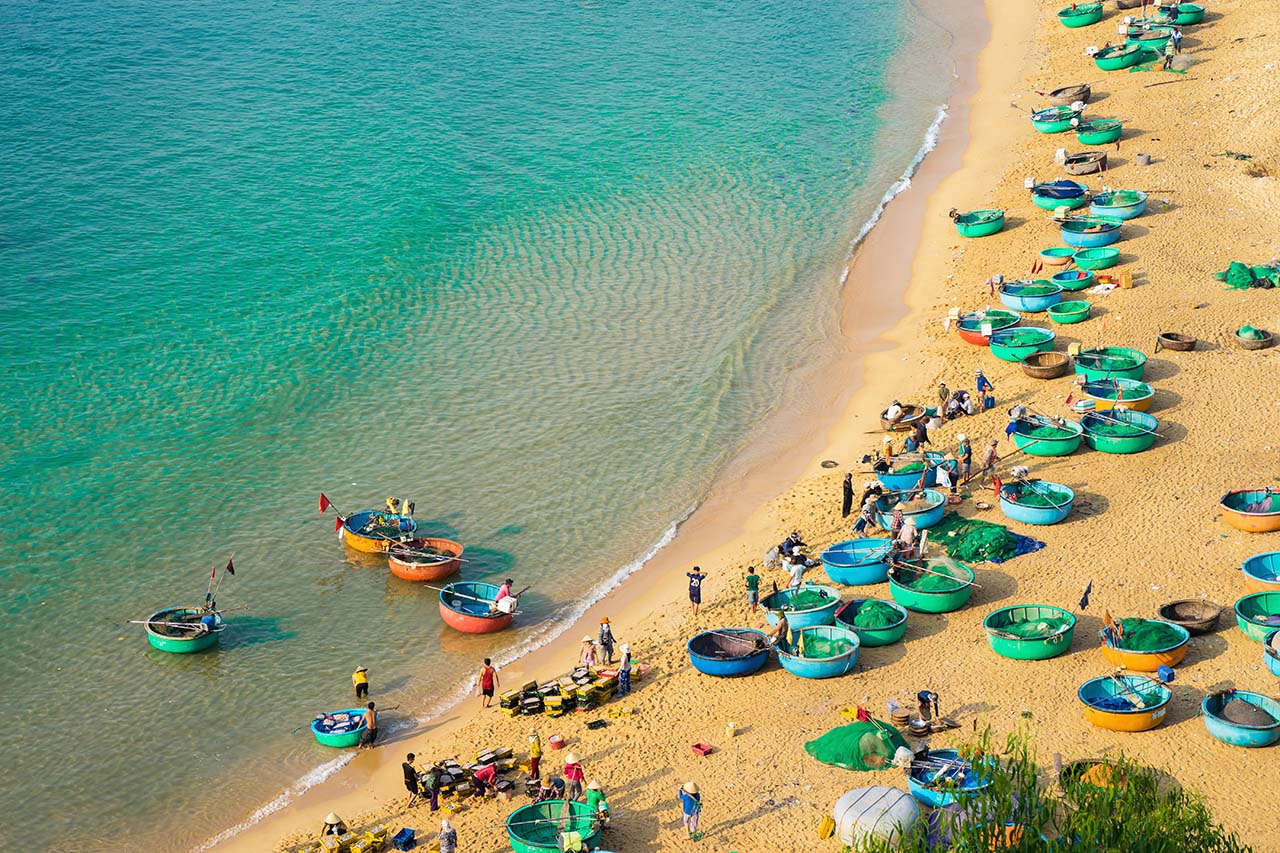 How to go to Quy Nhon?
Discover transportation deals for Quy Nhon from our partners >
As a developed city, all the major highways and several flight routes converge here. So, Quy Nhon is super accessible with a wide choice of transportation that you can choose from depending on your budget and preference.
1. By bus
Quy Nhon (Binh Dinh) is 1,070 km from Hanoi Capital and 652 km from Ho Chi Minh City. There are many high-quality bus companies that offer direct routes to Quy Nhon, running mostly on Highway 1A. All of them are sleeper buses which have long seats (or beds) that you can lie down and have a comfortable sleep overnight while the buses are on the move. This bus route departs from different stations and is run by many bus companies with an average travel time of 14 hours from Ho Chi Minh City and 20 hours from Hanoi. Tickets to Quy Nhon range from 300,000 VND to 600,000 VND ($15 – $30) each way depending on where you take the bus. So, if you have time and want to save money on transport, this is a good option.
 2. By train
There are 2 train stops in Binh Dinh: Dieu Tri Station and Quy Nhon Station.
From Hanoi: the train leaves from Ha Noi Station and arrives at Dieu Tri Station, which is 15 km from Binh Dinh city center (travel time is about 22 hours).
From Ho Chi Minh City: it takes about 10 hours to arrive in Quy Nhon by train. You can choose to get off at Dieu Tri Station or Quy Nhon Station (this one is in Quy Nhon City itself). They all leave from Sai Gon Station in District 10 and run every day throughout the year.
Ticket costs between 500,000 VND and 800,000 VND ($25 – $40) regarding your choice of class. From Dieu Tri Station, the easiest way to get to the city center is by taxi. It costs about 200,000 VND and 30 minutes to arrive in Quy Nhon city center. You can also share a car with other people to save on taxi fares.
 3. By plane
All the aviation companies in Vietnam offer direct flights to and from Quy Nhon City via Phu Cat Airport. Tickets cost from 1,500,000 VND between Hanoi – Quy Nhon during high seasons and from 1,200,000 VND between Saigon – Quy Nhon. The fares could fluctuate regarding the time and service you choose.
Phu Cat Airport is around 30 km from the city center and there are buses running back and forwards for around 50,000 VND ($2.4), so you can get to town easily. Buses will drop you off at 01 Nguyen Tat Thanh and from here you can take a motorbike taxi or taxi back to your hotel. It is also possible to go by taxi straight from the airport which only costs around 200,000 VND.
From Quy Nhon to the airport, 2.5 hours before the actual flight time, there will be buses that take you to the airport leaving from 01 Nguyen Tat Thanh. If you want to share a taxi with other people, you can also go to this address.
Where to stay in Quy Nhon?
Quy Nhon has become more and more popular as an attractive destination, so its accommodation system is quite diverse with a large capacity even during high seasons.
1. Hotels in Quy Nhon
There are hundreds of hotels varying in all price ranges. Most of them are placed around the city center and tourist hotspots making them very convenient for travelers.
2. Guesthouses in Quy Nhon
For those who are traveling on a budget, Quy Nhon has many choices of guesthouses. This type of accommodation is particularly suitable for young people traveling in groups. Generally, guesthouses are equipped with standard facilities and affordable, so if you plan to spend most of the day out exploring, this will be an ideal option.
3. Homestays in Quy Nhon
The number of homestays in Quy Nhon is increasing due to the demand and preference of young visitors. One feature of this staying is that you have many instagrammable corners for photography. Homestays are often designed with their own signature so you will get very unique vibes from that.
Here are some recommendations for accommodation in Quy Nhon, which are excerpted from the Vietnam travel guide book.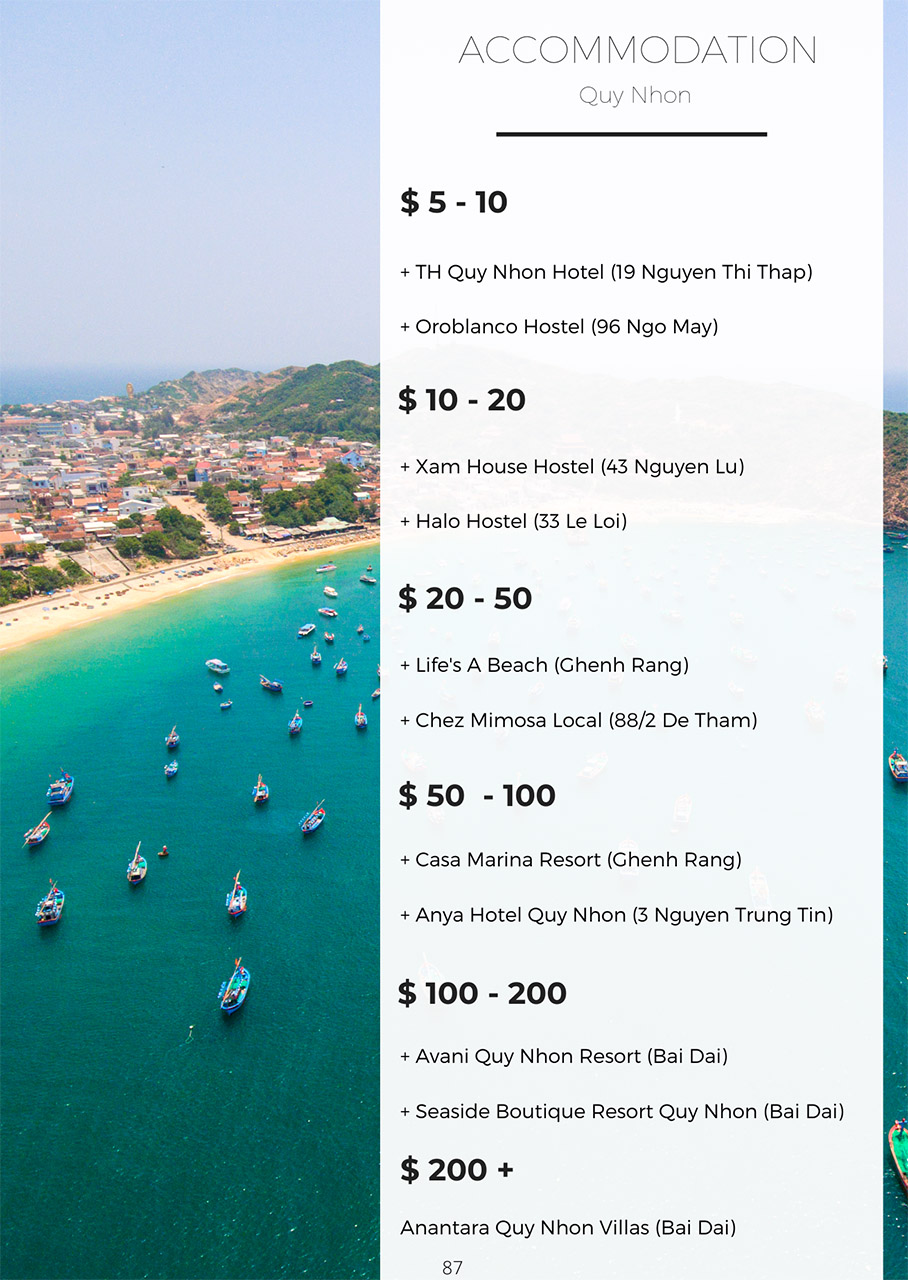 5 must-visit attractions in Quy Nhon
Quy Nhon has long been known as a sea paradise in Vietnam with many beautiful beaches that will captivate anyone who comes here. Here are the top attractions in this coastal city.
1. Ky Co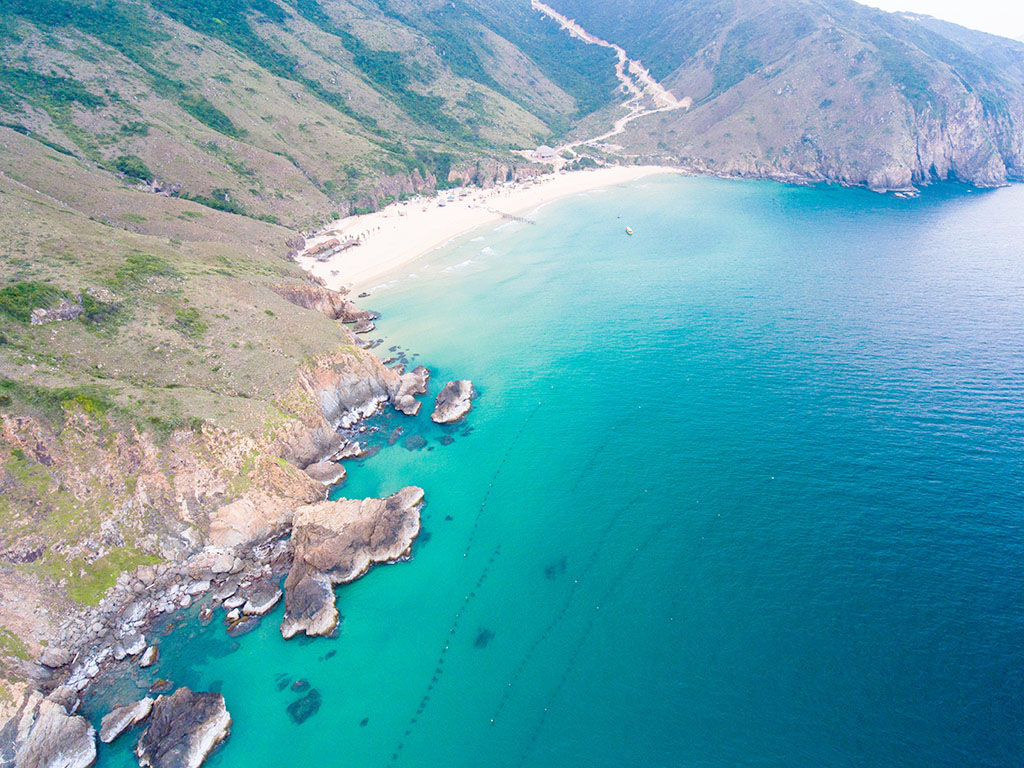 The first place we would like to mention in the list is Ky Co. Sited in Nhon Ly Village; this is only a small and isolated beach. Ky Co Beach is quite shallow with gentle waves and gorgeous ocean curves cutting into the rocks. The water here is crystal clear, from above, it spreads a beautiful shade of turquoise color.
There are two ways to get to Ky Co. Local and private tourist agents offer high-speed motorboats, which take less than 20 minutes. Or, if you have your own bike, you can take the newly built road leading directly to the beach. The road is well-paved and, despite some serious up and downhill parts, you surely get a breath-taking view of the transparent sky reflected on the blue ocean. Overall, it is quite an enjoyable ride to add as your second option.
2. Eo Gio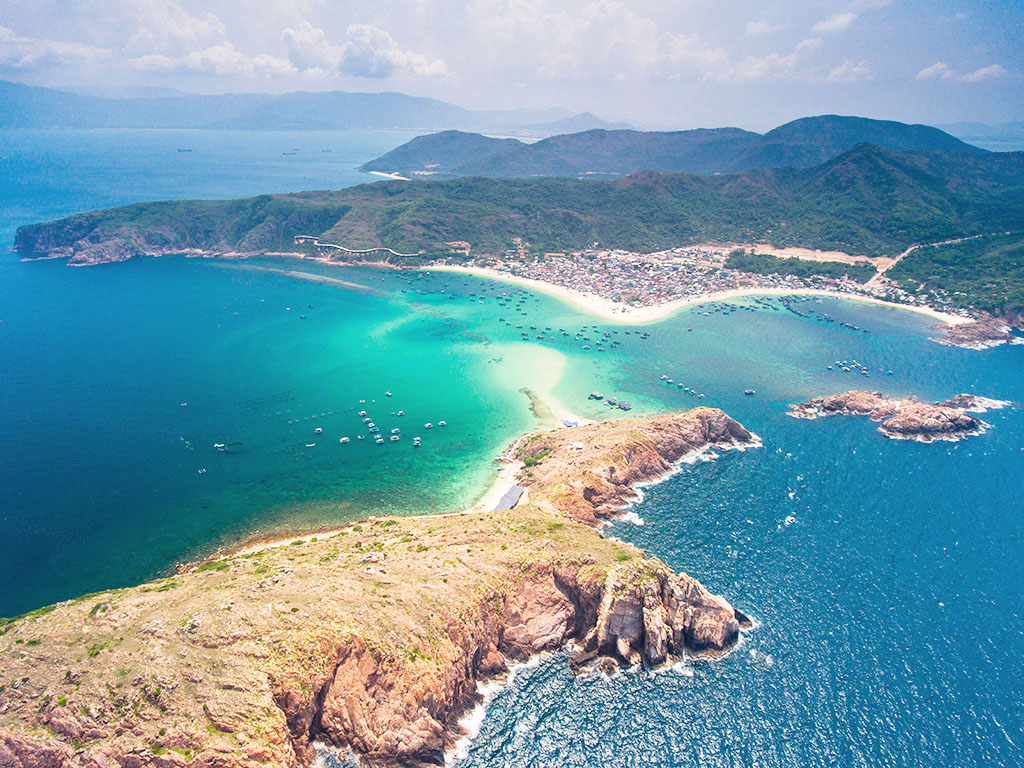 Eo Gio is a part of a huge mountain range, before tourism's intervention, it is a risky and deserted destination. The name Eo Gio or Cua Gio (the Windy Gate) comes from its special location which connects two rock peaks. Sitting in between, Eo Gio is super windy.
In recent years, to ensure tourists' safety as more and more people come to this site, the local authority built a staircase leading down to the bottom of the rock base. Although this somehow affects the original beauty of the attraction, it becomes more accessible for most people.
Right next to Eo Gio is a quaint and tranquil temple (Ngoc Hoa Temple) where you can take a seat under the shade of trees and enjoy the peaceful atmosphere after the adventure.
3. Thap Doi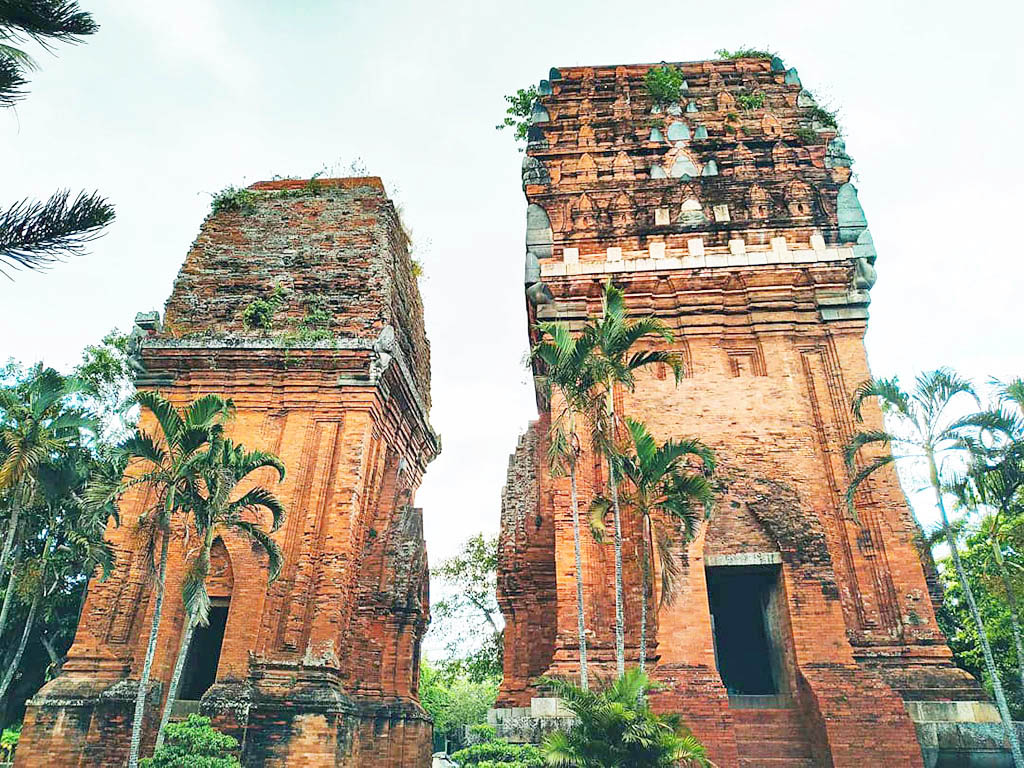 When you are in Quy Nhon, Thap Doi (Twin Towers) is one thing you should not miss. Thap Doi is also called Thap Hung Thanh, which was constructed in the Champa civilization at the end of the XII century. The architectural construction includes two separate towers: the northern tower stands 20-meter high and the other 18-meter. You will not only immerse in the nostalgic atmosphere but also admire the amazing works of the talented builders dating back hundreds of years ago.
4. Queen's Beach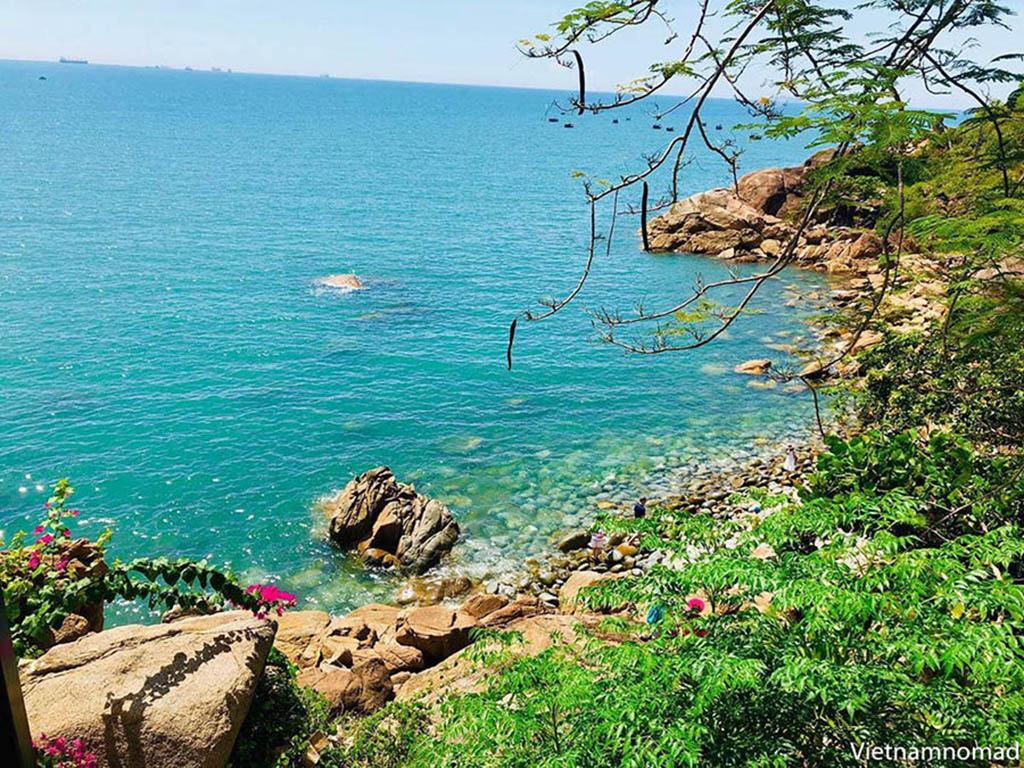 As known as the Eggs Beach, the name Queen's Beach is because this is the former Queen's (Queen Nam Phuong who is the last empress of Vietnam) favorite beach. It is said that she went to this particular beach every time she visits Quy Nhon. Queen's Beach is famous for its fine white sand line and countless colorful egg-shaped pebbles.
Only 3 km away from Quy Nhon city center, you can also see the grand design of rock formations and hollows apart from the beach itself. The area is also the resting place of Han Mac Tu – one of the famous poets in Vietnamese literature.
5. Bai Xep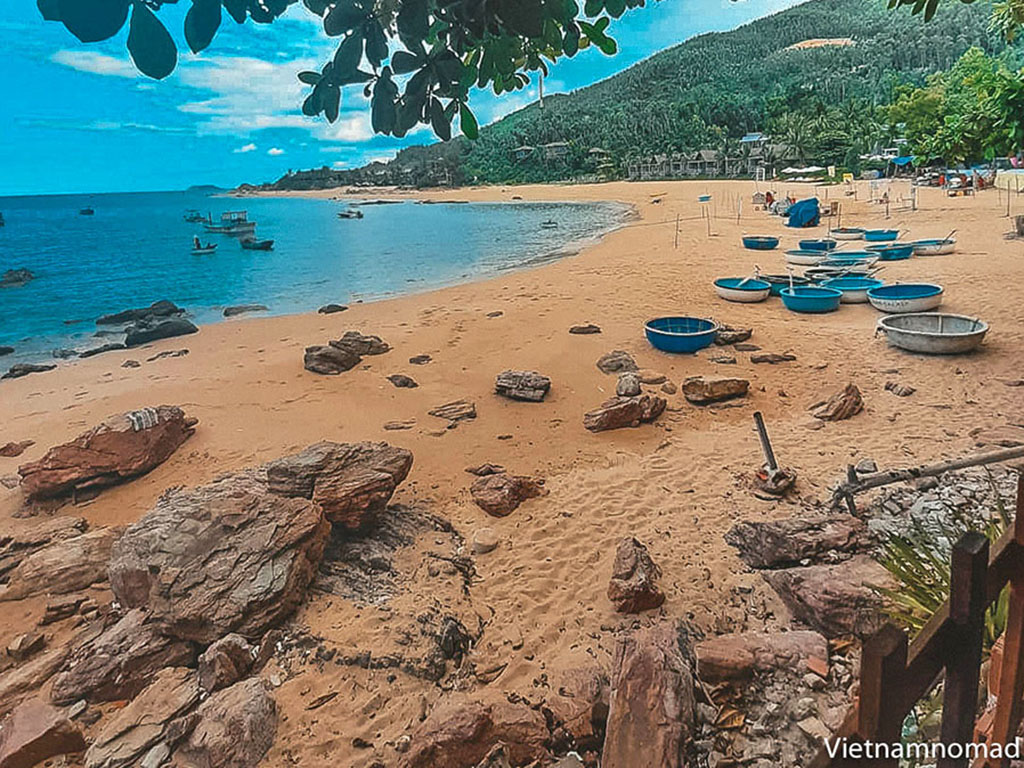 Bai Xep is 10 km away from downtown Quy Nhon and a part of the ecotourism complex run by a private company. Bai Xep does not only have a stunning coastline but also a great range of fruit gardens and palm trees making it feel like peaceful countryside rather than a bustling tourist attraction.
There are many cafes and restaurants with sea views and lots of bungalows facing the ocean which is one of the highlights of this beach.
5 must-try dishes in Quy Nhon
Being a coastal city itself so it is no surprise that most of the famous dishes in Quy Nhon revolve around seafood. The talented cooks seized on the fresh ingredients that the ocean offers to create delicious and savory dishes.
1. Banh Xeo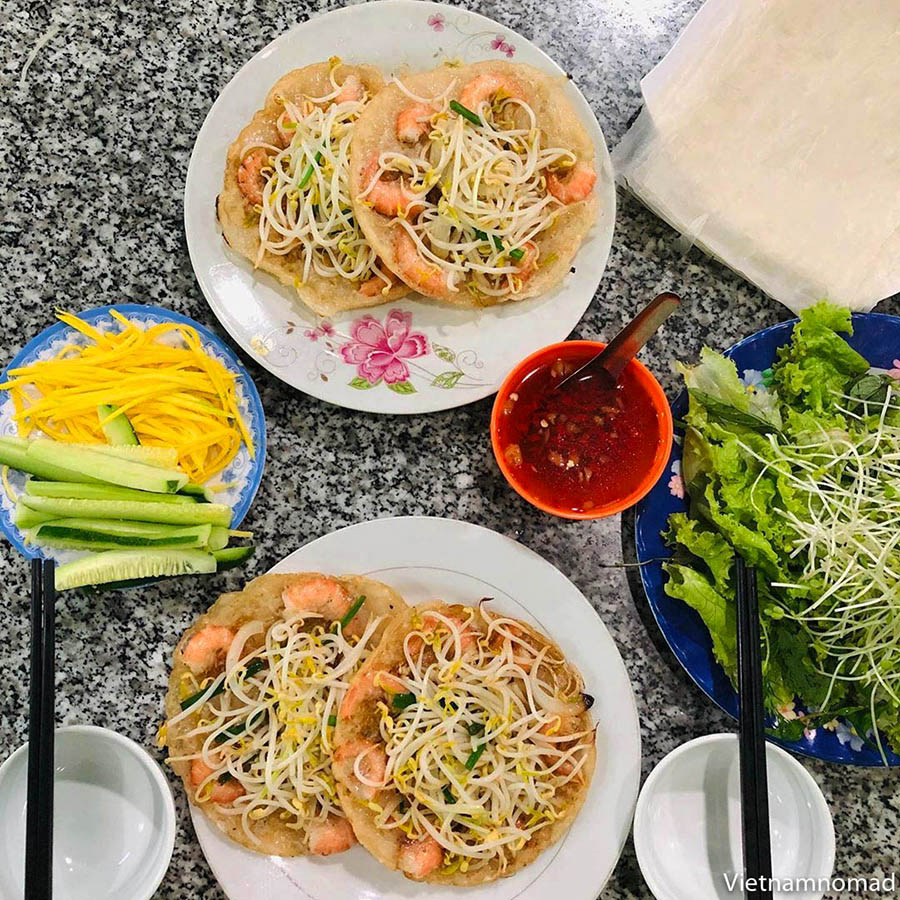 Banh Xeo (or Banh Xeo Tom Nhay) is for sure the most favorable dish in Quy Nhon. Banh Xeo is a crispy pancake topped with fresh baby shrimps, bean sprouts, and mung beans. They claim that this kind of shrimp brings up the flavor of the dish.
To cook perfectly crispy pancakes, the chefs often fry them on coal fire using little flat pans. Also, pancakes have to be fried in pork fat at super-high temperatures. What would strike you is how the lady chefs manage to make at least 8 pancakes at a time: their hands move so quickly yet professionally, distributing each ingredient into each pan, master the perfect timing as only a few seconds late, the pancake could come out burnt.
Banh Xeo is often accompanied by green veggies and herbs. This is a typical example of the Yin Yang principle in Vietnamese cooking as we use a lot of vegetables and pickles to balance out the greasy feeling.
To eat Banh Xeo as we do, you wrap it with some herbs in a sheet of rice paper and dip the roll in a small bowl of sweet and sour fish sauce.
It is interesting that here people actually eat Banh Xeo for breakfast, and even more surprising is that you would not feel heavy as you would imagine eating a fried dish to start a day.
Banh Xeo is definitely highly recommended as a must-try dish when in Quy Nhon.
Recommended restaurants to eat Banh Xeo:
Banh Xeo Tom Nhay Rau Mam 

(91 Dong Da Street): 50,000 VND

Ong Hung (24 Dien Hong Street): 48,000 VND
2. Banh Hoi Chao Long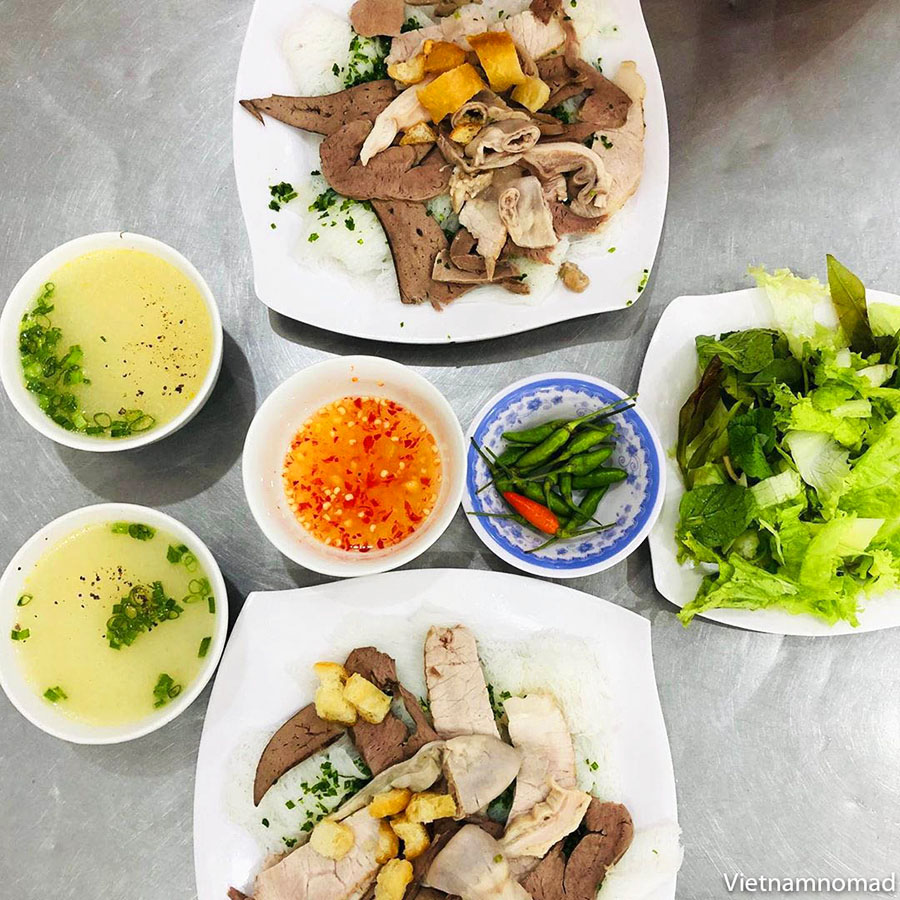 Although not originally from Quy Nhon, Banh Hoi Chao Long has become an irreplaceable dish for the locals. It is a combination of rice porridge and other side dishes. Banh Hoi is actually rice vermicelli but thinner and interwoven into fine sheets. Rice porridge is slow-cooked in rib broth and seasoned nicely. It is served with a plate of sliced lean pork and pork organs on a bed of Banh Hoi; a plate of bean sprouts and other vegetables and a small bowl of sweet and sour fish sauce on the side. The sauce could be a bit too sweet due to the Central part's flavor palate and the pork organs could be a bit too weird for those who never tried it before. But it is always worth trying the local's favorite dish when you visit a new land so let's give it a try.
Some suggestions for you to enjoy Banh Hoi Chao Long:
Hong Thanh (22 Phan Boi Chau Street): 35,000 VND

Thanh Tam (145 Dien Hong Street): 35,000 VND
3. Bun Ca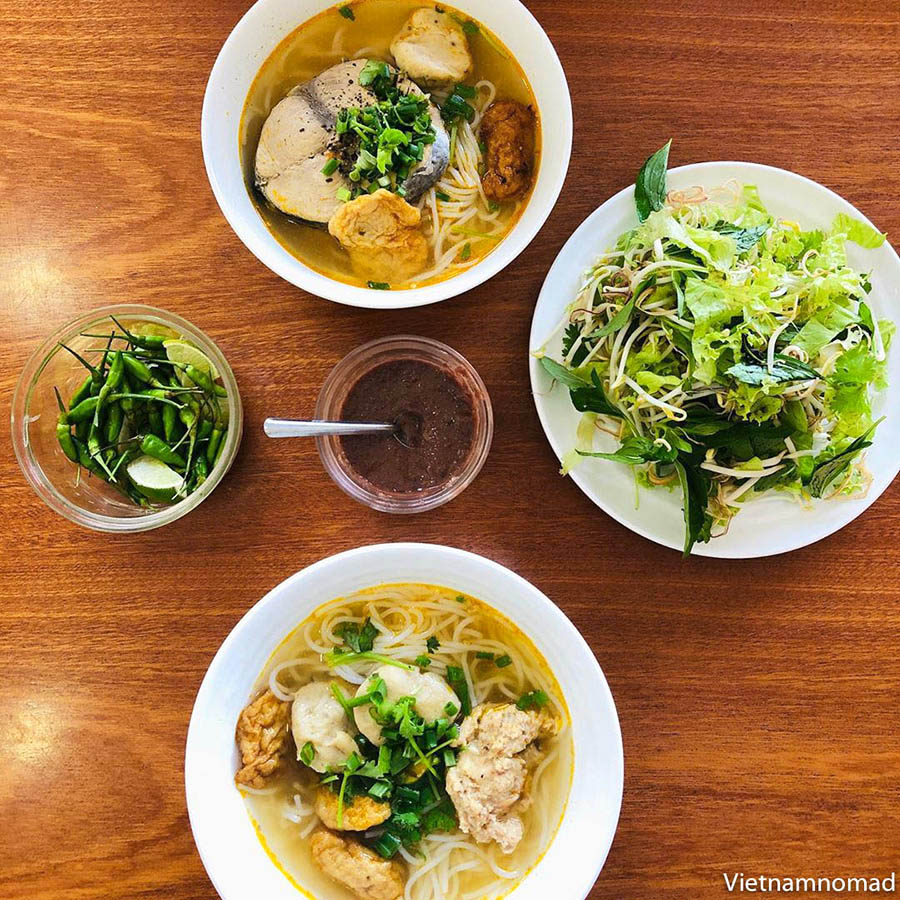 There are many soup recipes based on fish in Quy Nhon, but we would like to bring on Bun Ca (fish rice noodles soup). Bun Ca in Quy Nhon is recognizable for its homemade fish cakes. The fresh fish fillet is milled and added with local ingredients before being deep-fried. The broth has an arousing aroma of red and green onions and pickled bamboo shoots, so you can taste the subtle sourness of the broth combined with the natural sweetness steaming out from fish bones. Bun Ca is served with full topping and blanched vegetables in perfectly right portions, you will not be too full or left hungry.
With the same cooking recipe, fish is sometimes replaced by jellyfish, crab meat, or shrimp cakes. Or, in most places, you can order a special bowl of Bun Ca, which has all the mentioned kinds of protein.
Recommended addresses to eat Bun Ca:
Bun Ca Thuy (261 Tang Bat Ho Street): 30,000 VND

Ngoc Lien (379 Nguyen Hue Street): 35,000 VND
4. Banh Canh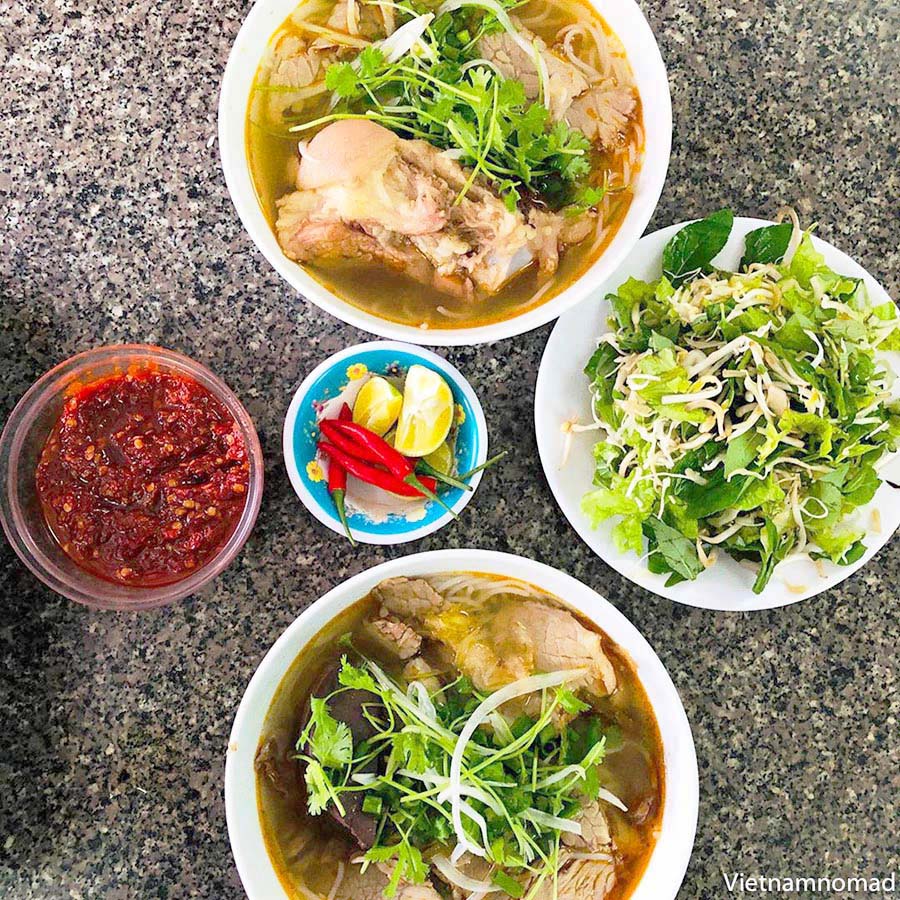 Another dish that you should not miss when you are in Quy Nhon is Banh Canh. It is also a soup-based dish, but the rice noodles used for Banh Canh are different, they are square-shaped and thicker. A bowl of Banh Canh will go with pork, pork bone, crab meat, shrimp cakes, and fish cakes.
Recommended restaurants to eat Banh Canh:
 O Hue (30 Truong Chinh Street): 25,000 VND

 Ba O (384 Bach Dang Street): 25,000 VND
5. Banh Beo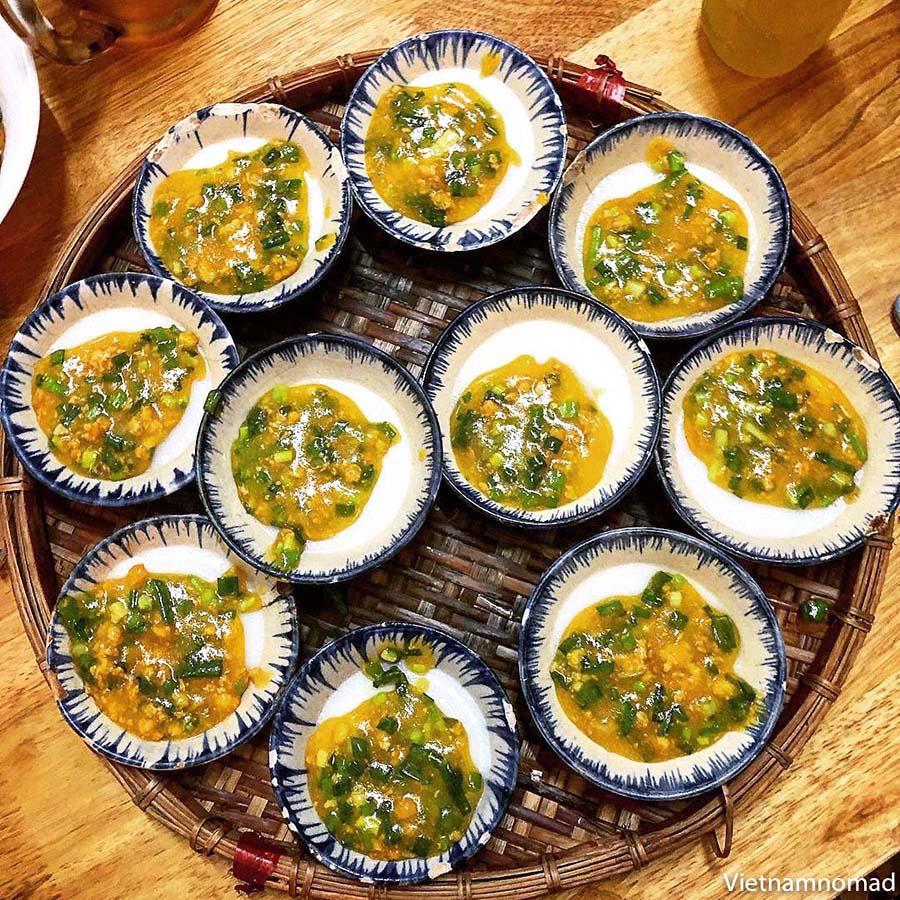 Banh Beo is considered as a snack rather than a real meal. Although it could be found anywhere, Banh Beo in Quy Nhon exclusively tastes better than in other surrounding regions. Banh Beo is made by pouring white rice batter into tiny shallow bowls and then steaming them until the mixture becomes transparent. Once cooked, they are taken out and topped with fried red onions, green onion, and stir-fried minced pork. Before serving, the chef will dress a thick sauce on top and you can add extra sweet fish sauce while you eat if you would like to.
Recommended restaurants to eat Banh Beo:
Cay Man (742 Tran Hung Dao Street): 20,000 VND

Ba Xe (50/22C Nguyen Thai Hoc Street): 20,000 VND
A detailed travel guide for Quy Nhon in 2022 is for those who are planning to visit this beautiful coastal city. We hope you will have a perfect trip with many exciting experiences in this city!