Nha Trang at a glance
As one of the most beautiful beaches in Vietnam, Nha Trang has long been known as a tropical sea paradise. Not only long blue beaches, dozens of large and small islands remain untouched, Nha Trang is also an ideal destination for those who love culture – history as it is also the land of the flourishing Champa Kingdom in the past.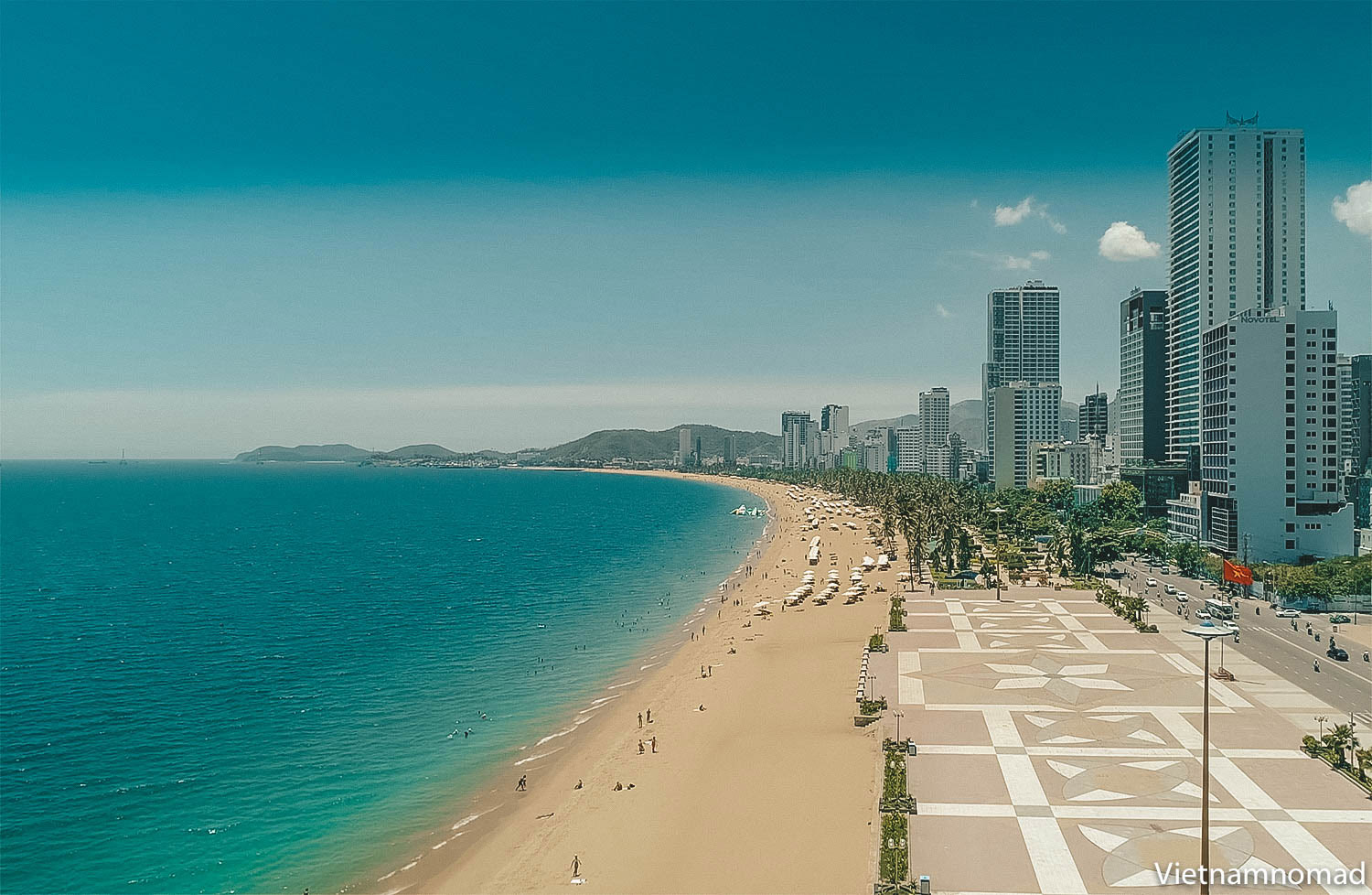 Where is Nha Trang?
Nha Trang is a coastal city, the center of economy, politics, culture, tourism, and science and technology of Khanh Hoa. Nha Trang is bordered by Ninh Hoa to the North, Cam Lam District to the South, Eastern Sea to the East with Truong Sa Island District of Khanh Hoa Province, and Dien Khanh District to the West. Currently, Nha Trang's natural area is 251 km2, excluding islands and bays.
Nha Trang weather
Being in the South Central region, Nha Trang has one main climate type with two seasons: rainy and dry. The most significant advantage of this city is the long sunny season during the first eight months, the temperature difference is not considerable. This climate is so perfect for souls who love the blue sea. The rainy season of Nha Trang lasts from September to December and reaches its peak in October and November. At this time, it has heavy rains, often affected by storms. Therefore, tourists who come to Nha Trang at this time should consider the weather forecast in advance to schedule their trip to the islands.
In general, you can come to Nha Trang all year round, but the best time to visit this beautiful coastal city is from January to July when the weather in Nha Trang is quite mild and less rain.
How to go to Nha Trang?
From Hanoi or Ho Chi Minh City
As a tourist city, there are many ways for tourists to move from Hanoi, Ho Chi Minh City, and Da Nang to Nha Trang. 
By plane
Nha Trang belongs to Khanh Hoa – where there is Cam Ranh airport, so it is very convenient for those who are self-sufficient travelers and don't want to spend too much time moving. You can fly to Nha Trang from big cities, which only takes about 1-2 hours:
Flight Hanoi – Nha Trang takes 1 hour 55 minutes with ticket price around 850.000 – 1.500.000 VND/way
Flight Ho Chi Minh City – Nha Trang takes 1 hour, the ticket price is about 400.000 – 1.000.000 VND/way 
Flight Da Nang – Nha Trang takes about 1 hour, the ticket price is about 400.000 – 1.000.000 VND/way 
Cam Ranh Airport is 35 km from Nha Trang center, with two main modes of transportation for visitors:
Taxi: A taxi to the city costs from 200.000 – 350.000 VND, which is 45 minutes. At the airport, the only option is the airport taxi. If you want to go by other taxi companies, then you will have to move out.
Bus: There are three types of buses that transport passengers from the airport to Nha Trang: airport transfers (65.000 VND/way), Phuong Trang buses (40.000 – 50.000 VND/way), buses of Dat Company New (30.000 – 50,000 VND/way).
By train
If you want to experience the feeling of sitting on a bulky train, the train is also a fascinating experience for traveling to Nha Trang. There are many train routes to Nha Trang, with many different prices. 
Sai Gon – Nha Trang Train: Starting from (Ho Chi Minh City) Saigon, you need to go straight to SN4 to go to Nha Trang. The train only stops at Bien Hoa and Thap Cham, so it does not take much time. You should depart from 7:00 pm – 8:00 pm hours to arrive in Nha Trang at around 5:00 am. That's enough to recharge and keep the power to hit Nha Trang.
North-South train: For those who depart from other provinces, they can take the North-South train. 
5-star train: Just launched not too long ago, the SNT2 train will give you the most comfortable traveling time by train.
By bus
Nha Trang is not too far from Saigon (Ho Chi Minh City), so tourists often choose a sleeper bus to stay overnight, get sleep then reach the place. The bus operators running on Saigon – Nha Trang are Phuong Trang, Mai Linh, Kumho, Hoang Long, and Sinh Café. The journey lasts about 8 – 10 hours and costs 170.000 – 220.000 VND/way.
Indeed, going from Hanoi will be further, which takes 26 – 30 hours. Hoang Long Bus is a popular name running this route with a ticket price of 500.000 – 600.000 VND/way.
Getting around Nha Trang city
There are many means of transportation available for you to choose from for a self-sufficient trip to Nha Trang.
Motorbike: Motorbike rental in Nha Trang is quite diverse from 80.000 – 150.000 VND/day. You can contact the hotel reception to rent a motorbike.
Taxi: The popular taxi companies in Nha Trang are Mai Linh (phone number: +84258.3.811.811), Airport Taxi (phone number: +84258.3.528.528), Asia Taxi (phone number: +84258.35.35.35.35), Taxi Nha Trang (phone number: +84258.3.81.81.81), and  Emasco (telephone: +84258.3.51.51.51)
Cyclo: Nha Trang city has another interesting means for you to visit the city. That is cyclo. A 1-hour and 30-minute walk around famous landmarks cost 500.000 VND, including a meal. 
Where to stay in Nha Trang?
It is not difficult to find a resting place in Nha Trang. In this beautiful coastal city, there are many hotels, homestays, or resorts for you to choose. 
Nha Trang Hotels
Being in the top of the most famous coastal tourism cities in Vietnam, the hotels in Nha Trang are extremely diverse and developing. For the most convenient, tourists often choose hotels near the sea, on Tran Phu Street and less than 5 minutes to go to the beach.
Nha Trang Resorts
If you are looking for a resort vacation in one of the most beautiful coastal cities in Vietnam, then do not hesitate to choose a resort in Nha Trang. Owning a prime location overlooking the ocean, taken care of by the most advanced services, you will enjoy an excellent vacation! 
Homestay and hostel in Nha Trang
Nha Trang also has affordable homestays, hostels, catering for young people or tourists fascinated by the form of backpacking tourism. Choosing to stay at the homestays in Nha Trang, you will have the opportunity to make new friends and save the beautiful memories of this friendly, vibrant city.
Here are some recommendations for accommodation in Nha Trang, which are excerpted from the Vietnam travel guide book.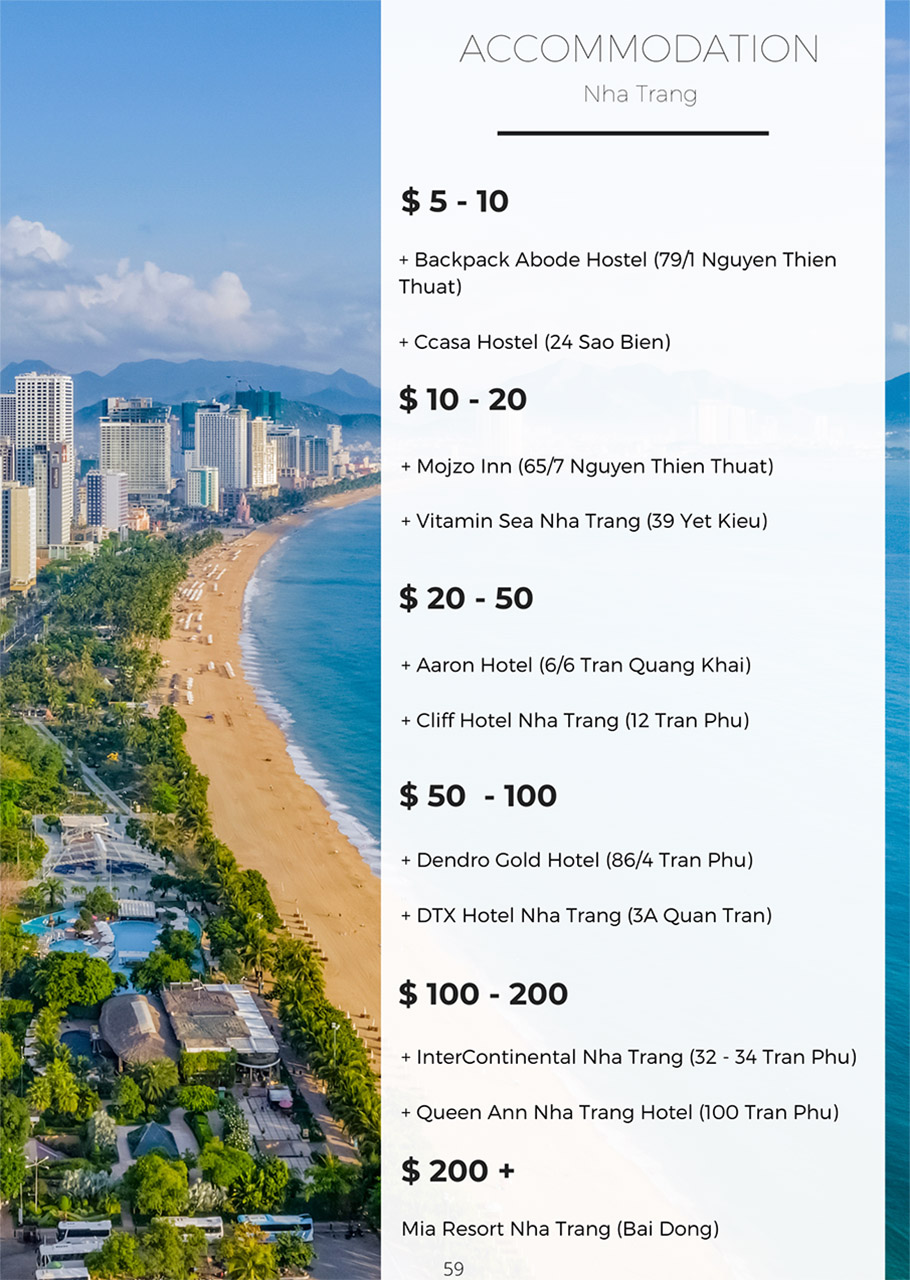 Must-visit attra
ctions in Nha Trang
Nha Trang is famous for its long blue beaches and beautiful islands. Apart from those, Nha Trang also attracts visitors with other destinations. Let's discover with us!
1. Nha Trang Beach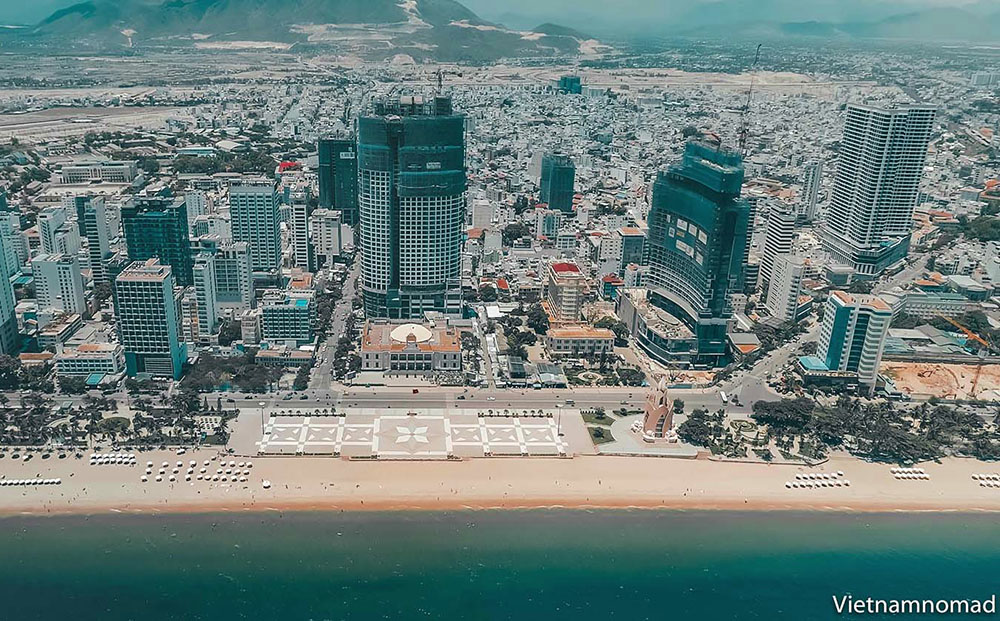 Possessing a coastline of more than 7 km, Nha Trang beach is beautiful with a curved shape, clear water, silky sand. The greatest advantage is that Nha Trang beach is located right in the city center, just a few steps from the beach.
Along the beach, Tran Phu Street is the focus of the resorts, hotels, and sports activities such as water motor, surfing, and skydiving.
2. Vinpearl Land (Hon Tre Island)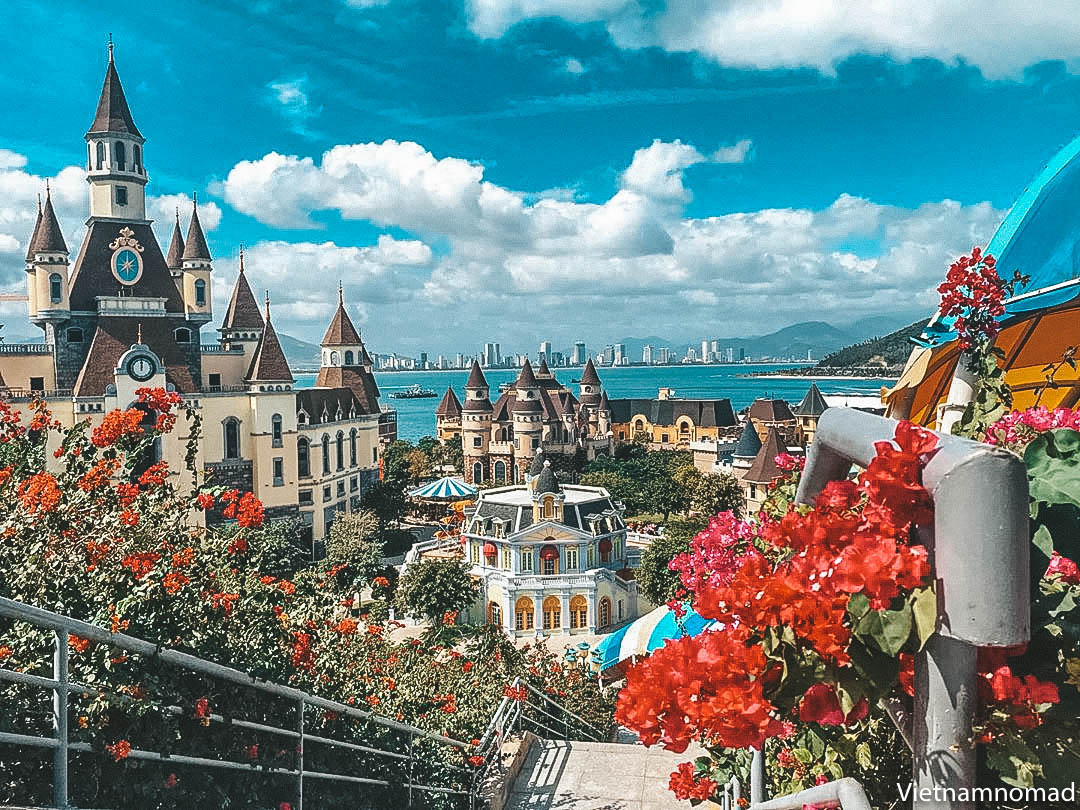 The most famous amusement park – resort in Nha Trang is Vinpearl Land. "Occupying" Hon Tre island, you will take the cable car to cross the sea to Vinpearl Land.
And already at Vinpearl Land, do not worry, there are enough indoor and outdoor game areas, water parks, water music shows every night, both of them are monumentally invested. For those who want to spend the night here, Vinpearl luxury resorts and restaurants are ready to serve you.
The most popular games in Vinpearl Land Nha Trang: Van Hoa Hill, Sky Wheel, and Floating Park.

Round trip cable car tickets and games: 800.000 VND/adult, 700.000 VND/children from 1m – 1.4m.

Opening hours: 8:00 am – 9:00 pm 
3. Po Nagar Cham Towers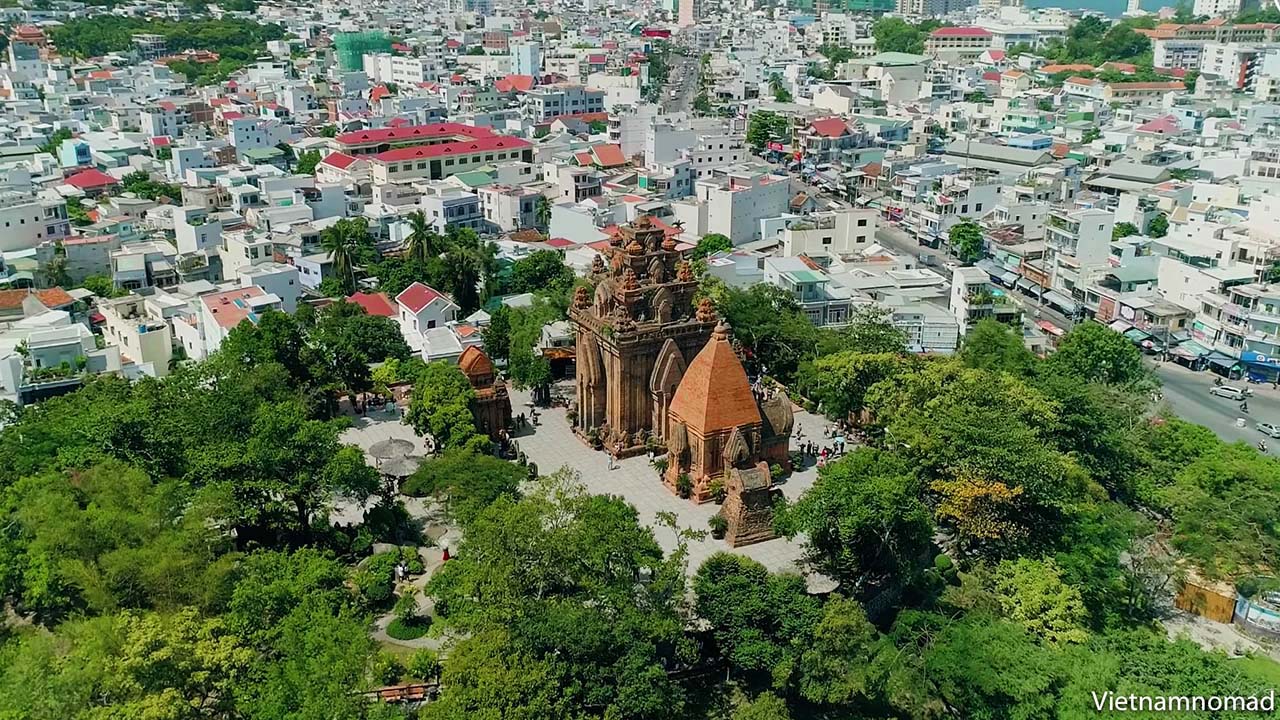 As one of the most remaining large-scale Cham relics, Po Nagar Tower is a testament to the prosperous period of a lost civilization. The tower is worshipping the Goddess that created the Earth Po Ina Nagar which was built before the 10th century and still retains the most outstanding features until now.
Address: Hai Thang Tu Street, Vinh Phuoc Ward

Opening hours: 6:00 am  – 6 pm 

Entrance fee: 22.000 VND/person
4. Dam market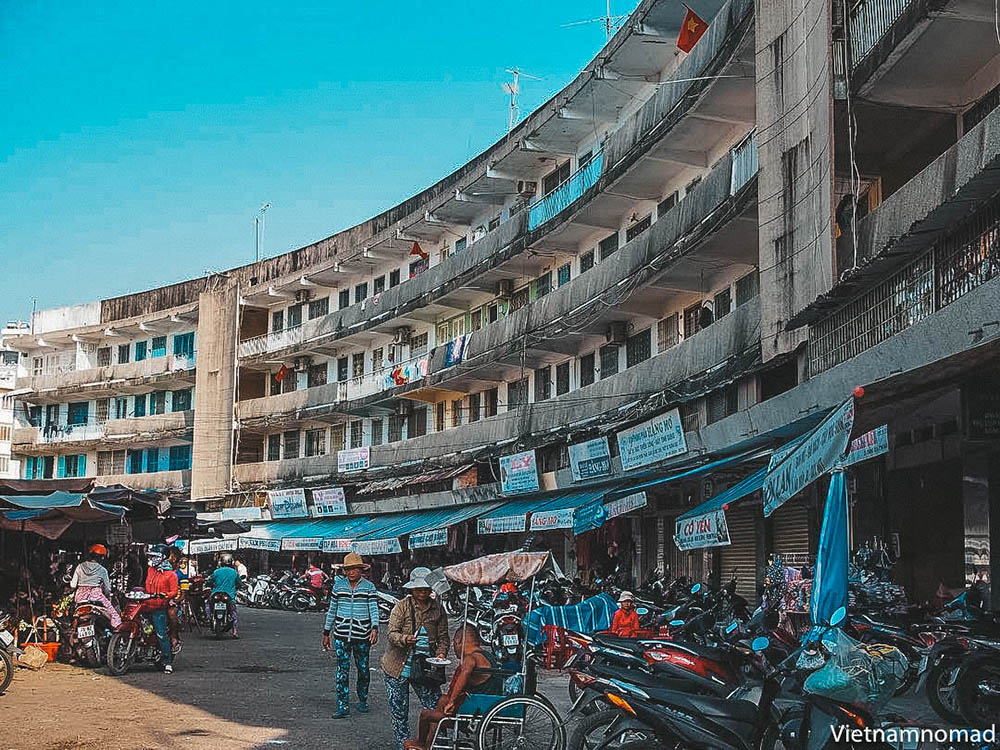 If Saigon has Ben Thanh market, Nha Trang has Dam market. This hundred-year-old market is home to several yummy dishes, local specialties and is an ideal address for those who want to buy souvenirs when traveling to Nha Trang.
Address: Ben Cho, Van Thanh Ward

Opening hours: 7:00 am – 6 pm 
5. Long Son Pagoda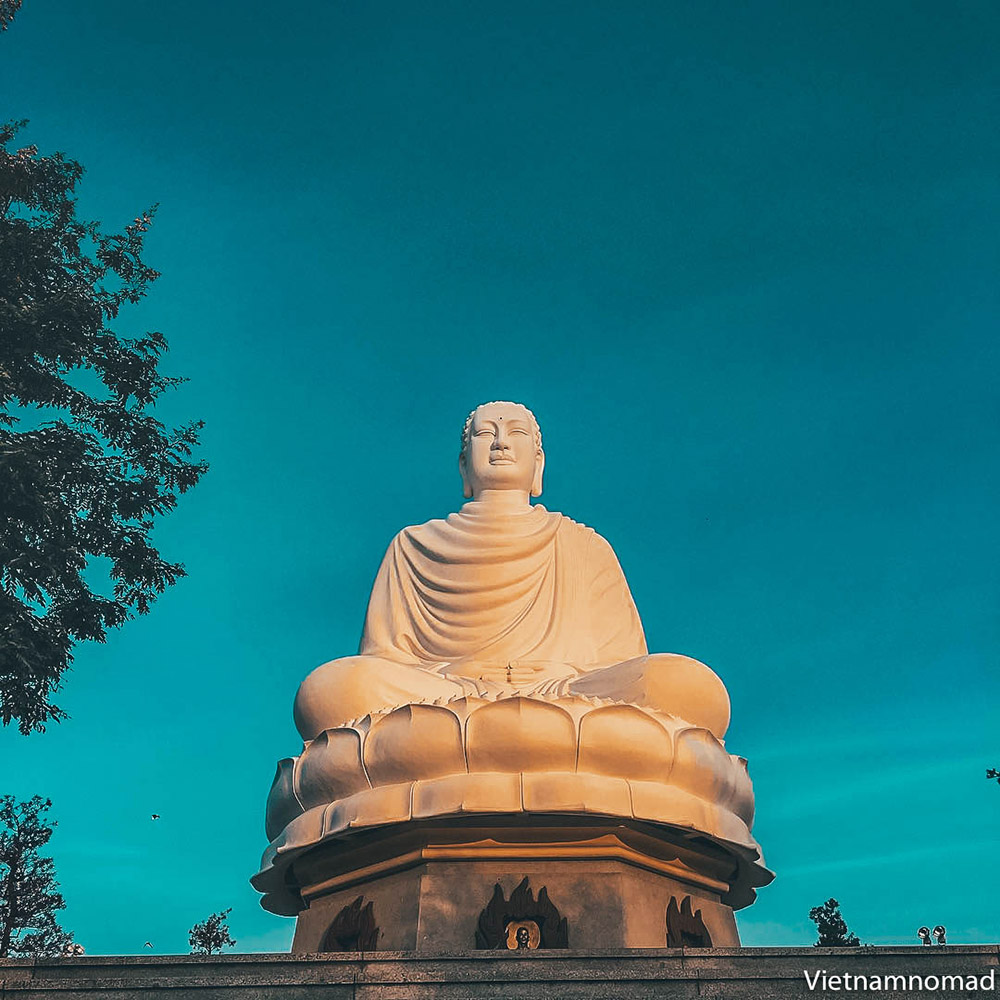 Possessing the largest outdoor Kim Than Buddha statue in Vietnam, Long Son Pagoda is a familiar place when traveling in Nha Trang with self-sufficient visitors. The way to the Buddha statue is 200 steps on the hill of Trai Thuy. Especially in the 44th level, there are also Buddha images of Nirvana and reliefs with 49 disciples reciting Buddha's name.
Address: 20 October 23 Street, Phuong Son Ward
6. The Islands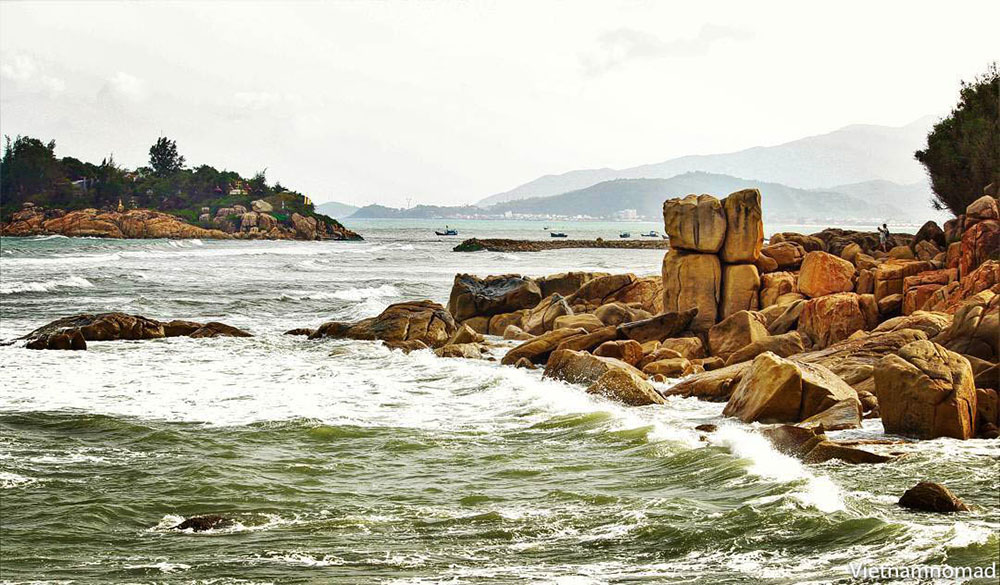 Nha Trang is praised as the paradise of the islands and sea. And it would be a big mistake when traveling to Nha Trang without enjoying the beautiful islands here.
Hon Chong – Hon Vo
Not far from the coast of Nha Trang, Hon Chong is best known for its characteristic shape. Hon Chong has two massive groups of rocks lying by the sea at the foot of La San Hill with rocks lying in disorder. There is a giant five-fingered handprint engraved on the stone side facing the sea, associated with many interesting legends. According to a legend, there was a man who went fishing here. A big fish swallowed the bait and pulled him towards the sea. He tried to get the fish and pull himself back, pressing the hand against the rock, leaving the handprint on it. Near Hon Chong, there is another group of rocks called Hon Vo, shaped like a woman looking out to sea, waiting for her husband. That's why it is called Hon Vo, the Wife, that has a close meaning with Hon Chong, the Husband.
Address: Hon Chong, Vinh Phuoc Ward 
Ticket price: 22.000 VND/ticket

Hon Mun
For those who love nature, do not miss Hon Mun, because this is a marine protected area, which is recognized by the World Wildlife Fund, with a diverse ecosystem and numerous coral reefs of all kinds.
The most interesting activities when you come to Hon Mun are scuba diving and glass-bottom boat watching.
Address: Vinh Nguyen Ward, Nha Trang city (about 10 km from Cau Da Port and 45 minutes by train)

Boat price to the island: 300.000 VND/canoe ticket, 250.000 VND/boat ticket

Price of bottom boat watching coral reefs: VND 60.000 VND/time

Diving price in Hon Mun: 500.000 VND/time/Vietnamese visitor, 750.000 VND/time/foreign visitor 
Hon Noi (Yen Island)
Hon Noi is one of the beautiful islands in Nha Trang. An island nest in the city of Nha Trang, Khanh Hoa. The unique feature of Hon Noi is that it has the only double beach in Vietnam. Coming to Hon Noi, standing at the quiet white sand beach with whatever directions, you can all see the blue sea. Moreover, this double beach also has a side of hot water, one side of cold water created by the currents, giving an unforgettable impression for visitors. 
To go to Hon Noi, you need to go to Cau Da port, Nha Trang, and buy train tickets to the island. As this island is under the management of Khanh Hoa Salanganes'Nest Company, you will have to buy a tour to visit rather than independent travel like other locations.
Tour price: 350.000 VND/person/day
Time to visit: April – September (another time is the storm season so no boats to the island)
Hon Tam
About 7km from Nha Trang and with more than 10 minutes going by canoe, Hon Tam is one of the most beautiful islands in Nha Trang. With the wild beauty of lush tropical forests, rare and precious flora and fauna ecosystems in mild weather all year round, this place attracts many visitors to discover and relax. The popularity of Hon Tam can be compared to Hon Mun, one of the top gorgeous islands which should not be missed when traveling to Nha Trang. With a long beach, smooth waves, Hon Tam owns a high-class resort, full of fascinating beach sports such as canoe, flyboard, and walking under the sea.
Address: Vinh Nguyen Ward, Nha Trang City (7 km from the city)
Ticket price of Thuy Kim Son tourist area (Hon Tam):
Round trip canoe, game, lunch buffet: 580.000 VND/adult; 430.000 VND/child
Tickets to visit: 360.000 VND/adult, 250.000 VND/child
Hon Mieu
Hon Mieu is located in Tri Nguyen hamlet, Vinh Nguyen Ward, which is densely populated due to its closest shore compared to other islands in Nha Trang Bay. Coming to Hon Mieu, you can not only admire the pristine beauty, fully immerse in the sea, but also have the opportunity to visit two famous Nha Trang tourist destinations on the island: Tri Nguyen Aquarium and Bai Beach Gravel. 
Tri Nguyen Aquarium has over 100 species of marine. Built-in 1971, the aquarium has the shape of a prominent fossil ship, both indoor and outdoor. It is divided into three floors. The ground floor has aquariums: thousands of rare creatures are contained in an autumn ocean. The Aquarium is designed with surrounding glass. Therefore, visitors will see sea animals, sharks, grouper, arowana, and eel. The second floor is where souvenirs are sold. And the third floor is a seafood restaurant with fresh on-site dishes. 
Famous spots in Hon Mieu: Tri Nguyen Aquarium, Bai Soi, Bai Tranh, the fishing village
Address: Tri Nguyen hamlet, Vinh Nguyen Ward, Nha Trang City
Aquarium ticket price: 90.000 VND / adult, 60.000 VND/ child
Must-try dishes in Nha Trang
In terms of cuisine in Nha Trang city, visitors not only can try a great deal of fresh seafood but also have the opportunity to enjoy unique takes on typical Vietnamese recipes. 
1. Banh Canh Cha Ca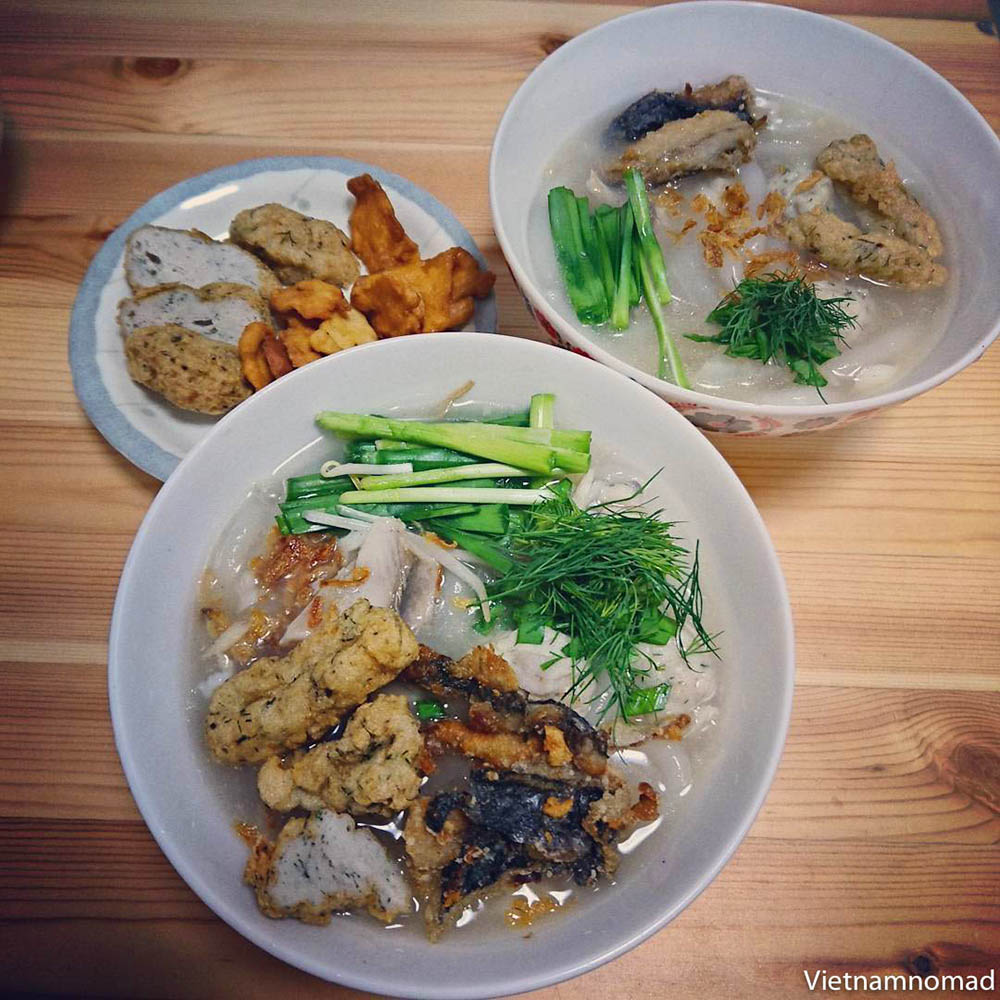 Traveling to Nha Trang, you cannot miss this specialty – Cha Ca, which is also known as grilled-fish. People here often combine grilled-fish with many dishes, but the most famous is still Banh Canh Cha Ca. Noodles soup bowl just has both fried and steamed grilled, which is sweet, fresh, and delicious. If you have this grilled-fish with the light soup water, nothing is more excellent.
Some restaurants we recommend:
Ba Thua Restaurant: 55 Yersin

Nguyen Loan Restaurant: 123 Ngo Gia Tu

Quan Phuc: 53 Van Don
2. Bun Ca Dam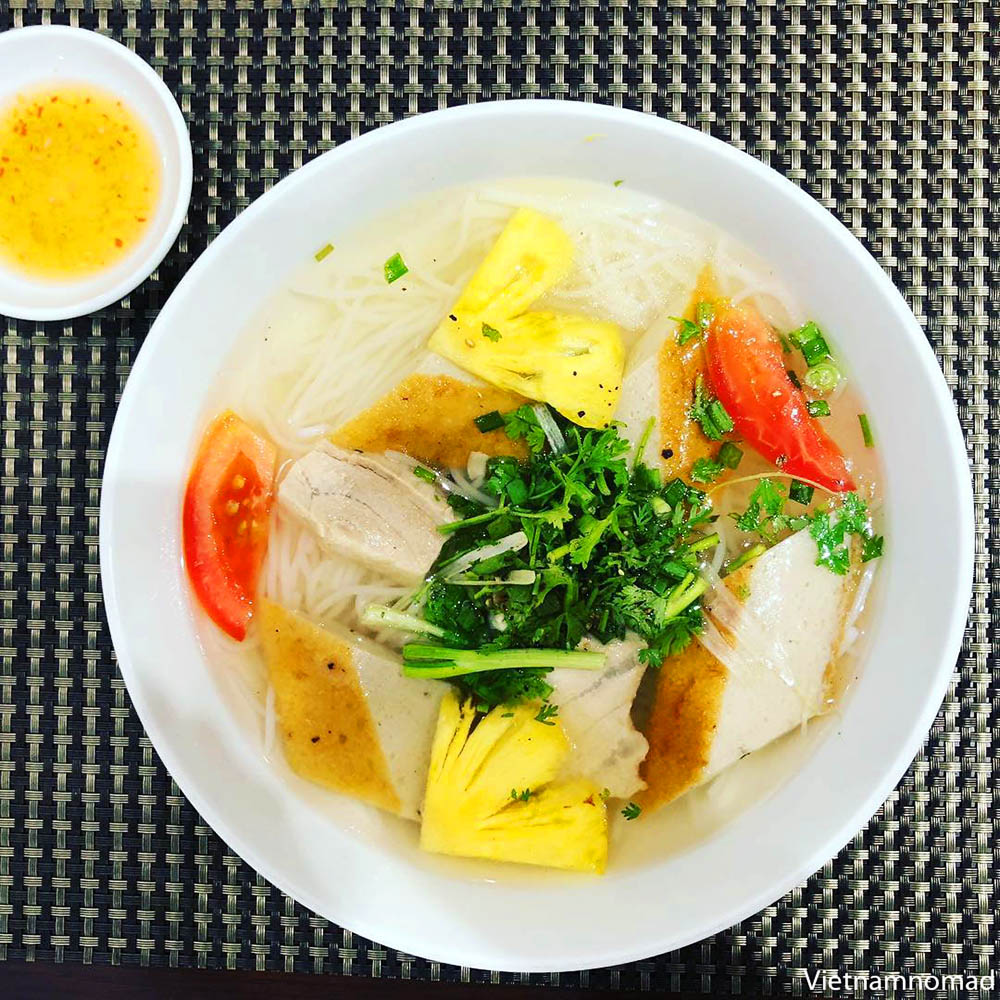 Bun Ca Dam is not only a famous dish in Nha Trang but also a "national" food of Khanh Hoa. In general, Bun Ca Dam is quite similar to Banh Canh Cha Ca, except for using another kind of noodles. A standard bowl of noodles with enough flavor has long thin noodles, fried grilled-fish, a little coriander, served with raw vegetables.
Some suggestions for you to enjoy Bun Ca Dam:
Nam Beo Restaurant: B2 Phan Boi Chau apartment building (near Dam market)

Cay Bang Restaurant: 06 Han Thuyen

87 Yersin
3. Bun Sua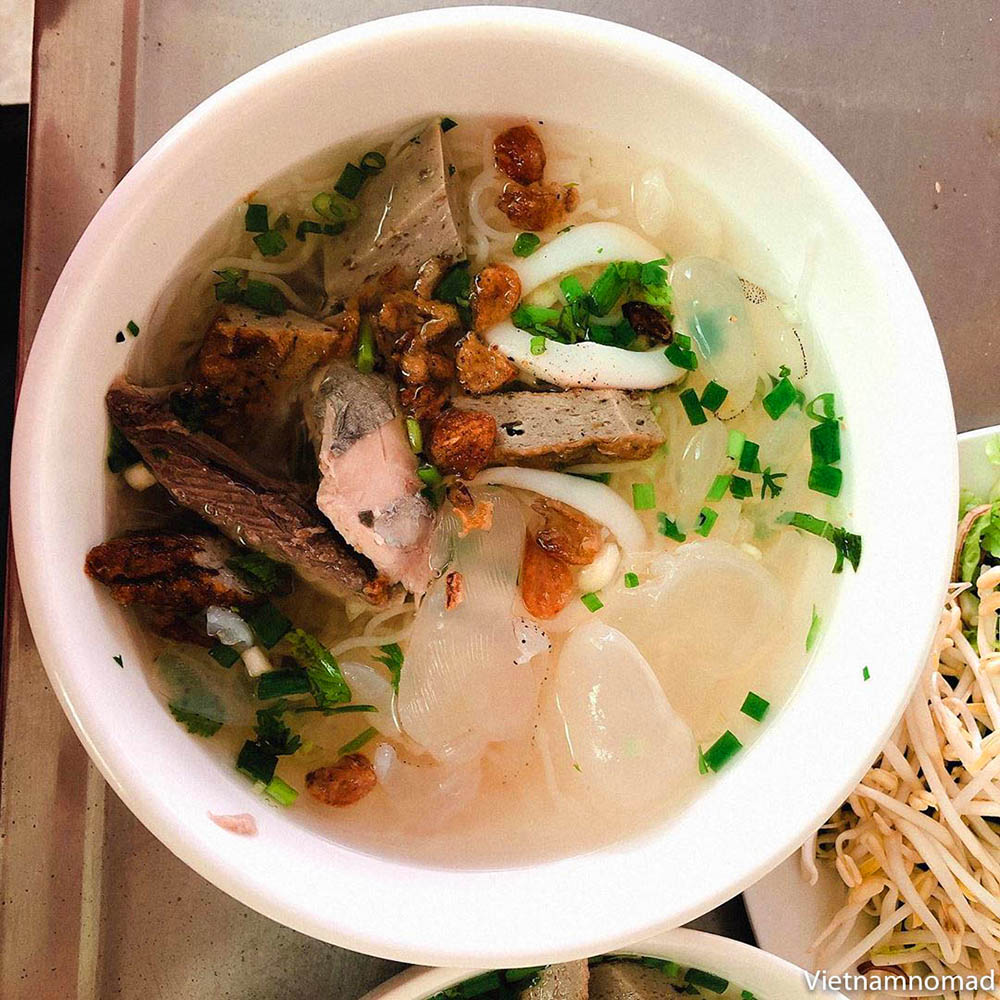 Another famous noodle dish of Nha Trang is Bun Sua, which is also known as jellyfish noodles. This is a popular breakfast dish among locals. Jellyfish is so fresh because right after it is caught, it is just blanched, then you can have it serve with noodles immediately. When eating, you will feel the chewy, crunchy jellyfish pieces that remain the natural sweetness. Some places also add grilled-fish to make diverse dishes. 
Some suggestions:
Nam Beo Restaurant: B2 Phan Boi Chau apartment building (near Dam market)

Nguyen Loan Restaurant: 123 Ngo Gia Tu

87 Yersin
4. Nem Nuong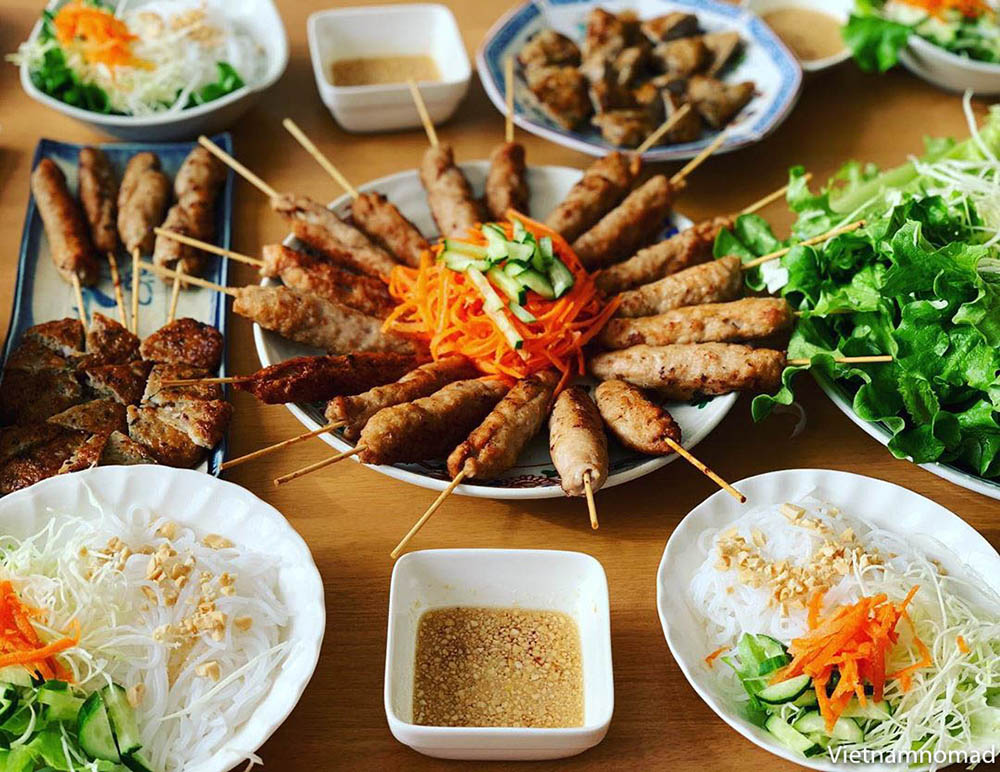 No one knows where Nem Nuong (or fermented pork rolls) originally came from and started to be famous, but it's a common thing that self-sufficient tourists coming to Nha Trang without eating Ninh Hoa fermented rolls is a big mistake. Nem is eaten as a rolling dish, accompanied by fried rice paper, raw vegetables, pickled green papaya and ground meat dipping sauce having fatty peanuts.
Addresses to try:
Dang Van Quyen Restaurant: 16B Lan Ong, or Phan Boi Chau – Han Thuyen intersection

Ngoc Tien Restaurant: 59 Le Thanh Phuong

Nha Trang Restaurant: 39 Nguyen Thi Minh Khai
5. Banh Can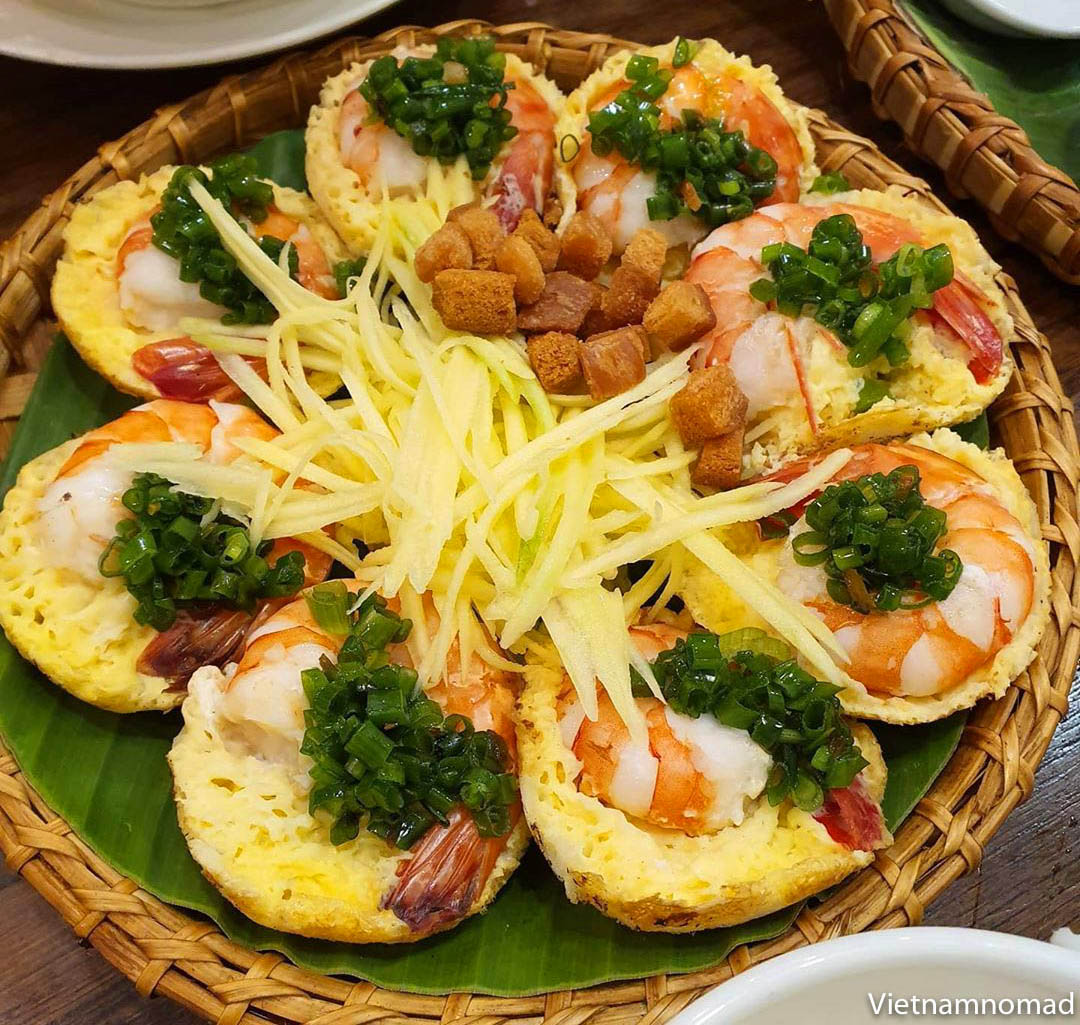 Banh can is one kind of cake having crispy rice cake topped with your choice of quail egg, fresh or dried meat and seafood. Banh Can looks pretty similar to Banh Khot but has an entirely different flavor. The main ingredients are rice flour, eggs, shrimp, and squid. The unique thing of Banh Can is the sauce, a mixture of sweet fish sauce, braised fish sauce, shiso, onion, lemon, chili, and garlic. Visitors can find this dish all over Nha Trang, it is freshly cooked in round pans over a coal brazier, and are sold in pairs due to their rather small size. 
Some addresses for you to enjoy Banh Can:
151 Hoang Van Thu

165 Nguyen Trai (near Nguyen Trai – Cao Ba Quat intersection)

Co Tu Restaurant: 7A Thap Ba (opposite of Ponagar Tower)
6. Seafood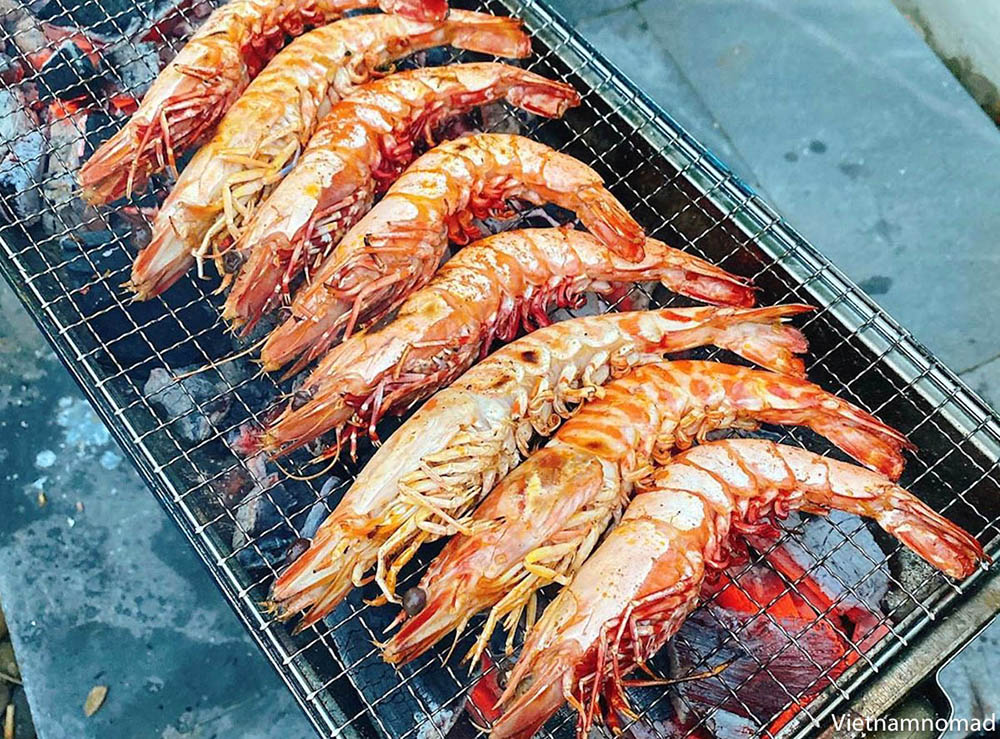 Finally, how can you forget seafood when going to the beach? Not only is the food fresh, but the city also has an abundance of cheap and varied seafood products supplied by local fishing villages such as prawns, squid, crabs, jellyfish, and shellfish of all shapes and sizes. You can choose whatever kind of seafood you like, and then the price will be decided by weight. Then, you can have your seafood dish rare, steamed, fried, barbecued, or cooked in a hotpot. Some dishes that are highly recommended are pan-fried squid with pork stuffing in tomato sauce, grilled red snapper, and shrimp in tamarind sauce.
Addresses to try:
Hai San Binh Dan: 06 Ngo Sy Lien

Long Vu Restaurant: 133 Thap Ba

Restaurants along Bo Ke Street
Annual festivals in Nha Trang
Notably, Nha Trang also has many festivals taking place all year round. If you are keen on the local culture, you probably do not want to miss these occasions.
Po nagar Tower Festival 
Po Nagar Tower Festival is one of the most famous festivals in Khanh Hoa, which is held solemnly every year (20th to 23rd of the third lunar month) in order to praise the merit of Motherland, pray for peace, favorable weather, comfort and happy life. It can be said that the festival is the bridge of cultural exchange and integration process between the Cham and Viet people.
Joining the festival, visitors will have the chance to discover a number of special activities and many worshiping ceremonies such as the statue-bathing ceremony, the dress-changing for mandarins ceremony, and the sacrifice ceremony. In addition, visitors can also contemplate cultural and art performing activities, exhibitions with unique characteristics of the Ponagar Tower Festival which is full of Cham ethnicity.
Hung Temple Festival
Heard about Hung Temple Festival, tourists often think of Phu Tho province, but this festival is also held in Nha Trang and popular with visitors.
The Death Anniversary of Hung Kings is a festival with great national significance and solemnly held with traditional ceremonies such as the announcement of the anniversary, the traditional female sacrifice, and the traditional male sacrifice. The festival begins with an incense offering ceremony at Thuong Temple. The offerings have a five-fruit tray, Banh Chung, Banh Day to remind the legend of Lang Lieu as well as a tribute to King Hung, who taught people to grow rice. Coming to the festival, each visitor has their very own feelings and admiration for their ancestral homeland as well as discover many special features in the Nha Trang festival.
Fish-wishing festivals
Fish-wishing Festival, also known as Ca Ong (whale) festival, takes place at Ong Imperial Tomb – Nha Trang City. This festival is held on the anniversary of the whale's death in the spring and autumn. If you come to Khanh Hoa during February and March, you will have the chance to attend this festival, Ong Imperial Tomb is close to the city center so traveling there is very easy and fast.
This festival is full of spirituality and reflects the culture of coastal fishermen. In the mind of people living by fishing, the whale is considered as the god of the South Sea, a god who always blesses and helps their fishing trip go smoothly. The image of the whale symbolizes a tendency toward good acts as the hardworking fishermen themselves, year-round friends with the sea.
Lord Shrine (Am Chua) Festival
Every year, on March 1st to 3rd of the lunar calendar, Am Chua festival will be held right at Am Chua monument, located on Dai An mountain, Dien Dien commune, Dien Khanh District, Khanh Hoa.
Similar to the Ponagar Tower Festival, the Am Chua festival is held to commemorate the Mother Thien Y An Na. The rituals take place very solemnly, showing the devotion and adoration to the Holy Mother, and praying for favorable weather, the life of the people to be peaceful. 
According to the recorded story, Am Chua is the place where Mrs Po Nagar was born and raised when staying with foster parents, while the Tower of Po Nagar is the place to worship her when she is holy. And the custom of worshiping Thien Y Thien A Na originated from the beliefs of the ancient Cham people.
Hopefully, the information, as well as travel experience in Nha Trang above, will help you have proper preparation before heading to the place. Nha Trang is a beautiful coastal city and one of the 10 best destinations in Vietnam, don't forget to fully enjoy this beautiful coastal city, have the most unforgettable memories and send the message to tell us what Nha Trang is in You!
Meet in Vietnam!