What is bun ca?
Bun or rice noodles are the key ingredients found in many Vietnamese dishes. We proudly own a rich selection of rice noodle soups, mix and match with abundant local ingredients to create endless varieties. Among them, bun ca (bún cá – fish noodle soup) seems to be the most obvious creation since Vietnam is gifted with a long coastline and diverse sources of seafood; however, it is sadly an underrated dish among travelers. So, let us introduce you to this delicious and nutritious soup, which will capture your heart from the first taste.
The origin of bun ca
There are several versions of bun ca varying across the country, and actually, each of them has a different origin despite the similarity of the key ingredients. Bun ca in North and Central Vietnam was created along the fish villages where people tried to make use of their abundant source of seafood. Meanwhile, in the South, it is believed that the fish noodle soup was adopted from our neighboring friend – Cambodia. Follow down to the next section to find out more about each variety- its underlying story, recipe, and eating culture.
Types of bun ca
Although being called by the same name bun ca or fish noodle soup, all the varieties are actually very different; some of them are not even related except for the use of fish in the recipes. We will introduce to you all the bun ca highlights, traveling from North to South. Let's start off with the capital city Hanoi.
Bun ca Hanoi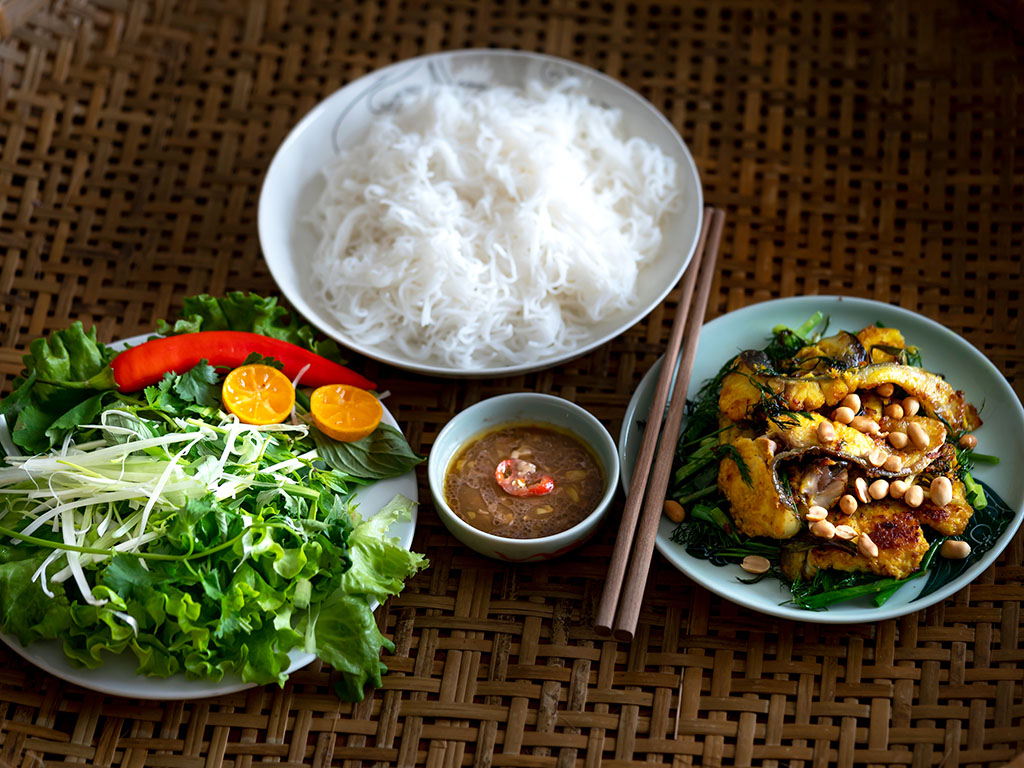 Not long ago, we had a chance to sample bun ca or fish noodle soup in Hanoi, and it was a mind-blowing experience, making us wonder why this dish has been so underrated.
To make the broth, fish bones are first slow-cooked with grilled ginger and shallots to create a light fishy yet warm layer of aroma. After around two hours, stir-fried tomatoes and pineapples are added. One exciting thing we found about the broth is its seasonal ingredients. Most commonly, doc mung (also known as giant taro stems) and dill are used to provide a herbal depth of flavor and a fresh color to the soup; however, these are sometimes substituted by water celery or bean sprouts. And just by that, we have such subtlety of sweet and sour soup, which is for sure a comfort food in any circumstance.
Despite the seemingly simple broth, the highlight of bun ca Hanoi is definitely the crispy deep-fried fish fillets. Normally, tilapia and snakehead fish are the most favored because they are less bony and ideal for fillets. Fish fillets are super crispy outside while still soft and moist inside. They were so good that we had to order an extra portion to enjoy how the shiny brown-colored pieces of fish melted in our mouths. We believe the secret that makes these fish taste even better is the dipping sauce and the pickles. The dipping sauce is mixed with kumquat juice, which has a more delicate sourness, and minced garlic and chilies. One more thing that distinguishes bun ca Hanoi from other versions is the pickled bamboo shoots. Typically, in Vietnamese cuisine, we use carrot or green papaya pickles; hence, the use of bamboo shoot pickles in bun ca Hanoi really makes it stand out.
When it comes to enjoying this dish, it can be chosen between bun ca cham (dipping fish noodles) and bun ca chan (fish noodle soup bowl). A portion of dipping fish noodles includes a plate of rice noodles, a plate of fried fish fillets, a separate bowl of soup, and a small bowl of dipping sauce. This way of serving will make sure the fried fish is not soaked in the hot soup and remains crispy. Otherwise, you can opt for bun ca chan – which means all the ingredients are readily placed in one single bowl and the broth is added all together. We recommend this version for the first try since it will save you from the complication of too many separate servings on the table.
Bun ca Haiphong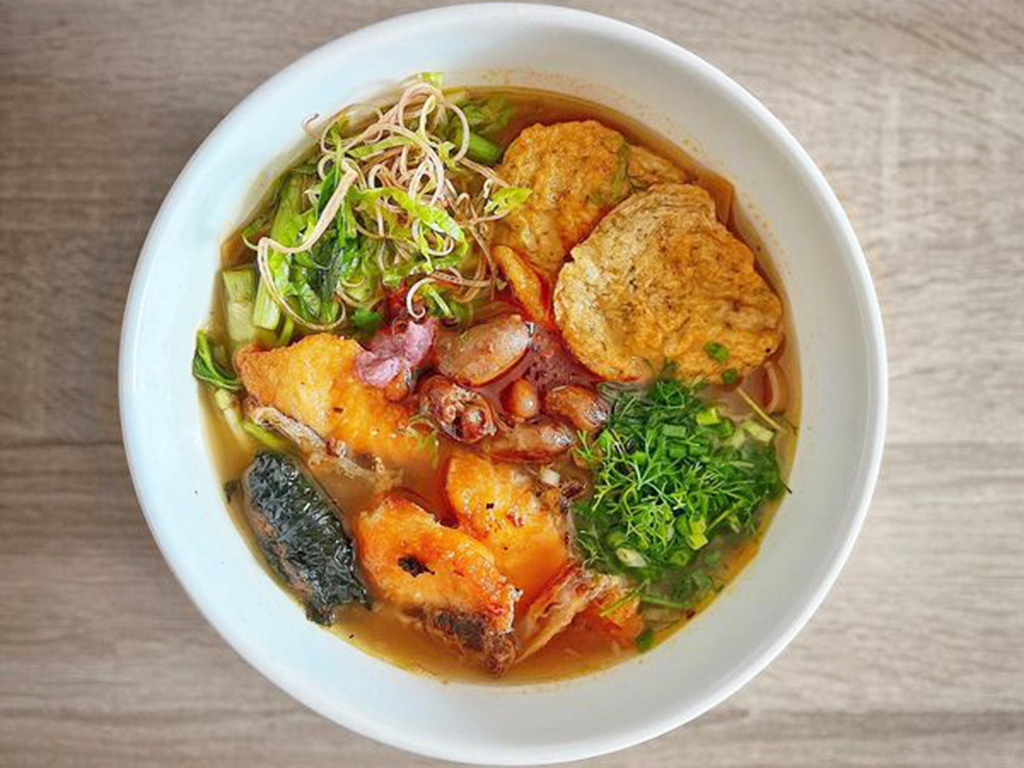 Just around 100km south of Hanoi is the most famous port city of Vietnam – Haiphong. Bun ca Haiphong is very selective in its ingredients and they prioritize quality rather than convenience by using different types of fish for different types of toppings. A right bowl of bun ca Haiphong must have its signature yellow-colored broth coming from fresh turmeric. This turmeric is also the key ingredient that sets bun ca Haiphong apart from other versions.
The broth is super light and subtle, getting all its sweetness from the fish bones. Although fish noodle soup is said to be a comfort dish for a cold day, it is definitely a summery dish by its look. A bowl of bun ca Haiphong is super eye-catching with yellow turmeric and pineapple, red tomatoes, green onions and dills, brown fried fish fillets, and white noodles. One special thing about bun ca Haiphong is that they can be served with pork legs and fish maw as well.
Bun ca Haiphong is typically not eaten with pickles but only fresh vegetables. The green garnish includes shredded banana flowers, beefsteak leaves, and lettuce.
Bun ca Nha Trang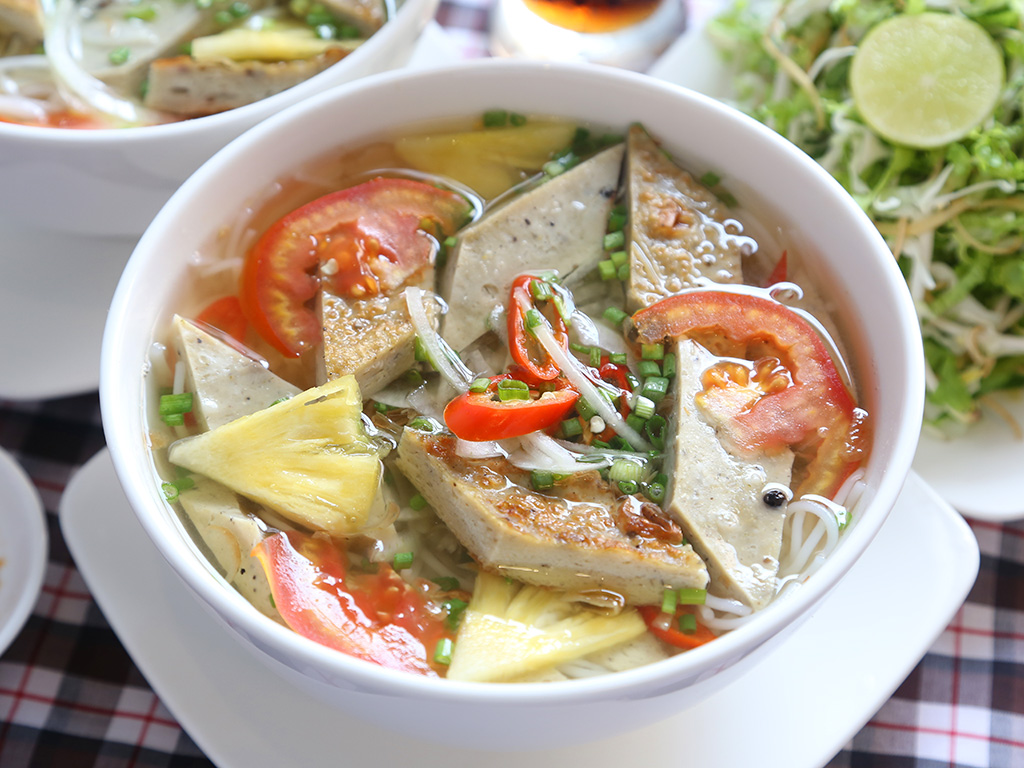 Traveling South to one of the most popular beach cities – Nha Trang, we will find a totally different vibe of fish noodle soup. Just like pho in Hanoi or com tam in Saigon, bun ca is well known as the specialty of Nha Trang. In Nha Trang, instead of fried fish fillets, people use fresh fish and fish cakes as the main toppings, which is also the highlight of this version. It is believed that people came up with the idea of making fish cakes to preserve fish after a good haul of fish. Therefore, the fish cakes are also varied according to the types of fish caught from a certain fishing trip.
Nha Trang coastal is gifted with big currents of mackerel, barracuda – a saltwater ray-finned fish living mostly around coral reefs and preying on smaller fish, and lizardfish, which are also the most often used ingredients for making fish cakes. The process of making fish cakes is a meticulous one, requiring a lot of time and techniques. Fish fillets, after being seasoned with lots of pepper, chilies, and green onions, will be made into cakes and either steamed or fried for better preservation.
In a bowl of bun ca Nha Trang, you will find a slice of fresh tuna or brassy chub fish, jellyfish, and 4-5 thin slices of fish cakes, topped with coriander and green onions. Any Vietnamese noodle soup cannot go without some garnish. Bun ca is served with bean sprouts, shredded cabbage, and baby mustard leaves. Finally, only with bun ca Nha Trang that you get to add it with pickled red onions and complement it with ginger & chili sweet and salty fish sauce.
Bun ca Chau Doc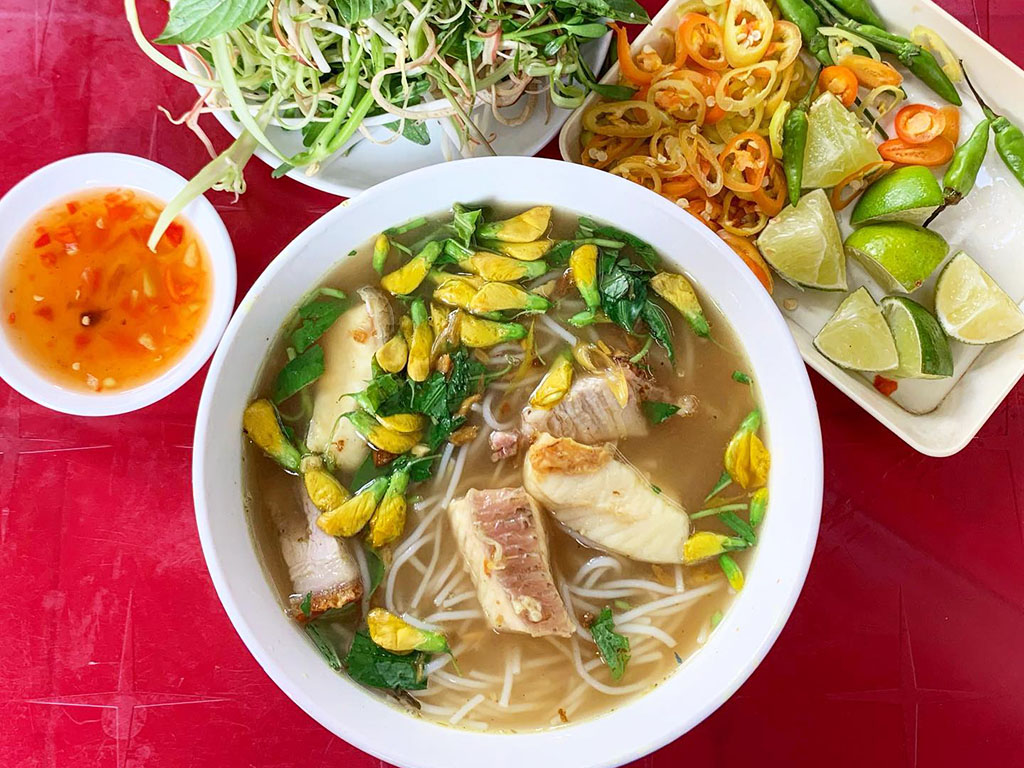 Of all the varieties of fish noodle soup, bun ca Chau Doc is, for us, the most interesting not only because it highly reflects the culinary features of the Mekong Delta but also because it has the ingredient and the taste, which takes a little gut to try.
Chau Doc is home to some of the largest Cham communities in Vietnam, neighboring Cambodia. Bun ca Chau Doc, therefore, is believed to be introduced to Chau Doc as part of the cultural integration of the two neighboring communities. Over time, it was adopted and adapted to suit the local palate. Bun ca also is recognized as a specialty – a must-try when visiting the South of Vietnam, especially in Chau Doc.
The broth of this fish noodle is already unique. People first boil snakehead fish and use that very water as the base of the broth. Apart from common ingredients such as fish bones and pork bones, in Chau Doc, people use a special spice called cu ngai (fingerroot), which is a close relative of ginger and turmeric but less strong and spicy. The complete broth, therefore, is not only lightly sweet but also has a hint of spice aftertaste.
The snakehead fillets are stir-fried with fresh turmeric and lemongrass, which gives them a lovely yellow look and herbal aroma. By doing this, the fishy smell is also got rid of. Before serving, fish fillets are blanched in the big pot of broth and placed nicely on top of a bed of rice noodles. Besides fish fillets as the main toppings, a bowl of bun ca Chau Doc can also be added with fried fish cakes, roasted pork cubes, sliced lean pork, or well-cooked balut eggs by order. Having all of these toppings in one try might be a bit too much, so we suggest you first try the basic combo (fish fillets, fish cakes, and roasted pork).
Another highlight of bun ca Chau Doc is the side vegetables, which can only be found in the Mekong Delta. Specifically, apart from some common Vietnamese herbs, shredded banana flowers, and morning glory, you will find the sesbania flower – which is a species in the pea family with vibrant yellow color and a bit of leafy aftertaste. Only in bun ca Chau Doc that you can find this unique and beautiful garnish.
Bun ca ingredients
As described above, the ingredients of bun ca are varied according to its hometown. However, to help you picture this refreshing noodle soup, we will show you the recipe for bun ca Nha Trang – which we believe to be the more accessible and easy-going for a try.
The fish fillets
Most commonly, saltwater fish, such as tuna, mackerel, and brassy chub, are typical in bun ca in the Northern cities, while snakehead fish and tilapia are used more in Southern cuisine. Fish fillets are separated from the bones, and they are either used for making fish cakes or being deep-fried. Either way, fish are often marinated with daily cooking seasonings, lots of pepper, ginger, or turmeric (or both). So you can be ensured that there is neither an unpleasant fishy smell nor taste left but only moist and soft fish toppings.
The broth
Bun ca broth is, of course, slow-cooked from fish bones. But before that, a big pot of water is added with grilled ginger and whole branches of lemongrass and cooked until it comes to a boil. Fish bones are added next and slow-cooked for 40 – 60 minutes to extract the sweetness. Pineapples and tomatoes, which are already stir-fried with a bit of seasoning and possibly red annatto oil for better color, are then added. A teaspoon of fermented baby shrimp paste and rock sugar are optional but are thought to bring more flavor to the broth.
Fish cakes
Fish fillets are first marinated with minced red onions, green onions, fish sauce, sugar, pepper, and cooking oil. After that, they are finely ground and kneaded by hand to get a nice smooth and chewy texture after cooking. Minced dill can also be added by preference but not necessary. The mixture is divided into cookie-sized pieces and steamed. During the steaming process, egg yolk can be added to the surface for better coloring. The steamed fish cakes can be stored in the freezer for weeks. When serving, they are fried and good fried fish cakes are meant to be chewy in texture and well-seasoned in their taste.
Sauce
Bun ca goes with various types of sauce, but basically, they are fish sauce based. One common dipping sauce is sweet and salty sauteed chili sauce. Minced chilies are stir-fried with minced garlic in cooking oil until they get a jam texture before being added to the fish sauce for saltiness. Another type of dipping sauce we find delicious to eat with bun ca is ginger and chili fish sauce. It has a spicy and herbal depth and perfectly balances the cold fish with its warm element according to the yin and yang principle.
Garnish
Bun ca is well combined with baby mustard leaves and bean sprouts. Some other green garnishes that can be found eating with fish noodle soup are shredded cabbage, banana flowers, and lettuce.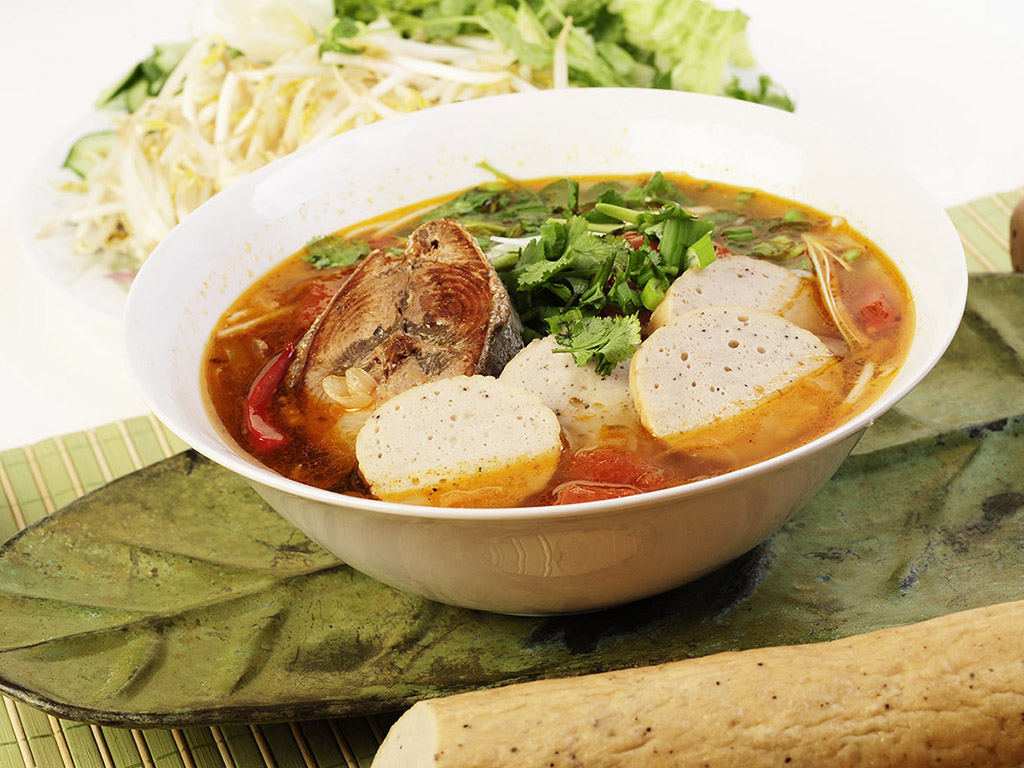 How to eat bun ca?
When eating bun ca, you first add some green to the bowl when it is first served to you. The broth is now still warm enough to blanch the vegetables. Make sure you taste the broth and season it according to your preference. Traditionally, we would squeeze a few drops of lime juice, add some pickles, mix it up and enjoy.
The dipping sauce is either readily served in a small bowl or kept in a big container on the table. You pour a bit of sauce into the bowl and dip the fish or fish cakes, bit by bit when eating.
Where to eat bun ca?
Bun ca is a delicious and nutritious must-try dish when visiting Vietnam. The freshness and perfectly balanced taste of the sea will win your heart from the first taste. In any part of the country, you can have a try and, if possible, embrace the differences between bun ca in the North, the Central, and the South. We believe it will be an interesting culinary experience. Here are some suggestions on where to try bun ca in Vietnam.
Hanoi
Bun ca Cay Si
Address: 5 Ngo Trung Yen, Hoan Kiem District
Price: 40,000 VND – 50,000 VND ($1.6 – $2.1)
Bun ca Hang Dau
Address: 42 Hang Dau, Hoan Kiem District
Price: 40,000 VND – 50,000 VND
Haiphong
Cau Doanh
Address: 151 Ho Sen, Le Chan District
Price: 25,000 VND – 40,000 VND
Bun ca cay 66 Le Loi
Address: 66 Le Loi, Ngo Quyen District
Price: 30,000 VND
Nha Trang
Bun ca Hanh Nhien
Address: 32 Le Dai Hanh, Nha Trang City
Price: 25,000 VND – 50,000 VND
Bun ca Co Ba
Address: 105 Hoang Hoa Tham, Nha Trang City
Price: 25,000 VND – 45,000 VND
Chau Doc
Bun ca Chau Doc Co Nga
Address: 82 Nguyen Van Thoai, Chau Doc City
Price: 15,000 VND – 35,000 VND
Bun ca Van
Address: 105 Phan Dinh Phung, Chau Doc City
Price: 18,000 VND – 30,000 VND