What is com tam?
People often say the culinary history of Ho Chi Minh City (Saigon) is not as rich and diverse as other parts of the country; however, this is where the culinary delights of the country come together and are taken to the next level. Among all the dishes that win the heart of international food lovers, Saigon is proud to be home to com tam (cơm tấm – broken rice) – the go-to dish for Vietnamese from all walks of life. Your trip to Vietnam won't be complete without tasting this food specialty. Now, let us tell you about how this culinary highlight came to life and other exciting facts about it.
The origin of com tam
The practice of eating rice for daily meals is the result of the Chinese influence and the fact that wet-rice agriculture is what we rely on economically. One of the products of the rice harvest is tam – the broken and fractured rice grains. In the old days, tam was used by the lower-class or underprivileged people, who could not afford whole rice grains. At some point, the price of tam was so cheap that it was used to feed cattle. There are different versions of the creation of com tam, and we are telling you the one that makes more sense and is most interesting in our opinion.
In the 1930s, the French colonies were on a mission to make Saigon one of the world's busiest harbors. As part of it, a great number of workers and builders were hired to build large-scale construction. At that time, there was a lady, who was intimately called Ma Hai, selling steamed rice with caramelized pork and eggs. Although her food was undoubtedly good, she often got complaints about the price which was exclusively expensive for the blue-collar workers. That bothered her a lot since she knew these manual workers were her target customers. That was when she came up with the idea of using broken rice grains instead of whole grain rice to lower the price. Ma Hai cooked broken rice with pandan leaves and heated them in a steam pot. At first, she only used cheap and simple ingredients such as scallion oil, crunchy deep-fried pork fat, and a thick sweet and spicy fish sauce mixed with minced garlic and chili. The affordable price and creative rice combo attracted even more customers from the French engineers to the poor manual workers. She then made bi – shredded pork skin – as a complimentary topping in return for the support of her customers. Later on, to meet the demand of a wider range of customers, she created cha (or steamed egg meatloaf) which is a steamed combination of egg, minced pork, and other veggie ingredients.
The reputation of this com tam finally reached the French people in authority and they requested pork chops that resembled the Western-style steak. And that's how the last topping – chargrilled pork chop – was added to the dish. This also explains why we are now still eating com tam with a spoon and fork, instead of traditional chopsticks. Since then, whenever mentioning com tam, the first thing that comes to one's mind is the combo "suon – bi – cha", which is com tam topped with chargrilled pork chops, shredded pork skin, and steamed egg meatloaf.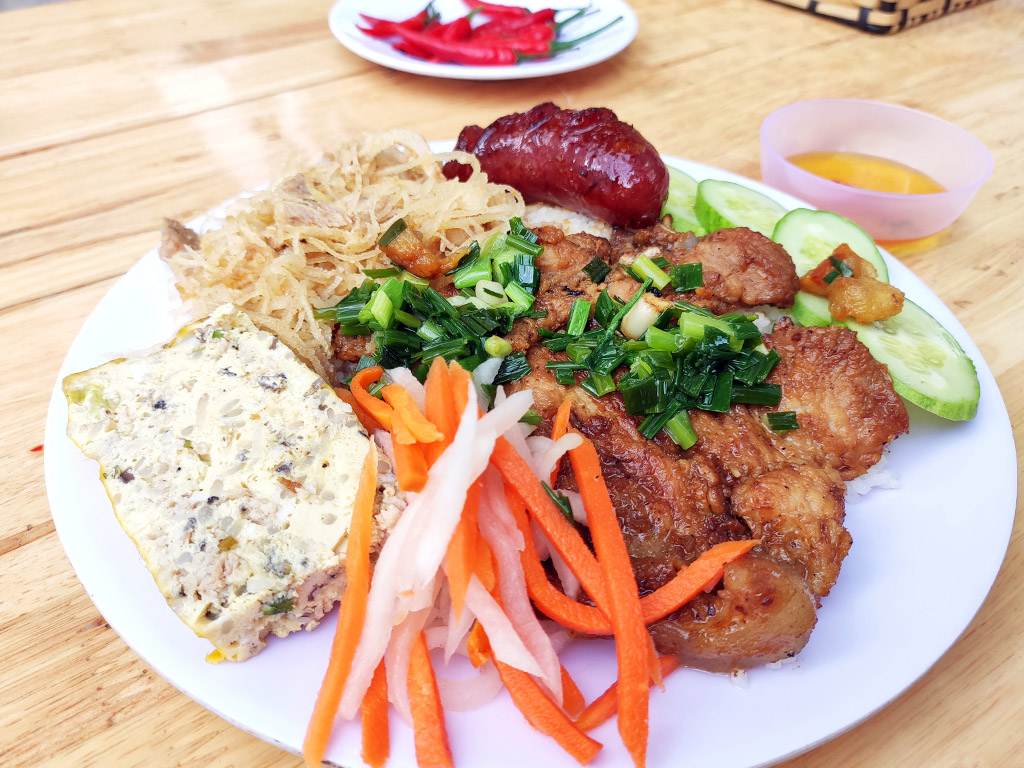 Com tam ingredients
Although com tam is a popular dish made to suit the general public in terms of both the taste and the price, the assembly of all the toppings requires a great deal of preparation. Despite uncountable varieties of this treat, a typical com tam plate must have its iconic elements as below:
Com tam (broken rice): this is surely the primary part of the dish. To eliminate any mossy smell of the fractured grains, the chef carefully rinse them and cook them with a pinch of salt. The steamed broken rice after being cooked is soft, dry, and non-sticky. The rice is kept in a food steamer so that it remains warm throughout the day.
Suon (chargrilled pork chops): the meat used for com tam is firstly marinated with simple local spices and seasonings. A successful piece of pork chop must be grilled on charcoal fire so that it develops a golden char with a deeply smoky flavor while still remaining juicy and tender.
Bi (shredded pork skin): boiled pork skin is thinly sliced into fine threads, let cool, and then mixed with roasted rice powder (or thinh as it is called in Vietnamese). The pork skin threads have a powdery, crunchy texture and a hint of fermented aroma.
Cha (steamed egg meatloaf): this seemingly ordinary side dish is definitely a delicacy. The mince is super soft and moist with crunchy highlights from the wood-ear mushroom inside. The top is brushed up with a shiny golden egg yolk glaze. Apart from eggs, minced pork, wood-ear mushroom, and green bean glass noodles, some restaurants add their signature ingredients such as crab meat and salted egg yolks to their meatloaf, making it stand out from other competitors.
Trung op la (sunny-side-up eggs): we already had steaming, boiling, and grilling cooking methods, so it's time for something fried. The addition of a fried egg is not only for decoration but also for balancing the elements in the dish.
Mo hanh (scallion oil): this garnish is used in a lot of Vietnamese dishes, especially those with grilled meat. More often, scallion oil is mixed with top mo which is crispy deep-fried pork fat cubes. So, the shiny green scallion oil not only adds a perfect final touch to the dish but also creates a nice aroma and texture for it.
Do chua (vegetables and pickles): the dish is not nutritionally balanced without them. A plate of com tam is always served with sliced fresh cucumbers and tomatoes. Knowing that a bit of acidic taste will ease the richness of the cooked ingredients, pickled red and white carrots are also added.
Nuoc cham (dipping sauce): this is the indispensable accompaniment of com tam, completing its explosive taste. Com tam made for Saigon people must be thick in its texture and intense in its flavor. Fish sauce is added with water, lime juice, and sugar. The resulting mixture is complemented with minced chili; depending on personal preferences the fish sauce can be made more salty or sweet.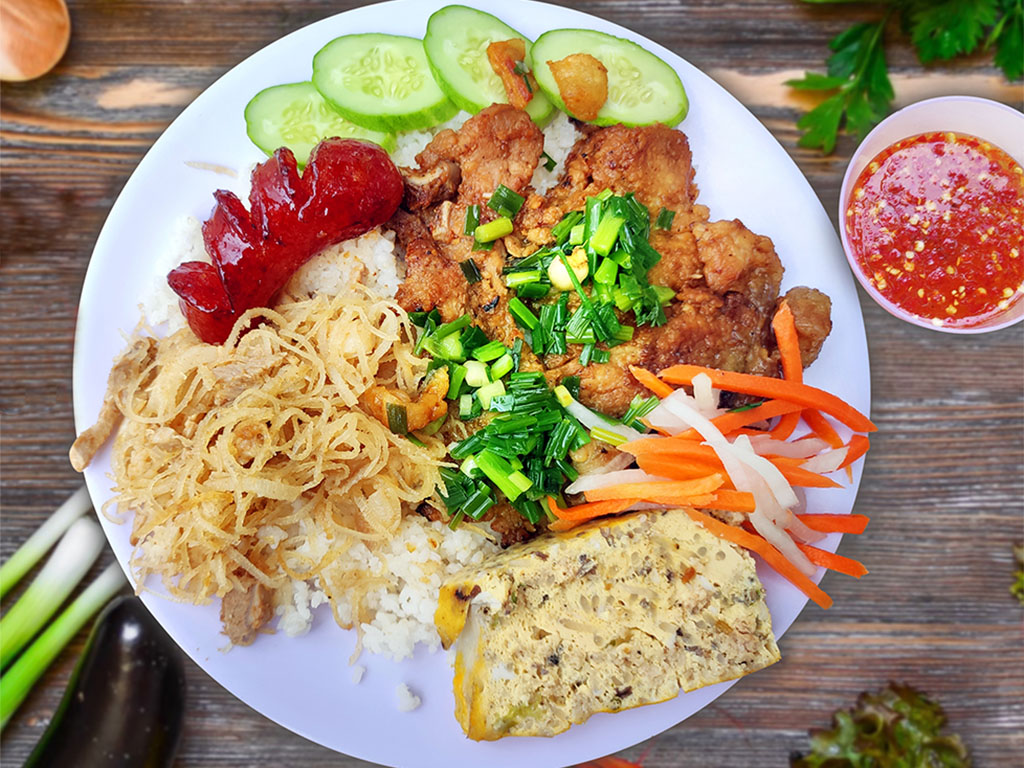 Types of com tam
Due to its convenience, nowadays com tam is chosen as an easy and tasty meal throughout the day. The local com tam food stalls are always packed with people no matter during breakfast, lunch, or dinner, and many of the customers go to their favorite place almost every day. Hence, the cook saw a need to diversify the food choices for their customers and so many varieties of side dishes were made to alter the standard toppings found in a com tam plate. One of the notable alterations is the use of different kinds of pork such as back ribs instead of rib chops or butterflied chops. On top of that, a selection of more than ten home-cooked dishes is displayed including stir-fried vegetables, soups, seafood, and vegetarian side dishes.
Among all the varieties of com tam, there is one outstanding version that is able to gain its own reputation which is com tam Long Xuyen. Long Xuyen is quite a quiet town in the Mekong Delta. It is commented that this version is less greasy and "complex" than com tam Saigon. In Long Xuyen, people use even small rice fractures for the dish. The most noticeable difference is that there is no sunny-side-up egg or steamed egg meatloaf; instead, whole eggs are caramelized and braised in coconut water. When serving, braised eggs and grilled pork are chopped in matchstick size so that they can be easily mixed up with other toppings, somehow like a mixing rice dish. Besides pickled carrots, com tam Long Xuyen is also marked with pickled morning glory.
If you are vegetarian, it is possible to find a non-meat or even vegan version of com tam. Pork chops and pork skin are replaced with textured soybean slices and glass noodles. The seasonings are also switched to vegetarians such as vegan oyster sauce and fish sauce. Some places still use eggs in their steamed egg meatloaf, so if you are vegan, be mindful of it when ordering unless it is clarified to be vegan cha. Vegan cha uses young tofu and tofu skin to replace eggs and meat, ensuring a soft and moist texture not far from its original version.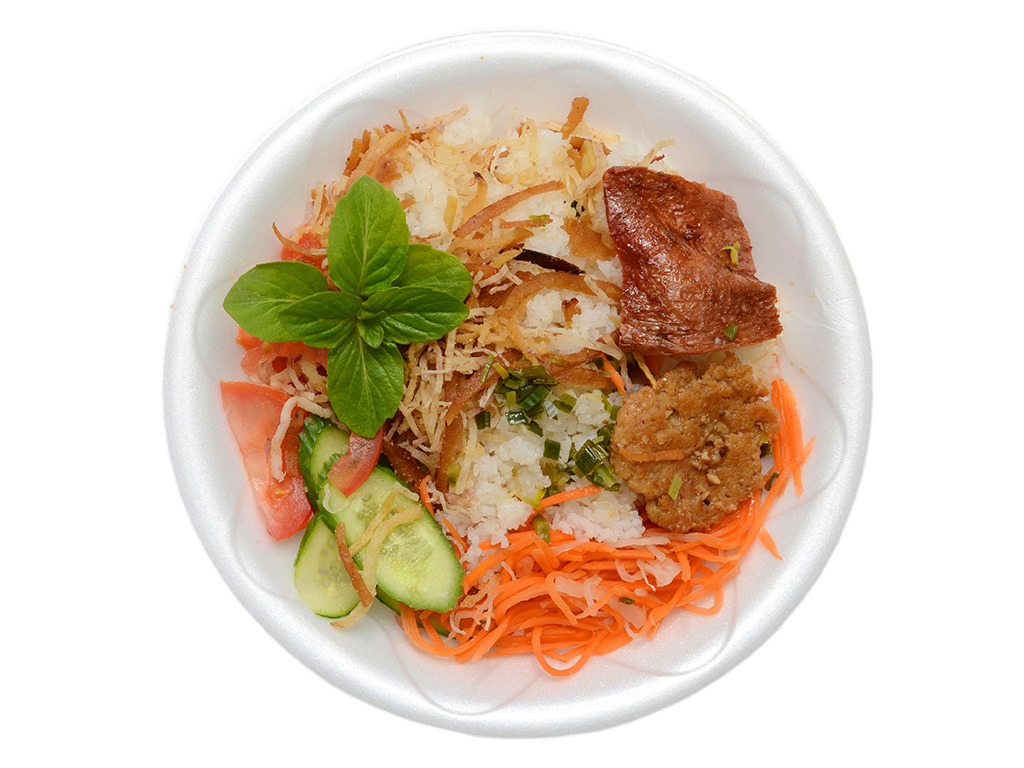 The eating culture of com tam
Honestly, it is not an exaggeration to say that com tam food stalls are as prevalent as coffee shops in Saigon. There is no difficulty finding a com tam restaurant no matter wherever and whenever you are: riding on the street watching out for a distant aromatic puff of smoke, where the pork chops are chargrilled publicly on the sidestreets, that's the sign of a good place. Here are some interesting facts about com tam and its eating culture among Vietnamese people:
We Vietnamese often try to avoid and at least stay away from the puff of smoke released from the grilling oven as the smell of marinated meat and charcoal is so intense that it is stuck on our clothing and lingers in the air for a long time, defeating even the longest-lasting perfume you are wearing.
It is common sense to eat com tam with a spoon and fork with no offense (as we explained in its origin).
Typically, when you order a full combo com tam (or as we call suon – bi – cha), it comes with grilled pork chops, shredded pork skin, and steamed egg meatloaf. However, you can always adjust the ingredients according to your preference by asking for extra scallion oil or pickles, for example. A sunny-side-up egg basically comes by order at an extra charge of 5,000 VND – 7,000 VND ($0.2 – $0.3) while a small bowl of soup is given for free.
Com tam is preferred for breakfast and lunch. If you are craving com tam for dinner, look for a sign written: "cơm tấm đêm" – which means com tam at night. These food stalls usually open late past midnight; so, you can fill up your stomach after an overtime working shift or an exhausting party.
To take advantage of the steamed rice, com tam restaurants often turn into com binh dan, which is a local home-style eatery at lunchtime. Apart from the common ingredients for com tam, these places are filled with endless options of home-cooked dishes, served at a cheap price and in a filling portion. This is the most exciting and quickest way to get to know local home-cooked foods in Vietnam.
Foods at a com tam or com binh dan eatery are kept in food trays and displayed in a big see-through glass food cabinet. This serves as a vivid and real-life menu, which you can physically see and smell. To order, just simply point at whatever food you like from the selection.
During season 3 of MasterChef, the making of com tam greatly contributed to the blind yet extraordinarily talented Vietnamese chef Christine Ha, winning her the prestigious title.
Depending on the quality of the side dishes and the reputation of the eatery, com tam's prices can be significantly varied. Commonly, a regular com tam costs around 25,000 VND – 30,000 VND ($1 – $1.25). However, in a well-set-up restaurant, it can start from 50,000 VND upward. If you order a signature or many side dishes, the price could go up to over 100,000 VND (over $4.5). So make sure you check the price before proceeding with your order.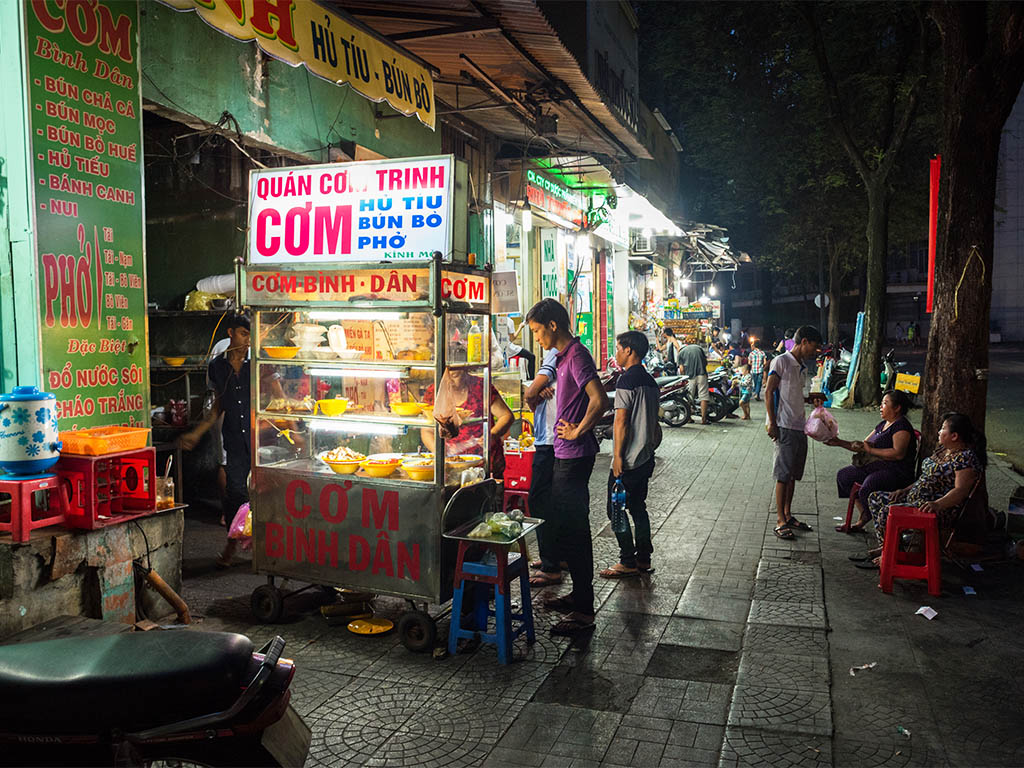 Where to eat com tam?
Com tam is a dish that Saigon people take pride in. It represents Vietnamese culture's quintessential street food spirit by bringing you an explosion of flavors. Note down com tam as a must-try dish when you are in Vietnam, and we guarantee you will not regret it.
Com Tam Bui Saigon
Address: 100 Thach Thi Thanh, District 1
Price: 45,000 VND – 65,000 VND ($2 – $3)
Com Tam Moc
Address: 85 Ly Tu Trong, District 1
Price: 45,000 VND – 74,000 VND
Quan Chay 103 (vegetarian)
Address: 103 Nguyen Thai Binh, District 1
Price: 40,000 VND
Thuy Linh Chau
Address: 53 Trang Thi, Hoan Kiem District
Price: 60,000 VND
Com Tam Quan 1
Address: 178 Hang Bong, Hoan Kiem District
Price: 60,000 VND – 85,000 VND
Long Xuyen
Com Tam Tung
Address: 32 Phan Dinh Phung, My Long Ward
Price: 30,000 VND – 50,000 VND
Quan Cay Diep
Address: 67 Ly Tu Trong, My Long Ward
Price: 30,000 VND – 55,000 VND
Com Tam Ngon
Address: 85 Ha Huy Tap, Thanh Khe District
Price: 35,000 VND
Ba Lang
Address: 120 Yen Bai, Hai Chau District
Price: 35,000 VND – 70,000 VND