What is ca phe sua da?
Vietnam is the world's second-largest coffee exporter and has been recognized by CNN Travel as one of the best places to enjoy a cup of coffee. For Vietnamese people, however, coffee is much more than just a daily shot of caffeine – it's a source of pride and a way of life. The evolution of this bittersweet drink – ca phe sua da (cà phê sữa đá – Vietnamese iced coffee) – is intertwined with the world's turbulence and history. So sit back, take a sip of your coffee, and let us share the story of Vietnamese coffee with you.
The history of Vietnamese coffee
Coffee is believed to have been introduced to Vietnam by French missionaries in the mid-19th century. They initially planted Arabica coffee trees in Northern Vietnam, but yields were only 400-500 kg/ha, which decreased further due to unsuitable soil and climate conditions.
In 1908, the French replaced Arabica with Robusta and Liberica to increase production. However, they soon realized that the Central and Southern regions were more suitable for coffee growing, and the cultivation gradually shifted southward to the fertile Bazan soil of the highlands.
In 1925, coffee was grown in Tay Nguyen (Central Highlands), marking a significant milestone in Vietnam's coffee industry. The bumper crops in this region paved the way for further expansion of coffee production in other parts of Southeast Vietnam, such as Binh Phuoc and Dong Nai.
From 1937 on, coffee was recognized as a crucial industrial crop and was grown on a large scale. Since the 1990s, Vietnam has been a leading coffee exporter in the world, providing jobs for over three million Vietnamese people.
The history of ca phe sua da
Ca phe is a French-borrowed word for café with a similar pronunciation. In the mid-19th century, coffee was a popular drink among French soldiers and priests, but importing fresh milk to Vietnam was impossible due to the long distance and hot weather. The lack of milk in their favorite drink brought about homesickness, leading to the use of condensed milk as a suitable replacement.
The world situation continued to deeply impact coffee production and culture. Before World War I, coffee was a luxury only affordable to the French and upper classes. However, the outbreak of the war led to a dramatic drop in coffee prices, making it accessible to the Vietnamese people. Over time, the local pace of life and simple needs for a drink transformed coffee into a daily, less decorative drink compared to Western-style coffee. Its low price, good taste, and easy preparation have made it one of Vietnam's most favored beverages.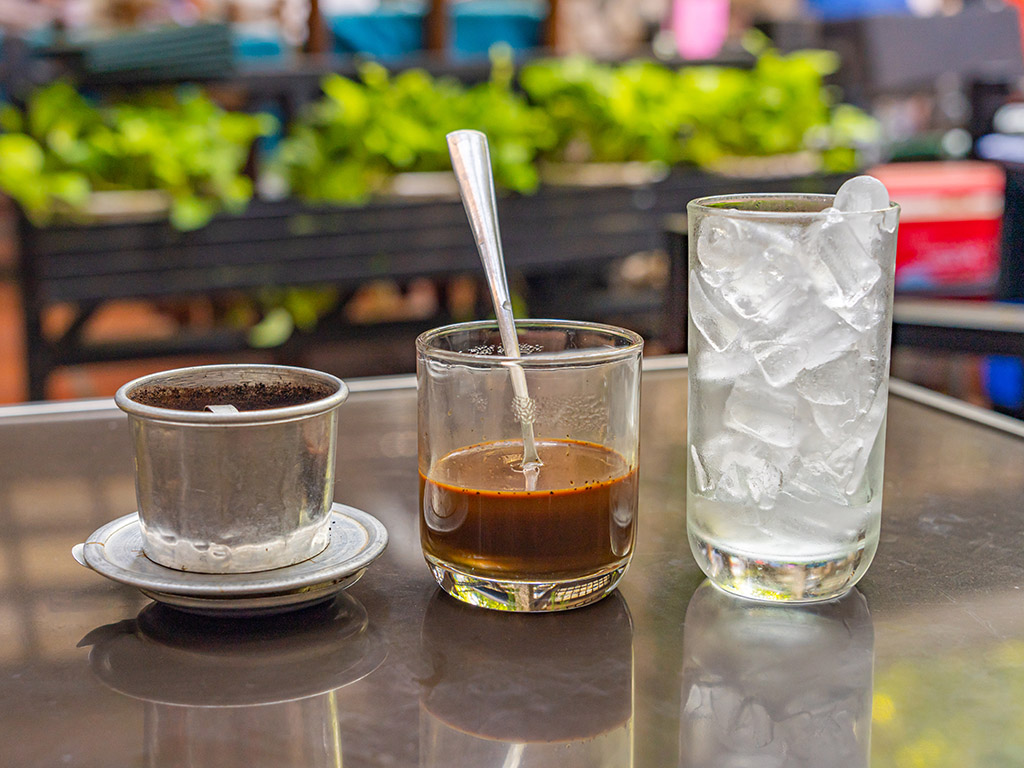 Types of ca phe sua da
In Vietnam, the most popular type of coffee bean is Robusta. It's often described as having an earthy and bitter flavor, making it well-suited to be paired with sweet, creamy condensed milk. Coffee shops can be found everywhere in Vietnam, from small, hidden alleys to the most luxurious buildings. They range from portable coffee counters with plastic stools on the sidewalk to decorative, contemporary outlets. Despite using the same coffee beans, variations in climate and regional tastes have led to a diverse range of exciting ca phe sua da varieties.
Ca phe sua da in Saigon
Ca phe den da and ca phe sua da are the names used in the South for black iced coffee and iced milk coffee, respectively. In Ho Chi Minh City (Saigon), coffee and its culture are intertwined and the drink is loved by people of all ages and backgrounds. Coffee shops are abundant, ranging from small street-side stalls to luxurious contemporary outlets, and serve as a gathering place for the community, especially during breaks and as part of the city's nightlife.
The hot and humid weather in Saigon calls for cold drinks, and ca phe den da and ca phe sua da are the preferred choices. As a sign of hospitality, coffee shops in Saigon often offer a complimentary iced tea (tra da) with unlimited refills.
There are several variations of ca phe sua da in Saigon, including bac xiu (white coffee) and ca phe sua tuoi (fresh milk coffee). Bac xiu is a version of ca phe sua da with extra milk for those who are caffeine sensitive, while ca phe sua tuoi is made with fresh milk instead of condensed milk. Although it may sound similar to Western-style lattes or cappuccinos, these drinks are distinct in both appearance and flavor.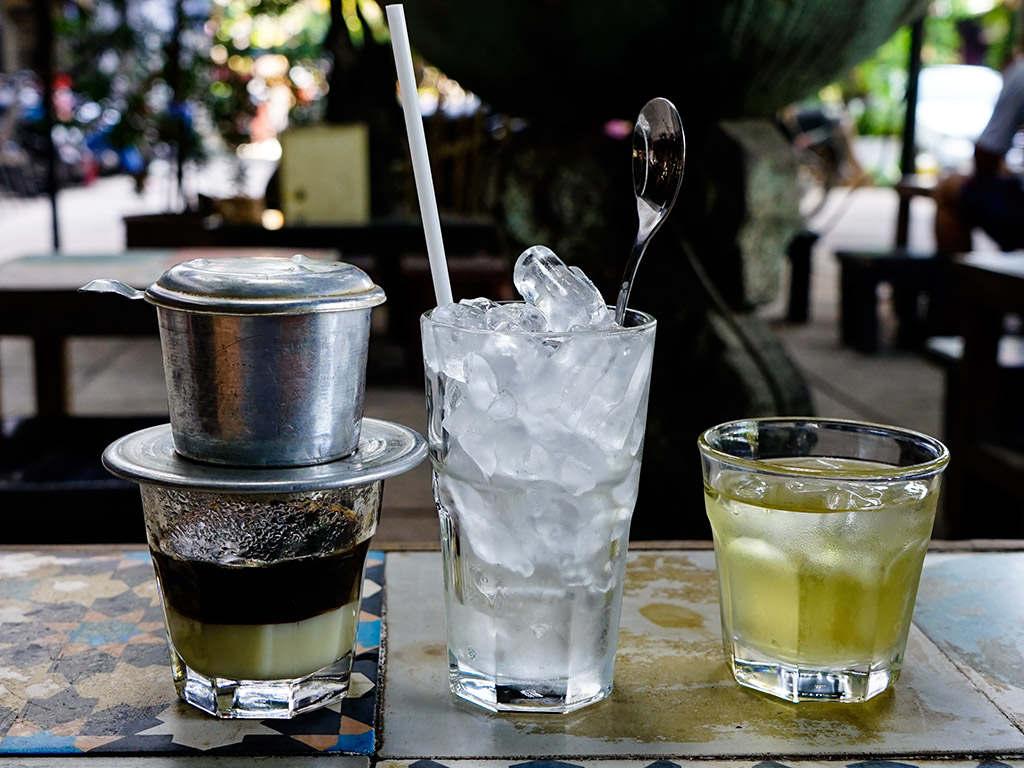 Ca phe nau in Hanoi
The first noticeable difference would be in the naming of the drink. In the capital city of Hanoi, people refer to ca phe den as den nong (hot black coffee) and ca phe sua as nau nong (hot brown coffee).
In Hanoi, ca phe is not the go-to social drink. People in Hanoi mainly drink coffee in the morning before work. The older generations in the old quarter prefer traditional hot tea over coffee drinks, while young people and businesspeople prefer coffee, which is usually sold in well-established coffee shops.
Due to the cold weather, Hanoians prefer hot drinks such as hot black coffee (den nong) and hot brown coffee (nau nong). A glass of nau nong is often placed in another cup of hot water or on a small tealight candle heater to prevent it from getting cold quickly.
Another popular variation of coffee in Hanoi is ca phe trung (egg coffee), which is a unique blend of coffee, sweetened condensed milk, and eggs. It may seem unconventional to combine eggs with coffee, but the result is a harmonious balance of flavors. The strong taste of traditional Vietnamese black coffee is mellowed by the egg layer, which adds a touch of sweetness.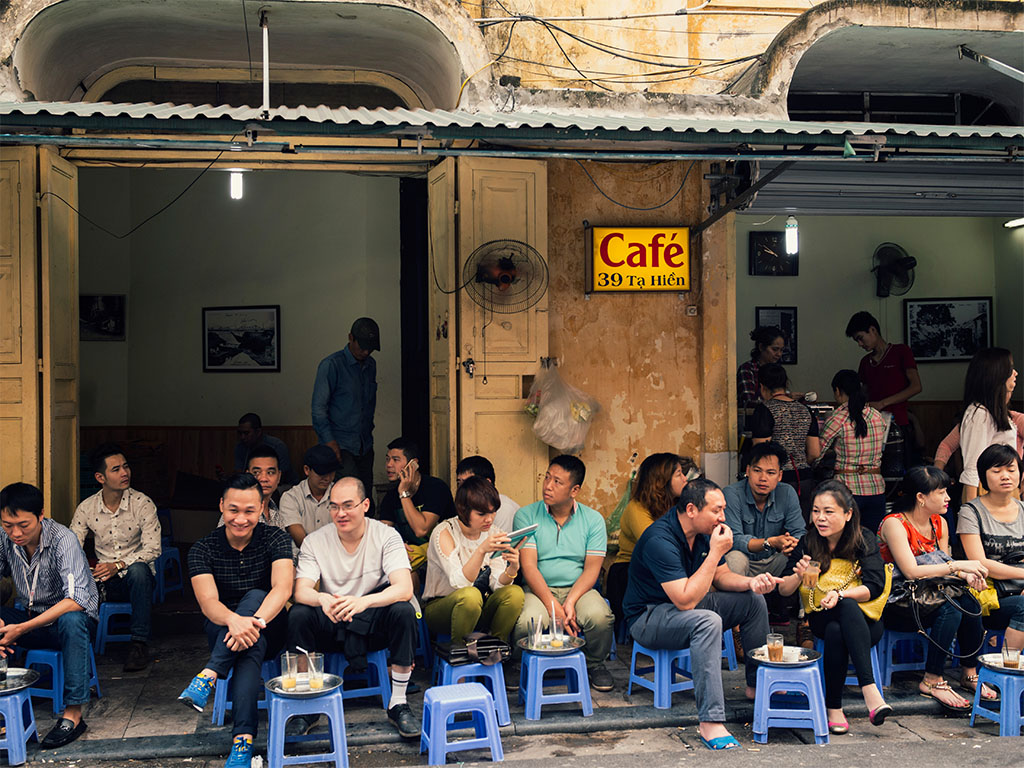 How to make ca phe sua da
Although some rare old coffee shops make coffee using cloth nets, making coffee with iconic Vietnamese filters (called the phin) is more practical and hence more popular. To make an authentic cup of ca phe sua da, you will need:
An aluminum or inox filter (the phin)
High-quality coffee powder (Robusta beans preferred)
Condensed milk
Ice
Boiled water
A glass and a teaspoon
After gathering the tools and ingredients, just follow the steps below:
Step 1: Wash the phin and glass with hot water. This is to help capture the coffee aroma better.
Step 2: Add 3-4 teaspoons of condensed milk to a glass (you can add more later until it is right for you).
Step 3: Add 2-3 teaspoons of coffee powder to the phin, gently shake the phin so that the coffee spreads evenly and then place the press disk over the coffee.
Step 4: Pour 1-2 teaspoons of boiling water into the phin – just enough to cover the surface of the coffee and wait for one minute. This process is known as blooming, which will moisturize coffee grounds and result in more flavorful coffee drips.
Step 5: Slowly fill the phin to the top with hot water and wait (or watch) it drips. This dripping could take up to 5 – 10 minutes. Remember to close the phin lid so that the fragrance won't escape.
Step 6: When coffee stops dripping, give it a good stir. If the coffee is too bitter at this step, you can add some more condensed milk.
Step 7: Add ice and enjoy.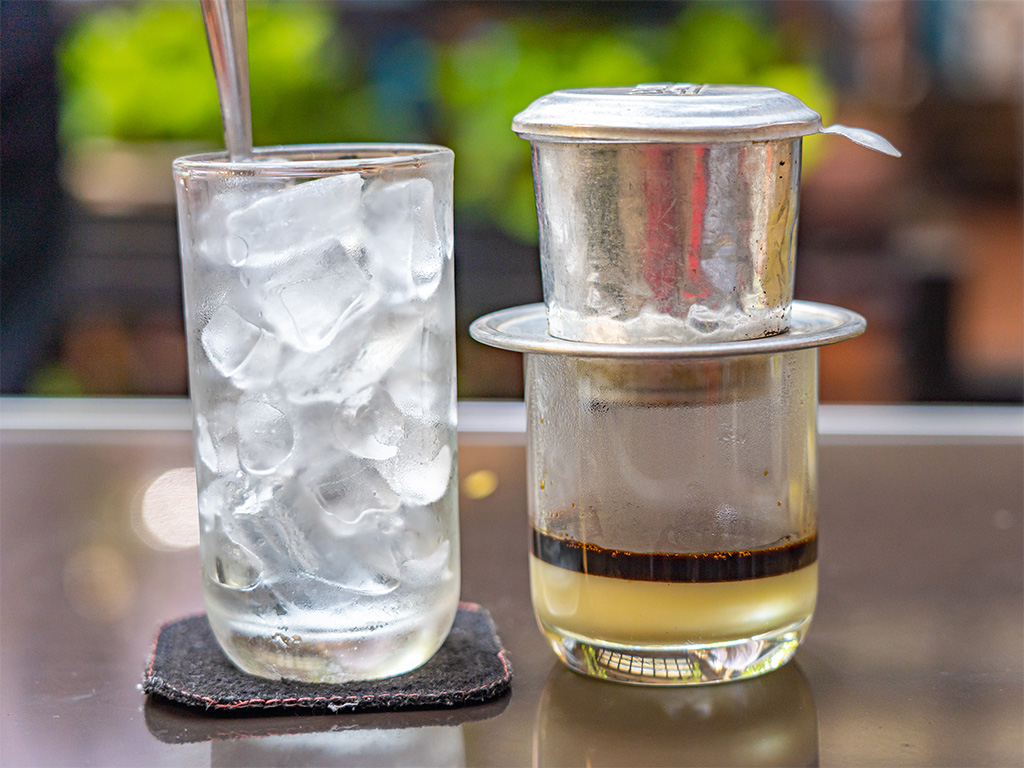 Some facts about Vietnamese coffee culture
Vietnamese coffee shops are not just about coffee. They have become a social hub – a gathering place outside the home and workplace. Due to the boom of working from home and freelance jobs, many new cafés are designed to provide a comfortable working space. You have everything you need: a stable wi-fi connection, air-conditioners running all day, and good food and drinks.
How much is it? The prices of ca phe sua da vary significantly, ranging from 12,000 VND ($0.5) to over 50,000 VND ($2.1), depending on the location and decoration of the coffee shops.
Ca phe sua da is a pleasant drink. Unlike Americans who drink coffee as an energy shot to kick start a new day, Vietnamese people do not rush to get their coffee. You will see people sitting back reading a newspaper, waiting for the coffee to slowly drip.
Nugget ice or crushed ice? A traditional ca phe sua da is one with a dark brown color. Ice used for ca phe sua da is big ice blocks crushed with a wooden or steel pestle. However, big coffee shops nowadays only use nugget ice for its convenience.
Ca phe sua da with a twist. On a base of ca phe sua da, there are more drinks added to the menu, such as salt coffee (ca phe sua da but with a layer of salt whipped with non-dairy creamer); coconut coffee (coffee blended with ice and coconut milk); and yogurt coffee (like an affogato but with yogurt instead of ice-cream).
We hope you have learned something new about our signature drink – ca phe sua da. Don't forget to grab one when you travel in Vietnam and tell us about your experience.