Buddhism is widely considered the national religion in Vietnam, with over 60% of the population practicing some form of it. As a result, it is not surprising that vegetarian cuisine is highly popular in the country. This article will provide an overview of vegetarianism and suggest a few options for where and what to eat for a memorable vegetarian experience.
The vegetarian eating habits of Vietnamese people
Many Vietnamese people follow a vegetarian diet due to religious beliefs, primarily Buddhism. There are two common practices of vegetarianism in Buddhism:
Complete abstinence: Individuals abstain from eating meat for their entire lives.
Periodical Vegetarianism: People avoid eating meat on certain days or months of the year, usually the ten days (1st, 8th, 14th, 15th, 18th, 23rd, 24th, 28th, 29th, and 30th) of the lunar calendar that mark the enlightenment days of major Buddhas in Buddhism. This form of vegetarianism is the most widely followed in Vietnam.
However, the benefits of plant-based and vegetarian food on our health are increasingly recognized. More and more dishes are being created that serve not only religious purposes but also meet healthy and nutritionally balanced requirements. You will have no problem finding a vegetarian restaurant while traveling in any part of Vietnam. To be honest (and in my personal experience), home-cook chefs have taken vegetarian dishes to the next level with creative combinations of Asian and Western cooking methods and ingredients.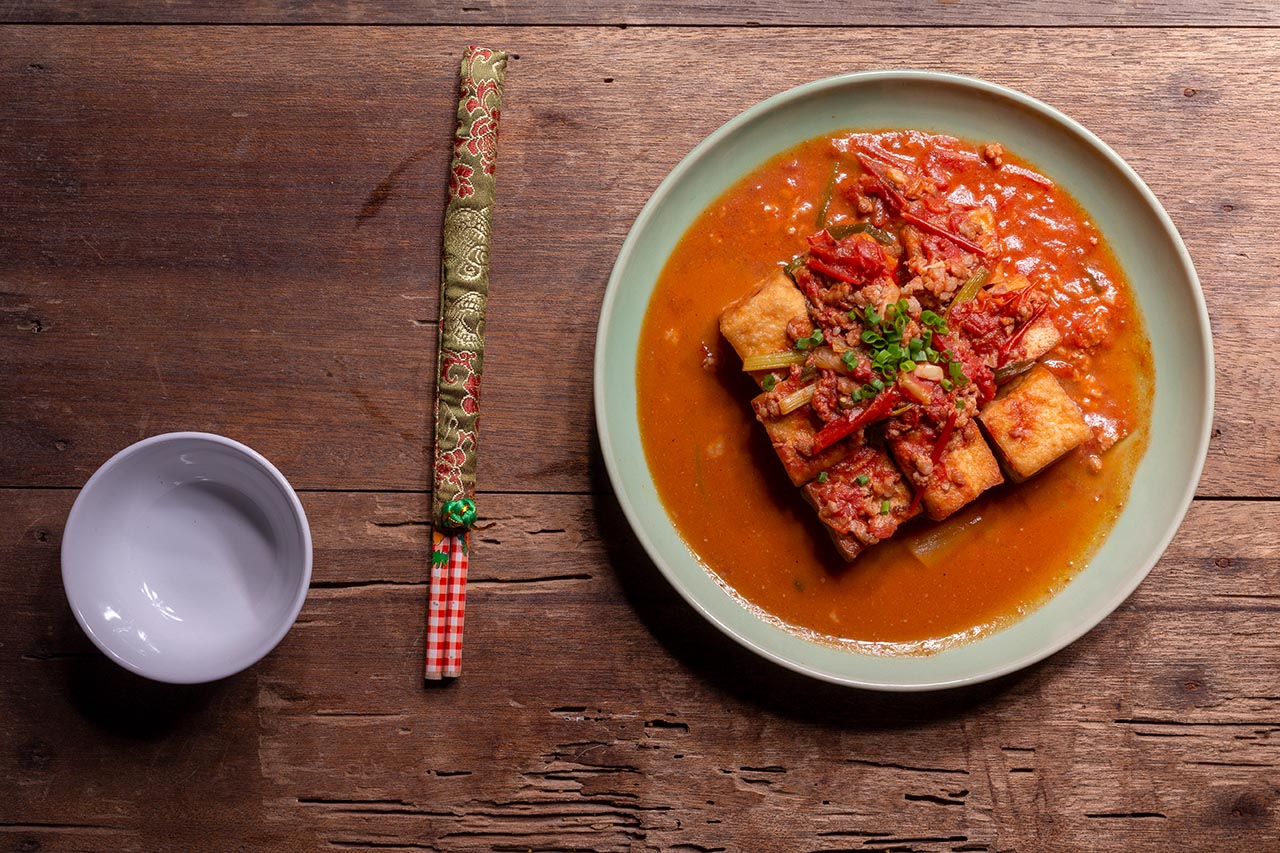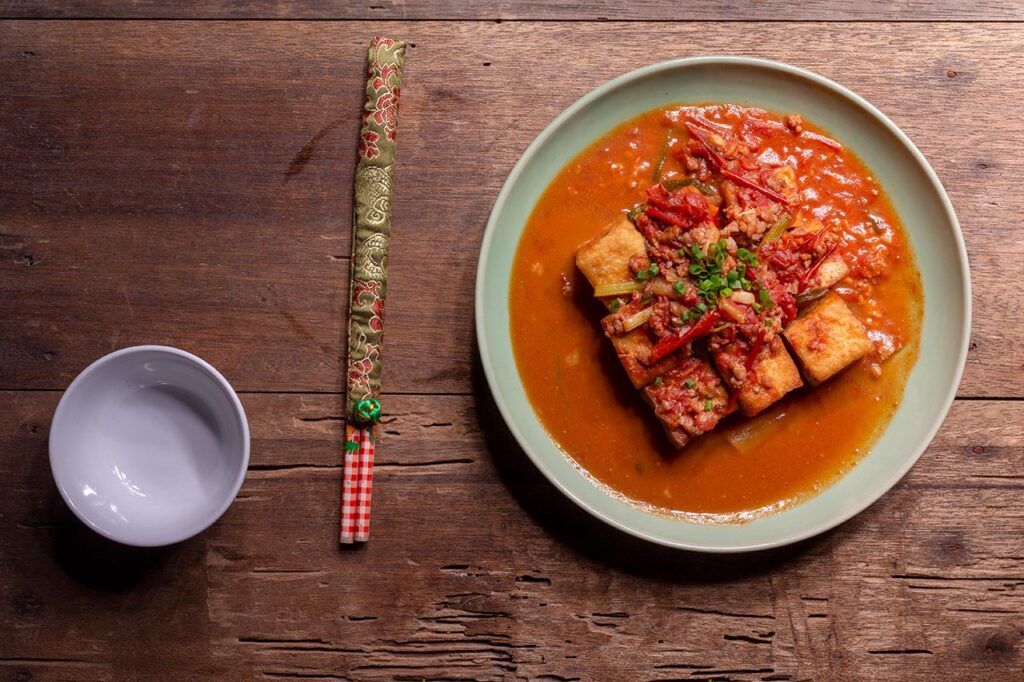 Commonly-used ingredients in Vietnamese vegetarian cooking
In contrast to Indian or Western cooking, which often utilizes spices such as anise, cinnamon, cardamom, etc., Vietnamese vegetarian cuisine emphasizes the use of root crops like garlic, onions, ginger, turmeric, lemongrass, etc.
Additionally, a widely used term in Vietnamese vegetarian circles is "ăn chay giả mặn" (meat-like veggie foods), which are made 100% from non-meat ingredients but shaped like seafood or meat. These are typically made from bread, tofu skin (or bean curd sheets), and seitan (vegan meat). This approach is intended to make the transition to a non-meat diet easier for beginners and encourage more people to adopt a vegetarian lifestyle.
Fermented "tương" (fermented whole beans) and "chao" (fermented tofu) are also popular ingredients in Vietnamese vegetarian cooking. "Tương" has a brown, shiny appearance and a sweetish taste, while "chao" is made from smashed and cubed soybeans and has an ivory color and slightly salty flavor.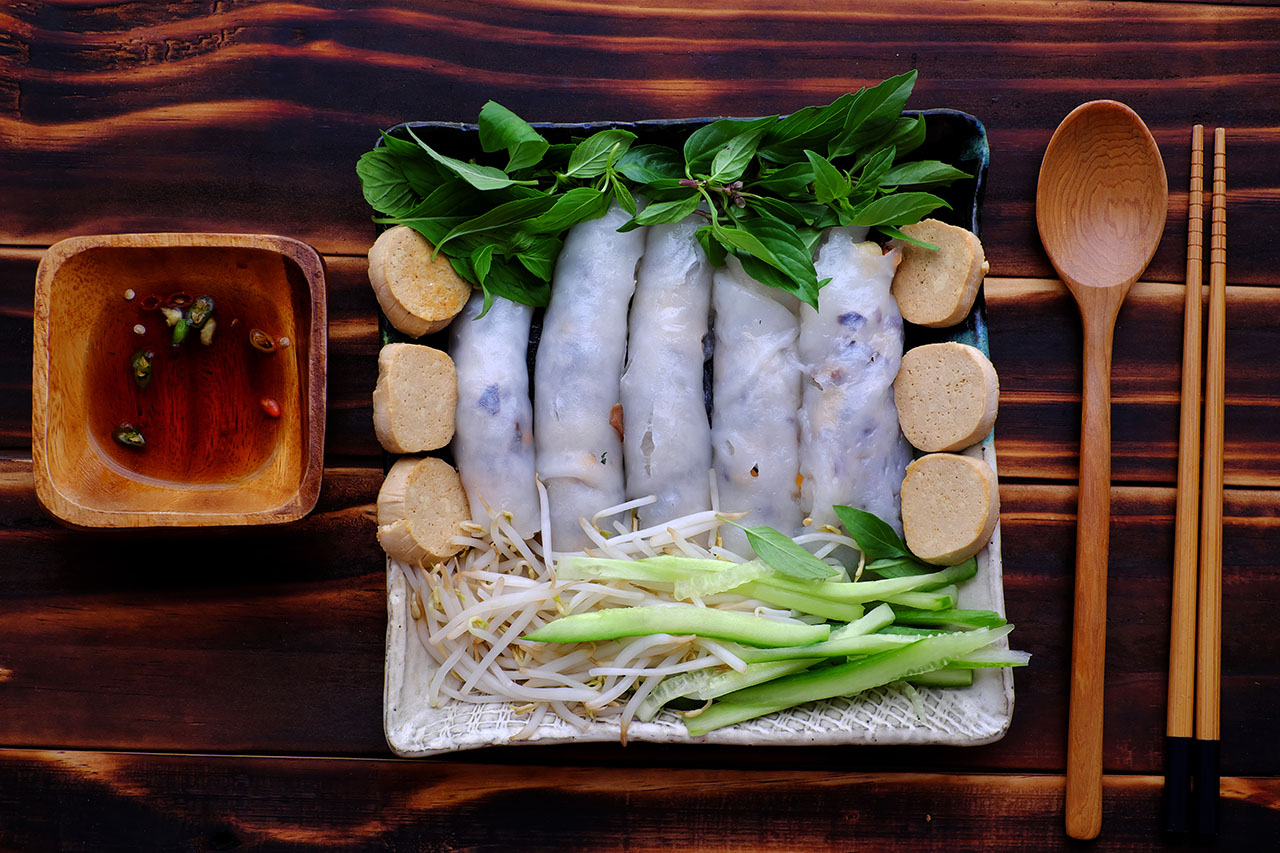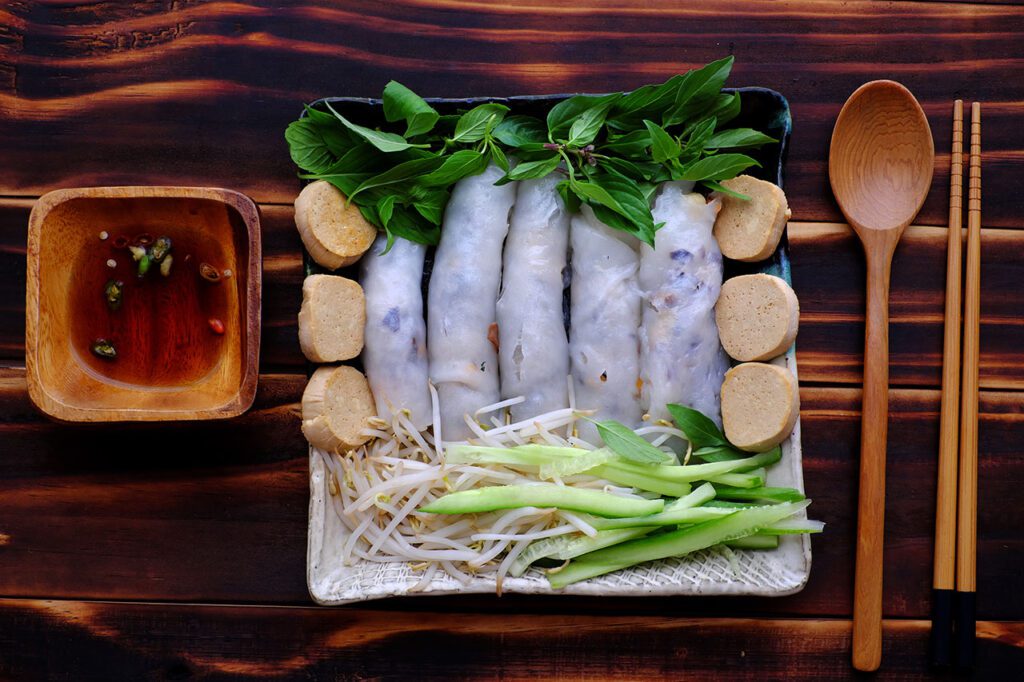 Popular Vietnamese vegetarian dishes and where to eat
The word "chay" in Vietnamese means "vegetarian", which is going to be mentioned a lot in the upcoming section. Interestingly, in Vietnam, every single dish has its own veggie version, from daily home-cooked meals to complicated dishes. While the former is plainly plant-based foods that are mainly cooked by stir-frying, steaming, or stewing and served with steamed rice, the latter requires more complex ingredients.
1. Banh Mi Chay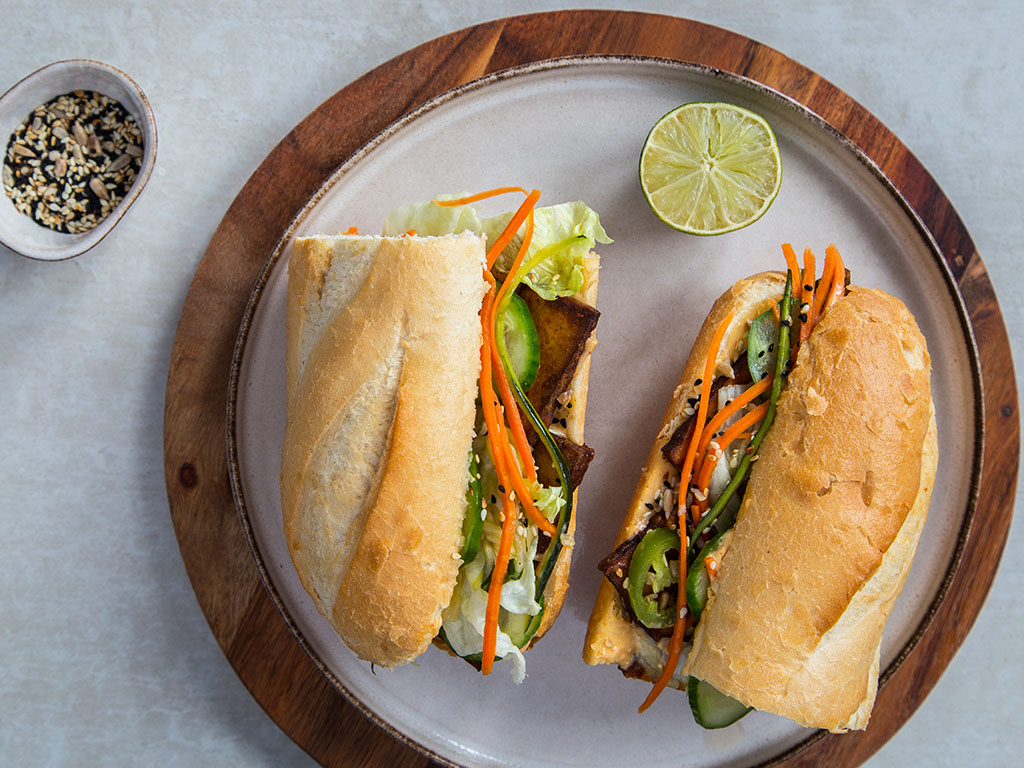 The banh mi is a well-known and favored dish among avid travelers around the world. The fillings for the vegetarian banh mi can vary widely, with the most popular version being stuffed with vegan sausages, deep-fried tofu skin, pickled carrots, and some green herbs. The sauce is sweet and sour, made using salt instead of fish sauce. Although the banh mi chay is simple, each element in it is carefully crafted. This is a convenient and delicious choice when on the go, as it's portable, tasty, and filling. Here are some suggestions on where to enjoy a vegetarian banh mi:
Banh Mi 362 (25 Tran Cao Van, District 1, Ho Chi Minh City): While this restaurant doesn't only sell vegetarian baguettes, its banh mi nam pho mai, which is stuffed with different kinds of mushrooms and melted vegan cheese (priced at 40,000 VND), is the standout item. The baguette is freshly baked for an aromatic and crispy texture, and the fillings come with a variety of mushrooms.
Le Hoi Vegan Banh Mi (Cam Chau Ward, Hoi An – 15,000 VND)
Vegan Banh Mi (66B Tran Hung Dao, Hoan Kiem District, Hanoi – 20,000 VND)
2. Goi Cuon Chay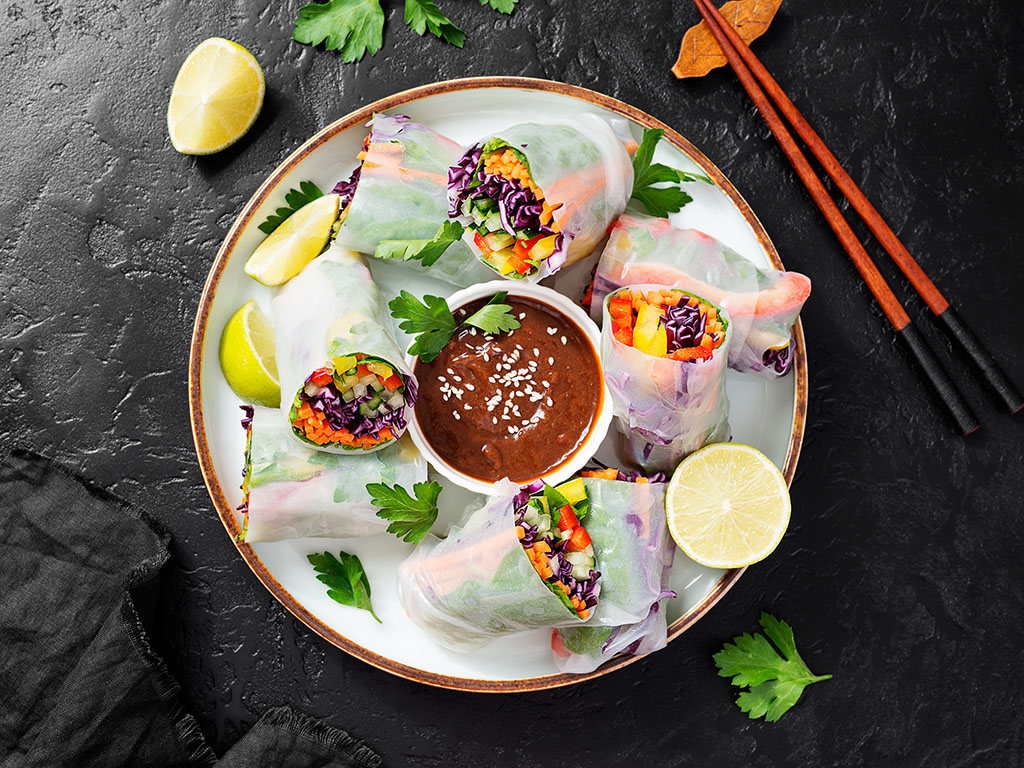 Goi cuon (fresh spring rolls) was named one of the "Top 50 best dishes in the world" in 2011. This dish is widely available as a street food in Vietnam and can easily be found on any street corner. While traditional goi cuon typically contains mainly green vegetables, the vegan version includes boiled oyster mushrooms, fresh rice noodles, sliced cucumbers, green onions, pickled carrots (or sliced green mangoes), and herbs wrapped in a thin rice paper sheet. To enhance the flavor, fresh spring rolls are typically dipped in a sweet and sour sauce or fermented soybean sauce and topped with ground peanuts. Here are some suggestions:
Quan Chay Chi Cu (07 Tran Dinh Xu, District 1, Ho Chi Minh City – 5,000 VND/roll)
Uu Dam Chay (34 Hang Bai, Hoan Kiem District, Hanoi – 110,000 VND)
Loving Hut Hoa Dang Vegetarian Restaurant (38 Huynh Khuong Ninh, District 1, Ho Chi Minh City – 10,000 VND/roll)
3. Vegetarian noodle soups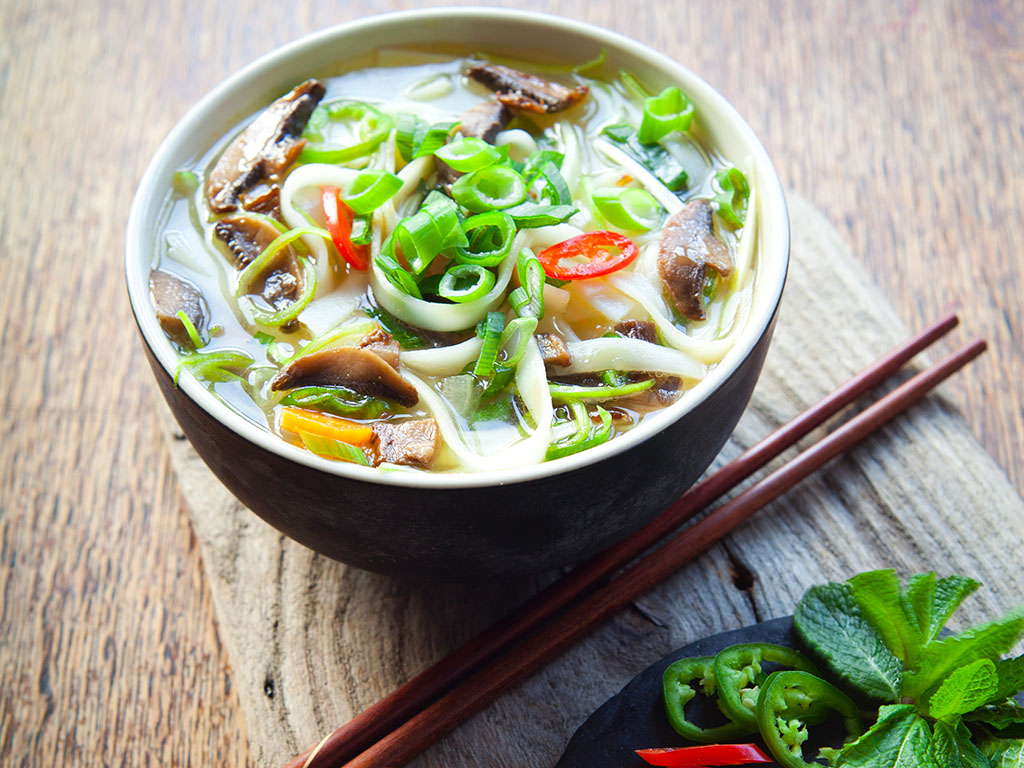 All Vietnamese noodle soups highlight the light, natural sweetness of the broth that comes from mushrooms, carrots, and corn. The main distinction between them is the use of different types of noodles and accompanying green vegetables. At Vietnamese vegetarian restaurants, you can find most Vietnamese noodle dishes in their vegetarian versions, such as vegetarian crab noodle soup (bun rieu chay), vegetarian Hue beef noodle soup (bun bo Hue chay), and vegetarian curry noodle soup (bun ca ri). However, pho and hu tieu are among the most widely available and accessible options.
In vegetarian pho, we use soft, flat noodles. The broth is prepared by cooking vegetables overnight with basic pho spices such as grilled ginger and onions, cinnamon, star anise, and cardamom. The main source of protein in vegetarian pho comes from deep-fried bean curd and shiitake mushrooms.
Hu tieu chay is another vegetarian dish and likely the most popular one that you can find in Vietnam. It is known for its simple yet delicious taste, with a basic broth made from the mentioned vegetables and thin, square noodles topped with deep-fried tofu and vegetarian wonton.
Pho and hu tieu are readily available at any vegetarian restaurant. Here are some of our top picks:
Pho Chay Nhu (54 Truong Quyen, District 3, Ho Chi Minh City – 40,000 VND)
Vegan noodles (168 Lo Duc, Hai Ba Trung District, Hanoi – 30,000 VND)
Ngoc Chi Vegetarian Restaurant (202 Hoang Dieu, Hai Chau District, Da Nang – 40,000 VND)
4. Lau Chay
Hotpot or lau is a dish often chosen for gatherings, especially among large groups of people. Personally, I believe that vegan hotpot (lau chay) is a perfect creation for vegetarians, as it is packed with a variety of greens and even tastier than its non-vegetarian counterpart. The dish is served at the table on a gas stove, with a selection of vegetables served on the side. The broth options vary, including Thai chili broth, fermented soybean broth, and mushroom broth. If you're in a group and looking to share food, this dish is highly recommended. Here are some places you should definitely give a try:
Quan Chay Tam Duc (Ho Chi Minh City): This restaurant has three locations across Saigon and offers a wide menu of lau chay, all of which are good. The prices range from 150,000 VND to 200,000 VND. In addition to lau chay, they also have various dishes such as com chay and other noodle soup options priced at just 25,000 VND. However, the combination of good food and reasonable prices means that it is often crowded, especially on vegetarian days. It's not uncommon to see long lines of customers waiting for takeout or standing in line to get a table.
Lau Nam Thien Nhien Ashima (Ho Chi Minh City and Hanoi): Although this isn't a strictly vegetarian restaurant, you can still customize your hotpot to be vegetarian. It's a paradise for mushroom lovers, offering over 30 types of mushrooms from Japan, Korea, and Vietnam. The vegetarian Japanese hotpot is the easiest and best option, although it's more expensive than other restaurants. The high-quality service, decor, and atmosphere are well worth the added cost.
Vi Lai Restaurant (67 Ly Thuong Kiet, Hoan Kiem District, Hanoi – 315,000 VND)
5. Banh Xeo Chay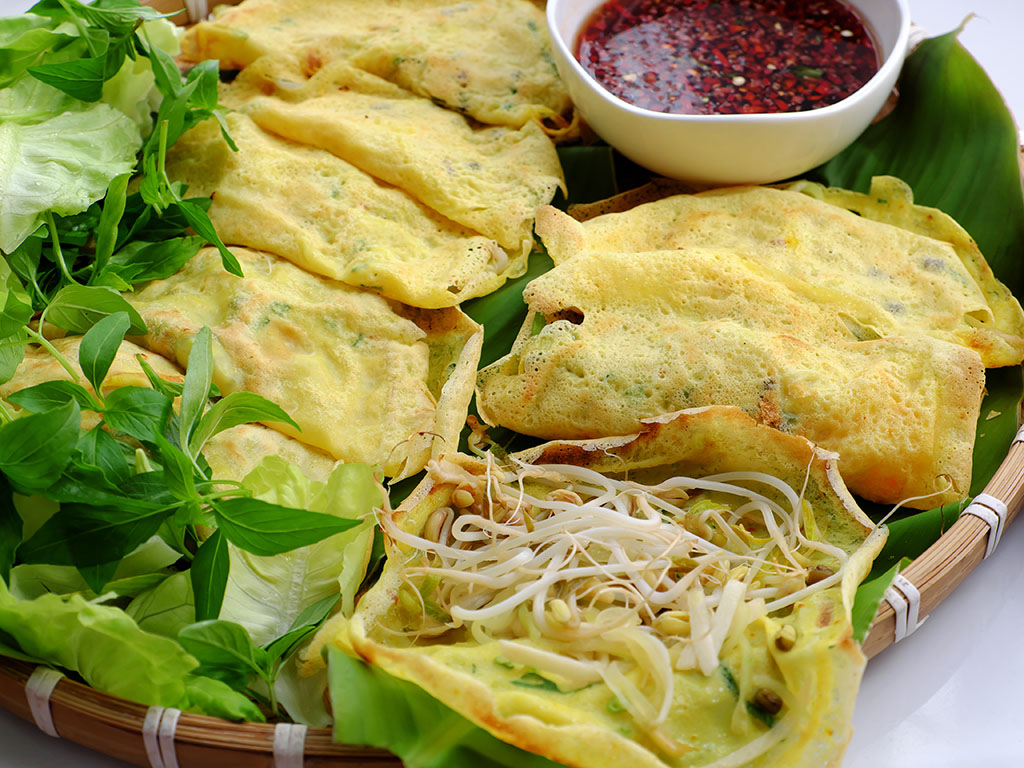 Banh xeo chay is a unique creation of Vietnamese vegetarian cuisine. It retains the basic elements of banh xeo but with a thin batter that holds a variety of delicious fillings inside, including bean sprouts, carrots, and vegan shrimp made from bean curd sheets and young tofu. The iconic turmeric yellow skin is crispy and has a touch of creamy coconut milk flavor.
A special version of banh xeo chay includes cu hu dua (young coconut shoots), which are extra special because each coconut tree only provides one shoot, which is revealed only when the tree is cut down and all of the rough shells at the top are removed. These shoots are sweet and juicy. Here are some of the best places to try banh xeo chay:
Amitabha Restaurant (40 Nguyen Thai Hoc, District 1, Ho Chi Minh City – 65,000 VND)
Minh Hien Vegetarian Restaurant (50 Tran Cao Van, Minh An Ward, Hoi An – 35,000 VND)
Quan Chay Thien Duyen (308/8 Hoang Dieu, Hai Chau District, Da Nang – 35,000 VND)
6. Com Chay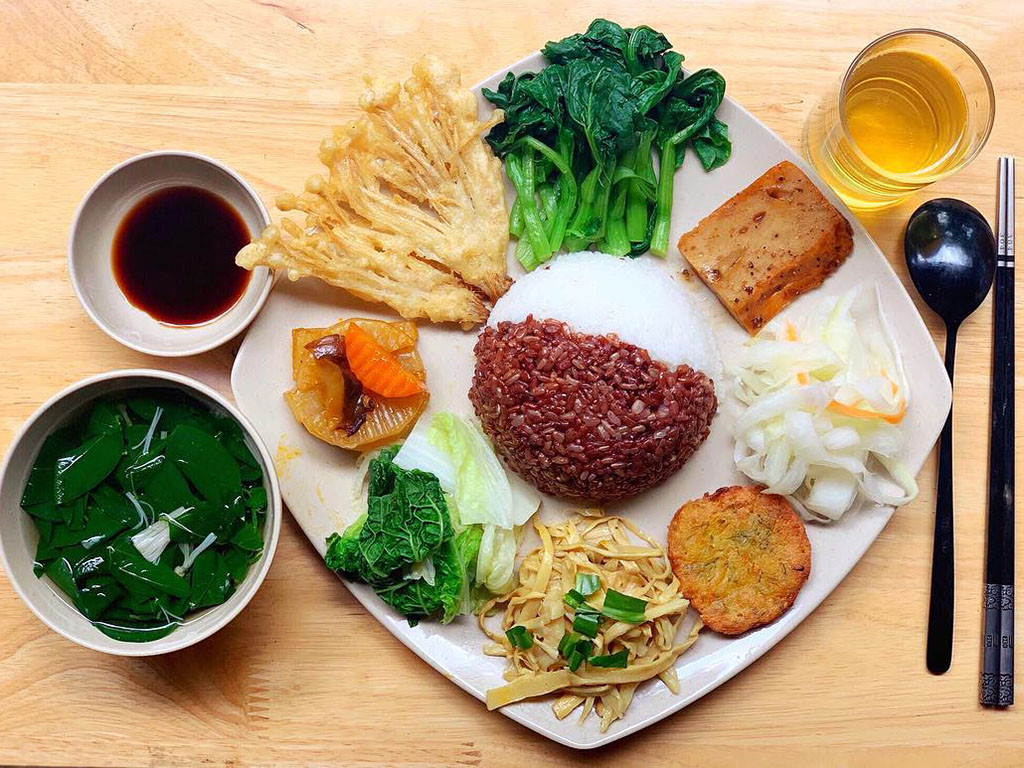 This is the most common form of vegetarian food in Vietnam. Most classic restaurants have a large glass display cabinet with many different trays of food inside. Typically, you're served a plate of steamed rice, and you point to the food you want to accompany it. In most places, the price is fixed at around 25,000 VND (around $1). This is a popular choice for daily meals among locals because it's cheap and filling for a long workday. This type of vegetarian food is ubiquitous, but you can start from these locations:
SEN Vegan Restaurant (171 Nguyen Thai Hoc, District 1, Ho Chi Minh City – 65,000 VND)
An Lac Vegetarian Restaurant (109 Tran Hung Dao, Hoan Kiem District, Hanoi – 15,000 VND)
Quan Chay Dieu Hoa (87/04 Nguyen Du, Hai Chau District, Da Nang – 30,000 VND)
7. Fusion vegetarian restaurant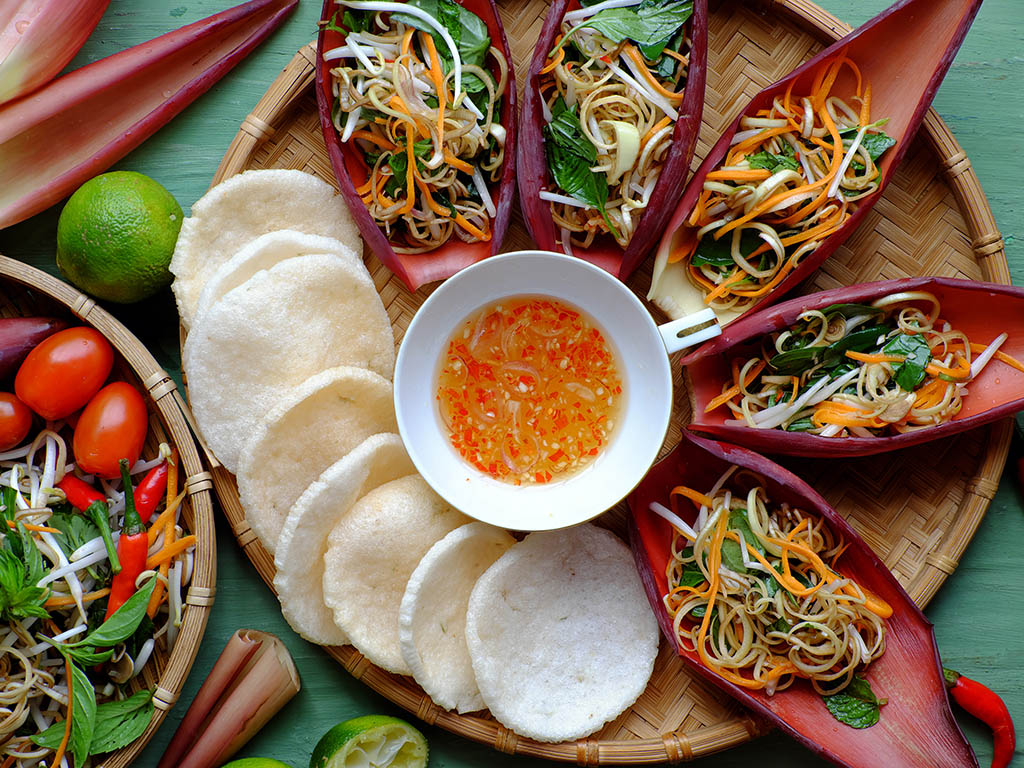 There are certain events where you would like to look for more international vegetarian food and a well-decorated atmosphere (or simply just to freshen up your taste). Many places where you can find vegetarian dishes from other Western and Asian cuisines. Of course, the price is considerably higher, but we believe it is worth treating yourself once in a while or bringing your loved ones to a cozy dining experience. Here are some of our recommendations:
Prem Bistro (District 3, Ho Chi Minh City): This restaurant offers a diverse menu of delicious vegetarian dishes from both Eastern and Western cuisines. It's a great option for a romantic dinner date with its intimate atmosphere and excellent food.
Hum Vegetarian Restaurant: This is very famous among the "high-end" vegetarian eateries. It now has three locations across Ho Chi Minh City in districts 1, 2, and 3. The strongest impression of this chain is the elegant setup with the main theme of the lotus leaves and flowers, which are the symbol of Buddhism and are recognized as the Vietnamese national flower. Although situated in the bustling districts of the town, Hum succeeds in creating a tranquil and peaceful atmosphere with open and airy surroundings of plants and trees. This is perfect for a dinner gathering under the night sky in a modern yet cozy ambiance.
Tinh Thuc Vegetarian Restaurant (10 Huynh Thuc Khang, Ba Dinh District, Hanoi). Vegetarian buffet: 100,000 VND/person