What is goi cuon?
Apart from pho, goi cuon (gỏi cuốn – fresh spring rolls) is probably the most recognizable Vietnamese dish around the world. Goi cuon is a typical Vietnamese street food, reflecting the local criteria for a good snack which are "delicious, nutritious, and cheap". This light, fresh, and portable snack has been listed as one of the best street foods in the world, which is worth making its way to your must-try list.
The origin of goi cuon
Little did we notice that goi cuon literally means salad rolls. So, instead of being mixed in a bowl, the ingredients are wrapped in rice papers into rolls to make them more shareable and portable. There is anecdotal evidence claiming that goi cuon is actually a creative version of bo bia – a kind of rolls that originated from the Chinese community in Vietnam. However, while bo bia is stuffed with fried eggs and Chinese sausages (commonly known by its Cantonese name lap cheong), goi cuon is widely preferred for its making method which replaces the oily processed ingredients with the use of fresh vegetables and boiled meat to maximize the natural taste. Although Ho Chi Minh City (Saigon) is not home to goi cuon, the way Saigon people adopted and adjusted the rolls has made it so popular and become synonymous with this city.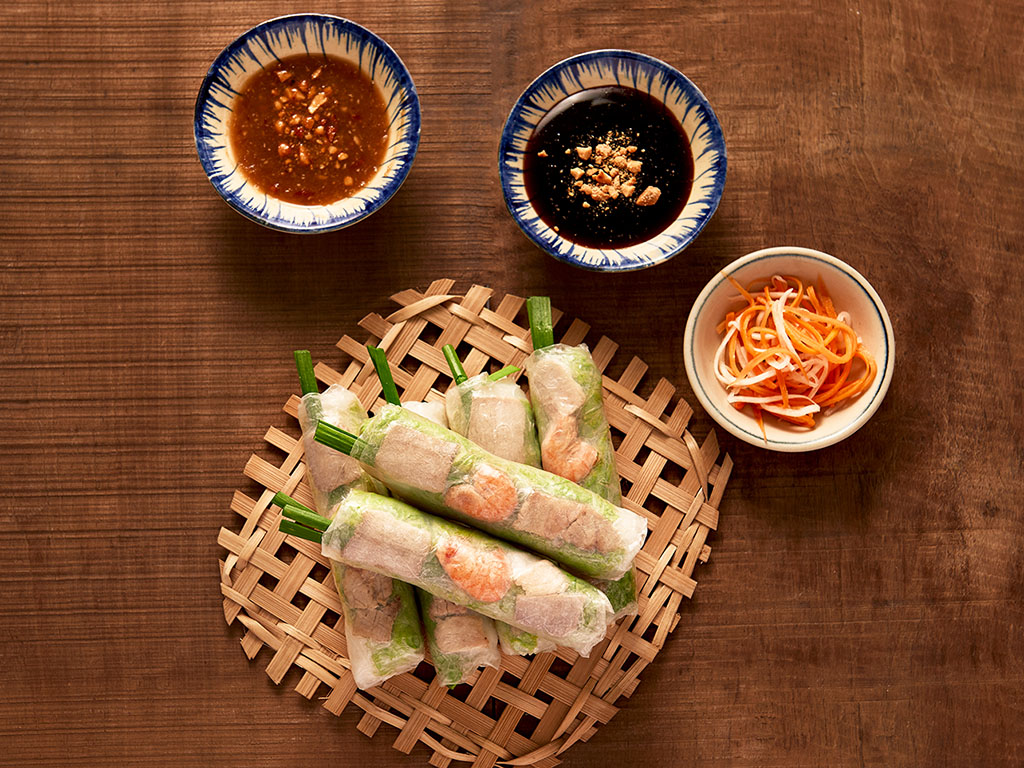 Types of goi cuon
Goi cuon is among the rare dishes that do not see many varieties across the regions. The ingredients are so simple and perfectly balanced, which already suits the diverse Vietnamese regional palates. A typical spring roll has an abundance of vegetables and herbs, boiled shrimp and pork, and rice noodles to give it a calorie boost.
Like the flexibility of a salad bowl, goi cuon is easily made into a vegetarian dish. Vegetarian spring rolls are made with a wider range of vegetables, such as mushrooms, purple cabbage, carrot, and bell pepper. Meat is replaced by tofu or tofu skin.
The only observable difference may be the dipping sauce. In Saigon, the most preferable one is mixed fermented soybean sauce because its sweetness better matches the Southern palate and is also more suitable for vegetarian eaters. Further south from Saigon, the Mekong Delta people love adding coconut milk to their fermented soybean sauce to add a more creamy taste and fragrance to the sauce. A big part of the locals, especially in Central provinces, also dip goi cuon in a fermented fish paste mixed, which gives it a more intense and salty flavor.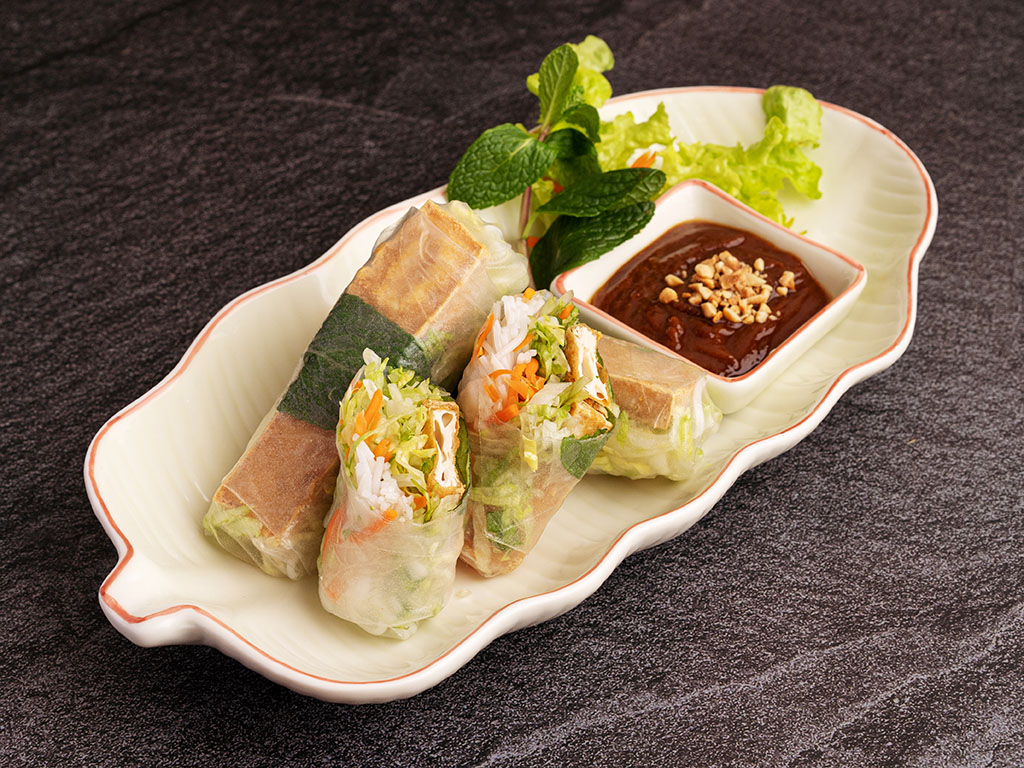 Goi cuon ingredients
Wrappers
Rice papers are surely the first ingredients to be mentioned here. To provide a strong wrapper for the fillings inside, rice papers used for goi cuon are relatively thick. Before rolling, the rice papers are quickly soaked in water so that they become softer and more pliable. These rice paper sheets can be directly eaten, and they have a hint of salty aftertaste which add more excitement to the rolls.
Meat
This is not only the main protein source of the dish but also creates a pleasant and iconic presentation for qualified spring rolls. It needs to be ensured that the pork belly has a higher proportion of lean meat. Shrimps must be picked at relatively the same size, so they will look even when being placed in the rolls. After being boiled, pork is thinly sliced, and shrimps are vertically cut into halves. This is actually a trick to make spring rolls more eye-catching to the eaters as they are attracted by the bright pink color of the boiled shrimp facing out while still profitable for the sellers because they only need to use 2-3 halves of the shrimps instead of 2-3 whole shrimps. Keep this in mind so you won't be disappointed finding out there is fewer shrimp in the rolls than they look.
Vegetables and noodles
The fresh vegetables used in Vietnamese cuisine are actually very typical and similar for most of the dishes. Basically, the most common are lettuce, fish mint, Vietnamese basil, fresh chives, and arrowroot leaves. The crunchiness of spring rolls comes from sliced cucumber baton and bean sprouts. Rice noodles are an additional ingredient to make spring rolls more filling.
Dipping sauce
There are two common sauces that widely go with spring rolls which are tuong dau phong and mam nem. Tuong dau phong is a mixture of peanut butter and fermented whole soybeans. Fermented beans are first blended into a smooth paste. Soybean paste is then seasoned and cooked with peanut butter at a low temperature until they evenly blend and become a thick sauce. When serving with spring rolls, we top the sauce with roasted peanuts, pickled carrots, and minced chili. This sauce is vegan-friendly and an easy option to start with.
Mam nem is actually a more flavorful sauce but also takes the gut to try. This sauce is made mainly from fermented baby fish paste. To balance the saltiness and ease the intense smell, we add minced pineapple and lime juice to the paste. Unlike the other sauce, mam nem is topped with minced garlic and chili.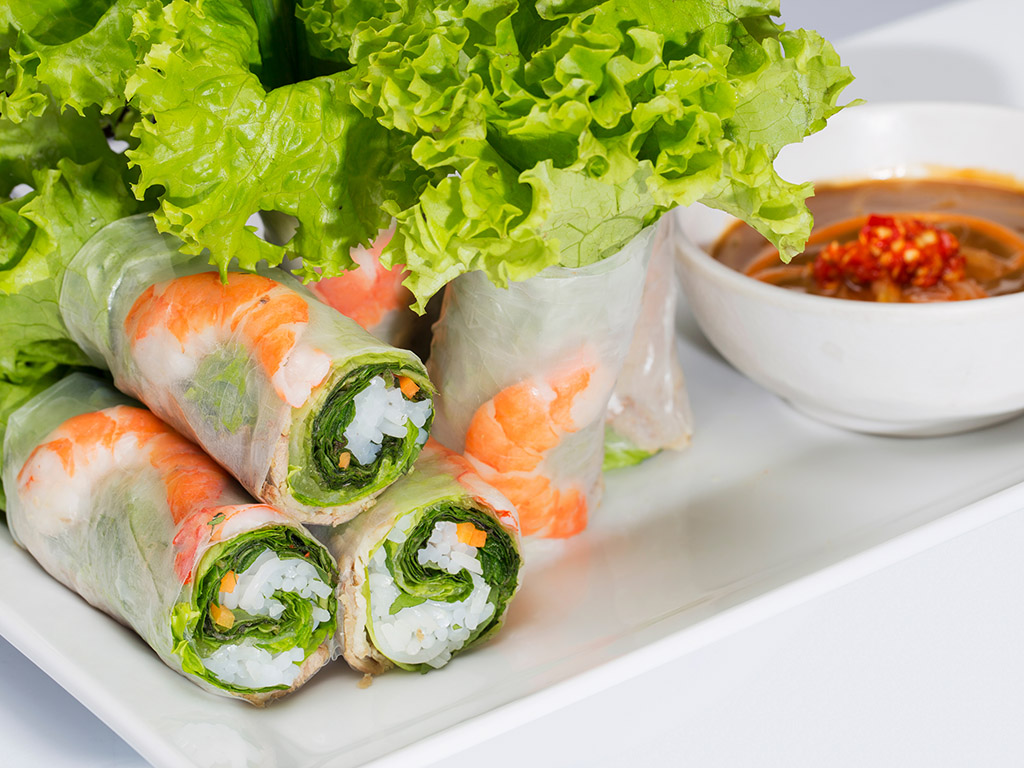 How to eat goi cuon?
The best way to eat spring rolls is by sitting on little plastic stools and watching the street vendors skillfully make the rolls right in front of you. All the ingredients are orderly put on the traditional baskets and carrying shoulder poles. Spring rolls are ordered by number, and you can start with two rolls to see how you get on with it. Don't forget to tell them the sauce you prefer or any particular request for your rolls. When you get the rolls, just simply dip them in the sauce and enjoy.
At some restaurants, though, spring rolls are not ready-made. You will find all the ingredients placed on the table. You can start by getting a sheet of rice paper and gently soaking it in water then place it on a plate. For vegetables, add a bit of everything to get a complete taste, or add as your preference. Then, place rice noodles, one slice of pork, and 2-3 halves of shrimp. Fold the two edges to prevent the ingredients from falling out, then gently roll them up. Now, dip it in either sauce and enjoy.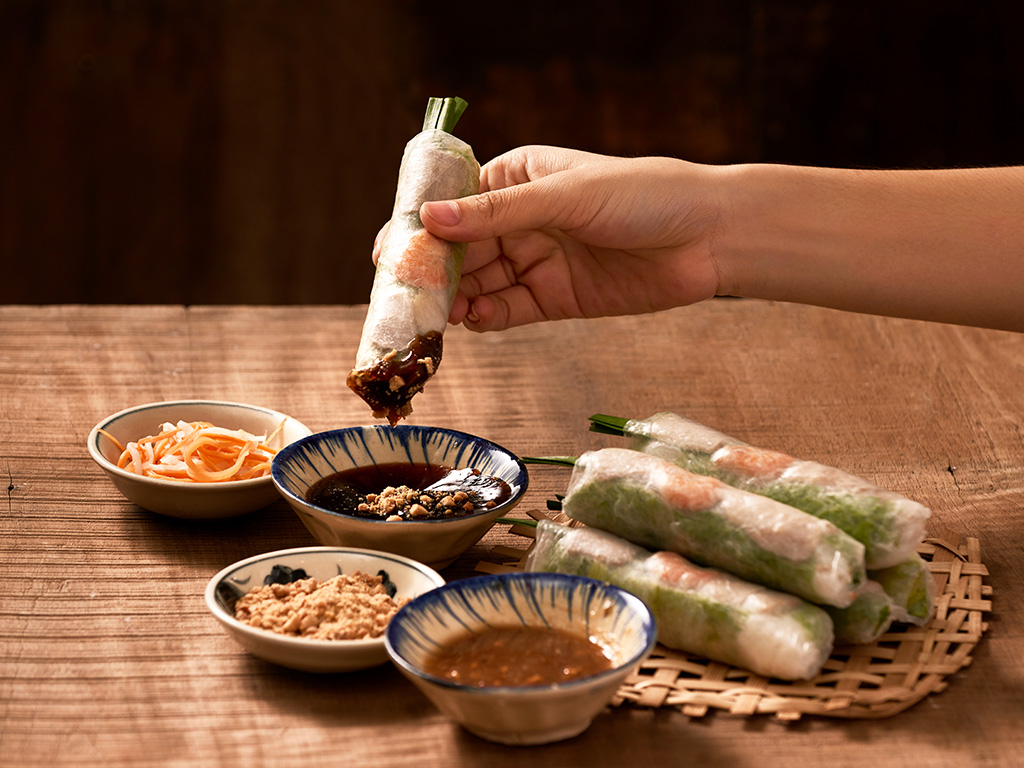 Where to eat goi cuon?
As a popular street food, you can find goi cuon anywhere in Vietnam. Here are some suggestions on where to eat goi cuon in big cities in Vietnam.
Banh Cuon Hong Hanh
Address: 17A Nguyen Thi Minh Khai, District 1
Price: 7,000 VND/roll ($0.25)
Quan Chay Chi Cu (vegetarian)
Address: 07 Tran Dinh Xu, District 1
Price: 5,000 VND/roll
Cuon n Roll
Address: D2 Giang Vo, Ba Dinh District
Price: 108,000 VND/dish
Uu Dam Chay (vegetarian)
Address: 34 Hang Bai, Hoan Kiem District
Price: 110,000 VND/dish
Chin's Kitchen
Address: 154 Le Dinh Duong, Hai Chau District
Price: 20,000 VND/roll
Bep Cuon Da Nang
Address: 54 Nguyen Van Thoai, Ngu Hanh Son District
Price: 89,000 VND/dish
Cao Lau Ba Le
Address: 49/3 Tran Hung Dao Street, Son Phong Ward
Price: 60,000 VND/dish
Com Linh
Address: 42 Phan Chu Trinh, Minh An Ward
Price: 65,000 VND/dish