Son Tra Peninsula is a gift of nature bestowed on the city of Da Nang. Its pristine and charming beauty combines majestic mountains and crystal clear-water beaches, is always a hidden gem just waiting for you to discover!
Son Tra Peninsula at a glance
Son Tra Mountain and the Son Tra Peninsula are located about 10 kilometers northeast of the city center in Tho Quang Ward, Son Tra District. The peninsula is one of the few places in Vietnam with forest ecosystems right next to the sea. It is known for its primeval forest, cool climate, stunning natural landscape, and biodiversity.
Son Tra Peninsula has a total area of ​​about 4,400 ha, is 13 kilometers long, and has an average height of 350 meters. The top of the peninsula is where the highest position is 700 meters above sea level. With three sides bordering the sea and the other side bordering the urban, it is considered "the green lung" and is a solid shield to provide fresh air as well as cover and protect the city of Da Nang from the fierce storms that land in Central Vietnam. Standing on the Son Tra Peninsula, you will have a bird's eye view of this beautiful city. In addition, the cool breeze from the sea and the vast lush forests will provide relief and comfort.
The best time to visit Son Tra Peninsula
The weather in Son Tra is pleasant all year round. However, the best time to visit this peninsula is from March to September, when the weather is dry and beautiful, and the sea is calm enough to enjoy all outdoor activities and beautiful scenery without fear of a storm. Son Tra Peninsula is especially beautiful from April to June when the forest blooms with a plethora of colorful flowers.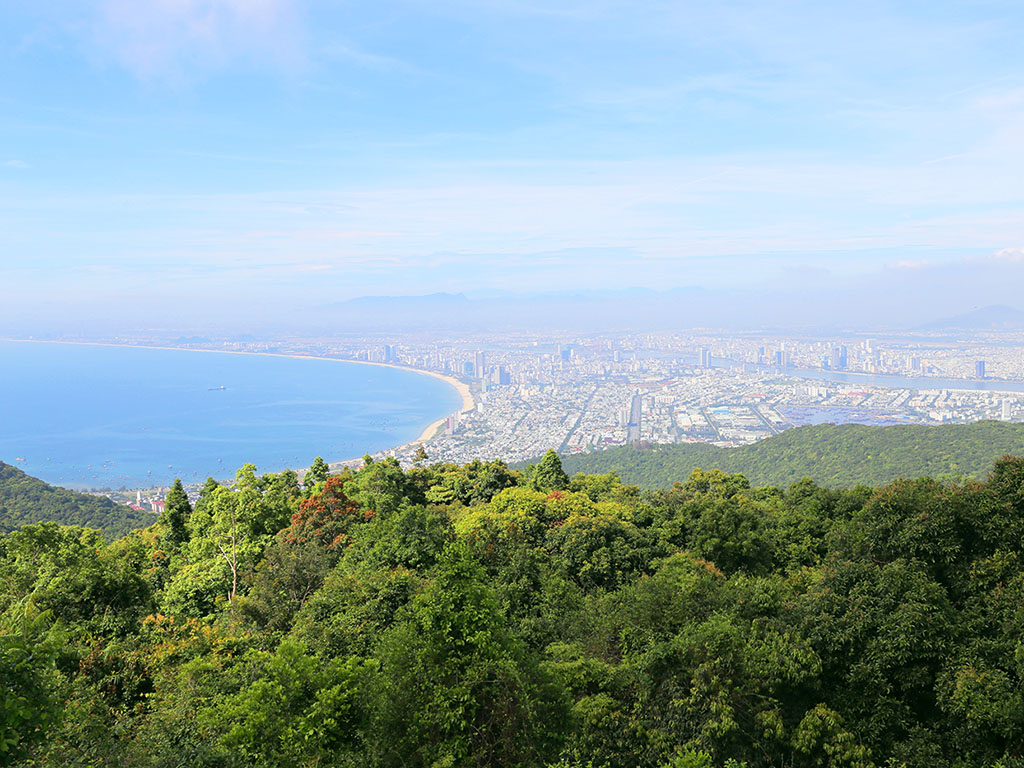 How to get to Son Tra Peninsula
You can get to Son Tra Peninsula by taking a taxi, renting a motorbike, or booking a tour through a travel agent. However, the best choice to fully appreciate this natural wonder is to ride a motorbike to explore the peninsula's various marvels in 2 directions:
Yet Kieu Street, Tho Quang Ward, Son Tra District.
Hoang Sa Street, Man Thai Ward, Son Tra District.
There is almost no traffic, and the roads are in good condition, making driving safe. Scooters and cars with more than 24 seats are not permitted on the route from the thousand-year-old Bayan Tree to Ban Co Peak. So, either plan a motorcycle ride or take the shuttle bus here. Remember that there are many winding and vertical slopes along the way, so make sure your bike has good brakes and is strong enough to ride up steep hills.
Top attractions in Son Tra Peninsula
1. Linh Ung Pagoda
Linh Ung Pagoda – Son Tra Beach is one of three Linh Ung Pagodas in Da Nang and the city's largest temple (about 20ha). The temple, built in the middle of the Son Tra Mountain, is a harmonious combination of modernity and traditional Vietnamese pagoda architecture. It rests peacefully on the hill and faces the sea.
The pagoda's most prominent feature is the tallest Lady Buddha statue in Vietnam, standing 67 meters tall atop a lotus 35 meters in diameter, giving it a total height of nearly 100 meters, equivalent to a 30-story building. Linh Ung Pagoda has become a well-known place of worship, a residence for monks to live and study, and a peaceful tourist destination. Every month, on the first and fifteenth of the lunar calendar, locals and visitors from all over come to offer incense prayers. Seen as the crossroads between heaven and earth, Linh Ung Pagoda is regarded as a work of great human faith. You can admire the pagoda's outstanding architectural and cultural work, and learn more about Vietnamese culture and beliefs.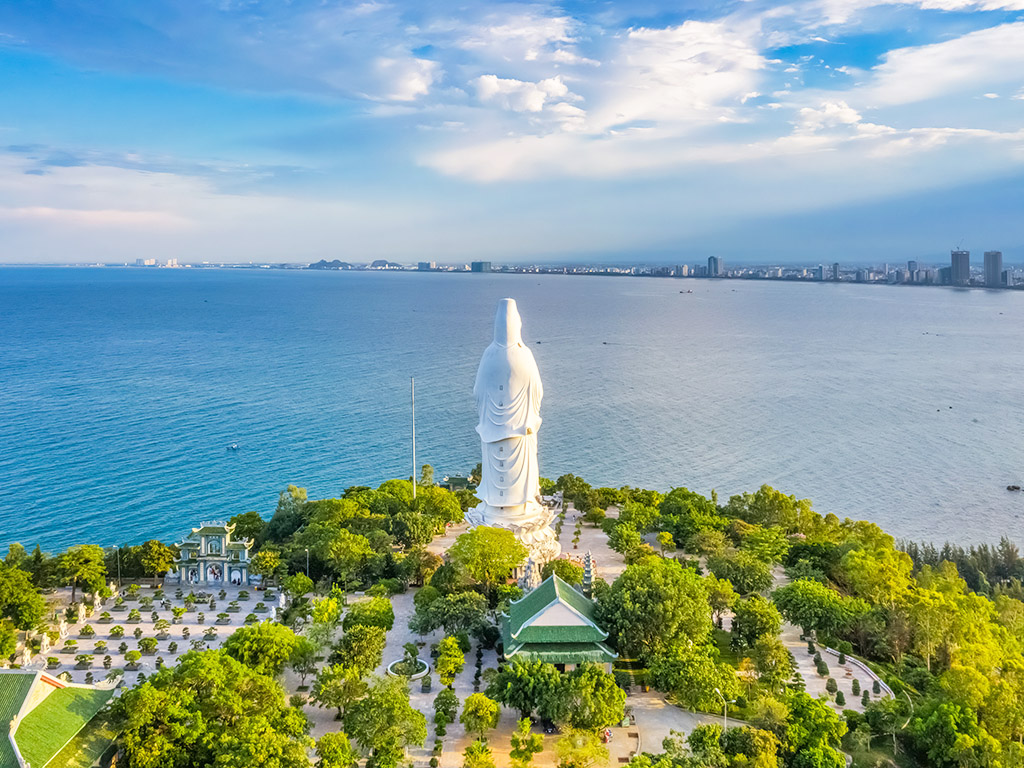 2. Thousand-year-old Bayan Tree
Discovered in 1771, the banyan tree is located on Son Tra Mountain, within Son Tra Nature Reserve. The banyan tree, with a life span of more than 800 years, has the most majestic shape in Vietnam, with a height of 22 meters and a circumference of its main trunk of 85 meters. It has been around for a long time, and no scientist can confirm its exact age. During two wars against foreign invaders, the location of the banyan was used as a military base by the military, self-defense forces, and Quang Nam Province.
3. Deer-shaped Banyan Tree
The deer-shaped banyan tree is located at Nhat Lam Thuy Trang Tra and is nearly a thousand years old. It has a unique image: the tree's trunk is cut into halves to form two pairs of deer legs. The broad canopy reaches as far as the scrawny deer horns.
4. Tien Sa Lighthouse
Son Tra Peninsula is home to a nearly 100-year-old lighthouse that is regarded as one of Vietnam's oldest and most beautiful. Tien Sa Lighthouse, located at an elevation of 233 meters above sea level, is also an amazing place for visitors who want to experience and admire the spectacular mountain beauty and the vastness of the sky.
5. Mui Nghe (Nghe Cape)
Nghe Cape is located southeast of Son Tra Peninsula. This is the first place in Da Nang to welcome the dawn, so it's a great place to capture the moment with sunrise on the stunning natural stone cape and beside a beautiful green lake. The lake, surrounded by rocks, appears to be a natural pool in the middle of the sea and is a popular tourist attraction.
Nghe Cape is also home to over 42 rare coral species. So, if you come here, you should not miss out on some thrilling scuba diving.
6. Rada station
This radar station is considered "Indochina Miraculous Eyes" because it covers the entire Tonkin Gulf, Laos, and Cambodia airspace. Standing on the radar's observation deck, about 580 meters above sea level, Son Tra View Tower provides a spectacular panoramic view of Da Nang. Visitors will enjoy zooming out into the vast sea to admire the sunset.
7. The beautiful beaches
Mild waves, clear blue water, and clean white sand have all contributed to Da Nang's ranking as one of the world's most beautiful beaches. Son Tra Peninsula has long been known for its beautiful beaches, which include Bai Bac (North Beach), Da Den, Bai But, Bai Nam (South Beach), and Tien Sa. There are also some seafood restaurants, sunbathed beach huts, and various tourism services available here.
8. Ban Co Peak (Chessboard Peak)
Legend has it that there were two deities playing chess on Son Tra Mountain for many days, but the winner could not be determined. This charming and pristine landscape also attracted the fairies to come down for a stroll. One of the two deities lost the game one day after being distracted by beautiful fairies. Since then, the deity has remained petrified next to the chess board, carefully considering his moves.
At a height of more than 700 meters above sea level, it offers an incredible view of Da Nang. After driving to the mountain summit, a small path leads to the mountain's very top. With the whispering waves, the old forest, and the challenges of conquering a dangerous 60-degree slope, that is an incredible walk.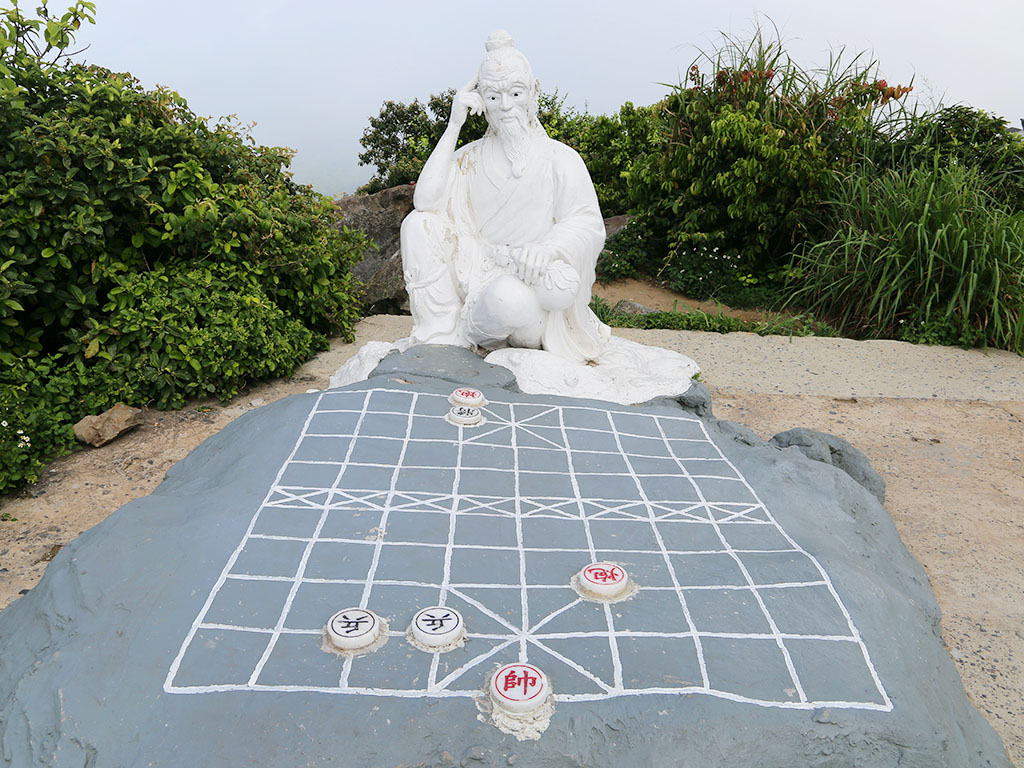 Top activities at Son Tra Peninsula
1. See the red-shanked douc langurs
The red-shanked douc langurs, with their typical five-color appearance, are known as the "queen of primates" by international wildlife protection organizations. The red-shanked douc langurs of Son Tra Peninsula can be seen by taking the green route (about 1km to the Lookout house). Remember to walk quietly and keep a safe distance from them so they know you are not a threat. Bring binoculars if you want to see this animal up close.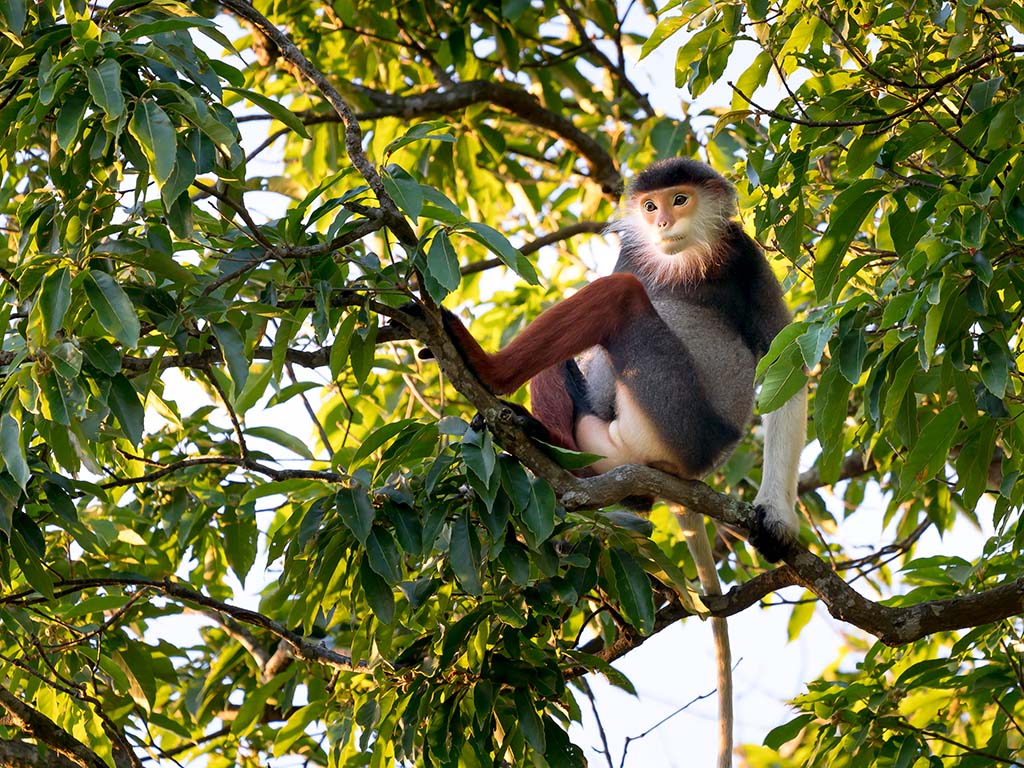 2. Enjoy beach activities
Although much of the peninsula is covered by dense jungle, Son Tra has a number of nice, quiet beaches. Combine your mountain trip with a visit to one of these sandy beaches to sunbathe and participate in water activities like fishing, catching sea snails, surfing waves, paragliders, or professional diving to see stunning coral reefs.
3. Explore local life at the fishing village
A good experience in Son Tra is to combine admiring the sunrise on the Vietnam's East Sea with a busy morning at the fishing village. You can also get cheap seafood because it does not pass through the hands of traders here. If you come here early in the morning, you can see men getting ready for the day at sea. The villages preserved the local fishing methods, and today you can get a glimpse of Da Nang's traditions and way of life.
4. Participate in marathons
Son Tra has beautiful coastal roads frequently used to organize professional and semiprofessional marathons. It will provide runners with an unforgettable experience as they run along the city's coast in peaceful early morning scenery, complete with natural sounds and fresh air.