Da Nang is a famous coastal city in Vietnam, known for its stunning natural beauty and modern infrastructure. Whether you're a nature lover or seeking adventure, Da Nang offers a variety of attractions. This city has everything from cultural landmarks to stunning beaches and thrilling activities. Here are the 10 best attractions in Da Nang in 2023.
1. My Khe Beach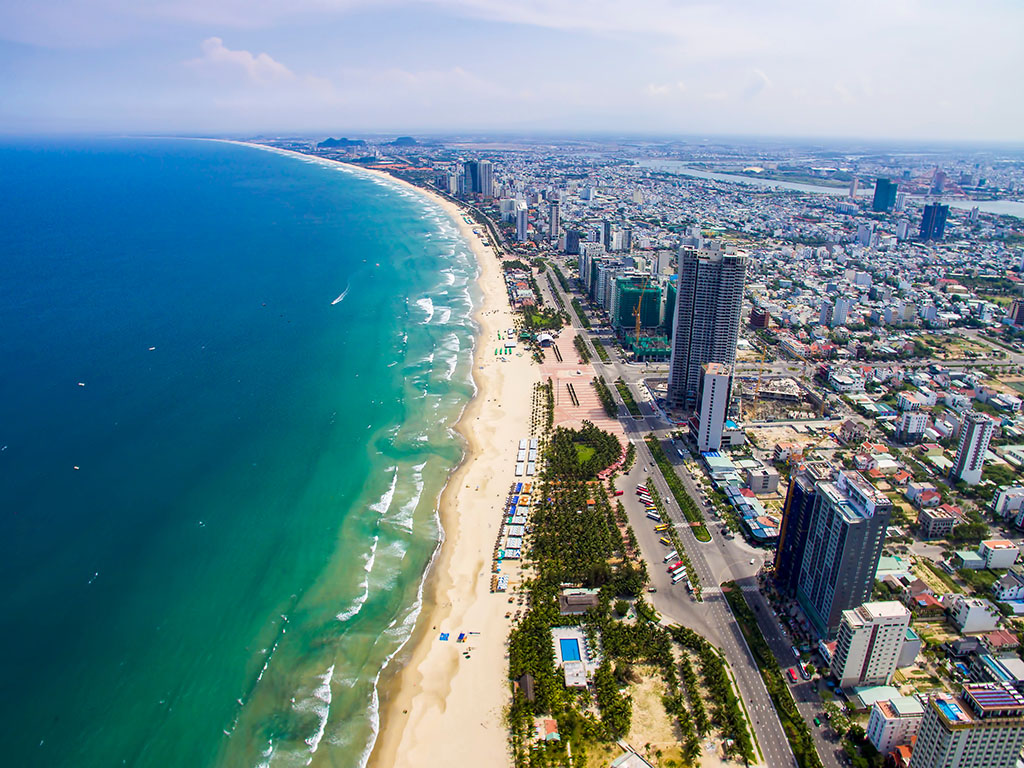 Recognized as one of the most attractive beaches on the planet by Forbes and voted one of the best beaches in Vietnam by travelers, My Khe Beach should definitely be your first stop when visiting Da Nang. Only 3 kilometers away from the city center and a beach stretching over 900 meters with three main swimming spots, My Khe Beach is gifted with pristine and calm water, making it pleasant to swim in. The beach has powder-white sand lined with coconut trees, creating the perfect image of a tropical vocational beach. In certain parts of the beach, the waves are a bit choppy, especially when there is a strong wind flow, which allows water sports such as board surfing and sailing.
Address: Vo Nguyen Giap Street, T20, Phuoc My Ward, Son Tra District
Notes and tips: A wide range of facilities is available at the beach, such as swimsuit and towel rental; food and drinks; lounge beach chair rental, etc. The price for renting a beach chair ranges from 40,000 VND – 60,000 VND.
2. Ba Na Hills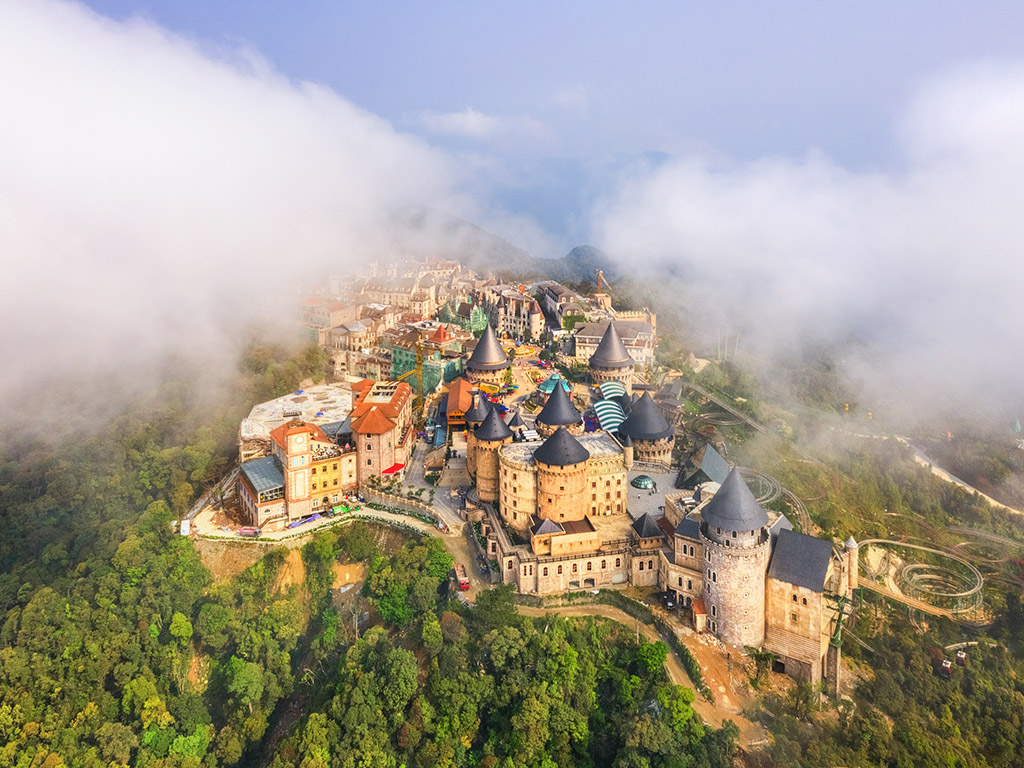 Ba Na Hills is known as the most luxurious resort and entertainment complex in Vietnam. Situated at 1,487 meters above sea level, Ba Na Hills offers a pleasant climate and spectacular landscapes. You can experience the interesting transition of the climate within a day, eccentric attractions, endless festival activities, and culinary feasts.
Among all the exciting and unique constructions, the Golden Bridge comes as the most symbolic and recognizable icon of the complex. The Golden Bridge was listed in the "top 10 best destinations in the world in 2018" by TIME and "the most spectacular pedestrian bridge" by many other prestigious magazines and travel websites. With its eye-popping architecture and a great testimony to the coming together of nature and humans, a beautiful metaphor to celebrate the power of Mother Nature in supporting humankind.
Another unskippable location in Ba Na Hills is the French Village with the dedication put towards recreating the poetic and romantic French countryside. The highlight is not only the architecture but also the fun-packed activities going on all day here.
Opening hours: 8 AM – 5 PM
Address: Hoa Vang District, about 20 km from the city center
Tickets:
850,000 VND ($36.35) for adults
700,000 VND ($30) for children (1 m – 1.4 m in height)
Free entrance for children under 1 m
For more information, please visit the official website of Ba Na Hills here.
Notes and tips:
Exploring Ba Na Hills will take you a whole day with many outdoor activities so bring extra clothes for change.
There is a swimming pool in the complex, so you can bring your swimsuit to chill by the pool to cool down the heat at midday.
The Golden Bridge is packed with people most of the time, so if you want to have it more for yourself, try to come as early as possible in the morning (be aware that the misty fog could obscure the views, though). Or, you can go for the Ba Na By Night Combo – which allows entrance from 3 PM – 10 PM. It means that you can fully embrace the sunset over the bridge and explore the complex under much nicer weather. Also, the tickets are cheaper: 700,000 VND ($30) for adults and 520,000 VND ($22.25) for children. Ba Na By Night Combo is only applied on Saturdays.
3. Son Tra Peninsula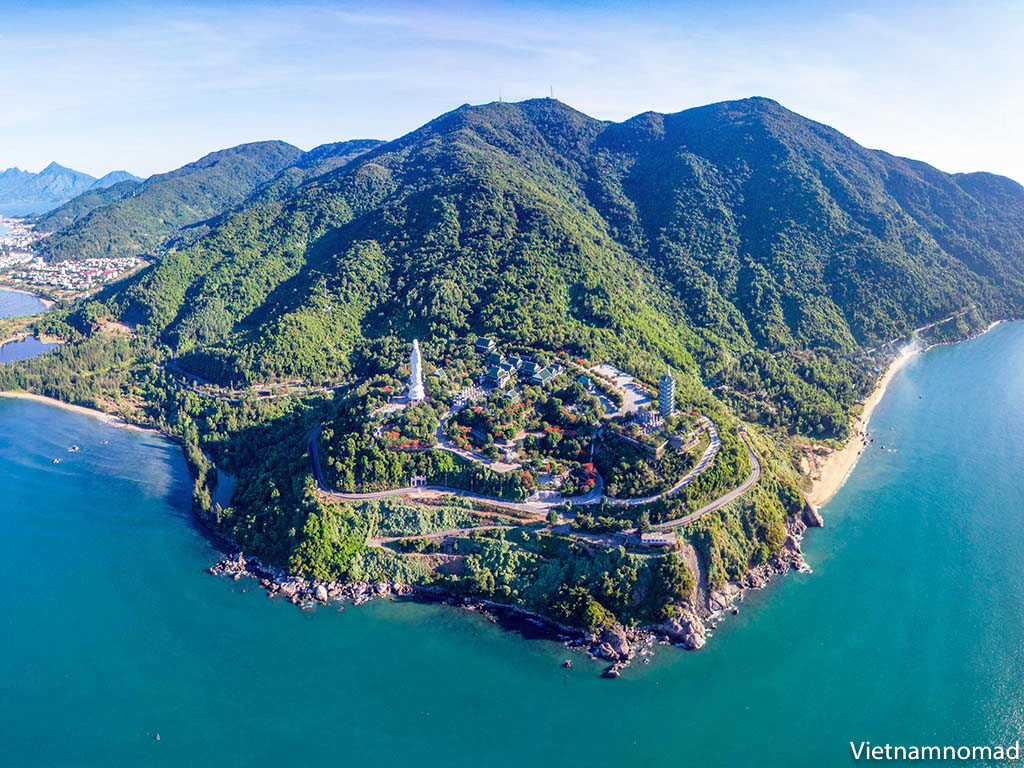 Not only rich in historical values and strategic economic roles, but Son Tra Peninsula is also a precious natural forest ecosystem of Da Nang. Being granted such an advantageous location surrounded by stunning beaches on one side and facing the magnificent mountains on the other side, Son Tra Peninsula is a must-visit destination in Da Nang with many activities to offer.
There are many unprecedentedly gorgeous beaches lying along the peninsula, such as Bai But, Bai Tien Sa, Bai Bac, Bai Nam, etc. These beaches are quieter and less touristy.
Don't miss Linh Ung Pagoda, located 693 m above sea level, where the tallest Lady Buddha Statue in Vietnam, recognized by UNESCO, is placed. Linh Ung Pagoda has a unique with a fascinating view and a nice breeze from the ocean. This is for sure a must-see attraction that gives you a sense of peace and tranquility.
Address: Hoang Sa Street, Tho Quang Ward, Son Tra District
Notes and tips:
There are three different pagodas with the name Linh Ung Pagoda, so make sure you look for the right one on Son Tra Peninsula.
If you are driving a motorbike, try to make it to Ban Co Peak. We guarantee you a mesmerizing drive and an unforgettable panoramic view from the top of the mountain.
4. Marble Mountains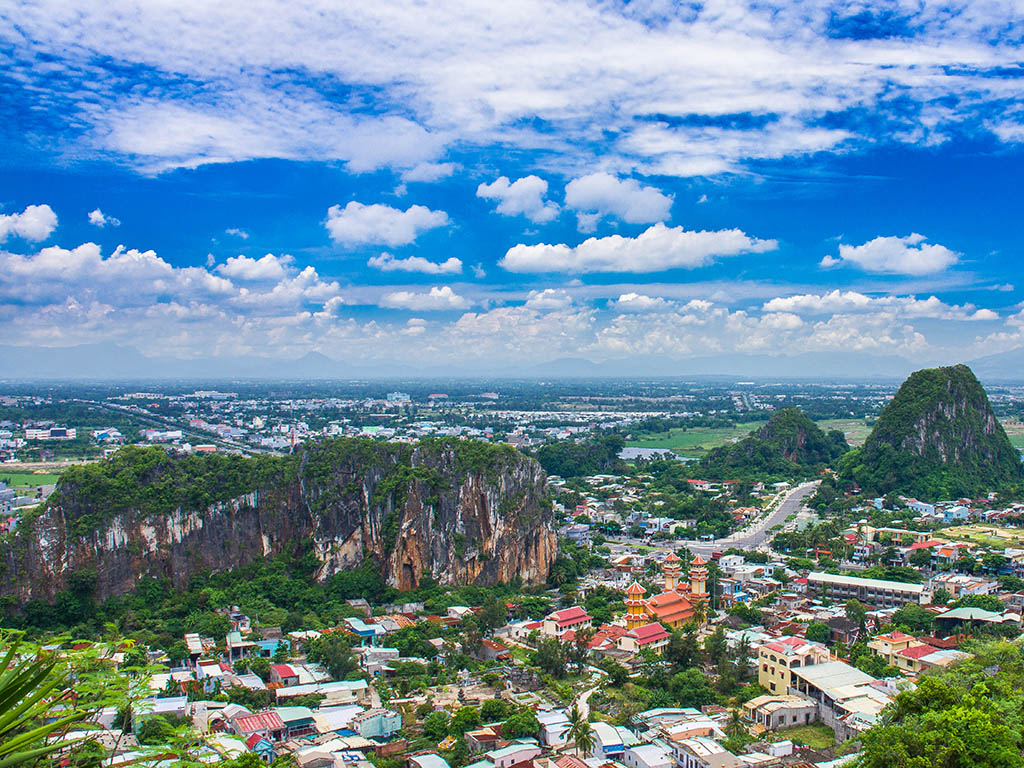 Marble Mountains (Ngu Hanh Son), also known as Non Nuoc mountain, is a landscape including five limestone mountains representing five elements of life in the Eastern belief: Metal, Wood, Water, Fire, and Earth. According to the remaining historical records, this was where the Cham people worshiped their gods and held their religious celebrations. Later, an influx of Vietnamese arrived and brought with them Buddhist culture and beliefs, which explains for the diversity and variety of temples and shrines scattered around the mountain complex.
You will be left in awe by the magnificence of the caves and the sacredness of the temples. The cool climate, together with dim light and spreading smoke from incense sticks, will give you good chills.
Tickets: 40,000 VND, free for children under 6 years old
Opening hours: 7 AM – 5:30 PM
Address: 61 Huyen Tran Cong Chua, Ngu Hanh Son District
Notes and tips:
Dress appropriately as most of the locations within the mountain complex are religious constructions.
Try to make it to the caves around midday so you can get the beautiful rays of sunlight.
This is a good place to get souvenirs with fine ornaments made from marble stones which are nice, affordable, and easy to carry.
5. Asia Park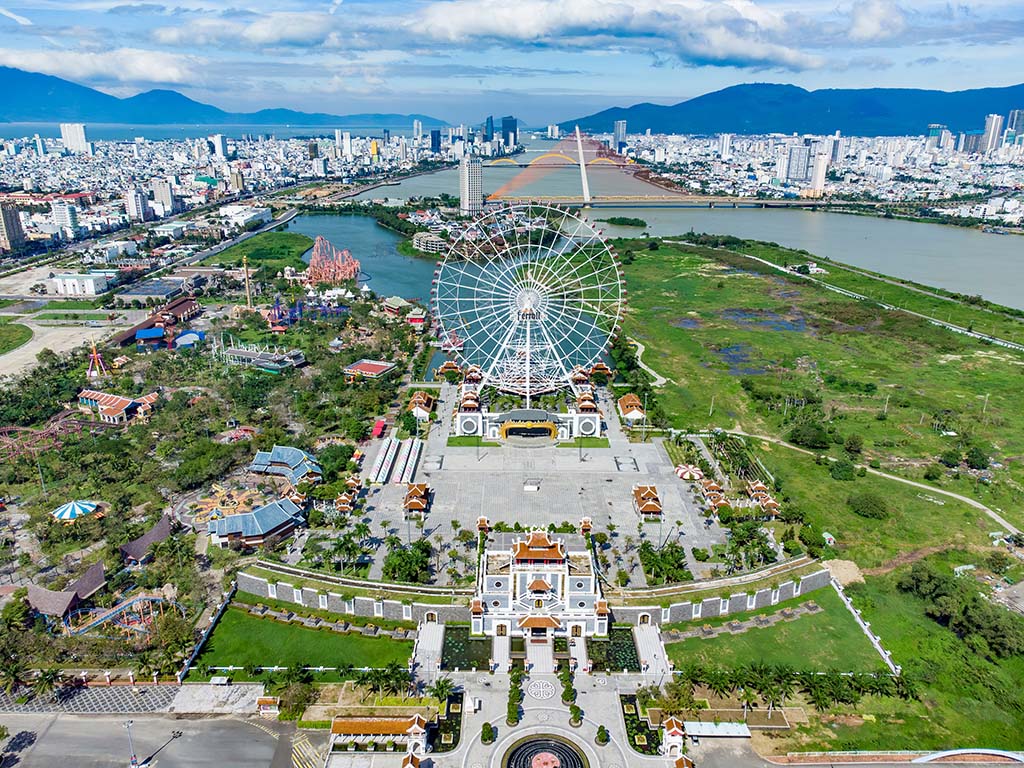 If you would like to have a break from exploring the natural surroundings and have some fun, Asia Park would be a suggestion. This amusement park houses some interesting records, such as the largest roller-coaster in Vietnam and one of the highest Ferris wheels in the world – the Sun Wheel. Asia Park is particularly suitable for families with kids with more than 20 games, a collection of international cuisines, and diverse performing activities.
Tickets:
200,000 VND ($8.6) for adults
100,000 VND ($4.3) for children (1 m – 1.4 m in height)
Free for children under 1 m
Opening hours:
Weekdays: 3 PM – 10 PM
Weekends: 9 AM – 10 PM
Address: 01 Phan Dang Luu, Hai Chau District
Notes and tips:
Asia Park often holds interesting seasonal festivals and performances; you can check out their official website here to update the upcoming performances.
You will need to pay extra to go on the Sun Wheel, which costs 100,000 VND ($4.3) for adults and 50,000 VND ($2.15) for children (free for children under 1 m).
6. Dragon Bridge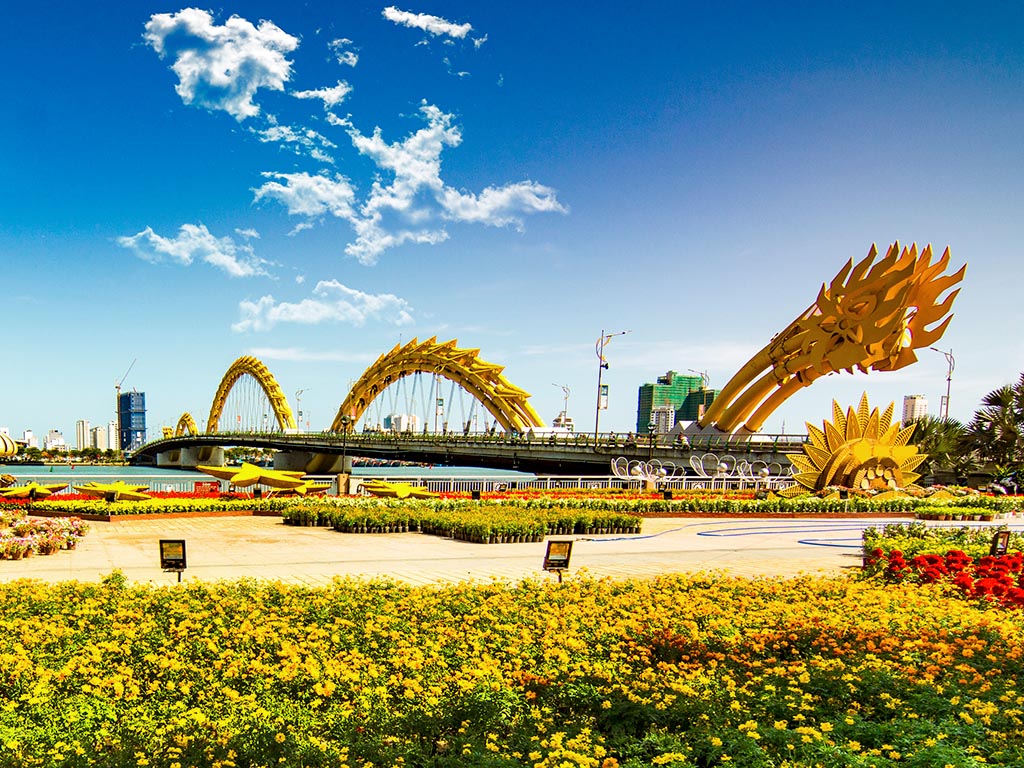 Dragon Bridge is a unique bridge in Da Nang, which is seen as a symbol of the prosperity of this city. Indeed, Dragon Bridge has the heaviest weight compared to other bridges in Vietnam with a solid dome structure and a specially designed body using a combination of 5 steel pipes and 15,000 LED bulbs to decorate the dragon model.
What attracts most tourists to the Dragon Bridge is the performance of the dragon breathing water and fire. Watching the performance and sharing the cheering with the locals will be a great experience.
The performance takes place at 9 PM on weekends and public holidays.
Address: Nguyen Van Linh Street, Phuoc Ninh Ward, Hai Chau District
Notes and tips:
Watching the performance from the bridge could give you a close-up view, but you will possibly get wet so you can wear a light wind/rain jacket.
Some spots with a good view of the performances are along Bach Dang Street and Tran Hung Dao Street.
7. Con Market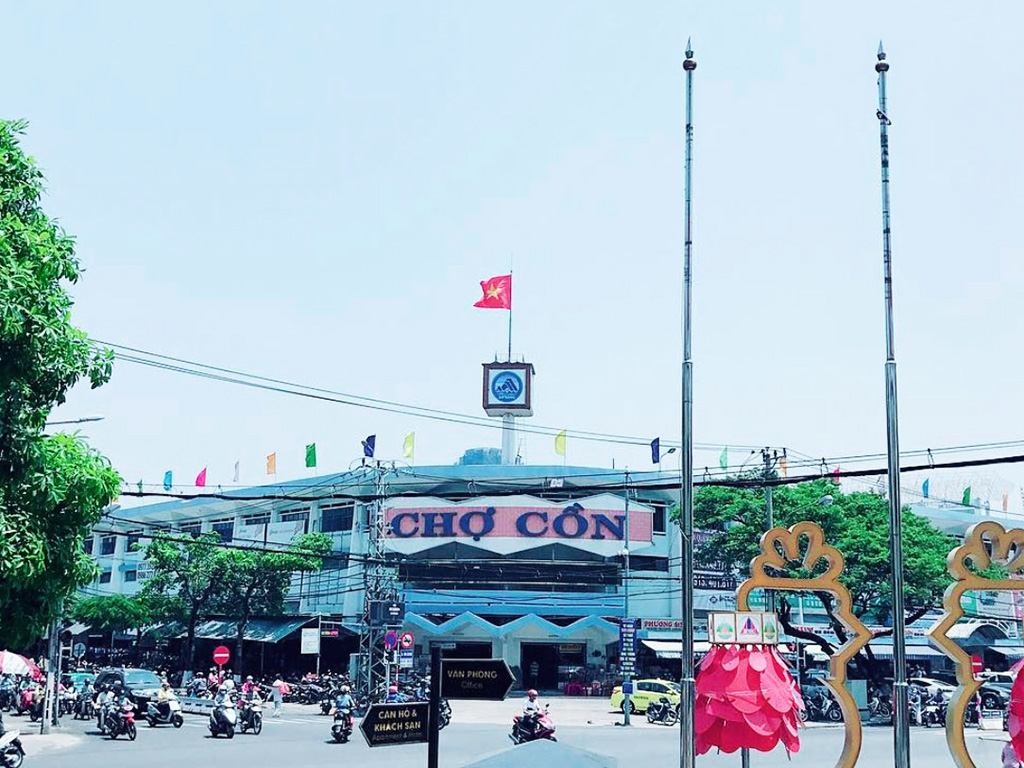 Like Ben Thanh Market in Ho Chi Minh City and Dong Xuan Market in Hanoi, Con Market is iconic of Da Nang and a must-visit attraction in this city. Con Market is known as the culinary paradise where you can sample most Vietnamese dishes and, of course, all the local specialties. The market is divided into three sections: indoor food section, outdoor food section, and dried product section. The quality of foods at Con Market is guaranteed, and the prices are totally reasonable, making it the best place for your culinary exploring journey.
Address: 269 ​​Ong Ich Khiem, Hai Chau District
Opening hours: 6 AM – 7:30 PM
Notes and tips:
You should come with a hungry stomach and don't order too much at one vendor because you will have a lot of tasty dishes to experience.
It is acceptable to bargain for 20% – 30% of the price for souvenirs at the market.
8. Hai Van Pass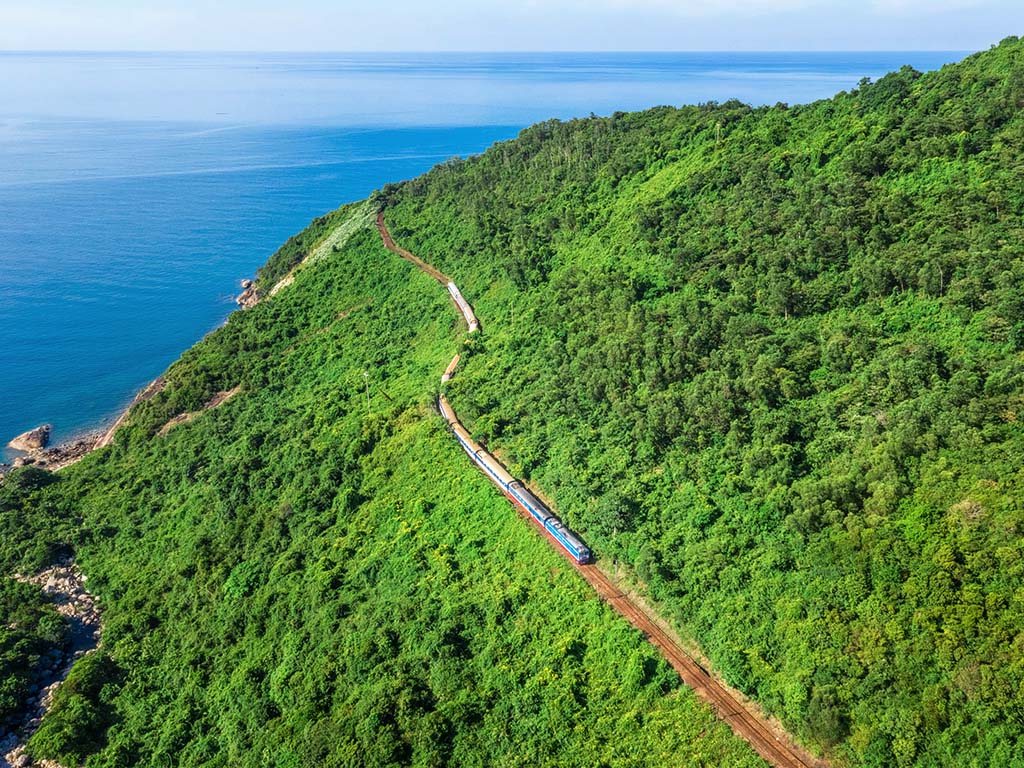 Hai Van Pass (the Sea Clouds Pass ) is one of the most beautiful and also most dangerous passes in Vietnam, connecting Da Nang and Hue. The pass is famous for its spectacular panoramic view as the highest part is 500 m above sea level. Due to the blind corners and sharp curves, it is only recommended for those who are confident on motorbikes. With a total length of 20 km, the pass is 20 km from Da Nang and 80 km from Hue city, which is a decent distance for a road trip.
Some of the favorite locations on the pass are Hai Van Quan (Gate Hai Van), Don Ca arch bridge, Lang Co viewpoint, and so on.
Notes and tips:
Manual motorbikes are recommended for the pass due to high slopes and sudden bends.
You should combine exploring the pass while you are traveling from Da Nang to Hue (or vice versa), and the best time to go is early morning as you will have more time to stop along the way for the historical remains and viewpoints. Do not cross the pass if you cannot make it before sunset, or it will be extremely dangerous.
9. Phong Nam Ancient Village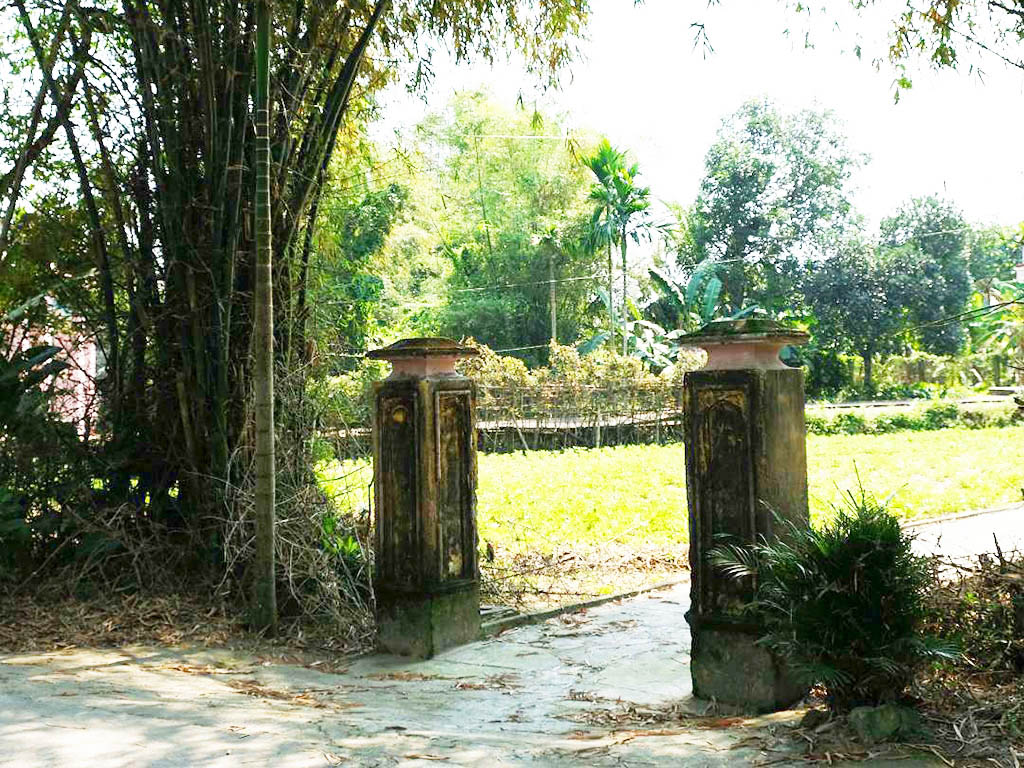 Not popularly known among tourists; however, Phong Nam Ancient Village is one of the must-visit destinations, which is only 10 km from Da Nang center.
Established during the Champa Empire, the village carries with it a breadth of hundreds of years of history. Visiting the village, you will have a chance to explore the traditional architecture through the well-remained houses and temples across the area. Phong Nam Ancient Village is a perfect place to enjoy the peaceful countryside landscapes and experience authentic local lifestyles.
Address: Hoa Vang Province, Da Nang
Notes and tips: After arriving at the village, it is best to take a walk to closely observe the rustic look and the ancient vibes of the town.
10. Han River Bridge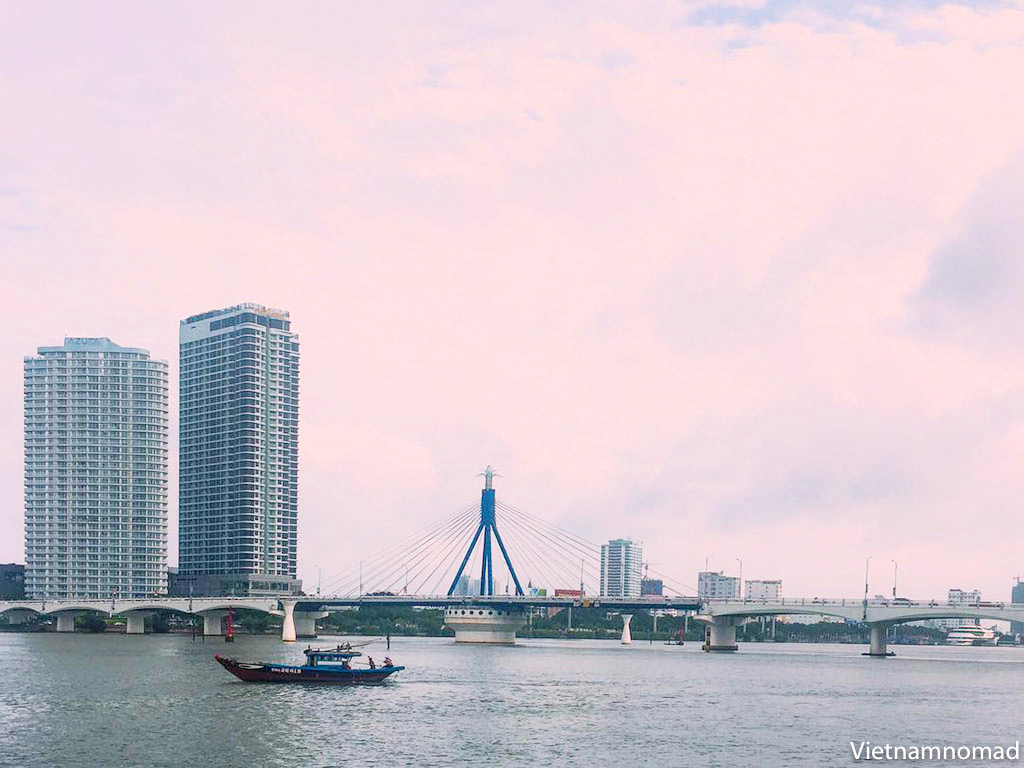 Cau Song Han (or Han River Bridge) is another eccentric bridge that not only serves as a key transportation facility but is also an interesting tourist attraction. This construction was designed and constructed entirely by the Vietnamese people, which embodies the dedication and devotion of the population of a rising and developing city.
What is special about this bridge is that it will rotate for 90 degrees every day, revealing two waterways for the transport of big boats.
Address: Intersection of Le Duan Street and Tran Phu Street
Time:
Monday – Friday: 1 AM – 2 AM (in case of high traffic, the bridge will close at 4 AM)
Saturday – Sunday: 11 PM – midnight
Notes and tips:
The bridge will close to public traffic 15 minutes before the scheduled rotating time, so you should regard it when planning your travel.
The good spots to watch the rotation of the bridge are along Bach Dang Street.