My Khe Beach is one of Vietnam's most beautiful beaches. Forbes magazine nominated My Khe as one of the world's six most beautiful beaches. The beach is the name given to the 10-kilometer stretch of coastline that runs from the foot of the Son Tra Peninsula to the Marble Mountains. It is one of the must-see attractions in Da Nang.
Where is My Khe Beach?
My Khe Beach is located on Vo Nguyen Giap Street, Phuoc My Ward, Son Tra District, about 3 kilometers from the center of Da Nang and 25 kilometers from Hoi An Ancient Town. It is the most popular and well-known beach among locals and visitors, especially during the summer.
Tourists can swim at the three main beaches: Pham Van Dong, T20-T18, and 1-2-3 beaches.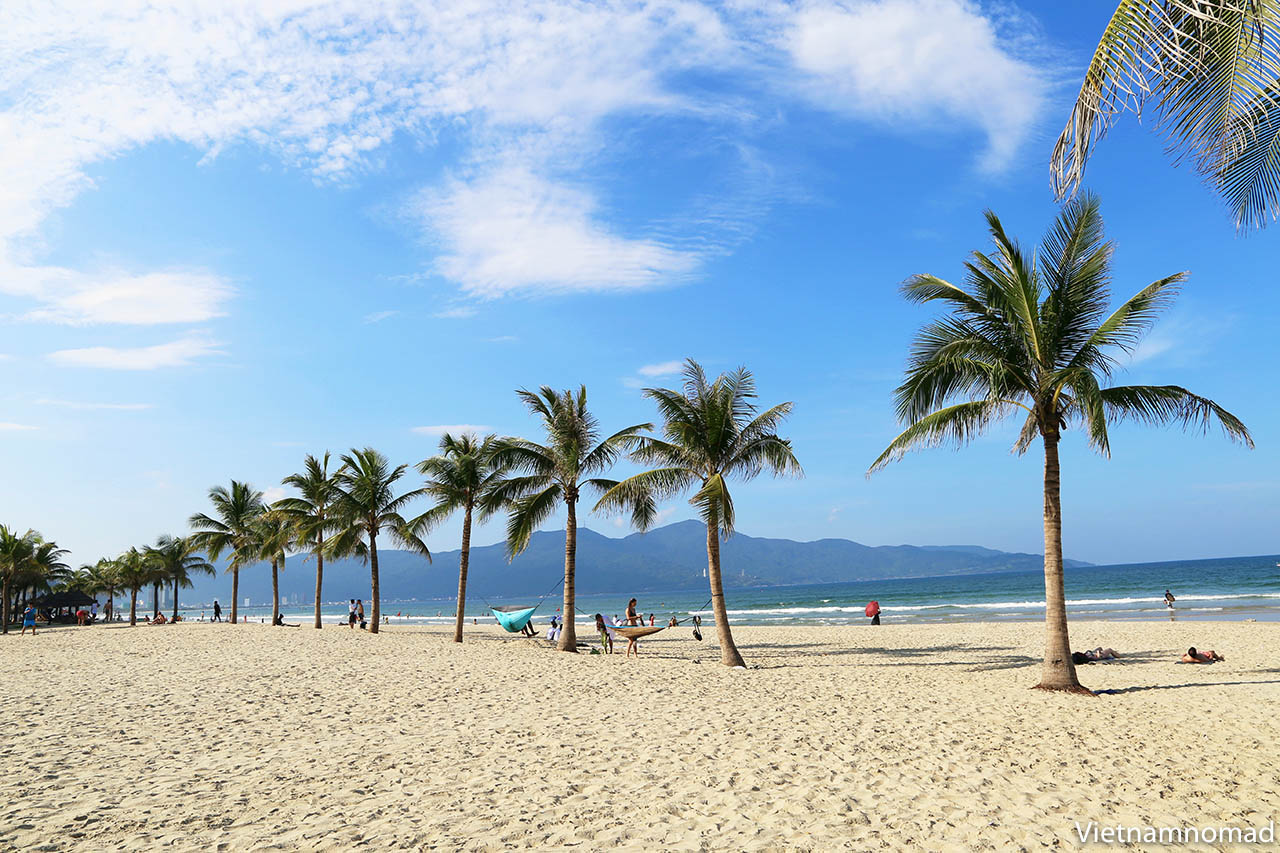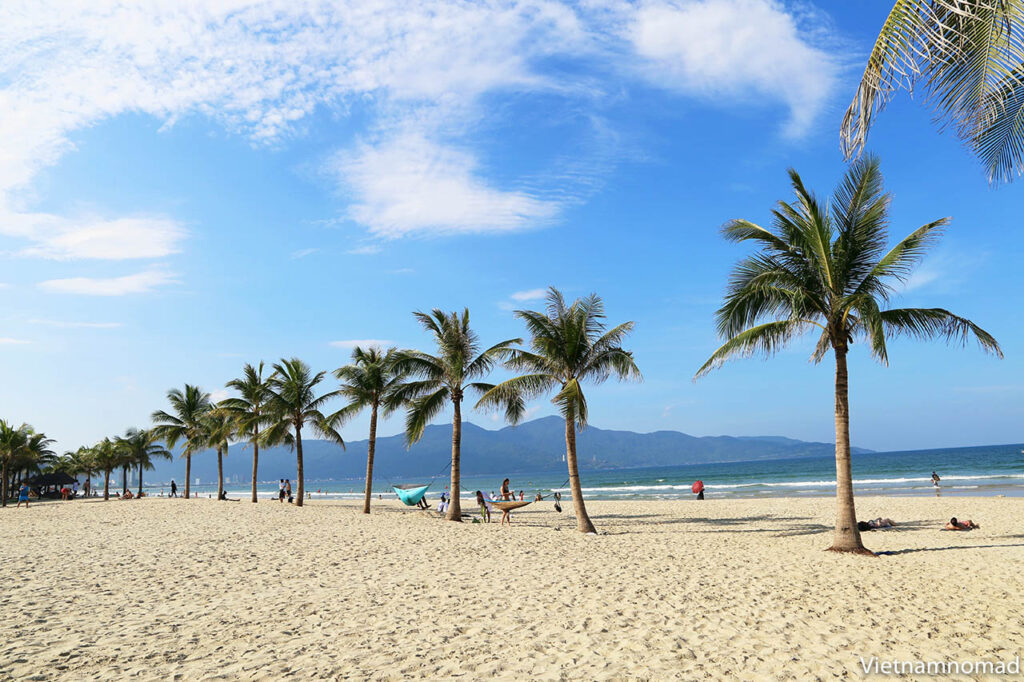 Best time to visit My Khe Beach
My Khe Beach's water is fresh and blue throughout the year, so tourists can visit this beach anytime to enjoy the beautiful scenery and many exciting beach activities. However, the best time to swim and play the water games is from April to September – when it is summertime with a clear sky, low rainfall, gentle waves, and no storms.
Things to do at My Khe Beach
My Khe is an excellent beach for sightseeing, sunbathing, swimming, and parasailing. A fantastic location for those who want to take in the beauty of nature at sunrise and sunset.
Swimming and sunbathing: My Khe Beach, nominated as one of the most beautiful beaches on the planet, is well-known for its giant white sand, gentle waves, and clear crystal water. The shallow coast, which is longer than 90 meters, allows people to swim while admiring the Marble Mountains' magnificent view. Furthermore, the Da Nang seashore security team works from 5 AM to 8 PM every day to ensure the safety of visitors swimming and relaxing on the beach.
Admiring My Khe Beach's natural beauty: My Khe Beach also offers magnificent sunrise scenery due to its white sand and clear blue water. When the sun rises, the water's surface glitters in the early morning sunlight, and the mountains wake up green, creating a lively scene, while everything takes on a coat of stillness and tranquility when the sun goes down. Sitting on the sandbank and catching the pace of nature, you can thoroughly enjoy the transition between day and night, which has an atmosphere that can make your heart skip a beat.
Beach sports: Due to its ample beach space and gentle waves, My Khe is an ideal beach for entertaining tourists, particularly those interested in a variety of fantastic beach sports such as volleyball, jet skiing, parasailing, windsurfing, water-skiing, parachute jumping, diving, and so on. Many beach sports operators can be found directly on the public beach and along the coastline of resort strips, where you can try any game you want with the help of their detailed guide and safety equipment.
Trying fresh seafood: Eating seafood is a must when visiting any beach. My Khe Beach Da Nang offers a diverse selection of seafood to suit your tastes. Many seafood restaurants along the Vo Nguyen Giap coastal road have reasonable seasonal menu prices.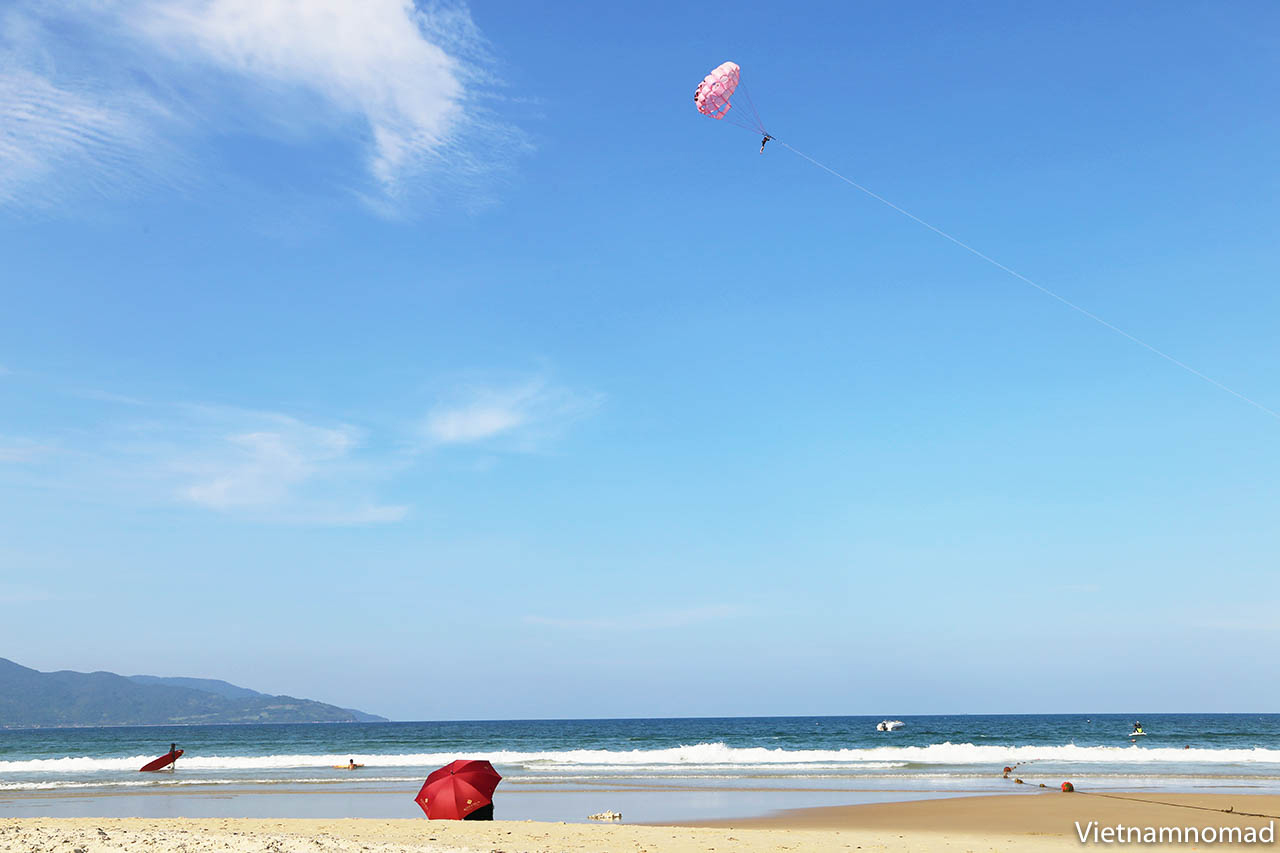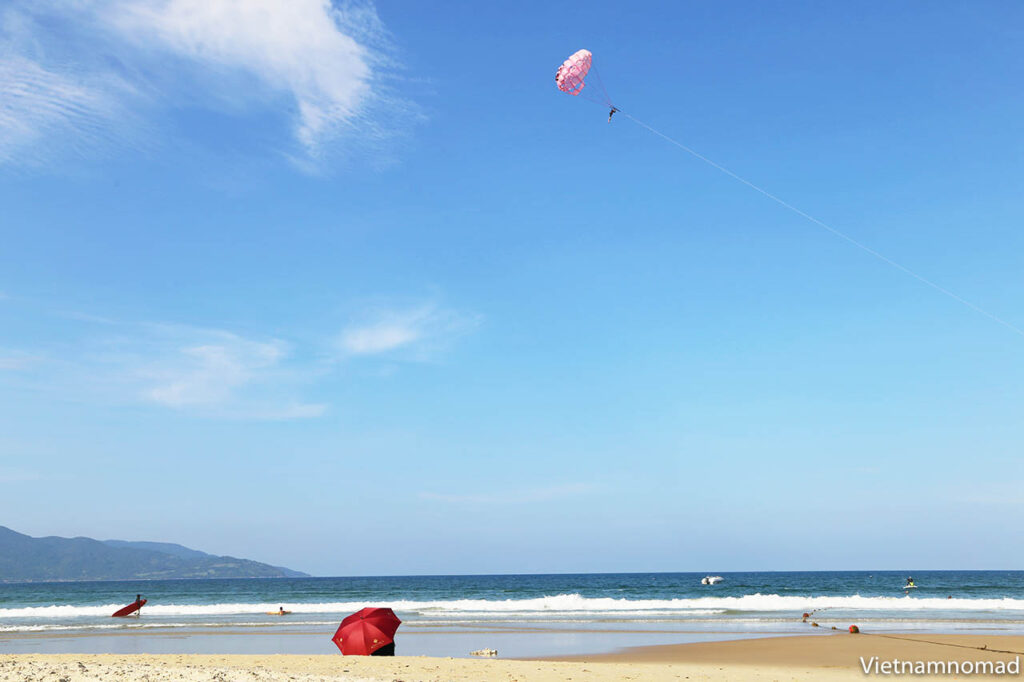 Travel tips
Swimming is permitted daily from 5 AM to 8 PM, with lifeguards on duty to ensure your safety.
Rip currents are expected on Da Nang's beaches, so look for their warning signs: spots in the water that are darker than their surroundings, small and still sea waves, and bubbles or floating debris that may appear on the surface of the rip currents.
Be wary of jellyfish. Their growing season is in the summer. When jellyfish attack your hands or legs, gently wash them with seawater and cover them with sand from the beach. This is a fishing tip that has been passed down through generations.
My Khe Beach on the map