Sapa at a glance
Located in the Northwest of Vietnam, Sapa contains many wonders of the natural scenery and people. Sapa is known with the name "the town of cloud", which attracts visitors with majestic mountain views and many unique experiences exploring the lives of ethnic minorities. Let's watch the panoramic video of Sapa!
LOCATION
Located in the Northwest of Vietnam, which is 38 km from the center of Lao Cai City and 376 km from Hanoi. Besides the main road from Lao Cai City, there is another route to Sapa, the National Highway 4D connects from Binh Lu, Tam Duong, and Lai Chau communes. Although the majority of Sapa residents are ethnic minorities, the town is home to the majority of the Kinh people living on tourism.
SAPA WEATHER
Blessed with a cool climate all year round, Sapa attracts many tourists to this beautiful land. Located at an average height of 1.500m – 1.800m, Sapa is effected by temperate climate, with an average temperature of 15 °C to 18 °C. From May to August, Sapa has a lot of rain. At the end of the year, when winter comes, the temperature in Sapa can drop below 0 degrees, sometimes it snows.
THE BEST TIME TO TRAVEL TO SAPA
You can go to Sapa at any time of the year, but the most suitable time to go to Sapa is from March to May or from September to November. During these times, the Sapa weather is good to visit, relatively mild, sunny in the day time, and cold at night.
From March to May: the blooming flowers season
Thousands of flowers bloom all over the hillsides, halfway up the slopes, valleys, mountain slopes, or roads on the town. All blends together to create the most beautiful, colorful picture you can see when traveling to Sapa.
From September to November: the rice season
At this time, the rice begins to ripen, the scenery of Sapa turns to the brilliant golden color of the rice, embracing the northwestern mountains, which is from September to October. From October to December, the weather may have turned cold and foggy, which is also the season of water in Sapa.
Besides these two wonderful times, visitors can also consider going to Sapa in December when Sapa is very cold, especially at night, and sometimes it snows. At this time, many young couples want to enjoy the romance of the snowy scenery, watch the peach blossom trees in the breeze, as well as the sunrise in the high valley in the early morning. It will be an experience that is hard to find anywhere else in Vietnam.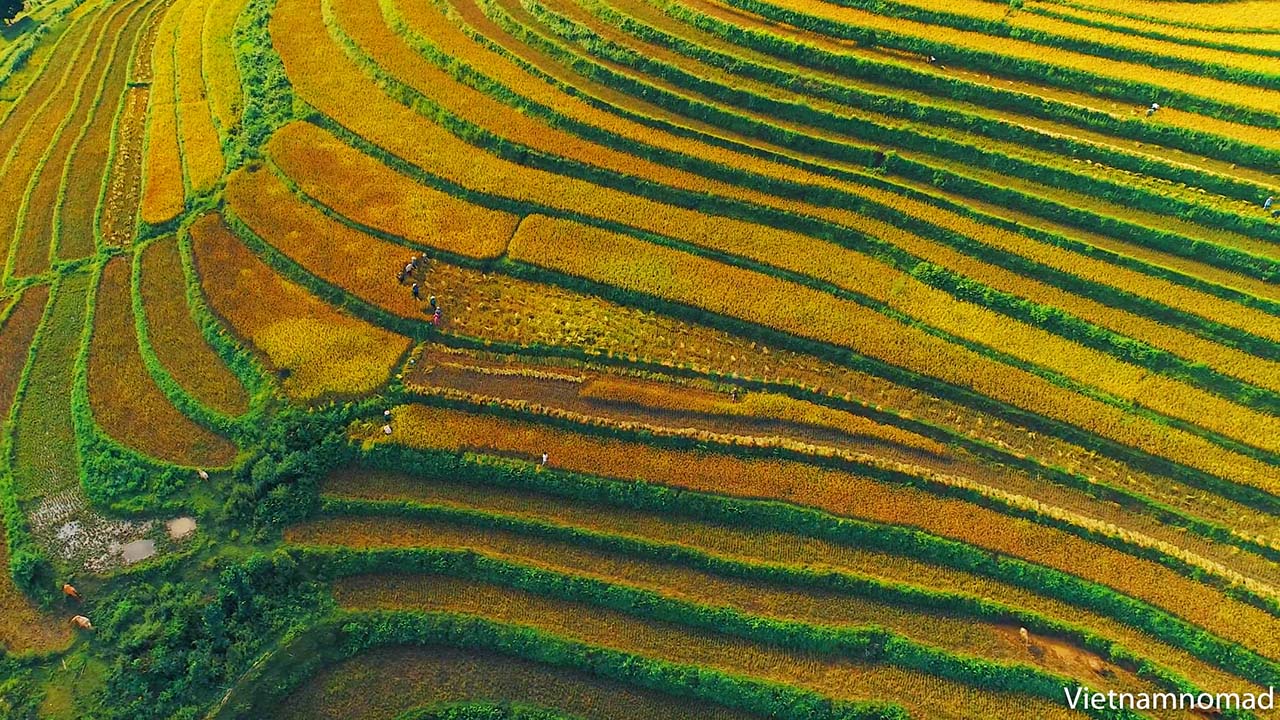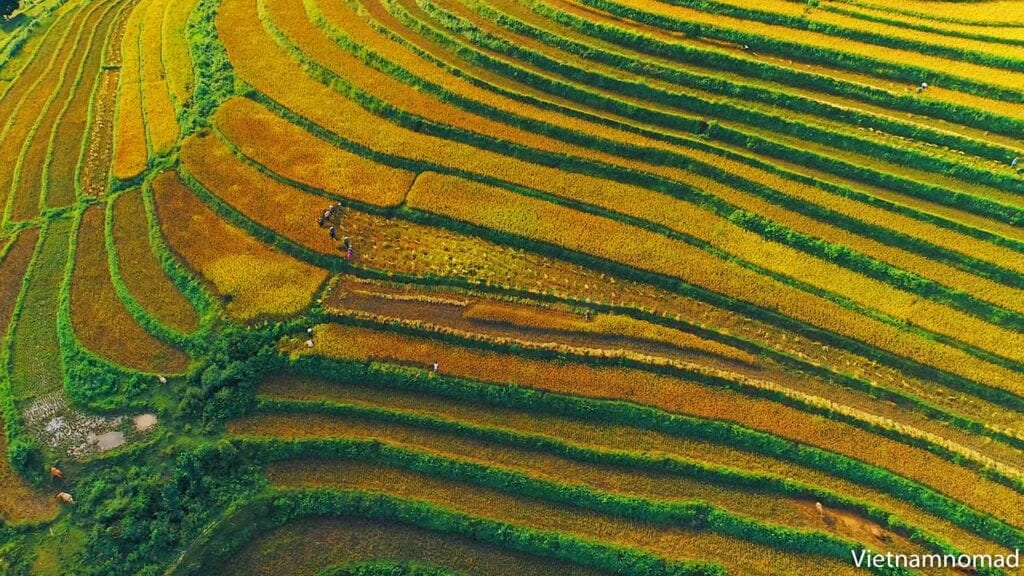 Sapa tourist map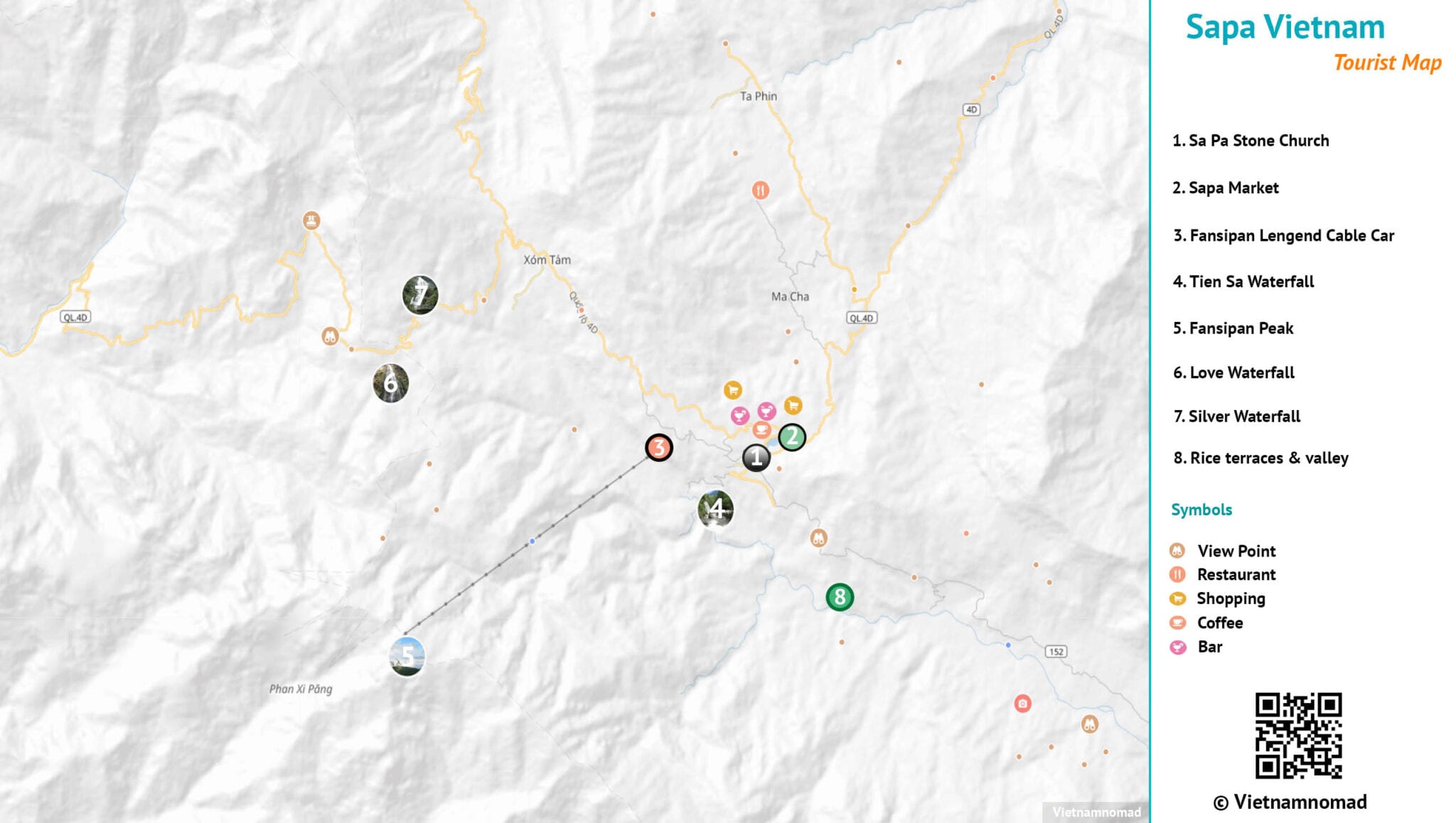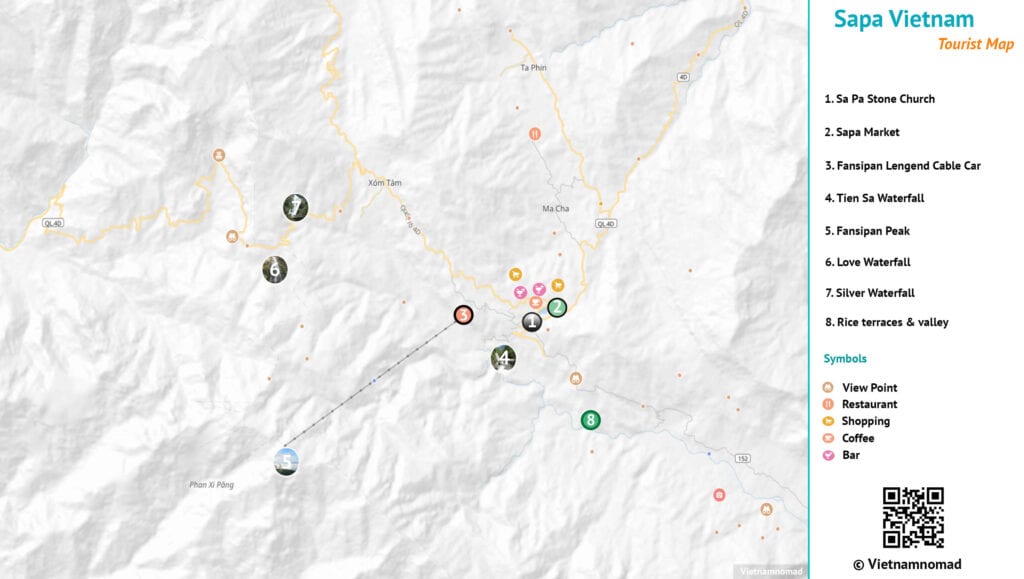 Sapa is a beautiful town with many attractive destinations. Still, the attractions here are far from each other and relatively difficult to travel, so we recommend a Sapa travel map, you can rely on it to find a suitable schedule.
How to get to Sapa
Discover transportation deals for Sapa from our partners >
As one of the best destinations in Vietnam, traveling to Sapa is extremely easy and has many different options, such as cars, limousines, and trains. We will guide you on how to go from Hanoi to Sapa in detail.
FROM HANOI TO SAPA
1. By Bus
Currently, many bus companies run Hanoi to Sapa with very affordable fares, ranging from 180.000 – 200.000 VND/person/way, which have 2 times of travel: early in the morning from 6:30 am or late in the evening from 10 pm.
2. By Train
If you go to Sapa from Hanoi, you have to move to Tran Quy Cap station. Although the roads are convenient today, the train only stops at Lao Cai station; you have to take the bus to move up to Sapa. But going by train is also one of the exciting experiences that you must try once.
There are two options for you, one is the soft seat, the other and air-conditioned bed. The train starts at 9 or 10 pm and arrives early in the morning. The fare is around 200.000 – 600.000 VND/ passenger depending on the cabin class.
3. By Limousine
Besides the above choices, you also can go to Sapa from Hanoi by Limousine. It is an entirely new design with nine seats, ensuring comfort and convenience. Limousine prices are not too high, ranging from 300.000 to 600.000 VND/one depending on the company and seat class, travel time of 4 – 5 hours.
GETTING AROUND SAPA
To get around Sapa town, you have three options: rent a motorcycle and go by yourself, hire a motorbike driver, take a taxi.
1. Rent a motorcycle
With prices ranging from 120.000 to 180.000 VND/one, you can explore this land on your own. Remember, the above prices are applied in 1 day (from 6 am to 6 pm). Whether you rent morning or night, the same rate applies.
2. Hire a motorbike tour guide
For those traveling alone, hiring a motorbike driver is probably the best choice. Price range from 100.000 – 150.000 VND for 4-5 famous places near each other.
3. Take a Taxi
Besides the above options, you can also hire a taxi to move around Sapa town. However, ethnic minority villages are often located deep in small alleys. Therefore, you should consider this option, which will be quite expensive!
Where to stay in Sapa
As the leading tourist destination in Vietnam, there are many accommodation options in Sapa.
There are two areas with cheap accommodations in Sapa: Xuan Vien and Fansipan Street, the average price is from 200.000 VND – 400.000 VND/night for two people room. On weekends and public holidays, the price may be higher.
If you want to be in a quiet space, close to nature, you should stay at a homestay. When staying at a homestay, visitors also discover a lot of new and exciting things about the lifestyle and traditional culture of the people here.
Nowadays, there are some homestay villages such as Ban Ho, Lao Chai, Ta Phin, and Ta Van. If you are a little bit more condition, you can choose the villas or resorts with beautiful views and luxurious services.
Here are some recommendations for accommodation in Sapa, which are excerpted from the Vietnam travel guide book.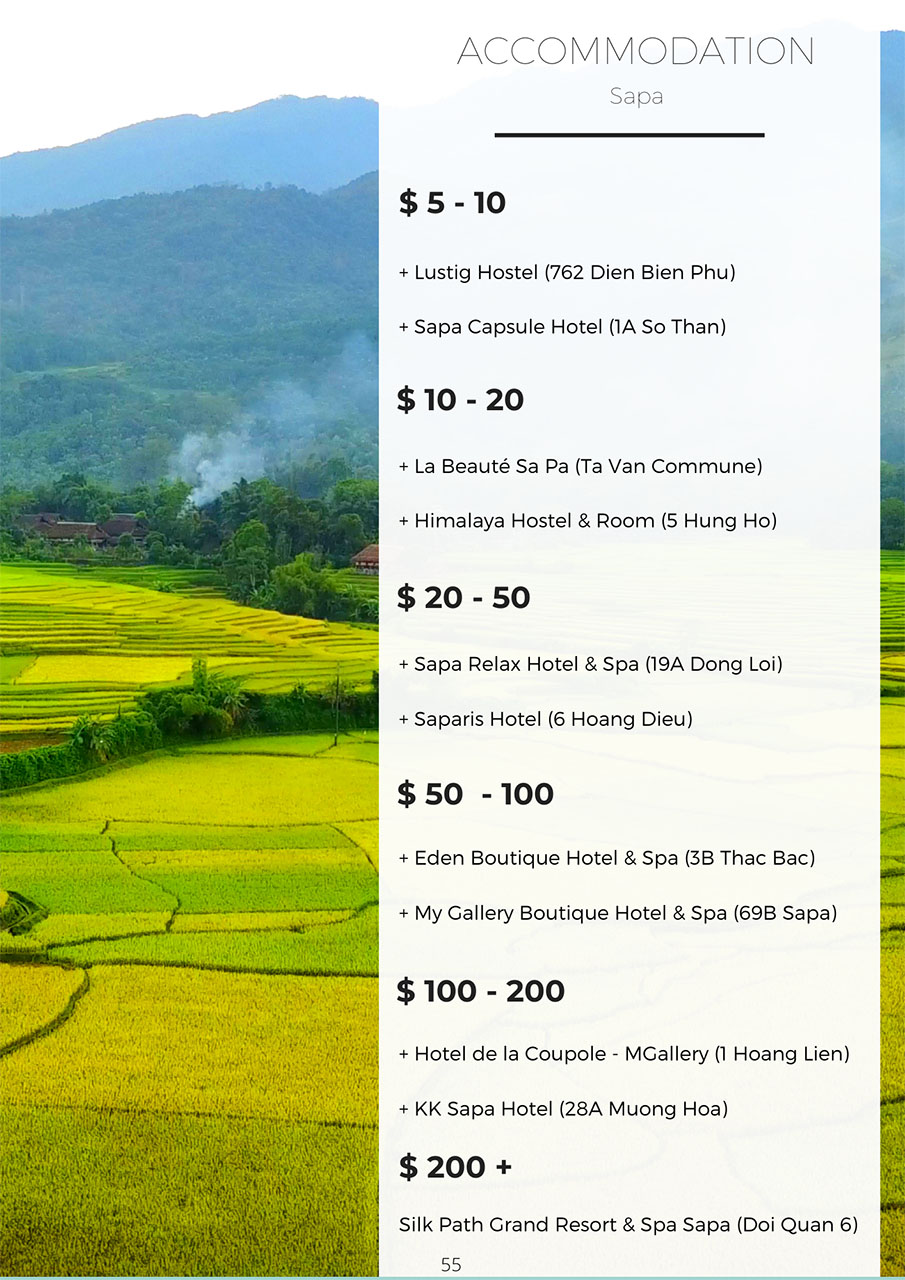 The most attractive destinations in Sapa
Sapa is famous for its many marvelous mountains and beautiful terraced fields. There are destinations you cannot miss when traveling to this town.
DESTINATIONS IN THE SAPA CENTER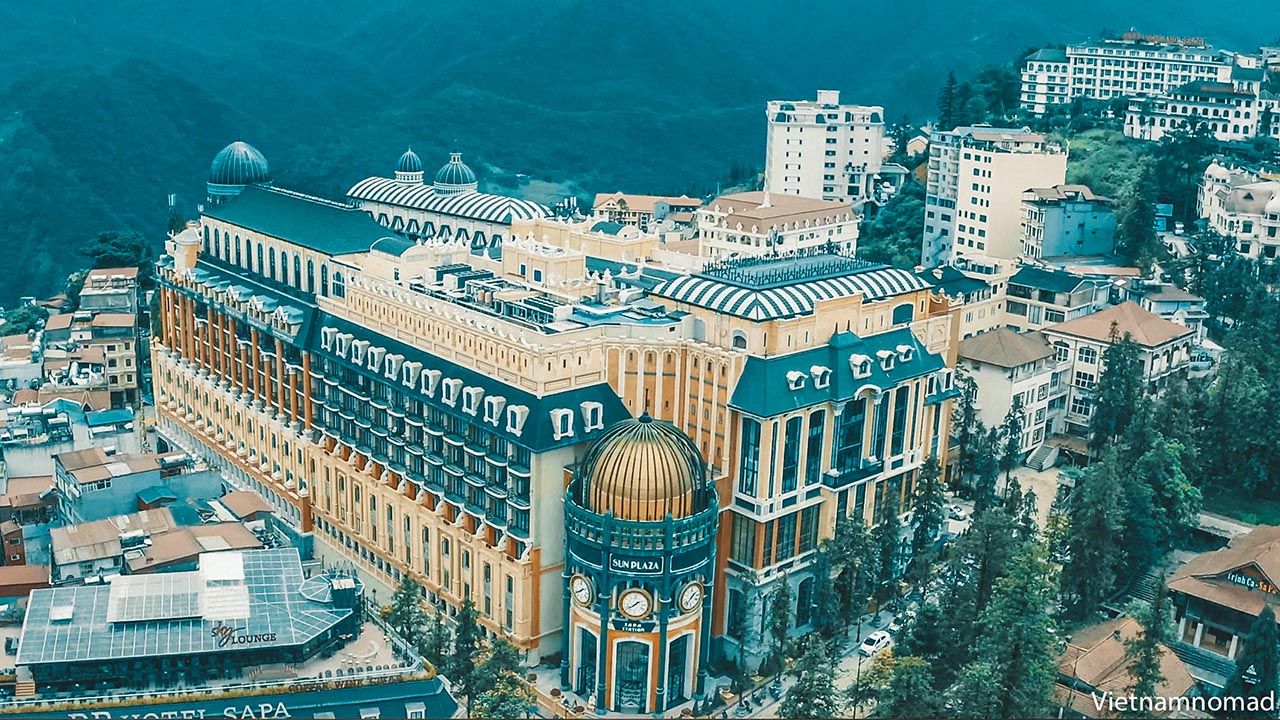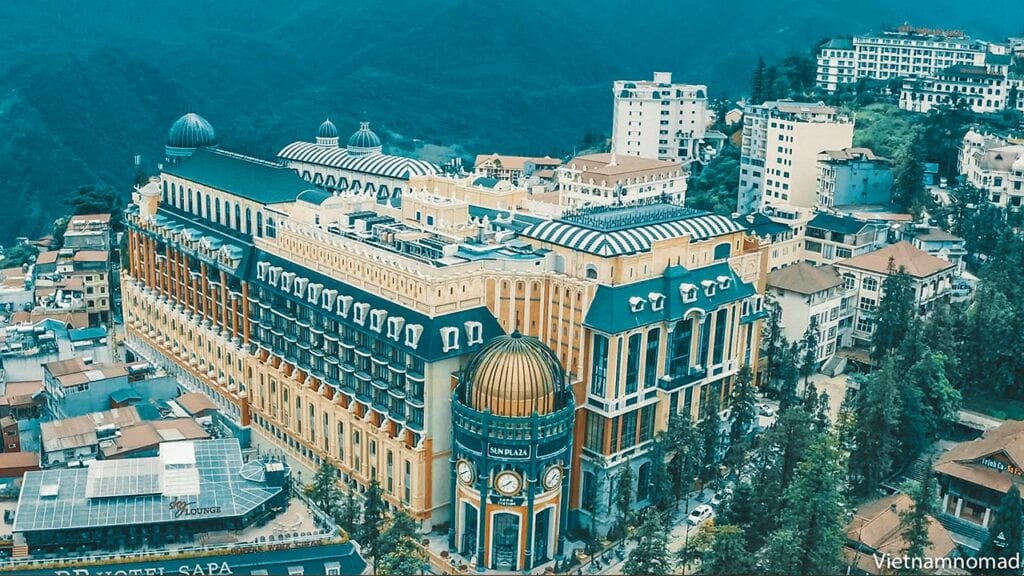 1. Sapa stone church
Built in 1895, it is considered as an ancient architectural imprint of the French left. The church has been renovated and preserved, becoming an indispensable place when mentioning the Sapa town.
2. Ham Rong Mountain
Standing on the top of Ham Rong Mountain, you can enjoy panoramic views of Sapa, Muong Hoa valley, Ta Phin hidden in the clouds. Visiting Ham Rong, tourists seem to be lost in the fairy garden with clouds and colorful flowers on the ground.
3. Cat Cat village
From the town center, following the way towards Fansipan mountain about 4km, visitors will come to Cat Cat village. This is the gathering place of H'mong ethnic people.
Owning a beautiful location right at the down of Hoang Lien Son mountain, Cat Cat is a lovely village with the simple and beautiful natural scenery of terraced rice fields and small stilt houses in Northwestern Vietnam.
Location: about 4km from the center of Sapa
4. Ta Van village
Follow 4D Highway to the Southeast, about 8 km from Sapa town to Ta Van Giay village. Coming here, visitors will have the opportunity to learn more about the lifestyle of the Giay's ethnic. The road to Ta Van Giay village is small and narrow, both sides of the road are fertile terraced fields adorned with the green of corn and young rice.
Location: about 8 km from the center of Sapa
5. Sin Chai village
Sin Chai village, in San Sa Ho Ward, is a village that retains its untouched. This is a village of Black Hmong ethnic with a population of about 1.400 people. Besides planting rice and hybrid maize, Sin Chai villagers also grow cardamom that creates significant income for people in this ancient valley.
Location: about 5 km from the center of Sapa
6. Muong Hoa valley
The special thing in this valley is the ancient rock with many different shapes, interspersed between grasses and terraced fields of ethnic minorities. Hundreds of sandstones with engraved drawings and strange characters have not been identified yet, which has been recognized as a national heritage. In Muong Hoa valley, there is also a beautiful stream stretching about 15 km, passing through Lao Chai, Ta Van, Hau Thao communes, and ending at Ban Ho.
Location: Hau Hao Commune, 8 km to the South of Sapa
DESTINATIONS FAR FROM THE CENTER OF SAPA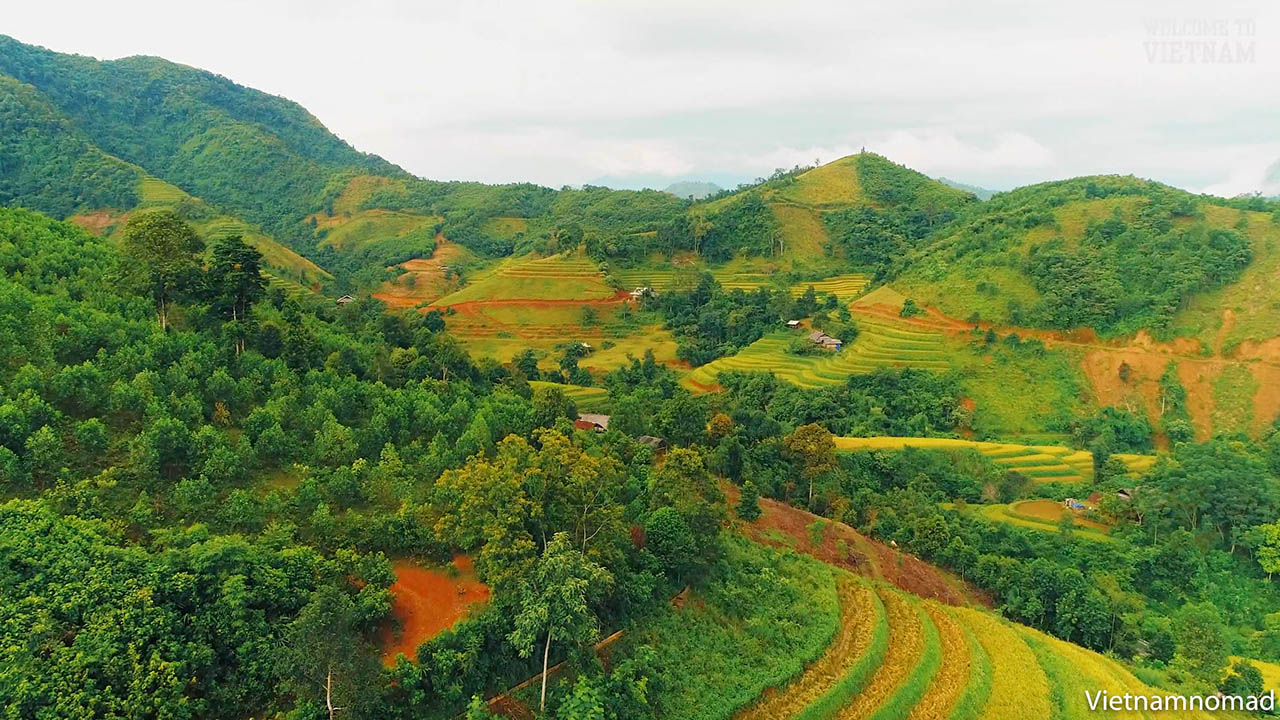 1. O Quy Ho mountain pass
Dubbed as one of the four high peaks of the Northwest Pass, O Quy Ho is a destination that any backpacker wants to conquer. O Quy Ho mountain pass with a length of more than 40km, is located at an altitude of over 2.000 meters, on 4D National Highway crossing Hoang Lien Son range. The top of the pass is between two provinces of Lai Chau and Lao Cai. The beauty of O Quy Ho Pass is always changing: Lao Cai province side is foggy while Lai Chau province side is sunny, which creates a beautiful landscape picture that attracts both domestic and foreign visitors.
Location: about 15 km from the center of Sapa
2. Silver Waterfall and Love Waterfall
From Sapa town, going to the West for about 11km on the way to Lai Chau Province, you will encounter rushing Silver Falls flowing down from an altitude of over 100m into a stream under the O Quy Ho valley, creating an impressive sound of mountains and forests. However, during the dry season, you should consider when visiting Silver Falls because then the waterfall has very little water. A further 3 km from Silver Falls is to Heaven Gate to look down on Lai Chau valley and the majestic Fansipan peak. If you like to walk, you can stop at Tram Ton and go through Hoang Lien National Park about 1 km more to explore Love Waterfall.
Location: about 11 km to the West of Sapa
3. Ta Phin village
This village owns a beautiful natural landscape along with the precious cultural traits of the Red Dao ethnic people. Coming to Ta Phin village, you can also visit the nearby Ta Phin cave. In this cave, there are many exciting stalactites shaped like fairy dancing, a party fairy sitting, distant fields, sparkling forests.
Location: about 15 km from the Sapa
4. Fansipan peak
The experience when visiting Sapa that you cannot miss is conquering Fansipan Peak – the highest mountain in Vietnam and Indochina Peninsula (3.143 m), located in the center of Hoang Lien Son mountain range. Currently, there are two options for you if you want to conquer Fansipan peak. First, you can go trekking Fansipan by following the tour of travel agencies or by yourself with the guidance of local people.
Secondly, you can also choose to go by cable car. Fansipan cable car route helped over ten thousand visitors who arrived at Fansipan Peak to admire, explore, and conquer the highest roof in Indochina. This is also the cable car with 2 Guinness records: the three-wire cable car with the most significant difference between the world's departure and arrival station, about 141m and the longest three-cable cable car in the world, about 6292.5m. The time to travel to the Fansipan Peak is now shortened from 2 days to only 15 minutes.
Location: about 9 km to the Southwest of Sapa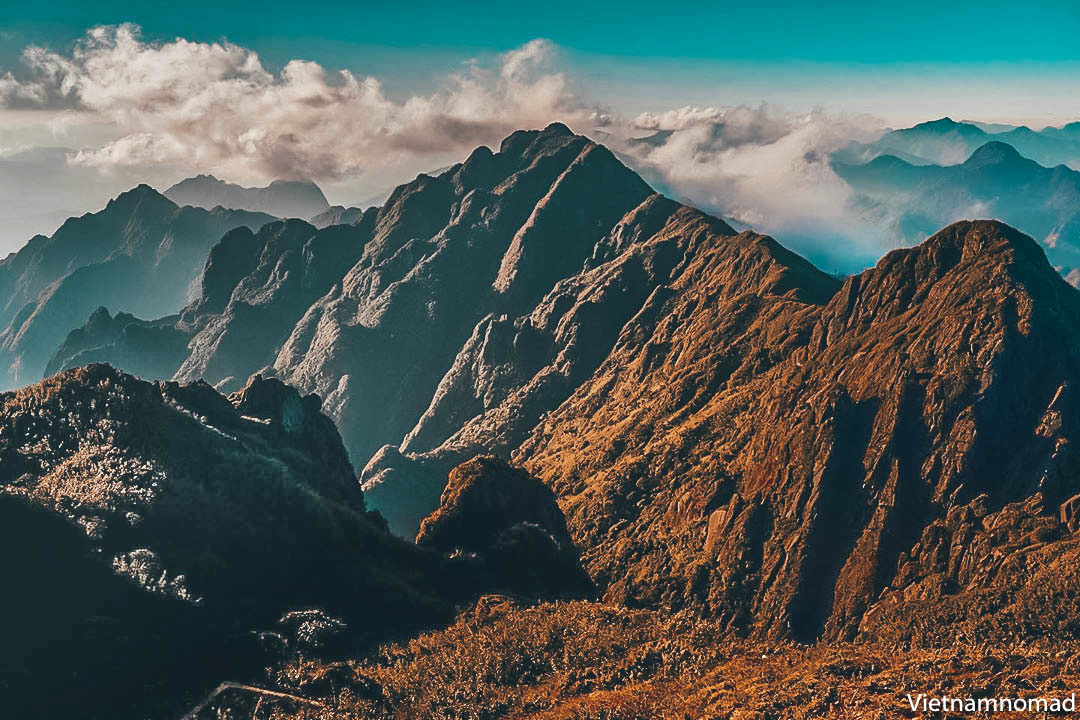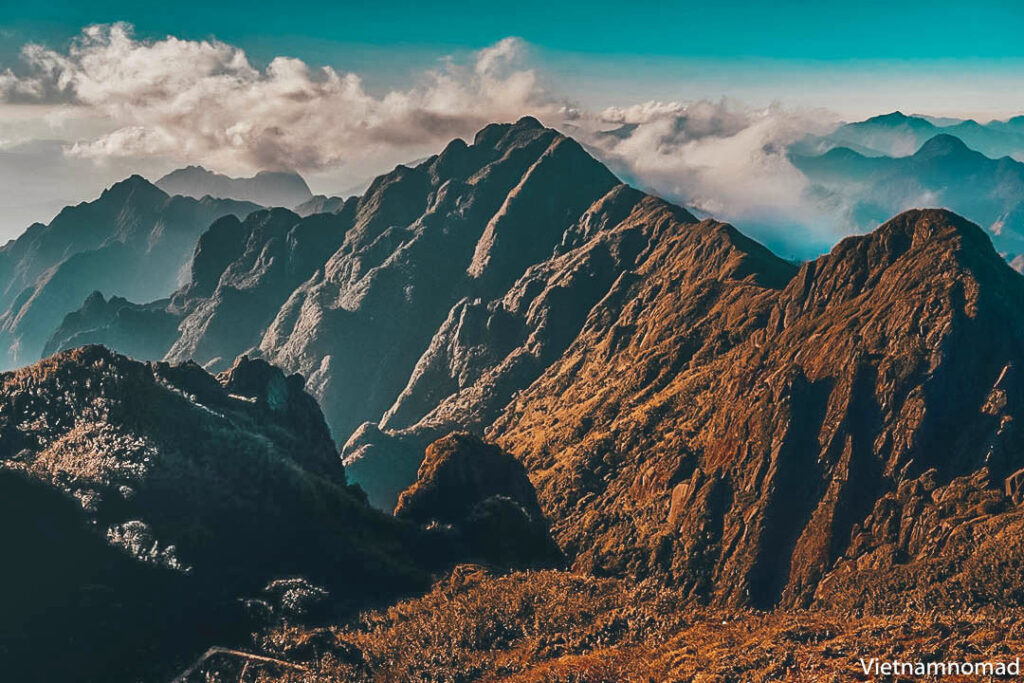 5. Tien Cave
Upstream of Chay River about 6 km, from the center of Bao Nhai commune (Bac Ha District), the boat will take you through the ancient city of Trung Do with many legends. Chay River constricted to create a deep, gentle stream, weaving between the two vertical cliffs. Tien Cave is a miniature Ha Long Bay, associated with the legend of Ba Co temple in Bao Nhai commune. Many tourists come here to enjoy the scenery, take a bath in the Tien stream, bask in the morning light on the flower island, pray for the beauty, health and wealth.
Location: 6km from the center of Bao Nhai commune, Bac Ha District
6. Coc San waterfall
Coc San is a system of waterfalls and caves with many various sizes. From 4D National Highway, there is a small dirt road about 1km long that is leading to Coc San. The way to Coc San is very twisted, dark, and filled with rocks. The beauty of Coc San is still completely natural and wild. Coc San landscape is harmonious and spacious. Everyone who comes here feels the miraculous mystery emanating from the waterfalls, rocks, and caves.
Location: Coc San, Bat Xat District, 7 km from Lao Cai Province
7. Hoang A Tuong Palace
Hoang A Tuong Palace, also known as the Northern Cat King Palace, is a tourist destination that many people choose when traveling to Sapa because of the majestic architecture after nearly 100 years of existence.
Hoang A Tuong Palace was built in a combination of Asian and European architecture, which was designed and constructed by French and Chinese architects.
Built in a closed rectangular layout on a total area of about 4.000 m2, the palace was both a workplace and living for the Hoang family. At the same time, there was a guard tower protruding on the four sides of the wall, no different from the fortresses in Europe. It can be said Hoang A Tuong Palace is a unique and majestic wonder in Bac Ha plateau and a destination you cannot ignore in Sapa.
Location: Bac Ha District
8. Bac Ha fair market
Bac Ha is the largest fair in the highland border area. The market meets on Sunday every week, attracting a large number of people around the region to trade and have fun. It is still a place to exchange and trade of ethnic minorities, mainly ethnic people from all surrounding villages. The stalls displayed all the essentials, such as clothes, shovels, and household items.
Location: Bac Ha District
Top 7 must-try dishes in Sapa
Not only famous for its majestic natural scenery, but Sapa also has a unique cuisine, which is bold flavors of the Northwest mountains area. Here are the dishes you cannot ignore when coming to Sapa.
1. Bamboo-tube rice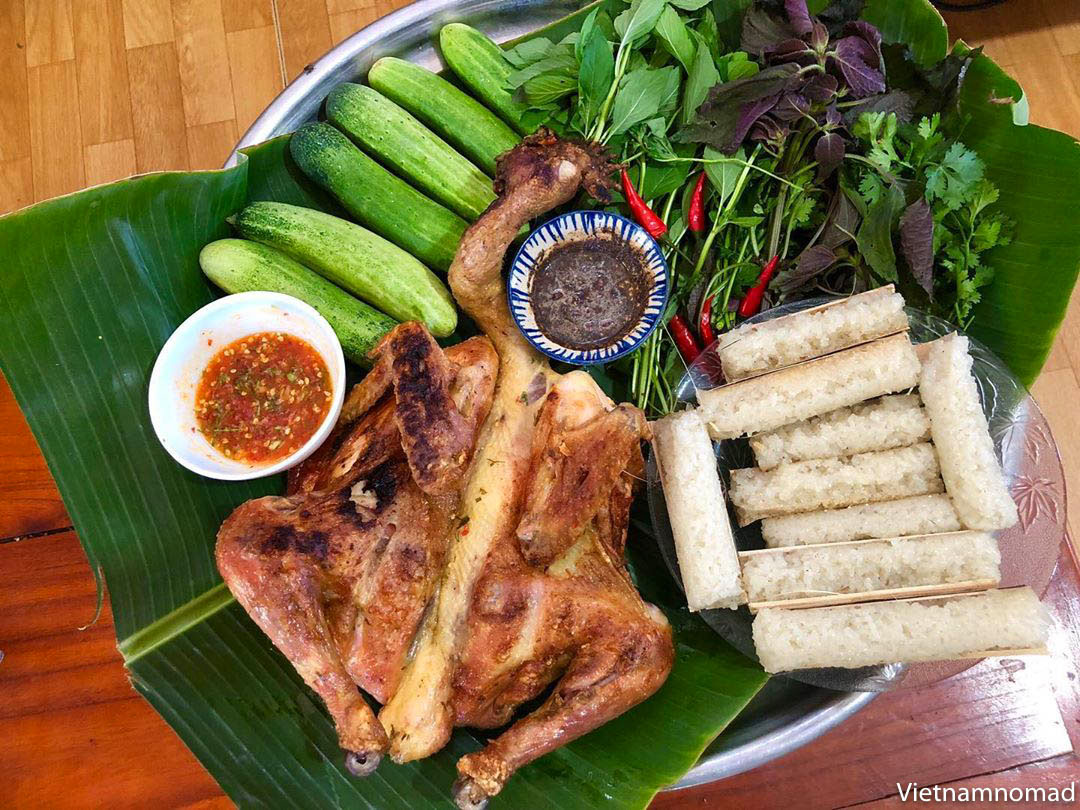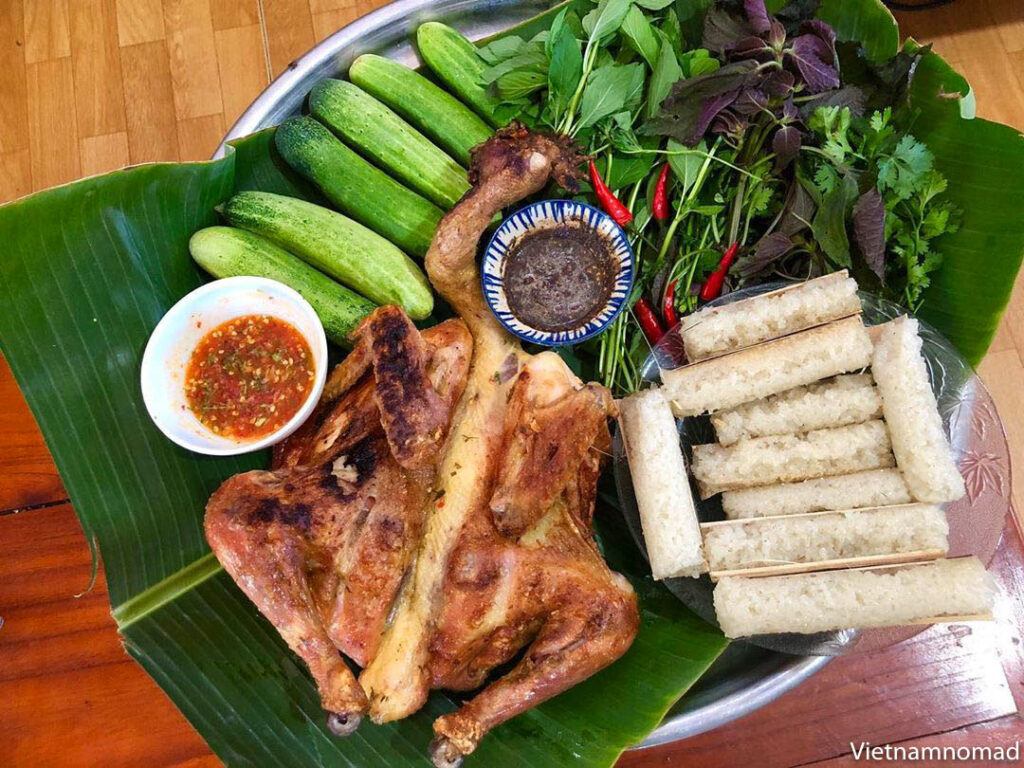 After grilling, splitting the burnt bamboo outside, leaving a thin layer of bamboo, and enjoy. Bamboo-tube rice (Com Lam) is popular and loved thanks to the richness of the sticky rice, and the soft fragrance of bamboo.
Address:
2. Barbecue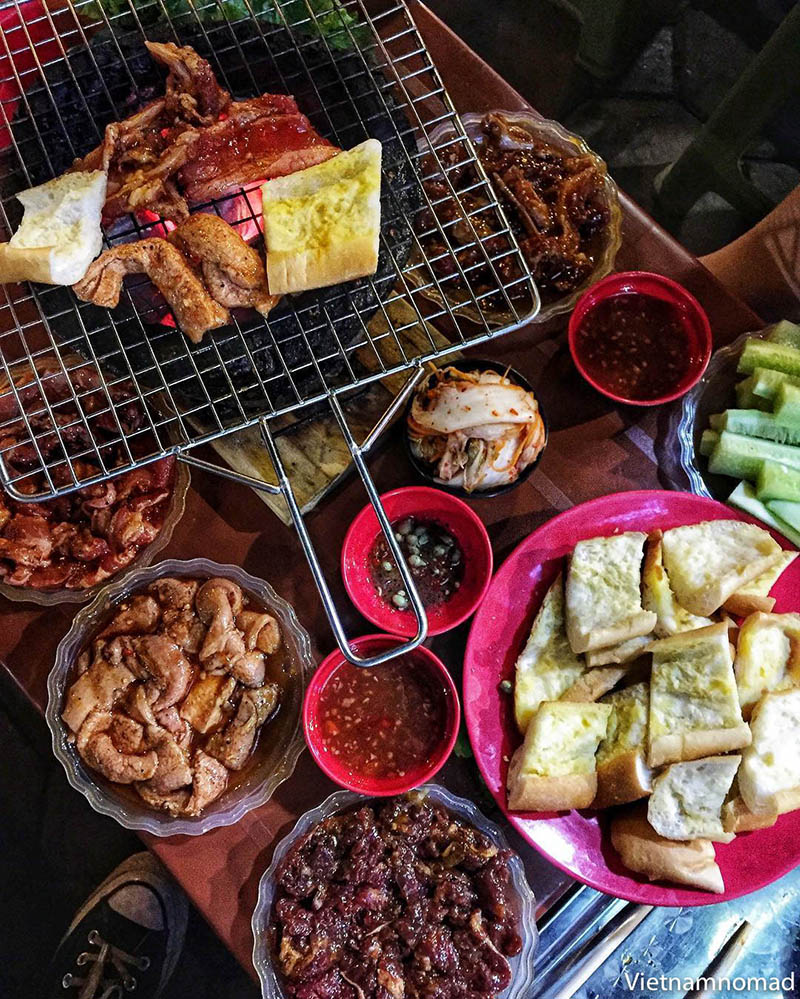 Referring to Sapa, you cannot help mention barbecue here. Sapa barbecue is diverse with pork skewers, whole pieces of bacon, chicken wings, quails, hearts, beef rolls with cats, and mushrooms. All you have to do is take a plate, choose the skewers you like, and wait for the owner to grill them on charcoal.
Address:
Hoang Luc Xoi Restaurant – Ngu Chi Son Road
Hoang Lien Restaurant – 4 Hoang Lien Road
Mrs. Lich's Restaurant – 1 Fansipan
3. Salmon hotpot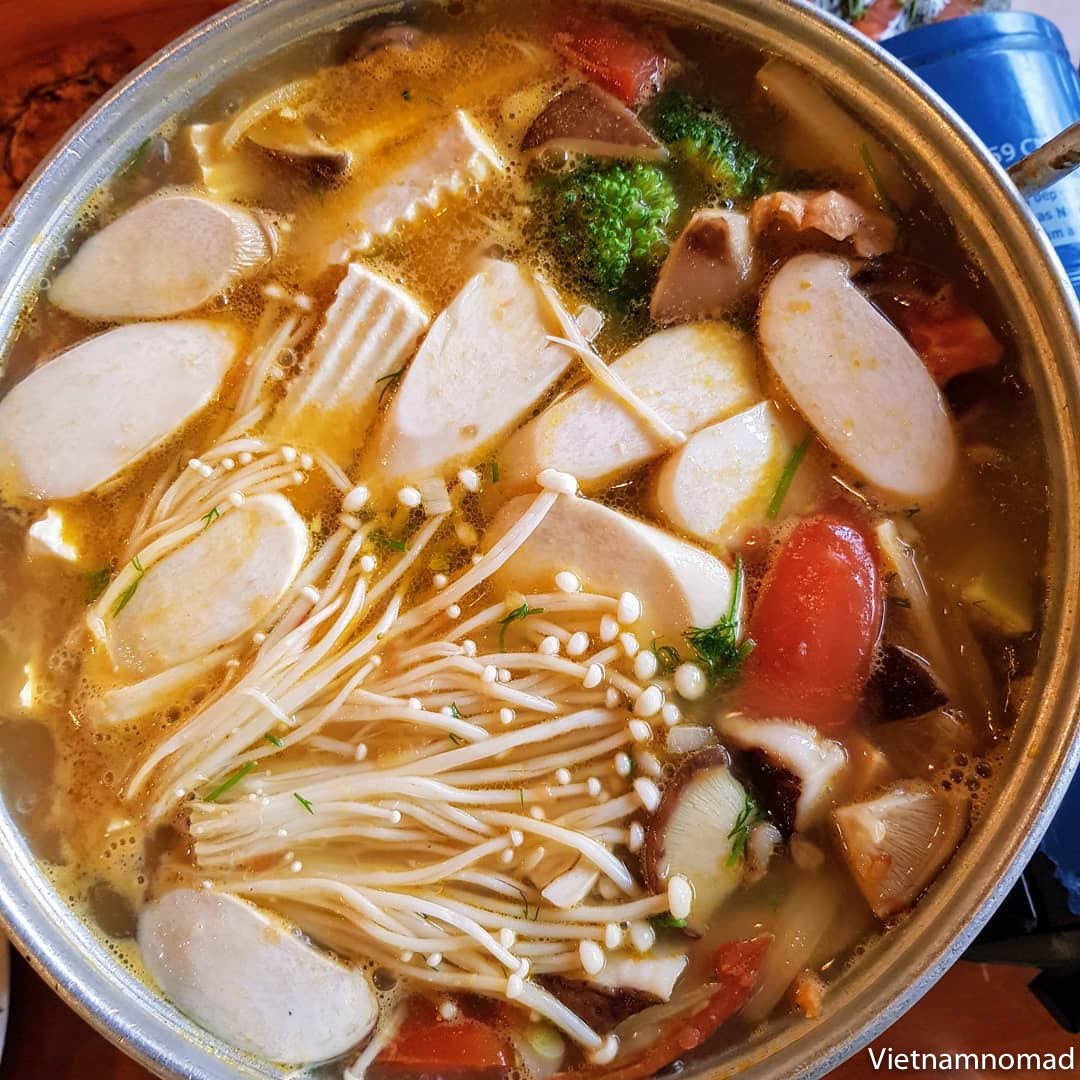 Coming to Sapa without enjoying the salmon hotpot, it is indeed deplorable. Unlike imported salmon, salmon in Sapa has a sweet taste, each piece of fish is firm, fresh, beautiful orange-pink color combined with sour bamboo shoots, pumpkin buds, and banana flowers create a delicious hotpot dish. In addition to hotpot, salmon can also be processed into grilled dishes, salads, curries. Besides, you can also try dishes made from sturgeon.
Address:
Hoa Phuong Restaurant – Tier Union Street, group 7C, Ham Rong
A Phu Restaurant – 15 Fansipan Street
Hoa Dao – 48 Le Van Tam Street
Thac Bac Restaurant – Thac Bac
4. Dried meat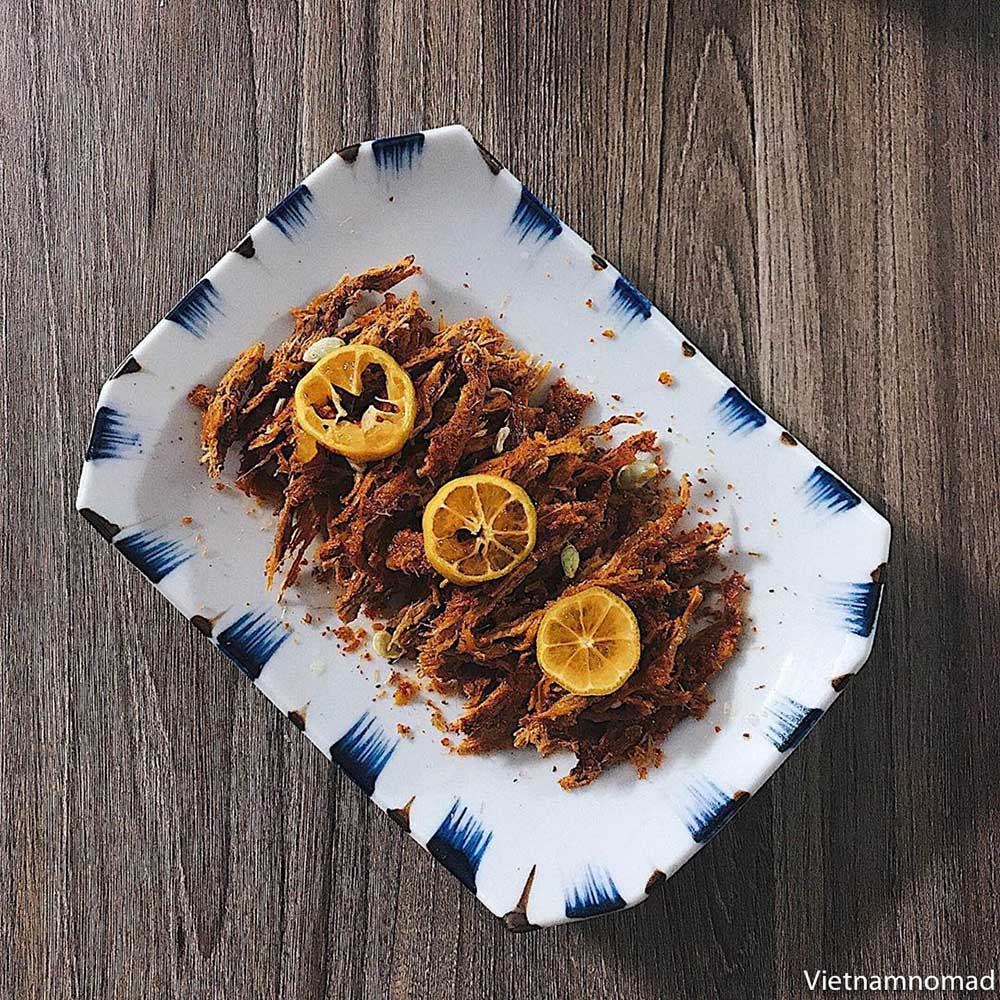 Meat of buffaloes, cows, horses, and pigs are usually hung on the kitchen floor by the Mong people for drying. Buffalos and cows are sliced along longitudinally into pieces of about 2 – 3kg threaded up and hung on the kitchen floor to serve as reserve food. These meats, when hanging up in the kitchen, will dry and leave for years. When eating, scrub the soot and dust, then fry it with tomatoes, bamboo shoots. The meat is fragrant and fleshy.
Address:
Viet's Farm – 26 Dong Loi Street
Sapa Night Market – Dien Bien Phu Street
5. Lon Cap Nach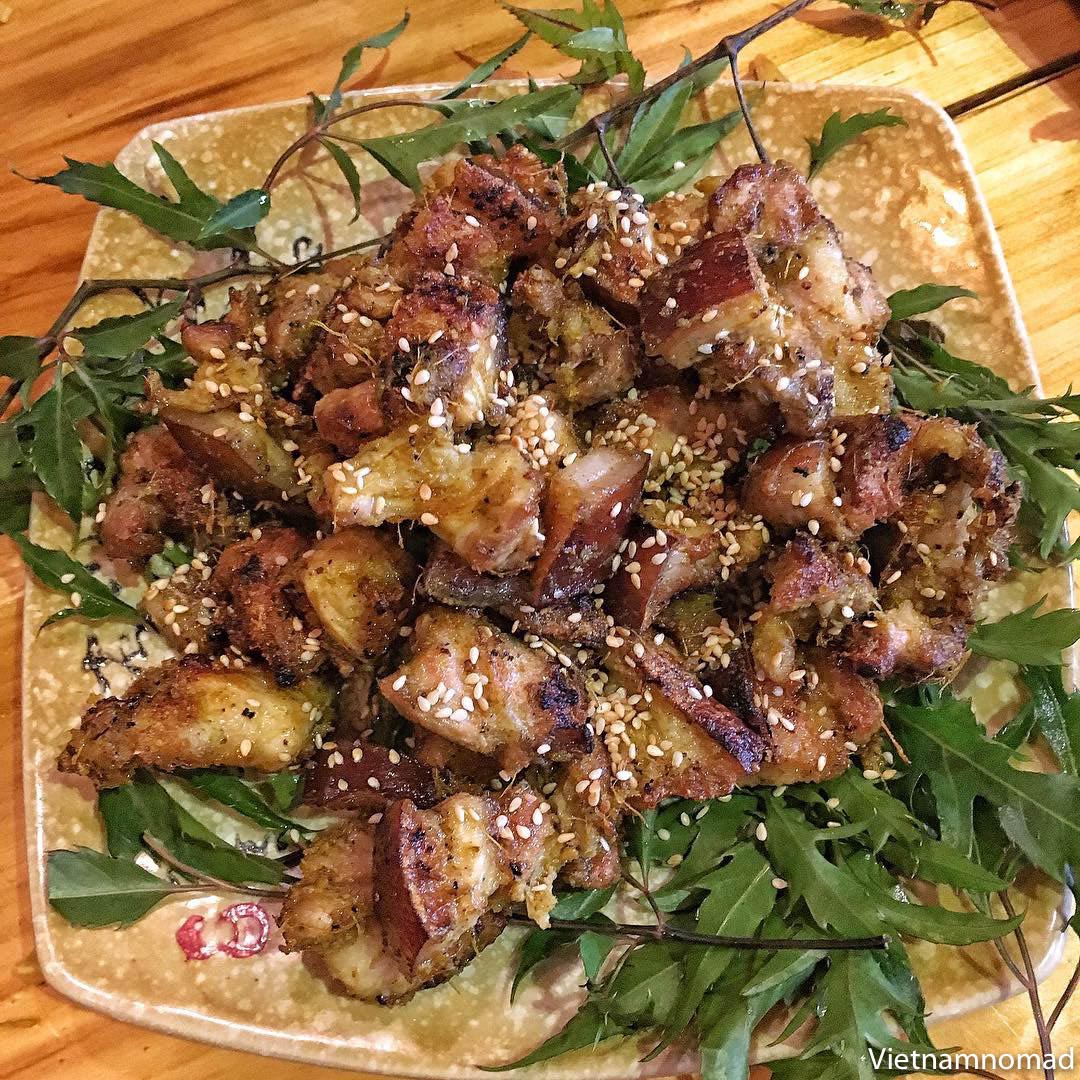 Lon Cap Nach is a specialty of Sapa. The name " stolen armpit" stems from the local people carrying black armpits to seal at the markets. Pigs are left to roam freely and feed on the mountain slopes, so the meat is fragrant. The stolen armpit is very famous in Sapa and used for processing many special dishes. Its price is about 100.000 – 200.000 VND/kg. They are sold at markets in Sapa to serve tourists.
Address:
Dung Trau Restaurant – 85 Street
Gerbera Restaurant – 29 Cau May Street
A Phu Restaurant – 15 Fansipan Street
6. Thang Co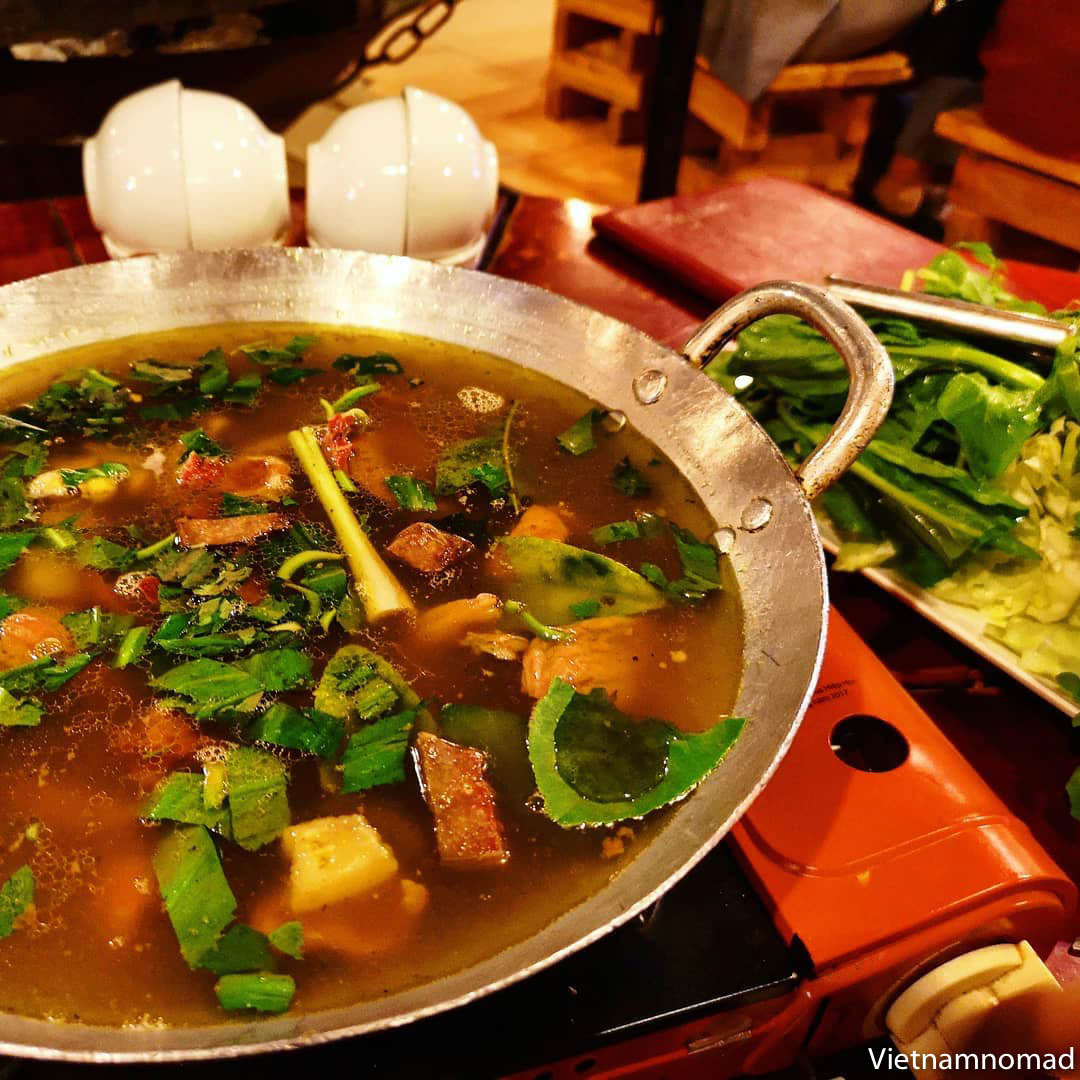 Thang Co is one of the specialties of the Mong people, which is made mainly from horse organs. A pot of brakes consists of meat, heart, liver, heart, horse blood, and 12 spices: cardamom, cinnamon, lemongrass, ginger, and many other heirloom spices.
Thang Co often served with vegetables dipped in mustard greens, kohlrabi, and cabbage. Eating Thang Co must be accompanied by drinking warm, aromatic corn wine.
Address:
Anh Quynh Restaurant, 15 Thach Son Street
7. Sapa Fish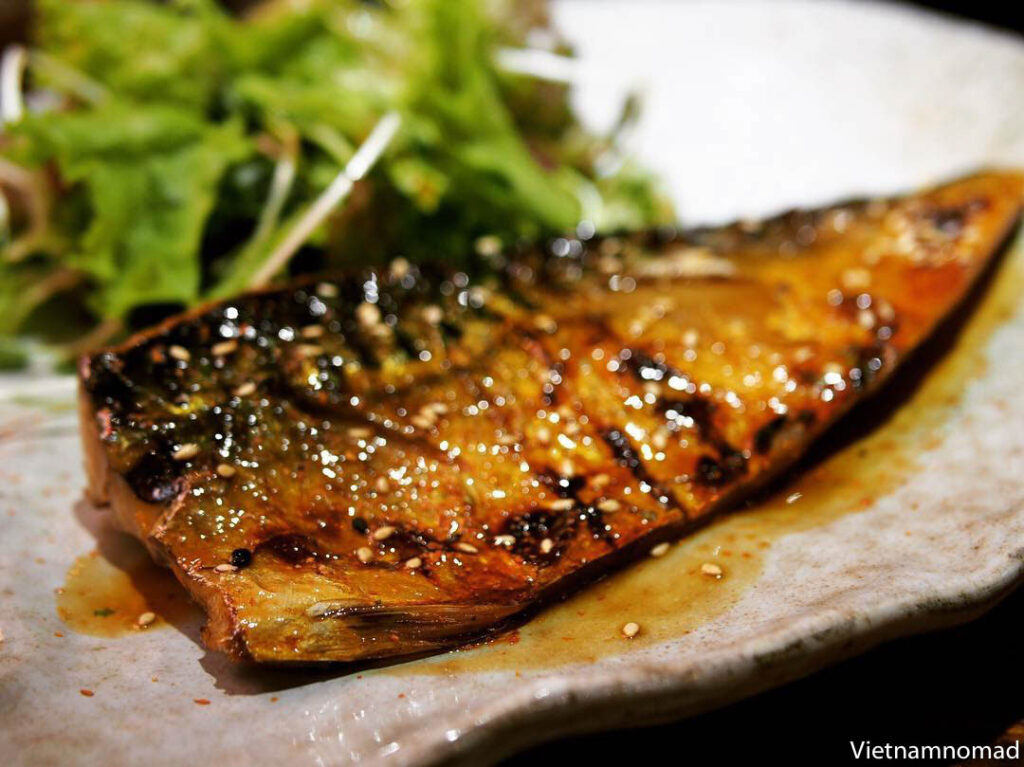 Sapa stream fish fried or grilled are also must-try dishes. Stream fishes are about 2-3 fingers long, often blue. Especially, Sapa stream fish has no fishy taste. The fish is fleshy, aromatic, and sweet, and the bones are crispy.
Address:
Grilled stream fish restaurant – 15 Fansipan Street
Delicious fish restaurant – 29 Cau May Street
Chapa Restaurant – 40 Cau May Street
Festivals in Sapa
Sapa has six ethnic groups living together: Kinh, H'Mong, Red Dao, Tay, Giay, and Xa Pho. Each ethnic group has its unique cultural features, so it's formed many unique traditional festivals in Sapa.
1. Roong Pooc Festival
Every year in January of the lunar calendar, the Giay people in Ta Van village organize Roong Pooc festival to pray for good harvest crops, favorable rain, and wind. Although still a traditional ethnic festival of the Giay people, in recent years, it has become a typical festival of the whole Muong Hoa valley. Besides the unique rituals, there are many games, dancing, and performing of gong drum and gong drum music in this festival.
2. Nao Cong Festival
Every year in June of the lunar calendar, Mong, Dao, and Giay people gather to worship at a temple in Ta Van village to celebrate Nao Cong. Each family appoints a representative, irrespective of male, female, old, and young. Nao Cong ceremony is held to pray for the blessing of the prosperous people, abundant crops. Also, during the festival, the leader will announce the typical conventions and end with a happy party.
3. Tet Dances Festival
Tet Dances is an important and well-prepared festival of the Dao Ta Van people, usually held on the 1st or 2nd of the Lunar New Year. The main content of the ceremony is to pray for the peaceful and prosperous people. The ritual activities during the Tet Holiday are very special.
4. Village sweeping ceremony of the Xa Pho
Every year, the Xa Pho people hold a sweeping village ceremony in February of the lunar calendar with the purpose of keeping people happy in the new year, good crops and healthy animals. During the sweeping village ceremony, each person contributes goats, pigs, chickens, and rice to make offerings to ghosts, worshiping masters. Villagers draw on their faces and dance to pray for peace. At the end of the ceremony, everyone enjoyed eating and drinking together. All food that is offered to the ghosts must not be brought into the village.
5. Gau Tao Festival of Mong people
The festival opens only for two purposes: to pray for a baby or to for health. One who does not have a child will make a ceremony to ask the fortune teller to open the Gau Tao festival to pray for him. Another who often got sick or have weak children, even had children died, crops, and animals gradually faded, he also asked a fortune teller to ask for the Gau Tao festival. The festival is also usually held at the beginning of the year.
6. Xuong Dong Festival of Sapa
The festival in the early spring of the Tay and Dao people in Ban Ho commune (Sapa) opens on the morning of the 8th day of Tet every year. The ceremony starts with soil and water procession, and then the worshiping ceremony with spirits. The festival starts with the unique dances and folk performances of the Tay and the Dao.
But the most outstanding, the funniest part is the show when the trumpet sound rang for the Tay girls to start the show with graceful biting moves. When the show ends, everyone goes to the game area. The games here are mostly folk games such as throwing longer, pushing sticks, spinning, hitting balls, blindfold, and catching.
7. Sapa Love market
Sapa Love Market takes place regularly every Saturday night with many special activities. Love Market is a dating place, expressing the feeling of lovers.
At Sa Pa love market, young men and women in villages in the Northwestern region will come here to meet, talk, and participate in many extremely bustling activities such as blowing aloes, singing love songs, etc. After this night market, many couples have become closer; even some of them become husband and wife. Coming to Sapa on the weekend, visitors should not miss this unique love market!
Above are the detailed Sapa travel guide. Hopefully, with this guide, you will have a memorable trip to this beautiful town!