Phu Quoc at a glance
Phu Quoc is also known as a gem island, the largest island in Vietnam. Located in the Gulf of Thailand, Phu Quoc Island together with other islands form the Phu Quoc island district of Kien Giang Province.
Phu Quoc has an area of 589.23 km², which is located in the southwest of Vietnam, 120 km from Rach Gia City, and 45 km from Ha Tien City (Mekong Delta). In 2006, Kien Giang coastal and island biosphere reserve was recognized by UNESCO as a world biosphere reserve.
Thanks to the natural and favorable natural conditions and mild climate, Phu Quoc is gradually becoming a new resort paradise of the world, attracting a large number of domestic and international investors. CNN of America voted Phu Quoc as one of the best destinations in Asia in 2019 and the top 5 Autumn Destinations in Asia – Pacific. In the eyes of experienced hoteliers such as Mr. Patrick Basset, Vice President of the Accor group in charge of Asian countries, Phu Quoc, Phuket of Thailand, and Bali of Indonesia are the islands having the largest tourism development potential in Southeast Asia.
Phu Quoc is also an ideal destination for interesting natural discovery activities that attract visitors when coming to this beautiful island.
Phu Quoc has beautiful beaches stretching from the north to the south, 99 hills and mountains, and primeval forests with rich flora and fauna. In the north of the island, there are Rach Vem, Bai Thom, and Hon Mot fishing villages, with outstanding wild beauty. In the south of the island, there are 12 large and small islands belonging to An Thoi archipelago, such as Hon Thom, Hon Mong Tay, and Hon Gam. These are ideal places for nature exploration and water activities such as boating, fishing, diving to see corals, and exploring wild islands.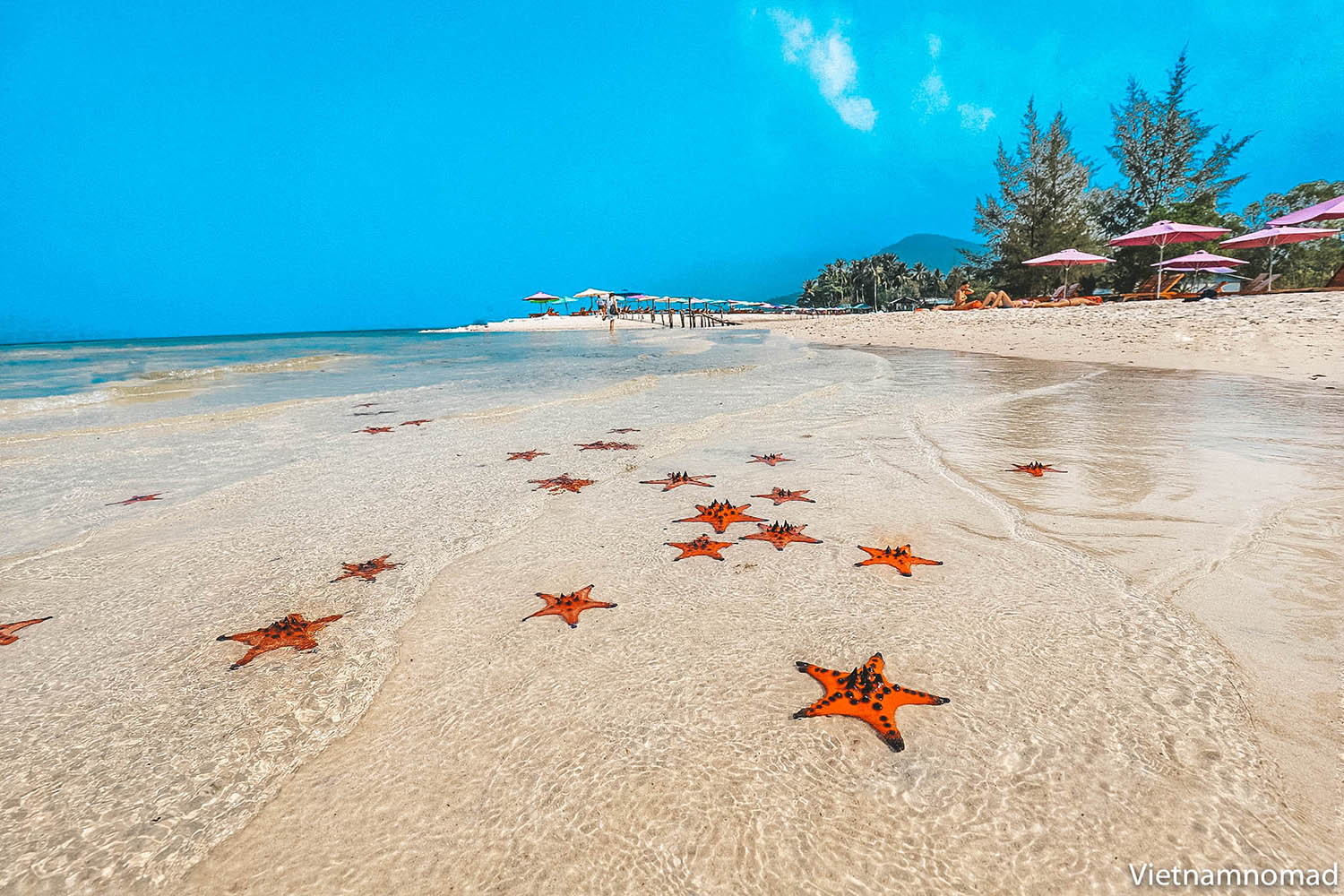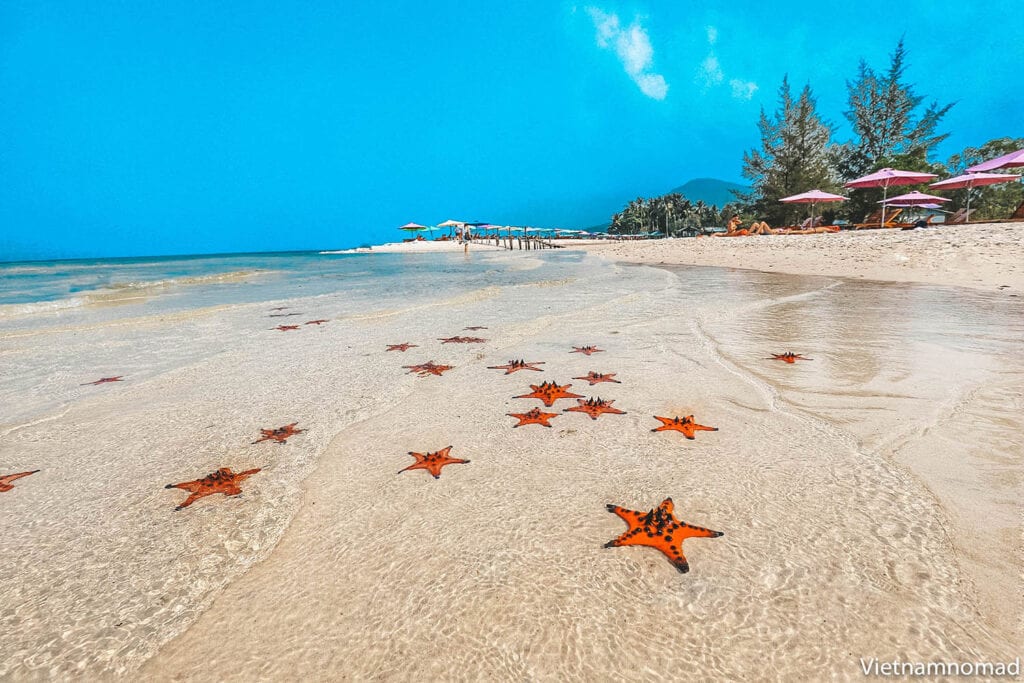 Phu Quoc weather
Phu Quoc is influenced by the climate of South Vietnam with two distinct seasons, the rainy season and the dry season. The rainy lasts from May to October and the dry season lasts from November to April next year.
The best time to visit Phu Quoc is from November to April, which is the dry season in the South with less rain, calm sea, smooth waves, and warm sunshine that are great for outdoor tourism activities.
From May to October, It comes the rainy season, sometimes there are storms, but Phu Quoc is still crowded because of the summer vacation period.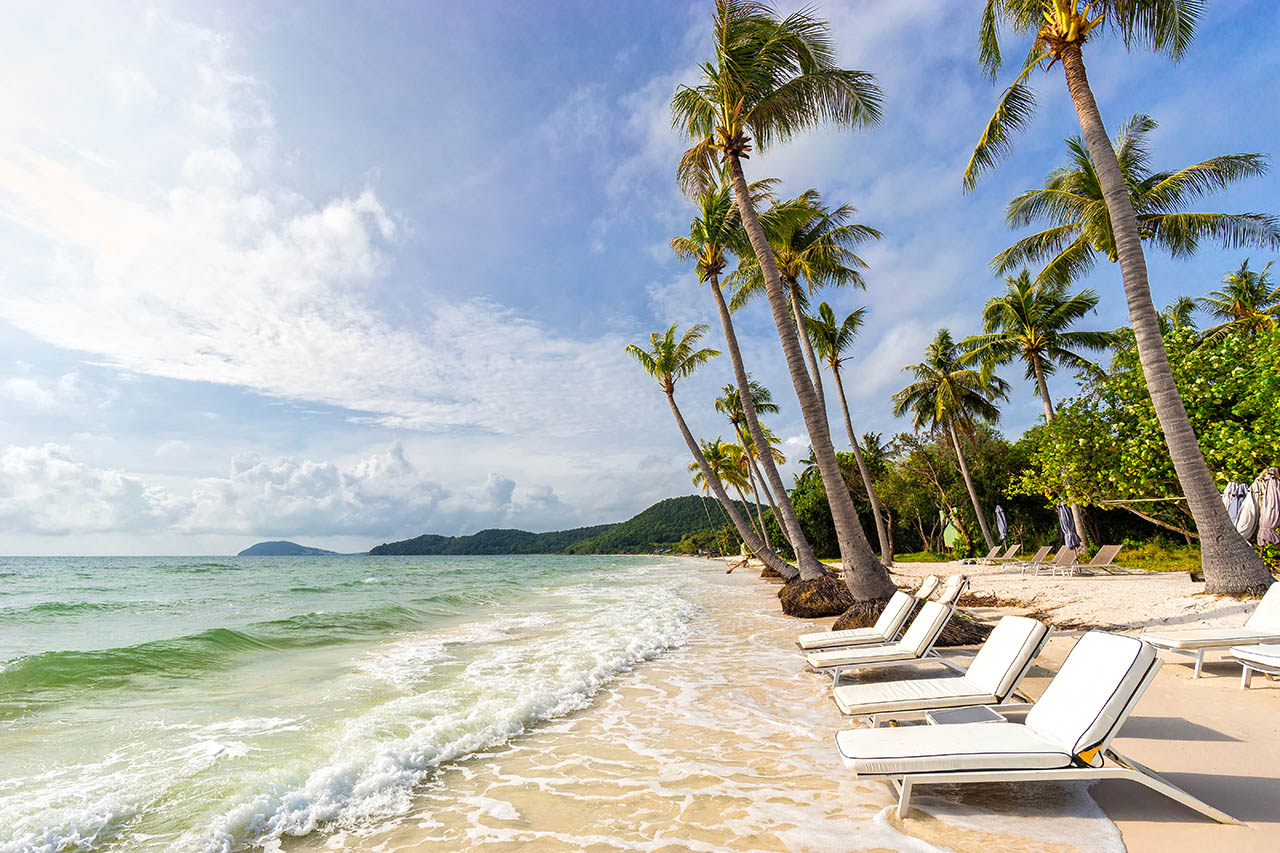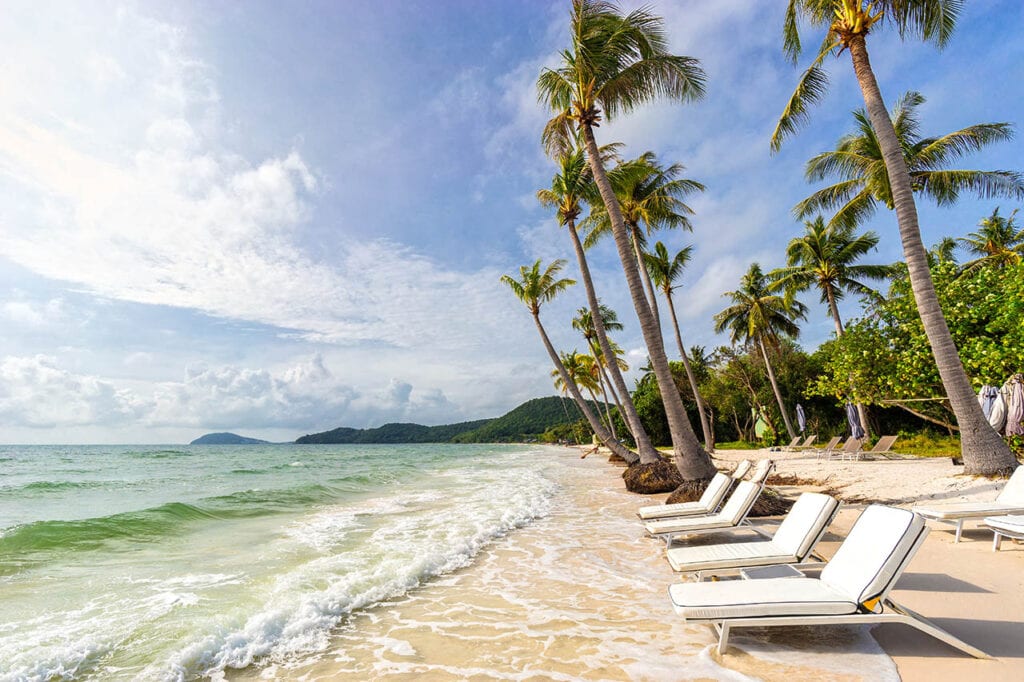 How to go to Phu Quoc?
If you come to Phu Quoc from Hanoi or Da Nang, the plane is the best option. Currently, Vietnam Airlines and Vietjet have direct flights from these places to Phu Quoc. Airfares are reasonable and if you are lucky, you can hunt cheap tickets of around a million for a round ticket. However, there are only a few fixed flights per day, travelers should check the flight schedule to actively prepare.
You can book tickets in advance on the official websites of the airlines:
From Ho Chi Minh City, visitors have more options. Besides direct flights, you can reach Phu Quoc by motorbike, bus, speedboat or ferry.
If traveling by bus, you should take a bus at Western Bus Station (Ben Xe Mien Tay, address: 395 Kinh Duong Vuong, Ho Chi Minh City), the route lasts about 8 hours to Rach Gia. The fare is about 150.000 VND to 230.000 VND/one, depending on the bus company. Some of the high-quality bus companies you can refer to are Phuong Trang, Mai Linh, and Kumho.
From Rach Gia, visitors can take a high-speed boat to Phu Quoc, the Superdong boat usually departs at 8 am, returns to the mainland at 1 pm, travel time is more than an hour, the fare is 250.000 VND/one. High-speed boats are also available for motorbikes, but you should book in advance because each train can only carry about 8 motorbikes.
If you want to try something different, you can take a ferry from Thanh Thoi wharf (Ha Tien), it will stop at Da Chong port (Bai Thom, Phu Quoc), which takes about 2 hours and 50 minutes by ferry to travel, the fare is 185.000 VND/person. Da Chong port is quite far from the center of the island, tourists must go about 40 km to reach the center.
Reached on the island, you can rent a motorbike or bike to move. If you want to go fishing, diving, watching the sunset, you can rent a boat. Some high-end resorts often have their boat to serve guests.
Accommodation in Phu Quoc
As one of the most attractive destinations in Vietnam, it is not difficult to find accommodation just for you on this island.
There are many types of accommodation in Phu Quoc, from a bed in a boutique hotel, to lavish beach resorts. Below are our recommendations for you, which are excerpted from the Vietnam travel guide book.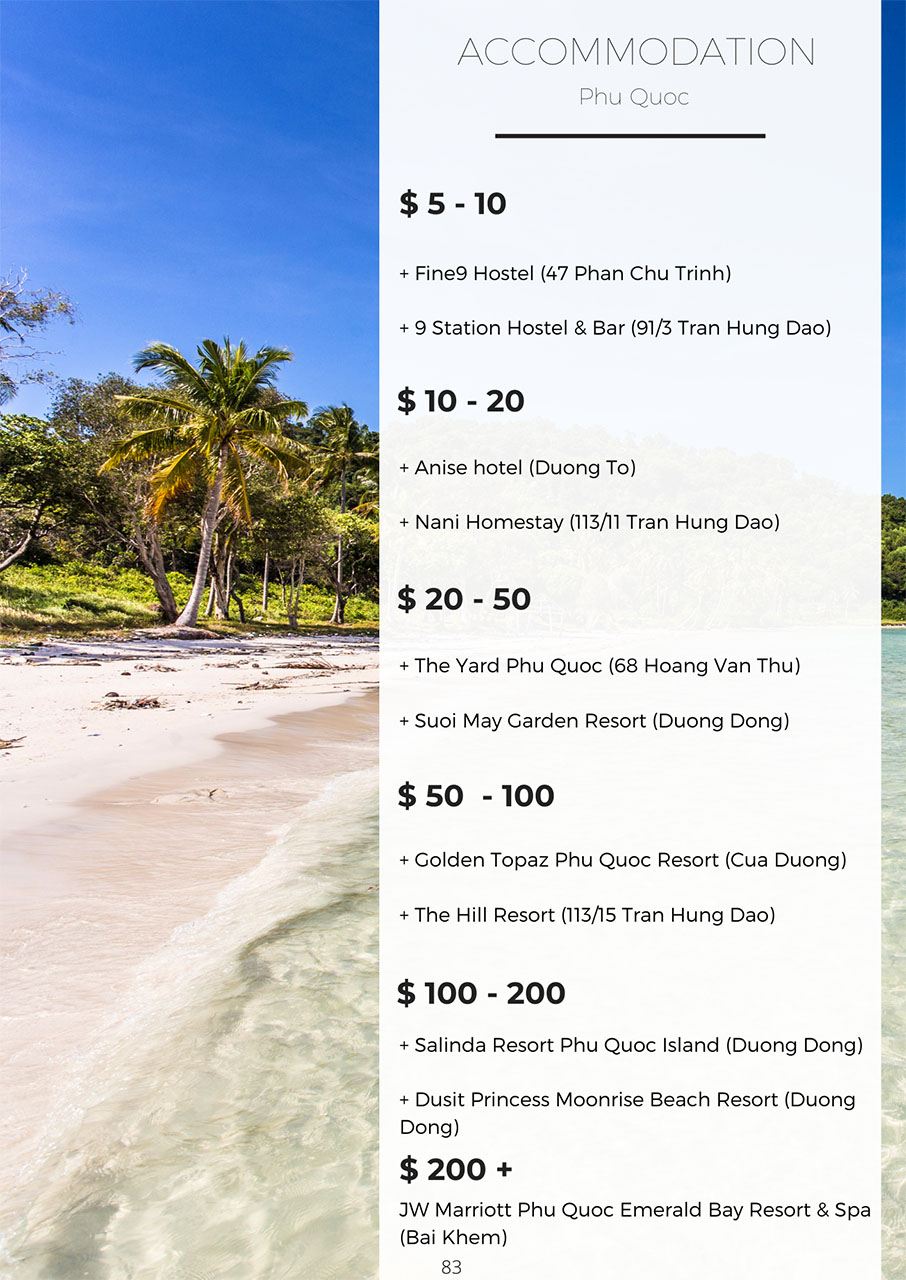 Top 8 must-visit attractions in Phu Quoc 
There are many fascinating sights and attractions on the island. Here are some outstanding places that you should not miss on your trip to Phu Quoc.
1. Long Beach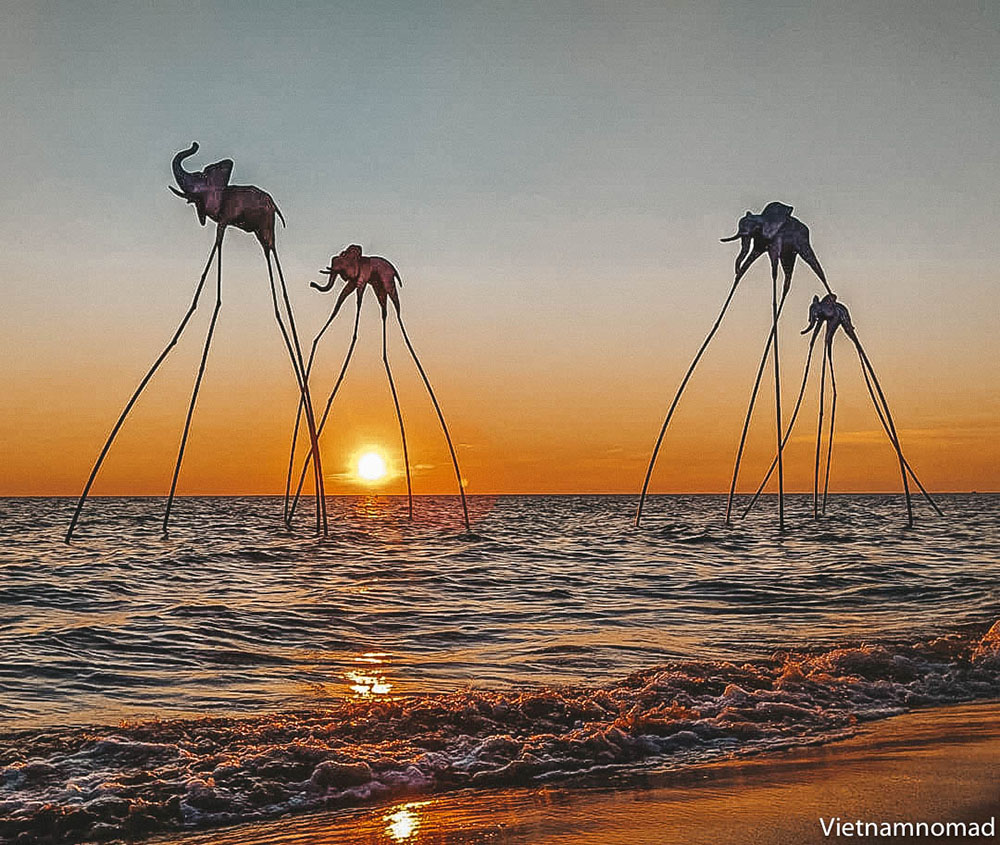 Long beach is one of the best beaches in Vietnam and is a must-visit when coming to Phu Quoc.
The name Bai Dai (Long Beach) originates from the length of this beach, which is the 15 km of coastline extending from Mui Ganh Dau to Cua Can. Thanks to the geographical location in the northwest of the island, near the primeval forest area, the climate here always maintains a relatively cool temperature, not too hot, which makes this place an ideal destination for every season.
Long Beach was honored to be number one on the list of the most pristine beaches in the world by ABC News in 2008.
Although the rapid development of tourism is accompanied by the increase of hotels and resorts, most of the areas of Long Beach in particular, Phu Quoc in general still keeps its wild and natural condition.
2. Star Beach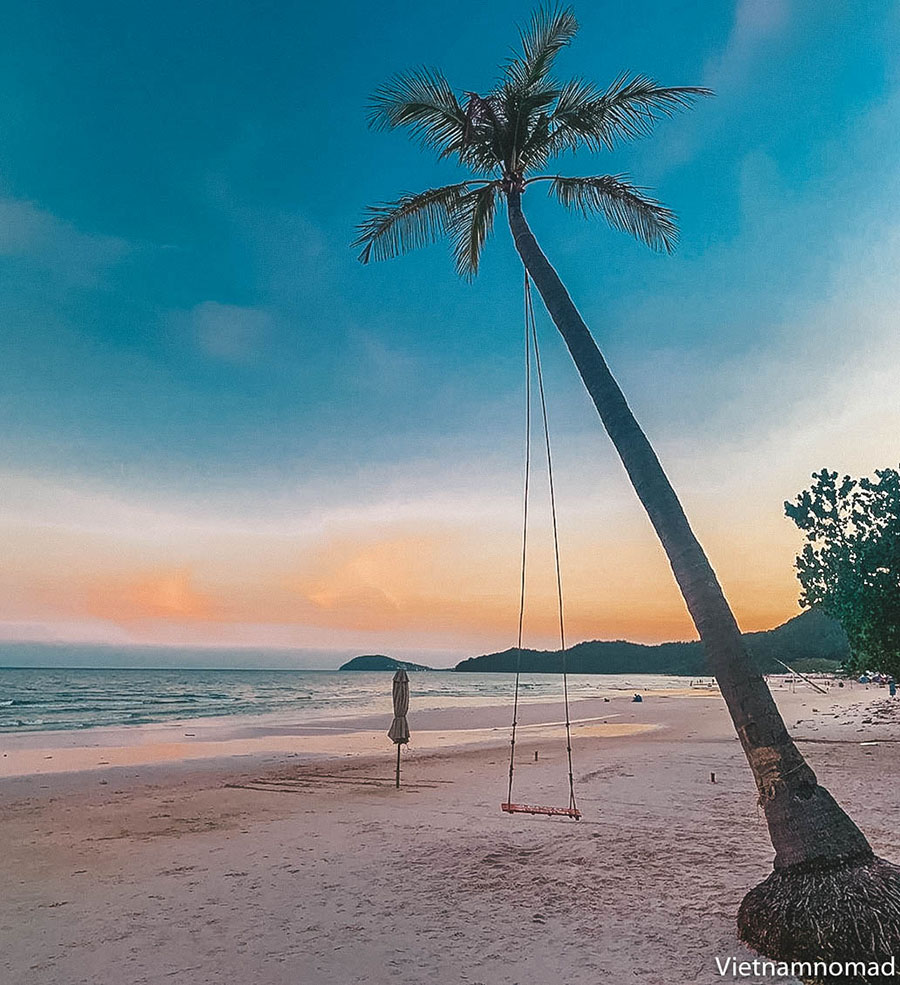 Along with Long Beach, Star Beach is always at the top list of the most beautiful beaches in Vietnam; Bai Sao (Star Beach) attracts many tourists when coming to Phu Quoc. The pristine, clean beach, and clear blue sea, smooth sandy beaches stretch at the foot of visitors. This is one of the beaches rated as beautiful which is no less gorgeous than other famous beaches in the world. So when you come to Phu Quoc, you definitely have to set foot here and immerse yourself in this clear blue beach.
3. Hon Thom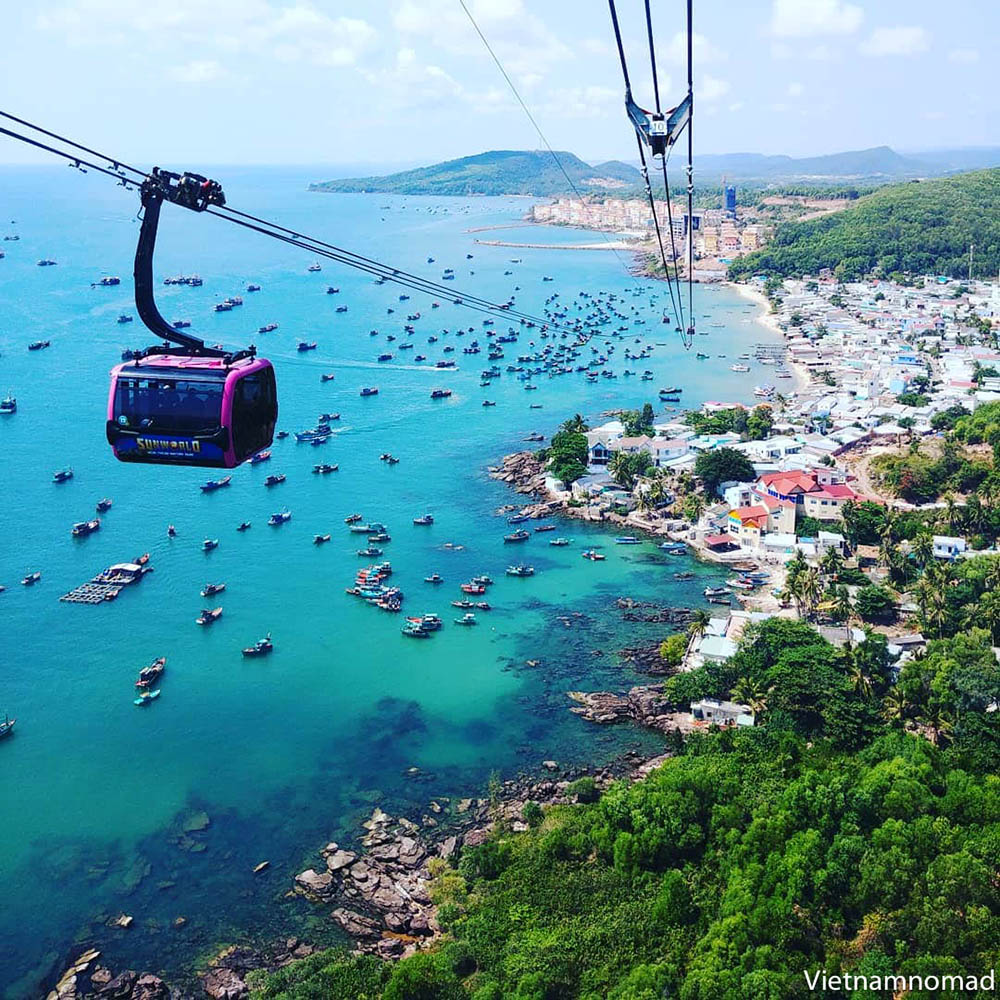 Hon Thom is called with a charming name as the "deadly seductive pearl" of Phu Quoc. The reason for such a name because here you will be really fascinated by the stretching white sand beaches, coral beaches, rows of coconut trees, and clear water to see the whole fish swimming underwater. In addition to the beautiful beaches, there are many activities for you to participate such as fishing, squid fishing, snorkeling, fishing, or trekking.
4. Vinpearl Land and Vinpearl Safari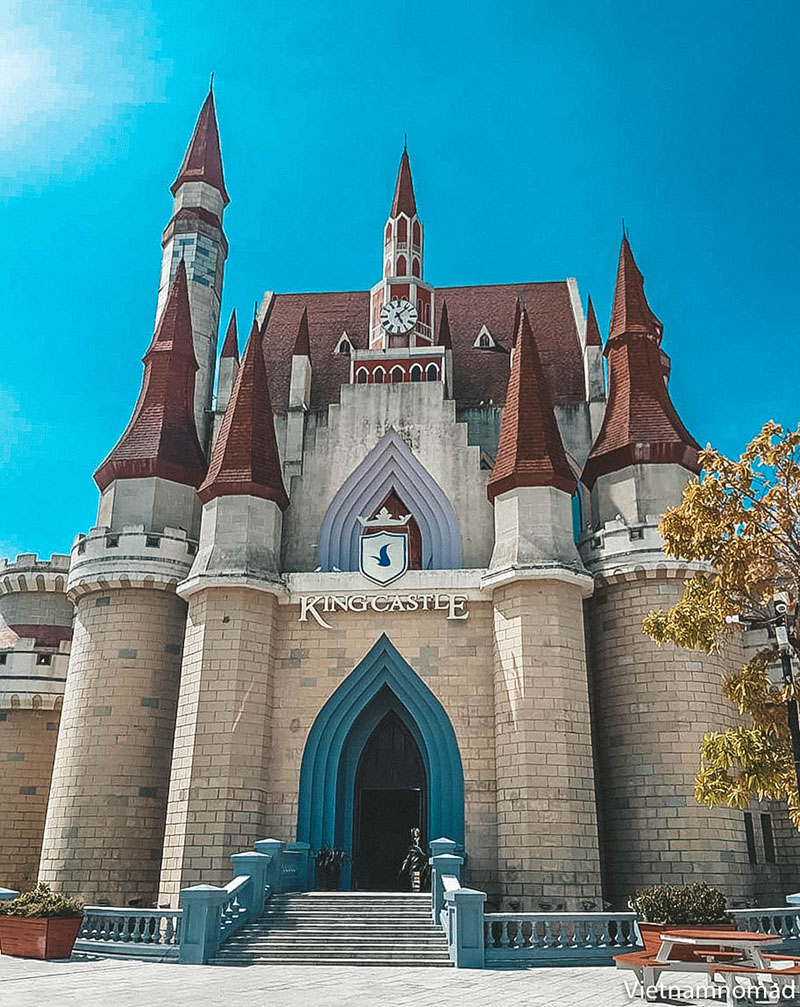 Vinpearl Land Phu Quoc (Vinwonders) is called a paradise of entertainment for all ages with outstanding activities, which is also an extremely large and diverse entertainment area that guarantees to satisfy all visitors. Besides, Vinpearl Safari is the largest plant and animal care and conservation park in Vietnam. Coming here, you will get the chance to admire many animals such as flamingos, giraffes, and rhinos. Even though you have come to similar safari areas in Singapore, Thailand, you will still be amazed by the animals here.
5. Ham Ninh fishing village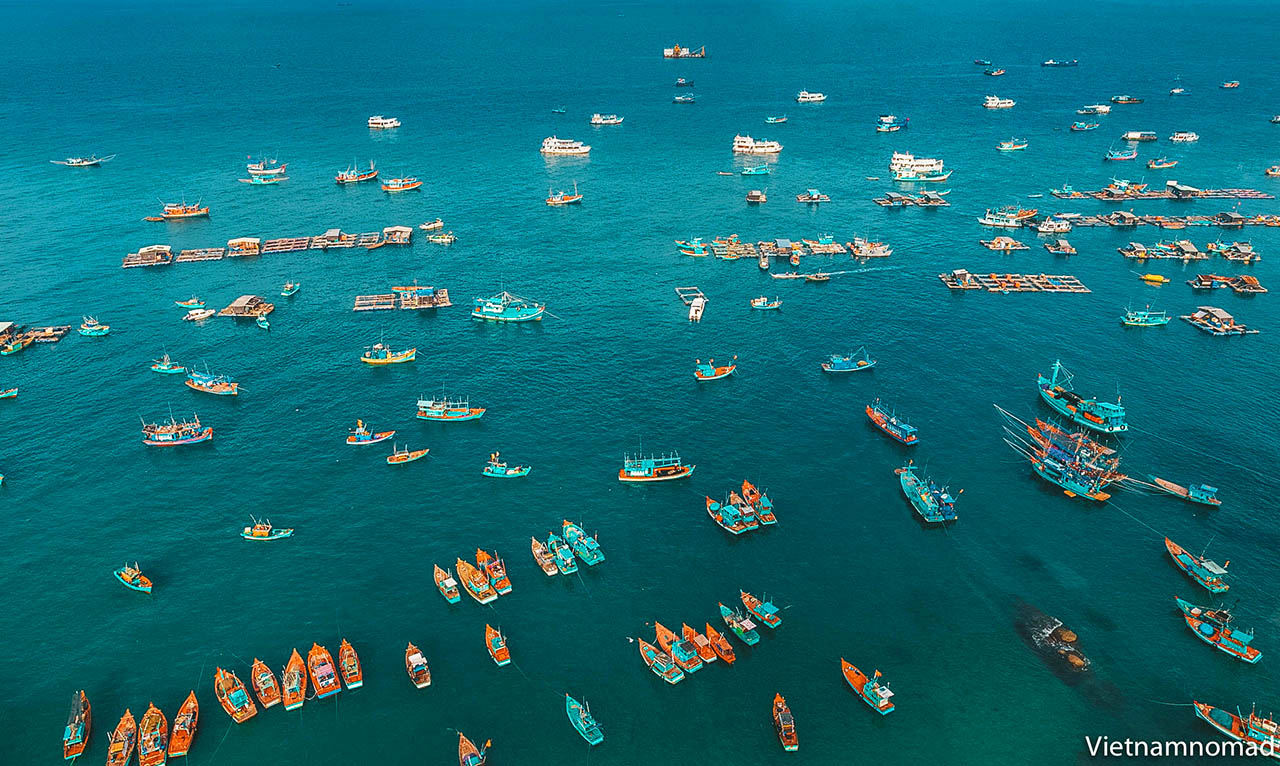 Ham Ninh fishing village is located at the foot of Ham Ninh mountain, Ham Ninh commune, Phu Quoc District. This is one of the new places for tourists who come to Phu Quoc. The beauty of this fishing village is the simple and pristine beauty of the countryside that has not been much affected by tourism activities.
Visitors will be participating in diving and watching corals under transparent water, catching pearls, sea cucumbers, and fishing. Tourists can also visit Bai Vong Wharf and swim at Ham Ninh Beach.
It would be an incomplete trip if you come here but have not enjoyed boiled crab, which is a specialty of this region. Having boiled crabs while enjoying the sea will be a pleasant experience.
6. Phu Quoc Prison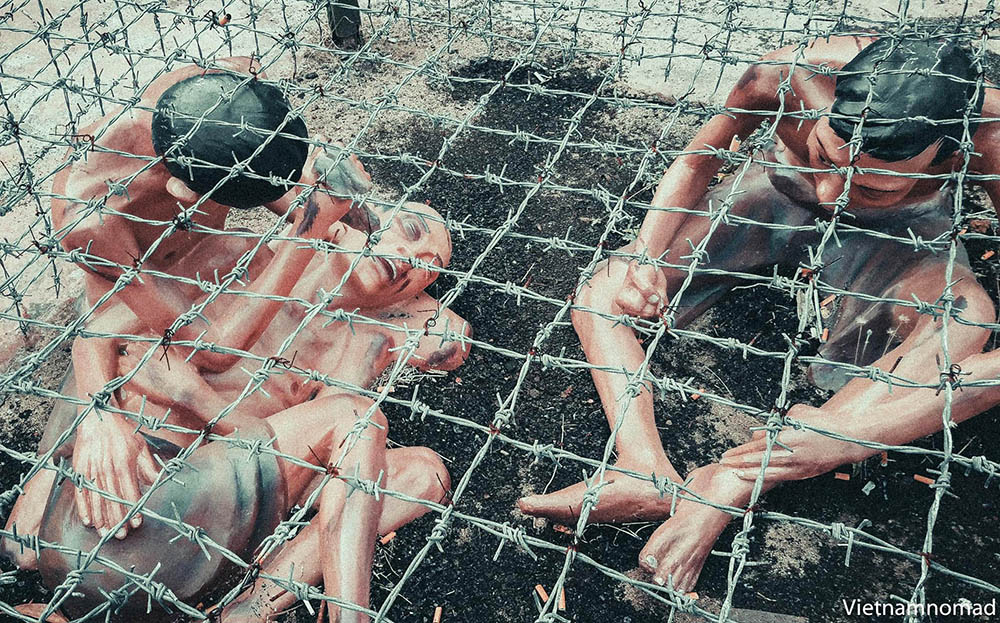 If you are looking for a place to both enjoy the crowded atmosphere and buy souvenirs while trying local specialties, the Phu Quoc night market is a perfect choice. Located in the center of the island, the night market is always the place for tourists to relax and shop when coming to this island. Do not miss the opportunity to enjoy seafood in the market and feel the freshness of fish and squid.
7. Phu Quoc Night Market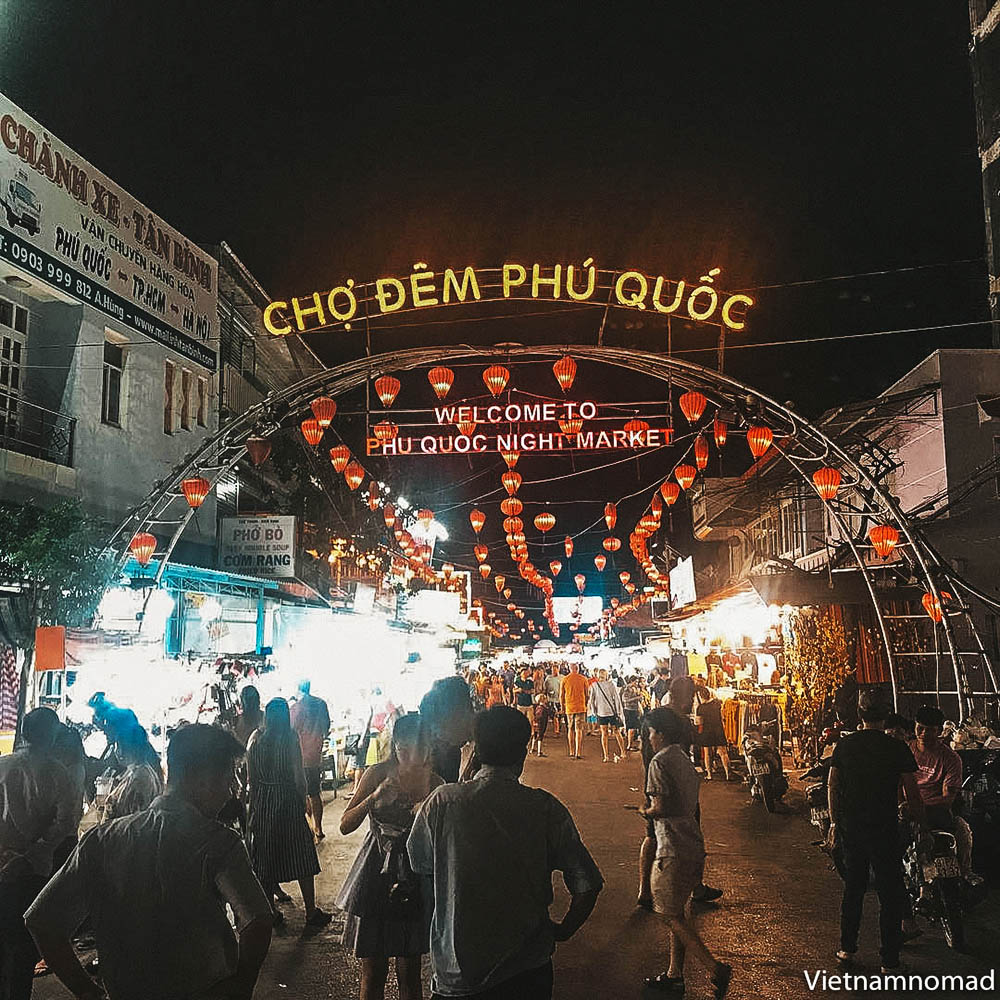 If you are looking for a place to both enjoy the bustling atmosphere and buy souvenirs while trying local specialties, the Phu Quoc night market is a perfect choice. Located in the center of the island, the night market is always the place for tourists to relax and shop when coming to this island. Do not miss the opportunity to enjoy seafood in the market and feel the freshness of fish and squid.
8. Mui Ganh Dau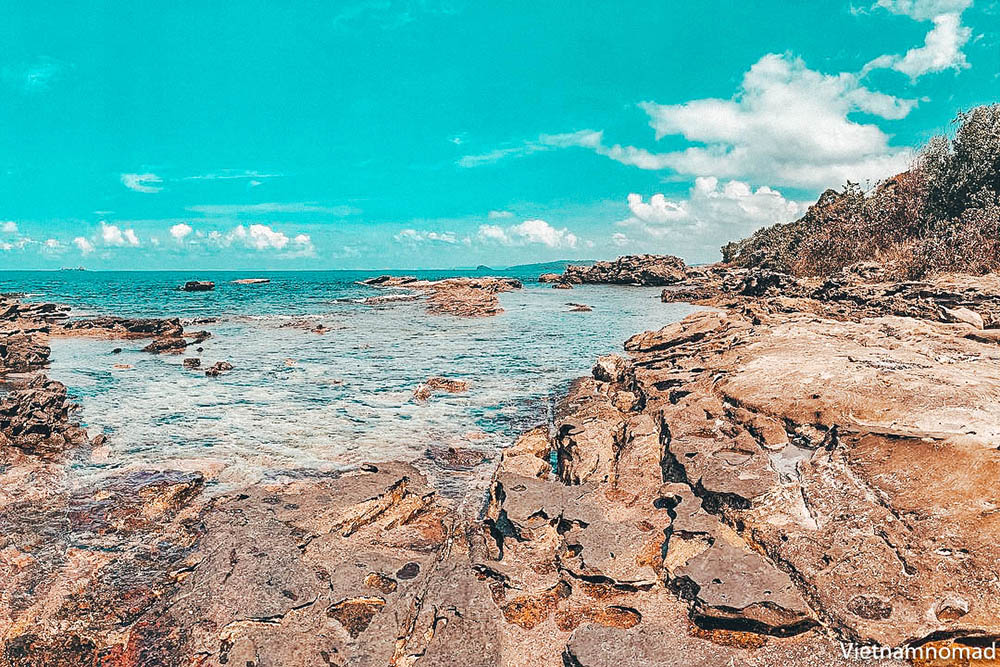 Unlike the famous beaches as Long Beach and Star Beach, Mui Ganh Dau is quite wild and few tourists. Looking down from above, visitors can see Mui Danh Dau bent softly like a crescent moon half a kilometer long. If you want to camp and enjoy BBQ right on the beach, then this is for you!
There are two things that make up Phu Quoc Island's brandname: one is beautiful beaches such as Long Beach and Star Beach, the other is seafood. The top 5 foods here come from the sea: Goi Ca Trich, Ham Ninh Crab, Coi Bien Mai Nuong, Sea Urchin, and Abalone.
1. Goi Ca Trich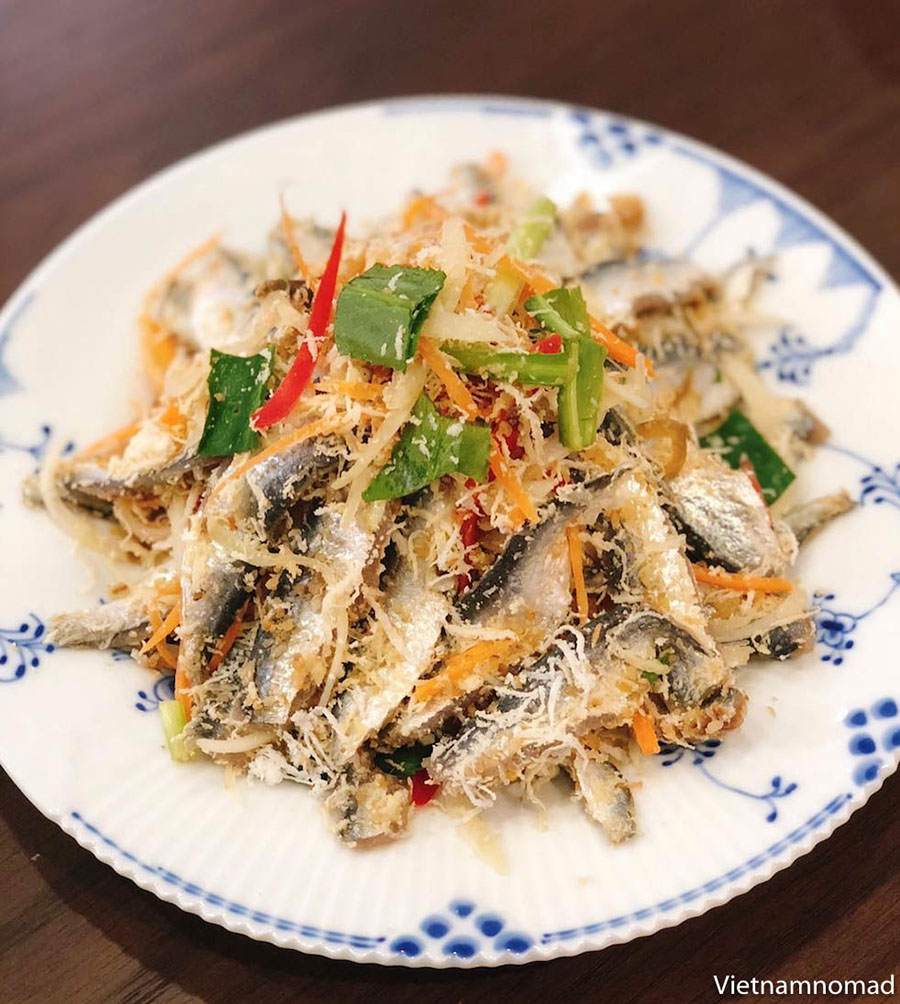 The first dish on the culinary list that you must try in Phu Quoc is Goi Ca Trich or herring salad. This dish is sold throughout restaurants from high-class to small. Herring is prepared, rolled with vegetables and rice paper, dipped with fish sauce, which is complete without the fishy smell.
Where to eat:
Vuon Tao restaurant – Cua Lap, Duong To Town
Trung Dương Marina Restaurang – Road 30/4, Duong Dong Town
2. Ham Ninh Crab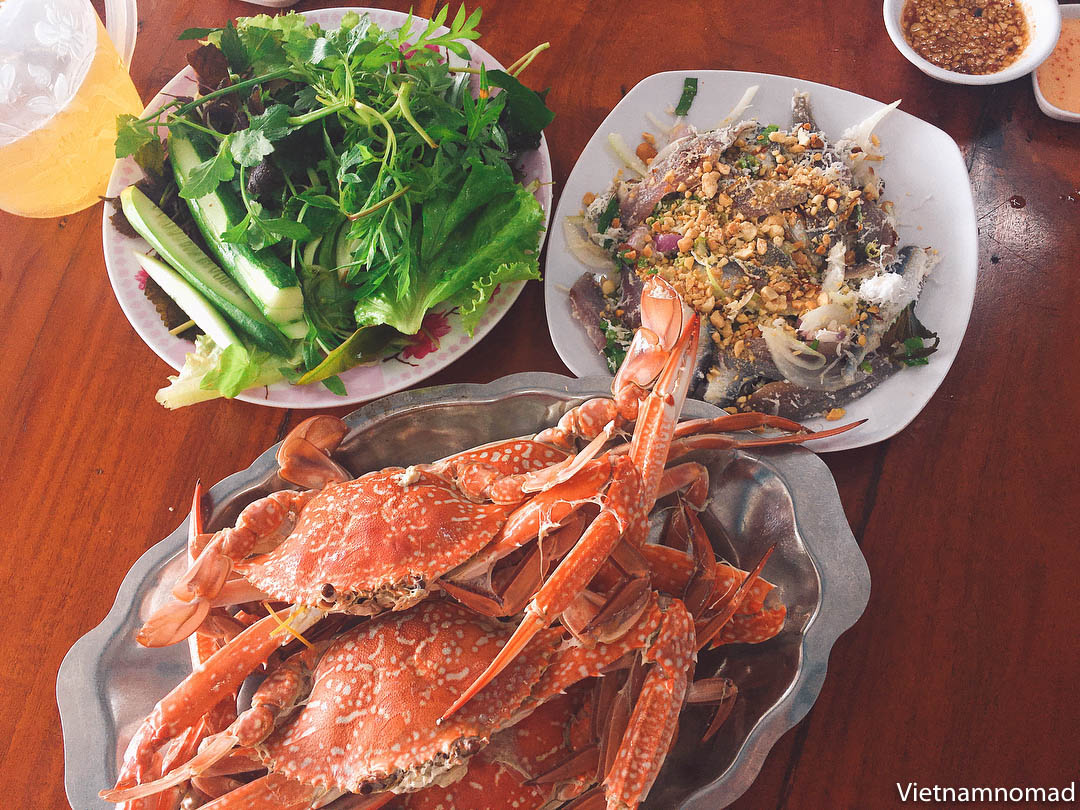 The crab here is not big, but it is always rated as delicious, sweet, and fresh. Depending on the season, its price ranges from 200.000 VND to 500.000 VND per kilogram. You should choose type 6 to 7 crabs a kilo; if you want to eat crab eggs, you can choose females or choose male crabs for meat. The best way to cook it is to boil and eat with lemon pepper salt.
Where to eat:
Bien Xanh Restaurant: Ham Ninh Town
Ghe Ham Ninh shop: 112 Bach Dang, Duong Dong Town
3. Coi Bien Mai Nuong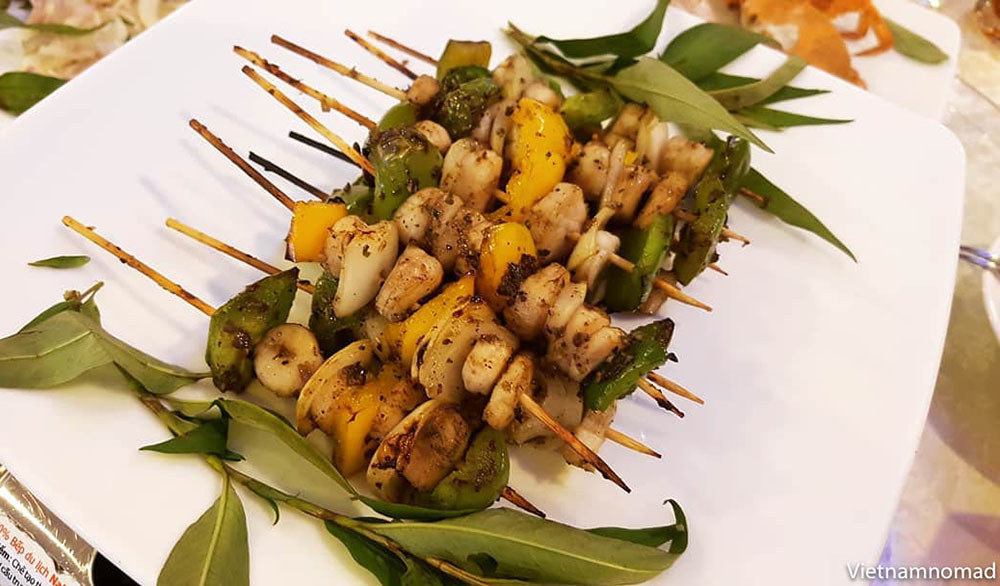 Bien Mai is a type of scallop-shaped nearly as large as a first-wing snail. According to the people on the island, the best part of the Bien Mai is the meat connecting the two pieces of the shell which is called "Coi". This "Coi" is white, sweet, and chewy, often processed into many ways such as stir-frying, cooking hotpot, cooking porridge, or grilling.
Where to eat:
Song Xanh restaurant: Road 30/4, Duong Dong Town
Oc 343: 343 Road 30/4, Duong Dong Town
4. Nhum Bien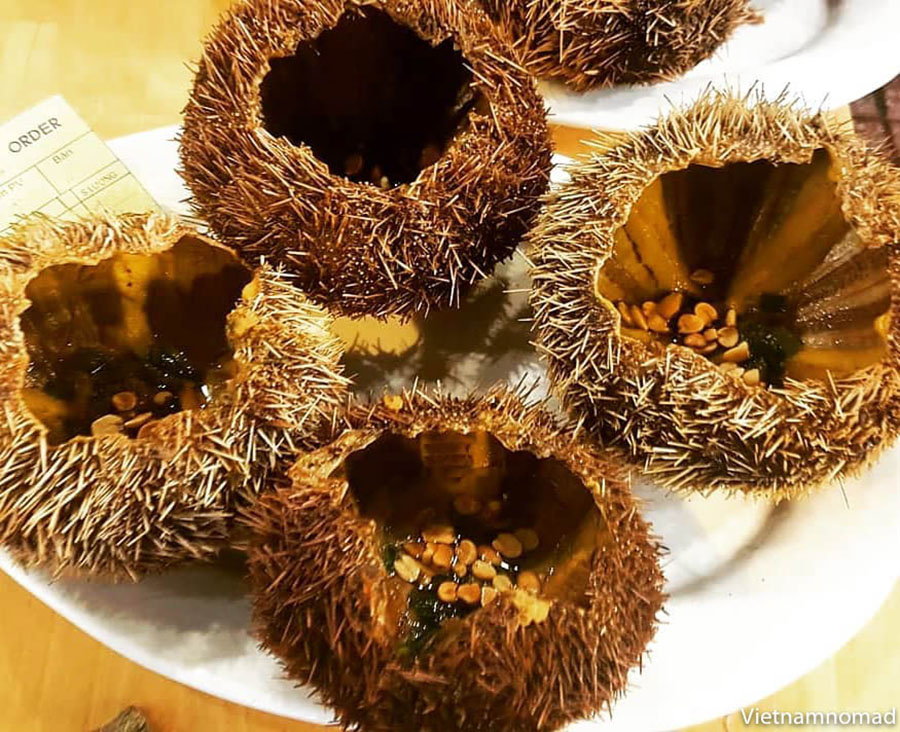 In Central Vietnam, fishermen often take meat and eggs of Nhum Bien (or sea urchin), season and lightly fry before adding them to the pot of porridge. But in Phu Quoc, the newly caught sea urchin will be cut thorns, split in half, wash, and grill on charcoal. In addition, visitors can also enjoy a number of other dishes such as Chao Nhum (Nhum soup) and Nhum fried with eggs.
Where to eat:
Oc 343 – 343 Road 30/4, KP 1, Duong Dong Town
Hai San Nho – Dinh Cau Night Market – Duong Dong Town
Bien Xanh shop – Ham Ninh Bridge, Ham Ninh Town
5. Bao Ngu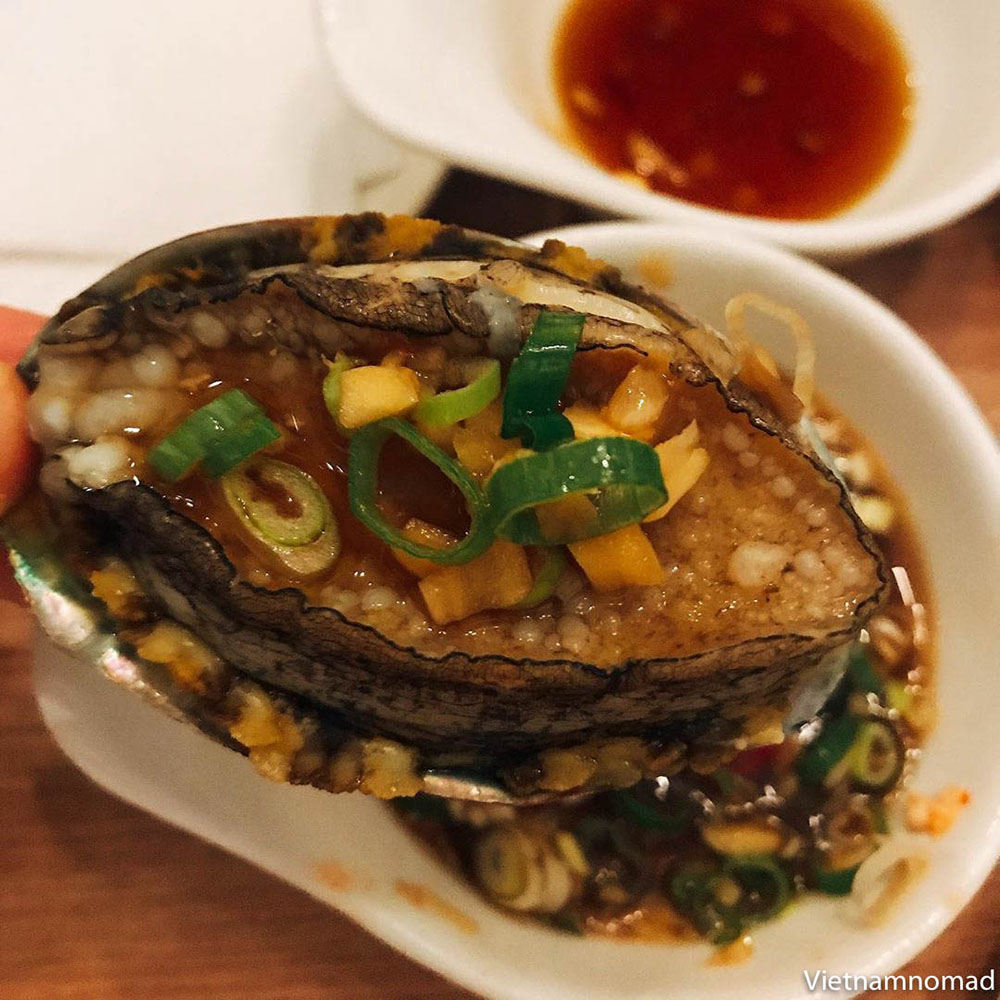 ​​Bao Ngu or Abalone in Phu Quoc is famous for its nutritional value and is considered traditional medicine in oriental medicine. Fresh abalone can process many rustic dishes such as boiled, grilled, and porridge. Enjoying a bowl of Bao Ngu porridge in the evening will be a nutritional choice after an active day.
Where to eat:
Nghe So Oc Hen shop – Road 30/4, Duong Dong Town
Ngheu So Phu Quoc shop – Road 30/4, Duong Dong Town
In addition, Phu Quoc also has many attractive specialties such as Mat Sim, Sim wine, fish sauce, king crab, grilled snails with salt and chili, scallop grilled with onion, and grilled egg squid. These dishes are easily found in restaurants.
Activities in Phu Quoc
Activities to explore in Phu Quoc are mainly outdoor activities, such as fishing, diving, coral reefs, exploring the desert island, night squid fishing, and mountain climbing.
Fishing: As an interesting pastime, the experienced crew in Phu Quoc will locate the reefs is where many fish are gathered so that you can catch grouper, melaleuca, and other kinds of fish. The freshly caught fish will be served on board. This is also an opportunity to experience the hard life of fishermen on remote islands. You can buy a fishing tour in Phu Quoc for about 10 USD.
Coral scuba diving: The diverse ecosystem of the An Thoi archipelago in the South or the Mong Son and Doi Moi islands in the North Island is an ideal place for travelers to explore the world of the ocean. The coral reefs here are ranked among the most abundant in Vietnam with 17 types of hard, soft, and different corals.
Exploring wild islands: Experiencing untouched islands is a fascinating way to enjoy your holiday. An Thoi archipelago in the South Island or Mong Tay and Doi Moi islands on the North Island is always a great choice for this exciting activity during your trip to Phu Quoc.
Night squid fishing: When night falls, the whole island of Phu Quoc becomes silent but the fishermen's life is still hustling with shimmering lights like a bustling city. It is time to just relax and have fun with squid fishing.
Stream bathing – exploring primeval forest: Phu Quoc is not only famous for its beautiful beaches but also known for its beautiful streams such as Suoi Tranh, Suoi Da, and Suoi Ban. Coming to these streams, visitors have the opportunity to immerse themselves in the cool water and at the same time explore the unique ecosystem of Phu Quoc primeval forest.
We hope this detailed Phu Quoc Island travel guide provides you with useful information and new ideas for your next holiday!
Meet in Phu Quoc!