Dalat is any food lover's paradise for its variety and quality of foods. The cool climate seems to make all the dishes taste better. Below are the top 8 dishes that you cannot miss when you are in Dalat.
1. Banh mi xiu mai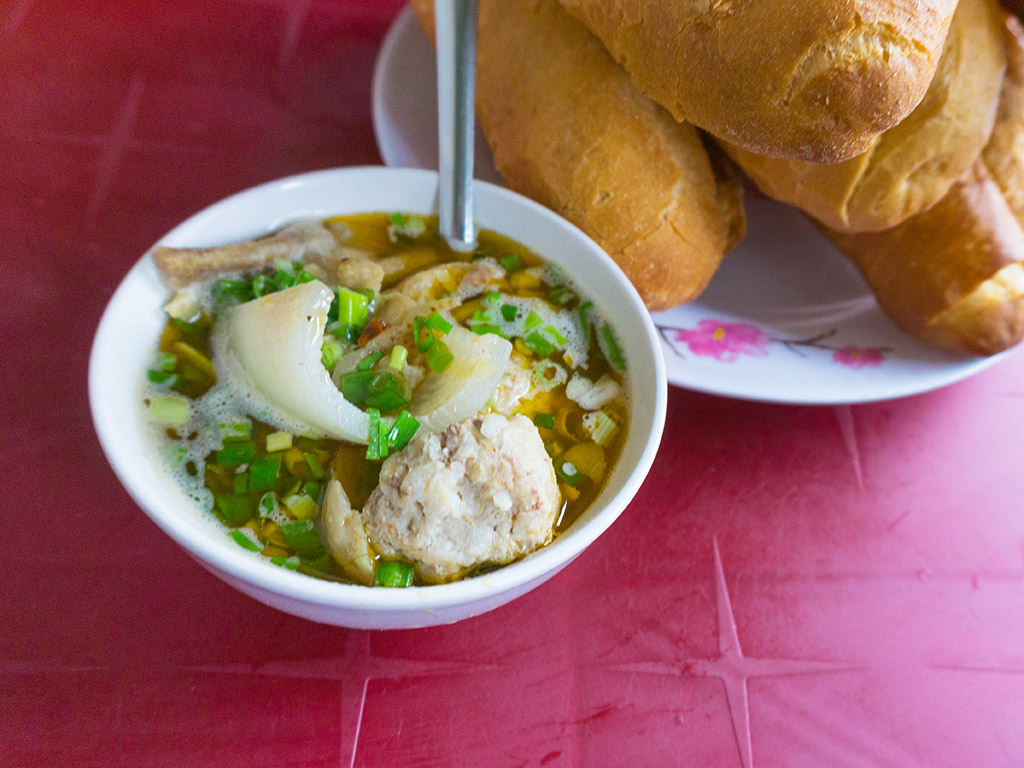 You may know of Vietnamese banh mi as a form of a sandwich, but banh mi xiu mai is going to be a whole new experience of eating banh mi baguettes. Just simply a steamy hot bowl of meatballs and a loaf of banh mi, but it will blow your mind with how tasty this combination is.
When eaten, tear banh mi into small pieces and dip it into the bowl of sauce; take a bite of the meatball to have a bit of flavor and texture, and there you have a perfect treat for breakfast. Banh mi xiu mai is a specialty, a must-try in the cold, misty weather of Dalat.
Recommended addresses to eat banh mi xiu mai in Dalat:
Banh Mi Xiu Mai Ri 79 (01 Thong Thien Hoc): 30,000 VND
Banh Mi Xiu Mai (35 Hoang Dieu): 30,000 VND
2. Banh can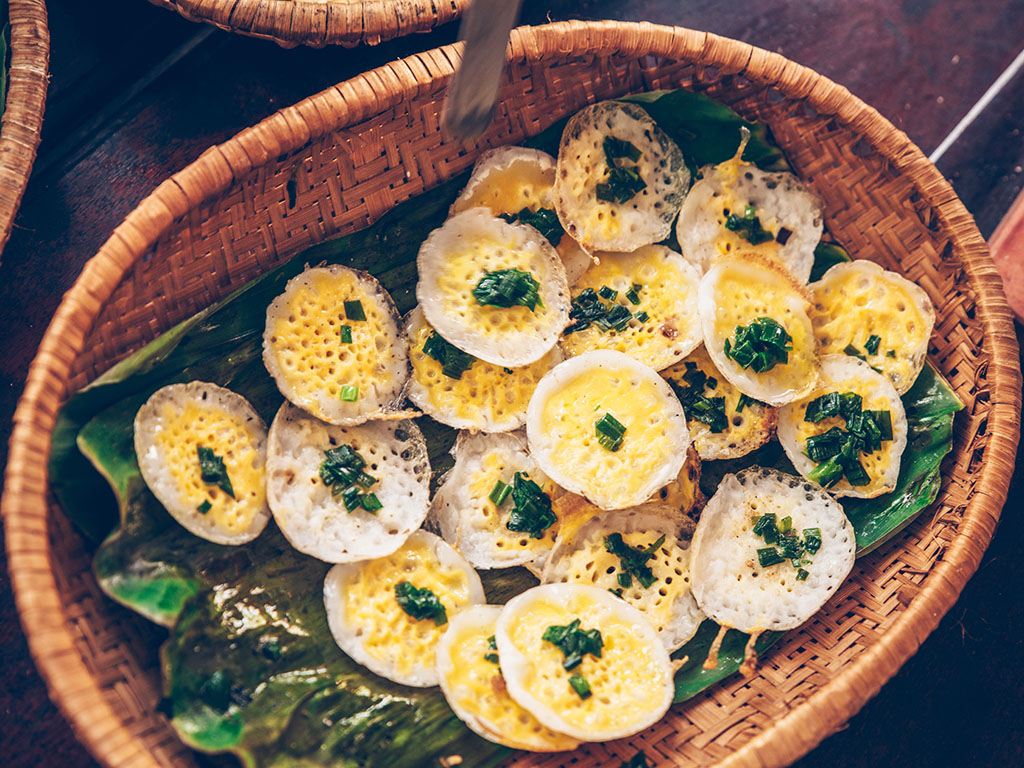 Banh can is a favorable breakfast dish, which is super light and simple yet still elegant enough to make a good impression on anyone who tries it. On a round-clay pot with small-bowl-sized holes, a ladle of rice powder loosely mixed with water is poured inside until it is barely cooked. Then, toppings of your choices will be added. Traditionally, a quail egg is cracked into the center of the cake, which looks like a tiny sun shining on a white cloud. Apart from quail eggs, you can choose chicken eggs, beef, shrimp, or a mix of all for your banh can.
Banh can is served with a small bowl of mixed fish sauce. Fish sauce is cooked to diminish the fishy smell before being added with green onions, ground peanuts, and chilies. Some locals would go for a more intense sauce called mam nem – which is fermented fish sauce mixed with pineapples, pan-grilled rice powder, and other seasonings to create a balanced taste. When eaten, you dip a rice cake into the sauce and enjoy it when it's freshly cooked.
Note:
Fish sauce is given for free unless you order meatballs added to it.
There are baby beef rolls wrapped in banana leaves readily served at the table, which are not included in the price and often cost 5,000 VND – 10,000 VND ($0.2 – $0.4) each.
Some suggestions for you to enjoy banh can:
Banh Can A Cat (H55 Nguyen Thi Nghia): 32,000 VND
Banh Can Co Chin (2/35 Pham Ngu Lao): 30,000 VND
3. Banh trang nuong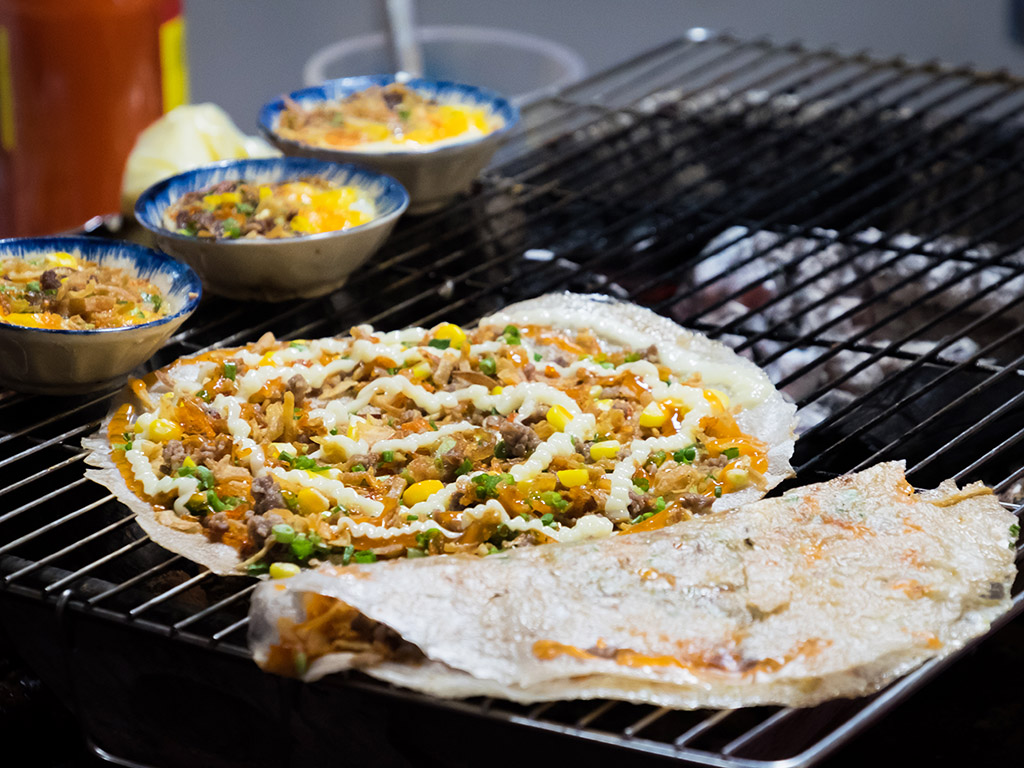 Banh trang nuong goes internationally by the name of Vietnamese pizza. This delight, for us, deserves a place on the culinary map for its creative combination and its tastiness. It is a rice paper sheet chargrilled until it becomes crispy. During that time, a quail egg or chicken egg is cracked and spread onto the surface, then other toppings such as dried baby shrimp, a cube of laughing cow cheese, green onions, and fried shallots are added. It is then rolled up and wrapped up in a piece of paper so you can hold and eat on the way without burning your hand. From the first bite, you will immediately feel the explosion of flavors in your mouth. We cannot recommend this street food enough.
Note:
Banh trang nuong is often sold together with other grilled snacks like chargrilled corn, sweet potatoes, and eggs, which are also worth trying.
Banh trang nuong is a popular street food in Dalat that you can find on every corner of the city for about 15,000 VND per piece.
4. Banh uot long ga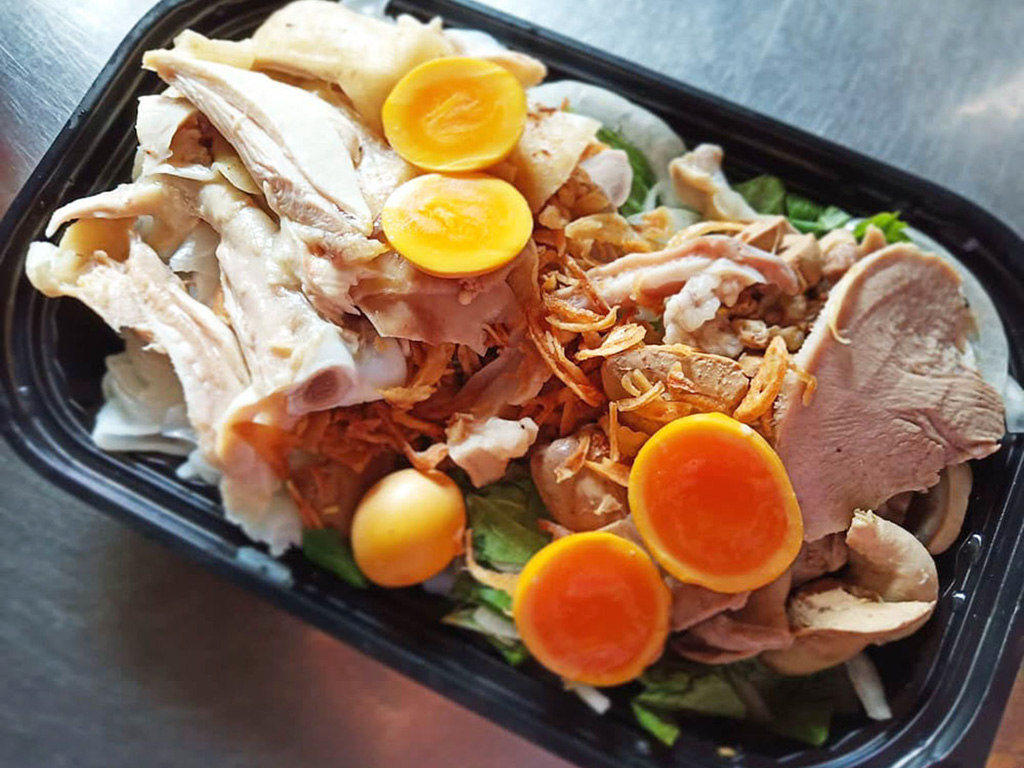 To speak of Dalat local delicacies, we cannot skip banh uot long ga. The dish includes steamed rice sheets cut into bite-size and seasoned with chopped green herbs, sliced onions, and dried shallots. These are eaten with well-done cooked chicken organs, shredded chicken meat, and young chicken eggs. Yes, everything is about chicken. Chicken organs are meticulously prepared and cooked; however, if you don't feel like it, you can just ask to remove them. The star of this dish is the vinegar dressing which is elegantly sour and sweet, which really stimulates the eater's sense of taste.
Suggested places to try banh uot long ga:
Banh Uot Long Ga Long (202/2/5 Phan Dinh Phung): 35,000 VND
Quan Hang 68 (39 Dong Tam): 30,000 VND
5. Mi Quang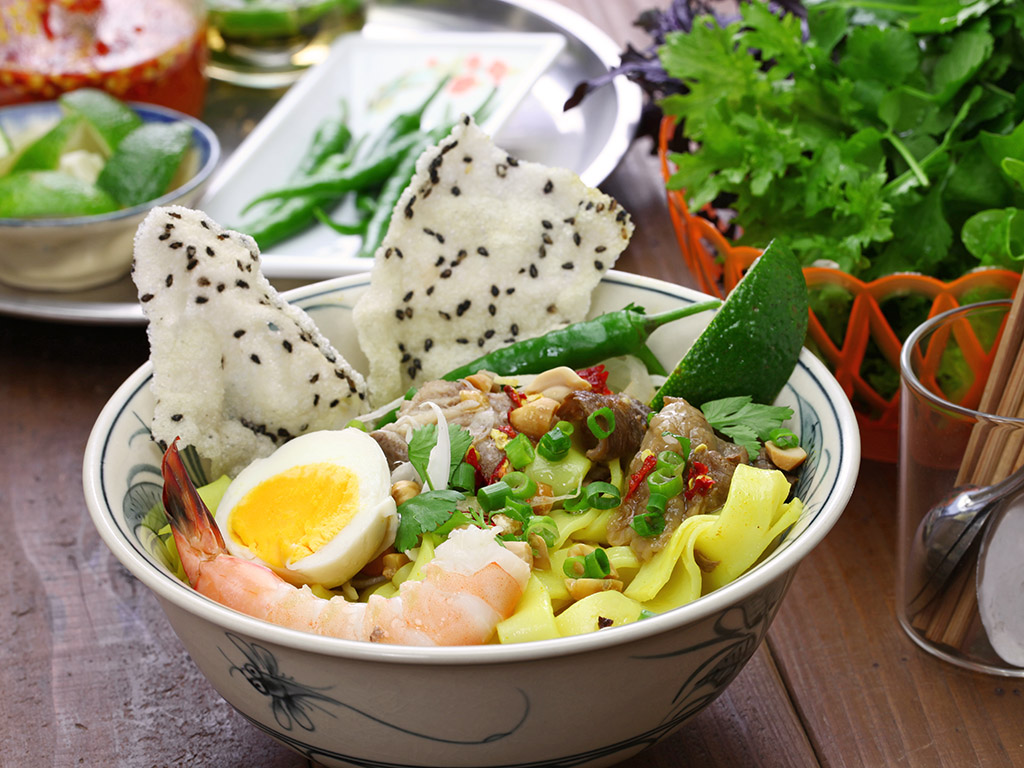 Although mi Quang is a specialty of Quang Nam, when traveling to Dalat, it had been adopted with slight changes with thicker broth featuring the bright orange color of dried shrimps and the light sweetness of jicama. Mi Quang in Dalat is served with a wider variety of fresh vegetables, especially shredded cabbages, which is another highlight of this version.
Recommendations:
Mi Quang Hoi An (14 Yersin): 45,000 VND
Mi Quang Nha Shin (209 Nguyen Cong Tru): 40,000 VND
6. Lau ga la e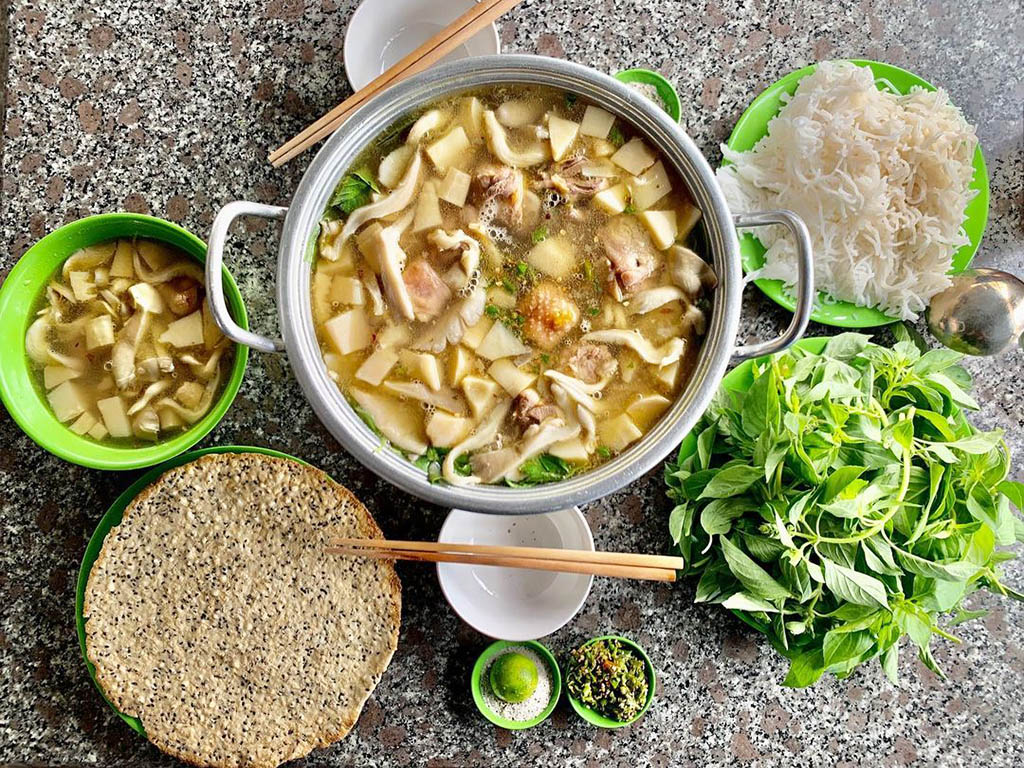 In the cold weather of Dalat at night, nothing can beat a steaming hotpot. Dalat is super famous among locals for its lau ga la e (chicken and lemon basil leaves hotpots). Lemon basil is a native plant that has a distinctive aroma of lemon, mint, and basil. This complex herbal sense explains why they are often used for cooking. Chicken, after being marinated with lemon basil leaf paste, will be slowly cooked in a clay pot which is already added with lemon basil and lemongrass broth. The pot is cooked right at the table, on a mini-sized stove, and we add rice noodles and mushrooms as we eat. The tasty chicken, hot soup, and herbal warmth extracted from the ingredients are just blended perfectly with the climate of Dalat, making it an exciting gathering dish to try in the foggy city.
Recommended addresses to eat lau ga la e:
Hanh Dalat (06 Yersin): 200,000 VND
Tao Ngo (30 Bui Thi Xuan): 200,000 VND
7. Pastries and hot milk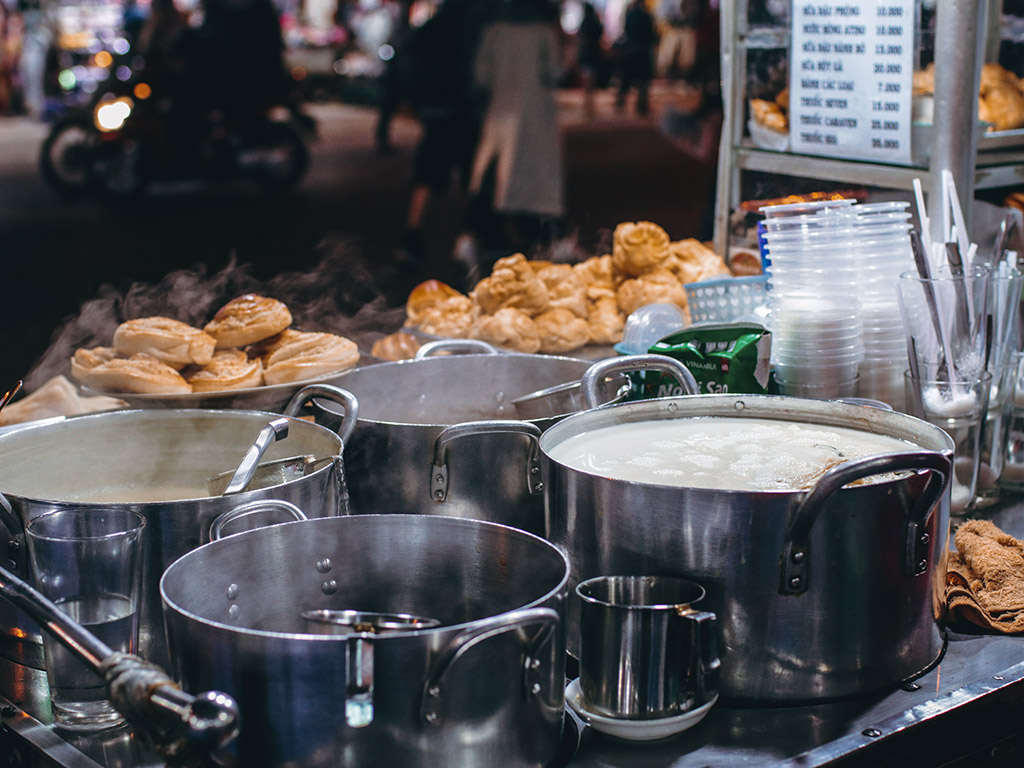 When walking Dalat streets, if it catches your eyes with a big crowd gathering, sitting on little plastic stools on the sidewalks, that is probably where a food cart selling freshly baked pastries and hot milk is. It is set up with a display of different types of pastries and you will be given a small plate to pick whatever you like to bring back to the table. Inside, huge pots of milk are constantly heated. For the first time, you will easily get overwhelmed by a long list of nuts and bean milk to choose from, from peanut milk, green bean milk, and soya milk to corn milk. Don't know which one to try? You can mix them together with an option of added condensed milk or sugar.
We love to dip the pastries into the glass of hot milk and enjoy their sweetness when they melt in our mouths. Sitting down with the locals and having this interesting experience is something that should not be skipped in Dalat.
Recommendations:
Hoa Sua (3F Tang Bat Ho): 10,000 VND
Co Lan (01 Nam Ky Khoi Nghia): 10,000 VND
8. Kem bo
Kem bo (avocado ice cream) is a delicious dessert to end our food tour in Dalat. Avocados – which are the key agricultural produce of Dalat – are finely blended into a mushy texture. Then, it is topped with a scoop of coconut or vanilla ice cream. The creamy base of the avocado smoothie combined with sweet ice cream would be the best dessert you have ever tasted.
Some suggestions for you to enjoy kem bo:
Kem Phung (97A Nguyen Van Troi): 20,000 VND
Kem Bo Cham (27 Nguyen Trai): 35,000 VND