What is bun dau mam tom?
The name bun dau mam tom already includes all the key ingredients of this controversial dish. Bun refers to rice noodles, dau is the term for tofu, and the star ingredient, the "drama queen" of this dish, is mam tom – the fermented shrimp paste. Let's explore how this exotic dish captivates the hearts of its eaters and discover the level of bravery required to try it.
The origin of bun dau mam tom
Talking about the origin of bun dau mam tom, every Vietnamese can confidently tell you that it is from Hanoi; however, exactly how and when this dish came to life remains uncertain even for the locals. Anecdotally, a lady in the countryside of Hanoi created this dish from the leftovers in the household for her family. With just a few simple ingredients of rice noodles, fried tofu, green vegetables, and fermented shrimp paste – a common item in underprivileged families back then since it can be stored for a long time and can be made into many dishes, this dish just brought a familiar yet fascinating taste. She decided to set up a mobile vendor selling this different combo on a traditional pair of bamboo baskets. On one basket are a stove and a frying pan to make freshly fried tofu on order and other ingredients like rice noodles, shrimp paste, and green veggies. On the other basket, she managed to put the needed eating utensils (chopsticks, small bowls, and plates) and even little stools for the customers. Everything was balanced skillfully on a bamboo-carrying pole and traveled with her to every street and alleyway with an echoing street call for bun dau mam tom.
Once she was called by someone, she would quickly set up her mobile "eatery" and cook the food right in front of the customers who were already sitting around the bamboo carriers. This has traditionally become how the people run the business. Although nowadays, many bun dau mam tom restaurants have mushroomed, the image of a lady with her bamboo "mobile" vendor and a little crowd gathering around her carrying pole remains as intimate and loving as the dish itself.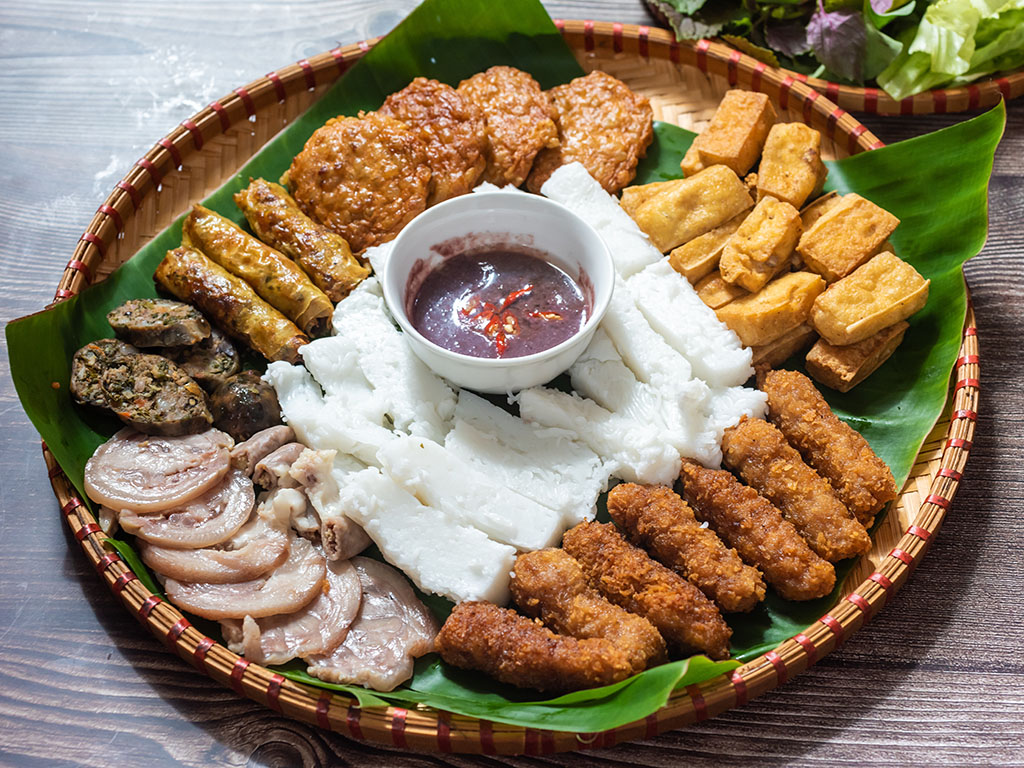 Bun dau mam tom ingredients
Bun dau mam tom comprises several freshly made ingredients. If you follow down to the end of this list, you either have a very strong heart or a wild adventurous spirit since you will see this combo is not all about the "stinky sauce" mam tom but there are more surprising elements added to it, making it an extreme culinary experience. Let's break it down to see what exactly there is in a full combo of bun dau mam tom.
Rice noodles, or bun in Vietnamese, are the first and foremost element of this combo. The noodles are rolled up and cut into pieces, each of which is soft and cold with an interesting texture to it.
Fried tofu: The secret of this bun dau mam tom combo is the magical fried tofu. Tofu is generally an ordinary food item, but somehow, they make it into such a heart keeper – super soft and fragrant inside while the outside is slightly crunchy. And with one bite, the creamy soy paste exploding in your mouth is just pure satisfaction.
Fermented shrimp paste: The soul and also the most controversial element of the dish – mam tom. This paste is made by adding salt to baby shrimp and letting the fermentation takes place for weeks until it turns purple and gets a paste texture. The "beauty" of this mam tom does not lie on the surface and it is not very appealing when you first try it, definitely not the "Taste me" kind of attraction. It is all about the many layers of taste – the saltiness, the intensity, and the many ways to customize it.
Before being served at the table, boiling oil is poured into the paste to water down the intense taste and smell and to ensure hygiene. You do not eat the paste straight away alone but need to combine it with kumquat/lime, chilies, and sugar, give it a good mix until it gets a foamy layer on the surface, taste it, and slowly modify it until it is right. As it is often said that "good things take time," it may take a few times for you to acquire and appreciate mam tom's taste. Despite the fact that you are going to love it or hate it, you have to give it a try as a part of the adventure.
Boiled pork: The meat is taken from the pork legs and is boiled skillfully, so you have all the textures – soft and moist in the middle and a tiny chewiness from the skin.
Green rice pork patties (cha com): Com is young green rice, which represents the quintessential stage of rice grains. This refined ingredient is favored in Northern Vietnamese cuisine. The young rice is mixed with minced pork and raw pork sausage, then formed into palm-sized patties. They are steamed first to retain moisture before being fried. When cooked, cha com patties offer a combination of chewy texture from the pork sausage and a glutinous quality from the young rice. The milky aroma of the young rice, along with the juicy pork, makes these patties a comforting snack.
Chitlins (or chitterlings) are cooked pig intestines. They are cleaned with vinegar and lime juice before being boiled to remove the unwelcoming smell. It is hard to describe its texture in words but expect a mixture of chewy, crunchy, and bouncing textures.
Meat-filled intestines (doi sun): Honestly, every time we try this, we keep thinking to ourselves, 'What were they thinking when they came up with this bizarre food?' These are made using the same technique as making pork sausages but with different ingredients. Generally, the filling is made with minced pork, pork fat, and most iconically, pork cartilage. These proteins are, of course, balanced with loads of herbs and spices before being filled into the intestines. They are either boiled or fried.
Green veggies and herbs: With a wide range of protein, there needs to be a contribution of some greens to balance the heat, according to yin and yang principles used in almost all Vietnamese dishes. Bun dau mam tom is served with an incredible selection of herbal greens such as beefsteak plants, Vietnamese balm leaves, chameleon plants, and cucumber.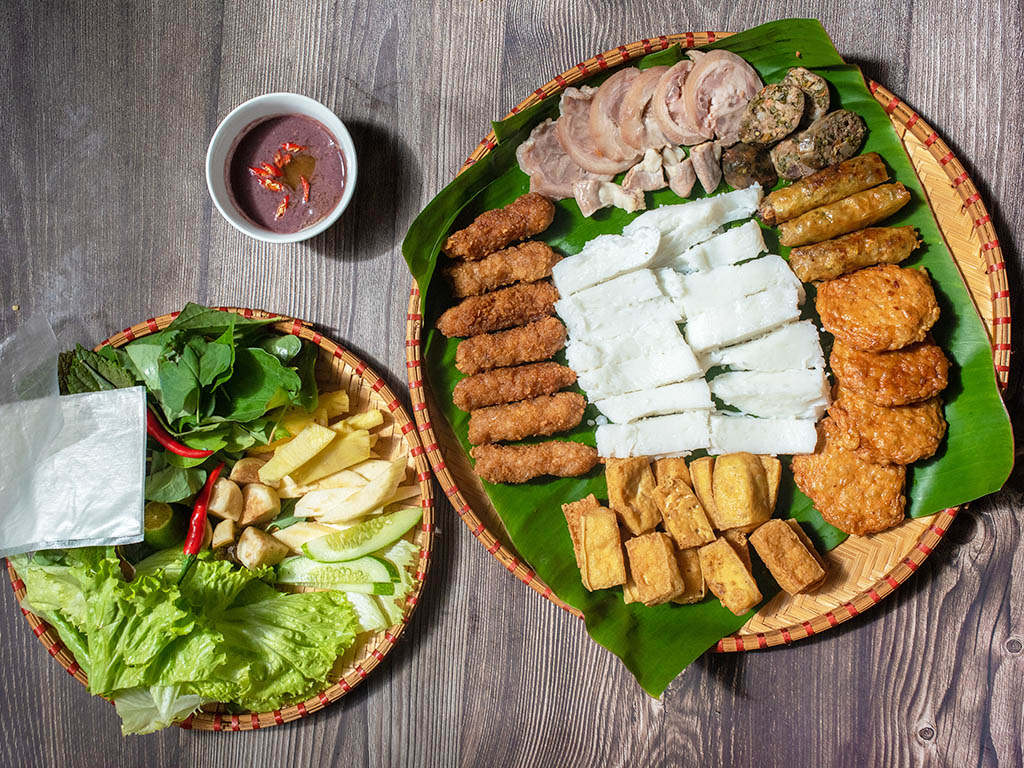 How to eat bun dau mam tom?
Bun dau mam tom is complicated in its ingredients but not very confusing when it comes to eating. First and foremost, you need to customize your mam tom – the fermented shrimp paste. Do not eat it straight in your first time, or you will probably be traumatized. The simplest way is to add one teaspoon of sugar, 1-2 kumquats, and a bit of chilies, then give it a swirl until it bubbles and forms a foamy layer. Now, it is ready to try.
We recommend that you start with the fried tofu and rice noodles. Slightly dip each piece into the shrimp paste and enjoy. Once you are comfortable with it, you can move to another part of the dish.
Finally, bun dau mam tom is traditionally paired with kumquat iced tea or Vietnamese apricot syrup drinks. The subtle sweetness and sourness of these drinks will add a complementary note to your overall eating experience.
Where to eat bun dau mam tom?
Bun dau mam tom holds a special place in Vietnamese cuisine, often described as a dish that "smells like hell, tastes like heaven" by many international visitors. If you're seeking to experience this heavenly taste, here are some recommended restaurants in Vietnam where you can enjoy this unique dish.
Hanoi
Bun Dau Trung Hung
Address: 49 Phat Loc, Hoan Kiem District
Price: 60,000 VND ($2.55)
Bun Dau Cay Da
Address: 235B Thuy Khe, Tay Ho District
Price: 50,000 VND
Ho Chi Minh City
Bun Dau A Vung
Address: 6AB Luong Huu Khanh, District 1
Price: 77,000 VND
Bun Dau Homemade
Address: 01 Nguyen Van Trang, District 1
Price: 68,000 VND
Da Nang
Am Thuc Ganh
Address: 157 Chau Thi Vinh Te, Ngu Hanh Son District
Price: 45,000 VND
Bun Dau Ha Noi Xua
Address: 143/1 Nguyen Chi Thanh, Hai Chau District
Price: 35,000 VND