Video top 12 must-visit attractions in Dalat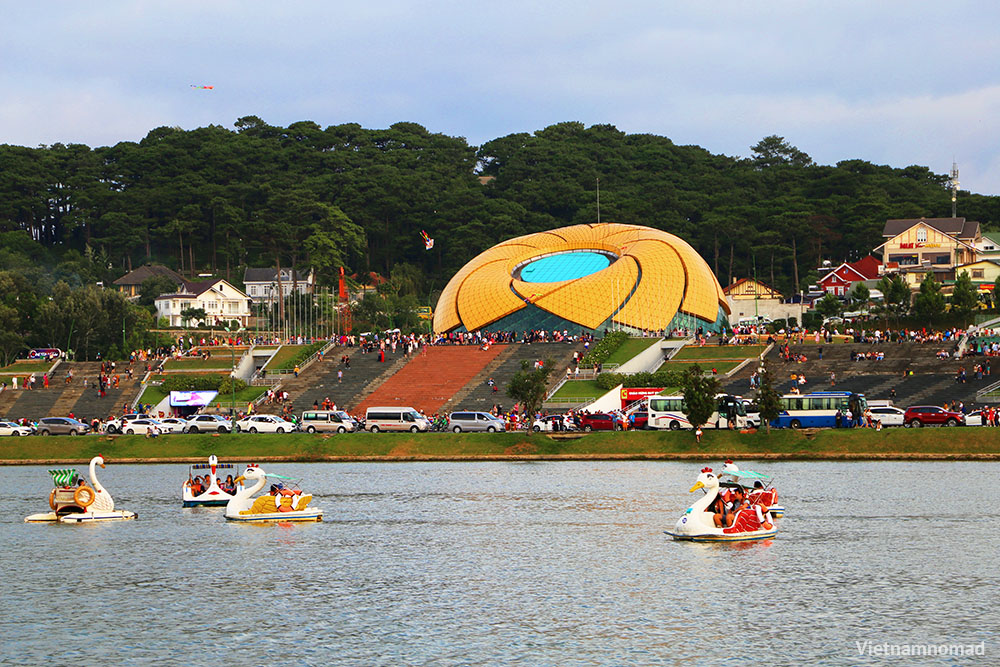 1. Xuan Huong Lake
Xuan Huong lake is located in the heart of Dalat, around the lake are the most attractive Dalat's spots such as Lam Vien Square, Da Lat Market, and Flower Gardens. Walking around the lake is an exciting experience when coming to Dalat, and don't forget to visit Lam Vien Square to enjoy music and street games.
2. Dalat Railway Station
Dalat railway station is one of the oldest stations in Indochina, was built in the early years of the 20th century. With unique architecture, it is one of the must-visit attractions when visiting Dalat. Don't forget to take a train trip.
Address: Quang Trung Street, Ward 10, Dalat
Dalat tourist train from Dalat Railway Station to Trai Mat (Linh Phuoc Pagoda)
Fare: 170 000 (round-trip ticket)
Departure time (from Dalat Railway station, travel time to Trai Mat about 2 hours)
+ 7:15 am
+ 9:20 am
+ 11:55 am
+ 2 pm
+ 4:05 pm
You should go in the morning and visit Linh Phuoc Pagoda before returning.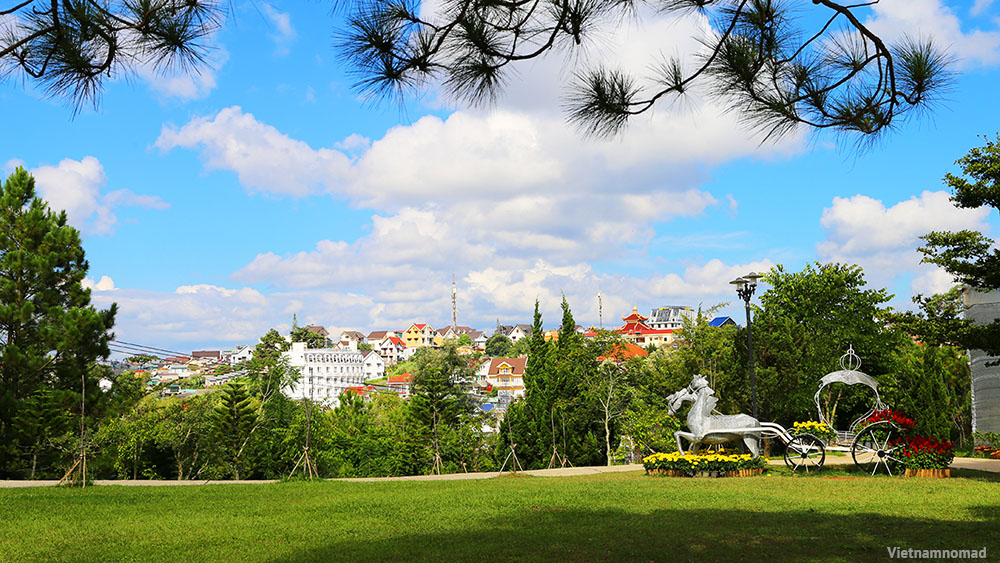 3. Flower Gardens
Flower Garden is located on the bank of Xuan Huong Lake which is like a paradise garden of Dalat, where is the land of flowers and trees, especially the typical species of Dalat such as roses, hydrangeas, and orchids. If you are a lover of flowers and romance, don't miss this place.
Address: Tran Quoc Toan Street, Ward 8, Dalat
Hours: 7:30 am – 6 pm
Entrance fee: 40 000 VND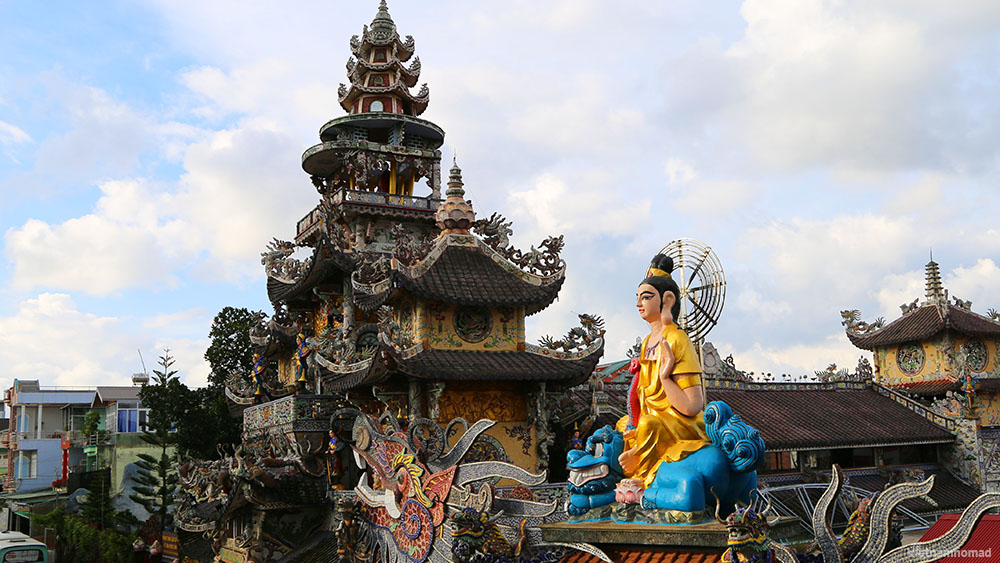 4. Linh Phuoc Pagoda
If there is an advice, we would recommend visiting Linh Phuoc Pagoda because this is a masterpiece of architecture. The pagoda is famous for ceramic mosaics architecture, precious statues, and especially the 33 m long and 12-meter wide main hall features 2 rows of cobblestone mosaics. Linh Phuoc Pagoda is considered a special ceramic mosaic architecture of Dalat and must-visit attraction.
It will be great when you come here by train (from Dalat railway stations, fare: 170 000, round-trip ticket)
Address: 120 Tu Phuoc, Trai Mat, Dalat.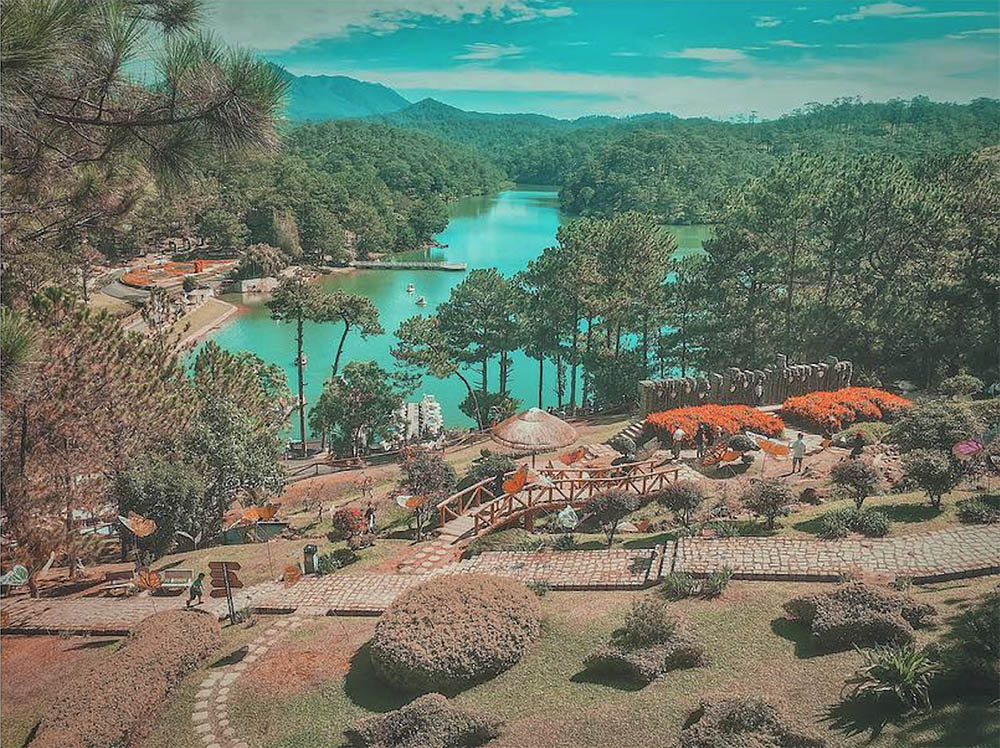 5. Valley of Love
Ranked at the fifth of Dalat attractions is the Love Valley – the most beautiful and poetic landscape in Dalat, for a long time, this place has entered into many poems, songs and has also witnessed many couples' love when visiting Dalat. Located 6 km north of Da Lat's city centre, Valley of Love is beautiful and fascinated by deep valleys and green pine hills all year round.
Address: 03 Mai Anh Dao Street, Ward 8, Dalat
Hours: 6 am – 8 pm.
Price: 250 000 VND (including services such as jeep and boating)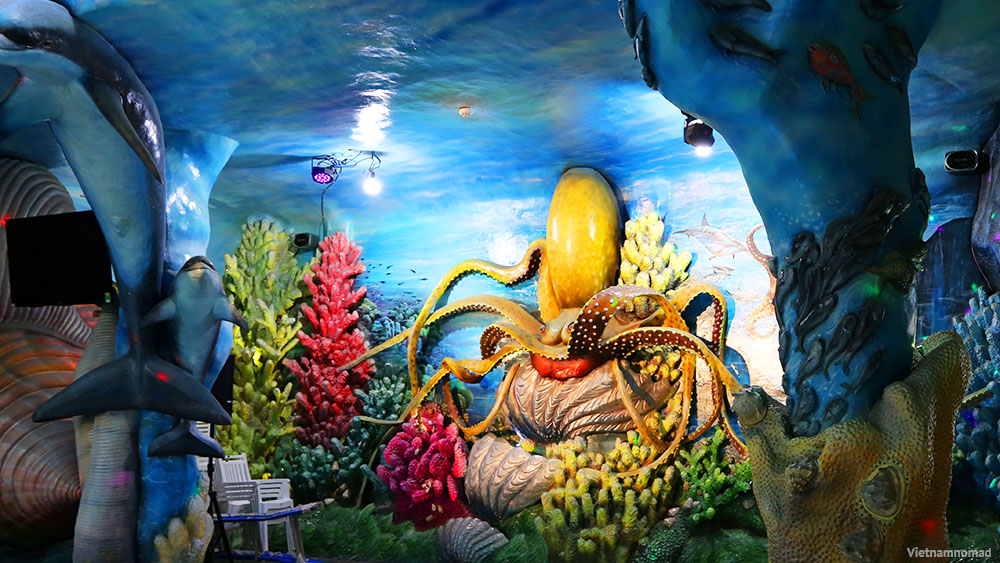 6. Crazy House
Located at 3 Huynh Thuc Khang Street, 2km from the center, covering an area approximately 1,600m2, Hang Nga Guest House or Crazy House is an attractive and exotic destination in Dalat. When you come into your house; you are lost in fairy tales, the house resembles a tree with uneven windows, tunnel-shaped staircase, and spider webs. Discover the monstrous house enough for you to enjoy and relax.
Entrance fee: 50 000 VND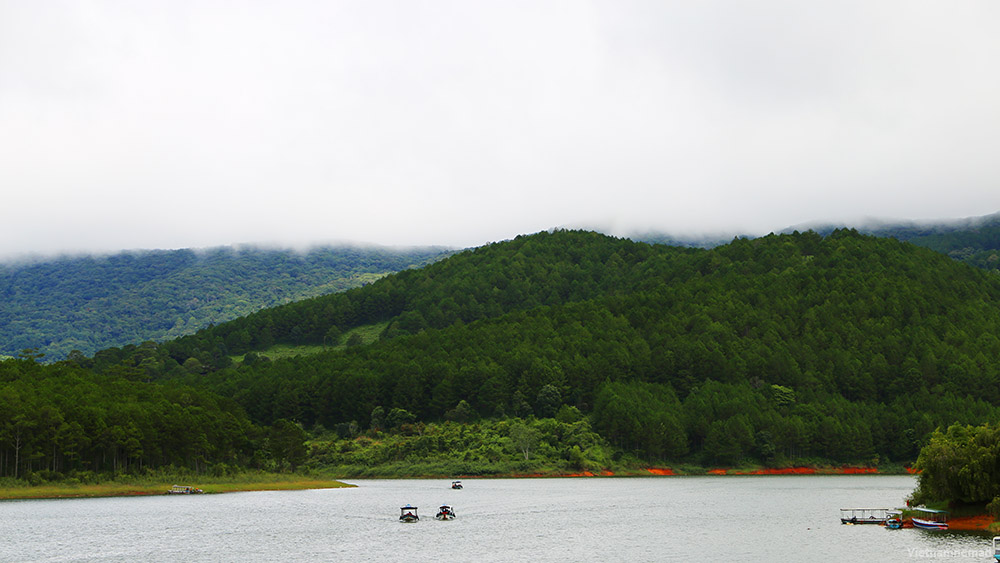 7. Tuyen Lam Lake & Truc Lam Zen Monastery
Tuyen Lam is one of the most beautiful lakes in Dalat, about 6km from the city center, at the base of Phuong Hoang Hills (Truc Lam Zen Monastery). The lake is surrounded by majestic mountains, creating a beautiful and poetic landscape. From Tuyen Lam Lake, you can walk to Truc Lam Zen Monastery.
Truc Lam Zen Monastery is located on a plot of land encompassing 24 hectares, is one of the largest monasteries in Dalat, surrounded by vast pine forests.
From the Dalat centre, you can go to Truc Lam Zen Monastery by cable car.
Da Lat Cable Car Station
Address: 01 Dong Da Street, Ward 3, Dalat
Price: 80 000 VND (round-trip).
Hours: 7:30 am – 5 pm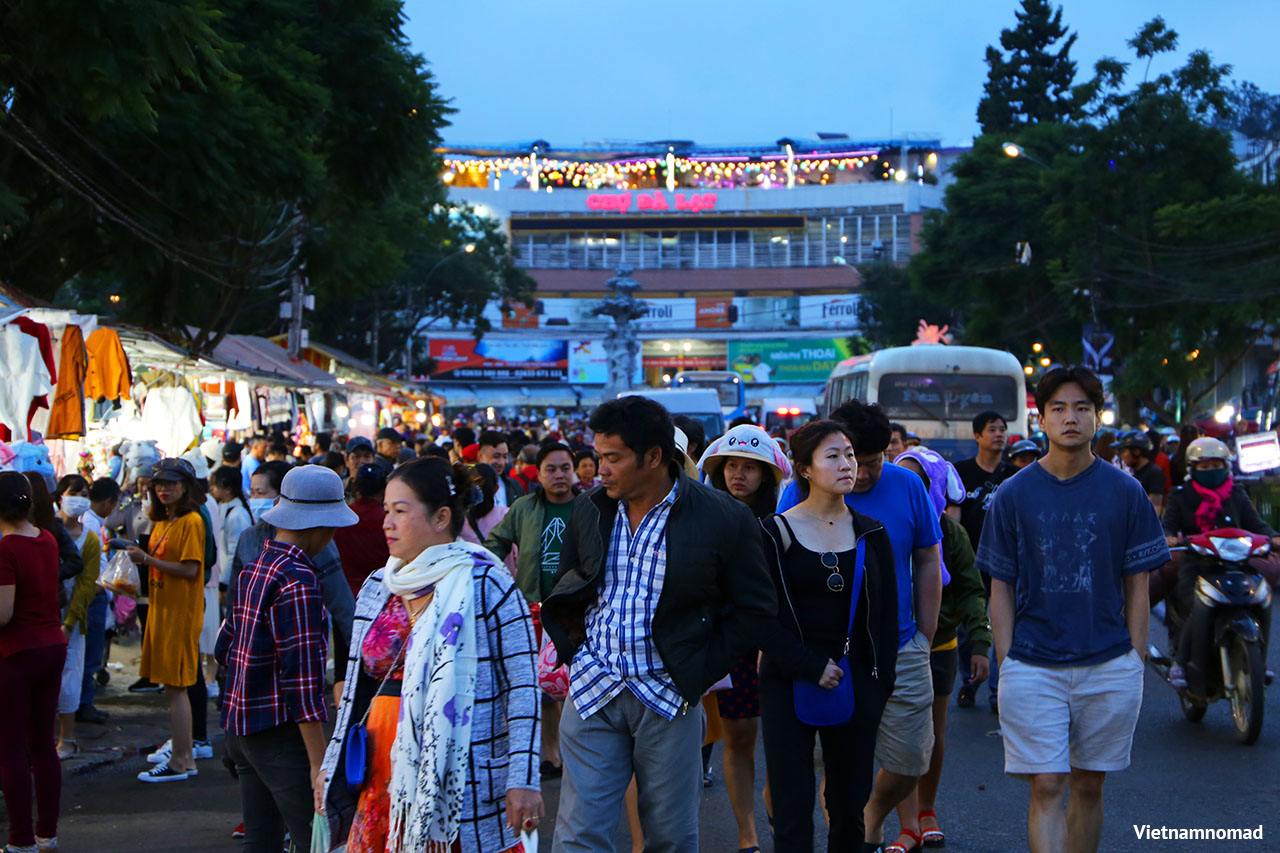 8. Dalat Night Market
Markets are one of the characteristics of Vietnam; it also has the features of the people there. If Ben Thanh Market is a symbol of Saigon, Dong Xuan Market is a symbol of Hanoi; then Dalat Market is a soul of Dalat. In the evening, Dalat market is very crowded, there are many street activities and street food here. Don't forget to join a street band, it's very interesting, and what's more, when enjoying a hot boiled corn under cold weather.
Address: Nguyen Thi Minh Khai street, Ward 1, Dalat
9. Datanla waterfall
Datanla is a beautiful waterfall in Dalat, about 8 km from Dalat center, near Tuyen Lam Lake and Truc Lam Zen Monastery. The Waterfall is located in the middle of a majestic mountain forest, consisting of 3 floors. There are very interesting games such as self-controlled roller coaster car and adventure games.
Address: Highway 20, Ward 3, Dalat.
Hours: 7 am – 5 pm
Entrance fee: 30 000 VND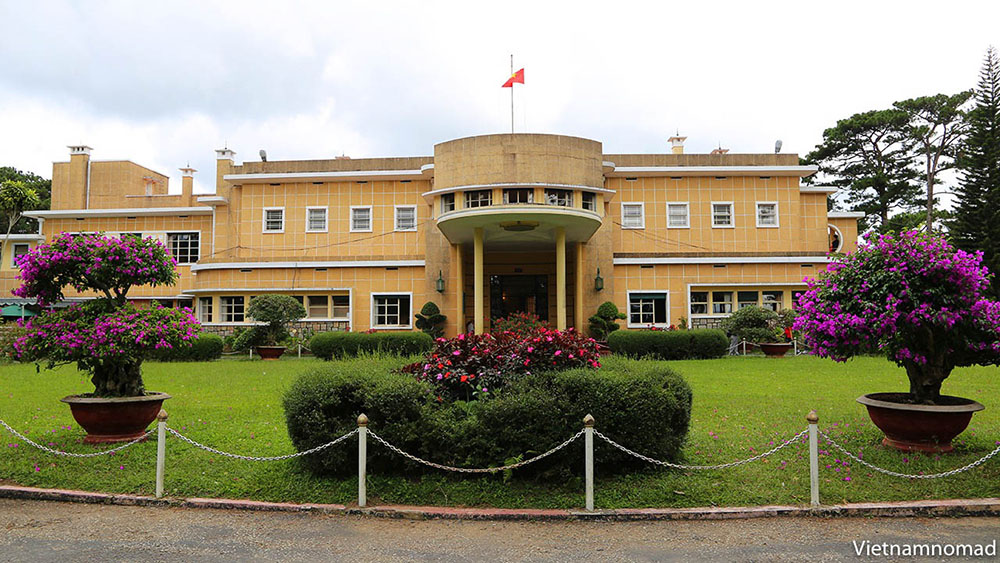 10. Bao Dai Summer Palace
Ranked at the tenth of Dalat attractions is Bao Dai Summer Palace (Dinh III), where Bao Dai's family (the last king of Vietnam) lived and worked in Da Lat city. The Palace has a unique Asian-European architecture, especially contains many items of King Bao Dai.
Hours: 7 am – 5:30 pm
Address: 1 Trieu Viet Vuong, Ward 4, Dalat
Entrance fee: 30 000 VND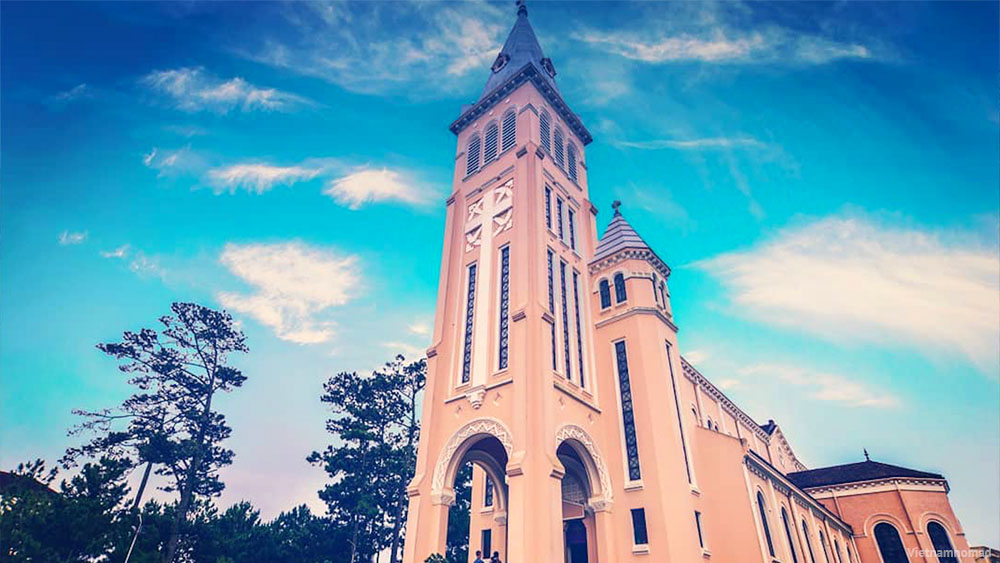 11. Dalat Cathedral
Dalat Cathedral (The St. Nicholas Cathedral or chicken church) is a Roman Catholic cathedral was built as a Catholic parish by the French in 1930s. This is the largest church in Dalat, one of the most iconic and ancient works of this city left by the French. Located in Tran Phu Street, is about 1km from the city center.
Address: 15 Tran Phu Street, Ward 3, Dalat
There are five masses every Sunday. 
12. Elephant Falls
The last position in the list of Dalat attractions is the Elephant waterfall, which is the most beautiful and pristine waterfall in Da Lat, 25 km from the city center. The waterfall has a width of about 40m, height is over 30m. The rocks here are shaped like elephants, so the people named the waterfall as the elephant. The sound of the waterfall is very loud, echoing the mountains and forests.
Address: Gia Lam, Lam Ha District
Hours: 8 am – 5 pm.
Entrance fee: 20 000 VND
TIPS
Above are the top 12 must-visit attractions in Dalat, we hope this information will be useful to you. Wish you have a nice trip, don't forget to send us a message to tell us what Dalat is in you!
Recommended length of stay in Dalat: 2 -3 days.
You can refer to where to stay in Dalat and find deals from our partners.
The following articles will be helpful to you:
If you have a question or request for assistance, please enter the message in the comment below. Our messengers will respond within 24 hours.
Meet in Vietnam!