What is cha gio?
There is no such easygoing dish as cha gio (chả giò – Vietnamese egg rolls) in Vietnamese cuisine. Coming in all shapes and sizes, cha gio varies from its ingredients and its name to how it is made and eaten. No one knows exactly where and when this dish was created, but one thing for sure is that cha gio is a star in the local cuisine and a universal dish that is loved all around the world. It is a must in every Vietnamese festive banquet and a must on your list when traveling in Vietnam. Here is the story of Vietnamese egg rolls, brought to you by the locals. We hope you enjoy it!
The origin of cha gio
First of all, let's not mistake cha gio (egg rolls) for goi cuon (spring rolls). Cha gio is made with raw ingredients and deep-fried, whereas goi cuon is eaten fresh. It is an ongoing debate about the origin of cha gio: some claim that it is native to the South, while others argue it was first created in the Central part of Vietnam. Despite its arguable origin, it is a national dish and can be found everywhere across the country nowadays. In the past, cha gio was more of a festive delicacy that was often served at big gatherings. Because the preparation was time-consuming, it would not make sense to assemble all the complicated ingredients for just one portion. We tend to bump up the volume of ingredients to make each step worth the preparation. And cha gio can be stored in the freezer for later use; that's why cha gio is often made in big quantities.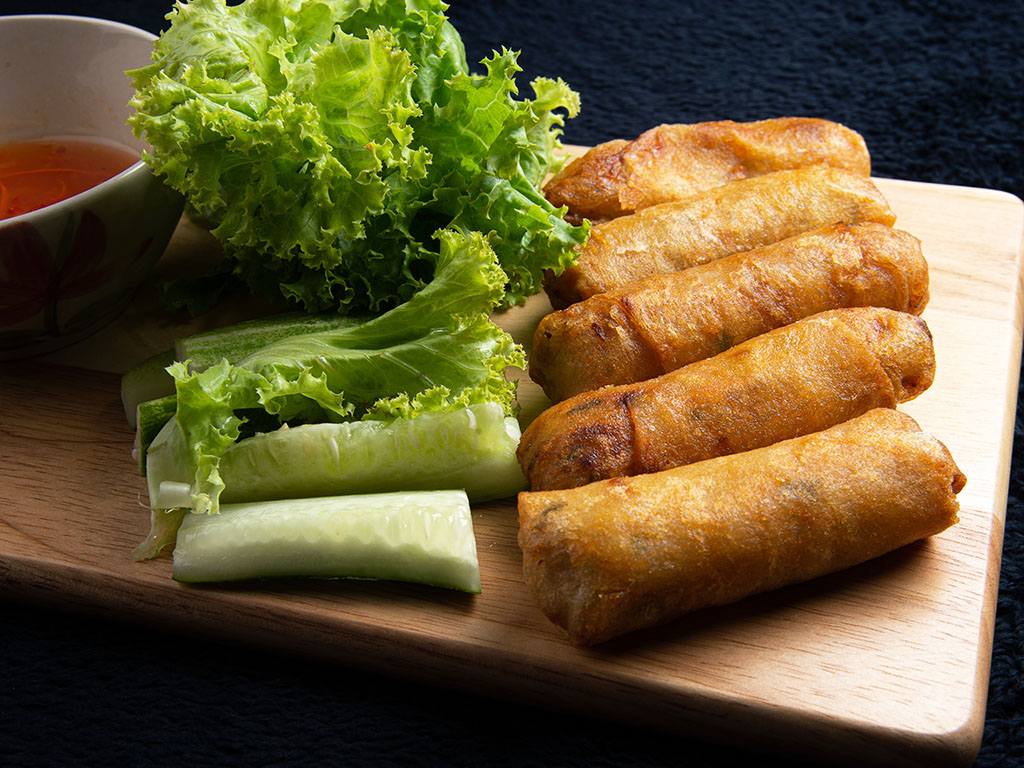 Types of cha gio
Although the rolls in different regions share a delicious taste with a crispy wrapper outside and flavorful fillings inside, they greatly vary in their names, shapes, ingredients, and eating cultures.
1. Cha gio
The international name cha gio is actually what we call the egg rolls in the South. Cha gio rolls have a width of two adult fingers and a length of 8-10 cm. When being served, the rolls are often cut into 2-3 bite-sized pieces.
In terms of ingredients, Southern people typically use bo bia rice papers which are a special type of Vietnamese rice paper made from wheat flour mixed with green beans powder. These bo bia rice papers are preferable wrappers because they deliver a more pliable exterior and are more crispy after cooking. Another wrapping often seen in Southern cha gio is net rice paper. These wrapping papers are made from rice and wheat flour into super thin sheets. The netted structure of this type of rice paper will allow oil to drain out more easily; hence, cha gio will be less oily and remain crispy for a longer time.
The ingredients for cha gio fillings are diverse depending on the available local produce and preference; however, there are some key elements that highlight a balanced and typical taste of cha gio in the South. There must be minced pork and shrimp, wood-ear mushrooms, taro, and carrots. Those may sound simple but underlying these ingredients is a thorough measurement to create a balanced signature dish. We will talk about it in more detail in the ingredient section below.
In the southern cities, cha gio is served in several ways. At big celebrations like weddings and death anniversaries, it is used as an appetizer. On these occasions, they are placed on a big plate with other types of Vietnamese cold cuts and dipped in spicy sweet chili sauce. Meanwhile, when eaten as a daily meal, cha gio is served in a bowl, on top of a bed of rice noodles, chopped-up vegetables, roasted peanuts, pickled carrots, and sweet and spicy fish sauce dressing.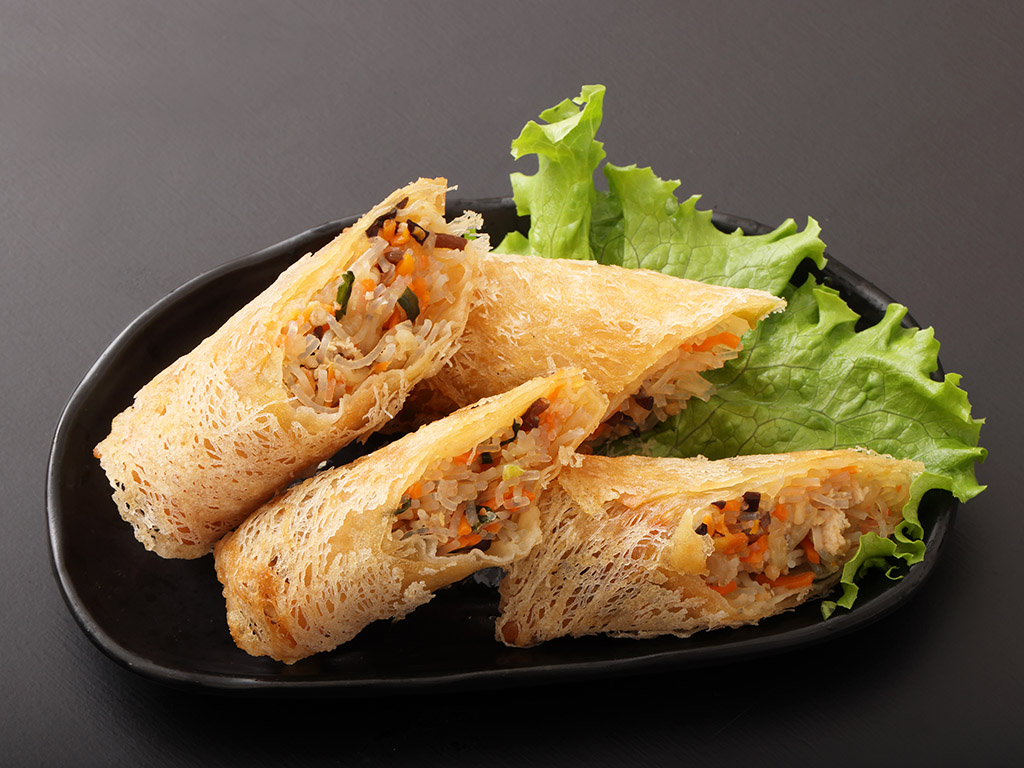 2. Ram bap
In Central Vietnam, the fried egg rolls go with the name ram bap (ram bắp). "Ram" means rice paper (while in the South we call them banh trang) and "bap" means corn. Ram bap has the size of an adult's finger, half of cha gio's size, which makes them more crispy after frying and easier to eat the whole thing in one go. Talking about the ingredients, ram bap is made with sesame rice paper or dew-wetted rice paper. Their fillings are much more simple compared to the Southern version. As the name suggests, the key ingredients for the fillings, apart from minced pork, are corn and fresh chives.
The name and the ingredients used for making ram bap not only reflect the diversity of Vietnamese dialects and cuisines but also tell a powerful story about the culture and history of this land. The climate in Central Vietnam is not advantageous for agricultural activities with extremely harsh hot seasons and uninterrupted rainy ones which often come with disastrous flooding. Therefore, people prioritize staple crops such as corn and jicama for weather resistance and better storage. Their foods are commonly spicier, saltier, and served in smaller portions as a way to save food for a rainy day.
Ram bap is a wrap and roll dish. They are served with rice paper sheets cut into rectangular shapes, fresh vegetables, and spicy fish sauce. When eating, we place a roll of ram bap and some vegetables, then roll them up and dip them in the fish sauce. Now let's travel North.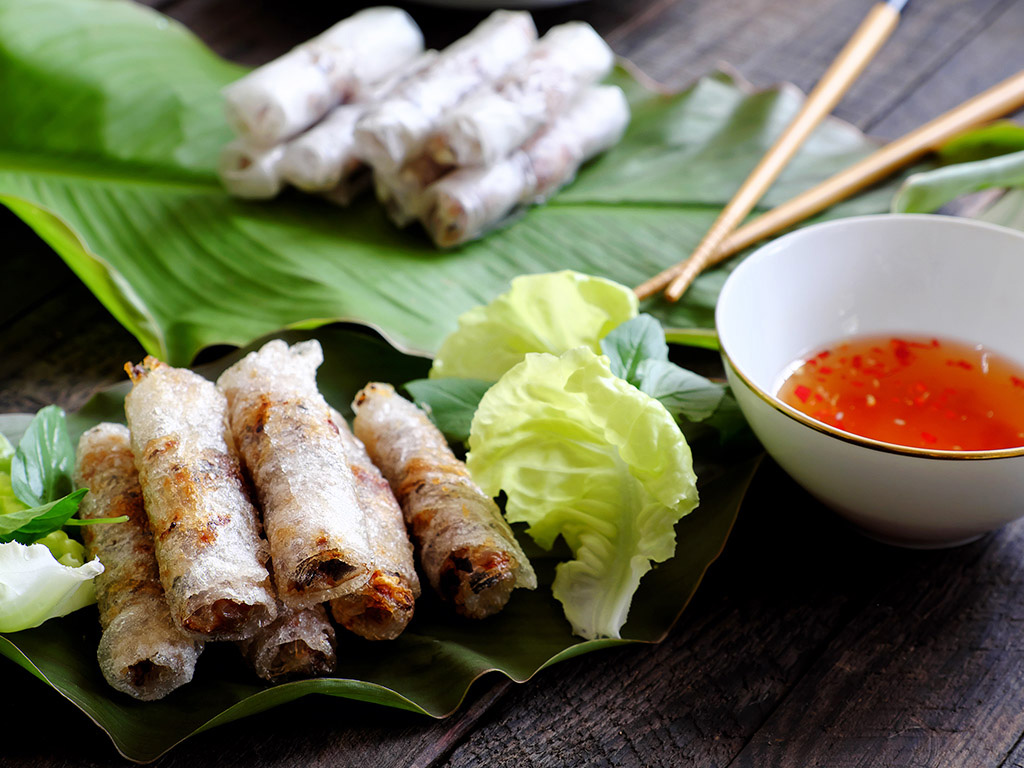 3. Nem ran
In the North, especially in Hanoi – the capital city, we call the egg rolls nem ran (nem rán). It has the biggest size compared to other versions. Nem ran is made with a type of rice paper that contains a high level of rice powder, making the paper sheet less transparent. Maybe it is the thick structure of the rice paper that makes nem ran a bit more oily and less crispy. The highlight of nem ran that sets it apart from the other two types of egg rolls is the use of lots of scallions and glass vermicelli made from arrowroot leaves extract.
Nem ran is simpler in the way it is eaten. It is most often coupled with bun cha Hanoi – the famous chargrilled pork patties or we should say bun cha "Obama". Oftentimes, people eat it as a dish itself, dipping it directly in a small bowl of light fish sauce mixed with minced garlic and carrots.
A special category of nem ran is nem cua be Hai Phong (Hai Phong deep-fried crab egg rolls). Hai Phong is a strategic port city in the North and is famous for the phoenix flowers, which brighten up the city with their flaming red color, and of course, for fresh seafood caught from the sea nearby. In Hai Phong, nem ran does not come in rolls anymore but is wrapped in squared-pillow shapes. The star of this version is surely the crab meat which is the specialty of this city.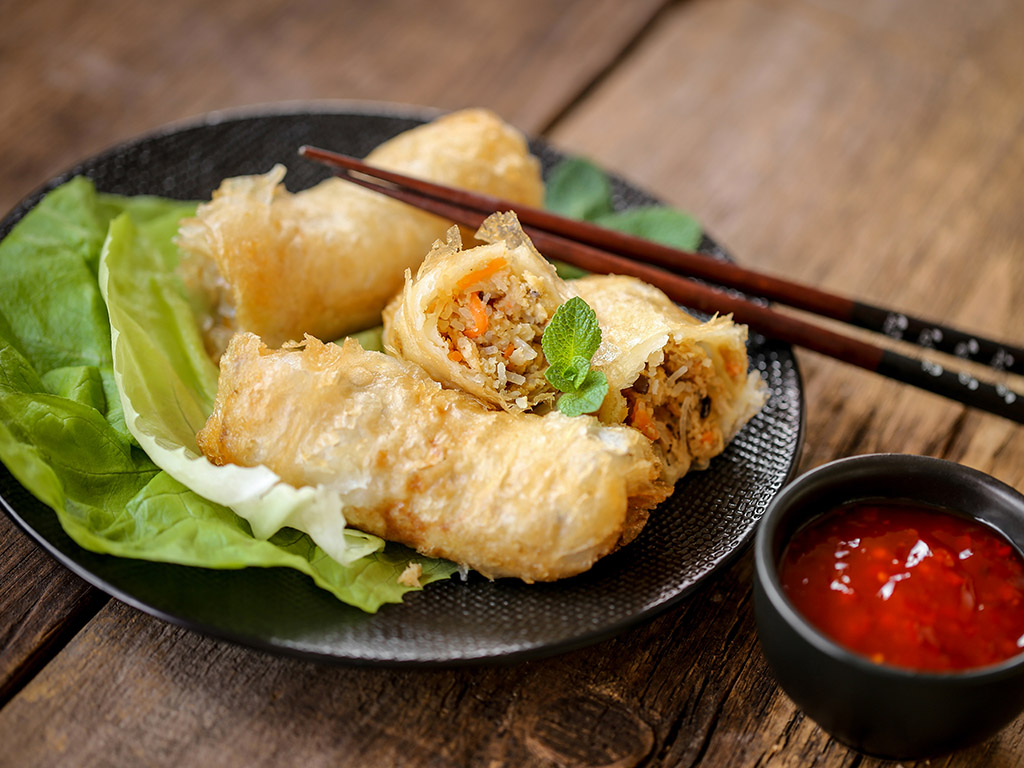 Cha gio ingredients
Despite the variety of these fried egg rolls, let's go with the most recognizable version – cha gio. You are about to find out why we claim that cha gio is evidence of an amazingly well-mixed and balanced combination and the eating of it is an example of the yin and yang in the Eastern culinary traditions. The ingredients and the cooking method are believed to base on the yin and yang principles. Because deep-frying and hot flavor present a yang (hot) element, we use fresh vegetables and salty fish sauce as a yin to balance them out, ensuring balanced flavors and a healthy dish.
Cha gio fillings may seem to you as a chaotic and messed-up mixture. Actually, they are subtly measured and chosen regarding their texture and flavor. The protein traditionally comes from minced pork and shrimp. Meanwhile, vegetables are divided into three categories: (1) sweet and crunchy group, (2) starchy and calorie-rich group, and (3) fragrant and savory group.
Firstly, the sweet and crunchy flavor of the rolls comes from carrots, jicama, and bean sprouts. These vegetables not only taste refreshing but are also high in water content. This group, moreover, will keep the fillings slightly moist.
Secondly, the starchy and calorie-packed vegetables are taro, sweet potato or potato, green beans, and corn. Of course, we do not use them all at once. It is suggested to combine two of those for a united texture and diverse tastes.
Finally, to add a bit more intense flavor and fragrance to the rolls, we add a great quantity of wood-ear mushrooms, onion, and scallion.
All the vegetables are finely chopped up so that they are cooked evenly later. Generally, the portion of vegetables is 1.5 times more than the amount of meat and shrimp. Most of the time, 1-2 egg yolks are added to keep the ingredients stuck together, which explains the name "egg rolls". We give them a good mix then season with salt and a decent amount of black pepper.
Once all the ingredients are assembled, we can start the rolling and frying process.
For the dipping sauce, we typically serve cha gio with mixed fish sauce. Pure fish sauce is first added with lime juice, then seasoned with a bit of sugar, and chopped chili and garlic. Most often, it is complimented with some pickled carrot strings. For convenience, we sometimes use the bottled sweet and spicy chili sauce for dipping as well.
Fresh vegetables and herbs are typical, including lettuces, fishy mint leaves, Vietnamese basil leaves, and cucumbers. If cha gio is served in a bowl, it is likely that you will find bean sprouts as well.
We hope you are not allergic to any of the above ingredients so you can enjoy this traditional dish at its best.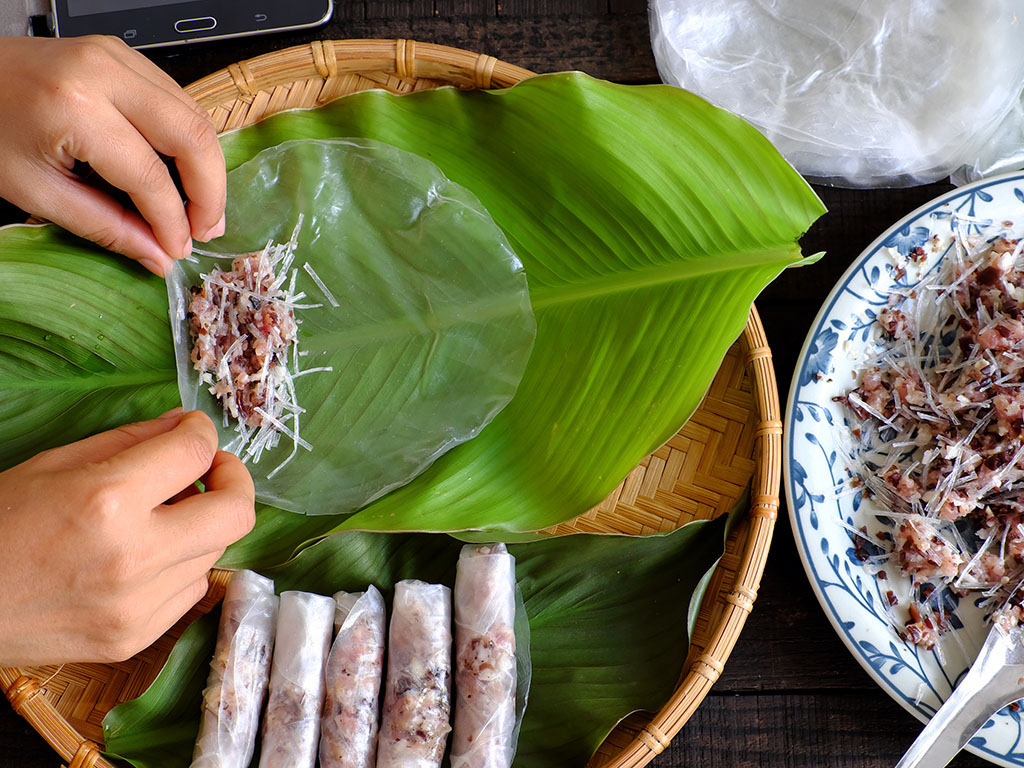 How to eat cha gio?
Cha gio is more commonly known as an appetizer or side dish than a main course. Wherever you are, there are three ways that egg rolls are supposed to be eaten.
Finger food / Appetizer
In big restaurants, egg rolls are often presented as an appetizer with no side dishes. Just simply eat the rolls themselves or dip them in sweet and spicy chili sauce and enjoy.
Wrap and roll
If you see the egg rolls served separately with rice paper and a basket of vegetables, you know you are supposed to have your hands on them. Get a sheet of rice paper, place vegetables of your preference, and an egg roll, then roll them up and dip them in fish sauce. If you don't like the texture of the rice paper, you can use a big lettuce leaf as a wrapper. It is not as good a holder as the rice paper sheet, but at least it is appropriate.
Side dish
If you find on the menu something called bun cha gio, you should expect a bowl of rice noodles topped with chopped fresh vegetables and herbs, including lettuce, fish mint leaves, Vietnamese basil leaves, arrowroot leaves, mint, cucumber, and bean sprouts. Then, we add roasted peanuts, pickled carrots, and scallion oil as the finishing touch. It is served with a small bowl of sweet and spicy fish sauce, but you can add more minced chili if you like it spicier. Add 2-3 spoons of fish sauce to the bowl, give it a good stir and have a first bite. Slowly add more fish sauce until it tastes right for you. It's all about personal taste, and you will see a lot of us actually add the whole bowl of fish sauce to our bun cha gio. There is no judgment about how much fish sauce is used, so just go with your heart.
Although bun thit nuong (chargrilled pork noodles) and bun cha do not sound related to egg rolls, they can be served by order with an additional charge. These are good combos, and we definitely recommend them.