For a span of hundreds of years, Ao Dai (/ˈaʊ,daɪ/) has been the iconic symbol of the Vietnamese women particularly and the Vietnamese culture generally. It holds a significant place in the cultural and diplomatic identity of our people among all the rich and diverse cultures all over the world. It is worthy to have brief insight into this meaningful image if you plan to visit or simply would like to get to know the country a little bit better. This article will give you all the necessary knowledge about our National costume – Ao Dai; when to wear it and where to tailor your own.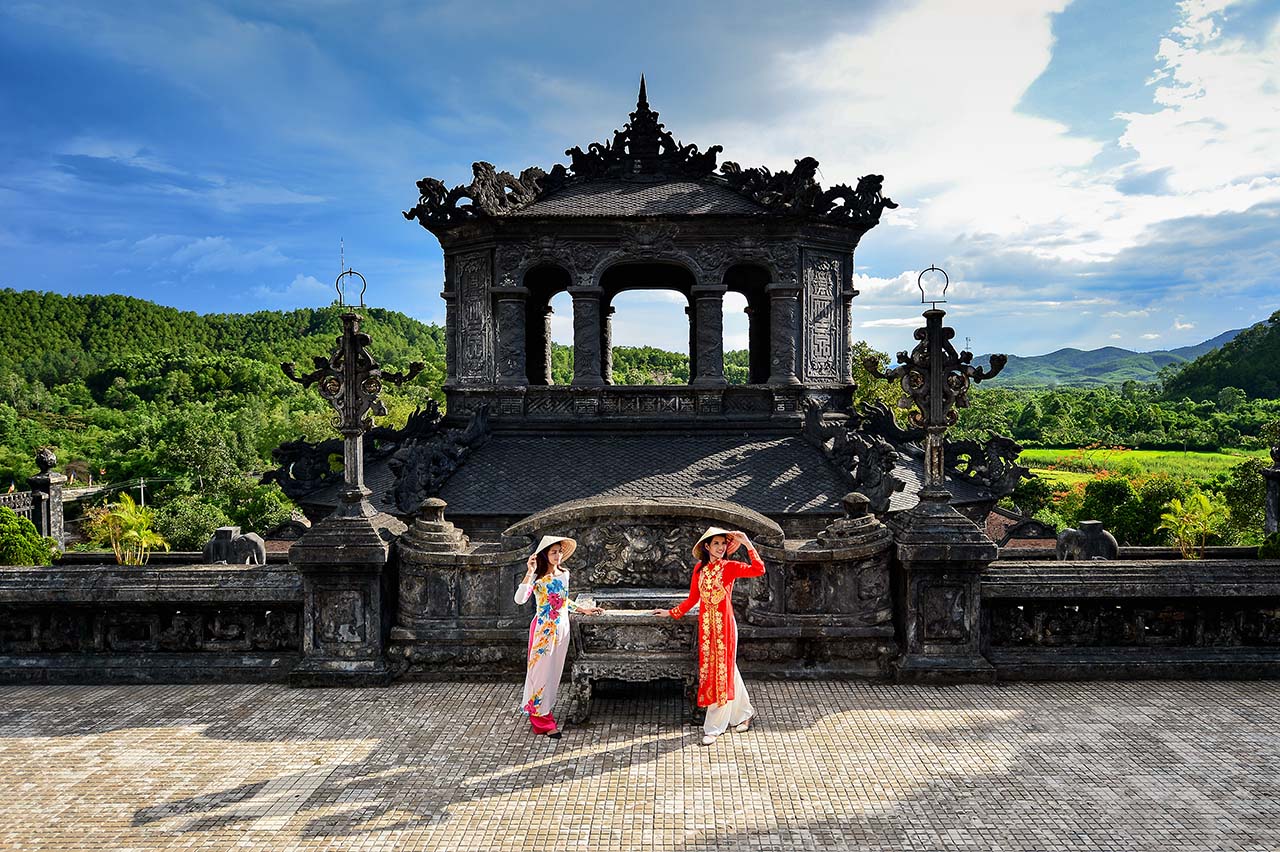 The history and creation of Ao Dai
From the images on the Internet, Ao Dai appears to be a simple design; however, to get to how the dress looks today, it has gone through a long journey and is closely connected with the historical development of the country.
1. The very first version of Ao dai – Ao Giao Lanh (Áo Giao Lãnh or Áo Giao Lĩnh)
Although there is no precise identification of the exact time when Ao Dai had been brought into life, it is believed that Ao Giao Lanh is the primitive version of the nowadays Ao Dai. It is a long loose dress cut on two sides from the waist all the way along the legs. It was worn with a fabric belt and a black dress inside. At that time, to distinguish the South costume from the North, King Nguyen (Nguyễn Phúc Khoát) had ordered all the royal officers to wear a silk blouse inside. It is claimed that this is where Ao Dai all began.
2. Ao Tu Than ( Áo Tứ Thân) 
In the 18th century, increasing agricultural work required Ao Giao Lanh to be splitted into four pieces: two in the front and two in the back so they could be tightened up when people did field work. The four flaps represent the parents of wife and husband.
3. Ao Ngu Than (Áo Ngũ Thân)
Ao Ngu Than is a slightly modified version of Ao Tu Than with an addition of a flap in front in order to separate the royalty from the ordinary people.
4. Ao Dai Lemur
This is thought to be the breakthrough period which led to the design of modern Ao Dai. In 1939, from the foundation of Ao Ngu Than, an artist called Cat Tuong renovated the dress to suit the breath of the French vibes at that time. Ao Dai Lamur was named after her French name. She combined the four flaps into two, added a line of buttons which is a significant reflection of the Western style on the Vietnamese fashion. Unfortunately, the popularity of this design faded after 1943.
5. Ao Dai Le Pho (Lê Phổ)
Not long after that, painter Le Pho brought Ao Dai back by removing all the Western aspects of the dress, resizing the design so that the dress would fit better and embrace the curves more gracefully. This version was favored by the government people for about 5 years before transferring to the next stage of the famous dress.
6. Ao Dai Tran Le Xuan (Trần Lệ Xuân)
Tran Le Xuan or more well-known as Madame Nhu – the First Lady of South Vietnam from 1955 to 1963 and wife of the chief advisor Ngo Dinh Nhu (Ngô Đình Nhu). She appointed the Thai Truc Nha (Thái Trúc Nha) to organize an Ao Dai fashion show on the most bustling street of Saigon at that time – Dong Khoi St. Ao Dai highlighted a bateau neckline to show off the women's neckline and collar bones. This design was biased and worn by her to all the international meetings and parties which made it more visible to the international friends.
At first, this version of Ao Dai was rejected by the public as they thought the liberal spirit of the dress was against the traditional values. However, the preference slowly moved towards the dress due to its simplicity, elegance and comfort.
7. Ao Dai Raglan
This is seen as the most completed version of the modern Ao Dai which was created by Tailor Dung by attaching the long sleeves at a 45° from the neckline to allow more flexibility. This design from the end of the 70s remains until now as the Vietnamese national dress which is appreciated by not only our people but also fashion and culture lovers all over the world.
8. Modern Ao Dai
In the busy pace of modern life, Ao Dai has been transferring itself to catch up with the changing taste of the people. Today, Ao Dai appears to be more practical with plenty of renovations yet still remains the basis of the original dress.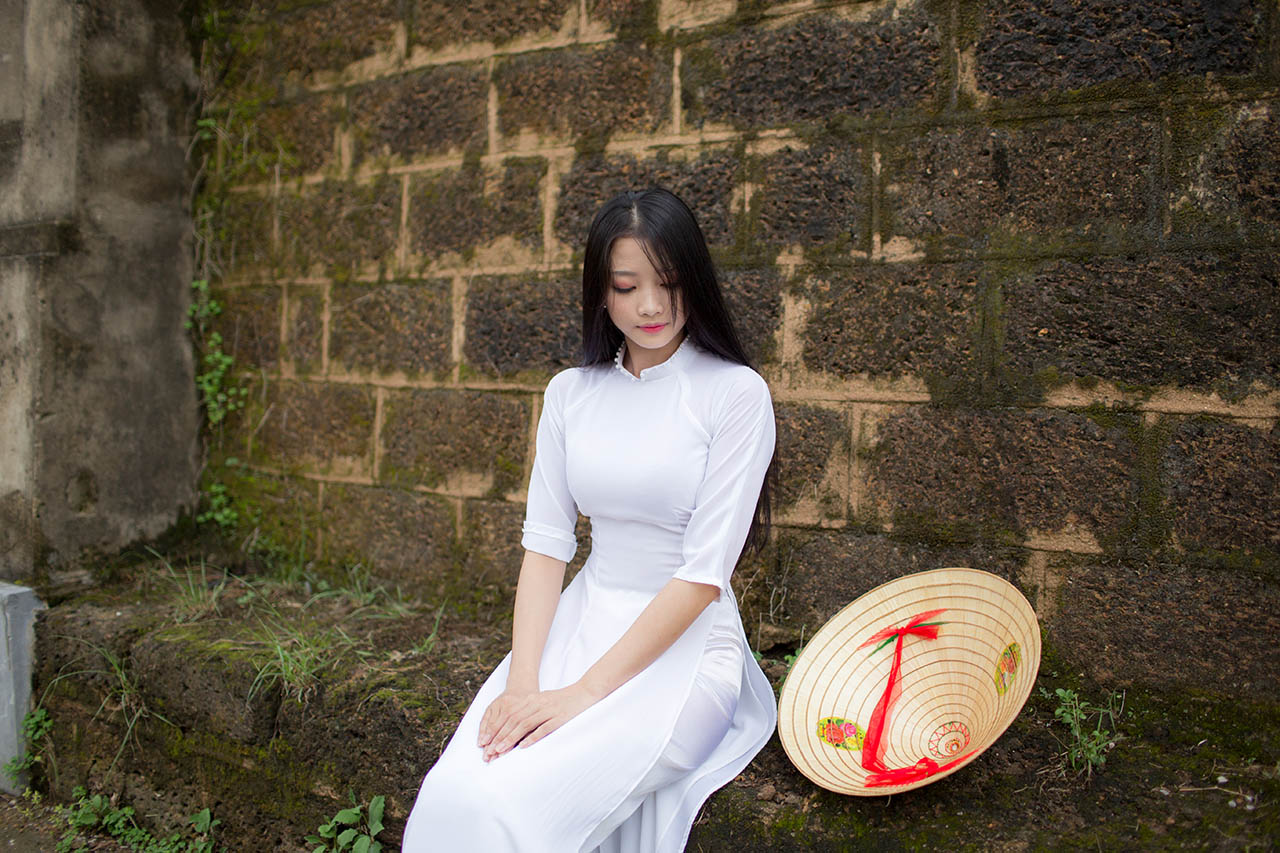 The practice of wearing Ao Dai
In recent years, it has been a good sign seeing more and more people, especially the young, celebrating Ao Dai by choosing it for their important events. Nevertheless, there are certain occasions where Ao Dai is worn as an obligatory dress code more than a dress of choice. Here are some situations where Ao Dai is worn.
Wearing Ao Dai as uniform
Choosing Ao Dai as a uniform is an effort of the people in power with the hope to sustain the traditions of wearing Ao Dai among the young people. It is most worn in highschools and universities with white color. It is optional to combine Ao Dai with white or black trousers. Recently, a number of companies and government organizations such as banks and airlines have also chosen Ao Dai as a symbol of their institution. To maximize the comforts of wearing Ao Dai, it is only compulsory to wear Ao Dai on Monday when the flag ceremony takes place.
This greatly contributes to the living of the dress throughout a period of fast adaptation and integration to Western fashion styles.
Wearing Ao Dai as wedding dress / Wearing Ao Dai in engagement and wedding ceremonies
For a long time, Ao Dai has been an indispensable part of Vietnamese wedding ceremonies. The brides and grooms wear Ao Dai in bright colors like red, pink or white as a symbol of eternal love and happiness. Ao Dai as a wedding dress is embroidered with iconic images of dragons and phoenixes: the most sacred and powerful mascot in Eastern culture with the belief that they will protect the marriage ever after. And the custom is not completed until the bride and groom crown themselves with the traditional Ao Dai turban (khăn đóng). This term translated directly into English is "framed turban" as a metaphor for the tightly knotted relationship between the couple from then on. Not only the marrying couple, but also the whole wedding squad often opt for Ao Dai as a way of showing formality.
Wearing Ao Dai in Tet holiday and other special occasions
Among all the special occasions, Tet or Lunar New Year is the most important holiday of the Vietnamese. So, it is understandable that Ao Dai which is the traditional and national dress is chosen to wear. The original purpose of wearing Ao Dai on these days was to formally celebrate the transitional moments of the year. However, over time, people wearing Ao Dai are more for photography purposes. Vietnamese people love taking photos and Ao Dai adds more color to them. Whatever the reason is, it is more important to see the traditional dress appear more and more; and the cultural values it holds once again thrive among the young Vietnamese.
Wearing Ao Dai in daily life
There was a time when Ao Dai was not willingly worn as a result of the huge wave of Western wear. However, Ao Dai witnessed a rapid rise thanks to the production of a Vietnamese movie named Cô Ba Sài Gòn (or The Tailor as it is known in English) in 2017. Using the main theme and material of Ao Dai throughout the show with the appearance of outstanding designs of Ao Dai from the talented designer Thuy Nguyen – an important person in the journey of reviving the beauty of the traditional dress, the movie quickly became a blockbuster and together with it, more and more celebrities choose Ao Dai in the conference press as well as public events as a way to assert their taste of fashion and show off their sense of trend. From there, Ao Dai was popular again up till now.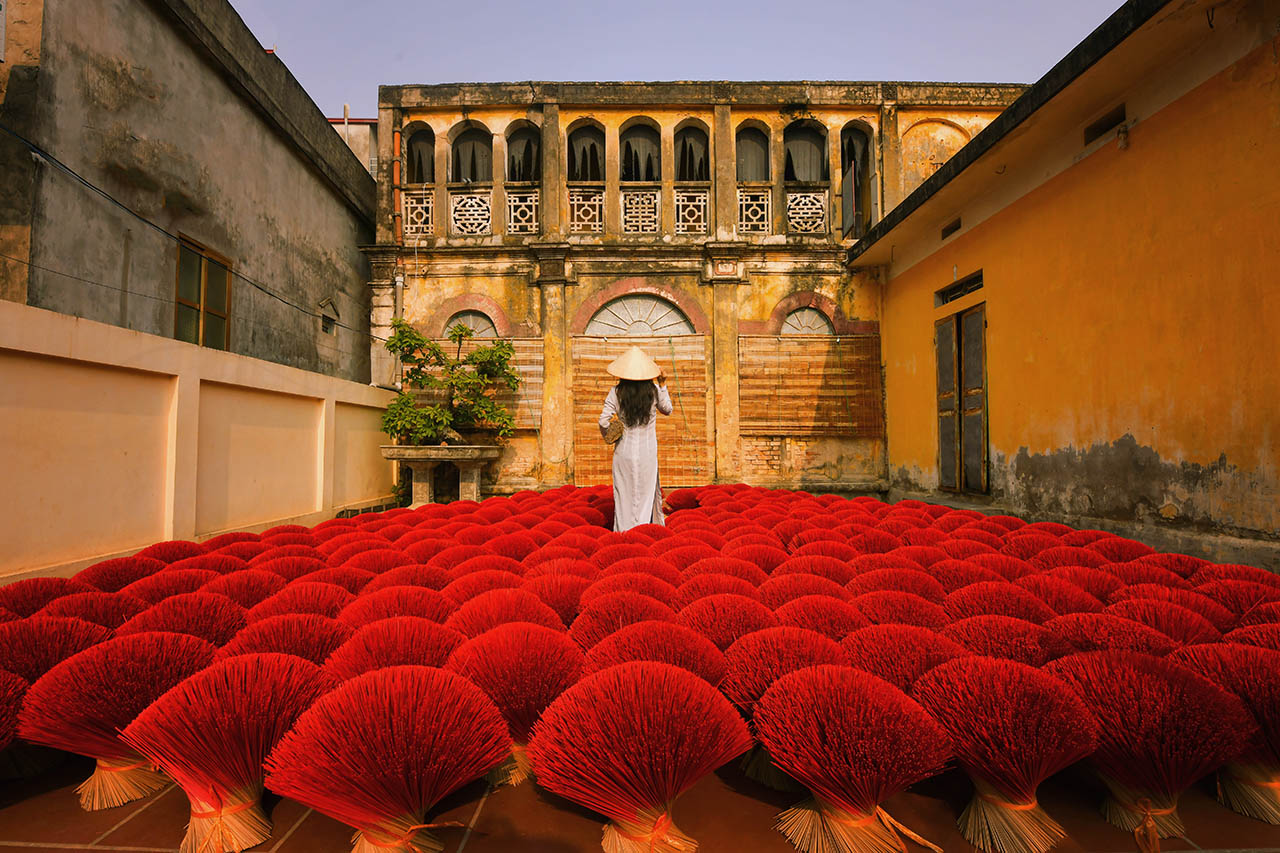 The making of Ao Dai
For the Ao Dai to fit gracefully on a person, it should be best to customize your own. The process of making Ao Dai is the fun itself.
Choosing materials
It depends on the occasion, the purpose and personal preference that you can choose different types of materials. Most commonly, Ao Dai for women is made from silk (lụa); for men, brocade (gấm) is often used. For modern Ao Dai, a wider selection of fabric is available. Ao Dai now can be seen made from linen, chiffon or even lace. Local people love going to the fabric market to touch and feel the material to make sure that is what they want before bringing it to the tailor.
Measuring and tailoring
At the tailor, your measurements will be taken with a stripe ruler (thước dây). Every aspect will be taken seriously and noted carefully such as the exact length of the sleeves. The whole measuring process takes only abour five minutes. The tailor will confirm the style you want, special requirements and finally tell you a certain day when you can pick up your dress. Depending on the complexity of the design, the popularity of the Ao Dai house and the high/low season that it could take from a minimum of a few days to a month. The price, coresponding to it, is also varied from a couple hundred thousands to millions (VND).
Where to tailor
Ready-made Ao Dai
To meet the demand of Ao Dai for daily use, nowadays, Ao dai is manufactured in big quantity. Of course, by this way, Ao Dai cannot perfectly fit you; but, if you only wear it for hanging out, for travel experience or photography, the ready-made dresses will come in handy. You just need to choose the design of your favorite and can put it on immediately. These manufactured Ao Dai also has a more affordable price of a few hundred thousand VND. More interestingly, you can also rent Ao Dai. Normally, we rent Ao Dai for school performance activities or photography purposes to save time and money.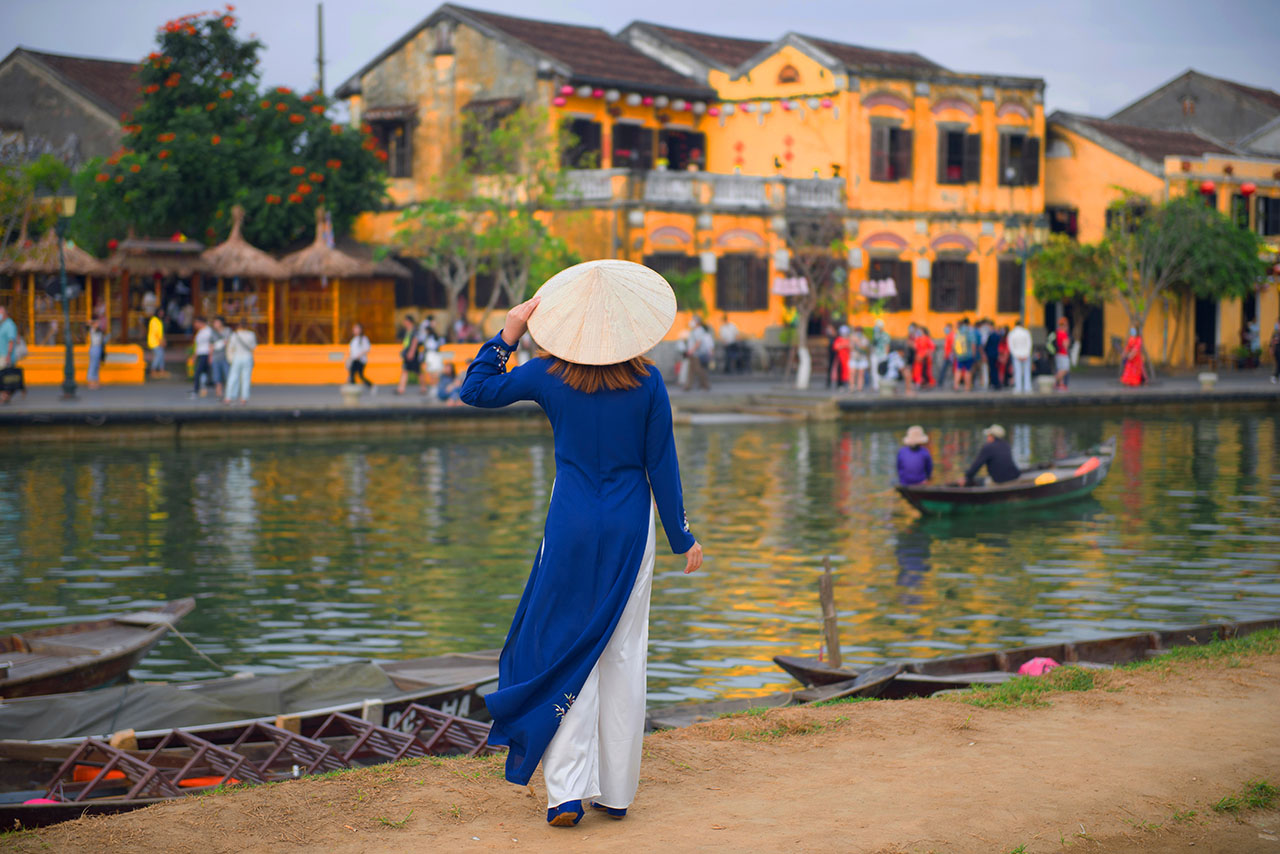 Some tips and facts about Ao Dai
Ao Dai is worn by both sexes
It is a fact that Ao Dai was first made for and used to be the traditional costume of Vietnamese men (especially the royal officers). Through the ups and downs of history, this tradition of wearing Ao Dai no longer appears much in men's daily life. Ao Dai for men has two flaps that are (below the knee)s, buttoned on the right side, and usually sewn with brocade fabrics.
Choosing appropriate lingeries
Because Ao Dai is made from silky and flappy materials, so you need to be careful when it comes to choosing the lingeries that go under it. Especially, when you opt for white or other bright colors, it could easily offend other people if you wear highly contrasted colors like black or red. It is recommended to wear nude-color lingeries which are not too tight in order not to reveal your unconfident figure feature and to maximize your experience of wearing Vietnamese traditional dress.
Combining accessories
If you are planning to have a photoshoot session in Ao Dai, it is a good idea to mix and match with some symbolic items of the Vietnamese people. The combo of Ao Dai and Non La (traditional leaf pointed hat) is probably the most popular one. It is also caught in the photos that ladies hold a small bunch of flowers or simply carry a reed shopping tote as props. Pearl earrings and necklace are the best choice of accessories to bring out the elegance and femininity of the dresser.
Ao Dai Museum
The only known museum for Ao Dai display is not run by the government but privately owned by a dedicated and passionate designer Sy Hoang. Located in Thu Duc, Ho Chi Minh City, this is where more than 300 designs of Ao Dai are displayed to the mass public. You can also take part in the Ao Dai Making Workshop to understand each step of the process from choosing material to sewing your own dress.
Not mistaken Ao Dai for Cheongsam
Many people state that Ao Dai is an adaptation of Cheongsam (or Qibao) – Chinese traditional dress. However, it is not correct. Although there are some similarities in the long flaps, Ao Dai appeared way before the other and has its own primitive form as mentioned. So if you are a culture and fashion enthusiast, it is appreciated to be aware that it did not originate from one or the other.