Hoi An is not only famous for its ancient poetic beauty but also for its diverse and rich cuisine. Here are the eight must-try dishes when you are in Hoi An.
1. Mi Quang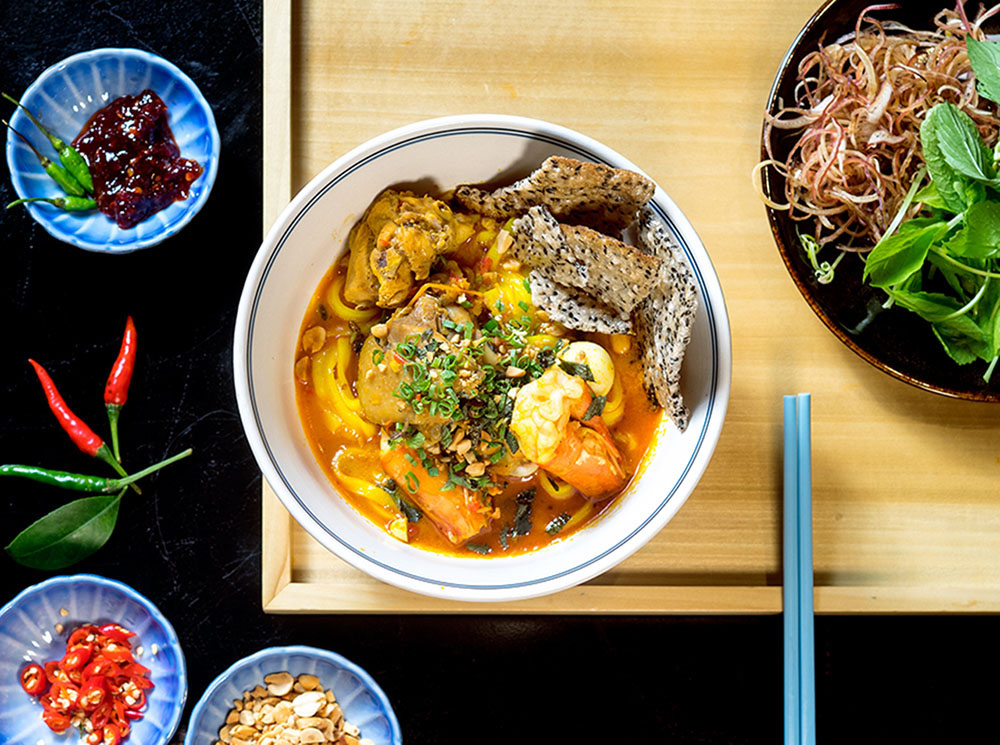 Mi Quang is a well-known must-try dish for those visiting Hoi An. With its unique flavor, the dish is a combination of popular ingredients such as rice noodles, shrimp, pork, chicken, and fresh vegetables. The yellow noodles colored with turmeric, along with the accompanying rice cracker, offer a burst of flavor with your first bite.
Where to find the best mi Quang in town:
Mr. Hai Noodles (6A Truong Minh Luong Street): 35,000 VND (around $1.5)
My Quang Bich (272 Hung Vuong Street): 40,000 VND
2. Cao lau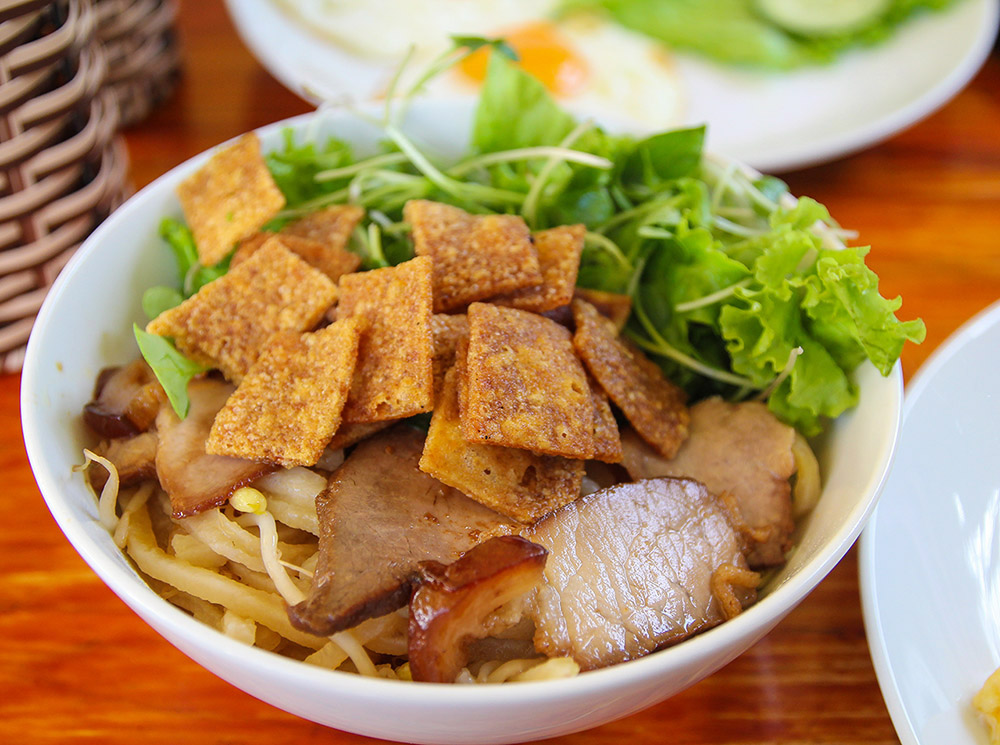 Cao lau is a source of pride in the culinary culture of the ancient town. This dish will awaken all your senses with its combination of the sensation of the noodles and the fragrance of the fish sauce. Although it may resemble other noodle dishes you've tried, the noodles used for cao lau are made with great care. Only freshly harvested rice is used, and the white noodles are soaked in a mixture of ash from Cham Island and water to achieve a smoky flavor and ivory color.
Recommended addresses to eat cao lau:
Thanh Cao Lau (26 Thai Phien Street): 30,000 VND
Cao Lau Ba Le (49/3 Tran Hung Dao Street): 35,000 VND
3. Banh mi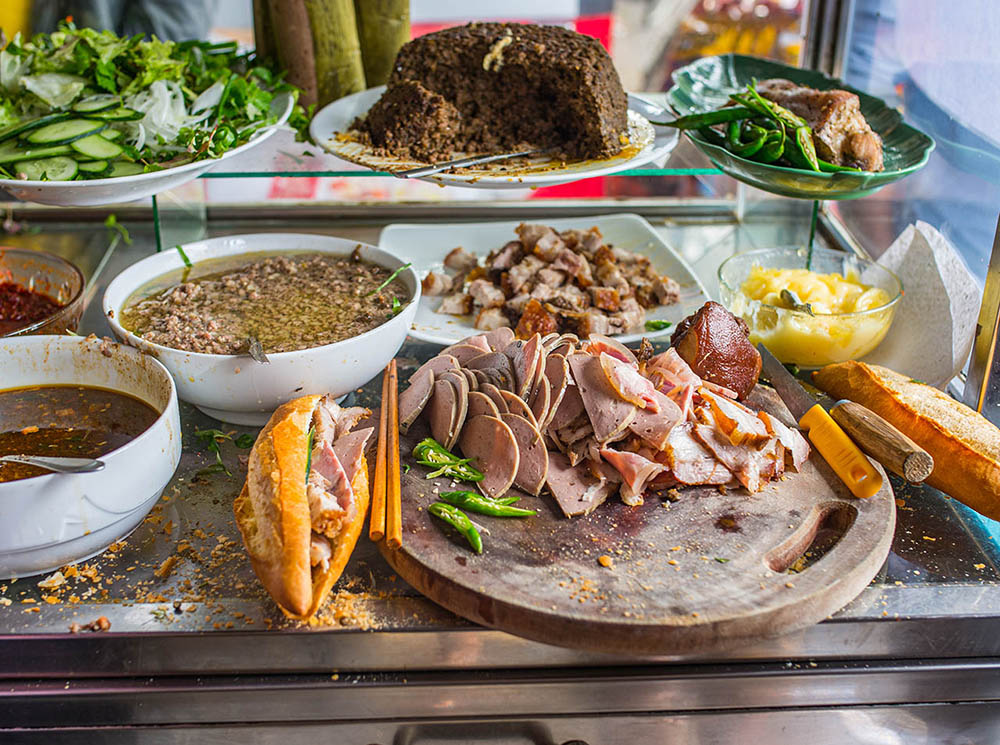 The banh mi has been known as one of the best sandwiches in the world, but the banh mi in Hoi An is even better. The baguette is super crunchy on the outside and soft inside. Unlike the original banh mi, in Hoi An, there is a wider variety of fillings to choose from, such as tuna, beef, chicken, and even vegan options. What really sets the banh mi in Hoi An apart is the homemade sauce, which is packed with flavor and has a bit of a spicy kick. It's sure to leave you craving for more.
Some suggestions for you to enjoy the banh mi:
Banh Mi Phuong (2B Phan Chu Trinh Street): 30,000 VND
Madam Khanh (115 Tran Cao Van Street): 30,000 VND
4. Com ga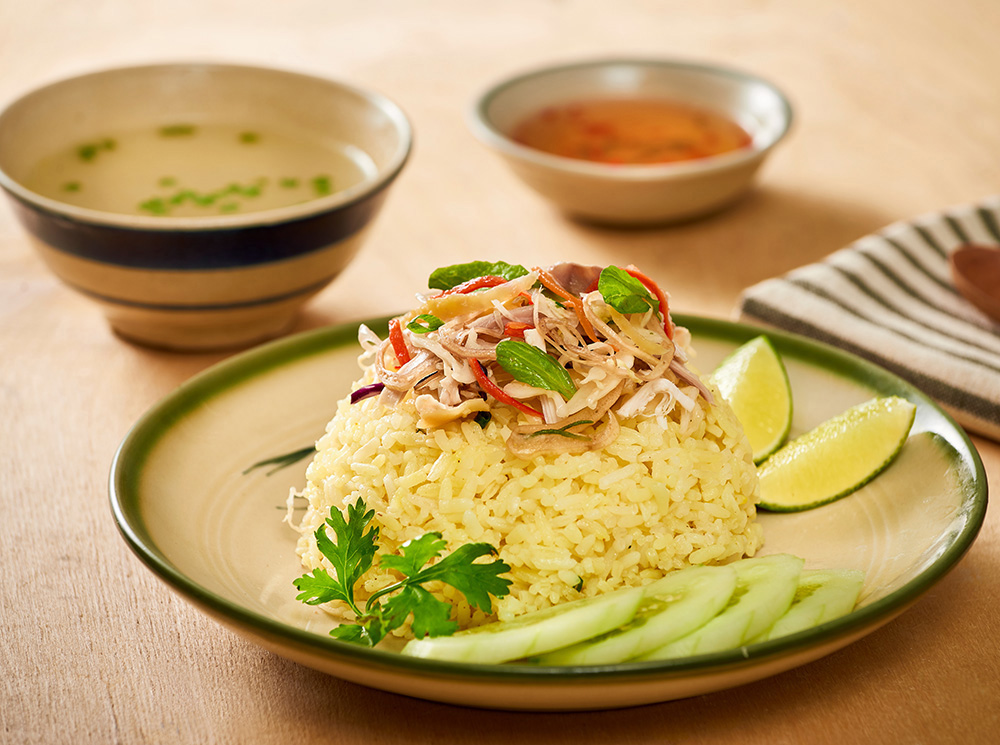 It's often said that if you haven't tried com ga (chicken rice), you can't say you've been to Hoi An. This is because com ga originates from this region and is made with free-range chicken and high-quality rice grown along the banks of the Red River. The dish is typically served as a set, including steamed rice, chicken salad, soup that's made from cooking the chicken, and a special fish sauce. This combination provides both an enjoyable taste and a filling meal for a long day of exploring.
Recommended addresses to eat com ga:
Com Ga Ba Buoi (22 Phan Chu Trinh Street): 35,000 VND
Com Ga Nga (08 Phan Chu Trinh Street): 50,000 VND
5. Banh dap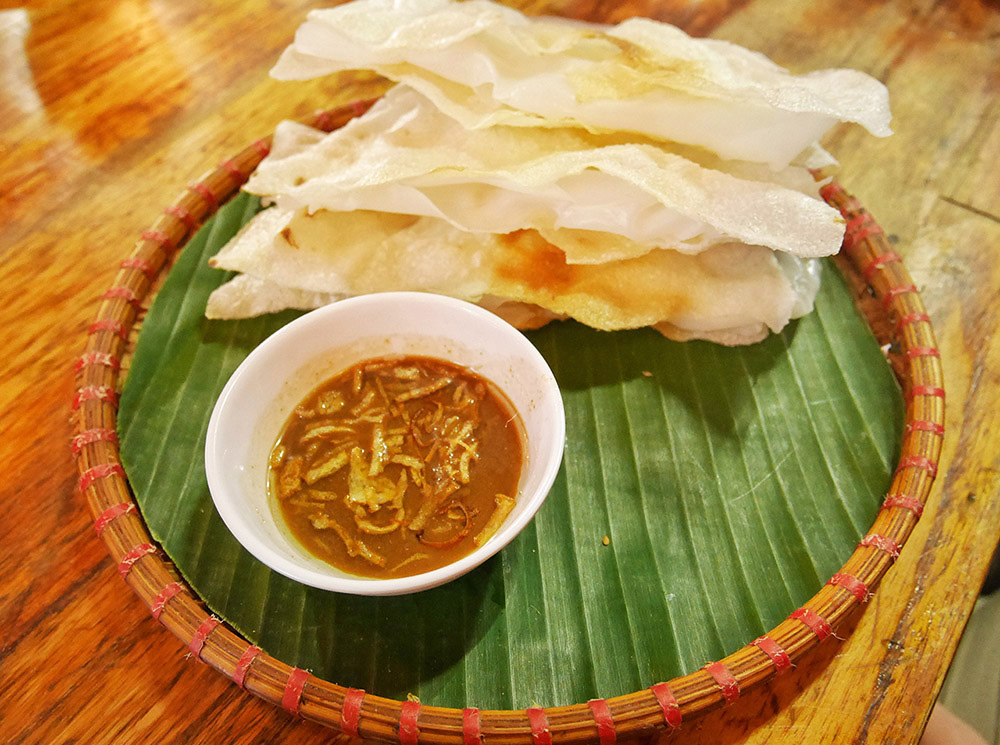 The name banh dap (smashed rice paper) originates from the way it is eaten by the locals. This simple and ordinary snack is made by mixing rice powder and water, spreading it thinly on a steamy pot, and creating three layers: a thin sheet of steamed rice powder and two crunchy pieces of rice crackers. To eat, the cake is beaten hard to break it into small pieces and used to scoop up stir-fried mussels. This unique snack is typically served with a dip of fermented fish sauce and topped with crispy fried purple onions.
Suggested places to try banh dap:
Banh Dap So 9 (V8CM+H4P, Cam Nam Ward): 25,000 VND
Cam Nam Quan (99 Nguyen Tri Phuong): 25,000 VND
6. Banh xeo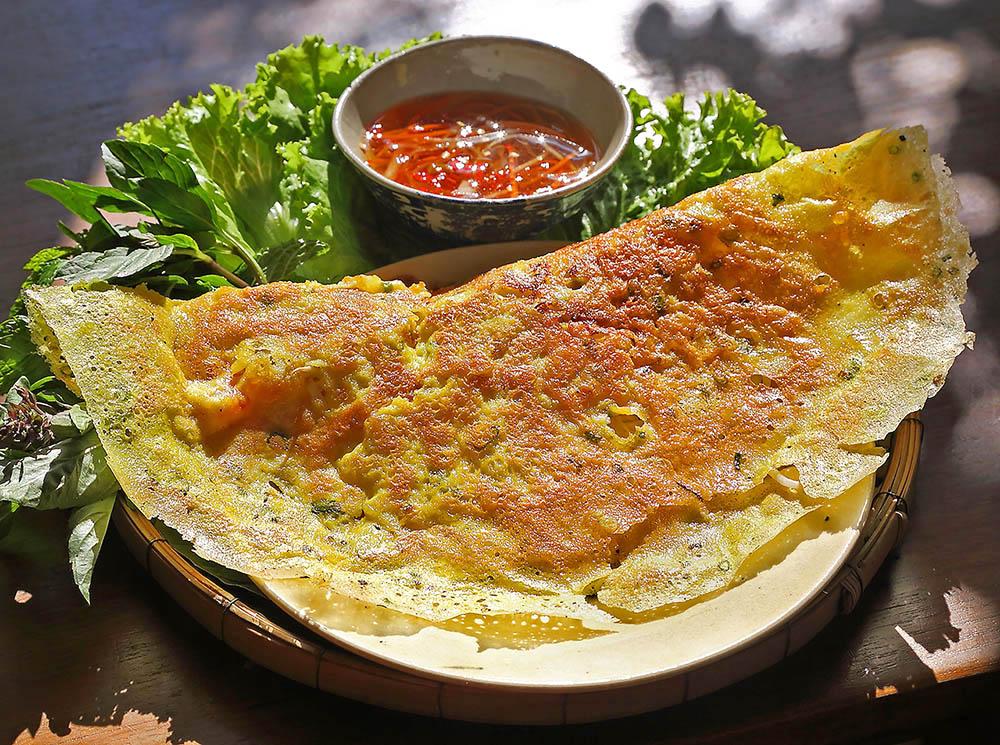 Unlike the typical banh xeo (Vietnamese pancakes) seen on Vietnamese cooking shows, the pancakes in Hoi An are smaller and crispier. Freshly cooked and served at the table, it is always hot and fragrant. To eat, simply take a mustard green leaf, add a piece of banh xeo, a rice cracker, and some herbs, wrap everything up, and dip it in the mixed fish sauce before enjoying.
If you want to try it out, check out the restaurants that we recommend:
Co Anh – Banh Xeo Song Hoai (32 18/8 Street): 35,000 VND
Quan An Hai Dao (160 Ly Thai To Street): 40,000 VND
7. Che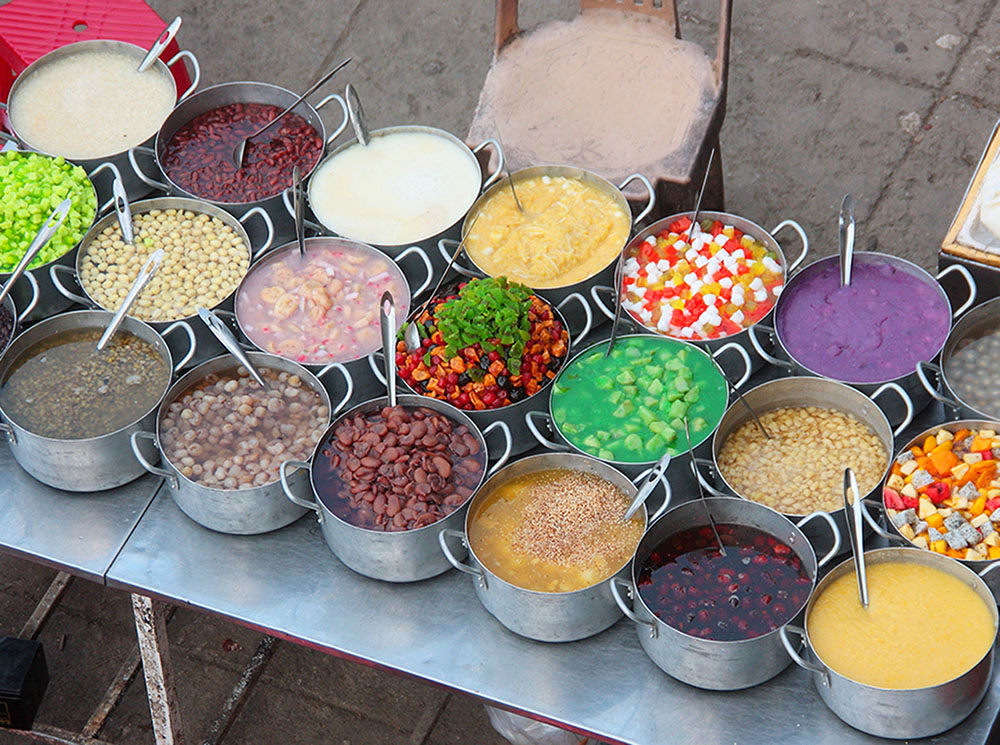 After trying the main dishes, it's time for something sweet (which Hoi An excels at). Che is a general term used to describe all sweet soups. They are often found on street corners, sold by street vendor ladies. There are numerous combinations of che, but they typically consist of a mixture of different types of sweetened beans, jelly strings, seaweed, and coconut milk. Another dessert option you can find is tau hu (or tau pho), made from soybean milk to give it a youthful tofu texture and flavored with ginger and caramel sauce. These delicately sweet soups are perfect for satisfying your dessert cravings. Here are some suggestions on where to eat che in Hoi An:
Ba Tho (03 Nguyen Hue Street): 15,000 VND
Ba Muoi (04 Hoang Dieu Street): 15,000 VND
8. Banh beo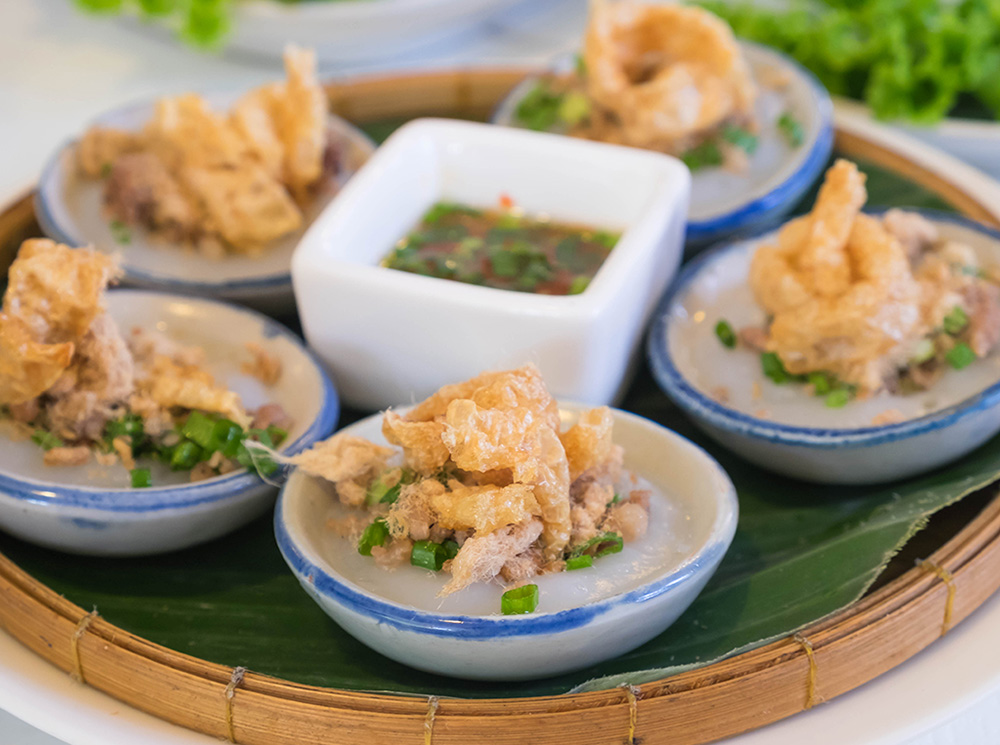 Banh beo, also known as duckweed cakes, are made from rice flour that is poured into small bowls and steamed in a large pot. The white rice flour bottom is topped with cooked minced shrimp and pork. Banh beo is traditionally served with a light fish sauce. To fully enjoy the flavors of this delicious snack, add a couple of spoonfuls of fish sauce to the bowl and eat it in one bite. Although banh beo is typically consumed as a breakfast food, it is now available to be enjoyed at any time of the day.
Recommended addresses to eat banh beo:
Banh Beo Ba Bay (2 Hoang Van Thu Street | 1:30 PM – 5:30 PM): 35,000 VND
Banh Beo Chen (48 Tran Phu Street): 35,000 VND