Ha Giang at a glance
Ha Giang (Vietnamese: Hà Giang) is the northernmost province of Vietnam, bordering Cao Bang in the east, Yen Bai and Lao Cai in the west, Tuyen Quang in the south, and China in the north. It has a unique charm and beauty that other lands cannot afford. Coming to Ha Giang, visitors will admire the majestic natural scenery such as Dong Van Plateau, Tay Con Linh Peak, Quan Ba Sky Gate, and Lung Cu Flagpole.
Besides the endless beauty of nature in Ha Giang, visitors also have the opportunity to access the unique culture of local mountain residents. Ha Giang is home to 19 ethnic minorities, of which the Mong, Tay, and Dao are the main ethnic groups, and other ethnic minorities are Lo Lo, La Chi, Pu Peo, etc. Each ethnic group has its own unique cultural traits.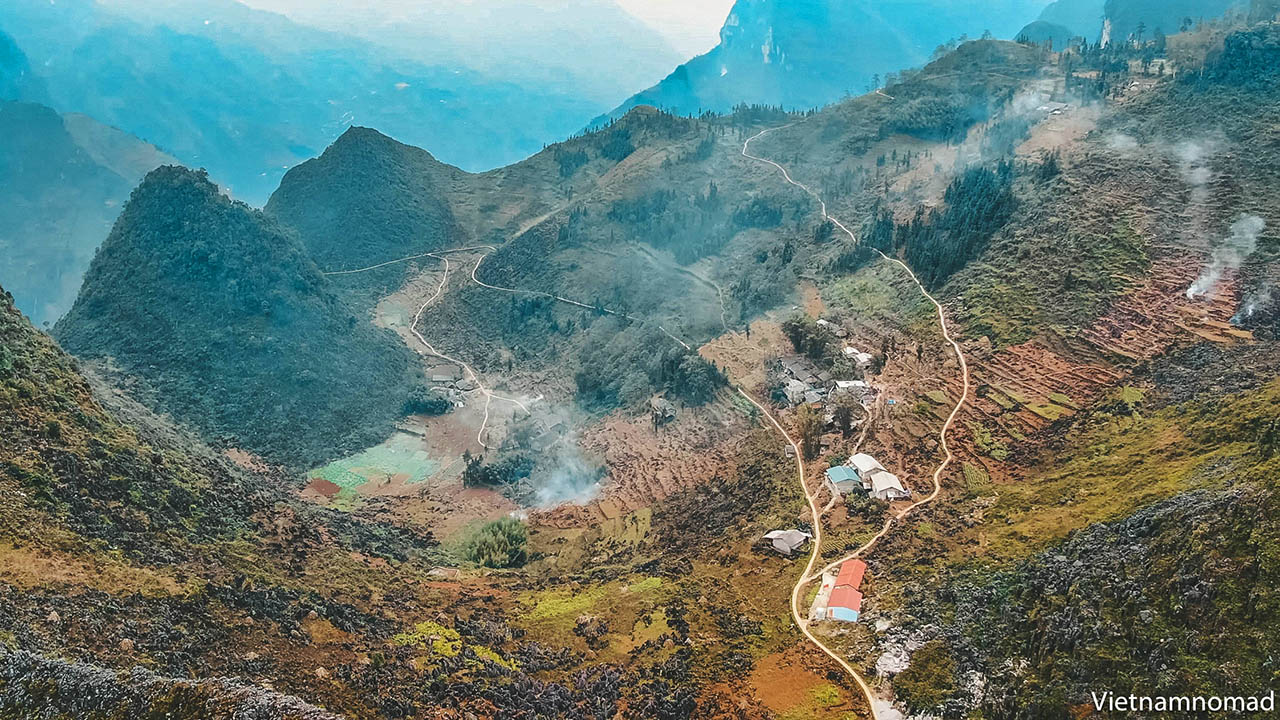 Ha Giang weather
Ha Giang is beautiful all year round, you can travel to Ha Giang at any time of the year. However, to fully explore the beauty of this rocky plateau, you should come to Ha Giang at the following time:
January  – The Flower season
In spring, flowers such as peach, plum, and rapeseed bloom all over Ha Giang. Coming to Ha Giang at this time, you will admire a picture full of life and color. The weather in Ha Giang is also very comfortable for traveling, which is a little bit cold.
May to Jun –  the WaterFall Season
From May, when the rainy season comes, water pours from high fields will flow into low areas, thus form "water towers", which extend from the top of the mountain to the foot of the hill. The water season lasts until the end of July; from May to Jun is the most beautiful time.
Coming to Ha Giang at this time, visitors can see the picturesque rice fields in Hoang Su Phi, Quan Ba Double Mountain, or along Ma Pi Leng Pass road.
September to October – The ripen terraced rice season
The season of ripe rice in Ha Giang is from September to the middle of October. Ha Giang at this time is covered with the bright yellow of terraced fields.
If you want to breathe in the sweetness of the ripe rice flavor and capture the moment in the shiny golden rice fields, you should visit Ha Giang around this time. From mid-October onwards, the farmers will start to harvest rice, so do not miss the moment when the rice fields are at their best.
October to December – the Buckwheat flower season
The buckwheat flower season in Ha Giang lasts from early October to the end of December. Unlike the buckwheat flower in other places, in Ha Giang, this flower has a light pink color, grows in large fields along the road or the valley, even on jagged cliffs. The buckwheat flower fields create poetic and majestic scenery.
In the middle of October, Ha Giang people also organized buckwheat flower festivals with many enjoyable cultural activities. So this is the most beautiful time to travel to Ha Giang.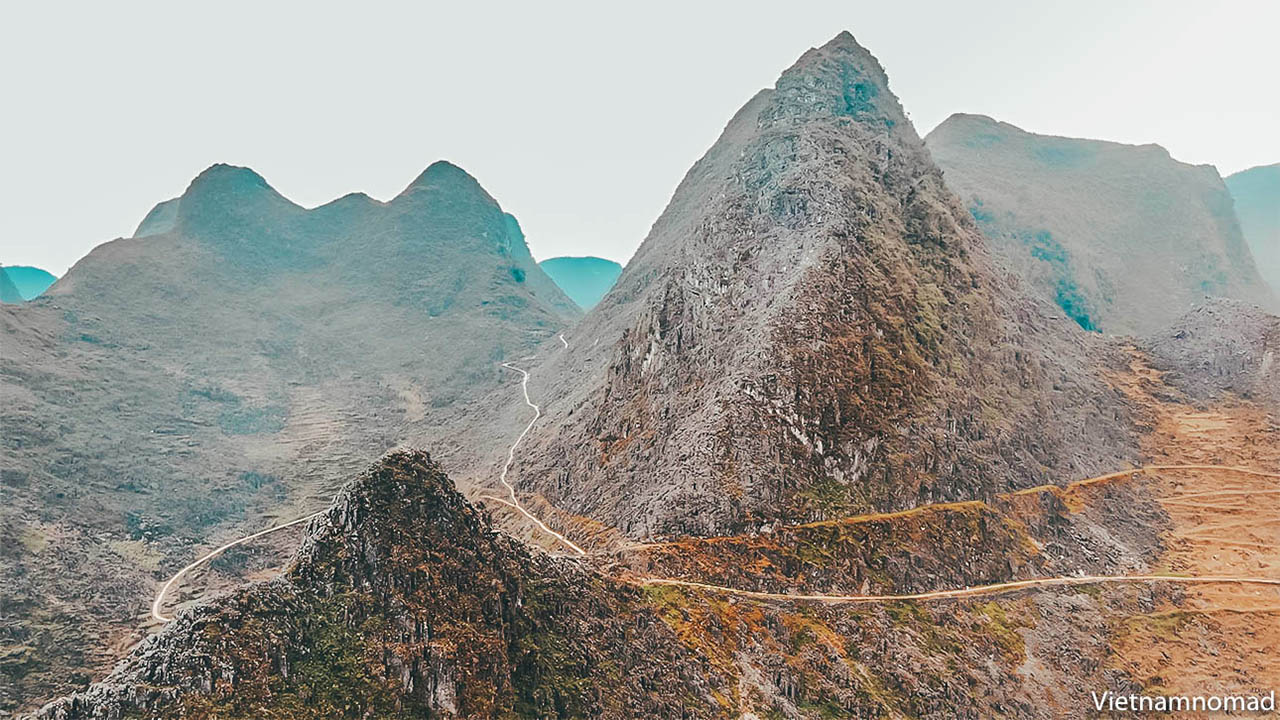 How to go from Hanoi to Ha Giang?
Discover transportation deals for Ha Giang from our partners >
Ha Giang is about 300 km northwest of Hanoi. The road to Ha Giang is quite twisted, there are usually two ways to go from Hanoi to Ha Giang.By bus
From Hanoi and the Northern provinces, you can choose a sleeper bus to get to Ha Giang. After traveling by bus from Hanoi to the city of Ha Giang, you can easily rent a motorbike or take a 16-seat bus to Dong Van and Meo Vac. Travel by bus is the best choice because the distance from Hanoi to Ha Giang is both far and dangerous.
From Hanoi, you can take a sleeper bus to Ha Giang from Hanoi Old Quarter, My Dinh Bus Station, or Noi Bai intersection with prices from 200.000 VND/ ticket/way.
By motorbike or car
This way has the advantage of saving money and admiring the majestic landscape along the way. However, make sure you are experienced long-distance driver, and knowledgeable about the road from Hanoi – Ha Giang. If you do not know the way, you are easy to get lost and could be in danger.
Directions from Hanoi to Ha Giang by motorbike or car
In Hanoi, there will be two directions for you to choose from. This route is nearly 300 km long, taking 6-7 hours to arrive.
Route 1: Noi Bai – Lao Cai highway
This route is quite easy to go, but only for cars, motorcycles are not allowed to move.
Route 2: Highway 32
This route is for both motorbikes and cars. The road may be longer than several tens of kilometers. But this road is less traveled, so it is quite safe.
Where to stay in Ha Giang?
According to travel experiences in Ha Giang, Dong Van and Meo Vac are two areas with the most significant number of accommodations, so you can easily find a place to stay here. Besides these two areas, Quan Ba and Yen Minh also have a lot of hotels too.
Note: Hotels in Ha Giang often run out of rooms, especially on holidays. In October and December, when the buckwheat flowers bloom, almost homestay, hostels or hotels in Ha Giang are run out of the room. Room rates in peak seasons are always high, but if going on normal days is not too expensive.
Should stay at a hotel, motel, or homestay when traveling to Ha Giang?
Hotels, hostels, or homestays are all three popular types of accommodation in Ha Giang. If you are traveling in groups, to save money, you should rent motels or homestays with rooms for large groups.
If traveling with family, you should come to Dong Van to rent a hotel. Particularly for a group of 6-8 people, if you want to see the buckwheat flower garden, you should rent a homestay in Lung Cu, Dong Van, or Meo Vac town. A few homestays are located overlooking the beautiful flower fields.
Here are some recommendations for accommodation in Ha Giang, which are excerpted from the Vietnam travel guide book.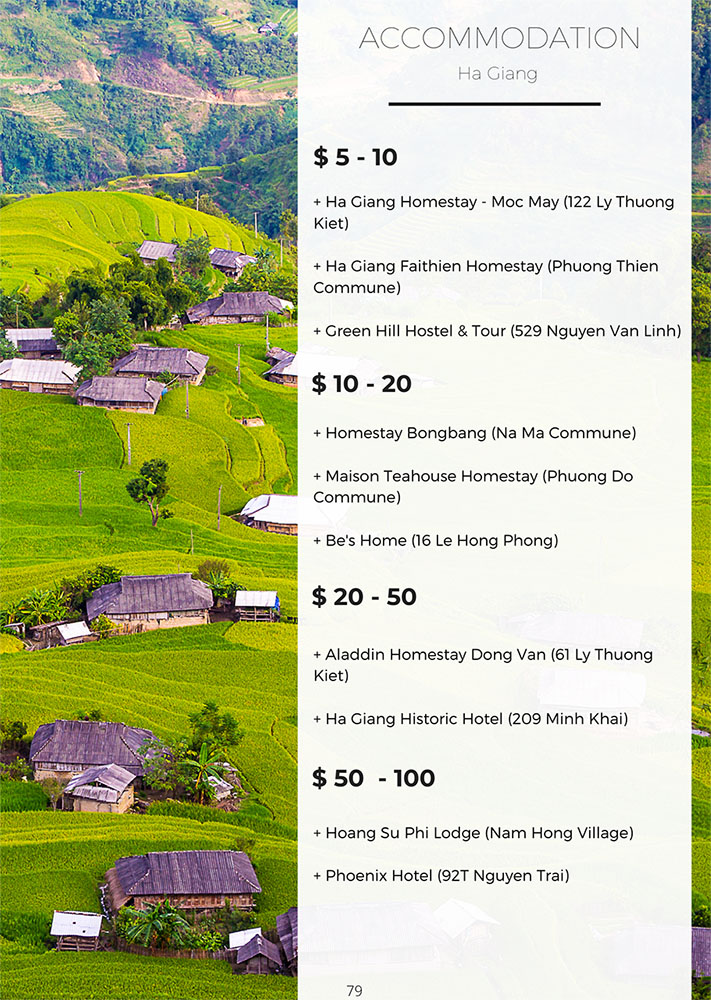 Top 9 must-visit attra
ctions in Ha Giang 
Maybe you have seen many photos of Ha Giang, but there will be no words to describe the beauty here until you see it with your own eyes. Here are the famous tourist destinations you cannot ignore when coming to Ha Giang.
1. Lung Cu Flagpole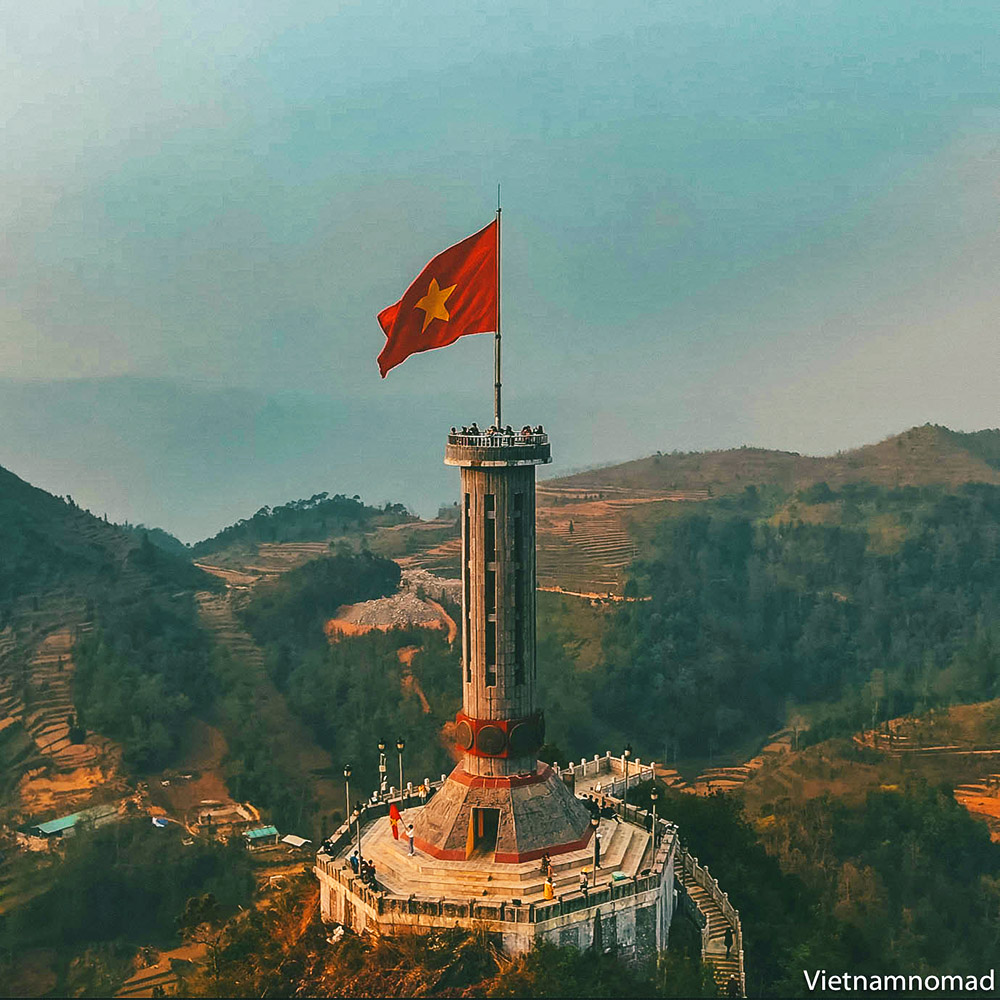 Perhaps no tourists come to Ha Giang without visiting the Lung Cu Flagpole. From this flagpole to the North pole of the country is about 2km. But in the subconscious of Vietnamese people, this is still a symbol of Vietnam.
The flagpole is located in Lung Cu Commune, Dong Van District, with a height of 1.470m above sea level. From Ha Giang center, visitors will have to travel nearly 200km of rugged mountain roads to get here. This is one of the national flagpoles on the top of Lung Cu, also known as the Dragon Mountain. The name of this mountain range is also associated with many legends recounted by many people. Lung Cu in H'mong language means the land where dragons live.
Lung Cu Flagpole is also built based on the model of Hanoi Flagpole. At the foot of the flagpole, you will see eight sides of bluestone reliefs, which simulate images of the history of the nation. Combined with these are the patterns that show the typical culture of the Ha Giang ethnic community. On the way to conquering the stone steps, you can see the masterpieces of nature created on the Dong Van rock plateau.
2. Ma Pi Leng Pass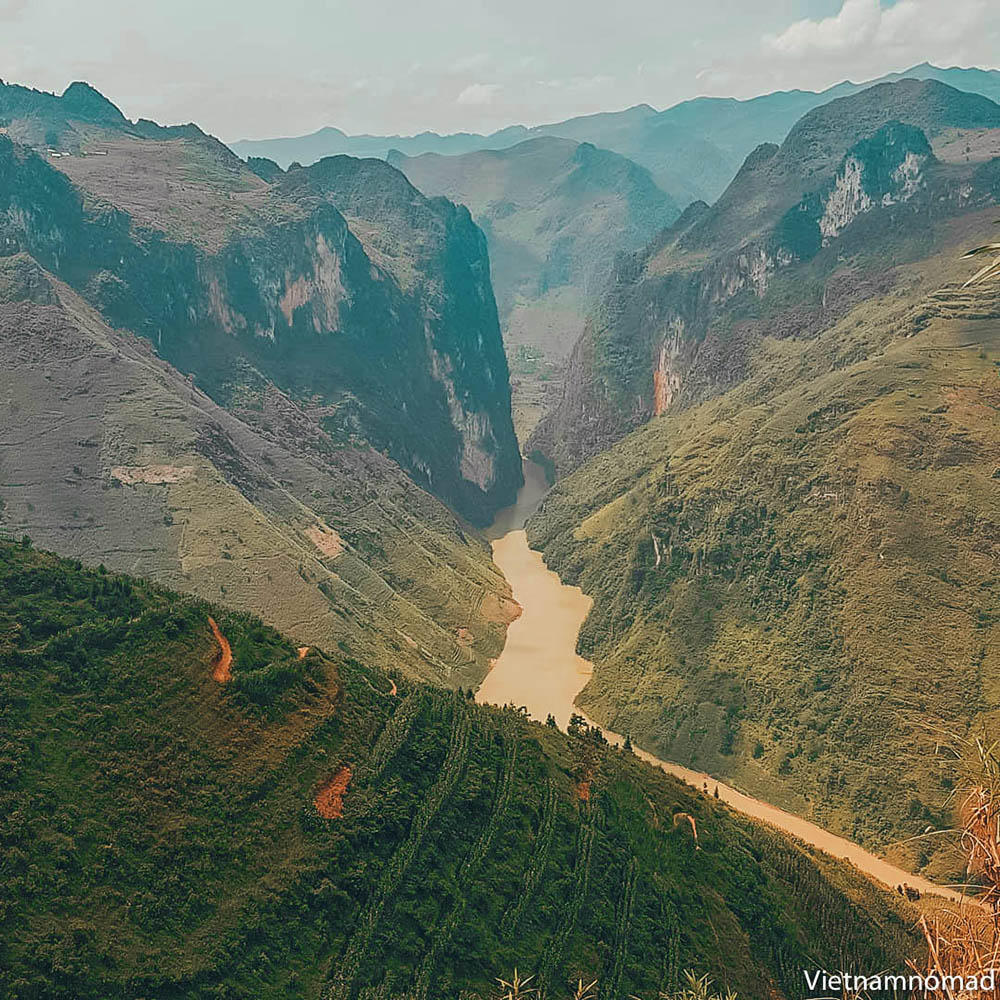 Ma Pi Leng Pass is on the Hanh Phuc road connecting Dong Van and Meo Vac. This is known as the most beautiful road in Ha Giang rocky plateau. If you come to Ha Giang once, try to drive on this road with one side is the sky-high mountains, the other is a deep abyss, and the Nho Que river winding below. It was a big challenge for adventure lovers. Standing on high, looking far away, you will see the identical mountains, floating clouds, and fanciful deep pools. This is the place to feel the immense grandeur of the mountains on the northern border.
3. Dong Van Karst Plateau Geopark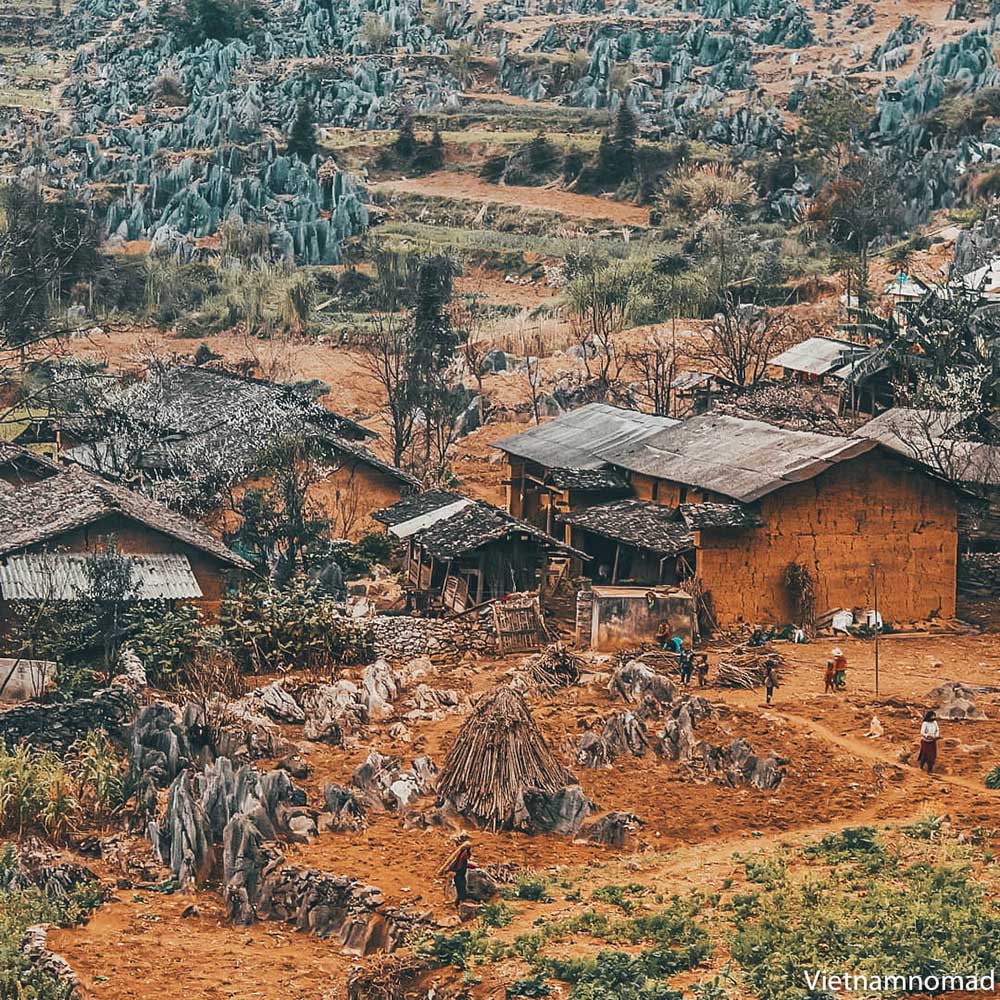 Located at an average altitude of 1.000 – 1.600 m above sea level, Dong Van Karst Plateau Geopark extends through 4 districts of Quan Ba, Yen Minh, Meo Vac, and Dong Van of Ha Giang province. According to the UNESCO Global Geopark Network Advisory Council, Dong Van Karst Plateau Geopark is one of the unique limestone areas, containing typical marks on the development history of the Earth's crust, natural phenomena, beautiful landscapes, aesthetics, high biodiversity, and long-standing cultural traditions of indigenous communities. In 2010, this plateau was officially recognized as a Global Geopark.
Rocks were built into solid fences, winding around small houses, cornfields, and vegetable fields. The family men carefully selected the rough, rugged, and angular stones, then skillfully arranged them without the use of cement or any adhesive material to create a unique stone fence. Therefore, it is often said that the stone fence of the Mong people shows the caring of a man to his family. The more beautiful stone fence is to prove that the house has a great man.
Dong Van Karst Plateau Geopark is probably the most beautiful when spring comes. At that time, everywhere in the hills and mountains is covered with bright yellow mustard flowers. The mossy roofs are dotted with scarlet peach blossom petals and pristine white plum blossoms.
4. Tham Ma slope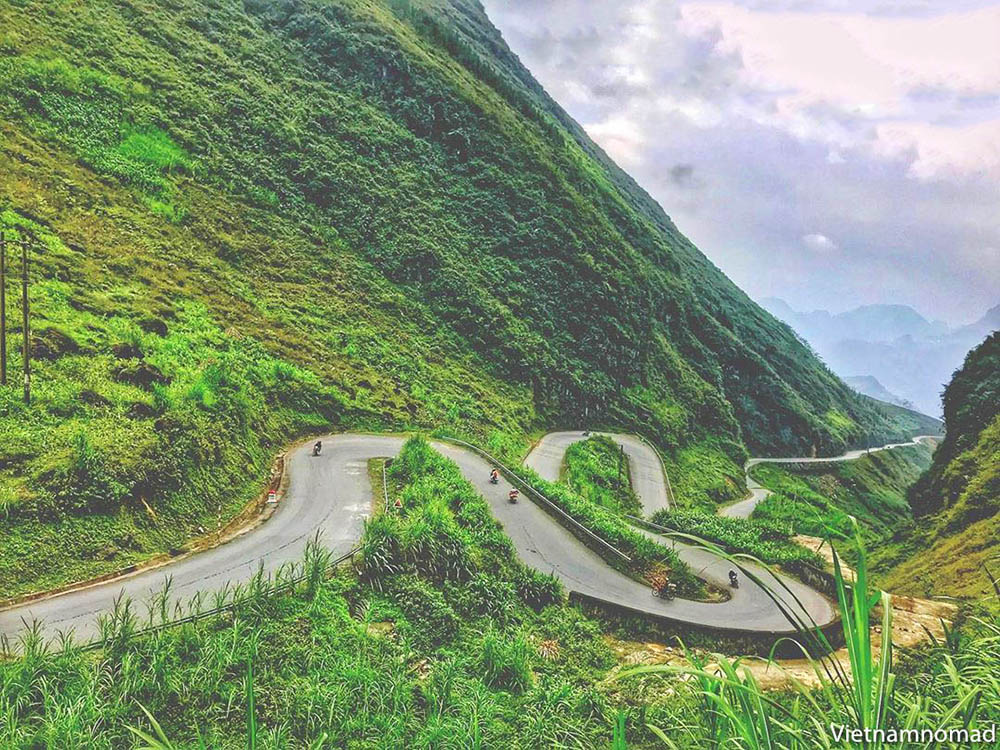 Tham Ma Slope is a winding mountain pass on 4C Highway, which is running from Ha Giang to Meo Vac District. It is a passing segment with nine bends in Ha Giang, which is a familiar path for young people who love to explore and admire the majestic natural beauty when coming to Ha Giang.
This famous slope takes visitors to the first gateway in Dong Van, a famous tourist destination in Ha Giang. Tham Ma slope is literally understood as a slope used to assess horsepower. Legend has it that, in the old days, on this slope, people put horses from the foot of the slope up. If the horse was up to the top of the slope and still strong, then he was a good horse that was kept. In contrast, the horses that went down the slope but were weak will be slaughtered and processed into Thang Co dish sold in highland markets.
5. Dong Van Old Quarter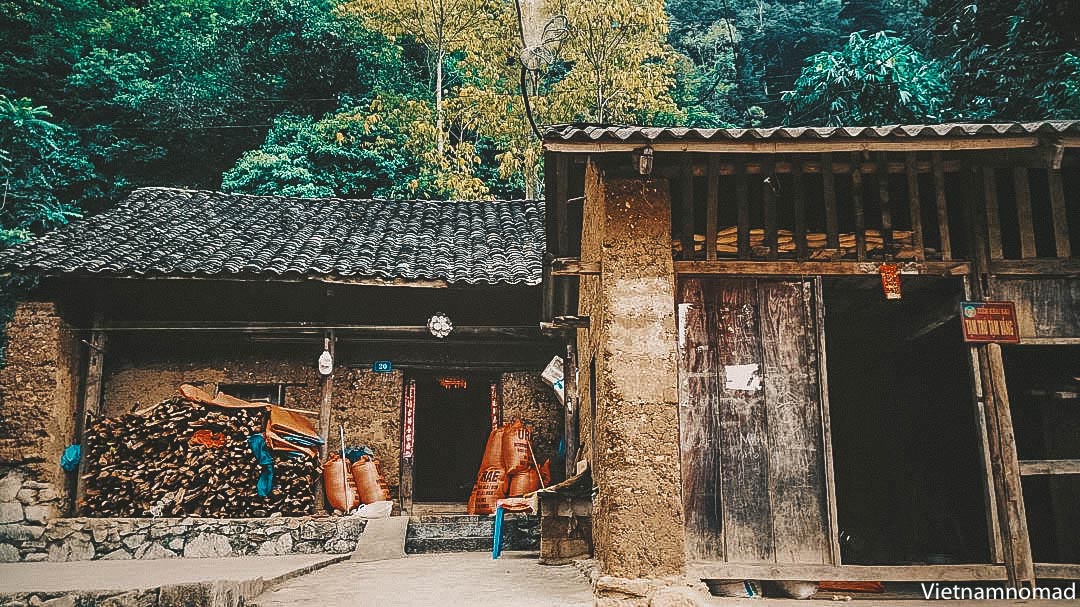 Dong Van Old Quarter lies in the middle of a valley surrounded by rocky mountains. The old quarter has only 40 roofs, nestled under rocks. In the evening, the town is quiet and peaceful. If you go to the town on the evening of 14,15,16 monthly following the lunar calendar, you will see a very different old town with red lanterns. Besides, during these days, there are some activities such as displaying brocades, performing, and selling traditional dishes of ethnic groups. Early in the morning, the old town is painting a clever combination of two tones: the bright yellow of the sun and the grey of old houses. The popular architecture here is two-story buildings with walls. Early in the morning, sitting under a small roof, enjoying hot coffee is an exciting experience that you must try once in your life.
6. Vuong Palace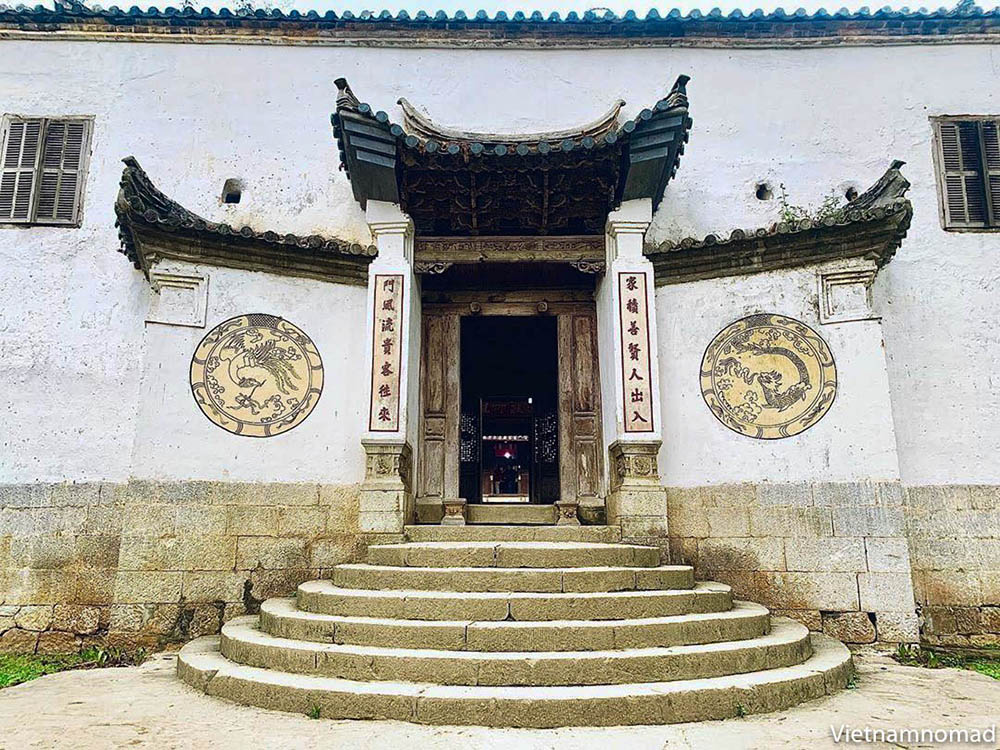 Vuong Palace is located in Sa Phin Commune, Dong Van District, Ha Giang. This is the residence of King-Cat, which was built in 1919 and completed in September 1928. King-Cat mansion has an area of ​​3.000m2 with a construction cost of 15.000 white silver coins, equivalent to 150 billion VND now.
Before construction, the King Cat traveled to China to find a feng shui master to choose the direction of land and the construction site. After passed through 4 districts, finally, Vuong Chinh Duc (head of the Vuong family) decided to choose Sa Phin village to build the mansion.
Vuong Palace is influenced by three architectures: Mong, French, and Chinese. The palace has four vertical houses, six horizontal houses divided into pre-palace, neutral, and post-palace. It has a total of 64 rooms built with two floors of green stone walls. This edifice was recognized as a National Monument by the government in 1993. In 2004, the Vuong family decided to dedicate this mansion to the government for preservation. The ticket price to visit Vuong Palace is 20.000 VND.
7. Sung La Valley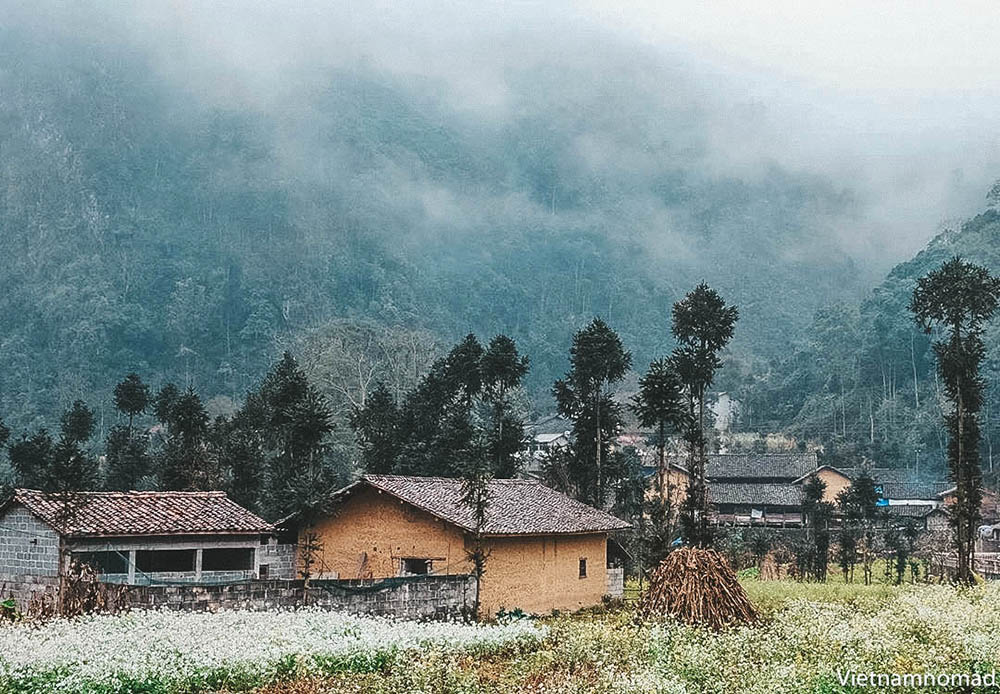 Sung La Valley is known as one of Ha Giang tourist destinations famous for its blooming flower gardens. This place attracts visitors by the rustic beauty and tranquillity of the small roofs, the green cornfields, the buckwheat flower fields. Sung La's scenery is a typical beauty of Ha Giang. It is dubbed as the flower among the rocky plateau. In Sung La valley, there is Lung Cam village which is currently home to more than 60 households, mainly Lo Lo, Mong, and Han. In particular, Lo Lo village is the most rustic and oldest one. It is also known for being the setting for the movie "Pao's story" in the nearly 100-year-old house. Although the house has been recently remodeled, it still retains a pure rustic beauty. To get to "Pao's house" in Lo Lo village, you will come across a road stretching of buckwheat flowers. In January and February, Pao's house is surrounded by peach blossom and plum blossom.
8. Tu San Alley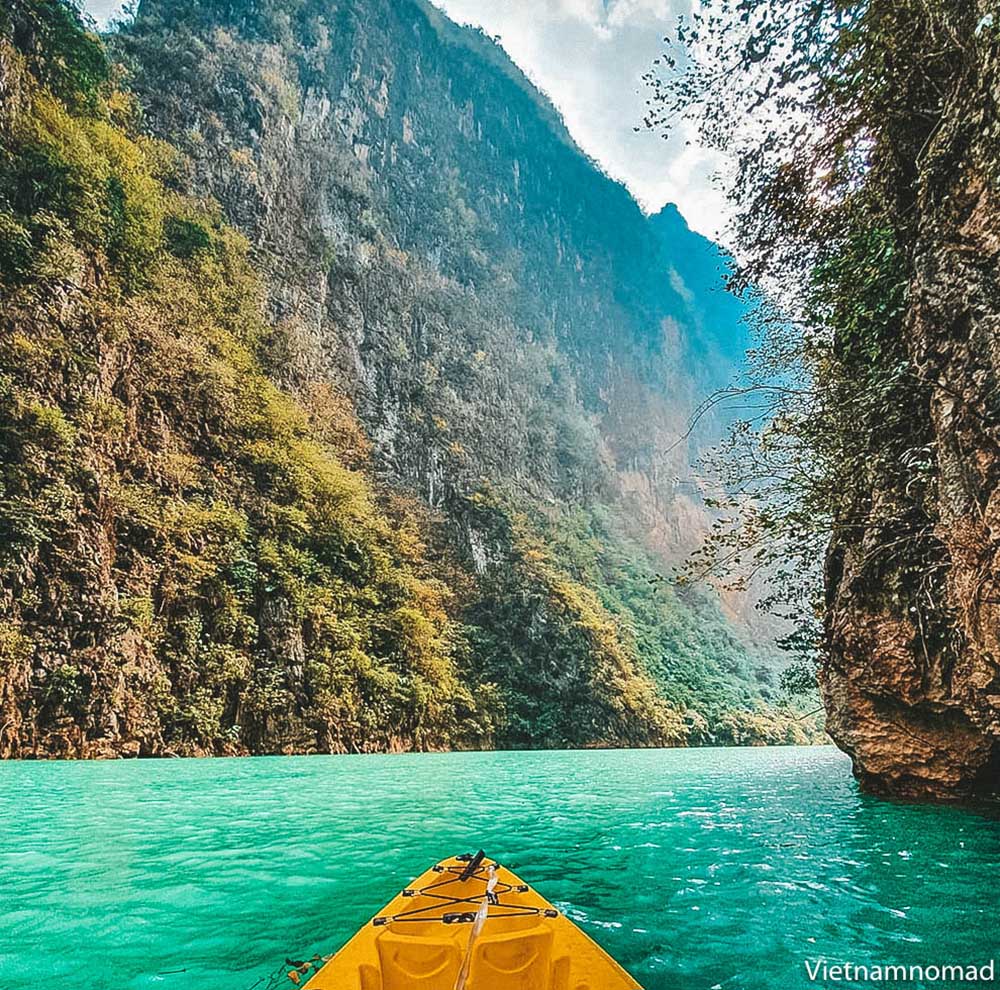 With a height of cliffs up to 700 – 800m, a length of 1,7km, a depth of nearly 1.000m, Tu San alley has considered not only a unique spectacular landscape of the Dong Van rock plateau but also the deepest alley in Southeast Asia. Many years ago, when the Nho Que river was not blocked for hydroelectricity, very few people could access the foot of the Tu San alley; visitors can only admire the grandeur of the alley when stood in the bends on Ma Pi Leng road. After the hydropower dam blocked the flow, the Nho Que River became quieter; local people began to motorize boats to take visitors. Today, visitors can take a boat trip to visit Tu San alley for 45 minutes with a ticket price of 100.000 VND. Many visitors can also enjoy a Kayak if they want.
Tu San alley is located in the middle of the mountains, hidden in the morning mist, making the scenery both majestic and mysterious. Anyone who comes here cannot avoid feeling overwhelmed by the rare and beautiful natural scenery. Sitting down on the boat, visitors can hear the murmur of the water under their feet, which is bringing an indescribable feeling.
In February and March every year, the whole river will glow with the red color of rice flower and the blue of the water, creating a beautiful landscape picture.
9. Pho Bang Town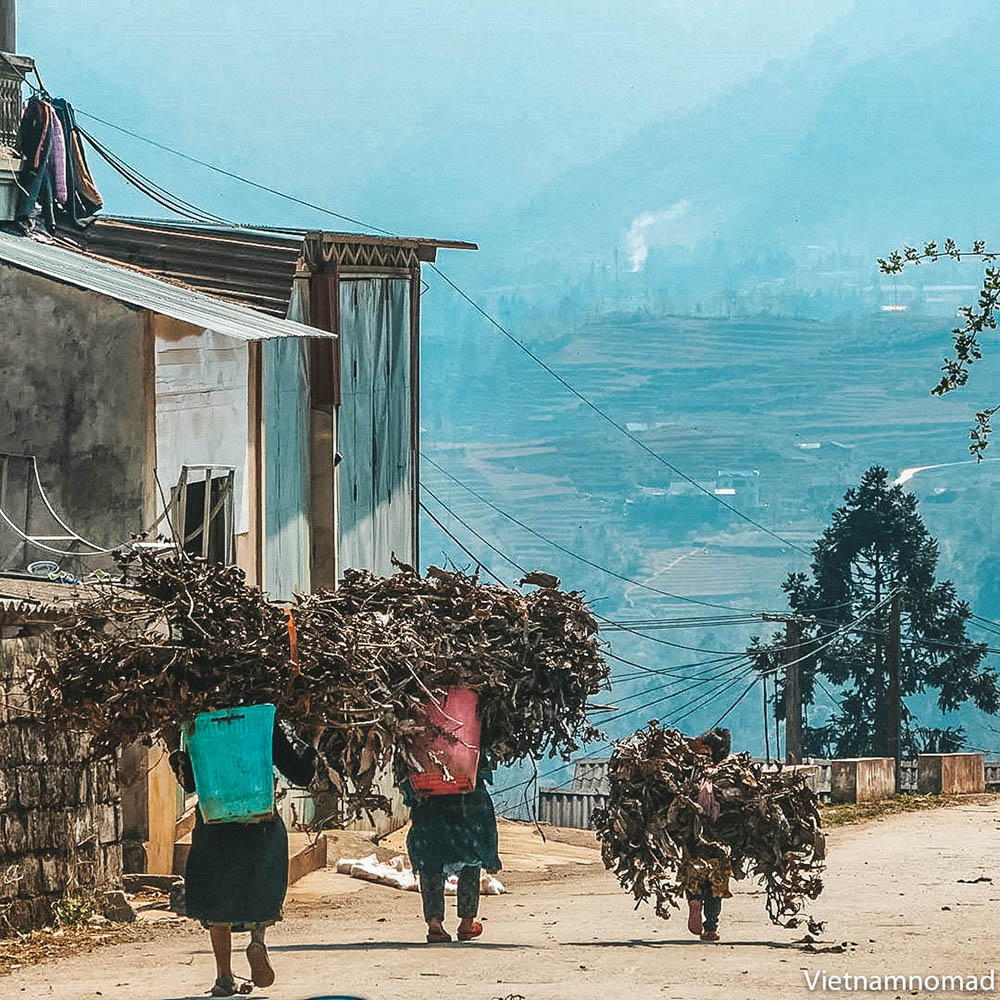 Pho Bang town is located in Dong Van district, Ha Giang. This place is known by many tourists as the "forgotten town". Pho Bang town is a suitable place for those who are looking for peace. Life here is simple but warm, there seems to be no hustle here. The houses nestled by high mountain burrows in the mountains. The roofs of yin and yang, the walls of the old houses, the stone fences, all create a beautiful Pho Bang town.
Top 7 must-try dishes in Ha Giang
Traveling to Ha Giang is not only to admire the beauty of the rocky plateau but also to enjoy its cuisine. Top Ha Giang delicacies that you cannot ignore will be reviewed in the article below!
1. Thang Co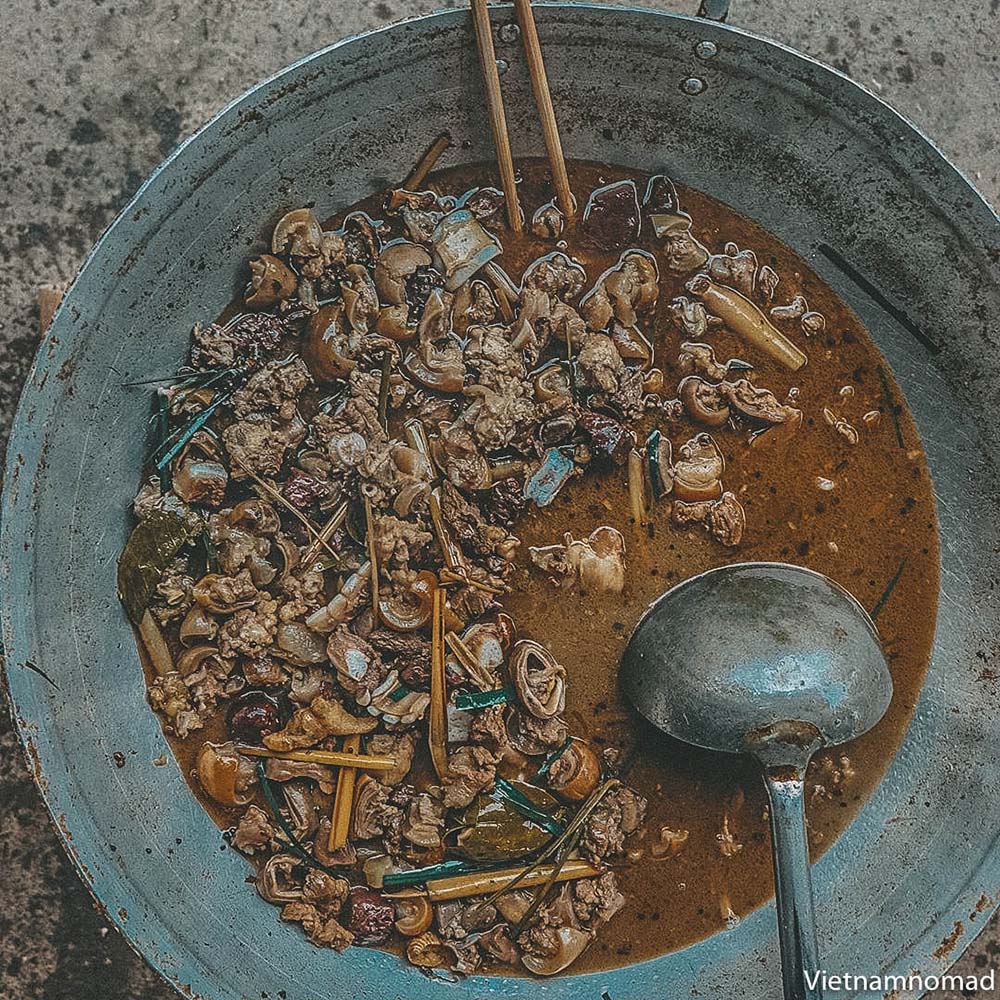 Thang Co was a traditional dish of the H'Mong people, which later became a popular dish of the Northwest highland people. Originally Thang Co was made from horse meat, but now people also use beef, buffalo, and pork. Each place has its cooking method, but the best recipe is probably in Ha Giang.
To cook it well, there must be a special recipe. Horse organs are cleansed, cut, and then marinated with spices. The traditional spice used for Thang Co is usually salt, cardamom, cinnamon, and chopped lemon leaves. Then put them all in a large pan, which uses horse fat to fry. Once the meat has set, the cook adds water and simmers over high heat for a few hours. Thang Co is an indispensable dish in every Ha Giang upland market.
2. Xoi Ngu Sac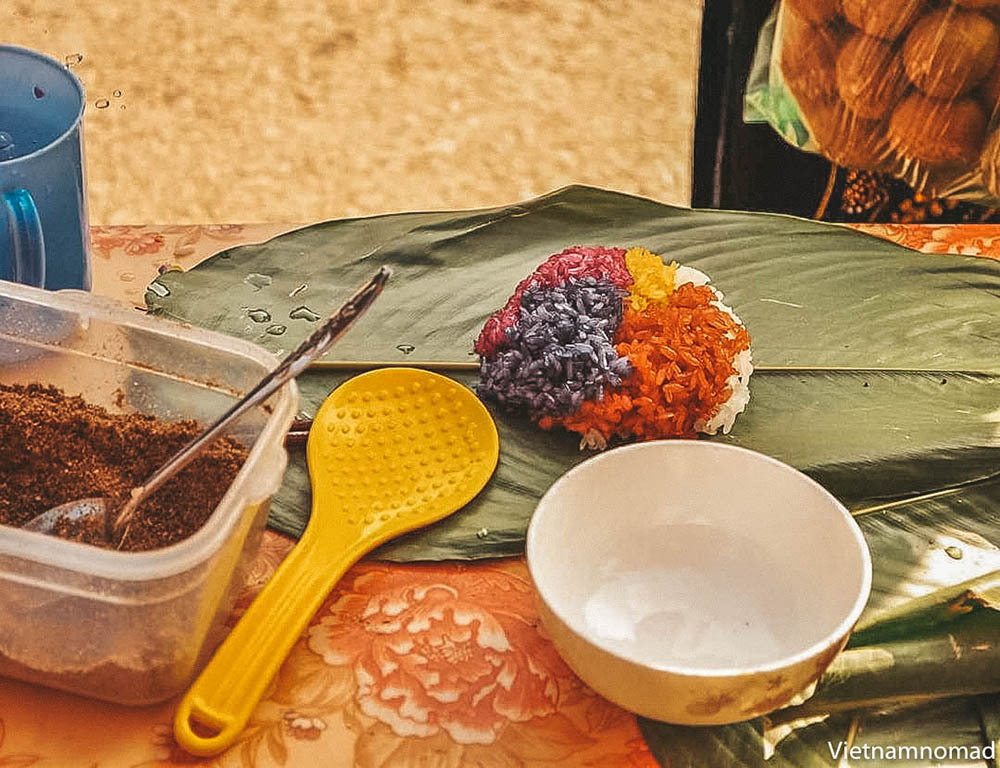 Xoi Ngu Sac (five-colored sticky rice) is a delicious dish that visitors to Ha Giang should enjoy. Glutinous rice is mixed with different types of forest leaves to create beautiful colors and fragrant smells. Five striking colors of this dish represents five elements, namely Metal, Wood, Water, Fire, and Earth. The green color comes from galangal leaves, ginger or pineapple leaves. Purple takes its tone from rosemary leaves, San San leaves, or black rice leaves. Yellow is from turmeric. Orange comes from gac fruit. White comes from the original sticky rice
Encapsulated in a delicious five-color sticky rice dish that is the most quintessential of the Ha Giang plateau. Do not forget this fascinating dish if you have the opportunity to come to Ha Giang!
3. Men Men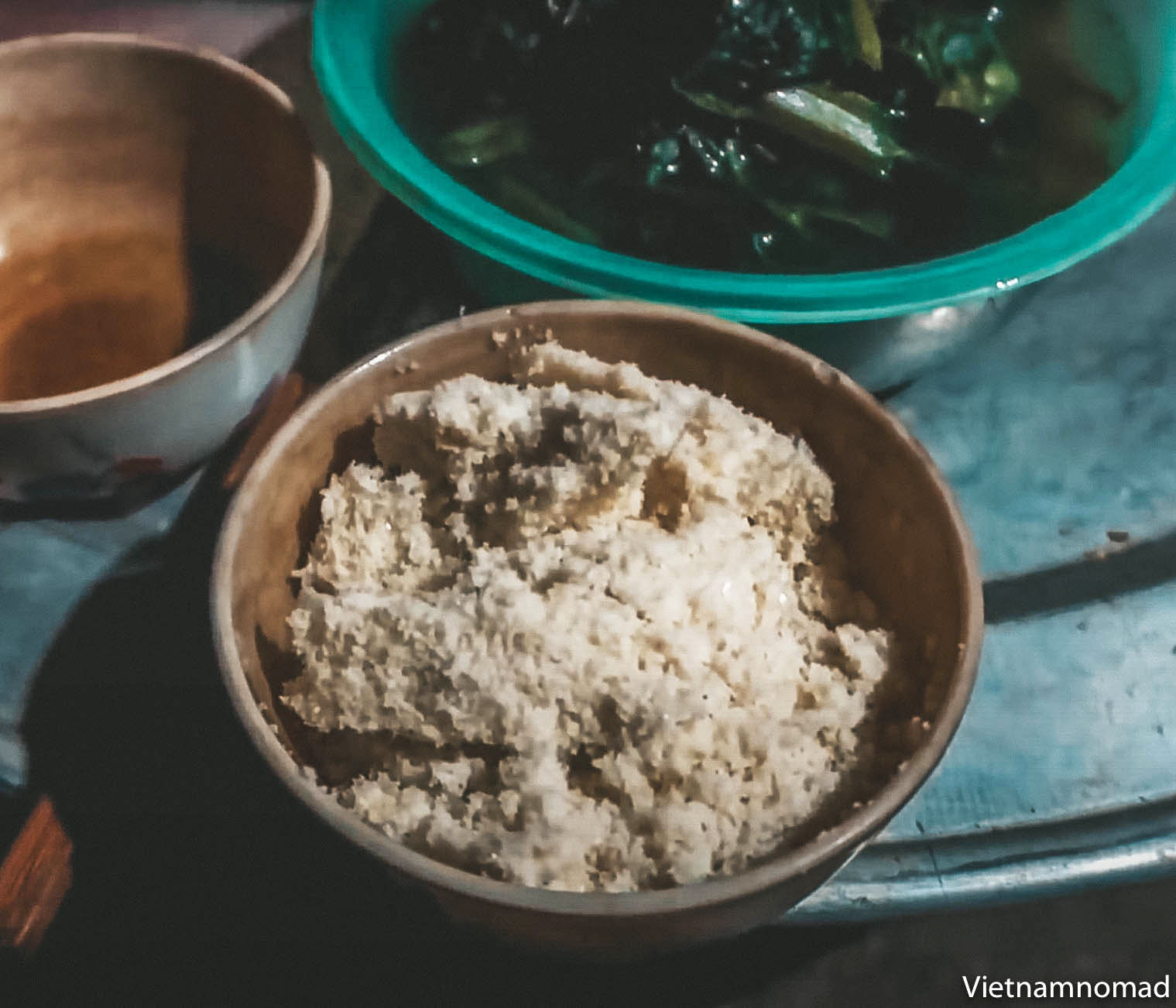 Men Men is a unique dish from name to taste, which is made from pounded corn. This dish is often eaten with wild types of soup such as vegetable soup, meat soup.
A bowl of Men Men is only 15.000 VND. You can buy these at any Ha Giang market. Eating Men Men in the evening is most appropriate. However, this is a seasonal dish. So you can only enjoy Men Men during the corn harvest.
4. Buckwheat Cake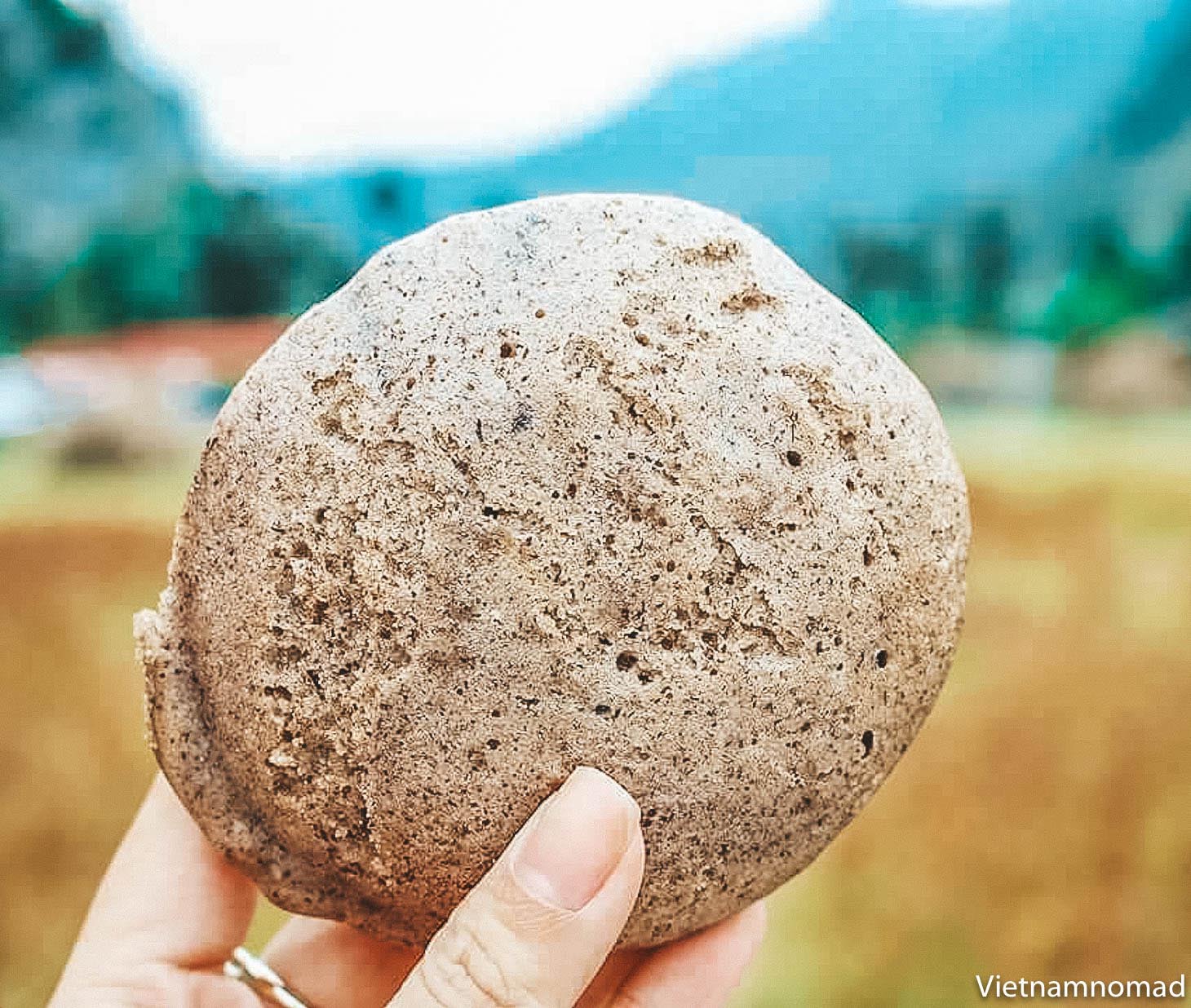 Buckwheat flower is not only one of the most beautiful flowers attracting many visitors, but it is also a food material in Ha Giang. When the season comes, people often take buckwheat flowers as milled flour for cattle and also use them to make a famous dish called buckwheat cake.
To make buckwheat cakes, people have to spend a lot of effort. They must use a mortar to grind the stems to make a smooth powder. Then knead the dough with water and mold it into the most beautiful buckwheat cakes.
The buckwheat cakes are grilled with charcoal, so it has an attractive aroma. There is nothing better than eating a cake in the cold winter.
A box of buckwheat cake has an average price of 25.000 VND to 30.000 VND.
5. Aconite root congee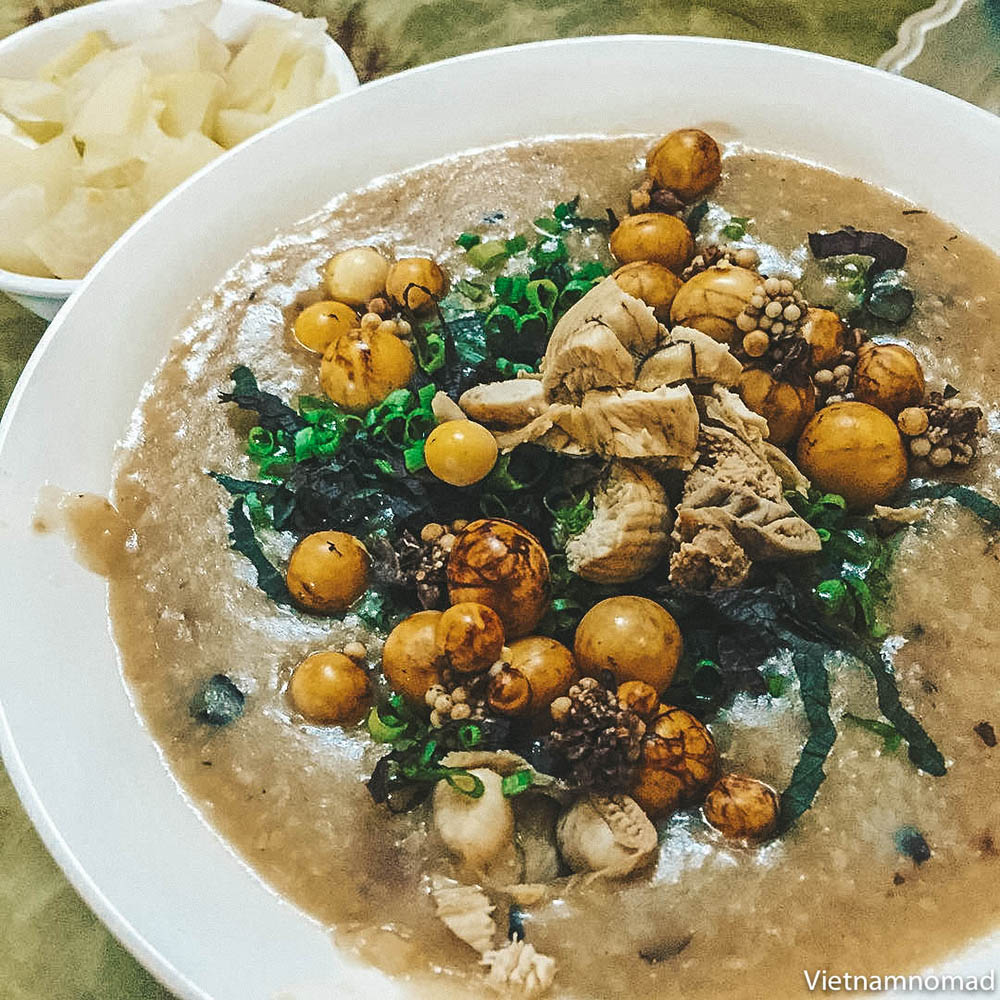 Aconite root congee in Vietnamese is called Chao Au Tau is one of the dishes that many people love when coming to Ha Giang. This dish is made from simple ingredients but offers very delicious. The main ingredients of this dish are trotter, aconite root, and rice. You will feel the delightful taste of the rice combined with the sweetness of the trotter. Enjoying a bowl of Chao Au Tau in the cool morning will help you feel the full taste of this dish. Each bowl of aconite root congee is priced from 25.000 to 30.000 VND. A popular dish but offering an unforgettable taste.
6. Bac Me bamboo cooked rice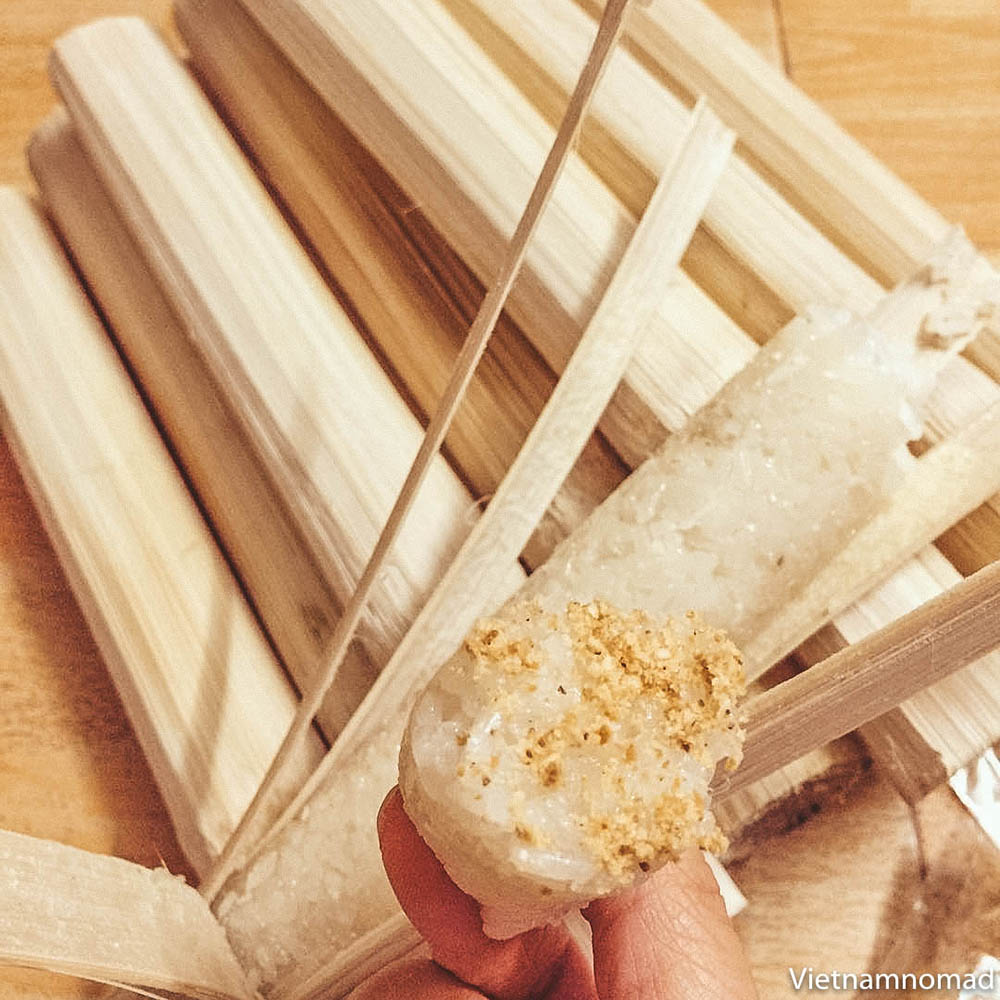 Com Lam (bamboo cooked rice) is cooked in a bamboo tube and grilled on fire. Ethnic minorities often make this dish to take with them when going to the field for farming, because it is so convenient and well-preserved. To make Bac Me bamboo cooked rice is simple and also not expensive. People often choose the raw material as the best glutinous rice grown in the fields, then soak it in water. The choice of rice is the most important factor because they determine the delicious and aroma of this dish. Soak the rice, wash, and mix well with a little salt. Then pour the glutinous rice into a bamboo tube and pour water into the top layer of rice. Then take the banana leaf or dong leaf as a knot so that the knot is tightened at one end.
7. Thang Den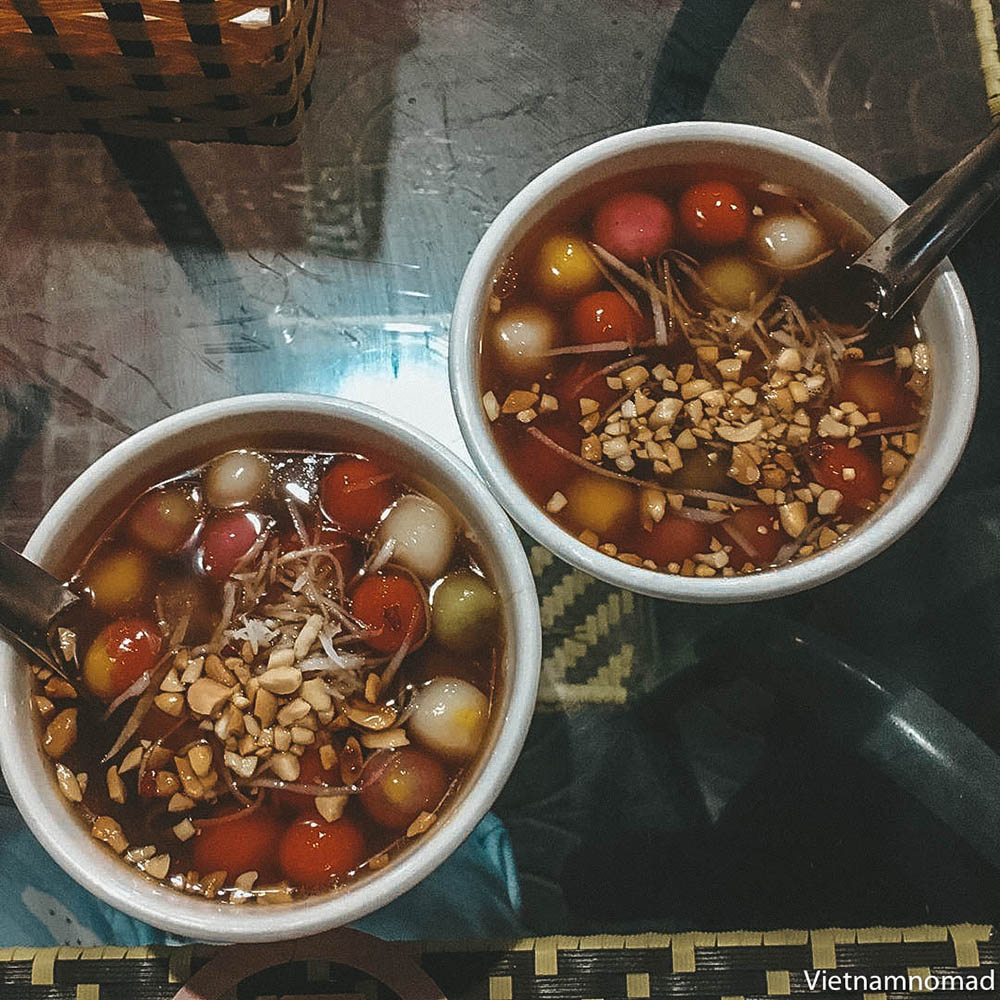 If you look at first, you may be confused Thang Den with water drift cake (a popular dessert in Vietnam). Thang Den dish is made from upland rice flour. It has a green bean paste inside. People circle it into smaller balls than water drift cake, but the color is similar. Then cook with sugar water and fresh ginger. When enjoying, add some roasted peanuts to the top to create a fragrant and different flavor. This dish is good for your health, especially in the winter. Thang Den is mostly sold at the roadside or local markets for only 5.000 VND/bowl.
The unique cultural markets in Ha Giang
Like other Northwest provinces, the upland fairs are a unique cultural feature in Ha Giang. These are not only places for people to exchange, buy, and sell goods but also allow visitors to experience the unique cultural characteristics of many ethnic minorities here.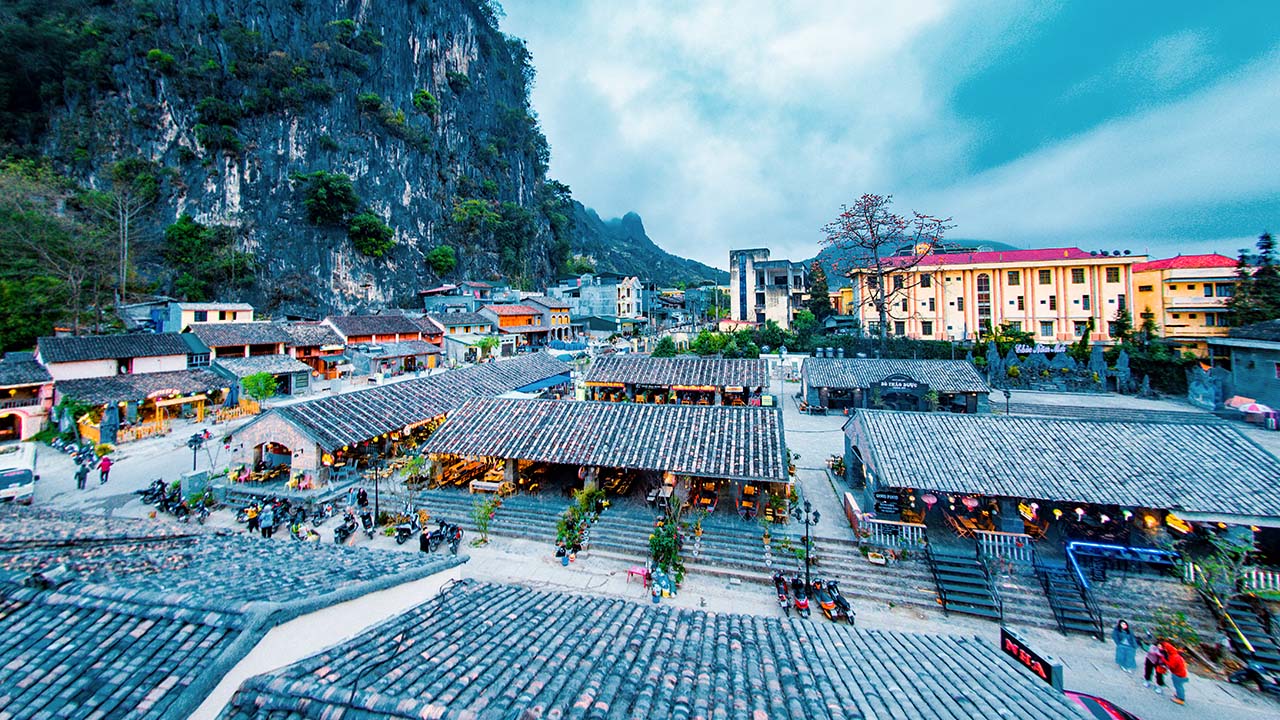 Khau Vai Love Market in Meo Vac District
This fair is held only once a year at the end of the third lunar month, which is held in a wide, flat valley in Khau Vai Commune, about 20 km from Meo Vac Town. At first, the fair was just a place for couples to go on a date and a traditional night market for Mong people. But later, Khau Vai Market has gradually become a dating market, a place to find the love of young people. Coming to Khau Vai Love Market, visitors will have the opportunity to admire "colorful flowers", which are created by many different costumes of ethnic minorities such as Mong, Giay, Dao, and Tay.
Du Gia Market in Yen Minh District
Du Gia Market is located more than 60km from the center of Yen Minh Town. The market is held in the center of the commune, which is one of the quite primitive markets, imbued with upland ethnic culture.
In Du Gia Market, there are often many cultural and artistic activities taking place. Visitors can listen to the typical lip flute, as well as enjoy the unique dishes of the people here, such as corn wine and Thang Co. The fair takes place every Friday but only lasts until noon.
Pho Cao Market in Dong Van District
Located about 25 km from the center of Dong Van, Pho Cao Market is a famous market in Ha Giang that meets every six days. Like Du Gia market, Pho Cao lasts only from early morning to noon. Pho Cao Market is the place to sell local products. And it is also a cultural exchange place for 17 ethnic groups living in border communes.
Lung Phin Market in Dong Van District
In Dong Van, apart from Pho Cao fair, there is Lung Phin fair, only meeting on Monkey day and Tiger on the lunar calendar. Visitors to Lung Phin Market will admire the diverse cultural colors of the ethnic minorities here and have the opportunity to enjoy highland specialties such as Lung Phin snow tea, dried beef, wine corn, and mint honey.
Central Market in Meo Vac District
The market is located near the Meo Vac stadium, which takes place every Sunday. Unlike other markets, people often go to the market from the night before to the next day. This is the largest fair among the upland markets in Ha Giang with lots of goods, agricultural products, and household items.
Here is all Ha Giang travel information you need to know before coming to Ha Giang. We hope you will have a great trip with lots of exciting experiences.
Meet in Vietnam!