Click on the image to get started!
INTERNET
We recommend purchasing a Vietnamese SIM and registering mobile internet for the duration of your stay.
Buy a Vietnamese SIM
There are four major GSM network operators in Vietnam: Vietel, Mobifone, Vinafone and Vietnamobile. We recommend using Viettel for stability.
You can buy a SIM at International Airports as Tan Son Nhat, Noi Bai, Da Nang, or any street store with the sign "SIM – CARD"
SIM prices range from 100 000 – 200 000 (VND) (4.5 – 9 USD), depending on the package.
Top up your credit
After buying a SIM, you can check your account by typing (call) " * 101 # ". If you do not have any credit in your account, you need to top up your credit into your account by purchasing "CARD"
There are many different CARDs denominations, but we recommend buying 100 000 VND (4.5 USD) for comfortable use for about 2 months.
Register mobile Internet
To register mobile Internet you need to type a message according to the syntax:
+ Vietel:   <Packagename>  to 191
+ Mobifone:   DK <Packagename> to 999
+ Vinafone:  DK <Packagename> to 888

+ Vietnamobile:  DK <Packagename> to 345
Our recommendation:
+ For Vietel: You should book the V90 package (you get 2GB/day, so 60GB/month for 90000 VND (4.5$)). Send SMS with V90 to 191
+ For Mobifone: Package: HD90 (5.5 GB/month, 90 000 VND). Send SMS with DK hd90 to 999
+ For Vinafone: Package: DK1 BIG90 (7GB/month, 90 000 VND). Send SMS with DK dk1 big90 to 888
+ Vietnamobile: Package: M90 (12GB/month, 90 000 VND). Send DK m90 to 345
Troubleshooting switchboard
+ Viettel : 1800 8198 (free).
+ Mobifone: 9393 (for tourist).
+ Vinaphone: 9192 (for foreigners, 200 VND/minute).
+ Vietnamobile: 336 (free, for tourist)
WIFI
Most cafes, restaurants, hotels have free Wi-Fi networks.
Public Wi-Fi systems are available in most public places such as airports, parks, hospitals, coach stations (The most popular is the "Free S-Wifi" Network).
SHOPPING
The main type of trade in Vietnam is the traditional market and small grocery store (without price listing). This is an attractive feature and destination in Vietnam, however, you should pay attention to the reasonable price by referring to Price Category. 
Convenience stores: This is a pretty optimal choice for you. In Vietnam, there are many convenience stores, especially in big cities as Ho Chi Minh City, Hanoi, and Da Nang, which has most everything you need. There are many well-known brands such as 7-Eleven, Vinmart, FamilyMart and Cycle K.
Supermarkets or shopping centers: most of them only appear in big cities with brands such as Vinmart, Co.op Mart, Vincom and Lotte.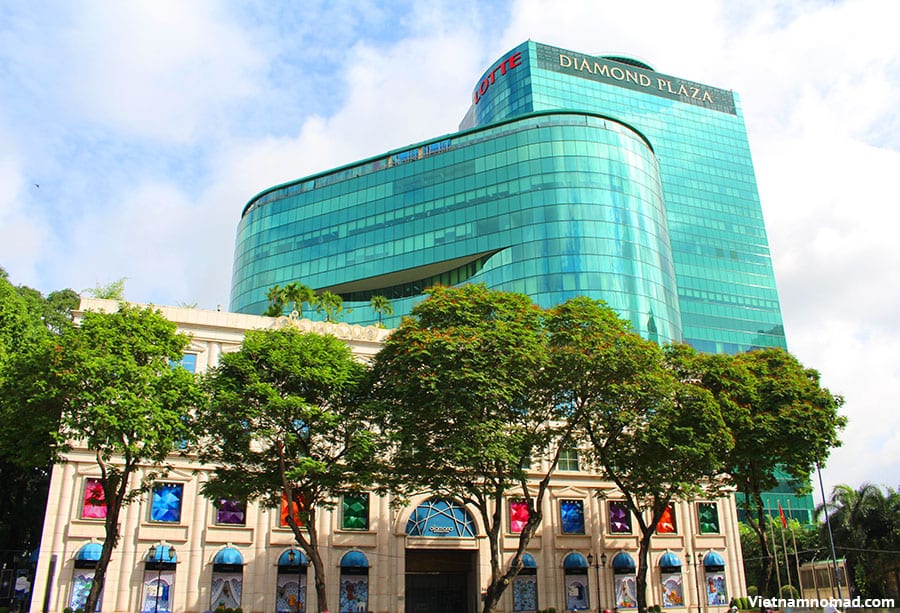 ESSENTIAL APPLICATIONS
Google Maps: Of course, this is an indispensable application for your trip. 
NOTE: Vietnamese is based on the alphabet and diacritical marks. To enter Google Maps, you need to erase diacritical marks.
For example, The address "18 Bui Viện Phường Phạm Ngũ Lão, Quận 1, Hồ Chí Minh", you type: " 18 Nguyen Hue" and choose the first option. 
If you see address in style xx / xx, for example, "137/95 Trần Đình Xu" in which: The 137 is the alley number of Tran Dinh Xu Street, 95 is the house number in the alley 137.
Google Translate: Select your language to translate into Vietnamese. This is a popular and necessary application for you.
The application for booking hotel: Booking.com
Grab and Go-Viet: A pretty apps for you to order taxis, moto-taxis.
LOCAL DICTIONARY
Vietnam is the Non-English speaking country. So you should prepare some sample sentences in Vietnamese to communicate in case of necessity. The majority of local young people are speaking English well, so if you have problems you can ask them for help. Here are some basic phrases you can use when needed.
GREETING
I'm sorry, I'm looking for this address.
Xin lỗi, tôi đang tìm địa chỉ này.
Do you know where the bus station is?
Anh có biết bến xe bus ở đâu không?
Can you show me on the map? 
Bạn chỉ  tôi đường đi trên bản đồ được không?
SHOULD AND SHOULDN'T
Should
• Saving the phone number of the embassy (or consulate) of your country in Vietnam.
• An additional copy of passport, travel insurance and air tickets to provide in case of lost.
• Look up some more information about Ho Chi Minh City, other destinations, and localities on the internet.
• Carrying some kind of medicines such as cold, cough, gastrointestinal, disorders and headaches.
• Carefully store your valuable things in the hotel, regularly checking windows and doors before going out.
• Checking careful papers and money when going out.
• Detailed planning for your trip.
• Pre-installed some essential applications.
Shouldn't
• Shouldn't carry large amounts of money and valuables.
• Shouldn't go to deserted places, especially in the evening.