Vietnam at a glance 
Vietnam – a country in the Indochina Peninsula, Southeast Asia, is famous for its beautiful natural scenery, diverse cuisine, and cultural richness. In recent years, Vietnam has become a familiar destination for travelers from all over the world. In 2019, Vietnam was voted by the world-famous travel magazine Conde Nast Traveler as one of the ten most beautiful countries in the world, where you definitely have to visit once in your life.
Vietnam has many landscapes honored by the world. As of 2020, Vietnam has been recognized by UNESCO as eight world heritage sites. In particular, there are two natural heritage sites (Ha Long Bay, Phong Nha – Ke Bang National Park); five cultural heritages (Central Sector of the Imperial Citadel of Thang Long – Hanoi, Citadel of the Ho Dynasty, Complex of Hue Monuments, Hoi An Ancient Town, My Son Sanctuary); one mixed heritage (Trang An Landscape Complex) and other intangible cultural heritages.
With 63 provinces and 54 ethnic groups, each province has its own landscape and identity, always giving you a reason to fall in love.
Cut to the chase, let's watch the video Vietnam from North to South!
Vietnam tourist map
We would like to introduce a great companion for your journey to explore Vietnam: Vietnam Map, which includes all the types of maps you need, such as region, transportation, and city map. We have compressed them to the highest quality, so you can print them on paper and use them on your trips.
Topography and climate of Vietnam
Based on geography and climate, Vietnam is divided into eight regions: Northwest, Northeast, Red River Delta, North Central Coast, South Central Coast, Central Highlands, Southeast, and Mekong River Delta. Each region has relatively different climatic and topographic characteristics.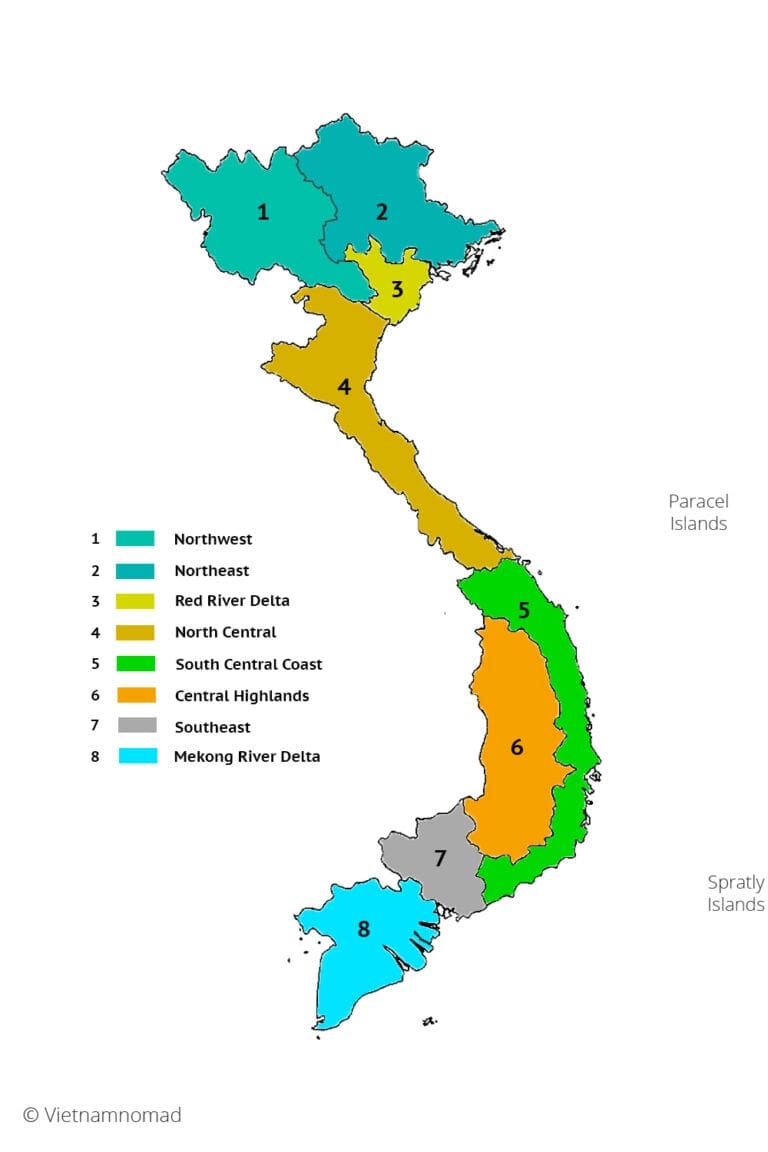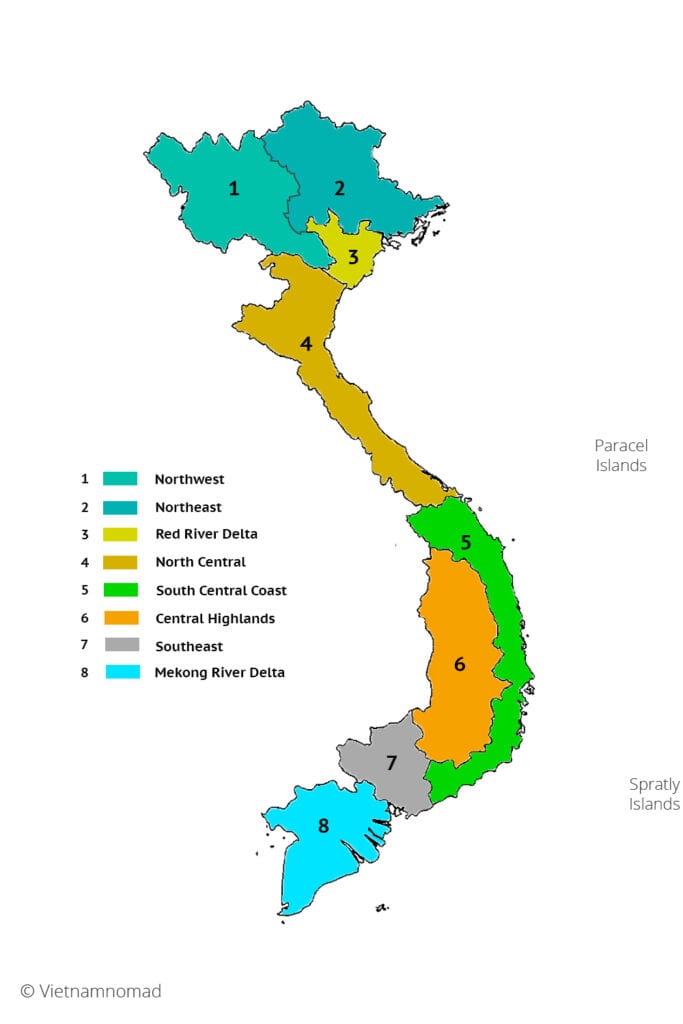 1. Northwest
Northwest Vietnam consists of 6 provinces: Dien Bien, Son La, Hoa Binh, Yen Bai, Lai Chau, Lao Cai. The famous tourist destinations: Sapa (Lao Cai), Mu Cang Chai (Yen Bai), Dien Bien Phu (Dien Bien), Mai Chau (Hoa Binh), Moc Chau (Son La). It is a mountainous area which shares the borderline with China and Laos. This is home of magnificent fold mountains and extremely unmatched landscapes.
The region has two distinct seasons: summer and winter. The summer (April to October) is hot and humid. Winter (November to March) is cold, cloudy that is characterized by drizzle. The average annual temperature is about 25 ºC. In winter, the lowest temperature is in December and January; some places have temperatures below 0 ºC.
2. Northeast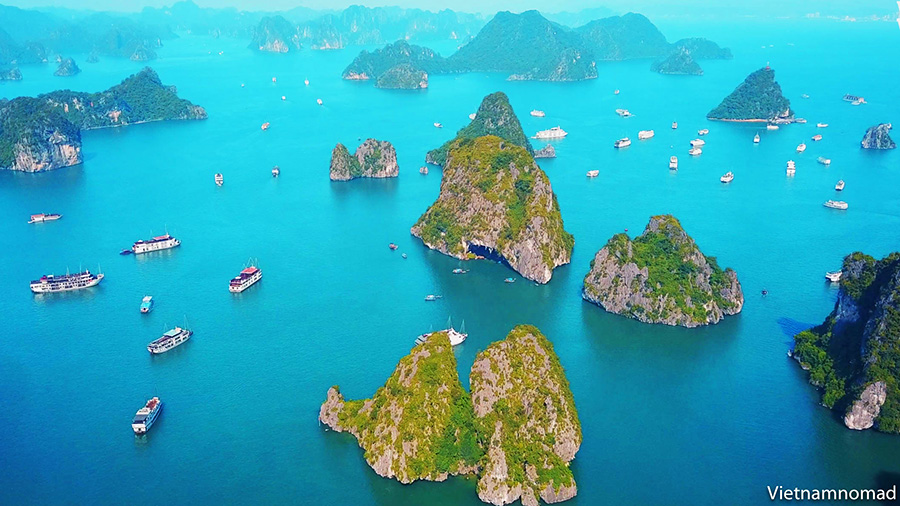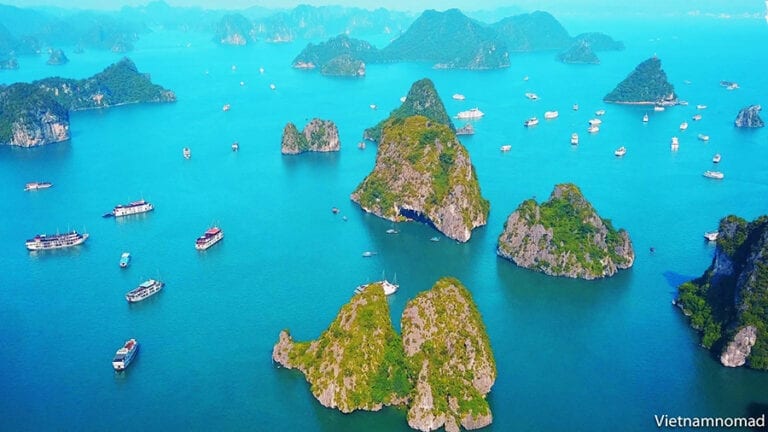 Northeast Vietnam consists of 9 provinces: Ha Giang, Bac Giang, Bac Kan, Cao Bang, Lang Son, Phu Tho, Thai Nguyen, Tuyen Quang, Quang Ninh. The famous tourist destinations: Dong Van (Ha Giang), Ban Gioc Waterfall (Cao Bang), Ba Be Lake (Bac Kan), Ha Long Bay (Quang Ninh), Mau Son (Lang Son). The region is geographically distinguished with the Northeast by the Red River. There are middle-high mountain ranges blended with vast plateaus. The complicated system of water bodies carving into the limestone mountains creating deep valleys across the region.
The climate is quite similar to the Northwest, but the region is more affected by the humid monsoon climate than the Northwest. Therefore, the Northeast is directly affected by tropical storms in the summer.
3. Red River Delta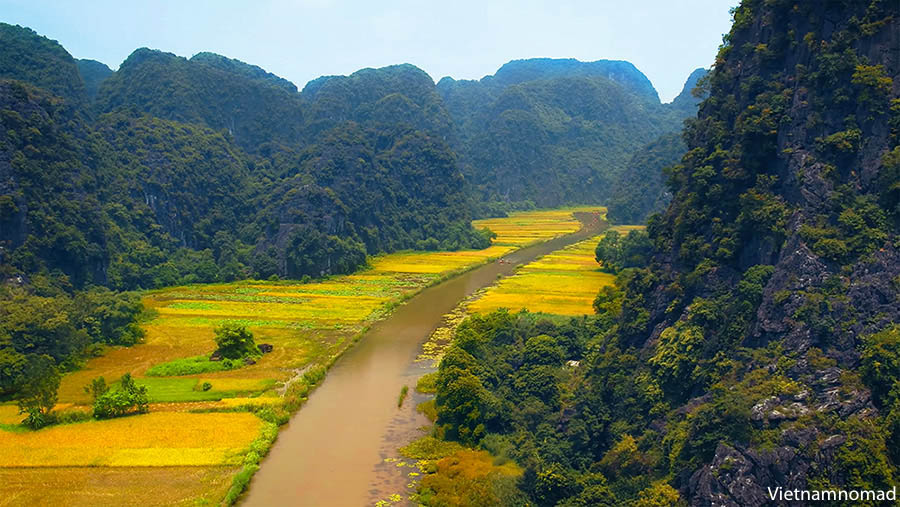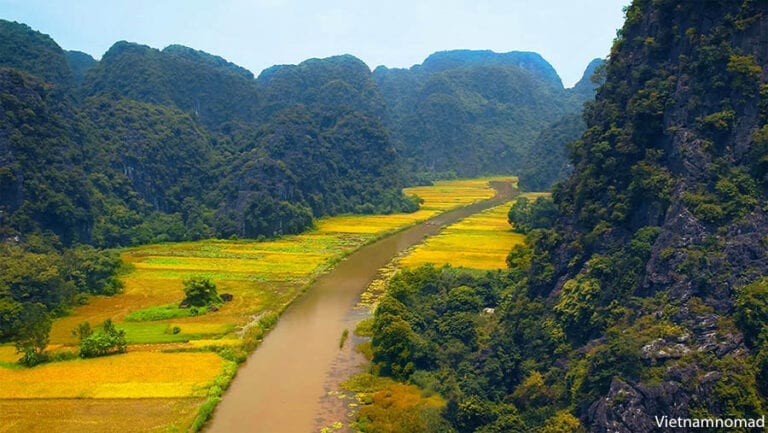 Red River Delta consists of 10 provinces: Bac Ninh, Ha Nam, Ha Noi, Hai Duong, Hai Phong, Hung Yen, Nam Dinh, Ninh Binh, Thai Binh, Vinh Phuc. The famous tourist destinations: Hanoi, Cat Ba (Hai Phong), Do Son (Hai Phong), Trang An (Ninh Binh). The delta is situated in the North of Vietnam, this is one of the most densely-populated regions across the country due to the fertile soil and a large concentration of waterways, which are advantageous for agricultural activities.
Like the Northeast and Northwest, the Red River Delta also has two distinct seasons: the summer is from April – November; the winter is from December – March. However, the weather here is milder than in the other two regions.
4. North Central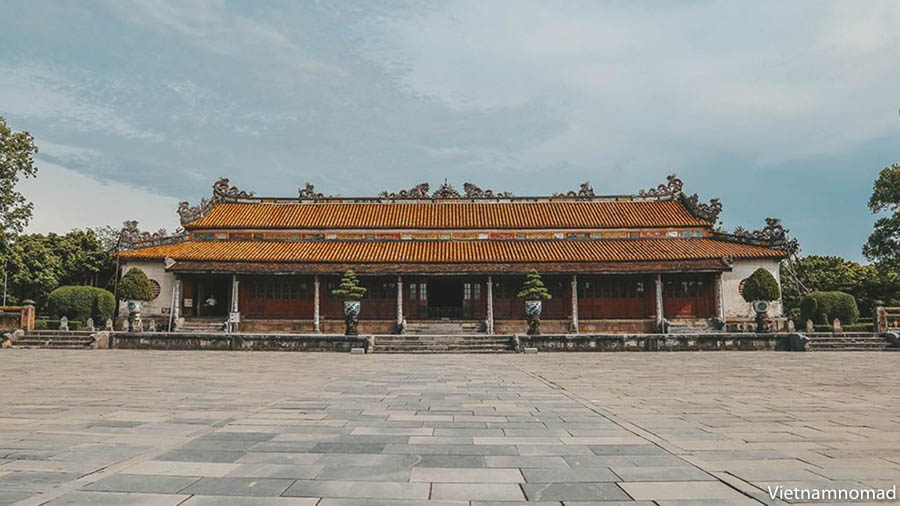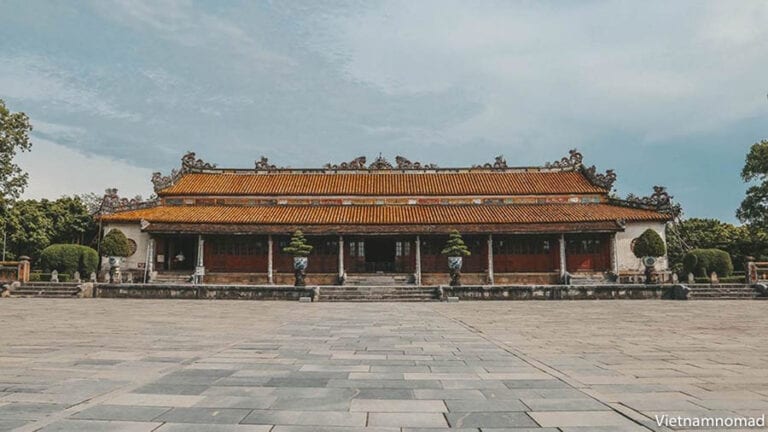 North Central consists of 6 provinces: Ha Tinh, Nghe An, Quang Binh, Quang Tri, Thanh Hoa, Thua Thien Hue. The famous tourist destinations: Thien Cam Beach (Ha Tinh), Cua Lo Beach (Nghe An), Phong Nha – Ke Bang (Quang Binh), Hue (Thua Thien Hue). This region is a long-stretching land and also the most narrow part of the country, which is one of the most important economic regions featuring aquaculture and tourism. The area is home of a great collection of three out of eight UNESCO's World Heritage Sites in Vietnam.
Due to the monsoon in the northeast, the whole area is affected by cold weather with rain in the winter. This is different from the dry weather in the winter of the North. In the summer, there is the southwest monsoon (also known as Laos wind), so the whole region will have a hot and dry climate. At this time, the daily temperature can reach over 40 ºC; meanwhile, air humidity is very low.
5. South Central Coast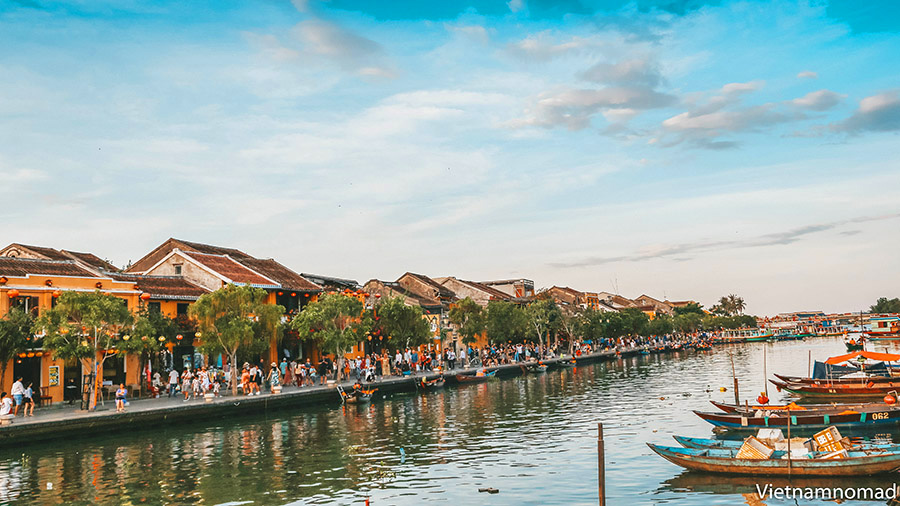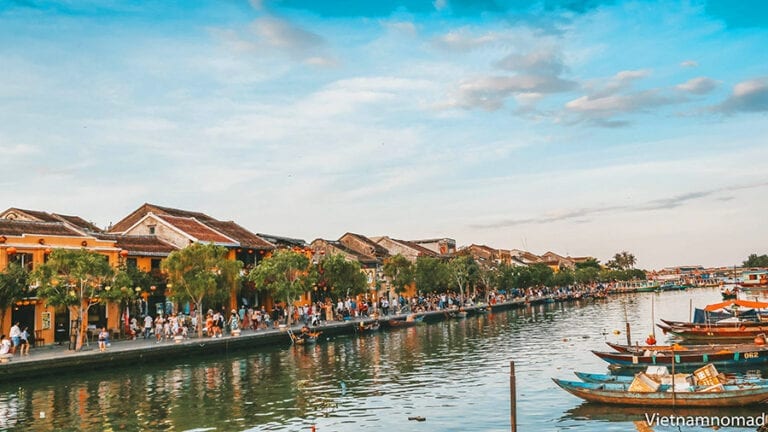 South Central Coast consists of 8 provinces: Da Nang, Quang Nam, Quang Ngai, Binh Dinh, Phu Yen, Khanh Hoa, Ninh Thuan, Binh Thuan. The famous tourist destinations: Da Nang, Hoi An (Quang Nam), Quy Nhon (Binh Dinh), Nha Trang (Khanh Hoa), Mui Ne (Binh Thuan). South Central Coast has a strategic position in terms of economic and transport values. The landscapes are dominated by the fertile whale-shaped hills, which is beneficial for herding activities. Bordering a large sea area, the economy strongly relies on marine resources. Here is also a potential travel hub thanks to its well-developed transport system.
The weather here is different from the North Central Coast due to the northeast monsoon blocked by the Bach Ma mountain range. The remarkable feature of the Central climate is that there is a rainy season and the dry season does not occur at the same time in a year in the two climatic regions of the North and the South.
6. Central Highlands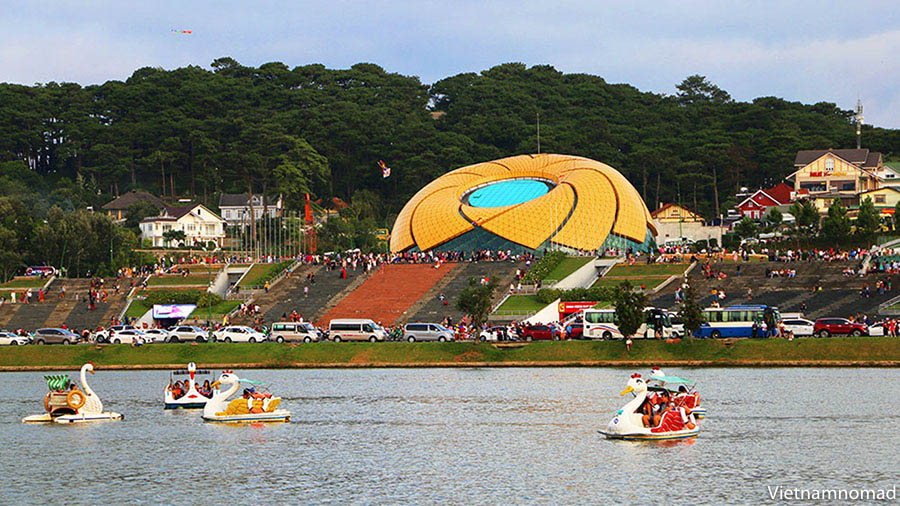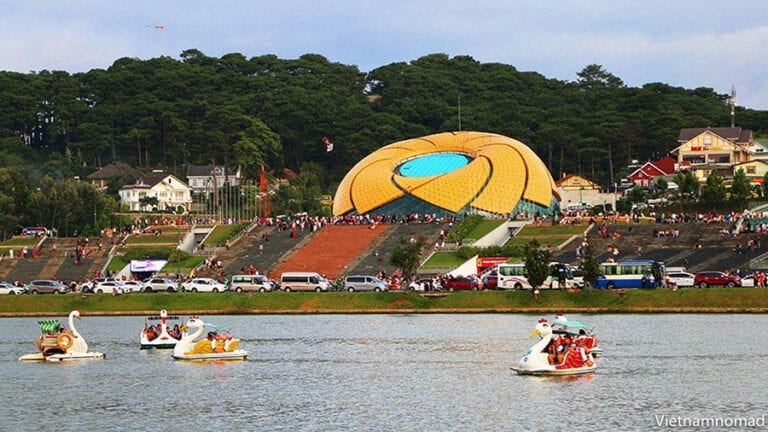 Central Highlands consists of 5 provinces: Dak Lak, Dak Nong, Gia Lai, Kom Tum, Lam Dong. The famous tourist destinations: Dalat (Lam Dong), Mang Den (Kom Tum), Buon Me Thuot (Dak Lak). The region consists of many plateaus, which are surrounded by mountain ranges. Central Highlands is known as the coffee capital of Vietnam as the fertile basalt facilitates the growth of this industrial crop. Some distant and remote mountainous parts of the area are also home to various minority ethnic groups.
Located in the tropical savanna region, the climate in the Central Highlands is divided into two seasons: the rainy season from May to the end of October and the dry season from November to April, in which March and April are the hottest. Particularly, the lands are over 1.000 m high, the climate is cool all year round.
7. Southeast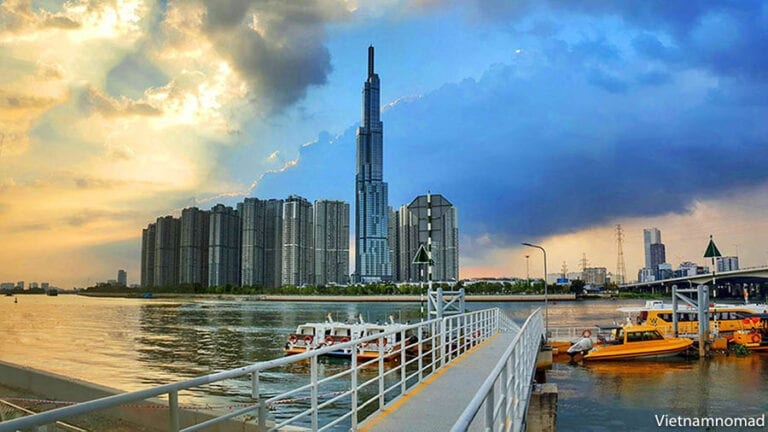 Southeast Vietnam consists of 6 provinces: Ba Ria Vung Tau, Binh Duong, Binh Phuoc, Dong Nai, Tay Ninh, Ho Chi Minh City. The famous tourist destinations: Ho Chi Minh City, Vung Tau Beach (Ba Ria Vung Tau), Con Dao Island (Ba Ria Vung Tau), Black Virgin Mountain (Tay Ninh). Southeast is the highly industrialized zone. A massive landmass is used for industrial trees and factories. The landscape highlights the midlands and low mountain ranges. This is where the major river systems meet and concentrate on the most vital ports as well as tourism.
The South is located in a region characterized by the equatorial tropical climate, abundant sunshine, and high humidity. The annual average humidity is about 80 – 82%. The climate has two distinct seasons: dry and rainy. The rainy season is from May to November and the dry season is from December to April.
8. Mekong River Delta
Mekong River Delta consists of 13 provinces: Long An, Tien Giang, Ben Tre, Vinh Long, Tra Vinh, Hau Giang, Soc Trang, Can Tho, Dong Thap, An Giang, Kien Giang, Bac Lieu, Ca Mau. The famous tourist destinations: Can Tho, My Tho (Tien Giang), Tram Chim (Dong Thap), Chau Doc (An Giang), Phu Quoc (Kien Giang). It is the southernmost part of the country and dominated by flat floodplains. The low basin of the Mekong Delta is rich in sediment from its mother source and greatly contributes to the agricultural practice of its people for centuries. The region is covered by very little forestry, mainly mangrove forests and swamps to prevent waves and preserve land.
The climate of the Mekong Delta is similar to the Southeast: the tropical monsoon climate, there are two distinct seasons: the rainy season (May to November) and dry season (December – April).
Best time

to 

visit

Vietnam
The ideal time to visit Vietnam is during the dry season. In which the period from December to March is the best time to visit Vietnam. You can rely on the detailed map below to choose the appropriate time to visit each place in the country.
Vietnam Visa
It's easy to come to Vietnam! Vietnam offers visa exemptions to tourists from 24 countries and e-Visas to travellers from 80 countries.
Vietnam visa exemption
Citizens of 24 countries are exempted from visa when entering Vietnam:
Vietnam visa application
Now you can easily apply for Vietnam Visa with an electronic Visa, E-Visa is available to nationals of 80 countries. What you need to do is visit the official website of the Immigration Department (click here) and follow the instructions.
The e-Visa costs 25 USD, takes three working days to process, and is a single-entry visa, valid for 30 days.
Learn more about Vietnam Visa >
Money and Exchange
Vietnamese currency is known as "Dong" or "VND" as currency code. There are no longer coins but only paper and polymerized money, so it is quite easy to carry around. Vietnamese banknotes, however, have many zeros: the smallest bills commonly in circulation are 500 VND, 1.000 VND, 2.000VND, and 5.000VND; and the highest one is 500.000VND.
Cards are widely accepted in restaurants, hotels, and other public amenities (but not at street-food stalls), and ATMs are placed densely. The most popular exchange rate when travelling in Vietnam is from USD to VND. It is known among travellers that the best exchange rate is given at jewelry shops; however, it is now considered illegal to exchange currency at those shops. So, the best way is to change money at the airport, local banks, or ATMs.
Learn more about the Vietnamese currency >
Transportation in Vietnam
Vietnam's transportation network is quite complete with international and domestic airport systems in many provinces, the "famous" North-South railway system, and the extensive road system with the backbone of National Highway 1A. Below is a transportation map in Vietnam with train stations and airports.
Learn more about transportation in Vietnam >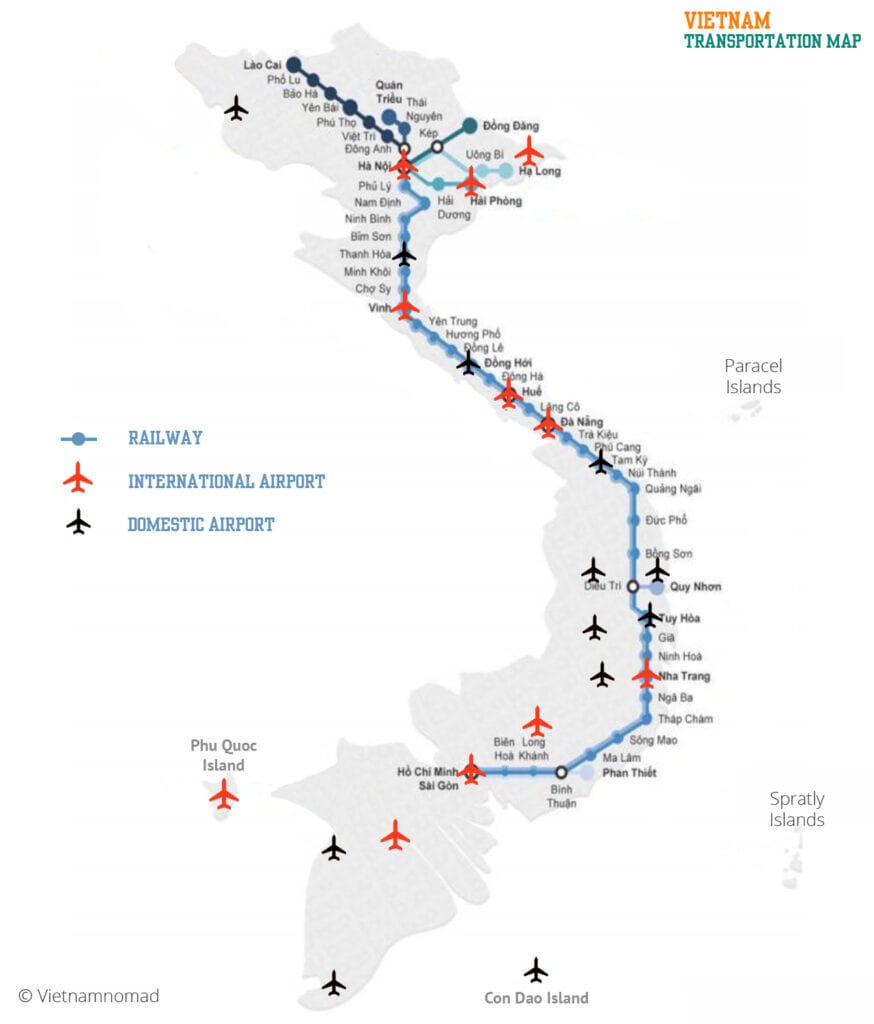 Cost of living in Vietnam
It is totally possible to live on a budget in Vietnam as the cost of living is claimed to be inexpensive. Most of the items cost less than half of what you would pay in the West or even relatively cheaper in comparison with some tourist hubs in Asia.
Although in big cities such as Ho Chi Minh City and Hanoi Capital, things could be a bit pricey, there are still lots of opportunities to lead a comfortable lifestyle with an income of under 700 USD (of course, if you are willing to eat local food and enjoy a Vietnamese standard lifestyle). If you live outside of these two major cities, living expenses could be much less. Your lifestyle will determine your cost of living, but generally, Vietnam has a competitive yet fertile job market for both locals and expats and an average rate of living expenses. As long as one has a job and not too bad at money management, they can assure an enjoyable life and travel if they wish.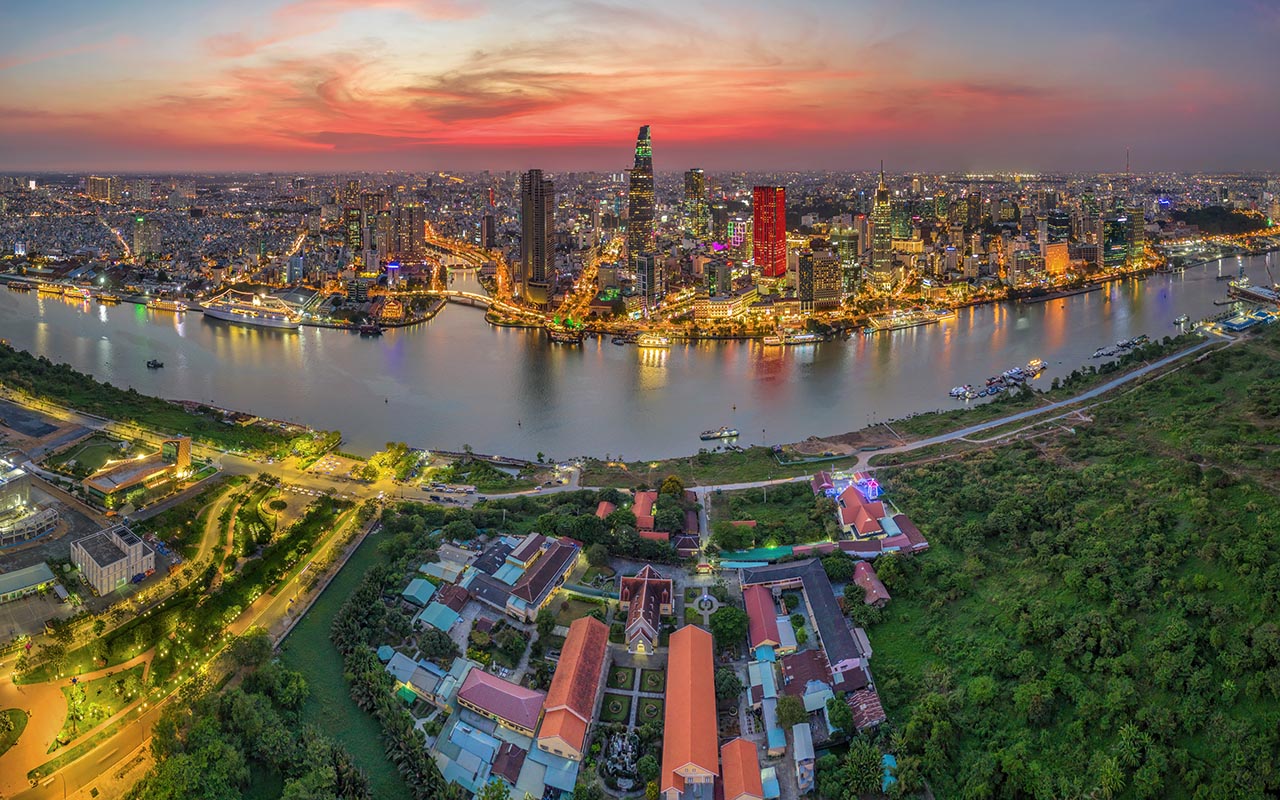 Internet and Telecommunication
Vietnam offers a very accessible Internet connection that covers most parts of the country. Wi-fi is available in every corner: at restaurants, coffee shops, convenience stores, or even at small food vendors sometimes. So there would be very little chance that you lose touch with the world while travelling here.
There are also many SIM card providers that offer 4G data service along. So if you are mostly on the road or wish to keep in touch with people, here is an option. Some of the most reliable telecommunication companies known are Viettel, Mobifone, and Vinaphone. SIM card's price normally starts from 50.000 – 100.000 (2 – 4,5 USD), and you can add money to buy data packages that are totally affordable, ranging from just 30.000 VND for unlimited access.
Accommodation in Vietnam
Accommodation in Vietnam varies from around under 10 USD to as much as you could imagine, catering to different budgets and preferences. There are many types of accommodation that you can choose from, from hostels and guesthouses to homestays and luxurious resorts which keep popping up throughout the country. Although hospitality is a huge industry in Vietnam, it is obviously popular among the locals as the young Vietnamese tend to travel more and more these days. So, it is ideal to book your accommodation in advance to make sure of a preferable stay. Booking could be made easily through online booking websites or, particularly for homestays, through direct messages on their Facebook pages.
The vast majority of accommodations are considered very stylish and full of character, of which homestay is one form of accommodation you have to get yourself into. They are not only a place to crash after a long day exploring, but are experience itself. Most places have English-speaking staff, and they accept both cards and cash.
Best places to stay in Vietnam >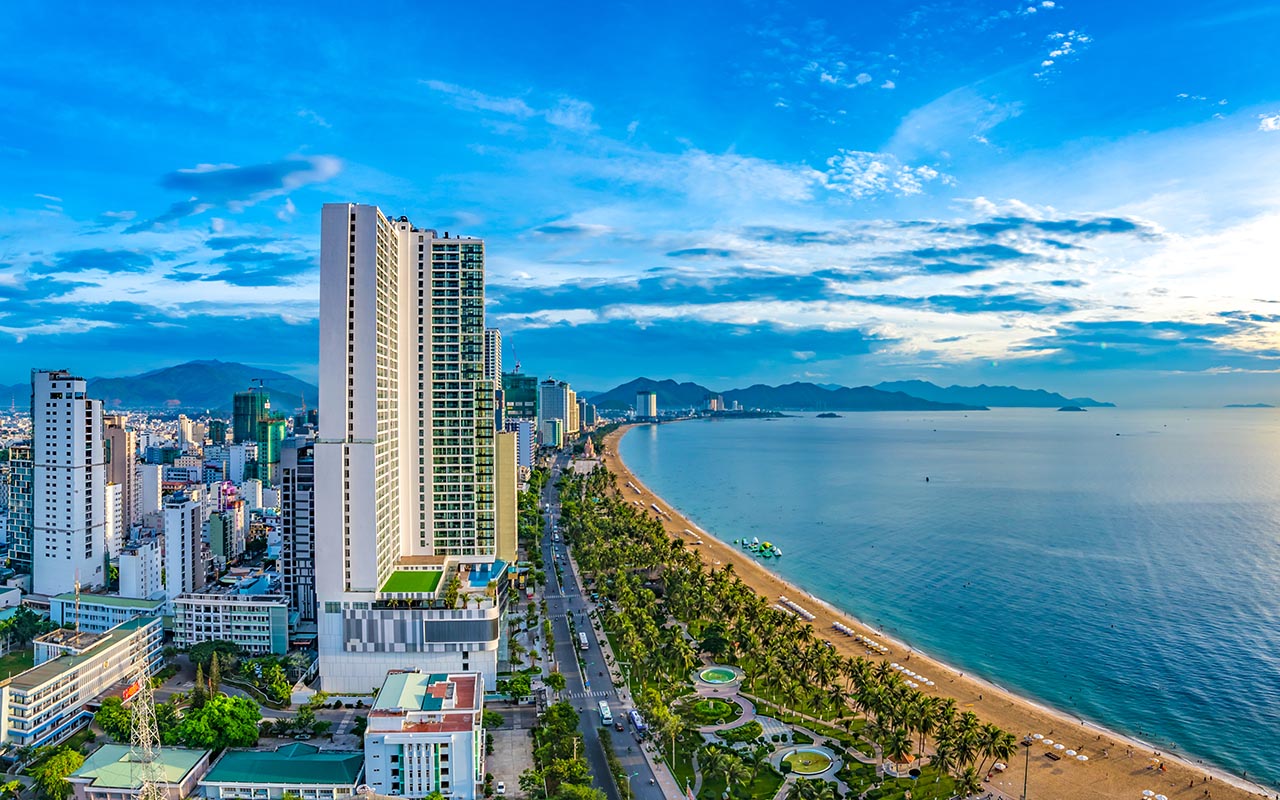 Shopping in Vietnam
It is no exaggeration that Vietnam is one of those shopping paradises. There is a whole range of shopping activities that you could take part in, which serve your craving for shopping and offer insight into the country's culture. You could wander around the local open-markets to embrace the vibrance and dynamic energy of the street business culture of the Vietnamese, or opt for a less hustle and bustle shopping vibe in the shopping malls. A new breeze of shopping experience that is enjoyed by the millennials is the flea-markets, which are often held on weekends gathering the participation of local clothing and handicraft brands. Each market in Vietnam brings the characteristics and colors of the local community here. Going to the market is not only for shopping, but it is also a journey to discover the local culture.
For great trips, convenience stores are a good choice for you. There are many convenience stores in Vietnam, especially in big cities as Ho Chi Minh City, Hanoi, and Da Nang, which have almost everything you need. There are many well-known brands such as 7-Eleven, Vinmart, FamilyMart, and Cycle K. Therefore, if you need food or necessities, convenience stores are a quick choice.
Supermarkets or shopping malls are also an option, but most of them only appear in big cities with brands such as Vinmart, Co.op Mart, Vincom, and Lotte Mart.
Vietnam is also known as the manufacturing location for many big fashion names such as Nike and Adidas, so you are likely to get a very competitive price for those.
Due to the variety of items, affordable prices, and a wide range of shopping experiences, shopping would be a great part of your traveling in Vietnam.
Vietnam has been long known as a culinary paradise; for thousands of years of civilization, Vietnamese people have created countless beautiful, harmonious, and delicious dishes. To explore Vietnam is to dive into its diverse cuisine as not only does it always burst with flavors but also is an incarnation of a prosperous breadth of history.
1. Pho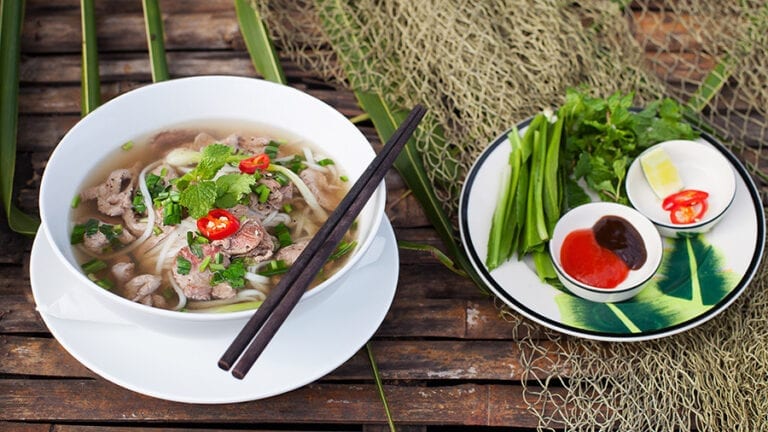 Pho is considered the national dish of Vietnam, a must-try food when coming to this S-shaped country. It has been voted by CNN, BBC, and Business Insider as the best dishes in Asia. In 2016, Pho was voted as one of the top 3 most delicious Vietnamese dishes in the world.
The main ingredients of Pho include noodles, broth, thinly sliced ​​beef, and herbs. A qualified broth has to fulfill three strict criteria: firstly, the broth has to be clear to guarantee visual attractiveness; secondly, it has to come with the subtle sweetness extracted from the pork bones slowly cooked for hours; and thirdly, it has to bring up the herby aroma of cinnamon, anise, ginger. When eating Pho, we usually eat with hot sprinkles and spices such as chili sauce and sauté.
2. Banh Mi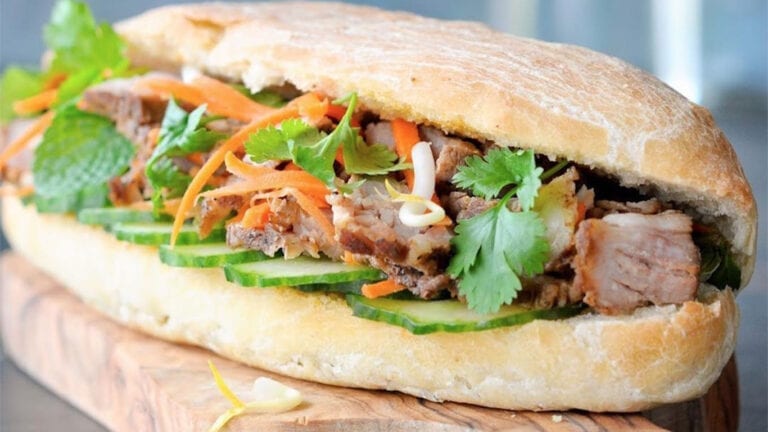 Culinary experts and international media recognized Banh Mi as the must-try dish when coming to Vietnam. The Guardian of England ranked Banh Mi in second place in the top 10 most delicious and attractive street food in the world. This newspaper once wrote: "There is a little known secret that the best sandwich in the world is not in Rome (Italy), Copenhagen (Denmark) or New York City (USA), but on Vietnamese streets." David Farley, a BBC travel and food writer, praised Banh Mi as "the best sandwich in the world."
Banh Mi makes of flour, like the Baguette but smaller, with fillings inside. Typically, the fillings have grilled pork, Vietnamese sausage, pate, egg, herbs, and cucumbers.
Banh Mi is sold in almost every street in Vietnam. Thanks to its simplicity and convenience, Banh Mi has become a familiar breakfast for Vietnamese people.
3. Goi Cuon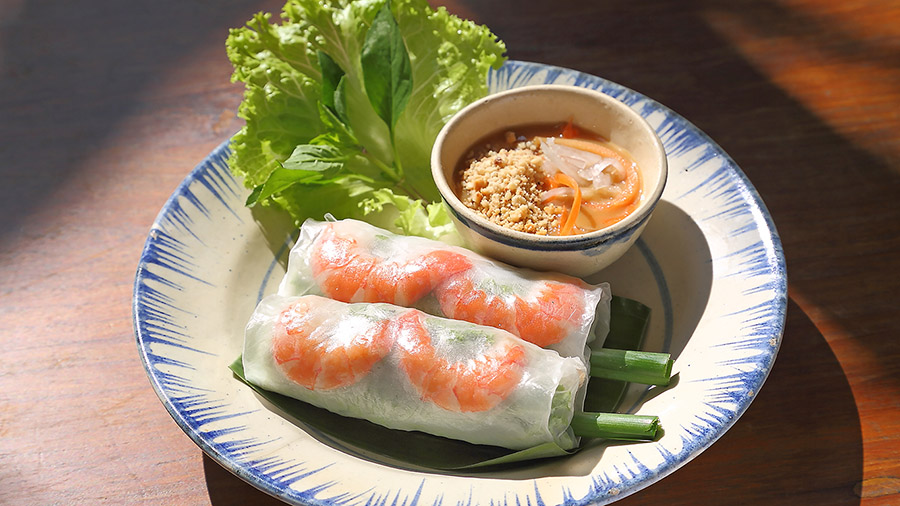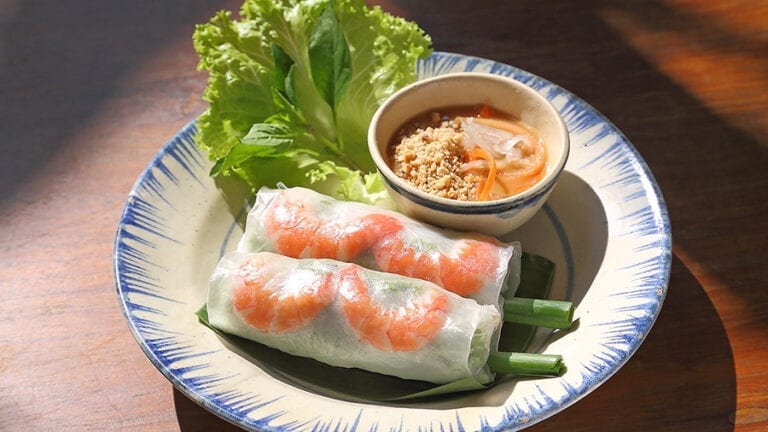 Goi Cuon is one of two Vietnamese dishes featured in CNN's list of the world's 50 best dishes in 2011. It is a favorite dish in Southern Vietnam.
Goi Cuon is usually made from boiled pork, boiled shrimp, fresh vermicelli, thinly sliced ​​cucumber, long-stemmed chives, split onions, pickled carrots, or chopped green mango, herbs, and lettuce. All the ingredients are then rolled with rice paper. Saigon people like to eat Goi Cuon with black sauce. The habit of using black sauce is the culinary touch between Vietnamese and Chinese.
4. Bun Bo Hue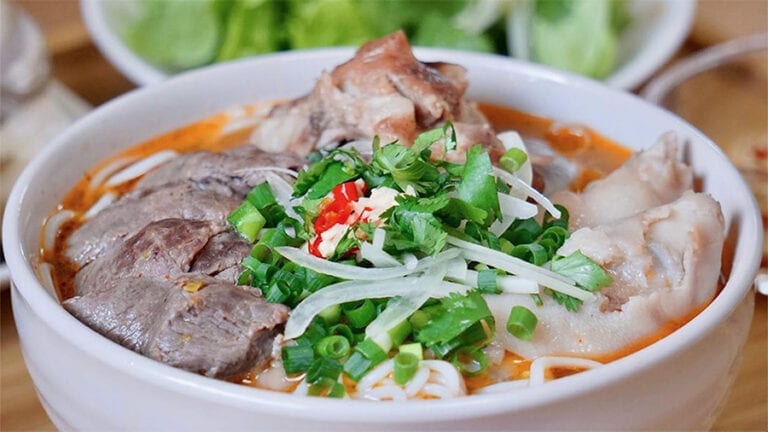 In an episode of "Anthony Bourdain: Parts Unknown" on CNN, the famous American chef said: "Hue beef noodle is the best soup in the world." The Asian Record Organization had also put Hue beef noodles into the top 100 delicious Asian dishes in 2016. This is a popular dish of Hue. Hue beef noodle ingredients include pork leg meat, a piece of boiled pork blood, beef ball, and lemongrass.
To have a good bowl of Hue beef noodles, choosing the ingredients is very important: Beef should be bright red, smooth, and yellow fat. The broth is stewed with beef bones for a naturally sweet taste.
Nowadays, you can enjoy a bowl of Bun Bo Hue anywhere, but a proper bowl must be enjoyed at a roadside restaurant near Trang Tien Bridge, Hue.
5. Mi Quang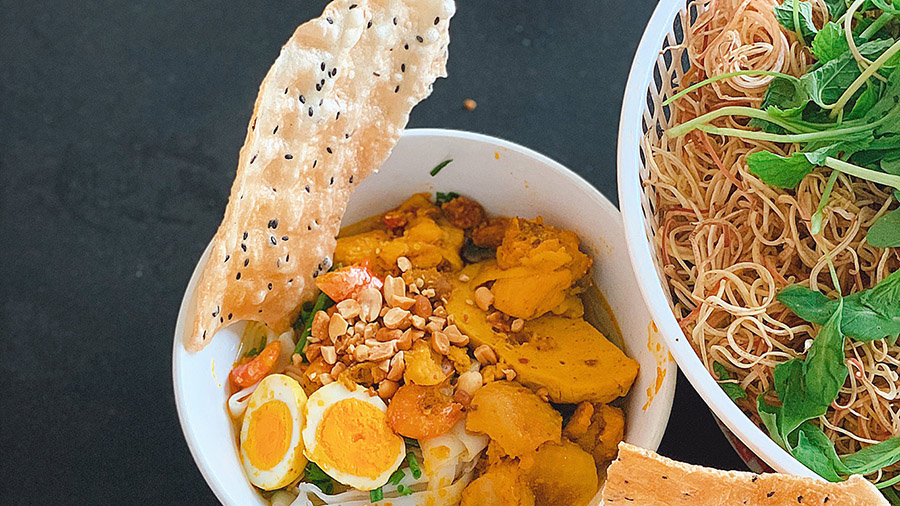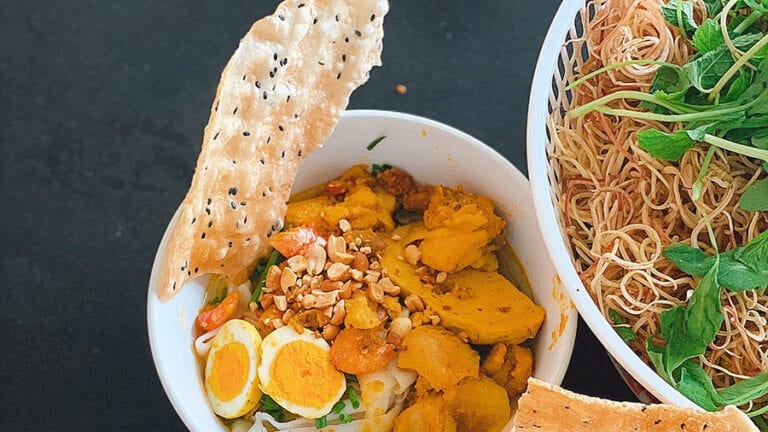 Mi Quang is a typical dish of Quang Nam, a province known for many famous tourist destinations such as Hoi An Ancient Town and My Son Sanctuary.
Mi Quang is a Vietnamese soup, which has all kinds of proteins that you could think of. For a "special" bowl of Mi Quang, there are noodles, sliced pork, shrimps, and quail eggs. Mi Quang is not complete without a handful of green herbs, crispy "Banh Da" – a type of rice paper that is thick, cracky, and added sesames.
6. Banh Xeo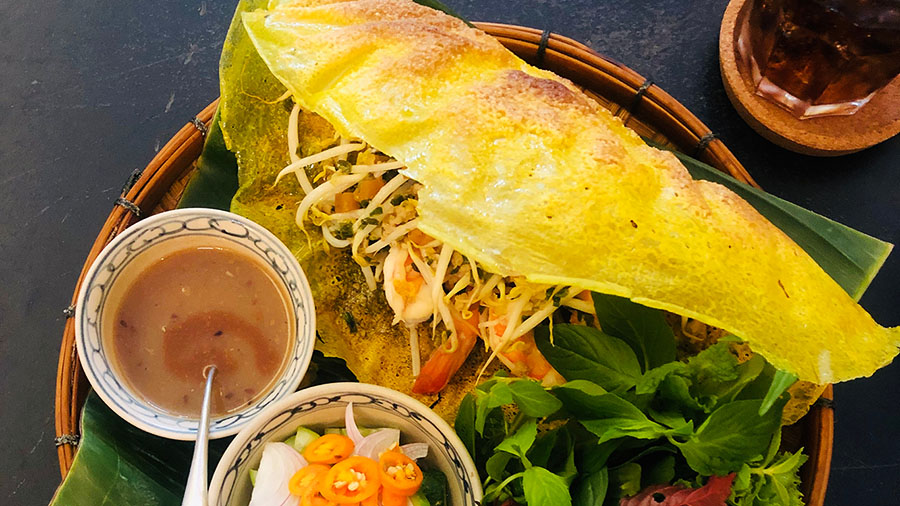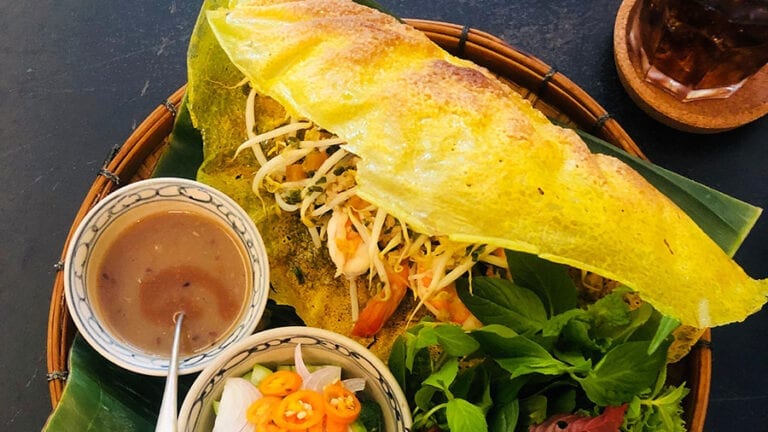 Banh Xeo (Vietnamese crepe) was one of the Vietnamese dishes participating in the 2016 Street Food Congress (WSFC), which was held in Manila, Philippines. According to CNN, this was one of the most popular street food in the world in 2016. There are two types of Banh Xeo, Banh Xeo of the Mekong Delta people (usually bigger and softer) and Banh Xeo of the Central Vietnam people (smaller and more brittle).
Due to the popularity it has gained among the foodies from all over the world, the fillings have been added to maximize the dining experience. Authentically, however, Banh Xeo is stuffed with pork belly, shrimp, bean sprouts, and mung beans. The "right" Banh Xeo batter is mixed with coconut milk, added garlic chives, and has to be fried in pork fat. Banh Xeo is no good as take-away food as what makes it really stand out is the dining vibes: the constant sizzling noise on the background, the scent of coconut milk, and turmeric powder as well as the vibrant talking of the eaters who gather to share not only food but stories.
7. Bun Cha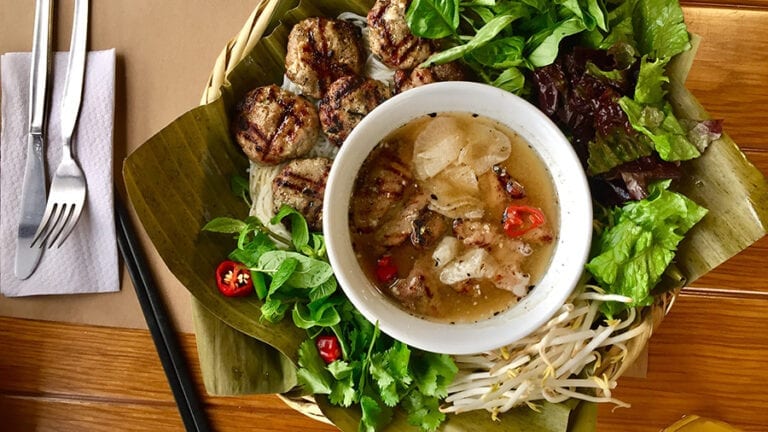 Bun Cha has been voted CNN's top 10 delicious summer food, National Geographic's top 10 best street food in the world, which was more famous after president Obama enjoyed this dish in Hanoi in 2016.
Bun Cha consists of three main parts: dipping sauce, grilled pork, and rice noodle. The success of Bun Cha is determined by the dipping sauce. Sauce to eat Bun Cha is a combination of fish sauce, vinegar, sugar, garlic, chili, green papaya, and carrots.
Bun Cha is a perfect combination of five flavors: bitter (from herbs and pickled papaya), spicy (from chili), sour (from lemon and vinegar), salty (from grilled pork), and sweet (from meatballs).
8. Hu Tieu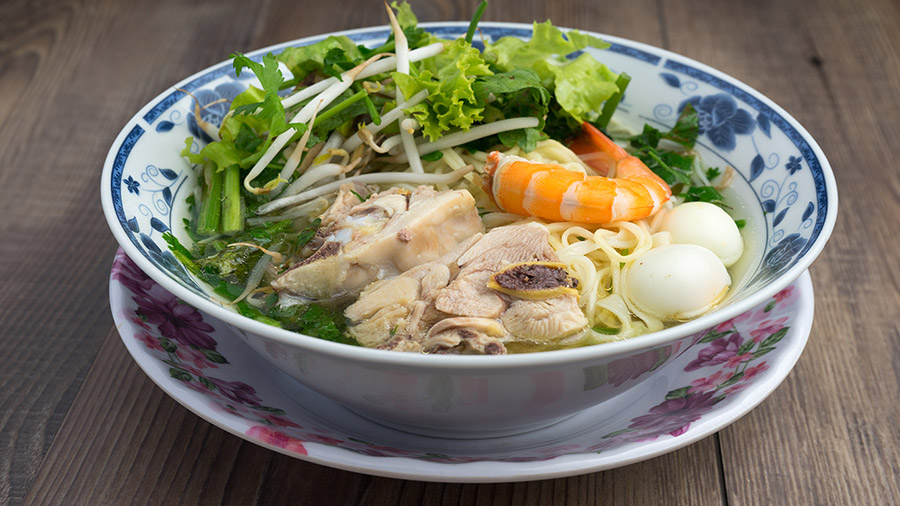 For thousands of years of wet rice cultivation, Vietnamese have processed rice into many different dishes, typically noodles, Pho, vermicelli, and Hu Tieu. Hu Tieu is a delicacy born from the essence of rice in one of the largest rice-growing regions in the world: the Mekong Delta.
When being ordered, the cook blanches noodles in a separate pot of boiling water before presenting them in the bowl with blanched bean sprouts, chopped scallions, sliced pork, shrimp, and quail eggs. It is often served with green vegetables and basil.
9. Cao Lau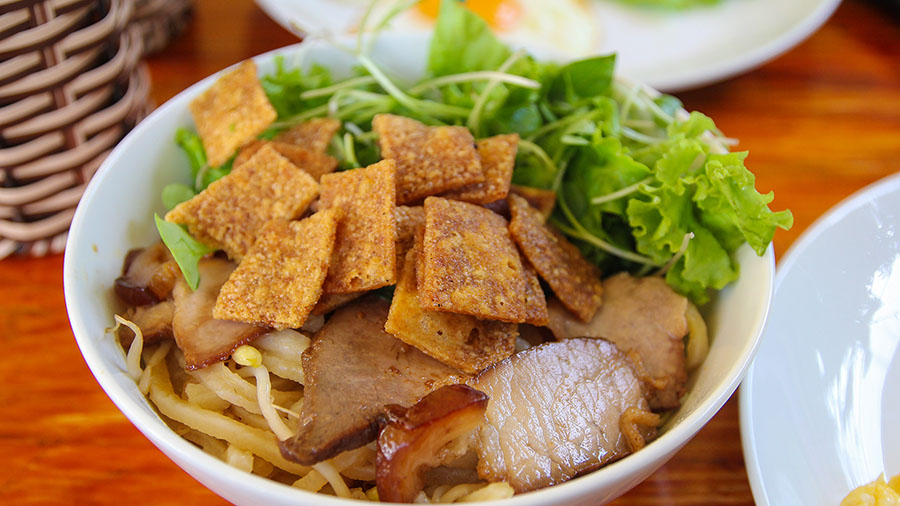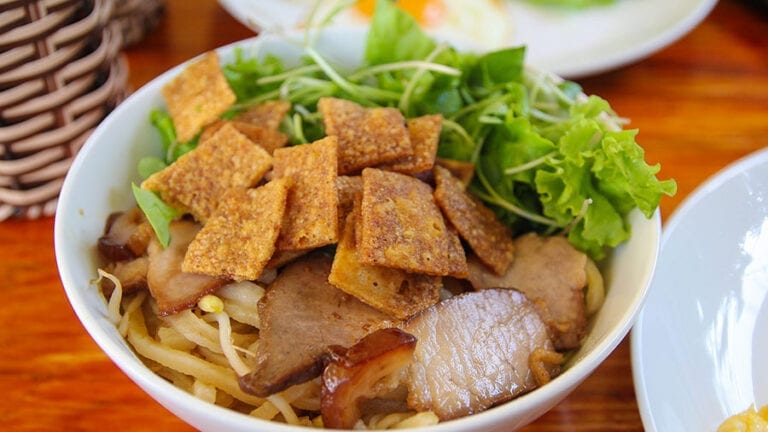 Cao Lau was voted the best street food in Asia by Australia Traveler News. This dish has been mentioned many times by CNN as one of the best dishes in Vietnam. Cao Lau is a specialty of Hoi An ancient town.
A special feature of Cao Lau is the yellow noodles, which make from rice soaked with ash – from trees in Cham Island, Hoi An. It does not need much broth, but instead, Cao Lau must have minced meat, soy sauce, and roasted pork skin.
Cao Lau is often sold in restaurants with two floors, which are hanging red and blue lanterns. Tourists have enjoyed the delicious taste of Cao Lau and the ancient tourist atmosphere of street corners.
10. Vietnamese Coffee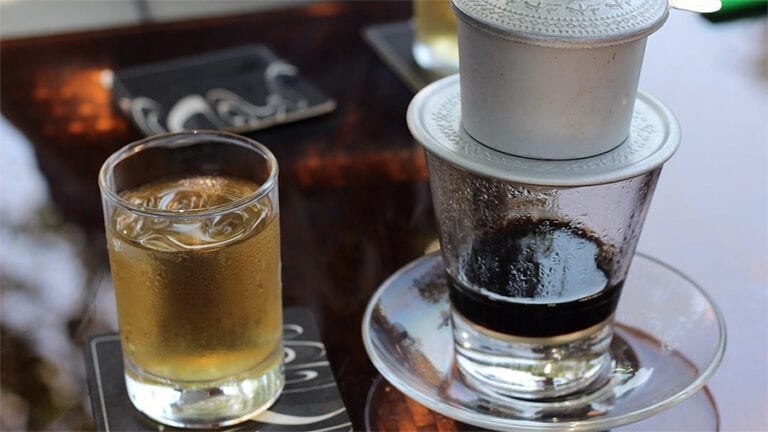 You may not know it, but Vietnam is the second biggest exporter of coffee in the world. And the coffee here is unlike any you've ever seen, Vietnamese often drink coffee with condensed milk, coconut, and sometimes with … eggs. Vietnamese coffee is usually Robusta, stronger than any other type of coffee; a cup can make you awake all day.
Vietnamese drink coffee anywhere and anytime, coffee is so popular that you can find coffee shops anywhere for about 15.000 VND (less than 1 dollar).
Tips and notes
1. Watch carefully when crossing the road: As you know, traffic in Vietnam is quite messy, especially in big cities, so always follow closely and obey traffic signals when crossing the road to ensure your safety. Don't be afraid as it would be a highlighted experience of your travel. You can always follow a local nearby to cross, we are sure they will happy to help.
2. Keep your phone and wallet carefully when visiting crowded attractions: Anyplace in the world has good and bad people, so remember to keep your personal belongings carefully, especially valuable items. If you visit crowded places, it is a good idea to wear your package on your front.
3. Motorbike Safety: If you are planning to rent a motorbike in Vietnam, you must have an international driving license and always wear a helmet when driving. Make sure to test the bike carefully to see if it fully functions before going on a long trip.
4. Step Out of Your Comfort Zone: Vietnam is a land with many interesting, strange and unexpected things, especially in cuisine, the street food looks gruesome such as "flipped duck eggs" (aka baluts) or "Bun Dau Mam Tom", but believe us, they are delicious! Even if it is not tasty for you, it is still a unique experience, isn't it?
5. Tip or not tip? In Vietnam, there is almost no "tip culture", in most cases, you don't need to tip; but at the following services, tips are often accepted: Spa, massage, nails, foot-massage, tour guide: 3 – 5 USD.
6. Saving the phone number of the embassy (or consulate) of your country in Vietnam. An additional copy of passport, travel insurance, and air tickets to provide in case of loss.
Vietnam itineraries
Here are some suggested Vietnam itineraries you can refer to. The itineraries include detailed information on maps, routes, and costs. Click on the images to learn more!
Vietnam travel guide book
We would like to recommend a great companion: the Vietnam Travel Guide. The book contains travel information from overview to detail, consists of 6 chapters, 135 pages, which is designed in the form of graphics and visual images.
What zone is Vietnam in?
Vietnam is GMT/UTC + 7h during Standard Time (GMT +7).
Is Vietnam worth a visit?
As a country that owns beautiful beaches, magnificent natural caves, delicious street food, fascinating history, and unique culture, Vietnam must be on the list of destinations to visit at least once in your lifetime.
What is the main language spoken in Vietnam?
Vietnamese's native language is known as Vietnamese or the Kinh dialect, which is widely spoken by the majority of the Vietnamese. The language is written in the form of Latin alphabets with the addition of five tones. It may be tricky to learn, however, considered as tourist-friendly compared to other character languages in the area.
Do people in Vietnam speak English?
English is the common language in Vietnam. Vietnam ranks 31st among 72 countries in the world and seventh among 19 Asian countries in English proficiency, according to the latest annual English Proficiency Index released by the Swiss Education First (EF).
Is Vietnam safe for tourists?
Do you know? Vietnam is one of the safest countries in the world. A country without war, without ethnic conflict, without guns, without violence, and without terror. According to a recent survey, 78% of Vietnamese people feel that their life is happy or very happy.
What can you buy in Vietnam for 1$?
1 USD is equivalent to about 23.300 VND, a nutritious breakfast such as Pho or Hu Tieu, 2 cups of coffee, 2 loaves of bread, 4 bus tickets in Ho Chi Minh City, 4 500ml bottles of mineral water,… even a dinner!
How many days do you need in Vietnam?
Two weeks is sufficient time to explore Vietnam's famous localities, but if you want to enjoy more fully, then four weeks would be ideal; 30 days is also the maximum stay for Vietnam E-Visa.
Is street food safe in Vietnam?
Street food is a Vietnamese specialty, mostly safe, but sometimes you can have a little stomach ache with strange foods. But it's okay, you are traveling, right?
Should you tip at a restaurant in Vietnam?
To be honest, in Vietnam, we don't have (or very little) "tip culture". So if you eat in small or medium eateries, you don't need to worry about it, just pay the right amount on the menu. Of course, you can tip a small amount if you wish to (we're sure the server would be happy too) but note that it is not necessary.
Thank you for reading the Vietnam travel guide!
#MeetinVietnam