Vietnam has been long known as one of the go-to destinations with a coastline of 3,260 km, honey-combed long stretching sandlines, and a wide range of food and activity choices. From North to South, it is filled with sun-kissed beaches remarked by their own signatures, which is a quintessential part of what makes this country such a tropical paradise. Here are the top 10 best beaches in Vietnam nominated in 2022.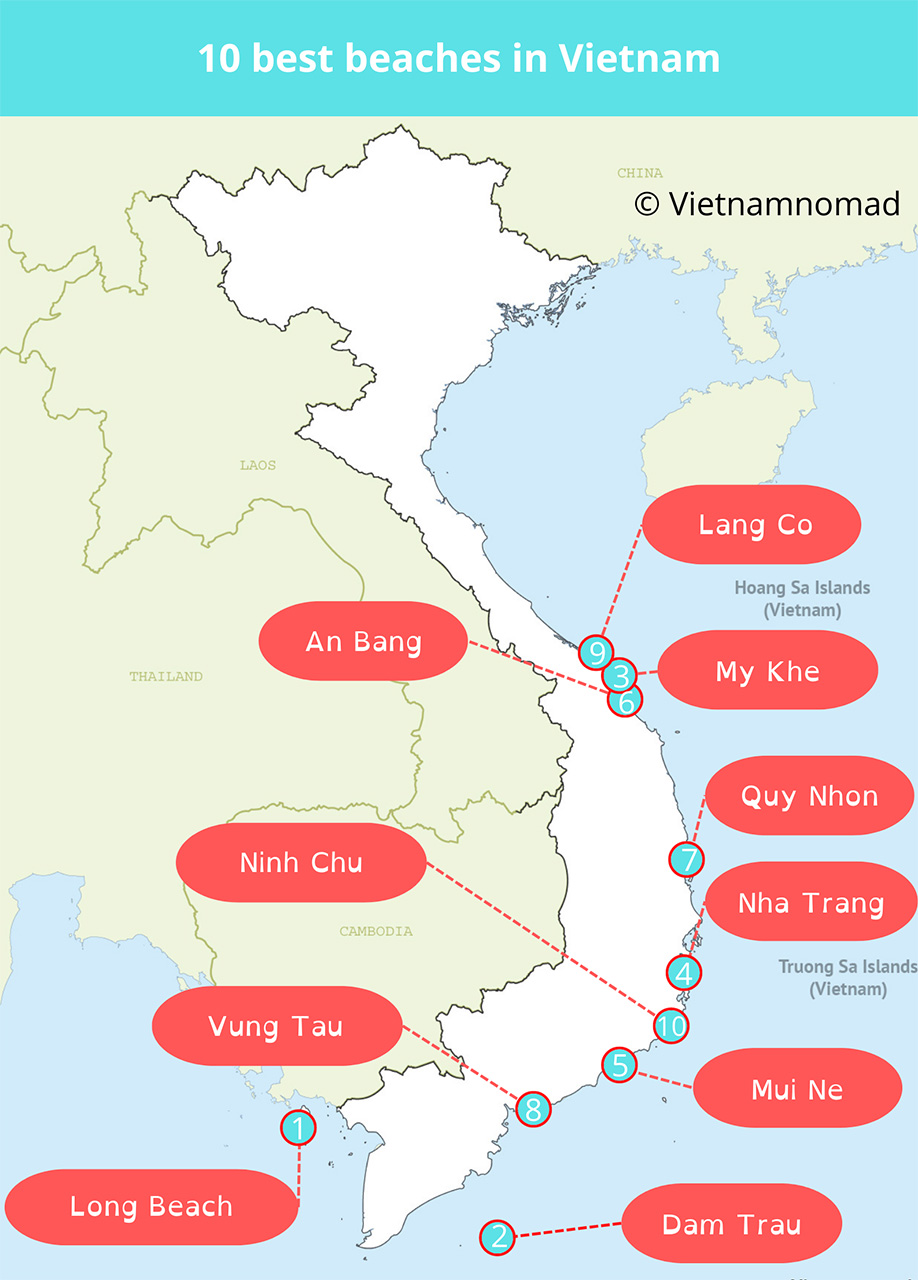 1. Long Beach, Phu Quoc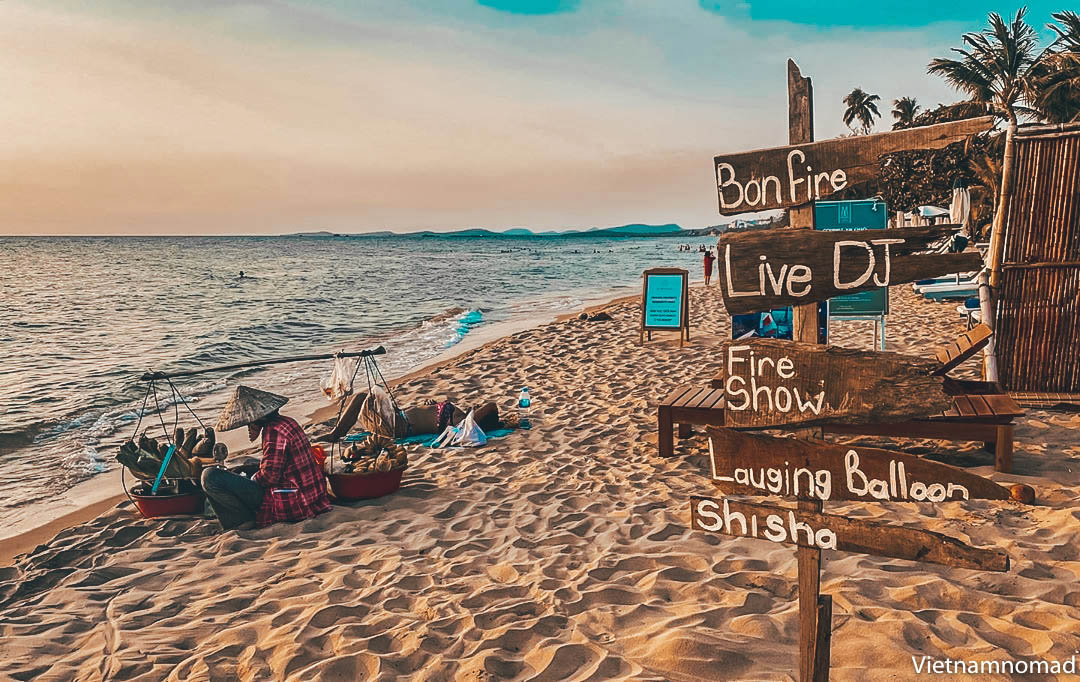 Phu Quoc is the largest island in Vietnam, which is only a short plane ride away from Ho Chi Minh City making it a perfect getaway. There are many beautiful beaches in Phu Quoc, such as Star Beach, Khem Beach, and Ong Lam Beach, but Long Beach is always the first choice. Long Beach is also honored to be number one on the list of the most pristine beaches in the world, voted by ABC News in 2008.
Of all the stunning beaches, Long Beach stands out to be the most-worth visiting for its warm pristine water and densely forested surroundings. Some parts of it are owned by private resorts and decorated with a very instagramable theme, therefore, perfect for photography. The rest of it, however, is relatively quiet and great spots to have for yourself and enjoy the sunset.
It is ideal to visit during the high season (November to April) for the best weather and a full option of activities.
2. Dam Trau, Con Dao Islands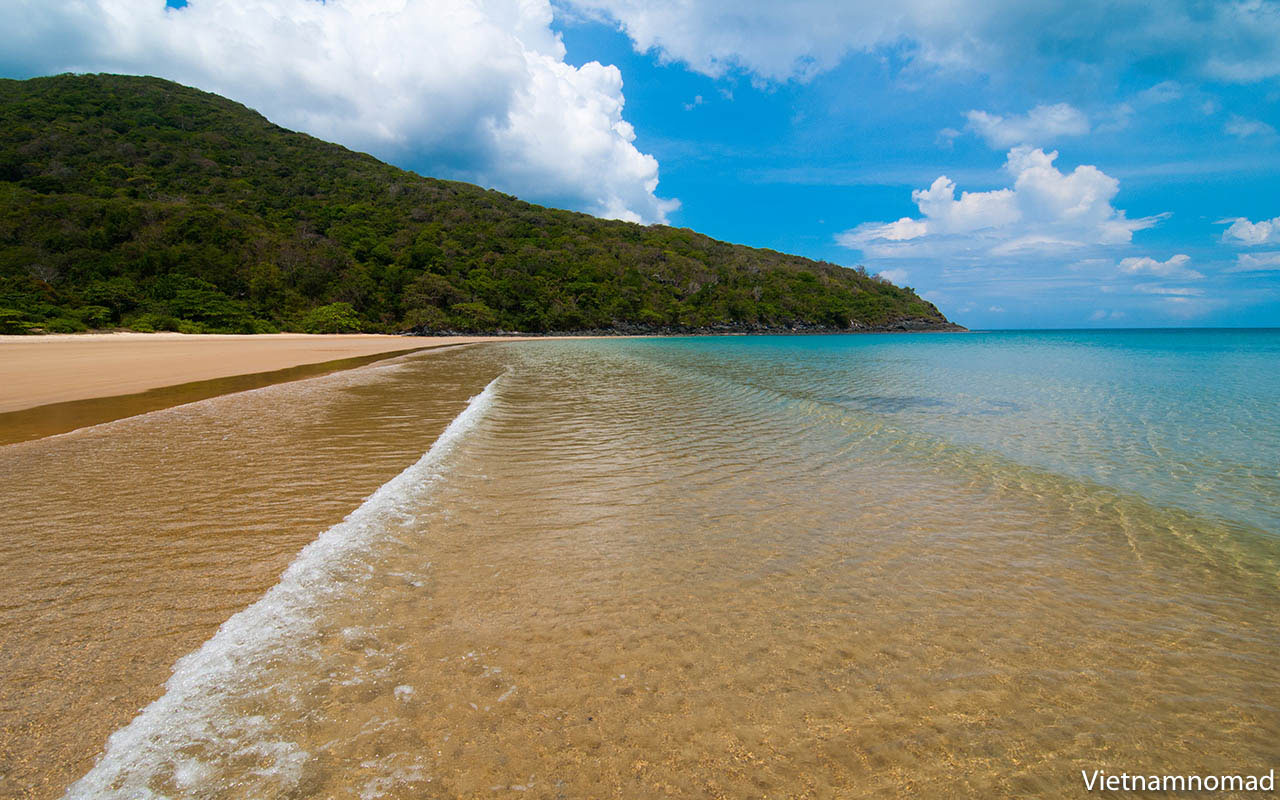 Con Dao itself is backed with natural resources and historical background. The island is still going through its developing phase and not hugely known among travellers, which makes it a true hidden gem. It can be reached by either plane or express boat and is best to be explored now as it still remains the original beauty yet quite adequately equipped.
Dam Trau is situated not far from the airport and synonymous with its fine-grain orange sand beach and mild waves. What makes Dam Trau special is the green wall of hundreds-year-old trees that offers generous shade for you to chill out and read your favorite book while listening to the sea washing against the sand. The highlighted activities here are to be blown away by the colorful coral reefs and experience the life of fishermen and join them for a fishing trip. You can also rent a tent and camp overnight by the sea, then wake up to the most spectacular sunrise you will have ever seen.
A revelation for you is that Dam Trau is one of the cleanest beaches in Vietnam. Islanders attach great importance to protecting the environment, and the government always takes measures to protect the beaches here.
3. My Khe, Da Nang
Nominated as one of the most beautiful beaches on the planet by Forbes, My Khe Beach is well-known for its white sand and warm water all year round. With the coast longer than 20 miles, the shallow coast allows people to enjoyably swim in while taking in the magnificent view of the Marble Mountains.
Located in the center of Da Nang, a metropolis, this city beach possesses totally different landscapes: paved roads lined with restaurants and bars; however, My Khe surprisingly retains its calm and peaceful vibes. The advantage of this is that you can jump right away into the sea after your hard time partying. And if you are up to some wild experience, this beach apparently has been spotted with skinny-dipping properly since you are tipsy enough to do so and others are also tipsy enough to not pay attention.
My Khe is a good example of natural beauty and modern settings blended to create a subtle landscape, which deserves to be among the 10 most beautiful beaches in Vietnam!
4. Nha Trang, Khanh Hoa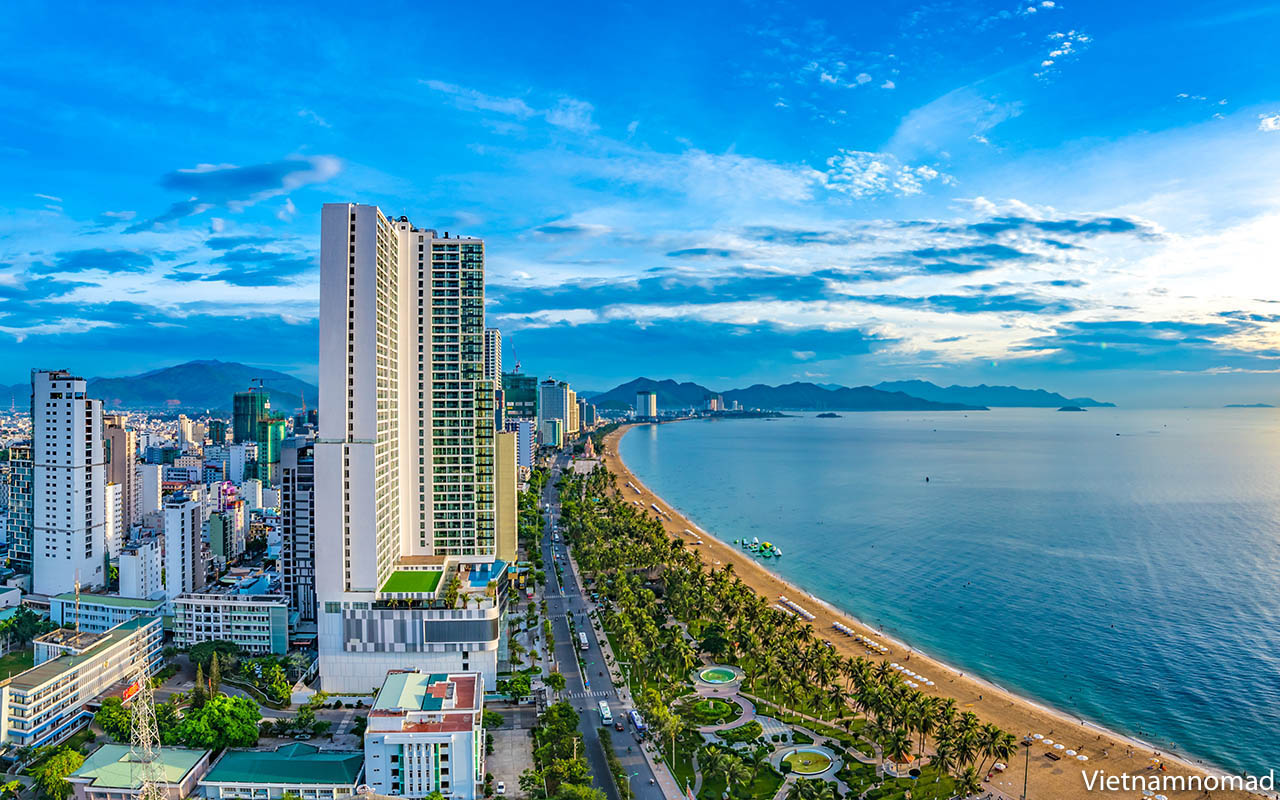 Nha Trang is a huge tourist destination for both Vietnamese and foreigners and it surely has reasons for its popularity. Situated on the main route of the North-South highway, and therefore it is easily approached by all means of transportation. Although the beach is always packed with tourists, luckily it has more than just that to offer: walking on the streets along the coastline to enjoy the ocean breeze; trying out some of the unique local delicacies sold by "mobile vendor ladies" under the coconut trees; and exploring all the bars and lounges overlooking the crystal water of Nha Trang Bay will make it up for the busy and noisy impression it brings.
One must-do when you are in Nha Trang is to sign up for a diving course since it is known as the best place to do so (and also the cheapest one), then get ready to set out for an island-hopping adventure on a boat and dive down to the majestic coral gardens and swim-through tunnels. No matter how experienced you are with diving, Nha Trang will still give you chills with its abundant underwater world. Even if you are not willing to take such an extreme watersport, it can be pleasantly explored by equipped snorkeling which still guarantees your best experience.
You can change your perspective by looking at the sea from above on the world's longest cable car ride over the sea (Vinpearl Cable Car), which offers a 360-degree view oversea.
After all the adventure, sitting back on a lounge chair and sipping on a good beer or cocktail seems to be the best way to end a day on one of the best Vietnam beaches!
5. Mui Ne, Binh Thuan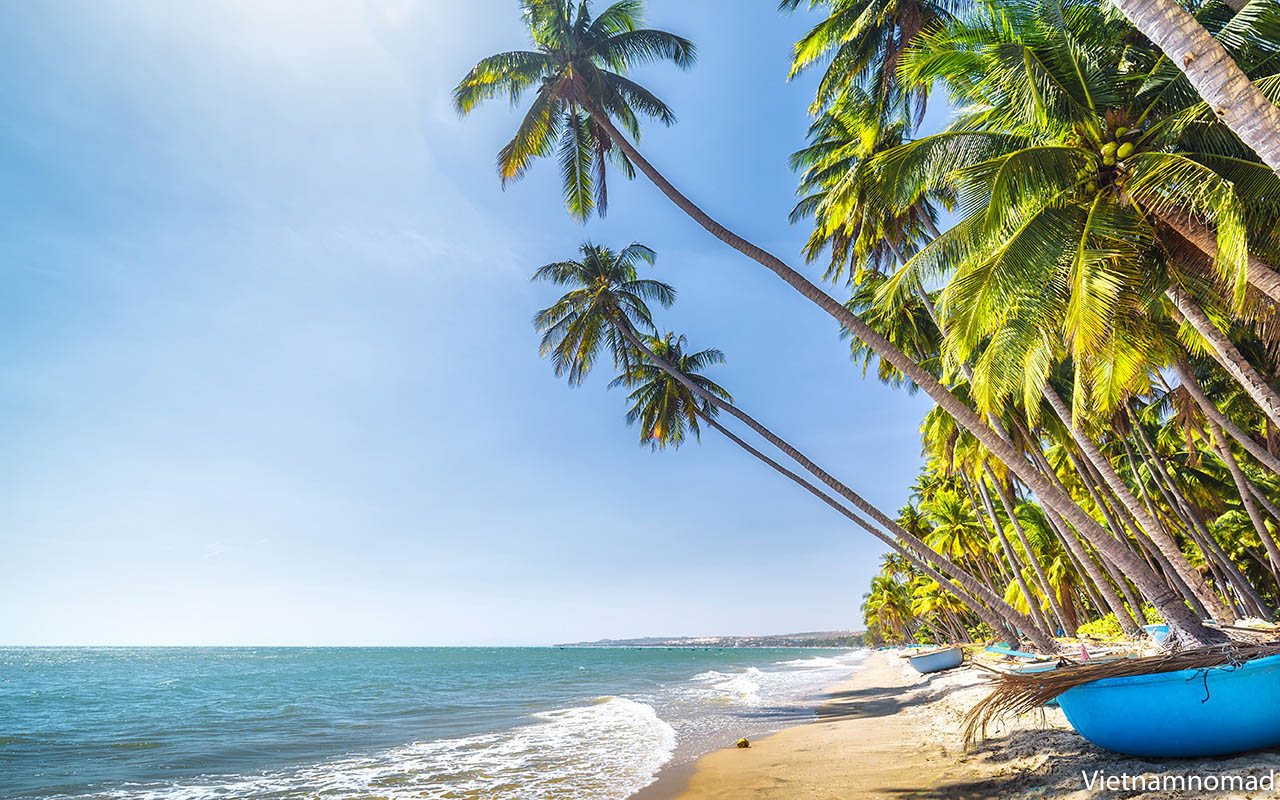 Mui Ne is a part of Binh Thuan, a microclimate city that is 180 km away from Ho Chi Minh City and is an unmissable destination in the South. The privilege of this weather pattern is that even in the rainy season of the South, it hardly has any rain, which makes it a paradise for summer holidays. Mui Ne is unlike any beaches you could find in Vietnam or even in SouthEast Asia. It runs along a newly-built highway with white and red sand dunes on the other side of the road. This is also one of the best road trip routes recommended as you get the alien landscapes of the deserted sand dunes while feeling the ocean breeze through your hair while speeding up on a rusty motorbike, and from a distance, the emergence of fishing boats contentedly filled your eyes. 
Mui Ne is not only good for motorbike trips but also the best place across the country for water sports. November to April is the windy season making it perfect for kitesurfing and windsurfing. Other activities such as parasailing, kayaking, and motorboating can also be spotted. Make sure you eat at one of the food stalls set on the beach for an unforgettable dining experience.
Talking of Hoi An, the popularity of the ancient town seems to surpass the beauty of An Bang Beach that it is easy to be ignored. It is not much heard of before as tourists paid more attention to Cua Dai Beach; however, in recent years, Cua Dai has been strongly eroded, so An Bang has become more and more popular. But this beach thrives not as a substitution but for what it has to offer. The best time to visit An Bang is right before sunset when it slowly gets back to its secluded state. If you are patient and keen on going off the beaten track, you can find some excellently quiet spots for yourself and enjoy the true nature of this beautiful beach.
An Bang Beach meets all the needs of a great beach in Vietnam: a long beach, not crowded, located next to the most beautiful ancient town in Vietnam.
7. Quy Nhon, Binh Dinh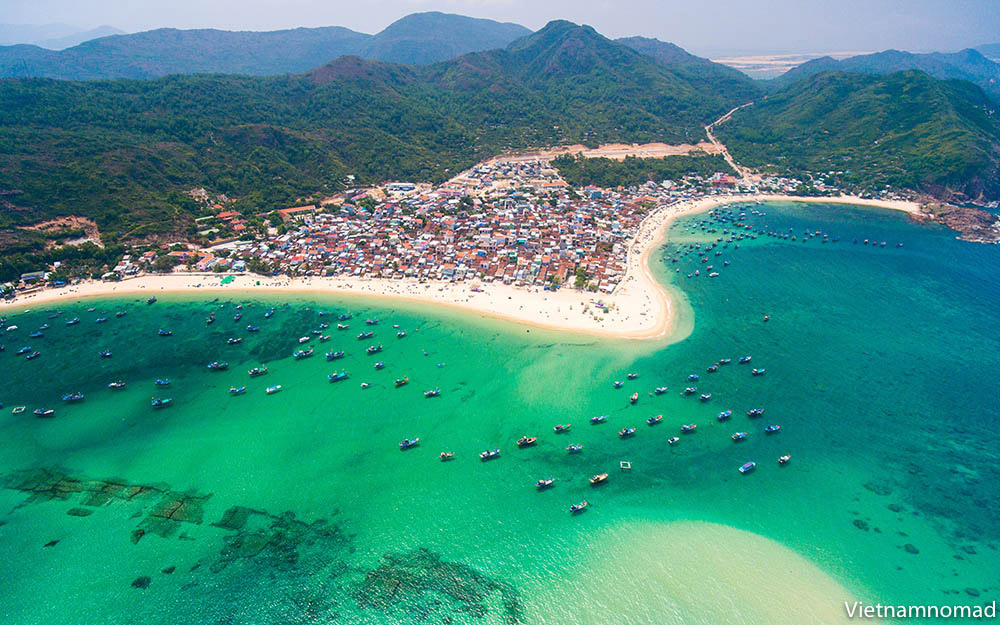 Quy Nhon is a rising star on the travel map as a coastal city in Central Vietnam. To picture, it is situated right in the middle between Da Nang and Nha Trang. Once the capital of the mighty Kingdom of Champa, their stone-carved lions and red-bricked pointed-hat temples guard the soul of this little tropical town.
The whole coastline is gorgeous of itself. For now, the region remains relatively unspoiled by mass tourism. The weather in Quy Nhon is particularly pleasant with a sunny sky and breezy air most of the time, which is just ideal for any beach holiday.
The two major beaches in Quy Nhon known are Ky Co and Eo Gio, which the latter is translated into English meaning "windy hollow". The magnificent cliffs and coves in the shape of a dinosaur backbone reaching out to the vast sea will blow your mind. Right next to this stunning beach lies also a beautiful Buddhist temple that you can check out on the way or find yourself a shade to hide from the heat. The only downside of Ky Co is that it is run by a private company so you will be charged a small entrance fee of 25,000 VND (around 1 USD) and there is also a certain time to visit: from 6 am to 6 pm every day.
Meanwhile, Ky Co is more out of this world. This beach used to be so remote and isolated that the only way to get there was by speed boat. However, a new paved-road was built recently making it easier to access. Yet, it still requires certain motorbike skills to conquer this sinuous path, but you will definitely find it fascinating to go downhill and the sea gradually emerges in front of you, waving its mesmerizing aquamarine water.
Quy Nhon Beach is unlike anywhere else and it will not disappoint you in any way.
8. Vung Tau, Ba Ria Vung Tau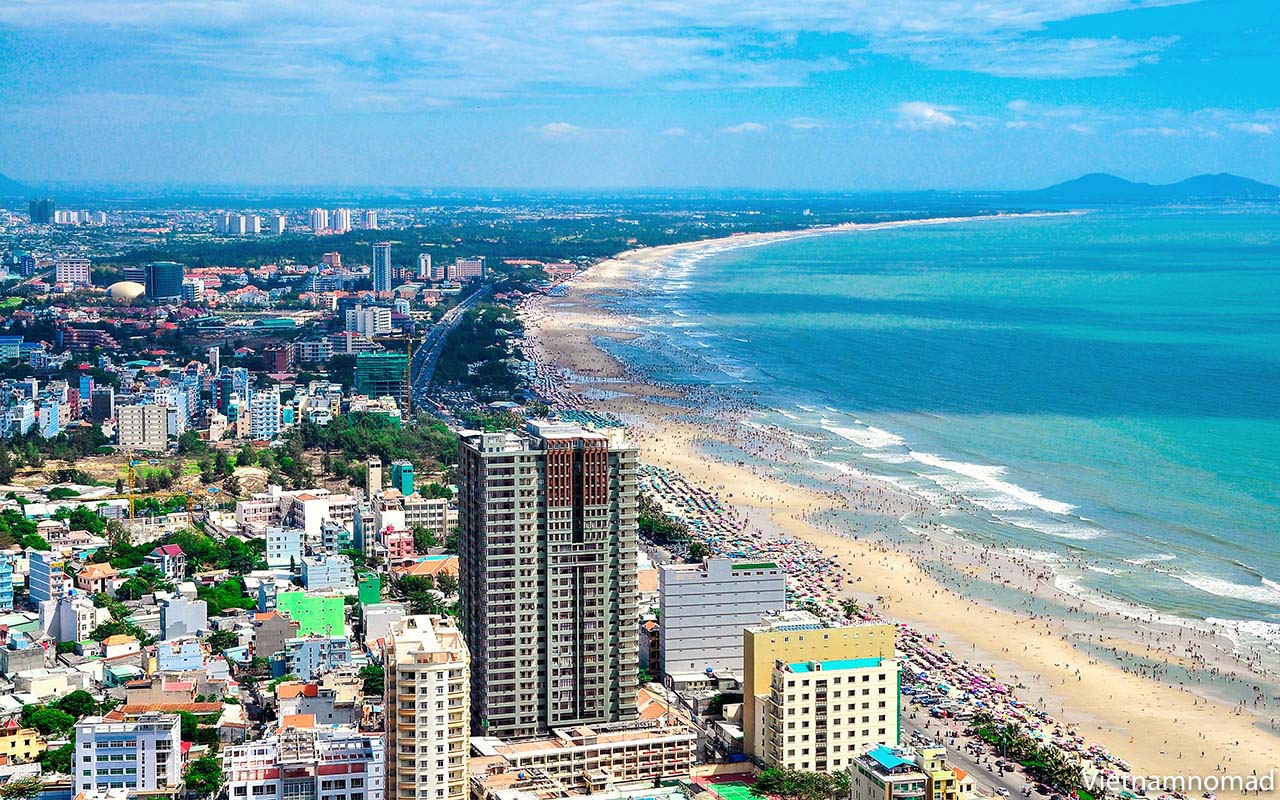 Vung Tau is properly one of the most popped-up destinations among the locals whenever we need a getaway. Only less than 100 km further south of Ho Chi Minh City, there are various options of transportation to get here. You can choose from shuttle bus (ranging from middle-class to luxurious limousine), express boat, and of course, motorbike.
Unlike the ambient turquoise sea water often seen, Vung Tau has a dark color of silt, which makes it a distinguishable feature. There was a time the seashore was packed with rubbish thrown by tourists that gave this beautiful coastal city a black eye. However, the recent years have witnessed a huge transition of the overall setting due to the local authority's implementation of law about keeping the beach clean.
This is a lovable destination not only because it is a great escape from the hectic and humid Saigon, but also for the savory cuisine, many great little bars, and plenty of cheap accommodation options.
9. Lang Co, Thua Thien Hue
Lang Co Beach was designated as one of the most beautiful beach bays in the world by Worldbays. It is a part of a large natural set including mountains, a lagoon, and a long-stretching beach that creates picturesque scenery. Surrounded by the vast greenery of tropical forest, Lang Co lies harmoniously at the base of the breathtaking Hai Van Pass and in the middle of the three famous World Heritage Sites, which are the Complex of Hue Monuments, My Son Sanctuary, and Hoi An Ancient Town. The water is so pristine that you can see all the baby fish and little marine creatures swimming by. Surprisingly, it remains fairly quiet with very few developments.
Lang Co is renowned as the favorite retreat of the former royal families, which could explain the abundant assembling of luxurious hotels and resorts further out from the beach itself.
The best time to visit Lang Co beach is between April and August when the waves are mild and warm.
10. Ninh Chu, Ninh Thuan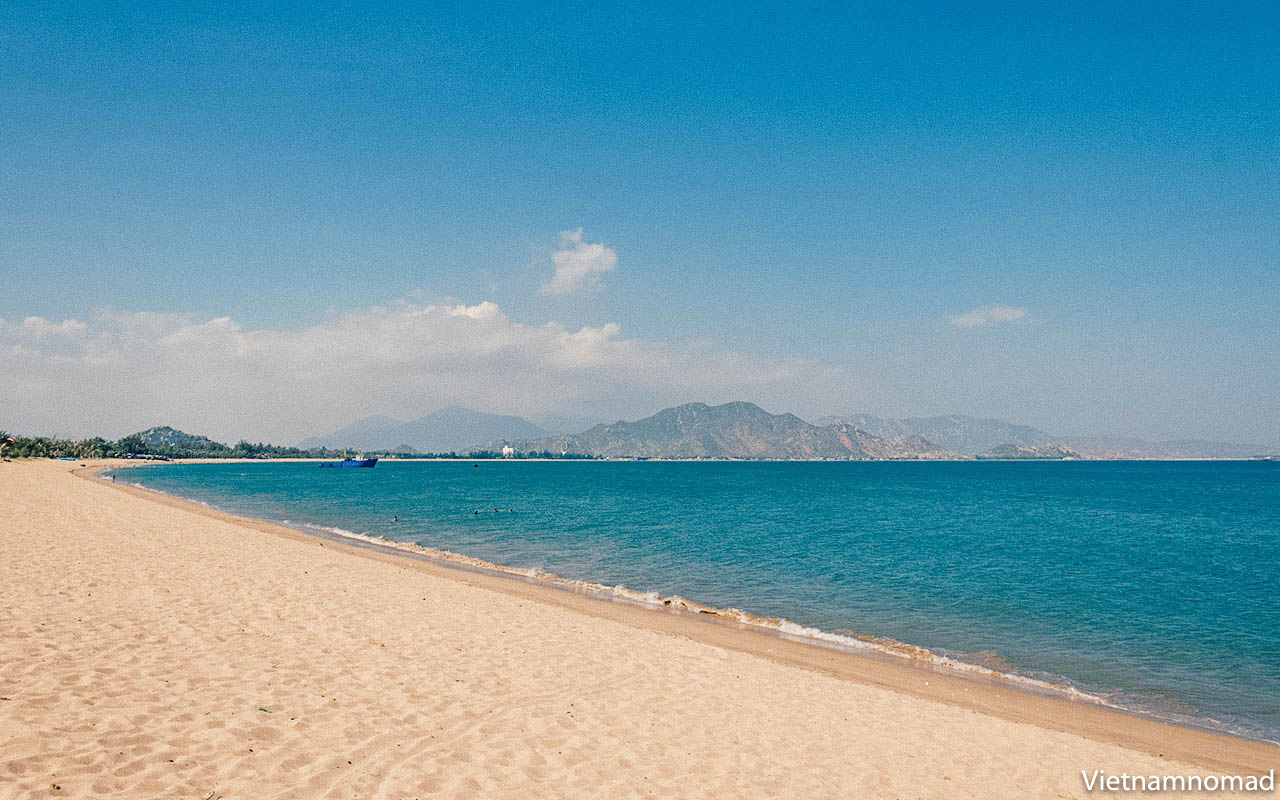 Ninh Chu Beach is rather understated compared with its natural potential. Located in the tropical monsoon climate pattern, Ninh Chu Beach is at its most comfortable from January to September, when the storms have not hit. What tells Ninh Chu Beach from the others is its dream-like beauty. There is not much interference of buildings constructions in the area, which retains its original landscape. 
The must-visit when you are in this beach town is definitely Vinh Hy Bay. The first thing is the drive to the bay is absolutely gorgeous: golden sun and white puffy clouds in the transparent sky. There are also many things to do on the way such as Champa ruins and grapes gardens. The water in Vinh Hy is just unbelievably crystal clear and at a very right level of saltiness which makes it ideal for swimming and snorkeling. 
You can hang out by the beach and wait for the fishing boats to return from their trips to get your hand on the freshest seafood of the day; rent a stove and make a campfire to cook your own food. That would be the highlight of your trip at this impressive beach bay. 
Ninh Chu is definitely an indispensable name when it comes to the best beaches in Vietnam.
Above are the 10 best beaches in Vietnam in 2022 nominated by Vietnamnomad. The ideal time to visit the beaches in Vietnam is from October to February when the country is in the dry season.
Before the end of this article, we want to hear from you! If you've ever been to the Vietnamese beaches, please help us vote "what's your favorite beach in Vietnam?", your share will be a great reference for those planning to come to Vietnam.