Dalat at a glance
Dalat (or Da Lat) is the capital city of Lam Dong Province. With an altitude of 1.500 meters above sea level, Dalat has a year-round cool climate, which is about 300km from Ho Chi Minh City and 130km from Nha Trang.
Dalat is known as the Spring or the Flower City of Vietnam. The temperate climate, rich in resources, and humanity give the city opportunities to attract millions of visitors annually. Dalat tourism has developed significantly in recent years. Being named Little Paris, Dalat has dreamy and poetic beauty, especially at night because of the cold plateau. In the early morning, the mountains and forests here are covered in mist, creating a picturesque scene.
Moreover, Dalat used to be the colony of French colonialists in the first half of the 20th century. Therefore, there are some unique colonial architectures that can still be preserved today such as markets, villas, mansions, and churches.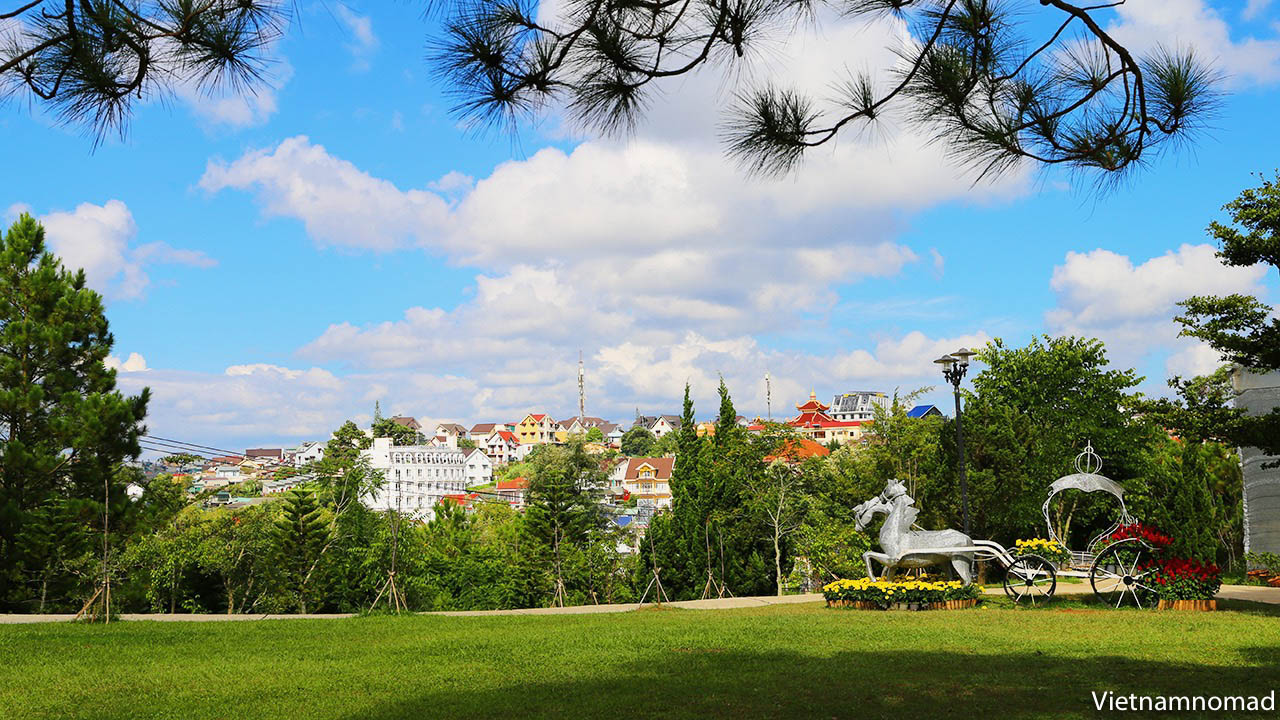 Dalat weather
Dalat is one of the places you can visit at any time. Located on the plateau, Dalat's climate always maintains at 20 °C, cool all year round. The city has two main seasons: rainy and sunny season. Each season, Dalat has its own beauty.
Winter – Spring 
The best time to visit Dalat is at the end of autumn, early winter and last through the spring, when the climate is mild, less rain. From the end of October, the weather in Dalat starts to get cold, preparing for the upcoming winter. This is also the time when Dalat is dressed in a colorful coat of all kinds of bright flowers such as white brassica napus flowers (October – December), pink grass flowers (November – December), wild sunflowers (November – January).
In the spring, around January – March, the roads of Dalat are dyed with romantic pink color thanks to the rows of cherry blossom trees on two sides of the road. Later on, from February to April, this is the time of purple phoenix flowers, dandelion, and lavender.
Summer
The summer in Dalat lasts from May to October. In early summer, around April and May, the sunflower season blooms on the flower fields of Dalat.
Summer is also the rainy season in this city, especially from July to September with constant drizzle. For those who love the romantic and poetic taste, then sipping a cup of coffee and watching the city as being drenched in dew will absolutely come to the city at this time.
In case you are wondering about the time length to stay in Dalat, traveling to the "Little Paris" for 3 days and 2 nights is the most suitable. With this amount of time, you absolutely can enjoy the typical romantic beauty as well as the most famous places of this land.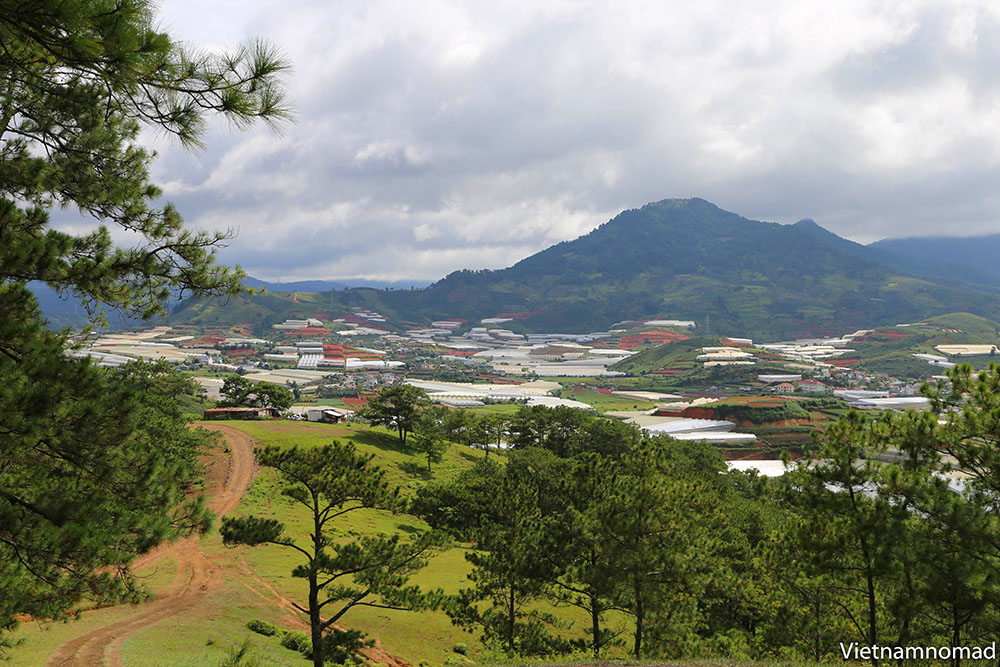 How to get to Dalat?
There are two most common ways to go to Dalat: by plane and by bus.
Flight
Dalat has both domestic and international flights. The domestic flights are Ho Chi Minh City, Hanoi, Da Nang, Vinh, Hue, and Hai Phong, the International flights are Bangkok (Thailand) and Wuhan (China). The domestic price ranges from 500.000 VND to 2.000.000 VND/way.
Lien Khuong Airport (Dalat) is 30 km from the city center, and there are two ways to get Dalat:
Taxi: 250.000 – 300.000 VND/way.
Airport bus: 40.000 – 50.000 VND/way, stop at the Dalat Market.
Bus
If traveling from Ho Chi Minh City, the most popular option to travel to Dalat is a bus. The price ranges from 150.000 – 350.000 VND, which takes about 6 – 9 hours to move.
The bus company to Dalat that we would like to introduce in the Dalat travel guide:
From Ho Chi Minh City:
Buy tickets directly on the website (click here)
Call center: 1900 6067
Ticket price: 220.000 VND/person/way
Buy tickets directly at 266 – 268 Le Hong Phong, District 10, HCMC
Call center: 1900 6079 – 1900 1905
Ticket price: 250.000 VND/person/way
From Can Tho (Phuong Trang and Thanh Buoi):
Starting from the bus station: Hung Vuong, Ninh Kieu, 91B Can Tho
Ticket price: 300.000 – 330.000 VND/person/way
From Da Nang:
Thanh Thuy: 108 Nguyen Tri Phuong, Chinh Gian Ward, Thanh Khe, Da Nang
Call center: 05113 82315
Ticket price: 230.000 – 250.000 VND/person/way
Departure time: 1:00 pm daily
Getting around Dalat
During your time in Dalat, because of the high travel demand, it is useful to refer to the types of vehicles below.
Motorcycle
In every travel guide in Dalat, the best advice is to rent a motorbike. Rent range from 80.000 to 150.000 VND/day. Tourists can rent directly at hotels in Dalat or cheap rental addresses concentrated on Bui Thi Xuan, Nam Ky Khoi Nghia, and Phan Nhu Thach streets.
Taxi
Going by taxi is the choice for families with children or the elderly, mainly going to enjoying cuisine and visiting the inner city. If you want to go to remote tourist destinations, you can choose to rent a car with a package for about 700.000 – 1.000.000 VND/day, the driver will be like a free guide for visitors.
Phone numbers of some popular Dalat taxi companies are:
Mai Linh: 0263 38 38 38 38.
Victory: 0263 3 83 55 83.
Dalat Taxi: 0263 3 55 66 55.
Bike
Fresh air, beautiful scenery is an ideal condition for you to bike around to explore the city. The average bicycle rental fee is 20.000 – 30.000 VND/hour. There are two types of regular bicycle and double bike.
For travelers who want to explore the city in new ways, there are two other options:
Horse-drawn carriage: Divided into 2 types of tours: 4-5 people (VND 300.000 VND/vehicle) for one round of Ho Xuan Huong, and a package tour of VND 650.000 VND/person/day, travel to many places.
Electric cars: exploited by Mai Linh Da Lat to serve tourists visiting around the Xuan Huong Lake area. An electric vehicle can carry a maximum of 6 guests.
Tourist attractions near the center of Dalat
The famous tourist destinations of Da Lat are mostly concentrated in the downtown area. These are all familiar places but still very attractive with their own beauty.
Considered as a symbol of the city, Xuan Huong Lake has a clear water surface and is surrounded by trees and green lawns. Xuan Huong Lake is also home to famous tourist destinations such as Lam Vien Square, City Garden, Yersin Park.
Activities: duck boat riding, cycling around the lake, check-in at the Y-bridge.
Address: Ward 1, Dalat (surrounded by Tran Quoc Toan and Nguyen Thai Hoc streets)
Address: Next to Xuan Huong lake, near BigC Dalat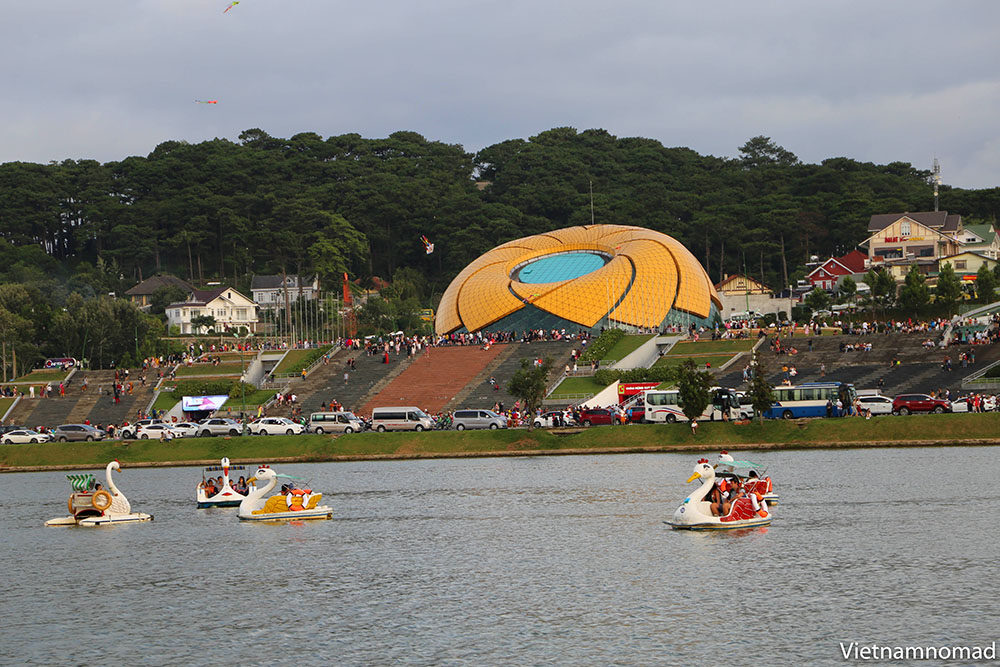 Still retaining the Roman architecture of the French period, Dalat Cathedral is called with the lovely name Chicken Church because of the large chicken image on top of the bell tower.
Address: 15 Tran Phu, Ward 3, Dalat
Domaine de Marie Church (Lanh Dia Duc Ba)
Although Domaine de Marie church was built in French times, it has the typical architecture of the communal houses in the Central Highlands. Located on Mai Anh Hill, between the forest of cherry blossoms and narcissus, the church has an outstanding pink tone.
Address: 01 Ngo Quyen, Ward 6, Dalat
Opening hours: From 4:30 am to 9 pm
Dalat is a resort land, so it is not surprising that there are three villas built by King Bao Dai as a place to work and relax. All three Bao Dai palaces (also known as Dinh I, Dinh II, and Dinh III) carry European architecture and the interior still retains the traditional Hue court.
Dinh I: 01 Tran Quang Dieu, Ward 10, Dalat – Ticket price: 30.000 VND/sightseeing ticket, 150.000 VND/package ticket with 7 costume and entertainment services at Dinh I.
Dinh II: 12 Tran Hung Dao, Ward 10, Dalat. Palace II is less touristy than the others.
Dinh III: 01 Trieu Viet Vuong, Ward 4, Dalat – Ticket price: VND 25.000/adult, children under 1m2 are free of charge.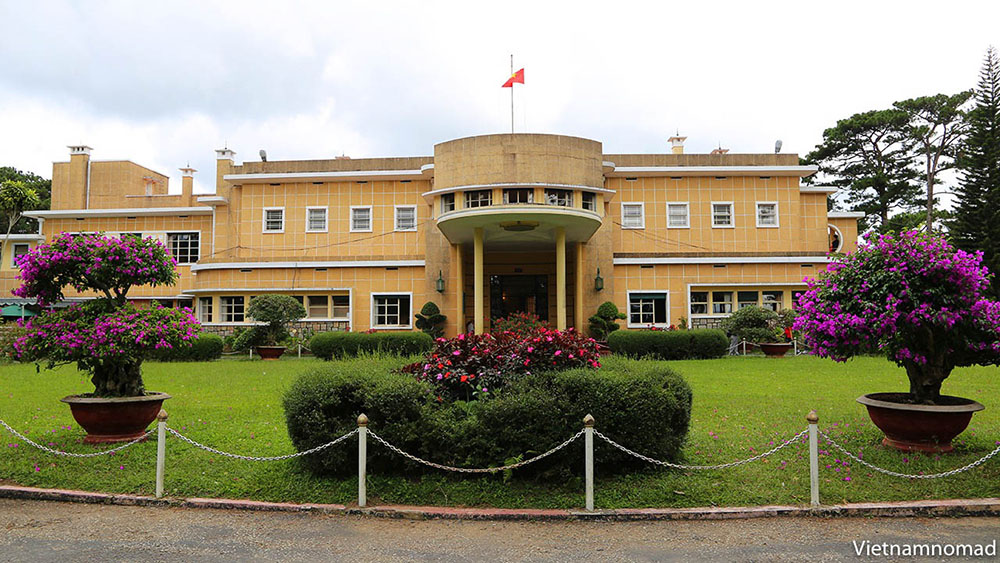 Existing for 90 years, the school was built by the French with a large bell tower and Western arc-shaped lecture halls.
Address: 29 Yersin, Ward 10, Dalat
Open time: From 11 am to 1 pm or after 4:30 pm on weekdays and weekends
A familiar gathering place for tourists every night, Dalat night market has several shops, specialty counters, fashion products made of wool, and lovely souvenirs.
Address: Nguyen Thi Minh Khai Street, Ward 1, Dalat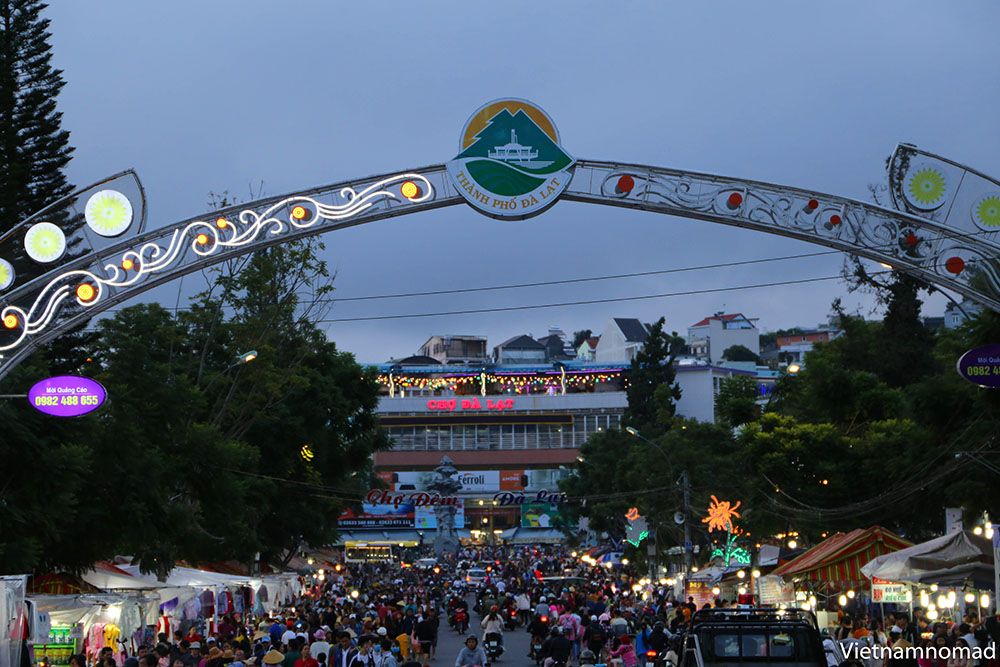 Featuring French architecture, Dalat Railway Station is one of the most attractive destinations in Dalat. There are still old steam cars and old tracks tinged with time. Currently, the train runs five trips, serving tourists from the city center to Trai Mat station.
Ticket price: 85.000 VND/round-trip ticket
Address: 1 Quang Trung, Ward 10, Dalat
Opening hours: 6 am to 5 pm
Entrance fee: 10.000 VND/person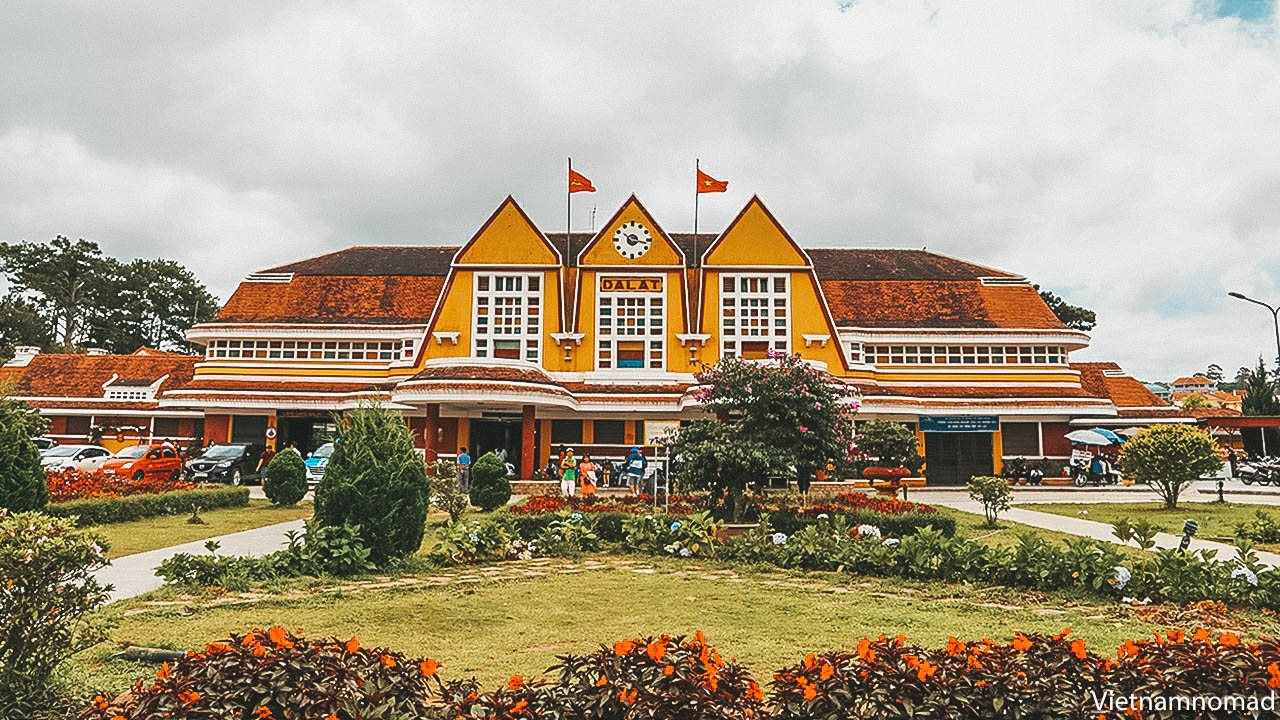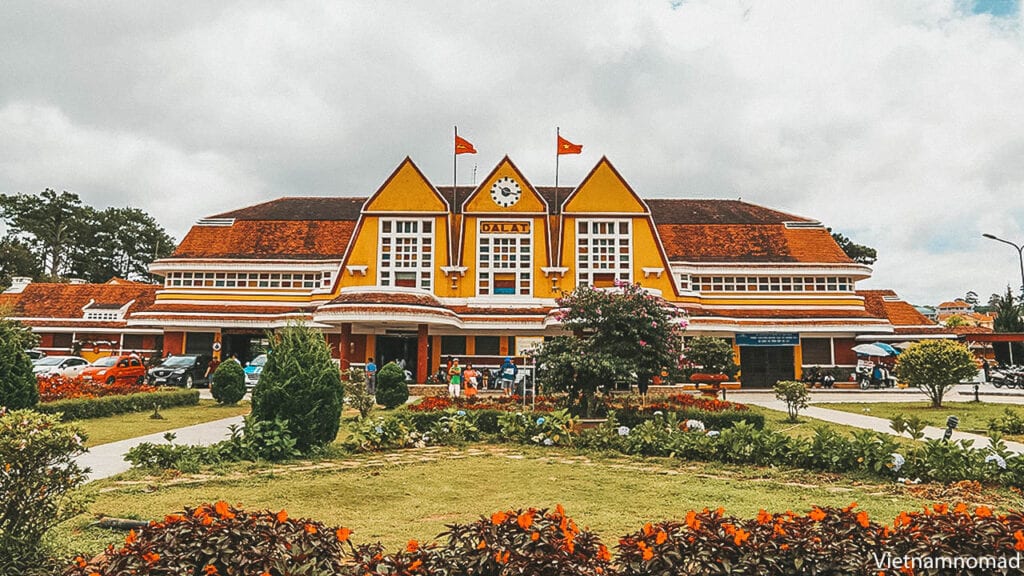 Knowns as a familiar shooting spot for tourists, Dalat Children's House is the most famous with white chairs in the outdoor stands area, a bit dusty. However, since the end of 2017, because the area has been seriously degraded, this outdoor stage area has been closed, not allowing visitors to take pictures.
Address: 13 Dinh Tien Hoang, Ward 2, Dalat
Ticket price: Free entrance
Operation time: From 5 am to 10 pm
Located at the end of the Dalat railway, Linh Phuoc (or Ve Chai Pagoda) is impressed by the intricate mosaic carvings. In particular, the pagoda has the tallest bell tower in Vietnam, Dai Hong Chung is 8.5 tons and the Bodhisattva Avalokitesvara statue is made of 700.000 immortal flowers.
Address: 120 Tu Phuoc, Trai Mat, Ward 12, Dalat (8 km from the city center)
Operation time: From 8 am to 5 pm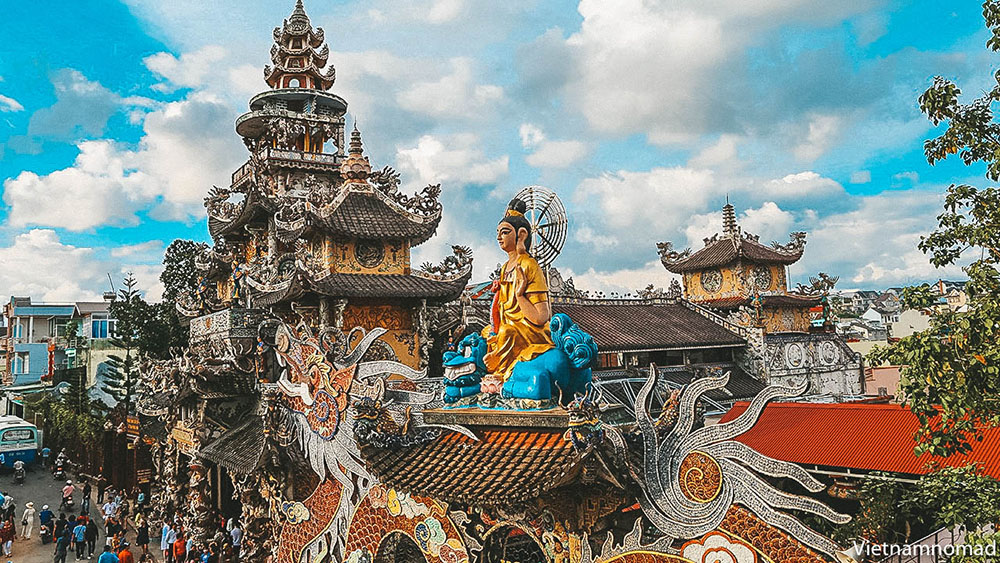 Northern area of Dalat city
Going to the north of Dalat center, you will enjoy the poetic and majestic nature of Dalat with two famous valleys of thousands of flowers and a mountain known as the "roof of Dalat".
As a famous hand-embroidered painting village of Dalat, XQ Dalat Su Quan also attracts tourists with ancient Hue architecture, bringing nostalgic atmosphere about a Vietnamese art space. Young people often call this place a "little Japan" among Dalat.
Address: 80 Mai Anh Dao, Dalat
Ticket price: 20.000 VND/person
Nestled between pine forests and green hillsides, Love Valley is a famous tourist destination in Dalat from past to present. The valley includes many small landscapes, flower gardens, and lakes, which is suitable for tourists to take photos and relax.
Address:  3-5-7 Mai Anh Dao, Dalat
Ticket price: 100.000 VND/adult; VND 50.000/child, includes admission, boat or duck ride, tram. If you want to ride a Jeep, the price is 360.000 VND/car/turn for 6 people.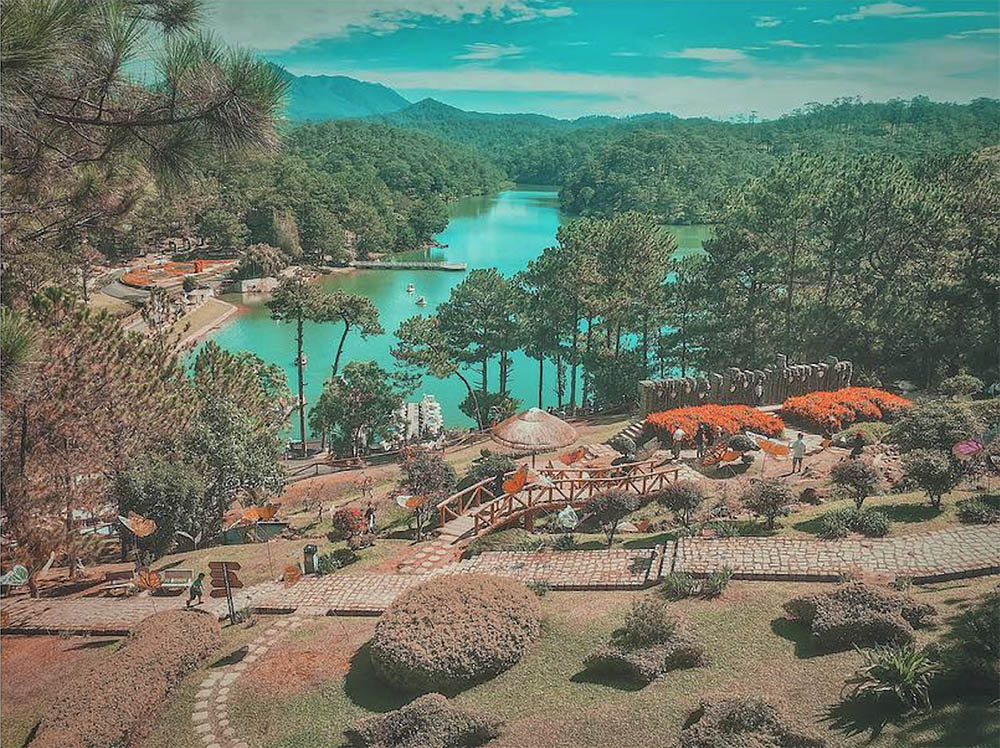 With the well-known lonely tree image, Suoi Vang Lake is one of the famous "cloud hunting" places in Dalat. The "golden time" to come here is just before dawn, admiring the sun gradually emerging behind the clouds and pine forests.
Driving directions: Follow the asphalt road to the Golden Valley tourist area and you will see a small hill, then you will climb up the hill. Located about 15 km northwest of Dalat City, next to Dankia Lake, Golden Valley belongs to Lat Dong Village – Lat Commune – Lac Duong District, Lam Dong Province.
As the highest mountain range in Lam Dong Province, Lang Biang is an ideal place for travelers who like outdoor activities and exercising with trekking, jeep riding, or hiking through the forest. The resort also has adventure sports such as climbing with rope and paragliding to admire the whole city.
Address: Lac Duong District, Lam Dong Province (12 km north of the city center)
Opening hours: From 8 am to 5 pm
Ticket price: 30.000 VND/person. Jeep costs 60.000 VND/person/round.
The southern area of ​​Dalat city
Down to the South, you will have the opportunity to explore a series of beautiful and majestic locations that are known as the symbols of the city.
Tuyen Lam Lake
As the largest lake in Dalat, Tuyen Lam Lake is surrounded by lush green pine forests, offering a charming, poetic landscape of mountain town. This area also has many high-class resorts, golf courses, and boats to serve the needs of tourists.
Address: Ward 4, Dalat
Directions: Follow the Highway 20 about 4 km, down Prenn Pass, then turn right on Truc Lam Yen Tu street. Go straight about 1 km to Tuyen Lam Lake.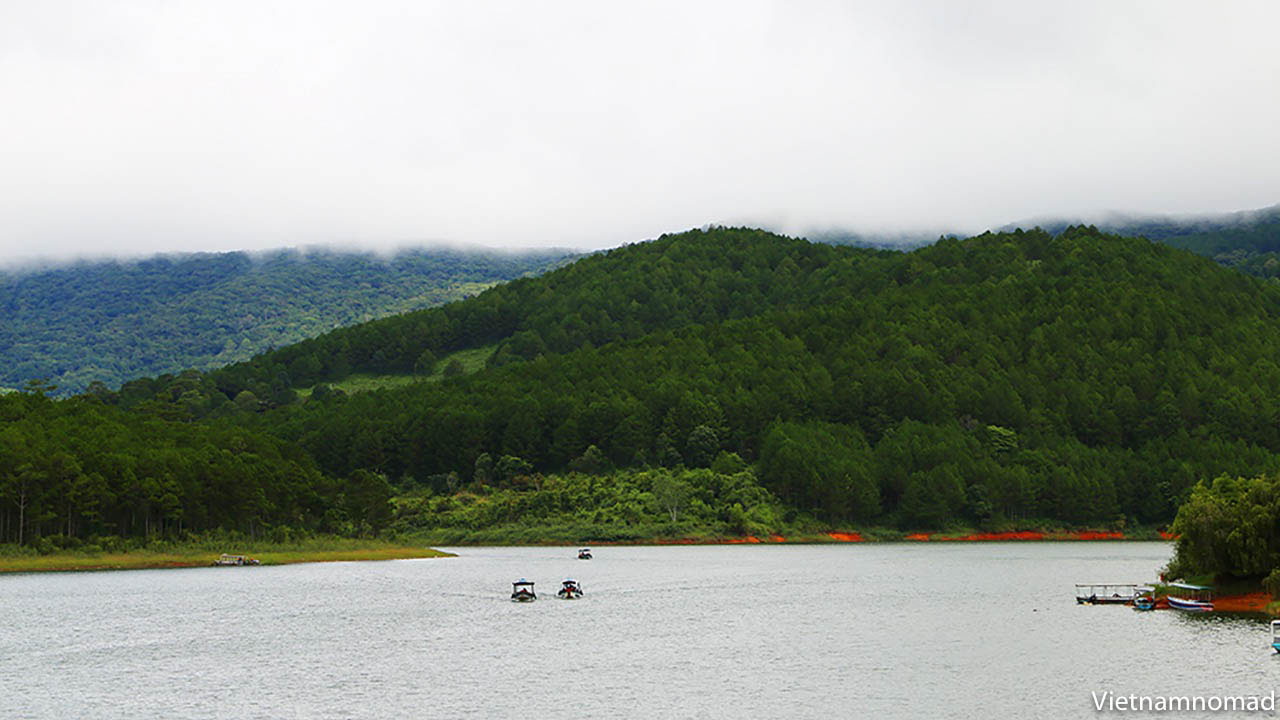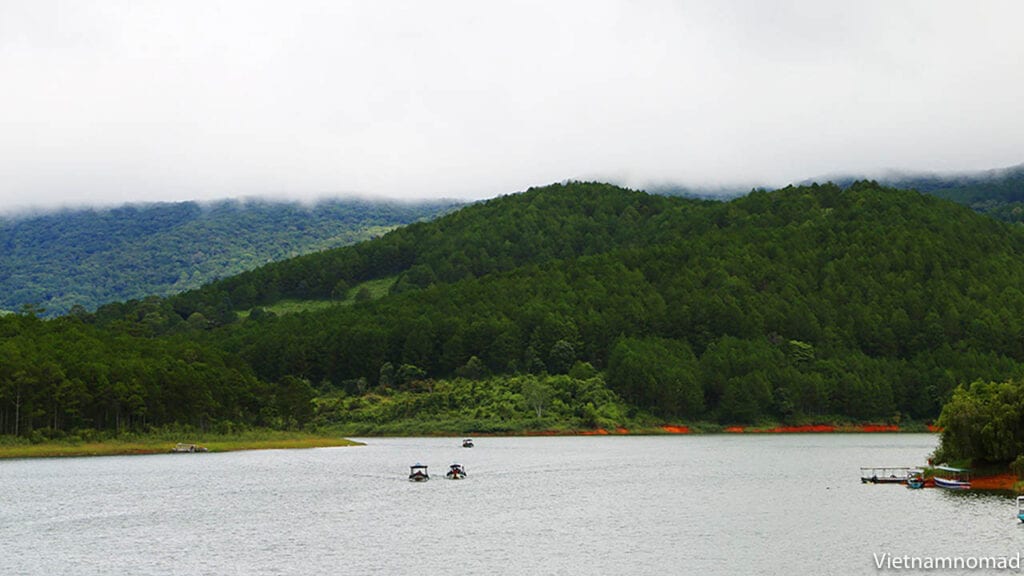 Located on Phuong Hoang Mountain, Truc Lam Zen Monastery (Thien Vien Truc Lam) is the largest monastery of Truc Lam Yen Tu lineage. You can try Dalat Cable Car when traveling from Robin Hill to Phuong Hoang Mountain.
Address: On Phuong Hoang Mountain, Ward 3, Dalat city. About 5 km south of Dalat city center
Opening hours: From 5 am to 9 pm every day of week
Cable car: 50.000 VND/way or 70.000 VND/round trip
Admission fee: Free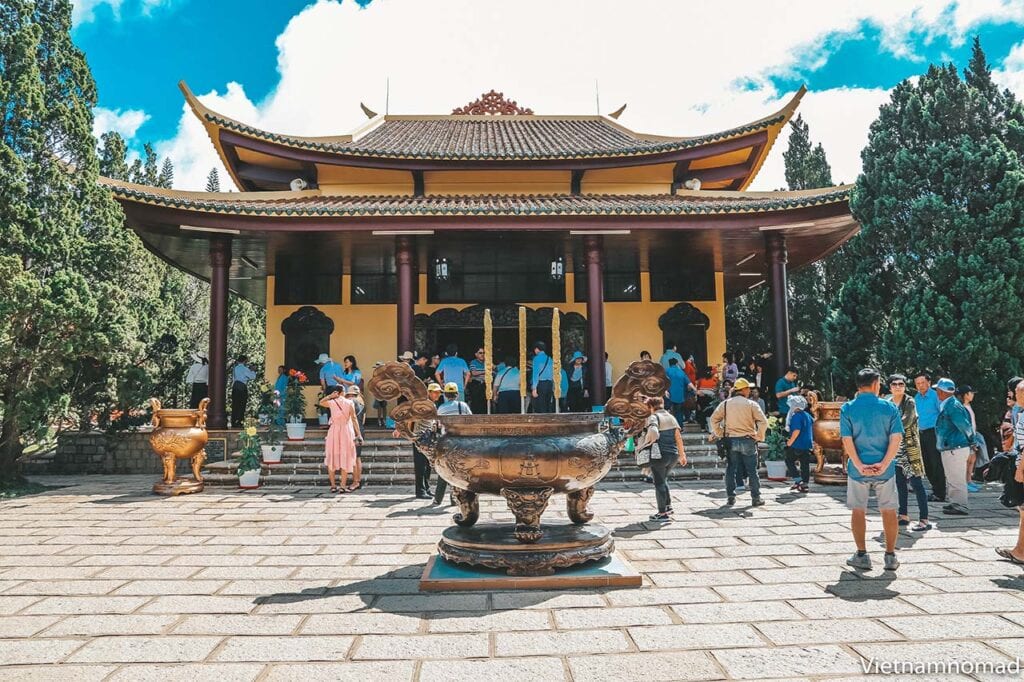 Coming to this more than 100-year-old tea hill, you will enjoy the fresh air of the morning dew, light sunshine, and fragrant tea leaves.
Address: Cau Dat Hamlet – Xuan Truong Commune, about 20 km southeast of Dalat city center
Opening hours: From 8:30 am to 5:30 pm
Admission fee: Free
If you're curious about kangaroos, dwarf horses, sheep, or Alpaca camels, just heading to Zoodoo Zoo to see and have fun with a wide range of animals. Zoodoo is an Australian-style open zoo model suitable for those who are interested in learning about nature and animals.
Address: Sub-Area 94A, Da Nhim commune, Lac Duong, Lam Dong Province
Opening hours: From 8 am to 6 pm
Ticket price: 100.000 VND/adult, 50.000 VND/child under 1,2 meter
Note: To ensure the natural development conditions for the animals, the zoo only accepts a limited number of visitors, so it is best to book in advance via the hotline 0997 1111 99.
Leaning against Prenn Pass, Datanla waterfall has a gentle, sometimes fierce look. This is a great place for visitors to explore and conquer. The entertainment activities at Datanla waterfall are quite diverse such as cable cars, rope climbing, balancing bridges, and challenging the death region.
Address: Prenn Pass, Highway 20, Ward 3, Dalat
Ticket price: 30.000 VND/entrance ticket. Each game will have its own price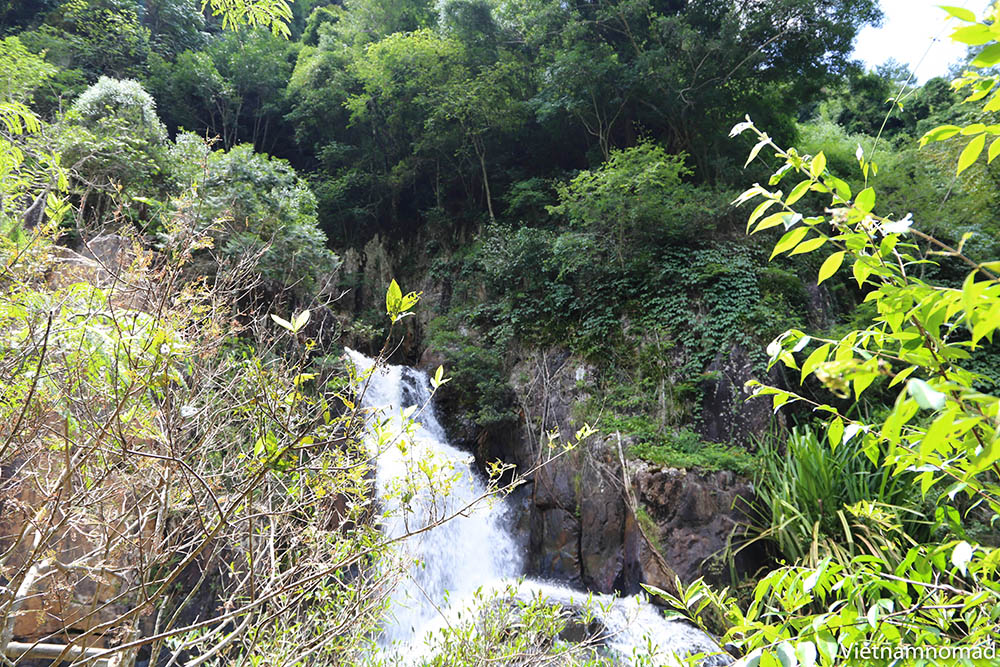 Despite being located quite far from the center, the young people are still fascinated by Dalat Milk Farm because of the romantic farm scenery like the sky of Europe. Welcoming you after a long journey is green grass, cool lake, every herd of dairy cows, and especially the flower field that blooms every triangular or sunflower season.
Address: Tu Tra Commune, Don Duong District, Lam Dong Province, about 25 km from the center of Dalat
Opening hours: Closed at 4 pm
Admission fee: Free admission
Secret Garden Film Studio
For youngsters who like to take photos, you shouldn't miss Secret Garden. The scenes here are very diverse such as mountains, deep forests, Tuyen Lam lake, wooden bridge… You can stand in any corners to have great pictures with beautiful views behind.
Address: Near Tuyen Lam Lake and Tunnel Sculpture, Ward 4, Dalat. Secret Garden is located at the end of the parking lot of the Sculpture Tunnel (Duong Ham Dieu Khac)
Entrance fee: 50.000 VND/person
Located between Bao Loc District and Dalat City, the temple is located halfway up the mountain. The most famous attraction of Linh Quy Phap An Pagoda is the "Torii Heaven Gate" – a place for you to spread your eyes across a mountainous, cloudy sky. It can be said that in Vietnam, only Linh Quy Phap An pagoda has Torii gate featuring special Japanese architecture.
Address: The temple is located in the middle of the French Indo Mountains, at hill 45, village 4, Loc Thanh Commune, Bao Lam district, Lam Dong, 21 km south of Bao Loc city center.
Top 5 must-try dishes in Dalat
In addition to the romantic scenery, Dalat is also famous for delicious food, here are the 5 dishes you must try when coming to Dalat.
1. Banh Can
Banh Can or Mini pancake is a popular dish in Dalat. When coming to a Banh Can restaurant, tourists can watch how the dish is made directly. First, they will pour the rice powder mixture in a pottery pan, then fill it with egg and fry it until the cake is slightly burned. Banh Can is served with a bowl of broth, which makes from fish sauce and green onions. Some places add meatballs to the sauce to make it more delicious. Normally, a mini pancake serving has 10 -12 pieces and costs about 20.000 VND.
Where to find the best Banh Can in Dalat:
Banh Can Da Lat
Address: 7 Tang Bat Ho, Dalat
Opening hours:  9 am – 10 pm
Price: 20.000 – 30.000 VND
Banh Can Binh Dan 
Address: Opposite to 62 Phan Dinh Phung, Dalat
Opening hours: 9 am – 10 pm
Price: 20.000 – 30.000 VND
2. Banh Uot Long Ga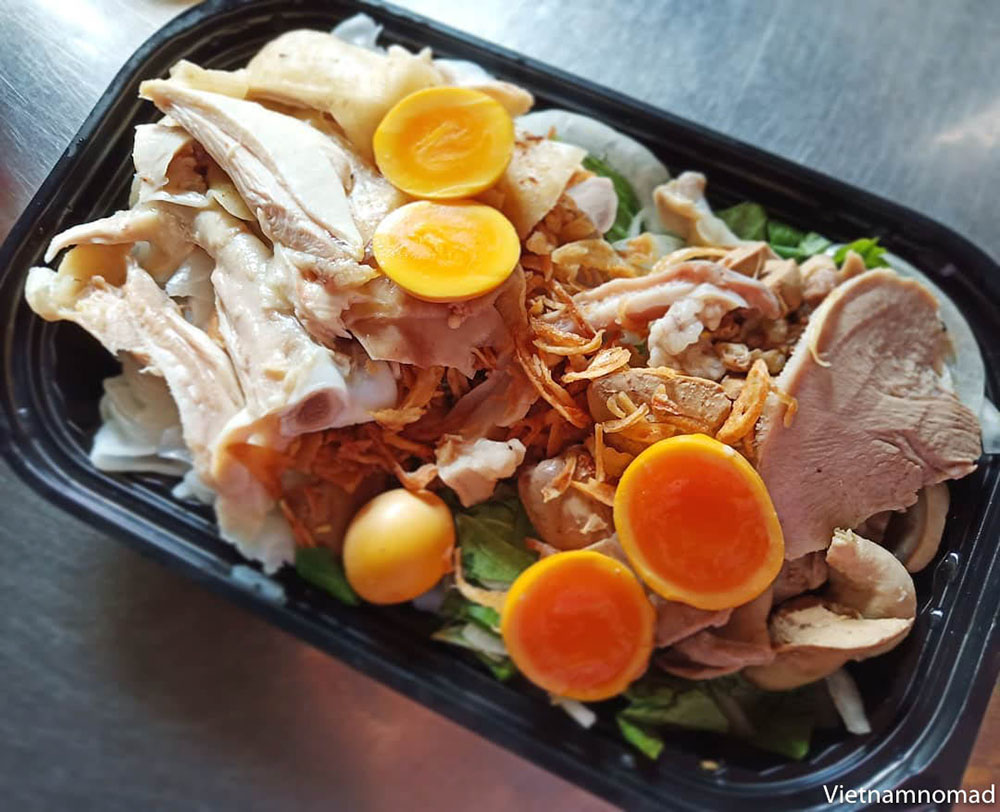 You can easily find steamed rice paper everywhere in Vietnam. However, it's only in Dalat that you can find steam rice paper (Banh uot) with chicken organs (long ga). Banh uot long ga has become a specialty food here. The ingredients are simple including rice powder, chicken meat or organs. The dish is served with crispy fried shallots on top and fish sauce.
Where to eat Banh uot long ga in Dalat
Banh Uot Long Ga Long
Address: Alley 202, Lo A16 Phan Dinh Phung, Dalat
Opening hours: 12 pm – 7:30 pm
Price: 15.000 VND
Banh Uot Long Ga Trang
Address: 15F Tang Bat Ho, Dalat
Opening hours: 1:30 pm – 8 pm
Price: 30.000 – 70.000 VND
3. Banh Mi Xiu Mai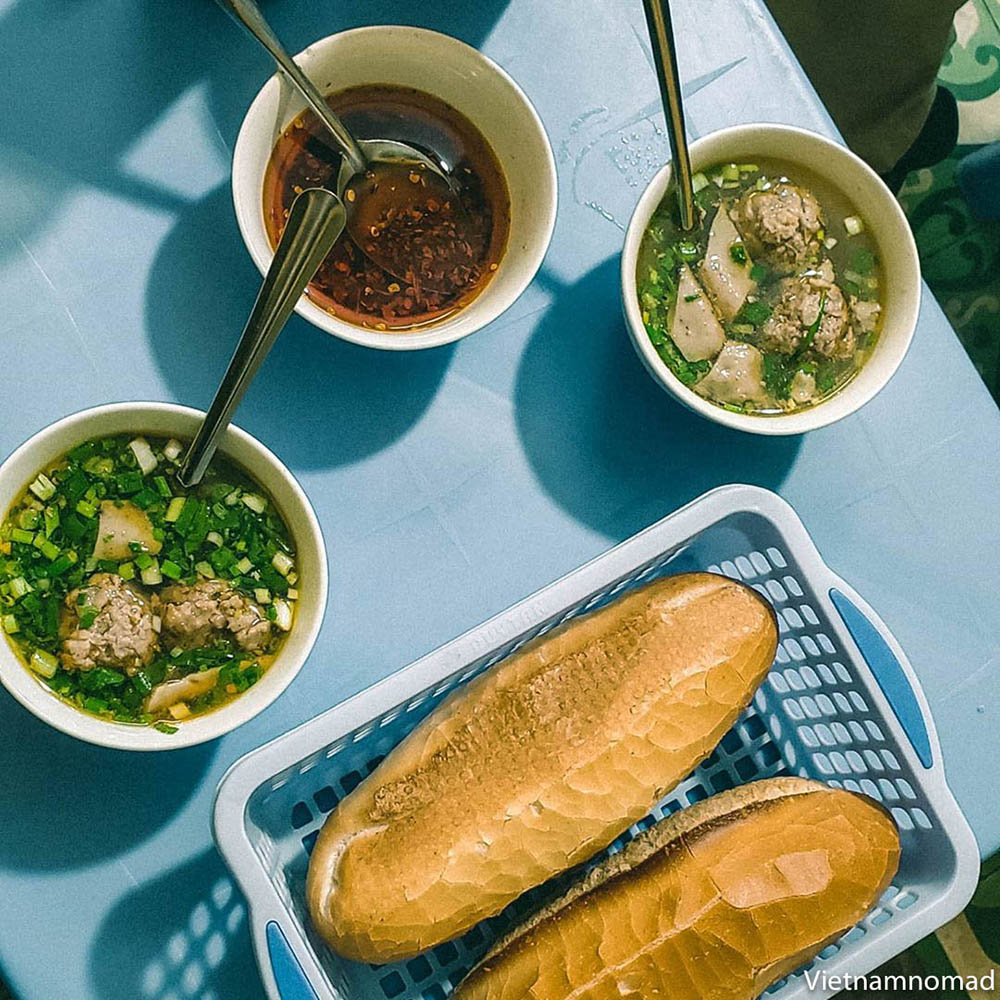 Banh Mi Xiu Mai consists of plain bread and Xiu Mai. Standard bread is crispy outside and soft inside. Xiu Mai, which is also known as Vietnamese meatballs, is made with ground pork, minced mushroom, onion, garlic before simmered in a tomato-based mixture. They also put chopped green scallions on top of Xiu Mai to increase its flavor. Simple as it is, the dish has become a favorite food of most people. Having Banh Mi Xiu Mai is one of the best choices to warm up your day or to fill up your belly when you are hungry. The price of each serving ranges from 15.000 VND to 30.000 VND.
Where to find good Banh Mi Xiu Mai:
Banh Mi Yersin
Address: 10 Yersin, Dalat
Opening hours: 7 am – 6 pm
Banh Mi Cham Co Gai
Address: 26 Hoang Dieu, Dalat
Opening hours: 6 am – 9 am
Banh Mi Phan Dinh Phung
Address: 261 Phan Dinh Phung, Dalat
Opening hours: 2 pm – 9 pm
4. Lau Ga La E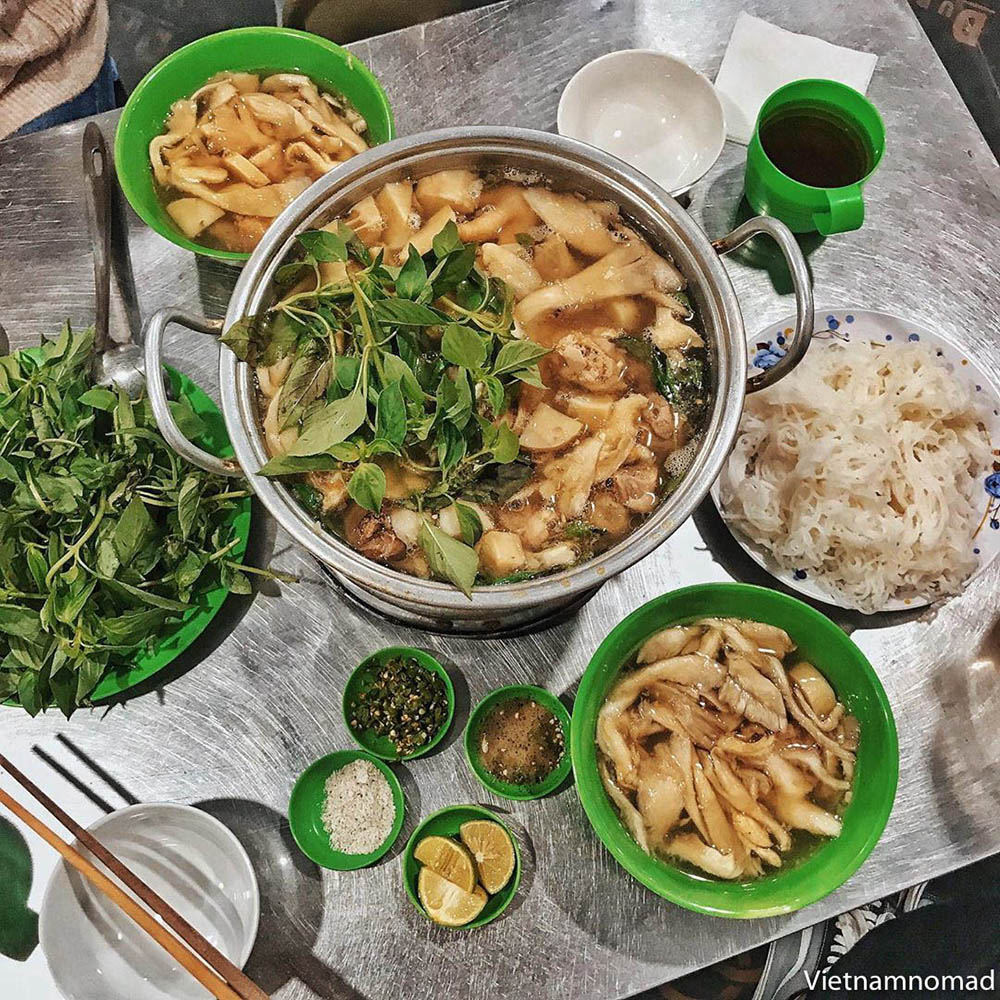 Hotpots are extremely popular in Asian countries, including Vietnam. As for Dalat, you should not miss a specialty called Lau Ga La E or Hot pot with chicken and clove basil leaf. This kind of leaf is the key to the hotpot. It has a special aroma, a little sour and tart. The broth is flavorful, spicy, and sweet, cooked from chicken. A serving normally has half a chicken, a large noodle dish, a plate of mushroom, a plate of vegetables and basil leaves. Lau Ga La E is not only tasty but also good for our health. It is often chosen to eat for dinner or in winter.
Where to eat:
668 restaurant at 2B Chu Van An Street, Dalat
Tao Ngo (Hang) restaurant at 5 3/4 Street, Dalat
5. Avocado Ice cream
Dalat is where you can find the freshest avocado in Vietnam. Avocado ice cream is praised as a must-try dessert. The fatty flavor of the ice cream comes from the taste of avocado, sometimes people mix it eat coconut ice cream. You can easily find avocado ice cream in many shops in Nguyen Van Troi Street, priced at 20.000 VND.
Where to find Avocado ice cream in Dalat:
Kem Bo Thanh Thao
Address:76 Nguyen Van Troi, Dalat
Opening hours: 7 am – 10 pm
Kem Phung
Address:97A Nguyen Van Troi, Dalat
Opening hours: 8 am – 9 pm
Dalat is absolutely an amazing destination that should be in your travel list. We hope this Dalat travel guide will be useful for your upcoming Dalat trip.
Thank you and meet in Dalat!